Just like many of you travelers out there, my comfort zone with airline miles rested firmly with just one or two carriers. I focused on earning Delta SkyMiles and Southwest Rapid Rewards points – what more could I want or need?
Sure, I knew that credit card points from banks like Chase or Amex were out there along with hearing about mileage programs from foreign carriers. But I didn't understand how to earn them …. or why I should.
But since joining Thrifty Traveler just over a year ago, I've had a points and miles awakening. By studying up and building a broader points and miles strategy, I've booked upcoming trips that my SkyMiles and Southwest points could have never touched, like a honeymoon to Africa (flying business class both ways!) and a road trip through Montana.
I still wouldn't call myself an expert on points and miles, but after branching out further into a world of points and miles that once seemed like more trouble than it was worth, I've got some insights to share on how I took the leap – and where you might want to look next.
Chase Ultimate Rewards
I should have listened to my co-workers earlier: When you're looking to start with credit cards, start with Chase.
Chase credit cards are the key to earning Chase Ultimate Rewards points, which are some of the most valuable and versatile points in the world of travel. And a pesky restriction called the Chase 5/24 rule means you might not be able to get Chase cards if you wait too long.
Luckily, that wasn't the case for me. Soon after getting started at work last year, I jumped at the chance to earn a massive 100,000-point welcome bonus on the Chase Sapphire Preferred® Card. That bonus seemed to good to last, and it was…
These days, you can earn an 60,000-point bonus on the Sapphire Preferred after spending $4,000 in the first three months of card membership.
After hitting the spending requirement of $4,000 in three months, I had more than 100,000 Chase points to my name and started scheming how to use them. Those points would be worth more than $1,250 booking through the Chase travel portal. But there's another, better way.
One of the biggest mistakes I made for years was exclusively earning airline miles. The beauty of flexible currencies like Chase Ultimate Rewards is that they can become points with so many different loyalty programs. Sure, I could keep racking up Southwest points by using a Southwest credit card (and flying them, too). But here's what I get now: Chase points are Southwest miles.
That's all thanks to the list of Chase transfer partners, more than a dozen airline and hotel programs to which you can transfer your Ultimate Rewards points. That means 100,000 Chase points could become 100,000 Southwest points … or 100,000 United MileagePlus miles … or 100,000 Emirates Skywards Miles. The ability to transfer points opens so many more doors to travel over the world.
But I didn't use my Chase points on flights. I used them book hotel stays thanks to what's perhaps Chase's best transfer partner: World of Hyatt. It's one of the best hotel loyalty programs, period – more on that later.
But Chase Ultimate Rewards can help you save big on hotels all on their own through the Chase travel portal. Because Chase offers its own portal, you can use your Chase points directly. That came in handy when I was trying to find a nice hotel near the Nairobi (NBO) airport in Kenya for the night before my honeymoon with my soon-to-be-wife in October. Using the portal and my stockpile of 100,000 points, I searched for hotels near the airport and, voila: The Crowne Plaza Nairobi Airport, a five-star hotel, was available that night.
When I looked at using my points, it was only going to be 12,000 points and change for the night! Easy.
If that wasn't enough, Chase Sapphire Preferred cardholders get a $50 hotel credit to use through the portal. Chase Sapphire Reserve cardholders get a $300 annual travel credit to use on travel, too! These perks were never on my radar just over a year ago.
Chase Ultimate Rewards have quickly become my go-to for hotels because of World of Hyatt and their easy-to-use portal.
But for flights, I've been able to do much more.
Avianca LifeMiles
I've never flown on the South American carrier Avianca. I might never. But Avianca's funky loyalty program called LifeMiles has come up big to get me on some very nice flights recently.
As a Star Alliance airline (with partners like United, Air Canada, Lufthansa, etc.), you can use Avianca LifeMiles program to book flights on roughly two dozen airlines, all around the globe. Best of all, the mileage that LifeMiles charges is often a fraction of what other airline programs would charge for the exact same flights. The LifeMiles program is laden with sweet spots, and I made one of them earlier this year.
The first time I ever used LifeMiles was on a TAP Air Portugal business class flight I took this January. While other airlines would charge 77,000 miles for a one-way seat – heck, TAP itself charges 100,000 miles each way – I booked a flight from New York City (JFK) to Lisbon (LIS) in lie-flat seats for just 35,000 LifeMiles and a few dollars in taxes and fees.

The TAP Business Class flight was really good! I enjoyed it a lot. But is it worth 100,000 miles one way? No way.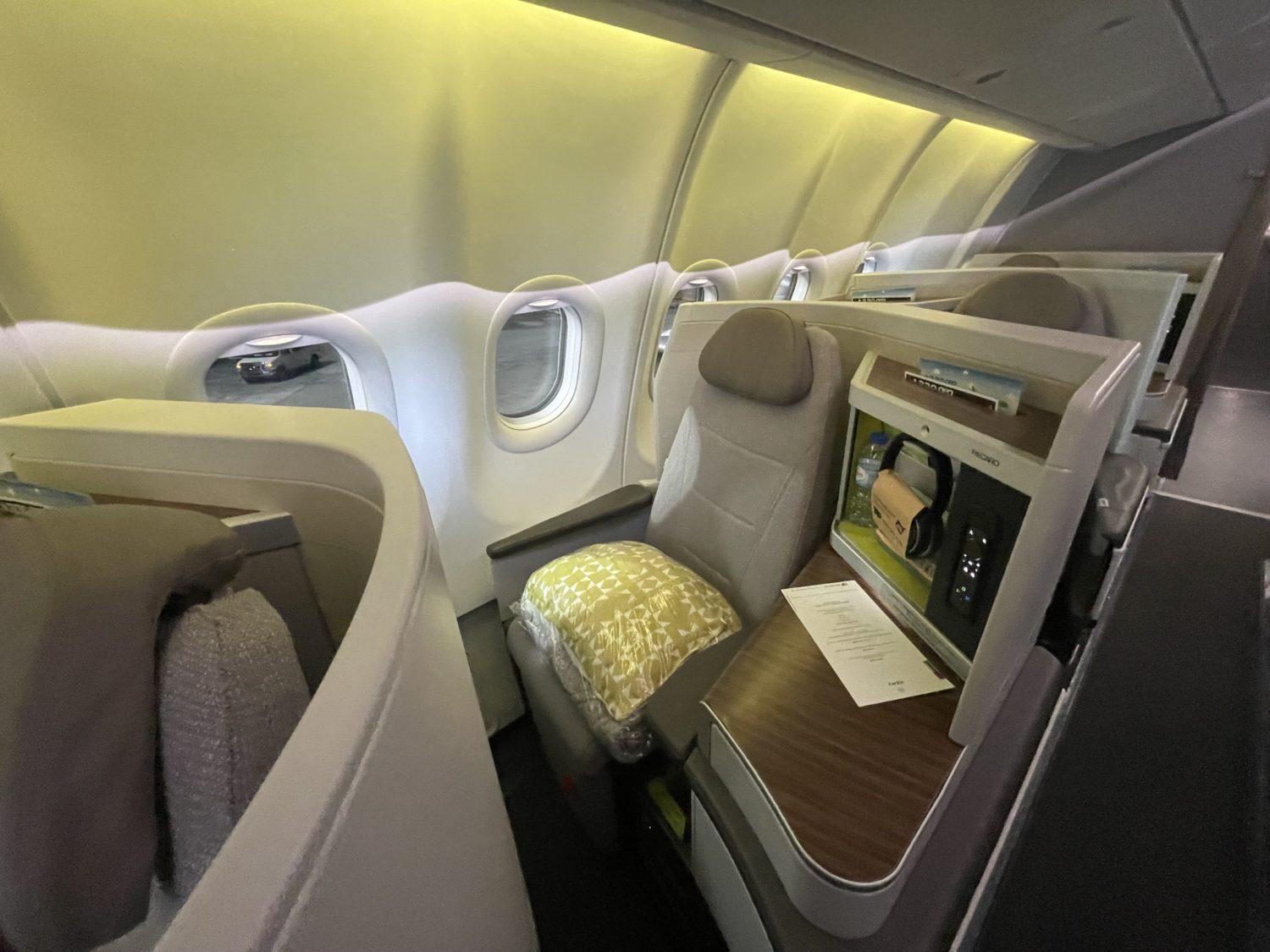 It was my first-ever international business class flight and also a light-bulb moment for me. If LifeMiles can book this flight for a third of the miles that other airlines charge, surely there are other sweet spots to take advantage of, right? And there must be other airline programs with equally excellent sweet spots and savings to use miles, correct?
Yes. And having a stable of transferrable credit card points is the key to taking advantage of these unbelievable deals. In this case, I could have earned the LifeMiles I needed to book by transferring Amex Membership Rewards, Capital One Venture Miles, and Citi ThankYou Points. That means you could get the LifeMiles you need with cards like the Capital One Venture X Rewards Credit Card or the American Express® Gold Card.
If that first taste of lie-flat seats wasn't enough, LifeMiles also came in handy when planning flights home from my upcoming October honeymoon. I was determined to book my fiancee and I in some business class seats to close out our trip, and I knew that Turkish Airlines flew from Nairobi (NBO) where we'd end our trip and onward back to the U.S.
So I started digging, and much like the TAP example, Turkish Airlines Miles & Smiles itself wasn't offering the most competitive rates on fares from Africa back to the U.S. After crosschecking with LifeMiles, I found a winner: For 78,000 LifeMiles each, my fiancee and I are flying from Nairobi to Istanbul (IST) and all the way back to Miami (MIA) in Turkish business class.
Ahhhh.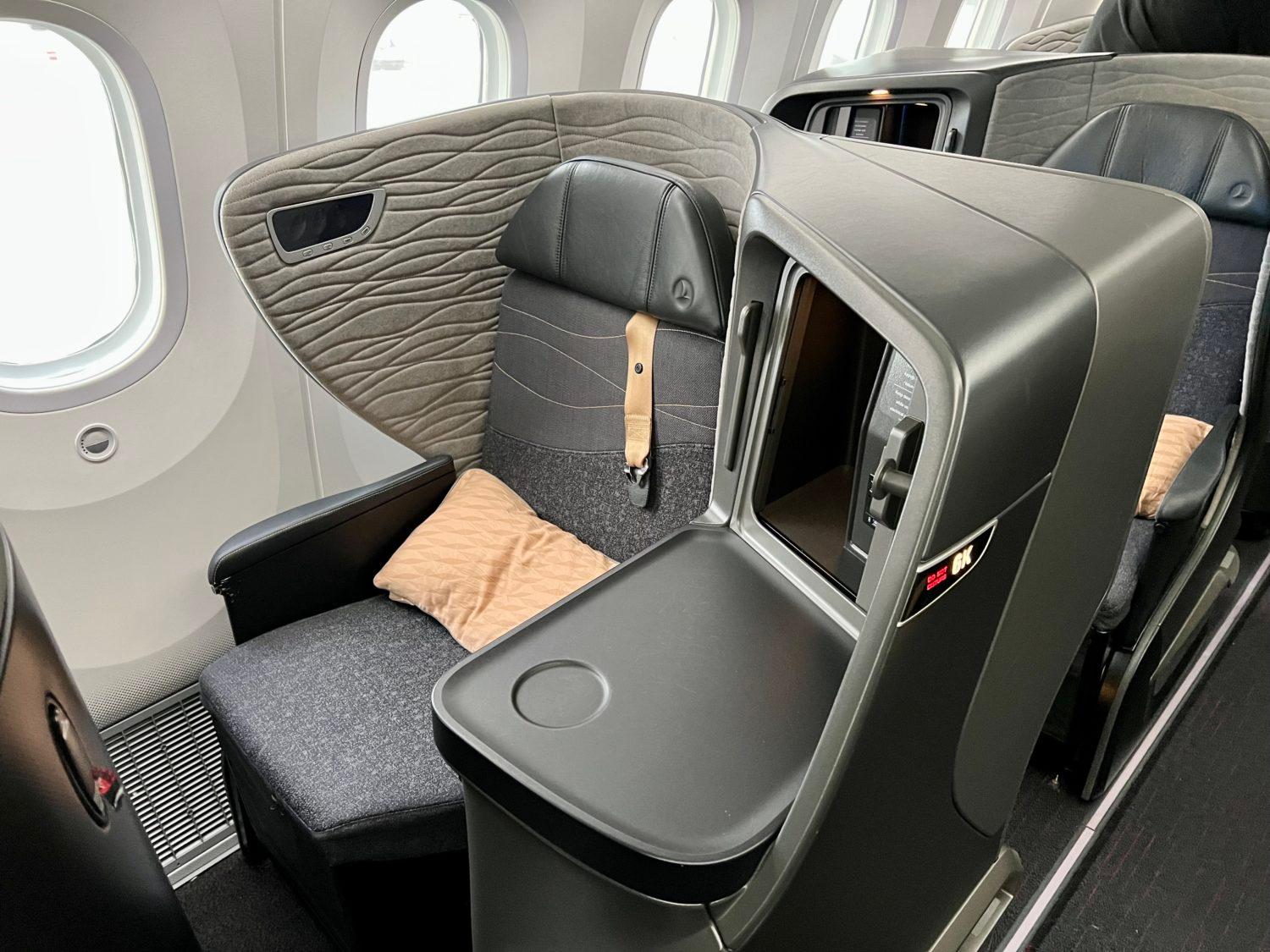 Avianca isn't a loyalty program I ever thought I'd use. But now that I've discovered it, I'll almost always check what it has to offer before booking flights. It's quirky, and the website doesn't always run smoothly, but the value you can reap from it is pretty remarkable.
World of Hyatt
I'm no hipster when it comes to World of Hyatt. The secret is out about the single best hotel loyalty program. But there's a reason travel folks love this program, and I've learned why over the last year.
Simply: World of Hyatt offers some of the best hotel redemption rates, some incredible properties, and it's extremely easy to use. The customer service is great, the website is clean, and it's idiot proof (And I'm surely proof of that…)
I started my journey with World of Hyatt to book another part of my honeymoon at the Park Hyatt Zanzibar in Tanzania. I knew I wanted to stay at that property, and started earning Chase Ultimate Rewards points to cover it. And it was all possible World of Hyatt is a Chase transfer partner.
My goal was to earn 46,000 World of Hyatt points to use on three nights at the hotel. Luckily, I had hit that 100,000 bonus on the Chase Sapphire Preferred last summer, so I had more than enough. I transferred the 46,000 points to World of Hyatt and they popped up in my account in a matter of minutes. And boom: It was booked.
One note: this property costs a bit more now after Hyatt's recent price hikes.
It seemed really cheap and easy – too easy, in fact. But I just kept doing it: I used 12,000 more World of Hyatt points to book our last night of our honeymoon in Coral Gables, Florida, too. We were going to book a cheap hotel to spend the last night of our trip before flying home, but for about the same rate, we decided to treat ourselves one last time at the Hyatt Regency Coral Gables.
Since I've made these bookings, World of Hyatt has become a go-to before I book anything, anywhere. In February, I had a wedding to go to just south of Fort Myers and needed a cheap place to stay. A quick search on World of Hyatt showed what was by far my cheapest option for February in southwest Florida. The Hyatt Place Coconut Point did us just fine. Is 12,000 points for a Hyatt Place the best redemption? No. But was it my best option among a sea of $400-a-night hotel rooms? Absolutely.
Whether you're booking that dream destination getaway like the Park Hyatt Zanzibar, or using a few points to get yourself out of a jam like the Hyatt Place Coconut Point, World of Hyatt has you covered. It's the best, if you ask me.
Capital One Venture Miles
Early this year, I was approved for the Capital One Venture X Rewards Credit Card which jumpstarted my relationship with Capital One Venture miles. And I'm in love…
The value in Capital One's loyalty program lies in the versatility of its points. You can use them to easily erase almost any travel expense from your statement using Capital One Purchase Eraser. You can use the new Capital One travel portal. Or, you can turn them into Avianca LifeMiles, Turkish Airlines miles, Air Canada Aeroplan miles, or Wyndham Rewards points.
The list of things you can do with your Venture miles is crazy. And I've only scratched the surface in just a few months with my Venture X card.
The Purchase Eraser is about the most user-friendly use of points and miles possible. We have a full, step-by-step guide to using the powerful tool, but here's the gist of it. You make a travel-related purchase using your Capital One Venture credit card. Then, when the transaction posts to your account, you use Venture points to cover that cost and, voila, the purchase is gone from your statement. No matter what you're redeeming, 1 Venture mile = 1 cent toward your purchase.
Without a points program of its own, using Venture miles is one of the best ways to book Airbnbs. My most recent use of the Purchase Eraser was on an Airbnb in Whitefish, Montana that I'm staying at in just a few days. I got an email reminder that said I was about to be charged for the second half of the Airbnb, so I went in and changed my card to the Venture X. Two days later, the transaction posted, and I made it disappear with Venture points.
Another incredible use of the Purchase Eraser is using it to cover your Thrifty Traveler Premium subscription! That's right: a free year of flight deals when you use 5,999 Venture Miles. Recently, I bought Premium for a honeymoon-searching friend as a wedding gift and I used a few points to wipe it from my statement.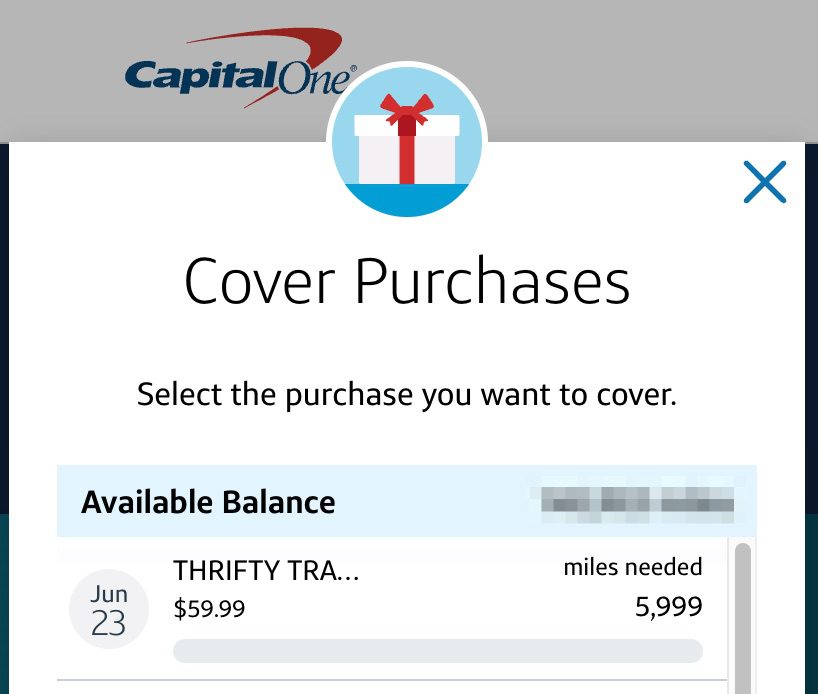 Perhaps the best part of Capital One Venture Miles is how easy they are to earn – especially with the Venture X card. Not only can you lock in a 75,000 Venture Mile bonus when you spend $4,000 in the first three months, but chances are you're earning tons of points on those transactions, too.
With the Venture X, you earn 10x miles on hotels and rental cars and 5x miles on flights when you use the Capital One travel portal. Most importantly, every other purchase on the card gets you double points, too. A $6 latte is 12 Venture points and a $200 rental car is 400 points – or 2,000 points through the portal!
This is especially handy for big purchases. On my way to my $4,000 spending requirement, I booked an all-inclusive safari stay for my honeymoon. For the entire stay, the booking ran me about $1,200. It was a huge chunk of change. But what made it easier to swallow was the fact that I earned 12,000 Venture Miles on the purchase!
After I hit my bonus and earned all those extra miles, I was able to use the travel portal to take care of some hotel stays on an upcoming road trip. While World of Hyatt doesn't have a ton of properties along the great plains and other hotel loyalty programs don't offer a ton of value in those places, I was able to book three different nights in rural Montana hotels using my Capital One points without a worry about the cash rates.
There are so many good ways to use Venture Miles and there are so many easy ways to earn them. They deserve your attention if you're looking to jump into a new loyalty program.
Bottom Line
Some of my coworkers at Thrifty Traveler are points and miles gurus with years and years of experience with various programs. I…am not that. My true points and miles journey started just about a year ago, and since then, I've found four loyalty programs that have brought a ton of value to my travels and have saved me literally thousands of dollars.
These are just the tip of the iceberg, and I'm still learning and expanding my reach. But with these four additions to my portfolio alone, I've tripled my travels and saved a ton of money in the process.