With hefty cash fees that could cost $1,000 or more when flying first or business class even when forking over tens of thousands of miles, booking British Airways award tickets between North America and Europe has been a no-go for many travelers. But now that's changing for the better – much better.
British Airways now allows flyers to fork over more miles in exchange for paying far lower fees when booking British Airways award tickets using miles, from economy up to business class – only first class awards miss the cut. With this new option, one-way business class tickets from the U.S. to London-Heathrow (LHR) that once cost 50,000 British Airways Avios and nearly $900 in fees are now bookable for 80,000 miles and $350.
God Save the Points was the first to report on the change, which British Airways later announced Wednesday morning. Flights like this one-way ticket in a new British Airways Club Suite from Chicago-O'Hare (ORD) to London with more palatable fees are bookable today.

The U.K.-based airline notorious for hefty fees isn't reducing surcharges across the board. Instead, it's offering a new redemption it calls Reward Flight Saver on long-haul flights to nearly every destination around the world, including throughout North America. These money-saving redemptions have previously only been available on BA's short-haul flights.
Is it better to save $500-plus in exchange for another 30,000 or so miles? It depends: There's no right or wrong answer. But considering how easy it is to earn British Airways Avios – you can instantly transfer them from Chase, American Express, Capital One, and Bilt – that tradeoff could be easily worth it.
Still, you might be able to do better by booking these flights through another airline: Cathay Pacific, whose Asia Miles program has long been the best way to avoid BA's punishing cash fees. Case in point: You can book the exact same flight from Chicago to London above for 61,000 AsiaMiles and under $250. If you've got points with Amex, Capital One, Citi, or Bilt, Asia Miles is still your best bet as it's a transfer partner with all four programs.


Exactly what you'll pay in both miles and cash when using Avios will depend on where you're going and when, as British Airways uses peak- and off-peak award pricing. Here's a quick look at what you'll need to book roundtrip flights on a handful of common routes – divide both the award rate and fees in half for a one-way ticket:

As you can see, it's considerably cheaper to start your British Airways redemption in London. For example, it costs £350 ($427 USD) for a roundtrip to New York in Club World business class compared to $700 in cash roundtrip flying from New York to London and back.
These Reward Saver flights are only available to British Airways Executive Club Members who have earned at least 1 Avios point in the last 12 months. It's free and easy to open an Executive Club Membership. Plus, they can be changed or canceled for just £35 (under $43 USD), which is very reasonable.
Luckily, British Airways is flying planes equipped with its fancy new Club World Suites to more and more U.S. destinations, which are a massive improvement over the airline's older, cramped business class configuration. This recent change means you can book these lie-flat seats to London for a fraction of the cash cost.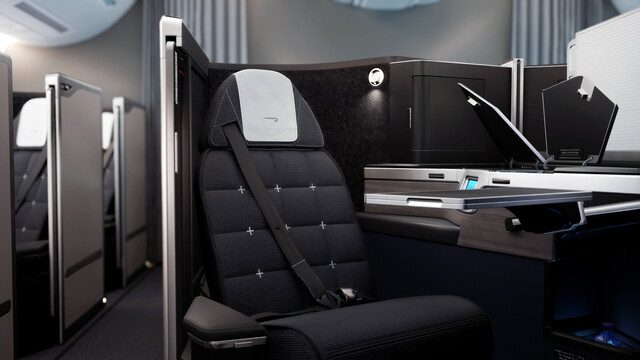 Unfortunately, this new option doesn't pass through lower cash costs when booking British Airways flights using miles from partner airlines like American Airlines or Alaska – except Cathay's Asia Miles, which have always been shielded from those steep surcharges. So the same one-way flight from Chicago to London will still cost 57,500 AAdvantage miles and almost $730 in cash surcharges.

With how easy British Airways Avios are to earn, it could be well worth it to book for 80,000 miles and $350 instead. Using 22,500 miles more in order to save nearly $400? Not bad. Otherwise, you can always opt to pay the full surcharge cash price, using few of your British Airways Avios.
But for the first time, you've got options to keep your cash costs down when flying British Airways across the pond.

Bottom Line
Gross yet unavoidable surcharges have kept British Airways redemptions out of reach for many U.S. travelers – especially to fly in first or business class. No more.
British Airways has extended its Reward Flight Saver option to all of its destinations worldwide, allowing you to fork over some additional Avios in order to avoid up to $1,000 (or more!) in cash fees.
Lead photo courtesy of British Airways