When you're selecting your next international flight, it's important to select a high quality airline. The airline you choose is just as important as the price. No one should be stuck flying a subpar airline for 7+ hours. SkyTrax recently released their reader voted Top 10 Airlines in the World. These are the airlines you should be flying, whether you're in no matter if it's Economy or First Class.
1. Qatar Airways
The top pick also happens to be our favorite. Qatar Airways checks all the boxes for us. Cheap flights, new fleet of aircraft, and generally solid service. Hamad International Airport (DOH) in Doha, Qatar is also one of the best airports in the world. The Business and First Class lounges in Doha are simply incredible. The only underwhelming product that Qatar offers is their Boeing 777 aircraft, which is currently undergoing a refresh with a new business class (Q-Suites) and the installation of much needed WiFi. The best products Qatar Airways offers is the Airbus A380 in First or Business Class with the bar, and the high-tech Airbus A350 in Business Class. If you're flying Economy, try to snag a flight on the new A350. Check out our full review of all the awards Qatar Airways won this year.
2. Singapore Airlines
Based out of Singapore's Changi International Airport (SIN), Singapore Airlines boasts one of the industry's younger fleet of aircraft. Their high-tech new Airbus A350 and the massive A380, are the birds you want to fly. The service on Singapore is also top notch. It's also bookable with miles through Singapore's KrisFlyer program, which partners with most flexible points currencies including American Express, Chase, and Citibank. It's easy to accrue a lot of KrisFlyer points through travel rewards programs.
3. ANA All Nippon Airways
Of all the airlines on the top 10 list, Japanese carrier ANA is the one that features the most flight deals on our site. It's not difficult to find a cheap flight on ANA to many places Asia. ANA also has featured several awesome livery in the past, including their Star Wars jets.
4. Emirates 
Dubai based Emirates, was the top airline in 2016 and continues to be one of the top airlines in the world. Emirates First and Business class are pretty gaudy with gold inlaid everywhere, but it's a fun First Class product. A passenger on a flight told me it was like a "Flying Souk" (gold souk is an Arab gold market), which really cracked me up. I tend to agree with his assessment.
The service on Emirates is solid, even in Economy and especially in First Class. I've flown all three Middle Eastern (ME3) First Class products which includes Emirates, Etihad, and Qatar. My favorite First Class product of the ME3 remains Emirates. Etihad is a close second and Qatar is a distant third. All are bookable on points (Emirates with Alaska miles, and Etihad & Qatar with American AAdvantage miles).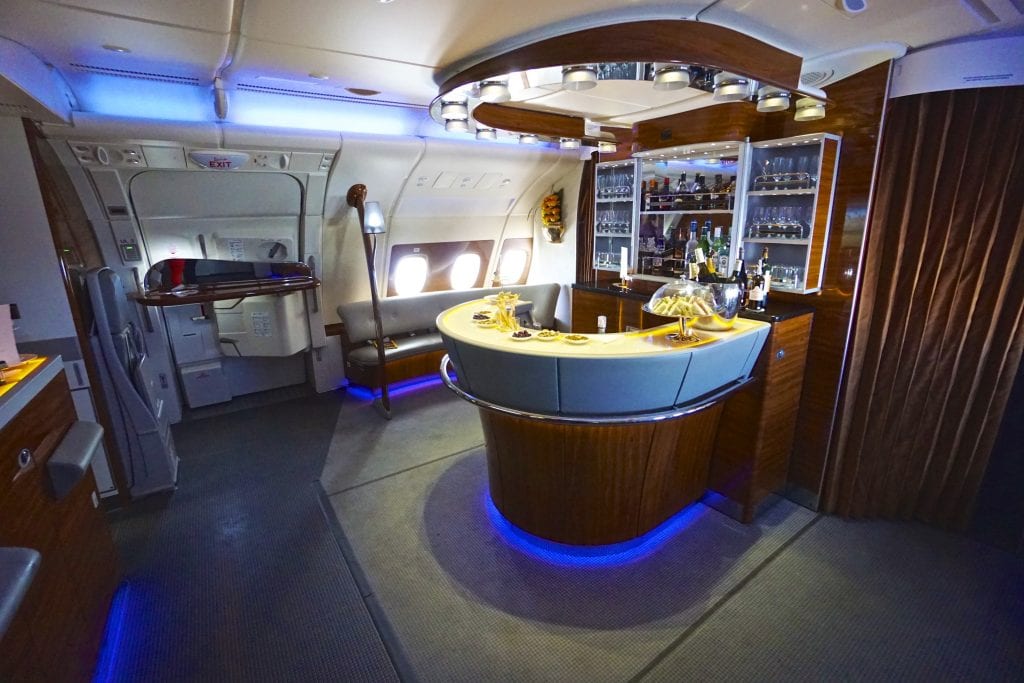 5. Cathay Pacific 
Hong Kong based Cathay Pacific was last voted Airline of the Year in 2014, and still boasts a solid product, even in Economy. Cathay Pacific also has one of the best lounges in the world, and offers an incredible First Class product, which is also bookable with Alaska miles.
6. EVA Air
Taiwan based EVA Air is a 2nd largest airline in Taiwan, next to China Airlines. EVA Air is a perennial favorite, partly due to being a little quirky airline, with interesting livery such as Hello Kitty.
7. Lufthansa
The travel blogger community has quite an obsession about Lufthansa's First Class product as well as the First Class lounge in Frankfurt. I will agree Lufthansa has a solid product and even better service, but the hard product is a bit tired and is in need of updating. The ME3 rivals offer better seats and more exciting amenities such as bars and showers. Lufthansa Economy is better than flying any of the US airlines, but just barely.
8. Etihad Airways
Abu Dhabi based Etihad Airways, is another one of our top choices. Etihad has newer aircraft and their Economy, Business Class, and First Class products are solid, including the First Class lounge in Abu Dhabi. Etihad is one of the more expensive airlines and rarely offers flight deals. If you see one, move on it!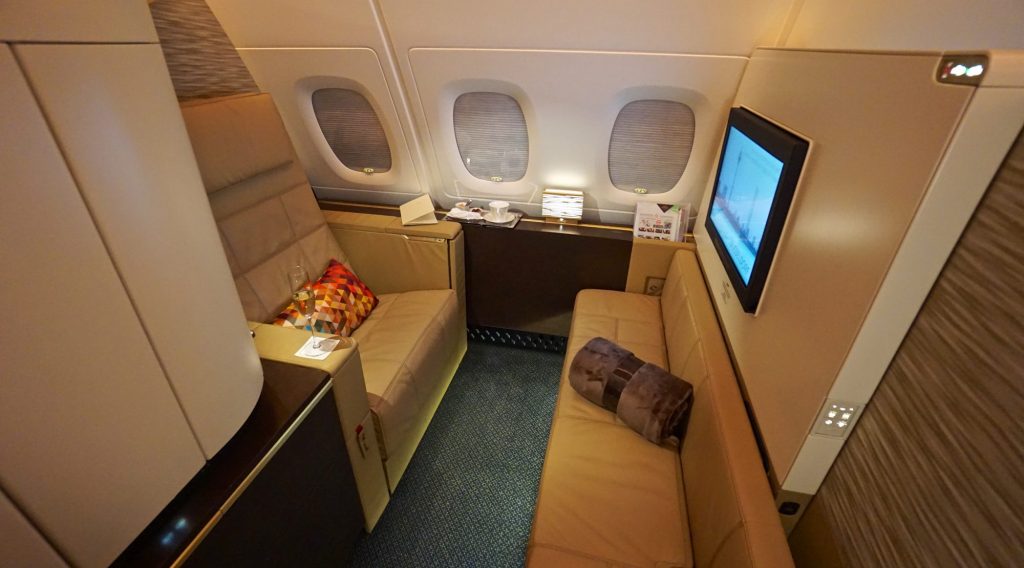 9. Hainan Airlines
Hainan is privately owned and the 4th largest airline in China. It's easily our favorite Chinese airline. Hainan is the classiest of the sometimes less than stellar selection of Chinese airlines. Seriously, check out their new uniforms!
10. Garuda Indonesia
The flag-carrier of Indonesia is a member of the SkyTeam alliance and a great choice if you're flying to Asia or the South Pacific.
Bottom Line
Not surprisingly, there were no US based airlines in the Top 10. In fact, Delta didn't make the cut until #32. Do yourself a favor and try flying one of the airlines mentioned above. It will be hard to go back to flying many of the sub-par US airlines. The fancy new aircraft and top notch service available from many foreign airlines puts many of the US-based airlines to shame.