Flying business class somewhere far away has become next to impossible using Delta SkyMiles. Whether you're aiming to go to Europe, South America, or Asia, you're likely to see Delta One Suites going for 300,000 SkyMiles each way – maybe even more.
That's what makes this alert we sent to Thrifty Traveler Premium+ earlier this week so stellar: You can book roundtrip flights in Delta One Suites all the way down to Santiago (SCL) in Chile for just 140,000 SkyMiles roundtrip from airports across the country. If you've got a Delta Amex card in your wallet, it gets even cheaper thanks to the TakeOff 15 discount: Under 120,000 SkyMiles! 
This is the best Delta business class deal we've seen in at least a year and one of the best-ever Delta SkyMiles flash sales, period. While our Thrifty Traveler Premium+ members got first dibs on this deal, there are still plenty of seats you can still book this coming September and October – a wonderful time to explore Chile or make your way to Patagonia.

Get more Delta deals and award alerts to use your points and miles with Thrifty Traveler Premium+!
This isn't just a one-off, either: You can book Delta business class seats down to Chile and back from airports all across the country at these rates. That includes Delta hubs like Minneapolis-St. Paul (MSP), Detroit (DTW), and Seattle (SEA) as well as other airports like Chicago-O'Hare (ORD), San Francisco (SFO), Washington, D.C.-Dulles (IAD), and more.
No matter where you start from, you'll fly domestic first class, make a quick connection through Atlanta (ATL), and continue all the way down to Chile in business class. Keep reading for the full list of departure cities you can fly from!

And this is the cream of the crop when it comes to Delta business class. Delta is flying its Airbus A350-900 on the route from Atlanta to Santiago through late October, meaning you get your own cozy Delta One Suite on the long flight to Chile. Lie-flat bed? Check. Privacy doors you can close to close out the world? Check. Champagne when you board, great food you can pre-order online, and a high-definition seatback screen with plenty of movies to keep you entertained? Check, check, and check.
Really, this might be one of the best ways to fly down to South America.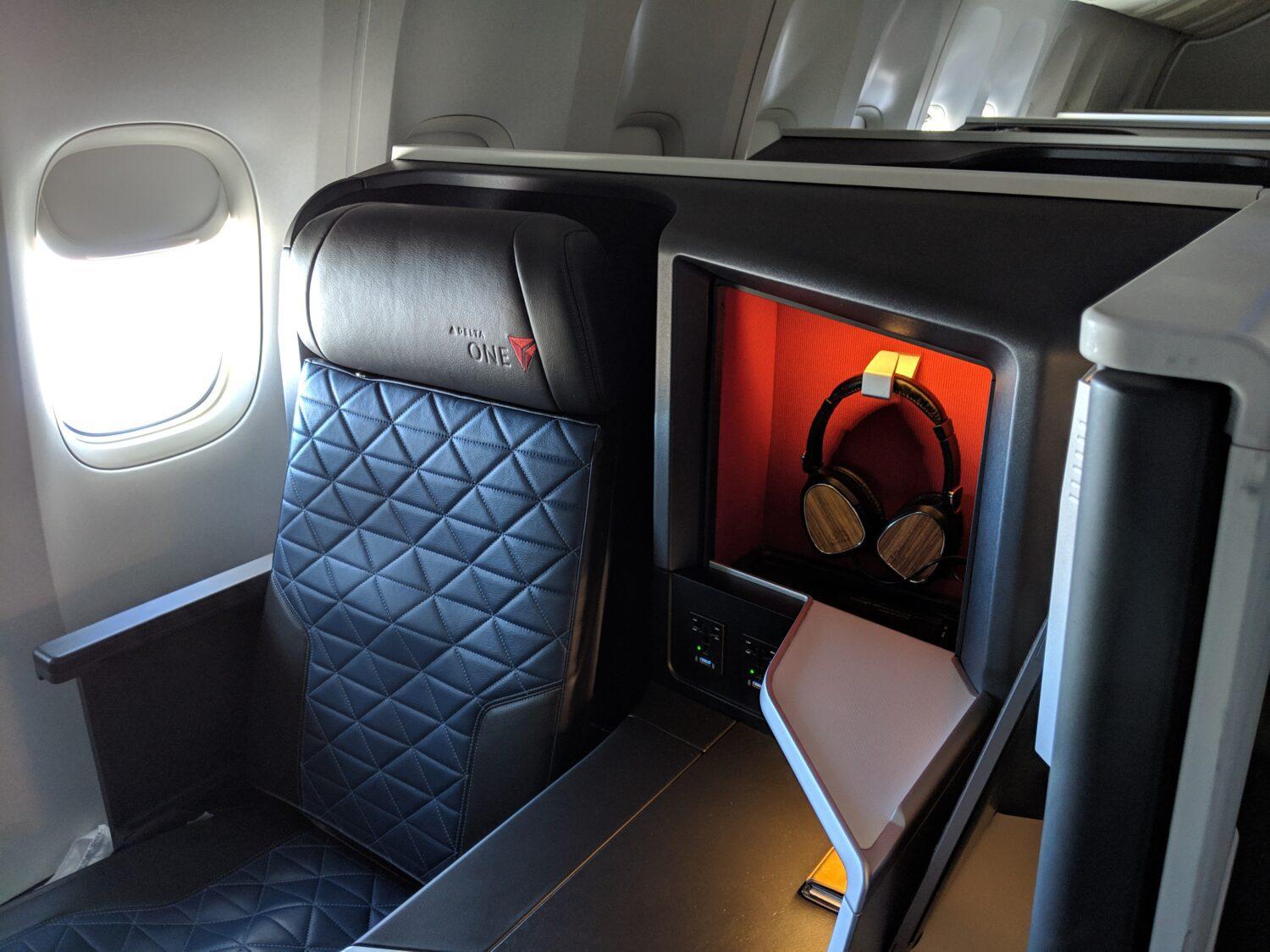 Read our full review of flying Delta One Suites!
The flight to Santiago and back clocks in at nearly nine hours or more – longer than many flights over to Europe. This is a great way to get the Delta One suites experience (and an amazing trip to Chile) without the jet lag – Santiago is in the Eastern Time Zone!
From the numerous wine regions to a trip into Torres del Paine National Park in the heart of Patagonia, Chile should be on your travel wishlist if it isn't already. Our summer is their winter, but September and October are perfect times to visit: Temperatures are warming up, the weather is dry, and crowds should be much thinner than you'll find later in the year.
Just look at how easy it is to snag flights from Minneapolis-St. Paul (MSP) to Santiago in Delta One suites for 119,000 SkyMiles roundtrip in September or October!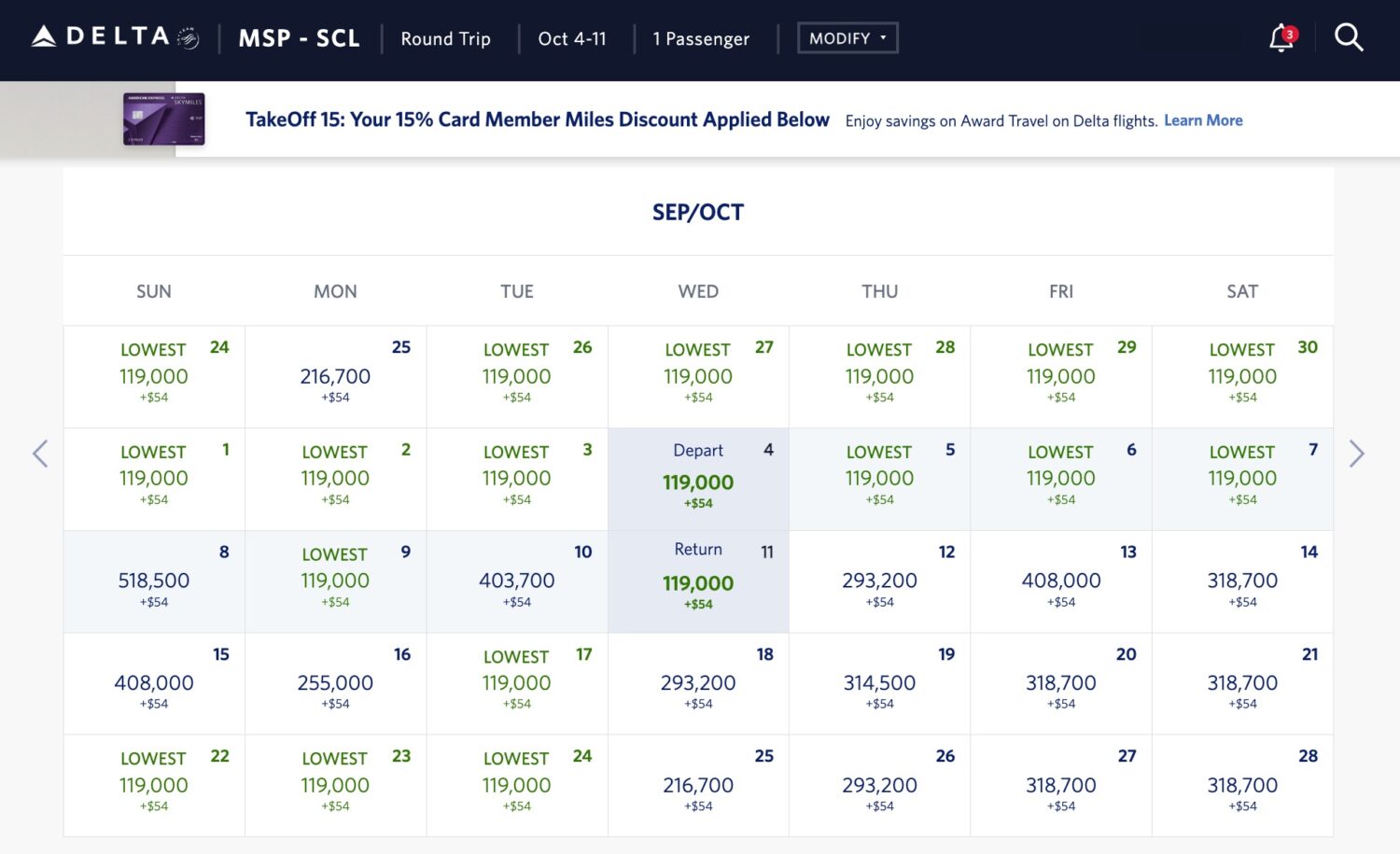 Need SkyMiles to book this deal? If you've got some American Express Membership Rewards points from cards like The Platinum Card® from American Express or the American Express® Gold Card, you're in luck: Delta is an Amex transfer partner, which means you can instantly transfer the points to your Delta account to get all the miles you need.
Thrifty Tip: Make sure to use Delta's "Price Calendar" feature when searching for award rates to find the best deals.
Still not sold on a trip to Chile this summer or fall? Book now to lock in this incredible deal before SkyMiles rates shoot back up to 500,000 SkyMiles or more. The beauty of booking with SkyMiles is that if your plans change, you can instantly cancel online and get all your miles (and taxes and fees) right back for free!


Get more award alerts to fly business class with your points and miles with Thrifty Traveler Premium+!
Availability to Chile in Delta One Suites
Travel from June through October, with the best availability in September and October
To book these fares, visit Delta.com and search using "Shop with Miles"
Delta is scheduled to stop flying its planes equipped with Suites on this route as of Oct. 28
Departure Cities
Austin (AUS) – 140k
Baltimore (BWI) – 140k
Boston (BOS) – 140k
Chicago (MDW) – 140k
Chicago (ORD) – 140k
Detroit (DTW) – 140k
Miami (MIA) – 140k
Minneapolis (MSP) – 140k
Newark (EWR) – 140k
Orlando (MCO) – 140k
Portland (PDX) – 140k
Salt Lake City (SLC) – 140k
San Diego (SAN) – 140k
San Francisco (SFO) – 140k
Seattle (SEA) – 140k
Tampa (TPA) – 140k
Washington, D.C. (DCA) – 140k
Washington, D.C. (IAD) – 140k
Bottom Line
It's not every day we see a Delta business class deal this good. Heck, it's not every year we see rates this low to fly Delta One Suites somewhere fun.
Flying to Santiago and back in business class for 119,000 SkyMiles is as good as it gets. Our jaws dropped when we unearthed these deeply discounted Delta One fares to Chile for our Thrifty Traveler Premium+ members.
Book now or forever hold your peace – it's unlikely we'll see another deal this good again.
Get the next award alert to fly business or first class with your points and miles with Thrifty Traveler Premium+!