How long do you think you could fly? Because if the answer is less than 19 hours, you might not be able to last on the longest flight in the world.
The list is always changing as airplanes get more fuel efficient and airlines get more ambitious. But many of the longest flights in the world today start or end in the United States, giving American travelers some ultra-long nonstop flights. And while spending three quarters of a day in a metal tube might not sound like fun, these routes give travelers the quickest way to reach almost any corner of the globe.
But don't assume long flights equal expensive flights. Whether you're paying cash or using points and miles, many of the longest flights in the world that originate or arrive in the U.S. can actually booked for competitive rates if you know where to look.
So download a few movies and podcasts, grab a good book, and make sure you've got some melatonin because we're embarking on a tour of the longest flights in the world. Settle in.

New York to Singapore on Singapore Airlines
Distance: 9,537 miles
Length: 18 hours, 30 minutes
This isn't just the longest flight from the U.S. – it's the longest flight in the world, period.
Let's put it into perspective. How many times in a row would you watch the blockbuster film "Oppenheimer" flying between New York City (JFK) and Singapore (SIN). Well, if you sat down on the longest flight in the world, you could watch Oppenheimer six consecutive times … and then get a third of the way through a seventh watch before touching down.


Even on the world's #1 airline, this flight is so long that they don't even sell economy tickets on these Airbus A350s – the cheapest seats they sell are Premium Economy with some extra legroom and amenities. The fine folks at Singapore Airlines have determined that this flight is simply too long for the human body to endure in economy seats … and they're probably right!
In fact, Singapore holds the mantle for the #1 and #2 longest flights in the world. A departure from nearby Newark (EWR) comes in at #2, losing to JFK by a grand total of three miles.
But just because they're long doesn't mean they have to be pricey – even in fancier Premium Economy seats.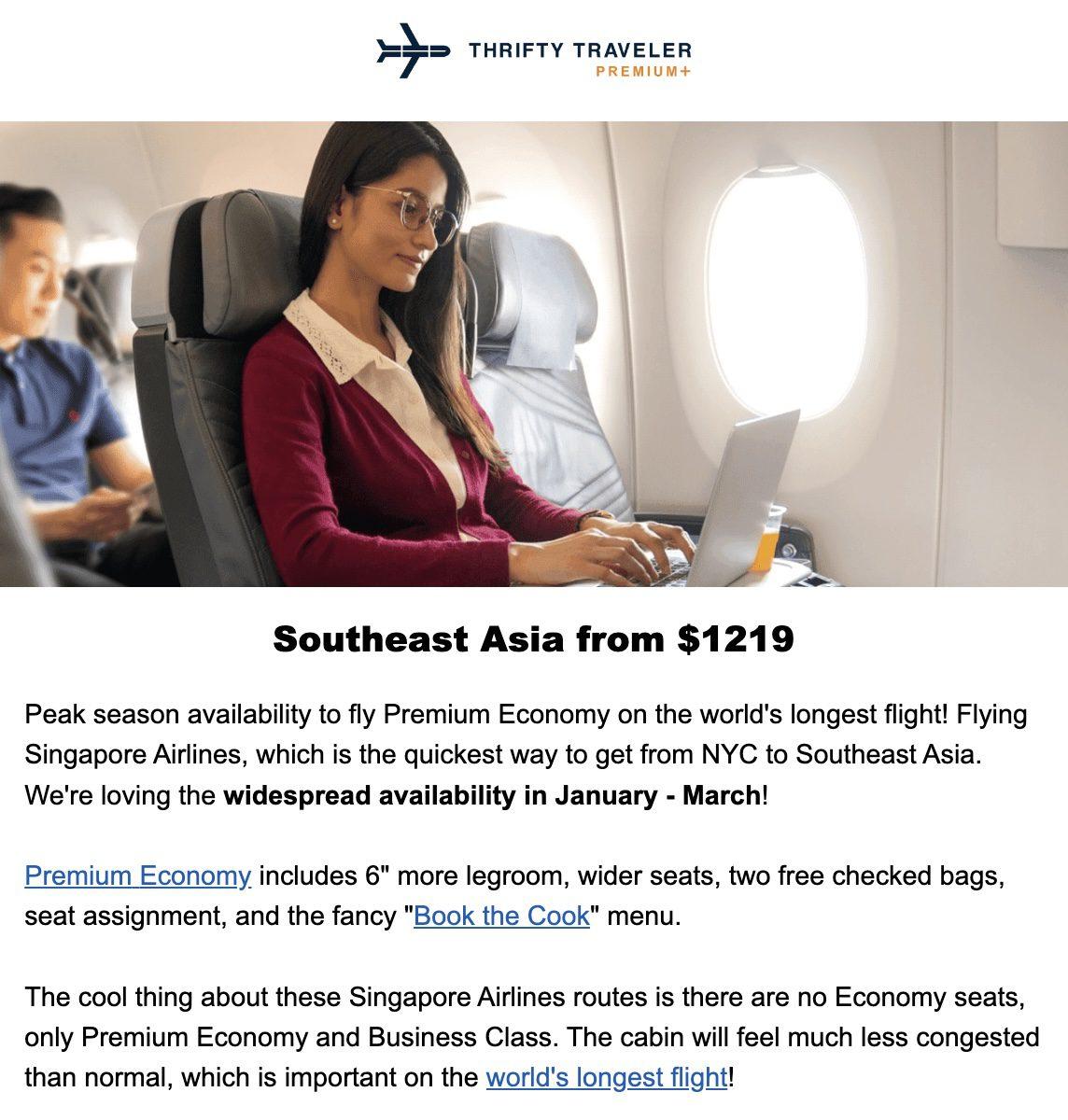 Singapore Airlines actually puts these longest flights in the world on sale all the time, and you better believe we catch them doing it and send the low fares straight to our Thrifty Traveler Premium subscribers' inboxes each and every time!
Plus, you can fly onward from Singapore into Asia for the same (or sometimes even lower) price.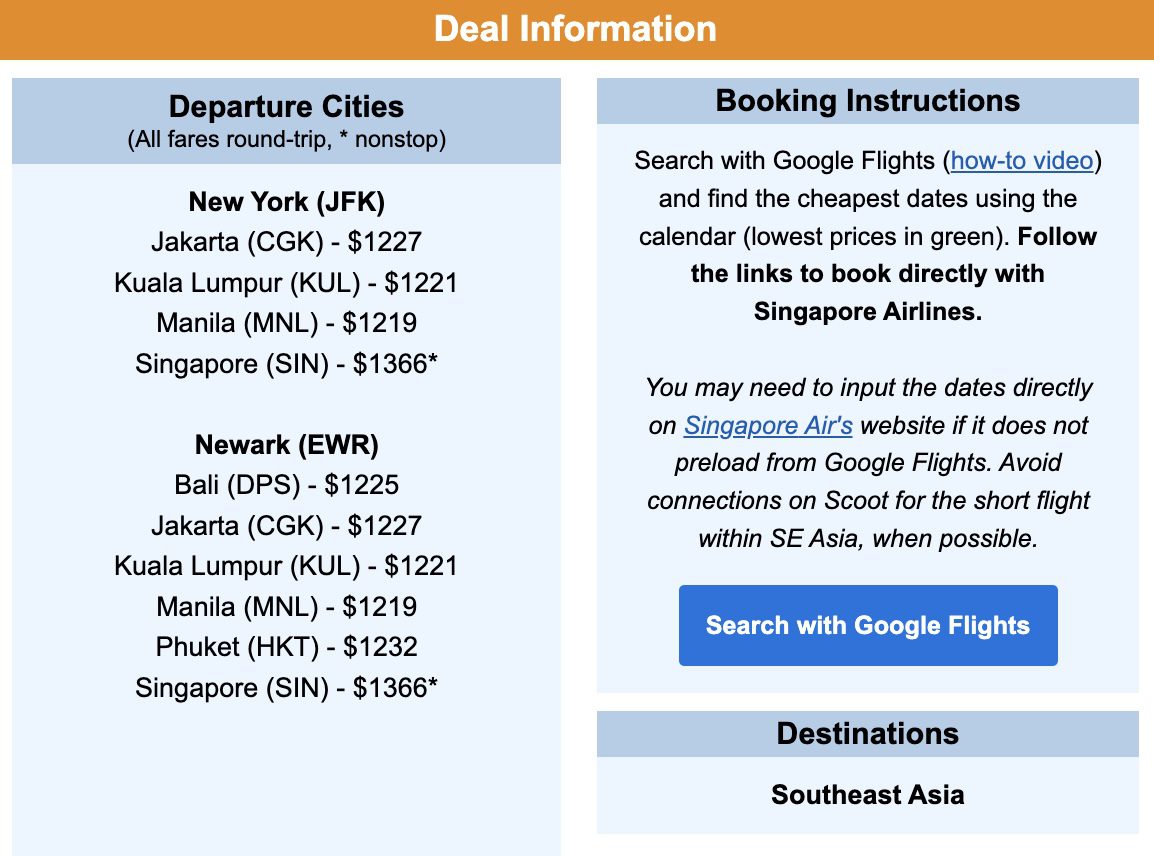 Looking for a little extra comfort on this nearly day-long journey to Asia from NYC? Singapore Airlines business class is one of the best in the world. But the best way to book this ultra-long flight isn't using Singapore miles – turn to Air Canada Aeroplan and book your lie-flat seat for just 87,500 miles each way!


Aeroplan has tons of credit card transfer partners. That means a stash of points from cards like the Capital One Venture X Rewards Credit Card, the American Express® Gold Card, or the Chase Sapphire Preferred® Card can get you all the points you need to hop on the longest flight in the world in style.
Dallas to Melbourne, Australia on Qantas
Distance: 8,892 miles
Length: 17 hours, 35 minutes
This relatively new nonstop route to Melbourne (MEL) launched late last year, instantly becoming the third-longest route you can fly to and from the U.S. The good news is that these flights are roughly an hour shorter than Singapore's nonstops from the New York area.
The bad news? They're still more than 17 hours long. Ouch.


In some ways, it was a surprising addition: Most of these ultra-long-haul flights depart from coastal hubs. But Dallas-Fort Worth (DFW) is an enormous metropolitan area with tons of connections funneling into the airport each day on Qantas's partner, American Airlines.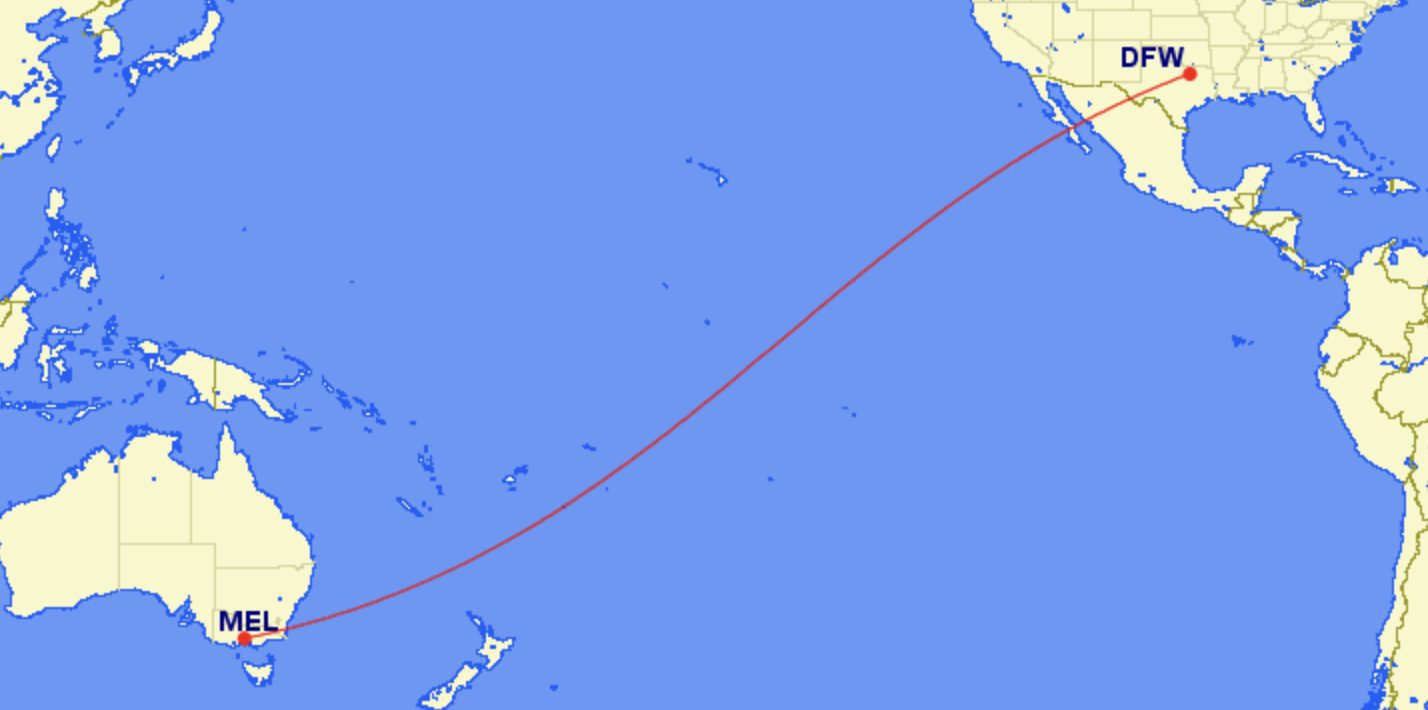 So as the Dallas-to-Melbourne flight took off, we immediately started trying to find comfortable ways for our members to fly it. It didn't take long.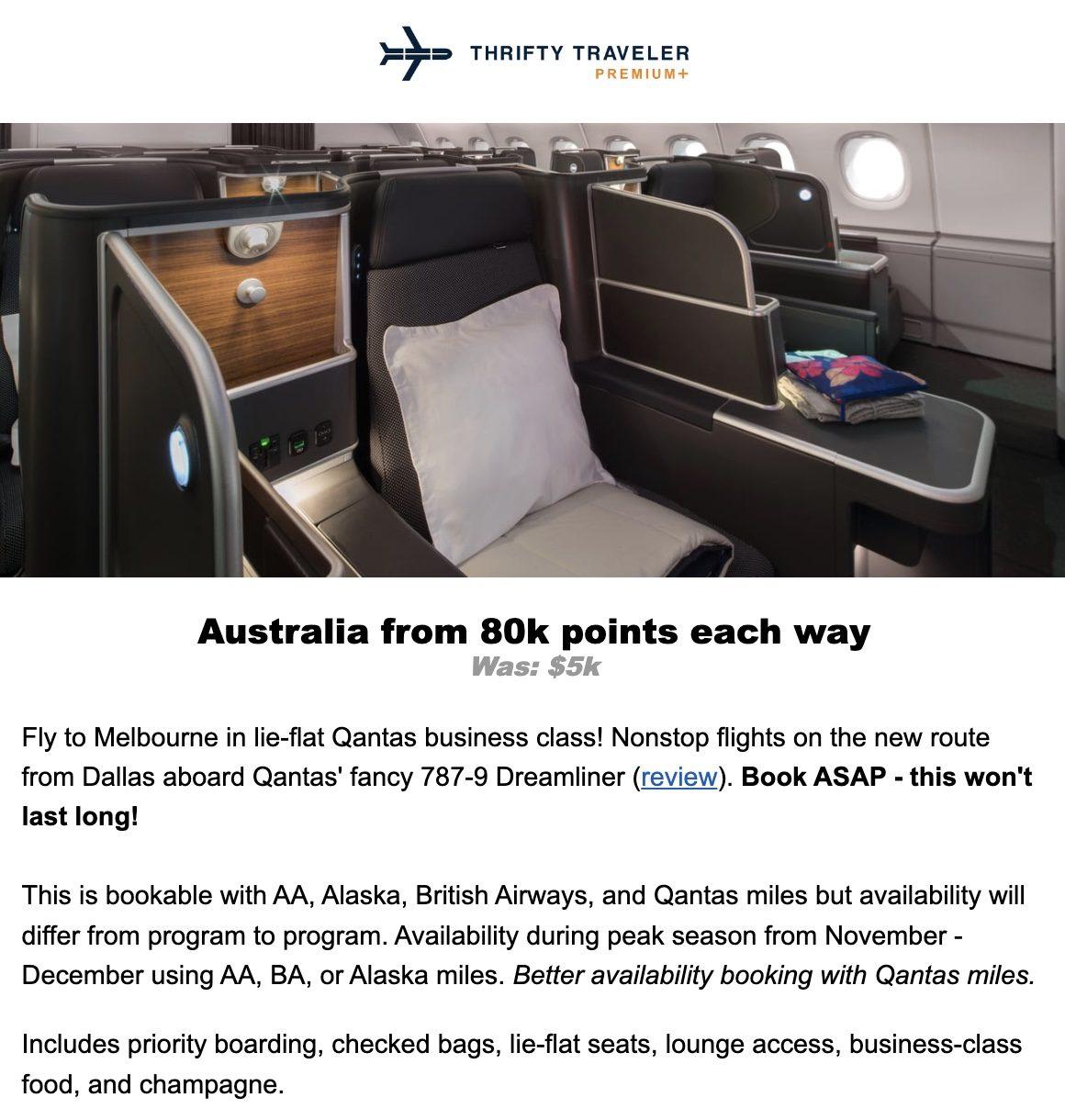 Booking business class flights to Australia using miles is typically a tall task, as award availability is generally nonexistent. Yet we've found and sent Thrifty Traveler Premium+ members a few alerts to book this new nonstop route straight to Melbourne for just 80,000 miles each way – and sometimes much less.
Break it down by points paid per mile flown, and this is one of the best deals in the sky!
New York to New Zealand on Air New Zealand or Qantas
Distance: 8,828 miles
Length: 17 hours, 50 minutes
Before the pandemic ruined travel plans, Air New Zealand announced it would to fly from Newark (EWR) to Auckland (AKL) in New Zealand. And while those plans were tabled for a while and then switched to New York City (JFK) instead of Newark, the route eventually did take flight, becoming one of the longest in the world.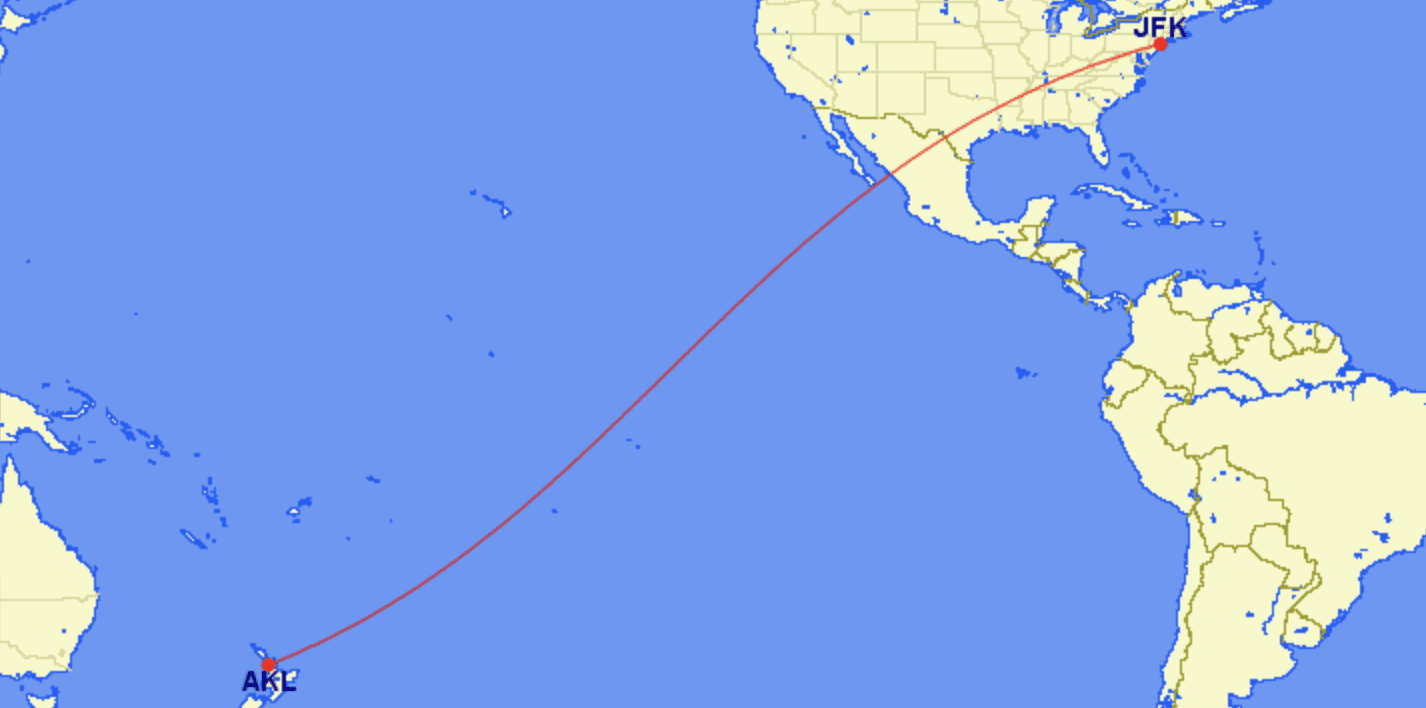 Much like Australia, finding business class seats to New Zealand using your points is tough … but not impossible. So when you get an alert like this from Thrifty Traveler Premium+ to book lie-flat business class for just 63,000 points each way via Virgin Atlantic Flying Club, you know it's something special.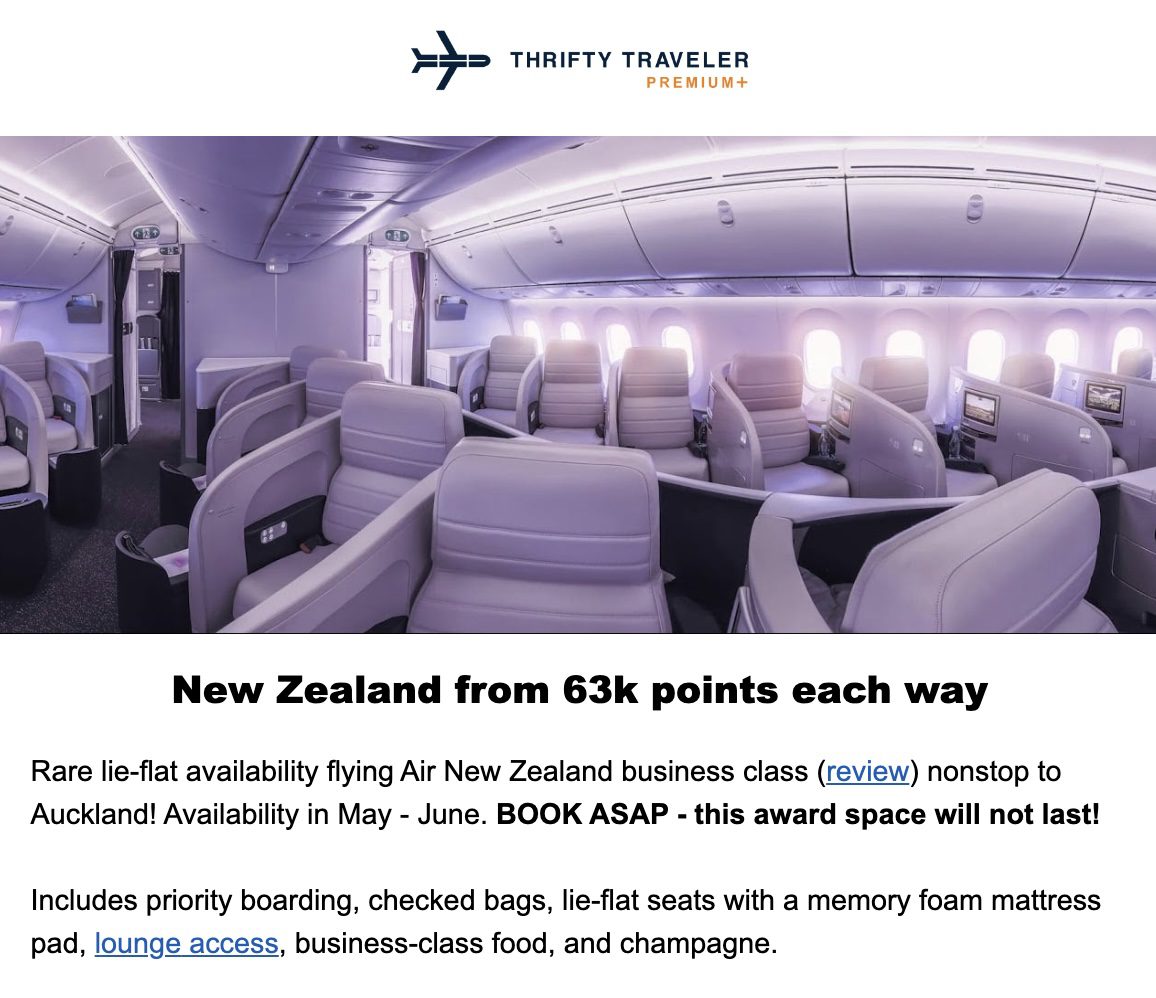 But Air New Zealand has some competition. It might not be Australia, but Qantas is flying nonstop on this exact same route, too.


Los Angeles to Singapore on Singapore Airlines
Distance: 8,770 miles 
Length: 17 hours, 40 minutes
Consider this: New York City and Los Angeles (LAX) are 6 1/2 hours away by plane, and yet Singapore Airline's nonstop from New York City (JFK) to Singapore (SIN) is just one hour longer than the nonstops from both Los Angeles and San Francisco (SFO). It's amazing how the shape of the globe and aviation bend our idea of distance and time.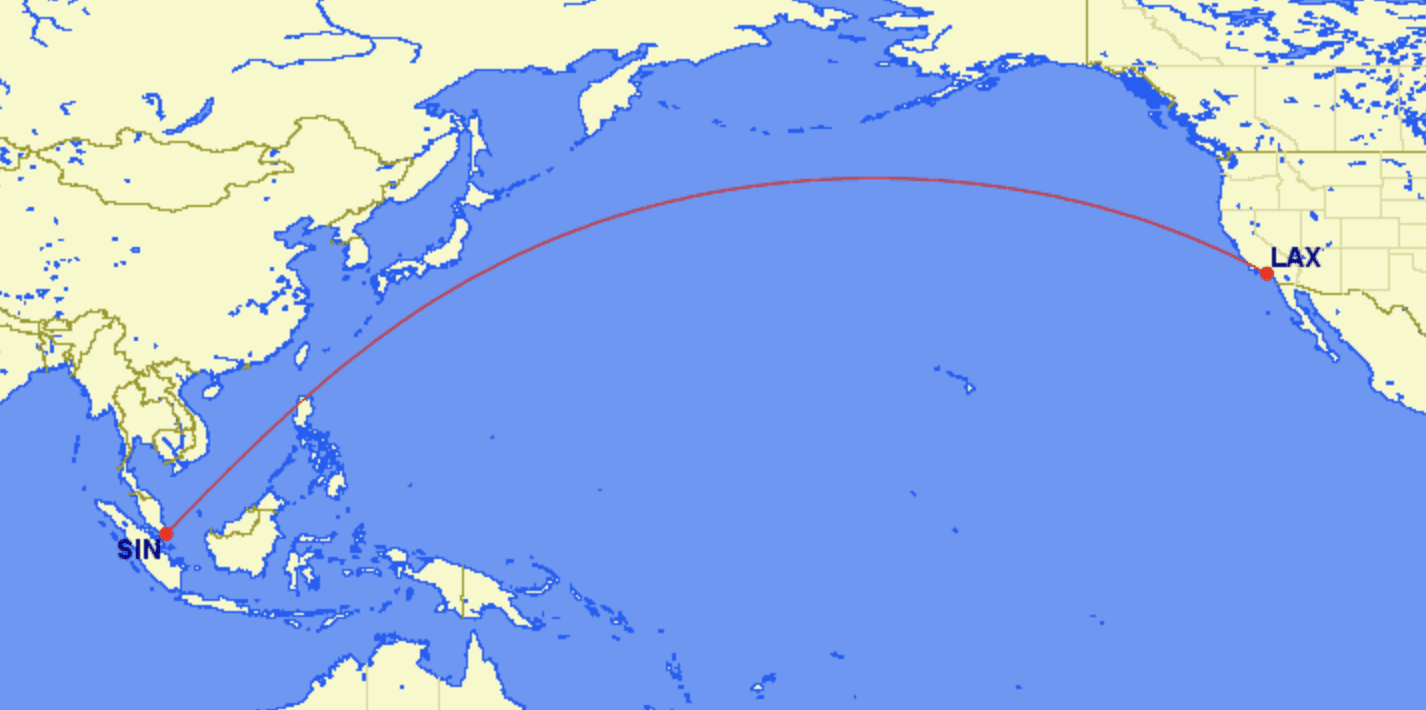 Whether you're flying from the East Coast or the West Coast, the haul to Singapore is still a long one.

The same nonstop flight on Singapore Airlines from San Francisco is only slightly shorter at 8,446 miles and 17 hours and 35 minutes.
Both flights are a doozy. But as always, Singapore Airlines takes very, very good care of its travelers in its comfortable seats. That's especially true if you're booking business class. The Singapore Airlines A350 is a real treat, and it connects Singapore (SIN) to nearly all of the airline's U.S. hubs, too.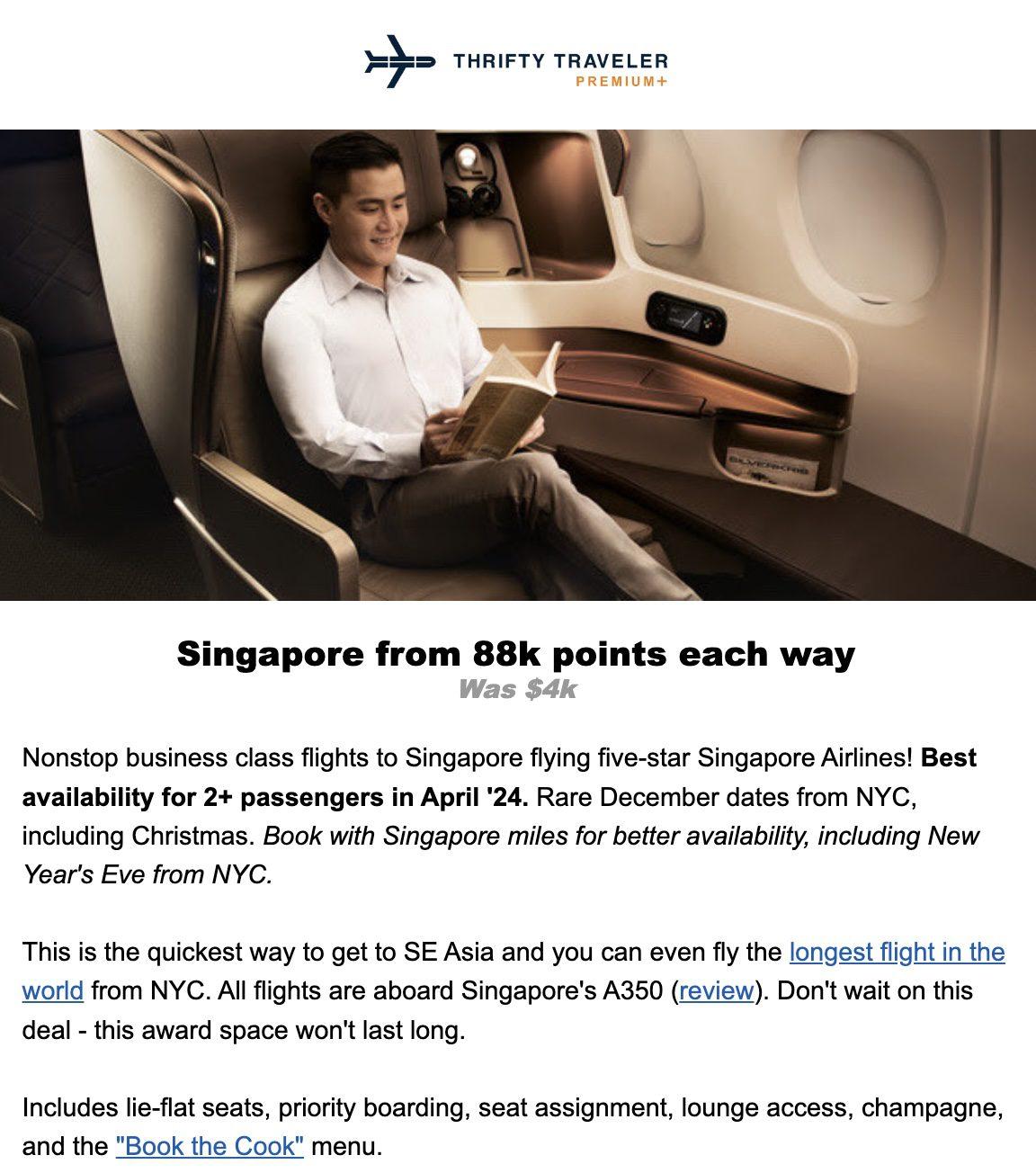 Just like Singapore's New York flights, you can book a seat in business class from California to Singapore for 87,500 Air Canada Aeroplan points each way. United also operates its own nonstop to Singapore from San Francisco but we know which airline we'd pick…
San Francisco to Bengaluru on Air India
Distance: 8,702 miles (BLR)
Length: 17 hours, 55 minutes (BLR)
The west coast of the United States straight to India: That's what Air India offers with its nonstop offerings to Bengaluru (BLR) and Mumbai (BOM).


The longest of these two flights is to Bengaluru, and it's about an hour longer than the trip to Mumbai. For reference, the flight to Bengaluru is the eighth-longest flight in the world while the Mumbai route is slides down to 14th.


Unfortunately, these routes are notoriously tricky to find a great deal on whether you're using money or miles. But they're on our radar!
Texas to Sydney on United or Qantas
Distance: 8,596 miles (IAH)
Length: 17 hours, 45 minutes (IAH)
Houston- Intercontinental (IAH) to Sydney (SYD) on United Airlines is 19 miles longer than the Dallas-Fort Worth (DFW) to SYD route that Qantas operates. They are the ninth and 10th longest flights in the world, respectively.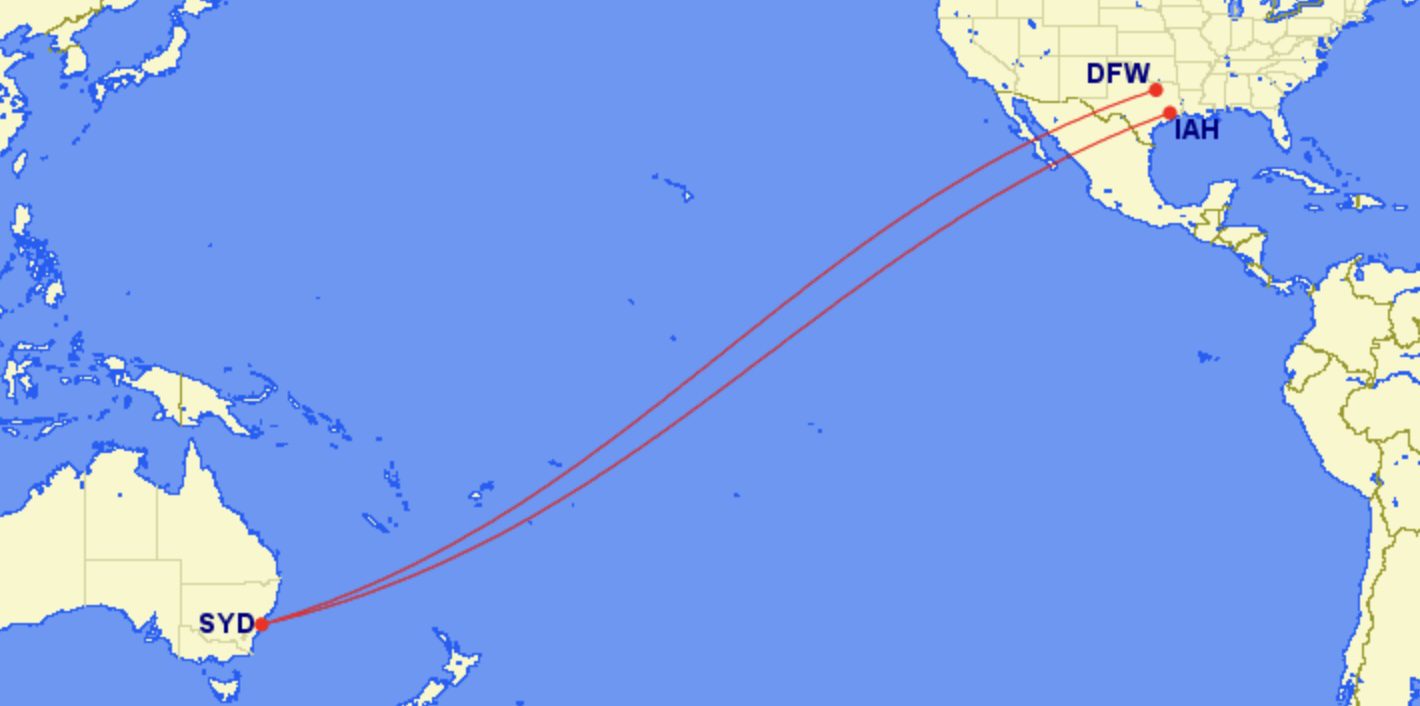 That's a loooonnngg time over the Pacific Ocean after taking off from Texas, but these 17 3/4-hour flights don't have to be too spendy. That's especially true for the Dallas-to-Sydney route on Qantas, which is sometimes bookable for as few as 80,000 British Airways Avios miles one-way.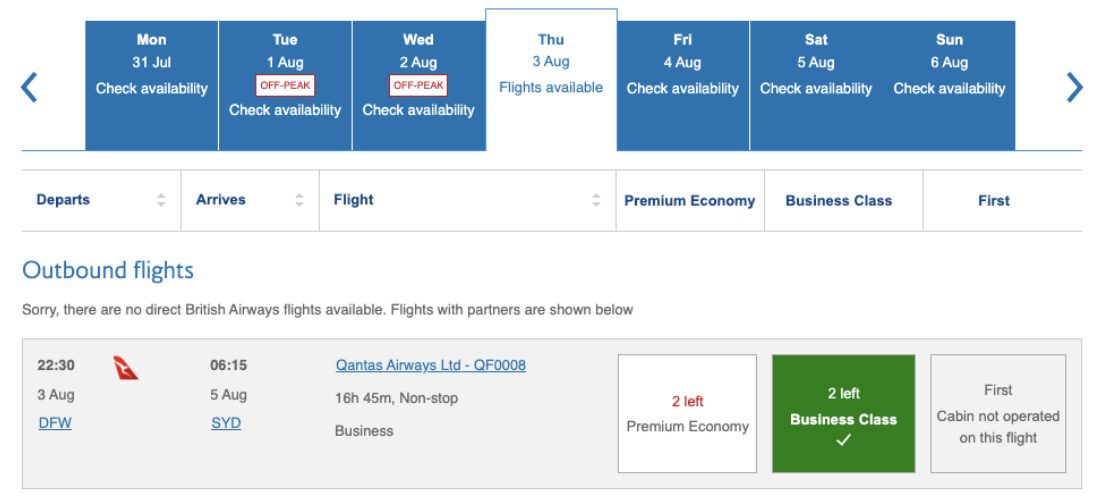 If you're looking for a bargain flying to Sydney from Houston nonstop, I have some bad news…

That's a one-way, economy price for a seat on this voyage. Please don't do that to your wallet (or your knees and back).
New York to Manila on Philippine Airlines
Distance: 8,520 miles
Length: 17 hours, 5 minutes
You might be noticing a trend: Flying from the East Coast nonstop to Southeast Asia is a long, long way. Philippine Airlines wanted in on the action.


This – the 11th longest flight in the world – is not the kind of fare that goes on sale very often, sadly. Hopefully, United Airlines' addition of a nonstop route to the Philippines from San Francisco (SFO) will put a little more pressure on Philippine Airlines to lower their prices. But in the meantime, it feels like you're paying per mile with this one.
Atlanta to Johannesburg, South Africa on Delta
Distance: 8,439 miles
Length: 17 hours
It took a long time, but Delta finally resumed flying nonstop between Atlanta (ATL) and Johannesburg (JNB). And while the airline also offers a nonstop flight to Cape Town (CPT) from its headquarters, the flight to Johanneburg edges it out in distance.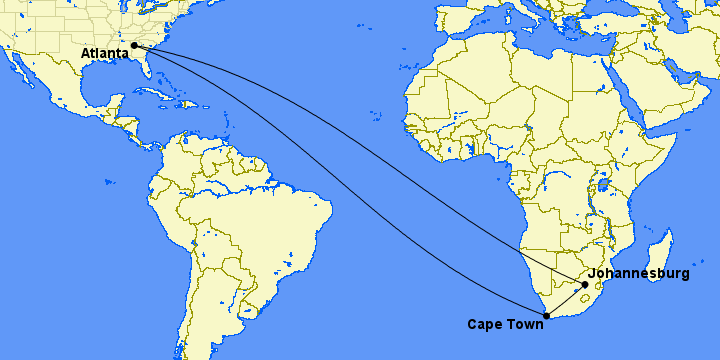 When it comes to flying this route, Delta doesn't give many discounts. Turns out people really want to fly nonstop to South Africa without connecting in Europe or the Middle East first. And if you want to book Delta One suites, expect to fork over 500,000 SkyMiles or more.

Don't write this route off due to cost, though. Thanks to Delta's partner Virgin Atlantic, there's a really crafty workaround to book these nonstop flights for cheap.

The roundtrip cash fares on these routes to Cape Town (CPT) or Johannesburg (JNB) are close to $2,000 depending on when you travel. And in SkyMiles, that's almost 200,000…don't pay that! Instead, take your flexible points from American Express, Chase, or Capital One and transfer them to Virgin Atlantic instead. If you time it right with one of the frequent 30% transfer bonuses to Virgin, you'll only need 70,000 points roundtrip!
Best of all, that 70,000 gets you a flexible, Main Cabin fare! That means you can select your seat and get two free checked bags for your 17-hour journey.
Los Angeles to the Middle East (Dubai, Jeddah, and Doha)
Distance: 8,339 miles (DXB)
Length: 16 hours, 25 minutes (DXB)
There are three flights from Los Angeles (LAX) to the Middle East that are nearly tied for some of the longest you can fly from the states.
There's Emirates flight to Dubai (DXB), a Saudia flight straight to Jeddah (JED), and Qatar Airways' flight to Doha (DOH). The Emirates flight is seven miles longer than the Saudia flight, which is 26 miles longer than the Qatar flight.
OK, make sure you're sitting down or holding on to something before you look at the fare below…

Yeah…please don't pay $14,000 for a First Class seat on Emirates. We have a better idea: Book Qatar Airways Qsuites with your miles to fly the world's best business class, bar none. It won't cost you a mountain of miles, either.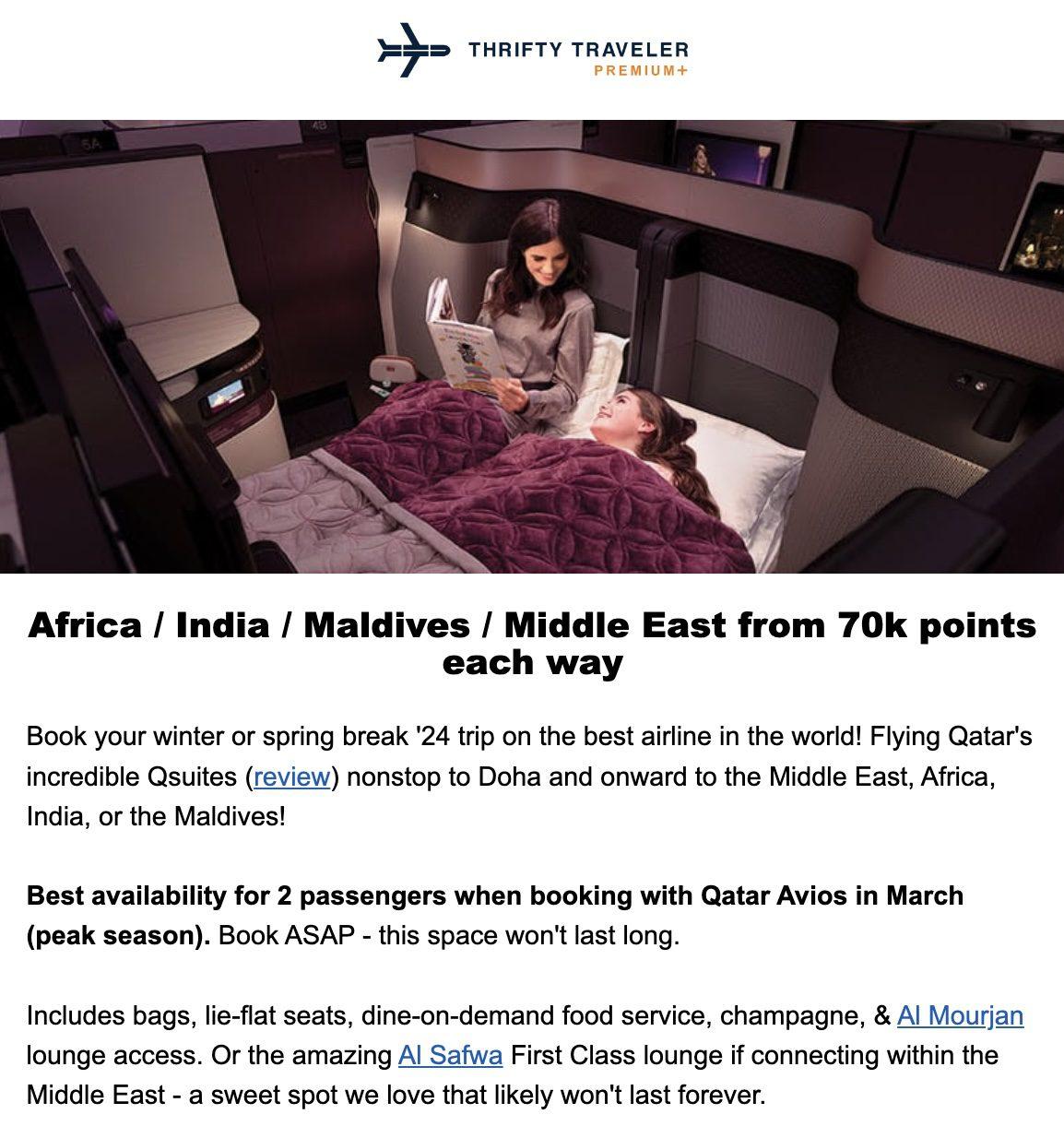 Just 70,000 American Airlines miles is what you need to book this nonstop route from LAX to Doha (DOH). Using AAdvantage miles, you can connect onward to the rest of the Middle East or the Maldives without paying a single mile more – or go as far down as South Africa for just 75,000 miles total.

Your points per mile on these fares is also pretty spectacular, and you won't have a care in the world when you're sipping champagne in your Qsuite. You might even want the flight to be longer!
Bottom Line
Can you imagine spending 19 hours in an airplane seat? That's exactly what you'd do if you fly some of the longest flights in the world.
But just because your flight is long enough for you to watch Oppenheimer six times in a row, doesn't mean it has to cost an arm and a leg to fly those routes.