Flying business class on any longhaul international flight is always a treat – who doesn't want a bigger seat, better meals, and a bed while crossing the ocean? But when it comes time to head to Europe, so many business class seats and airlines are almost … well, interchangeable. They do the basics right, and that's it.
Enter Air France business class on their Airbus A350. These jets are equipped with the airline's newest business class seats flying to and from their hub in Paris-Charles de Gaulle (CDG). And after a recent trip from Paris to Miami (MIA) to test it out, I'm sold.
It could just be the best way to cross the Atlantic in business class on your way to Europe or back home. Read on for the full review of Air France Business Class on the Airbus A350.
How to Book Air France Business Class
Booking business class awards is all about timing. And as you'll see, we nailed the timing on this one. But first, some background…
No matter where you're heading, you've got options to book Air France business class seats. One is better than all the rest.
Because it's part of the SkyTeam alliance, you can use a stash of Delta SkyMiles to book Air France flights. But after two major devaluations, you'll need a lot of them: It now costs 120,000 SkyMiles to book one-way business class flights to Europe on Air France, KLM, Virgin Atlantic, and other partner airlines. Pass.
Korean Air's SKYPASS miles are another option … but those miles are next to impossible to earn after Chase removed it as a transfer partner a few years back. That leaves us with one strong option: Air France and KLM's own Flying Blue miles.
Most importantly, these miles couldn't be easier to earn. It's a Chase transfer partner, Amex transfer partner, Citi ThankYou transfer partner, and even a Capital One transfer partner. That means you can easily (and instantly) transfer the credit card points you need to book.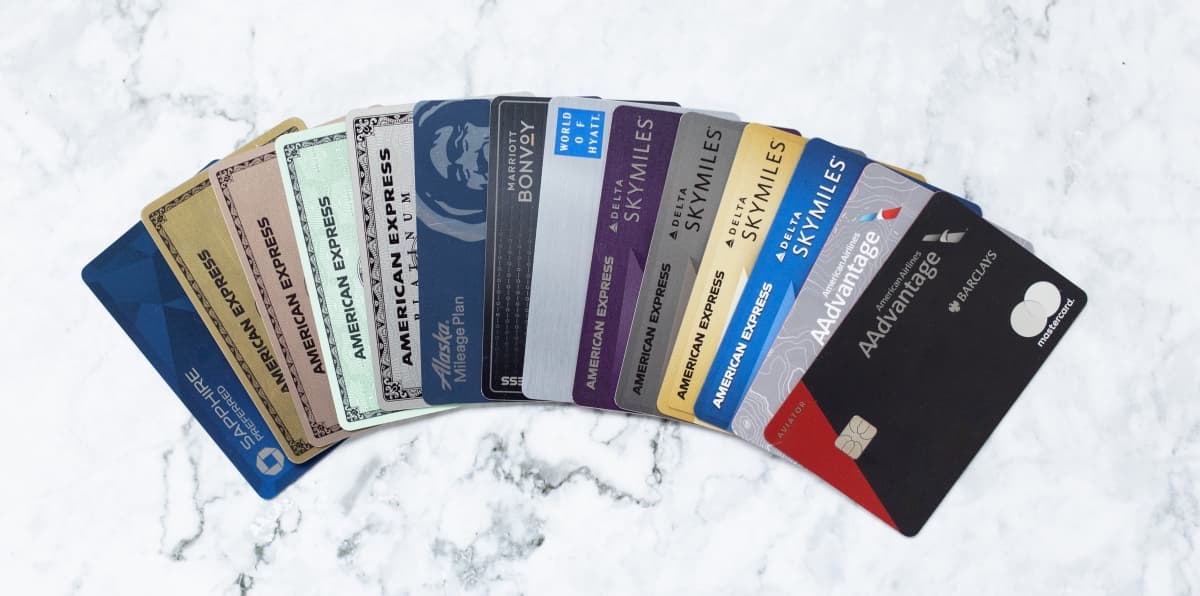 Rates to book Air France business class and KLM are incredibly reasonable when using miles. It's not too hard to find one-way fares between the U.S. and Europe for 55,000 to 70,000 Flying Blue miles, give or take a few hundred.
But this redemption got even better thanks to Air France/KLM Promo Rewards – the monthly discounts Flying Blue offers on select long-haul routes. When we booked, Air France had cut business class award rates to and from Miami (MIA) by 25% – dropping the final cost as low as 39,750 miles for a one-way flight.
Get business class award alerts like this one sent straight to your inbox with Thrifty Traveler Premium!
In the end, I booked my one-way flight for 45,750 Flying Blue miles and $379 USD in taxes and fees to fly from Munich (MUC) to Miami (MIA) with a pitstop in Paris-Charles de Gaulle (CDG). While those fees were steeper than what you'll pay using other airline programs, they're reasonable – and it's a small price to pay for a $3,000-plus business class flight.
To top it all off, we timed this booking with a 25% transfer bonus from American Express to Air France and KLM last November. That meant we only needed to transfer 37,000 Amex Membership Rewards points in order to get what we needed to book.
Checking in & Lounge Access
I checked in for the trip over in Munich (MUC), where a short hop on a small Airbus A319 would take me over to Paris for the long flight across the Atlantic Ocean.
Unlike some other airlines, Air France hasn't built in a digital check-in system to confirm travelers have the necessary negative COVID-19 test result to fly to the U.S. But after showing my passport and a PDF of my at-home COVID test results at the priority check-in desk, I was on my way.
Air France had a nice but tiny lounge in Munich to hang out for a bit before boarding.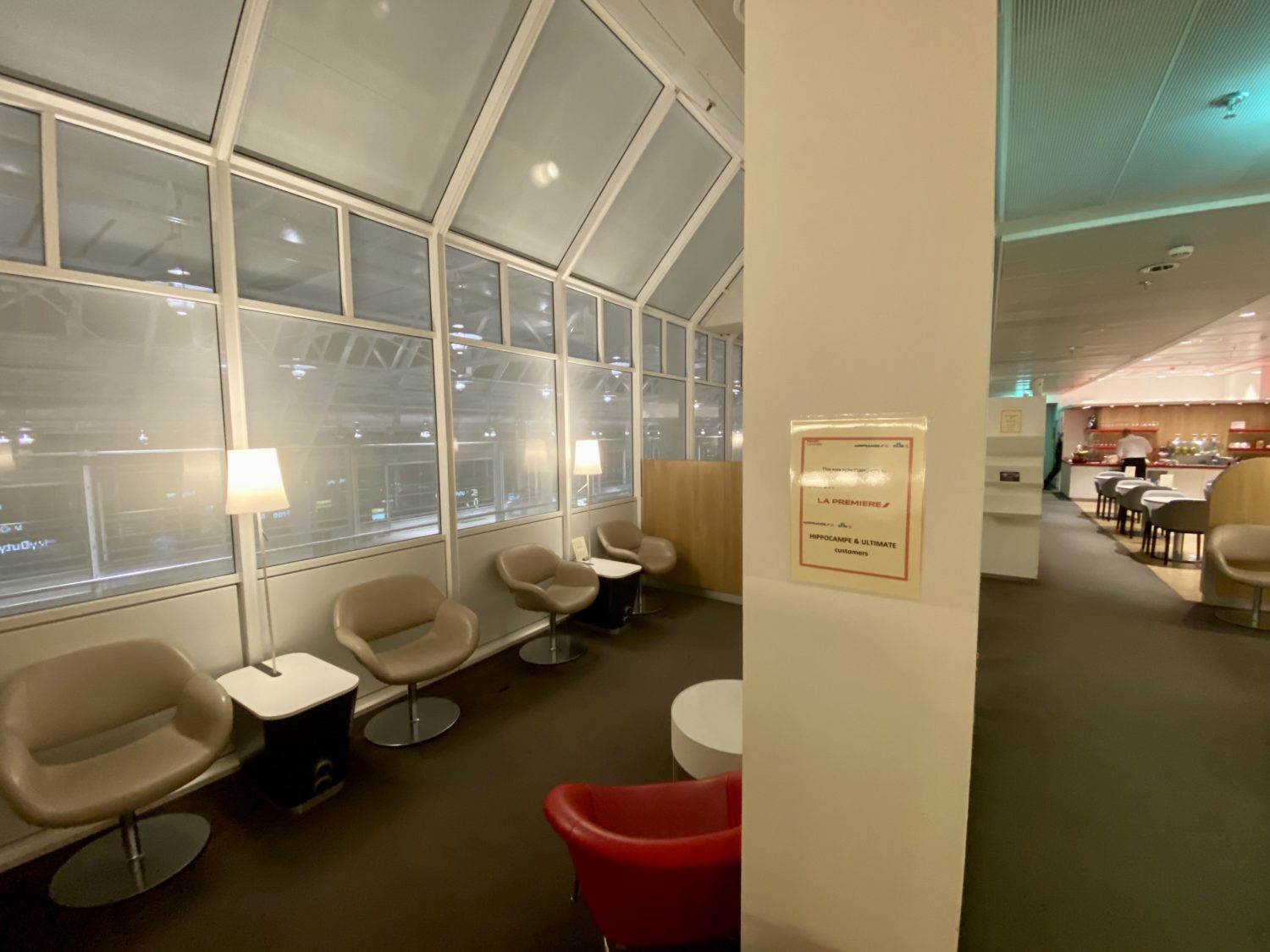 My already-short connection in Paris was made even shorter due to a delay getting off the ground in Munich. Unfortunately, that meant I had to race to make my connection and skip Air France's flagship lounge in Terminal 2E. Shame, as it sure does look phenomenal…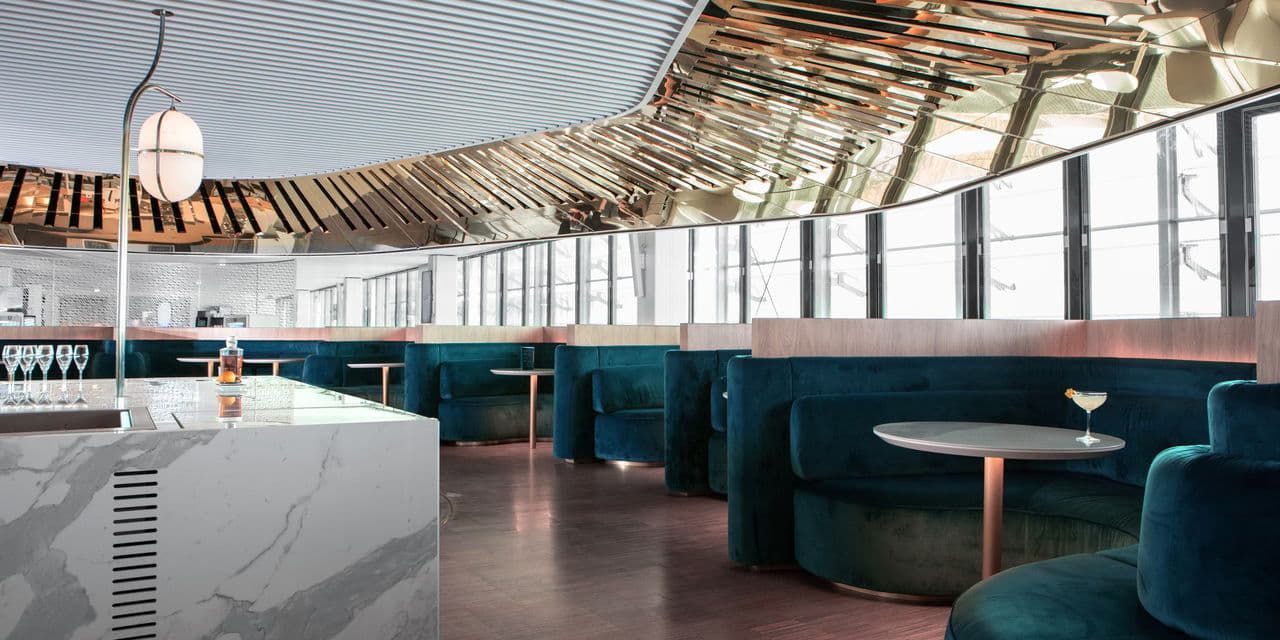 I made it just in time to catch a bus over to the plane. And as I suspected, I was in for a treat.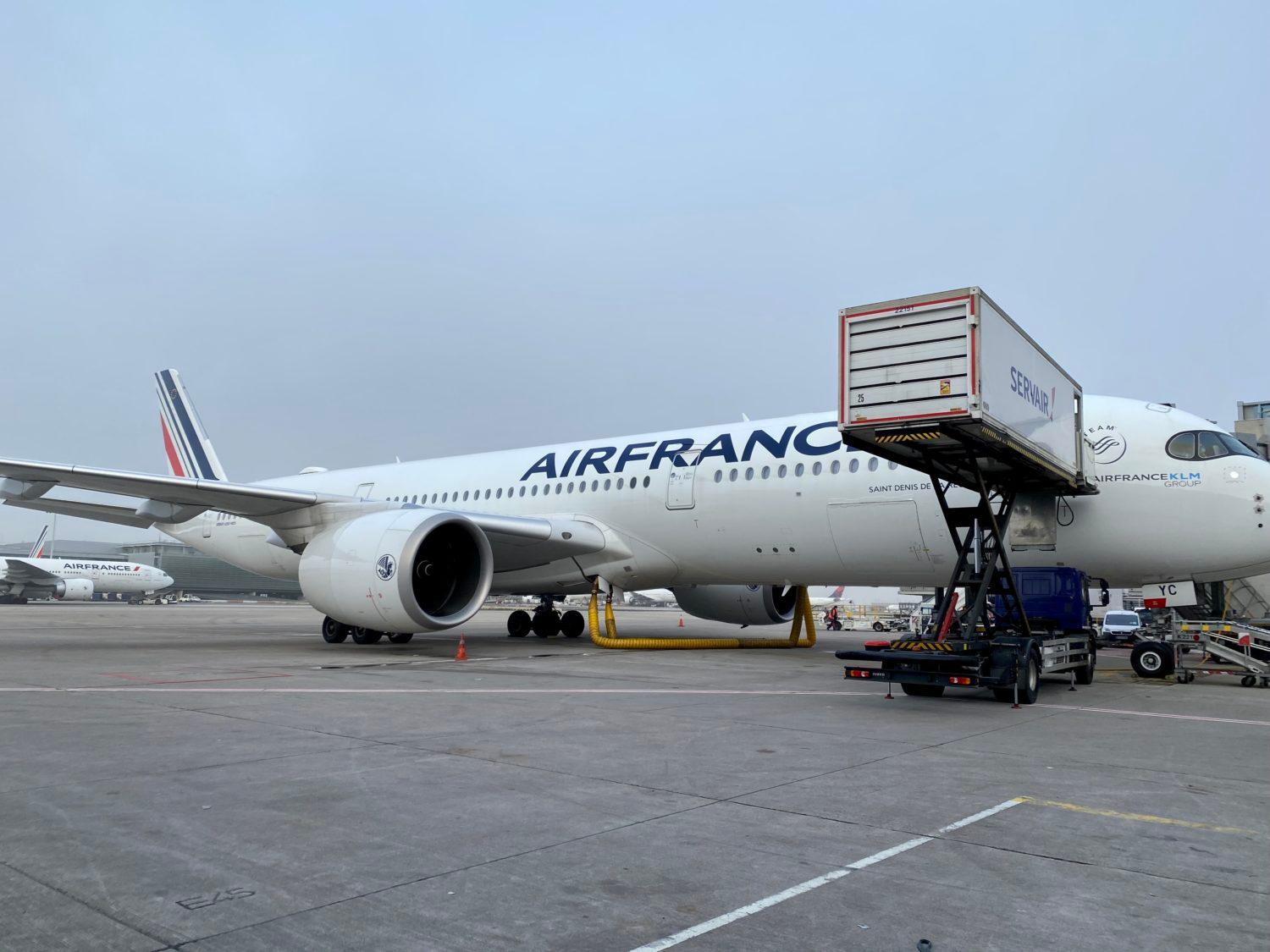 Air France Business Class Cabin
Air France's Airbus A350s feature their newest business class seats. These planes were actually designed for Air France's short-lived budget subsidiary, Joon. But nothing about this business class cabin says "budget" to me – quite the opposite.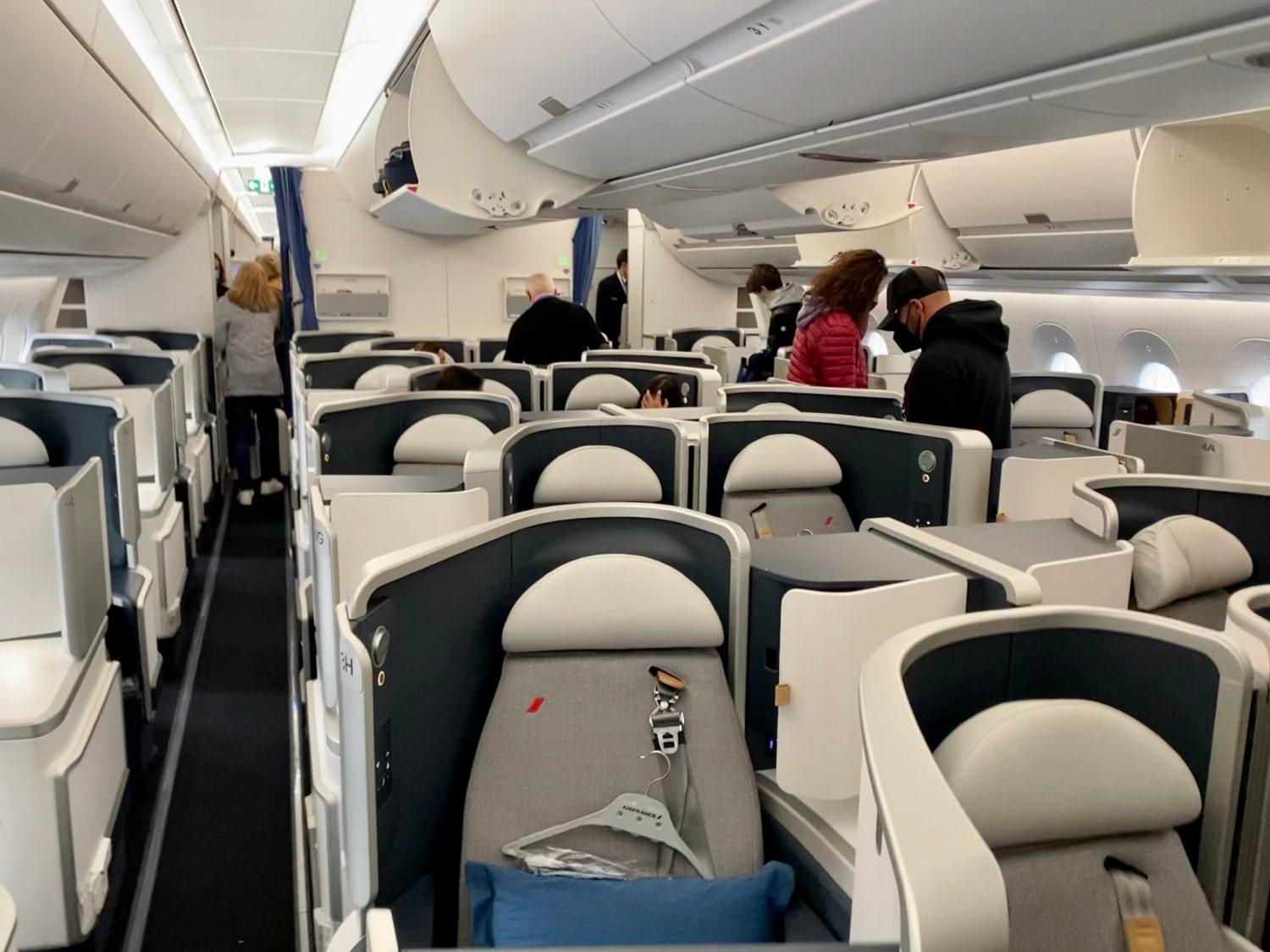 It's a simple yet stunning cabin. Rather than the typical reverse herringbone seats you find on most other Air France jets, this one has a staggered arrangement with seat layouts that alternate from row to row: Some closer to the aisle, and others closer to the windows.
But it's the color palette that does it for me. The crisp white and dark blues are punctuated with soft grays of the seat headrests and a splash of red with the Air France logo as well as a pop of light brown leather. I can't think of a classier-looking business class cabin.
The cabin layout works well, too, with 34 seats spread across nine rows in a single cabin at the front of the plane. Along the windows, you'll find seats meant for solo travelers.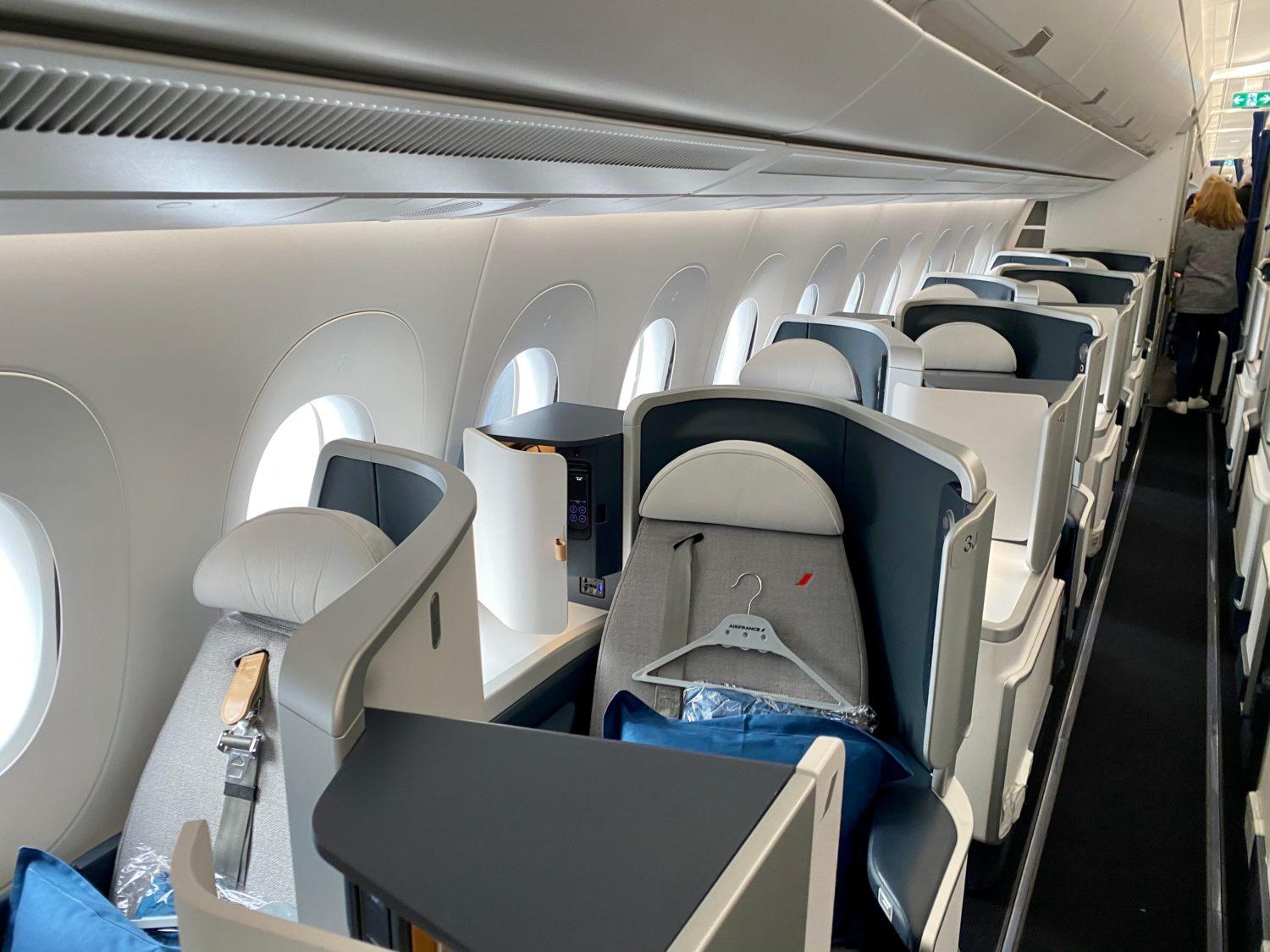 Odd-numbered seats are positioned closer to the aisle, though there's a partition you can pull out from the seat shell to get a bit more privacy from your neighbors across the aisle.
Meanwhile, the best choice for flying solo is easily the even-numbered seats, which are tucked in closer to the windows for far more privacy – not to mention a much better view out the windows.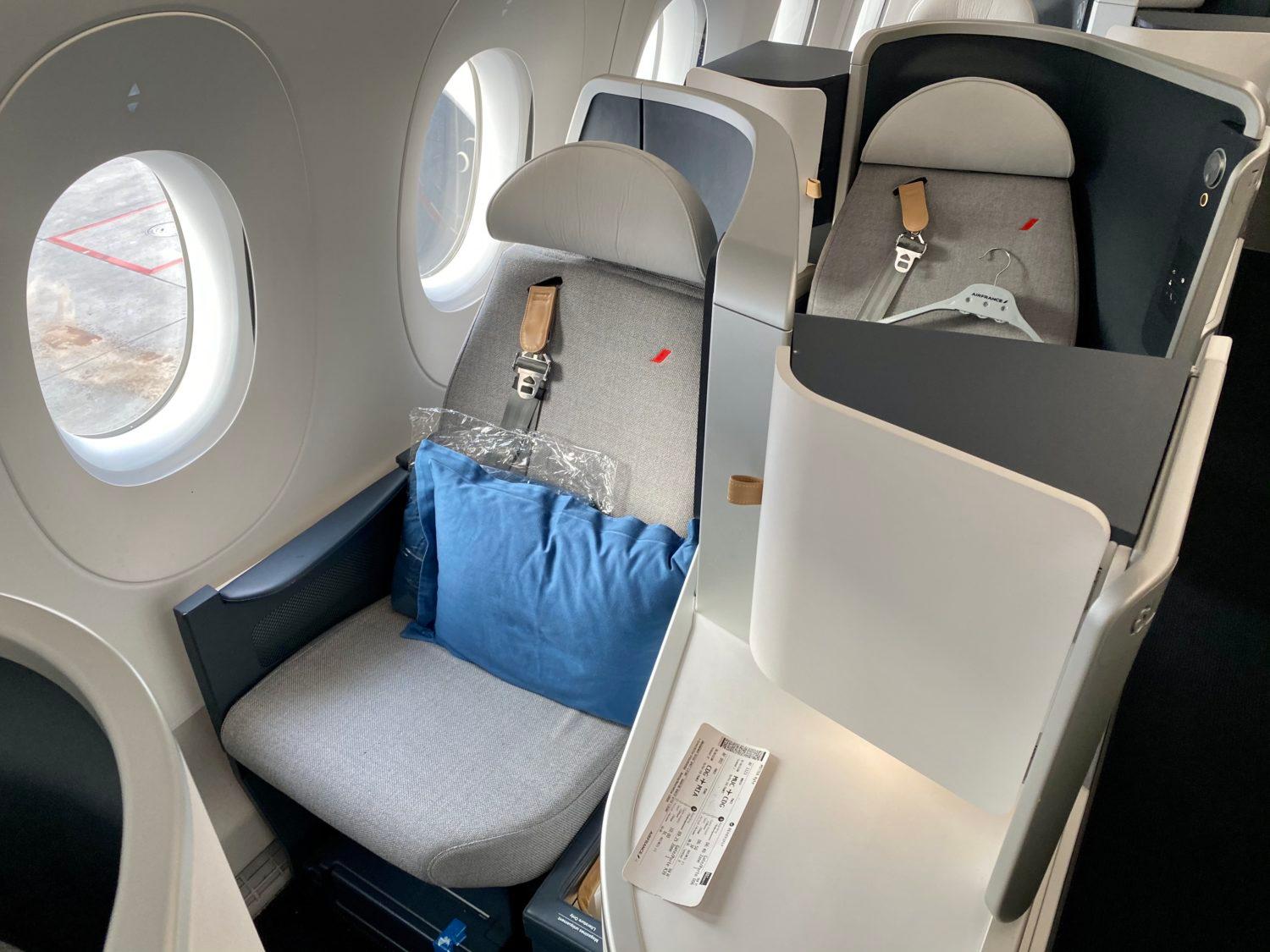 Seats in the center of the cabin differ from row to row, too. Couples or traveling companions should love the so-called "honeymoon" seats in the even-numbered rows – they're some of the best business class seats you'll find for couples, as a matter of fact.
They're positioned very close together, with a nice storage compartment and console to create plenty of space and privacy from the aisle. If you don't know your seatmate, there's a large divider that can be raised.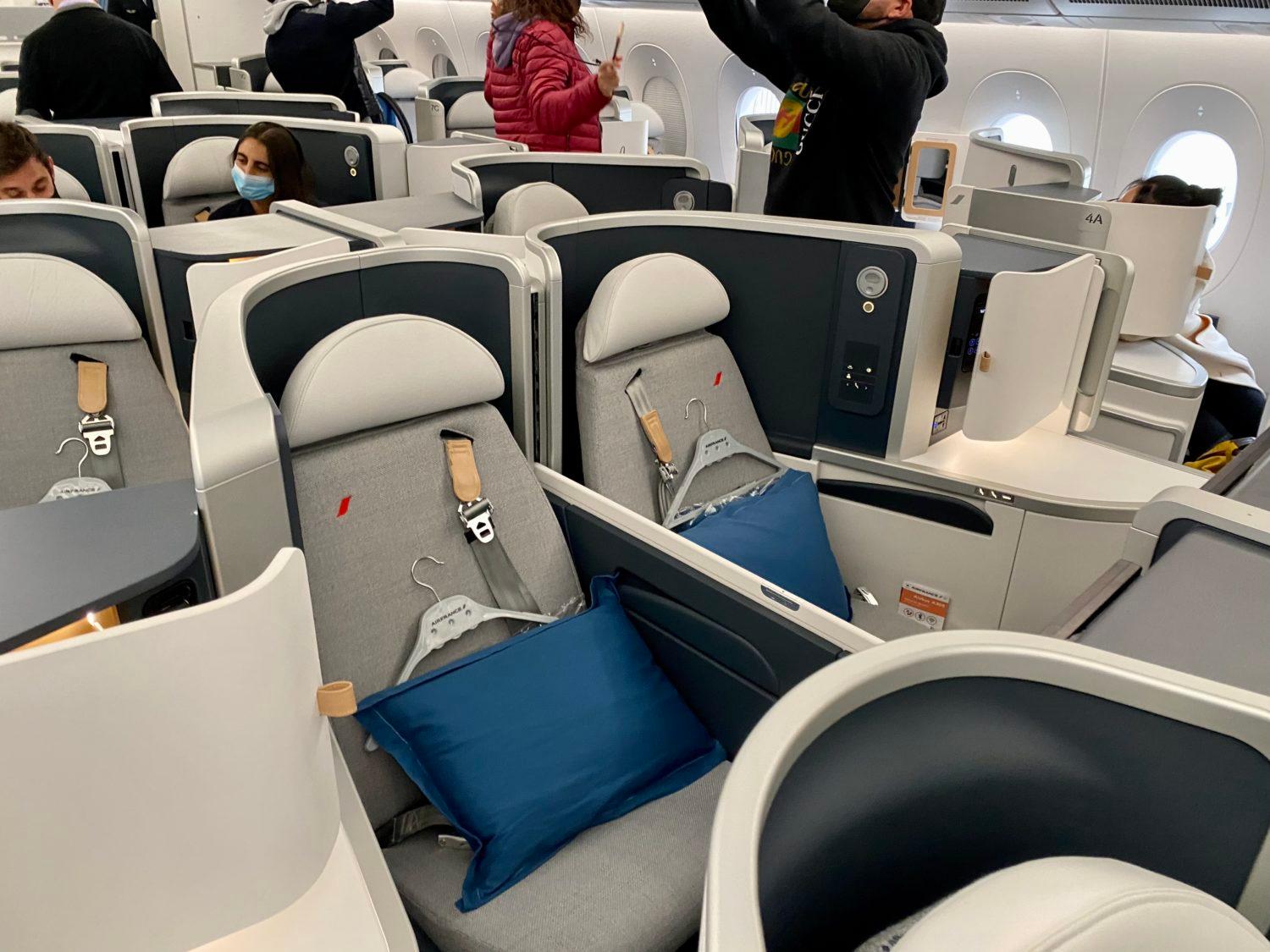 Finally, odd-numbered seats in the center section are positioned closer to the aisle – and also angled slightly toward it, making them even more exposed. While it's definitely possible to talk with your seatmate in these rows, it'd be a bit trickier. These would probably be my last resort on Air France's A350s, though none of the seats are bad by any measure.
The business class cabin is equipped with three lavatories: One at the front and two at the rear, which are shared with passengers in Premium economy. There's another lavatory up front but that was blocked for crew use only.
The bathroom itself is quite standard: Spacious enough, but nothing special to differentiate it from your typical plane lavatory.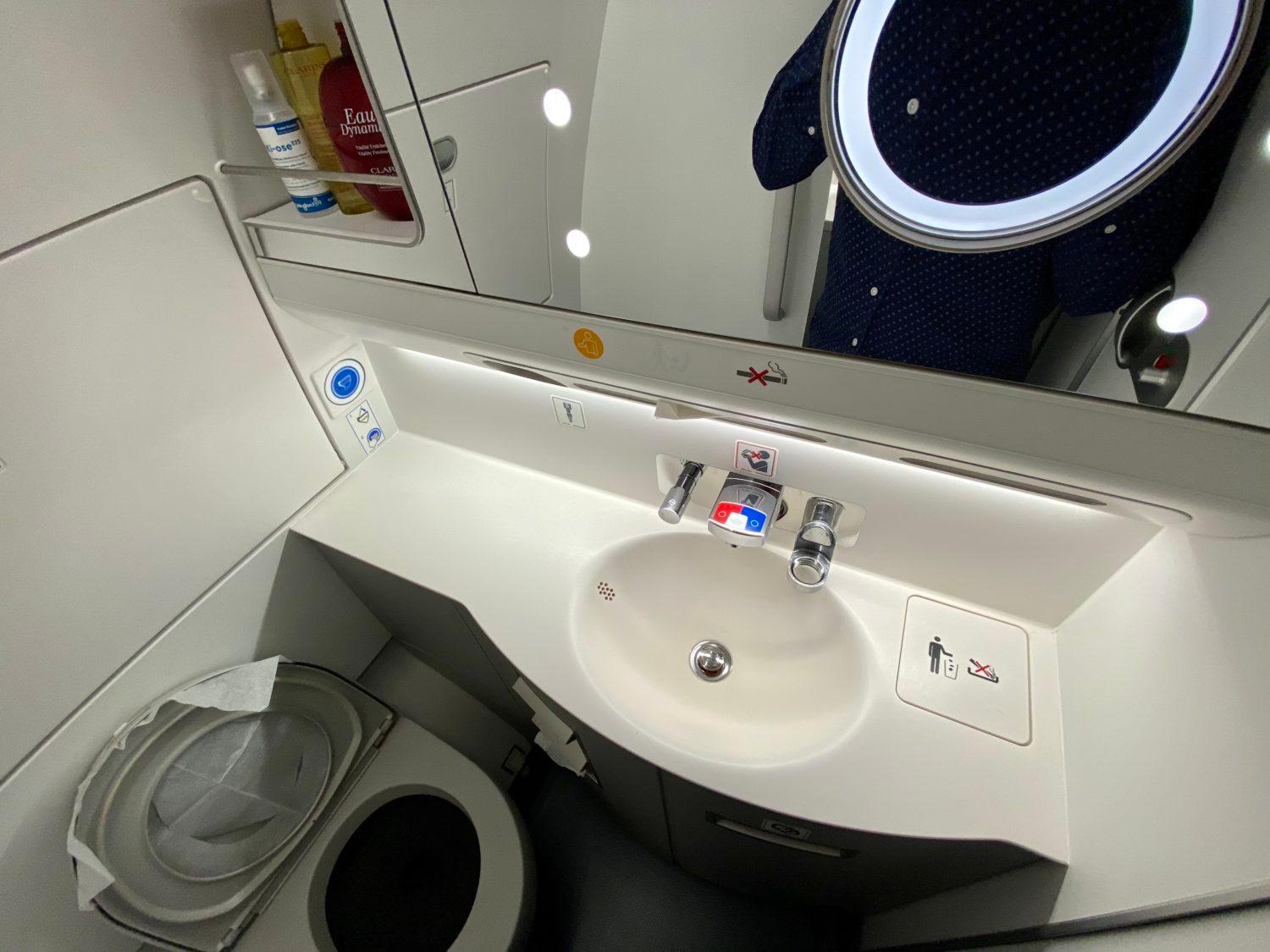 There were a few nice Clairins amenities available, however.
The Seat
Eventually, I settled into my seat at 6L: one of the best seats on the plane, if you ask me.
Between its positioning closer to the window and a fairly large console to the side, it's incredibly private. Plus, there were three windows within reach.
The seat itself isn't just sharp-looking, but comfortable too. Measuring in at 21 inches wide, it's not the widest business class seat in the sky but it never felt cramped, either. Plus, it was well-padded – especially the crisp white headrest. These seats are some of the few equipped with an over-the-shoulder seatbelt, which only need to be attached during taxi, takeoff and landing.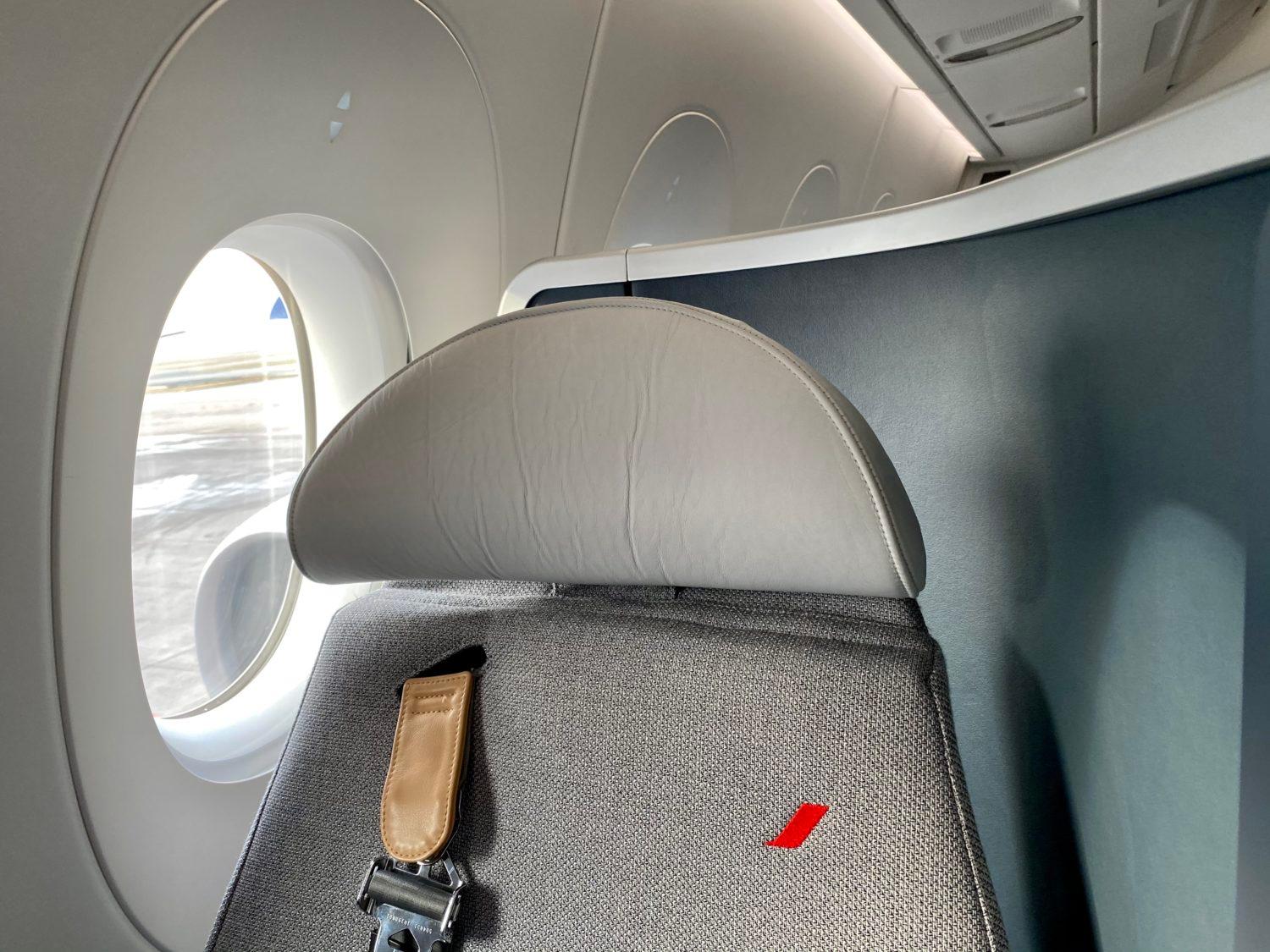 And it was plenty long too, with 78 inches of legroom. While the footwell at the front of the seat is on the smaller side due to the seat ahead, it was big enough to stretch out. That said, it did restrict movement a bit when reclined into bed mode. Seats in the first row have slightly bigger footwells thanks to the bulkhead, but that's not worth the tradeoff of being closer to both the aisle and the galley, if you ask me.
If there's one takeaway about these solo window seats in Air France's A350 business class, it's this: They're incredibly private. Thanks to its positioning away from the aisle and a substantial storage console on the side, it's also impossible to see fellow travelers in the cabin … even if you try.
Here's a look at the aisle from my seat.
But it gets better. There's a plastic partition you can slide out for some additional privacy.
Aside from flight attendants going about their service or the occasional passenger walking by, I can honestly say I didn't see another soul from my seat during the flight. From Qatar Airways Qsuites to Delta One Suites and even British Airways' latest offering, slapping doors on business class seats is all the rage these days. But honestly, it would have felt like overkill here – and it would have come at the expense of storage room.
Speaking of storage, there's a fair amount available from these seats. It starts with a very chic compartment that opens up with a leather pull, revealing a mirror, headphone storage, and plenty of other room for a water bottle, a phone, documents, and more.
And can I just say I really love the underlighting in these seats? And the leather-bordered mirror is a nice touch, too.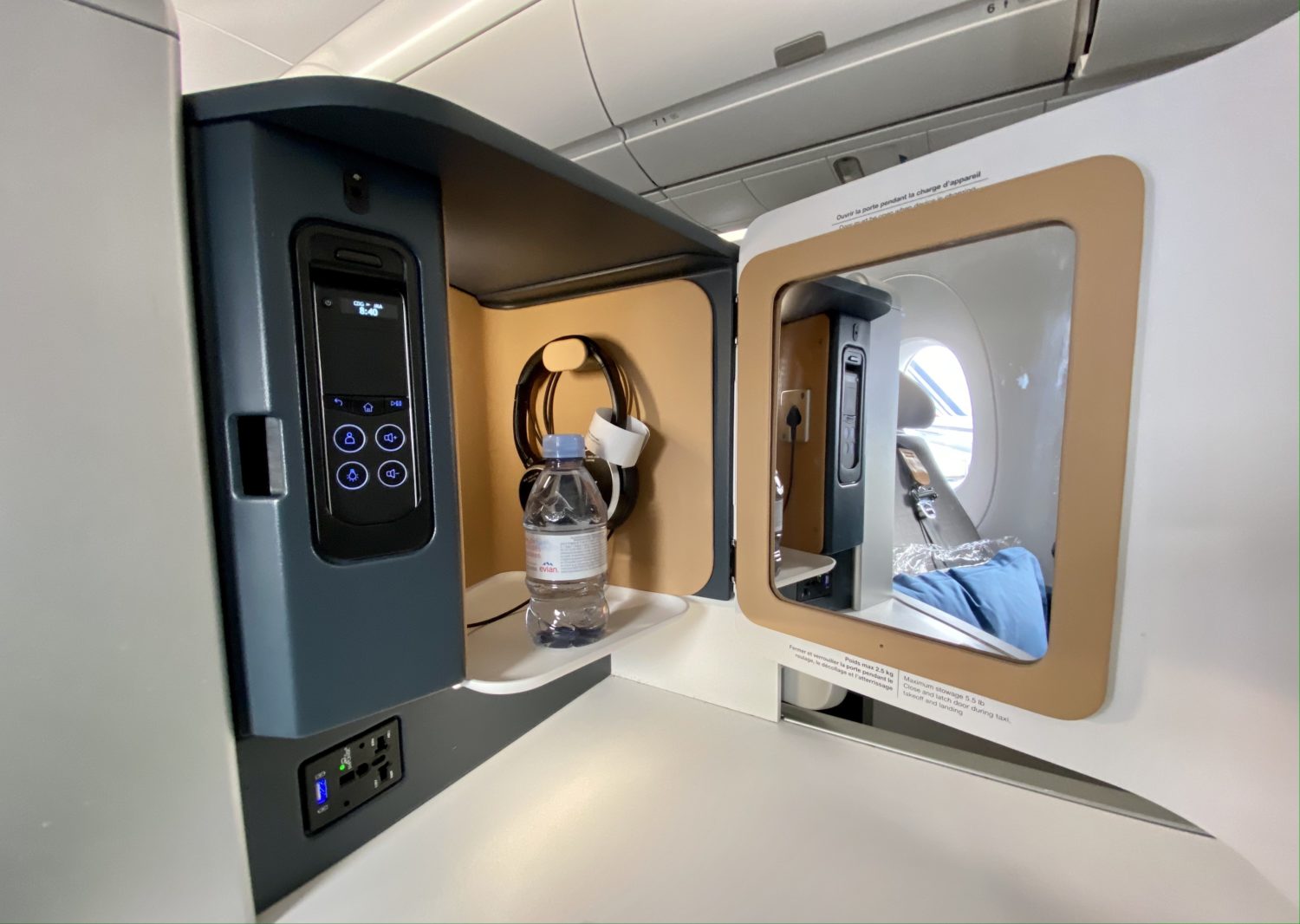 Underneath that compartment, there's a universal power outlet as well as a USB socket to keep a phone charged. This is also where you'll find the wired IFE remote.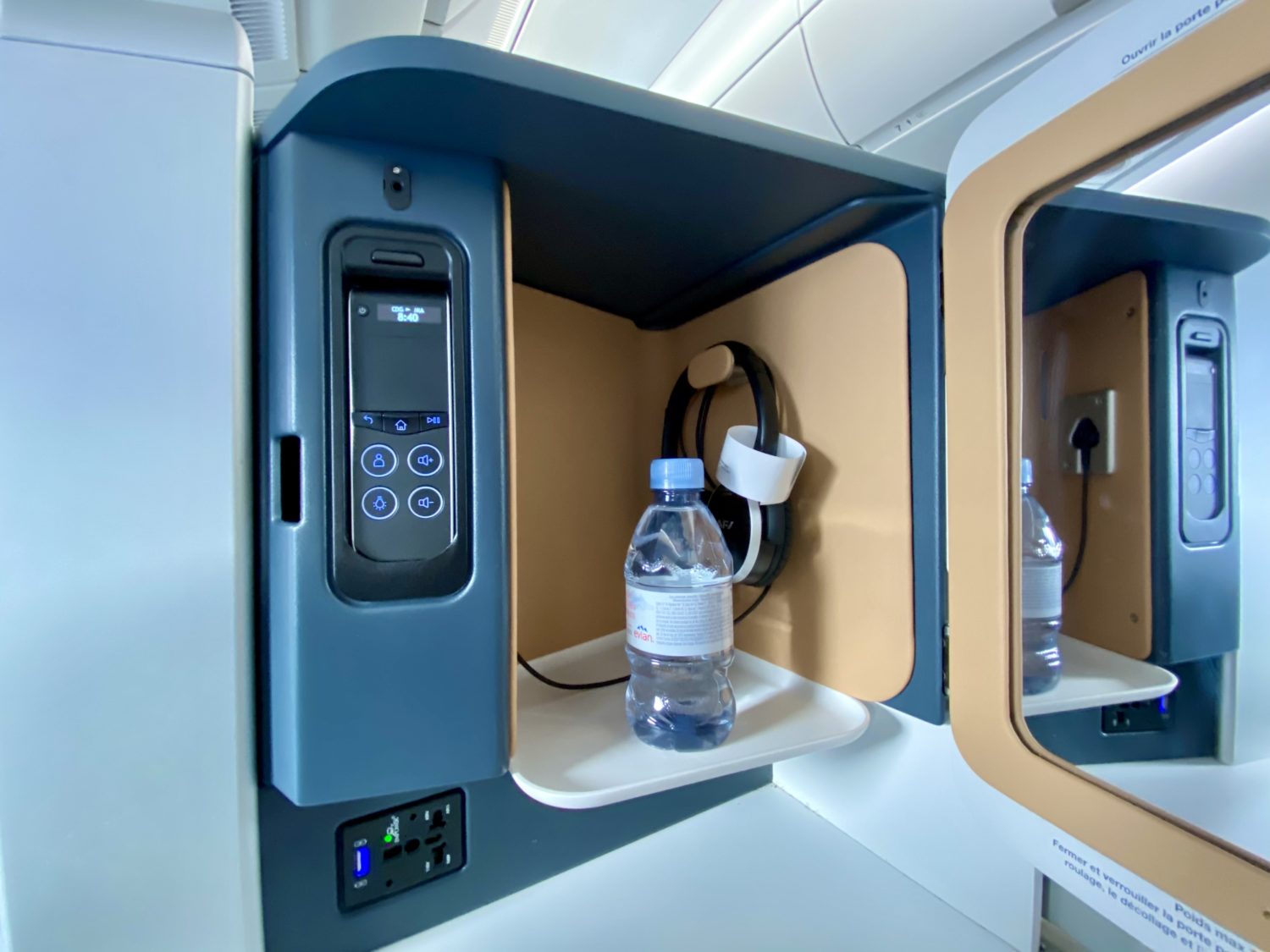 The storage console itself between the seat and aisle is a pretty massive surface, more than large enough to place a laptop and your other belongings during meals or a nap. Yet it's not so big that sliding in and out of your seat is a problem.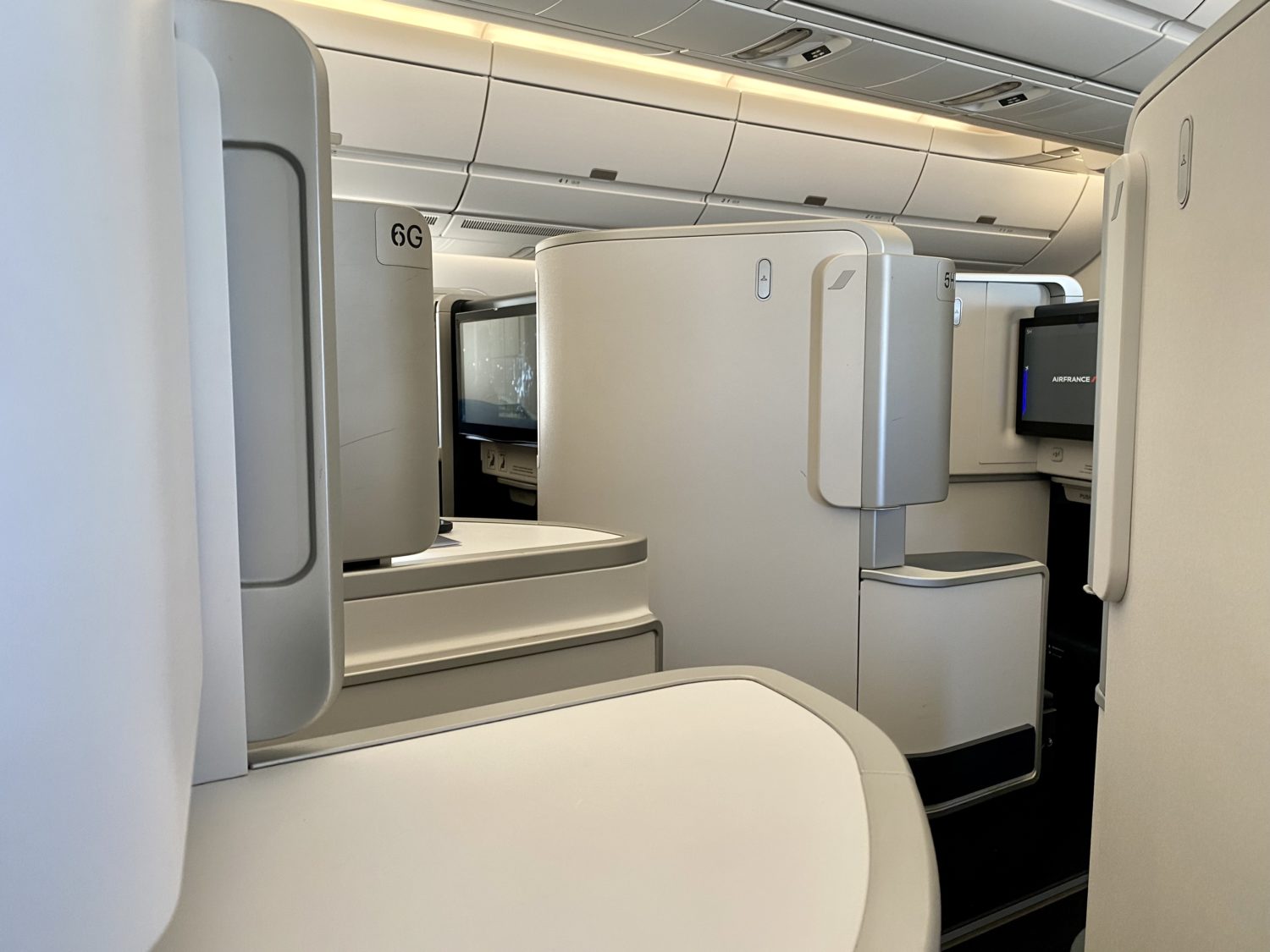 Just below that console table to the side of the seat, there's another small storage space for literature and some other small items like a water bottle.
See that armrest to the side of the seat? It's one of a few spots throughout my seat that could have used a more thorough cleaning. On the bright side, there are two armrests on either side, and they fold up and down. That's a great feature: You can have them folded out while lounging, working, or eating, then fold them up for a bit more shoulder room when it's time to catch some sleep.
Just above one of those armrests is where you'll find some simple seat controls to bring your seat upright, lounge, or recline back into lie-flat position.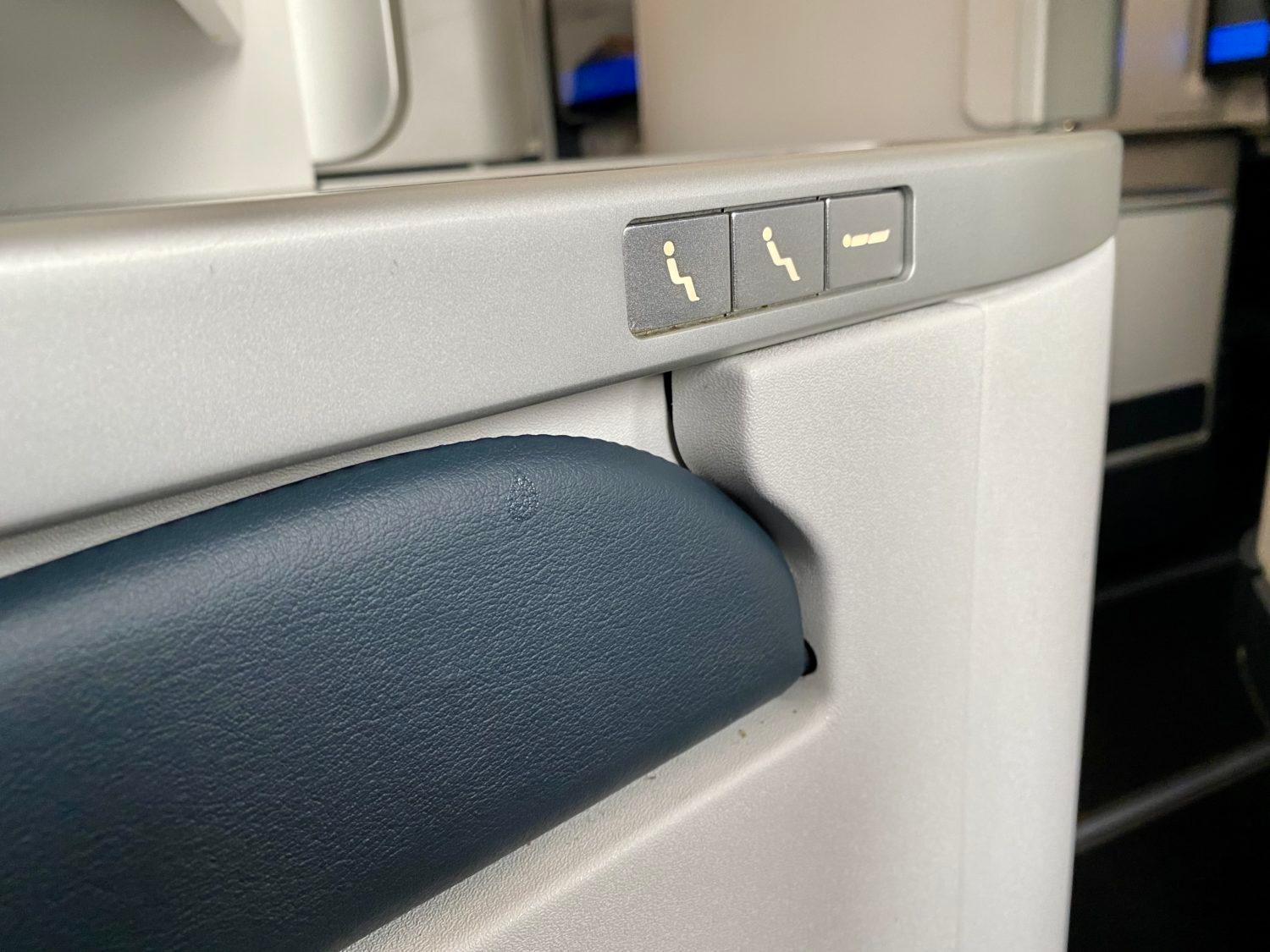 Closer to your head inside the shell of the seat, there's another small panel with controls to turn the in-seat lighting on and off, turn on "do not disturb" mode, call a flight attendant, and adjust the positioning of your seat. There's also a small reading lamp that turns on as you tilt it out and a large metallic circular button whose function I could not, for the life of me, figure out.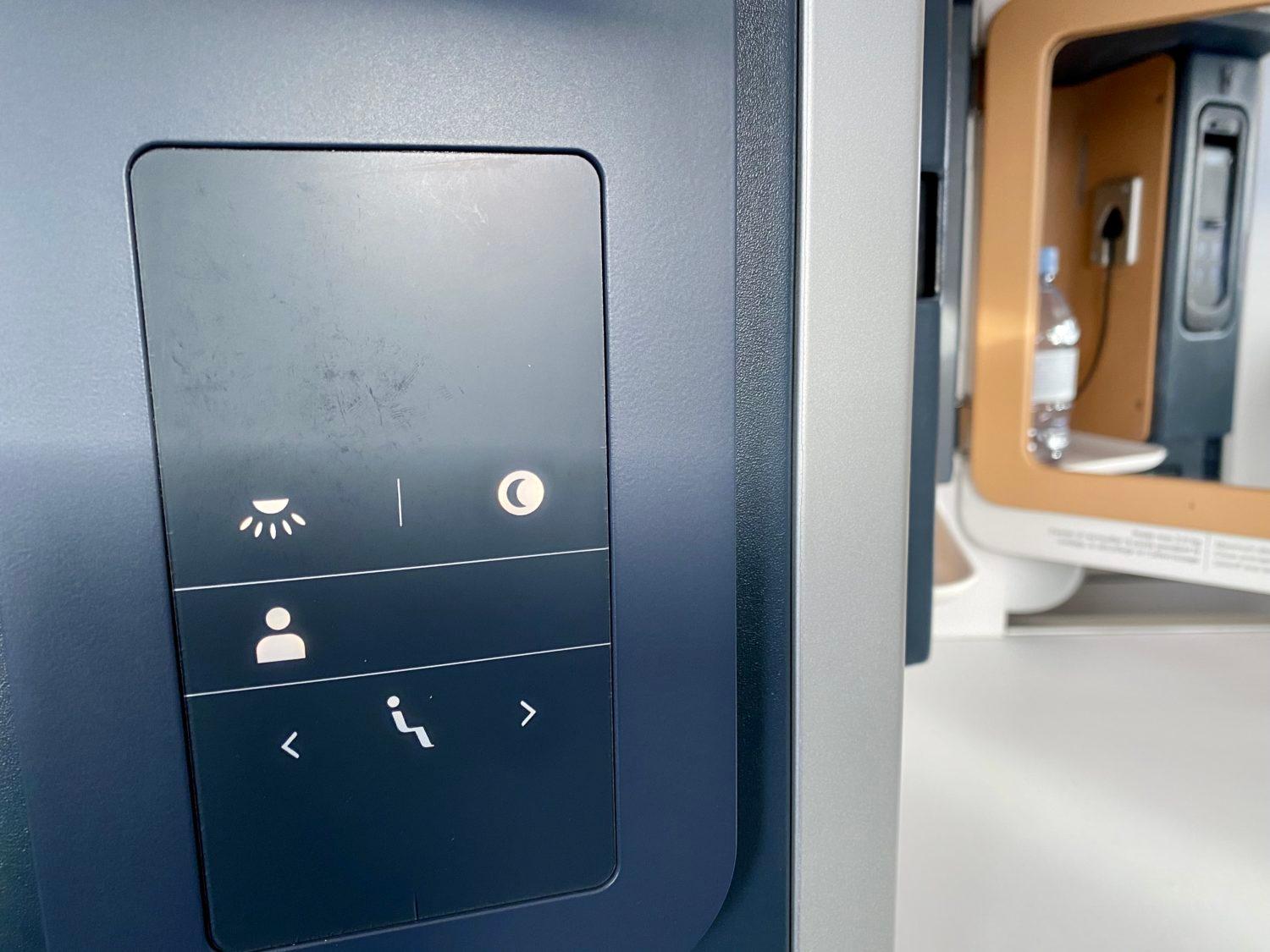 Looking forward in the seat, it's time to appreciate the large windows onboard the Airbus A350. Best of all, they were equipped with electric shades that raise and lower with the push of a button.
Underneath the monitor at the front of the seat, you'll find the tray table. Push it in and pull it out, and you've got a pretty substantial – and sturdy – surface to eat or work on. There's also another USB port underneath the monitor, too.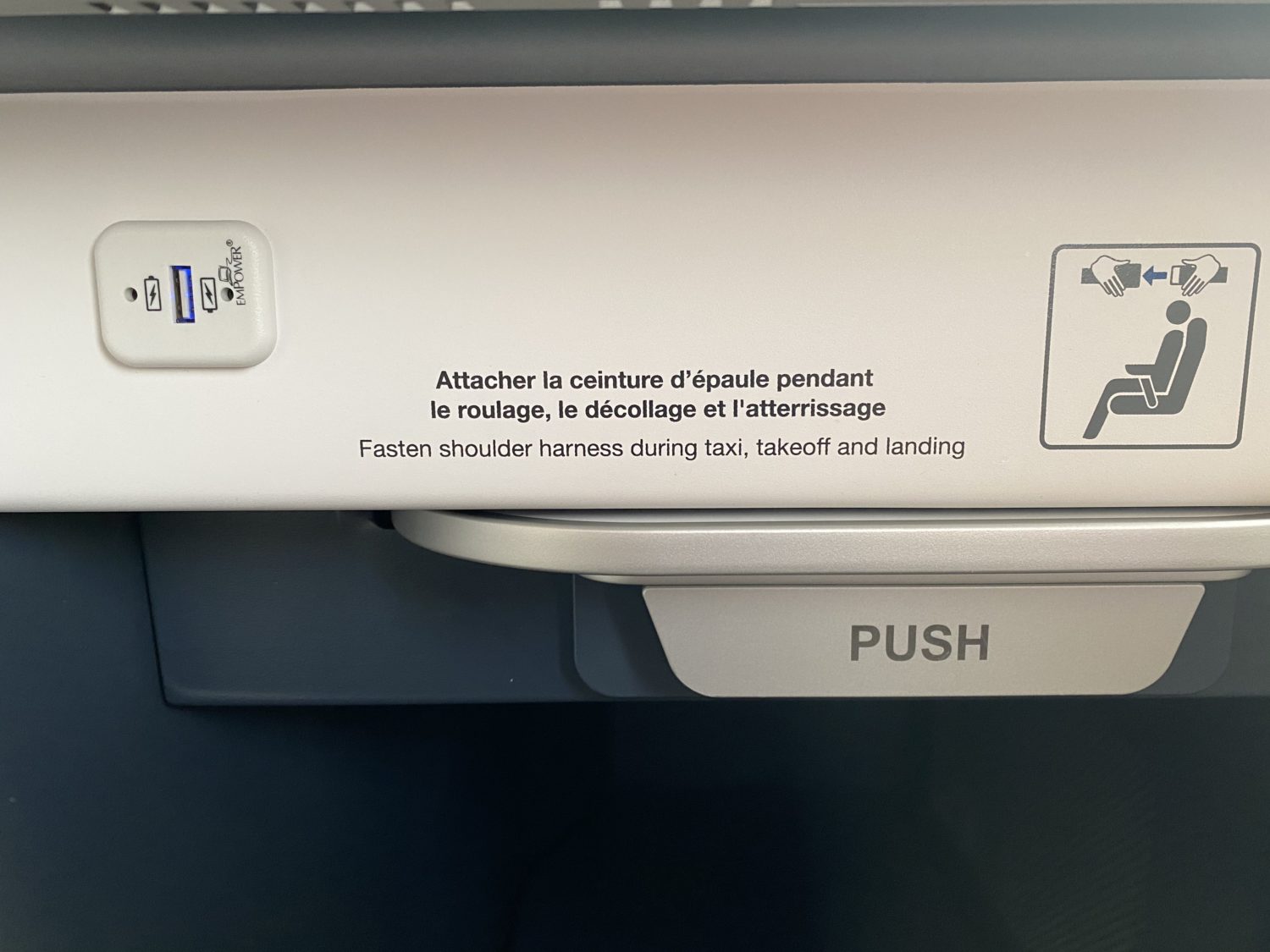 After a great lunch, I reclined the seat and got an hour or two of solid sleep. In bed mode, the seat was fine but not outstanding. Laying down, it felt like there was some cushion separation in the middle of the seat that made it a bit trickier to get comfortable.
But there was more than enough room to lay on my side comfortably, which isn't the case in every business class seat.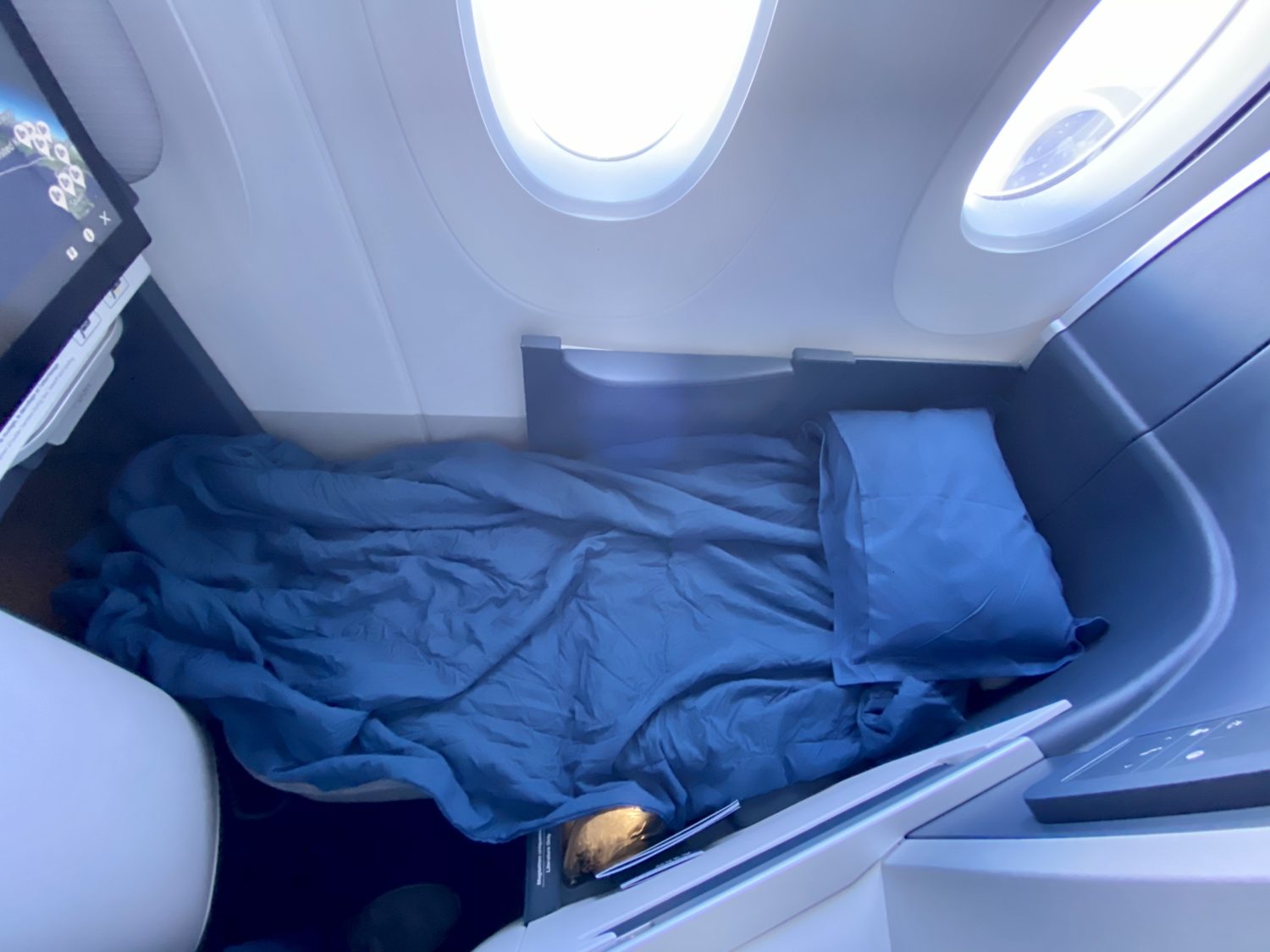 Amenities
Part of the reason I managed to grab a few hours of sleep despite flying through the daylight came down to some excellent amenities.
A duvet and pillow were waiting at every seat during the boarding process. The duvet was pretty perfect: Substantial, but not so thick that it got too warm. The pillow was quite nice, too – not flimsy like many even in the best business class seats. There was no mattress pad or sheet for the seat when it came time to sleep, but that's a rarity in business class.
There was also a set of headphones at each seat, tucked and wired inside the storage compartment. They were … fine. They boasted some noise cancellation, but it was meager at best. And while they were comfortable enough, I'd much rather use my own set of headphones than these again.
As boarding was wrapping up, a flight attendant dropped off an amenity kit, menu, and a special "Air France Protect" kit with a few masks, wipes, and hand sanitizer. The kit bag itself was a nice blue fabric.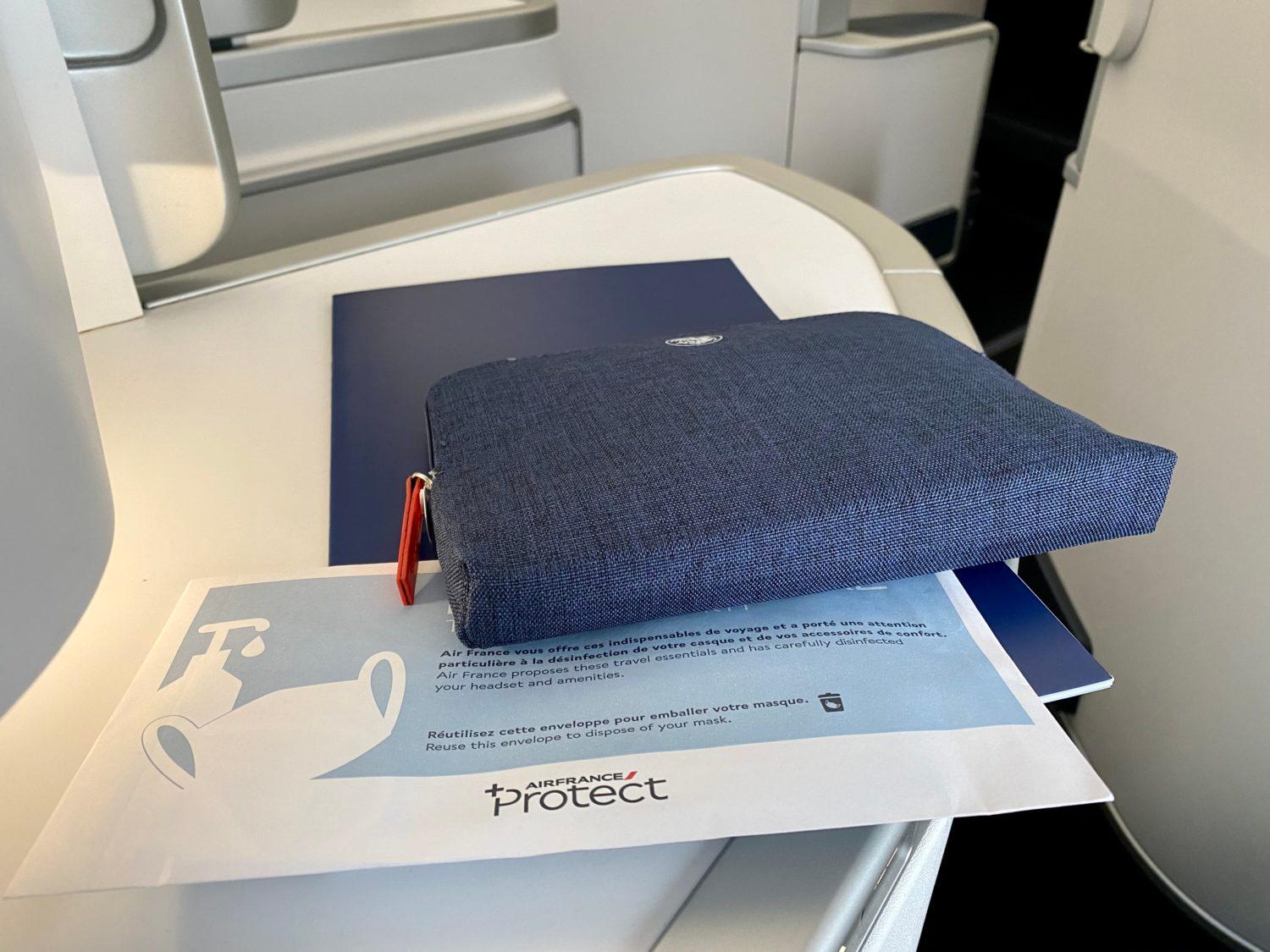 The contents of the kit were solid, too. It included a nice eyeshade, packaged ear plugs, socks, a pen, toothbrush and toothpaste, and some Clairins toiletries.
Beyond that, there was nothing particularly special about Air France business class and its amenities: No slippers or pajamas, but I don't expect those on these relatively short transatlantic flights. The bedding was great, and that's what matters most, if you ask me.
Service & Dining
From start to finish, the meals and service onboard Air France business class were just … so french. And that's a good thing.
The flight attendants working the cabin were warm and friendly throughout the flight. They weren't as proactive with offering refills throughout meal service as you'll find on other carriers, for example. But the flight attendant working my aisle was always happy to grab something additional when asked – and offer an extra snack or two.
The inflight service started with a unique Air France touch: A hanger waiting at each seat to hang up a coat during boarding, with dials on each hanger to ensure each hanger makes its way back to its owner. The flight attendant stopped by my seat to say hello and asked if she could hang anything up for me. While I didn't need anything hung up, it's a nice, thoughtful touch you won't get on many business class flights.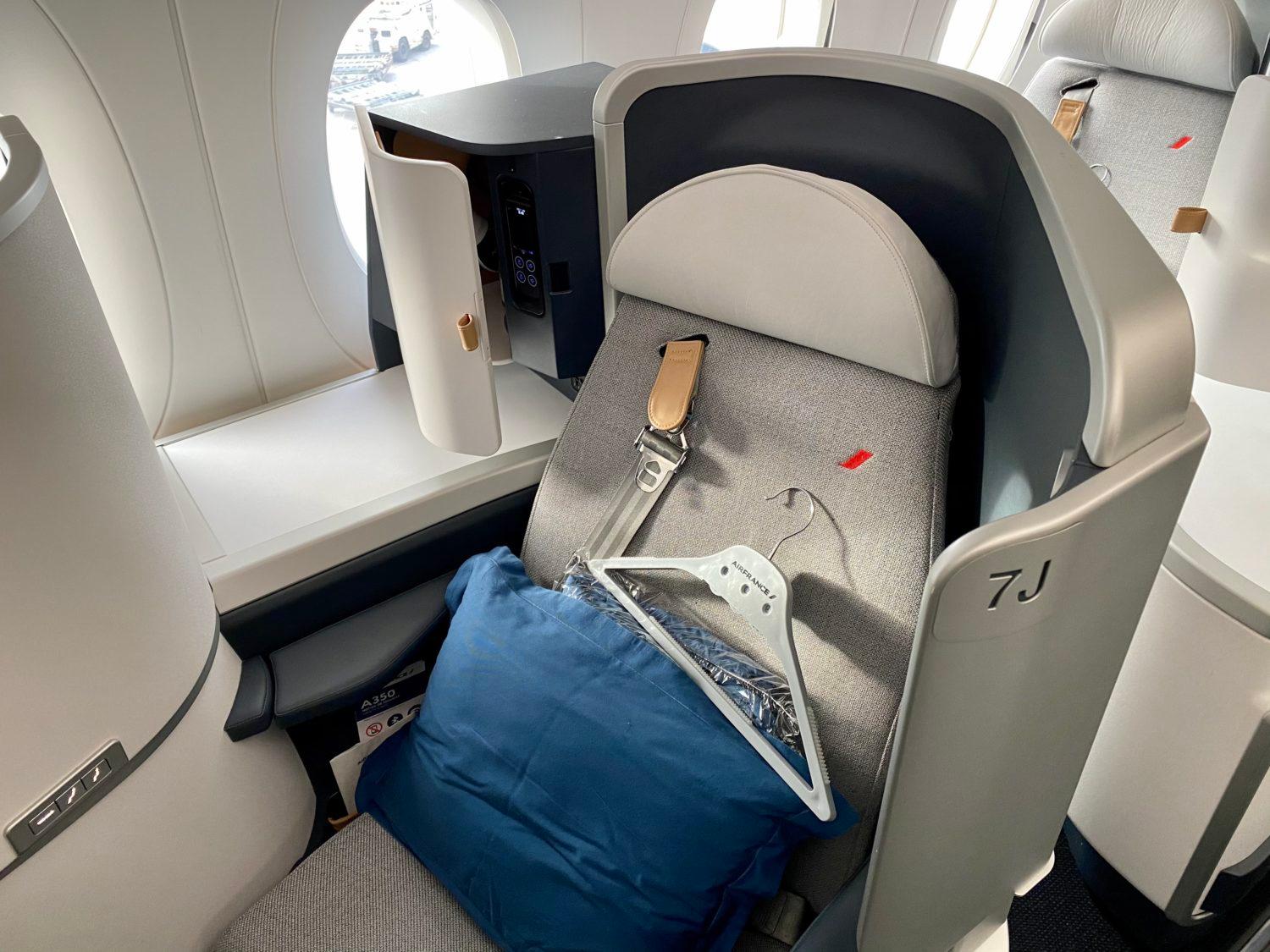 There was no pre-departure drink service after boarding. I'm not sure whether that's a pandemic-related cutback or a fluke due to some issues with getting the catering supplies loaded that delayed our departure by about a half-hour. But after takeoff and climbing for about 45 minutes, the delicious smells of lunch began to waft through the cabin.
The starter, a small side salad, cheeses, and even dessert all came out simultaneously on one tray, and the presentation was beautiful. I really love the plates and cutlery Air France uses: It just looks clean and classy.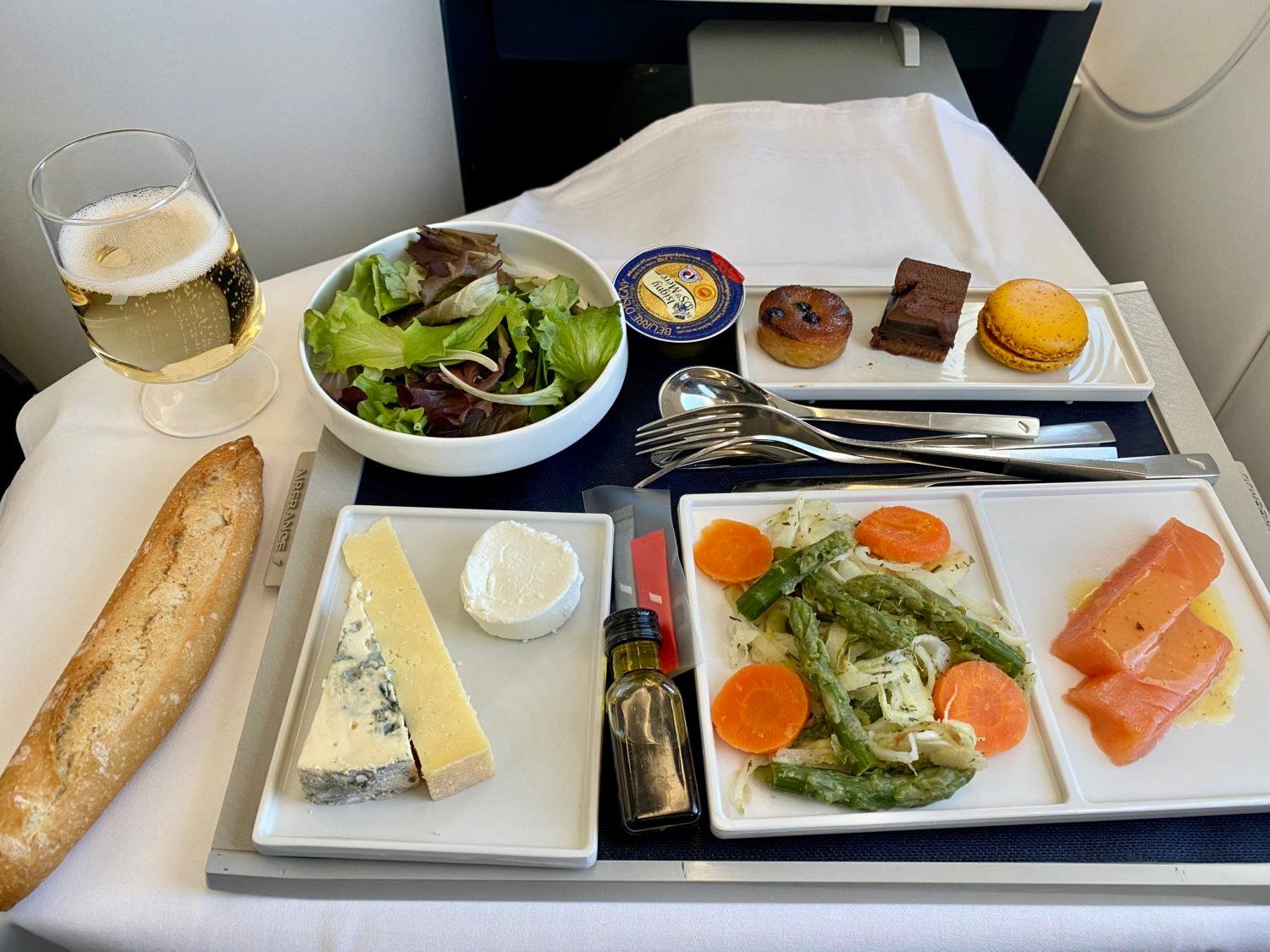 The food itself was … just fine. While crisp and fresh, the side salad was otherwise quite plain. The cooked asparagus, carrots, and endives tossed in a cilantro coulis were bland, bordering on flavorless. And while the citrus fruit sauce was delicious, something about the consistency of the smoked salmon made it hard to love. I'll never say no to some good cheese and a baguette, though.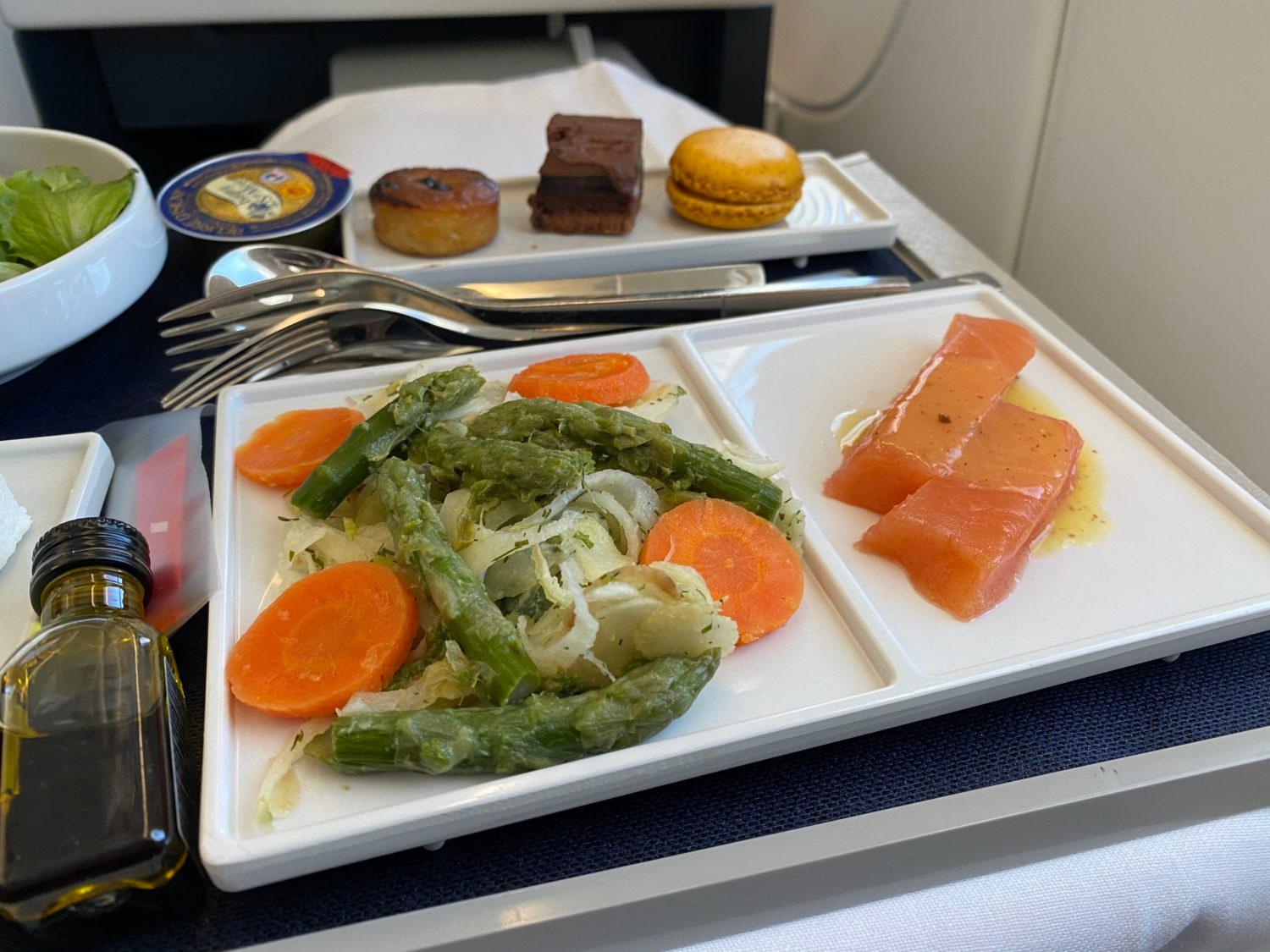 This is Air France, so of course there's a solid list of French wines to pick from, too. I went with a glass of the Gosset champagne, which was quite nice.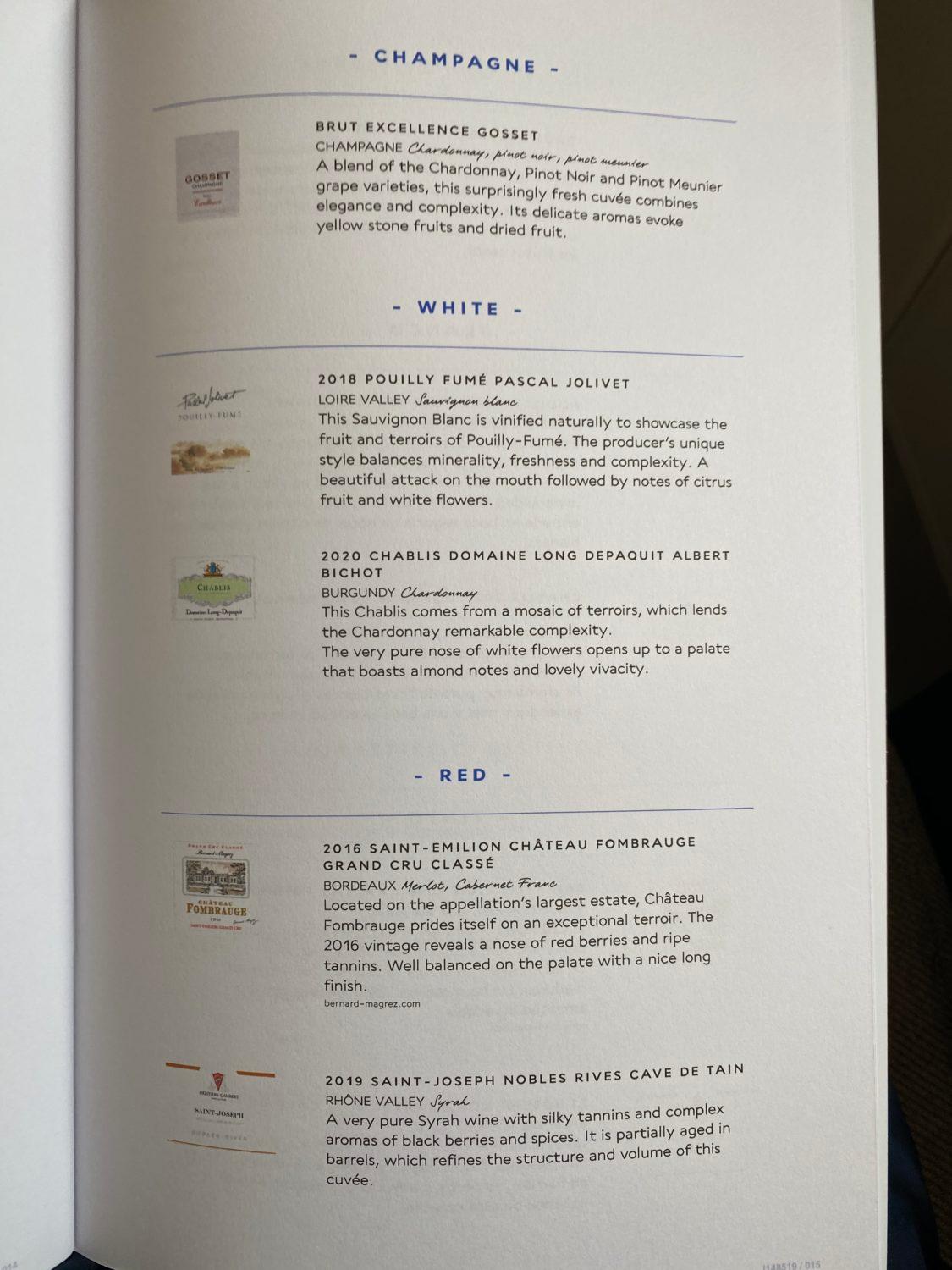 From there, I had a few choices to order for the entree. Here's a look at the lunch menu from this Air France business class flight.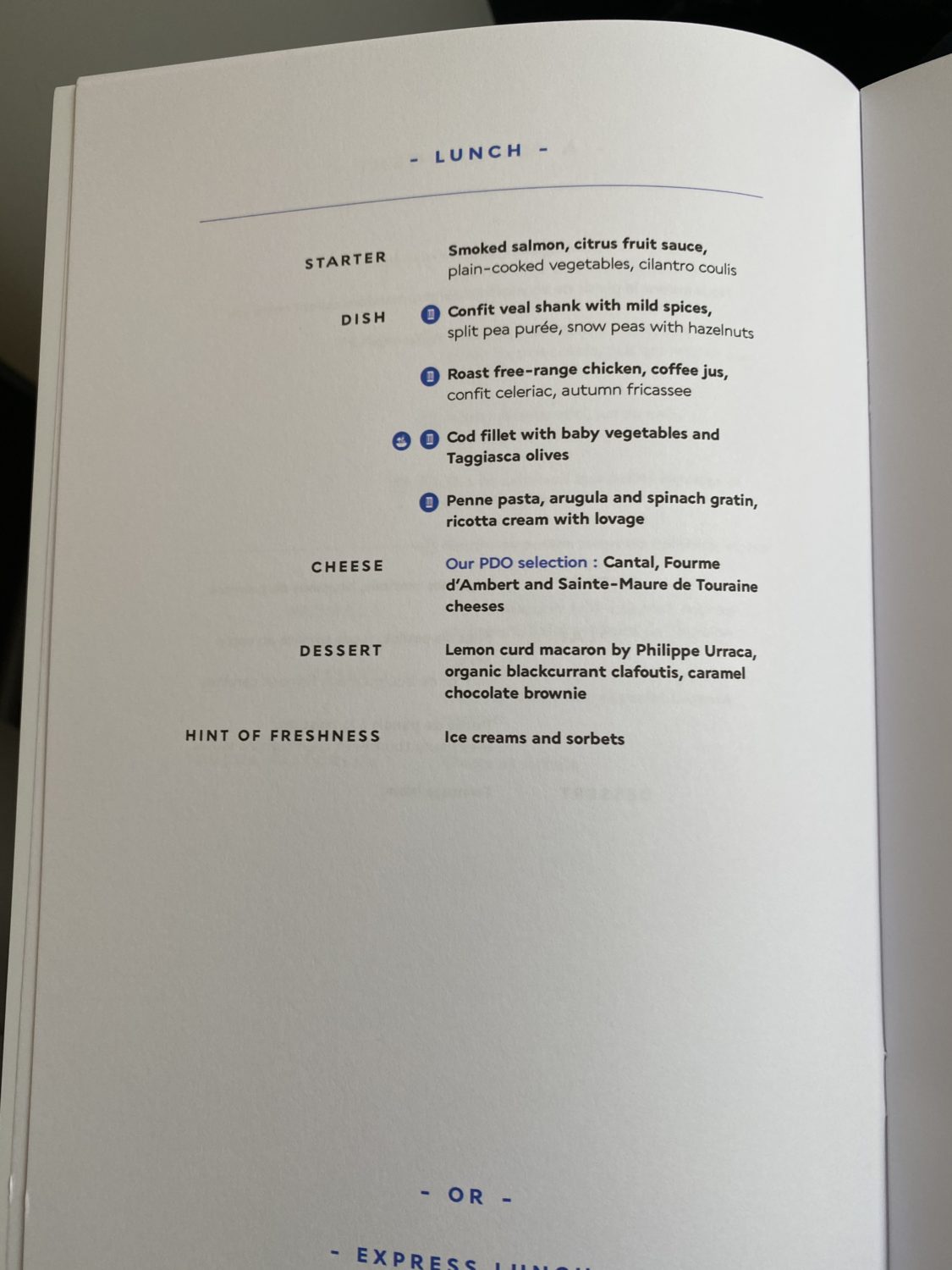 I typically order fish – trust me, it's not as risky as it sounds – and was tempted to do so again but decided to try something new: I ordered the confit veal shank. A few minutes after finishing up my starter, the flight attendant came to clear the plate and then returned with my entree. It looked decidedly disappointing. Did I mess up royally?
The answer was a resounding no. What this dish lacked in presentation, it more than made up for it in taste. The veal was incredibly tender and flavorful, to the point where the small dish of jus was completely unnecessary. Even the questionable-looking split pea puree was tasty: a perfect, earthy compliment to the beef. This was much better than many dishes I've eaten on premier first class carriers, including Lufthansa first class.
I don't have much of a sweet tooth, but I enjoyed the few small bites for dessert – especially the lemon curd macaron.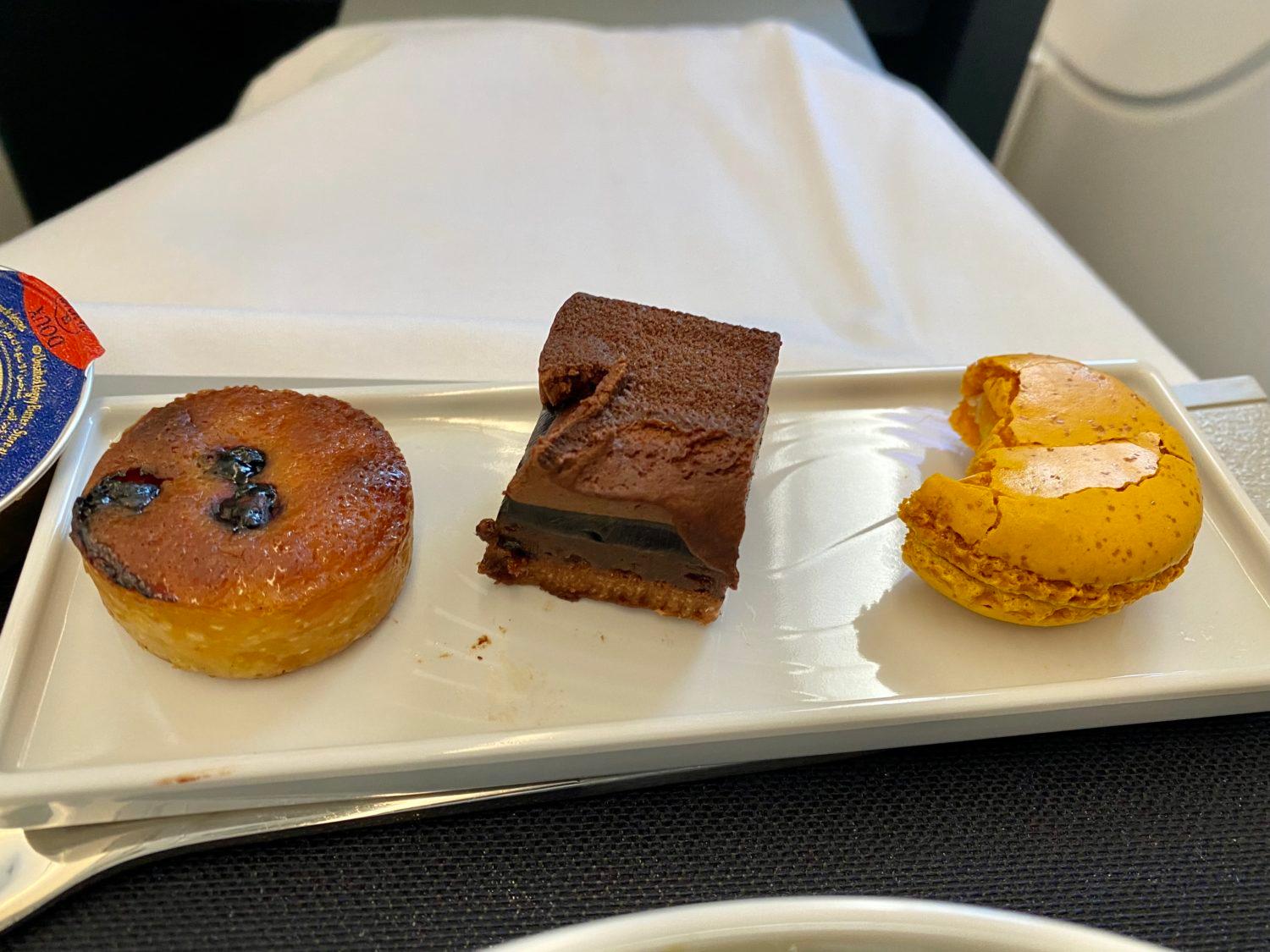 The entire meal concluded in about 90 minutes, which is a pretty good pace for a daytime flight heading from Europe to the U.S. After things wrapped up, flight attendants set up a small serve yourself station with drinks and snacks up in the forward galley. This is an easy offering that far too many airlines skip.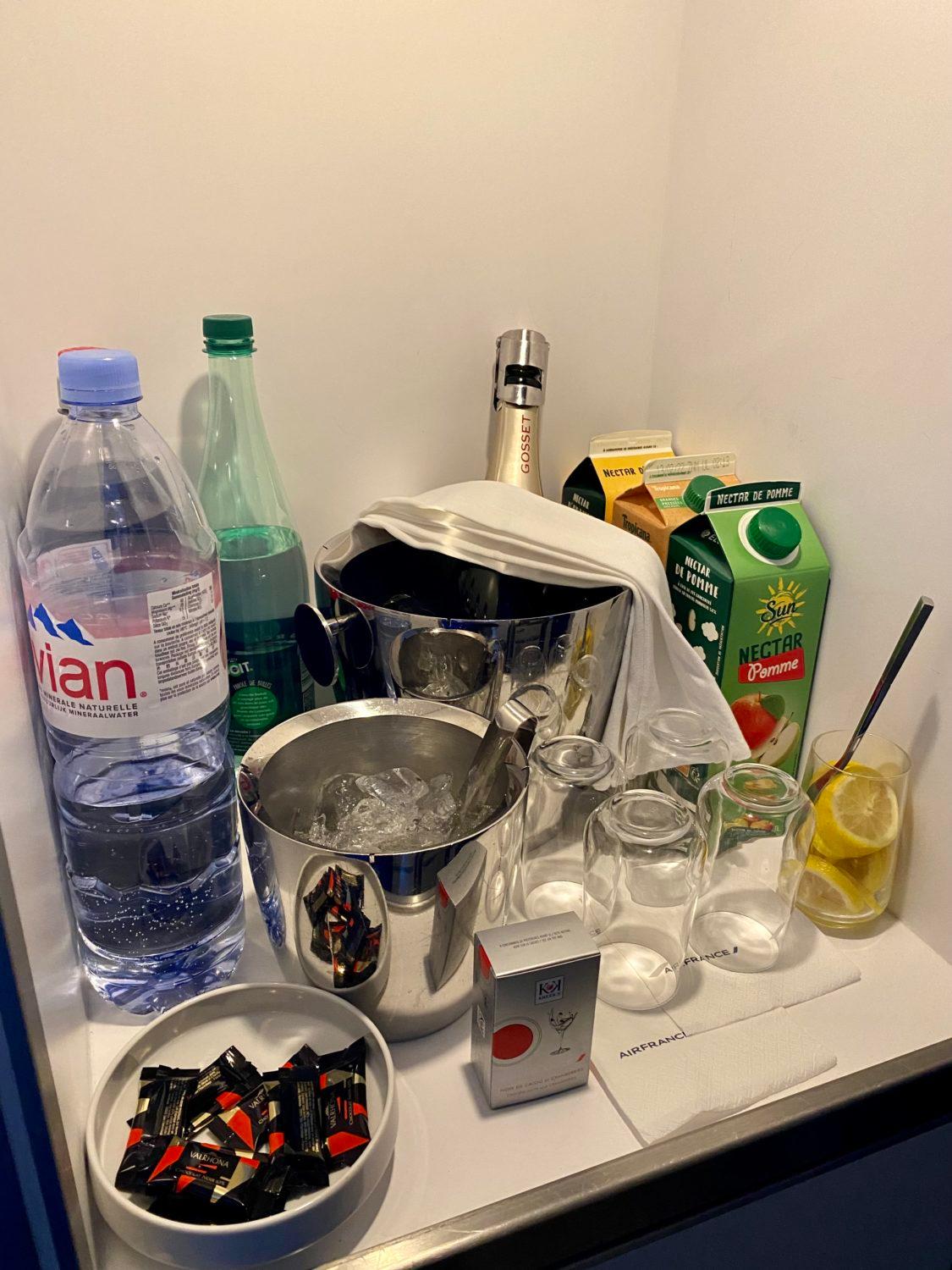 After a few hours rest and relaxing, I enjoyed a glass of champagne, a small package of nuts, and a small chocolate. That seemed to be the extent of the snacks that were available mid-flight, which was more than plenty for me.
With about 90 minutes left in the flight, the overhead cabin lights came back on as flight attendants prepared for the pre-landing meal service. The menu was far less extensive than lunch at the beginning of the flight.
I went with the chicken. Within just a few minutes, the flight attendant came by with a tray full of of the meal. In this case, it was the opposite of the lunch: Looked great, while the taste was a bit lacking.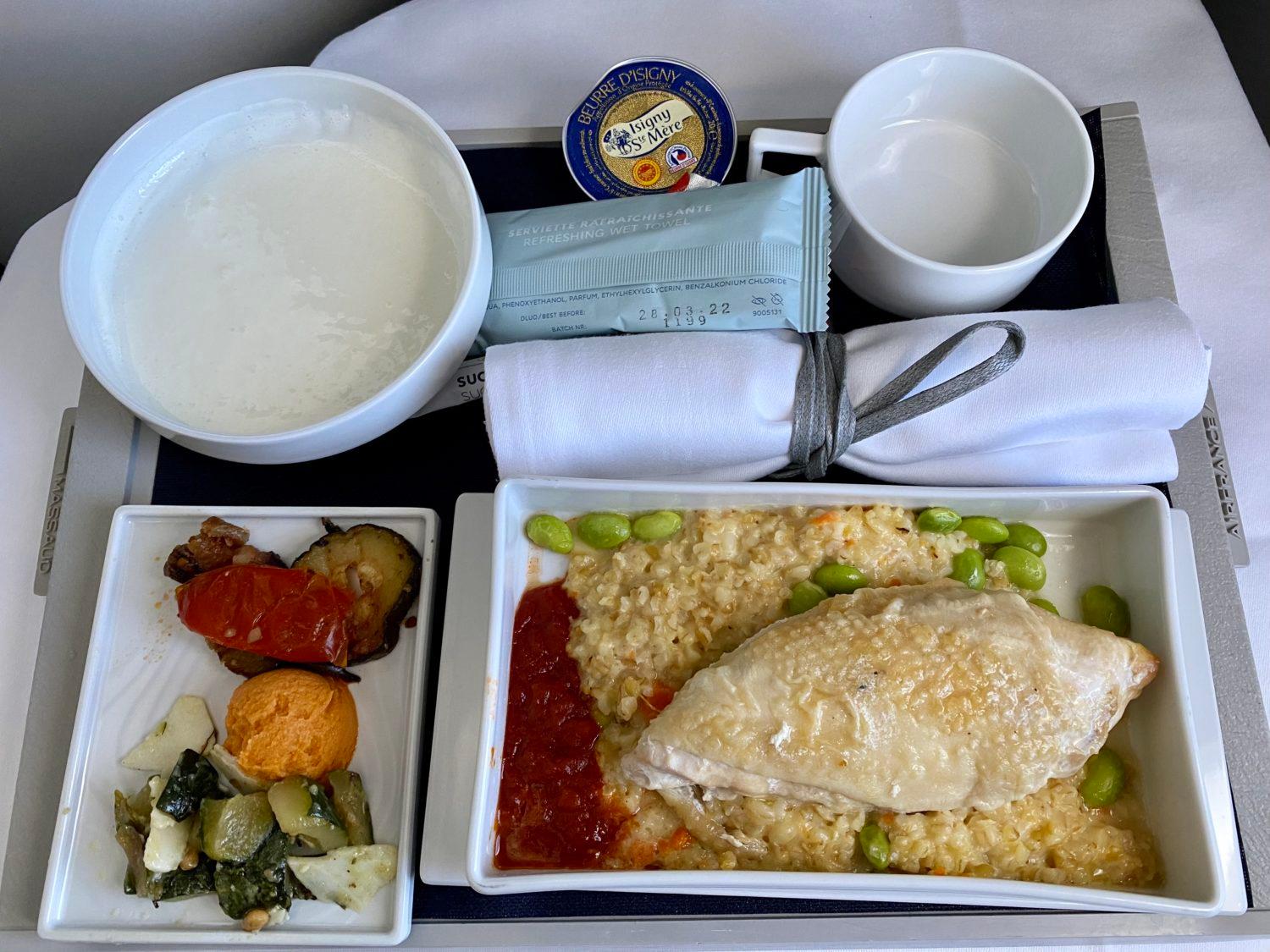 The risotto with tomato sauce was the star, but the chicken was overcooked and bland with pretty tough skin. The side dish of marinated vegetables with hummus was fine, and nothing more. But the bowl of plain yogurt was just … odd? It felt a bit out of place on the tray.
Don't get me wrong: This was an absolutely acceptable meal. But unlike the veal for lunch, it's one I'll soon forget.
Entertainment
Every single Air France business class seat is equipped with a crisp, high-definition 18 1/2-inch screen, which feels even larger thanks to how close it is to the seat. And the entertainment selection is very good, with plenty of movies to pick from.
There's just one problem: The display is almost too crisp. The screen itself is so reflective that watching anything with light in the cabin can be difficult due to glare. On the plus side, the touchscreen feature was incredibly responsive – and unlike many other business class seats, the screen is close enough to use well.
As I mentioned, the entertainment selection was pretty darn good. There were 200-some movies available onboard, with a good mix of new releases, classics, oldies, and even a handful of foreign films. There was also a decent selection of TV shows – though only two to four episodes of each, sadly.
The inflight map was easy to use to track our progress across the Atlantic Ocean.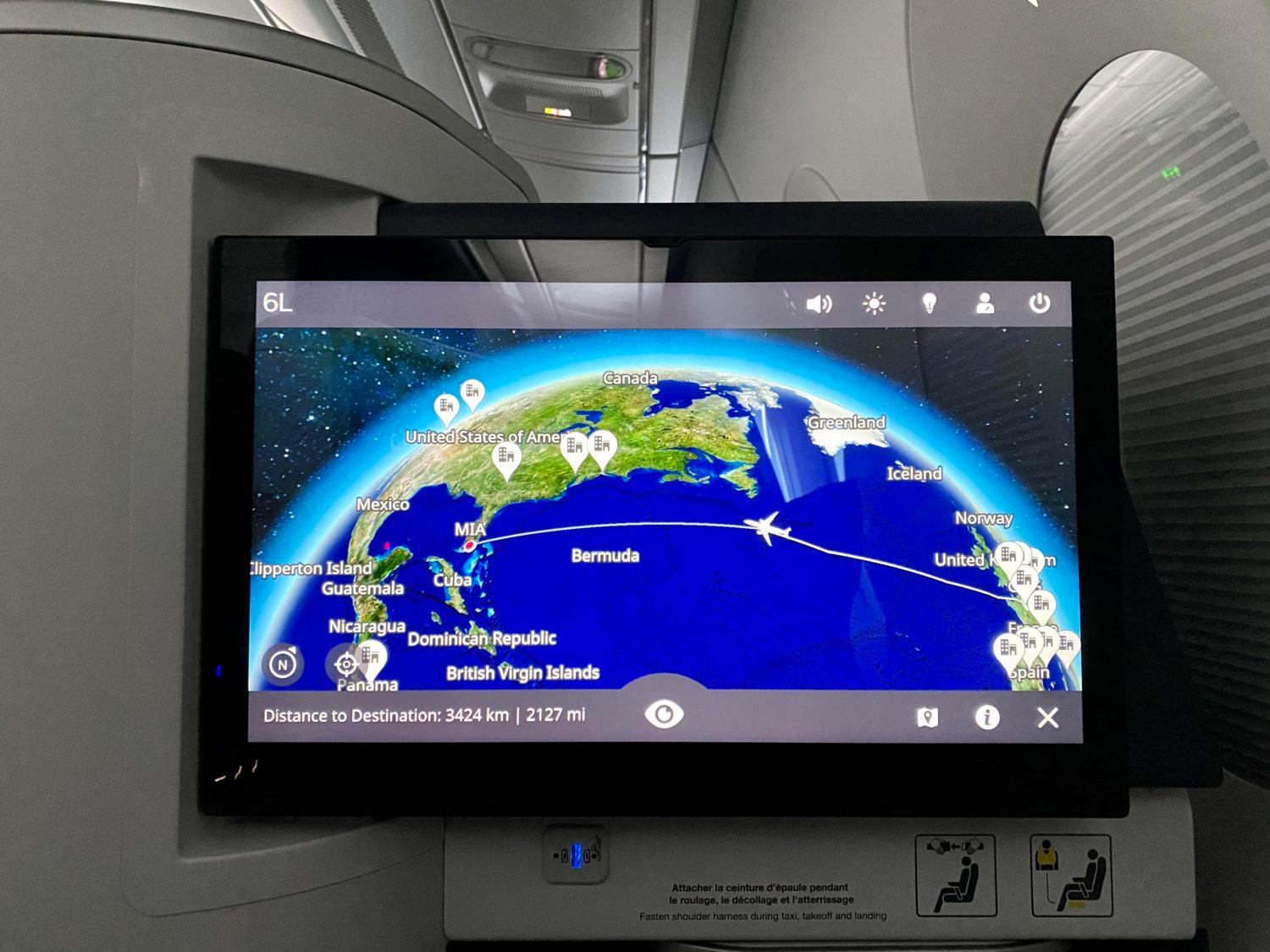 And I really liked that the wired remote also had a quick display of the time remaining in our flight, too – though you'd have to open the storage compartment to get a look at it. It also had handy volume, pause, and other controls on top of a trackpad you could use to move a cursor around the screen.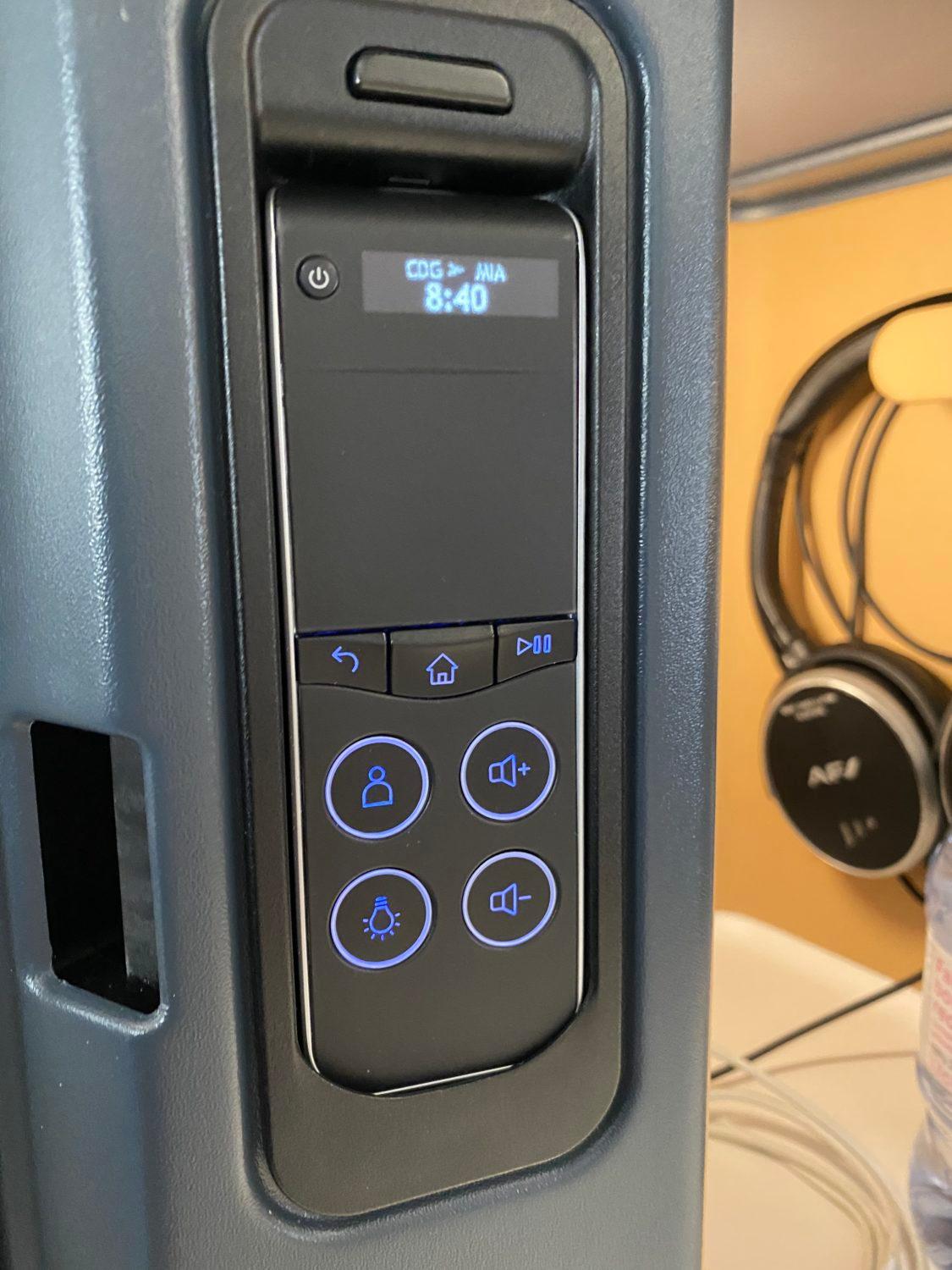 Best of all, these Air France Airbus A350s are equipped with several inflight cameras to keep an eye on the flight in-air.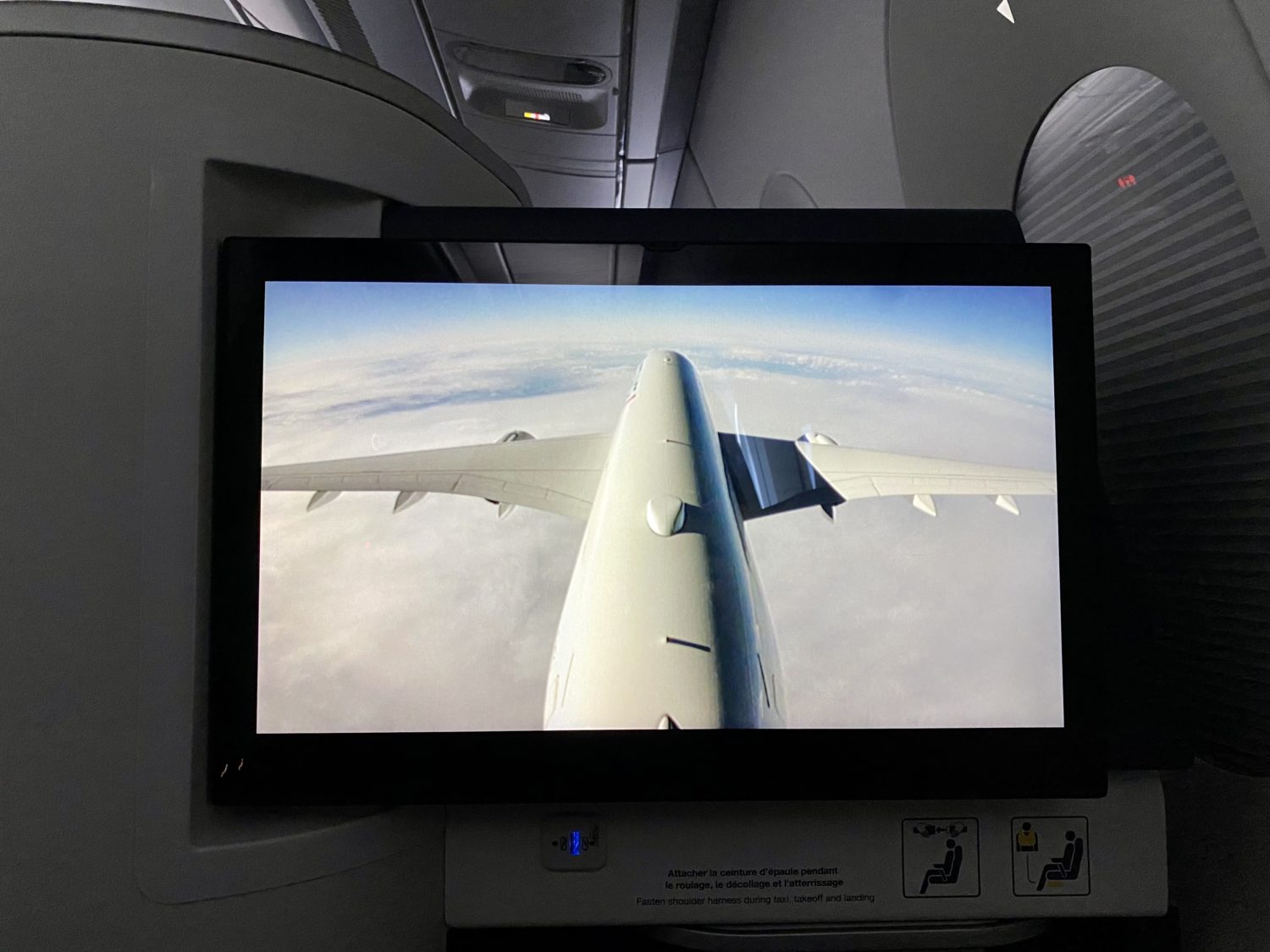 Of course, the flight was also equipped with Wi-Fi – and at reasonable prices, too. You could a surfing pass (at lower speeds) for one hour or the entire flight at just 8 euro or 18 euro, respectively. Otherwise, Air France was selling a 30 euro streaming pass for the entire flight.
Unfortunately, I wasn't able to connect to the Wi-Fi throughout the flight aside from some intermittent messaging coming through on my phone.
Bottom Line
So many business class seats flying to and from Europe are interchangeable: Similar seats, similar meals, similar service. Get a quick meal, go to sleep, land. It takes something special to cut through.
Air France business class on their newest A350s just felt … different. The seats stood out for their comfort, privacy, and a sharp design that felt fresher than almost anything flying across the Atlantic these days.
While there were a few flaws with meals and entertainment options, I wouldn't hesitate to fly this again. In fact, it might just be my new favorite way to fly business class to Europe.