Five years ago, I stepped off an EVA Air business class flight – my very first time flying business class long-haul, in fact – convinced that it was criminally underrated. But was it a honeymoon- and Hello Kitty-fueled fluke? Do I need to take my rose-colored glasses off about this little-known Taiwanese airline?
Hardly: It holds up. Yet again, the seats were more-than-comfortable-enough for the ultra-long, 15-hour flight from Chicago-O'Hare (ORD) to Taipei (TPE). It won't get high marks across the board but the onboard dining, drinks, service, and amenities are all better than you'll get on almost any airline at home or abroad – or really, on par with what you might expect flying first class on many carriers.
So read on to learn what it's like to fly EVA Air Business Class, dubbed Royal Laurel – and why it might just be my favorite way to get to almost anywhere in Asia. 

Booking EVA Air Business Class
You may not know much about EVA Air, but you should. 
EVA (pronounced EE – VEE – AY) consistently ranks among the world's best airlines, placing No. 9 in the latest SkyTrax rankings. It's a favorite among frequent flyers, which EVA brands "Royal Laurel" – think business class … but even better. And with plenty of routes on either side of the Pacific Ocean, it's a great way to get from the U.S. to almost anywhere in Asia. 
These ultra-long transpacific flights are ultra-pricey at the front of the plane, so you'll need some points and miles to book EVA Air business class. Don't worry: You don't need a bunch of "EVA Air Infinity MileageLands" miles (what a mouthful).
EVA is part of the massive Star Alliance, which means you can book these flights via 20-plus airline mileage programs including United MileagePlus miles, Air Canada Aeroplan, ANA Mileage Club, and several more. Consider just a few of your options:
It doesn't get much cheaper than using just 95,000 miles from All Nippon Airways to fly to EVA business class to Taipei (TPE), Hong Kong (HKG), The Philippines, or mainland China … roundtrip! Or 136,000 miles roundtrip to destinations throughout Southeast Asia. That's a fraction of what you'll pay using other airline programs, and those miles are easy to earn as ANA is an Amex transfer partner: You can send points from cards like *amex platinum card* or the *amex gold card* One hitch: You must book roundtrip through ANA – one-way redemptions aren't allowed.
Air Canada Aeroplan is another standout option, especially since those points are so easy to earn by transferring points from cards like the *amex gold card*, *venture x*, or *chase sapphire preferred*. Most nonstops to Taiwan will cost you 75,000 Aeroplan points while many connections (especially down into Southeast Asia) will clock in at 87,500 miles. Best of all, you can even add a stopover in Taipei for just 5,000 additional points.
Avianca LifeMiles have been a go-to way to book these tickets but after an award rate increase when booking flights to Asia, you'll generally need at least 90,000 miles for a one-way. And while LifeMiles passes on reasonable taxes and fees, its wonky IT, spotty customer service, and exorbitant change and cancellation fees on award tickets mean you should be leery of turning to LifeMiles.
Same goes for United, which now charges a whopping 110,000 miles each way whether you're flying nonstop to Taipei or connecting elsewhere after a nasty devaluation earlier this year.

But lately, there's a much bigger problem than just how many miles you need: EVA Air has gotten incredibly stingy with releasing award space to actually book these seats.
Award availability is always the biggest hurdle with any first or business class redemption – and with EVA, it's been insurmountable recently. That's a major change: For years, you could count on EVA allowing United, Air Canada, ANA, and other partner airlines to book two (or more) business class seats 10 or more months in advance.
Here's hoping EVA Air returns to that trend, helping us find and send alerts like this one we sent Thrifty Traveler Premium members earlier this year.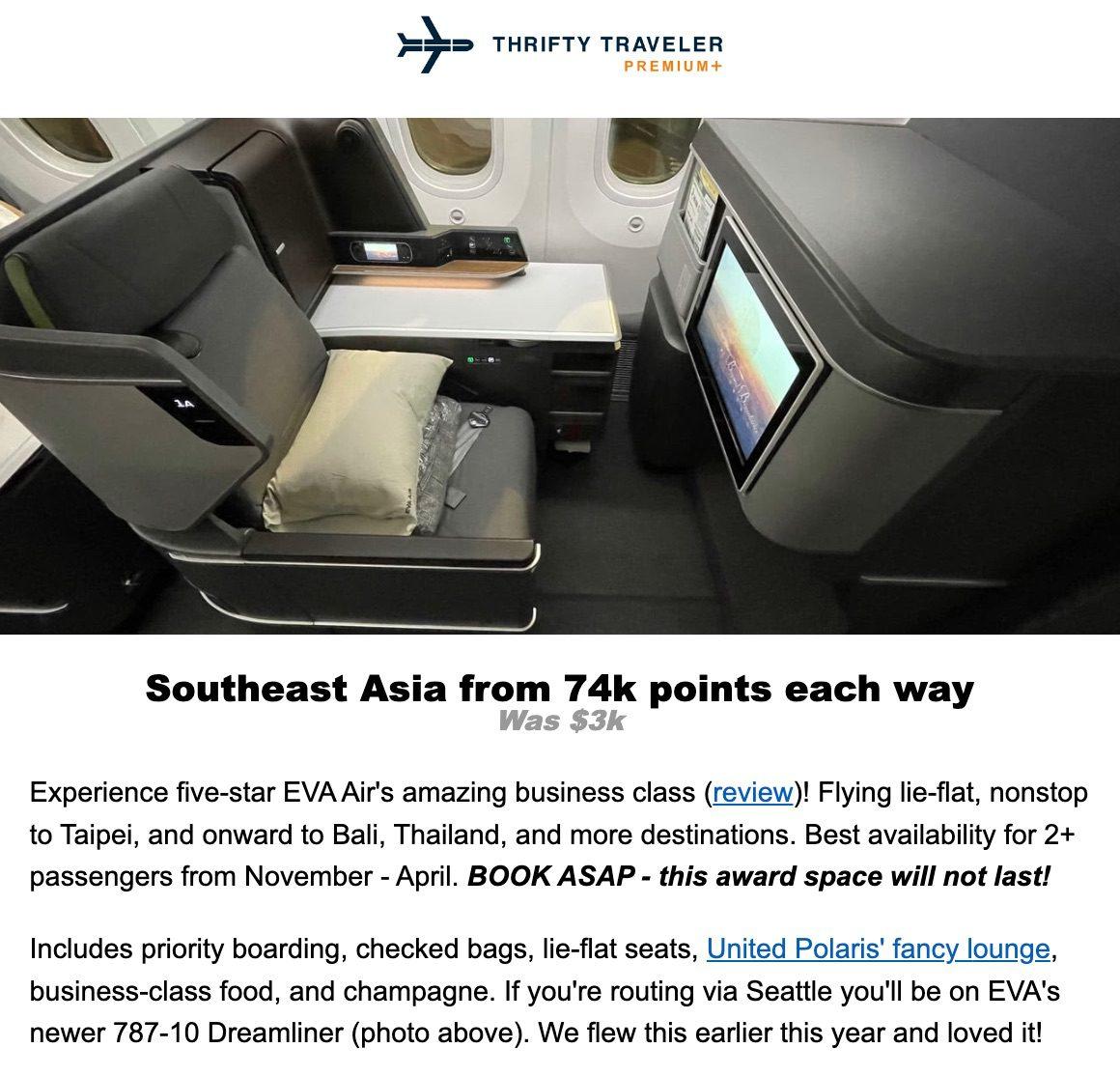 Fortunately, my wife and I locked in our travel plans before EVA closed the floodgates. In the end, we transferred a hefty stash of Amex points to Air Canada Aeroplan in order to book flights from Chicago-O'Hare (ORD) to Taipei (TPE) and onward to Bali (DPS) for 87,500 points and just $35 or so in taxes each.
At Thrifty Traveler, we don't accept freebies. We use our own points, miles, or cash to pay for every single flight or hotel you see reviewed here – including this one.
Checking In & Lounge Access
I'll admit it: I love EVA Air. I'm practically a fanboy at this point. But the experience on the ground at Chicago-O'Hare (ORD) was not up to EVA's five-star standards.
EVA flights depart from O'Hare's Terminal 5, the massive (and often dysfunctional) hub for international flights. And because it's not connected airside to the rest of the airport, that means you'll likely have to exit and re-clear security at T5 if you're arriving on a connecting flight. 
Getting checked in was a cinch, as EVA staffs its check-in gates a full four hours before departure. But EVA's flight out of ORD departs late, usually around 12:30 a.m. The United Polaris Lounge Chicago is excellent, but it's located several terminals away and closes many hours before departure. The new Delta Sky Club at O'Hare closes early, too.
That leaves you with this: The Swissport Lounge at O'Hare, quite possibly the saddest lounge in the country.

The Swissport Lounge is a series of two dark, cramped rooms with some chairs, a cooler with some prepackaged snacks, a counter for drinks, and … that's it. No other amenities – not even bathrooms inside. Yet dozens of airlines departing from O'Hare's Terminal 5 count on this space for giving their premium passengers, including EVA. The lackluster lounge is also part of Priority Pass, though it regularly turns away cardholders during busy times.
But that wasn't enough to dampen our enthusiasm about flying EVA Air for 15 hours halfway across the world. After killing some time in the lounge and (better yet) walking around the otherwise empty terminal, it was time to board.
EVA Air Business Class Cabin
EVA is one of the world's highest-ranked airlines, and its business class is beloved. But those accolades don't come from its cabin design.
As much as I loved this flight and love EVA Air as a whole, I can't help but feel that the entire EVA Air business class cabin is a bit… well, bland. Some of the airline's newest planes have a bit more panache, with a brighter green finish and some woodgrain. And EVA also operates some new Boeing 787 Dreamliners with a completely different, snazzier cabin.
Flying the Boeing 777 with EVA, this is what you'll see.

The dark green and plain cloth finishes just don't do much for me compared to the likes of its competition – Singapore Air, Cathay Pacific, and even Taiwanese competitor China Airlines. But ultimately, that's the smallest of minor complaints. More importantly, the cabin and seats were in spectacular condition. EVA obviously takes good care of its planes.
Business class on EVA is divided into two cabins: A front section with seven rows of seating and a rear cabin with just four, for a grand total of 39 business class seats. We sat in the rear section for a bit more privacy, though there wasn't much to differentiate the two. Here's a look at the larger, forward EVA business class cabin. 

No matter which cabin you're in, seats are laid out in a 1-2-1 arrangement, with every seat positioned away from the aisle. These reverse herringbone seats are a favorite among frequent travelers for maximizing both personal space and privacy. Best of all, every passenger has direct access to the aisle.
Couples and companions should gravitate to seat pairs in the center. Just keep in mind that because of how these seats are angled and a small, immovable partition in the center console, you won't be terribly close to your traveling companion. It can be done, but carrying on a conversation across these seats isn't the easiest – there are certainly better setups in the sky for those traveling in pairs.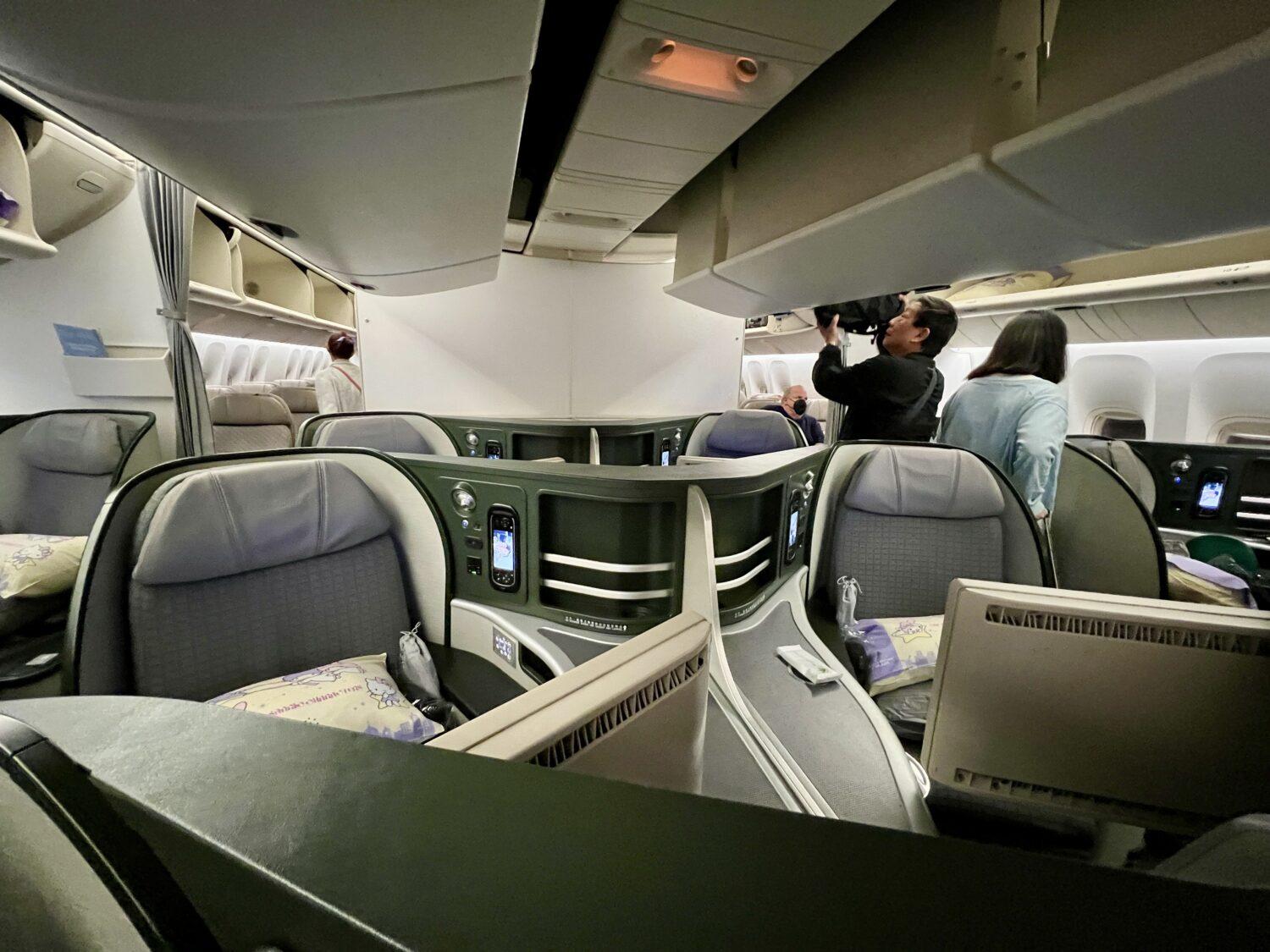 Seats along the windows, meanwhile, are ideal for solo travelers. These EVA business class seats lack the doors or additional privacy partitions that are all the rage these days – you won't confuse these for Qatar Qsuites – the angle of these seats still offer plenty of privacy from your fellow travelers.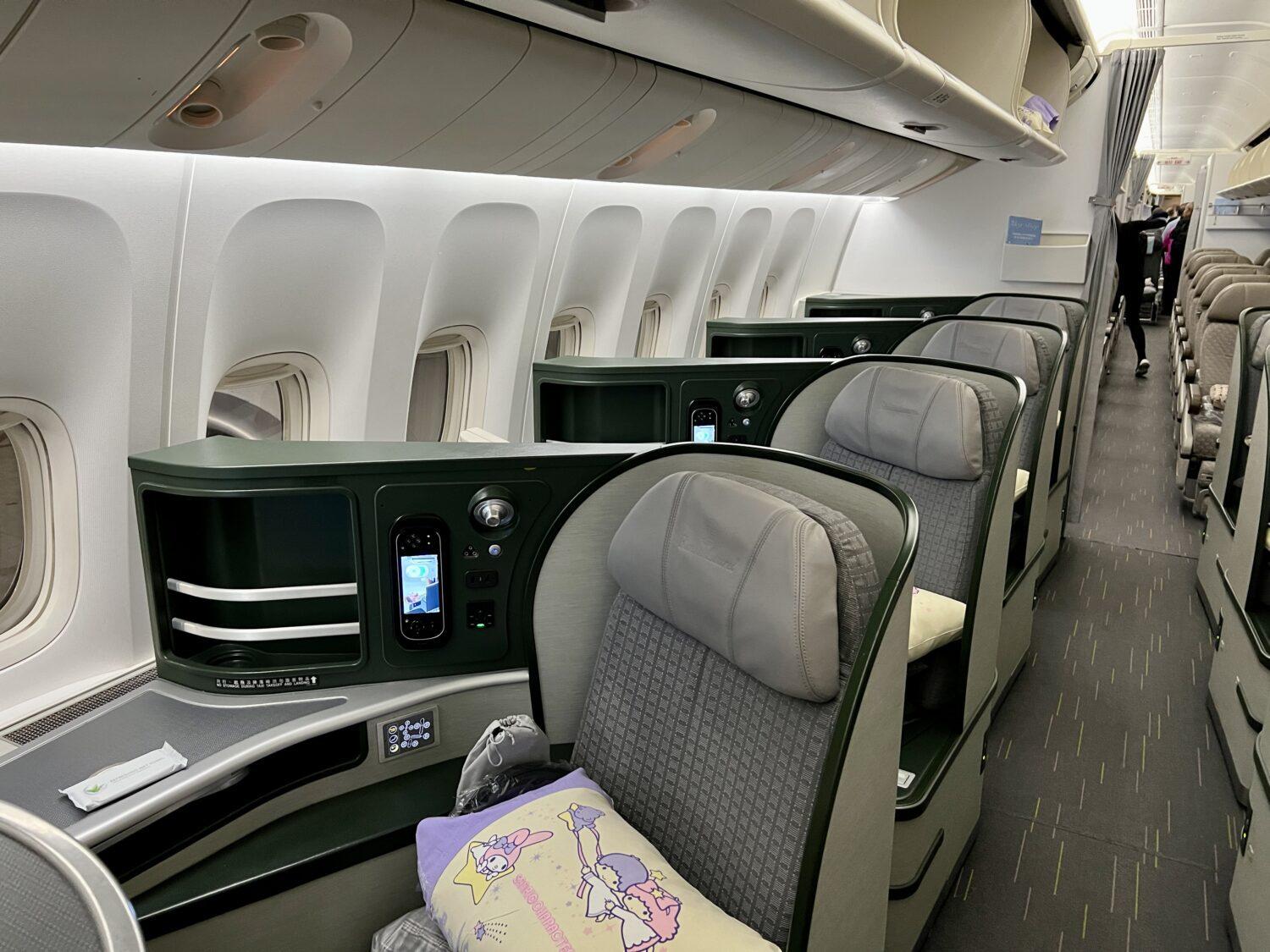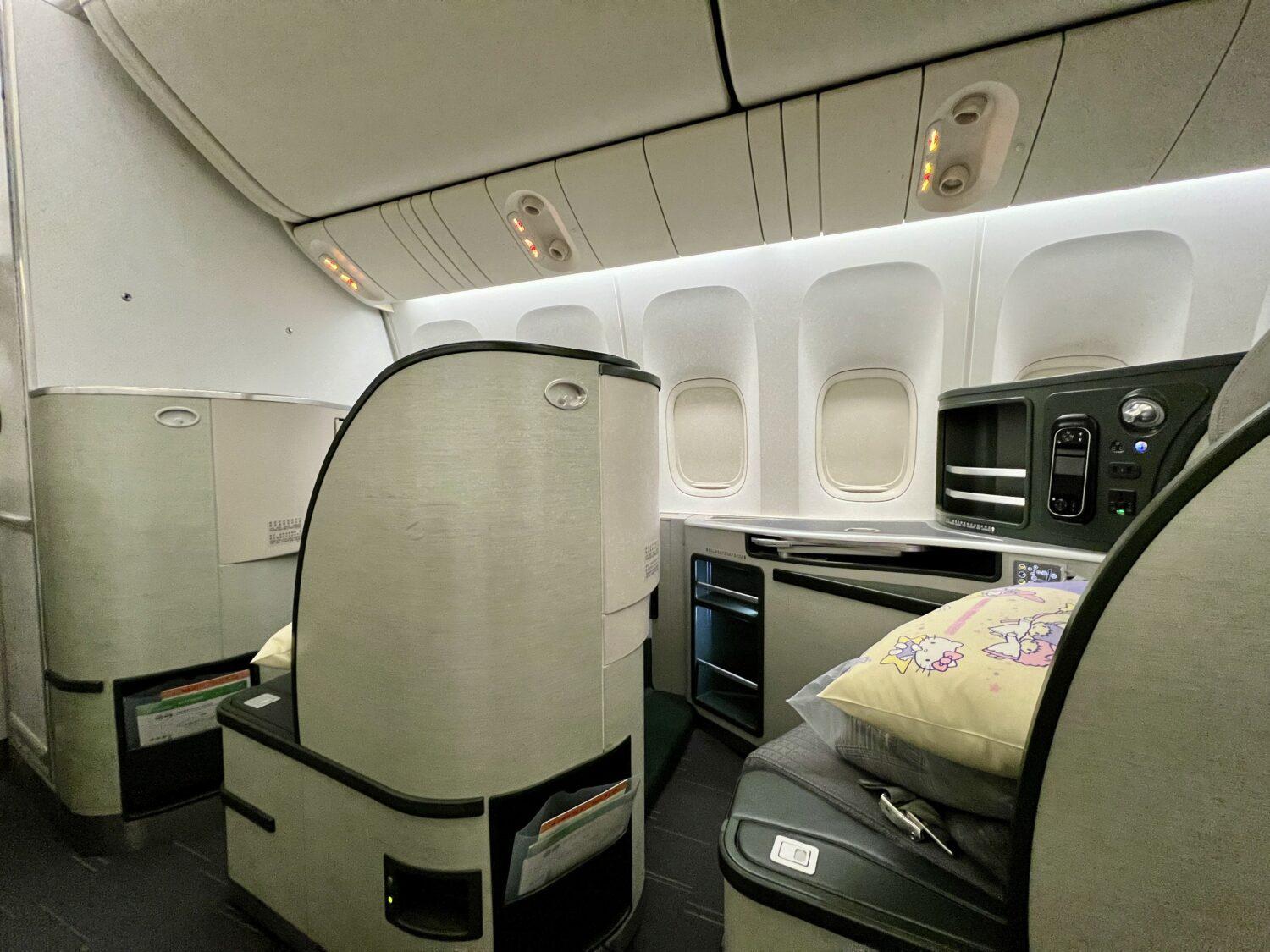 While its cabin may not be the newest or flashiest, EVA Air knows how to set the mood right. How about a starry night cabin to lull you to sleep?

Fortunately (or unfortunately?), this wasn't one of EVA's unbelievable Hello Kitty flights. While the airline has brought those themed flights back to its Chicago route – complete with Hello Kitty tablecloths, napkins, slippers, and much more – it only runs a few days a week on the daily flight. So the only sign of the beloved kitty on our flight was some Hello Kitty pillowcases and a red-hued cabin.

There are three lavatories onboard for business class passengers: Two at the very front of the plane and one between the two business class cabins. While fairly basic, they were always spotless. But one stands out: The sole bathroom between the two business class sections is nearly twice as large as the others. So when it comes time to change or get ready, seek this lavatory out.

In addition to some helpful amenities like dental kits, mouthwash, and ear plugs at the ready, there was also an assortment of toiletries from Acqua Colonia available to use, from facial mist to body lotion.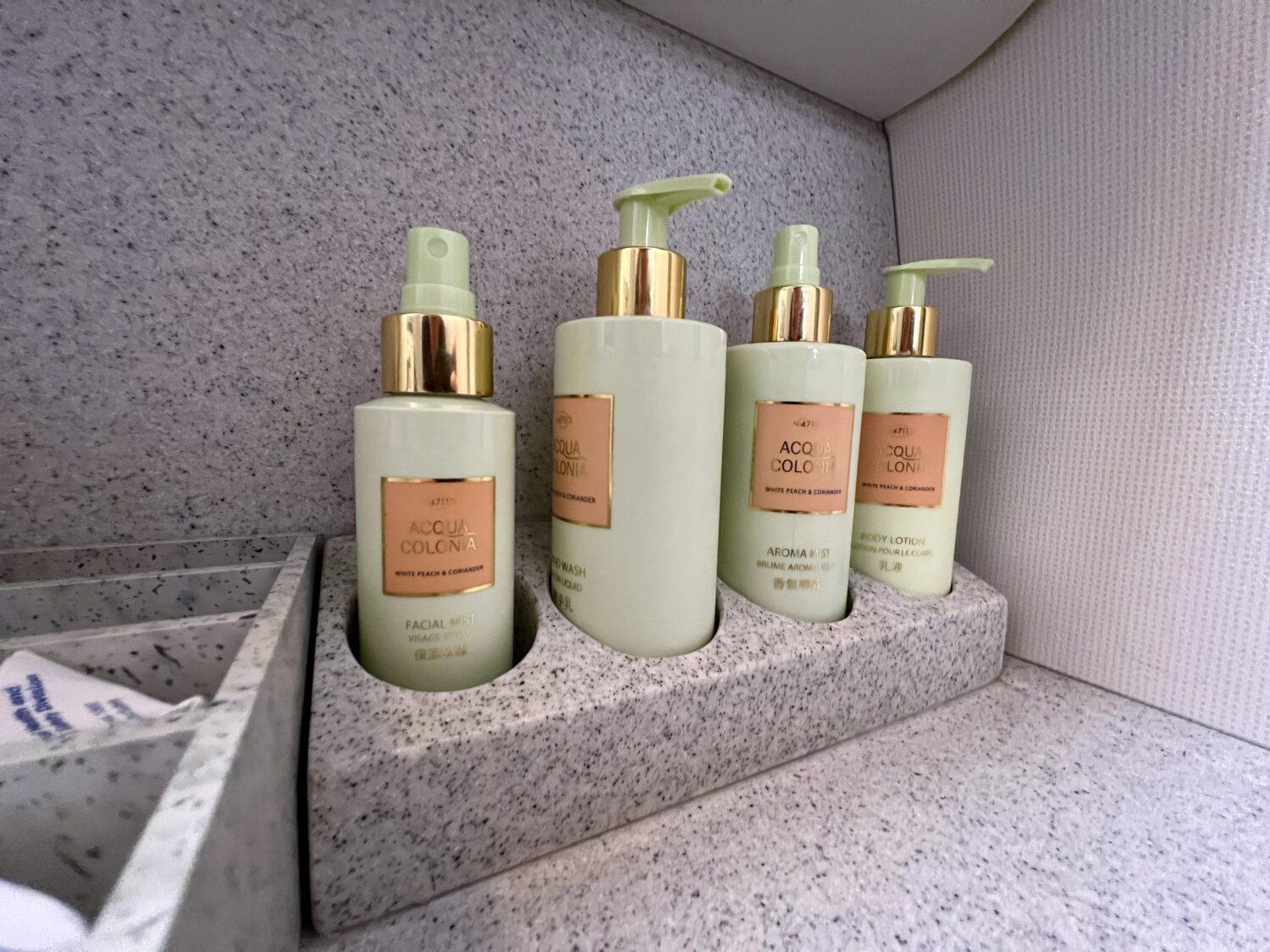 EVA Air Business Class Seats
Much like the cabin, EVA's business class seats aren't flashy. I wouldn't say they're perfect, either. But they're still comfortable and perfectly functional for a long flight across the Pacific Ocean.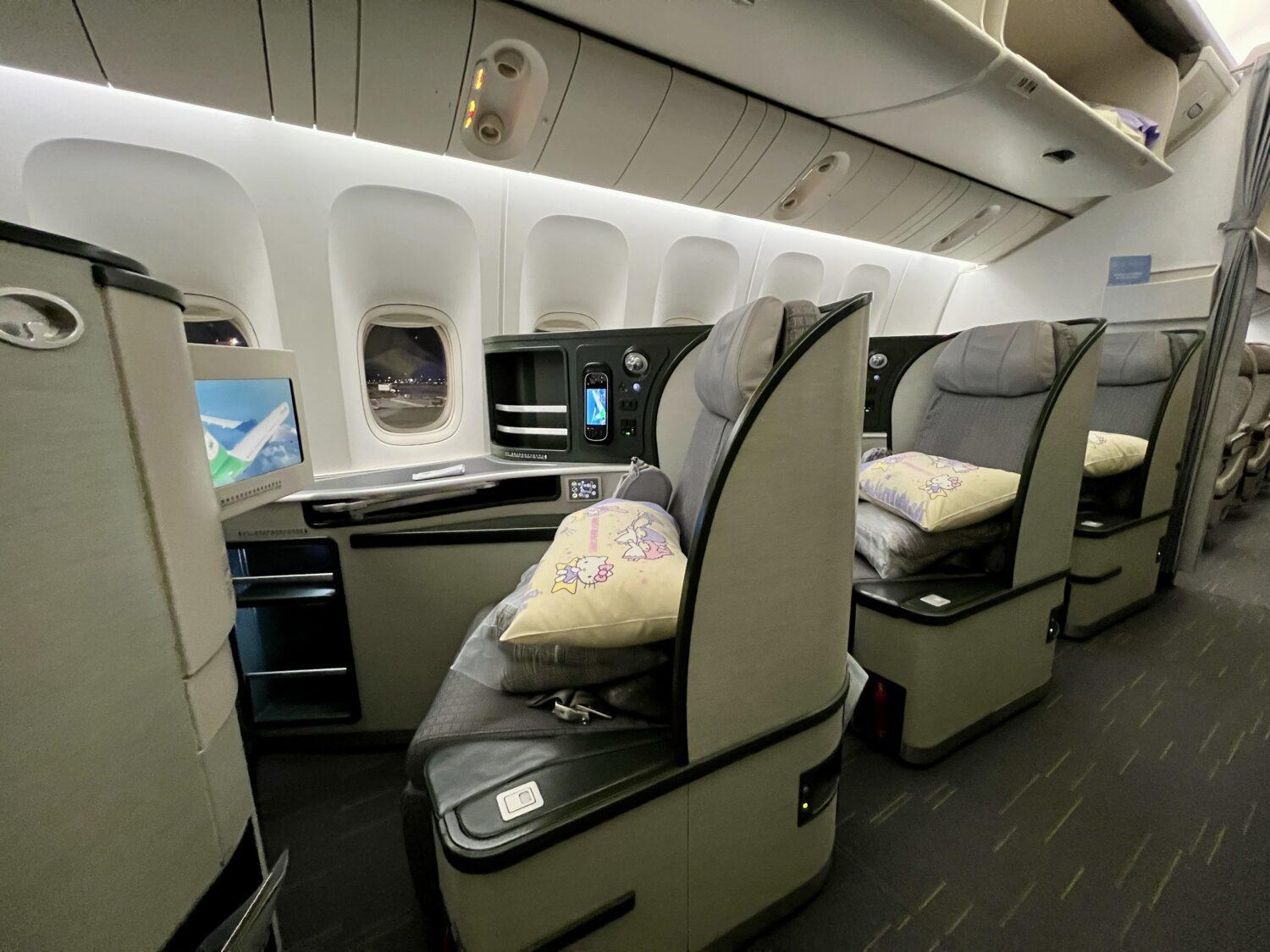 Every seat in the cabin is more or less identical: 26 inches wide with 81 inches of legroom, giving you plenty of room to stretch your legs or relax in lie-flat mode. Your legs tuck into a fairly spacious cubby built into the seat in front of you. At 5 feet 10 inches I'm not the tallest guy in the world, but I can't see anyone under 6 feet 6 inches running out of space in this seat. The design and layout of the seat give you plenty of legroom. 

If there's one knock against these EVA Air business class seats compared to the newer generation of business class suites you'll find flying airlines like ANA and even Delta One Suites, it's privacy: Although you're facing away from the aisle, these seats are still fairly exposed. There's no additional privacy partitions to shield you from your fellow passengers and the seats themselves are fairly low-profile, allowing you to easily see the rest of the cabin while seated.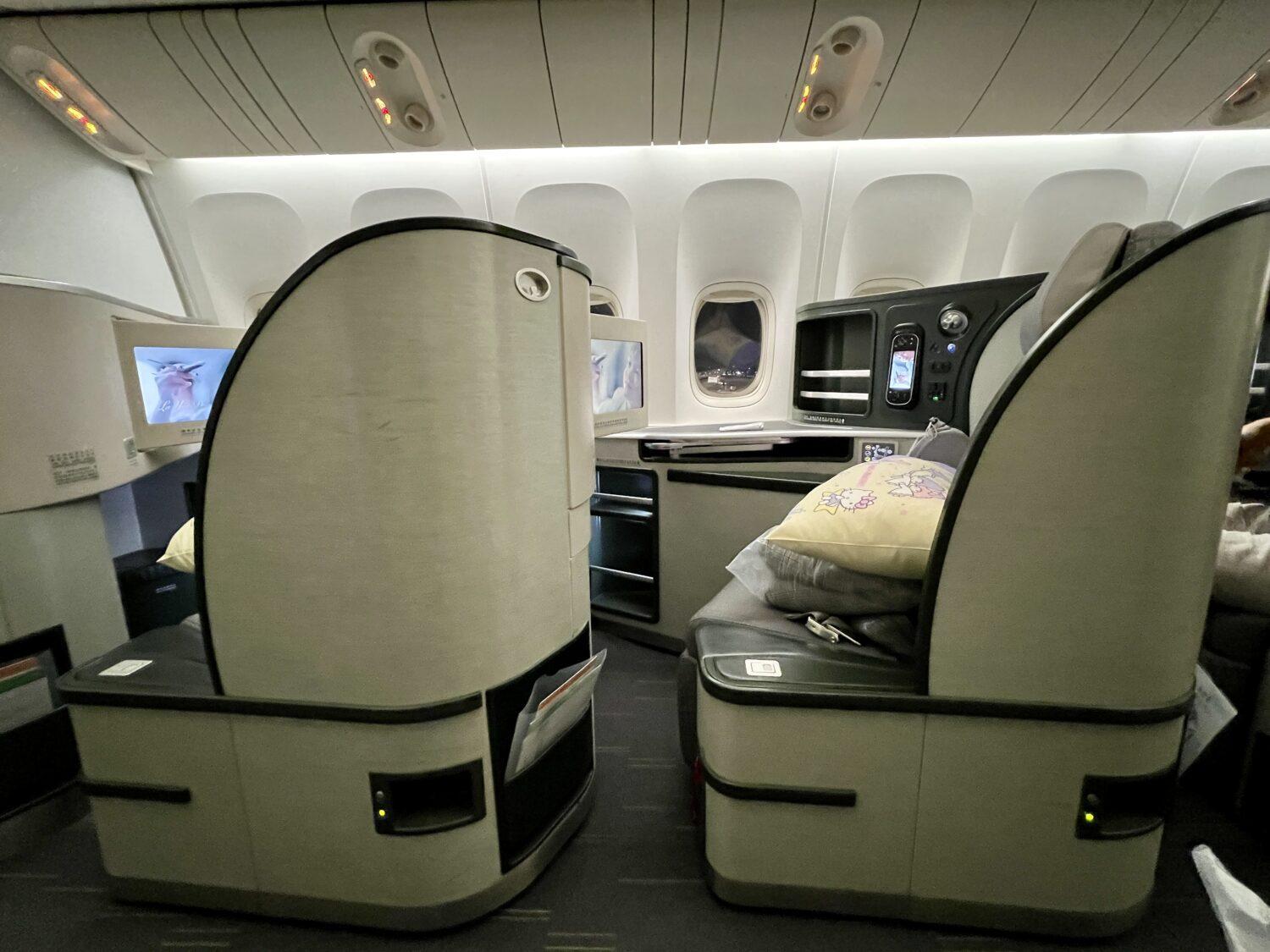 The seat itself is comfortable and fairly well padded – though a touch more give would be nice. It's even more comfortable with all the extra bedding, like a slim mattress pad and amazing duvet come bedtime. And a substantial headrest helps give you more support.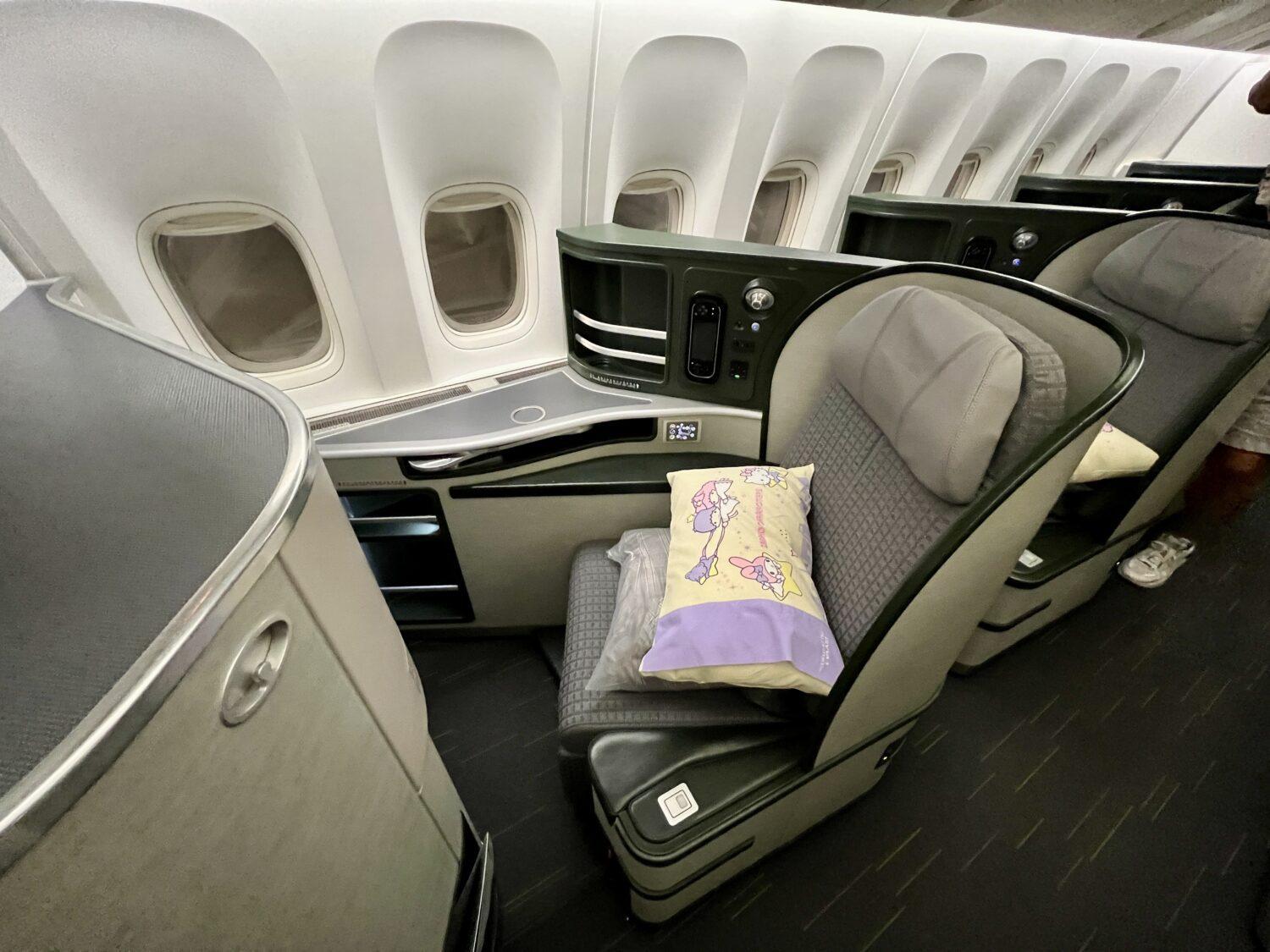 What these EVA business class seats lack in privacy they make up for in storage space – and plenty of it. In addition to the overhead bins above every row, there are several cubbies and compartments to store your belongings.
For starters, there's a large console table at each seat, along the windows or at the center, with plenty of room to keep a drink, small bag, or even a laptop throughout the flight.

Near your head you'll find a sizable, open storage compartment, with room for a water bottle, passport, or a small bag. It's also where you'll find a wired entertainment remote, a reading light, headphone jack, USB ports, and a universal power socket.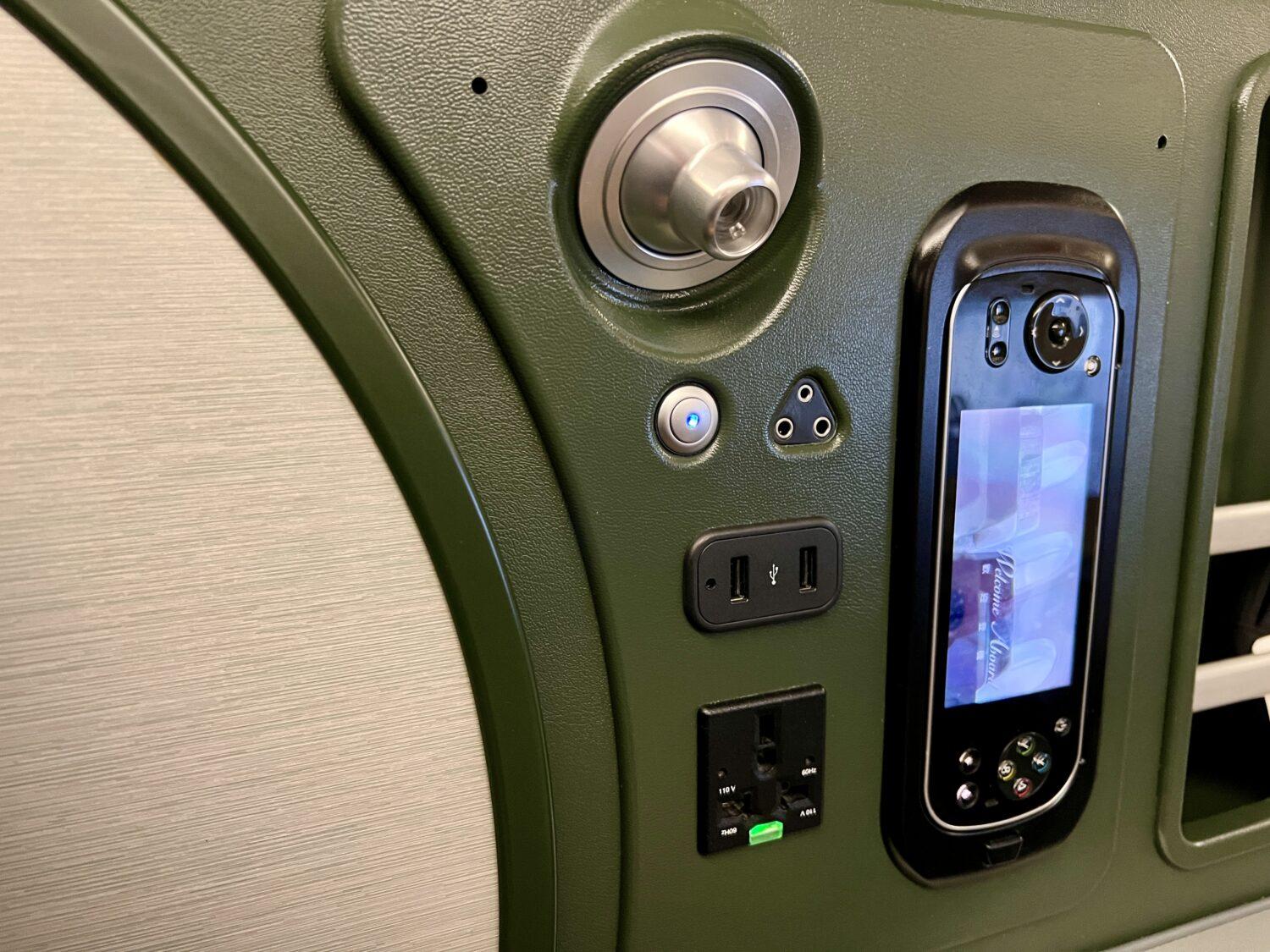 You'll also find a set of easy-to-use seat controls near your elbow. You can recline into bed mode with the push of a button or really fine-tune your seat, independently moving the leg rest if you want to lounge upright. There's even an adjustable lumbar support.

The console is also where a large tray is stored, sliding easily in and out for meal times or if you need to get some work done. Folded all the way out, it's a substantial and sturdy surface. 

Down by your legs, there's not one but two additional open compartments with additional storage space for an amenity kit, pajamas, or whatever else you'd like to keep close by. You can also use the ample foot cubby as storage for a larger bag mid-flight.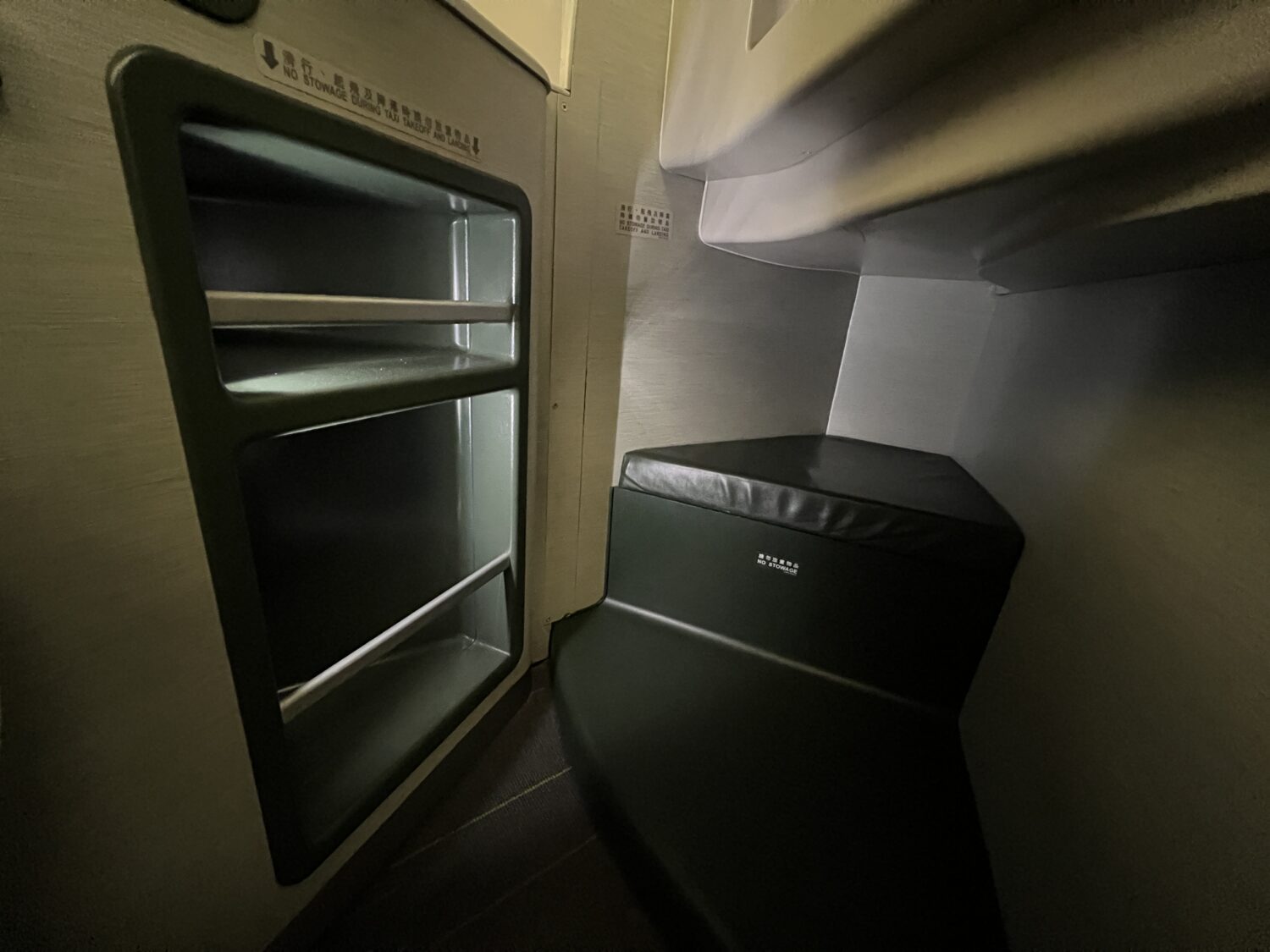 Along the aisle, there's an armrest you can raise and lower as needed. It's great to have it up while eating or working, then push it down come bedtime for some additional real estate to stretch out, if need be.

And bedtime is a treat in EVA Air business class. With the help of a flight attendant who cheerily offered turndown service, a mattress cover, cozy duvet, and lie-flat surface made for an excellent sleep: More than six hours of solid rest! That's crucial for making the 15-hour flight sail by and the biggest reason why business class is worth the splurge, if you ask me.

Amenities
EVA knocks it out of the park when it comes to amenities. It's an area where the airline's business-first class hybrid model shines through loud and clear.
Let's start with an amenity kit, which is leagues better than what you'll get flying business class on most other airlines – heck, even first class. The snazzy Rimowa hardside kits – for which EVA and a handful of other airlines were practically famous for doling out – are long gone. But these days, EVA is handing out Salvatore Ferragamo-branded kits, which are quite nice. They even come in dust bags, a classy touch you rarely see.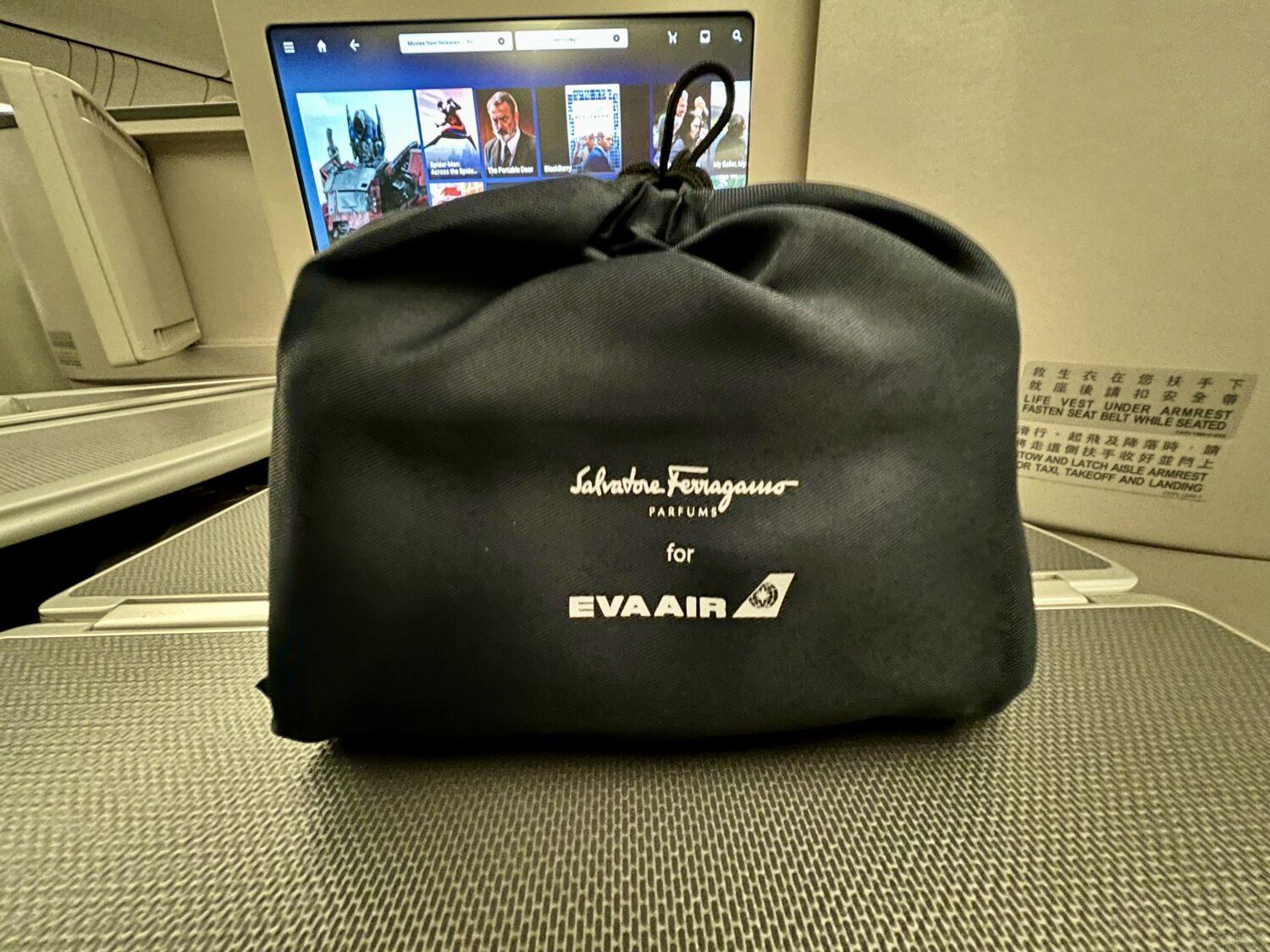 The contents of this kit were equally stellar. There's essentials like a nice eye mask, dental kit, and ear plugs as well as a few surprises: a brush and a microfiber cloth for device screens. Oh, and a trio of Salvatore Ferragamo "Convivio"-scented lip balm, hand cream, and body lotion. Amenity kits don't get better than this in business class.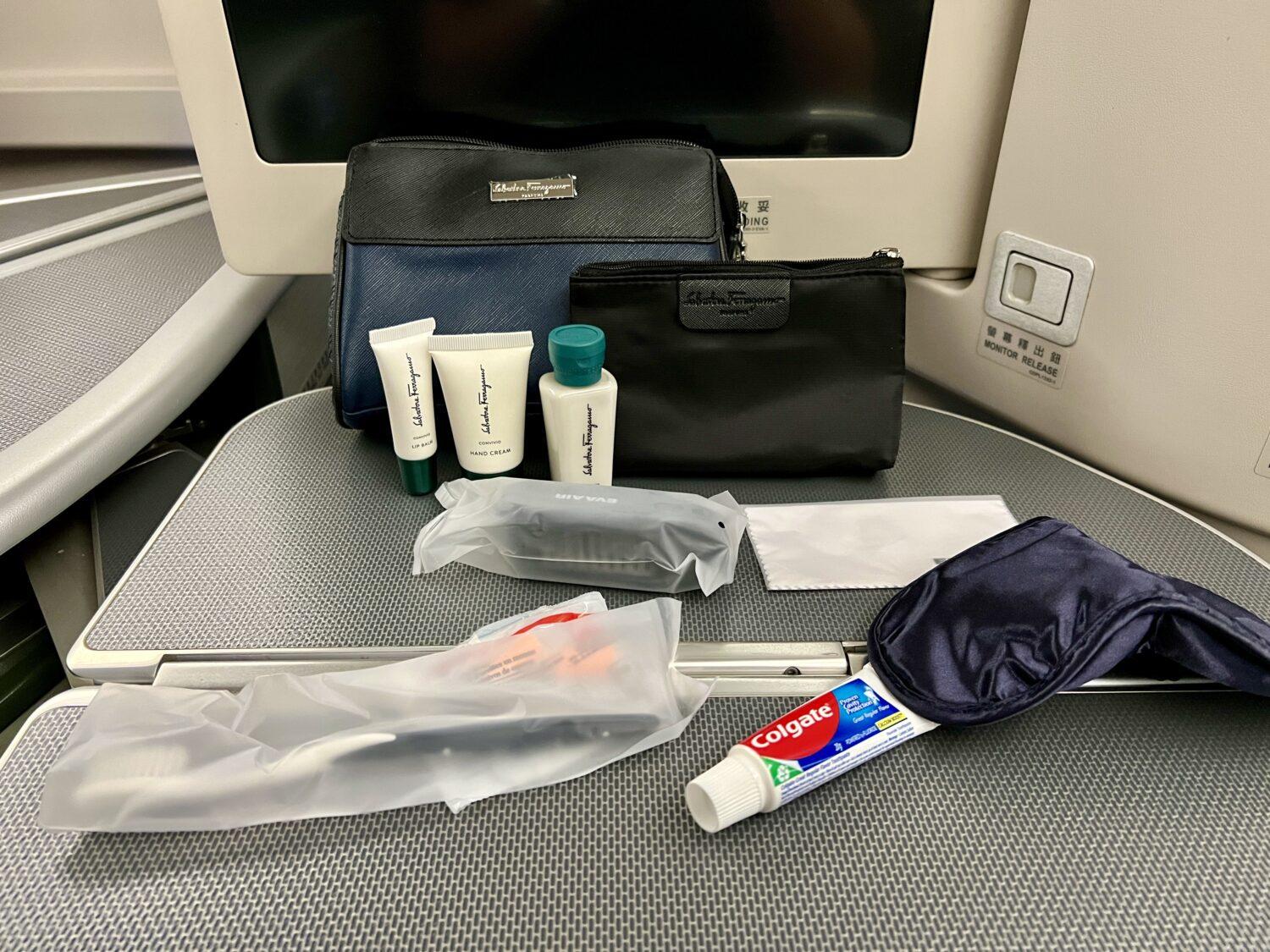 The goodies continue with a sturdy pair of slippers waiting at each seat and an excellent set of pajamas from designer Jason Wu, which flight attendants handed out after boarding. I didn't try on this pair myself but they are as about as stylish as it gets – not the typical set of scratchy, thin PJs you may (or often don't) get.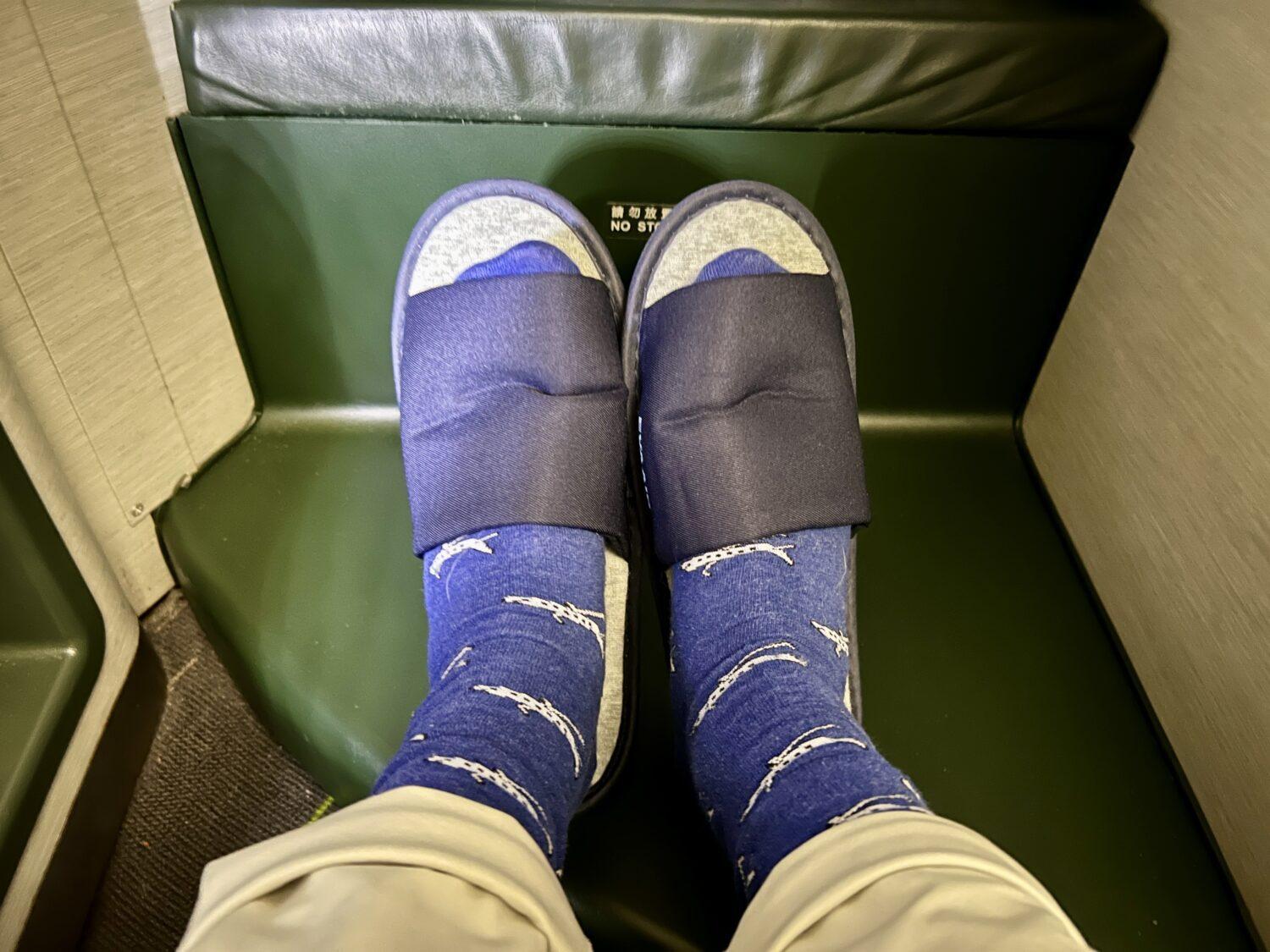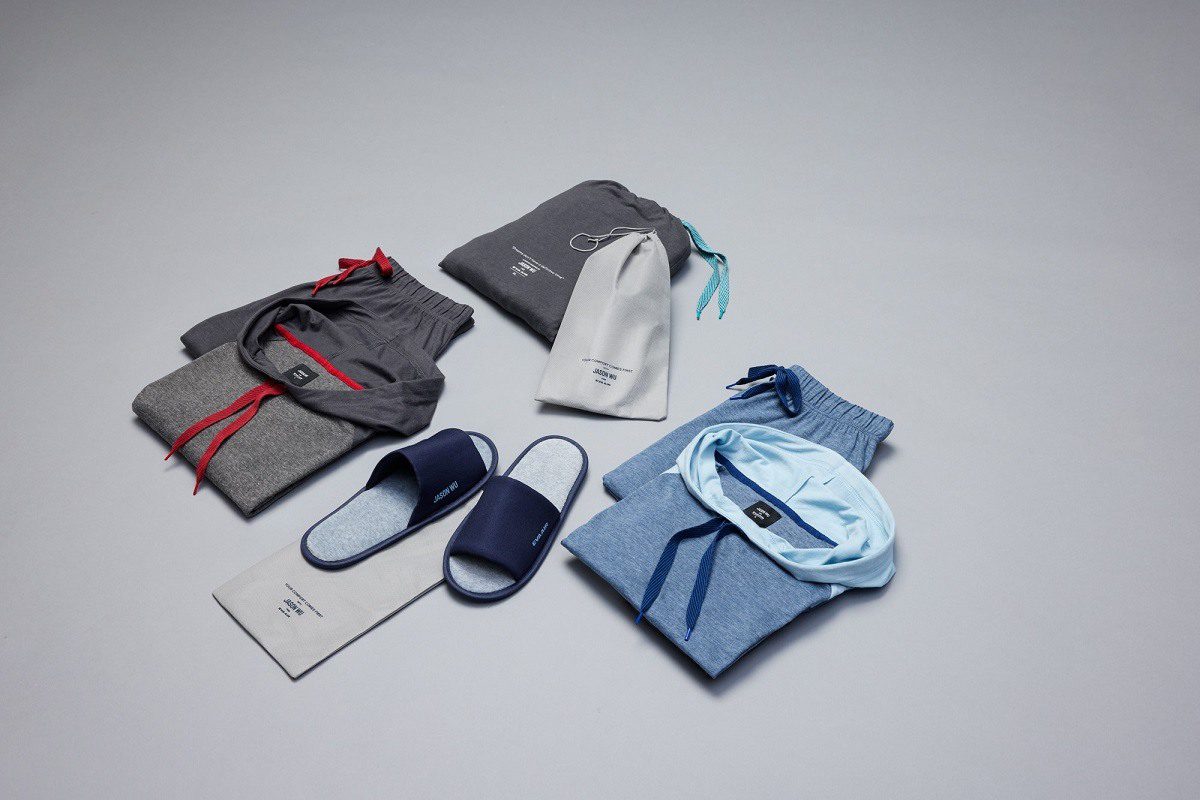 Business class passengers also get upgraded audio: A set of EVA-branded noise-canceling headphones called THUNDER. They're fairly comfortable and they block out plenty of noise in the cabin. Just beware that flight attendants come through and collect these about 15 to 20 minutes before landing.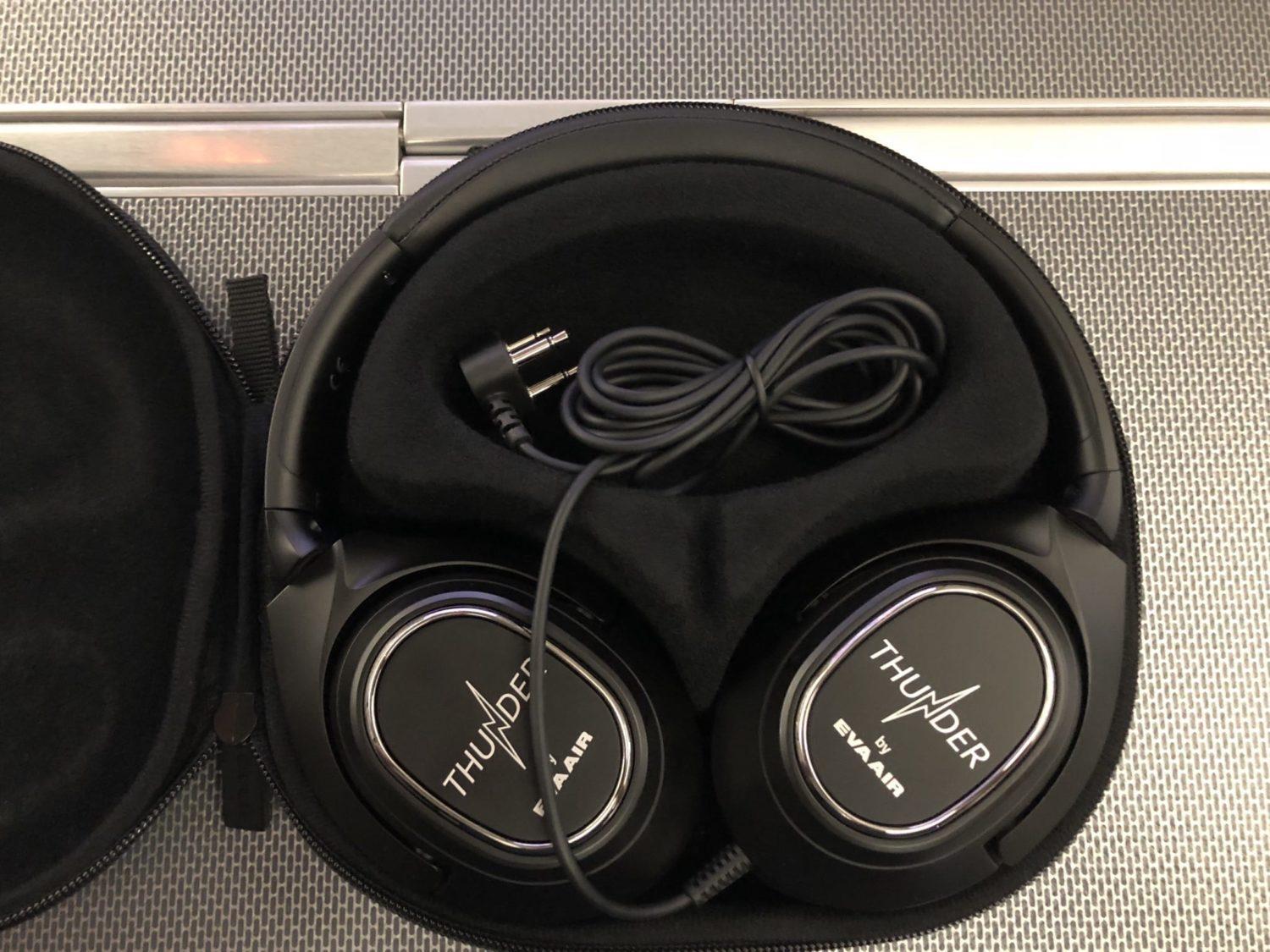 Even the bedding shines in EVA business class. Every seat has a top-notch memory foam pillow ready for bedtime – in some cases, complete with a Hello Kitty pillowcase. These are far from the flimsy pillows you get flying many airlines.

And then there's the duvet – not a blanket, a true duvet. Oh, the duvet. It's a lush, down duvet that makes each seat a truly cozy spot to sleep. If EVA were to swap in a true mattress pad instead of a simple cover, I think it'd have the best business class bedding in the sky.

Service & Dining in EVA Air Business Class
The amenities were great, but the service is what separates the best airlines from the rest. It's another area where EVA Air pulls away.
Like most of EVA's departures for Taipei (TPE), this was a redeye flight, and we spent the entire time from takeoff until landing in the dark of night. That can make it difficult for flight attendants, who may not want to bother passengers trying to maximize their sleep. But I struck by the near-perfect balance the flight attendants struck in being attentive, yet not overbearing throughout the 15-hour journey. They managed to wrap up dinner service less 90 minutes after departure yet still be proactive in refilling drinks or offering additional snacks throughout the flight.
To a T, the flight attendants working my aisle were spectacular: Attentive and professional, of course – I was almost always addressed by last name – but also still funny and earnest. And while there were still some signs of the pandemic-driven cutbacks almost every airline has made in the last few years, it didn't detract from a great flight overall.
Service started shortly after boarding with the pre-departure drink, along with packaged hand towel and a small chocolate – another small touch that sets EVA Air business class apart.

Flight attendants went through the cabin, kneeling as they took meal orders for both dinner and breakfast. Meal service started promptly after takeoff. These redeye departures have a more-limited supper service – there's no salad, soup or cheese course that EVA business class passengers get on daytime flights get. But that doesn't mean you just get a meal tray plopped in front of you, either.
Dinner got started with drink orders. EVA is renowned for stocking top-shelf champagne for business class, but that's an area where they've made some cuts recently. Veuve Clicquot La Grand Dame is out, a vintage bottle of Duval-Leroy Clos Des Bouveries is pouring instead. I'm no wine snob: It's still delicious … and still a big step above what you'll get on most airlines flying business class.
Another victim of the pandemic: Paper menus are apparently out. You can see everything from drinks to meal options to midflight snacks on your seatback screen, instead.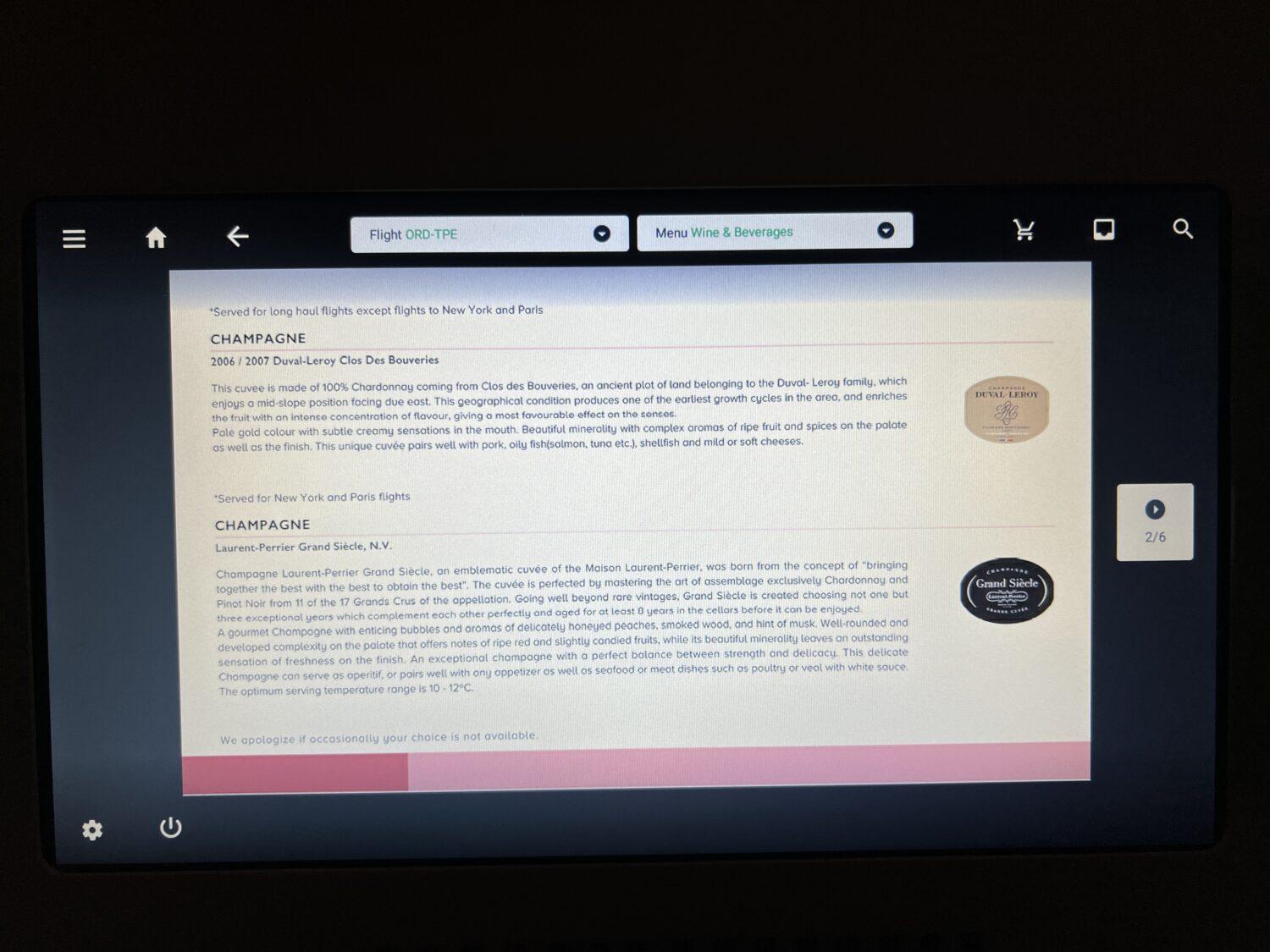 Pre-dinner drink orders came out with a fancy table cloth and a delicious amuse bouche: one small bite with crab and seaweed salad and another with brie cheese and fig chutney. Both were delicious.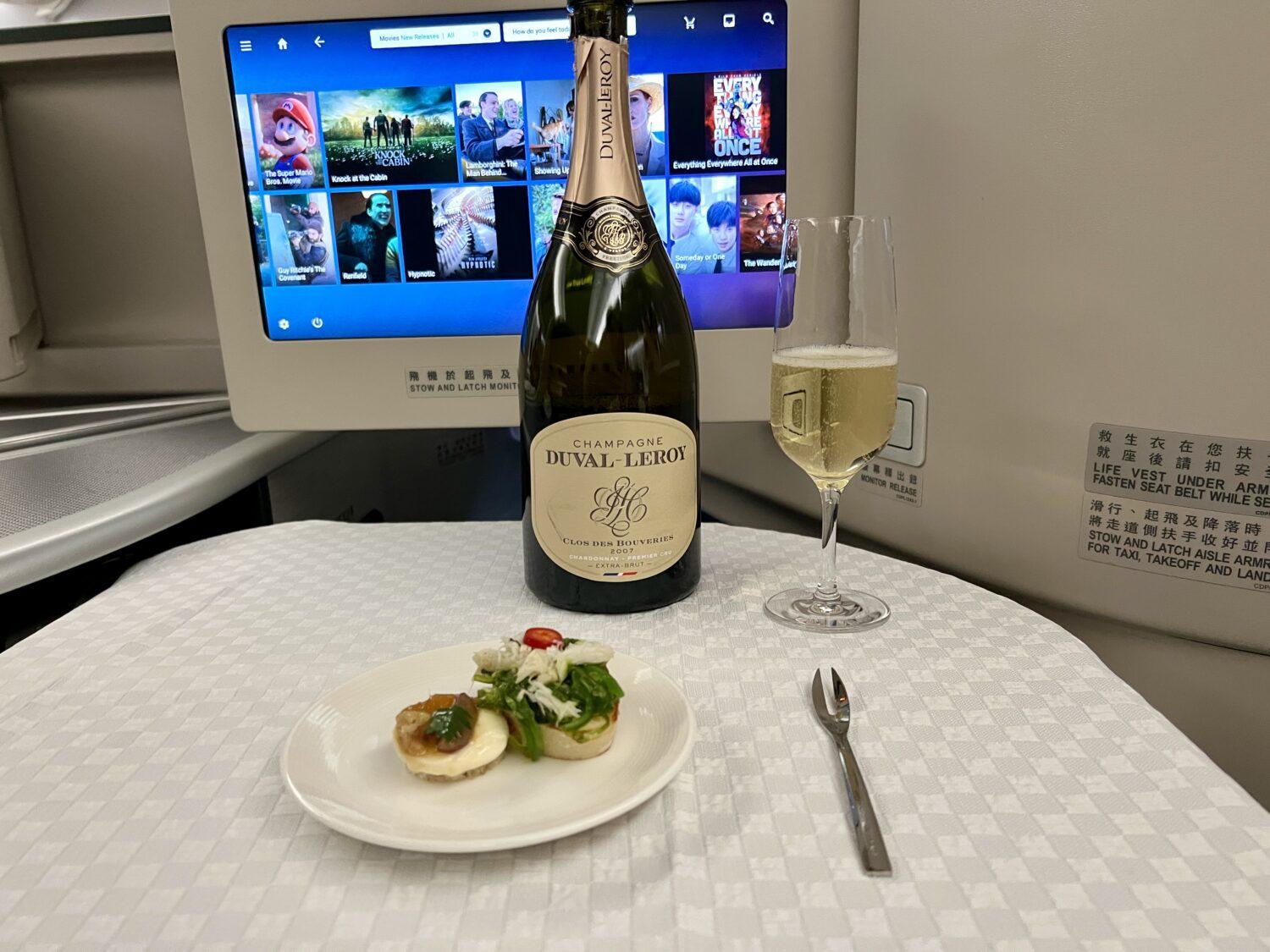 Next up, a flight attendant returned to lay the table with silverware and a tray for bread, dropping off the h'ors doeurve a minute later: Tuna tataki and smoked duck breast with smoked chanterelle mushrooms and a fennel kimchi salad. It was every bit as delicious as it sounded, not to mention impossibly fresh. Moments later, a flight attendant swung by with a choice from a bread basket. Trust me: Go for the delicious garlic bread.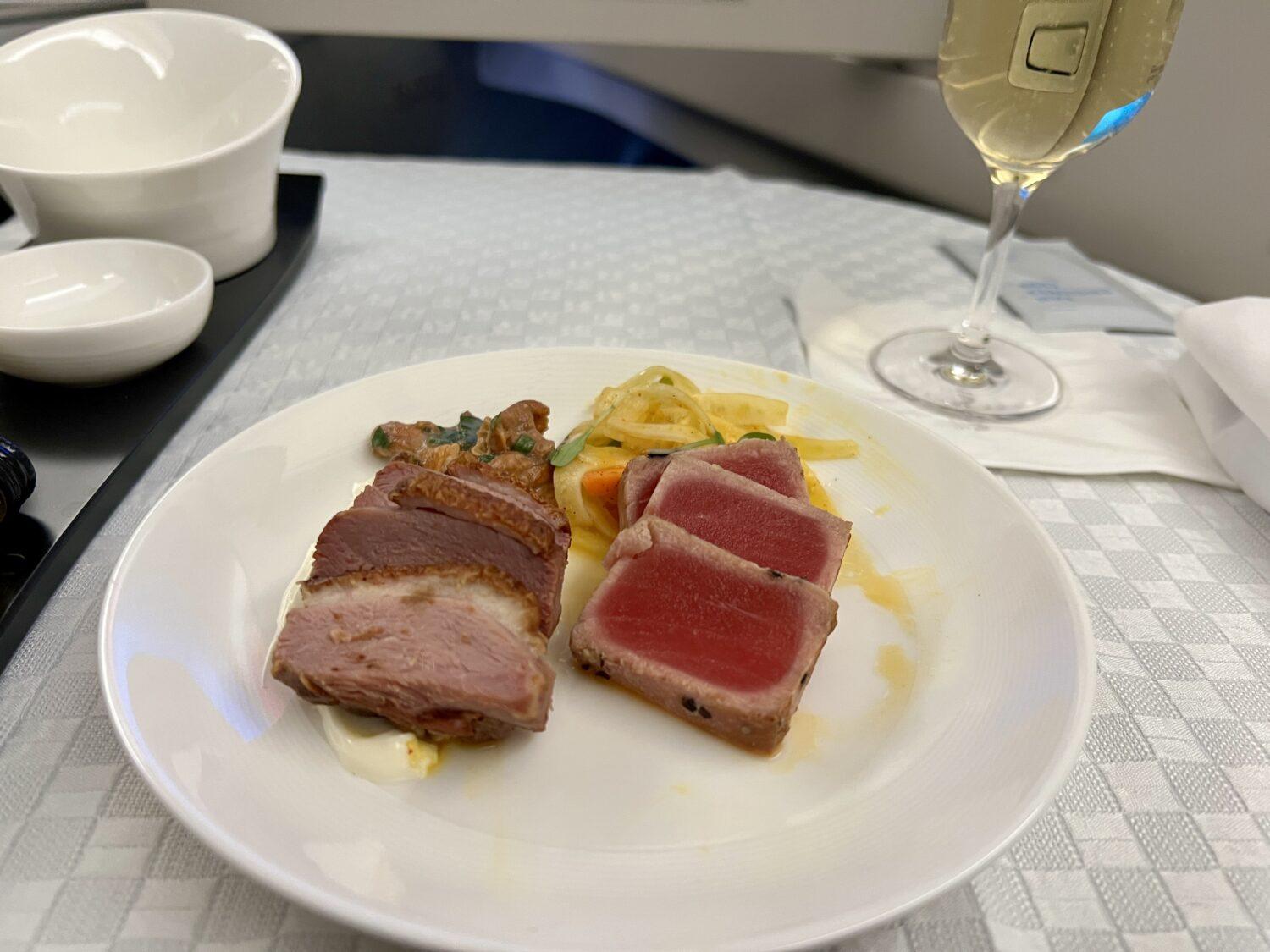 For the entrees, EVA business class passengers have plenty to choose from – and more than just what's available onboard. Starting 21 days before departure, you can manage your reservation at EVAair.com and select from an even broader list of dinner options. It's akin to Singapore Airlines' famous Book the Cook service. 
Here's a look at what was available for our flight. Be sure to lock these in at least 24 hours before your flight leaves.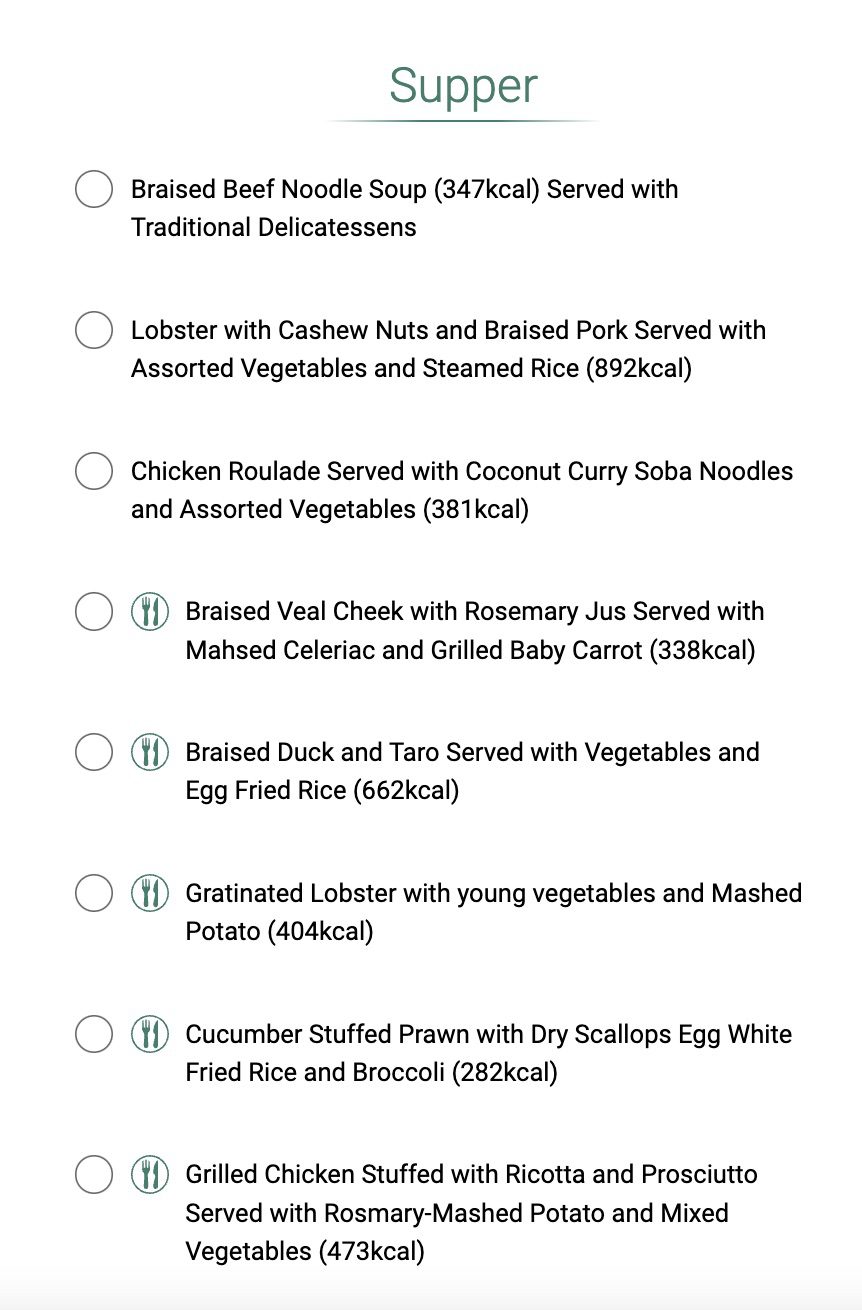 I was torn between several options but eventually settled on the chicken roulade with coconut curry soba noodles. While the dish didn't blow me away, the chicken was tender and flavorful, the vegetables were crisp, and the green curry sauce added a delightful kick. I'd gladly eat it again.

For dessert, we were served a fruit platter and mango and passionfruit cheesecake. A fresh piece of fruit on a plane says a lot about an airline's attention to quality, and this fruit was excellent. The cheesecake, meanwhile, was creamy and delicious.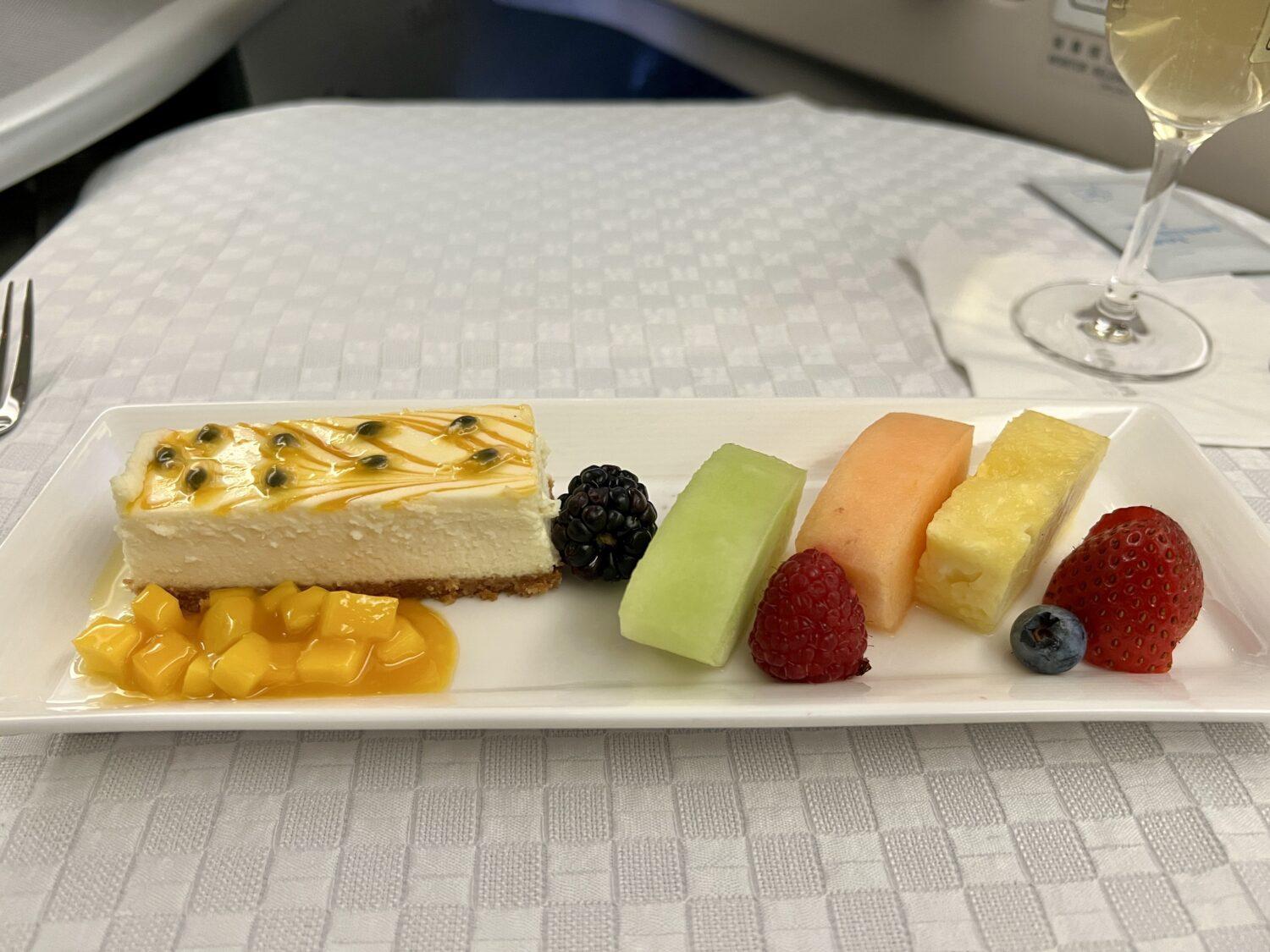 From start to finish, this four-course dinner took roughly 90 minutes. That's an incredible pace, and a testament to EVA's service. It never felt rushed, and yet the flight attendants were able to serve a great meal and get everyone ready for bed.
After a solid sleep and taking in a few movies, we were getting close to Taiwan and it was time for breakfast, starting about 2 1/2 hours before landing. EVA also allows you to pre-order your breakfast, though there aren't any additional options as with dinner.
I went with the Taiwanese congee porridge. It's a wholesome and simple dish, but the different sides of tofu, crisp vegetables, and omelette transform it into a hearty and delicious meal. It's easily the breakfast I've had on a plane, period. 

Entertainment
EVA's business class seats are all equipped with 15-inch TV screens that flip out from the seat in front of you. These screens could use an upgrade: You'll find bigger and higher-definition seatback TVs with other airlines. But these are just fine to pass the time. 

It's touchscreen with an intuitive interface, though you can also control it with the wired remote stored in the console. As a bonus, you can display the flight map on that remote while watching a movie or TV show to keep tabs on your flight.
But that brings us to arguably the single biggest weak point with EVA Air business class: The entertainment selection. There were about a half-dozen recent releases and maybe 20 Hollywood movies, total … and not a single U.S. TV show to pick from. That's not unique to EVA Air – a lackluster entertainment selection is a fairly common issue with Asian carriers.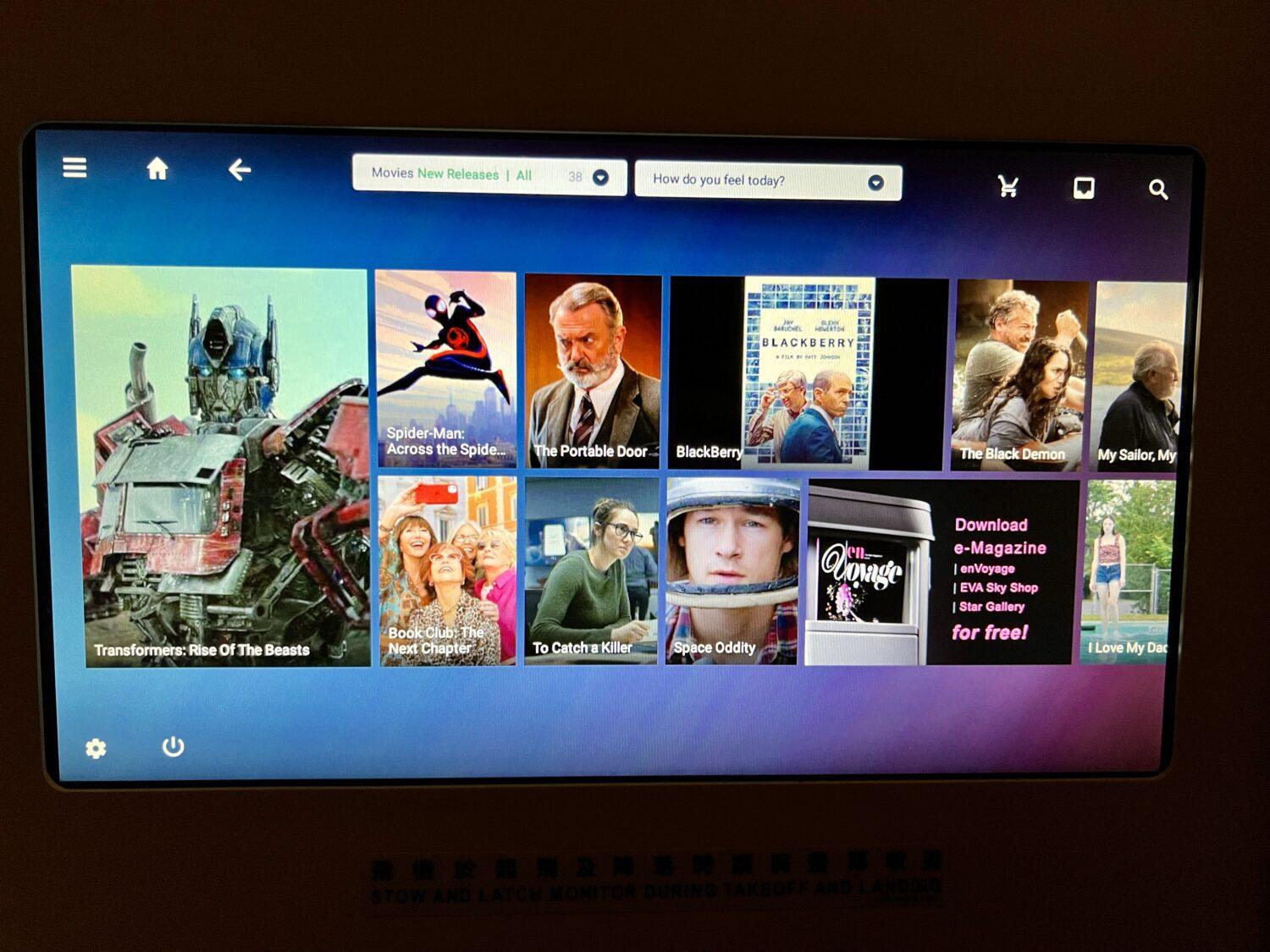 Scope out EVA's current entertainment options for yourself but be warned: You might want to download some movies or TV shows to your own device ahead of your flight. Even after sleeping for more than six hours, I was running out of things to watch by the time we arrived in Taiwan.
EVA also offers Wi-Fi onboard its Boeing 777s, though I didn't get a chance to take it for a test run on this flight.

Bottom Line
I'm convinced: EVA Air offers one of the most well-rounded business class experiences in the sky.
Sure, the entertainment selection is subpar and the seats on EVA's 777s don't look quite as flashy as they did just five years ago. But that's a small slight in an otherwise outstanding flight: The seat is spacious and comfortable and the service is both proactive and genuine. The dining, drinks, and amenities, meanwhile, all put EVA Air a step above almost any other airline.
There is a ton of competition between world-class airlines crossing the Pacific in business class, with the likes of Singapore, ANA, Cathay Pacific, and others. But the first class touches and outstanding service that EVA puts into its Royal Laurel cabin make it tough to beat.