Africa is truly massive, with so much to see, do, and explore. The problem? We're normally used to seeing flight prices that are equally massive … until now.
Round-trip fares of $1,200 or more were once the benchmark for a great deal to Africa, but now we're seeing some record lows from all over North America to the African continent. Think $591 fares to Cape Town (CPT) in South Africa, $581 fares to see Mount Kilimanjaro, or cashing in just 61,000 credit card points to get to the Seychelles or Zanzibar…in business class!
There's no question that many prices for many flights are through the roof right now, so these deals to Africa stand out. Whether you want to see the Pyramids in Egypt, go on a safari in Kenya, check out the busy markets of Morocco, hike and sip wine in Cape Town, or relax on far-flung islands, you're in luck.
If Africa is on your list, now is the time to book. Even if it's not, now may be the time to book anyway – you may not find a better deal to check out this continent. Take it from Ernest Hemingway, who once said: "I never knew of a morning in Africa when I woke up that I was not happy."
South Africa For Under $600
Just before the pandemic, both Delta and United announced plans to fly right into Cape Town. It was a big win for U.S. travelers … until the routes evaporated during the pandemic.
But those flights have ramped up once again this year. Once South Africa opened and those flights started running, the competition from the U.S. heated up, leading to some record-low fares. We couldn't believe our eyes when we found this one from Minneapolis-St. Paul (MSP), for instance…
Get alerts for deals like this one sent straight to your inbox with Thrifty Traveler Premium!
Once unthinkable, these cheap flights to Africa connected U.S. travelers to Cape Town like never before. And it wasn't just Minneapolis, either. From Detroit (DTW), to Chicago-Midway (MDW), and the Washington, D.C. area, these sub-$600 fares flying Delta and partner airlines were available nearly nationwide.
When we dug into the deals down to South Africa, we found some more hidden value, too. Many of these flights were bookable with Delta SkyMiles for a crazy-low 58,000 miles roundtrip thanks to an unadvertised Delta SkyMiles flash sale! The best part? These weren't long routes that connected in Europe or the Middle East – they connected in Atlanta and flew nonstop down to South Africa from there.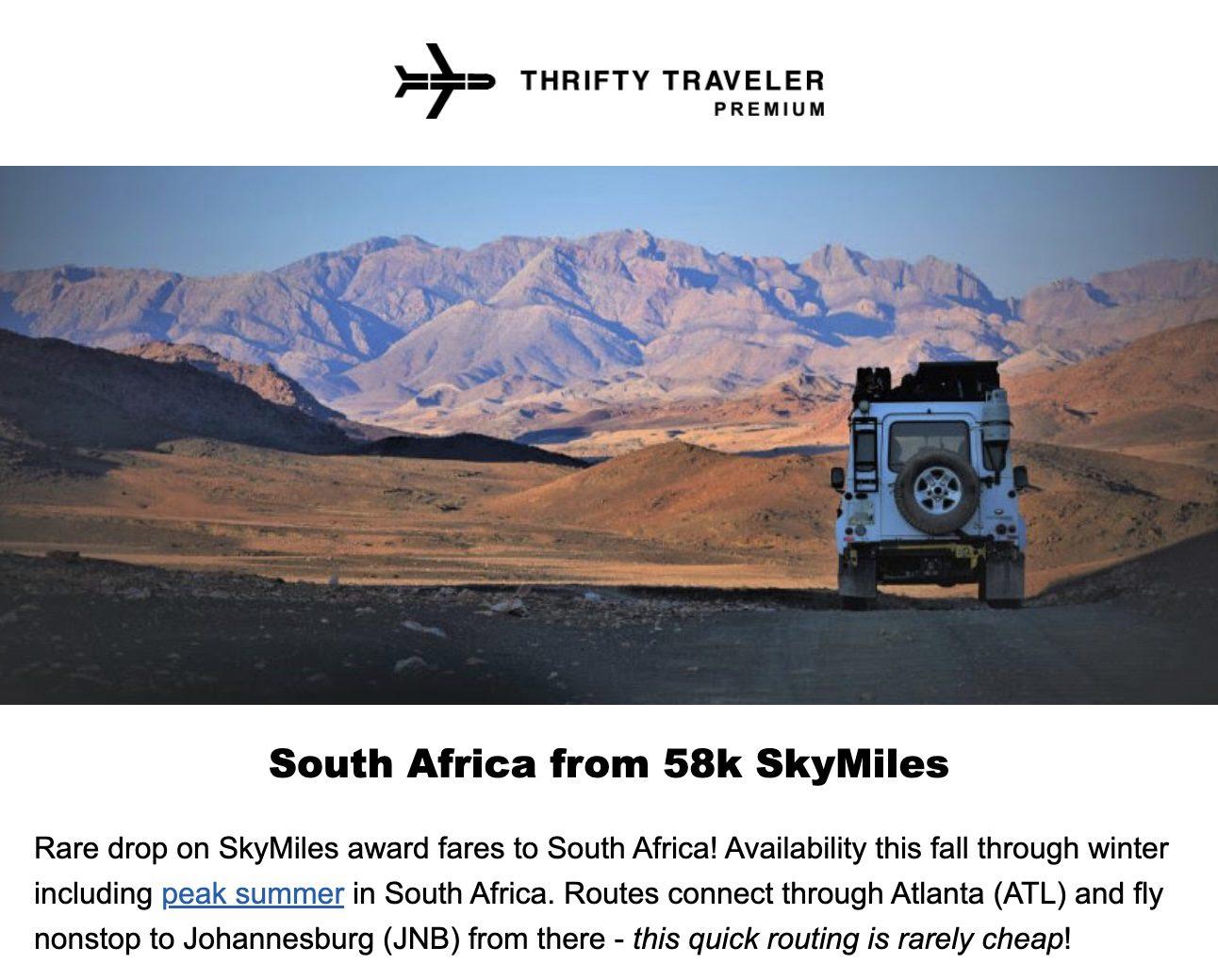 South Africa is open to travelers and is eager to bring back American visitors, and now the airlines are making it hard not to oblige them!
Bucket List Destinations
Those record-low South Africa fares are easy headliners, but odds are that you have at least one of these other African destinations on your bucket list. And I'm here to tell you a secret: You can score flights to other destinations throughout Africa for half off usual prices.
Every one of these deals was sent to Thrifty Traveler Premium subscribers this year! If you think flight prices are too high to travel right now, think again.
Want to see the pyramids? We've got you there. This deal we sent with cheap fares to Egypt included flights from Boston, Chicago, the Bay Area, and Toronto. In recent months, we've also featured sub-$700 Cairo flights from Baltimore, Dallas, Houston, Washington, D.C., and more!
If you're anything like me, you're always intrigued by a visit to the mountains. But how about a visit to THE mountain: Mount Kilimanjaro. We recently dug up this fare as part of a super-rare deal featuring cheap flights to Mount Kilimanjaro in Tanzania. Sub-$600 flights to this part of Tanzania are almost unheard of from the U.S., but you could have also snagged these prices from New York City (JFK) or Newark (EWR).
Just north of Kilimanjaro is the metropolis of Nairobi, Kenya. Known for its raucous, bustling nightlife and wildlife-rich national park (located within city limits!), Nairobi is the perfect city around which to plan your African getaway.
It's also a gateway for onward flights into the Serengeti, the Maasai Mara, and other popular safari destinations around the region. And we found fares nationwide to get there for under $700 – $500 off (or more!) the usual prices on these routes.
… and that's less than half the list of nationwide cities that could get to Nairobi for about $650 when we sent this deal.
Nairobi feels a world away from the United States, but you might be surprised how close to home the West African nation of Morocco is to your home airport. It's just south of Portugal and Spain, so the flights to get you there won't take a full day in most cases.
And we're finding, more and more, that they won't break the bank, either.
We've sent a few deals to Morocco recently, including flights to both Marrakesh (RAK) and Casablanca (CMN). If these fares haven't convinced you it's worth your time to visit Morocco, maybe our editor Kyle can convince you in 10 simple images. Yeah…
Escape to Paradise
Most travelers don't see past the safaris, the wildlife, and the pyramids of Africa. But this massive continent is also home to some world-renowned beach destinations, too. In fact, pairing one of these beach destinations with your safari or wildlife adventure sounds like the perfect trip to me!
Scattered on the east side of the continent, in the Indian Ocean, are three beach destinations that travelers describe as paradise. It's tough to beat Zanzibar, just off the coast of Tanzania. Cheap flights to get there can be hard to come by, but we found some fantastic fares there this year to help you kickstart your beach trip.
This fare is gone now – get the next great international flight deal with Thrifty Traveler Premium!
Best of all, these Zanzibar fares were flying the best airline in the world: It's hard to beat a flight in Qatar Airways economy.
Off the coast of East Africa and in the Indian Ocean, you'll find the Seychelles. The Seychelles are their own country, comparable to the Maldives … with far less traffic. Getting there is tough, so cheap flights aren't the norm. Yet we've still managed to find some fantastic fares to the Seychelles several times over the last few months, like this one.
The rock-laden beaches of the Seychelles make it an extremely private, picturesque destination. And in the Seychelles, you'll find a little less hustle and bustle than you will in the ever-popular Maldives to the east.
I'll admit it so you don't have to: I knew next to nothing about Mauritius before we found these unbelievable $600-ish fares to get there in 2022. Now, it's on the top of my list to explore the wild and mountainous yet still tropical island in the southern Indian Ocean.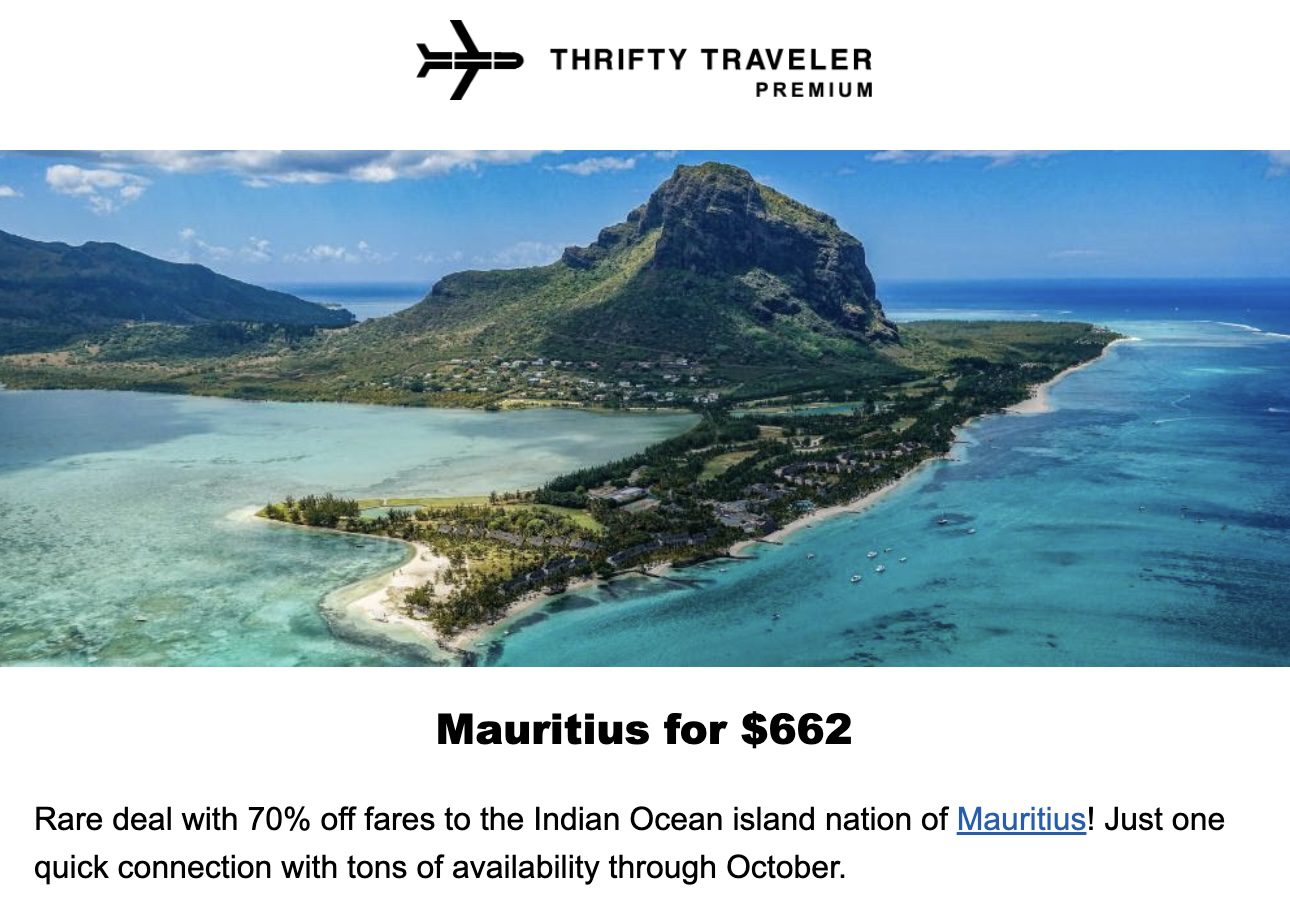 We couldn't believe our eyes with this one: 70% off flights to Mauritius from the U.S. is unheard of. It's one of the clearest examples yet that while flight prices seem higher than ever, great deals are still out there.
Business Class Flights to Africa
Let's face it, there aren't a lot of quick, easy flights to Africa. You're almost always looking at 10+ hours of flying to get there, which is too much for some people to stomach.
Enter business class, the perfect remedy for your long-flight blues. A few champagnes, a few catered meals, and a lie-flat bed to sleep on will make your journey over to the continent of Africa much more appealing.
And Thrifty Traveler Premium has you covered there, too. Let's check out a few of the best ways we've found to fly business class to Africa, starting with United's fancy new Polaris business class seats.
Thrifty Traveler Premium members get award alerts to use their miles, too!
Flying lie-flat business class from Newark (EWR) to Cape Town (CPT) and back for just 104,000 miles from ANA Mileage Club – an Amex transfer partner – is tough to beat. Plus, you'd get access to to the stellar Polaris Lounge Newark (EWR) before your flight, then wake up in the southern hemisphere ready to take on your travels.
There may not be a better way to get to South Africa that that, but it's not just Cape Town that gets the business class love, either. We sent a deal featuring business class fares to Nairobi (NBO) recently, too, including these sub-$2,000 cash fares on Air France.
These flights are also lie-flat the whole way, with just a quick stop in Paris to get you there.
Air France Business Class is awesome. We tested it out just a few months ago and highly recommend it, but one business class product remains the best in the world: Qatar Airways QSuites.
This deal we sent to our subscribers is the best way we've ever found to book QSuites. Not only are the flights incredibly plush and luxurious, but so are the destinations in Seychelles and Zanzibar. These flights give off real honeymoon vibes, and I would know – I'll be on one of them later this year for my own honeymoon! See you up there?
Why Are Flight Prices to Africa Dropping?
With all these cheap fares to Africa, it's hard to isolate just one reason why prices are falling.
There are just a handful of direct flights from the U.S. to Africa, but a few new and resuming routes to destinations like South Africa from places like Atlanta (ATL) and New York (EWR) have helped add some competition. And United has applied for the addition of a Washington, D.C. (IAD) to Cape Town route, too.
Middle Eastern airlines like Etihad, Emirates, and Qatar Airways have long been the best way to reach Africa after a quick stop in Abu Dhabi (AUH), Dubai (DXB), or Doha (DOH), respectively. Yet we're seeing U.S. carriers and their European partners step up their game into Africa with more competitive fares. More competition is always a win for travelers.
Plus, Africa fares are following a trend we're seeing across the travel landscape. Namely, the best value in air travel right now is international – not domestic flights.
Right now, we're in a sweet spot as it relates to Africa flights. Demand to travel to Africa still isn't back to pre-pandemic levels, but the flights to and from the continent are nearly back to normal. That means there's less demand for more seats, and those savings are being passed along to you!
But there's no telling how long this trend can last. Ultra-cheap fares like these ones could evaporate overnight, so don't wait if you're serious about an African getaway this year or next.
Bottom Line
Right now is the best time to start booking a trip to Africa. Each week seems to bring lower and lower fares and most African countries are not only open to North American visitors, but they are excited to have you back.
So, book soon! The best sales never last long, and these fares to Africa are as low as we've ever seen. Sign up for Thrifty Traveler Premium, and stop paying too much for flights to Africa.