Qatar Airways is always pushing the envelope. The airline's business class suites – dubbed Qsuites – are easily among the best in the world. The same is true of its laughably enormous Al Mourjan business class lounge at its Doha (DOH) hub.
But now, Qatar is one-upping itself. The airline on Thursday officially threw the doors open to its new business class lounge: The Al Mourjan Business Lounge – The Garden. This brand-new lounge is located in the Doha airport's northern expansion near the C concourse. It nearly doubles the square footage for business class passengers in conjunction with the existing Al Mourjan lounge, which will remain open at the center of the airport.
Perched above the airport's new (though familiar looking…) indoor garden it calls The Orchard, The Garden lounge looks absolutely stunning.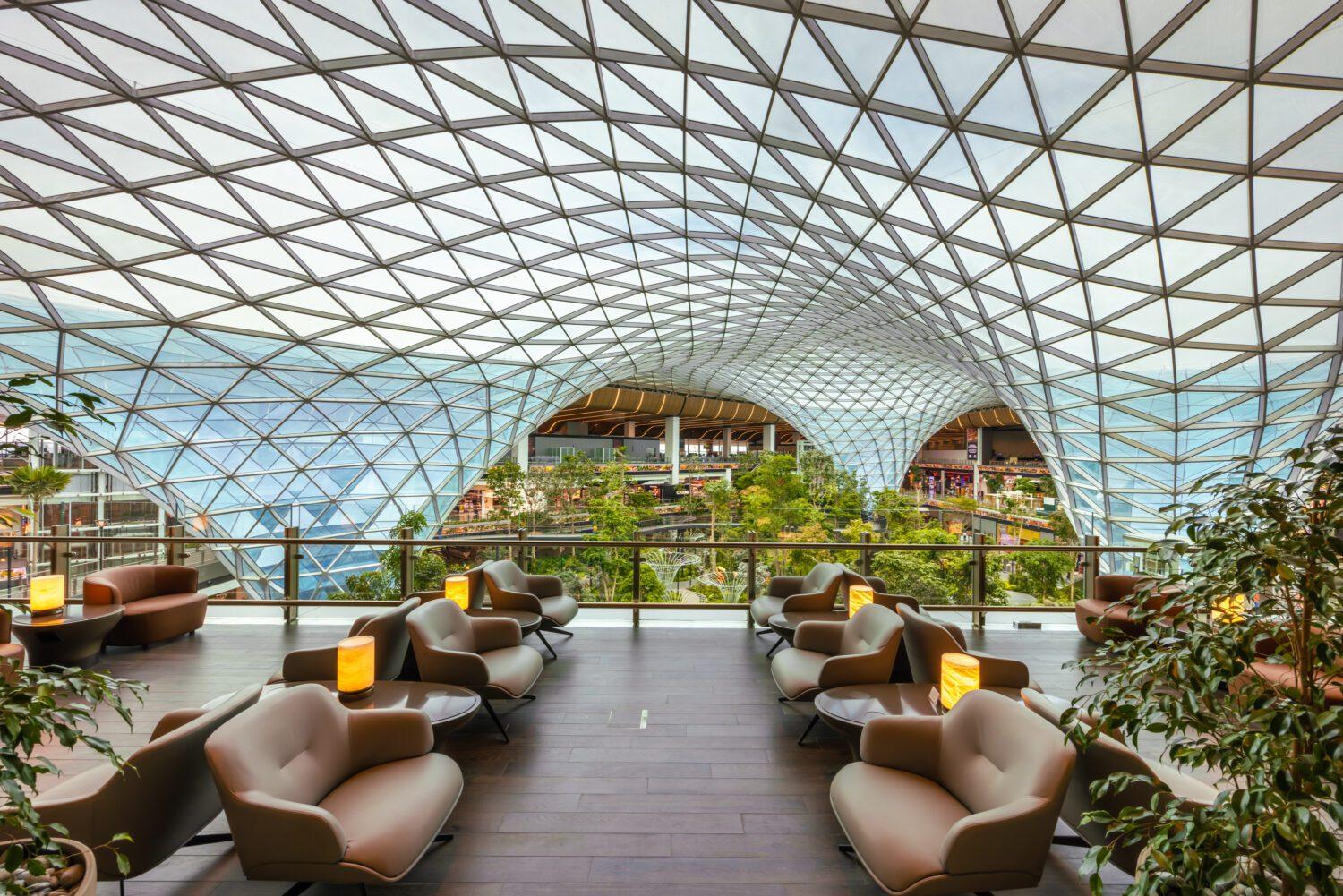 The architecture of the space might be a not-so-subtle knockoff of the Jewel complex in the beloved Singapore (SIN) airport, but this lounge is clearly one of a kind. While most airlines build lounges that are 5,000 to 10,000 square feet – maybe 20,000 square feet, if you're really lucky – this is on another scale.
The Garden lounge measures 79,500 square feet, not too much smaller than the existing Al Mourjan lounge. Nearly 200,000 square feet of lounge real estate may sound like overkill, but with the volume of business class passengers that flood into lounges during peak travel times in Doha, Qatar may need every inch.
But, it's not just the square footage that stands out, it's what Qatar is doing with that space. Here's a taste of what travelers can expect in this new lounge:
24 single- or double-occupancy relaxation suites, free to business class passengers for up to six hours
Shower suites and washrooms
An honest-to-god gym inside a lounge, with treadmills, elliptical machines, and locker rooms
A spa with dedicated manicure and pedicure stations, neck and shoulder massage chairs, and other treatment rooms
Nearly a half-dozen dining spaces, from buffets with sushi stations and made-to-order poke bowls, barista bars to get freshly made coffee drinks, cocktail bars, and more
Almost anyone with a Qatar Airways business class fare can get in, whether you use Qatar Avios or a partner program like American AAdvantage miles or British Airways. But if you're paying cash, watch out: Qatar now sells "basic" business class dubbed "Lite" fares, which come without free seat selection … or lounge access.
It only seems right that a ride in Qsuites will also get you into what should be one of the world's best business class lounges.
"At Qatar Airways, excellence is embedded in the core of our brand, and as we continue to evolve our offerings, we choose to provide our passengers with the very best experiences in aviation and hospitality," the airline's CEO Akbar Al Baker said in a statement. "This world-class lounge showcases a sophisticated way of travel, centered in comfort, wellness, and nature."
Bottom Line
The No. 1 reigning airline in the world can't seem to help itself. It's always raising the bar.
By the looks of it, that's exactly what this new business class lounge in Doha will do. The new Al Mourjan Business Class Lounge – The Garden looks fantastic, with a massive space that is packed with amenities. We're excited to check it out for ourselves and see if it's even half as good as it looks.
All photos courtesy of Qatar Airways