From economy seats to unbelievably spacious first class suites, Singapore Airlines has earned accolade after accolade for treating flyers right. So when you have the option of flying with the world's reigning #1 airline not just to their hub in Southeast Asia but also across the Atlantic Ocean, you have to take it … right?
That's what I did a few months back – and I had high expectations for my flight on its funky fifth-freedom route from Frankfurt (FRA) back to New York City (JFK) on its newest business class seats. Looking back, Singapore Airlines A380 business class was a mixed bag.
On one hand, the seats were massive and comfortable and the service onboard was outstanding from start to finish. But Singapore's renowned onboard catering was a serious letdown for me. And travelers hoping to be treated to amenity kits stuffed full of useful goodies will be disappointed.
Take a look at my experience flying business class on Singapore's A380.

Booking Singapore Airlines Business Class
You've got plenty of options for booking Singapore Airlines business class.
The first is easiest: Just use cash. While these transatlantic fares typically cost around $3,000 roundtrip, we've found some better deals for our Thrifty Traveler Premium+ members to Frankfurt (FRA) – sometimes as low as about $2,000 total.

But redeeming points and miles for these flights can be an outstanding deal. Of course, you can use Singapore Airlines' own Krisflyer miles. They're incredibly easy to earn through credit card transfers, as Singapore partners with all the major banks. That means you can instantly transfer points from cards like the *csp* the *amex gold*, or the *venture x*  and get the miles you need to book.
Singapore charges 81,000 miles each way for these flights, and it's typically fairly easy to find the award availability to book your seat with miles.


Traditionally, Singapore has blocked partner airlines like United and Avianca LifeMiles from booking its business or Singapore first class seats on long-haul routes using miles – it was only an option using Singapore's own KrisFlyer miles. But there's one exception … and it might just be the single best way to book this flight.
It's Air Canada Aeroplan. Late last year, Aeroplan gained the ability to book Singapore business class. And thanks to how Aeroplan prices transatlantic routes, you can book this Singapore flight between New York and Frankfurt for just 60,000 points. 


That's exactly what I did, transferring 60,000 Amex Membership Rewards points to Aeroplan book a flight home from Frankfurt after flying the new Condor business class to Germany. Government taxes and fees added a charge of about $180 USD to the ticket.
At Thrifty Traveler, we don't accept freebies. We use our own points, miles, or cash to pay for every single flight or hotel you see reviewed here – including this one!
Unfortunately, you won't find the double-decker Airbus A380 with these seats flying this route anymore. Once a mainstay on this transatlantic fifth-freedom route, the airline has since swapped in a Boeing 777-300ER flying between the states and Frankfurt, with no sign of when "the Whale" might return.
You'll now only find these new A380s flying between Singapore (SIN) and a handful of destinations like Sydney (SYD), Hong Kong (HKG), Shanghai (PVG), and London-Heathrow (LHR).
Lounge Access in Frankfurt & Boarding
Singapore doesn't have its own lounge in Frankfurt, but business class passengers still get lounge access. In this case, departing from Frankfurt gets you into the Air Canada Maple Leaf Lounge for free. I had a couple of hours to burn before my flight so I decided to check it out.
All I need to do was present my passport and boarding pass and I was able to walk in. It had a nice layout to it with tons of seating. I liked the overall design of the lounge as well.
There were plenty of food options available, so I loaded up on a big breakfast and coffee as I killed some time before my flight. The food was all tasty.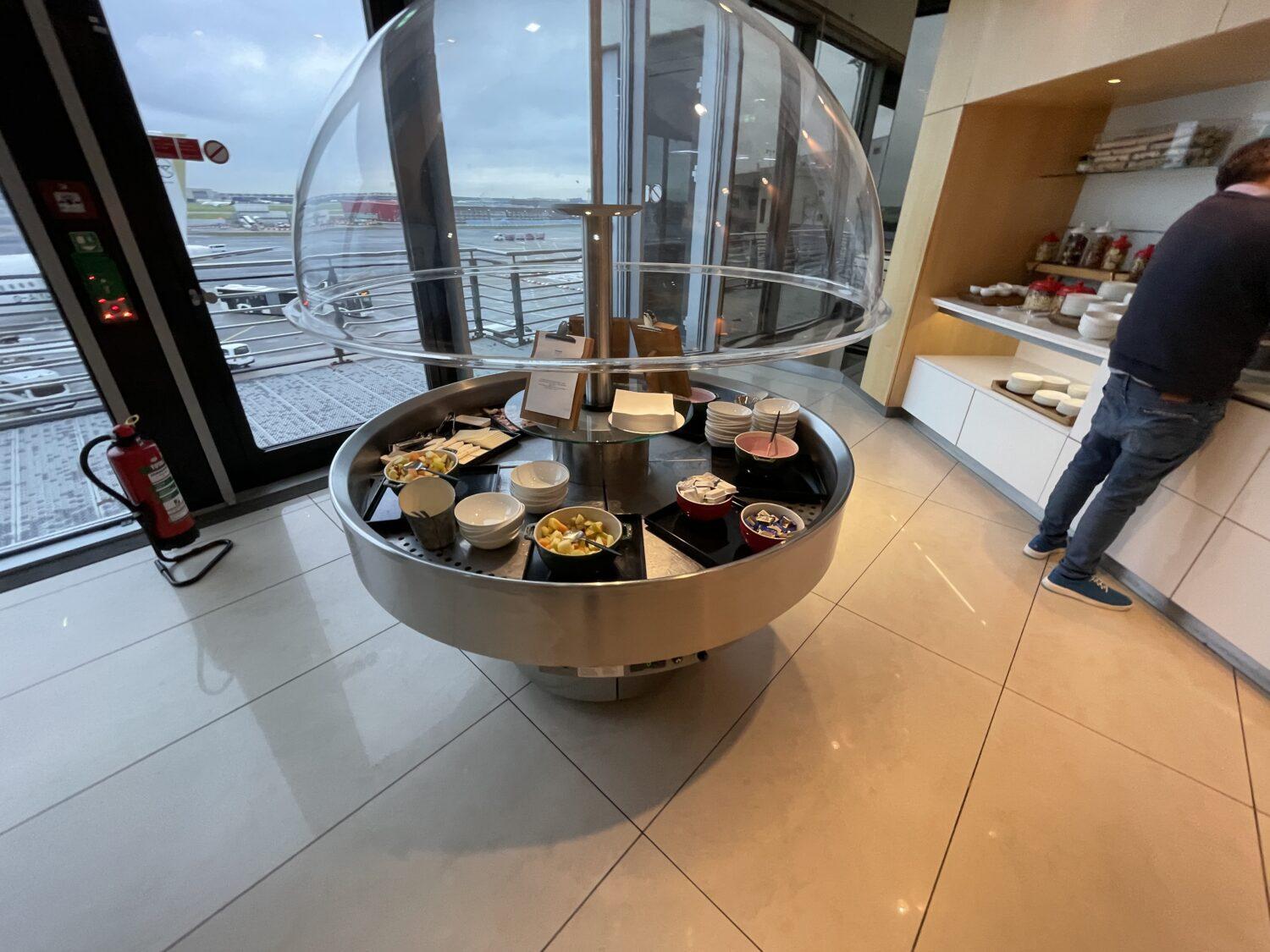 Before long, it was time to head to the flight for boarding.
Unlike the chaotic boarding process on many other airlines, Singapore nails it. I was impressed by the organization and efficiency – my fellow passengers didn't even congregate in one spot at the gate!
A gate agent kicked things off by calling for First Class Suites passengers, quickly moving on to all business class passengers. One of the best parts about this aircraft is the two levels … with the entire top deck dedicated to first and business class. That made for a more orderly boarding process, with no one rushing onto the plane in order to claim scarce overhead luggage space.
Plus, there's just something special about walking up to the upper level of an A380.

Singapore Airlines A380 Business Class Cabin
As I entered the plane I was greeted with multiple friendly welcomes from the flight attendants. They were quick to smile and say hi as they pointed the best route to my seat.
The Singapore Airlines A380 business class cabin is massive, with 78 seats spread across not one, not two, but three separate cabins separated by galleys or bulkheads.

I quickly made it back to 23A and my first impression was simple: "Wow."  I was stunned by the size and space, all for just one seat. Not only was the seat itself massive, but the amount of space they set aside for additional storage and privacy was pretty incredible.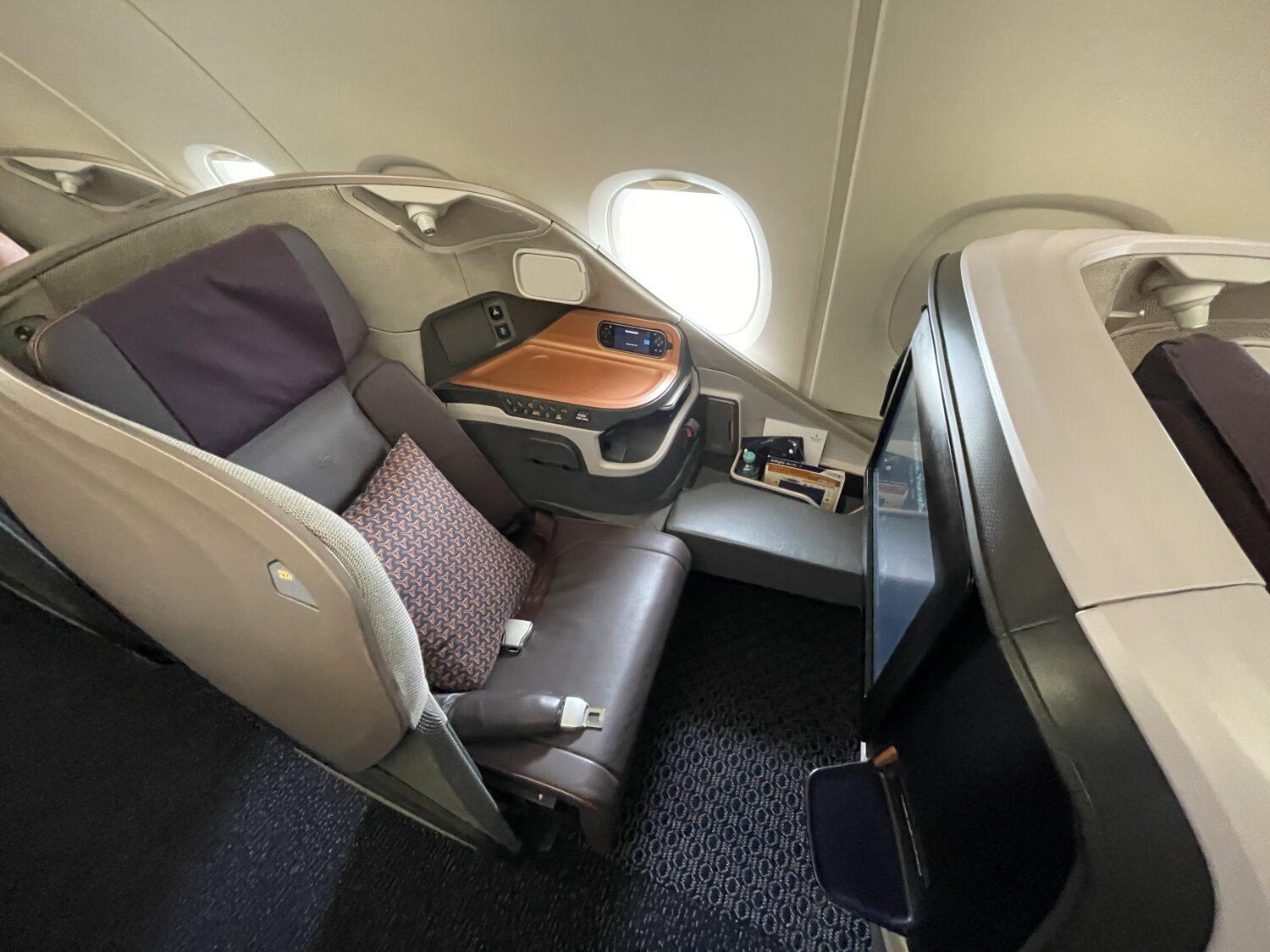 The cabin is laid out in a 1-2-1 arrangement, meaning every passenger onboard has direct aisle access. I chose a window seat (as I always do) and was very happy with my pick.
But the two-seat sections in the middle were great, too. These are the ideal pick if you're traveling with a companion, though there's a divider that you can easily raise and lower if you don't know your neighbor.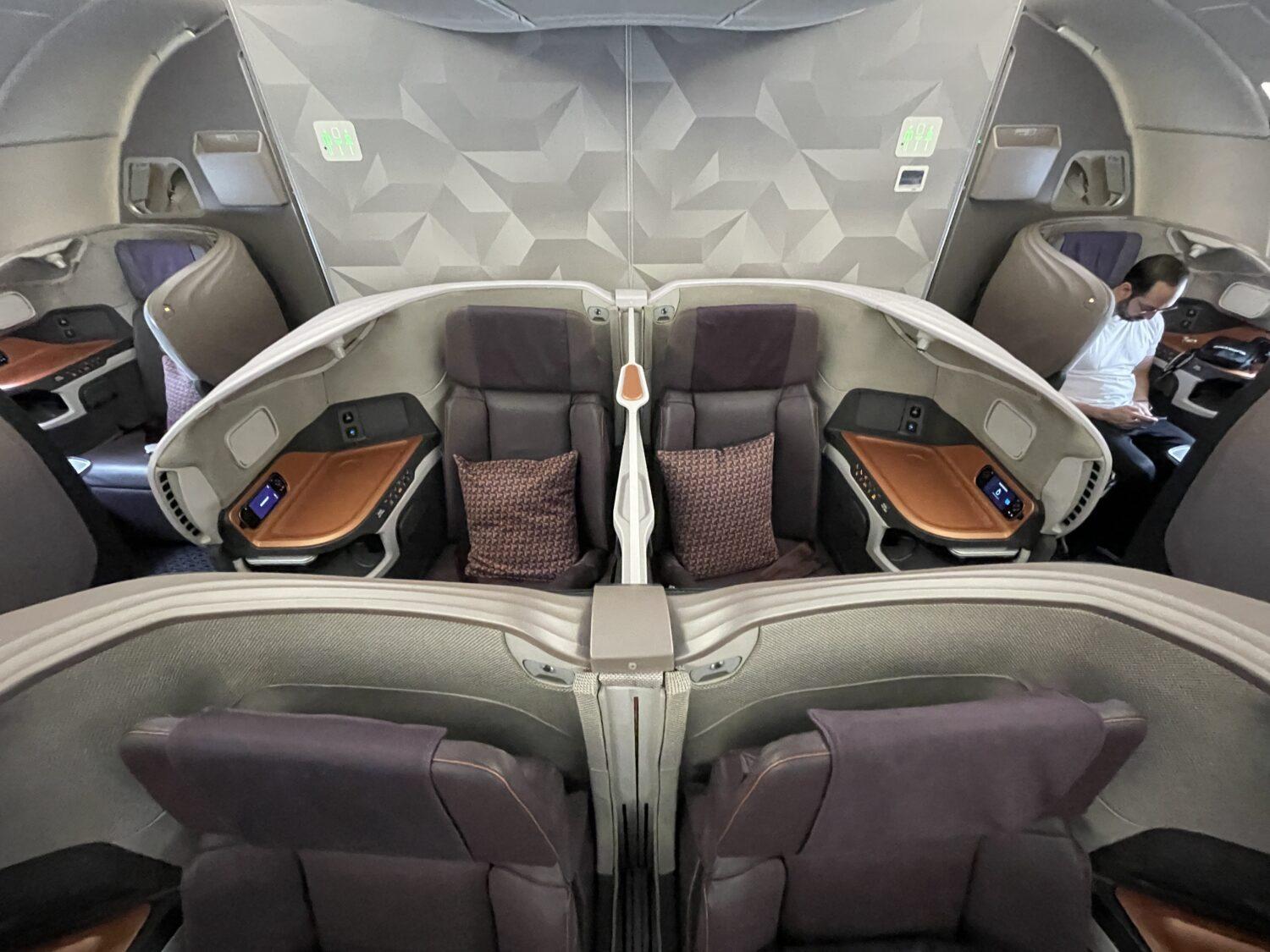 The amount of space set aside for every seat in business class is definitely something that sets Singapore Airlines apart.

Even with 78 seats onboard, it didn't appear there was a bad spot at all. The forward-most business class cabin is enormous, with 13 rows of seats in total.
As I continued to familiarize myself with the business class cabin, I appreciated just how much extra space there was. I'm 6 feet 3 inches tall and not once did I feel like I didn't have enough headroom. That's the nice part about only having overhead bins in the center of the plane: It frees up a lot of space and makes the cabin feel bigger.
There were a total of seven lavatories in this business class cabin: Four in the middle of the cabin and three at the rear. These were some of the best restrooms I've ever seen onboard a plane. They were extremely clean and had tons of space – especially those in the center of the plane. Plus, that many lavatories meant I never had to wait to step inside.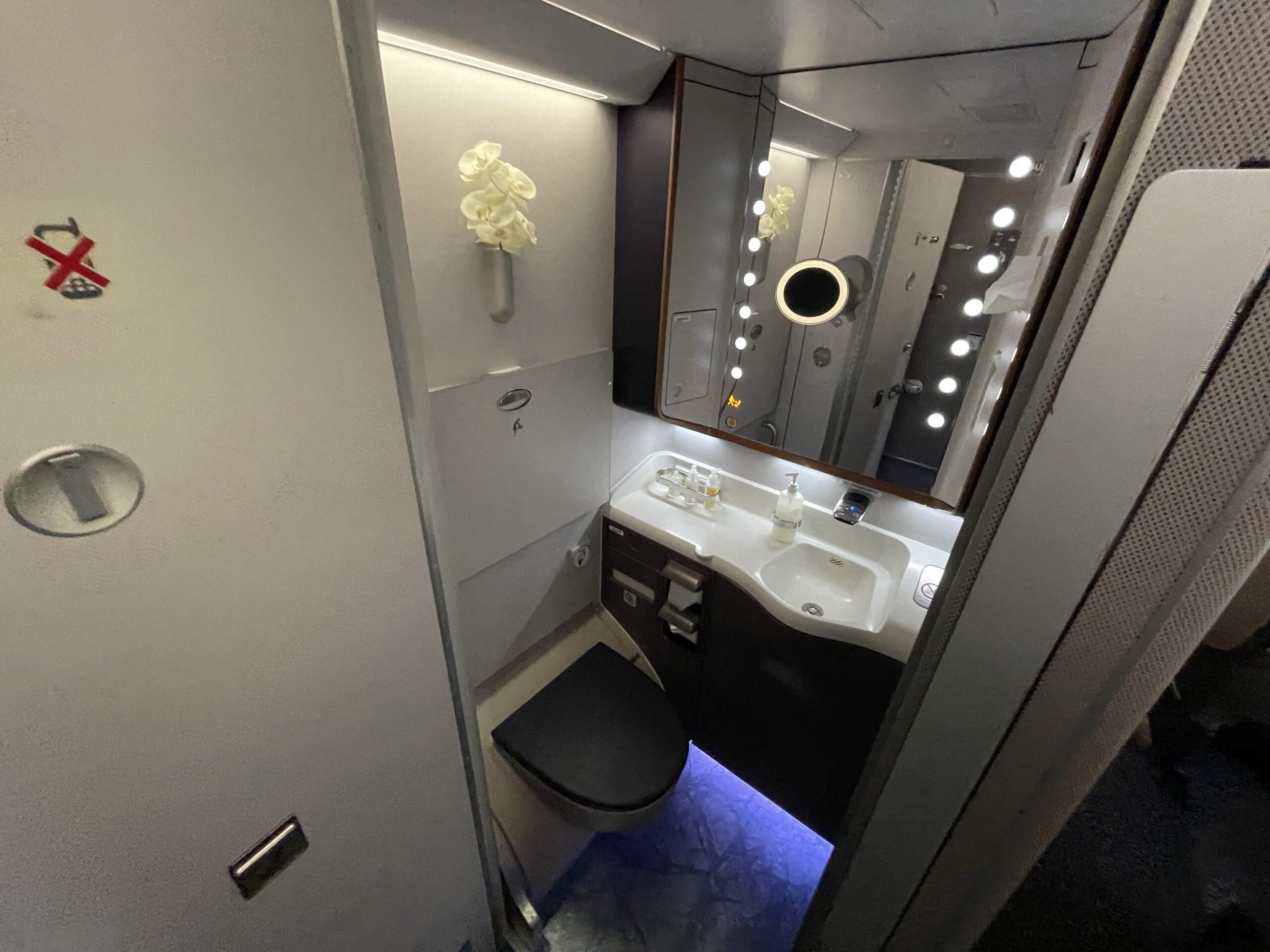 The restrooms even had some nice touches, like a flower above the toilet and cool accent lights on the mirror. The floor had a cool lighting feature under the sink. The crew must have been cleaning the restrooms after practically every passenger because they looked spotless throughout the entire flight.
Not long after departure, the cabin lights were dimmed as everyone settled in for the flight to New York City (JFK).
Singapore Airlines A380 Business Class Seats
Singapore's older business class seats are some of the widest in the sky. And while these seats are substantially narrower, that doesn't mean they're cramped – far from it.
Personally, I've never flown in such a spacious seat. Not only is the seat itself large, but the shell built around each seat gave passengers a ton of additional privacy without sacrificing storage or room to stretch out and move around at your seat.
Each seat measures in at 25 inches wide.

My seat at 23A was located along the windows near the center of the cabin. I was a bit worried its proximity to the lavatories but had absolutely no issue: It was quiet and largely unnoticeable, despite being just a row behind me.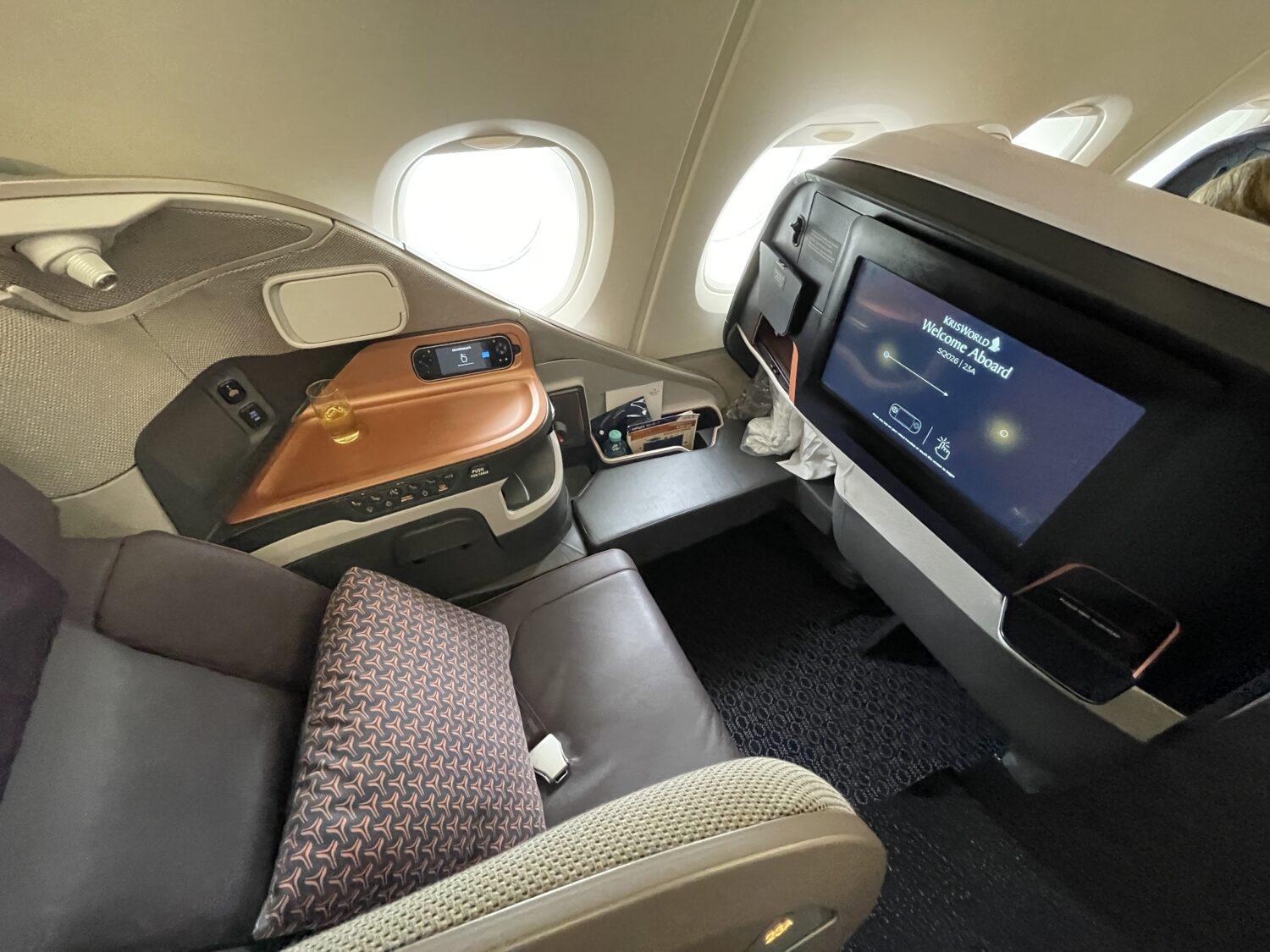 Not only was there a ton of space from side to side, but also the seat seemed extremely deep. You can see from behind just how much space each seat has overall.

The seat itself was very well built with high-quality materials. The purple leather trim was simple but beautiful on the seat, with a pop of golden orange from the storage console on the side.

But the seat was comfortable, too. I found it extremely plush and room, with a swanky, upscale vibe. And there was no shortage of legroom: Even my long legs didn't get near the entertainment system. In lie-flat mode, it's a full 78 inches long.

To my left is where all the storage could be found. There was plenty of room to stow a phone, computer, tablet, books, headphones, or anything else. The compartment on the bottom left contained a water bottle, food and drink menu, amenity kit, and safety instructions. I liked the additional storage compartment near the monitor which could be flipped up. I ended up keeping my passport there during the flight.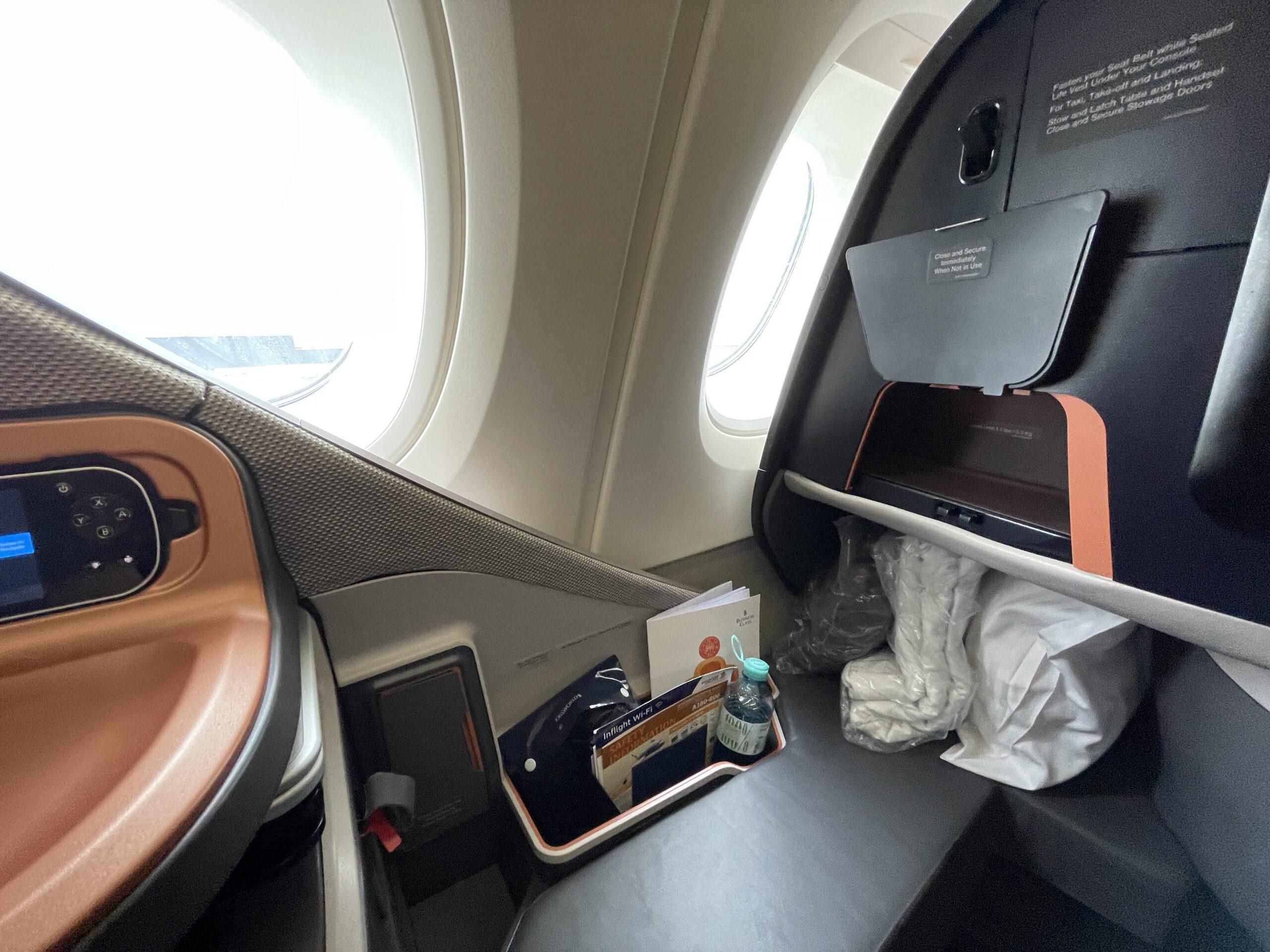 Located just a bit higher on the left was a console table which was easily large enough for drinks and snacks. Above that was the handheld remote control for the television on a retractable cord. To the left of that was a power outlet and USB ports. Even higher up was a nice reading light that I ended up using for a bit. Below the table were controls for the seat along with some other buttons such as the reading light power and a call flight attendant button.

As an added bonus, there was a mirror that could be flipped out above the table. It could be a nice feature for some last-minute freshening up.

One of the small touches that I liked was the additional armrest that could be lowered on the left side. The right side of the seat already had a well-positioned armrest, but the left side felt empty. Singapore Airlines likely realized this problem early and added these additional armrests which go a long way, in my opinion.
Even though I was not tired enough to sleep on this daytime flight I, of course, had to recline the bed into lie-flat mode. Previous generations of Singapore business class seat cannot recline to lie-flat mode: You have to get up and flip the seat over.
That's one of the biggest improvements for these Singapore A380 business class seats. With a simple touch of the button, the seat fully folded out into a 180-degree bed and was extremely comfortable.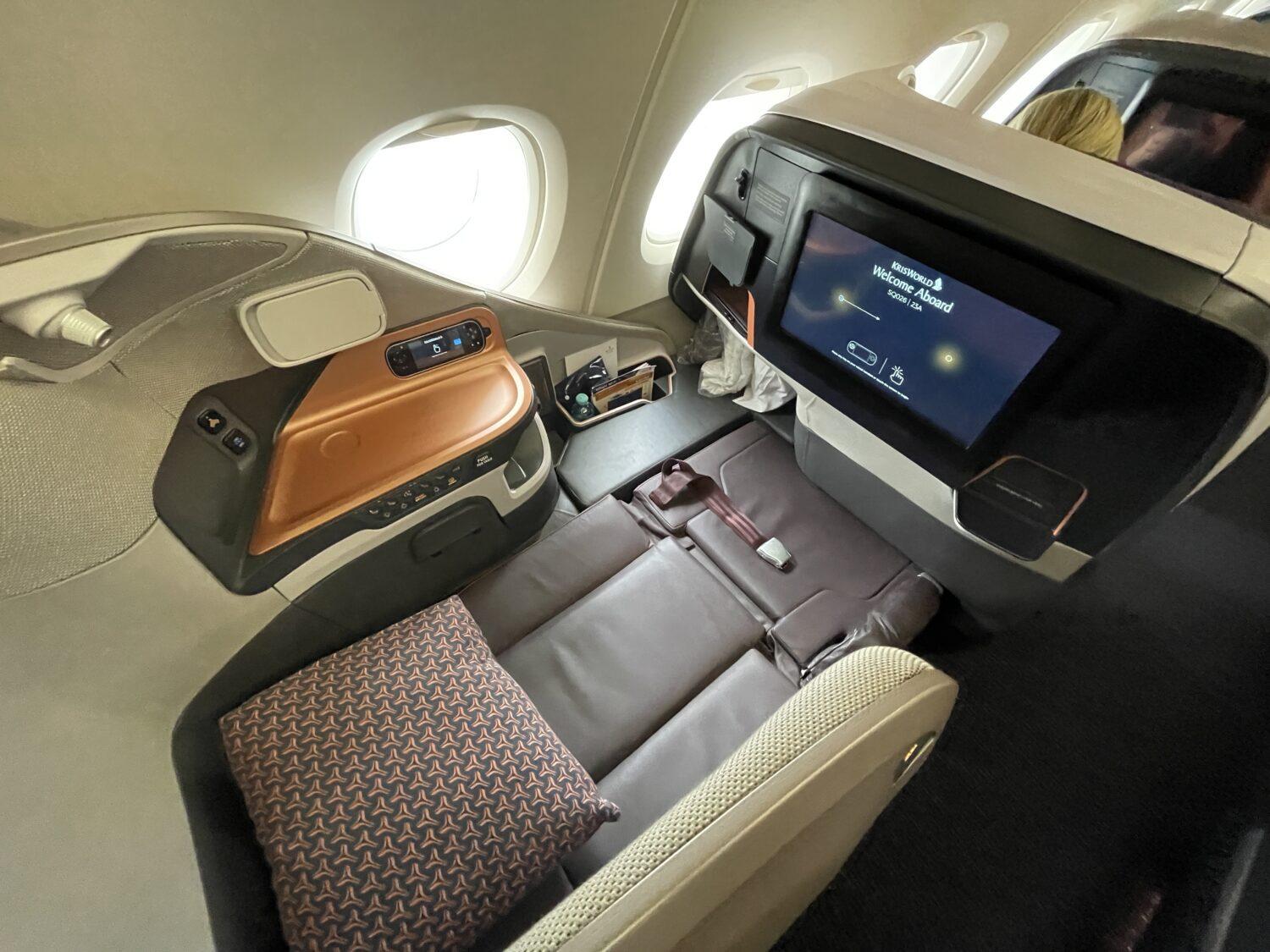 The seats are designed so that your legs rest to the left (or right) side of the entertainment system, depending on where your seat is located. I felt like I had plenty of room while I was completely stretched out, though some travelers dislike having to lay down at an angle to fit your feet into the footwell in front.

Similar to some other airlines' international business class seats, Singapore also has sizable mattress covers that you can lay over your seat. It adds some additional padding to the already comfortable leather seats.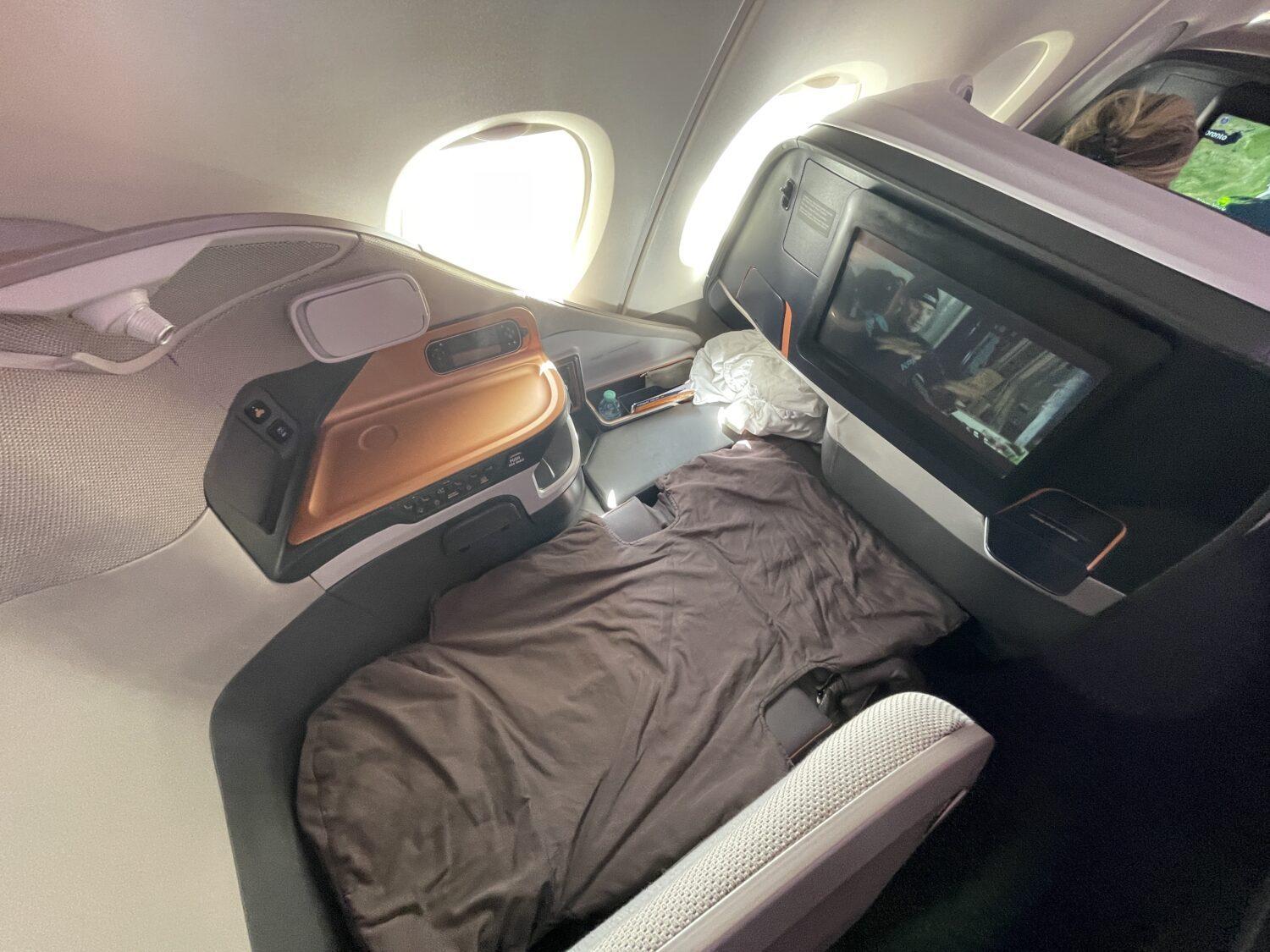 Overall I was a big fan of the newest Singapore business class seat. With a surplus of room and all the features you could possibly need, I have no complaints … though I didn't give it the full test run of trying to get a night's sleep, since our flight back from Frankfurt departed during the day.
Amenities
When it comes to amenities I was a bit underwhelmed by what Singapore provided for its business class passengers.
Singapore Airlines chose a company called Penhaligons for its amenity kit. A small toiletry bag contained lip balm, facial mist, and hand lotion. There were also a couple of zip-lock bags included.

Singapore does not provide pajamas or slippers on this flight in business class. Since it's a daytime flight, I understand. And while a page in the menu had information about additional amenities available upon request like ear plugs and slippers, a flight attendant told me they do not carry them on the route to Frankfurt.

Other than a comfy blanket and pillow which we'd all expect to see in business class, Singapore Airlines had nice noise-cancelling headphones for each passenger. These Singapore Airlines-branded headphones were quite nice, quality enough to use them and keep my own Bose headphones stored in my bag.

But overall, the small amenity kit along with very few additional items was a bit disappointing.
Dining & Service in Singapore Airlines Business Class
I'll be honest: I'm a picky eater. Many travelers rave about the food on Singapore Airlines, but it didn't do the trick for me. And while Singapore offers an awesome service called Book the Cook – allowing premium cabin passengers to reserve meals from an even broader menu – none of the options available flying from Frankfurt looked good to me, either.
The drinks, on the other hand, were very delicious. No complaints in that department. Here's a look at the drink menu.

I had a few glasses of Charles Heidsieck champagne, which was excellent. And in case you were wondering, the famous Singapore Sling was available to order along with a handful of other cocktails.

On the Frankfurt (FRA) to New York (JFK) flight, flight attendants began their service with lunch shortly after takeoff. Unless you pre-selected a Book the Cook meal, there were a few different entrees and desserts available but just one appetizer.
I went with the slow braised short rib with mango chile salsa verde and asked for the black forest gateau and lemon-lime sorbet for dessert.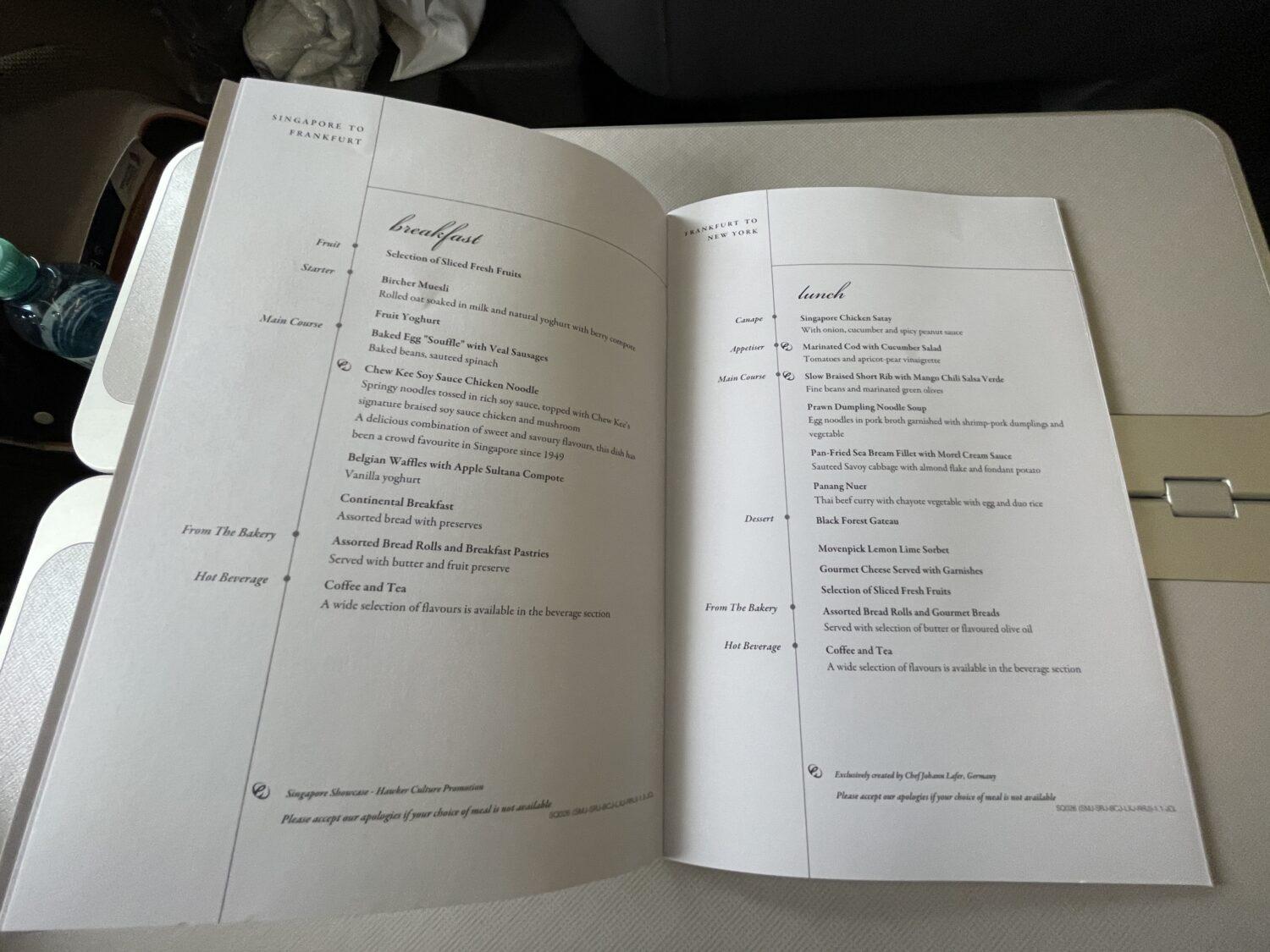 The chicken satay was the first plate to arrive. I had high hopes … but this dish was disappointing. The chicken was fairly poor quality with some rough and fatty portions, and the sauce wasn't the best.

Next, the appetizer was delivered: marinated cod with cucumber salad. Raw cod and cucumber salads are two things I typically am not a fan of, and that didn't change on this flight. The bread was pretty good though!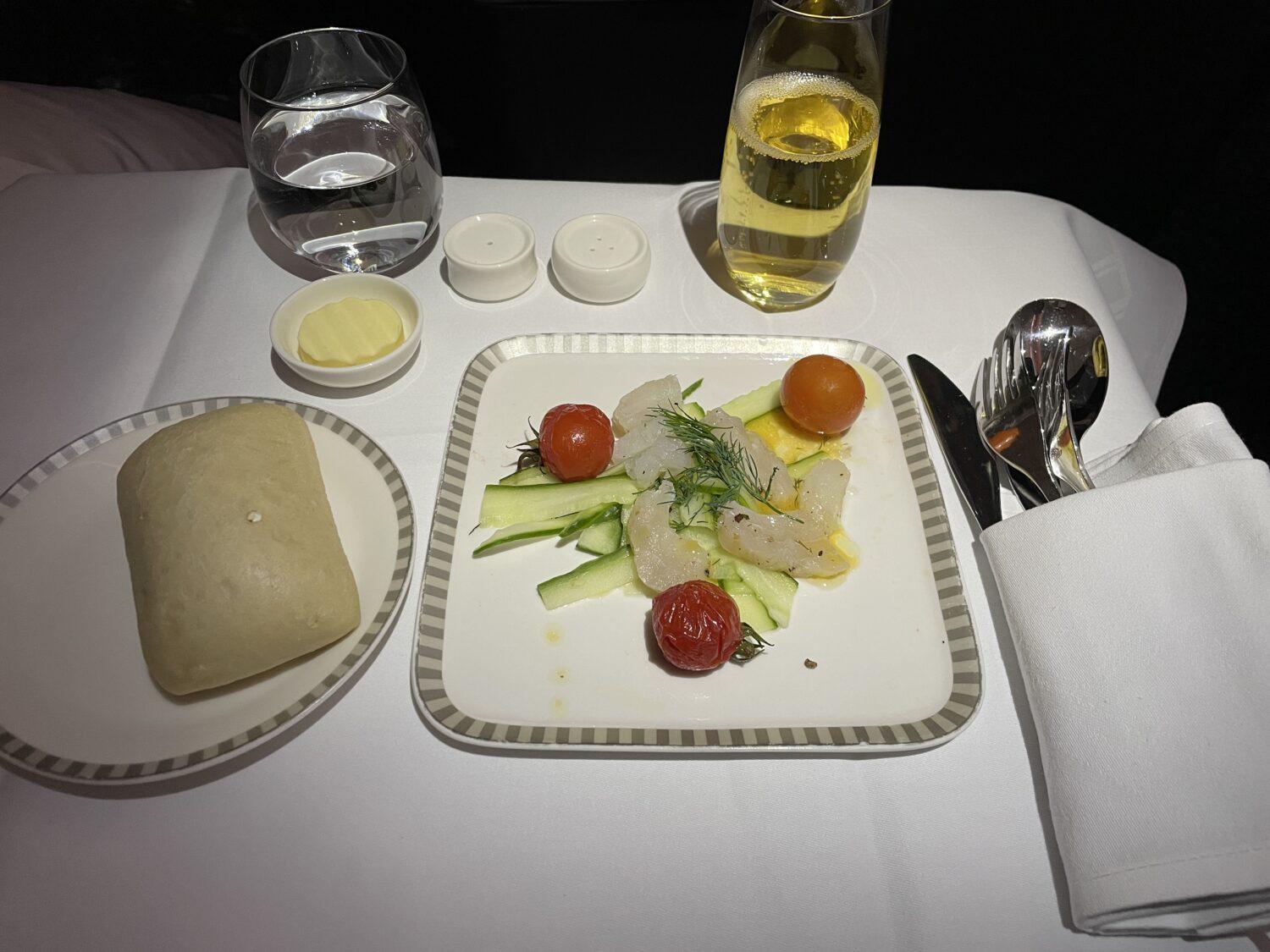 The main dish was a big improvement: The slow braised short rib looked pretty tasty, and it was. The meat was tender with a great flavor, while the mango chili salsa added a great punch.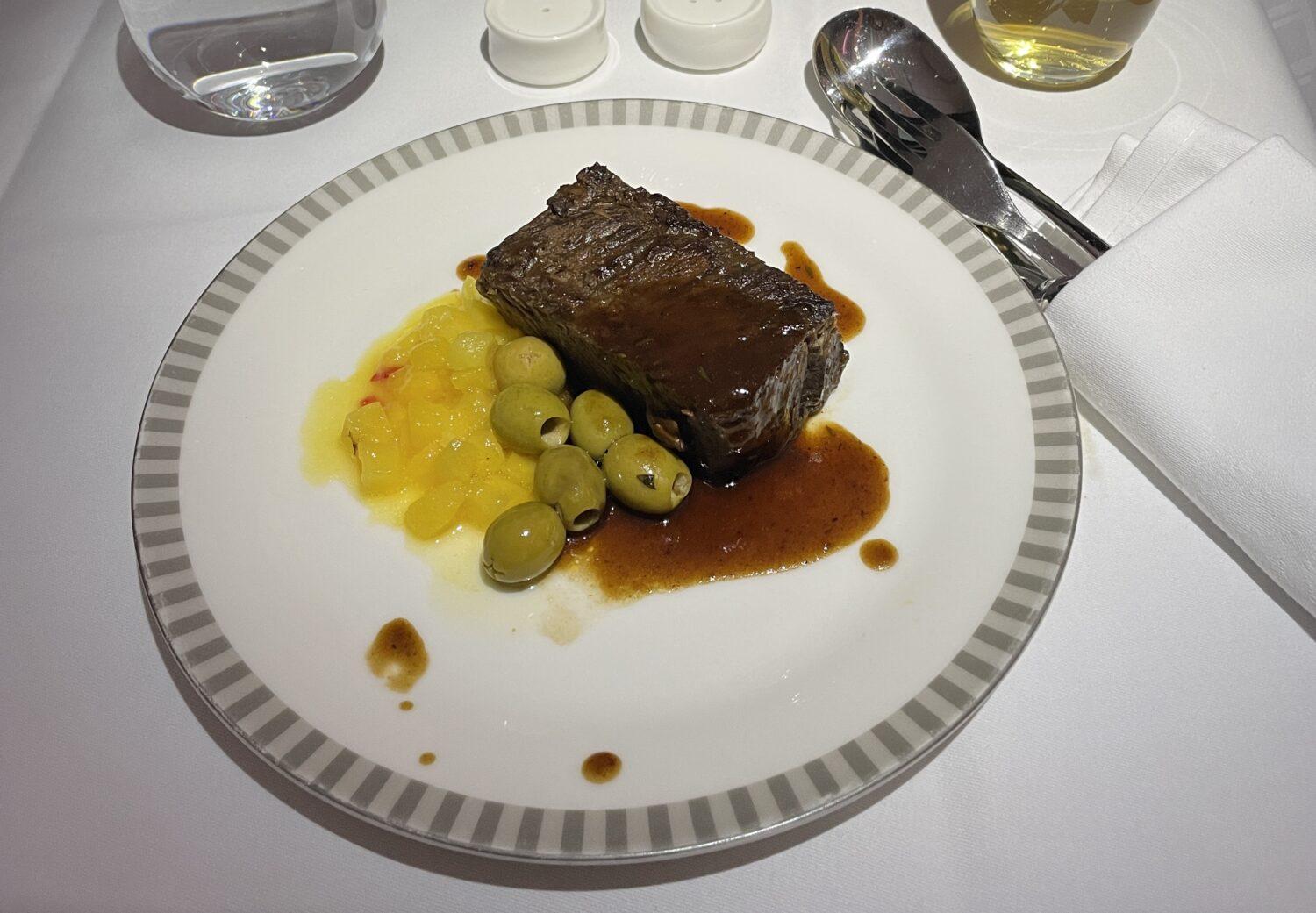 After my entree was finished the flight attendants cleared my table and quickly brought me my dessert. The black forest gateau went down pretty quickly and was a nice finishing touch. I also enjoyed the lemon-lime sorbet. Dessert was a good way to end what was otherwise a disappointing meal.

A few hours later, the flight attendants began to serve us our "refreshment" meal. I had the option between either fried rice vermicelli with marinated chicken or a warm quesadilla with shrimp. I went with the fried rice and chicken.

Again, the chicken seemed poor quality with some fat, rough, and chewy spots. The noodles tasted pretty good, but the vegetables weren't great – and many seemed far overcooked. I wound up not finishing this meal.
Even though the meals were a letdown, the service from the flight attendants was superb throughout the flight. They were quick to refill my drinks, clear my plate, and inquire about anything else I needed. They were extremely friendly and their attention to detail was noticeable.
Entertainment
While the entertainment screens were not the biggest or the best, Singapore Airline' seatback screens were very nice.
Measuring 18 inches diagonally, these screens felt like the perfect size. A wide array of options kept me plenty busy for the flight across the Atlantic.

There must have been hundreds of movies to choose from. Beyond that, you could pick some popular TV shows or scroll through a variety of music choices.

But when flying the A380 – dubbed "the Whale" – there's only one movie to watch, if you ask me.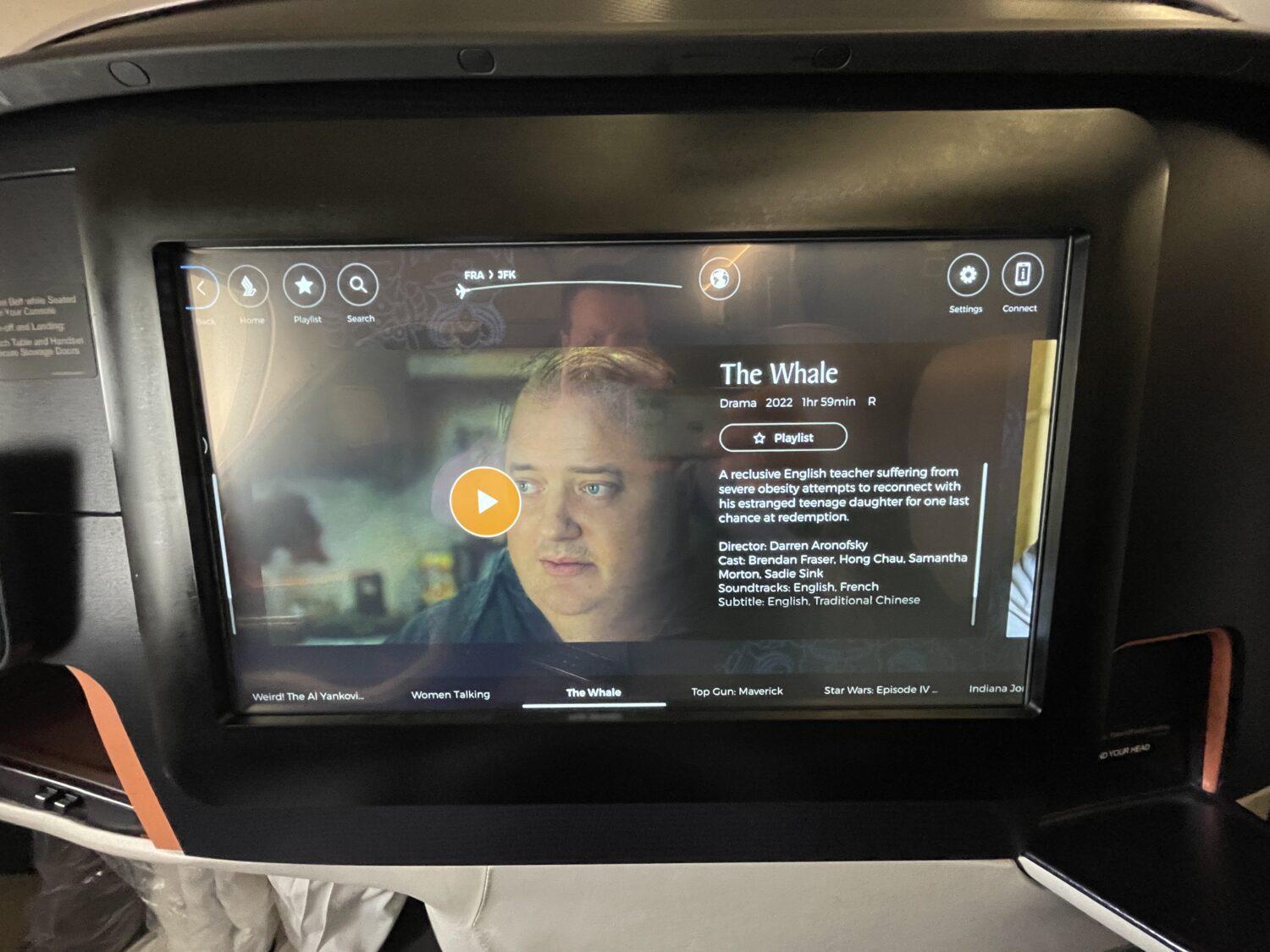 The free Wi-Fi now available for all business class passengers was also a nice touch, even though I didn't get the chance to use it very much.
Bottom Line
I had high expectations for Singapore Airlines A380 business class. In some ways, Singapore drastically exceeded them. In other ways, it felt like they dropped the ball.
The seats are great, easily some of the best business class seats I've flown. And the excellent service and entertainment options elevated the experience. But for me, the food was a major miss. Still, I wouldn't hesitate to fly Singapore Airlines on the A380 again … I'll just hope for some food options via "Book the Cook" that suit my palate better.