As an avid golfer and a diehard traveler, there are few things in life I enjoy more than when my two worlds collide: booking travel for an epic golf trip. And that's exactly what I did recently, booking a trip to Bandon Dunes Golf Resort located on the Pacific Coast with a few friends for an unforgettable trip in November 2024.
Bandon Dunes in Oregon has practically become golf mecca over the last few years, and it's been high on my golf bucket list for years. And for good reason: Five of the resort's six golf courses cracked the latest list of Golf Digest's 100 greatest public courses in America. No other place in the world plays host to so many top-rated courses.
Pulling it off is easier said than done. For starters, you need to plan far ahead: This ultra-popular golf resort is notoriously hard to book, with the remainder of 2023 fully sold out and even dates throughout 2024 hard to nail down. Oh, and then there's the cost: When we booked, our group of four had to immediately put down a deposit for one night's lodging and one round of golf … putting us on the hook for $1,980.
Points and miles can help you cover the cost of flights to Oregon or some hotels near a course, but this expense was different. And it's an area where Capital One Venture Miles from cards like the *capital one venture x* or the *capital one venture card* really shine.
Here's how I used Capital One miles to make a bucket list golf trip far more affordable.
Step 1: Pay for Your Bandon Dunes Trip with Your Venture Card
Among all of the ways to use Capital One Venture Miles – like transferring them to Capital One transfer partners – one option stands out for its simplicity. It's the ability to use Venture Miles to cover travel purchases. And that's the key to pulling this off.
Charge any travel expense to your Capital One card, and you can go back and cover the cost using Venture Miles, with every Venture mile covering 1 cent. It's easy and incredibly flexible, as Capital One considers "travel costs" to include a multitude of things: Airbnb stays, Uber rides, parking ramps, flights and hotels, cruises, and – you guessed it – even golf trips to Bandon Dunes.
Since Bandon Dunes is technically a resort, I had a feeling that the $1,980 deposit that was due at the time of booking would code on my card statement as lodging or travel. Lucky for me, I was right.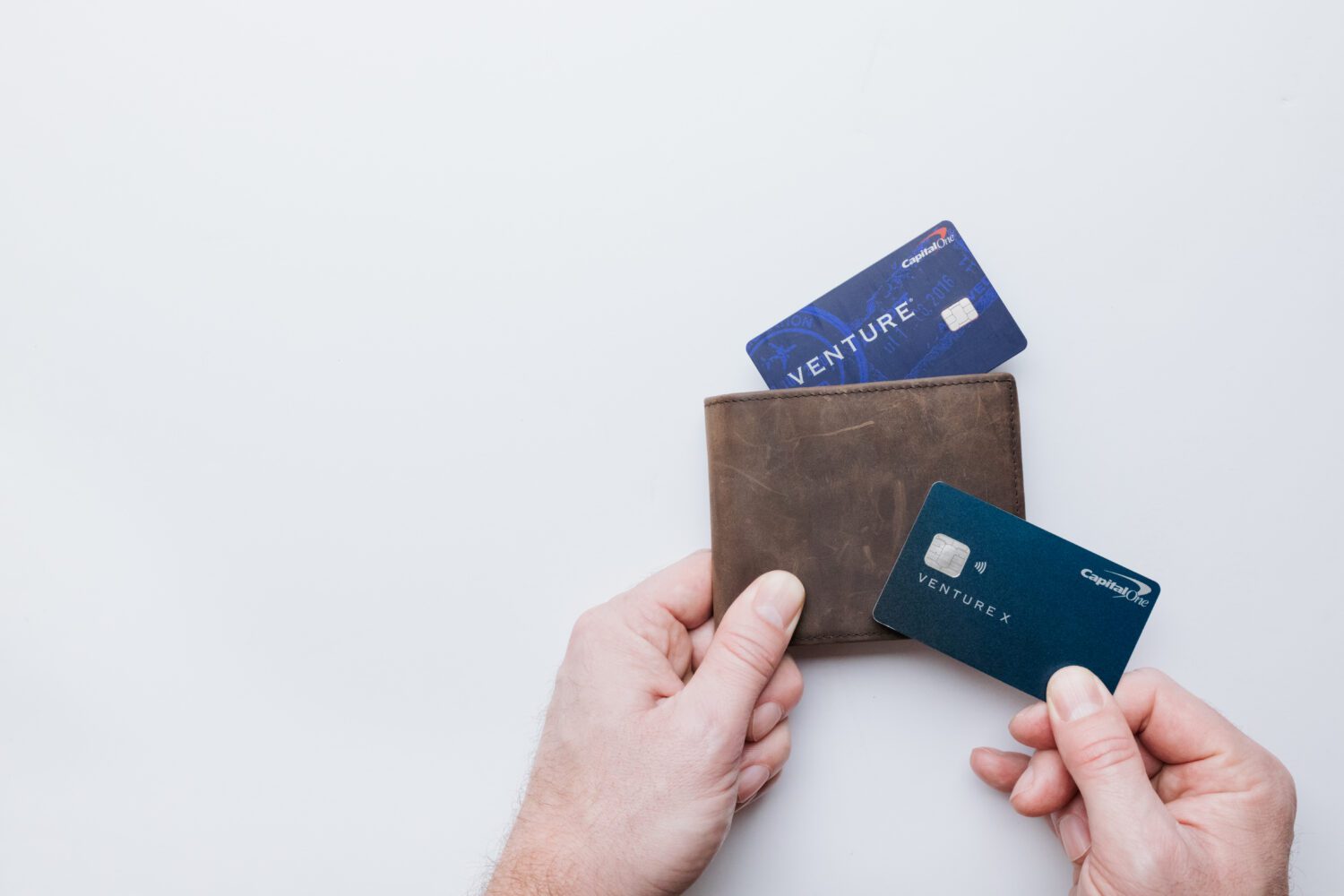 Whether you've got the Capital One Venture X or the regular Capital One Venture the process works the same. Charge it to your Capital One card, then wait a few days for the purchase to finalize and formally post to your account.
One note: It's totally fine to make non-travel purchases on your card. You just won't be able to redeem your miles by "erasing" them. On the plus side, you'll still earn 2x miles for every dollar you spend on all purchases.
Step 2: 'Remove' the Bandon Dunes Purchase
The second (and final) step in this process is to redeem your miles to cover the travel purchase.
A few days after paying the deposit on my Capital One Venture X card, I noticed that the purchase had officially been posted to my account. As expected, the Bandon Dunes deposit had been coded as travel, making it eligible to use my Venture miles. Just log into your Capital One account and click the "View Rewards" button on your homepage.
Next, you'll land on a screen that shows you the different options for your miles. You can book flights or hotels directly through Capital One, get gift cards, redeem for cash, or transfer Capital One miles to one of their partner airline or hotel programs. Still, the easiest way to redeem Capital One miles is the "Cover Travel Purchases" function. That's what you'll need to select to remove the Bandon Dunes deposit.
Once you've selected to cover your travel purchases, you'll be taken to a page where you can select which of your travel-related purchases you've made on your Capital One Venture card you'd like to "erase." This includes all travel transactions from the last 90 days.
As you can see below, the deposit paid for our 2024 Bandon Dunes trip shows up as an eligible option. Since it was $1,980, I could have used 198,000 miles to cover the entire charge: Remember, each Capital One mile is worth 1 cent when you redeem them this way.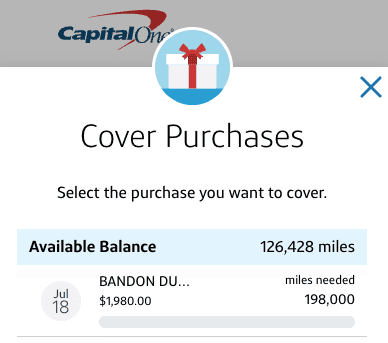 Don't have enough miles – or don't want to spend them all? Capital One allows you to redeem miles to cover just part of a purchase. In this case, I could have simply covered my portion of the deposit using 49,500 Venture Miles.
But Capital one offers a little-known option to combine miles that allowed everyone to chip in.
Transfer & Combine Capital One Venture Miles
As much as I like my friends, I'm not wiping out my balance of Capital One miles to foot the bill for their trip. Since our bill was $1,980, each of us was on the hook for $495 – or 49,500 miles. Here's where Capital One Venture miles really help out.
With many banks, transferring and combining miles is either a major hassle or not even possible. But not Capital One. In fact, no bank makes it easier to transfer and combine your credit card points with other cardholders than Capital One, whether they're family or spouses, friends, or even complete strangers.
There's no limit to how many miles you can transfer between Capital One accounts. There's not even a requirement that the person you are sharing miles with lives at your address or is related in any way.
Here are the basics:
You can transfer Capital One miles to other members as long as they have a credit card that earns Venture Miles or Spark Miles (Spark Miles are the same points currency, just earned from Capital One's business cards).
There is no requirement that the person you are transferring miles to lives at the same address or is related to you in any way.
There is no cap on the number of miles that can be shared with other Capital One Venture or Spark Miles cardholders.
There are no expiration dates or other major restrictions on miles that are transferred to other cardholders.
To make these transfers, all you need to do is call the number on the back of your Capital One Card. There isn't a way to do this in your online account currently: You'll just need the name and card number of the person's account you are transferring to.
Since two of my three friends had a stash of Venture Miles they wanted to use to cover the deposit, they called Capital One to transfer their share to my account. The entire process took each of them about five to 10 minutes. Their Venture miles were immediately available in my account.
I quickly used 70,000 miles to cover $700 of the total $1,980 charge from my account. Plus, since I have 90 days from the date the transaction posted to redeem miles to cover it, I've got more time to cover the remainder if I want.
How to Earn Capital One Venture Miles
To spend Capital One Venture miles on a trip to Bandon Dunes, you've first got to earn them. There are a few cards that can help you bolster your balance of Venture miles.
The Capital One Venture X Card
The *capital one venture x* might just be the best travel credit card we've ever seen.
It's the bank's very first premium travel card that launched back in November 2021. Think of it as a souped-up version of the ever-popular Capital One Venture Rewards Credit Card that's chock full of extra benefits: Access to Capital One Lounges and Priority Pass lounges, a $300 annual travel credit, a credit for Global Entry or TSA PreCheck, great travel and rental car insurance protection, and more.
The annual fee clocks in at $395 a year, but the benefits can easily outweigh that. You could even use that annual $300 travel credit to help cover the cost of your flights to Oregon. Admittedly, Bandon Dunes isn't the easiest place to get to. You'll need to fly into Eugene (EUG) or Portland (PDX). Those airports are a 2.5-hour and 4-hour drive to the resort, respectively.
Welcome Offer Bonus: bonus_miles_full
Since you'll earn at least 2x miles on every dollar you spend, you'll end up with 83,000 Venture miles once you complete the initial spending requirement.
Read More: A Full Review of the Capital One Venture X Card
Learn more about the *capital one venture x*
Capital One Venture Card
The *capital one venture card* has been a fan favorite among travelers for years – and for good reason. It's truly one of the best travel credit cards for beginners.
Like the Venture X discussed above, you earn 2x miles on every purchase and even get a credit that covers the cost of Global Entry or TSA PreCheck – all for a card with a $95 annual fee.
Capital One currently offers a welcome bonus of 75,000 miles once you spend $4,000 on purchases within three months from account opening. That's the same offer as the Venture X, so if it's just the miles you are after, this is a cheaper route for getting them.
Welcome Offer Bonus: bonus_miles_full
Learn more about the *capital one venture card*
Capital One VentureOne Card
Finally, there's the *capital one ventureone card*.
It's a no-annual-fee card that will earn you 1.25x miles per dollar you spend. The welcome bonus is smaller too, so if your goal is to use these points to cover a Bandon Dunes trip, you'll likely be better served by one of the options above.
Welcome Offer Bonus: bonus_miles_full
Learn more about the *capital one ventureone card*
Bottom Line
Did I get maximum value for my Venture Miles on this trip? Absolutely not. But I don't regret it for a second.
It's unorthodox, but this easy redemption allowed me to cover my initial lodging and greens fees at one of the best golf destinations in the world. And when we actually make it to Bandon Dunes next year, my friends and I will be able to redeem more Venture miles to cover the final bill, including more rounds of golf and even food and beverages. We've got just over a year to keep adding to our stash.
There isn't another credit card points program that would allow you to cover the cost of this kind of trip easily. Redemptions like this are what make Capital One Venture miles unique, and why I always try and have a stash of them on hand. From Airbnbs to bucket list golf trips, they're a great option for travel expenses you can't use traditional points and miles to cover.
Lead photo courtesy of Chris Babcock via Getty Images