Most of the time, transferring your hard-earned points and miles to a hotel loyalty program to book a room isn't going to get you much value. You're almost always better off transferring your points to an airline and using them to book flights.
Hyatt is the exception.
With World of Hyatt, the hotel chain's rewards program, you can book an award stay for as few as 3,500 points per night. These low rates combined with the consistency of an award chart and some very desirable properties mean that you can rest assured knowing you're getting good value for your points anytime you're staying with Hyatt
And then there are the hotel's elite benefits. No other rewards program does a better job of recognizing their most loyal guests than Hyatt. With Hyatt's top-tier Globalist elite status, you can expect benefits like free breakfast, free parking on award stays, complimentary room upgrades, and a late checkout.
Let's take a closer look at all the reasons we believe the World of Hyatt rewards program is better than the rest.
Hyatt's Award Chart
Unlike most hotel programs, Hyatt still has an award chart that lets you know what a free night at a particular property will cost. And that's a good thing – at least most of the time.
If you want to book a standard room at a Hyatt Category 5 hotel, for example, it'll cost you 20,000 World of Hyatt points per night. With the introduction of peak and off-peak pricing rolled out in 2021, the timing of your stay could change that rate … by as much as 5,000 additional points for a stay during peak travel times (or 5,000 points fewer for an off-peak reservation).
Here's a look at Hyatt's award chart.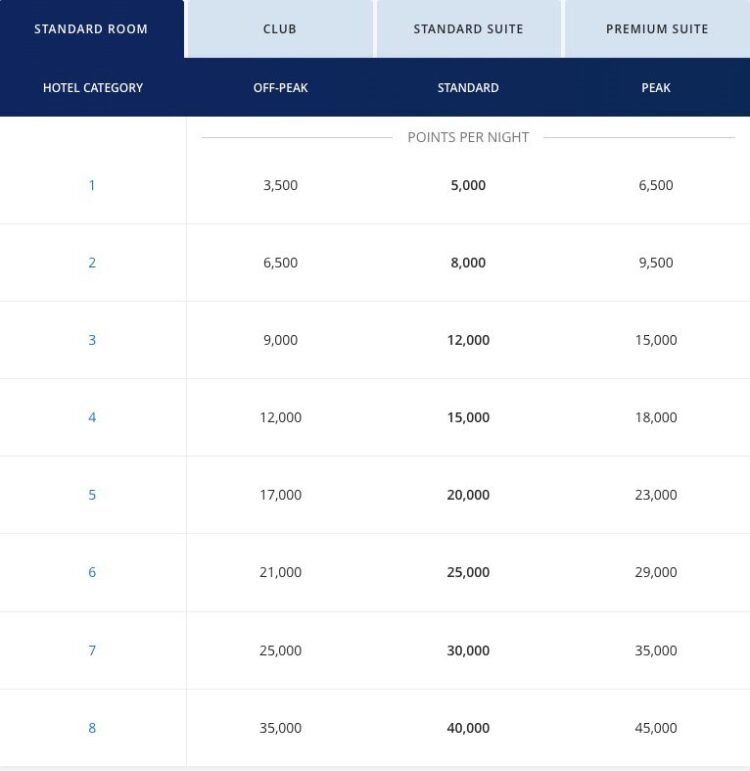 Hyatt handles the award chart for its all-inclusive properties a bit differently. As its portfolio of resorts has grown, Hyatt has introduced a whole new award chart for booking these resorts using your points.
The standard Category 1 through Category 8 award chart you'll find for Hyatt's regular hotels doesn't apply here. Instead, Hyatt uses Category A through Category F to price these free nights at all-inclusive locations. The further down the alphabet you get, the more points it will cost.
Award rates range from 15,000 points to as many as 50,000 points per night standard night stay.
Here's a look at Hyatt's all-inclusive award chart:
If you don't have enough Hyatt points to book a stay at the property you want, you can always use Hyatt's Pay My Way to combine cash, points, and free night certificates into a single booking. This trick can be especially useful for hotels where the nightly rate varies throughout your stay. For example, if a hotel is charging a higher rate on weekend nights, you could opt to use a mix of points and cash in order to ease the burden on both your points and out-of-pocket cost.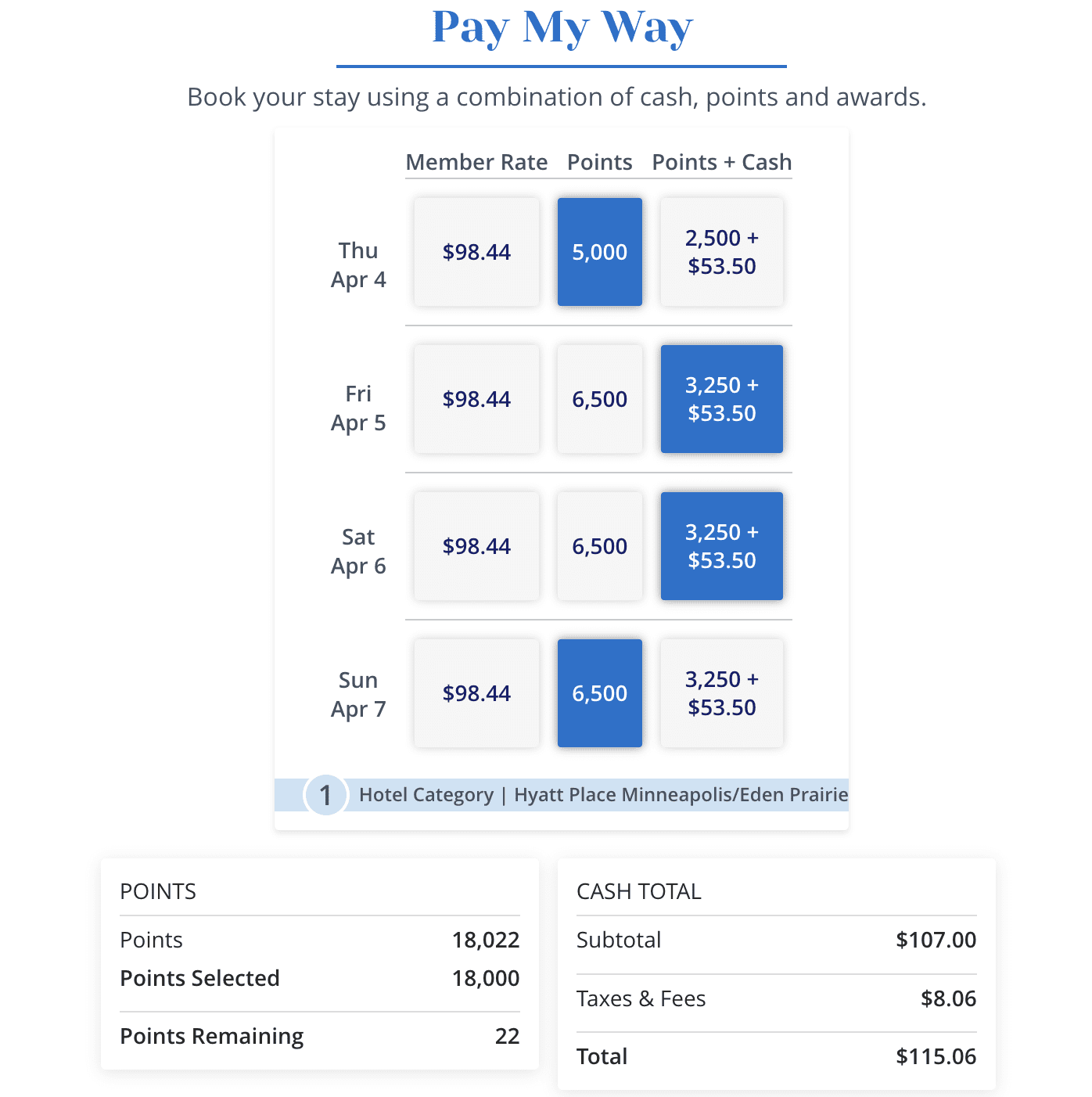 However, Pay My Way isn't available at every hotel and it won't work on every type of rate. A standard room appears to be your best bet if you want to use this feature, but if the hotel is nearly full or you're booking last minute, you might find yourself out of luck.
Hyatt Elite Status
Hyatt has three different levels of elite status: Discoverist, Explorist, and Globalist. Every World of Hyatt member starts at the same member level and is able to work their way up the status tiers by accumulating elite nights, base points, or hosting meetings and events at a Hyatt Property.
To earn Hyatt's top-tier Globalist elite status, you'll need to either stay with Hyatt for 60 nights during the status year, accumulate 100,000 base points (through hotel spending), or host 20 meetings.
If two months out of the year sounds like a lot of time to spend in a hotel, there are a few shortcuts that will help get you there a little sooner. Hyatt routinely runs promotions offering members discounted rates, bonus points, and even double elite night credit for stays within a certain timeframe or you can rack up elite nights by holding a co-branded World of Hyatt credit card.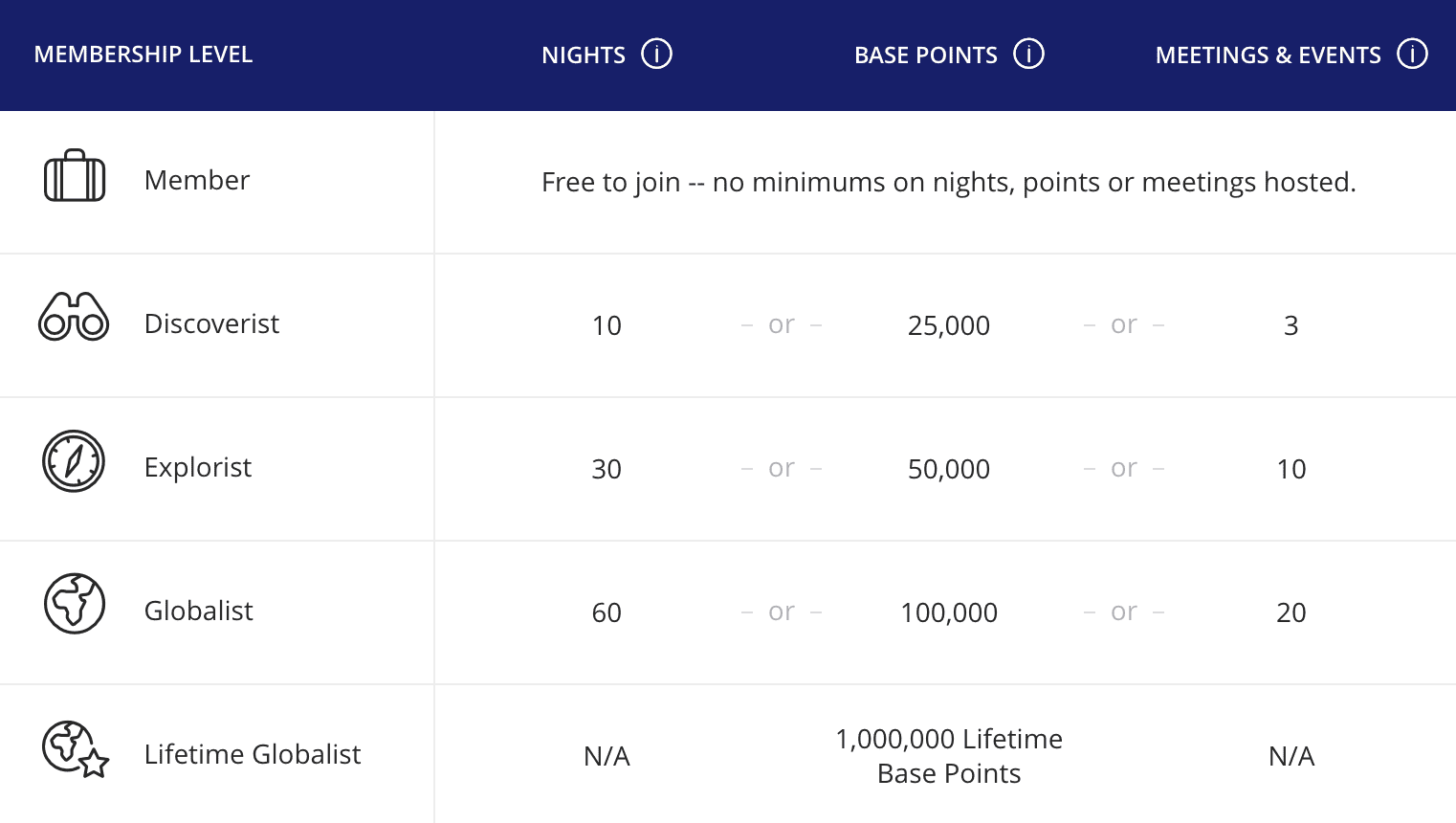 At the lower status levels, there really isn't much to get excited about. Save for free bottled water and a 2 p.m. late checkout, having Explorist or Discoverist status doesn't feel particularly elite.
But at the Globalist level, things change – in a big way. With Globalist status, you get perks like free breakfast, a 4 p.m. late checkout, and complimentary suite upgrades. You'll also get the benefit of waived parking fees on award stays. Depending on the city that you're staying in, this benefit alone can easily be worth north of $50 per night.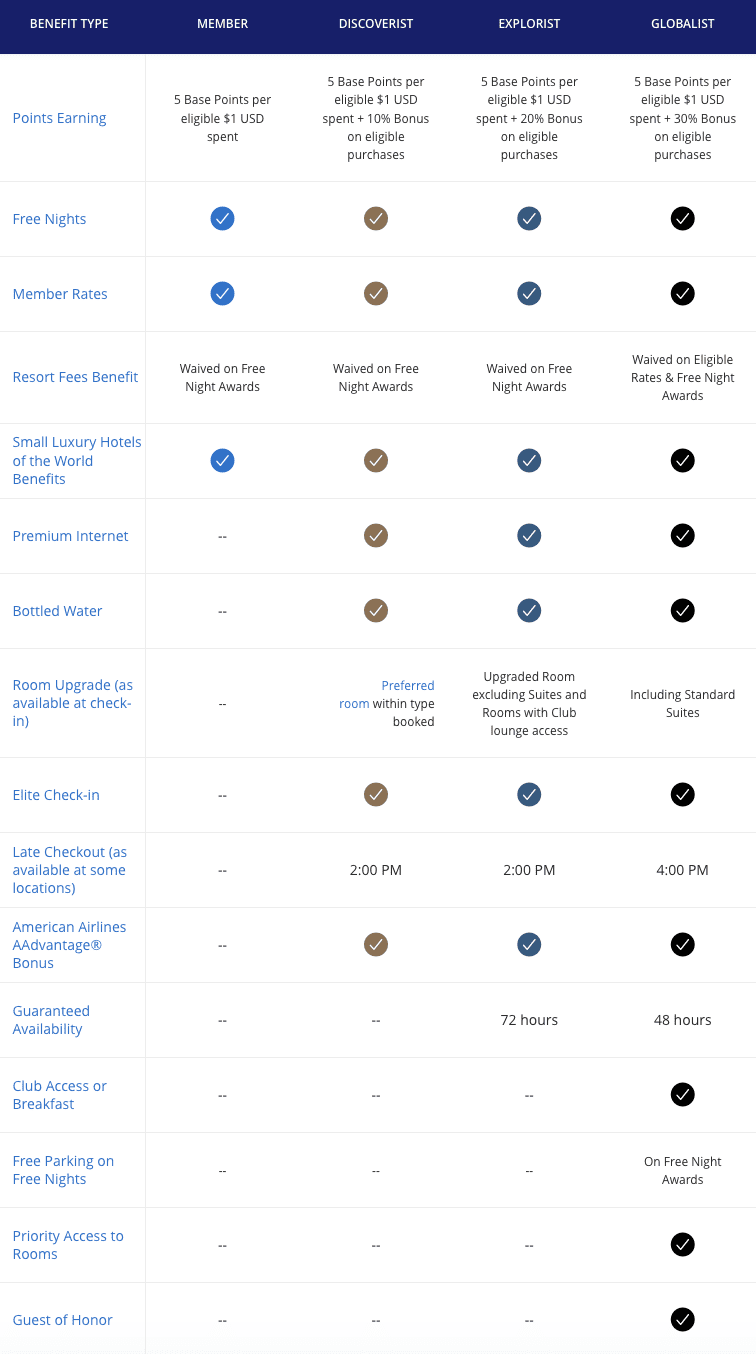 One of the most unique benefits of Hyatt Globalist status is the Guest of Honor perk. With this benefit, elite status members can book award stays for friends or family members and pass along all the benefits of Hyatt Globalist status. And since Hyatt allows all members to combine points across accounts, this means that completing a Guest of Honor booking doesn't even have to cost you anything extra, making it an easy way to gift your elite benefits to someone else.
And unlike other hotel programs, Hyatt does far better than its competitors at actually delivering on elite benefits. While every program has an outline for what you can expect at a given status level it seems like it can be quite hit or miss with what you actually get. Not with Hyatt though. With World of Hyatt elite status, you get what you deserve, and that consistency is just another reason we think this hotel rewards program ranks supreme.
Impressive Properties
Every hotel chain has its gems and duds, but more often than not, Hyatt has properties that make me look forward to my hotel stay. And while their footprint is smaller than some competitors, they're quickly acquiring new brands in an attempt to expand their reach.
Hyatt's hotel brands are broken up into four separate collections of properties. They have the tried and true Timeless Collection, with properties like the Park Hyatt Dubai and the Boundless Collection which includes properties like the Andaz London. The Independent Collection is made up of smaller boutique-style properties and then there's the Inclusive Collection, with all-inclusive resorts like the Hyatt Zilara Riviera Maya and Secrets Moxché Playa del Carmen.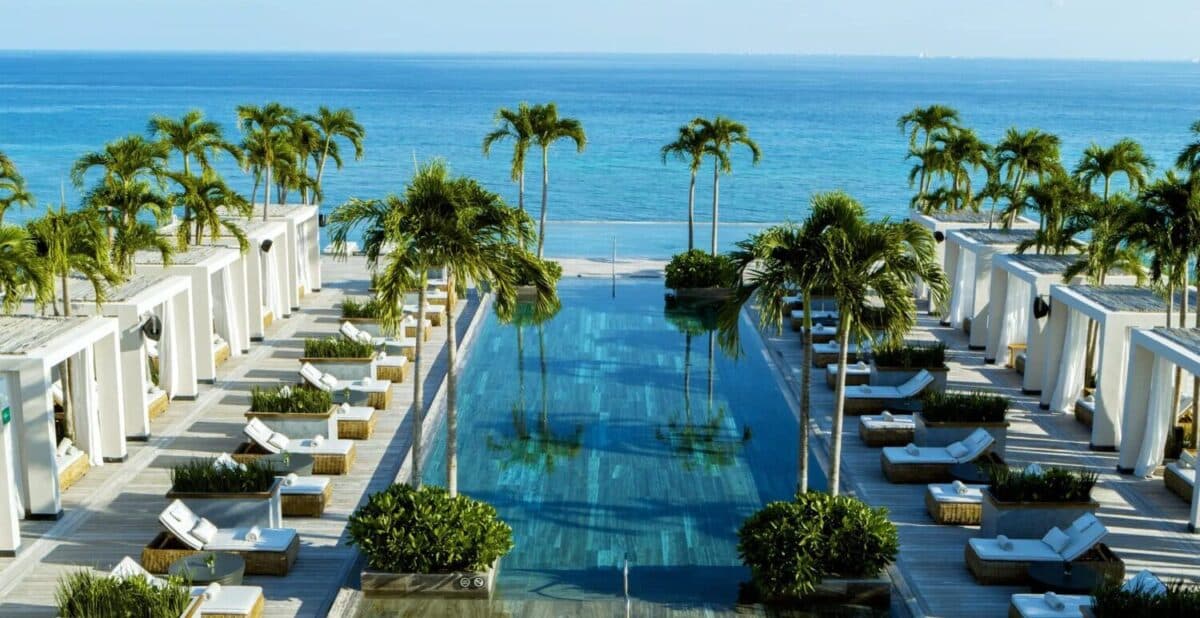 One of Hyatt's most sought-after properties is the Alila Ventana Big Sur. With cash rates consistently over $2,000 per night, it's easy to see why this hotel is so desirable when it's available to book with points. I can see why this hotel is so desirable when it's available with points.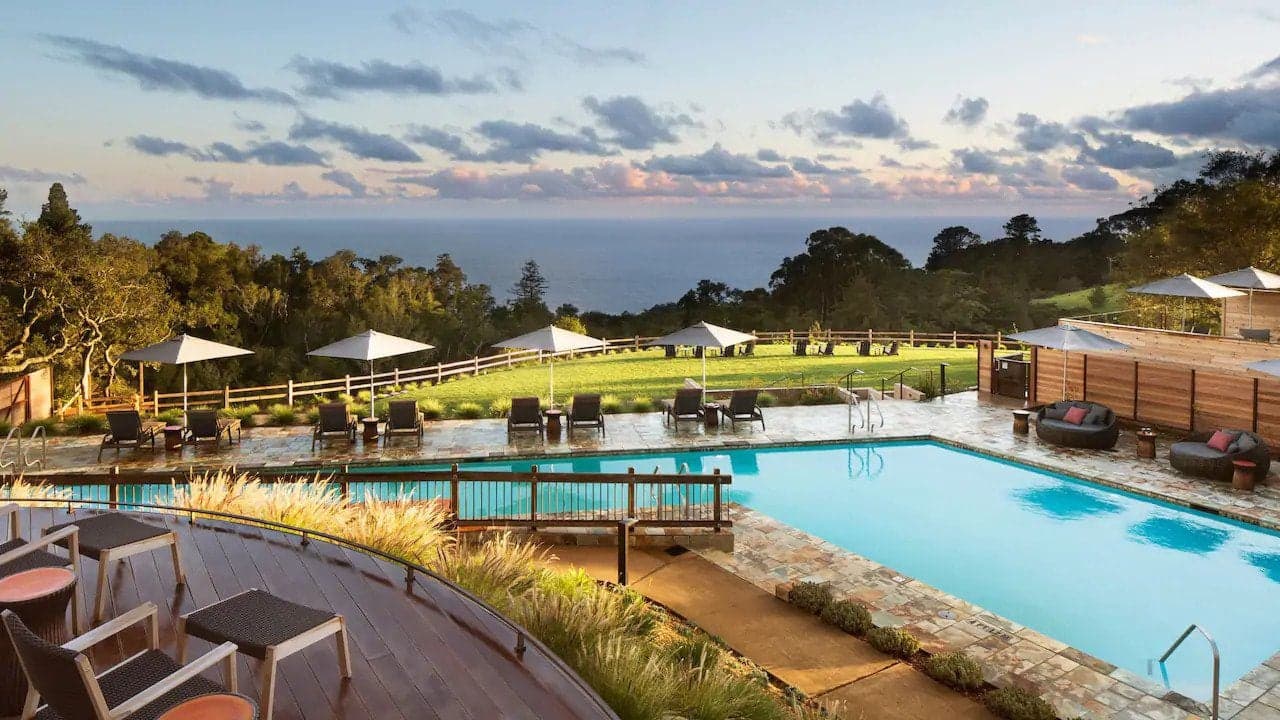 Being able to book a room at this all-inclusive oasis along the California coast for as few as 35,000 World of Hyatt points per night is a downright bargain. The resort gets rave reviews for its serene location and excellent amenities – plus, everything but alcohol is included in your stay, even when booking with points.
If the tranquillity of the redwood forest isn't what you're after, perhaps you'd feel more at home booking a stay at a different Alila property – like the Alila Villas Uluwatu on the southern coast of Bali's Bukit Peninsula.
For as few as 25,000 Hyatt points per night, you can stay at this cliffside, eco-designed resort with endless ocean views. Not surprisingly, the cash rate for this hotel starts at $1,000 per night during the off-peak season and only goes up from there. Considering each of these private villas comes with its own private pool, a cabana with ocean views, and space for outdoor dining, 25,000 Hyatt points per night sounds like a steal. And if you're traveling with guests, you can even reserve a two or three-bedroom villa in order to have enough space for the whole group.
While these are just a few examples of properties available within the Hyatt portfolio, they're certainly not alone. There are far more standouts with Hyatt than you'll find with other hotel programs and that's just another reason we find Hyatt to be the best hotel rewards program.
Hyatt Points Are Easy to Earn
Thanks to Hyatt's partnership with Chase, earning World of Hyatt points is quite easy. If you have a card like the *csp*, or even a business credit card like the *chase ink preferred*, you're earning Hyatt points and maybe didn't even know it.
How so? Chase is one of the only banks to partner with Hyatt and allow 1:1 transfers of Chase Ultimate Rewards to World of Hyatt points. And with Hyatt's low award rates, it's easy to get outsized value for your Chase points at amazing hotels worldwide
Chase isn't the only transfer partner of Hyatt's though. Another way you can earn Hyatt points is by paying your monthly rent with Bilt Rewards or spending on their Bilt Rewards Mastercard. Like Chase, you can transfer Bilt points to World of Hyatt at a 1:1 ratio.
You can also earn points through paid stays or by spending on a World of Hyatt co-branded credit card, like The World of Hyatt Credit Card. This card is a great option for frequent Hyatt guests as it earns 4x bonus points on all Hyatt purchases and it comes with an annual free night certificate that can be redeemed at any category 1-4 hotels.
Downsides of the Hyatt Program
There's so much to love about the World of Hyatt program, but that's not to say it doesn't have its flaws.
Award chart changes are an annual ritual for Hyatt, and this year's was a real doozy. In March, the hotel chain released its latest round of changes to award pricing. In all, 372 hotels changed categories with the majority seeing a hike in the nightly cost of an award night.
Aside from a few nice U.S. hotels going down in price, award rates at many of the best all-inclusive resorts, several high-end resorts, and many top Park Hyatt properties worldwide went up in price. And some of these price increases were quite significant.
Another big drawback with Hyatt is its size – or lack thereof. If you're planning to travel the world, you simply can't put all your eggs in the Hyatt basket. While Hyatt has been readily acquiring smaller hotel chains and adding new brands of its own in recent years, it just can't compete with the likes of Marriott, IHG, or Hilton in either their number of properties or available rooms just yet.
Bottom Line
The World of Hyatt rewards program stands above its competitors in more ways than one. From elite recognition to its award chart and list of aspirational properties, Hyatt gets it right more often than not.
With Chase and Bilt Rewards as transfer partners at a 1:1 ratio, you likely have the stash of points needed to stay at one of these hotels. And Hyatt's properties are certainly worth considering for your next trip.