Nearly two years after opening its first branded lounge at Dallas-Fort Worth (DFW), Capital One has finally opened its second lounge in the U.S. at Washington, D.C.-Dulles (IAD). And let us tell you, it was worth the wait.
Capital One set the bar sky-high with its Dallas lounge and the brand new Dulles Capital One lounge includes many of the same features that made the flagship lounge so spectacular.
We visited the new Dulles Capital One Lounge the day it opened, and while it's considerably smaller and lacking some of the extra amenities of the bank's flagship lounge in Dallas, it's no less excellent. From food that goes above and beyond what you'll find at most airport lounges to the full-service coffee bar and grab-and-go section to the ample seating options and nods to the nation's capital, travelers with the *venture x* or the *capital one venture card* who can get in for free will welcome this addition to the Capital One's lounge portfolio.
Read on for our review of the new Capital One Dulles Lounge.
Getting Into the Dulles Capital One Lounge
Capital One's lounge at Washington, D.C.-Dulles (IAD) is located in the main terminal building directly across from the TSA PreCheck security checkpoint. It's fairly easy to find if you're departing from IAD you can head straight there after clearing security. It's a little tricky to find if you're connecting, though.
If you're coming from the A, B, Z, or H gates, it'll be a short walk back towards the main terminal building (or you can take the train), but if you're coming from the C or D gates you'll need to take the train or one of the airport shuttles. Head up to the second level near ticketing and security (ignore the "Do Not Enter" signs).
Keep an eye out for the Capital One signs, as the entrance to the lounge isn't immediately obvious.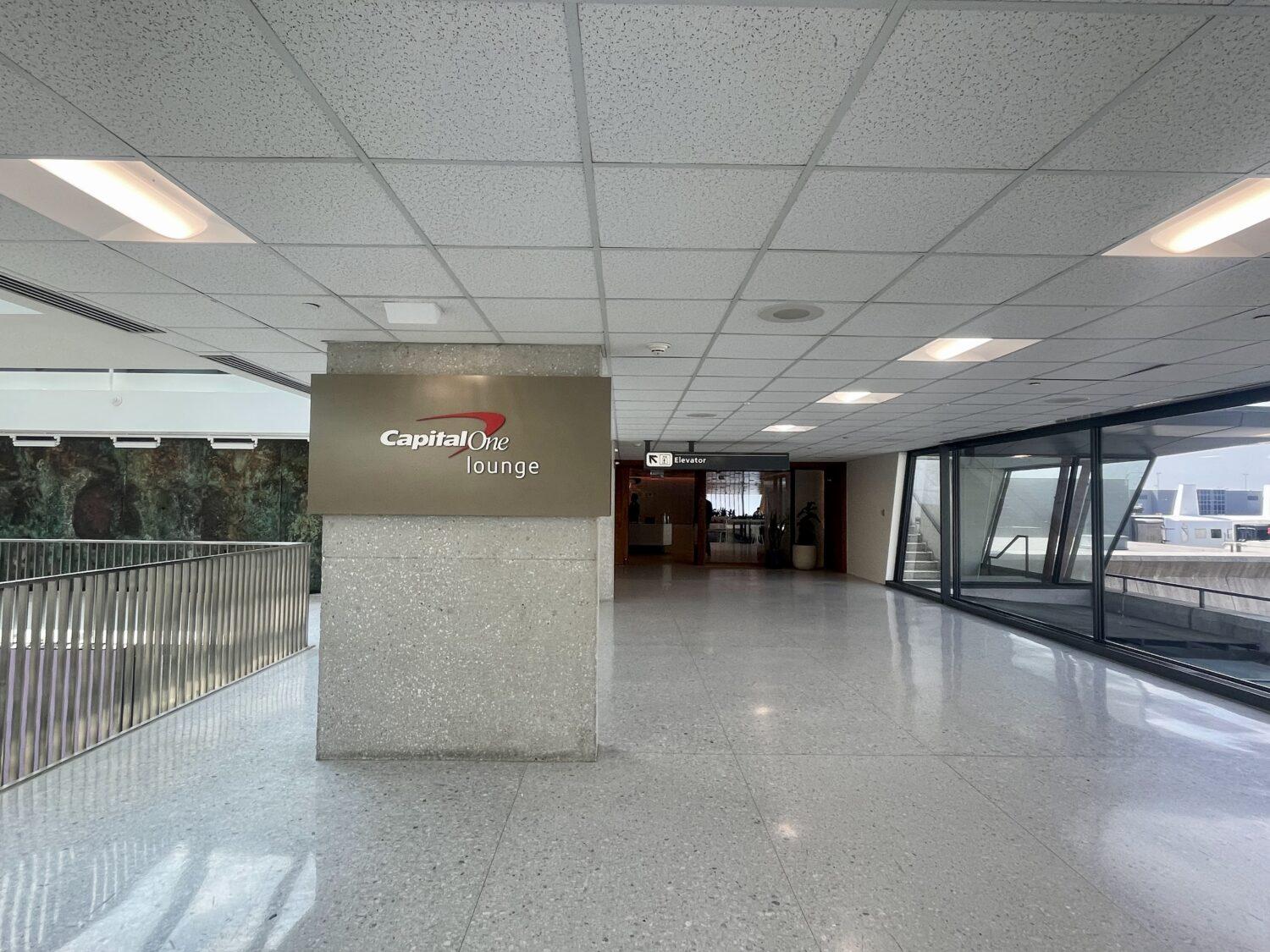 There are a few ways to get into the lounge, but only two cards will get you access for free.
One is the *venture x* which launched a few years ago as the first Capital One card with lounge access. It gets you and two guests into the Capital One lounge for free. And while there are only the two Capital One lounge locations so far – Dulles and Dallas – it'll also get you into 1,300-plus Priority Pass lounges for free, too, including several lounges at IAD. Authorized users, who are free to add, also get complimentary lounge access along with the ability to bring two of their own guests.
Read more: How to Get Lounge Access for the Whole Family with 1 Credit Card
There are a ton of other great benefits on the card like a $300 annual travel credit for purchases through the Capital One travel portal, a credit that will cover Global Entry or TSA PreCheck enrollment, 10,000 bonus miles every year you re-up your card, and more. It carries a $395 annual fee, but you can easily recoup that – especially with how great the Capital One lounges are.
The *venture x business* will also get you and up to two guests into Capital One lounges for free as many times as you want.
Otherwise, cardholders with the trusty *capital one venture card* get two free annual passes to use at these lounges each year. After that, you can get in for a reduced rate of $45. Guests cost $45 although one of your complimentary visits can be used on a guest. *capital one spark miles for business* cardholders will also get two free passes and discounted entry rates each year.
And the Dulles lounge is kid-friendly, too: Children under two are allowed in the lounge for free so long as they're accompanied by an eligible cardholder.
To get into the new Capital One lounge, you must be flying that day or connecting through Dulles. Travelers are restricted from entering the lounge until three hours before their flight – and they were strictly enforcing that rule on the day of our visit.
When you arrive, simply present your Capital One card and show the front desk associate your boarding pass and you're in.
The Dulles Capital One lounge is currently only open from 8 a.m. to 7 p.m., but starting next Friday its regular hours will be 5:30 a.m. to 9 p.m. 
Read More: Capital One Lounge Airport Locations & Access Guide
Dulles Capital One Lounge Layout & Amenities
The Dulles Lounge is 8,500 square feet, smaller than the flagship Dallas Lounge, which clocks in at around 10,000 square feet.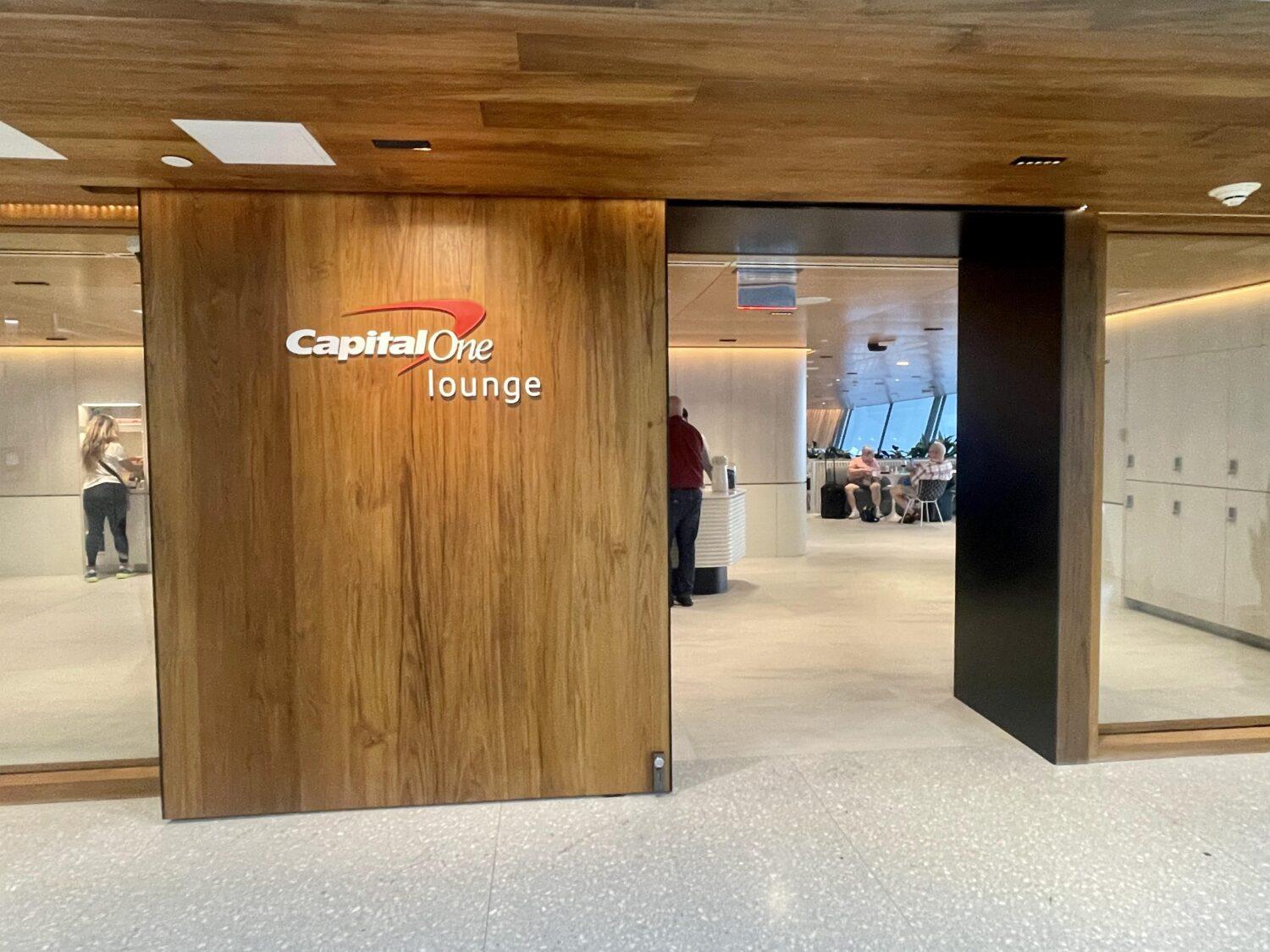 Once you enter, you'll first find yourself in a bright and airy space designed for travelers to quickly pop in and out of. To the left of the check-in desk, there's a case of various grab-and-go food and drinks, from prepackaged sandwiches, bahn-mi, and falafel pitas to fruit and veggie cups.
Travelers can also pour themselves a La Colombe cold brew from one of the nearby taps. Paper bags are also provided so you can quickly grab what you need and continue onto your gate.
There's also a full-service coffee bar in the entry area – a feature that's unique to the Capital One lounge at Dulles – where you can order a coffee or tea to go or to take into the lounge with you.
The Dulles lounge is arranged in a horseshoe shape. To the right of the check-in desk, there are lockers for storing your luggage. Continuing down the hall into the lounge area itself, you'll find plenty of spaces to relax or work before your flight.
The lounge boasts a ton of natural light, floor-to-ceiling windows, and beautiful midcentury design flourishes. If you're hoping to enjoy views of the tarmac, though, you'll be out of luck. The location of the lounge doesn't allow you to see many planes coming and going.
There are cafe-style tables, plush velvety chairs, and booths with larger tables for groups of passengers to eat together. Nearly every seat has its own power outlet, too.
In the middle of the lounge is a large bar serving complimentary wine, beer, and cocktails. Opposite the bar, you'll find a selection of small dishes and desserts and additional beverages to choose from.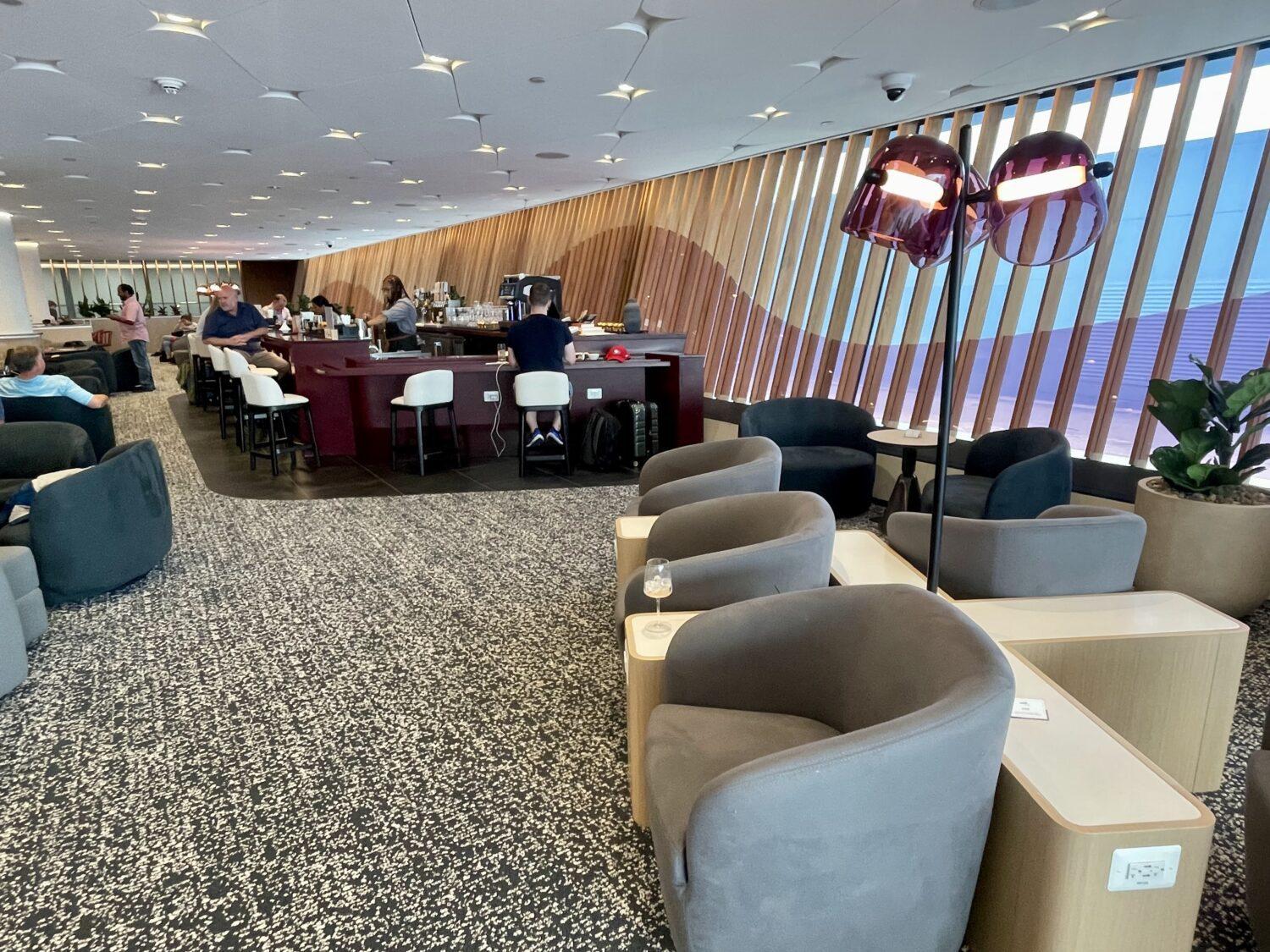 Continuing past the bar area, you'll find a few small nooks for more privacy or to work in peace.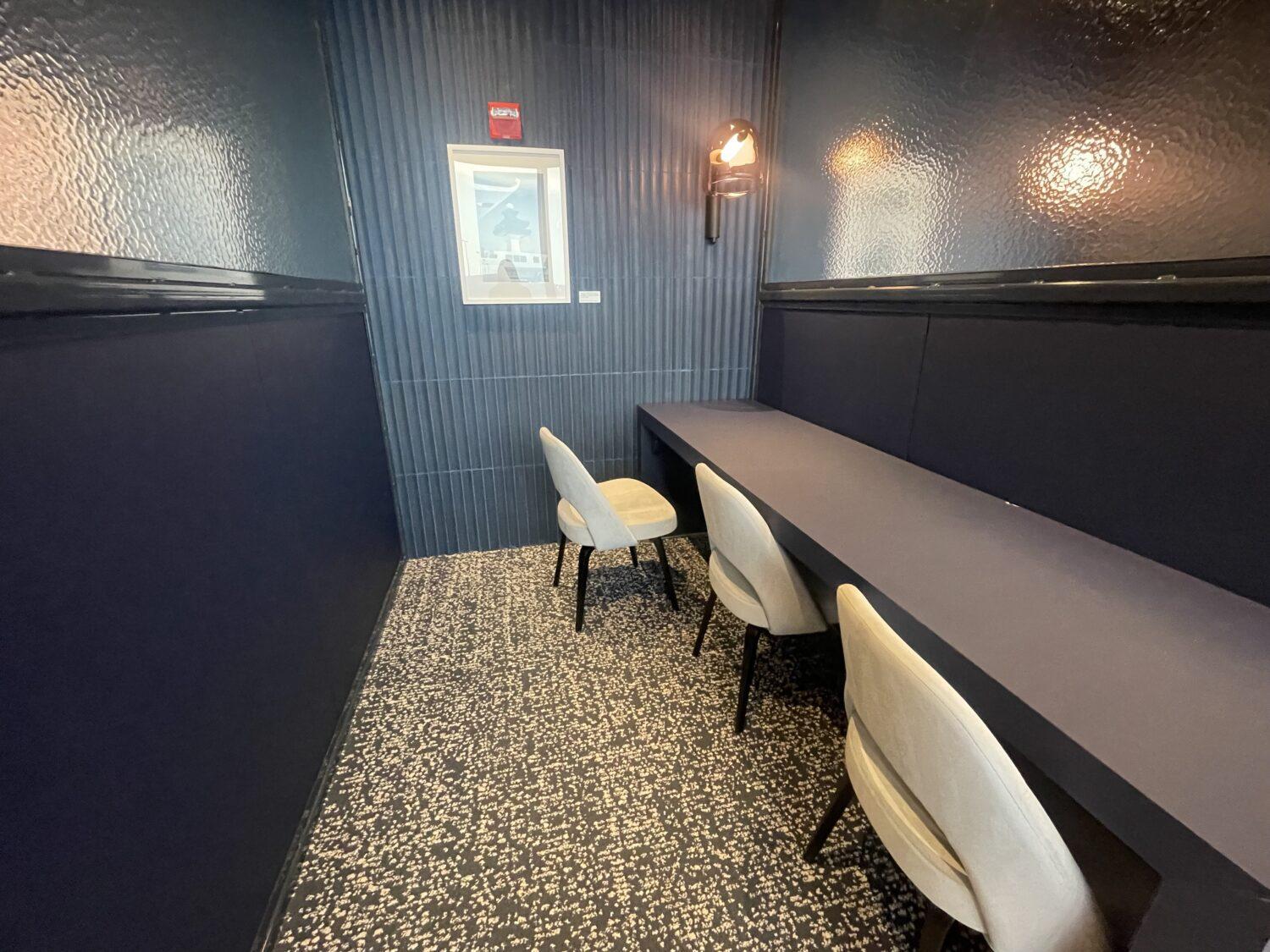 We also loved how the lounge had a variety of contemporary art all by local artists – a trend Capital One has continued from its first lounge in Dallas.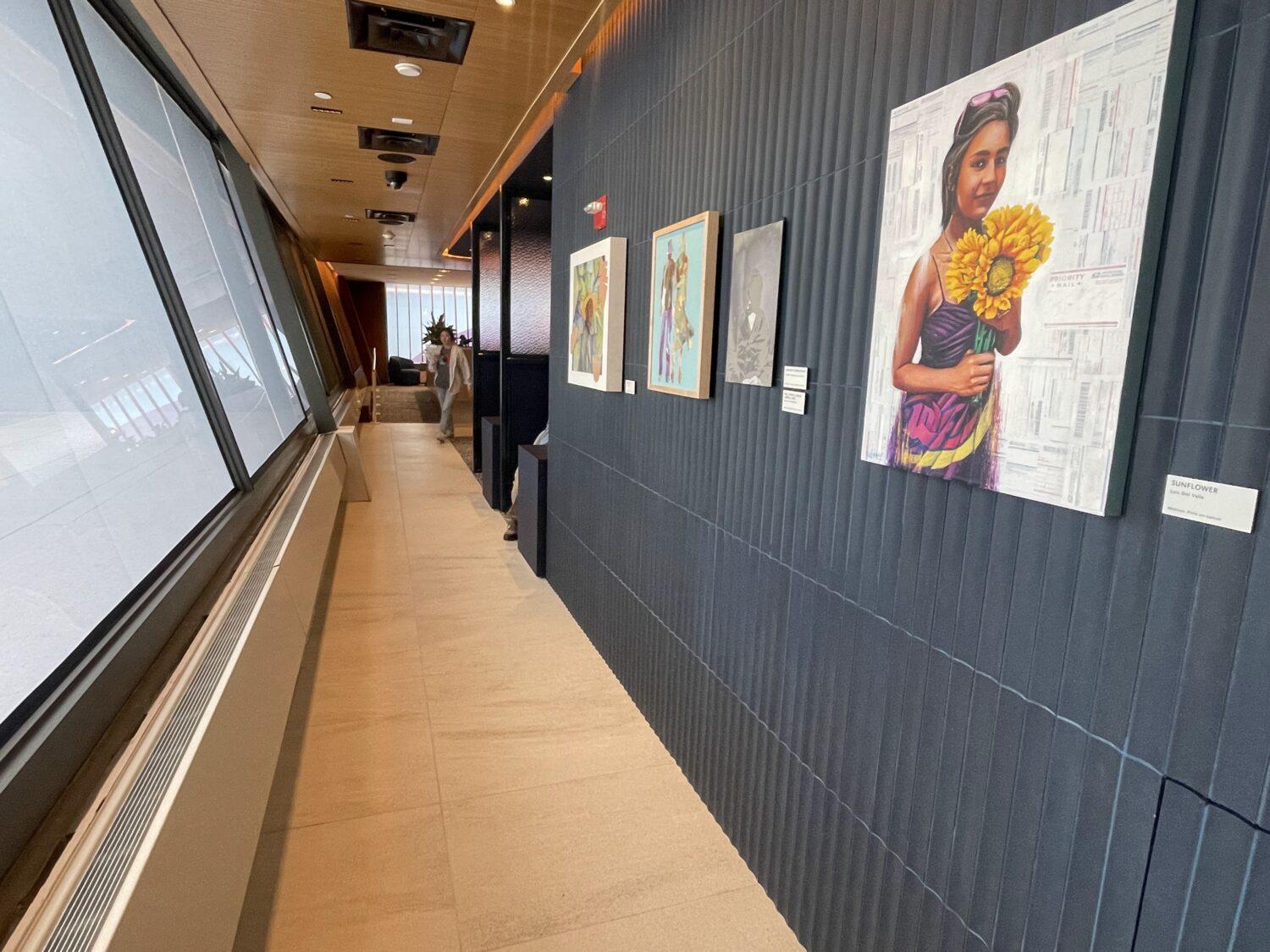 The lounge is family-friendly, too, with a parent's room that provides a comfortable and private space for visitors who are feeding or nursing their children and ample seating for families with children. There were plenty of kids enjoying the lounge during our visit.
However, the new Dulles Capital One Lounge is missing some of the more exciting amenities found at the flagship Dallas lounge, like showers, yoga and fitness rooms, and relaxation rooms for sleeping. With a smaller footprint than what they have in Dallas, some of these amenities just simply weren't possible.
Another concern: Only four bathrooms – each a single room. The bathroom situation is identical to the Dallas lounge, where travelers will often find themselves waiting to use the restroom. While the bathrooms are chic and private, we wish Capital One had added more – or just gone with larger shared bathrooms at its new lounge. Nobody wants to spend their time in the lounge waiting in line for the bathroom, and I imagine this will become more of a problem as the lounge gets even busier.
We visited the brand-new Dulles Capital One Lounge on the day it opened, and it was already considerably busy. There was no wait to get in, but finding an empty seat midday proved to be more of a challenge than anticipated. It seems the secret is out about how great these Capital One lounges are, especially compared to the Priority Pass lounge options at IAD.
Will that lead to future access changes similar to what American Express has rolled out at its Centurion Lounges? Only time will tell, but by creating lounge spaces that people want to visit, Capital One seems to be headed down a similar path.
Food & Drink in the Dulles Capital One Lounge
Capital One puts a big emphasis on offering excellent food and drinks in their lounges, and the new Dulles outpost is no exception.
The food offerings are all locally sourced, individually plated small bites easy to enjoy as a snack or to make a full meal. The selection wasn't massive, but everything we tried was delicious and flavorful. It was above and beyond the lackluster buffet food you'll find at most other airport lounges.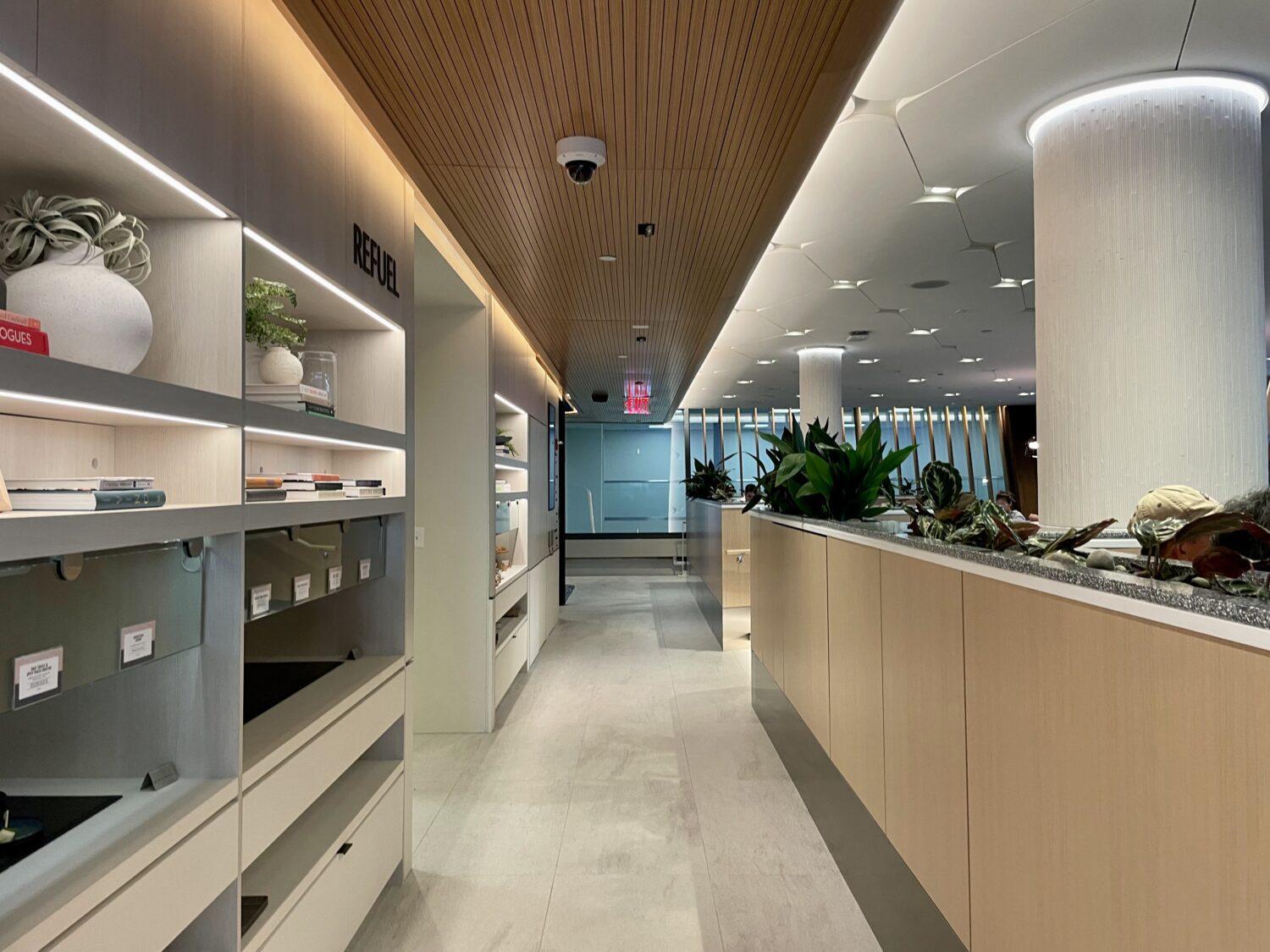 We tried the asparagus guacamole, Tennessee hot deviled eggs, the Thai shrimp bar bun, and a few others. The bun was a favorite – a perfect handheld bite that had a lot of flavor.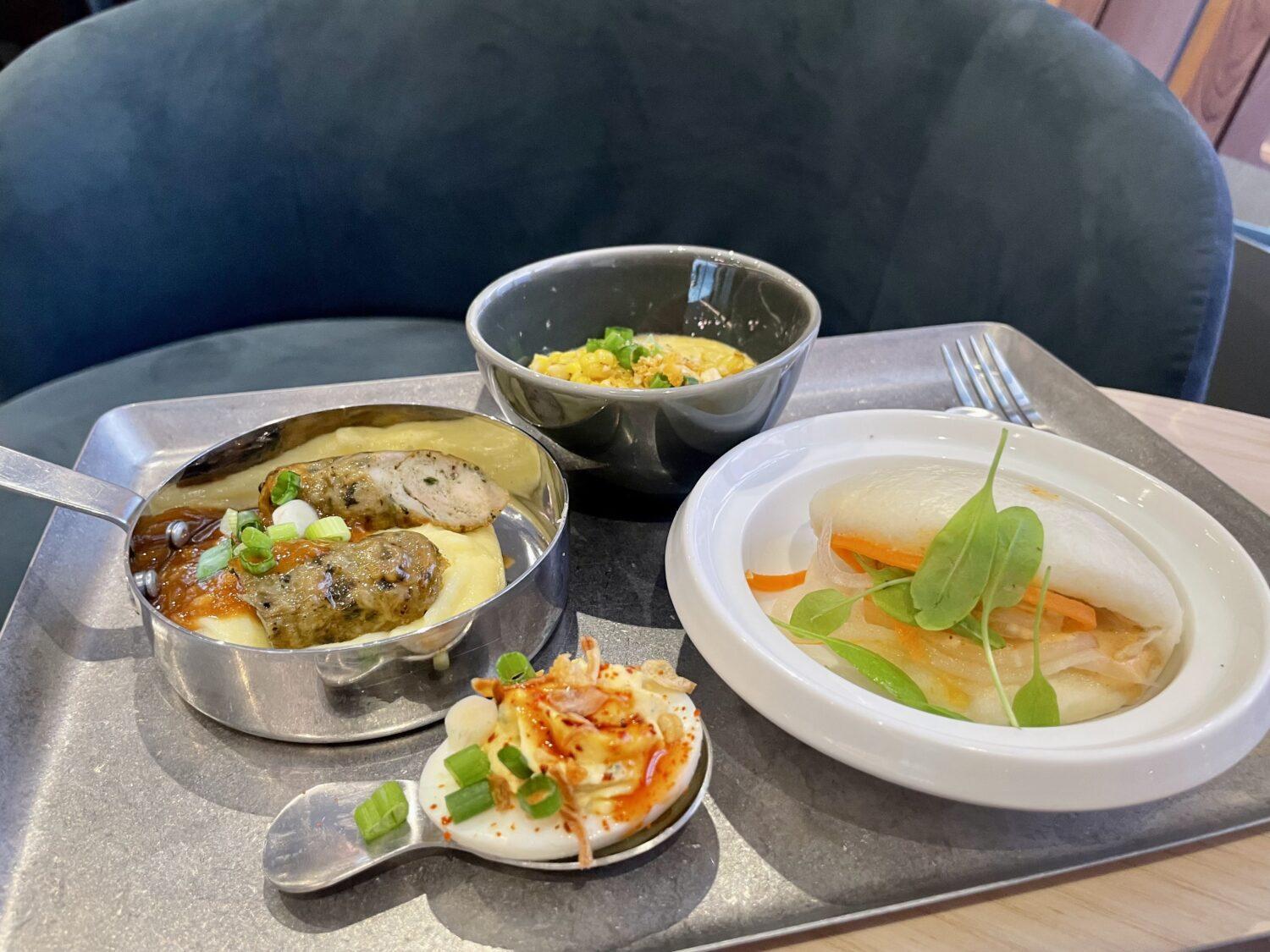 There was also a selection of pastries and desserts from a local bakery. The made-from-scratch strawberry pop-tart was especially tasty.
At the bar, there's a wide selection of beer, wine, and craft cocktails – and the best part? It's all free. The cocktails were all nods to the D.C. area. We tried the Georgetown Headspinner, the lounge's take on an espresso martini but served with rum, and the Cherry Blossom Margarita, which was a little sweet for our taste.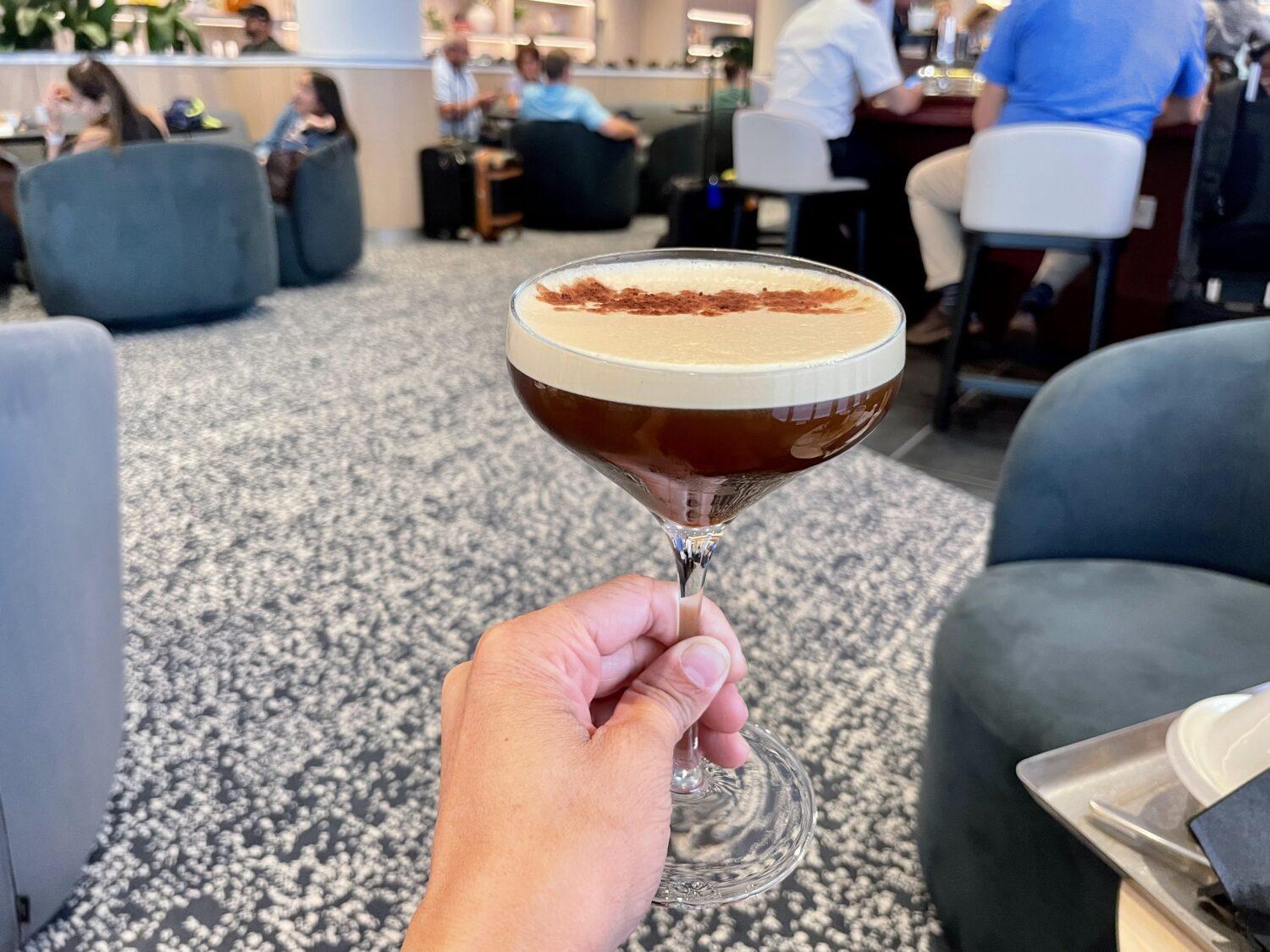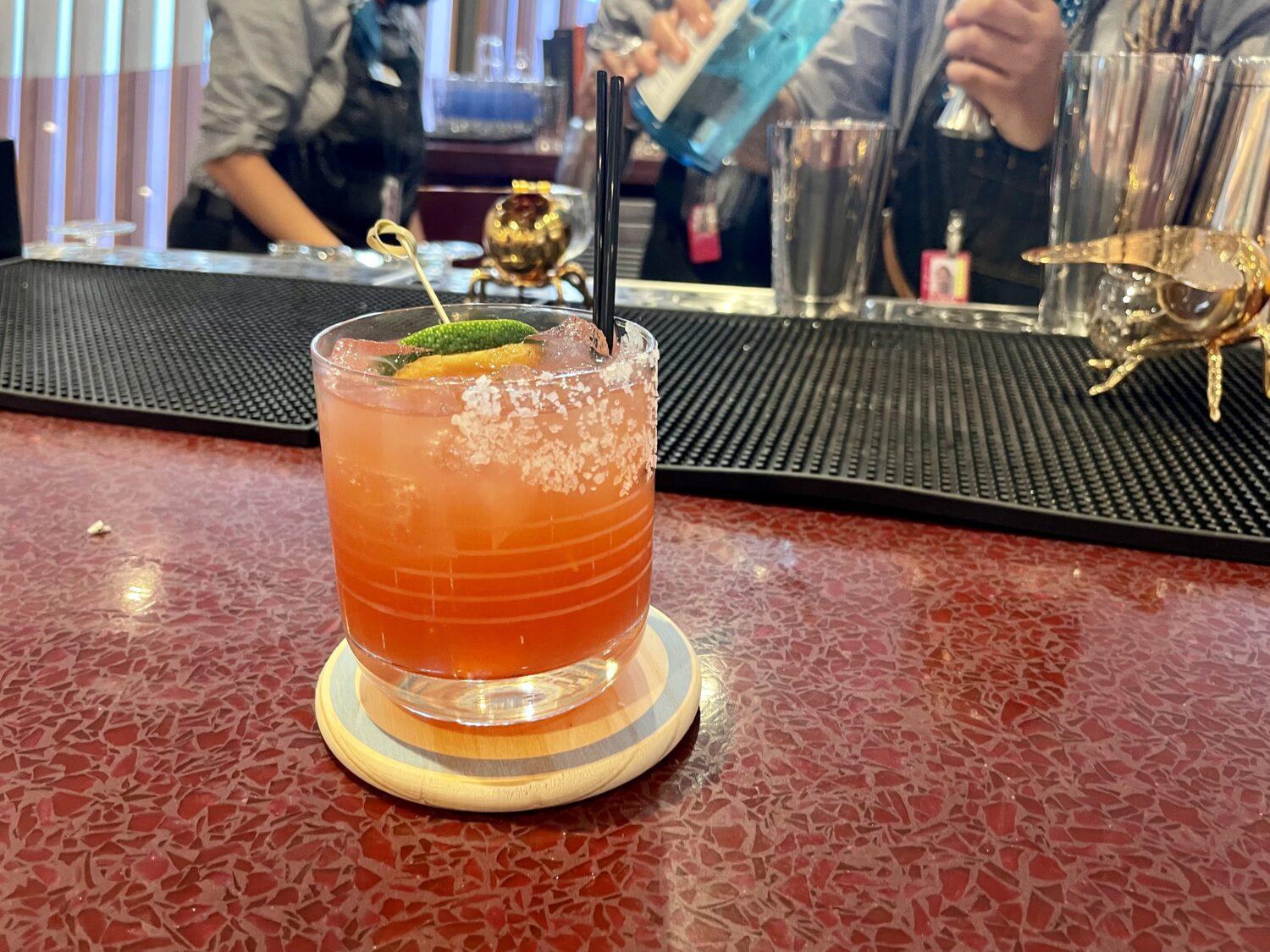 The most popular cocktail, though, was the Bee's Knees, a citrusy gin concoction that was served in a gilded, but gimmicky bee-shaped glass and garnished with a small flower.
At each of its lounges, Capital One also taps a local brewery to develop its own take on the "Perfect Airport Beer." At the new Dulles lounge, that's the Pre-Flight Lager by Lost Rhino Brewing Co., located in Ashburn, Virginia. Sadly, we didn't get a chance to try this collaboration on our recent visit, as the lounge was ironing out some issues with their kegs.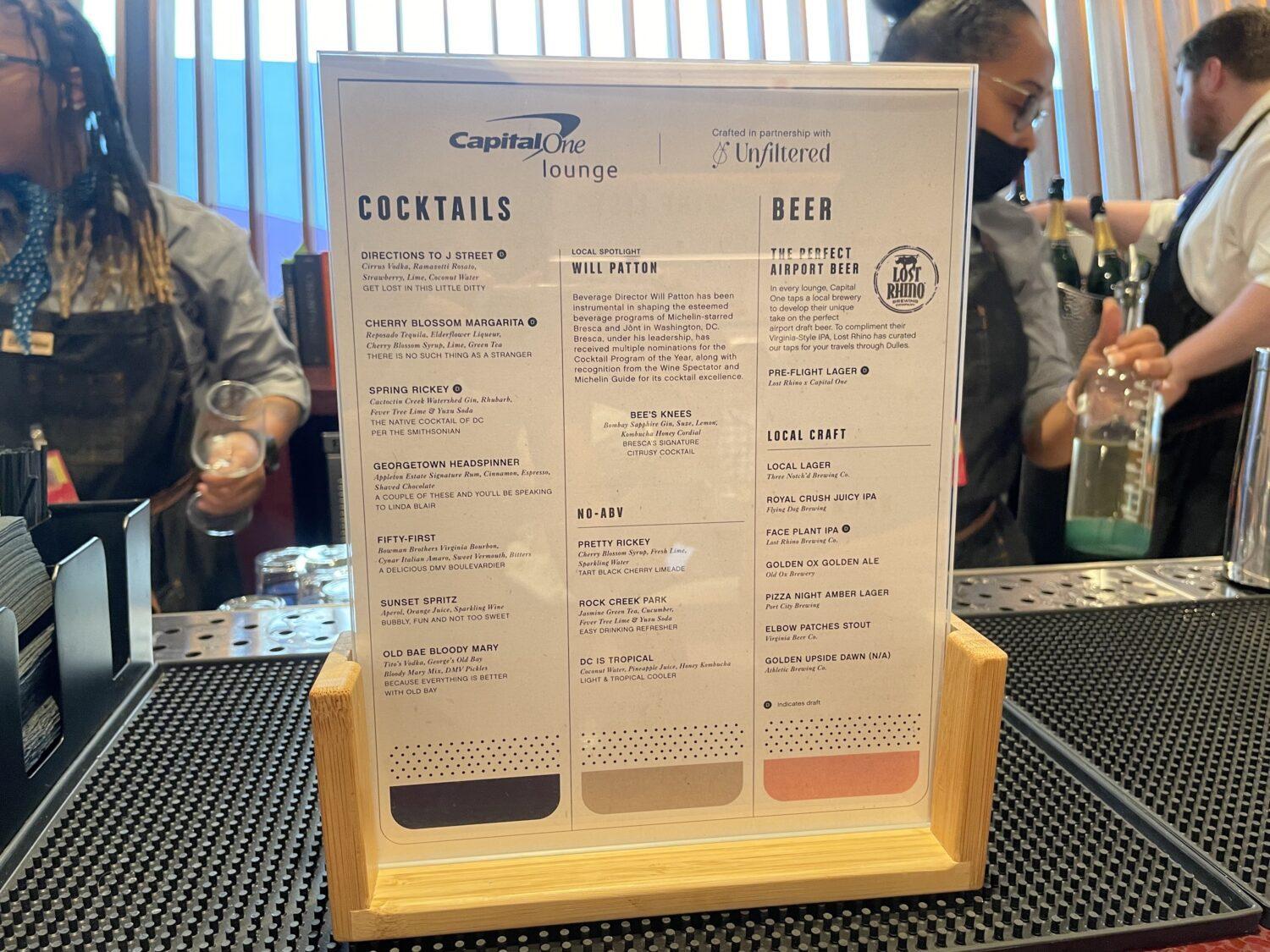 The rest of the tap list is dedicated to craft beers from a handful of other area breweries including Port City Brewing, Old Ox Brewery, and Virginia Beer Co. And again, it's all free.
Let's talk about the full-service coffee bar, which is unique to the Dulles Lounge. The friendly baristas can make you almost any coffee drink you want, from a simple Americano to an oat milk latte, which is what I went with. There's also cold brew on tap and drip coffee, of course. Like the cocktails, everything from the coffee bar is complimentary.
While I've had better lattes in my life, the latte art was a fun small touch. The coffee bar has a machine that prints text, logos, or images into the foam of your drink.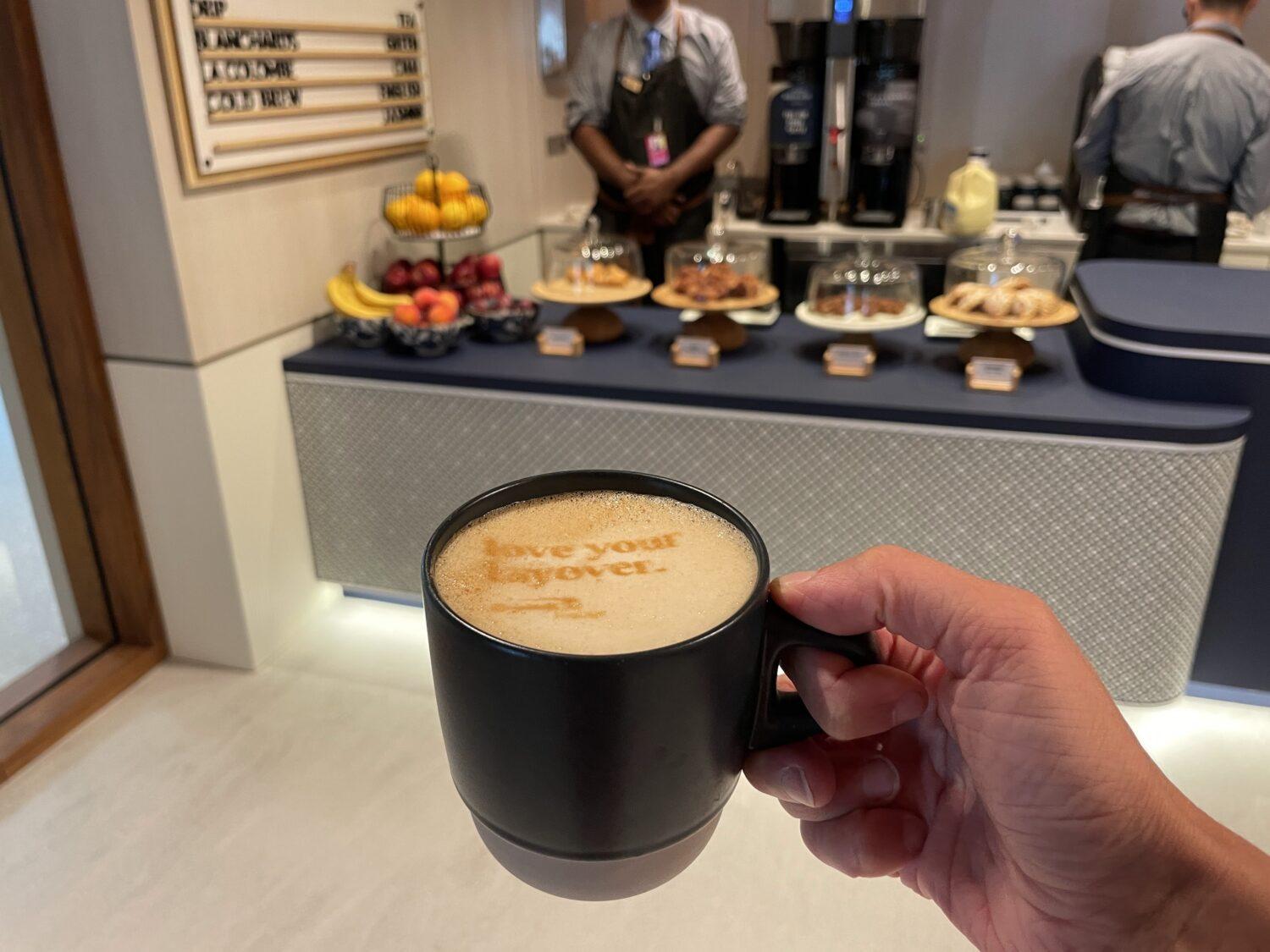 The baristas even let us upload our own picture of Taylor Swift.
Capital One really changed the lounge game with the grab-and-go food options at the Dallas lounge, and it's the same story at the Dulles lounge. It's a novel concept that should appeal to travelers who don't have much time before their flight, and to date, it's something you won't find outside of Capital One lounges.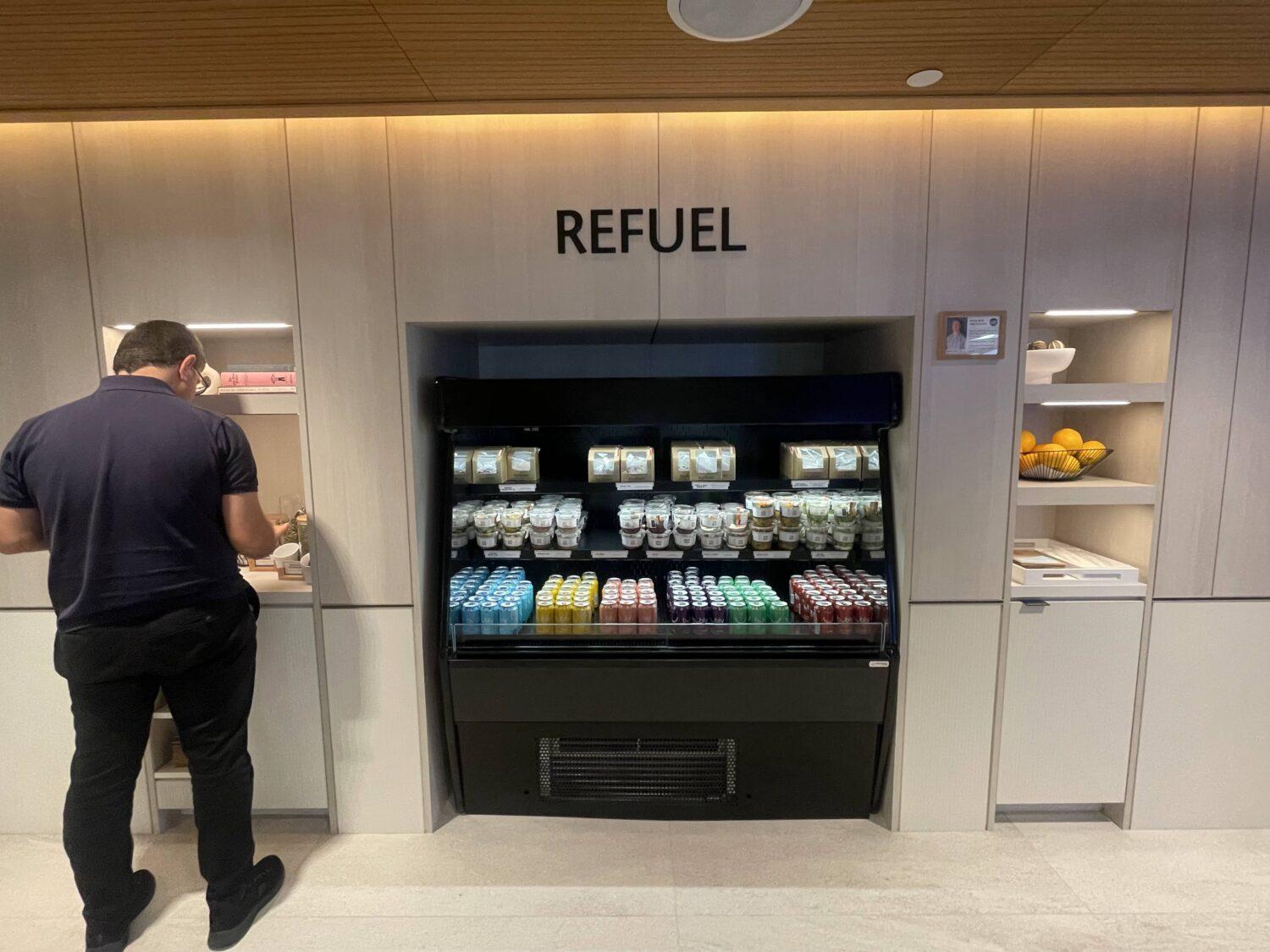 Since the lounge is located a good 10-plus minute walk from any of the gates at Dulles, it makes sense to cater to travelers who just want to stop in to pick up food or drinks before continuing on to their gate.
It's not just your run-of-the-mill cold sandwiches or yogurt parfaits either. In addition to a turkey and Swiss cheese sandwich, there was also a falafel pita, a siracha chicken banh-mi, acai bowls, and salads. You'll also find plenty of grab-and-go drink options.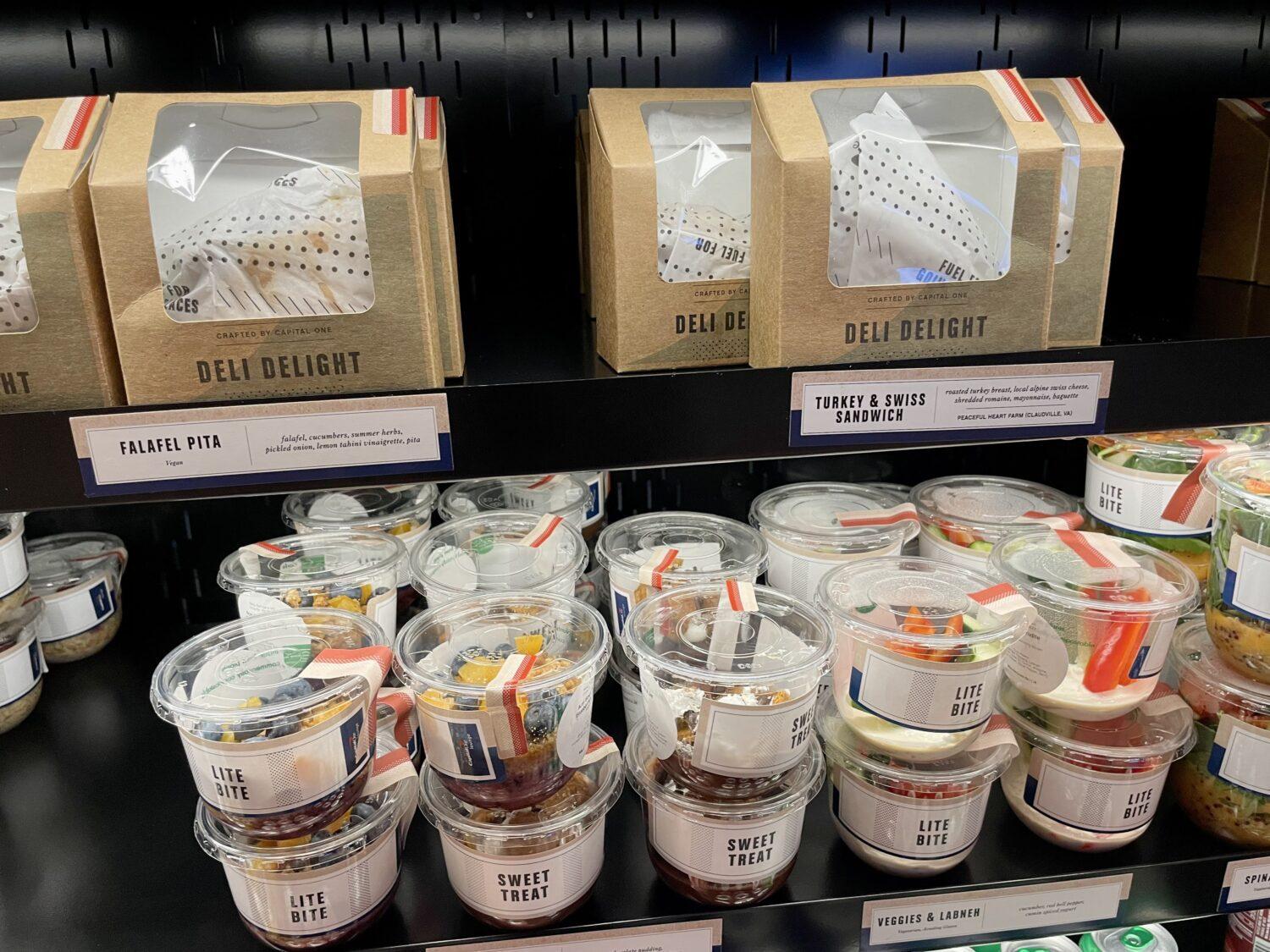 The grab-and-go offerings came in especially handy when our flights were repeatedly delayed later on.
Bottom Line
Capital One has finally opened a second airport lounge in the U.S., this one at Washington D.C.-Dulles (IAD).
Although smaller than the lounge in Dallas (DFW) and lacking some of the extra amenities, the brand-new Dulles Capital One Lounge meets the same sky-high bar Capital One set with its first location in Dallas.
Capital One cardholders with lounge access have been waiting a long time for another lounge, and they won't be disappointed.