Nearly two years ago to the day, Capital One emphatically turned the page on bland, overcrowded airport lounges when it opened its very first lounge in Dallas-Fort Worth (DFW): A bright and spacious design, awesome amenities, and outstanding food and drinks. Its second and third chapters might have taken longer than travelers may have liked, but the same story continues in Denver (DEN).
Opened to the public on Friday after months (and then years) of delays, the Denver Capital One Lounge is just about as excellent as its predecessor in Dallas and, more recently, Washington, D.C.-Dulles (IAD). The space itself is large and well-designed, the food and drink are absolutely second to none, and even the service shines.
But the secret about how good these lounges are – along with the *venture x* that will get you and your pals in – is officially out. Even on opening day, it was full of travelers anxious to check it out … and I was one of them.
Read on for the full review of the brand-new Denver Capital One Lounge.
Getting into the Denver Capital One Lounge
The new Denver Capital One Lounge is located in the massive airport's Concourse A, home to airlines like American, Delta, Frontier, and a handful of smaller airlines. But whether you're flying United, Southwest, or any other airline, getting here shouldn't be a problem.
The entire Denver airport is connected by a tram system, which runs constantly from concourse to concourse. Just be sure to budget an extra five to 15 minutes for the walk and tram ride if you need to transfer concourses to make it here.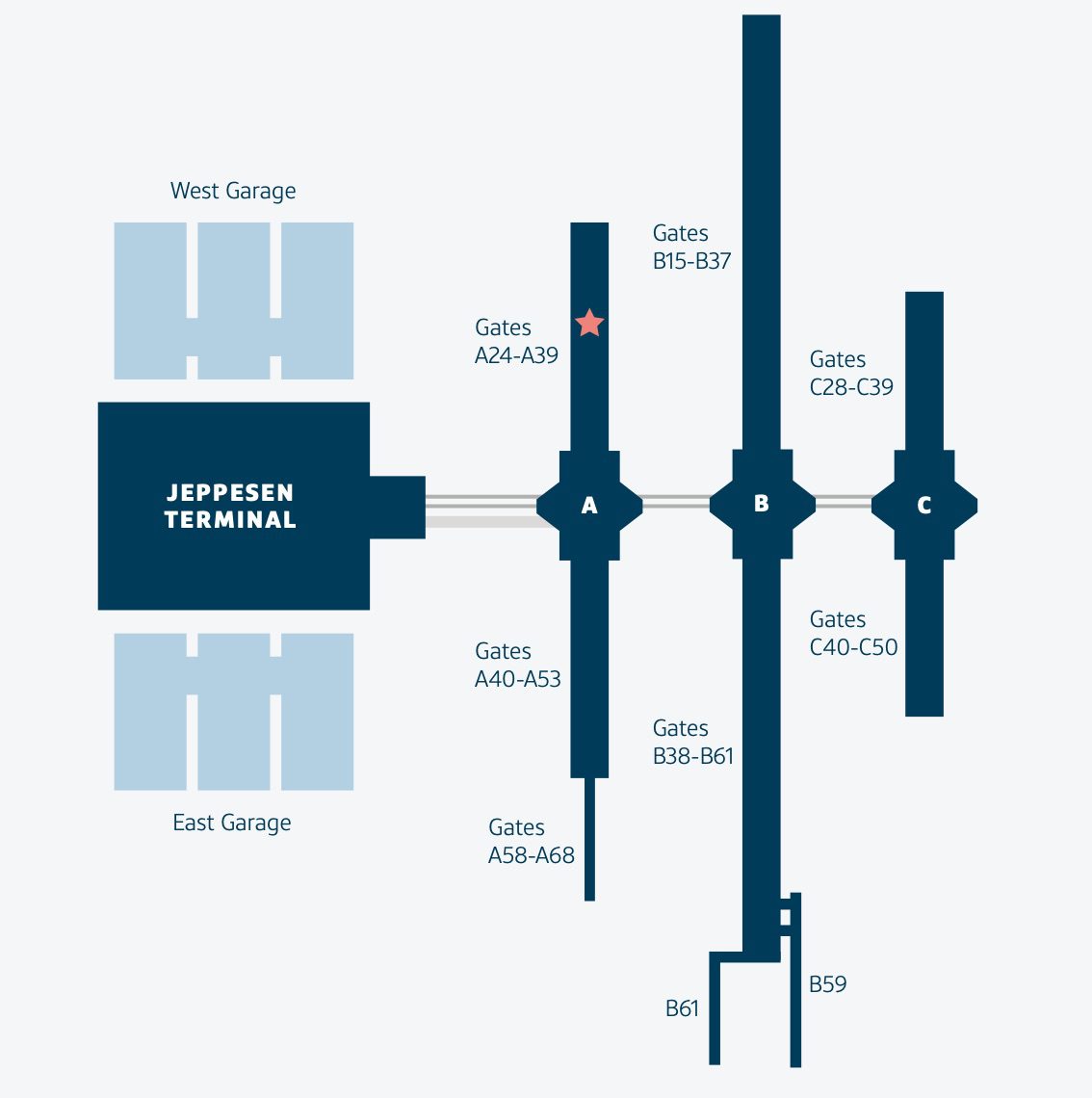 Once you make it to Concourse A, the lounge itself is just up a set of escalators near Gate 34. There's also an elevator you can use to get upstairs.
There are a few ways to get into the lounge. But one Capital One card is better than the rest.
It's the *venture x* which launched a few years ago as the first (and only) Capital One card offering complimentary lounge access. It gets you and two guests into the Capital One lounge for free. And while there are only the three Capital One lounge locations so far – Dallas, Dulles, and now Denver – it'll also get you into 1,300-plus Priority Pass lounges for free, too, including several lounges at IAD. Authorized users, who are free to add, also get complimentary lounge access along with the ability to bring two of their own guests.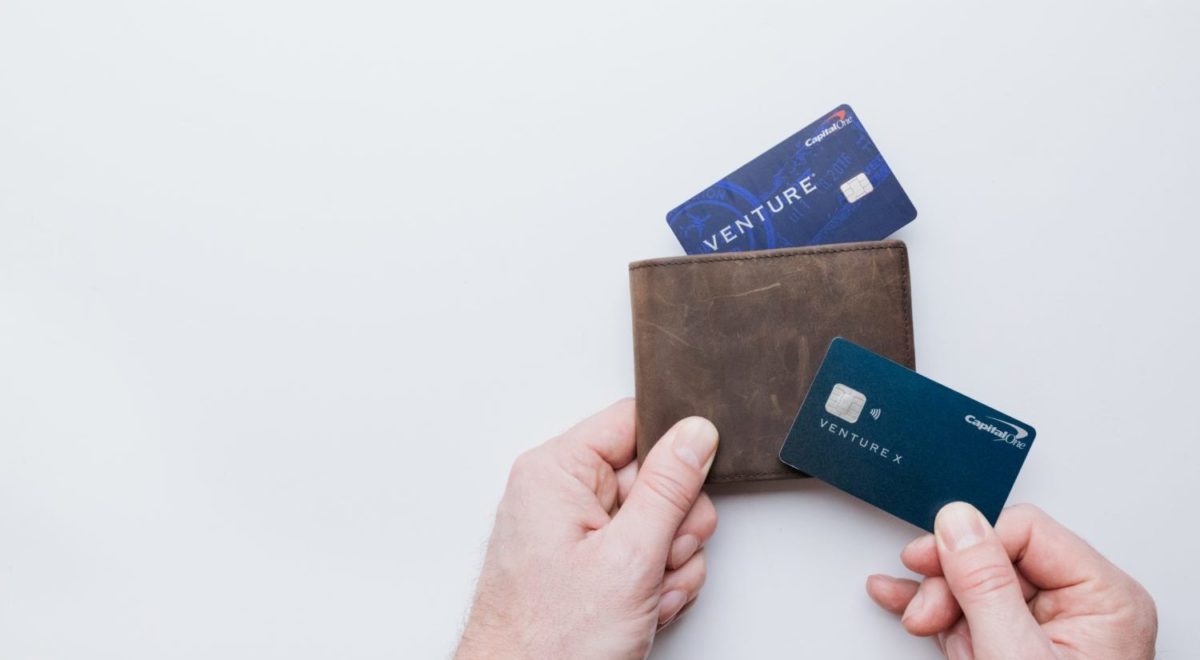 Read more: How to Get Lounge Access for the Whole Family with 1 Credit Card
There are a ton of other great benefits on the card like a $300 annual travel credit for purchases through the Capital One travel portal, a credit that will cover Global Entry or TSA PreCheck enrollment, 10,000 bonus miles every year you re-up your card, and more. It has a $395 annual fee, but you can easily recoup that – and how great these Capital One Lounges are sure makes it easier.
Got a small business? The *venture x business* will also get you and up to two guests into Capital One lounges for free as many times as you want.
Otherwise, cardholders with the trusty *capital one venture card* get two free annual passes to use at these lounges each year. After that, you can get in for a reduced rate of $45. Guests cost $45 although one of your complimentary visits can be used on a guest. *capital one spark miles for business* cardholders will also get two free passes and discounted entry rates each year.
The Denver lounge is kid-friendly, too: Children under two are allowed in the lounge for free so long as they're accompanied by an eligible cardholder.
To get into the new Capital One lounge, you must be flying that day or connecting through Denver. Travelers can only get in starting three hours before their flight – and sadly there's no wiggle room if you're connecting through Denver with a longer layover.
When you arrive, simply present your Capital One card, show the front desk agent your boarding pass, and waltz right in.
The Denver Capital One Lounge is open for limited hours during a "soft open" at launch: Daily from 9 a.m. to 7 p.m. Starting Nov. 13, the lounge's normal opening hours will be 5 a.m. to 9 p.m. daily.
Read More: Capital One Lounge Airport Locations & Access Guide
After walking up the escalators, flashing my Venture X Card and boarding pass, and chatting with the first of many cheery lounge attendants, I was on my way into the Capital One Denver Lounge on opening day.
Capital One Lounge Layout, Seating & Amenities
On paper, the Capital One Lounge in Denver is the credit card company's largest yet, measuring in at 10,800 square feet.
In practice, it felt … quite a bit smaller than that.
Don't get me wrong: This is still an excellent lounge and a more-than-worthy follow-up to the Capital One Lounges in Dallas and Dulles. But the Denver lounge's fairly low ceilings and lack of natural light – both quirks of its location on the mezzanine level of the airport – made it feel more cramped than the numbers might suggest. Combined with just how (understandably) popular these lounges are among the growing number of Venture X cardholders, it felt smaller and busier than it should have.
The lounge itself is built in a large oval shape, wrapped around frosted glass windows that overlook the concourse below.
It starts with the check-in desk immediately as you get up the escalators. This is also where you'll find the dedicated grab-and-go case of salads, sandwiches, and snacks – a unique fixture in Capital One Lounges – as well as the first of several beverage stations scattered throughout the lounge.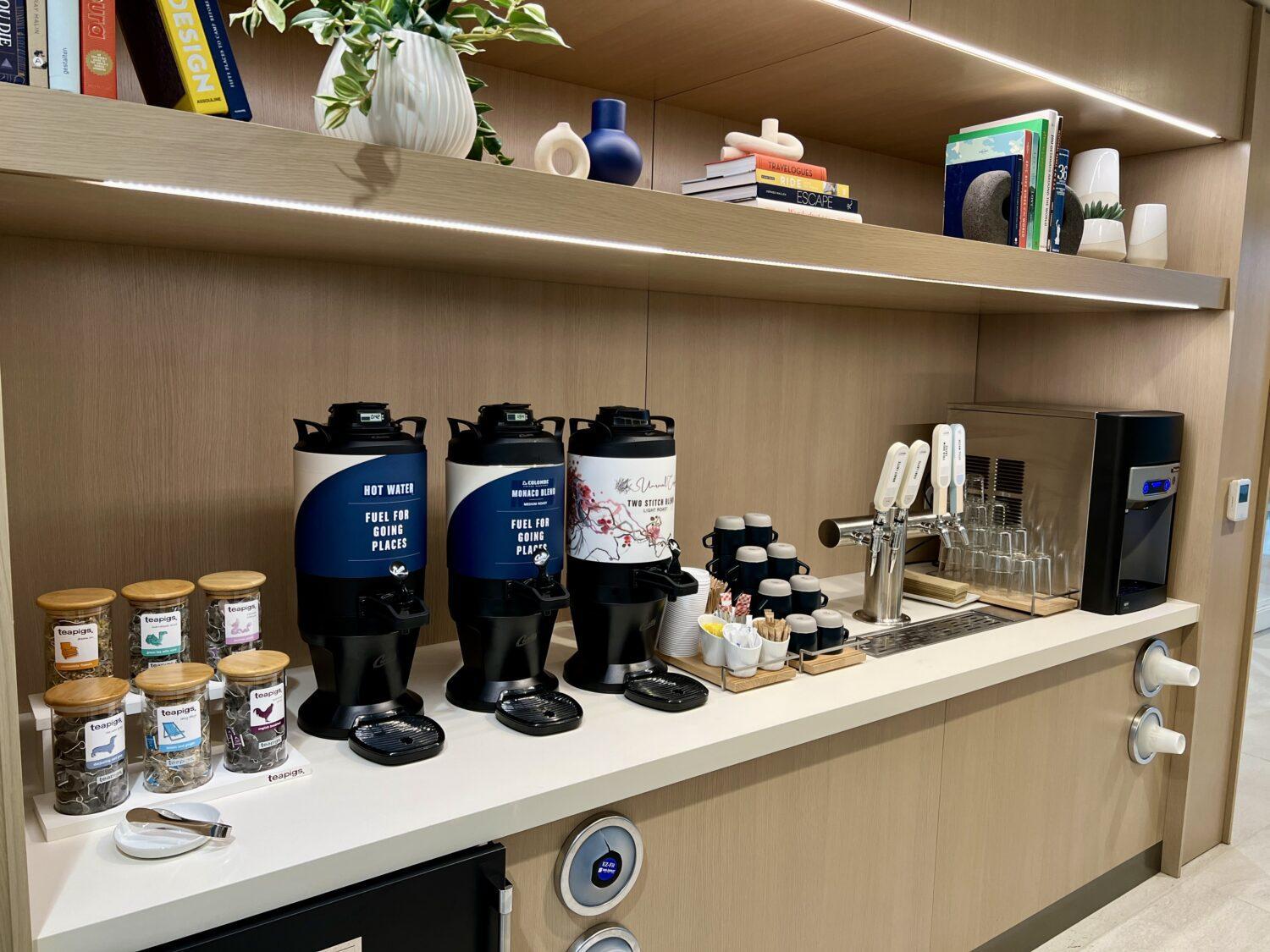 Turn down the corridor to the right and you'll find the magnet of the lounge: the food and bar area. Even within the first few hours of the lounge doors opening, this area was absolutely buzzing with fellow travelers grabbing food, drinks, or just relaxing. If there's a spot you'll struggle to find a seat, it's over here.
Capital One says it's the biggest bar in their lounge network, and that's unquestionably true. But again, it might not always feel like it when it's full of fellow travelers. There is, however, plenty of seating to choose from – all with charging outlets in reach, whether you grab a stool at the bar itself or one of the many tables ringed around the space.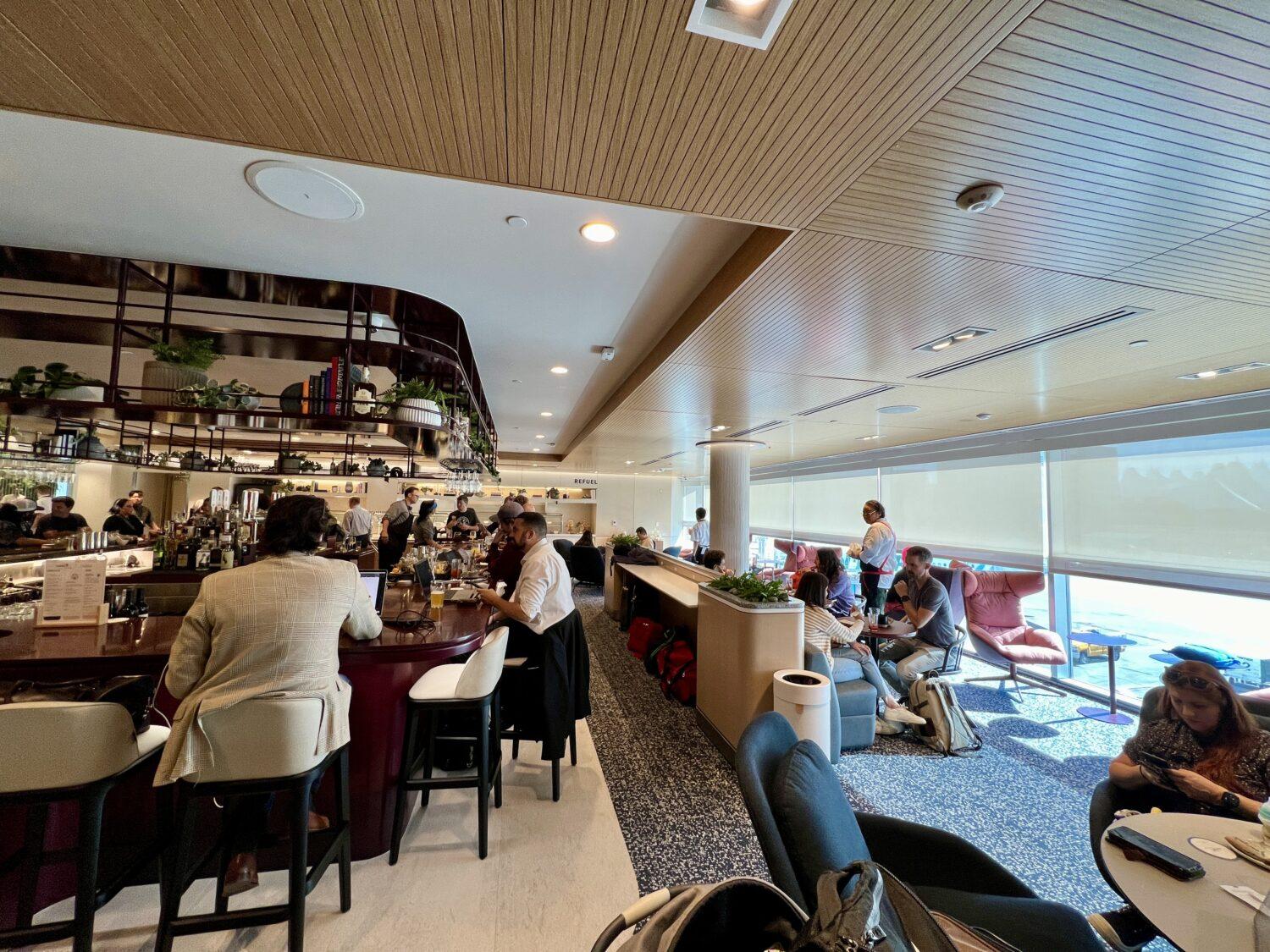 Part of what I love most about Capital One Lounges is the design and feel. The soft white wood with black accents calms things down even when the lounge is at its busiest. The paintings, portraits, and decor that adorn the walls give it an extra-homey feel.
You're still in an airport, of course – and there are a handful of departure boards scattered throughout the lounge that make it impossible to forget that. But it's a different vibe than your typical, bland, business-like lounge.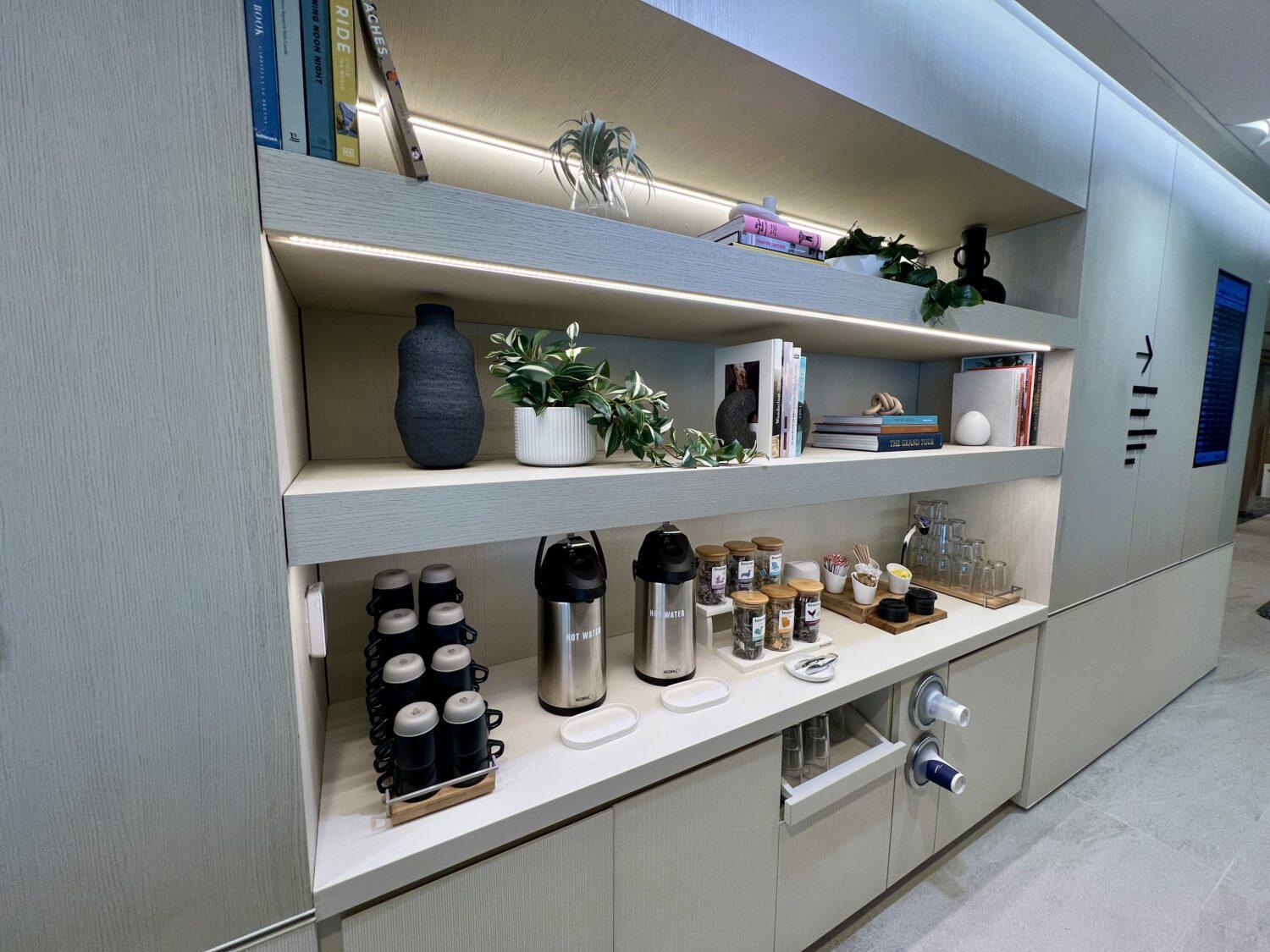 On the opposite end of the oval from the check-in area, you'll find a large seating area, with a great assortment of chairs, couches, cafe-style seating, and counter space with stools. But as the lounge got busier by mid-morning, this area filled up too.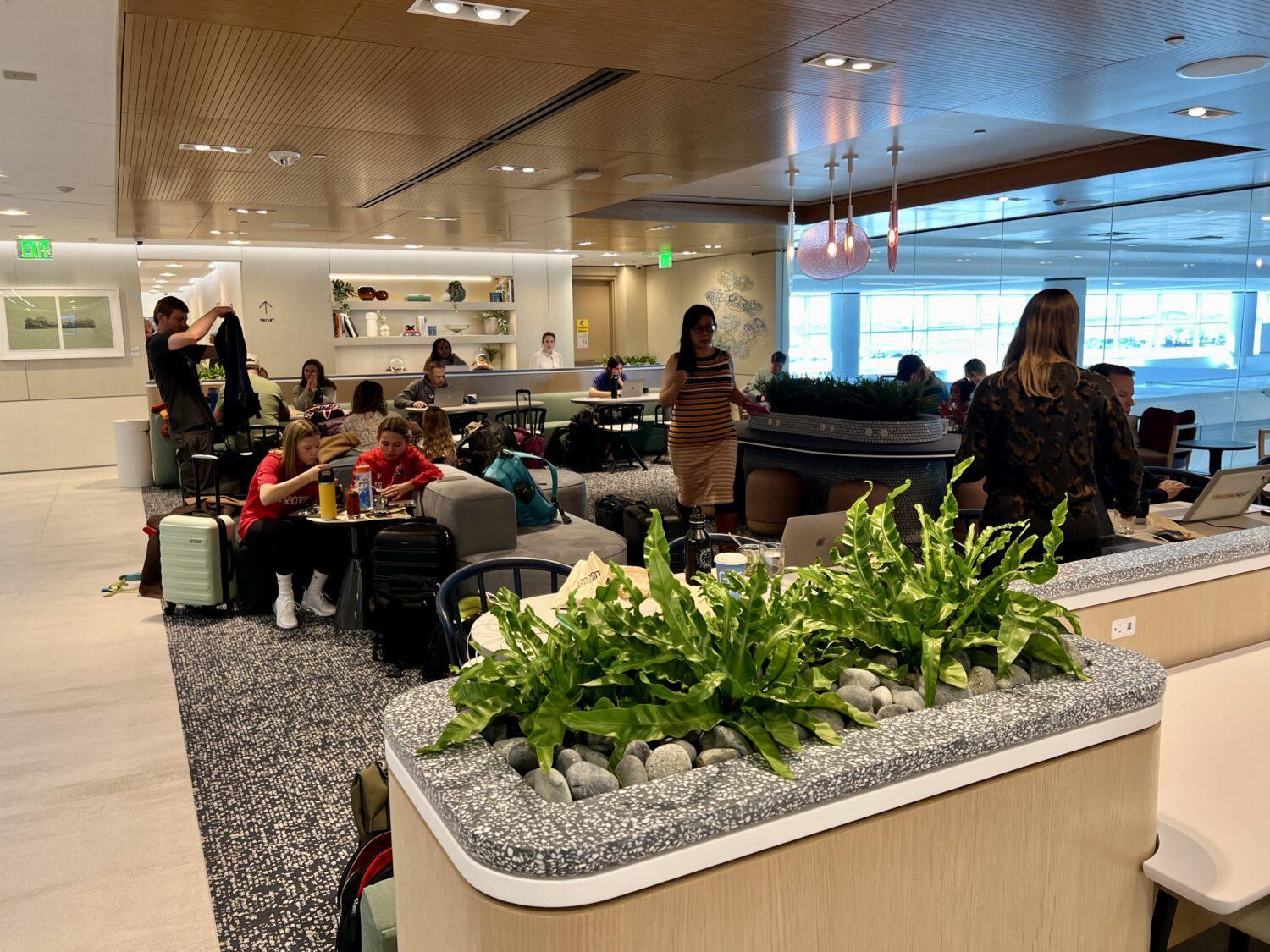 I really loved the circular table at the center of the space with a soft pastel-colored light fixture overhead. This is the area where you'll get the most natural light in the lounge thanks to the wall of windows to the concourse below.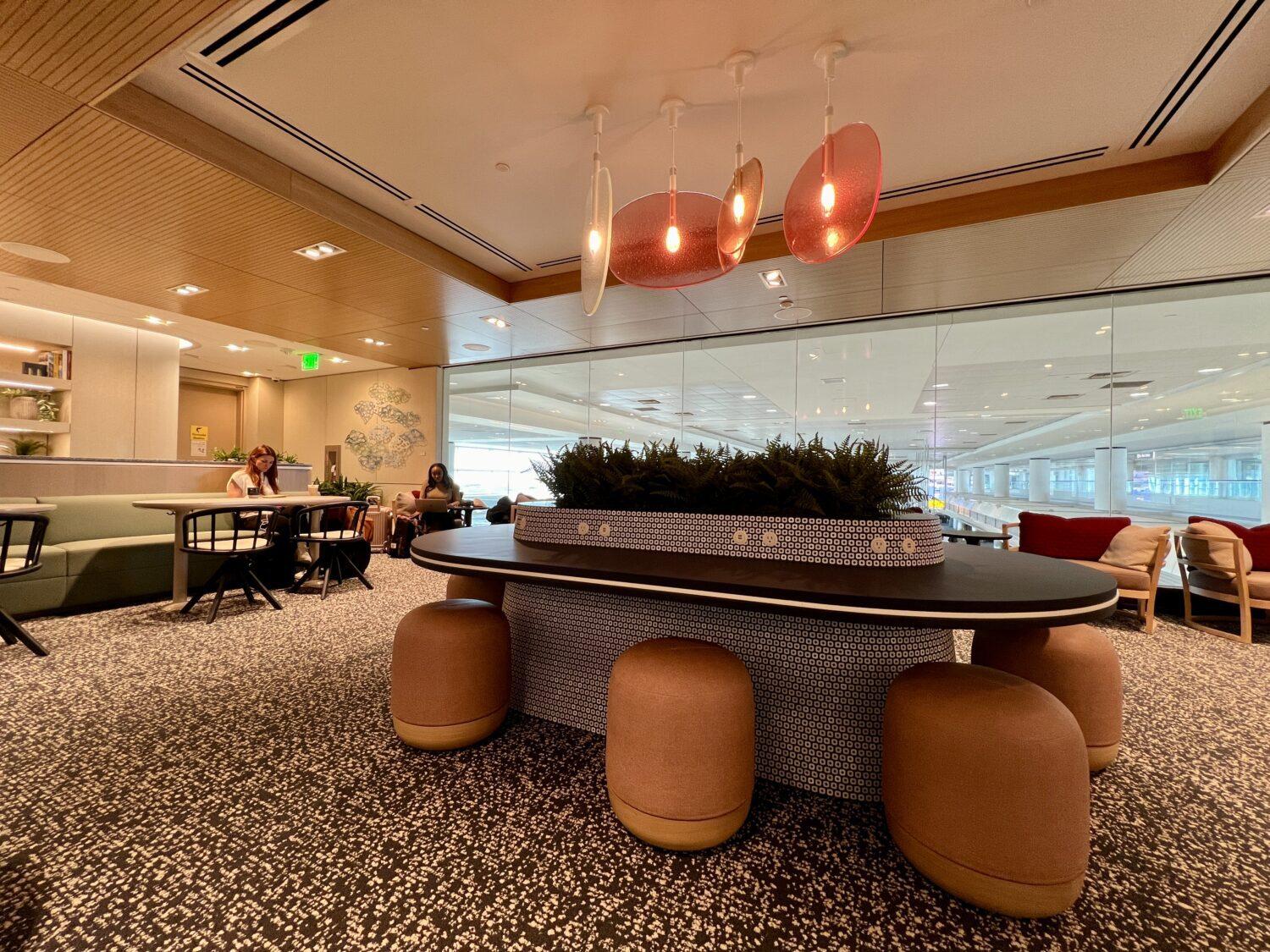 No matter where you sit, there are charging ports within reach of practically every seat in the place. Unfortunately, Capital One didn't go with the fast-charging USB-C outlets.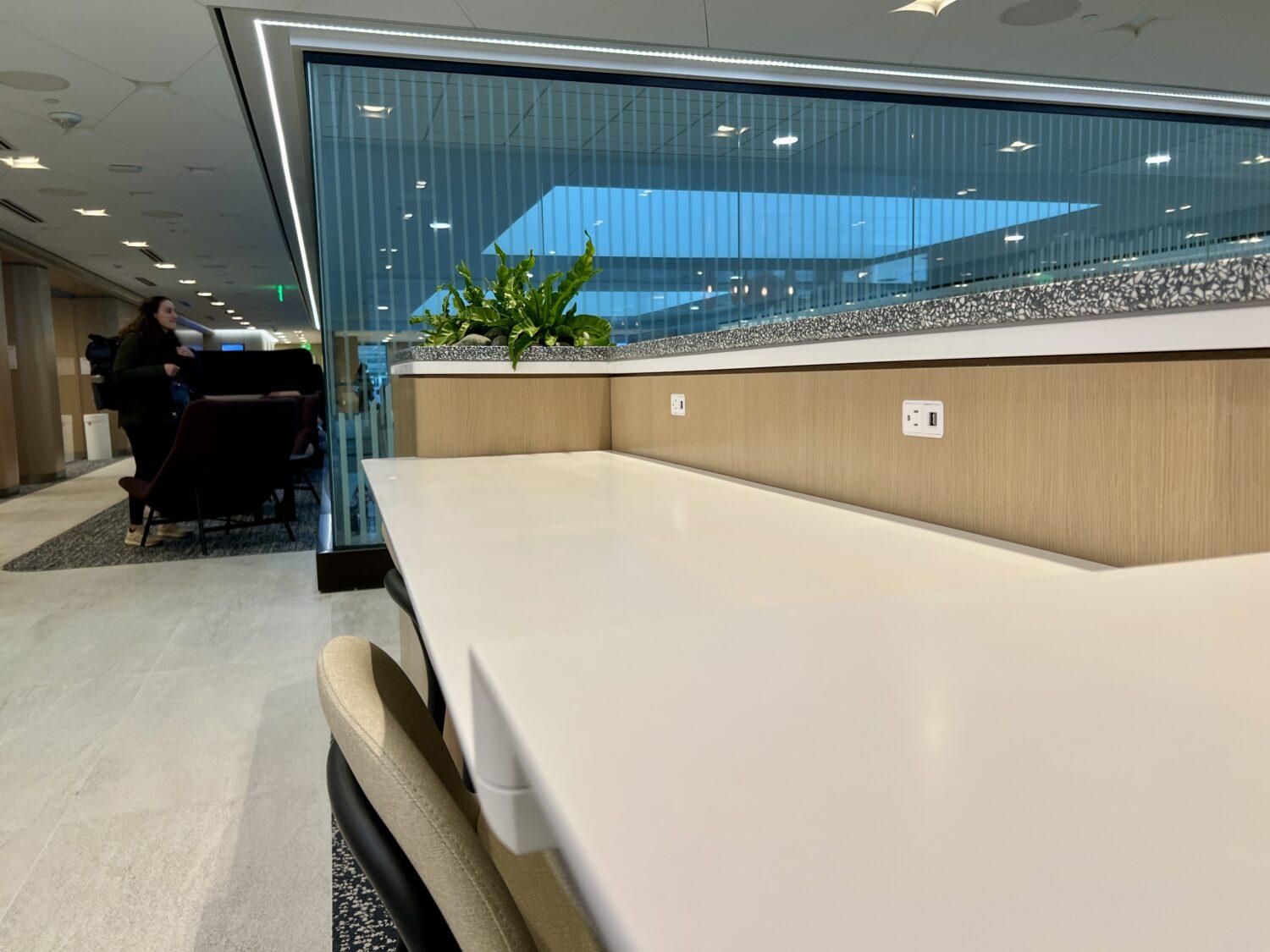 This is also where you'll find the wing of restrooms, and here's where Capital One learned from its mistakes at its other lounges … I hope. Rather than big, communal restrooms, Capital One has opted for installing several private restrooms. And with just four in both Dallas and Dulles, you'll regularly face a line to take care of your business.
In Denver, they've got six of these private restrooms. Whether that's enough to keep up with the number of Venture X Card-wielding travelers in Denver is anyone's guess, but there was always a bathroom open during my visit.
Better yet, they were kept impeccably clean, seemingly tidied up after each and every person used them. And they're sharp-looking spaces, each equipped with its own toilet, sink, and – you guessed it – more artwork.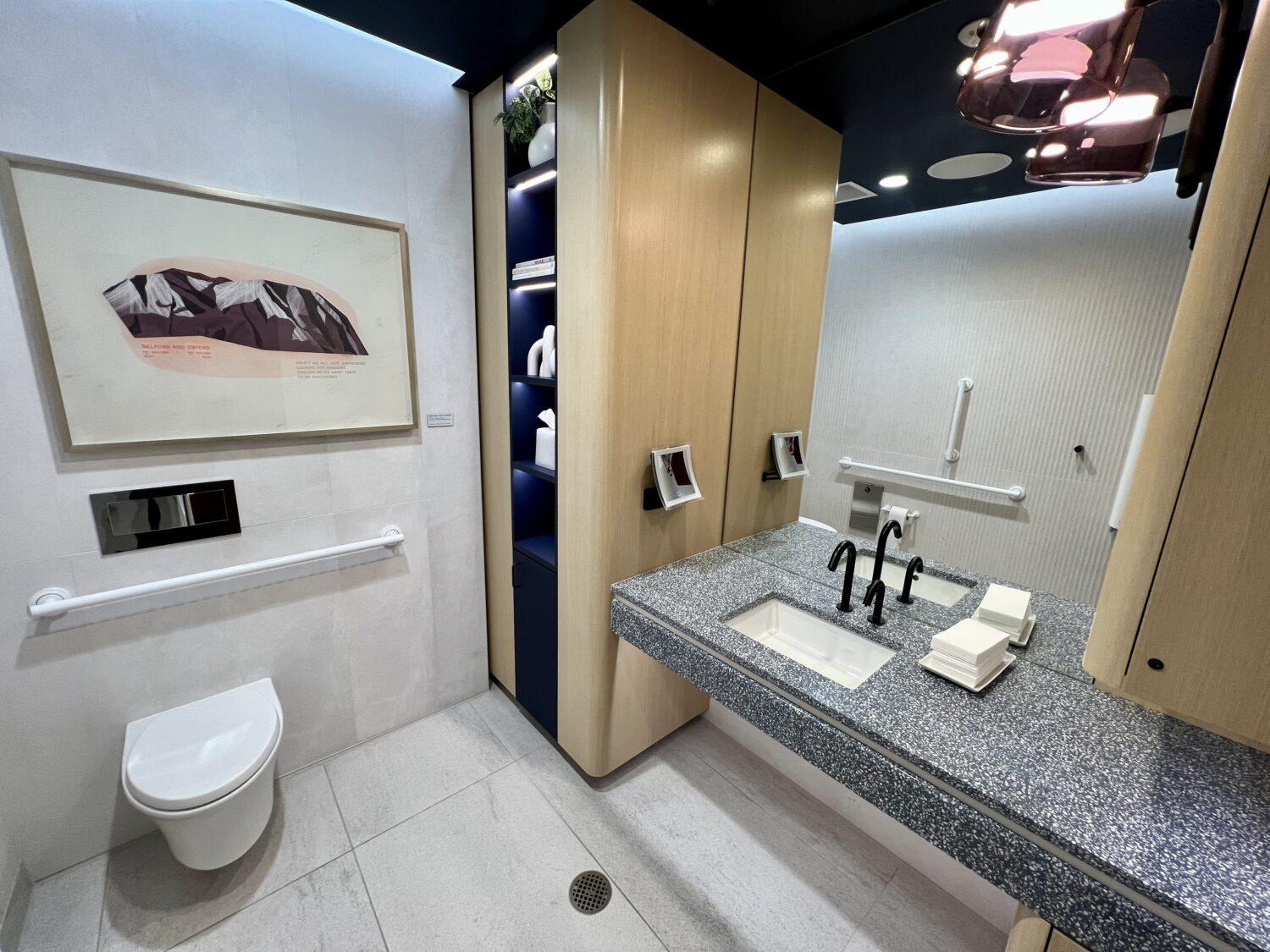 But there's a strange design flaw: Because of the location of a railing behind the toilet, the toilet seat won't stay up. It's an odd flaw in an otherwise great space. And so long as lines don't become an issue, I do love having a private bathroom as opposed to a larger, shared space.
Down this corridor, you'll also find a single, dedicated parents' room outfitted with a changing station and a sink.
Back in the main part of the lounge and turning once again around the corner, there's a neat row of more seating down the corridor, including some cozy, low-slung chairs and high-backed, private armchairs.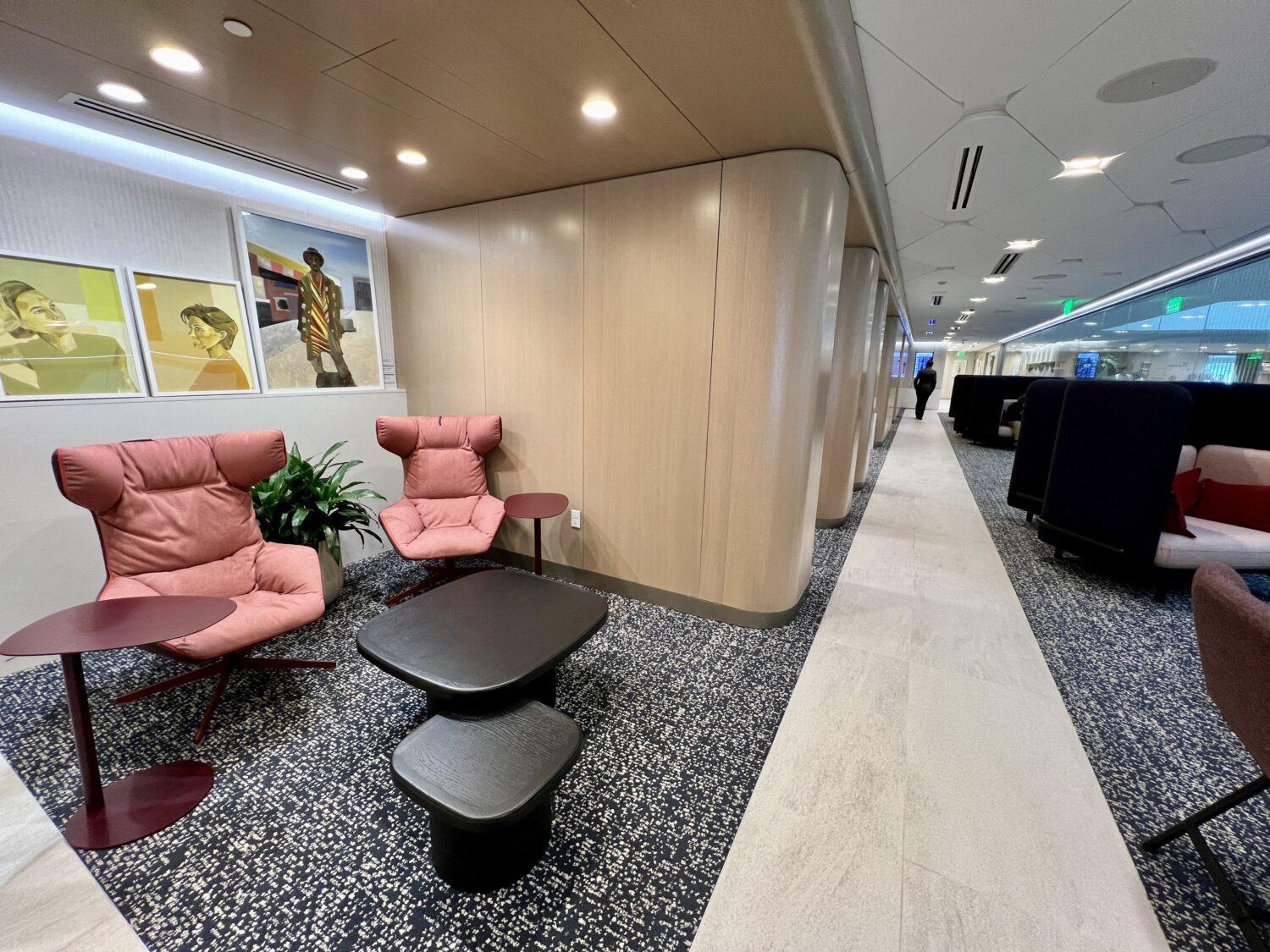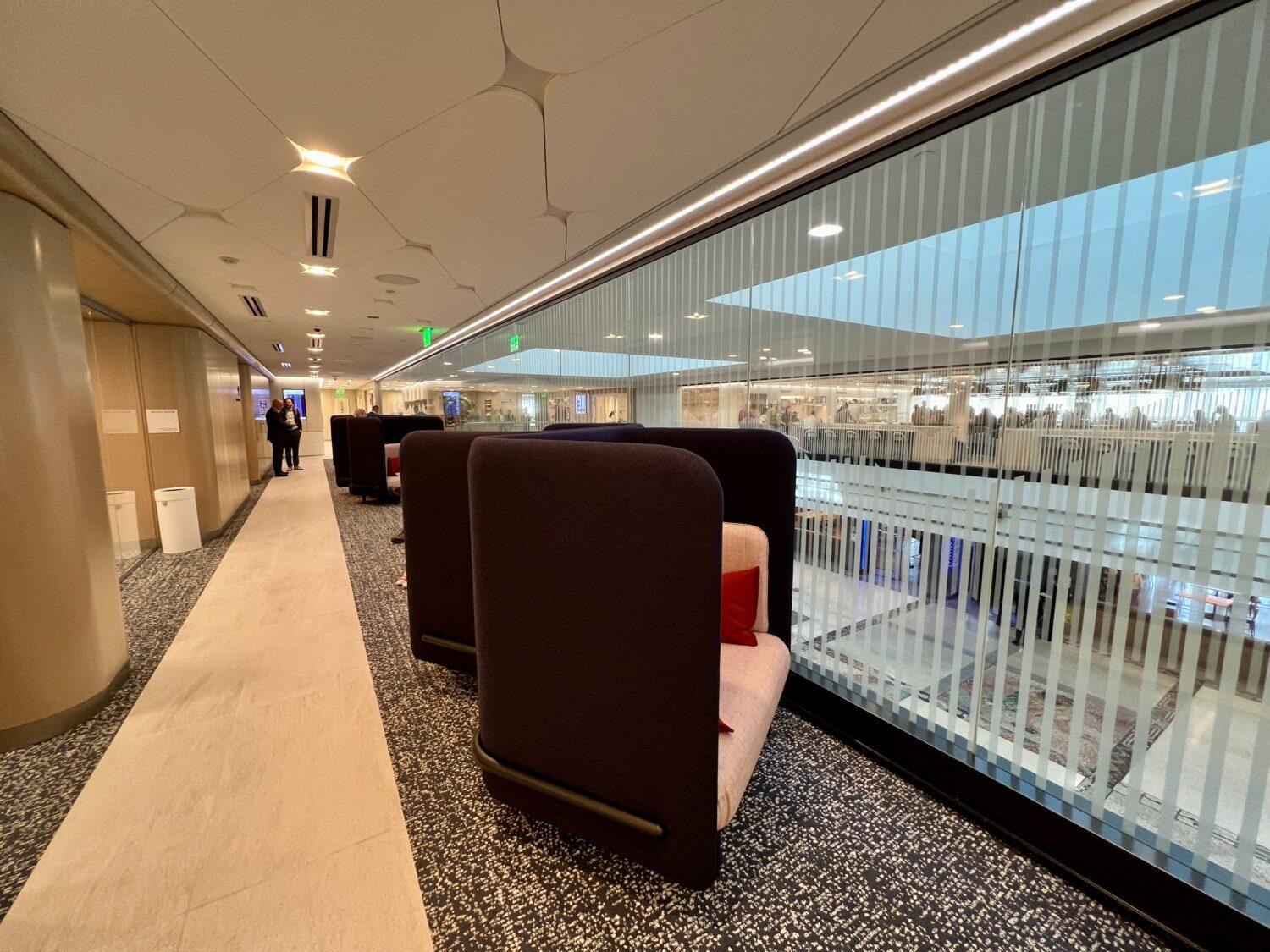 I really love the frosted glass windows: Look closely and you'll see they're decorated with a mountain motif. It's little touches like that – the ones that remind you this isn't just any Capital One Lounge, but the Denver Capital One Lounge – that take a good lounge and make it great.
Along this corridor is where you'll also find many of the lounge's amenities – including some you won't find at any other Capital One Lounge.
Amenities in the Capital One Lounge Denver
To start, there are two private phone booths, which are available on a first-come, first-serve basis. There are signs inside that ask guests to limit themselves to just 20 minutes inside a booth, though I'm not sure how that's policed … if at all.
Just beware: With glass doors, these phone booths are far from soundproof. You can hear your fellow lounge guests from inside these booths – and your fellow lounge guests may be able to hear you, too.
Just down the hall, there are three dedicated private work spaces: Two single desks and one larger space with a table for four or more, if you squeeze in. Each of these workrooms can be reserved at the front desk. They were regularly empty during my stay, so I can't imagine it would be a problem.
Just past that, you'll find a small corridor with relaxation rooms. I didn't get a chance to check these out during my stay, unfortunately. But it's nice to see Capital One carve out some extra space for amenities you won't find in every airport lounge – you'll see one of these in the Dallas Capital One Lounge, too.
These, too, can be reserved at the check-in desk.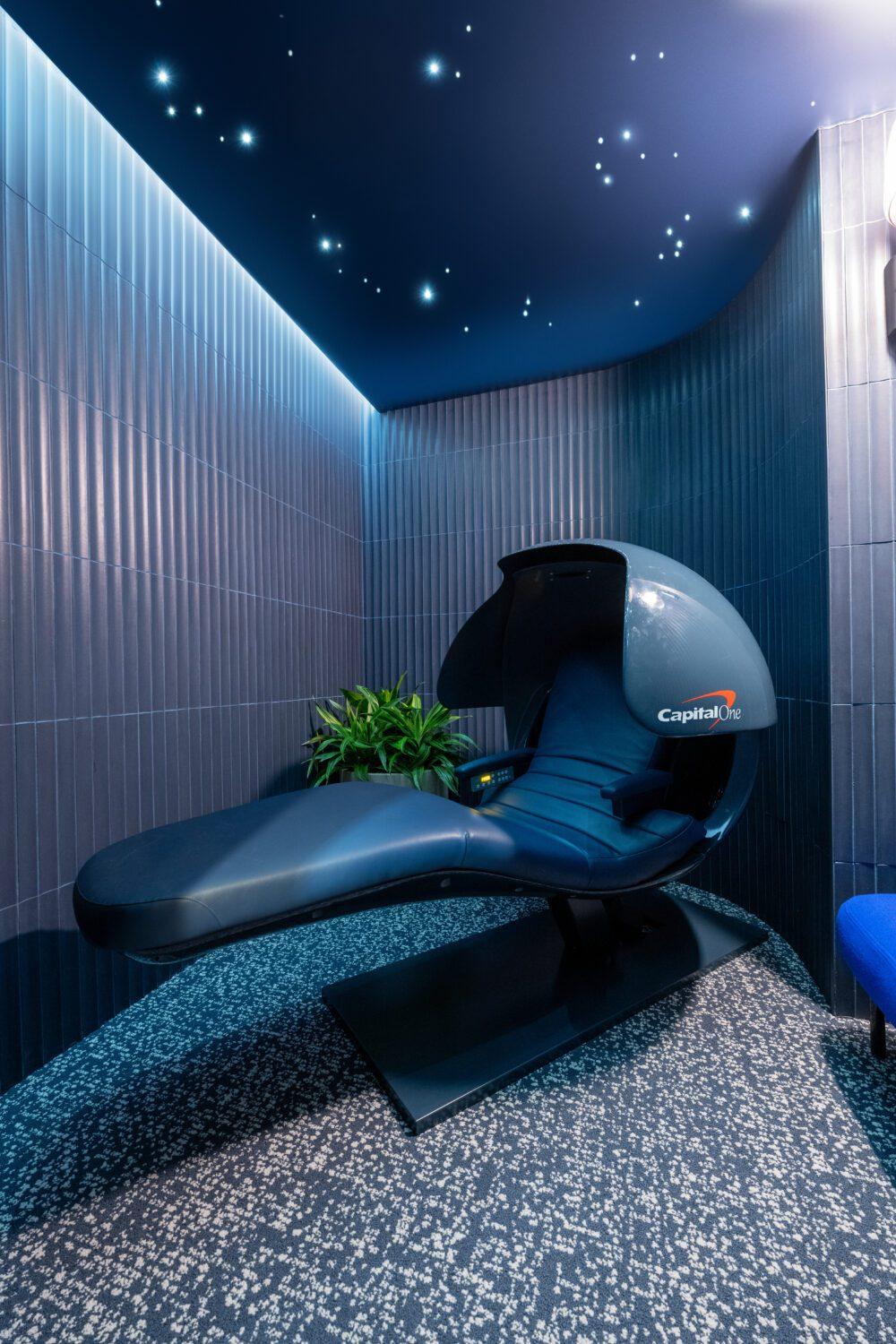 Finally, there are two shower suites you can reserve if you need to freshen up before a flight. I also didn't have time to duck in and check these out, though I imagine they're similar to the shower suite at the lounge in Dallas. Here's a photo of those.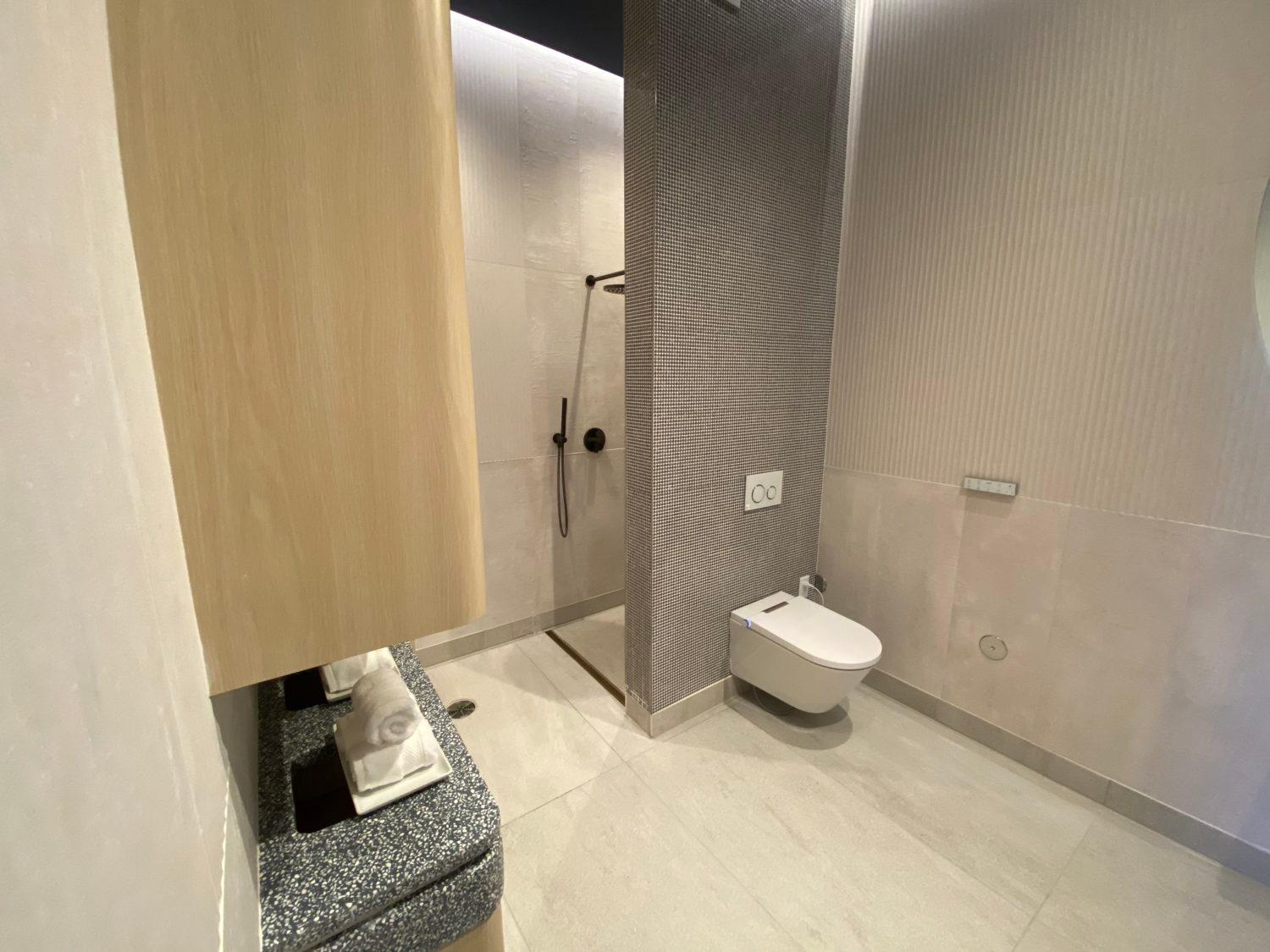 There's a lot of ground to cover in the Capital One Lounge Denver and with how many travelers were there on opening day, a lot of people to please. But lounge staff were up to the task from the start: Lounge attendants were constantly cycling through the lounge to clean up plates, ask how things were going, and offer to bring something else over – always with a smile.
For as busy as the lounge seemed, it felt like Capital One had more than enough staff on hand to keep up. Only time will tell if they cut back on staffing over time. But for now, it's clear Capital One is putting just as much emphasis on having plenty of well-trained employees as the space itself.
 Food & Drink at the Denver Capital One Lounge
What truly sets Capital One Lounges apart even from some of the best lounges in the U.S. – heck, even some business class lounges abroad – is the food and beverages. I'm happy to report that Capital One is still raising the bar in the Mile High City.
Yet again, the dishes and drinks you can get at the Capital One Lounge in Denver simply blow the competition out of the water. American Express Centurion Lounges simply can't compete with the quality (or quantity) of food. Chase is pushing the envelope with a la carte dishes you can order at its first U.S. Chase Sapphire Lounge in Boston (BOS).
But I'd still pick Capital One to stop in for a bite and a sip, every single time. I honestly wonder how the bank can afford all this – it's that good.
You'll find the main food station in the bar area. The Capital One Denver lounge puts out breakfast dishes each morning until 11 a.m., when it switches over to all-day bites.
Take a gander at the full menu.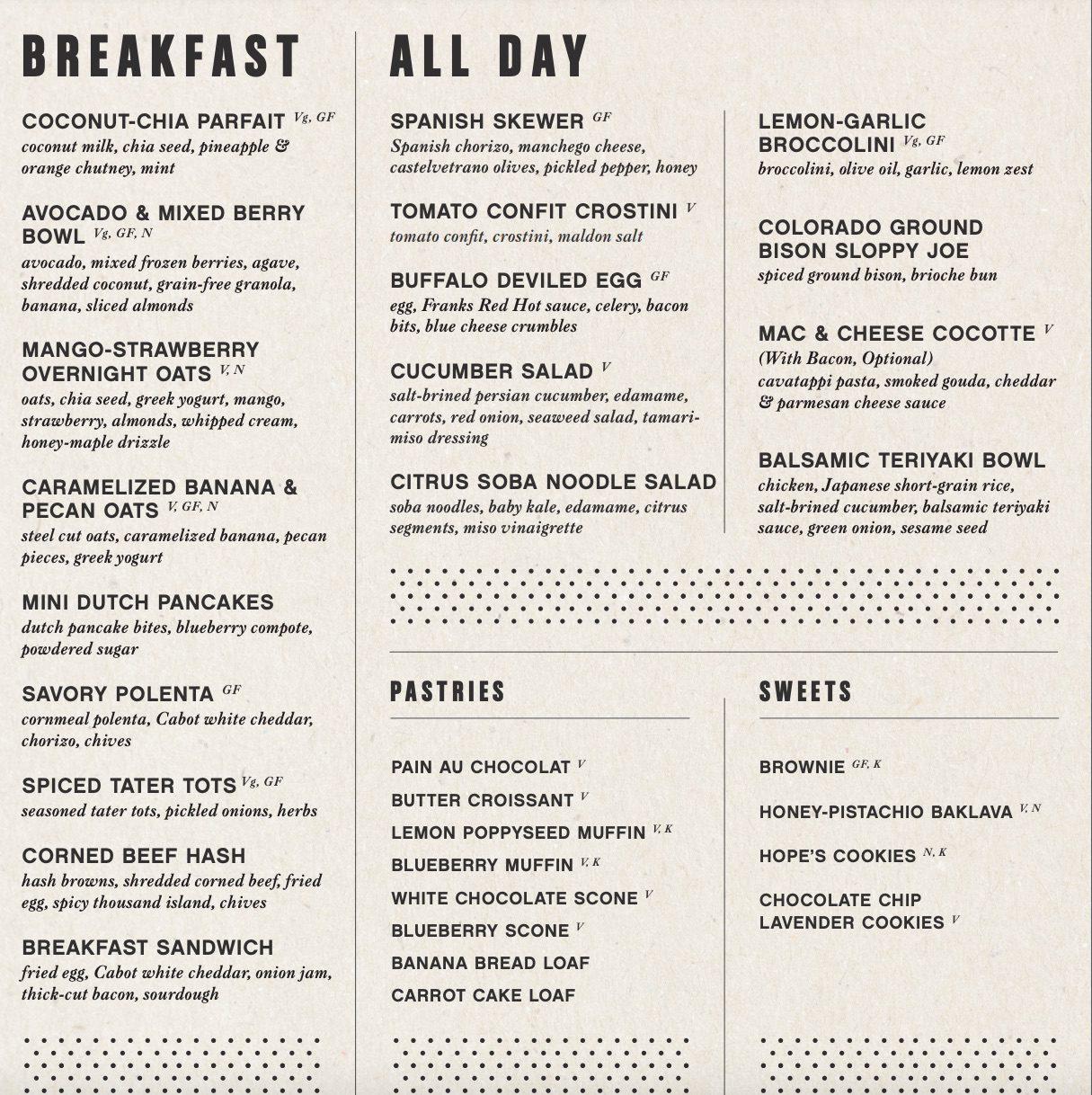 Capital One has decided to skip the messy buffet setup, and it's a wise choice. Instead, they put out single-serve portions, platters, and plates of each dish. There are handy metal trays you can load up with several dishes you want to bring back to your table.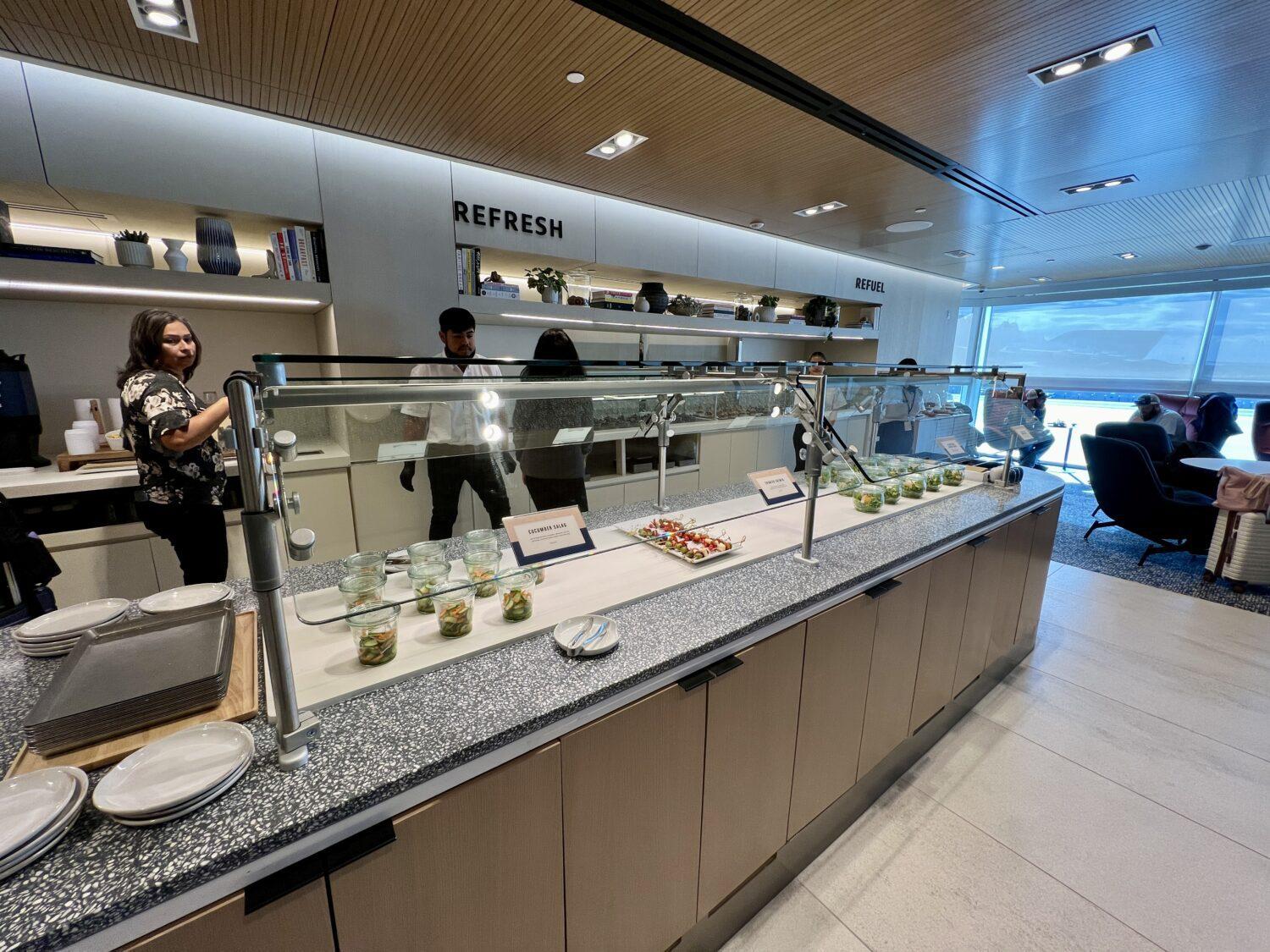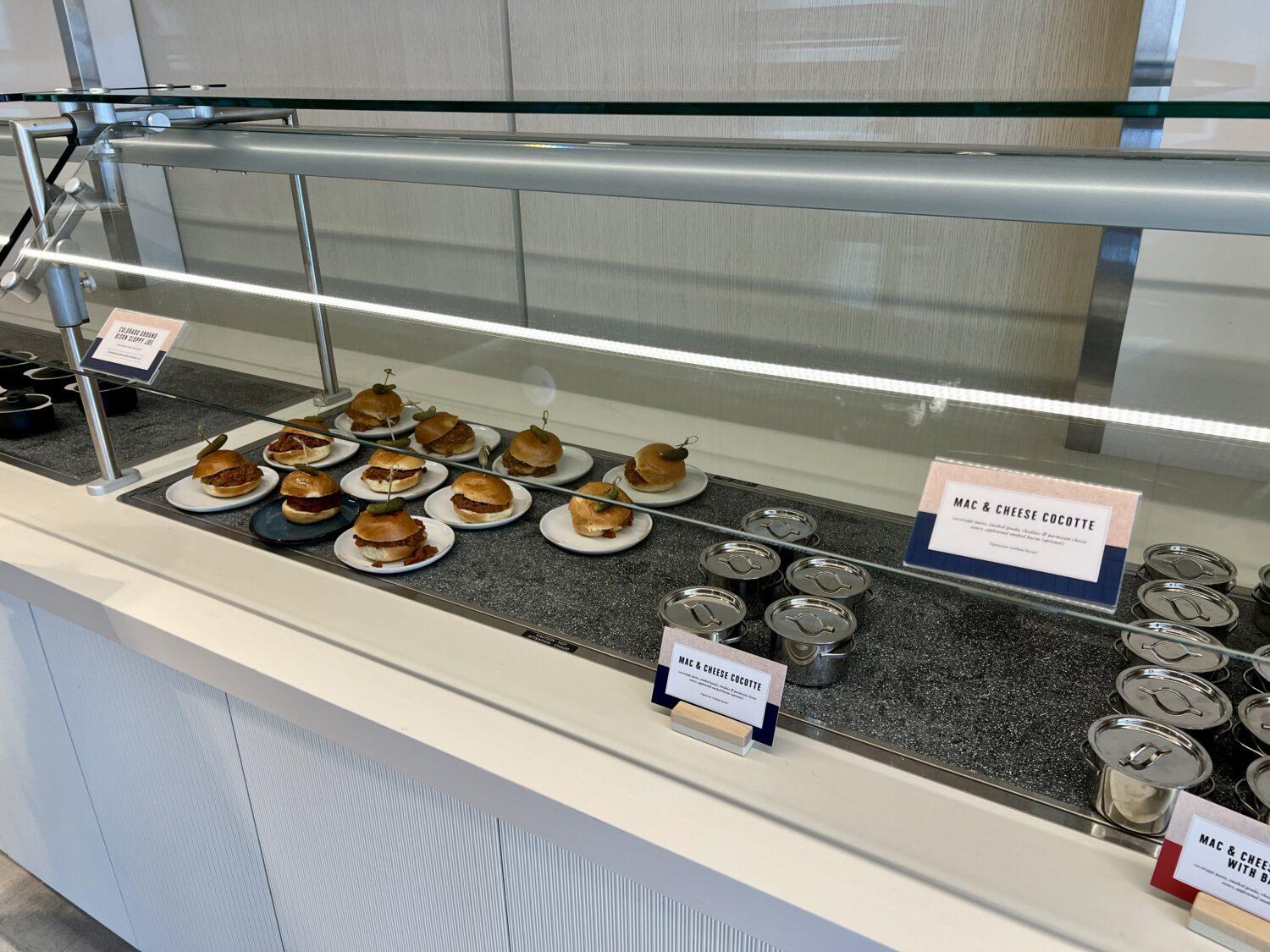 Breakfast was full of hits and maybe one miss. I loved the avocado and mixed berry bowl – think of it as a less-sweet açai bowl. And while the corned beef hash was incredibly flavorful and clearly high-quality, it was also on the cold side, with a picture-perfect fried egg that was actually over-hard and more than a bit rubbery.
But I'm not much of a breakfast person – you should only trust my judgment on lunch and dinner offerings, which Capital One begins serving around 11 a.m. And they were a home run.
The Spanish skewers – which were also out for breakfast – were a perfect bite of crunchy pepper, cheese, sausage, and olive.
There were other menu fixtures like a Capital One favorite, mac and cheese cocotte. But the bank also leaned into the Colorado location with a ground bison sloppy joe, which was equally excellent. You'd be forgiven for thinking the bun was homemade, another clear sign that the company is putting an emphasis on serving quality dishes.
Lounge food tends to be heavy … and not particularly healthy. So I loved that Capital One has incorporated some lighter options like the cucumber salad – another highlight for me, especially with the tamari miso dressing. The citrus soba noodle salad was great, too, though perhaps a bit too light on the soba noodles. And how cute are these glass containers?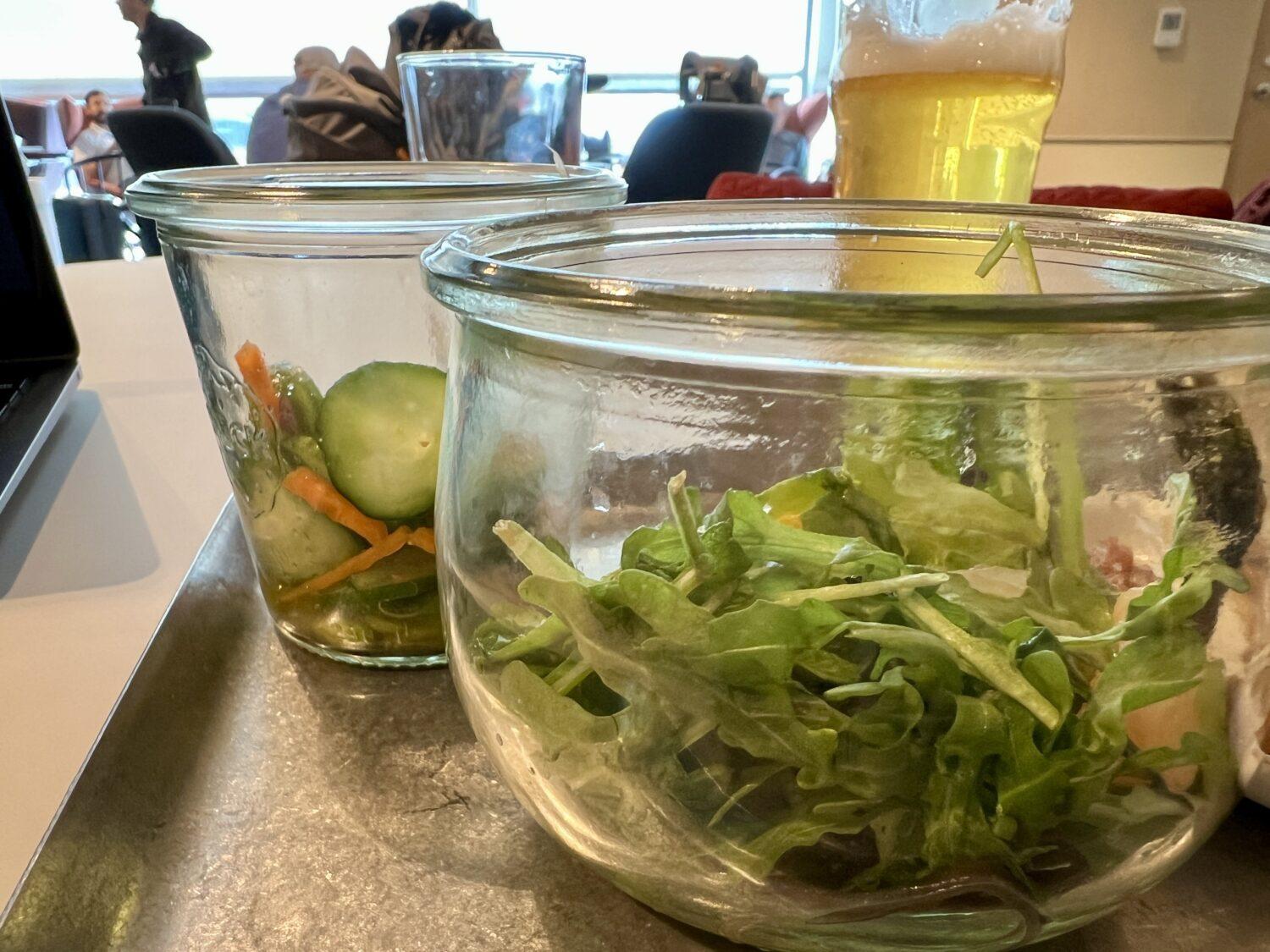 The quality continues at the bar, where Capital One is serving up some top-notch cocktails and brews in partnership with some local bars and breweries.
Check out the full bar menu and see for yourself.
With the dining and bar area packed, bartenders were busy whipping up drinks throughout my stay.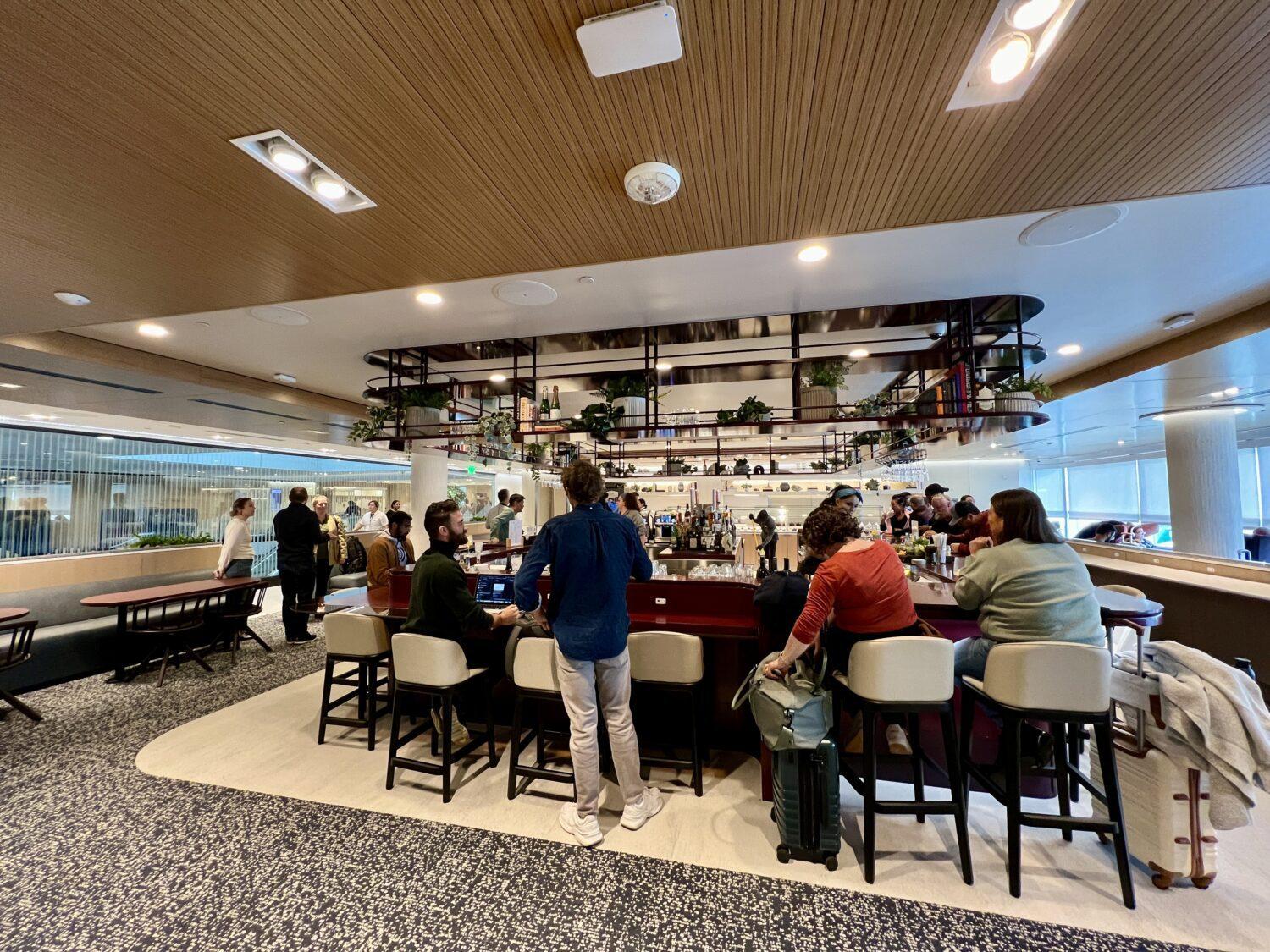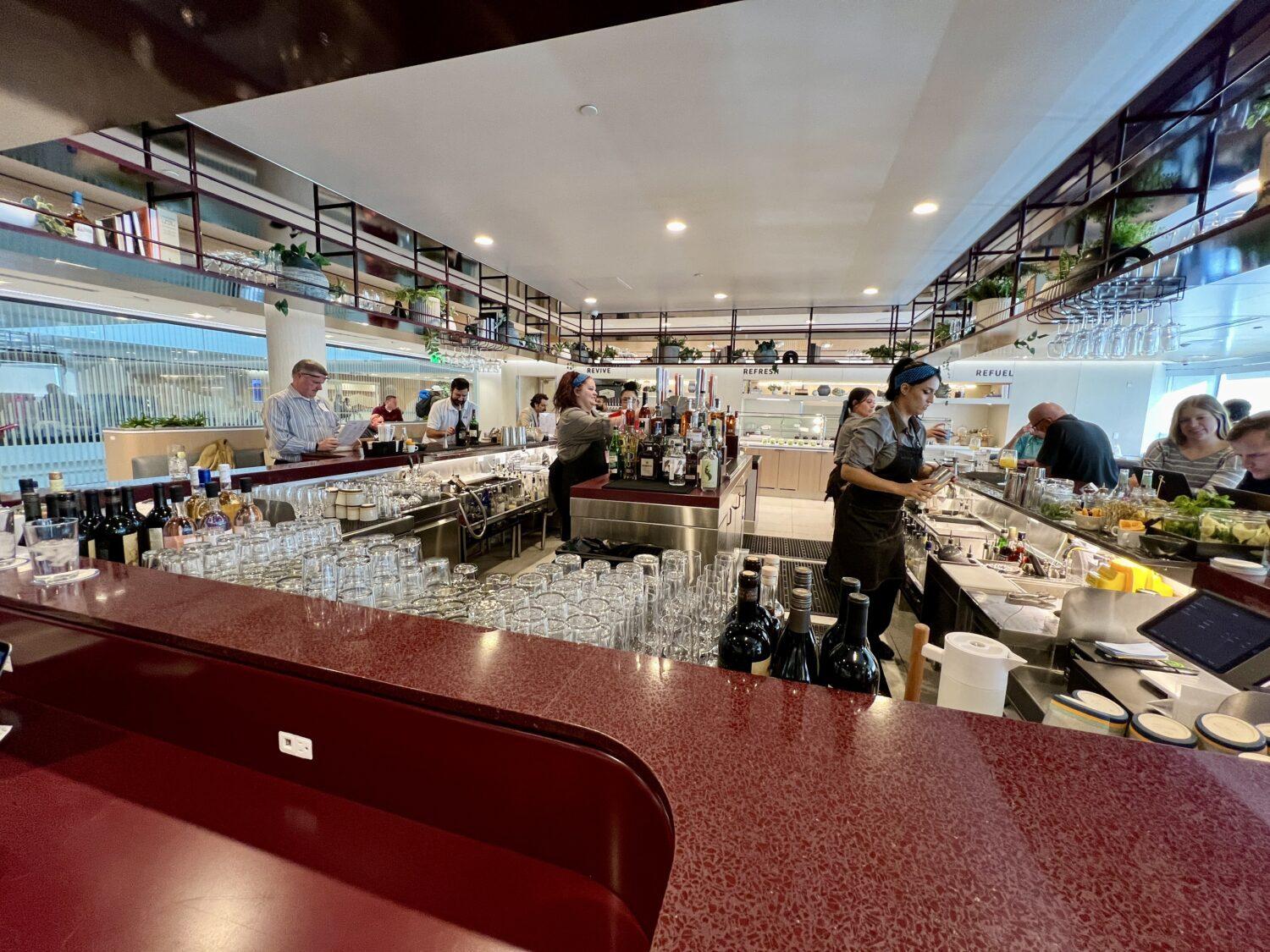 The "Werewolf in London" was excellent, a bourbon-based drink with some pineapple juice, a hint of ginger, and a splash of beer. It's one of several cocktails served in a handmade mug from local Denver shop Fenway Clayworks.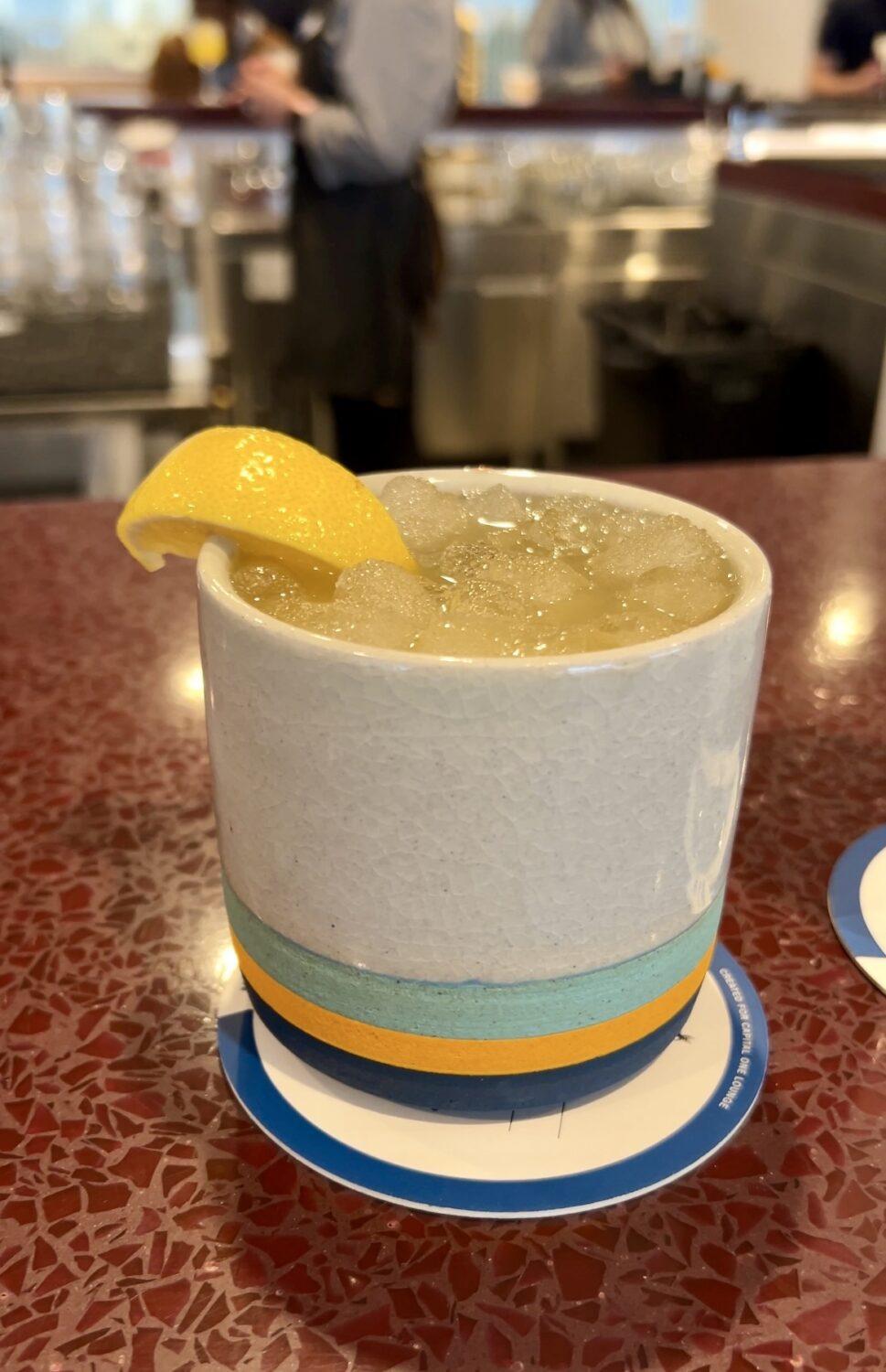 Capital One always partners with a local brewery to brew up a special, lounge-exclusive beer. How could they skip that in Denver, of all places? The result is the "Sky High P.A." from Cerveceria Colorado, a surprisingly refreshing pale ale. There are plenty of other Colorado craft brews to choose from on the menu, too.
But it's not just the boozy drinks where Capital One excels. From non-alcoholic cocktails and beers to handcrafted sodas to coffee drinks, Capital One does better than anyone with a variety of beverages. There's a soda pull near the food station with fun options like black cherry with tarragon and pineapple cream soda.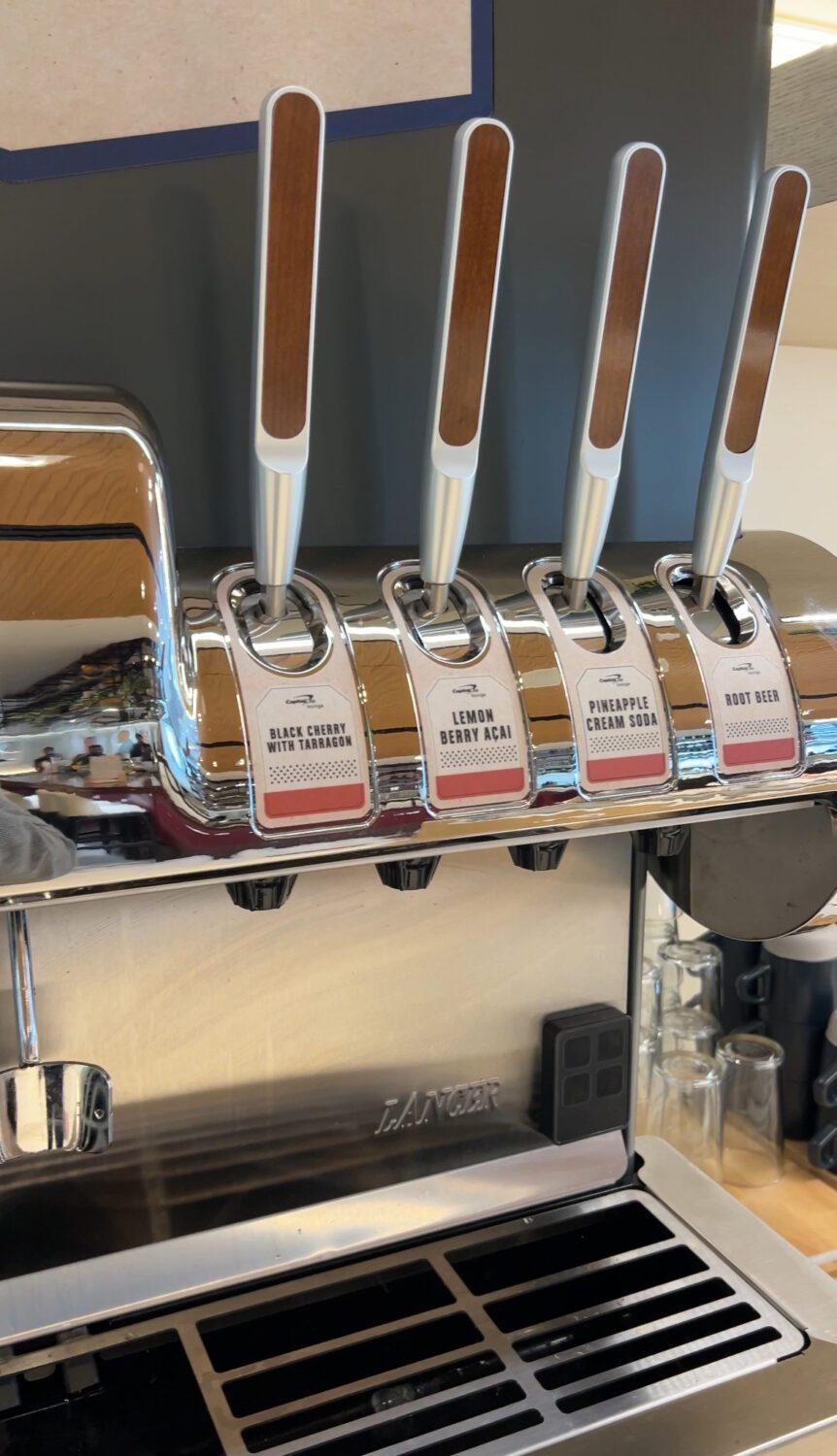 While you won't find a dedicated coffee bar like the fun one at the Dulles Capital One Lounge, there's a big coffee station near the check-in area with drip coffee and novel options like a delicious draft iced latte, chai latte, and cold brew – all from La Colombe.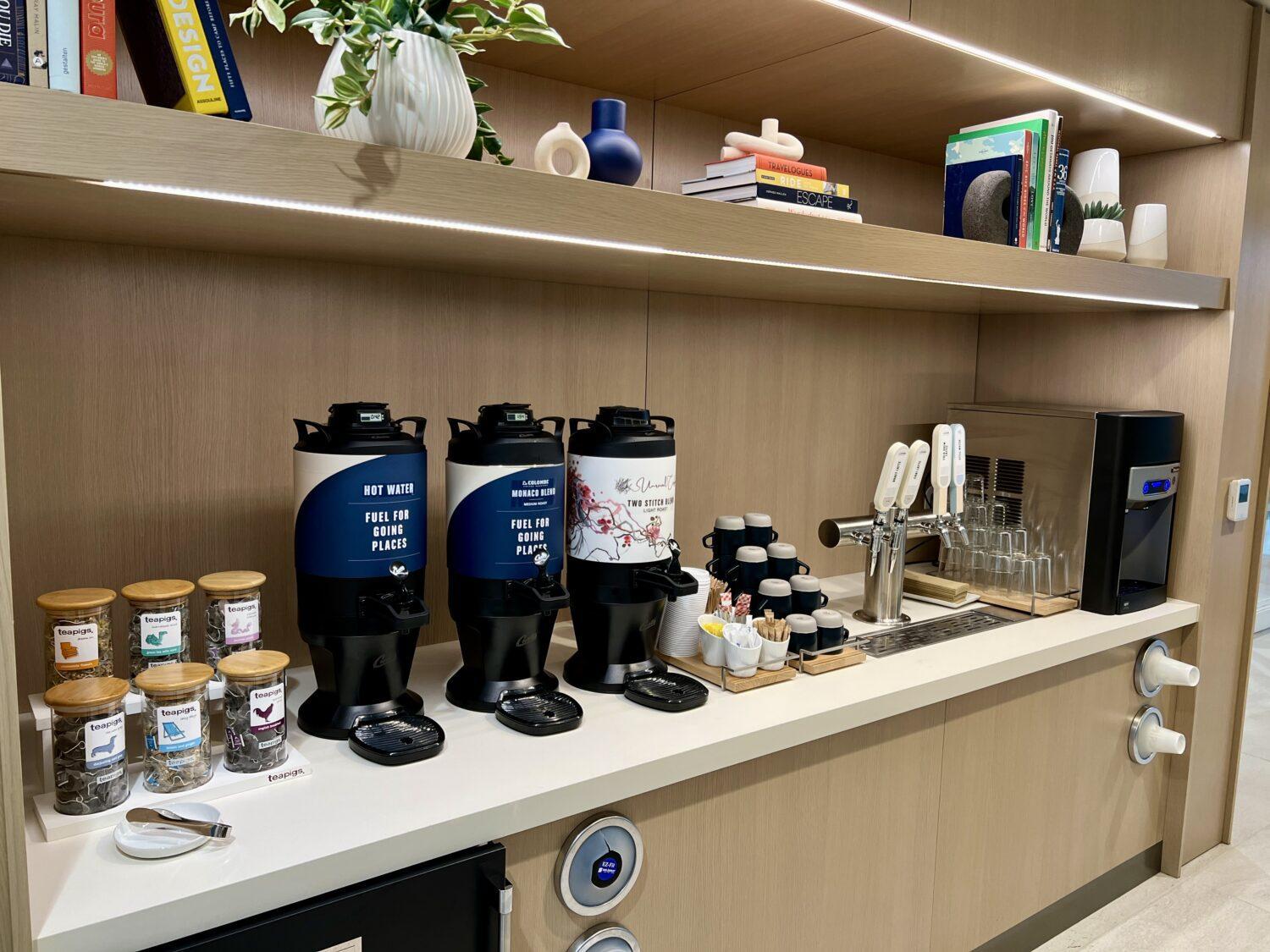 There are several other beverage stations scattered throughout the lounge, too – typically with just water, tea, or coffee.
But Capital One put its game-changing feature right at the entryway: A grab-and-go display full of drinks, sandwiches, salads, and snacks you can snag on your way out of the lounge. While airlines have since copied this approach at their own lounges, it still sets Capital One apart.
There were snack dispensers with trail mix and other goodies on the side of the cooler, which was stocked full. There were sandwiches like a Japanese egg salad, apple and almond butter, vegetable hummus wraps, and several freshly packaged salads, including that delicious cucumber salad available in the dining room.
You can also grab a water – including a can of Bubly – on your way out of the lounge. Agents manning the grab-and-go area gladly offered to bag up anything you wanted to take on the road.
Bottom Line
The Capital One Lounge in Denver is finally open. And travelers departing (or connecting through) Denver are in for a treat.
Looking back, this isn't my favorite Capital One Lounge to date. While it's the largest on paper, the low ceilings and lack of natural light make it feel a bit more cramped than other locations.
But that's more of a reflection of just how high Capital One has set the bar with its lounges. It's still easily one of the best airport lounges in the country.