This past December, my wife and I took our first international long-haul flight with our 1-year-old daughter. Let me just come right out and say it: Long-haul flights with children are not for the faint of heart. It's exhausting but at the end of the day, it's worth it – and you can survive it. It was an experience we will always remember, and be able to tell our daughter about when she is older.
I may not be an expert on traveling with kids just yet, but I picked up a handful of tips that can help you make it unscathed. Here are five things to keep in mind the next time you take a long-haul flight with a young child.
Use Miles for Business Class
Some will argue that kids don't belong in the business class cabin. Ignore them.
There is no better way to make your trip more comfortable – for you and your child – than using miles to splurge for a business class ticket. If you are confident your child can behave and won't disrupt everybody else flying in the front of the plane, this splurge is worth it.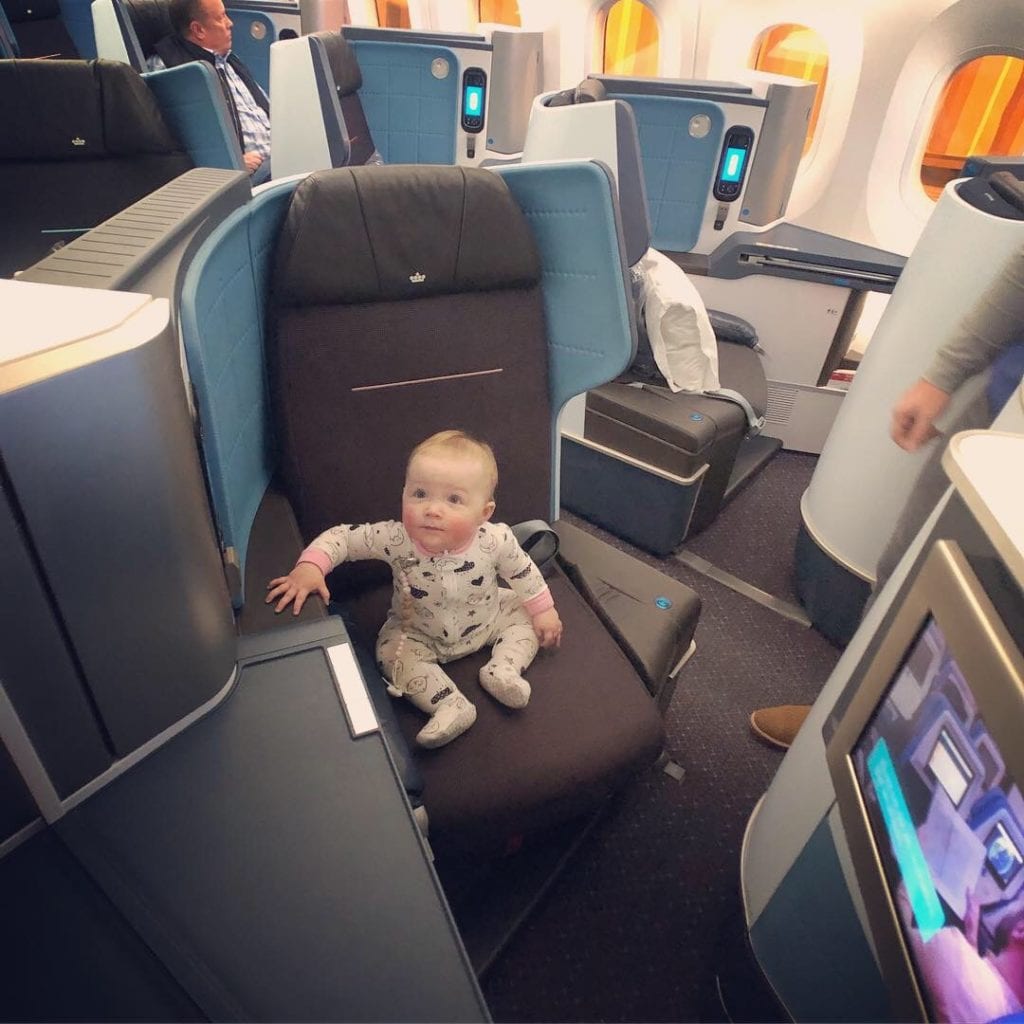 My wife and I used 75,000 Delta SkyMiles each to fly from Minneapolis-St. Paul (MSP) to Vienna, Austria (VIE) with a quick stop in Amsterdam (AMS) on KLM's 787 Dreamliner in business class. Though it varies by airline, most children fly free until they are 2 years old. So it didn't cost us a penny to add her to our tickets.
She didn't have her own seat as the photo above might indicate, but being in the business class cabin gave us so much more space and comfort. I am a big believer that points and miles should be used for experiences you otherwise wouldn't be able to afford. And this certainly fits that bill – for us and our daughter.
Fly During Bedtime
We had a few different flight options that would have worked for our schedule, but we decided to opt for the flight departing at 9:10 p.m. The reason? This is roughly two hours after our daughter's normal bedtime, and we were confident she would go right to sleep after we boarded and got settled.
And luckily, we were right. We were seated in the bulkhead row, which has an infant bed built into the top. Before we even took off, she was sound asleep. While this might not work for all kids, it certainly worked for us. Being in business class didn't hurt, either.
Thrifty Tip: Contact your airline to see if you can snag a bulkhead seat, with dedicated space for your child to sleep in a bassinet.
Check Your Luggage
We always advocate to stick to carry-ons when it comes to your luggage. But with infant children, checking luggage is a must. You don't want to be dealing with multiple bags, the stroller, any personal items you want on the plane, and your child. Checking luggage will be your friend when traveling with an infant. Especially if you have more than one stop.
If you are flying in business class, you will get free checked bags. If not, free checked luggage is one of the best benefits of holding a co-branded airline credit card. In fact, many airlines, including Delta, don't even require you to purchase your airfare with the card to get the benefit. The benefit is simply attached to your frequent flyer account.
You Don't Need as Many Toys as You Think
We prepared for the worst.
We hadn't taken a long-haul flight with our daughter previously, so we assumed that we needed to bring a ton of toys to keep her entertained in the cabin. We both stuffed our personal items full of toys for her to play with on the flight.
But as a true avgeek, she was more entertained by the new environment of the airplane than she was by any of the toys we brought along. She played with the dinner menus, puke bags, touchscreen in-flight entertainment devices, and our headphones.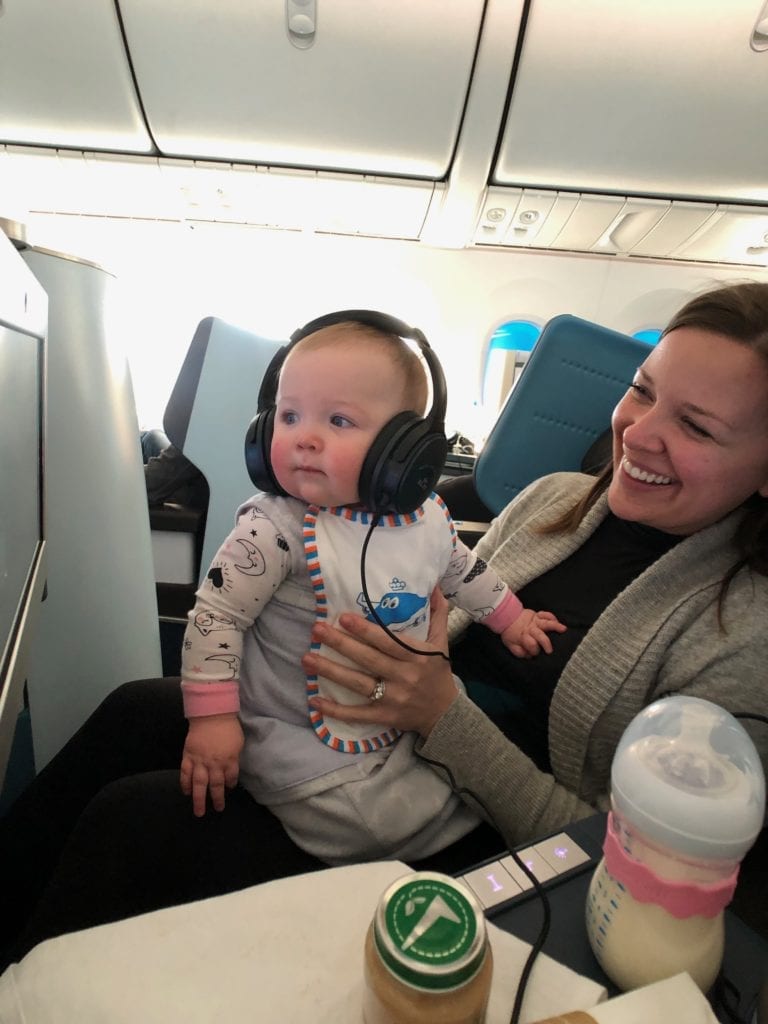 We likely could have brought half as many toys as we did. While it was nice to have them at the Airbnb's during our trip, it wasn't necessary to have them for the actual flight and we could have put them in our checked luggage.
People Are Willing to Help
One of the biggest surprises we had during our journey was how helpful everybody was when they realized we were flying with an infant. The flight attendants on board our KLM flight were fantastic and incredibly accommodating. They always made sure we had everything we needed and were more than happy to help when we didn't.
On top of that, other people in the airport, at the gate, and on our flight were so willing to offer help. I was pleasantly surprised – it's something I never would have thought about before having a child of my own. Most alluded to the fact that they also had kids and knew what we were going through.
While both my wife and I were traveling with our daughter, it gave us a bit of hope that it would be possible to go it alone with the help of friendly strangers if necessary.
Bottom Line
I am not going to sugarcoat it: Traveling with an infant can be exhausting, and far more work than traveling solo. Whether you are flying in a business class cabin or back in economy, be prepared for an experience. Ours was mostly smooth and the memories and pictures we took made the experience all worth it.
The next time you are taking a long-haul flight with infant children, keep these five tips in mind to make your experience better and more enjoyable.