Prepare to overdose on Hello Kitty.
EVA Air is a relatively small Taiwanese airline with big accolades and an even bigger reputation among the frequent flyer crowd. However, it's perhaps best known for the EVA Air Hello Kitty flights. There's the special Kitty-themed livery on the outside and tons of Hello Kitty amenities and art inside the cabin.
Full disclosure: My wife and I are not Hello Kitty fans in the least, and we never intended to go Hello Kitty crazy for our honeymoon. When I booked this flight from Chicago-O'Hare (ORD) to Taipei (TPE), EVA's schedule showed it would return to a normal EVA plane. Lo and behold, that schedule changed. Fifteen hours of EVA Air Hello Kitty, here we come.
As the flight drew nearer, I started to approach it with a morbid curiosity. Kind of like when you were a kid and you knew you shouldn't stick your finger in an outlet, but you did it anyway.
…What was I saying? Oh yeah, we wanted to give readers a taste of the crazy awesomeness of these Hello Kitty flights, ranking all the elements of this flight by their respective Hello Kitty-ness. Otherwise, read our full review of this amazing (and amazingly strange) flight. 
Boarding Pass
The Hello Kitty deluge starts early, and it doesn't let up. Hello Kitty and friends greet you as soon as you're handed your boarding pass. And if you're wondering, of course, I saved this.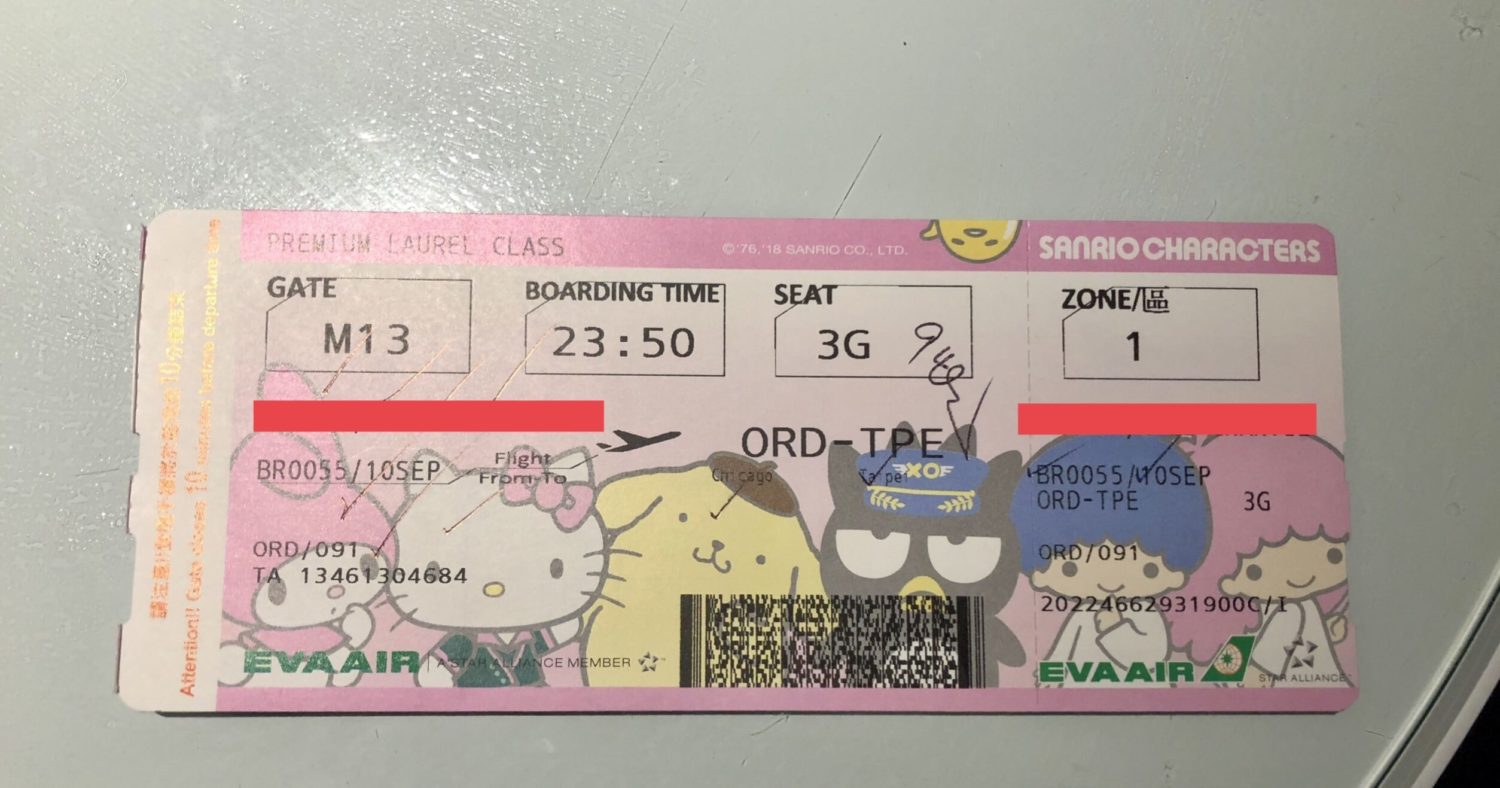 It really sets the tone for the whole flight. And for that, it gets high marks on the Kitty scale.

The EVA Air Hello Kitty Plane
EVA flies Boeing 777s across the Pacific. But three of the airline's five weekly flights out of ORD are special: It's on the Hello Kitty Shining Star jet. This same plane also flies between TPE and Singapore (SIN).
I'd give the plane higher marks if the airline's other wide-body Hello Kitty jet, dubbed the "Hello Kitty Hand in Hand" jet, wasn't so adorable.
The Hand in Hand jet flies between TPE and Los Angeles (LAX). EVA also operates a handful of other Hello Kitty-branded planes on shorter flights within Asia, including some Airbus A330s and A321s.
Cabin Art
The Hello Kitty commitment continues as soon as you walk into the cabin, with this bulkhead art. Oh, and just in case you miss it, there's a spotlight on it.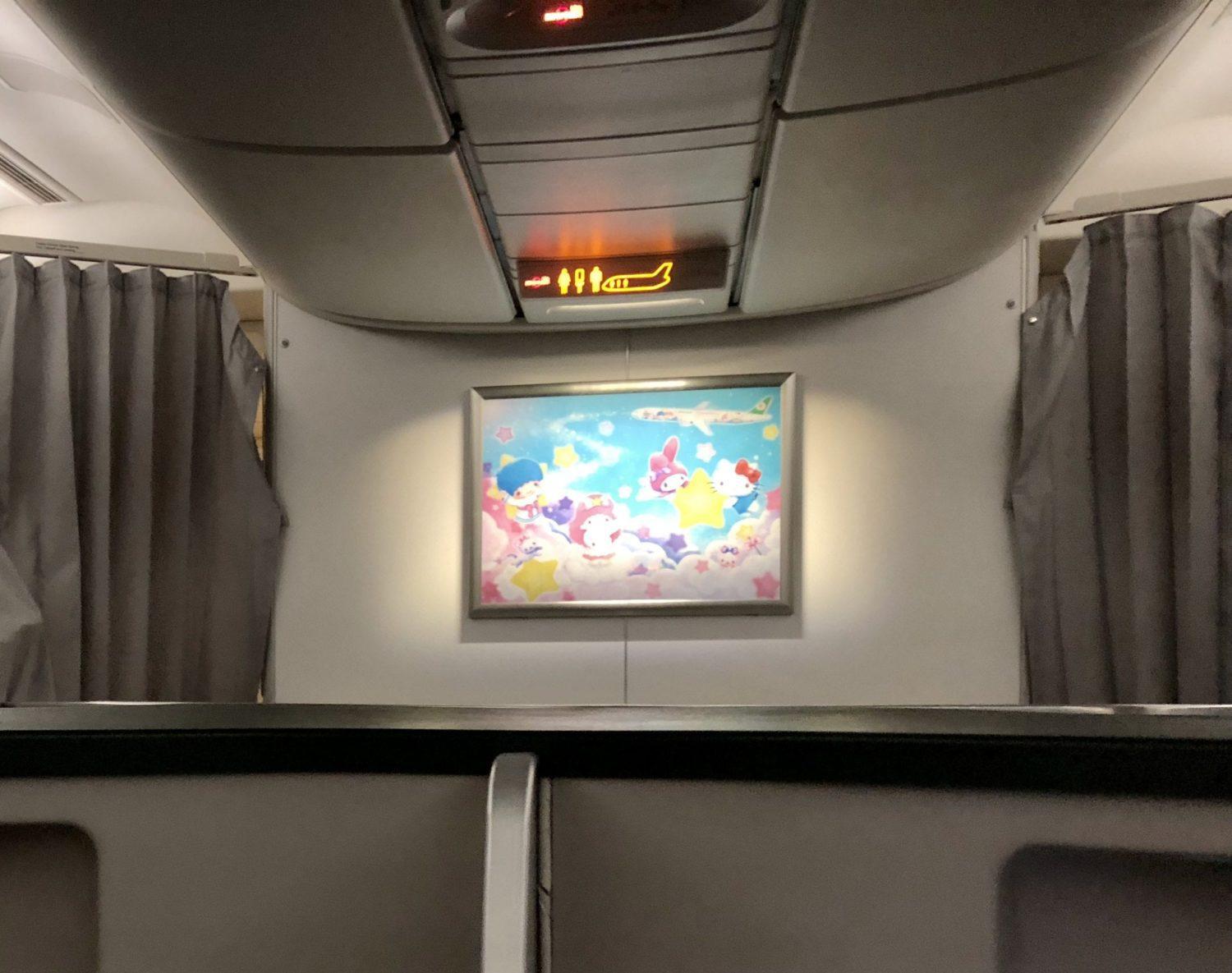 In-Flight Entertainment
Did you think this flight would let you forget where you were when you look at the TV screen? Please.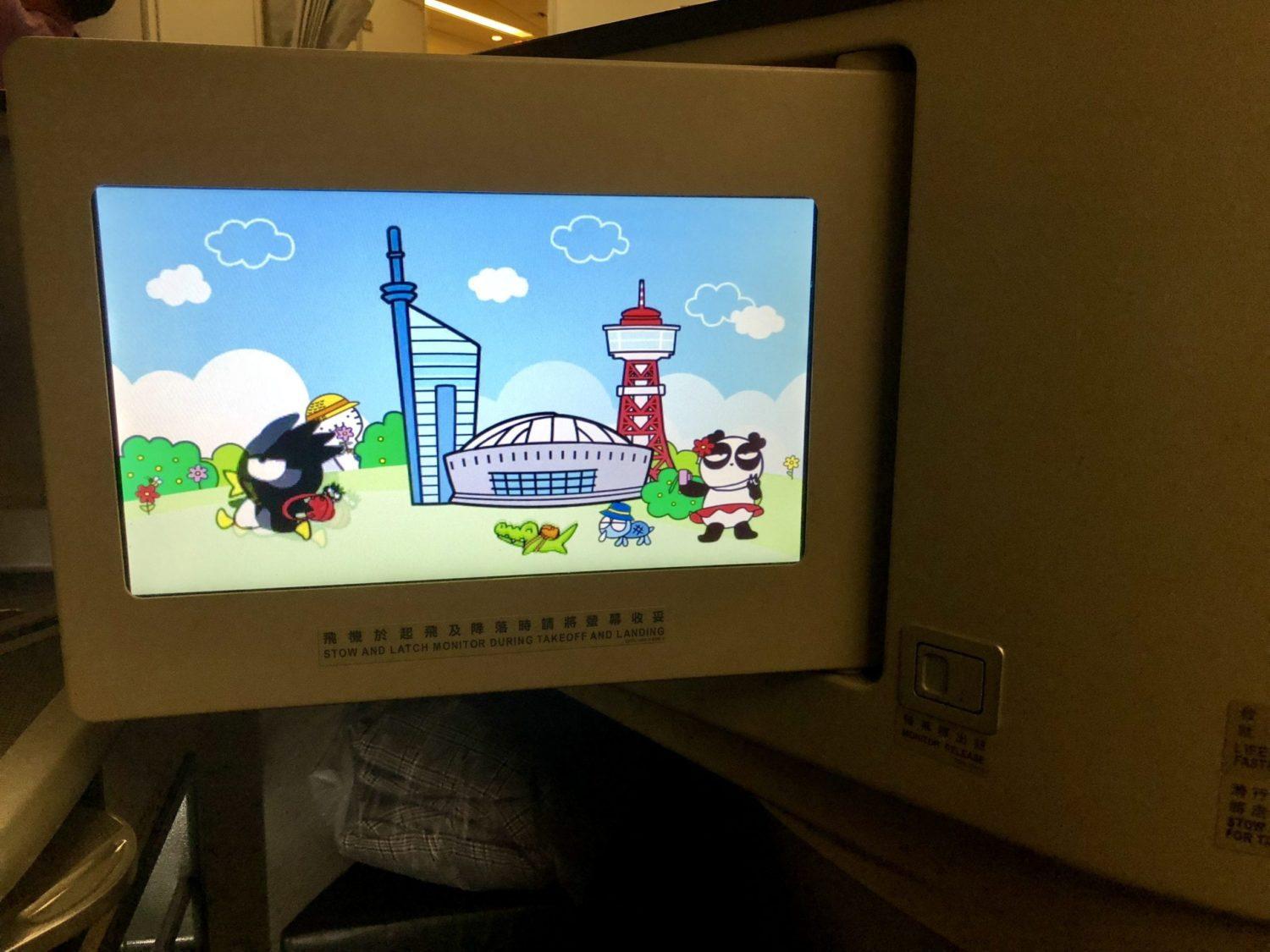 Rather than some bland music or ads, a Hello Kitty animation played on-screen during boarding. You can't escape it. Sadly, I didn't think to check if there was any Hello Kitty entertainment options onboard.

Pillow
Let Hello Kitty lull you to sleep. It won't be hard. 
Up in EVA's Royal Laurel Class, you get a great, plush pillow to sleep on. This wasn't the flimsy, thin pillow you might be used to in economy or other business class products. And of course, it's got a special pillow cover.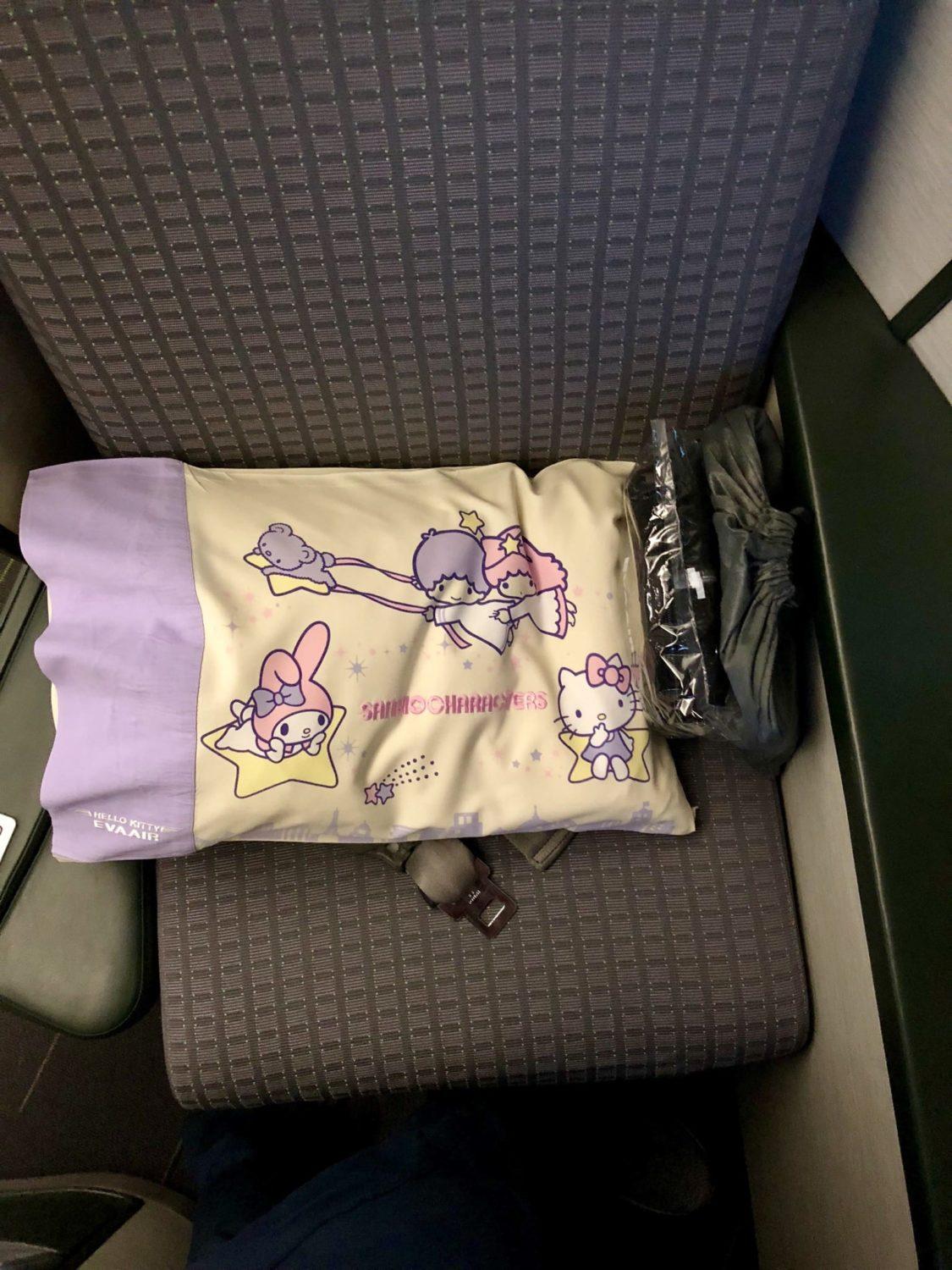 Menu
Are you getting sick of Hello Kitty yet? No? OK then here's the menu.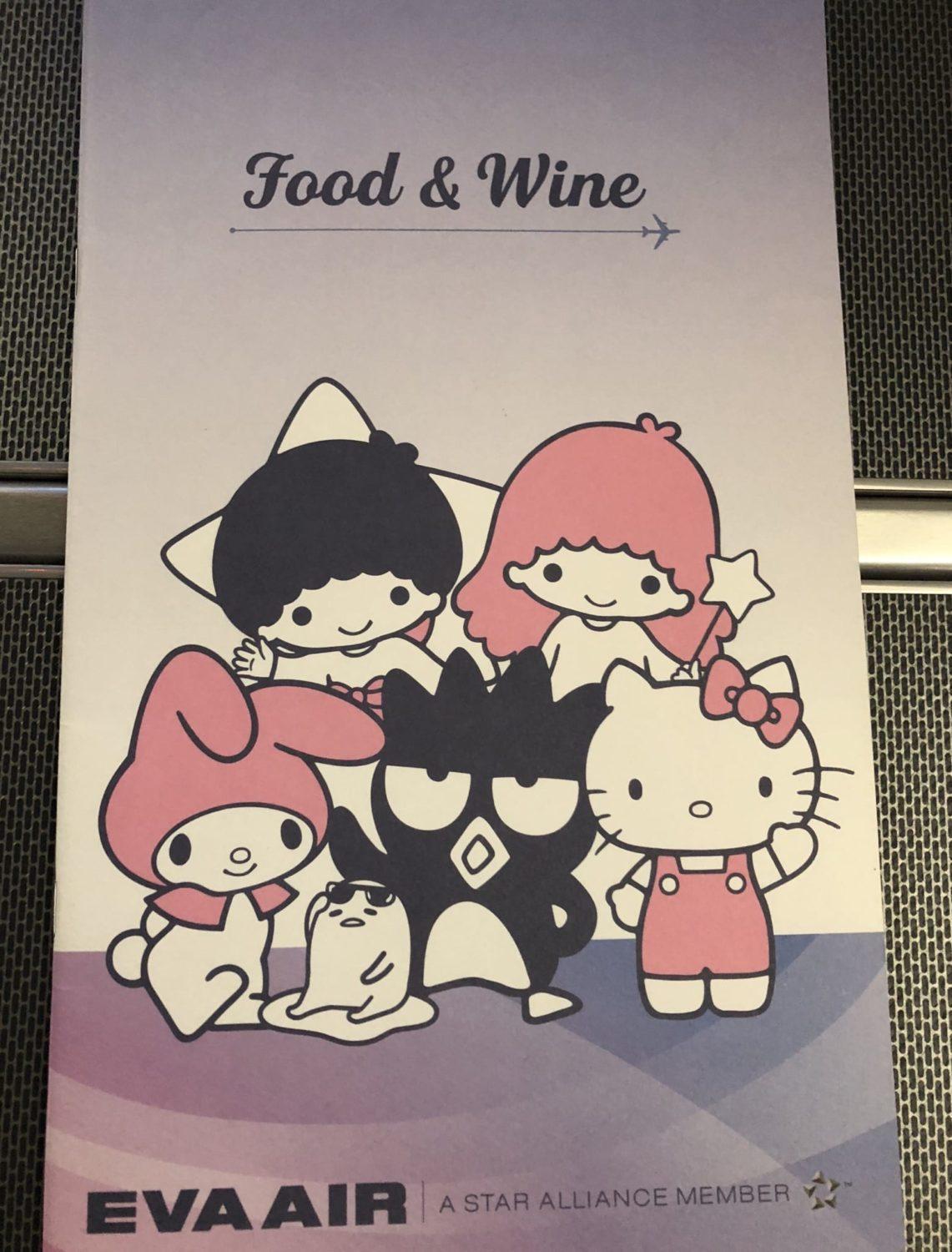 EVA's food is top-notch. Every meal and snack I ate on board was delicious and well done. But this isn't a review. So it's important that you know that Hello Kitty will walk you through your options.

Amenity Kit
The amenity kit is waiting at your seat. But shockingly, there's not a hint of Hello Kitty to it, from the kit itself to its (admittedly stellar) contents.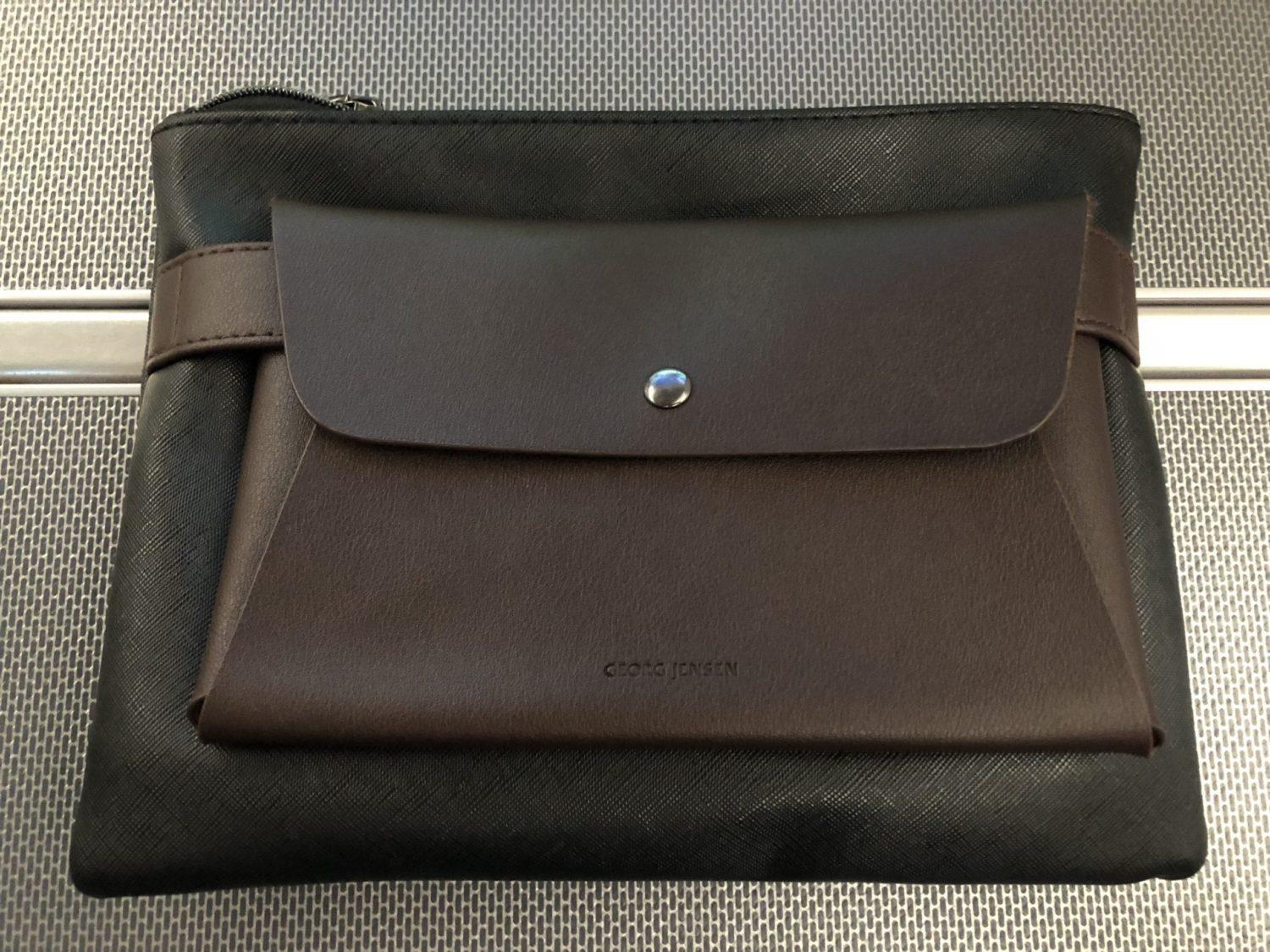 I'm sure EVA takes what it gets from Georg Jensen, the Danish luxury brand that provides these kits on flights heading to EVA's TPE hub. Still, a letdown (Kitty-wise).

Pajamas
First things first: EVA deserves some massive credit for giving pajamas to its business class passengers. And these jammies, by London fashion house Apujan, are great. The design is chic and the fabric is comfortable.  It's one of many ways in which EVA's Royal Laurel is a hybrid between first and business class.
Sadly, Hello Kitty is nowhere to be found on these pajamas, the same set they hand out on every flight. I'm guessing they figured the take-home appeal of a set of PJs covered in Hello Kitty's face would probably be limited to 12-year-old girls. And for the record, there were no 12-year-old girls in business class on our flight.
And while that makes them re-wearable at home or on other flights, it earns them poor marks on the Hello Kitty scale.

Slippers
EVA redeems itself on the Hello Kitty front with their slippers. They're comfortable, sturdy and, yes, they feature Hello Kitty. So does the bag they come in!

Napkins
Because of course there are Hello Kitty-themed cocktail napkins. How wouldn't there be?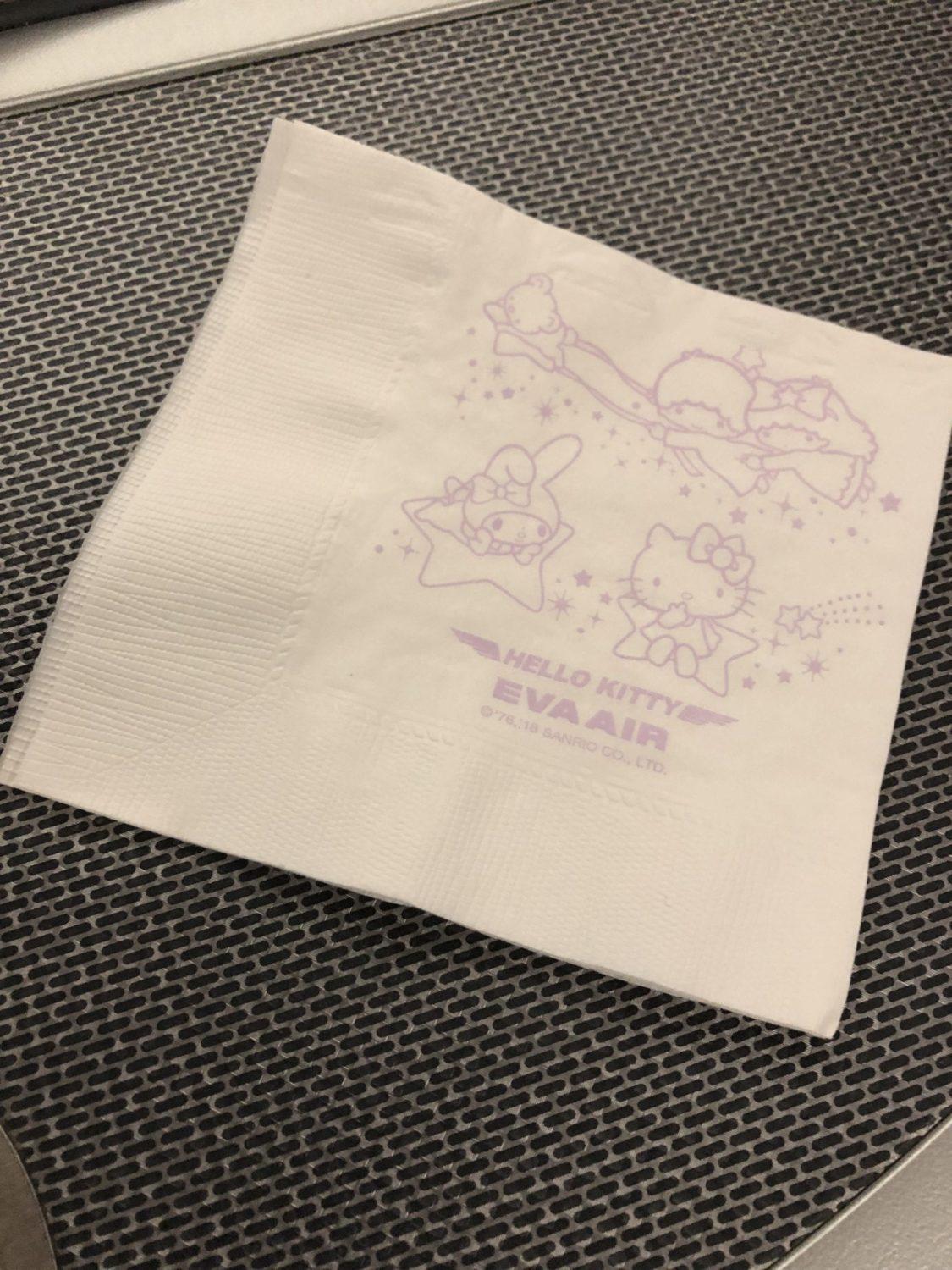 Champagne
Obviously, there's rosé champagne to drink. Did you forget what kind of flight this was? EVA was serving its Royal Laurel passengers Veuve Clicquot La Grande Dame Rosé on this flight. In addition to being very on-brand for this Hello Kitty flight, it's also an incredible champagne, retailing for about $300 a bottle. That's a better champagne than most airlines serve in first class.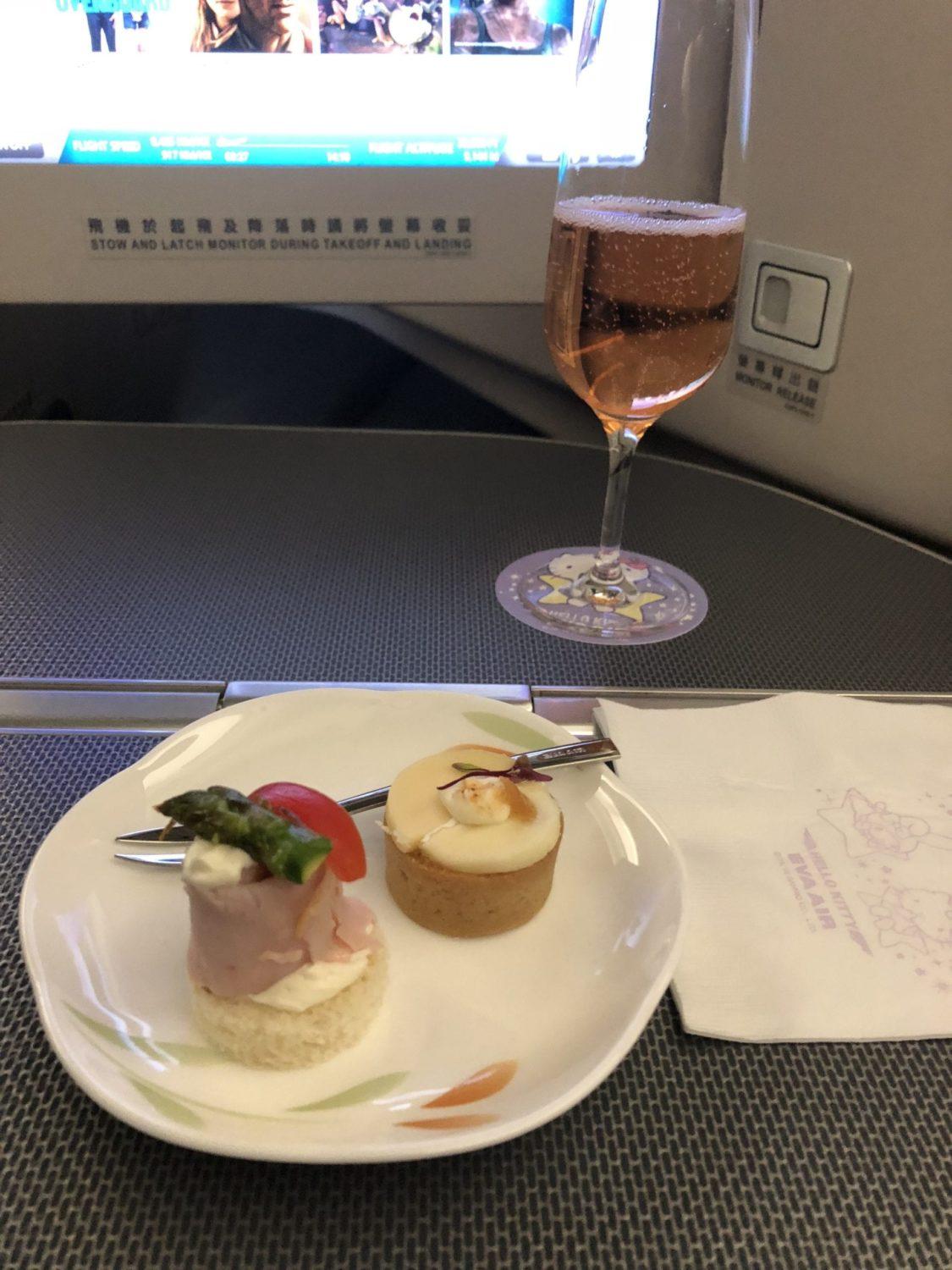 The champagne aficionados out there might be disappointed to hear that EVA is no longer serving Krug Rosé on these flights. But this vintage bottle of Veuve Rose was no disappointment. I hereby present the six or seven glasses I drank as evidence. Oh, and the Hello Kitty coaster is just icing on the cake.

Puke Bag
Presented without comment. I'd give this 6 out of 5 Kitties if I could.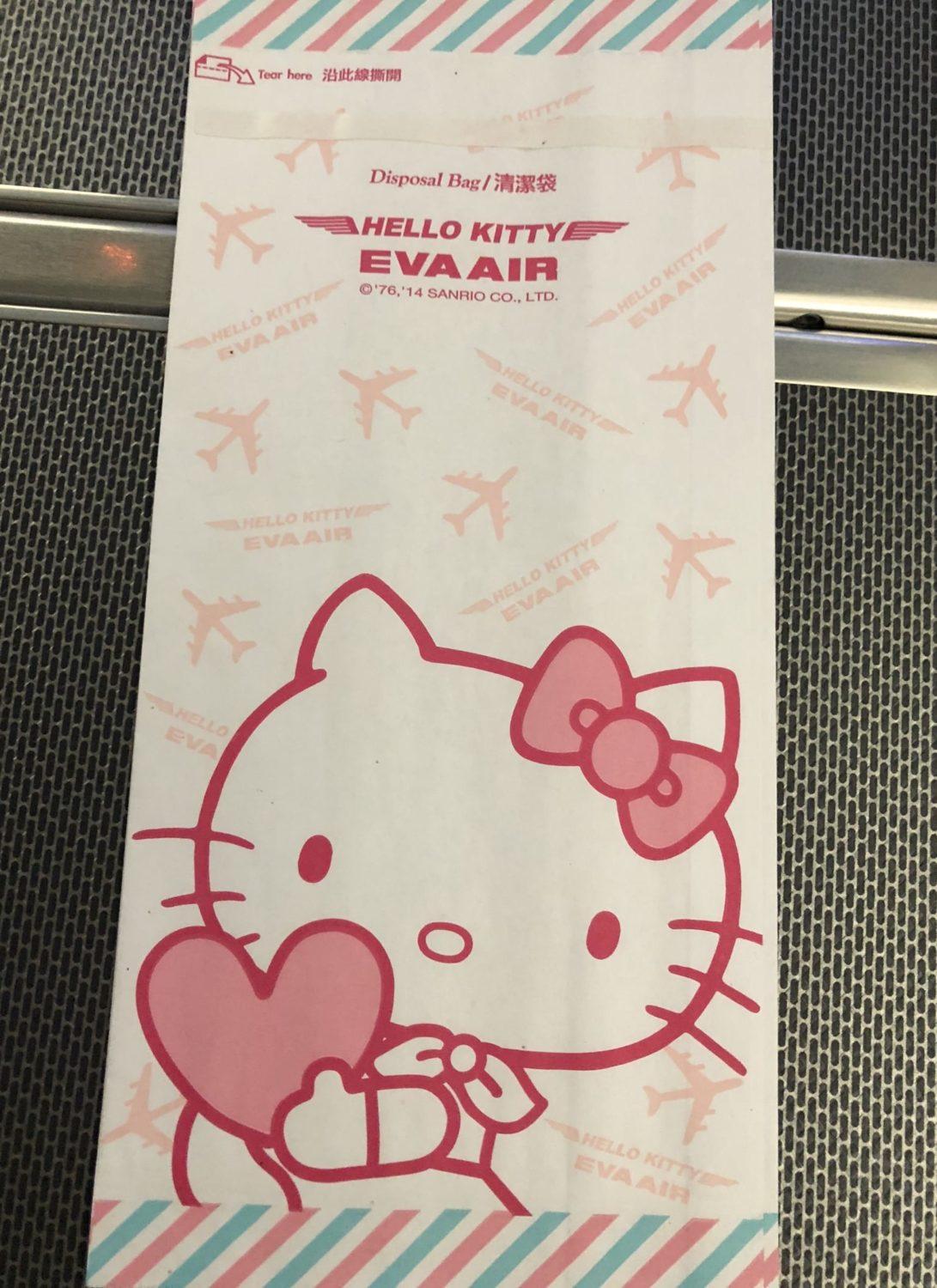 Tablecloth
EVA always spreads a beautifully designed tablecloth across your tray in business class. Go figure on this flight it gets a bit of low-key Hello Kitty flair. Still, pretty beautiful.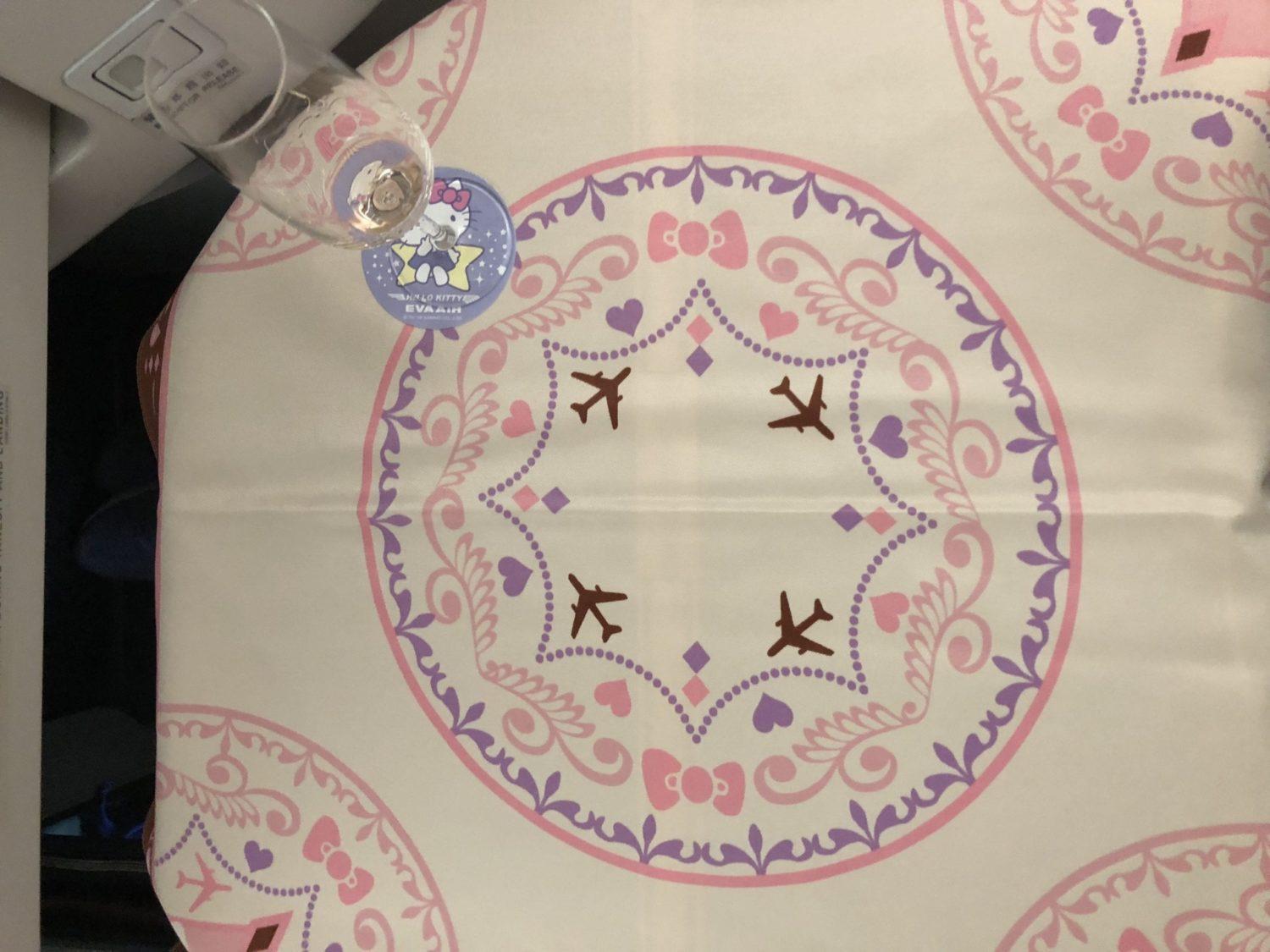 Toilet Paper
Once upon a time, EVA stocked its bathrooms with Hello Kitty-printed toilet paper. But apparently Kitty fanatics stole rolls at a time, so it's now just the plain white stuff. Boring, and thus I award no Hello Kitties.
Bathroom Amenities
Hello Kitty and friends even grace the bottles of soap, lotion, face mist, and cologne on the bathroom counter in business class. Better yet, these Harnn amenities were top notch. Yet somehow the bottles aren't pink? Seems like an oversight.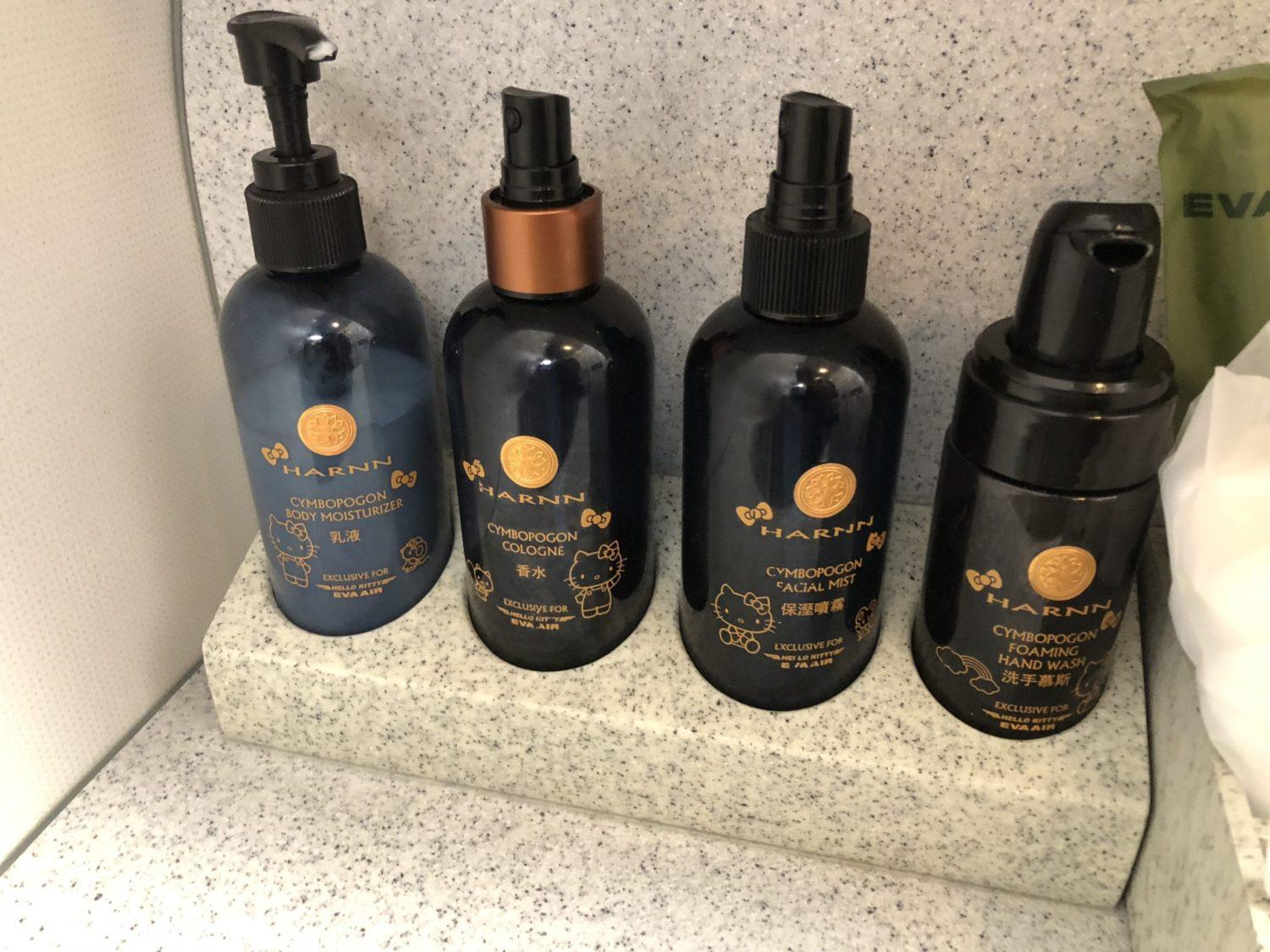 Cups
Stare Hello Kitty in the face as you take a swig of mouthwash.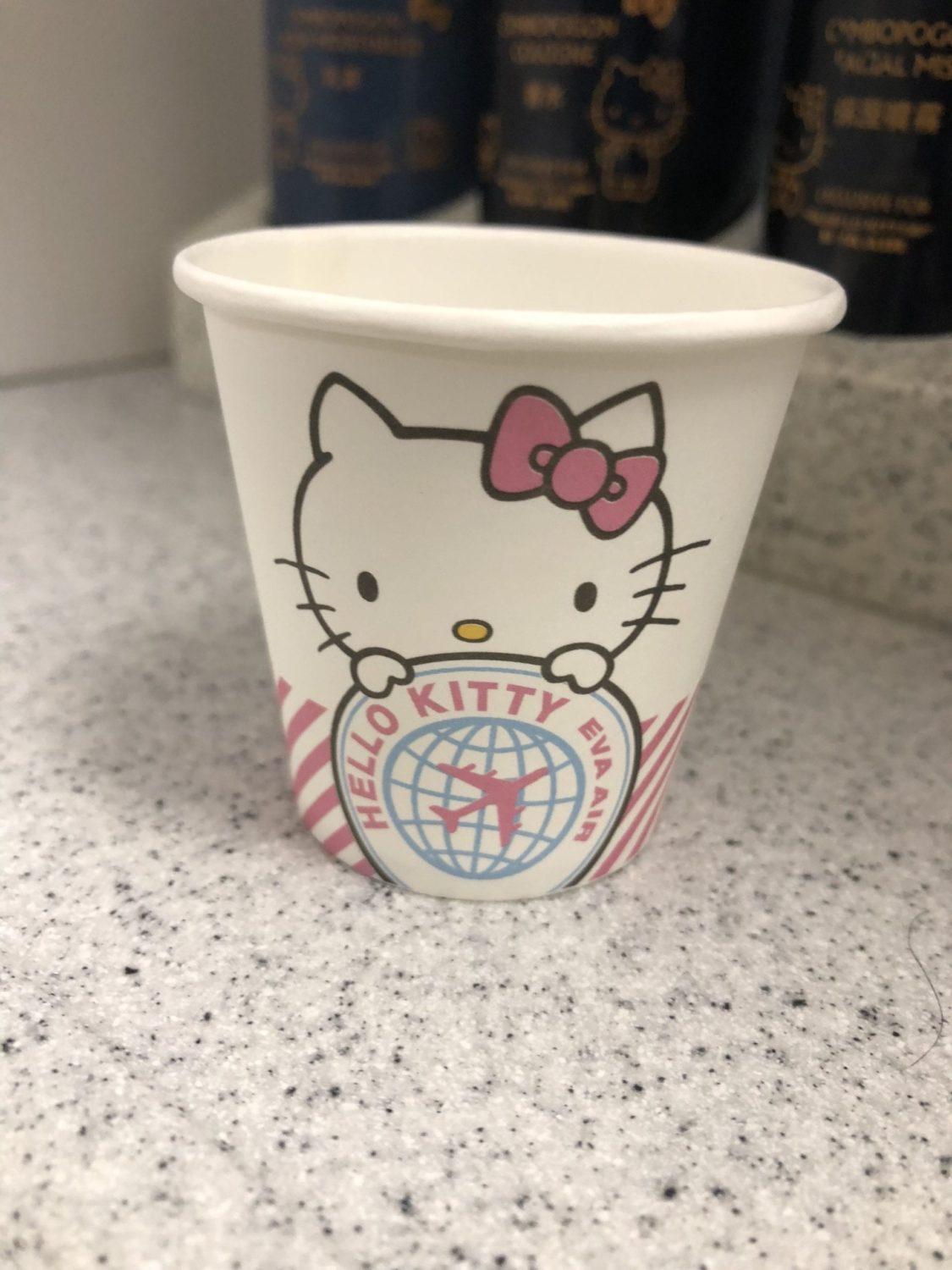 Bottom Line
Who knew 15 hours with Hello Kitty could be so fun? And that's coming from a skeptic. It might seem over-the-top and it's easy to joke about, but EVA really knocks it out of the park in business class – Hello Kitty or not. This special flight really toed the line quite perfectly. There are enough fun amenities and features to appeal to the Hello Kitty diehards out there. But the commitment doesn't detract from EVA's otherwise incredible business class.
Then again, I've heard that the Hello Kitty bonanza is actually muted in business class as compared to economy. That being said, I think I've gotten my fill of Hello Kitty for a while, thank you very much.