What's better than a buy one, get one sale? How about a BOGO trip?
Welcome to the world of stopovers, the ultimate deal in the world of booking travel. Free stopovers allow you to see two cities for the price of one: More and more airlines are adding cheap or even free stopover programs to boost tourism at their hub cities, allowing you to explore one city for several days (or weeks … or even months!) before continuing onward. And a growing number of airline mileage programs will let you add in a stopover, too.
But how do they work? What airlines allow you to book stopover flights? What are the rules? And how do you go about booking a stopover, anyway?
Meet your new best friend, the stopover.

What is a Stopover Flight?
Many travelers dread making any stops en route to their final destination, preferring nonstop flights. The stopover turns that on its head.
Think of stopovers as a layover on steroids. Just what qualifies as a stopover depends on where you're flying:
Domestically, a stopover is any connection of four or more hours.
Internationally, a stopover is any connection before making it to your destination of more than 24 hours
For example, let's say you're flying from Chicago-O'Hare (ORD) to Paris-Charles de Gaulle (CDG) on Icelandair. You could just make a quick connection in Reykjavik (KEF) on your way to Paris … but Icelandair is famed for its stopover program. So why not spend a few days, maybe even a week, exploring Iceland before heading to France – or stopover in Iceland as you make your way back home?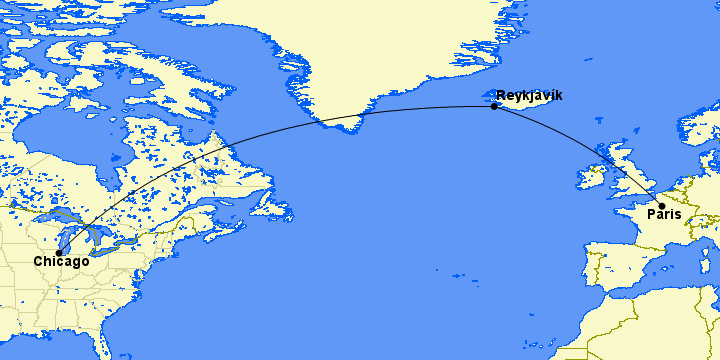 It's the international layovers we care most about here. Many airlines charge an additional $50 or less to add a stopover, though in some cases it can be free or even cheaper than a simple roundtrip booking. Building in a stopover to your flight itinerary takes an added step but allows you to visit another city for a few days essentially for free.
How to Book a Stopover Flight
You can book a free (or cheap) stopover when flying an airline that has a stopover program. And the ranks of airlines offering stopovers keeps growing.
We'll get into some of our favorite airlines with stopover programs shortly, but let's go over how to book these flights first.
Find the airline that provides a stopover in a city of interest to you (and flies on to a final destination you want to visit)
Search for a cheap roundtrip flight on that airline to that final destination using Google Flights.
Build a multi-city itinerary using Google Flights to add in your stopover, either on your departing or return flight!
For example, if I wanted to stopover in Iceland on Icelandair on my way to Paris, my multi-city itinerary could look like this:


There are a few rules you'll need to keep in mind:
Most airlines only allow you to add a stopover on a roundtrip booking – not on one-way tickets
Many airlines cap these stopovers at seven to 10 days, while others are much more generous.
A handful of airlines charge an extra $50 or $100 or so when adding a stopover, while on others it's free … or might even result in a lower ticket price
Looking to use miles? A handful of airlines allow you to easily add in a stopover without charging another mile, even on one-way flights.
Airlines with Free (or Cheap) Stopover Programs
Free stopover programs allow you to double-dip on destinations abroad by getting you to two cities for the price of one. So which airlines are best for working in a free stopover? We're so glad you asked.
This isn't an exhaustive list of airlines that offer stopovers – just some of our favorites.
Aer Lingus
Want to visit Dublin for (nearly) free? Find a cheap Aer Lingus flight to Europe and build out a multi-city itinerary with a stopover in Dublin. Aer Lingus allows you to stopover for up to seven days in Dublin.


In the example above, you could spend time in both Amsterdam and Dublin for under $400 in flights. Yes, really! You just have to call Aer Lingus to add in a stopover at the lowest rates.
Aer Lingus is stepping up its transatlantic flight game coming out of the pandemic with more and more nonstop routes to and from U.S. cities.
Hawaiian Airlines
Why not make a pitstop in paradise on your way to the South Pacific?
Hawaiian Airlines offers an easy-to-use way to add in a stopover in Honolulu (HNL) en route to Australia, New Zealand, the Cook Islands, or even Tahiti. There's no limit on the number of days you can stopover in Honolulu – and you can stopover on both your departing and returning flight if you want a double dose of Honolulu! Best of all, it will only add an extra $20 to $60 to your total cost.
For example, we sent Thrifty Traveler Premium members an incredible deal recently to visit Hawaii and the Cook Islands for under $900 – the same price as simple roundtrip flights!

To book a stopover through Hawaiian Airlines, just head to the airline's website and use the multi-city search.
Iberia
Iberia is Spain's flag carrier with a massive hub in Madrid (MAD). Trust me: You want to spend a few days in Madrid.
And Iberia makes it easy (and free!) to do so with the Hola Madrid Stopover program. On almost any long-haul itinerary that connects through Madrid, you can add a stopover of one to six days in Spain's capital city. The one big exception is that you must connect beyond Spain – a flight to Barcelona (BCN) or Mallorca (PMI) with a connection in Madrid won't cut it.
To book flights with a stopover in Madrid, use Iberia's dedicated stopover page.

Icelandair
Without stopovers, there is no Icelandair.
Icelandair has created the best-known stopover program, fueling record tourism to Iceland and showing all other airlines how it's done. It's hard to pass up a free stopover in one of the most unique countries in the world on your way across the pond to Europe.
You can stop over for up to seven days in Iceland for free when flying Icelandair. It used to be easier to find and book Icelandair stopovers via Google Flights. Luckily, it's still super simple to book directly on Icelandair's website.
And in some cases, it makes your airfare cheaper by adding a stopover in Reykjavik. For example, these roundtrip fares to Scotland we sent to Thrifty Traveler Premium members a few months back were $467. Add in this stopover, and the price dropped below $400 total!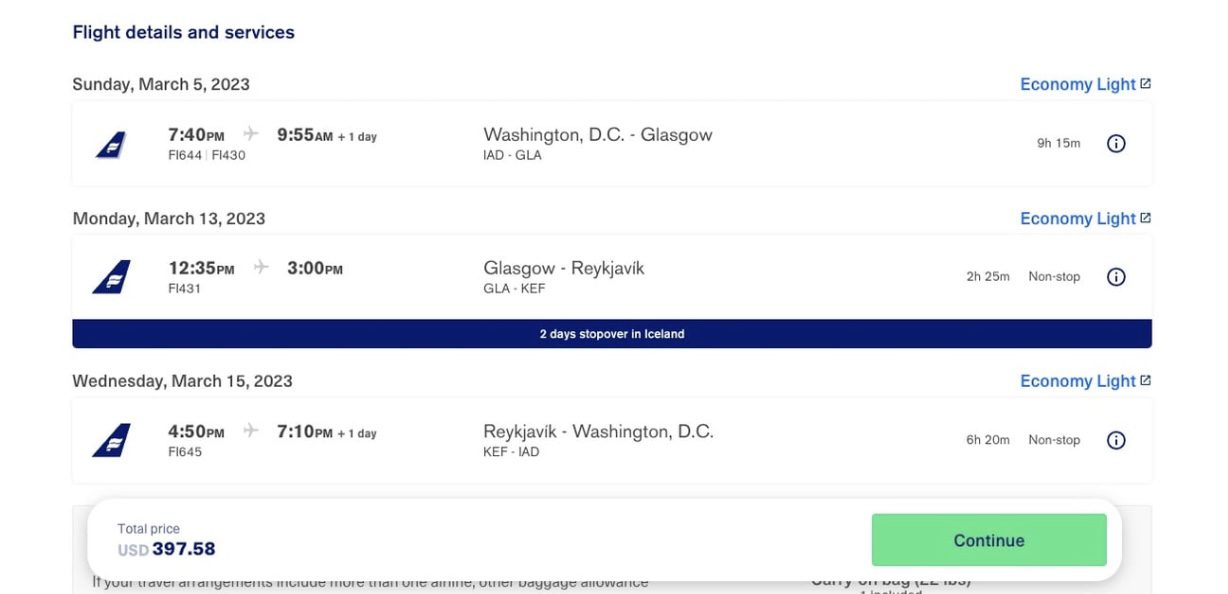 Read our full guide to booking a stopover on Icelandair – and get our tips on what to do during your brief Iceland trip!
There's one new restriction to keep in mind when booking an Icelandair stopover, though:
With the cheapest economy light fares, you can only add a stopover of up to three days
With economy standard, fares and up (including Icelandair Saga business class seats), you can add a stopover in Iceland of up to seven days
Qatar Airways
Everyone should have flying on one of the world's best airlines, Qatar Airways, on their bucket list. If that's not enough reason to fly Qatar, you can stopover in Doha for up to four days for free. 
To book, search for a multi-city trip and add a stop in Doha (DOH) on either your departure or return flight. Select a flight option with at least a 12-hour layover in Doha, and book. Then, take advantage of the four- and five-star hotel offerings: Prices for a one-night hotel stay start at just $14, and this offer is only available for stopover guests.
Read more about Qatar Airways' stopover program on its website.
TAP Air Portugal
Don't sleep on Portugal.
You need to visit Portugal before this country explodes in popularity. And TAP Air Portugal allows you to visit either Lisbon or Porto for up to 10 days free before making your way to another European city. It's one of the most generous stopover programs on this list.
Again, booking a stopover is easiest when using the multi-city feature on Google Flights or booking directly on TAP's website. If you search on the airline's site, they'll let you know with a pop-up if your trip is eligible to add in a stopover. Typically, it'll only cost you another $10 or $20 more!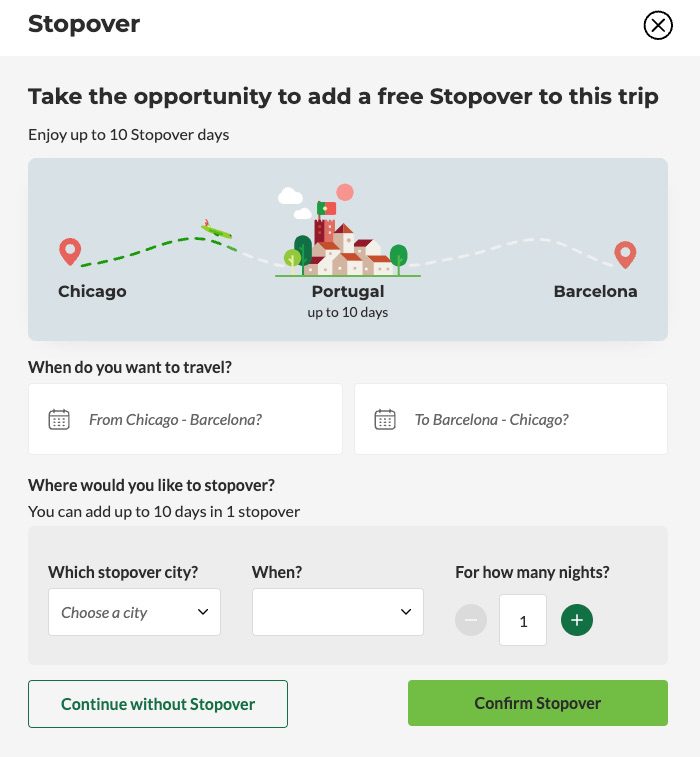 The hardest part will be deciding which city to stop at! Check out our guides to both Lisbon and Porto to decide which you want to visit.
Turkish Airlines
Turkish Airlines is one of the world's best airlines. Istanbul is one of the most electric cities in the world.
So go figure Turkish offers one of the best stopover programs to give you a few days in Istanbul before continuing onward in Europe, the Middle East, Asia, or Africa – or on your way home. So long as you book a roundtrip ticket flying Turkish with at least a 20-hour layover in Istanbul, you can turn that into:
A two-night stopover on economy tickets, with a voucher for a one-night stay at a four-star hotel included
A three-night stopover when flying Turkish business class, including a two-night stay at a five-star hotel!
That's right: Turkish's stopover program includes free accommodation. To add yours to your trip, just contact Turkish at least 72 hours before your first flight through its dedicated stopover page.
Booking a Stopover on Award Tickets
Looking to use your points and miles? A select few airline programs make it incredibly easy (and cheap – if not free).
Again, this isn't an exhaustive list of frequent flyer programs that allow you to add a stopover when using points and miles. But these are far and away the best, in our experience.
Air Canada Aeroplan: For just 5,000 additional miles, you can add a stopover to any award ticket – one-way or roundtrip. And booking online is typically very easy, which isn't the case with every airline on this list.
Air France/KLM Flying Blue: You can add a free stopover to any Flying Blue award ticket – not just when flying Air France or KLM, but on partner airlines like Delta, Virgin Atlantic, or Korean Air, too. The one hitch is that, for now, you'll need to make a phone call in order book these awards.
Alaska Airlines Mileage Plan: One way, roundtrip, domestic, or international – it doesn't matter, you can add a stopover when using Alaska miles to book any airline.
All Nippon Airways (ANA) Mileage Club: One of the toughest parts of using ANA miles is that you have to book roundtrip – one-way redemptions aren't allowed, period. But you can add a stopover for free, and ANA is incredibly generous with what kinds of stopovers are allowed.
Singapore Airlines KrisFlyer: You can add one free stopover on the lowest-priced "Saver" roundtrip award tickets – or on the higher-priced "Advantage" one-way awards. Sadly, Singapore cut the ability to add a stopover to any award ticket for $100.
United MileagePlus: It's better than a stopover – it's called the United excursionist perk. This unique benefit allows you to nest a free one-way flight within a roundtrip award ticket booked using United miles. For example, you could book a roundtrip flight using United miles from Washington, D.C.-Dulles (IAD) to Amsterdam (AMS) and add in a free flight from Amsterdam down to Athens (ATH).
Here's an itinerary for a free stopover in London on roundtrip business class flights to Sweden booked through ANA, for example.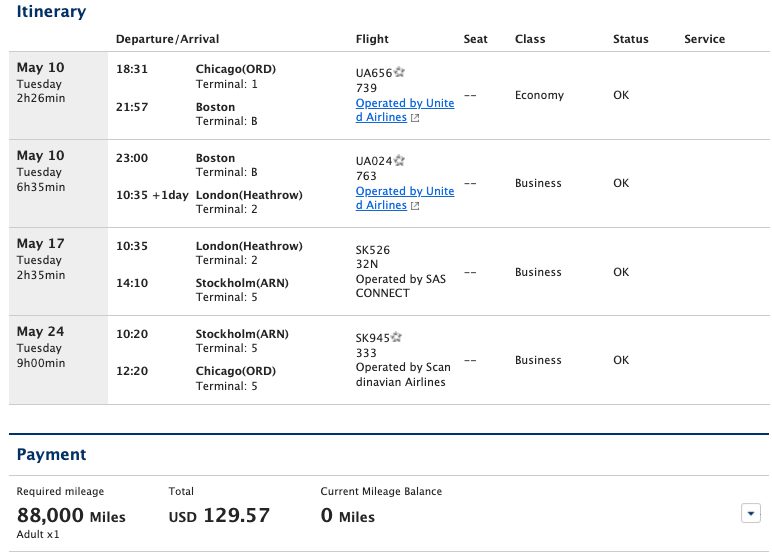 Bottom Line
If you haven't yet taken advantage of a free stopover on one of these airlines, it's time to try one out! Stopover flights allow you to get one of the best deals in the travel world: see two cities for the price of one.