If you want two free checked bags, a fee-free cancellation policy, matched elite status, companions that fly free, and a fun-loving crew on your flights, you're flying Southwest. There are several things – some good and some bad – that set Southwest Airlines apart from the rest. But finding cheap fares to fly Southwest is much different than with other airlines.
You won't see prices on Southwest when you search via any online travel agency (OTA) like Priceline, Kayak, Expedia, or Orbitz. In fact, you won't even see those results on Google Flights, our favorite airfare search engine. You need to search directly with Southwest.
But the deals are still out there, and they're easy to find thanks to one tool: the Southwest low fare calendar. Here's how it works.
How to Find the Best Southwest Deals
Southwest knows they've got a rabid following. That's why they don't sell their flights via OTAs or let folks search for them elsewhere. You can only find Southwest flights on their website.
That's unfortunate, as it makes it much harder to price compare between Southwest and other airlines. That's by design: Southwest hopes their reputation as a budget carrier with free bags and no change fees drives customers straight to their website. In reality, Southwest often charges the same as its competitor airlines – if not a bit more.
But that doesn't mean you can't get a good deal flying Southwest. Quite the opposite. And the Southwest Low Fare Calendar is how it's done.
How to Use the Southwest Low Fare Calendar
To make sure you're getting the best deal possible on your Southwest flight, head straight for the Southwest Low Fare Calendar.
This easy-to-use calendar allows you to search month by month, quickly showing you the dates with the cheapest fares. Just look for the Low Fare Calendar option on Southwest's homepage.

Instead of searching for exact dates, you can use the Low Fare Calendar to find the cheapest dates to fly within a month. Tap in the month you're looking to get away to start the low fare search process.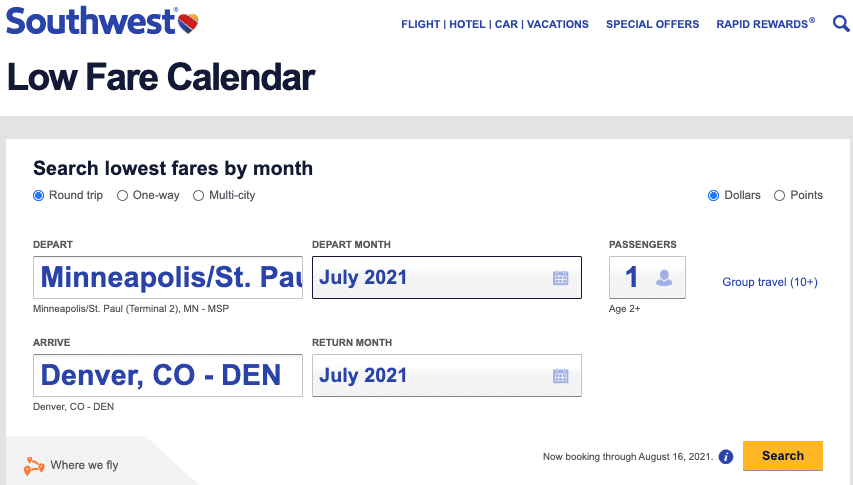 From here, Southwest will show you the lowest airfare prices available on each date. Choosing a day earlier or later or electing to vacation the following week instead can cut your airfare costs in half in many cases!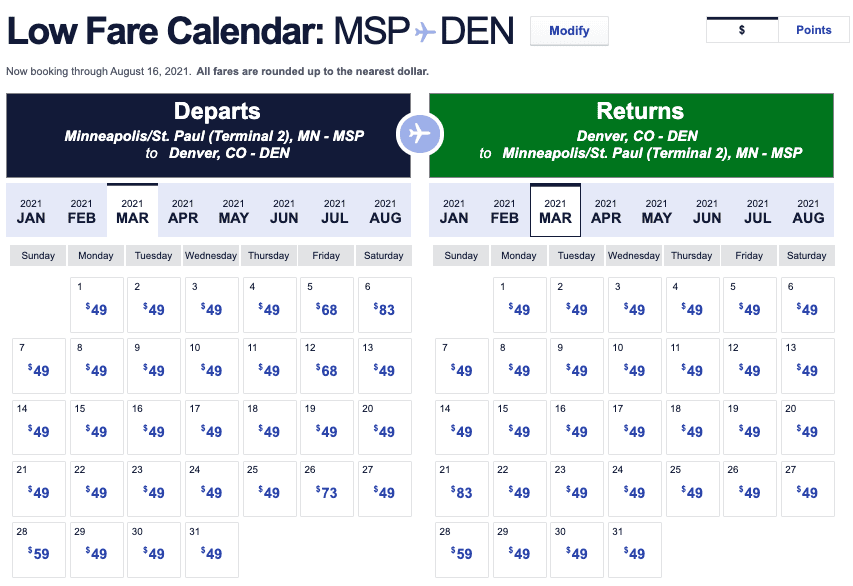 Just keep in mind that you will select your departure and return flight separately.
Once you've selected both departure and return dates, you will see the flight time options. On this page, you can still toggle between adjacent dates. And you can also filter by departure time, number of stops, and time of day.
It's important to note that not all fares will be the low price listed on the Low Fare Calendar – the cheapest fares will almost always be nonstop options. But if that date and time work for you, you're in luck!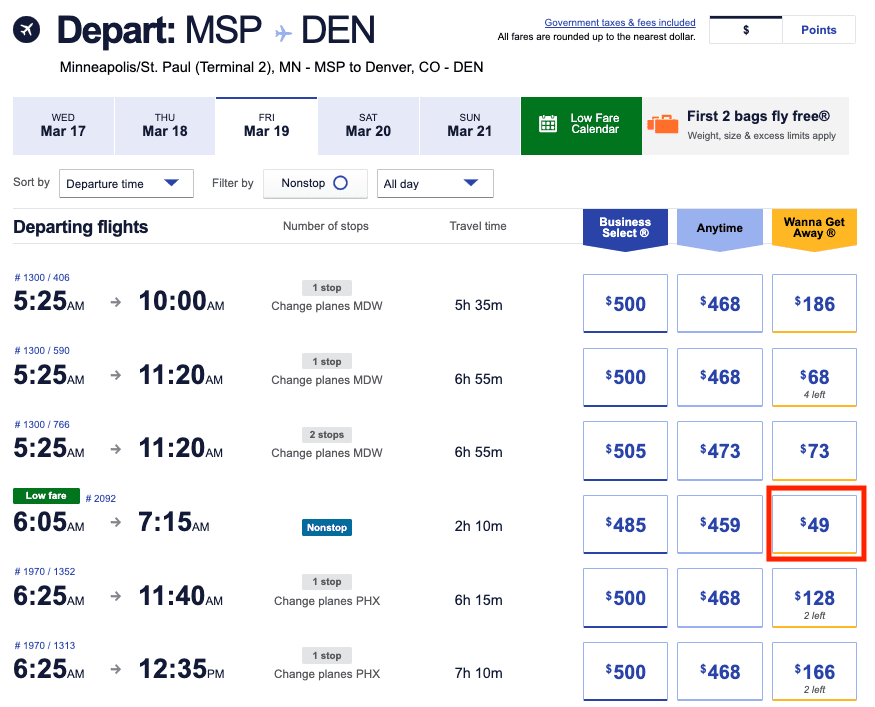 Just as with any airline, being flexible with your travel dates and times can save you hundreds of dollars when flying Southwest.
How Far Out Can You Book Southwest Flights?
Even when it comes to flight schedules, Southwest does things a bit differently.
Most airlines across the globe sell flights 11 months in advance, give or take a few days. But Southwest releases its flight schedule in big batches occasionally throughout the year.
As of publication, you can book Southwest flights only through Aug. 16, 2021. Read more about Southwest's flight schedule
Make Flights Cheaper with the Companion Pass
Want to take your savings from using the Southwest low fare calendar even farther?
You won't find a better deal in the world of travel than the Southwest Companion Pass. If you regularly fly domestically (including Hawaii) or even to Mexico and the Caribbean with a companion, this unlimited buy-one, get-one pass can be priceless.
The Companion Pass from Southwest Airlines lets you choose one person to fly free with you every time you book a flight or redeem Southwest Rapid Rewards points for a flight on Southwest. There are no blackout dates and no questions asked. If the flight is bookable, you can add your companion. All you'll have to do is pay the taxes and fees for your companion's ticket – starting at just $5.60 on a domestic one-way flight.
But perhaps the best part of the Southwest companion pass is there are no limits on how often you can use it. And it's valid for the year you earn it … and the entire following calendar year. So if you earn it in January or February of 2021, you could use the Companion Pass all the way through 2022. That's almost two full years of buy one, get one free flights.
Plus, Southwest allows you to change your designated companion up to three times each calendar year.
Like the sound of BOGO flights? Learn how to earn and use the Southwest Companion Pass.
Bottom Line
Flying Southwest brings perks you won't find on any other U.S. carrier, like free checked bags and fee-free cancellations. And while you won't find Southwest fares via your normal searches, you can still get a great deal.
Approach booking with a flexible schedule and use the Southwest Low Fare Calendar to slash your Southwest fares in half (or more!)