Delta is widely regarded as the best U.S. airline – and for good reason. It's got a great network of flights, planes with updated interiors and seatback screens at almost every seat, and tends to get better reviews of the flying experience than its competitors. So how do you go about booking Delta flights using your points and miles? Some of the solutions may surprise you…
Of course, you can use Delta SkyMiles to book any Delta flight. Especially if you're aiming to fly economy, you'll be able to squeeze some decent value out of your SkyMiles depending on where you want to go and when you book. Delta makes it easy to book flights using SkyMiles and award flights are always available – even if you have to fork over a ton of miles to book.
But there are a few other ways you can book the same Delta flights: Using miles from partner airlines such as Air France-KLM Flying Blue or Virgin Atlantic Flying Club. Using one of these workarounds can sometimes save you some significant mileage, but it's not always a sure thing.
So, which points should you use to book Delta flights? It depends. Whether you're flying domestic, heading for the beach, or going abroad, we'll go over the best ways to book Delta flights using points and miles. Read closely, as some of these sweet spots may have shifted since you last checked.

Booking Delta Flights in the Continental U.S. & Canada
Start Searching with SkyMiles
If you're looking to fly domestically within the continental U.S. or visit our friendly neighbors to the north in Canada, you'll often find that using Delta's own SkyMiles program is the best way to book a Delta flight using miles.
Unlike other airline programs which may charge a flat amount like 12,500 miles each way, we regularly see Delta domestic fares available for 5,000 SkyMiles each way. Better yet, Thrifty Traveler Premium+ members frequently get Delta SkyMiles flash sales sent directly to their inboxes with rates as low as 4,000 miles roundtrip. You can't really beat that on any airline for a cheap domestic flight.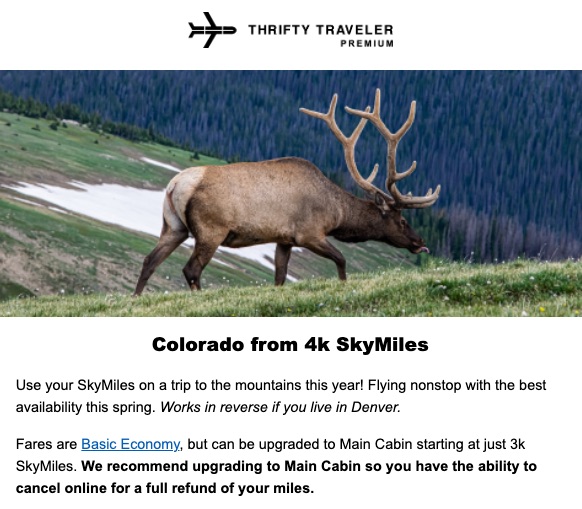 Get dirt-cheap Delta SkyMiles deals like this one sent straight to you with Thrifty Traveler Premium+!
Delta uses dynamic award pricing, which means the number of miles you need is constantly changing … and it's often closely tied to the cash price of the ticket. When prices are fairly low, that's often when you'll see the cheapest award rates to use your SkyMiles.
Thrifty Tip: No matter where you're going, you'll generally get the best deal using SkyMiles by booking roundtrip.
Read all our tips on how to use Delta SkyMiles wisely!
Don't have SkyMiles? You can easily transfer Amex Membership Rewards earned from cards like the American Express® Gold Card or The Platinum Card® from American Express to your Delta account to book the flight with SkyMiles.
Use a Travel Portal
If you find a great cash fare on a Delta flight, either by searching with Google Flights or sent directly to your inbox from a Thrifty Traveler Premium deal alert, you can easily book the ticket for a great value using Chase Ultimate Rewards credit card points earned with cards like the Chase Sapphire Preferred® Card or the Chase Sapphire Reserve®.
In fact, this is one of our favorite ways to book domestic flights using points and miles. It's simple. Just book the flight through the Chase travel portal and you'll get 1.25 cents per point if you hold the Chase Sapphire Preferred or 1.5 cents per point if you hold the Chase Sapphire Reserve.
That means this $210 nonstop Delta flight from Minneapolis-St. Paul (MSP) to San Francisco (SFO) could be booked for 16,736 Chase points if you have the Sapphire Preferred, or just 13,946 points if you hold the Sapphire Reserve.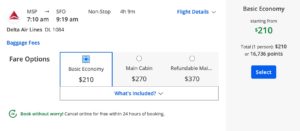 Do you prefer to book directly with the airline? If you book the flight with the Capital One Venture X Rewards Credit Card or Capital One Venture Rewards Credit Card, you can simply erase the purchase from your statement using your Capital One miles. Each mile will be worth 1 cent, so that same $210 flight would cost you 21,000 Capital One Venture Miles. It's the absolute easiest way to book a cheap domestic flight with points.
Check Out Virgin Atlantic for Shorter Delta Flights
Taking a nonstop flight under 1,000 miles? You may want to turn to Virgin Atlantic Flying Club for the cheapest redemption rate. Virgin Atlantic has a distance-based award chart for most Delta flights and the shorter flights that usually have expensive cash fares tend to be the best value for points redemptions.
It's just 7,500 Virgin points to book one-way, nonstop Delta flights that are under 500 miles in distance flown. And the next tier, between 501-1000 miles in total distance is just 8,500 Virgin points. If there isn't a SkyMiles flash sale going on and fares are high, this may be a good way to book a short Delta flight with points.
Just because these rates are good doesn't make this a slam dunk. Finding the award availability to book Delta flights through Virgin Atlantic can be tough – there's no rhyme or reason for when Delta makes these flights available through partners like Virgin, and sometimes your searches through Virgin may turn up no results at all. But if you're flexible, you can probably make it work.

The rates are not as attractive on longer flights, as the cost keeps going up. Plus, these rates are charged per segment so it's best to stick to nonstop itineraries with shorter flights when booking Delta flights with Virgin points.
One example of a domestic Delta flight you may want to book with Virgin points is this nonstop flight from Dallas-Ft. Worth (DFW) to Salt Lake City (SLC) during peak ski season for just 8,500 points + around $6 in taxes and fees one-way. The flight clocks in at 989 miles in distance flown, which brings it right under the 1,000-mile threshold.

Don't know how long your flight is? Plug it in to the Great Circle Mapper at gcmap.com
Don't have any Virgin points? You're in luck because Virgin is a transfer partner with all major credit card points programs, including Amex, Capital One, Chase, and Citibank.

Hawaii and Back
Nationwide to Hawaii for 35K Miles Roundtrip … But Not With SkyMiles
Looking to fly Delta out to Hawaii using your points and miles? You may not want to use your SkyMiles.
It can sometimes be twice as much (or more) to book Delta flights to Hawaii using SkyMiles compared to booking the same exact flights with Delta's other partner airlines. For example, this one-way flight from New York City (JFK) to Honolulu (HNL) would cost 35,500 SkyMiles plus around $5 in taxes and fees.

But you can book that exact same flight for just 17,500 Air France-KLM Flying Blue miles plus around $20 in taxes and fees. The slightly higher taxes and fees are well worth the savings in miles in this case – especially since you can transfer points from all major credit card programs to Flying Blue miles on a 1:1 basis. You'll be hard-pressed to find a better deal for a nonstop flight from the East Coast to Hawaii using points and miles.


And you don't even need to fly nonstop. It's the same rate for one- or two-stop trips from smaller regional airports as well. Perhaps best of all, you won't need to worry about basic economy tickets. If you book your Delta flight with Flying Blue miles, economy tickets will always be Main Cabin, meaning you'll get free seat selection.

Read our complete walkthrough to booking Delta flights to Hawaii using Flying Blue miles!
Finding bookable seats available at this low rate is a little trickier than just booking through SkyMiles, but the low redemption rates are worth the extra legwork. It will be easiest to search on Virgin Atlantic's site to pinpoint which dates will have the lowest rates and then plugging those dates into the Flying Blue award booking tool. Pricing can sometimes vary but if you follow our step-by-step guide, you should be able to find this incredible deal to Hawaii without any issues.
Turn to Virgin for Shorter Nonstops
Flying nonstop to Hawaii from the West Coast? You'll be better off just booking with Virgin Atlantic Flying Club for 15,000 points one-way or just 30,000 roundtrip.

You may see Delta selling some of these routes from the West Coast for slightly fewer SkyMiles in Delta Basic Economy but you'll always get a Main Cabin ticket when booking Delta flights with Virgin points. Availability on these shorter nonstop Hawaii routes tends to be fairly good. Plus, there are more transfer opportunities since Virgin is a transfer partner with Chase, Amex, Citi, and Capital One.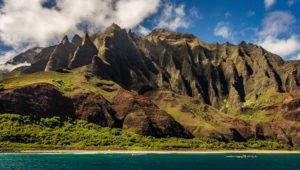 Caribbean & Mexico
SkyMiles Flash Sales at the Lowest Rates
The best deals when using points and miles for Delta flights to the Caribbean and Mexico closely follow the methods for flights within the continental U.S. and Canada.
Your best bet is to catch one of the frequent Delta SkyMiles deals we send out to Thrifty Traveler Premium+ members, such as this recent deal with flights to Cancun (CUN) from just 11,000 SkyMiles roundtrip from several cities. You won't get a cheaper rate through any other airline program … on Delta or any other carrier!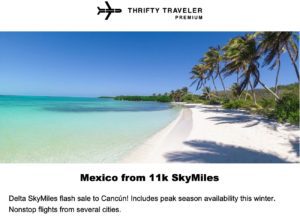 The list of cities in this deal included departures from all over the U.S. Several of them for nonstop flights!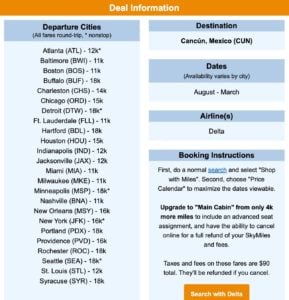 Use Your Points Like Cash
Similar to domestic flights, you'll also want to be on the lookout for a good cash ticket price to Caribbean or Mexican destinations served by Delta.
When you find a solid deal, simply book your flights with Chase points through its portal or completely cover the cost of a ticket booked with a Capital One card by erasing the purchase with miles.
Booking this way is often the best deal due to the fact that the taxes and fees on flights to these destinations tend to be a higher percentage of the ticket price compared to further, more expensive international destinations. If you book directly with your credit card points, you won't need to cover any taxes and fees in addition to the points. If you use miles from an airline or transfer credit card points to an airline for booking, you'll still need to foot the bill for the taxes and fees – often $100 or more roundtrip.
Try Virgin Again
Still, there may be a few cases where using one of Delta's partner airline miles makes more sense. And as is the case with domestic flights, this is usually true for shorter nonstop flights booked with Virgin points.
For example, you can book a nonstop Main Cabin Delta flight from Atlanta (ATL) to Aruba (AUA) for 25,000 Virgin points plus around $85 in taxes and fees roundtrip.

Compare this to Delta, which is charging 42,500 miles for the exact same flights in Main Cabin.


Taking it a step further, cash tickets for these flights are currently $566 at the time of writing. This shows that you can sometimes get outstanding value by booking Delta flights with Virgin points.

Heading to Europe with Delta
Try Virgin for Business Class
Booking Delta's business class seats, dubbed Delta One, will usually cost you an arm and a leg — even when booking with points and miles.
However, there still remains one sweet spot to book a seat in Delta One: To Europe for just 50,000 Virgin points one-way. This is an absolutely incredible deal when you compare it to the 200,000+ SkyMiles Delta usually charges for the same seats.
In the last year, it's gotten much harder to book these seats through Virgin – you may need to be extremely flexible … if you can find flights at all. But Thrifty Traveler Premium+ members were recently alerted to wide open award space on one of Delta's routes across the pond between New York City (JFK) and Frankfurt (FRA). Best of all, you could even stack the current 30% Chase transfer bonus to Virgin to book these seats for only 39,000 Chase points.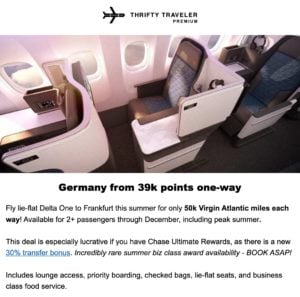 Even without a transfer bonus, booking a Delta One seat for 50,000 points to fly lie-flat across the pond is one of the best deals in all of points and miles.
Related reading: Save Your SkyMiles, Book Delta Flights through Virgin Atlantic
If you're flying from a smaller airport and need to make a domestic connection before your long-haul flight over to Europe, you'll need to add the rates for the two separate segments together to get the total. For instance, a flight from Fargo (FAR) to Paris (CDG) would be 67,500 Virgin points one-way in business class.


Economy Flash Sales through Delta
Looking to fly economy over to Europe? Keep your eyes peeled for a Delta SkyMiles flash sale.
Thrifty Traveler Premium+ members have received several of these deals in the past year such as this deal we sent out in March for travel to Europe throughout the year from just 32,000 SkyMiles roundtrip. That's half of what most airlines charge, and a solid deal.

For Premium Select, Use SkyMiles
If you want something in between economy and business class, Delta is flying more and more planes across the Atlantic with its new Delta Premium Select product. It's like a domestic first class seat and allows for a little extra comfort on the long-haul flight without breaking the bank paying for business class.
It's fairly common to see Delta Premium Select seats to Europe going for 90,000 SkyMiles roundtrip. While this isn't exactly super cheap, it's quite a bit lower than what Delta charges for business class and you'll still get a comfortable ride across the pond.


Asia & Australia
Virgin Shines for Economy to Asia
Flying Delta to Asia using points and miles is a bit tricky these days since Virgin Atlantic made a major devaluation to its redemption rates for most Delta flights in 2021.
However, if you don't mind flying economy and just want a good deal to get out there on a Delta bird, there are still some decent rates for nonstop Delta flights from the West Coast to Asia when booking with Virgin Atlantic Flying Club points. For instance, you can fly Delta from Seattle (SEA) to Tokyo-Haneda (HND) for just 55,000 Virgin points plus around $53 in taxes and fees roundtrip.

Wait for a SkyMiles Flash Sale to Australia
For Australia, we've been seeing some pretty amazing SkyMiles deals lately. Thrifty Traveler Premium+ members have received a few nationwide deals to Sydney for just 80,000 miles roundtrip from most cities — even for peak summer in Australia between January and February.

And the rates have even dropped below that from some cities. Earlier this month, we spotted flights from Minneapolis (MSP) to Sydney (SYD) as low as 72,000 SkyMiles roundtrip.

Needless to say, this is a moving target. Once travel demand picks up, we could see fewer of these amazing SkyMiles deals but it's clear that right now using your SkyMiles to fly to Australia is a bargain.
Bottom Line
Flying Delta using points and miles isn't always as straight forward as logging in to your SkyMiles account and searching for flights. While SkyMiles flash sales can often provide excellent value for economy tickets in several markets, there are times when you can save big by booking the same Delta flights using partner airline miles.
Next time you've got your eye on a Delta flight and want to book with points and miles, make sure to compare the SkyMiles rates with what Air France-KLM Flying Blue and Virgin Atlantic Flying Club are charging for the same flights.