Delta kicked things off with some upcoming changes to earning Medallion Status. A month later, United followed suit by making it harder to earn Premier Status. Now, it's American Airlines' turn – with a twist.
The Dallas-based airline on Thursday unveiled sizable changes to its entire AAdvantage program, from how you earn miles, how travelers redeem them, what it takes to earn status, and what you get as you climb the tiers of the world of elite American flyers. It comes less than a year after American switched to a new "Loyalty Points" system for earning AAdvantage status, where spending with the airline is all that matters.
Most importantly for average travelers who aren't on the hunt for status, American is also rolling out a major change for redeeming frequent flyer miles. And it's taking a page out of Delta's book by taking a scalpel to American basic economy fares – though not quite so far
Here's a look at what's on tap flying American in 2023.

Hello, Dynamic Award Pricing
American is the only major U.S. airline that still publishes an award chart, a cheat sheet that tells you how many miles you need to fly from point A to point B.
Delta nuked its own award chart years ago, leading to deeply discounted SkyMiles flash sales as well as one-way business class awards at 300,000 SkyMiles or more. United did the same in 2019.
American is following their lead … kind of. The airline made it official Thursday: "In 2023, award travel on American becomes fully dynamic with a new, simplified award chart."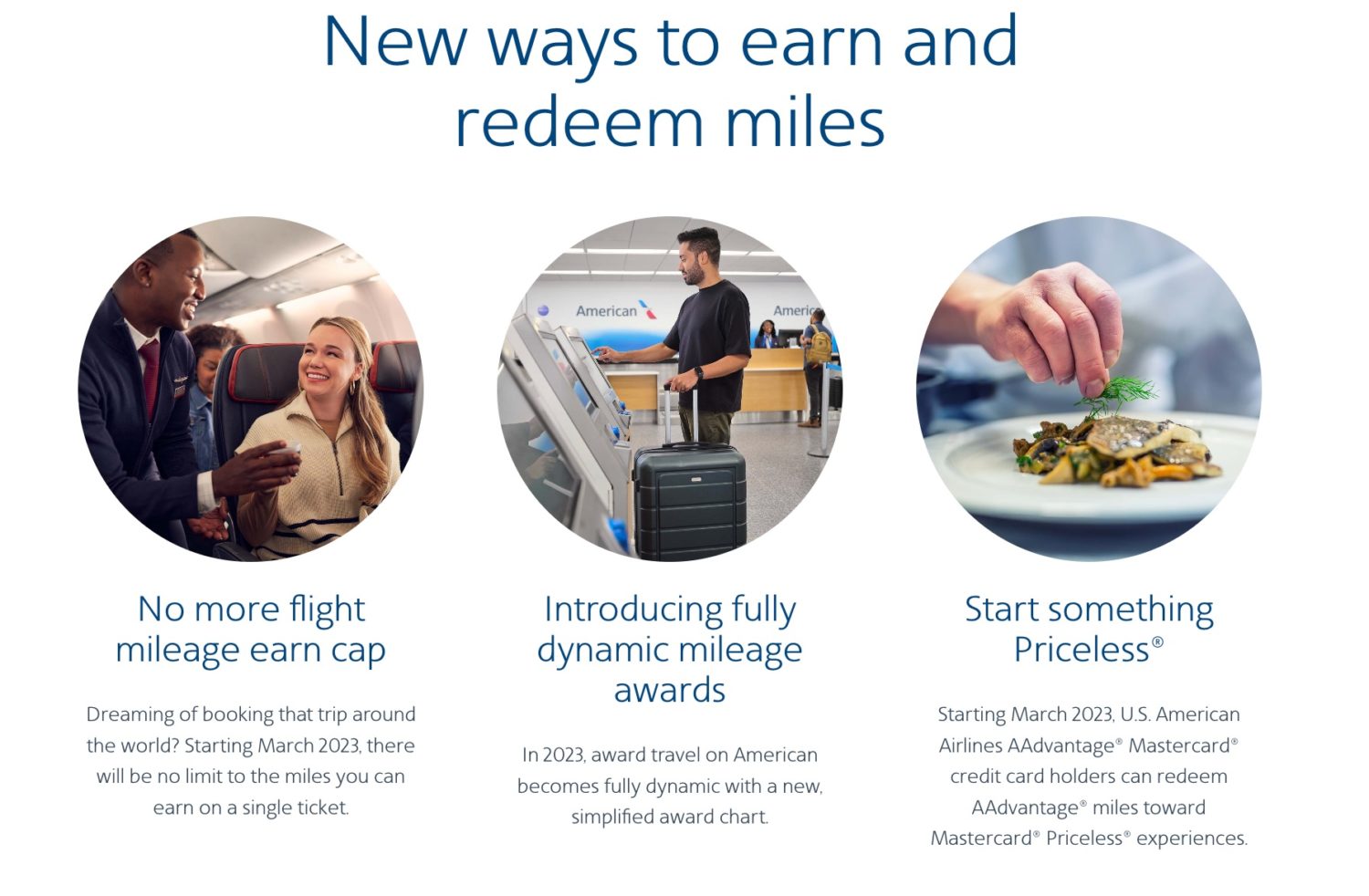 Dynamic award pricing is airline doublespeak for "we charge you however many miles we want." Generally? The higher the cash cost, the more AAdvantage miles you'll need to book that American flight.
That means the days of tracking down a sAAver Award ticket to Europe for 30,000 miles each way or the same sAAver award space to fly to Mexico or the Caribbean for 15,000 miles are long gone. In its place, expect to see a much wider range of award rates that frequently fluctuate depending on where and when you want to go. Those same flights to Europe may cost 21,500 AAdvantage miles each way for a trip in February … or 79,750 miles each way to head to Paris in July.
Unlike its rivals, it's clear American is keeping a published award chart. Exactly what those new award charts will look like is anyone's guess.
And in some ways, this is much ado about nothing. American took a big step toward dynamic award pricing years ago with the introduction of web special fares, award tickets that break the rules set in the award charts with lower pricing – or often much higher when booking business or first class. Over time, those web special award fares have become the norm – not the exception.
And most importantly, all these changes will only affect how many miles you may need to book flights with American. Looking to use your AAdvantage miles to book flights with Qatar Airways, Japan Airlines, Cathay Pacific, and other partner airlines? Breathe easy.
Booking Partner Awards Won't Change … Yet
We've said it over and over again: American AAdvantage miles are worth earning even if you hope to never set foot on an American Airlines jet.
That's because some of the best ways to redeem AAdvantage miles aren't flying American at all, but some of its premium partner airlines. Nothing beats booking Japan Airlines economy to Tokyo for 35,000 miles each way, bumping up to JAL business class for 60,000 AA miles, or flying the world's best business class in Qatar Qsuites to the Middle East for just 70,000 miles each way.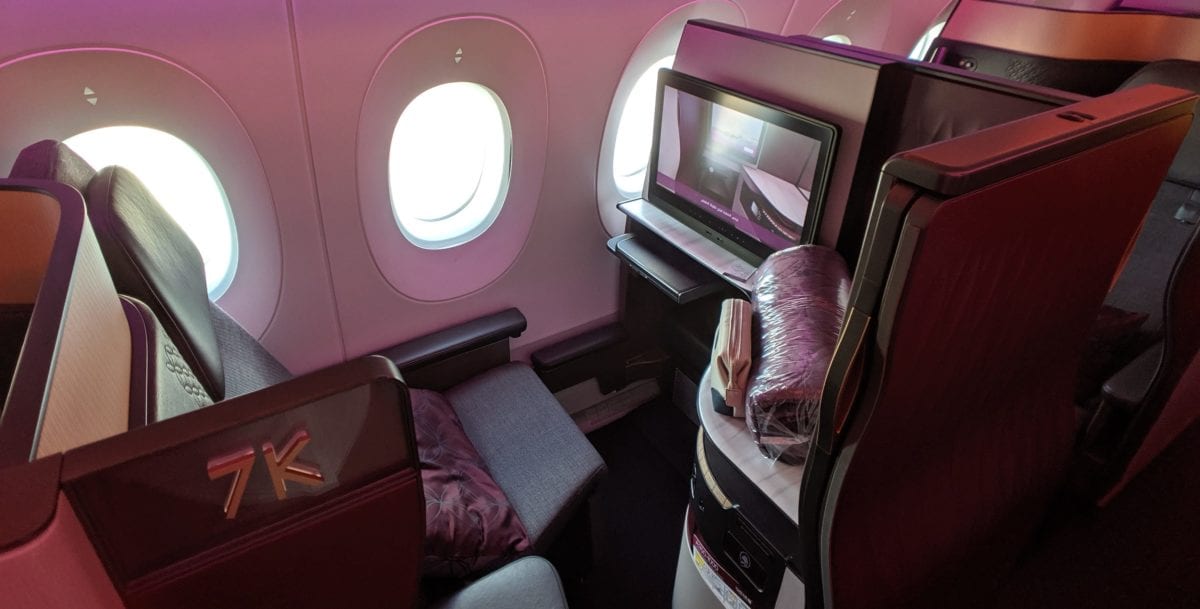 None of that's changing – at least not yet. American made clear that its final step toward dynamic pricing will only affect redemptions for American-operated flights. The managing director of the entire AAdvantage program, Heather Samp, told View from the Wing that, "at this point," the airline's partner award chart won't change in 2023.
That statement leaves American some wiggle room to backtrack, and it may only be a matter of time before some of these sweet spots get nuked. But at least there's no immediate plan for American to follow Delta's lead and charge hundreds of thousands of miles for these partner award redemptions.
AA Basic Economy Takes a Hit
Delta went where no other airline had gone a year ago with some drastic downgrades to its basic economy fares: They no longer earn SkyMiles nor toward Delta Medallion Status. None. Not even one.
American isn't going quite that far, but American basic economy fares will see a downgrade in the New Year. Soon, travelers buying the cheapest basic economy fares with American will only earn 2x AAdvantage miles per dollar and 2 Loyalty Points per dollar toward status.
That's cutting things by more than half, as all American fares currently earn at least 5x miles per dollar whether you buy a basic ticket or a standard main cabin economy fare. These changes take effect for new purchases Jan. 1 and onward – though only for travel starting March 1 and beyond.

It's a sizable hit. Consider this: Today, buying a $300 basic economy fare with American Airlines would earn 1,500 AAdvantage miles. Starting next March, that same ticket would only earn 600 miles and 600 Loyalty Points.
Flyers with AAdvantage status will continue to get the same bonuses of 40% to 120% even when booking basic economy from this new, lower base.. But let's be honest: There's little reason for travelers with status to buy these stingy fares … especially as status gets harder to earn.
Entry-Level Gold Status Requires More Spending
Calling AAdvantage status a frequent flyer program is a misnomer. It's a frequent spender program. To climb the rungs of AA status, you need Loyalty Points – and that's all about spending.
Come March 1, you'll have to spend even more to earn a year of the lowest tier of status with American. AAdvantage Gold Status will require 40,000 Loyalty Points – up from the current 30,000-point threshold. Gold status comes with perks like a free checked bag on American flights, complimentary preferred seat selection, access to Main Cabin Extra seats with extra legroom at check-in, the occasional upgrade to first, and more.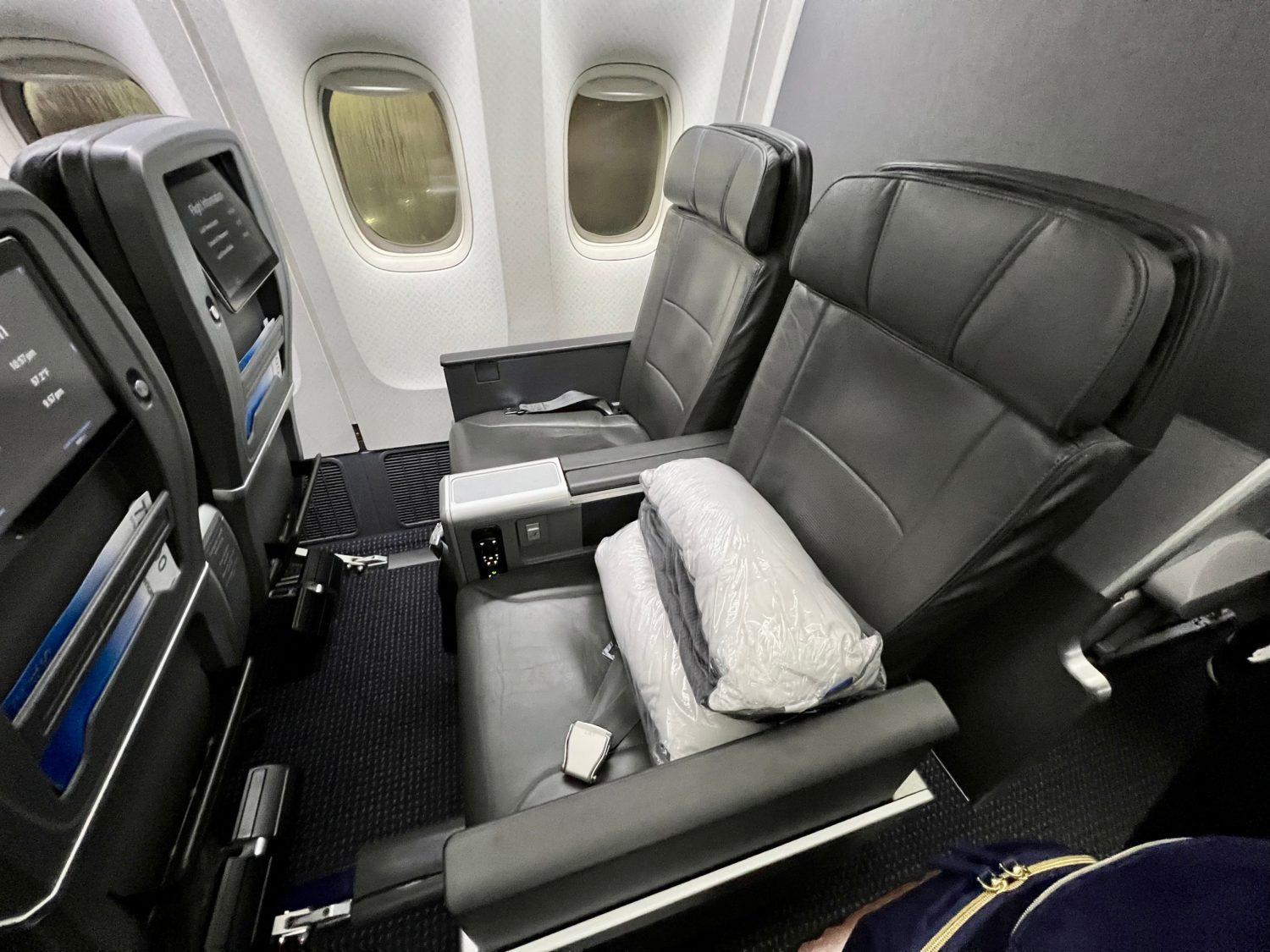 From Platinum all the way up to Executive Platinum, none of the other tiers of AAdvantage status are getting harder to earn. Earning status with American resets in March each year. Unlock AA status in 2023? You'll have those benefits all the way through March of 2025.
Here's a look at the new requirements for earning AAdvantage status starting March 1, 2023:
AAdvantage Gold: 40,000 Loyalty Points
AAdvantage Platinum: 75,000 Loyalty Points
AAdvantage Platinum Pro: 125,000 Loyalty Points
AAdvantage Executive Platinum: 200,000 Loyalty Points
On top of booking and flying with American or its partner airlines, you can earn Loyalty Points by shopping through American's portal, using the airline's dining program, and even earn 1 point for every buck you spend on select credit cards like the AAdvantage Aviator Red World Elite Mastercard from Barclays or the Citi® / AAdvantage® Platinum Select® World Elite Mastercard®.
Other Notable Changes
There are plenty of other changes on tap for using American status next year, so be sure to scope out the airline's full breakdown.
Here are some other highlights:
You can get some perks without status: Earning 15,000 Loyalty Points won't even get you close to Gold status, but you will get priority boarding (in Group 5) through March of the next year, plus the choice between five free preferred seat assignments or priority check-in, security, and boarding (in Group 4) for a single trip.
More Loyalty Point Reward tiers: You can unlock some new benefits as you climb your way from Gold to Platinum, and again from Platinum to Platinum Pro status with American
Tons of other Loyalty Point Reward tier changes: Some will require more Loyalty Points to unlock additional perks, while American is adding even more tiers – including one as high as 5 million Loyalty Points!
No more AAdvantage Mile cap: Following Delta's lead from earlier this year, there's no more cap of earning 75,000 AAdvantage miles on a single ticket. That requires spending an absurd amount on a single flight: Even tip-top American elites that earn 11x miles per dollar would have to spend nearly $7,000 to benefit. This only takes effect for flights March 1 and onward.
Bottom Line
Change is clearly in the air in 2023 for U.S. airlines. American is just the latest to set major changes to its loyalty program in motion for next year.
These changes will affect everyone from the casual American flyer looking to put AAdvantage miles to use to the ultra-heavy spender climbing the rungs of American elite status.