Marriott (pronounced MARRY-ET) has made some substantial changes to their brand, loyalty program, and policies over the past few years with the acquisition of the Starwood Preferred Guest brand. The new combined program, dubbed Marriott Bonvoy, has been live since last August, and has raised many questions on just what you can and can't do with Marriott Bonvoy Points.
For example, one of the big benefits carried over from the Starwood Preferred Guest program is the ability to transfer points into almost any airline's frequent flyer program. It is now possible to transfer Marriott Bonvoy points to over 40 airline partners at a 3:1 ratio.
But what about transferring Marriott Bonvoy points between accounts, sharing with friends or family members to book a hotel? Historically, Marriott's policy on this hasn't been very user-friendly.
But that's changed with the new Marriott Bonvoy program. We'll break down everything you need to know about transferring Marriott Bonvoy points between user accounts.
The History of Marriott Points Transfers Between Accounts
Before the Marriott and SPG Merger, Marriott allowed members to transfer a maximum of 50,000 points between member accounts per year. Additionally, if you were not a Marriott Platinum Elite or Gold member, they actually charged you $10 to make the transfer. They did have an option for special one-time transfers but the caveat was the points had to be used immediately for redemption.
This didn't sit well with SPG members after the merger as SPG allowed unlimited and fee-free transfers between accounts in increments of 1,000 points, as long as the billing address on both accounts was the same. This made it incredibly easy for couples to combine points into one account for easier redemptions.
Marriott Bonvoy's New Points Transferring Policy
With the rebranding of the Marriott Bonvoy program, Marriott has updated its policy on transferring points between Marriott Bonvoy member accounts.
The new point transferring policy is as follows:
You can transfer up to 100,000 points each calendar year to any other Marriott Bonvoy program member.
There is no requirement that the two accounts share the same billing address. However, the account you are transferring into must be in good standing and has to have been open for a minimum of 60 days. 
Each Marriott Bonvoy member can receive up to 500,000 points through transfers each calendar year. This makes it easy for families to consolidate points into one account.
Points transfers must be made in increments of 1,000 points.
need to call Marriott Rewards Guest Services at (801) 468-4000 to complete a transfer.
Further, Marriott has completely done away with the special one-time points transfers that needed to be used for redemption immediately.
It is also important to note that making a points transfer will not reset the clock on your points expiring. If you have no qualifying activity in your Marriott Bonvoy account for 24 consecutive months, any points in the account will be forfeited.
How to Transfer Marriott Bonvoy Points Between Accounts
Unlike Hilton, who makes pooling and transferring points between member accounts incredibly easy, Marriott does not currently have an option to complete points transfers between accounts online.
To transfer Marriott Bonvoy points between accounts, you will need to call Marriott Rewards Guest Services at (801)-468-4000. The phone representative will need information for both accounts involved in the transfer so it's a good idea to have names and Bonvoy account numbers handy before picking up the phone.
How to Earn Marriott Bonvoy Points
Both Chase and American Express have co-branded relationships with Marriott. Chase issues the Marriott Bonvoy Boundless credit card while American Express has rights to the Marriott Bonvoy Business® American Express® Card and the Marriott Bonvoy Brilliant® American Express® Card.
Each card is designed to target a different sector of Marriott's customer base. Chase's Bonvoy Boundless card is the mass market consumer card while American Express has rights to the business card and the more Premium, Brilliant card.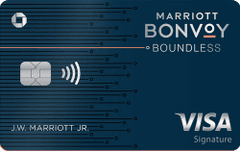 Click Here to get more information about the Marriott Bonvoy Boundless Credit Card. 
Click Here to learn more about the Marriott Bonvoy Business® American Express® Card.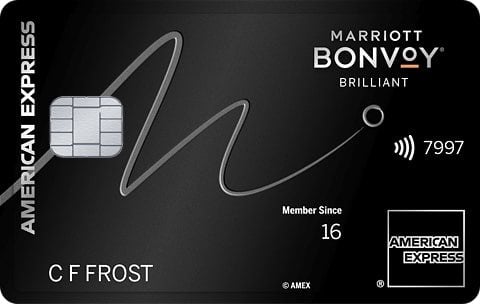 Click Here to learn more about the Marriott Bonvoy Brilliant® Card from American Express®.
Our Analysis
While Marriott's new points transferring policy has certainly improved, it falls short because you can't transfer online. They also don't allow the ability to create a pool for easier redemptions as Hilton Honors does.
It isn't clear if they intend to make this feature available online at some point in the future, but it seems like something that shouldn't require a phone call and the time of their customer service representatives.
The 500,000-point receiving limit is a nice addition as it allows families with points spread across many different accounts the ability to consolidate them for the purpose of a large redemption or to take advantage of one member's Marriott Bonvoy elite status.
Bottom Line
If you and a spouse or significant other have Marriott points in different accounts, consolidating them into one might make sense. Marriott has made this easier with its new Bonvoy program, but there is still plenty of room for improvement.
Lead photo credit of Marriott Hotels