Like it or not, basic economy fares are here to stay. Fortunately, Alaska Airlines basic economy isn't as painful as what you'll find on many other carriers.
Long after Delta became the first major airline to sell these no-frills fares way back in 2013, Alaska Airline was among the last to adopt them. It's the airlines' way of trying to compete with budget carriers like Spirit, Frontier, and Sun Country by unbundling for fares, charging separately for bags, seat selection, and ruling out fare changes or cancellations.
But just as with everything in the airline world, Alaska does things a little bit differently – and it starts with the name. Here's a look at everything you need to know about flying Alaska Airlines basic economy … or what the airline calls "Saver Fares."

What You Get with Alaska Airlines Basic Economy
First things first: The Seattle-based airline calls its basic economy "Saver Fares"
But while most airlines don't allow you to pick a seat in advance and United even bans carry-on bags for basic economy flyers, Alaska is far more generous. Take a look.
Baggage: Get a personal item and carry-on bag for free; pay $30 each way for a checked bag. Read up on Alaska Airlines baggage fees
Seat Selection: Available only at the back of the plane; upgrade to a different seat for a fee.
Boarding: Final boarding group.
Earning Alaska Mileage Plan Miles: Yes.
Earning Status: Yes.
Upgrades: Not eligible for complimentary upgrades.
Ticket Changes and Cancellation: Not allowed, except for within 24 hours of booking.
Buying basic economy rather than a main cabin fare will typically save you $15 to $30 each way. And naturally, Alaska Airlines does its best to convince travelers to opt up for the main cabin economy fare. Airlines measure the success of basic economy based on how many passengers pay to avoid it.

But Alaska's seat selection policy is a big improvement over what you'll get flying elsewhere. While most airlines charge basic economy passengers a hefty fee to pick a seat – or simply assign it randomly at the gate – Alaska allows basic economy travelers to pick the best of what's available at the back of the plane for free.
Here's a look at what's available on a flight from Seattle (SEA) to Minneapolis-St. Paul (MSP). Note that with Alaska Airlines basic economy, you can only pick from seats marked "Saver Fare."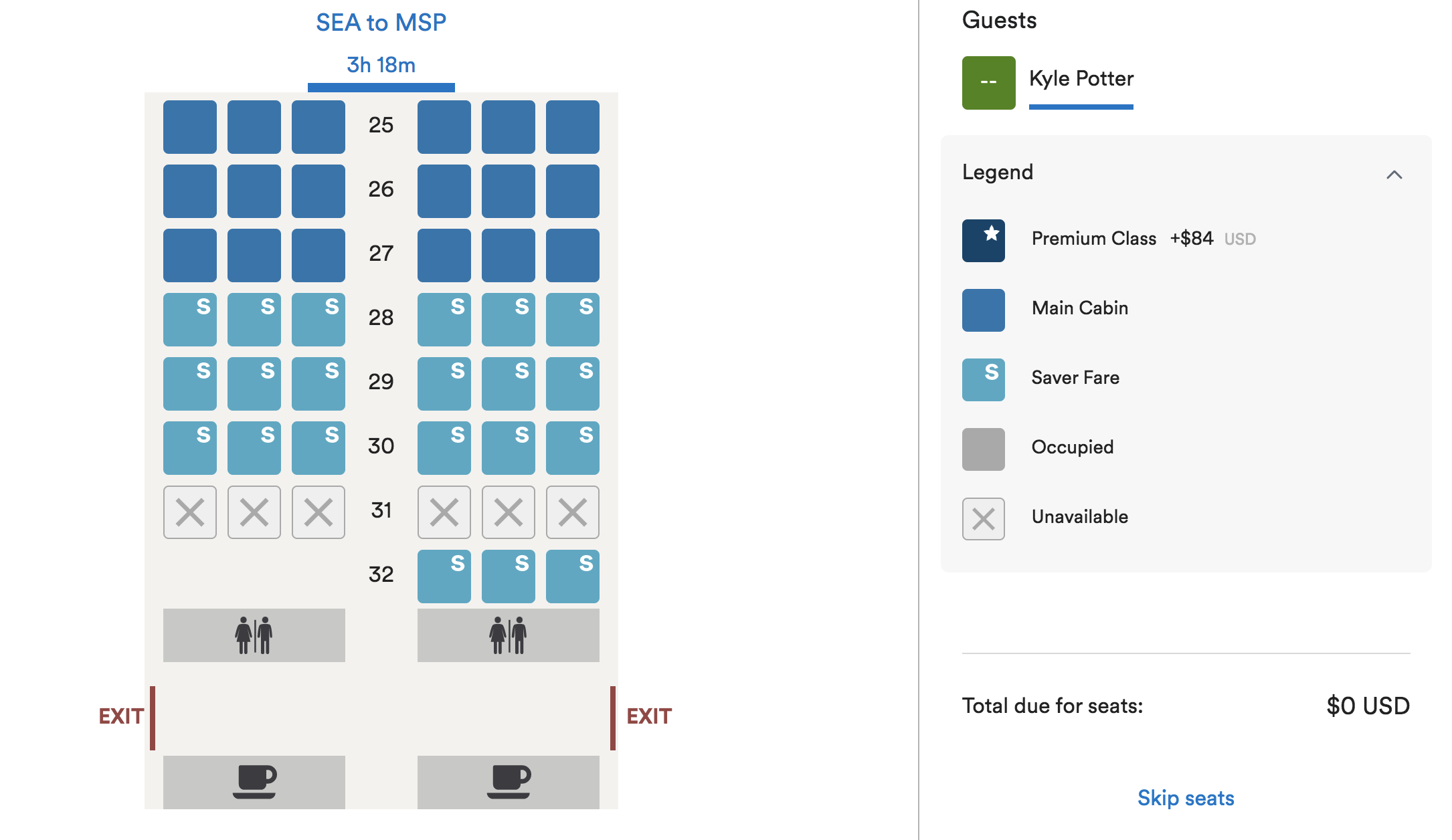 You could also pay up to sit farther up front when flying Alaska Airlines basic economy. If there are no more seats in the Saver Fare rows available or you don't pick one in advance, your seat will be automatically assigned when you check in.
What Routes Include Basic Economy?
Airlines like Delta and American Airlines carve out exceptions in their massive international networks where basic economy isn't sold. That includes flights to destinations like Asia, Australia, and Africa.
But Alaska Airlines is much smaller and doesn't fly to those places. So you'll typically find Saver Fares on sale on every Alaska Airlines flight, including flights to:
Continental U.S. and Canada
Hawaii and Alaska
Mexico and Costa Rica
How to Beat Alaska Airlines Basic Economy
Pick Your Seats … Then Wait
Alaska Airlines is unique in that it allows flyers with a basic economy fare to pick seats for free … from the time you book your flight. That makes it easy to avoid the dreaded middle seat.
On a United basic economy fare, you can pay for a seat assignment straight away. The same is true with American Airlines basic economy. On Delta basic economy, you have to wait until just seven days before departure to buy a seat assignment – though you can roll the dice and try to snag a seat for free.
So Alaska Airlines stands out by giving flyers that option for free. Sure, it's at the back of the plane. Still, it's worth noting. It makes sense
But once you've picked your seats, it makes sense to keep watching the seatmap to see if you can score an even better spot. As the flight draws closer, Alaska tends to open up the seating options to Saver Fare flyers. For example, even flyers on an Alaska Airlines basic economy fare can select an exit row seat on this flight just a few days before departure… for free!

Grab an Alaska Credit Card
Like with many airlines, the easiest way to beat basic economy is by holding the right co-branded credit cards.
In this case, you'll want the Alaska Airlines Visa Signature Card. This card gets you and up to six others traveling on your reservation a free checked bag. What's more, you don't actually have to pay for your fare with the card to get that perk.
The card comes with a $75 annual fee, which isn't waived in the first year. You'll also earn 40,000 Alaska Mileage Plan miles after spending $2,000 within the first three months with the card, and get a companion fare – bring a pal with you on a flight for just $99 plus another $22 in fees.

Click Here to learn more about the Alaska Airlines Visa Credit Card. 
How Does Alaska Airlines Basic Economy Compare?
No matter how you slice it, basic economy stinks. But at least Alaska Airlines basic economy stinks a little bit less than the competition.
The ability to pick free seats at the back of the plane from the time you book makes it easy to avoid the dreaded middle seat assignment. What's more, you can potentially move up to an even better seat as your flight draws near – depending on how full the flight is, of course.
Add in the free carry-on, and it's easy to see that Alaska Airlines has the most generous basic economy fare out there. In fact, no other major airline comes close.
Bottom Line
Basic economy is here to stay. Knowing what you get and what you don't is the key to staying ahead. And with Alaska Airlines, you get more than most.
Lead photo courtesy of InSapphoWeTrust via Flickr