Want to fly in a business class seat somewhere overseas? Unless you're prepared to shell out thousands of dollars per ticket (and let's be honest, you're reading a site called Thrifty Traveler…), you need the right airline miles.
No matter where you're heading or what cabin you want to fly in, airline mileage programs are not created equally. Some go much further than others – especially for booking business class flights. Sorry, loyal Delta aficionados: SkyMiles don't make the cut. Same goes for you, United flyers.
But earning the best miles for booking business class is even easier thanks to credit card transfers. That means you can easily earn the miles you need for that lie-flat seat from popular travel cards like the *chase sapphire preferred*, the *amex gold card*, or the *venture x*, among many others.
Here are seven of the best airline mileage programs we frequently turn to in order to book business class flights for less.

Air Canada Aeroplan
Air Canada's mileage program isn't just one of the best for booking business class flights like United Polaris business class, SWISS business class, and even Singapore Airlines to Southeast Asia or Etihad to the Middle East. Honestly, Air Canada Aeroplan is easily one of the best airline loyalty programs, period.
It's got reasonable mileage rates and low taxes, so you won't have to spend a boatload of miles and cash to book your lie-flat seat abroad. Its website is easy to use with excellent features, like the ability to add a stopover to any flight for an extra 5,000 points. Air Canada has more airline partners than any other carrier on the planet, meaning you can use those Aeroplan points to book flights on roughly 50 airlines all around the world.
But this article is about business class, and that's one area where Aeroplan really shines. Thanks to Air Canada's quirky pricing scheme, exactly how many miles business class will cost you depends on which regions you're flying between and the length of the flight. From the U.S., you can:
Book United Polaris flights from coast to coast for just 25,000 points each way
Book business class to Europe on airlines like United, SWISS, Lufthansa, Austrian, and more starting at 60,000 points each way from the East Coast
Fly from Seattle (SEA) to Tokyo in ANA business class for just 55,000 points – literally half of what you'd pay booking the exact same flight using United MileagePlus miles.
Get a lie-flat bed from many U.S. cities to almost anywhere in Southeast Asia for 87,500 points each way
It's even a solid way to book Lufthansa First Class, typically for 90,000 or 100,000 points each way

The savings go beyond points and miles, as Air Canada tacks on incredibly reasonable taxes and fees when redeeming points – almost always under $70 or so when departing the U.S. It'll save you stress, too: Unlike some many airlines (including others on this list), the Air Canada website is incredibly easy to use and reliable. You can even add a stopover to any itinerary for just 5,000 additional points, a rarity among airline mileage programs.
There are some niche options with Aeroplan, too.
Singapore Airlines is the world's reigning top carrier with fantastic first class suites and business class seats flying to Southeast Asia. With premium cabins so nice, the airline typically doesn't let travelers use other airlines' miles to book them … but Aeroplan is an exception. 
Not only can you book Singapore Airlines business class with Aeroplan points, but it's a tremendous deal: Even business class on the world's longest flight from New York City (JFK) to Singapore (SIN) is bookable for just 87,500 points, substantially less than what Singapore's own Krisflyer program charges for the same route.
Get alerts to fly business class with your points and miles with Thrifty Traveler Premium+!
You can even book business class on many airlines that aren't part of Air Canada's Star Alliance, like Emirates, Etihad, Oman Air, and many more!
How to Earn Aeroplan Points
Don't worry about racking up miles on Air Canada flights in order to earn these points. It's gotten even easier to pile them up over time.
Aeroplan is a Chase transfer partner, Amex transfer partner, Capital One transfer partners, and a Bilt transfer partner, too. That means you can transfer all the points you need from cards like the *chase sapphire preferred*, the *amex gold card*, and the *venture x*, among others.
Air France/KLM Flying Blue
Sacre bleu! Yes, Air France/KLM's Flying Blue program needs to be on your radar if business class is on your bucket list.
This is the joint mileage program of Air France and Dutch carrier KLM. And while it's loaded with sweet spots to book flights for fewer miles, it's a go-to for redeeming miles for a business class flight overseas.
As with almost anything in the world of travel, there are tradeoffs. Namely, Flying Blue charges higher fees than you might prefer to pay: Think $200 or so for a one-way to Europe and closer to $400 for a one-way home to the States. Both airlines' websites can be temperamental when searching for award tickets, though their smartphone app is typically reliable for booking a flight.
But the upside is undeniable: Incredibly reasonable rates like 55,000 miles nonstop to Paris-Charles de Gaulle (CDG) or Amsterdam (AMS), sometimes a tad less when you connect onward into Europe. Time it right with one of the airlines' monthly Promo Rewards discounts, and it can get even cheaper, closer to 30,000 miles each way! And unlike other airlines that make finding business class award availability like finding a needle in a haystack, Air France and KLM generally make it much easier to find and book these flights.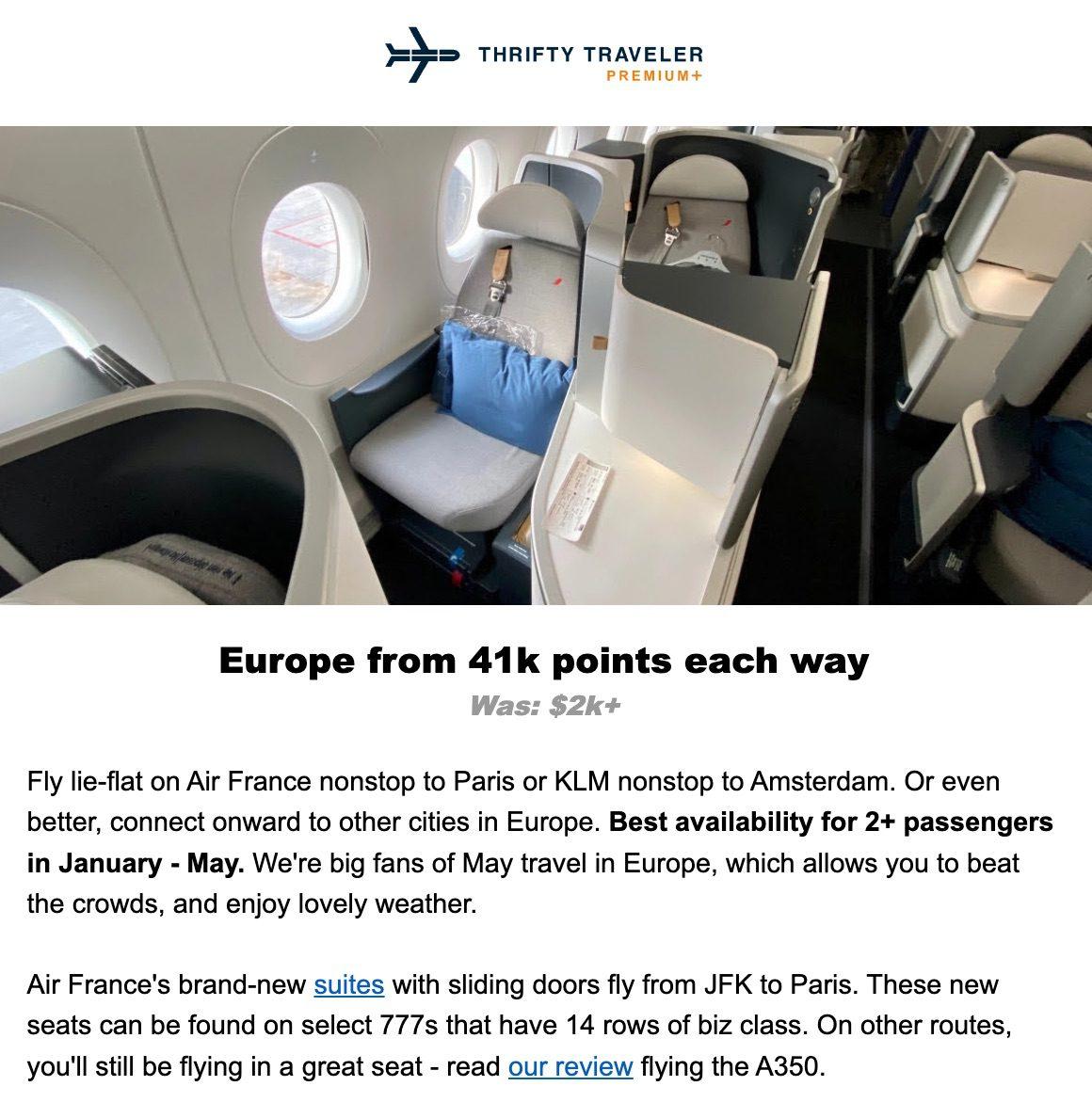 Thrifty Tip: Leave your dates blank when searching for Air France or KLM flights to get a monthly calendar view of availability!
Flying Blue miles have gotten even more valuable lately with a fun addition: free stopovers on any award ticket, whether you're flying Air France business class or using miles to book a partner airline like Delta. For now, you'll have to call the airline in order to book one of these two-for-one tickets. Plus, Flying Blue
The savings go beyond booking Air France business class or KLM business class. Flying Blue is our go-to way of booking Virgin Atlantic Upper Class suites to London, as you'll pay a fraction of the nearly $1,000 in fees that Virgin Atlantic Flying Club charges for these same flights. It's also a great way to get to Taipei (TPE) in China Airlines business class.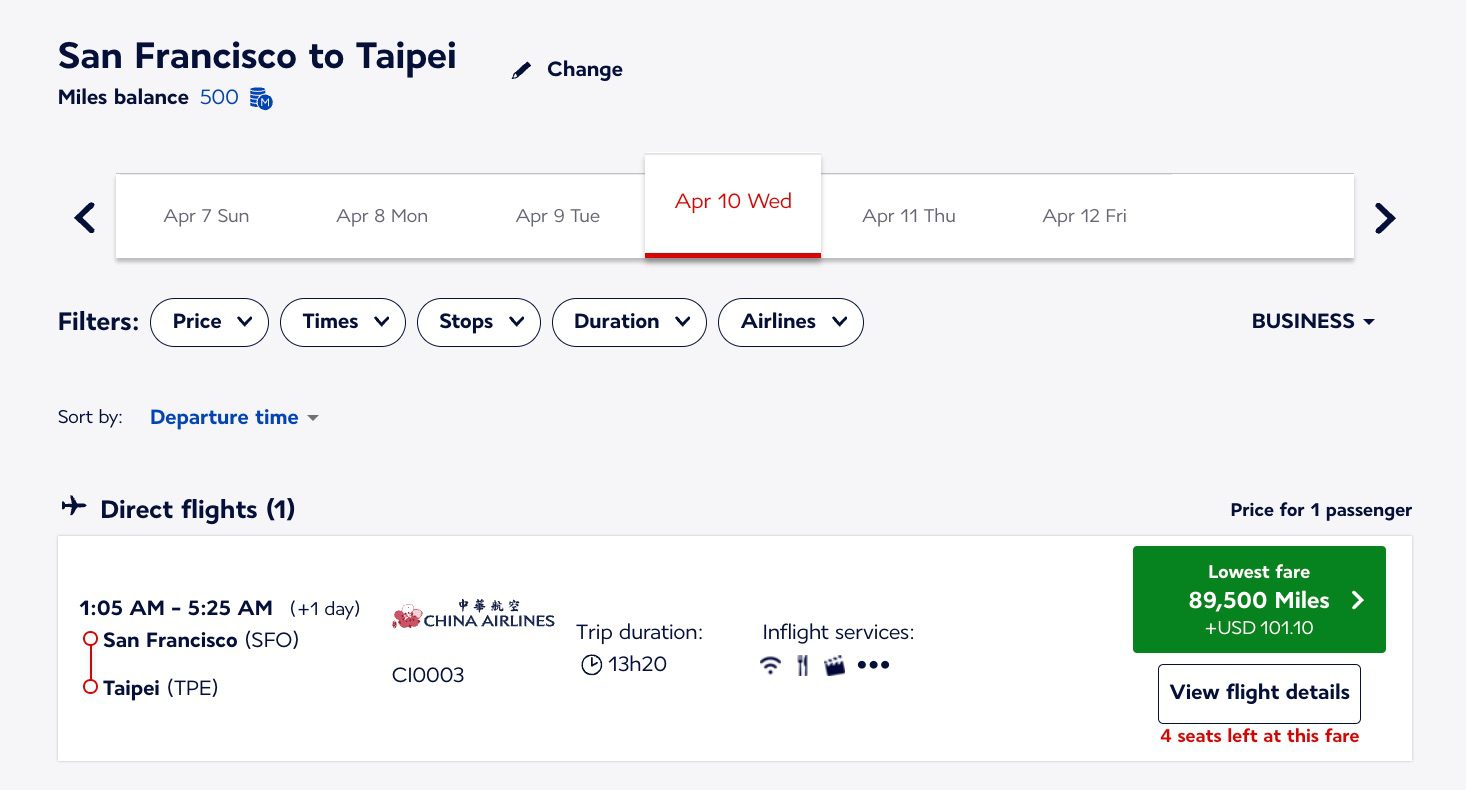 How to Earn Flying Blue Miles
These are among the easiest miles to earn in the world without even setting foot on a plane.
That's because Flying Blue is a transfer partner of all the major credit card companies. So whether you've got points on the *chase sapphire preferred*, the *amex gold card*, the *venture x*, or even the *citi premier*.
Plus, we frequently see transfer bonuses of 25% or more from all those banks to Flying Blue, like a recent bonus using Capital One Venture Miles. Time it right and you'll need even fewer points to book these business class flights.
All Nippon Airways (ANA) Mileage Club
Whether you want to fly ANA business class to Japan, hop on another airline between the U.S. and Europe, or fly around the world in business class, ANA Mileage Club is one of the best airline programs on the planet.
It practically goes without saying – but I'm going to say it anyway – that flying a business class suite like this over to Japan is tough to beat. But doing it for as few as 75,000 miles roundtrip – less than most airlines charge for economy? Yes, please!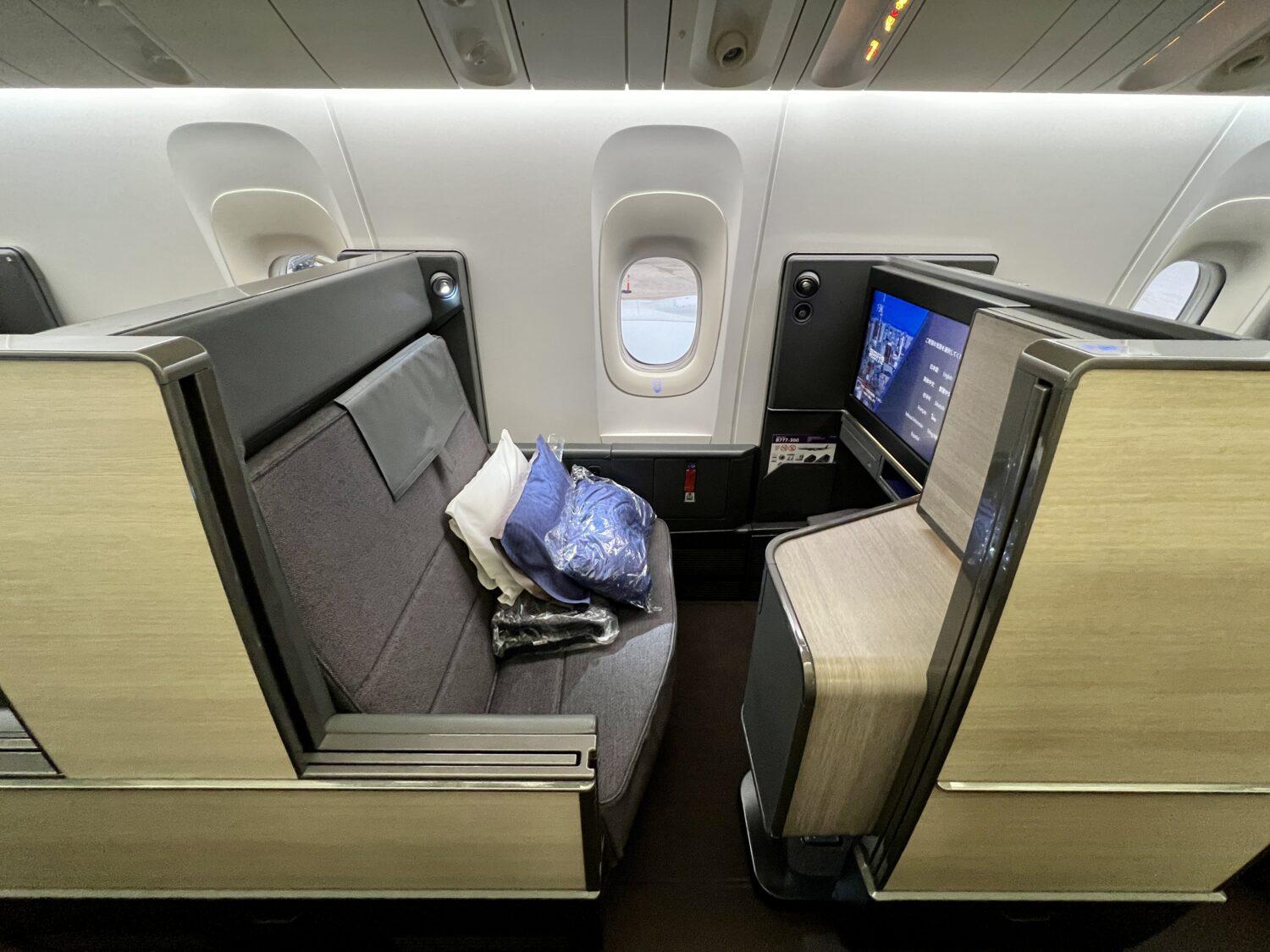 Check out our full guide to redeeming ANA Mileage Club miles!
ANA calls these business suites The Room, and they live up to the name: At a whopping 38 inches wide with privacy doors and a stunning design, they're easily among the best business class seats in the sky. But they're hard to find: Only a handful of U.S. routes feature these suites. And ANA has gotten incredibly stingy with releasing award space to actually book its business class with miles.
We sent Thrifty Traveler Premium+ an alert to some wide-open opportunities to fly these suites to Japan earlier this year.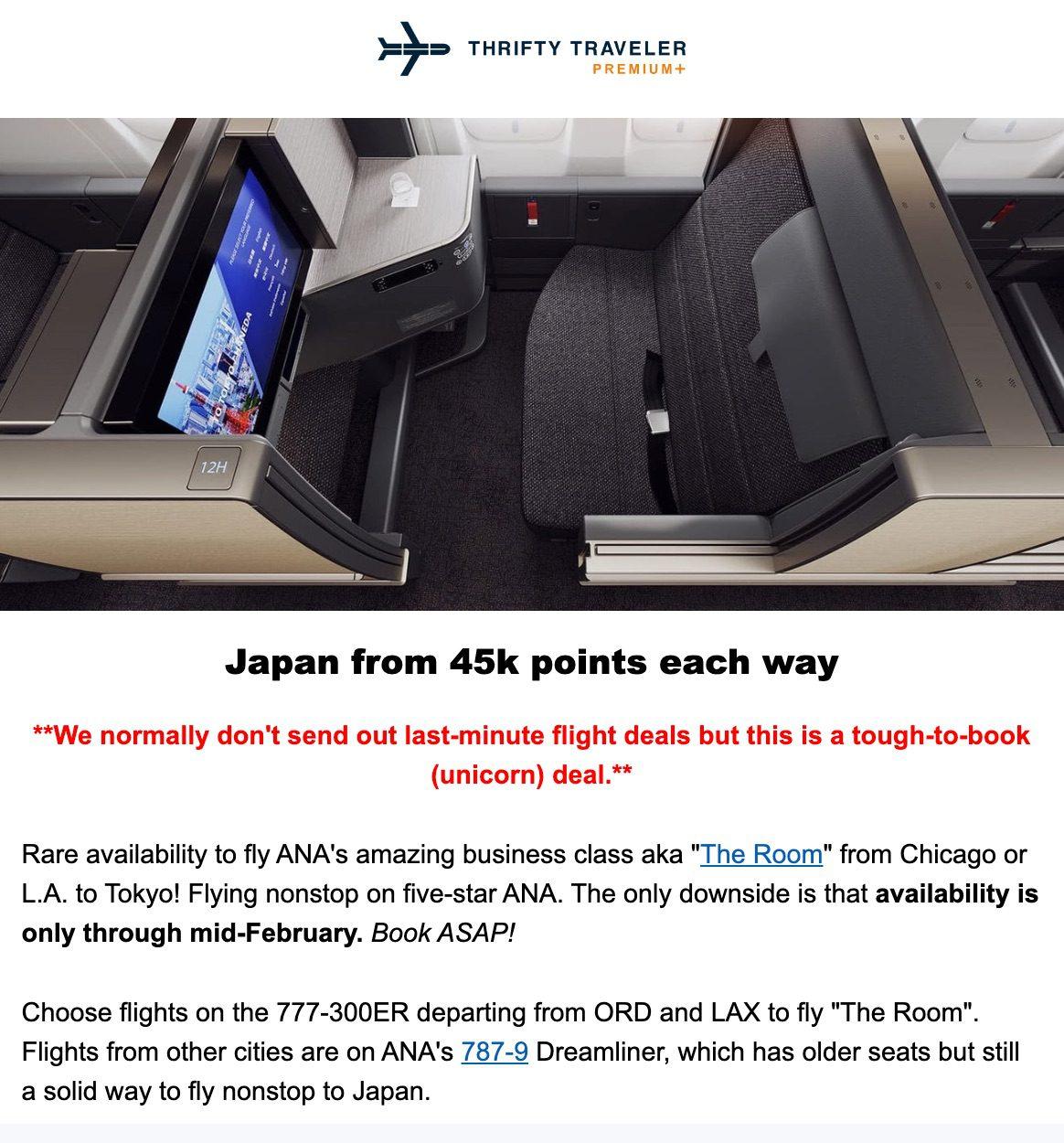 But there are other options to use ANA miles for a lie-flat seat that are much easier to pull off. One of our favorites is using just 88,000 miles to book roundtrip business class between the U.S. and Europe. Focus on specific airlines like United, SAS, Air Canada, and TAP Air Portugal, and you won't pay a fortune in fees, either.
Follow our step-by-step guide on booking this incredible deal!
Here's just how good ANA Mileage Club is for booking business class: These exact same United Polaris flights to Frankfurt (FRA) next year would cost you 80,000 United miles each way or 160,000 miles roundtrip – nearly double the cost!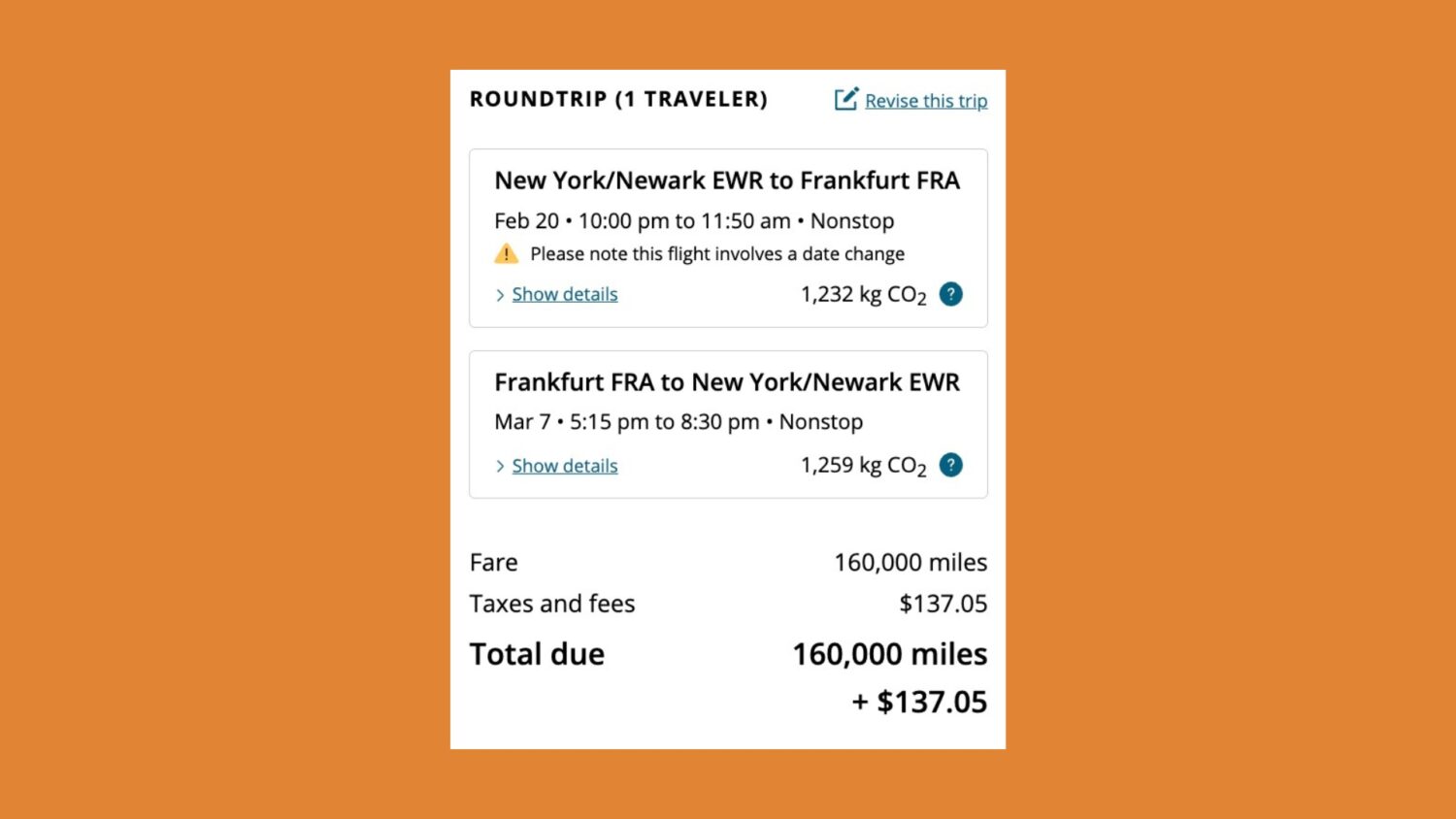 So yeah, it's easy to see why ANA cracks the list of the best ways to book business class flights. That said, there are two big caveats to keep in mind:
When you use ANA miles, you have to book roundtrip: One-way redemptions are not allowed. You can, however, book a multi-city trip (like flying into London and home from Paris, for example)
You can only book flights for yourself and family members. No booking flights for friends using your ANA miles, unfortunately.
How to Earn Mileage Club Miles
Got points on *amex platinum card* or the *amex gold card*? You're in luck.
ANA is one of the many Amex transfer partners – and one of the best, if you ask us. That means you can easily transfer a stash of 75,000 or 88,000 Amex points to get the 75,000 or 88,000 ANA Mileage Club miles you need to book these flights.
The big hitch is that, unlike many airline transfers that go through instantly, sending points to ANA often takes 48 hours or so. That's a bummer, as it means those business class flights you found through ANA could disappear by the time the miles get to your account.
With these kinds of deals, though, it could easily be a risk worth taking.
American AAdvantage Miles
These days, you're likely to find sky-high rates when trying to use American AAdvantage miles to fly at the front of the plane with American. But where AAdvantage miles shine brightest isn't flying with American: It's using them to book some of AA's stellar partner airlines in business class.
How about flying Japan Airlines (JAL) business class to Tokyo or back for just 60,000 American miles each way? And not just nonstop flights from JAL's major U.S. outposts, but maybe including a connection on American from your home airport?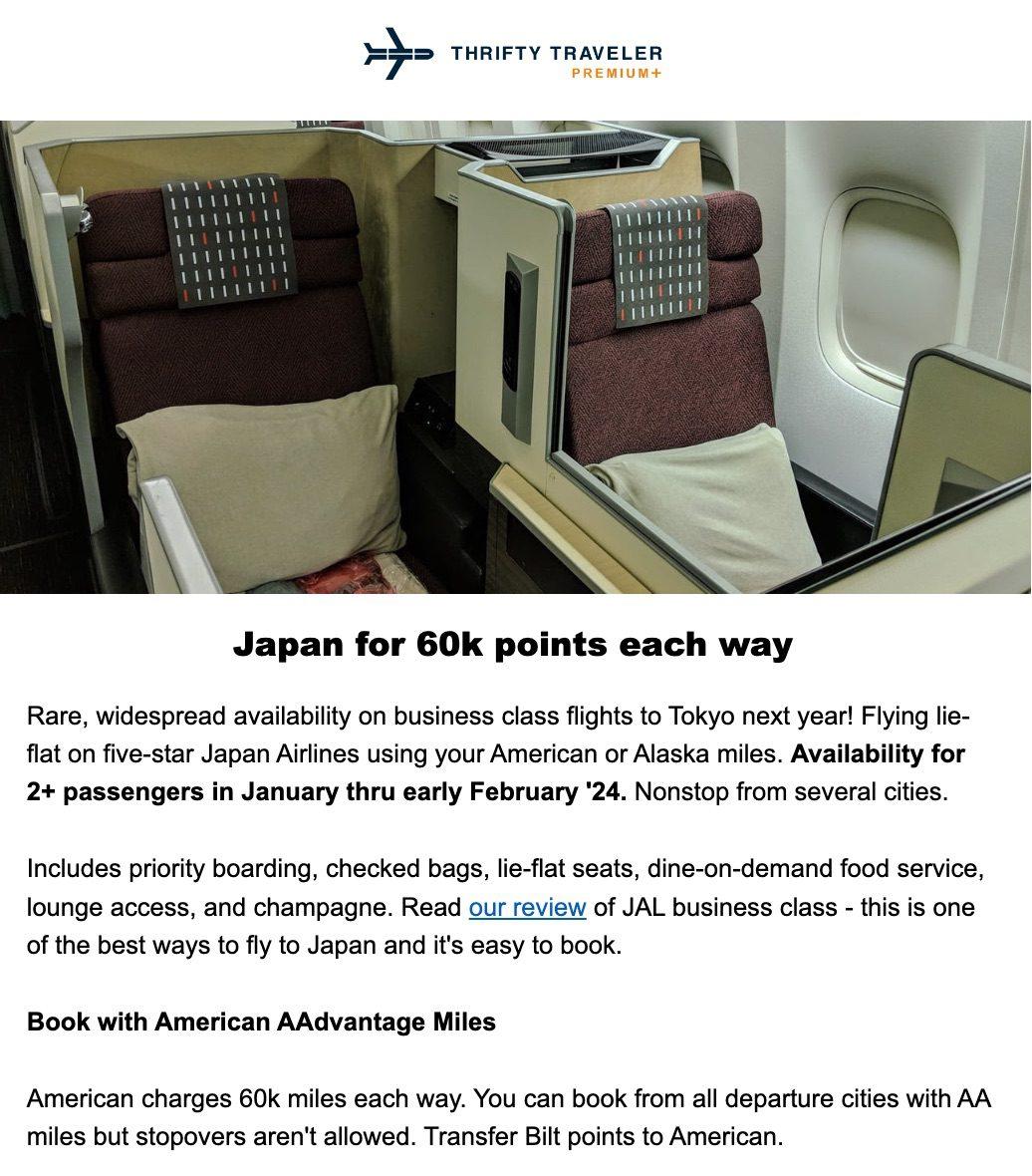 Get alerts to use your American miles (and other points) with Thrifty Traveler Premium+!
Or flying in the world's best business class – Qatar Airways Qsuites – for 70,000 AAdvantage miles each way. You can even tack on a flight all the way down to Cape Town (CPT) in South Africa or almost anywhere else in Africa for just 75,000 miles total. It's one of the best deals in the world of points and miles, period.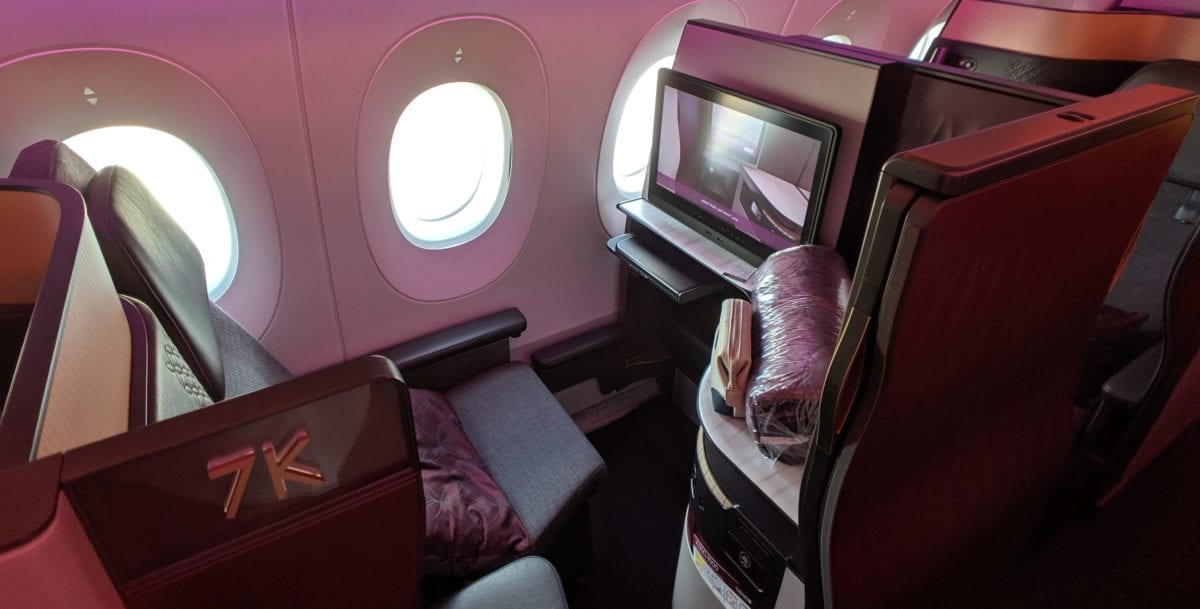 Be warned: Booking Qsuites with miles can test your patience. The airline tends to release award availability to actually book these award tickets in waves – and lately, the airline has been incredibly stingy.
But forget business class. You can even fly one of the best first class seats in the world, the heralded Etihad Apartment onboard the airline's double-decker A380, using American miles for an unforgettable flight between London-Heathrow (LHR) and Abu Dhabi (AUH).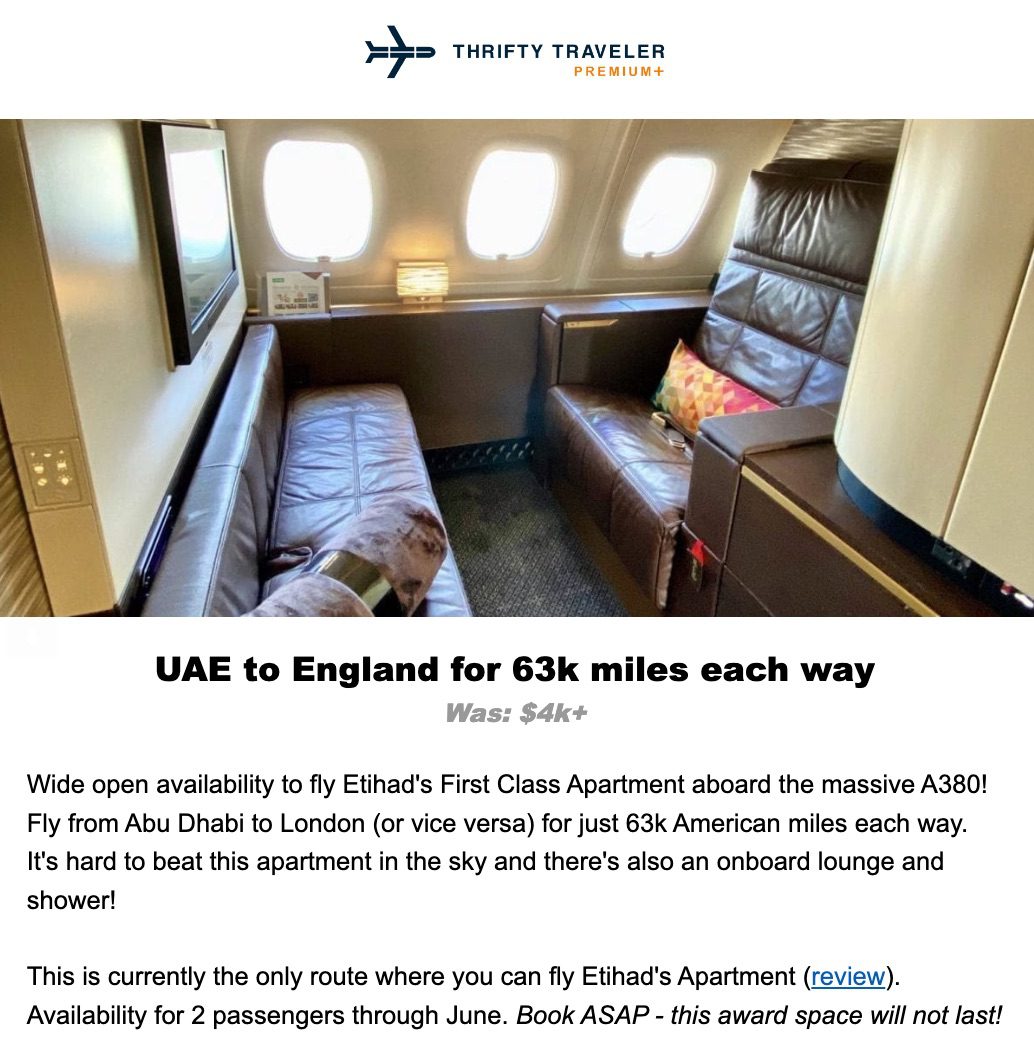 How to Earn American Miles
Transferring miles to American isn't as easy as other airlines on this list – that is, unless if you're earning Bilt Rewards points on rent or with the Bilt Rewards Mastercard®. American is a Bilt transfer partner – and only a Bilt transfer partner.
But there are plenty of other ways to rack up AAdvantage miles.
Between the AAdvantage Aviator Red World Elite Mastercard and Citi® / AAdvantage® Platinum Select® World Elite Mastercard®, you could quickly rack up 100,000 AAdvantage miles.
Avianca LifeMiles
I need to be honest: Avianca LifeMiles is not for the faint of heart.
Its website sometimes works fine, but often doesn't. Customer service by phone or email is spotty even in the best of times. With that in mind, it can be a real pain if you need to change plans – it requires a phone call and hefty fees of up to $200 per ticket to cancel a business class award to get your miles back.
But for many, it's worth putting up with LifeMiles for some unbeatable sweet spots to book business class on two dozen Star Alliance airlines for fewer miles – and low taxes and fees, to boot. Here's just a small sample:
Whether you start in New York or D.C. or all the way on the West Coast, you can fly from the U.S. to almost anywhere in Europe in business class for 63,000 LifeMiles each way
There's an inexplicable exception: One-way flights from New York City (JFK) to Lisbon (LIS) in TAP Air Portugal business class can be booked for just 35,000 miles each way! But only that single route is bookable at the unthinkably low rate – even return flights from Lisbon back to NYC price out at 63,000 miles
Looking for a comfortable way to fly down to Brazil? Look no further than using LifeMiles to fly United Polaris business class for just 50,000 miles one-way
Even after a massive hike last year, one-way business class flights to Asia and throughout Southeast Asia for 85,000 to 90,000 LifeMiles is a solid deal – especially with lengthy connections
At 87,000 miles each way from every hub in the U.S., it's the cheapest way to book Lufthansa First Class – and thanks to LifeMiles' goofy pricing logic, you can make it even cheaper by adding in a connection within Europe in business class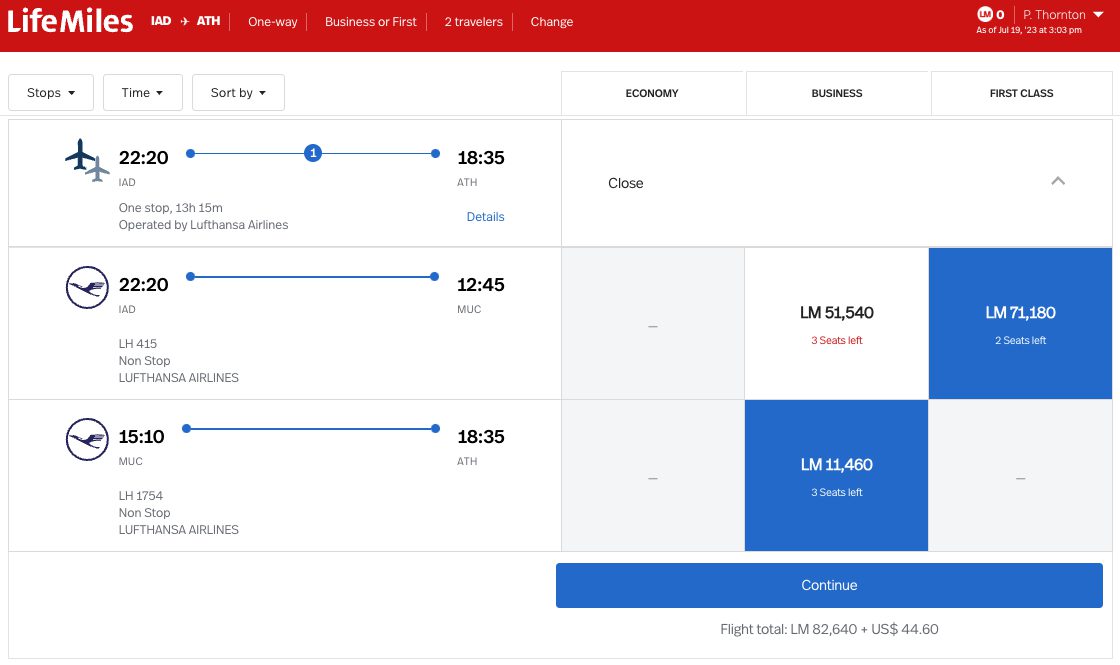 How to Earn LifeMiles
It's gotten far easier to earn LifeMiles over the years. Odds are, you've got a way to get them and may not even know it.
LifeMiles is a Capital One transfer partner, American Express transfer partner, and Citi ThankYou transfer partner. That means the miles you earn from the bonus on the *venture x* could be more than enough for many of the options you see listed here.
British Airways Avios
Long-haul business class seats are often pricey when booking with British Airways Avios. Thanks to the distance-based award chart British Airways and its partner airlines (like Iberia and Aer Lingus) use to determine how many miles it costs to book a flight from point A to point B.
But there are a few tremendous exceptions where turning to Avios is the best bet for getting a bargain.
Let's start with the cream of the crop: Flying Iberia business class from the U.S. to Madrid (MAD). While most airlines charge at least 60,000 miles (or much more) for a one-way business class ticket to Europe, you can book for as low as 34,000 Avios each way! It's not too good to be true: In fact, there are only a few hoops to jump through to make it happen:
You have to fly nonstop between Madrid (MAD) and select U.S. cities like Boston (BOS), New York City (JFK), Washington, D.C.-Dulles (IAD), and Chicago-O'Hare (ORD) to get this low rate.
You have to fly at the right time: These low, 34,000-mile rates are only available during off-peak periods – peak summer trips are pricier, though still a bargain for as low as 50,000 miles each way.
Your searches might still turn up blank, as you need to find the award availability to actually book these flights with your miles.
We've got you covered. We do all the legwork for our Thrifty Traveler Premium+ members: Finding availability, in-depth booking instructions, and guiding you to the best credit card points to use to book what's typically a $4,000-plus fare. If there's a transfer bonus to Iberia (or British Airways), it can get even cheaper just like it did on this deal we sent subscribers for a trip to Spain this fall.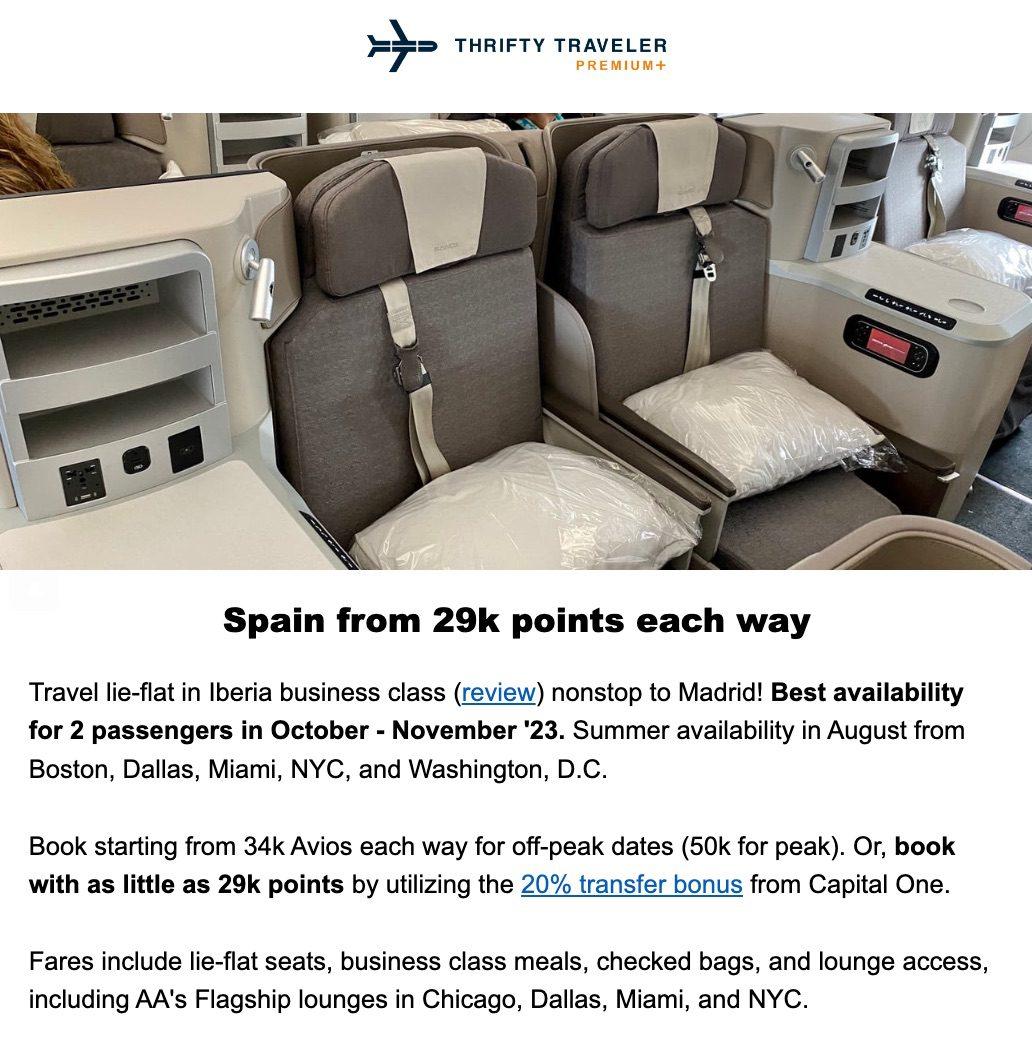 But British Airways is also an amazing way to book some ultra-long flights to Doha (DOH) in Qatar Qsuites. Just like American further up on this list, it'll cost you just 70,000 Avios each way and a reasonable $100 or so in taxes and fees. If you want to make a connection to Dubai (DXB) or elsewhere in the Middle East or maybe even head somewhere like the Maldives, you'd want to consider kicking those Avios over to Qatar and booking that way instead.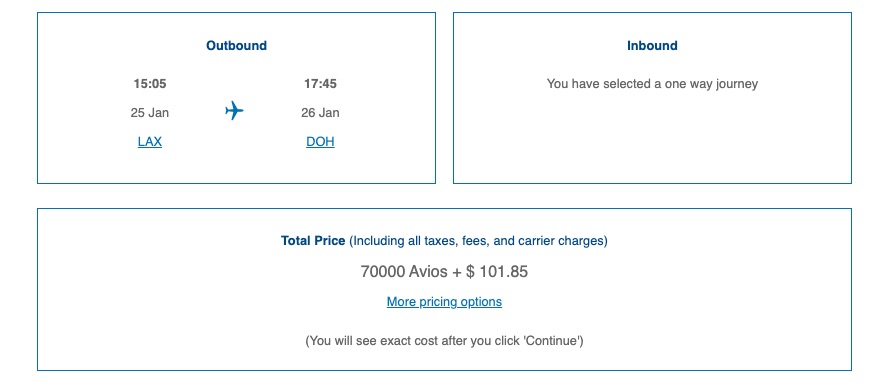 Read more: The #1 Trick to Booking Qatar Qsuites Right Now
How to Earn Avios
Avios are one big (and growing) family, and that makes them some of the easiest miles to earn in the world.
British Airways, Qatar, Iberia, and Aer Lingus all use Avios as their frequent flier currency – and Finnair will soon join that list. And they break one of the cardinal rules of airline miles: Unlike almost every other carrier, you can transfer Avios between all these airlines.
You can transfer points from Chase, Amex, and Capital One directly to your British Airways account. Meanwhile, you can transfer Citi ThankYou points to Qatar Airways.
Turkish Airlines Miles & Smiles
Nonstop Turkish business class between the U.S. and Istanbul? That'll be 45,000 miles.
Book a connection to hundreds (literally) of cities all across Europe? That'll still be just 45,000 miles.
Connect through Istanbul and onward to the Middle East? No problem: Just 47,000 miles each way.
That's the beauty of the oddly named (but incredibly valuable) Turkish Miles and Smiles program. If crossing the Atlantic Ocean in lie-flat seats is on your list, Turkish miles should be, too.
Unfortunately, booking through Turkish can be a major pain in the butt. Case in point: Lately, it's been practically impossible to use Turkish miles to book flights on partner carriers like United – at least without sending a ton of emails to the airline's booking offices.
But for a simple redemption booking Turkish business class to Istanbul (IST) or beyond, it's easy – and an amazing deal. Just keep in mind that Turkish passes on $200 or so in taxes and fees per passenger – a small price to pay for an amazing ride to Istanbul.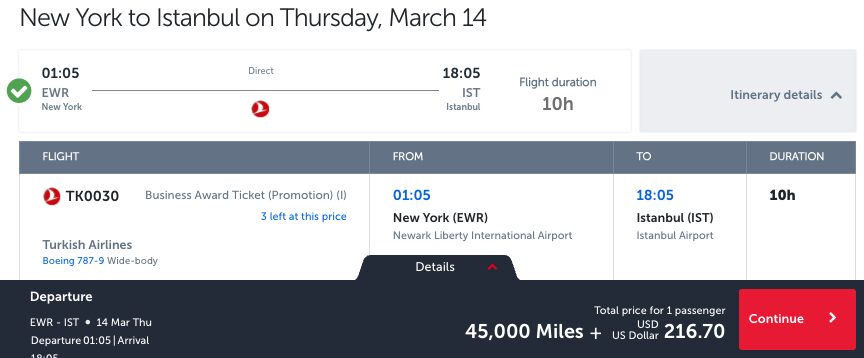 How to Earn Turkish Miles
Don't worry about flying Turkish to rack up their miles. There's a better way.
Turkish Airlines is one of the best transfer partners of both Capital One and Citi. So if you've got points saved up on either the *venture x* or the *citi premier*, you've got what you need.
The best part? These are instant transfers. And if you're earning points on rent, you can also transfer Bilt Rewards to your Turkish Airlines Miles & Smiles account.
Bottom Line
You might have never set foot on these airlines, but these mileage programs are far and away our favorites in order to book business class flights for fewer miles than you'll see using other carriers. And transferrable credit card points make it easy to get all the miles you need to take advantage of these sweet spots.