Less than a year ago, I had zero credit card points to my name. This month, I finished planning my dream honeymoon to Tanzania and Kenya mainly using points I've racked up over the last year, making a trip I had long assumed would be unaffordable … a reality.
That's the power of points and miles: Even someone starting with a zero balance (like me) can quickly accumulate what they need to book a bucket-list trip. But how? Some advanced planning, the right road map, good timing, and most importantly, financial responsibility. Credit cards are serious business: No matter how many points you can earn or trips you can take, it's not worth digging yourself into a hole of debt.
But after dabbling in burning Delta SkyMiles and using Southwest Rapid Rewards points for years, I was ready to take it to the next level in pursuit of an incredible honeymoon, flying in lie-flat business class seats all the way to Africa and back while saving some points for hotels, too. Here's what we booked:
Qatar Airways QSuites from Chicago (ORD) to Doha (DOH) to Zanzibar (ZNZ): 150,000 American Airlines AAdvantage miles for two
Three nights at the Park Hyatt Zanzibar: 46,000 World of Hyatt points
Turkish Airlines business class from Nairobi (NBO) to Istanbul (IST) to Miami (MIA): 156,000 Avianca LifeMiles for two
One night at the Crowne Plaza Nairobi Airport: 8,000 Chase Ultimate Rewards points
One night at the Hyatt Regency Miami: 12,000 World of Hyatt points
Yes, we earned all those points and miles in less than a year to book a trip for this fall. And we did it by coming up with a game plan first, snagging the best bonuses at the right time, spending responsibly, and using credit card transfer partners to get the most we could out of a newfound stash of points.
Here's a deeper look.
Outline Your Ideal Trip(s) First
At Thrifty Traveler, we have a mantra when it comes to earning points and miles: First, set a goal. Then work backwards.
Before you click to apply for any credit card, you should have a goal in mind if you want to maximize the value of your points and spending. Rather than applying for credit cards based solely on a big bonus or the bank's name, approach it like this:
Decide where you want to go and how you want to get there.
Figure out the most cost-effective way to book those flights and/or hotels using credit card points.
Find the best credit card with the biggest bonus possible to earn the points you need to book it.
Earning credit card welcome offers can cost you some money (both in spending and annual fees), so you don't want to waste your resources – or a valuable Chase 5/24 slot that could make it harder to open additional cards later – on a card that won't get you where you want to go. For example, eye-popping bonuses of 100,000 SkyMiles on Delta's Amex credit cards might be tempting … but if you want to book a trip to Europe in business class, are SkyMiles really really the best option? Hardly.
My fiancee and I started our planning with a destination, deciding on a mix of honeymoon-ish beach adventure and a safari by heading for Kenya and Tanzania. We knew there would be no better way to get to Zanzibar (ZNZ) than Qatar Airways and its famous Qsuites business class. To get home, we settled on flying Turkish Airlines business class from Nairobi (NBO) back to the states.
For hotels, we quickly zeroed in on the Park Hyatt Zanzibar – a top-tier property with some extremely affordable redemptions at just 12,000 per night. Sadly, those rates are a thing of the past as Hyatt bumped up the Park Hyatt Zanzibar to a higher award category, costing at least 17,000 points per night. And we knew we'd need a few random hotel nights, so some more Hyatt points would come in handy.
We'll cover some additional hotel nights out of pocket during our trip, but these points would go a long way toward covering some massive expenses – especially business class flights that I'd never dream of paying with cash.
From there, we made a plan to open a few cards and get the points rolling in!
Pick the Right Credit Card(s)
With our destinations and major redemptions in mind, we started plotting the right credit cards to make it happen.
When comparing credit card points versus airline miles, points have a huge advantage: You can transfer them to a dozen-plus different airline and hotel programs, giving you even more flexibility and value. So one of the most important things to review before choosing a credit card is the list of each credit card's transfer partners. Using that guide, I made a list of the points currencies I wanted to have and went from there.
Decide you need United miles? You'll want to focus on Chase, as United is a Chase transfer partner. Air Canada Aeroplan miles the key? You could choose from Chase, American Express, or Capital One. Want to fly to Europe for 88,000 miles roundtrip? You can't beat ANA Mileage Club, and they're an Amex transfer partner.
Thrifty Tip: Not sure which airline program will be best to book the flights you want? Use sites like awardhacker.com or point.me to help determine the best way to book a flight.
Luckily, we were both well below Chase's 5/24 rule, which doesn't let you get Chase credit cards if you've opened five or more credit cards in the past 24 months. Most people I know haven't ever flirted with 5/24 – if you're new to points and miles, it shouldn't be an issue just yet. But it's worth keeping in mind and definitely worth considering Chase credit cards first.
Our #1 priority was to figure out the best way to book Qsuites to southern Africa … and you can't do any better than American AAdvantage, which charges just 75,000 miles each way to fly from the U.S. to anywhere in Africa.
So we both signed up for the AAdvantage World Elite Mastercard from Barclays, offering one of the best welcome bonuses available: 50,000 AAdvantage miles after making a single purchase. The card's $99 annual fee is waived for the first year.
So I bought a coffee and my fiancee bought a pack of gum and boom: We were just a handful of miles away from the 70,000 we each needed to get to Zanzibar on Qatar.
There are plenty of other ways to earn AAdvantage miles, but we elected to simply purchase the 15,000 or so miles we needed to get the 75,000-mile total.
To get our flights home on Turkish, I looked into a few programs. The Turkish Miles and Smiles program has a ton of fantastic hidden value in it, but it was not our cheapest option to book Turkish Airlines Business Class home. That honor belonged to Avianca LifeMiles, the quirky loyalty program from the South American carrier in the Star Alliance. It offered us 78,000 miles per person (totaling 156,000) to fly business class from Nairobi to Istanbul and then onward on to Miami on their fancy new Boeing 787s.
Let's be clear, earning 156,000 miles is no small sum! That seemed like the most daunting earning task, but The Platinum Card® from American Express made it fairly easy. It starts with an 80,000-point welcome bonus after spending $8,000 within the first six months. But I lucked out: I got targeted for an even better 150,000-point welcome bonus via CardMatch. Some wedding expenses (which we had saved up for) made meeting that spending requirement a cinch. One referral bonus from a friend, and I easily had the points I needed to book two business class flights home from Nairobi.
The Chase Sapphire Preferred® Card is one of the best out there, and it is currently offering 60,000 points after spending $4,000 in the first three months. But last summer, it was astounding: A 100,000-point bonus. We knew that massive bonus was too good to last (and unlikely to ever return), so I grabbed it quickly. And I knew how I'd use those points: Transferring to Hyatt (one of the best ways to use Chase points, period) to book the Park Hyatt Zanzibar.
That bonus was more than enough to book our three nights, so I used the Chase travel portal to book our last night's hotel in Nairobi, too. That cost us about 8,000 Ultimate Rewards points in the portal for a five-star hotel near the airport to facilitate our very early flight home.
Do the Math on Annual Fees
I don't blame you if this all seems a little too good to be true. I thought the same thing. So what is the catch, here? How can anyone earn hundreds of thousands of points that I can redeem for flights I'd never be able to afford?
One of the biggest catches are credit card annual fees. From the $95 annual fee on the Sapphire Preferred to a massive $695 annual fee for the Platinum Card (see rates & fees), there's a wide range of cash costs to holding some of these cards.
If those numbers seem crazy to you, I urge you to do the math just like I did. It might not work out this way for everyone, but here's the gist: While $800 in annual fees is undeniably a lot of money, here's what I'm getting just from holding the Amex Platinum Card.
More than 250,000 points, which we're using to book at least $10,000 worth of travel.
Up to $100 to cover the cost of my Global Entry (or TSA PreCheck) membership
An annual credit of up to $200 for Amex Fine Hotels & Resorts or Hotel Collection properties (which require a minimum stay of two consecutive nights)
Up to $200 in airline fee credits – I chose Delta
Up to $200 in Uber credits per year, including Uber Eats orders
Automatic Elite status with Marriott, Hilton, Avis, Hertz, and National Car Rental
Unbeatable airport lounge access to more than 1,300 lounges worldwide, including Amex Centurion Lounges, a Priority Pass membership, and Delta Sky Club access with a same-day Delta boarding pass.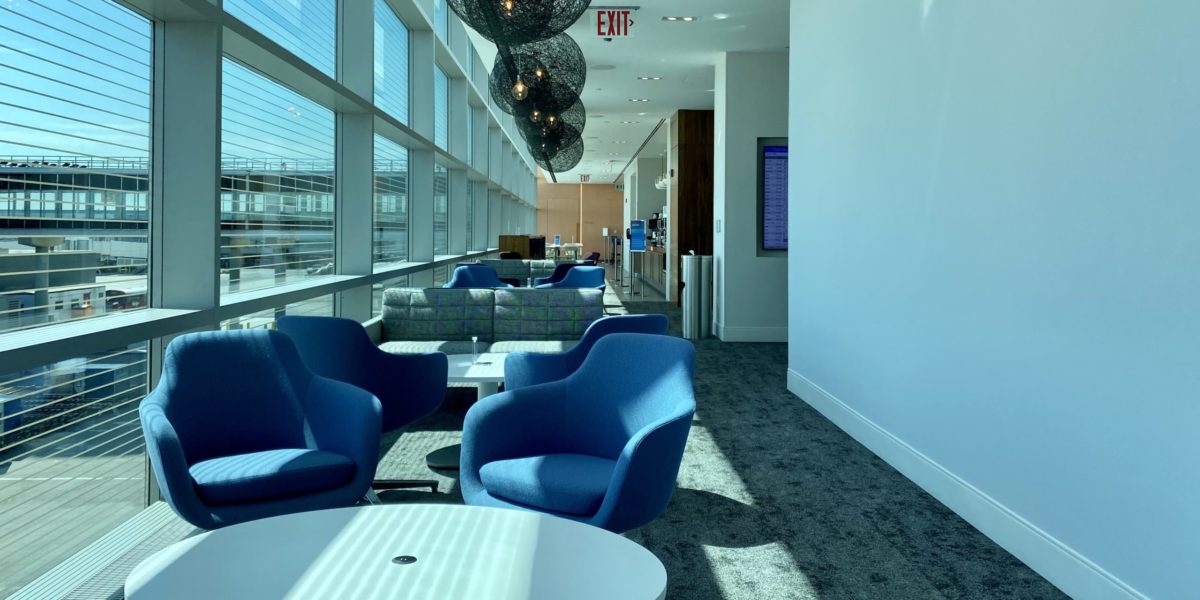 A New York Times subscription thanks to the $20 monthly entertainment credit
Up to $189 a year to cover the cost of CLEAR membership
Up to $100 in shopping credits for Saks Fifth Avenue, doled out twice a year in $50 installments
Not everyone will value these benefits at face value. But if you add up the dollar figures in those bullet points, it's more than $1,200 in value … and that's before you even consider the bonus points or lounge access! Meanwhile, the Chase Sapphire Preferred comes with some solid benefits like an annual $50 credit for hotels booked through the and rental car coverage that is second-to-none.
So, the question is, are the annual fees I pay worth what I'm getting back? For me, the answer is a resounding "Yes!" But you should do the math yourself so you can figure out what suits your travel plans – and don't get blind-sided by these fees when they come around.
Wait for Bigger Welcome Bonuses
Spending money day in and day out can earn you points. But unless you're spending for a large family or for your business, it's going to be hard to earn a ton of points and miles fast on your day-to-day expenses.
The single best and fastest way to earn points is through credit card sign-up bonuses. Many of our favorite travel rewards credit cards have bonuses ranging from 40,000 to 100,000 after you spend a certain amount of money in a certain amount of time. It's all about timing it right to get the biggest bonus possible.
For instance, the Capital One Venture X Rewards Credit Card – one of our favorite credit cards out there right now – is currently offering a tasty 75,000-point bonus offer after spending $4,000 in the first three months. When it launched late last year, A few months ago, that sign-up bonus was a whopping 100,000 points!
With that bonus, you are earning points that can be used through Air Canada Aeroplan, Air France/KLM, Avianca LifeMiles, British Airways, Emirates, Etihad, Qantas, Singapore, TAP Air Portugal, Turkish Airlines, and more – they're all Capital One transfer partners.
Plus you could pair that sign-up bonus with another credit card like the Chase Sapphire Preferred® Card, earning 60,000 Chase points after spending $4,000 in the first three months. That opens up even more doors, giving you access to Chase transfer partners like Iberia, JetBlue, Southwest Airlines, United, Virgin Atlantic, Hyatt, IHG, and Marriott, too.
That's the beauty of earning credit card points like these: With the ability to transfer them, they work for many different airlines and hotel chains. As your plans evolve, you can find the best transfer partner to make your trip work. Plus, you can use travel portals (or Capital One's excellent Purchase Eraser feature) on almost any airline, hotel, rental car, and other travel expenses.
If you're looking to compare credit card sign-up offers, we keep a running list of the best offers of the month to help you decide.
Hit Your Spending Requirement Responsibly
Before you ever sign-up for a credit card with designs on earning that points bonus, you have to have a plan to hit that spending requirement without stretching yourself too thin.
Let's say the bonus spending requirement is $4,000 in the first three months. Is that within the bounds of your normal spending? Or are you going to be overspending just to hit that number?
Maximizing the value of your credit cards is something that can help you book dream vacation after dream vacation, but credit cards are not toys and this is not a game. We have a story full of tips on how to hit your spending requirement responsibly – and that's the most important part of this journey.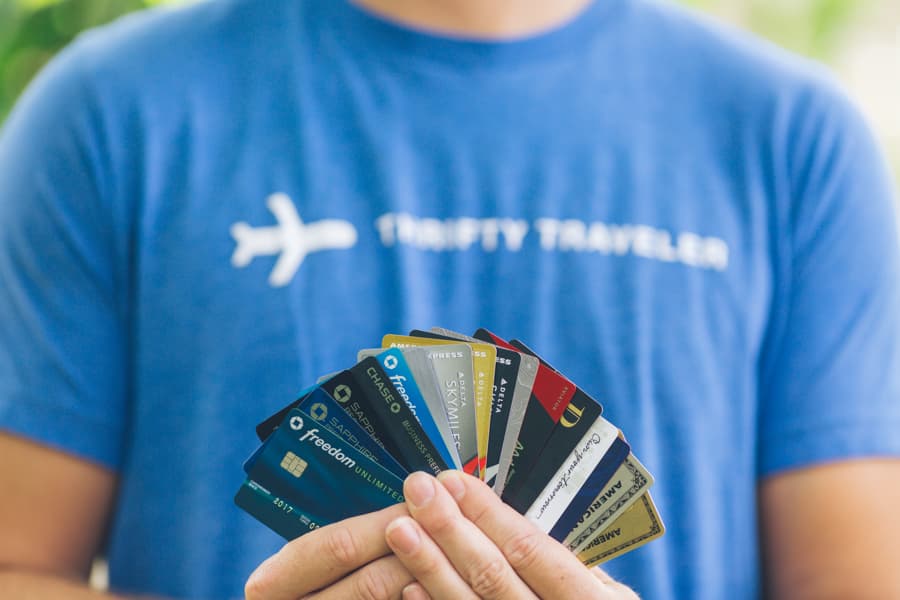 When I signed up for my credit cards, I spaced them out a few months to ensure I could hit both bonuses responsibly, and planned some major expenses around opening the cards to help hit that requirement in the allotted time.
Here are a few tips to hit your spending requirement:
Put all of your spend on the card with the pending bonus
Time your card sign-up with tax season or other large purchases (like I did with our wedding)
Sign up an authorized user who can help you spend a little more
Meeting minimum spend requirements to earn your sign-up bonus doesn't need to be as daunting as it seems. With these simple methods, you can meet your goal without spending any more than you typically do in a few months.
Get Booking!
Now's the fun part. Book your dream trip! Watch the confirmation emails roll in, and put some hard-earned travel on your calendar.
Then, and only then, should you ask for time off and begin to plan the rest of your trip. Why? We call it the Flight First Rule.
The Flight First Rule is simple: Book your flight before you book any lodging, excursions, tours, dining reservations, or asking for time off from your employer. The reason? Whether you're using points or cash, flights are often the most expensive part of your trip.
Paying for flights, giving yourself the flexibility to shift plans by just a day or two can save you hundreds (even thousands) of dollars. Using points and miles, that same flexibility to capitalize on open award space can be the difference between saving tens of thousands of points – or not finding flights at all.
Instead, travelers should book trips around the best airfare and go from there.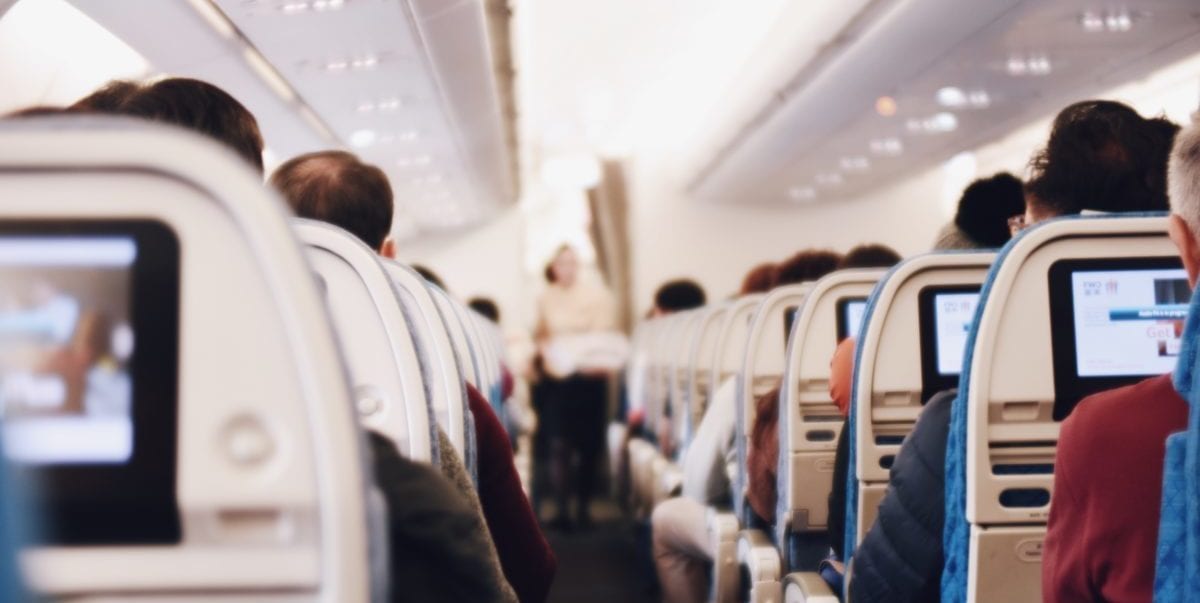 One upshot of booking with miles is that many airlines now offer free refunds on award tickets: If you need to cancel, you can get your miles (and taxes back) for free. That way, if your employer nixes your time-off request, you can change plans penalty-free. That includes American Airlines, Delta, and United (so long as you cancel at least 30 days before departure) as well as some major international airline programs.
For our African excursion, the very first thing we booked were our Qatar Airways business class seats. After that, I immediately turned my attention to finding the return availability on Turkish business class. It wasn't until a month or two later that we went ahead with booking hotels, positioning flights, or intra-Africa flights – all of which I knew would be available for a while.
After booking my Qatar and Turkish flights, I put in my time-off request and, voila, I was approved.
Thanks, boss!
Bottom Line
A year ago, I had zero credit card points and miles and a honeymoon to plan. With a few strategic credit card sign-ups and some purposeful, responsible credit card spending, I earned hundreds of thousands of points that I used to book business class flights to and from East Africa – plus three different hotel stays for our trip.
It was a task I once assumed would be risky, if not impossible. I feared it would hurt my credit, stretch my spending too far, or … I don't know, maybe even feel illegal.
But it's not. Do your research, come up with a game plan, and make it happen without overextending yourself. Whether you're booking the trip of the lifetime or just a much-needed getaway, these are the keys to making it happen even if you're starting at zero.