Using airline miles can be infuriating. Decoding the award charts that determine how many miles you need or working out the best miles to use can feel like advanced calculus. And then there's the matter of finding award space to ensure you can actually book the flights you want with miles – not dreaded "blackout dates."
A handful of tools have emerged over the years to lend a hand, but they've often been half-baked or only solve half the problem. But there's a brand new tool on the scene that does it all: It's called point.me. And Thrifty Traveler readers can give it a whirl for free with the promo code "THRIFTY" for 24 hours of free access.
Want to know the most cost-effective way to fly from Chicago-O'Hare (ORD) to Paris-Charles de Gaulle (CDG) or from Minneapolis-St. Paul (MSP) to Honolulu (HNL) using points and miles? Point.me will show you – along with which transferrable points programs like Chase, Amex, or Capital One you can use to get the miles to make it happen. Trying to find the cheapest business class award from New York City (JFK) to Istanbul that you can actually book? Point.me does that, too.
It's not perfect … but no tool in the frequent flyer world is. But what I like about point.me is that it automates much of the grueling legwork of putting points and miles to use. And perhaps most importantly, this shows shows travelers all the most valuable ways to put their miles to use – including options that they may have never considered.
A Quick Walkthrough of point.me
Part of the beauty of point.me is how easy it is to use. The interface is slick and understandable.
Head over to the point.me website and click sign up. Scroll down until you see "I have a code." You'll need to create an account, after which point it'll prompt you to enter a promo code: "THRIFTY." That'll unlock your 24-hour pass.

Then just head back to the homepage and start your searching. Let's start with a trial run looking for a business class flight from New York City (JFK) to Istanbul (IST) on May 10, 2022.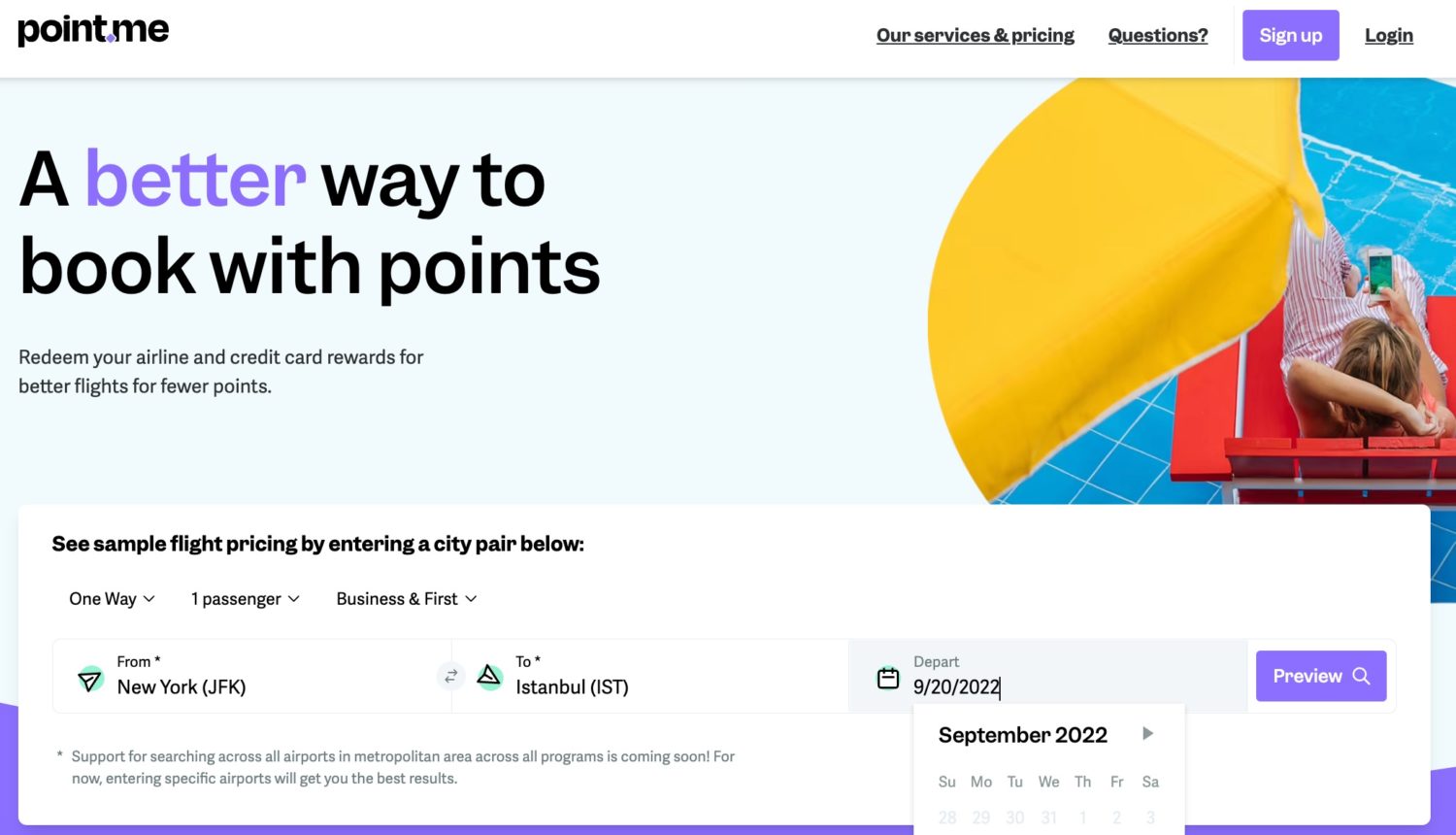 One nice touch is that you can link point.me with your Award Wallet account – another handy tool that tracks all (well, almost all) your frequent flier and credit card point balances in one place. And that means you can tailor your search results on point.me to only display flights that you can book with the points and miles you've got.


That is really cool. One of the steepest parts of the points and miles learning curve is remembering the dizzying array of credit card transfer partners and which points transfer to which airlines. Which credit card points transfer to Delta SkyMiles? (It's an Amex transfer partner). How the heck can you easily earn Turkish Miles & Smiles? (It's a Capital One transfer partner and a Citi ThankYou transfer partner). There's a lot to keep track of, and this simplifies it.
But let's get to the results, where it gets better. point.me show you almost everything you need to know: which airline program to use, how many points you need to transfer from where, and even what you'd pay in additional taxes and fees. If there's a transfer bonus – like the ongoing 20% bonus from Capital One to Avianca LifeMiles through March 31 – they'll let you know that, too.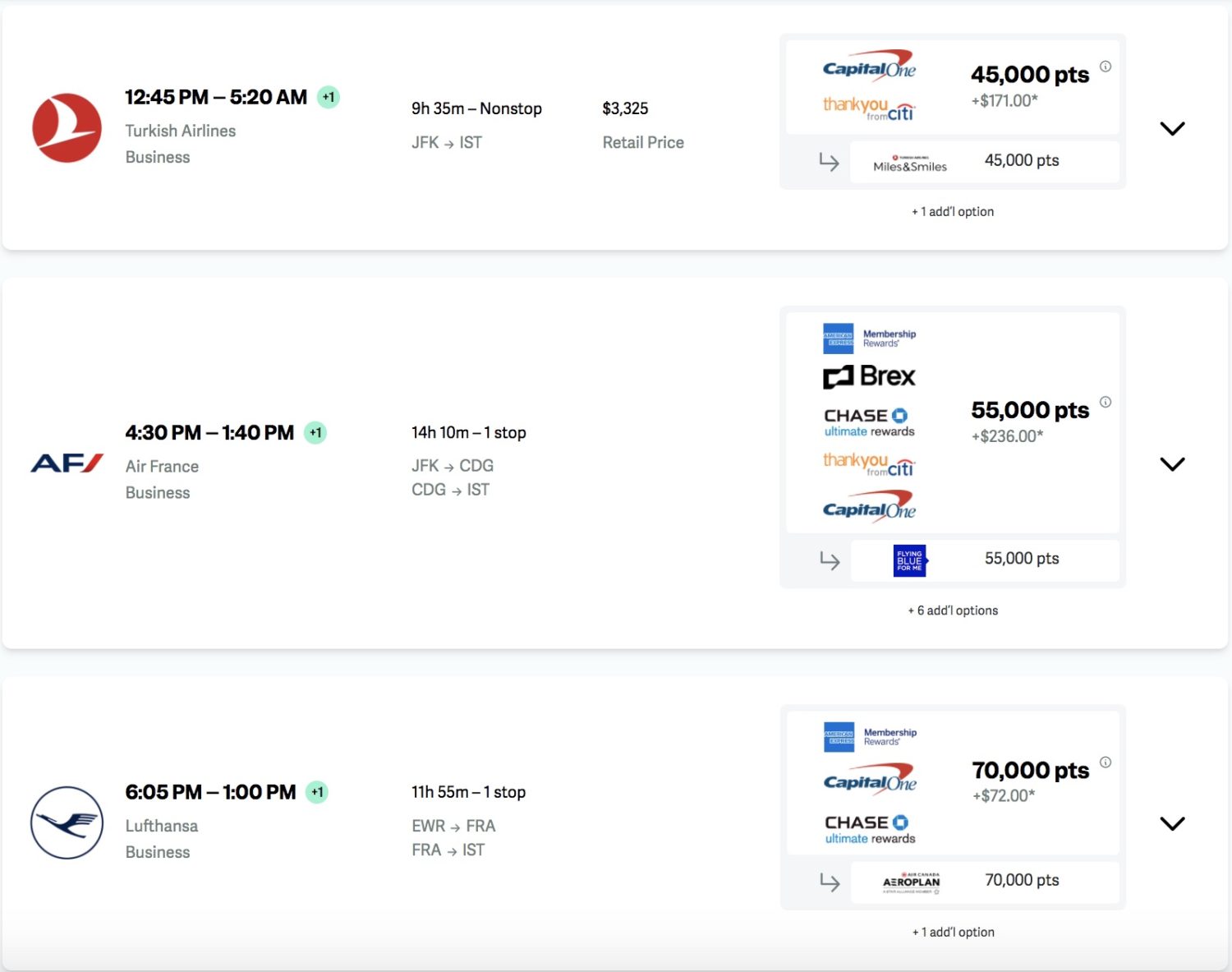 For example, there's the nonstop Turkish Airlines flight from New York to Istanbul. point.me shows you can book that for 45,000 Turkish Miles, which are transferrable from both Citi and Capital One points. You'll pay about $171 in taxes and fees.
Perhaps most importantly, these are actually bookable. It's not just highlighting a "well this flight will cost you 45,000 miles if you can ever find it" sweetspot, but an honest-to-god opportunity to book with confirmed award space that can be booked as it's shown. Point.me says it combs through more than 150 airlines. That explains a one- to two-minute lag in getting the results.
The Point.me team still recommends confirming the flights you're looking at are available through the airline before transferring any points – for example, heading over to TurkishAirlines.com and manually searching for that business class award fare from New York to Istanbul in May. And that's wise, as transferring credit card points to any airline program is a one-way street: Once you send them there, they're stuck.
I also love that Point.Me will highlight if one of the results is a mixed-cabin itinerary, like a business class award ticket where you'll still be sitting in economy on part of your journey. That's something that even some individual airline programs struggle with – including cases where you're spending 80% of your travel in economy but still paying business class rates.

Once you've chosen which way to go, Point.me has included some great walkthroughs to transfer the points you need as well as screen captures of the search and booking process through the airline. That's incredibly helpful for first-timers who might be booking an award ticket for the first time or using a somewhat niche (and tricky) program like Turkish Airlines.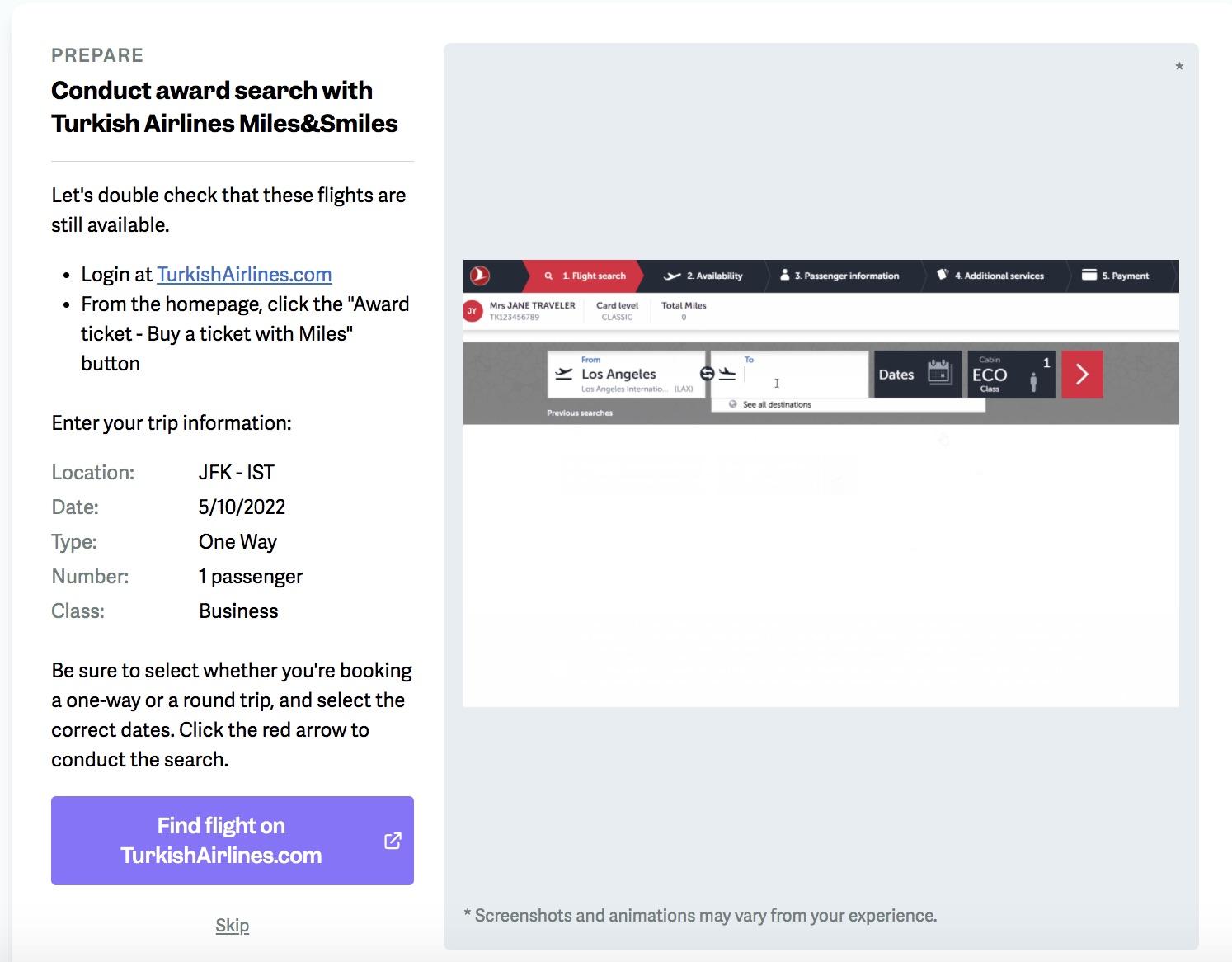 Beyond the free 24-hour pass using promo code "THRIFTY" Point.me offers a few payment options:
You can buy another 24-hour pass for $5
A standard plan with unlimited searches costs $12 a month or $129 a year
Point.me also offers a Premium plan at $260 per year with some additional perks like five free passes to hand out to friends and family, discounts to their concierge service, and something they call an annual points "checkup"
If you need even more hands-on help, Point.Me also offers an award-booking service to handle the entire booking process for you starting at $200 per ticket.
A Few Weak Spots
Point.me has gotten nearly everything right in building out this tool. But there are a few weak spots … at least for now.
Perhaps the biggest shortcoming is that you can (currently) only search for one date at a time. Tracking down award availability is one of the hardest aspects of using points and miles – especially if you're looking to fly first or business class.
So while this tool will pull up flights that are bookable, you'll have to go day by day to find them. And if you're looking to build in a stopover or book something even more complex, you'll have to do it piece by piece.
But the people who put this tool together know their stuff. The brains behind a previous tool called Juicy Miles and some of the folks at the uber-popular travel blog One Mile at a Time teamed up to make this happen. I trust that Point.me will only continue to improve.
"The team behind point.me has decades of experience booking award travel for thousands of clients, and we've poured all of our travel hacker knowledge into creating this truly revolutionary search tool," point.me founder and CEO Adam Morvitz said in a statement. "Our goal in building point.me was to help travelers stretch their points further. (It) searches over 30 airline loyalty programs to uncover the best deals, including first and business class flights, enabling customers to get 6-12x as much value from their points."
Bottom Line
Hats off to the team behind point.me. This new tool is slick, easy to use, and incredibly powerful.
Seasoned points and miles aficionados who are accustomed to hunting for their own award space and know credit card transfer partners and airline award charts like the back of their hand may not need it … but that's not the point. If you ask me, point.me was designed with the average traveler in mind: Someone who has some points and miles to throw around but may not know the best way to put them to use.
Point.me helps connect the dots. And that's just what a lot of people need in order to take the next step with points and miles.