In the world of credit card points and miles, you'll be hard-pressed to find a more valuable points currency than American Express Membership Rewards points – the points you earn from cards like The Platinum Card® from American Express and the American Express® Gold Card.
Sure, a stash of Delta SkyMiles, United MileagePlus miles, or even American Airlines AAdvantage miles can be great. But with Membership Rewards, you have some unbeatable flexibility and value. You can book flights or hotels directly through amextravel.com, or transfer them to a growing list of different airline and hotel partners.
There's no shortage of ways to put these points to use, but we've rounded up some of our favorites.
Get alerts for deals bookable with Membership Rewards points straight to your inbox with Thrifty Traveler Premium+!
Fly Iberia Business Class to Europe from 68K Points Round Trip!
Europe doesn't have to be expensive. And Iberia is how you pull it off for cheap.
The Spanish flag carrier has great award rates that can get you to Spain and back for a fraction of what most airlines typically charge. It gets as low as 34,000 Iberia Avios roundtrip. It's one of the best deals in the world of points and miles. Getting to Europe in a lie-flat seat doesn't get cheaper than this.
While most airlines charge at least 60,000 miles (or much more) for a one-way business class ticket to Europe, you can fly Iberia business class for as low as 34,000 miles each way! It's not too good to be true: In fact, there are only a few hoops to jump through to make it happen:
You have to fly nonstop between Madrid (MAD) and select U.S. cities like Boston (BOS), New York City (JFK), Washington, D.C.-Dulles (IAD), and Chicago-O'Hare (ORD) to get this low rate.
You have to fly at the right time: These low, 34,000-mile rates are only available during off-peak periods – peak summer trips are pricier.
Your searches might still turn up blank, as you need to find the award availability to actually book these flights with your miles.
We've got you covered. We do all the legwork for our Thrifty Traveler Premium+ members: Finding availability, in-depth booking instructions, and guiding you to the best credit card points to use to book what's typically a $4,000-plus fare. If there's a transfer bonus to Iberia (or British Airways), it can get even cheaper just like it did on this deal we sent subscribers for a trip to Spain this fall. And since Iberia is a transfer partner with Amex, it was easily bookable with Amex Membership Rewards points.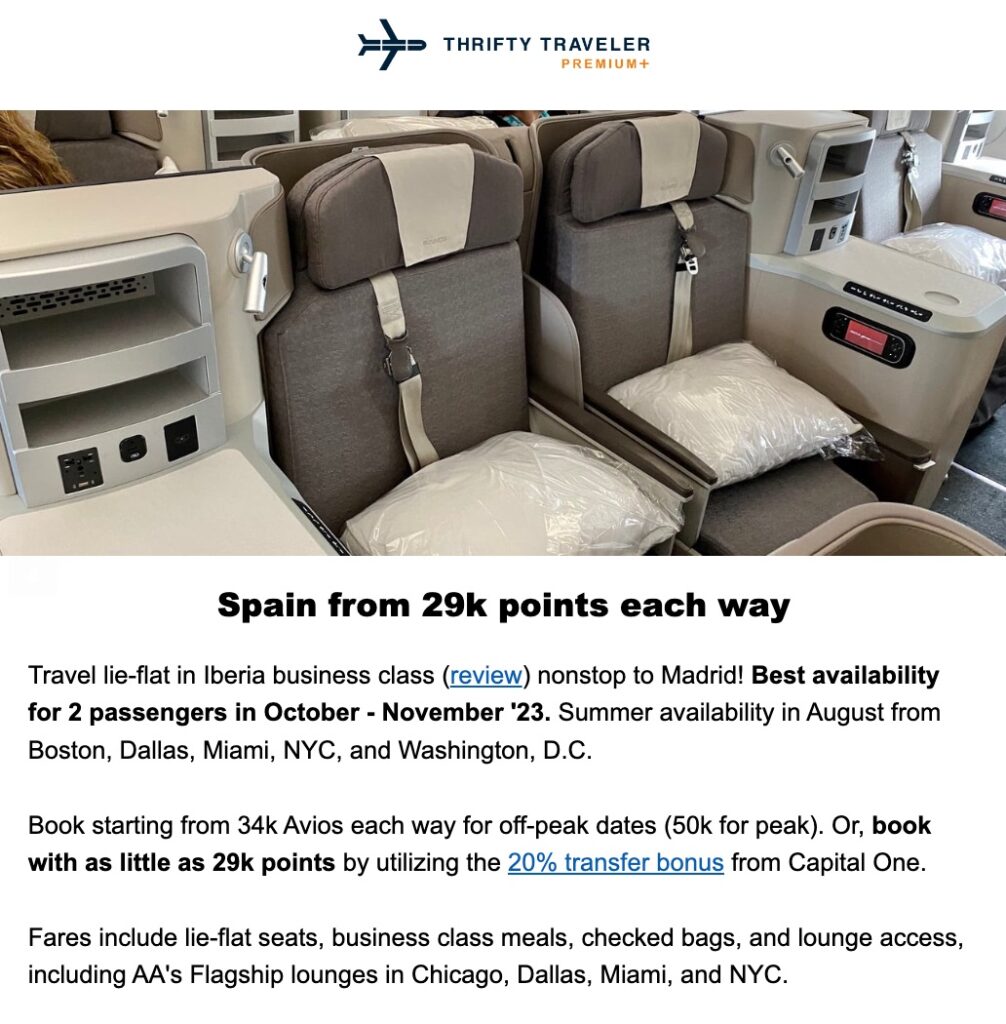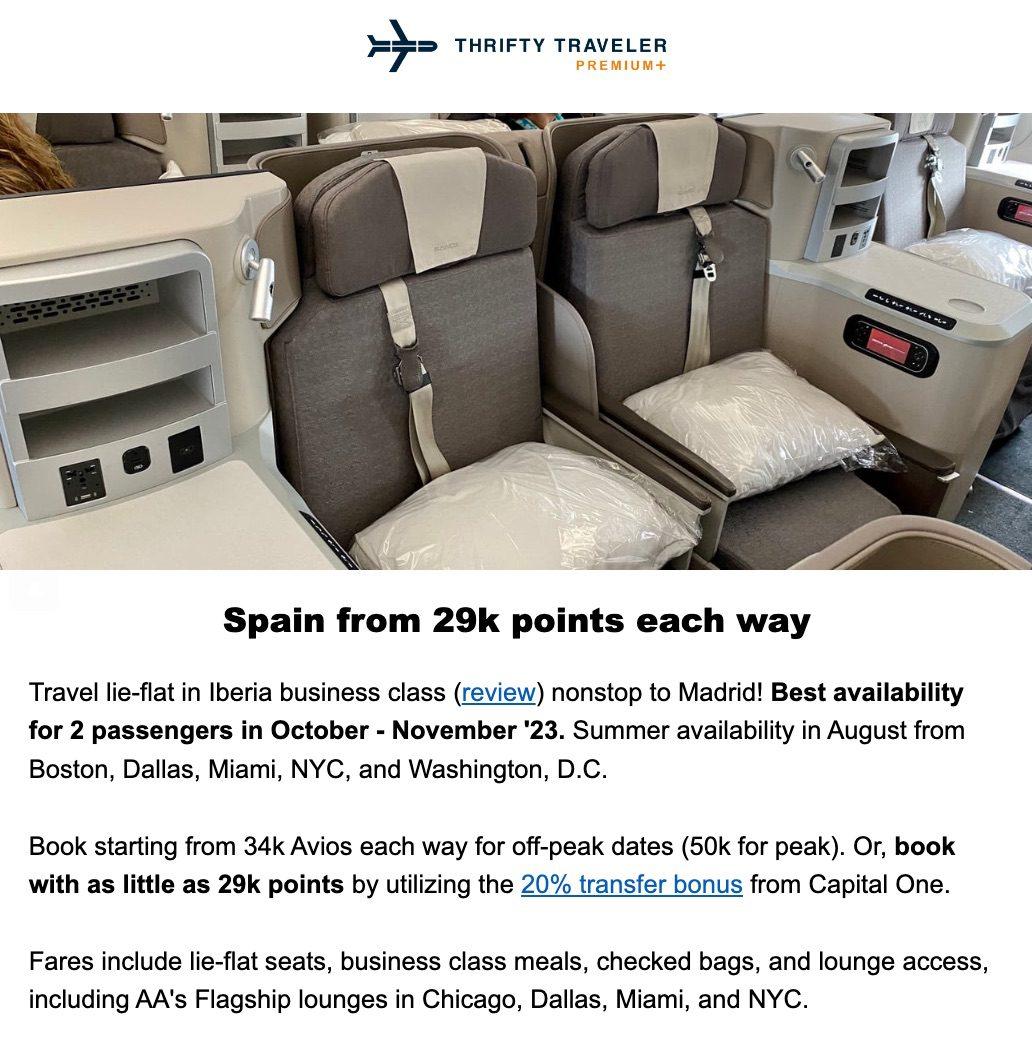 Only Thrifty Traveler Premium+ members get award alerts like these to use their points and miles!
This is one of our favorite ways to cross the pond in style using points. Cheap? Yep. Easy to book? Check. Easy to earn the points you need to do it? Definitely.
Not to mention, if you're not interested in flying business class, you can transfer Amex points to Iberia to book round trip tickets in economy for only 34,000 miles round trip!
Read our full walkthrough on how to book Iberia business class!
Fly to Europe and Back in Business Class for 88K Points
ANA Mileage Club is the frequent flyer program of Japan's All Nippon Airways. Yet it's also one of the best ways to fly business class to Europe – not on ANA, but on one of its many partner airlines. Go figure.
For just 88,000 miles roundtrip, you can fly business class on almost any Star Alliance carrier from North America to Europe and back. That's almost unbeatable, so be sure to read our full walkthrough on how to book business-class flights to Europe using ANA miles.
While your options for airlines are long, you'll want to focus on a handful of carriers for which ANA won't pass on hefty cash fees and surcharges. Your best bets are United Airlines, Turkish Airlines, Air Canada, LOT Polish, SAS, and TAP Air Portugal. Those airlines could get you almost anywhere in Europe and back in business class for 88,000 miles and $100 in fees – or less.
For example, we sent our Thrifty Traveler Premium+ subscribers an award alert last month to use just 88,000 ANA miles to fly TAP Air Portugal to Lisbon (LIS) or Porto (OPO) … or connect out to the Azores, Canary Islands, and Madeira … or head to almost any major city in Europe.
The only big hitch with booking through ANA is that you have to book roundtrip – one-way awards are not allowed. You can, however, book a multi-city trip to fly into Rome (FCO) and fly home from Paris-Charles de Gaulle (CDG), for example.
ANA is one of the absolute best transfer partners of American Express Membership Rewards. That means you can transfer the points you earn from The Platinum Card® from American Express or the American Express® Gold Card straight to your ANA account.
One thing to beware of: These transfers can take a day or two to hit your account. That could put you in a time crunch if you're looking to book award space that could disappear after you receive a Thrifty Traveler Premium+ alert.
Read More: How to Fly Business Class to Europe for 88K Points Roundtrip
Use Membership Rewards for Delta SkyMiles Flash Sales
American Express Membership Rewards are the only flexible credit card points that can be transferred into your Delta SkyMiles account.
While there's no denying it can be tough to get a great deal using your SkyMiles – especially lately – that doesn't mean there aren't great redemptions, or that you should never transfer your Amex points to Delta.
One of our favorite ways to use Delta SkyMiles is on Delta SkyMiles flash sales, the frequent sales Delta runs with deeply discounted rates for flights almost anywhere in the world.
They can be unpredictable, and lately, we are seeing more SkyMiles flash sales for domestic flights than we are for international destinations, but here's a taste of what's possible from some past SkyMiles flash sales:
Every SkyMiles flash sale is different, but when they happen, you won't find award rates that low on any other airline. Read up on SkyMiles flash sales and you'll see why it could easily be worth using your Amex points to book them.
We sent our Thrifty Traveler Premium+ subscribers an award alert last month to use Delta SkyMiles for round trip flights to Cancún, Mexico (CUN) from just 11,000 SkyMiles roundtrip. The deal was available from 32 airports – all of them with prices at 21,000 SkyMiles and under.
Don't miss the next Delta SkyMiles flash sale! Sign up for Thrifty Traveler Premium+ to get SkyMiles flash sales straight to your inbox!
One thing to be aware of when transferring Amex points to Delta SkyMiles: You have to pay a small fee when transferring to Delta (and any U.S.-based airline): .06 cents per point, or $6 for every 10,000 points. These transfers are capped at $99.
Related reading: How Much Are Delta SkyMiles Really Worth?
Book the World's Best Business Class: Qatar's Qsuites
Last year, Qatar Airways announced it would ditch its little-known Qmiles frequent flyer mile program and instead adopt Avios – under the same umbrella as partner airlines British Airways and Iberia. That move raised the question: Would you be able to transfer Avios from British Airways over to Qatar, as is the case between BA and Iberia? Would it change British Airways' own award rates for Qatar redemptions? And what about taxes and fees? British Airways is known for sky-high cash costs on award tickets.
The answer to all of the above is a resounding yes – and it's a massive win for travelers who want to fly Qsuites with a stash of Amex Membership Rewards points.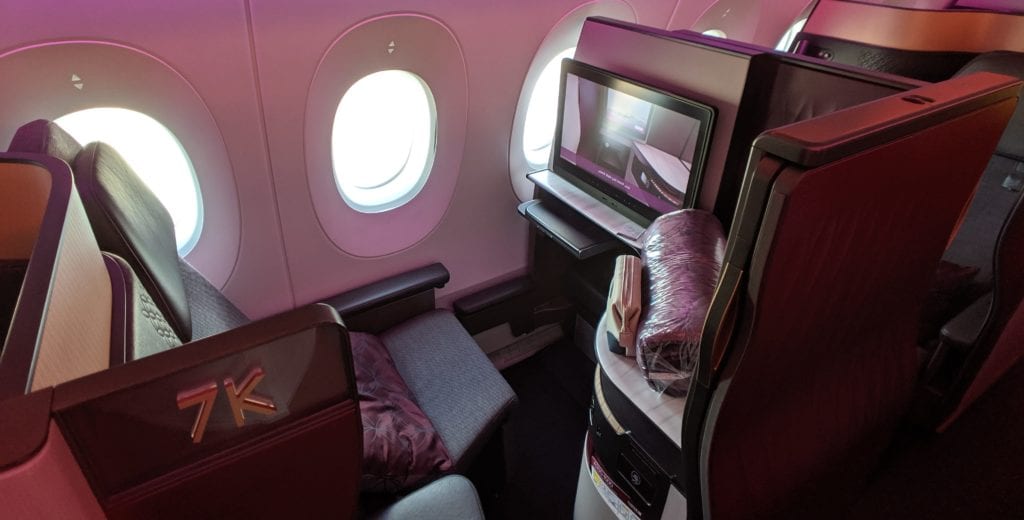 British Airways' Executive Club added the ability to instantly combine Avios between BA and Qatar and opened an incredibly lucrative option to book Qatar using credit card points like American Express Membership Rewards points. At the same time, British Airways adjusted its own award pricing for Qatar redemptions … with far lower award pricing and lower taxes and fees, too!
Using British Airways or Qatar Avios, you can currently book flights from New York City (JFK) or even Los Angeles (LAX) to Doha (DOH) in Qsuites business class for just 70,000 Avios and $101 in taxes.
British Airways has ditched its normal distance-based award pricing – where the longer the flight, the more miles it costs – for these partner bookings to match what Qatar itself charges. It's a flat 70,000 Avios for a one-way in Qsuites from the U.S. to Doha. On some other routes with connections onward to the Middle East or the Maldives, British Airways is charging a bit more because it prices out on a per-segment basis.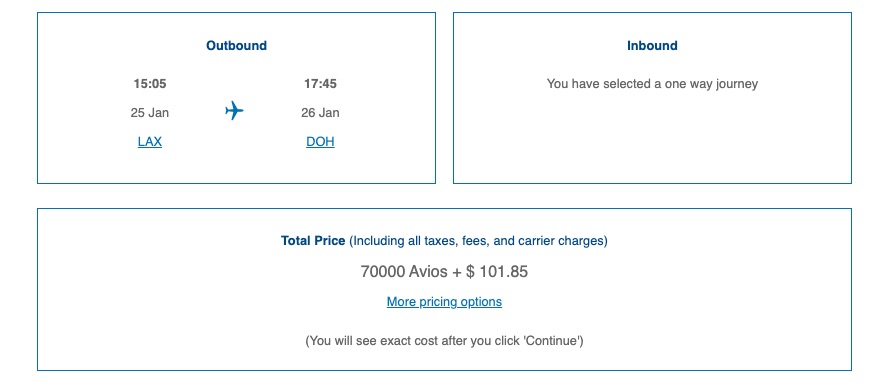 It's easily one of the best ways to book Qatar Qsuites with points & miles, which continually wins awards for being the world's best business class.
Earlier this month, we sent our Thrifty Traveler Premium+ members an award alert to book the Qatar Airways Qsuites to Dubai (DXB) bookable for just 75,000 Qatar Avios each way!
Fly to Tokyo and Back in Business Class with ANA
Japan is a bucket list destination for thousands, but the 12-plus hour flights to get there scare off many travelers. What if you could make the trip there and back in business class – and for the same amount of miles most airlines charge to fly economy?
All you need is at least 75,000 Amex points and transfer them to All Nippon Airways (ANA), one of Japan's flag carriers and one of the best airlines in the world. Using ANA miles – which you can get by transferring them from your Amex account – you can book round-trip flights from the U.S. to Tokyo for as low as 75,000 miles each. 
Your final price will depend on what time of year you go, as ANA prices business class awards at low (75,000 miles), regular (85,000 miles), and high-season (90,000 miles) levels. And these rates are all roundtrip, as ANA does not allow one-way bookings.
Using Virgin Atlantic Miles is another great way to book ANA business and first flights to Japan – or onward in Asia.
Earlier this year, we sent Thrifty Traveler Premium+ members an award alert to book ANA's The Room Business Class for just 45,000 points each way.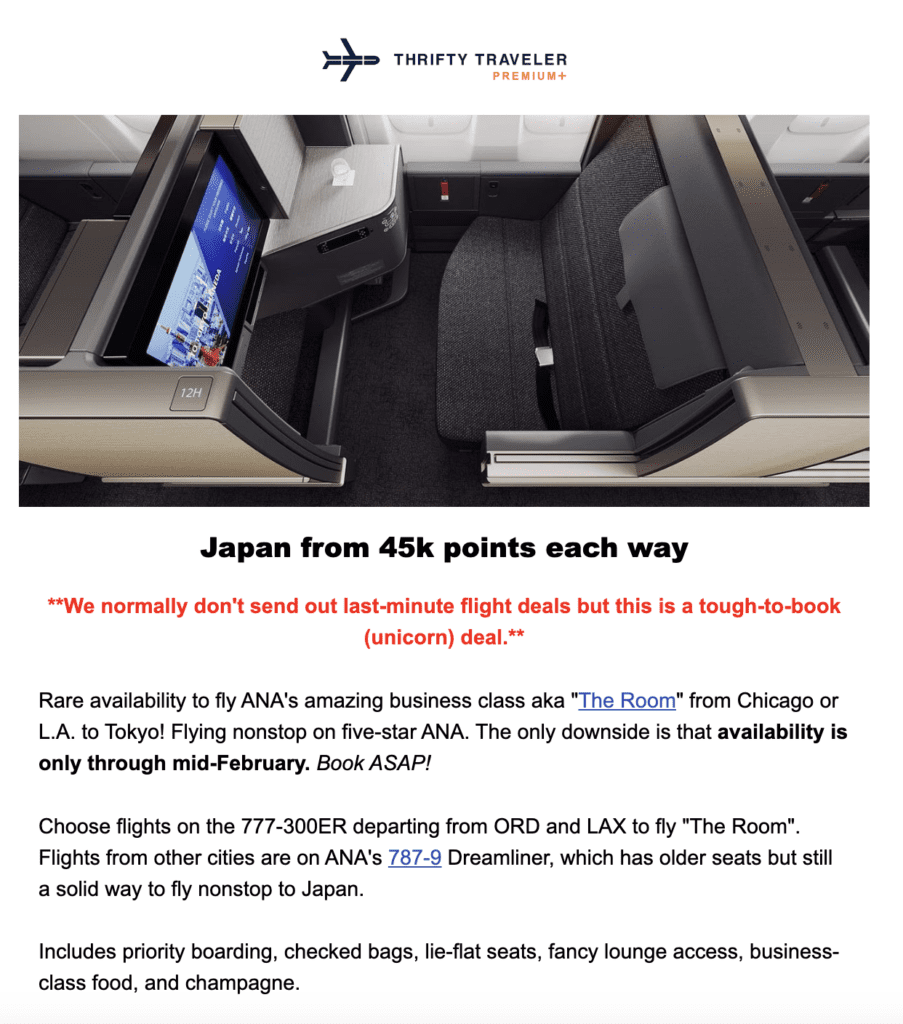 Just to underline how good of a deal this is: Star Alliance partner United would charge 176,000 miles for the exact same flights. This is perhaps the best way to fly to Japan, and your Membership Rewards points can easily put it within reach.
No matter which ANA plane you're on, you'll luck out with comfortable seats, great meals, and quintessentially Japanese service. But look for ANA's brand new business class dubbed "The Room," which is pictured below.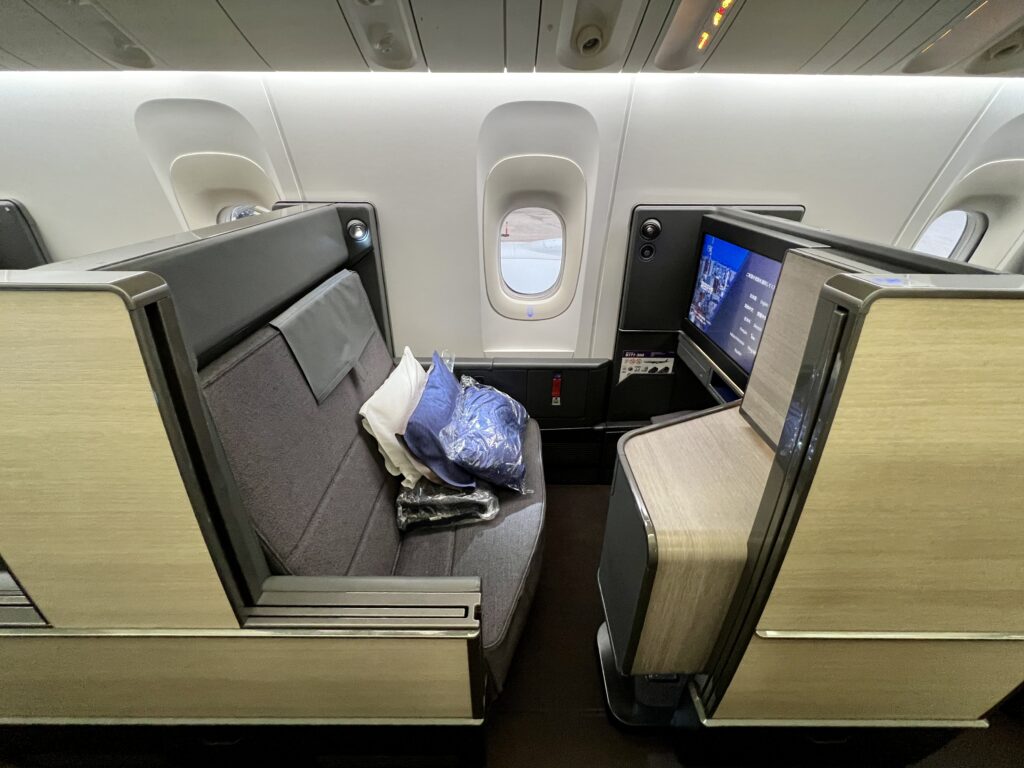 Fly on Emirates to Italy or Greece and Back for 108K Points
This deal has taken a hit recently, but it's still a stellar way to get to Europe and back in style on one of the world's best airlines.
Emirates operates two funky fifth-freedom flights between the U.S. and Europe: One from New York City (JFK) to Milan (MXP) and another from Newark (EWR) to Athens (ATH). On either route, you can snag a seat in Emirates business class for as low as 108,000 Skywards miles roundtrip – plus under $250 in fees.
Membership Rewards points transfer instantly to Emirates, so as long as you have the points, you can book this deal.
But the trick is finding the award availability at those lowest rates: Searching yourself on Emirates, you might only see flights for closer to 200,000 miles … if you see anything at all. Thrifty Traveler Premium+ has you covered there, too, pinpointing you to the exact dates you can travel to book.
These seats all got booked – get the next award alert to fly business class with Thrifty Traveler Premium+!
The flights to Athens are also an option, but the ride over to Italy with Emirates is our top choice because Emirates flies its Airbus A380 on that route. Guess what that means? An onboard bar at 35,000 feet! You can even try your luck at upgrading to Emirates First Class at the airport!
Get to Hawaii for 26K Points – Or Less!
Hawaii is the ultimate dream destination for many travelers. If you've got a stash of Amex points, it doesn't have to be expensive.
There are a handful of ways you could redeem Amex Membership Rewards points for flights to Hawaii. You could start by transferring points to Singapore Airlines' Krisflyer miles program.
We know what you're thinking: "Singapore? But I want to go to Hawaii." Well, thanks to a partnership between Singapore Airlines and Alaska Airlines, you can use Singapore miles to fly Alaska from the West Coast to all four major Hawaiian islands. By using this partnership, you need only transfer 24,000 points for a roundtrip flight in economy – when Alaska itself would charge at least 35,000 miles for the exact same flights.
You'll need to book a nonstop flight to get these low rates, so you may need to book a connecting flight separately. Alaska only flies direct to the Hawaiian islands from West Coast airports like Los Angeles (LAX), San Francisco (SFO), Seattle (SEA), and Portland (PDX). And you'll need to call Alaska to book these flights at 1 (800) 742-3333.
Another great option is using British Airways points which you can transfer from Amex Membership Rewards to book flights on American Airlines to Hawaii, at just 26,000 miles round-trip in economy. Once again, you'll need to depart from the West Coast in order to make this work – namely, Los Angeles (LAX) or Phoenix (PHX).

Getting the British Airways miles you need to book is extremely easy, as you can transfer them directly from your Membership Rewards points balance.
Escape to the Caribbean on the Cheap
Pining for the beaches of Aruba (AUA), Saint Martin (SXM), or elsewhere? Transferring your Amex points to British Airways is your answer.
British Airways uses a distance-based chart, where the number of miles you need to book a flight depends on how many miles you're flying. That means short flights are often a bargain – even after a recent price hike for using British Airways Avios on partner airlines like American.
To keep things short and cheap, the best play is flying from East Coast American Airlines hubs like Miami (MIA), Charlotte (CLT), Philadelphia (PHL), or New York City-LaGuardia (LGA). British Airways charges for flights per segment, so you'll want to make sure to find nonstop flights on American.
When you do, it can be a goldmine for getting to even far-flung Caribbean islands – like St. Lucia (UVF) – using miles.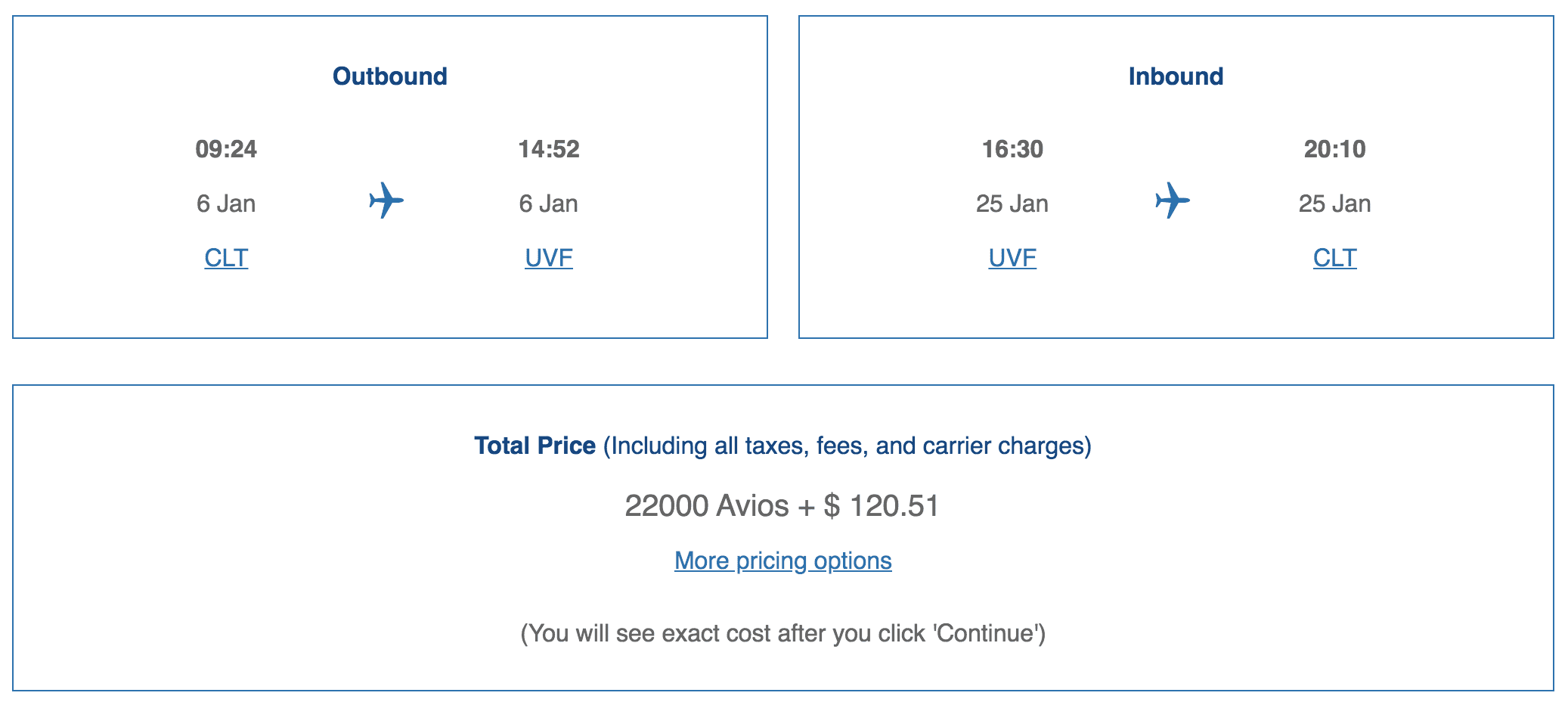 Book Delta One for 50K … But Not With SkyMiles
I'll be honest: This one has gotten almost impossible to pull off lately. But it's worth keeping in mind because it's such an incredible deal.
Delta regularly charges 300,000 SkyMiles for a one-way flight to Europe at the front of the plane. No joke: Delta wanted at least 240,000 SkyMiles for a business class seat on the flight from New York City (JFK) to Brussels (BRU) earlier this spring. No, thank you.
But if you wait for a Thrifty Traveler Premium+ alert, you can book that exact same flight – same day, same flight, same lie-flat seat – for just 50,000 points through Virgin Atlantic instead. That's right: Less than a quarter of the price.

Read our full guide on how to book Delta flights via Virgin Atlantic!
But making this happen is easier said than done. Finding the award availability through Virgin Atlantic to actually book these Delta business class seats can be a chore – especially lately.
Still, we're always digging for when these flights pop up and alerting our members when they do, like this incredibly rare chance to fly from Minneapolis-St. Paul (MSP) to Amsterdam (AMS) in Delta One earlier this year.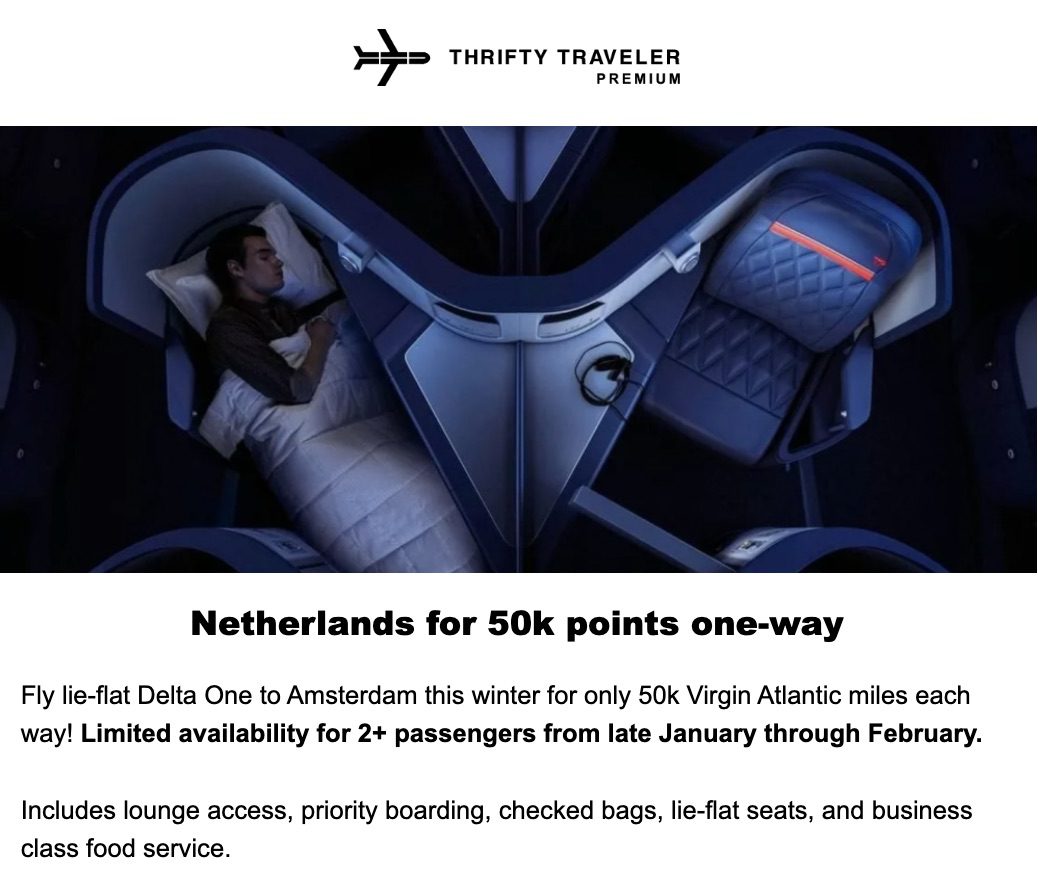 These seats are gone now, get the next award alert for open Delta One seats to Europe with Thrifty Traveler Premium+!
Virgin is a transfer partner of American Express (along with many other bank points). As long as you've got the points, you can transfer them instantly to Virgin Atlantic to book a deal like this.
Just remember: Never transfer credit card points to your airline account until after you've confirmed the flights you want to book are available.
A Business Class Ride in SWISS for 60K
Trying to score a ride overseas in business class this summer? Good luck. It's a tall task … unless you get an award alert like this one.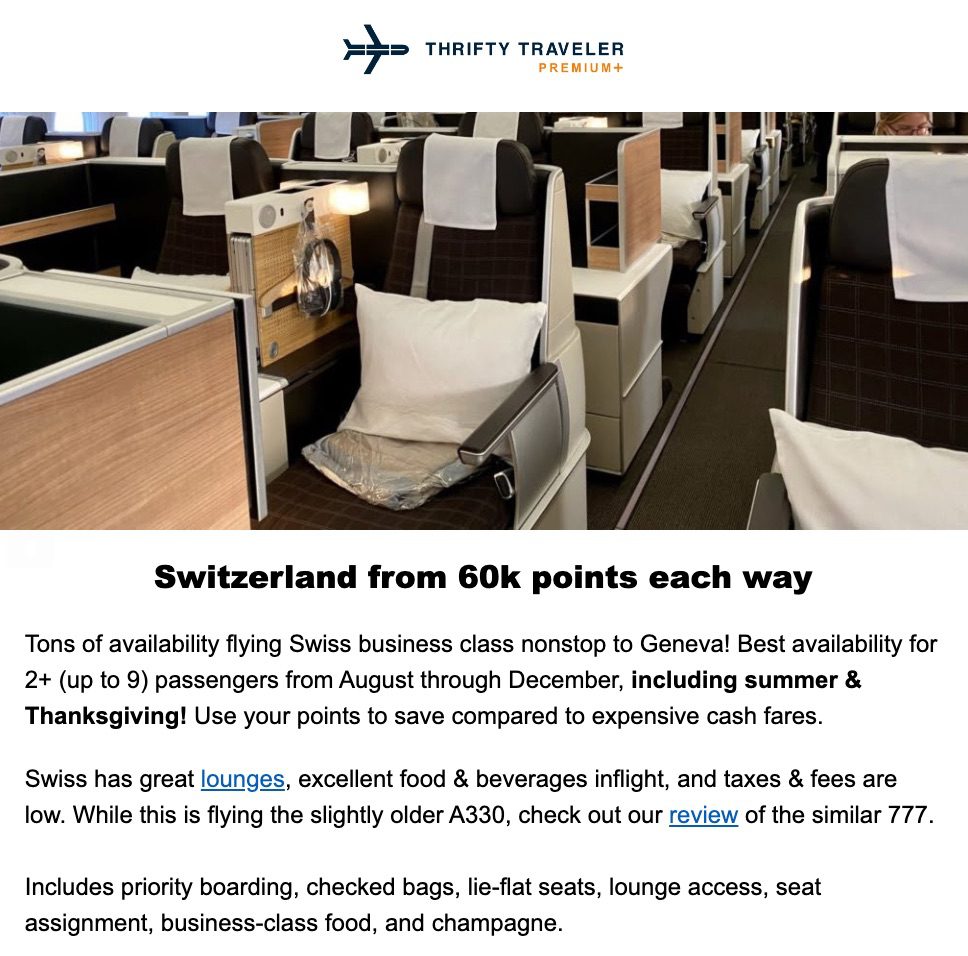 That's right: Business class seats from New York City (JFK) straight into Geneva (GVA) this summer for two … or four … or as many as nine passengers! SWISS business class is one of our favorite ways to fly to Europe. But snagging these seats for a summer (or Thanksgiving) trip thanks to one of our Thrifty Traveler Premium+ award alerts – for just 60,000 points each way? Unreal.
Considering you'll get a blank calendar searching for summer business class flights to Europe with almost any other airline, this could even be the best option on the entire list.
How to do it: SWISS is part of the Star Alliance, so there are two dozen-plus ways to book this flight. But one option stands out.
It's Air Canada Aeroplan, one of our favorite ways to book business-class flights, period. Aeroplan charges just 60,000 points each way for these nonstop flights to Switzerland and low fees, too. Better yet, you can transfer your Amex points directly to Air Canada's Aeroplan program.
To top it all off, searching and booking through AirCanada.com is a seamless process.
How to Earn Amex Points
Few credit cards can unlock more amazing travel than American Express Membership Rewards credit cards. And that's more true now than ever.
It starts off with an 80,000-point welcome bonus on The Platinum Card® from American Express after spending $6,000 within six months – and that alone is tough to beat.
And make sure to check to see if you are eligible for the 150,000 point offer via CardMatch!
Even if you aren't eligible for the 150,000-point offer, you can get a 125,000-point bonus (plus earn a whopping 10x points per dollar spent on the first $25,000 spent at restaurants in six months) by applying for the Platinum Card through Resy!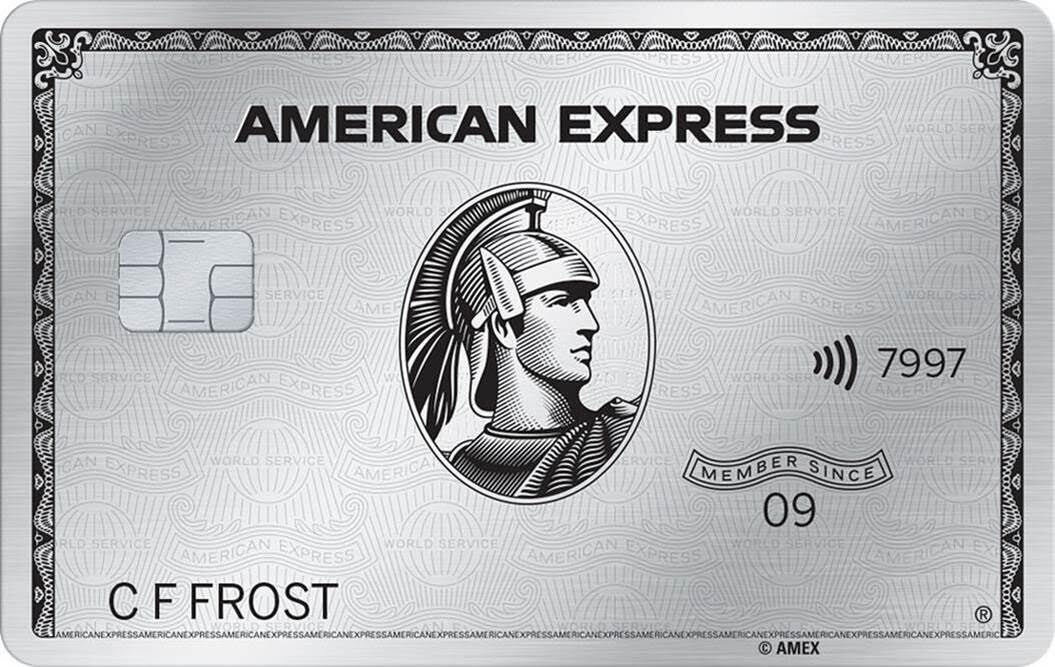 Learn more about The Platinum Card® from American Express.
And then there's the American Express® Gold Card, one of the best all-around credit cards, period. It earns 4x points at U.S. supermarkets (up to $25,000 each year, then 1x) and restaurants. You'll earn 60,000 Amex points after spending $4,000 within six months.
But again, you may be able to get a 75,000-point welcome bonus via CardMatch!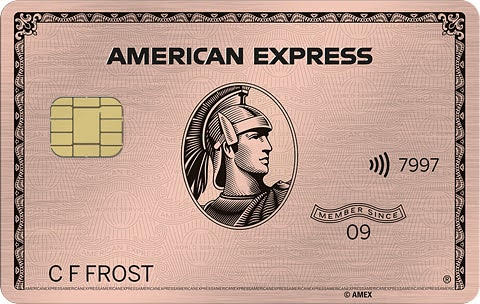 Learn more about the American Express® Gold Card.
With either card, you'll have a hefty stash of points to put to use for some future travel that can easily offset their annual fees: $695 a year on the Amex Platinum (see rates & fees) and $250 for the Amex Gold Card (see rates & fees).
Read More: A Guide to Earning & Burning Amex Membership Rewards in 2023
Bottom Line
There's a reason why The Platinum Card® from American Express and the American Express® Gold Card are at the top of the list for so many travelers. A 60,000-point welcome bonus – or much more – is just a small part of the reason why it's earned its place in many wallets.
Ultimately, this list is just a small slice of what's possible with Amex points. What would you do with your Amex points?