Using Virgin Atlantic and its Flying Club points is one of the best ways to book Delta flights with miles. Whether you're flying to Hawaii, Mexico, or to Europe and back, it can save some serious miles compared to the exorbitant amount of SkyMiles Delta often charges for the same flights. There are even tremendous sweet spots to book transatlantic flights on Air France and KLM.
But actually finding the award availability to book these flights with your points has become a chore in recent years – especially if you're trying to snag a Delta One business class seat. And Virgin Atlantic just made it much, much harder.
Earlier this week, the helpful "Price Calendar" function – allowing travelers to see a month's worth of availability at once and scroll from one month to the next – disappeared completely. It's no longer an option. And this isn't a glitch: Virgin Atlantic confirmed with Thrifty Traveler that this feature was intentionally removed.
Here's what you'll see when you search for an award ticket, with the Price Calendar option now conspicuously missing. You can see one week of flights at most.

Here's what that looked like just a few weeks ago, when we sent our Thrifty Traveler Premium members an alert for some wide-open availability to fly business class from New York City (JFK) to Frankfurt (FRA) in Delta One all summer and into the fall.

Ouch. This one really hurts. A Virgin Atlantic spokesperson confirmed its removal. And while the airline said it plans to restore it later on, we'll believe that when we see it.
"To ensure the greatest accuracy when searching for reward flights, we've made a routine adjustment and temporarily removed the calendar view option, which we plan to reinstate later in the year," the spokesperson said.
It may seem like a small change, but this makes zeroing in on the most valuable ways to redeem Virgin Atlantic Flying Club much harder.
Delta has gotten incredibly stingy with releasing business class awards, in particular, to partner carriers like Virgin Atlantic. Now more than ever, it requires a ton of flexibility. But the ability to see four to five weeks of availability at once, jumping from one month to the next, made it much easier to scope out flights that were bookable and find something that works.
As late as Wednesday, you could thumb through an entire month's worth of flights in one handy view. Whether you were looking for a Delta One suite across the pond or to save SkyMiles on a simple domestic trip, that was incredibly useful for zeroing in on tough-to-find award space.

Poof, the Price Calendar is gone. Now, you have to manually search (and re-search, and re-search again) one week at a time. We hope Virgin Atlantic lives up to its word and restores the Price Calendar later this year.
Beyond the savings compared to using SkyMiles, Virgin Atlantic points are incredibly easy to earn. They're an Amex transfer partner, a Chase transfer partner (with a current 30% transfer bonus, to boot), a Citi ThankYou transfer partner, and now even a Capital One transfer partner.
Why, Virgin Atlantic? Why?
It's not as if Virgin Atlantic was a rarity in giving travelers a way to scope out a month's worth of flights at once.
The Price Calendar has been a saving grace of using Delta SkyMiles for years – using it is one of our top tips for using your SkyMiles. In fact, Virgin Atlantic borrowed its entire IT system, Price Calendar and all, from Delta – a close partner and 49% stakeholder in the U.K.-based airline. The fact that it just disappeared from Virgin Atlantic has us worried about the future of Delta SkyMiles…
American Airlines and United Airlines both allow frequent flyers to view a month of award rates in one handy view, too – that's what makes them two of the best airline programs for finding award space on partner carriers in the Oneworld and Star Alliance groups, respectively. Outside the U.S., it's been a staple of carriers including Air France, KLM, Qantas, and more.
It's a consumer-friendly feature that helps flyers get the most bang for their buck – especially on the airlines that charge unpredictable (and ever-changing) award rates thanks to dynamic award pricing.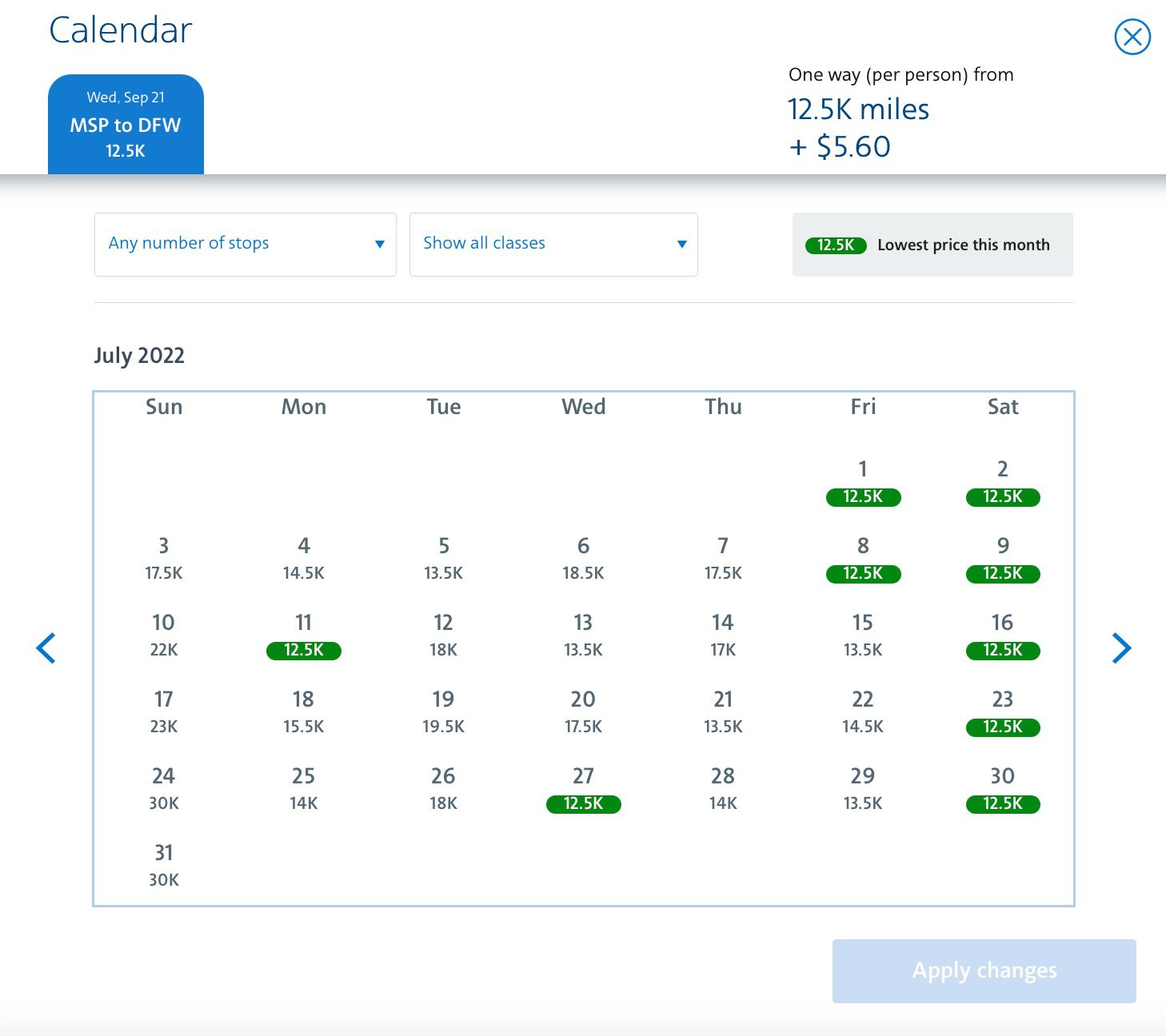 But on Virgin Atlantic, it's gone for now.
There's no question that this makes it harder for travelers to find and book the top-dollar Delta awards using Virgin Atlantic Flying Club points. By eliminating that flexibility, Virgin could be chipping away at this Delta work around and steering flyers towards redeeming their points on its own flights, instead – a much easier task, as even Virgin Atlantic Upper Class flights are often wide-open and easy to find … at least if you're willing to stomach paying $800-plus in fees, too.
This wouldn't be the first time Virgin Atlantic made an ugly change to its rewards program – or the first time they've done so … possibly at Delta's behest.
Virgin Atlantic started off 2021 in the worst way by gutting many sweet spots for Delta redemptions with no warning, rolling out a new distance-based award chart that raised the cost of Delta One bookings to Asia from 60,000 points each way to as much as 165,000 points each way. A week later, the airline relented and restored cheap Delta awards to Europe. But the move still left a bad taste in many flyers' mouths – especially travelers with Delta flights to Japan or South Korea on the books that got scrapped due to the pandemic.
Bottom Line
It may seem small, but this stings.
Virgin Atlantic has removed the "Price Calendar" feature from award searches – and it's not just a glitch but an intentional decision. Virgin Atlantic has said it plans to bring this function back later this year.
We certainly hope they do. Without it, it makes it much harder for flyers to zero in on the sweet spots to redeem these valuable miles.
Lead photo courtesy of Colin Cooke via Flickr