We've written quite a bit about our affinity for booking Delta flights through Virgin Atlantic Flying Club.
There are tried and true favorites, like roundtrip flights to Hawaii for 30,000 points or one-way flights to Mexico City for just 12,500 points. And then there's the holy grail: Delta One Suites to Europe for just 50,000 points.
But one sweet spot within the program often goes overlooked. Booking short Delta flights – 1,000 miles in distance or less – through Virgin Atlantic Flying Club can save you a ton of points and miles! 
A flight from Fargo (FAR) to Minneapolis-St. Paul (MSP) might not be at the top of everyone's travel bucket list. But these short flights serve a purpose – and are often quite expensive when paying cash.
Thankfully, with this workaround, you no longer have to fork over hundreds of dollars or an absurd amount of Delta SkyMiles to get where you're going. And better yet, Virgin points are some of the easiest points to earn. If you currently have a travel rewards credit card in your wallet, you likely have access to Virgin points and probably didn't even know it.
Let's take a closer look at this sweet spot and see just how much you can save.
Read our full guide to booking flights with Virgin Atlantic Flying Club points!
Using Virgin Atlantic for Delta Flights: Overview
Let's start with a little background on the two airlines.
Virgin Atlantic is the chic airline that flies across the Atlantic Ocean and is the brainchild of business magnate Richard Branson. Strangely, its frequent flyer program, Virgin Atlantic Flying Club, typically isn't great for booking actual Virgin Atlantic flights. The rates are high, and the hefty surcharges and fees that get tacked on add up fast.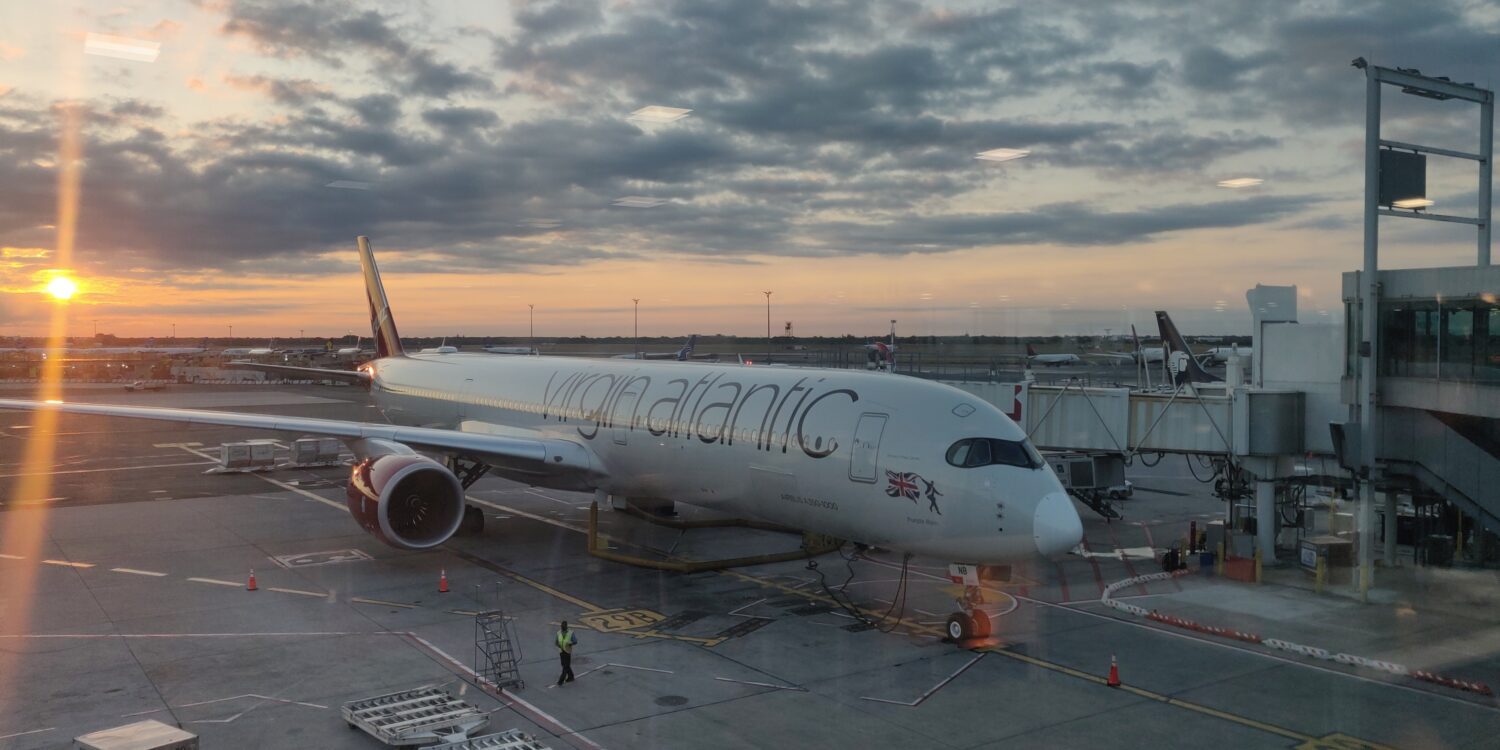 Virgin officially joined the SkyTeam airline alliance earlier this year, but it's got no closer partner than Delta Air Lines. For over a decade, Delta has owned a large stake in Virgin – almost half the airline, in fact. In some ways, it feels like Delta calls the shots.
Using Virgin Atlantic Flying Club to book Delta flights has long been a sweet spot – and even after a no-notice rate hike a couple of years back, this still remains one of the best ways to fly with Delta for fewer points and miles. Virgin has a few different award charts – cheat sheets that airlines use to determine how much to charge for an award ticket – for pricing Delta flights.
There's an award chart specifically for flights to and from the UK and one that determines how much you'll pay to get anywhere else in Europe. Then there's this distance-based award chart for everything else, which is especially beneficial for scoring a deal on domestic Delta flights and shorter international routes.

Since Delta made the move to dynamic award pricing several years ago, there's no telling what they'll want for a given route – but the same isn't true when booking with Virgin. If the distance you're traveling is under 1,001 miles, it'll only cost you 8,500 Virgin points (or less) for a one-way award ticket. While this won't always beat the price that Delta is charging for those same awards, it's safe to say that nine times out of ten, it will be the better deal.
Thrifty Tip: Not sure how long your flight is? Plug it into GCmap.com.
Short Domestic Flights
If Delta has a nonstop flight, Virgin has you covered.
Thanks to Virgin's distance-based award chart, flights under 500 miles in distance are only 7,500 points one-way. Going a little further? it's only 8,500 points one-way for flights between 501 – 1,000 miles. This will oftentimes be a much better deal than using SkyMiles if you're just looking for a quick flight to or from a major Delta hub – especially considering you'll always be booking a main cabin ticket on Delta when using Virgin points. That means you'll be able to make changes and choose a seat for free.
Here's a real-world example of the kind of value you can get by booking these short domestic flights through Virgin. Flying from Fargo (FAR) to Minneapolis (MSP), Delta is charging 18,500 SkyMiles for a one-way ticket.

But if you booked that same exact flight with Virgin Atlantic Flying Club, it would only cost you 7,500 points. That's a savings of 11,000 miles! In fact, you could book roundtrip with Virgin Atlantic for less than what Delta is charging for the one-way flight.

And if you're wondering what it would cost to just pay cash for this flight instead, Delta is charging $234 for this short one-hour flight.

And this isn't just a cherry-picked example either. Award flights are available at this low rate nearly every day of the month – and that includes the busy (and expensive) Thanksgiving holiday week. Compare that to what Delta is charging in either SkyMiles or cash and it's a real bargain.
Finding these rock-bottom prices with Virgin Atlantic isn't always this simple. And it became even harder a year ago when Virgin removed its handy price calendar from plain view. But don't worry … there's a trick to getting Virgin's price calendar to pull up and make your search easier.
With a little trial and error (and flexibility!) you shouldn't have too much trouble saving big on these short domestic trips by using Virgin points instead of your Delta SkyMiles.
Thrifty Tip: Looking for award availability to book Delta flights through Virgin Atlantic? You may want to start your search with Virgin's new Reward Seat Checker tool.
Short International Flights
It's not just short domestic flights – you can find these rates for short international flights, too. Let's take a look at how to save big on a destination that might stir a little more excitement. After all, who doesn't want to escape to the brisk Georgia winters for a beach in Mexico?
Since Delta has several nonstop flights from its hub in Atlanta (ATL) to Cancun (CUN), there's no shortage of options for getting down south. If you search for flights on Delta's website, you'll see a one-way main cabin ticket costs about $250.

While $250 isn't horrible, it's also not a great deal. Maybe it would be better to use your pool of SkyMiles instead.

For 17,000 SkyMiles and $46 in taxes, I'd definitely be in favor of saving my cash and using SkyMiles to book this one-way flight. But let's see what you get searching for this same Delta flight with Virgin Atlantic.
In doing so, I see that I can get on the same exact flight for just 8,500 Virgin points and the same $46 in taxes and fees. That's half of what Delta is charging!

These bargains aren't limited just to flights to Mexico – the same rates will show up for similar-length flights from the U.S. to the Caribbean or Canada as well.
The key to using this sweet spot, whether it's wholly domestic or even international, is to find the routes that Delta flies direct – no stops. Virgin prices its award flights on a per-segment basis, so any flights with a connection would cost at least double the points, regardless of the total distance you're traveling.
If you need help identifying the nonstop Delta flights from your home airport or closest Delta hub, start your search with Wikipedia – yes, seriously! There are also sites like flightconnections.com that will let you search all the available routes from a given airport and you can even filter by airline.
How to Get Virgin Atlantic Points
Despite all their shortcomings, Delta SkyMiles are valuable in part because they're so easy to earn. With four co-branded credit cards and the ability to transfer American Express points to your SkyMiles account, there are plenty of options.
But Virgin Points are even easier to pile up. Unfortunately, you can't transfer Delta SkyMiles to a Virgin Atlantic account. Yet Virgin points are some of the easiest to earn since you can instantly transfer points to Virgin at a 1:1 ratio from all major transferrable points programs.
If you're earning American Express Membership Rewards, Chase Ultimate Rewards, Capital One Venture Miles, and Citi ThankYou points, those can be transferred to Virgin. And if you're earning points on rent, you can also transfer Bilt Rewards. Just beware that with both Bilt and Capital One, you'll actually transfer points to your Virgin Red account – check out our walkthrough of how to do it!
If you're just starting out with points and miles, we consider the *csp* the best travel rewards credit card for beginners. Currently, you can earn a welcome bonus of 60,000 Chase Ultimate Rewards points after spending $4,000 in the first three months. And with 3x points per dollar spent for dining and 2x points for travel purchases, it's really easy to rack up a ton of Chase points that can be instantly transferred to Virgin points.
Learn more about the *csp*.
The *venture x* is loaded with benefits such as access to Capital One Lounges and Priority Pass lounges, a $300 annual travel credit, a credit for Global Entry or TSA PreCheck, great travel and rental car insurance protection, and more. The annual fee clocks in at $395 a year, but the benefits can easily outweigh that.
The best part is that you can currently earn 75,000 Venture Miles after spending $4,000 in the first three months. Considering you earn at least 2x for every dollar you spend on the Venture X Card, you'll earn a total of at least 83,000 Venture Miles, which can be transferred instantly to 83,000 Virgin points. That alone is enough to fly Delta One business class to Europe from anywhere in the U.S.
Learn more about the *venture x*.
The *amex gold* is currently offering a 60,000-point welcome bonus after spending $4,000 in the first six months. Better yet, you may be able to qualify for a whopping 75,000-point welcome bonus using CardMatch!
Beyond that bonus, this card is easily one of the best all-around travel cards on the market thanks largely to an unbeatable 4x return on an unlimited amount of spending at restaurants and 4x points on up to $25,000 a year spent at U.S. supermarkets – and 1x points after that.
Learn more about the *amex gold*
Bottom Line
We love flying Delta and wish that the SkyMiles program was more consistently rewarding for its members. Thankfully, there's an easy way to save big on Delta flights with Virgin Atlantic.
So whether you're positioning to your nearest international gateway for a long-haul flight or looking to book a cheap weekend getaway, turn to Virgin Atlantic instead of Delta for your next short nonstop flight.