Back in May, we noticed that Virgin Atlantic had removed the helpful price calendar search from its website. And that stunk.
Virgin points can be an incredibly valuable way to book flights whether you're hoping to fly Delta One across the pond or book economy awards to Europe. But without the ability to pull up a month's worth of flights, it's much harder to find those sweet spots and book. A spokesperson told us the removal of that calendar was temporary … but two months later, the option is still nowhere to be found. But it still exists!
As first discovered by Frequent Miler a few weeks back, Virgin Atlantic didn't exactly remove this functionality from its search tool: it's simply hidden from plain sight. There's a simple workaround to see the price calendar on Virgin's site.
Here's how.
The Trick to See the Virgin Atlantic Monthly Award Calendar
First, start searching as you normally would on Virgin's booking page and expand the "Advanced search" settings. If you're searching for award travel, it will be easiest to find award availability by searching one way at a time. Make sure you choose to show the price in "Points," the "show flexible dates" box is checked, and select the total number of passengers traveling. Looking for business class seats? Choose "Upper Class."



If there is at least one date available within three days before or after the exact date you're searching, you'll get a one-week view of available dates. If there is nothing available that week, you'll get an error message and will need to try searching for a different week.

From this screen, you used to be able to click on text that said "Price Calendar" next to the "Flexible Dates" text in order to view fares over a monthly calendar. That's gone now. Instead, you can simply edit the URL in the address bar at the top of your browser. Look for the words "flexible-dates" in the address bar.


You'll just need to replace the word "dates" with "calendar" to get the Price Calendar to pull up. Simply type this in and hit enter or return on your keyboard. You can then easily navigate between months by using the arrows on the sides.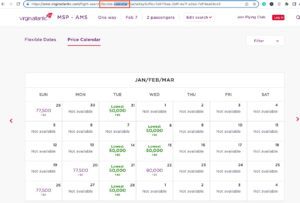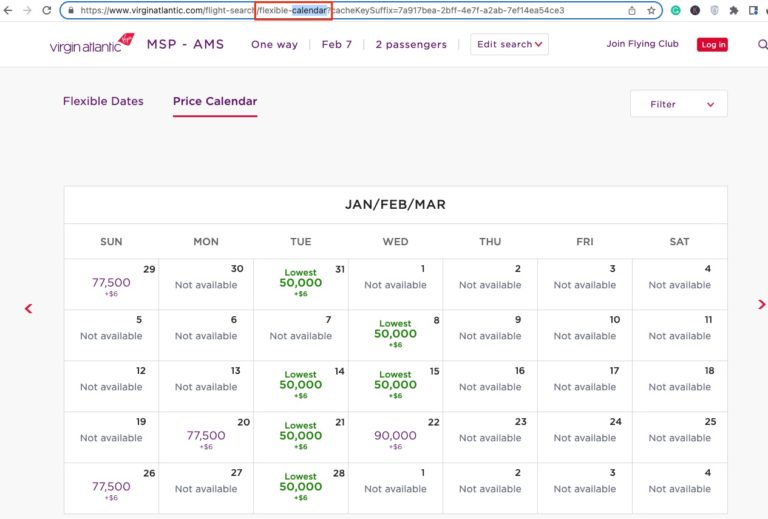 If you end up navigating to a month where there is no availability throughout the entire month, you'll be brought back to the search page with a highlighted message at the top stating "Sorry, no reward flights are available for your search …" This means you'll either need to adjust your search parameters or try different dates. It's the same message you'll get if there was nothing available within one week of your initial search.

Don't let this deter you from searching for availability in other weeks or months. If you're able to find availability, you can book Delta One business class seats to Europe for just 50,000 points and $5.60 one-way!

Read more: How to Book Delta Flights with Points and Miles
Bottom Line
Virgin Atlantic has made it harder to search for award space on a monthly calendar. However, by using this workaround to simply edit the URL, you'll still be able to pull up Virgin's price calendar when searching for availability.