Starting from just 34,000 points each way, Iberia business class is one of the best (and cheapest) ways to get to Europe in a lie-flat seat. But finding the award availability to book this deal isn't always so easy.
Unless you're getting award alerts to your inbox with Thrifty Traveler Premium+, starting your search on American Airlines' website is the best place to start – with the ability to filter for nonstops and business class, it makes it easy to zero in on the flights you want. Find an Iberia business class award to Madrid (MAD) available for 57,500 AAdvantage miles, then turn to Iberia or British Airways Avios and book that exact same flight for as low as 34,000 miles each way!
But that just got a bit harder. Now, you may only be able to see one Iberia business class seat on AA.com … even when there are two (or more) seats available.
Whether this is a temporary glitch or an intentional move from Iberia is anyone's guess. We've seen a lot of changes, good and bad, when searching for points and miles deals through American recently.
For several months, any availability to fly Qatar Qsuites disappeared from AA's site unless you were looking just a month or two before departure. Fortunately, that changed earlier this week: It's much easier to search and book Qsuites online through American once again!
The same was true for finding these dirt-cheap Iberia awards. But while you can now find availability for Iberia business class searching at AA.com as far out as late 2023 when searching for just one seat…


… if you search for two passengers in business class on these same routes, you'll just get a blank calendar with no results. Frustrating.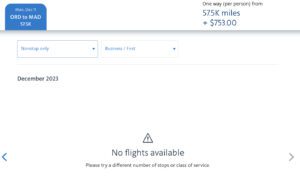 And if you're aiming to use AAdvantage miles for these seats, calling the airline to book won't help: American agents have confirmed that they can only book one business seat.
Yet if you plug some of those same dates into a search on British Airways or Iberia's websites, you'll often see you can still book at least two business class seats.

On one hand, this isn't all that unusual: Many airlines give better award availability to their own members than to partner airlines – especially flying premium cabins. On the other hand, this certainly makes it trickier to plan a trip for two (or more) to Europe later this year.
British Airways and Iberia are sister airlines, so they both charge the same number of Avios to fly Iberia business class – and after a decrease last year, British Airways charges a similar tax bill, too. It starts from just 34,000 Avios each way for off-peak travel dates from Boston (BOS), Chicago-O'Hare (ORD), New York City (JFK), and Washington, D.C.-Dulles (IAD). Peak travel dates like summer and holidays will cost more, as will longer flights from Miami (MIA), Dallas-Fort Worth (DFW), or Los Angeles (LAX).
Getting these flights as low as just 34,000 miles each way is a bargain. And considering you can transfer Amex Membership Rewards, Bilt Rewards, or Chase Ultimate Rewards instantly to either British Airways or Iberia (or transfer Capital One Venture miles instantly to British Airways), it's easy to get the miles you need to make it happen.

But American Airlines' site has been our go-to for years to find these flights because the monthly calendar makes it so easy to find availability. Unfortunately, this recent changes means it will require some trial-and-error if you're looking to book business class seats to Spain for two.
The one exception is if you're searching for flights within the next 60 days, in which case you can still see Iberia business class seats for two on AA.com.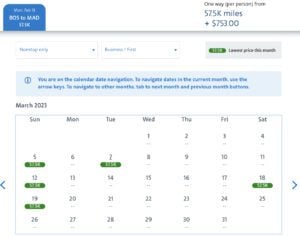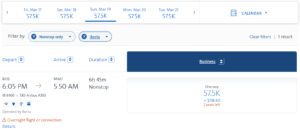 And luckily, you can still find multiple seats when flying economy no matter how far out you're searching. Iberia and British Airways charge as low as 17,000 miles each way for an economy seat over to Spain.
How to Use AA.com to Search for Iberia Business Class Awards
While redeeming American AAdvantage miles is often not the best way to book Iberia business class awards, its award search tool is still the best way to pinpoint potential dates.
First, conduct a search from one of Iberia's gateways to Madrid (MAD). Currently, Iberia flies from eight U.S. cities. All are year-round except for flights from San Francisco (SFO) and Washington D.C.-Dulles (IAD), which don't fly during the winter.
Boston (BOS)
Chicago-O'Hare (ORD)
Dallas-Fort Worth (DFW)
Los Angeles (LAX)
Miami (MIA)
New York City (JFK)
San Francisco (SFO)
Washington, D.C.-Dulles (IAD)
Thanks to Iberia and British Airways' distance-based award pricing, you'll find the cheapest rates flying to or from Boston, Chicago, New York, or Washington, D.C.
Read our full guide on how to book business class to Spain from just 34,000 points each way!
We recommend starting from American's advanced search. Select "Redeem miles", choose the one-way tab, and select "Business / First" for Class. If you're searching for travel more than 60 days in advance, search for only one passenger since American will only be able to book one seat per flight for future travel dates.

After searching, click on the "Calendar" icon to maximize your view of travel dates.

Once you're in the calendar view, choose to view "nonstop only" and "Business / First" to see a full-month view of potential dates. You can navigate between months using the arrows. Look for rates in green at 57,500 miles each way. Unlike Iberia and British Airways, American charges that same rate from all these U.S. gateways.

Seeing dates on American at 57,500 miles each way means you can book those same seats for even less. So you'll then want to cross-check these potential dates to see if you can book two passengers via Iberia or British Airways. In many cases, you should be able to … but there's no guarantee. Always ensure the total number of passengers you wish to book is visible before transferring any points. You'll need to create an account and log in to search with either British Airways or Iberia.

In this example from Boston (BOS) to Madrid (MAD), both British Airways and Iberia charge just 34,000 Avios one-way to fly Iberia business class in November, an off-peak travel period. Taxes and fees are roughly $125 one-way or $280 roundtrip.

Once you've confirmed the availability for your dates, transfer the points you need from cards like the Chase Sapphire Preferred® Card, the American Express Gold® Card, or the Capital One Venture X Rewards Credit Card and book one of the best deals in the world of points and miles!

Read our full review of Iberia business class on the Airbus A330 from Chicago (ORD) to Madrid (MAD).
Bottom Line
Iberia is only allowing American's AAdvantage program to book one seat per flight in business class – at least when booking more than two months in advance. You can still use AA.com to search for Iberia business class awards, but you'll need to search for just one passenger.
Use American's calendar search tool as a guide to give you potential dates and then try those dates when booking with British Airways or Iberia to see if you can book two seats on the same flight for a bargain.