This summer, we've noticed that airfare isn't acting normally. Specifically, summer flights (especially in June and August) are actually getting cheaper this year, and that's doubly true for flights bookable with points and miles.
Award availability – flights that you can actually book with your credit card points and airline miles – in the busy summer travel months of June and August has been easier to find than normal lately. Over the last several weeks, we've sent our Thrifty Traveler Premium+ members some incredible award deals, from a quick flight down to Cancún (one of the most-searched destinations for travel this summer!) for 11,000 Delta SkyMiles roundtrip, 17,000 miles to fly to Europe and back, or a luxurious business class seat to Switzerland, London, or Australia from 45,000 miles one-way.
If you're planning to travel this summer, using your stash of points and miles is your best bet for scoring expensive flights at a much better value. You might be surprised at how few of your points and miles you'll need to book a memorable summer getaway in 2023.
Planning to travel this summer? Subscribe to our free daily newsletter to get all our Summer Travel Week stories!
Our Best Economy Deals for Summer Travel
Looking to travel internationally this summer? Flights to Europe in the peak summer months usually aren't cheap if you're paying in cash, but you won't need as many points and miles as you might think to to get there flying economy.
Thrifty Traveler Premium+ is the only flight deal service that sends members both cheap cash flight alerts as well as deals to use their points and miles. And we recently sent members this staggering deal over to Europe that included some August availability.
Thanks to a 25% transfer bonus to Air France/KLM from Chase, just 17,000 Chase Ultimate Rewards points could have been enough to book a roundtrip fare to Amsterdam (AMS) or Paris (CDG) and connect onwards to the rest of the continent and even down into North Africa.

Even without the transfer bonus, these flights from Atlanta (ATL), Boston (BOS), Houston (IAH), and Washington, D.C. (IAD) cost only between 21,000 and 30,000 Flying Blue points, which you can transfer from Chase, American Express, Capital One, Citi, or Bilt Rewards. Some of these fares are upwards of $1,000 if paying in cash, so whichever way you booked it, this was a steal!
Using Virgin Atlantic points to book Delta flights is a sweet spot for flying to Europe thanks to lower award rates than you'd see booking those same flights with SkyMiles, or even cash. Every single one of the flights on this next deal was flying Delta nonstop to Europe starting at just 47,000 Virgin points roundtrip.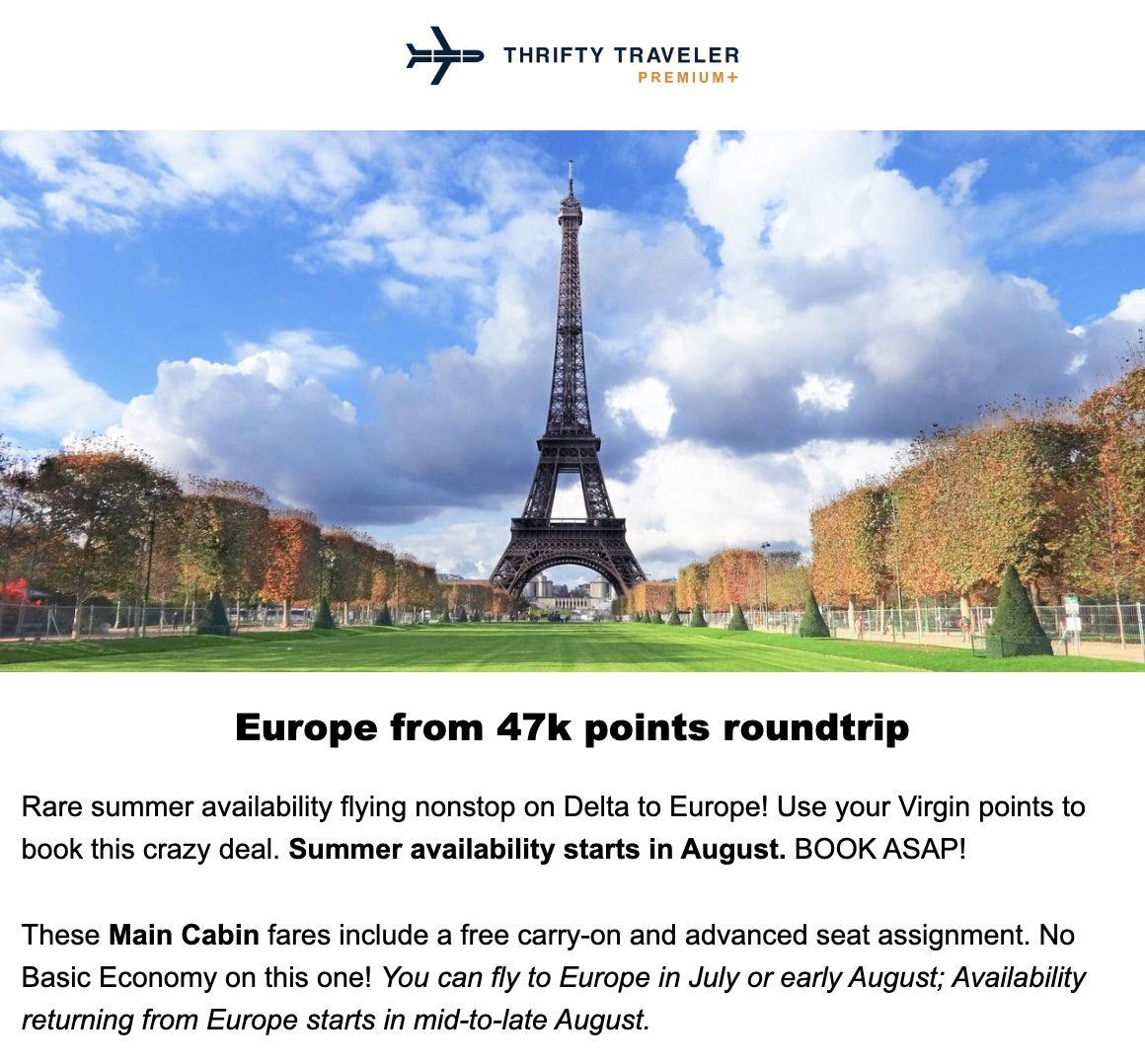 Virgin points, thanks to their long list of credit card transfer partners, are easy to earn, putting this deal well within reach for most travelers to book an August trip abroad.
For reference, these flights would cost you between 80,000 and 150,000 Delta SkyMiles (or upwards of $1,000 in cash) roundtrip if booked another way. Plus, you're booking a main cabin fare, which means you can change or cancel your flights for your points back for free and you can choose your seat – much more than you'd get paying cash for the cheapest basic economy fares.
Thrifty Traveler Premium+ is the only service that sends both award deals to use points & miles as well as cheap domestic and international cash fares! 
If a getaway a little closer to home is more your speed, consider using a few Delta SkyMiles. A few weeks ago, we alerted our Thrifty Traveler Premium+ members about this Delta SkyMiles flash sale to Cancún, Mexico (CUN), which included tons of peak summer availability.

Just 11,000 SkyMiles (transferrable from American Express, too) and $100 in taxes and fees are all you need to book some of these flights, which would otherwise cost you $400 or more on most of these routes. Cancún might seem like a surprising choice for a summer trip, but Google's data shows we're all itching for a beach vacation, and this deal is a great way to make that happen.
You don't want to know what some of these American Airlines nonstop flights to Europe would cost you in peak summer if you're paying cash… and when I saw peak summer, I mean peak summer.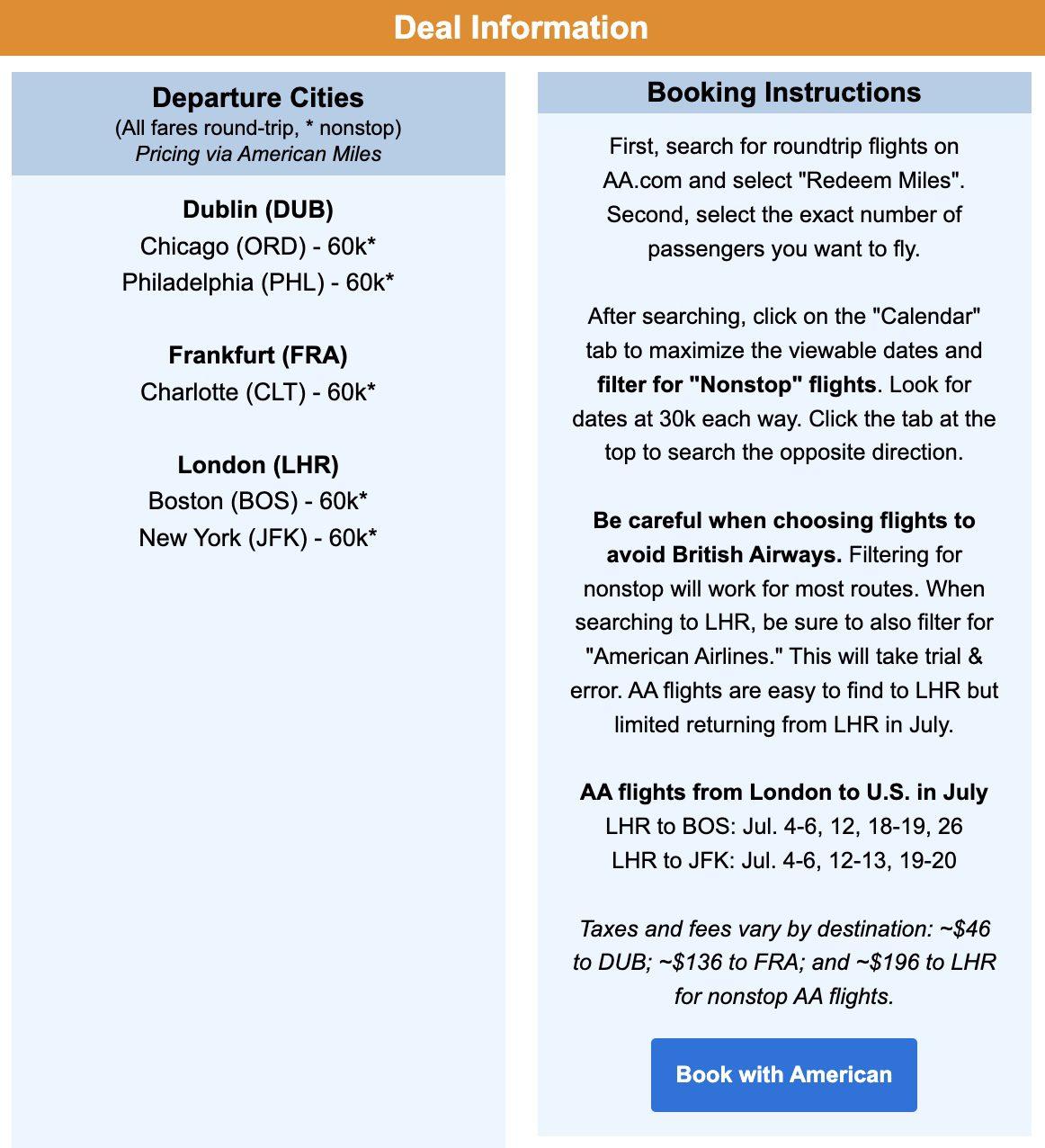 This deal on some of American's most coveted routes included availability in July, which is almost unheard of. This year, June and August availability to book flights with points and miles is easier to find than normal, but July award rates like these are extremely rare, especially when you might have to take out a second mortgage to pay for them in cash.

$1,400 for basic economy, where you won't get free seat selection or the ability to change your ticket … ouch.
These deals are proof that using points and miles to book your travel this summer is the single best way to avoid astronomical peak summer fares like this one.
Our Best Business Class Deals for Summer Travel
Who hasn't dreamed of a little comfort on your summer vacation? Flying in a lie-flat seat lets you arrive well-rested to your destination so you don't have to waste a day.
If you think business class flights are out of reach for you, I'd urge you to reconsider. In fact, when it comes to using your points and miles, you're going to find the best value booking business class.
Let's look at this SWISS Business Class deal we sent to our Thrifty Traveler Premium+ subscribers a few weeks ago.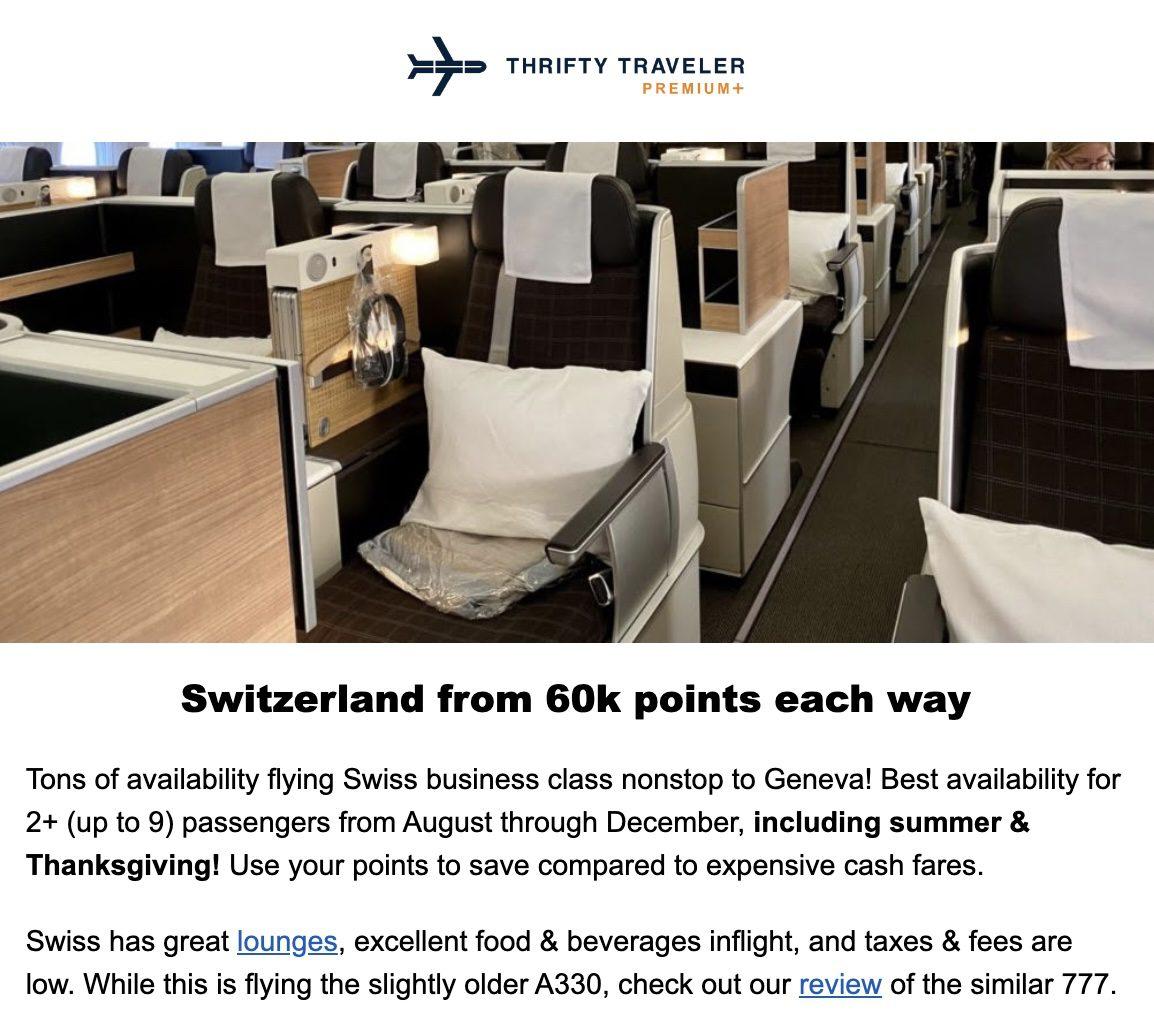 For just 60,000 points, you could get everything this seat has to offer, including lounge access, top-notch food and drink, free champagne, and a comfy seat that lets you fully recline. Looking at the cash price of this flight, it's clear why this seat may have seemed out of reach…

Yeah, 60,000 points is a drop in the bucket compared to $2,781. And if you booked the fare directly with SWISS, you're paying $3,300 for the one-way ticket. That's just simply not worth it.
But there are so many more examples than just SWISS. Here's another business class flight that would cost you north of $3,000 one-way, and that's flying Aer Lingus Business Class to Dublin (DUB) this summer.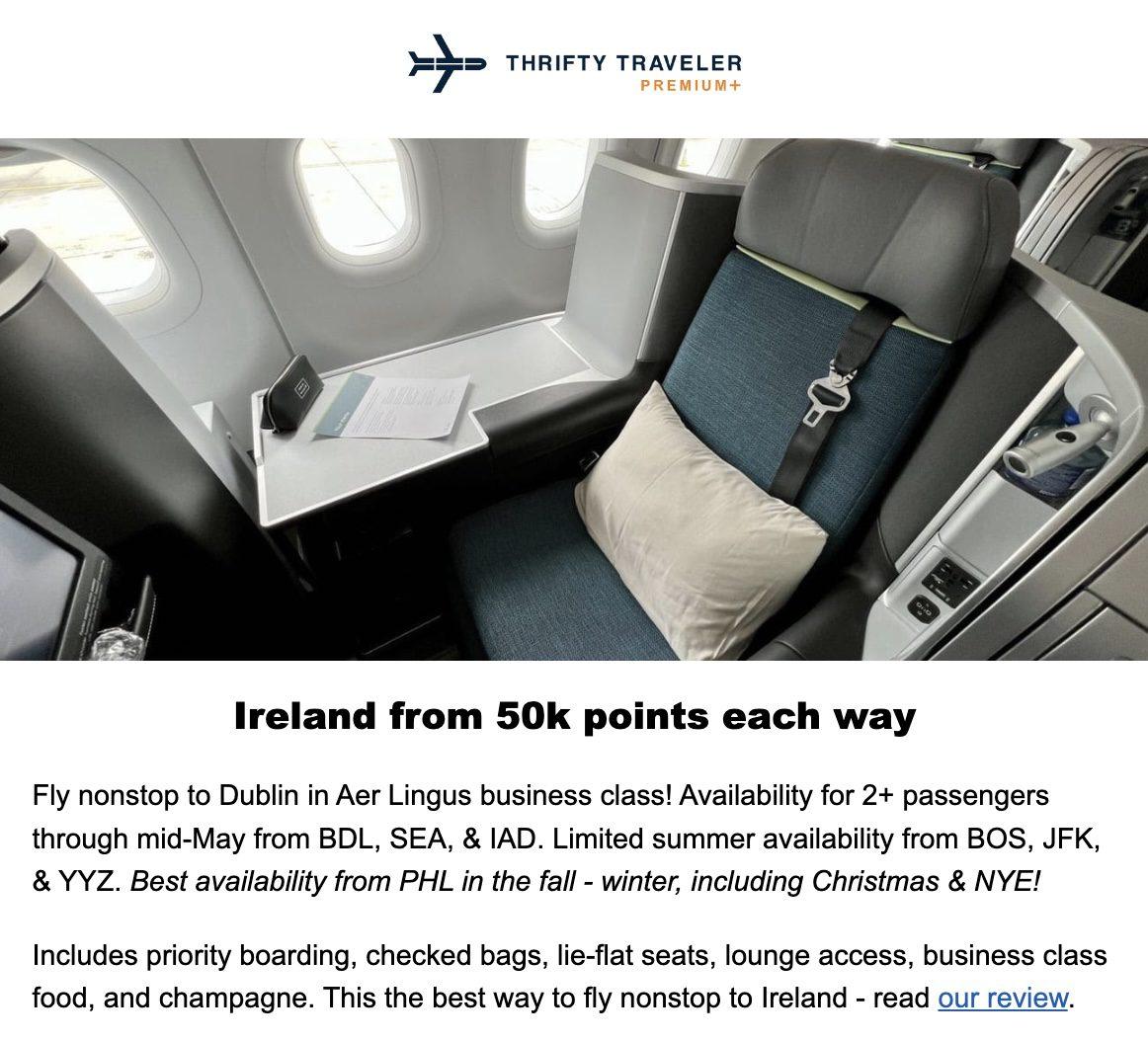 Instead, use 50,000 Aer Lingus points that you can transfer from American Express, Chase, and Bilt Rewards.
Get deals like this in your inbox with Thrifty Traveler Premium+!
If you want to fly the stylish Air France business class, you could book those sweet seats for less than 80,000 points one-way, nonstop.

One of the newcomers to the lie-flat game across the Atlantic Ocean is Condor, the Frankfurt-based carrier that's in the middle of an exciting glow-up right now. Just look at these seats!

At more than $4,100 for a one-way ticket, these summer seats from Los Angeles (LAX) and Seattle (SEA) are at a huge discount at just 55,000 points each way when booked with Alaska Airlines miles.
The same goes for this other flight to Frankfurt (FRA) flying five-star-rated Singapore Airlines business class from New York (JFK).

In cash, that fare would cost you just about $1,500 to book, which isn't the worst we've ever seen, but still way more expensive than 60,000 Air Canada Aeroplan points, which can you transfer from Chase, American Express, Capital One, or Bilt Rewards points.
Let's look at two more scorching hot business class award deals that we sent to subscribers over the last month or so. We'll start down under.
Business class seats to Australia that you can book with points and miles are typically hard to find, but you'd better believe we're scouring every single route every single day to make sure we find deals like these.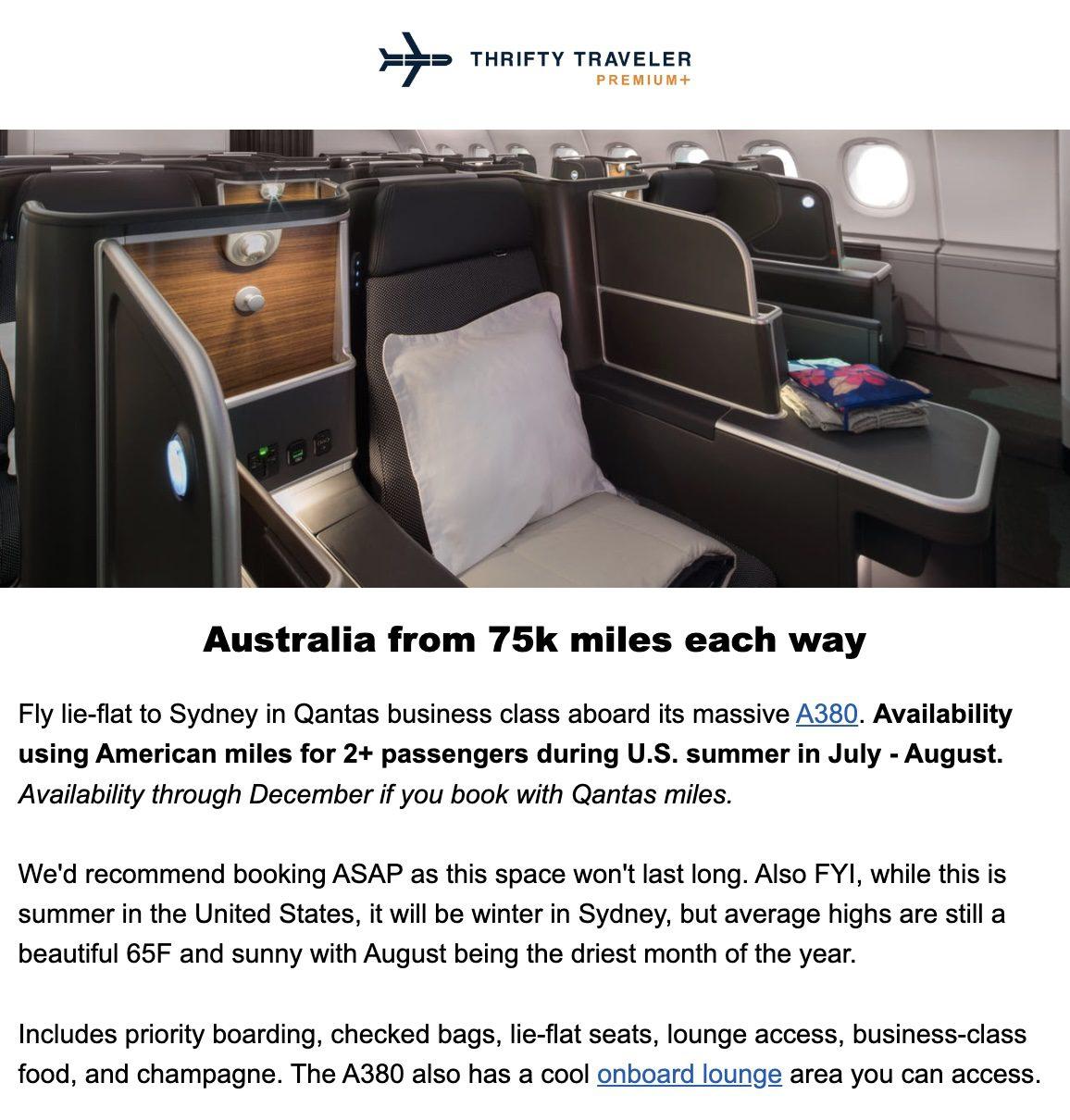 Just 75,000 Qantas or American Airlines miles would put you onboard one of these suites heading to Sydney (SYD). While August is winter in Australia, the average highs are still in the 60s and it's the driest month of the year there. At $5,500 one-way in cash, using just 75,000 points is an insane value.
Finally, let's look at United Polaris Business Class, which is a crazy comfy way to get to Europe, and that's doubly so if you can access the Polaris Lounge at Newark (EWR), one of the best airpport lounges in the country.

And if you use a sweet spot in Turkish Airlines' loyalty program (with the hilarious name "Miles and Smiles"), you can book that seat to the United Kingdom for just 45,000 points. The August availability on this flight was from Boston (BOS) and Washington, D.C. (IAD), a nice summer redemption for anyone with Turkish miles – or Citi, Capital One, or Bilt Rewards points that you can transfer.
Bottom Line
If you're still planning to travel this summer, using your stash of points and miles is your best bet for scoring expensive flights at a much better value – especially if you want to indulge in a business class seat.
Searching for award availability, particularly during the peak summer months, can be a full time job, though. Sign up for Thrifty Traveler Premium+ to be the first to know when and how to book one of these seats for your summer travels.