With brand-new planes equipped with snazzy new lie-flat business class seats and massive upgrades even back in economy, German budget carrier Condor is glowing up before our eyes. By next spring, that glow-up will be complete.
Condor has been flying its latest-and-greatest Airbus A330-900neos on select routes between the U.S. and its Frankfurt (FRA) hub this year … but not all of them: Some cities are still seeing service on the airline's outdated Boeing 767s. But an analysis of Condor's schedule for next year shows the airline plans to fly the A330-900neo next year on all of its U.S. routes as well as Canada, too.
That includes major airports with Condor flights year-round like New York City (JFK), Seattle (SEA), and Toronto (YYZ) as well as smaller cities with seasonal service like Minneapolis-St. Paul (MSP), Baltimore (BWI), Phoenix (PHX), and even Anchorage (ANC). All 16 North American cities with nonstop Condor flights should fly the new A330-900neo to Germany next year.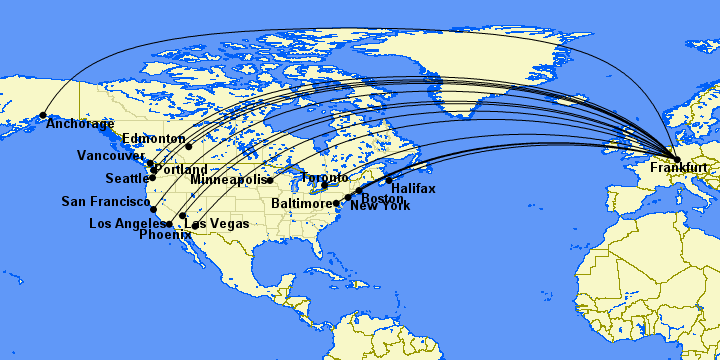 Of course, that could change as spring and summer of 2024 draw closer. Condor expects to get the last of its 16 A330-900neos on order sometime next year but if those deliveries slip, some cities could see substitutions. If everything goes according to plan, though, it's a big win for budget-conscious travelers hoping to head overseas in 2024.
Condor is a different animal than the likes of American, Delta, United, or even fellow German carrier Lufthansa. It's focused almost entirely on everyday vacationers and leisure travel. Many routes only run during the summer, while other major routes to cities like New York scale back to just a few flights a week once peak summer ends.
And these new planes are transforming Condor's reputation from a budget airline travelers flew as a last resort to an excellent airline you can still book for a bargain – whether you're flying economy or business class.
A Look Inside Condor's A330-900neo
The planes' beach towel-like livery might be offputting to some travelers, but it's what's on the inside that counts, right? And inside these planes you'll find upgrades from nose to tail.
It's in business class where Condor has made the biggest improvements. Passengers booking a seat at the front of the plane are going from these outdated recliners…

… to this brand new seat.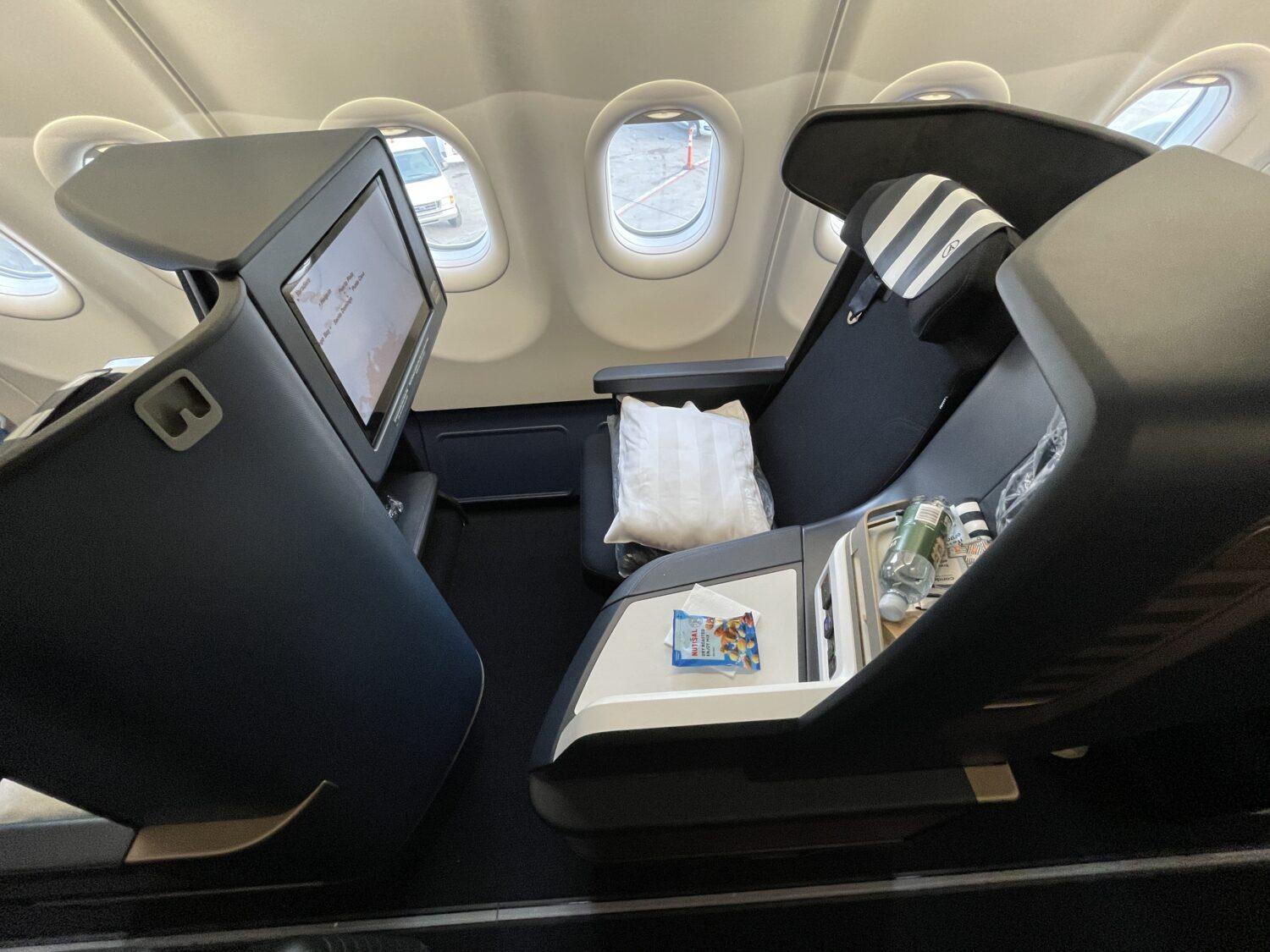 Read our full review of Condor business class!
That's right: A sharply-designed business class cabin with seats that recline into fully lie-flat beds and direct aisle access for everyone on board – all on a "budget" airline. Condor's business class seats on these Airbus A330-900neos are on par with (or even better than) what you'll find on many of the big-name airlines flying across the Atlantic. Heck, it's a huge step above most Lufthansa business class seats, which are laid out in woefully outdated 2-2-2 configuration.
Our Thrifty Traveler Premium flight deal guru Jon flew Condor business class across the pond a few months ago and gave it a glowing review. Aside from a chaotic boarding process, everything on Condor – from the service to the food to the seat itself – measured up to legacy airlines flying across the Atlantic Ocean.
Condor has spruced up a few seats at the very front of the business cabin even more. It calls the first row "Business Class Prime," with extra amenities and more legroom thanks to a massive ottoman, which passengers can even use to dine face-to-face during the meal. These Prime seats are available for an extra fee.

But it's even a big upgrade back in economy. The new Condor economy cabin is laid out in a 2-4-2 configuration. That means each seat is wider, as other airlines pack in nine seats in each row. Plus, those two-seat sections along the windows make a perfect spot for couples or traveling companions. There are also a few rows of seats arranged in a 2-3-2 configuration at the back of the cabin.
With standard seats offering roughly 30 inches of legroom – less than the 31- to 33-inch standard on airlines like Delta, it's going to feel a little bit cramped. Condor also sells what it calls "Premium Economy" seats with up to 35 inches of legroom, though the seats are otherwise identical.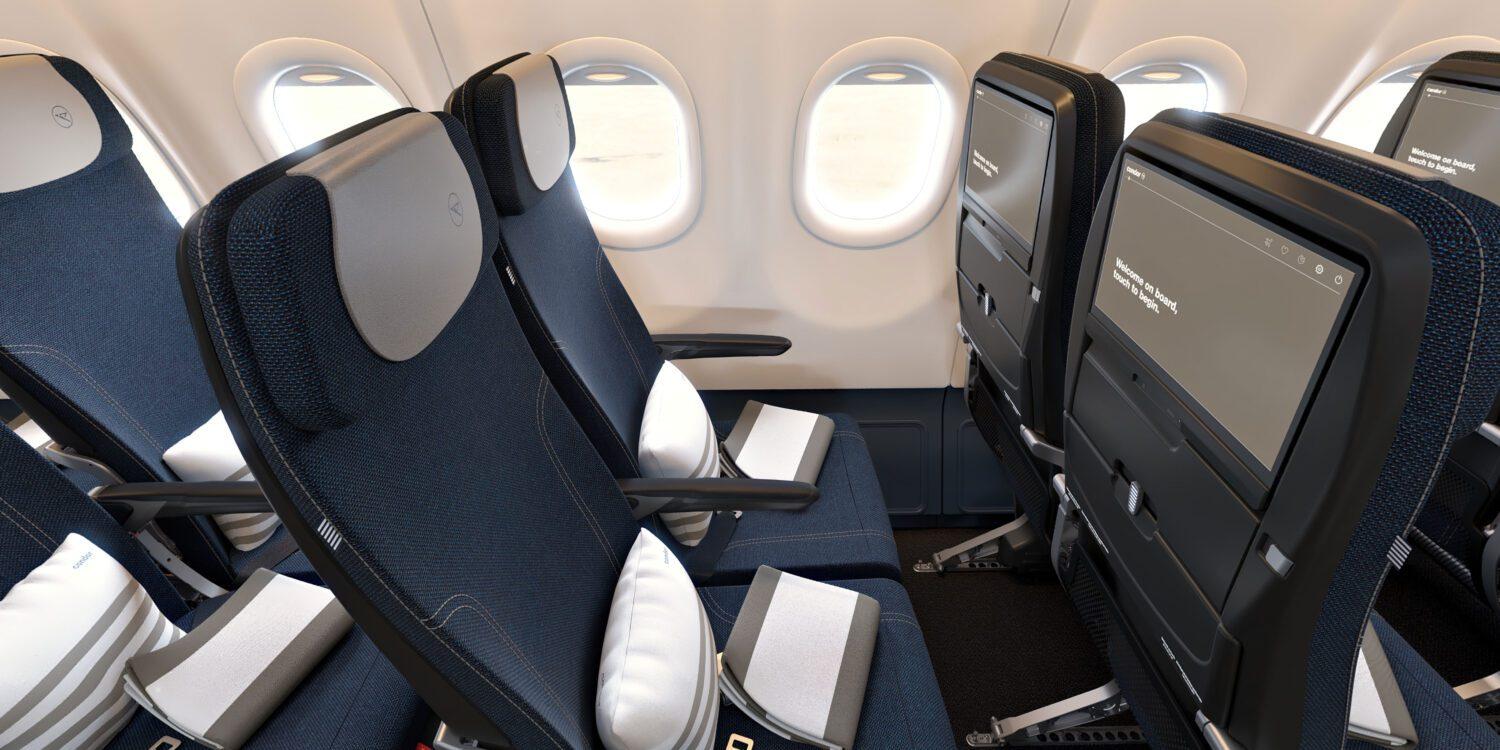 Every seat is equipped with a substantial 4K seatback screen with free movies and TV shows. You can pair your own set of Bluetooth headphones, a feature you'll only find on just a few planes with a handful of other airlines.
How to Book Condor
With airfare on the rise, we saw Condor economy fares this summer hovering between $750 to $1,000 roundtrip. If you can swing a trip this fall or next spring, you can find fares via Google Flights under $600 – maybe under $500.
But in years past, we've seen roundtrip fares tumble as low as $450 or less – not bad for a trip in the middle of summer or even for Oktoberfest!

More recently, however, we've seen some discounted business class fares flying Condor's great new seats to Germany. While $1,974 may not be your definition of "thrifty," it's half (or less!) what most other airlines typically charge for a roundtrip in business class.

These fares are gone now – get the next deeply discounted business class fare with Thrifty Traveler Premium+!
With these brand-new seats, it could easily be worth shelling out some miles for Condor business class … especially if you can book it over the summer. A few months back, we sent Thrifty Traveler Premium+ members an award alert for wide-open availability flying Condor's new business class cabin to Frankfurt from a half-dozen cities including Las Vegas (LAS), San Francisco (SFO), Seattle (SEA), Vancouver (YVR), and more. It was a stellar way to use just 55,000 Alaska Mileage Plan miles.

Read up on all the different ways to book Condor flights!
Bottom Line
Condor's newest planes flying to and from the U.S. and Canada are turning heads – and that's a good thing. Come next year, these state-of-the-art planes will be flying to and from all its North American gateways.
From nose to tail, these new Airbus A330-900neos are a massive step up for an airline long regarded as a skimpy budget carrier.