If Condor isn't on your radar for an upcoming trip, we don't blame you. But the Frankfurt-based budget carrier has been making big moves that deserve your attention.
Condor has had a big glow-up of late. It has a brand-new, colorfully painted fleet of planes with some exceptionally nice business class seats onboard. Just a few weeks ago, we took one of those business class flights and were blown away by the experience.
Last year, I wouldn't have told you to consider flying Condor with its outdated jets. However, Condor's latest changes have us singing a whole new tune. Whether you're trying to book a cheap, nonstop economy flight to Germany or fly lie-flat to far-flung locales like Mauritius, Seychelles, or South Africa, Condor is an airline worth looking into as you plan your 2023 or 2024 travels.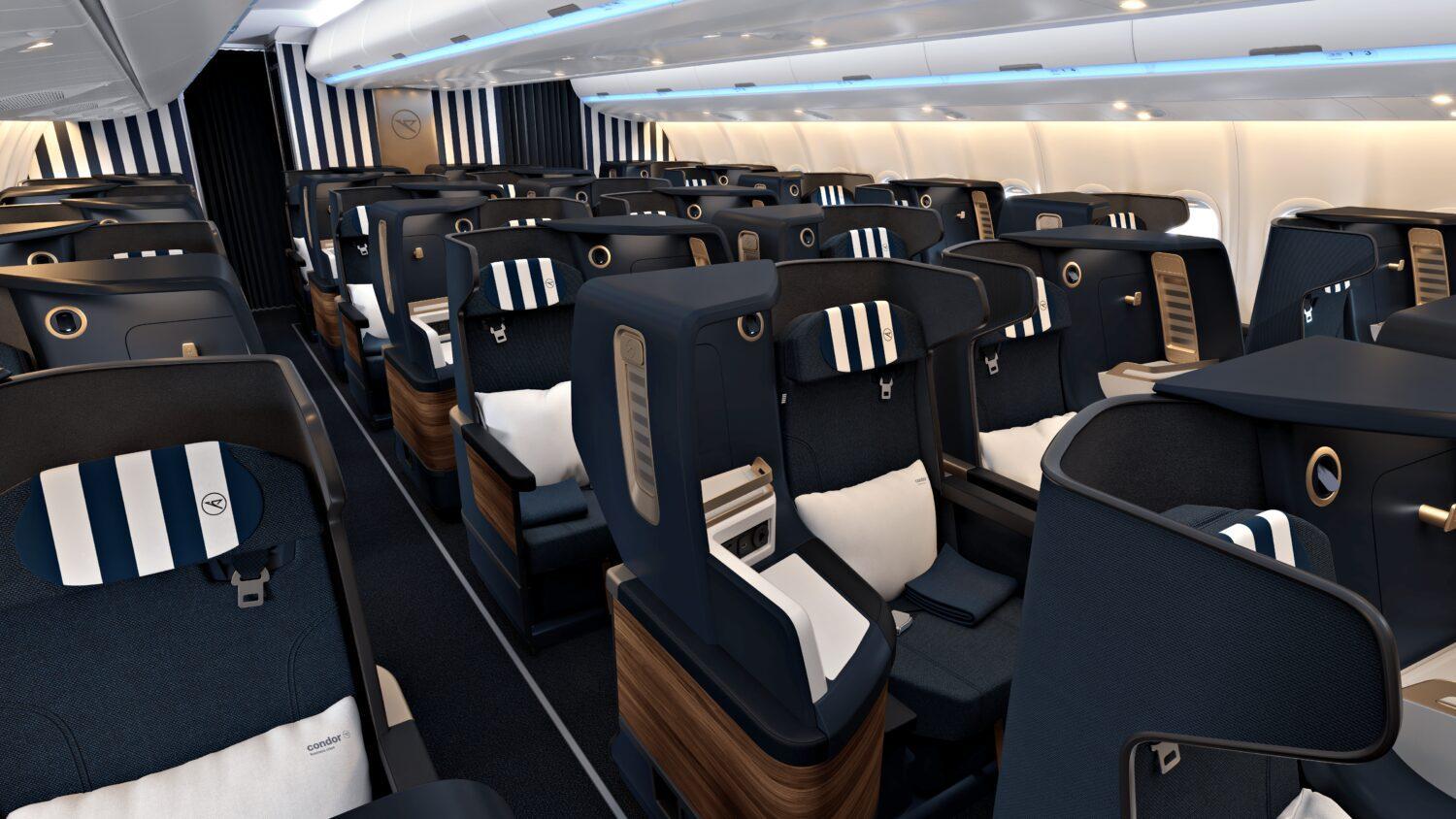 Here's why you should consider flying Condor, where you should look at going, and all the cheapest ways to book this revived European airline.
What is it Like to Fly Condor?
It's hard to miss Condor these days. The German carrier recently underwent a big-time fleet refresh including a colorful new paint job on its A330-900neos that's really…stripey.
But it's what's on the inside that counts. And that's where you'll find a product that rivals almost anything in the sky.
Let's start in economy. With standard seats offering roughly 30 inches of legroom – less than the 31- to 33-inch standard on airlines like Delta, it's going to feel a little bit cramped. Condor also sells what it calls "Premium Economy" seats with up to 35 inches of legroom, though the seats are otherwise identical.
On the plus side, the economy cabin is laid out in a 2-4-2 configuration. That means each seat is wider, as other airlines pack in nine seats in each row. Plus, those two-seat sections along the windows make a perfect spot for couples or traveling companions. There are also a few rows of seats arranged in a 2-3-2 configuration at the back of the cabin.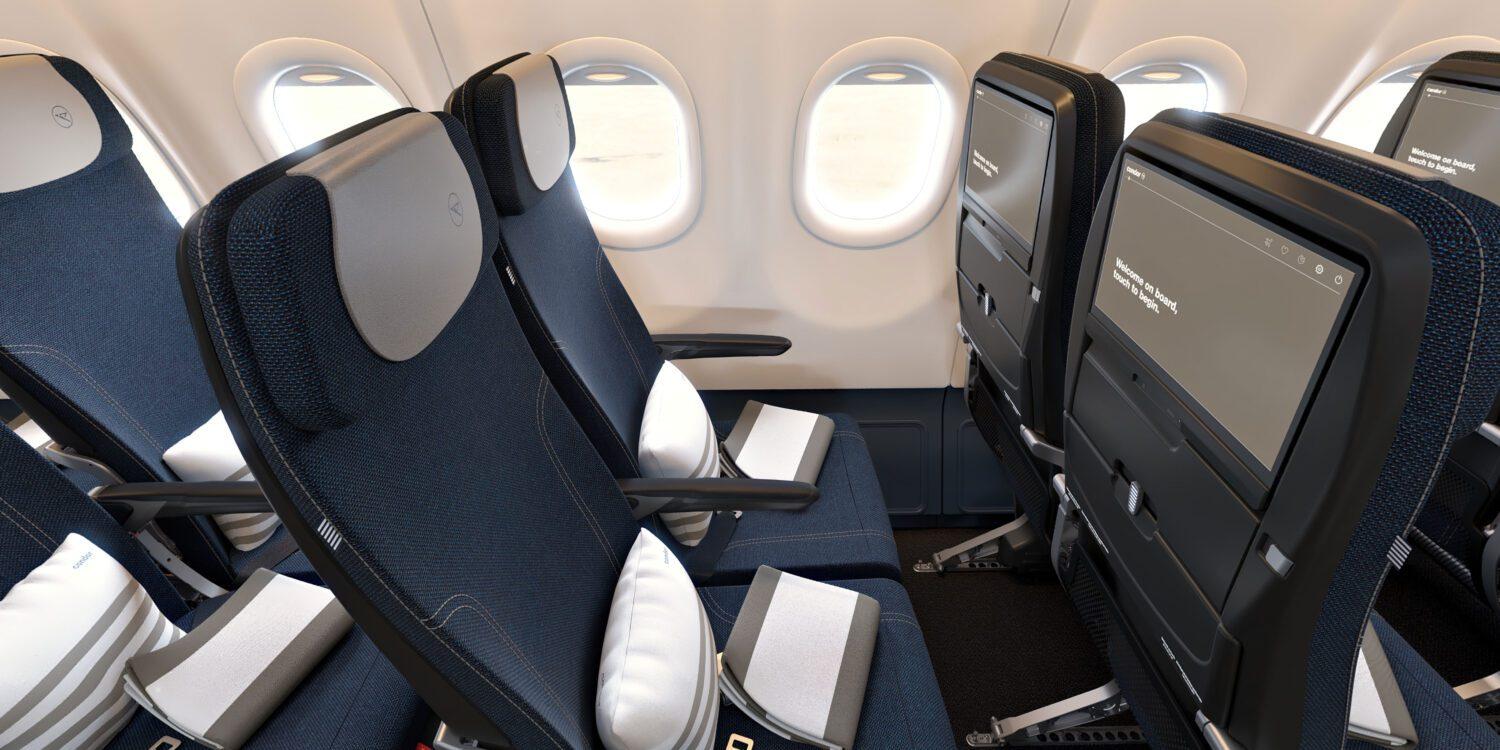 Every seat is equipped with a substantial 4K seatback screen with free movies and TV shows. You can pair your own set of Bluetooth headphones, a feature you'll only find on just a few planes with a handful of other airlines.
While their economy setup is much improved, the business class is what really shines on these new Condor planes. Our Chief Flight Deal Analyst Jon flew this product a few weeks ago and frankly, he won't shut up about it…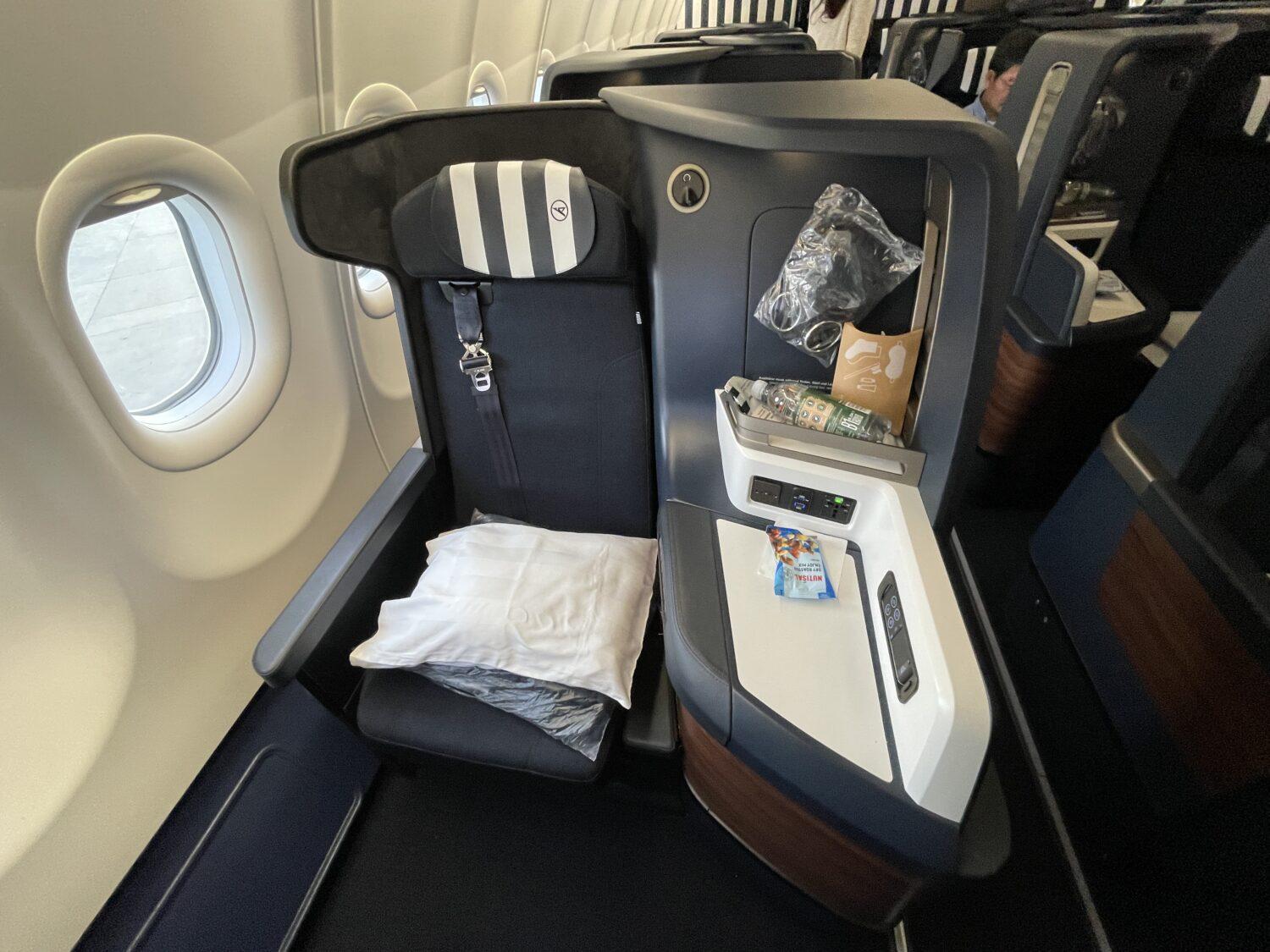 Read our full Condor business class review! 
These comfy business class pods recline into beds. Plus, you can connect your headphones to the screen via Bluetooth, so you can lie flat and watch a movie if you so choose.
What Jon did not expect was how good the food and drink offerings were.
This was just the appetizer course for his meal, including a quintessentially German pretzel that was warm and soft.
The verdict: Condor's new and much-improved business class puts many other airlines flying across the Atlantic to shame.
Where Does Condor Fly?
Thanks to a robust network of flights in the United States and Canada, it's pretty easy for most of the country to catch a Condor flight to Frankfurt (FRA) and connect onward.
Here are all of Condor's routes from the U.S. and Canada:
Year-round routes:
Los Angeles (LAX)
New York (JFK)
Seattle (SEA)
Toronto (YYZ)
Seasonal summer routes:
Anchorage (ANC)
Baltimore (BWI)
Boston (BOS)
Edmonton (YEG)
Fairbanks (FAI)
Halifax (YHZ)
Las Vegas (LAS)
Minneapolis-St. Paul (MSP)
Phoenix (PHX)
Portland (PDX)
San Francisco (SFO)
Vancouver (YVR)
Not all of those destinations feature Condor's new state-of-the-art planes, though. Sadly, travelers in places like Minneapolis-St. Paul (MSP), Phoenix (PHX), Baltimore (BWI), and Edmonton (YEG) among others won't see Condor's A330-900neo whatsoever this year.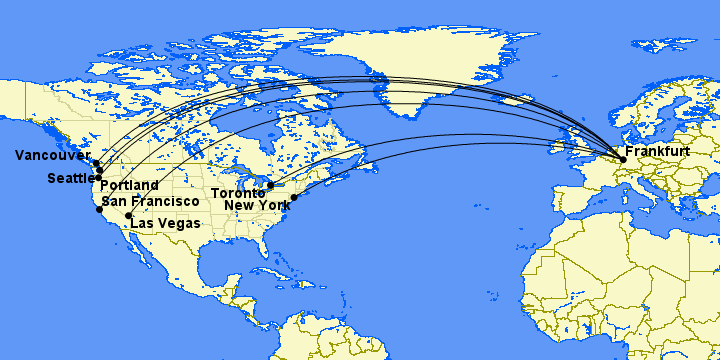 And that's just to get you to Frankfurt. If you're hoping to connect onward, that's where the real fun starts. Condor has a ton of really fun, interesting routes in its network, including plenty of bucket list fodder.
Fly Condor to the Mediterranean
From Frankfurt (FRA), you can connect to tons of amazing Mediterranean destinations including Split, Croatia (SPU), Zakynthos, Greece (ZTH), Chania, Greece (CHQ), and Antalya, Turkey (AYT) among others.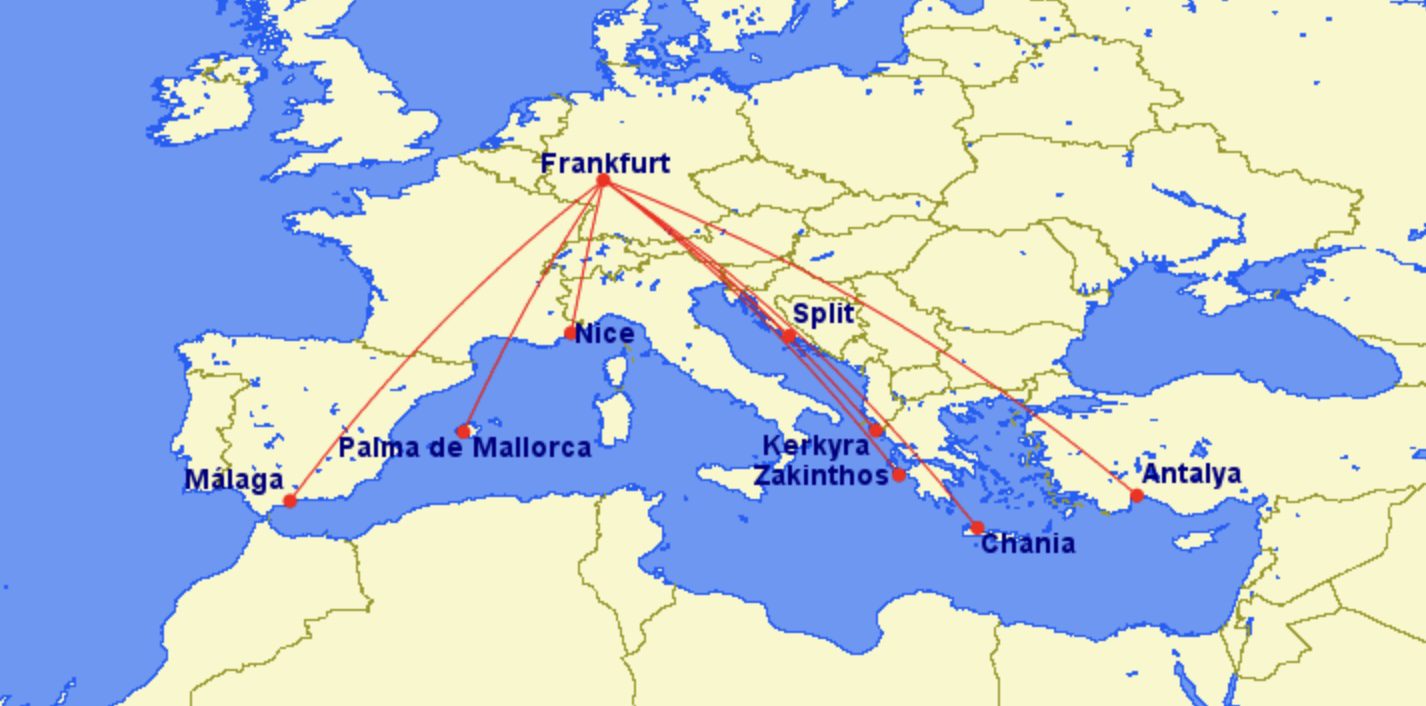 And if you zoom in a little further into the Greek Islands, you'll see that Condor has a ton of nonstop service into that region from Frankfurt, too.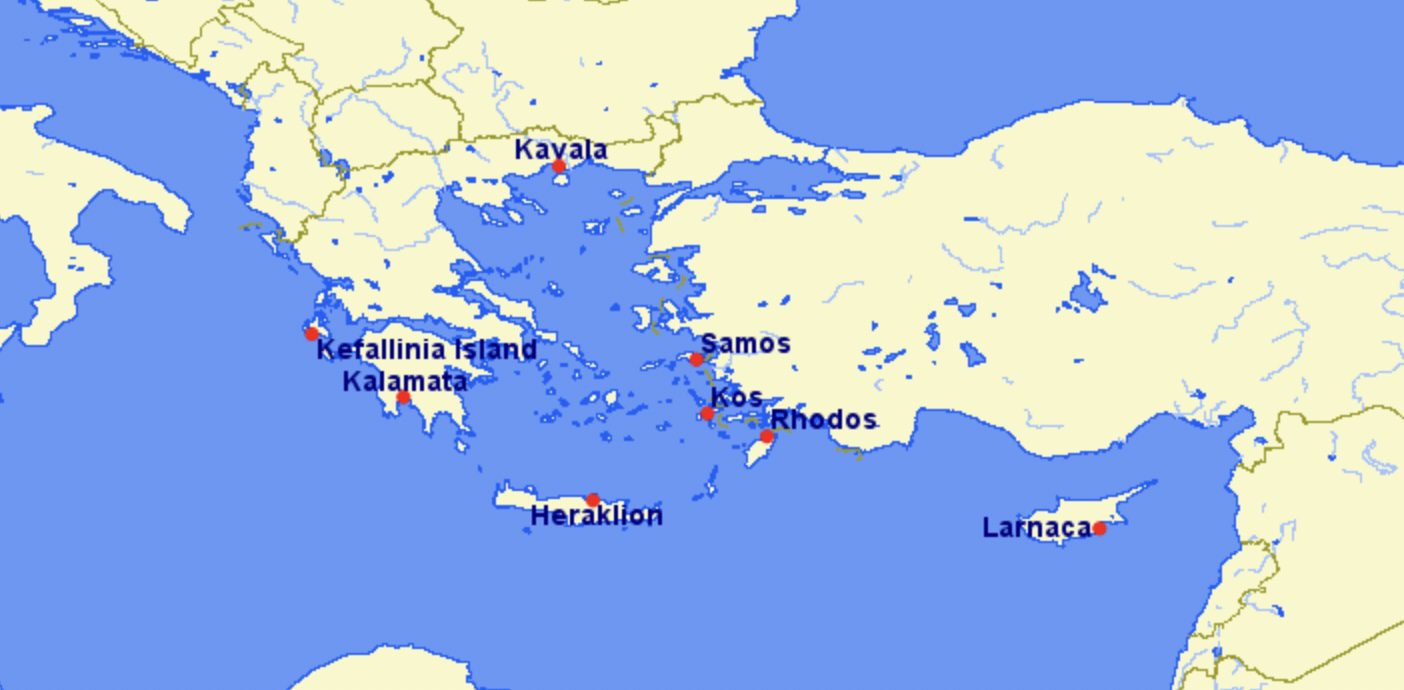 Condor Destinations in the Indian Ocean & Africa
This is where Condor's network really shines. It's a really great option to get to the far-flung locales of the Indian Ocean and Africa, especially if you fly in the new business class the entire way.
From the Maldives to Seychelles to Mauritius, Zanzibar, Mombasa, and beyond, Condor's southern hemisphere network is pretty amazing.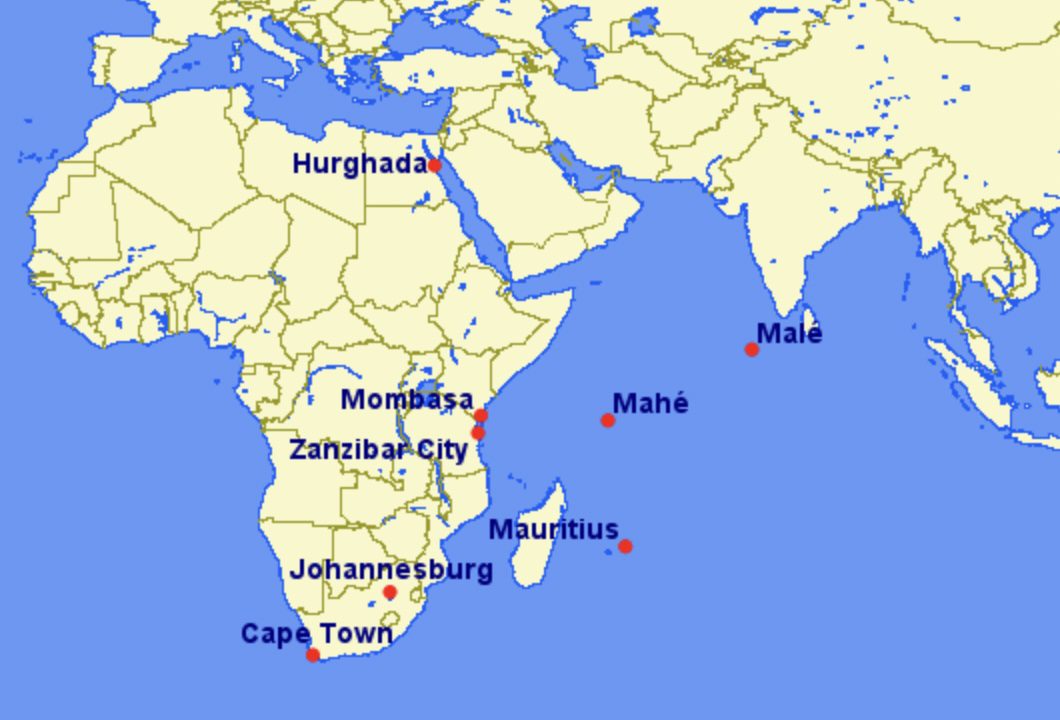 The Maldives (MLE), Seychelles (SEZ), and Mauritius (MRU) are all bucket list material for many North American travelers, and the opportunity to fly lie-flat the entire way there is awesome if you can find the award availability.
But destinations like Mombasa (MBA), Zanzibar (ZNZ), Johannesburg (JNB), and Cape Town (CPT) are also amazing flights via Condor, especially if you only have to connect once from the U.S. or Canada.
Plus, there's a strange, but interesting route to Hurghada (HRG), which is one of Egypt's foremost beach and resort towns.
Best Ways to Book Condor
With airfare on the rise lately, we're seeing Condor economy fares this summer hovering between $750 to $1,000 roundtrip. If you can swing a trip this spring or in the fall, you can find fares via Google Flights under $600.
But in years past, we've seen roundtrip fares tumble as low as $450 or less – not bad for a trip in the middle of summer or even for Oktoberfest!
More recently, however, we've seen some discounted business class fares flying Condor's great new seats to Germany. While $1,900 may not be your definition of "thrifty," it's half (or less!) what most other airlines typically charge for a roundtrip in business class.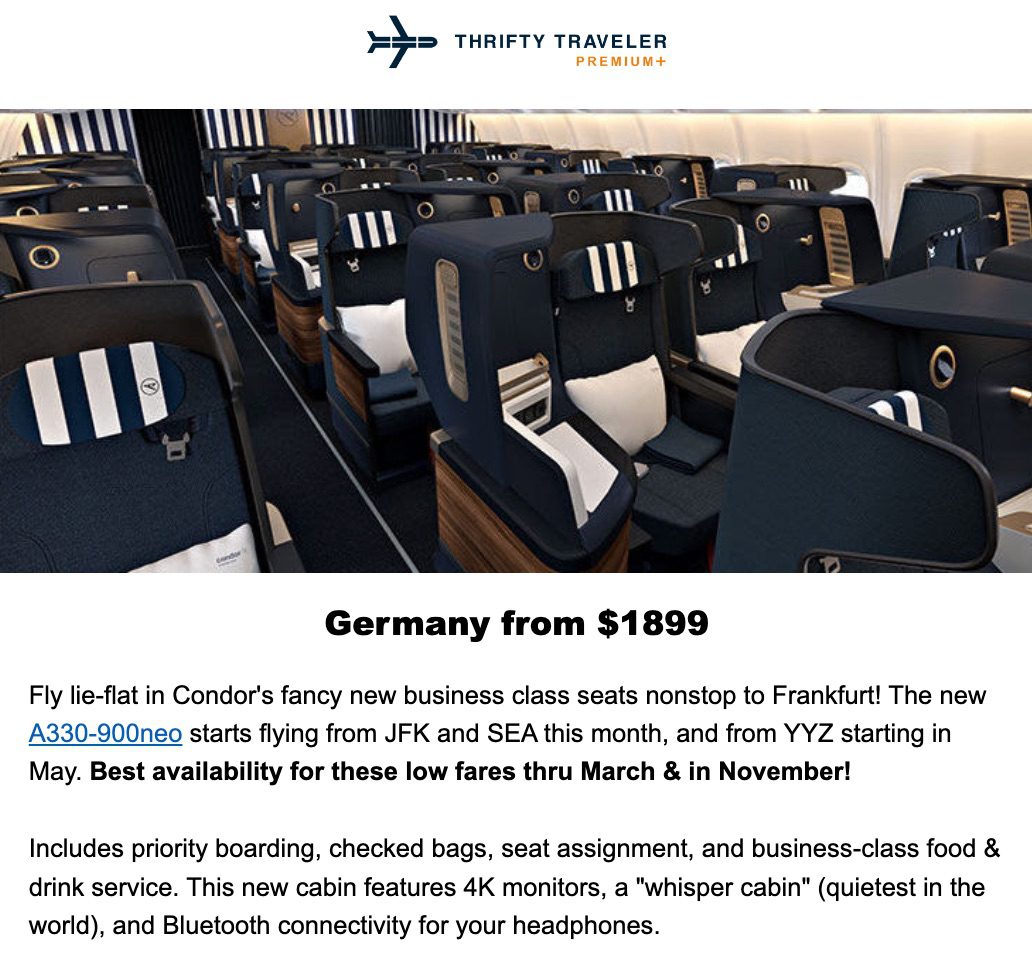 These fares are gone now – get the next deeply discounted business class fare with Thrifty Traveler Premium+!
With these brand-new seats, it could easily be worth shelling out some miles for Condor business class … especially if you can book it for a trip this summer.
Last week, we sent Thrifty Traveler Premium+ members an award alert for wide-open availability flying Condor's new business class cabin to Frankfurt from Los Angeles (LAX), New York City (JFK), Seattle (SEA), and Toronto (YYZ). It was a stellar way to use just 55,000 Alaska Mileage Plan miles.

But if you're anything like me, those connections onward from Frankfurt (FRA) are especially interesting. And perhaps none more than Mauritius (MRU).
This deal was an absolute sizzler! If you have your eyes on visiting this lush, remote island in the Indian Ocean, there's no better – or comfier – way to get there.
While there are some lengthy layovers on these routings, we think they're well worth it for the price. Plus, with a Condor business class ticket, you get access to Lufthansa's lounge network at the airport in Frankfurt (FRA).
We're searching for Condor business class availability every week at Thrifty Traveler Premium+, and given how much we love that new business class seat, we'll be watching this award space like hawks this year and next.
Bottom Line
Condor used to be off most travelers' radar, but the German budget carrier has had a big glow-up. Condor is worth a look if you want to fly to Germany or onward to Greece, the islands of the Indian Ocean, or some of Africa's best destinations this year or next – especially if you want to fly business class.
There are a handful of great ways to book Condor flights and most of them won't break the bank.