For many travelers, the words "bucket list" and "Emirates first class" are practically synonymous.
The bottomless Dom Perignon and caviar! The blinged-out suite with closing doors! The onboard bar and, yes, even a shower! It's the epitome of first class. And it was high time I found out for myself whether it has earned that hype.
After eluding me for several years, I finally flew Emirates First Class a few months back … but not to or from the airline's Dubai (DXB). Instead, I saved a small fortune in miles (and taxes and fees, too) by hopping on one of Emirates' quirky routes between the United States and Europe.
Read on for the full review.
How to Book Emirates First Class
If you're set on scratching Emirates First Class off your bucket list, this flight between the U.S. and Europe might just be the single best way to do it.
Forget flying to the airline's hub in Dubai (DXB). After several devaluations and nasty fee increases, a one-way ticket will now cost you as much as 186,000 miles … plus $900 on top of all those miles. While Emirates' funky fifth-freedom routes between the U.S. and Europe are much shorter, they're also much cheaper – even after a recent increase.
You can book a one-way flight in Emirates First Class from the U.S. to Europe (or vice versa) for 102,000 Emirates miles and just $100 or so in taxes and fees. Flying up front doesn't get much a whole lot better than that.

Heading to Europe with Emirates, you've got two destinations to choose from at that price:
Flights between New York City (JFK) and Milan (MXP)
Flights between Newark (EWR) and Athens (ATH)
There's an obvious choice: Fly Emirates First Class to or from Milan, a route that the airline usually flies with its flagship Airbus A380s with its double decker layout. The first class cabin on the Boeing 777s flying between Newark and Athens is nothing to scoff at, but it doesn't have an onboard bar at the back of the upper deck on the A380 … or the showers for first class passengers.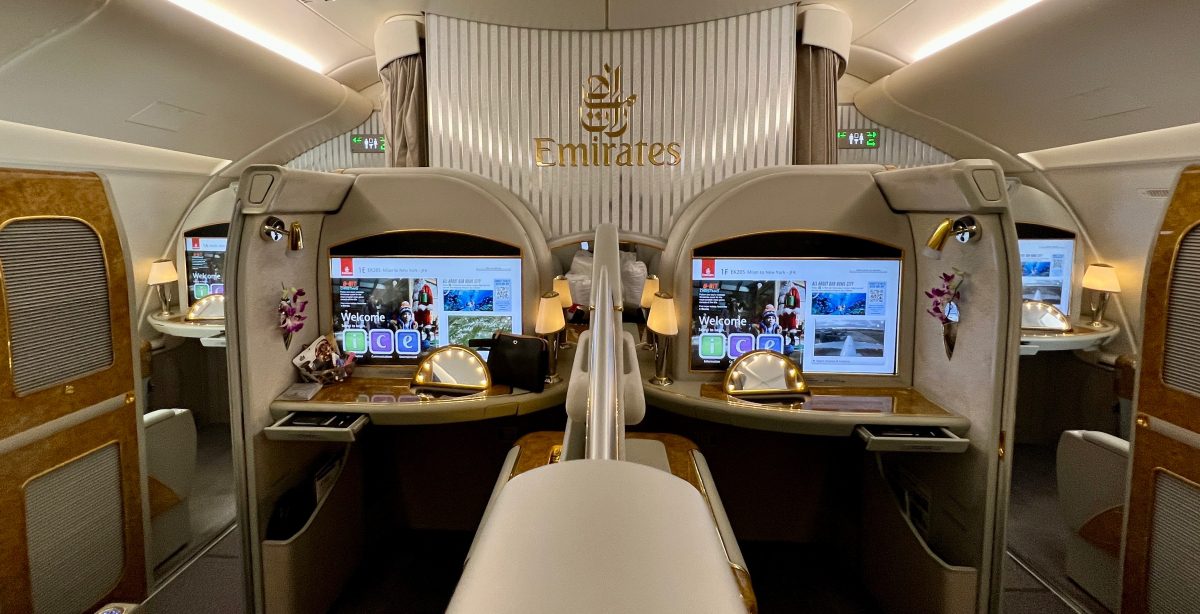 Thrifty Tip: Want to really get the most out of your Emirates First Class flight overseas? Take it on the flight home from Italy: It's a daytime flight and an hour (or more) longer than the eastbound flight to Milan, giving you more time to enjoy the whole experience in the daylight.
Read more: The Best Way to Cross Emirates First Class Off Your Bucket List
Sadly, the mammoth A380 may be disappearing from flights to Milan, too. According to currently published schedules, Emirates is set to swap a Boeing 777 on the route at the end of October … with no current plan for the decked-out A380 to return. Fingers crossed that changes.
Not wanting to spend the vast majority of my first (and perhaps only) time in Emirates First Class sleeping, I decided to book a mixed-cabin ticket: flying Emirates business class to Milan and first class – with a shower, time at the bar, and all the caviar I could eat – on the flight back to the states.
This was back before Emirates raised award rates, so it cost just 130,000 Emirates Skywards and about $200 in taxes and fees for both of the flights. Today, these same flights would cost 156,000 Skywards miles and about $245 in fees.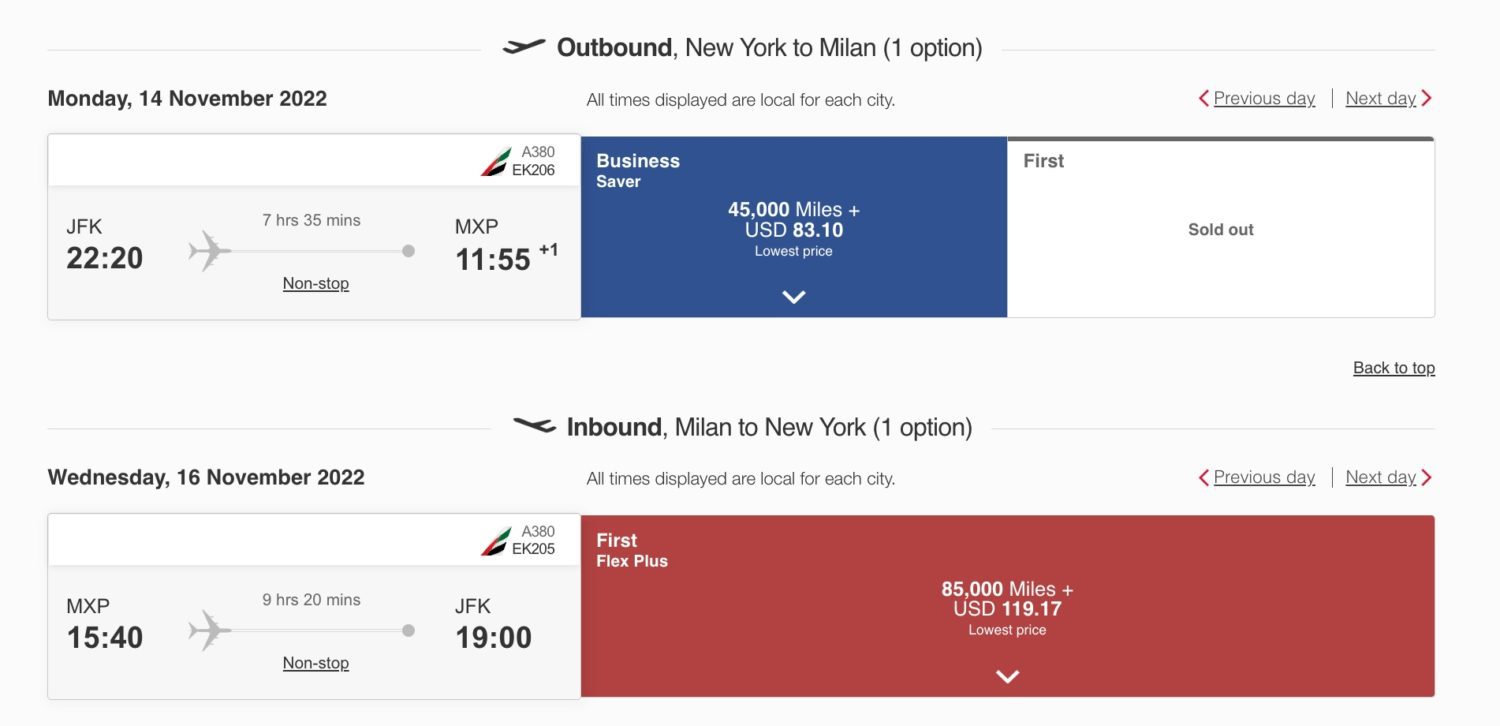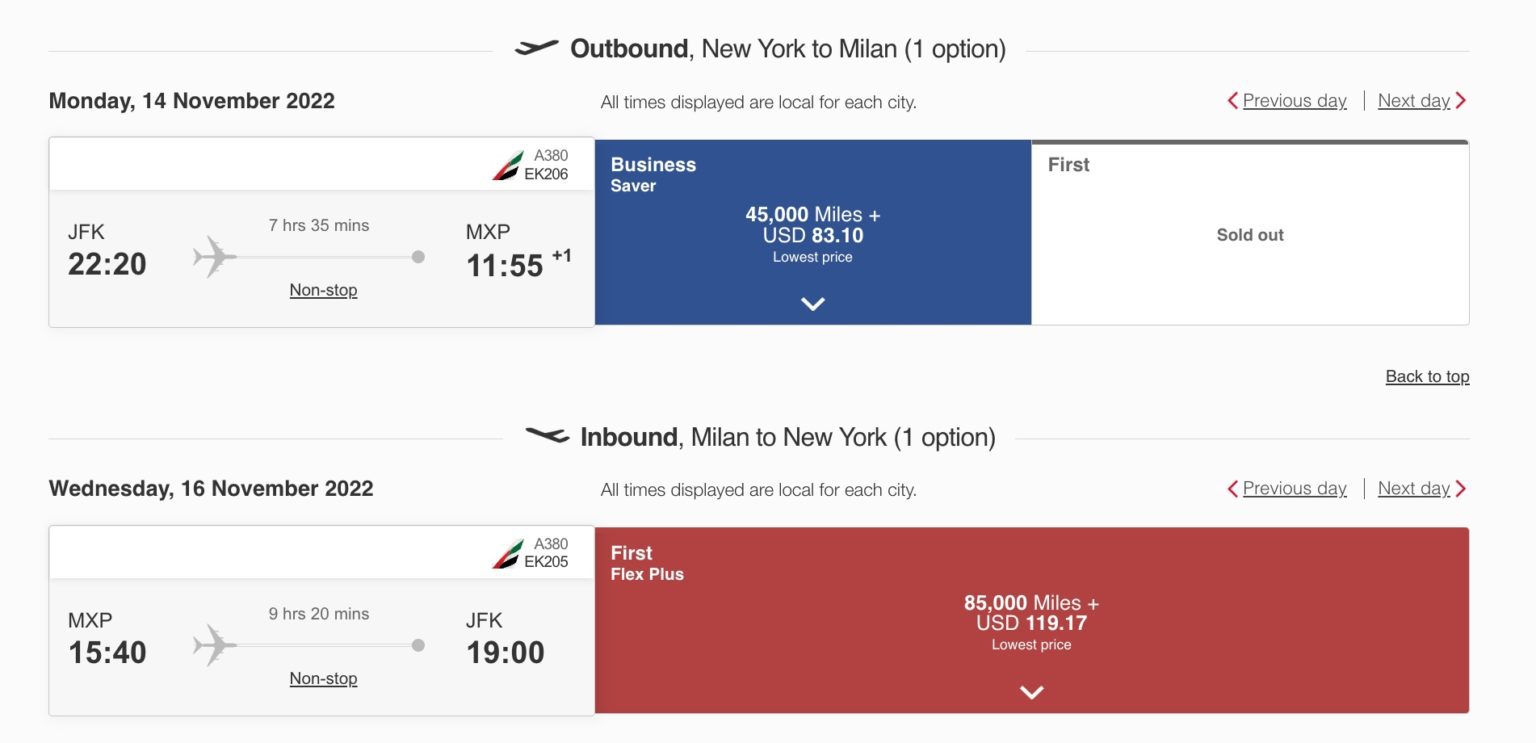 At Thrifty Traveler, we don't accept freebies. We use our own points, miles, or cash to pay for every single flight or hotel you see reviewed here – including this one!
These days, Emirates' own Skywards miles are pretty much your only realistic option for flying Emirates First Class. Lucky for you, those miles are incredibly easy to earn.
Emirates is a transfer partner with all the major credit card companies. Got points from a Chase Sapphire Preferred® Card? Transfer them to Emirates. How about a Capital One Venture X Rewards Credit Card? You can transfer those to Emirates, too – and same goes with the American Express® Gold Card. Earning points on your monthly rent payments with a Bilt Rewards Mastercard®? You guessed it: You can transfer them to Emirates as well.
Upgrade from Business Class Instead
There might be a better way to score your seat in Emirates First Class – especially if you're trying to book first class for more than one passenger.
Trying to upgrade with miles is typically a losing strategy, but it's different with Emirates: In our experience, it's a cinch. Instead, you could start out by booking Emirates business class (for as low as 108,000 miles roundtrip, then try to upgrade to Emirates first class at the check-in desk one way for another 50,700 miles.
There are two ways to upgrade:
Emirates allows you to waitlist a business class or first class upgrade in advance – more on this in a bit. But if no more award seats open up (and they often don't), the request will be denied 48 hours before departure and your upgrade request will be canceled.
But on the day of departure, it's a (possible) free-for-all: So long as there are still seats open in the first class cabin, you can use miles to upgrade at check-in, at the gate, or even once you board the plane!
Here's a quick list of how many additional miles you'll need to upgrade to Emirates First Class:
New York City (JFK) to/from Milan (MXP): 39,000 miles (or 50,700 if you booked a roundtrip saver award for 108,000 miles)
Newark (EWR) to/from Athens (ATH): 39,000 miles (or 50,700 if you booked a roundtrip saver award for 108,000 miles)
New York City (JFK) to/from Dubai (DXB): 70,200 miles
Washington, D.C.-Dulles (IAD) to/from Dubai (DXB): 70,200 miles
Chicago-O'Hare (ORD) to/from Dubai (DXB): 70,200 miles
Los Angeles (LAX) to/from Dubai (DXB): 81,900 miles
San Francisco (SFO) to/from Dubai (DXB): 81,900 miles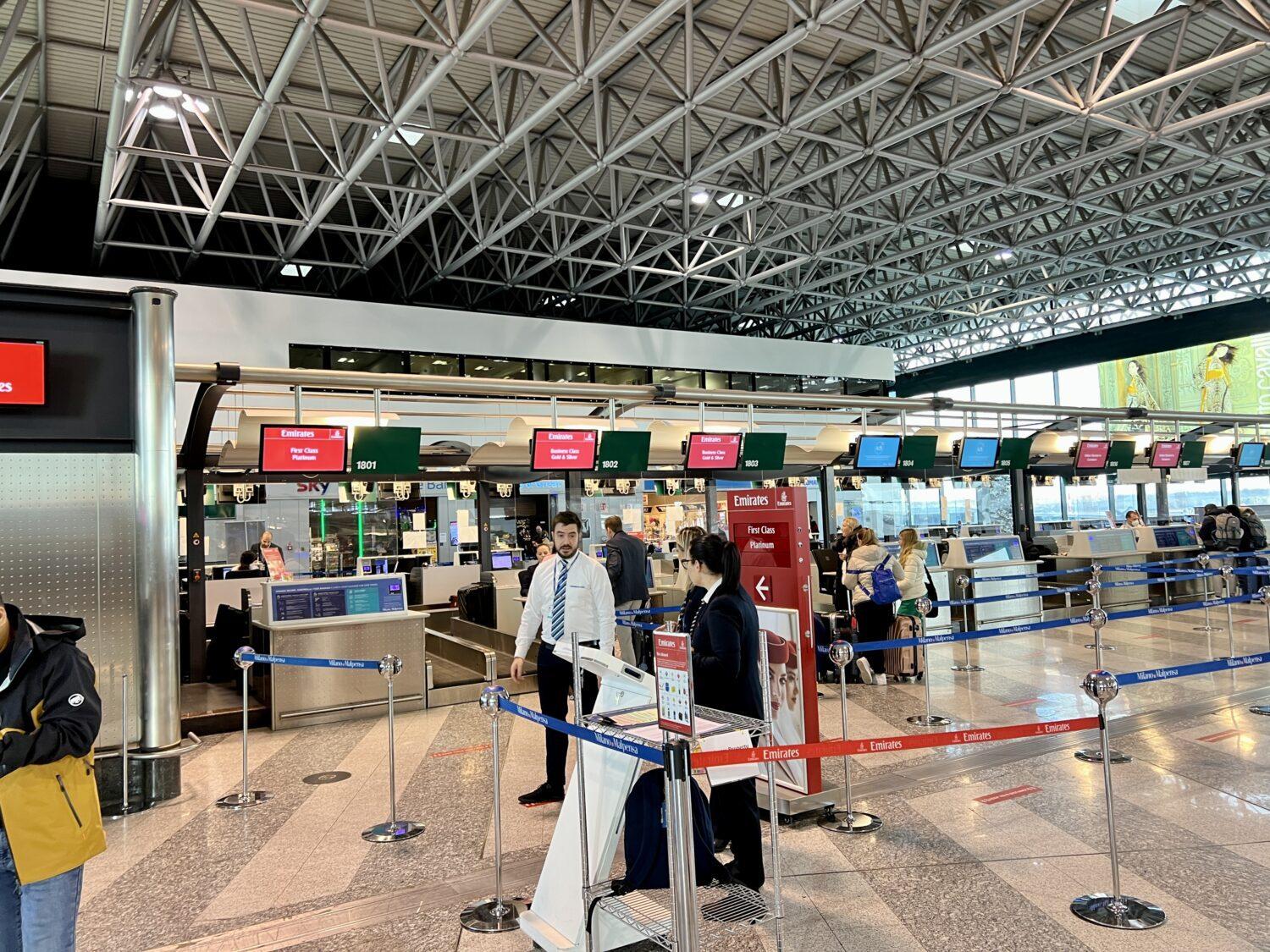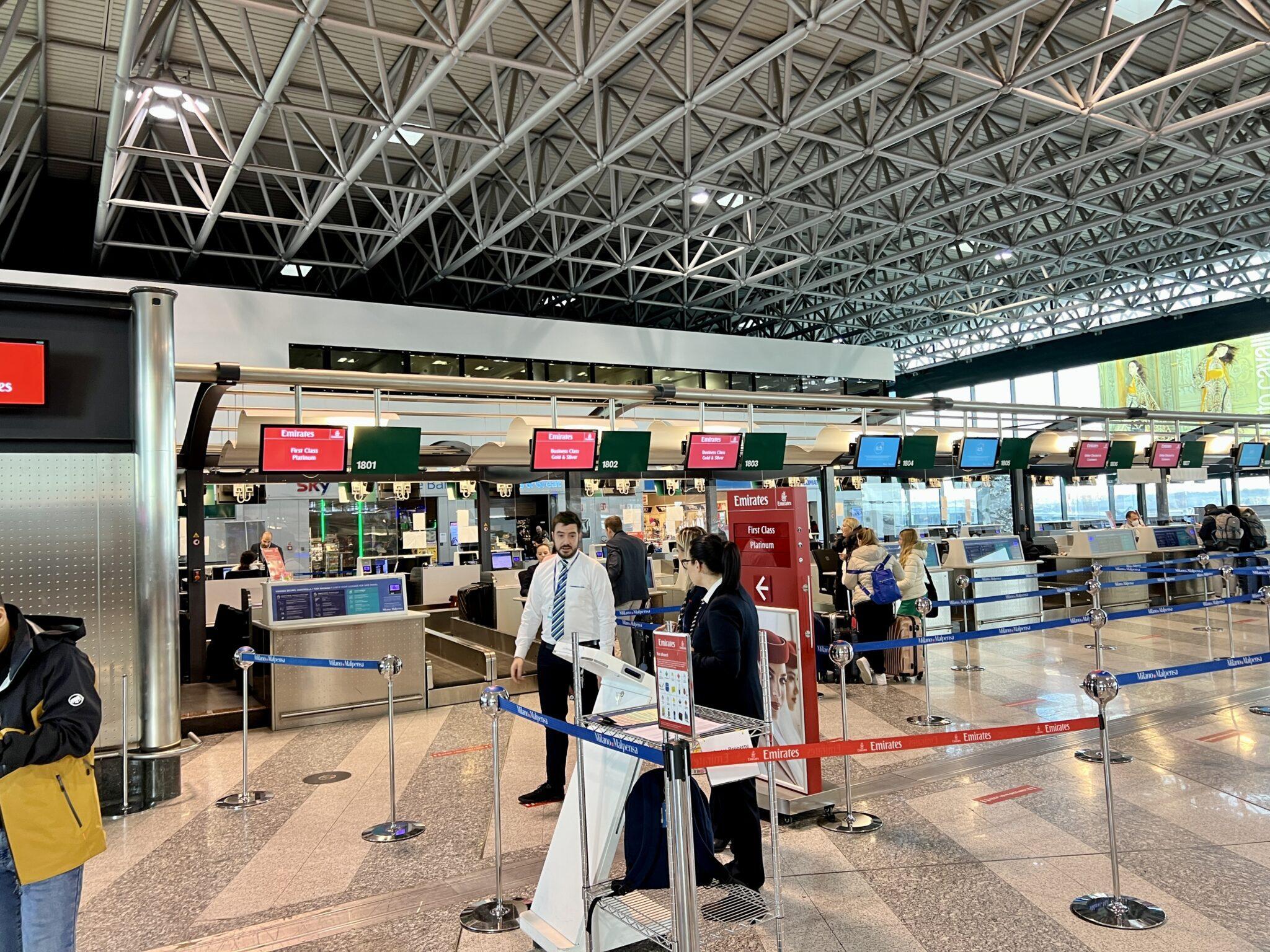 Emirates' Milan Lounge & Boarding
Most airlines use another carriers' lounge outside of their hubs – or maybe just contract with a mediocre Priority Pass lounge to give first and business class passengers a spot to sit before their flight. But Emirates is not most airlines.
Emirates has its own lounges on both sides of the Atlantic: One in New York City (JFK) and another in Milan (MXP). Neither lounge is outstanding by any means but they're above par compared to most lounges you'll find, especially in Europe.
Emirates' Milan lounge is located in Terminal 1 near Gates 50-59. The opening hours vary depending on the day, though it should be open most days by 10:30 a.m. – long before the Emirates flight back to New York takes off around 4 p.m.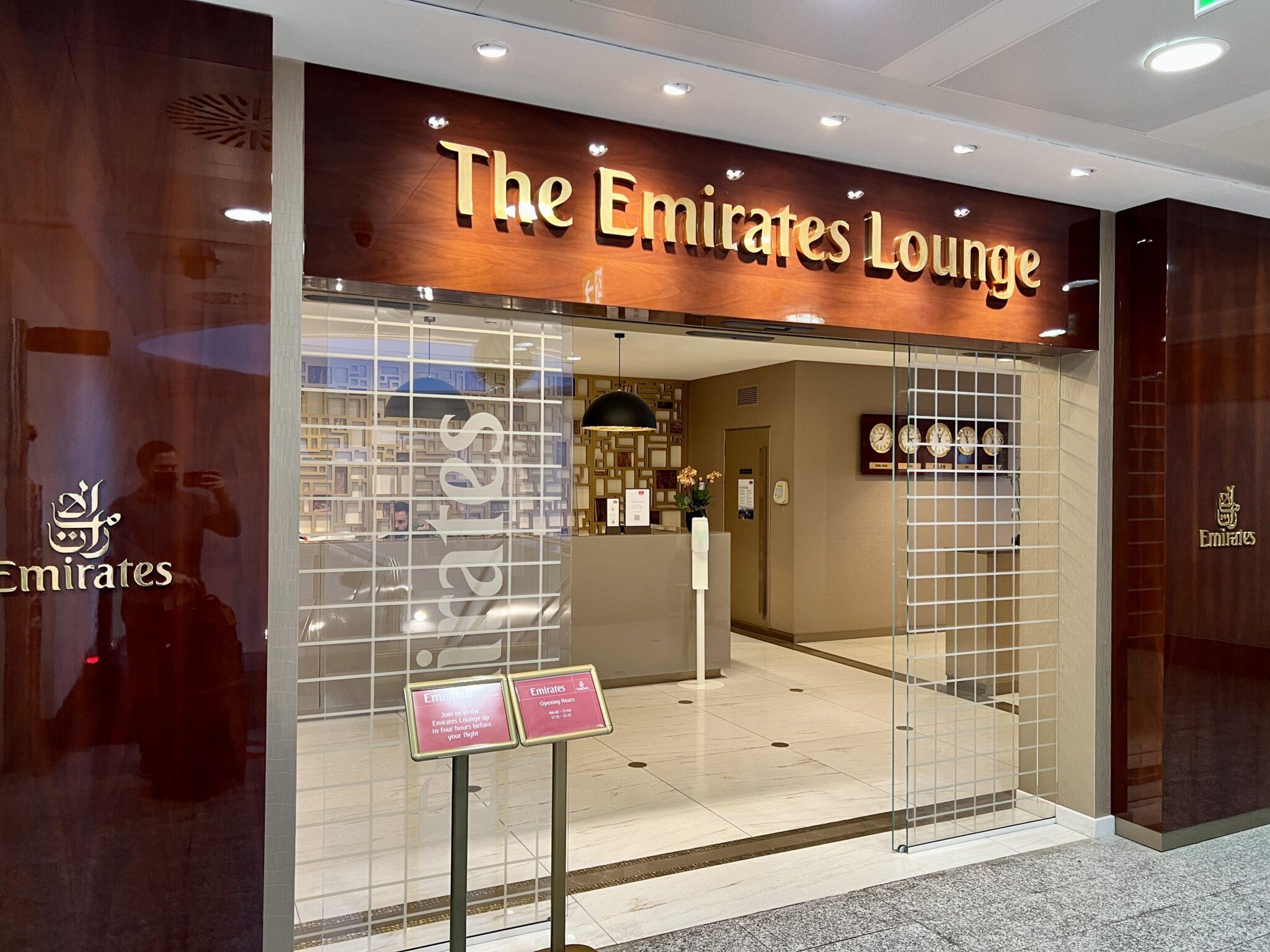 This is a shared lounge for both Emirates First Class and business class passengers, so it's not an over-the-top luxurious experience. Much like Emirates' lounge at JFK, its Milan lounge is a series of rooms with a lot of armchairs … and not a whole lot else, aside from some workstations in the center of the lounge with desktop computers. The decor is nice but unremarkable, though the windows on almost every wall let in tons of natural light.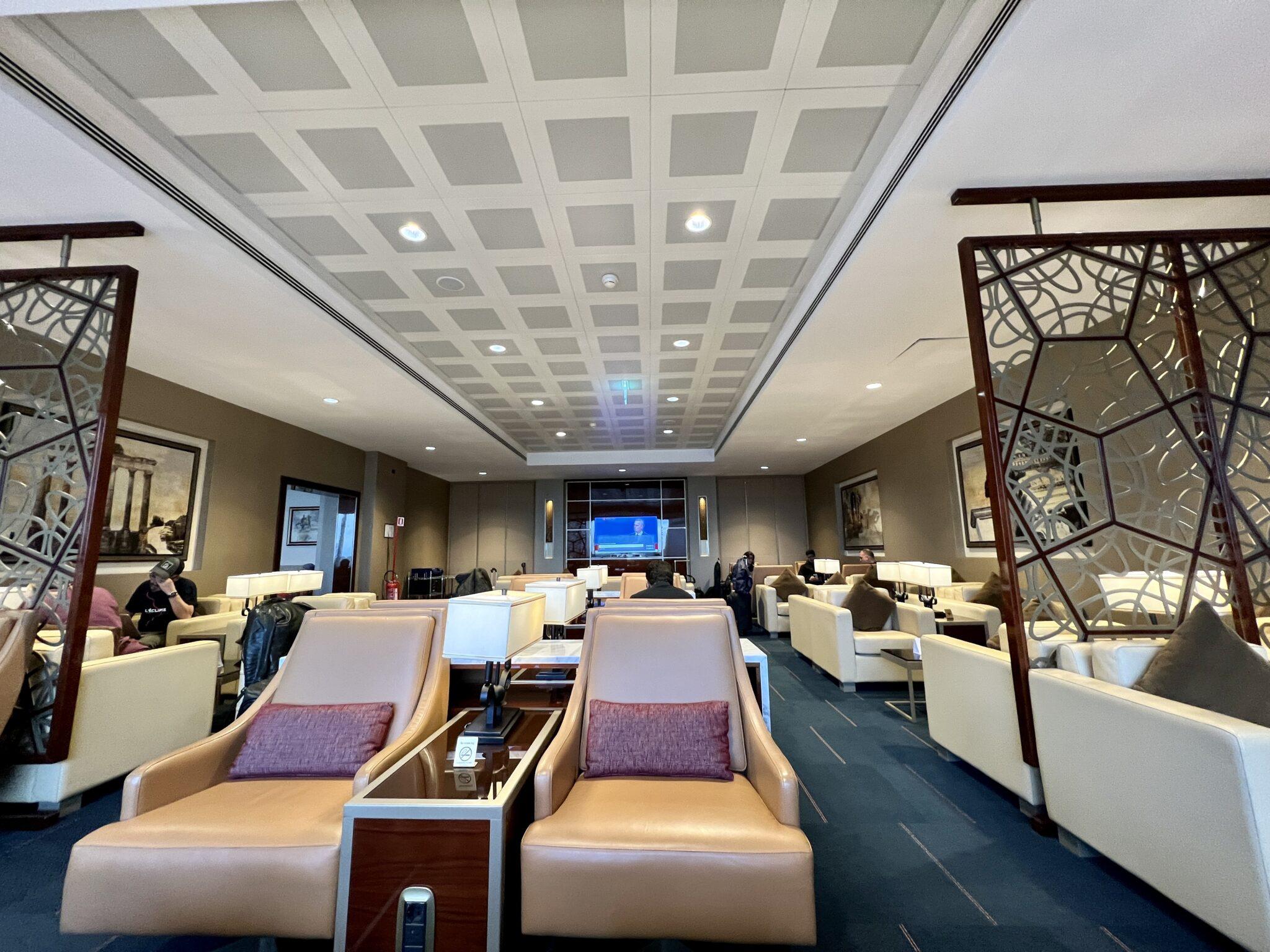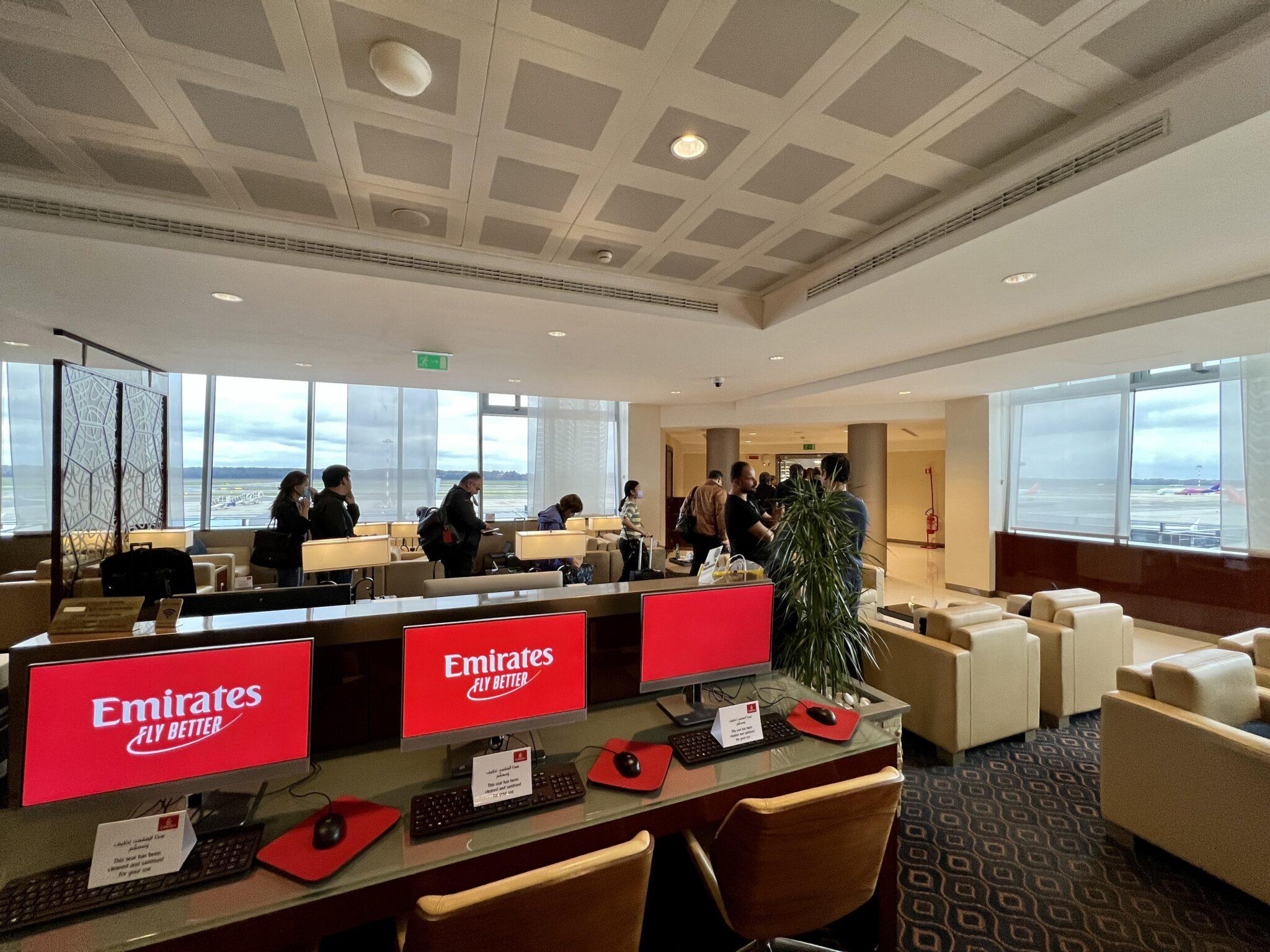 There are also bathrooms inside the lounge complete with two shower rooms, though I didn't have time to check those out.
There were two beverage stations with pour-your-own drinks (including champagne) as well as a decent spread of food, from salads to hot dishes. I skipped the food to save room for a feast onboard, though the food in Emirates' lounges is typically quite good.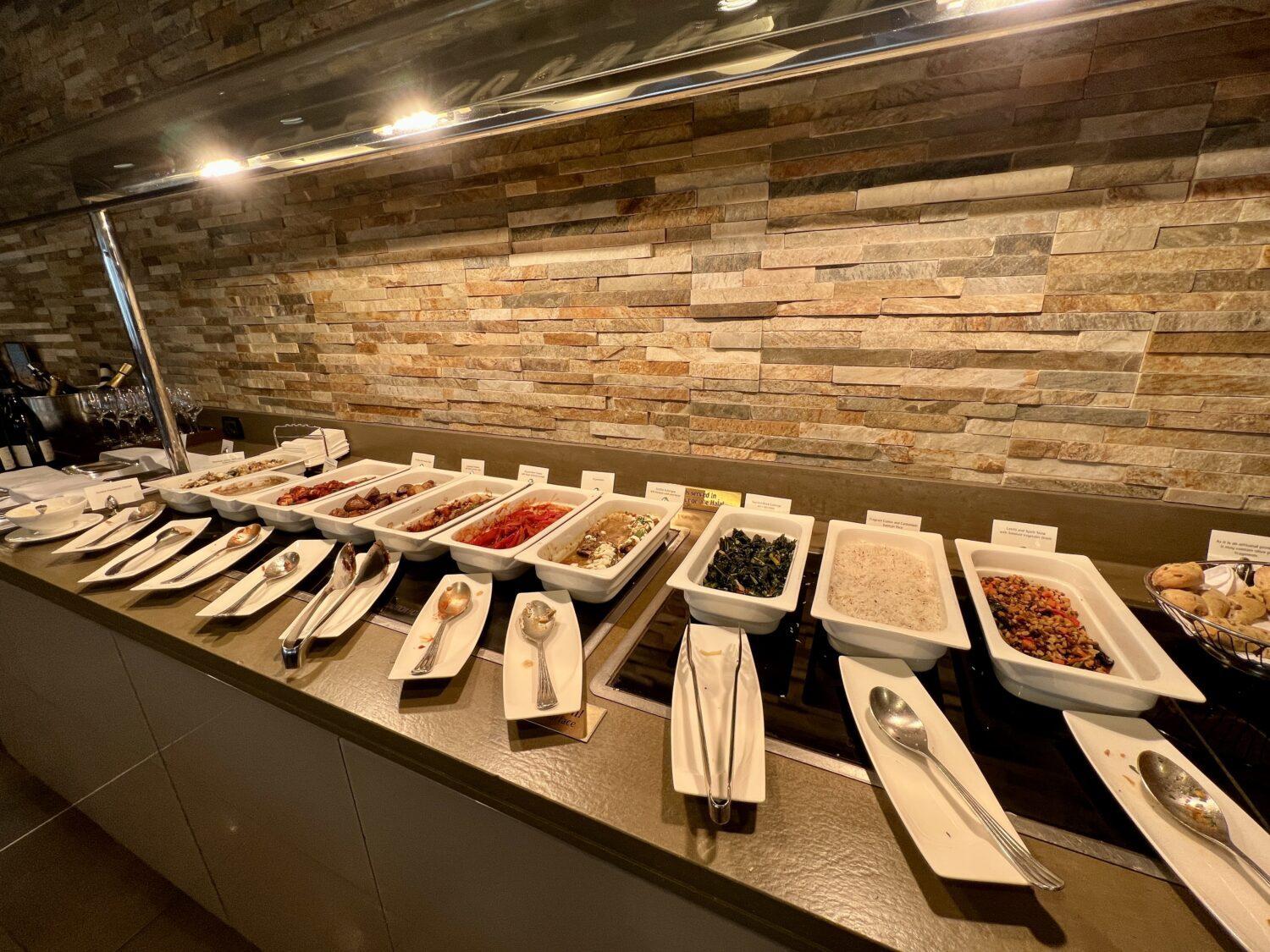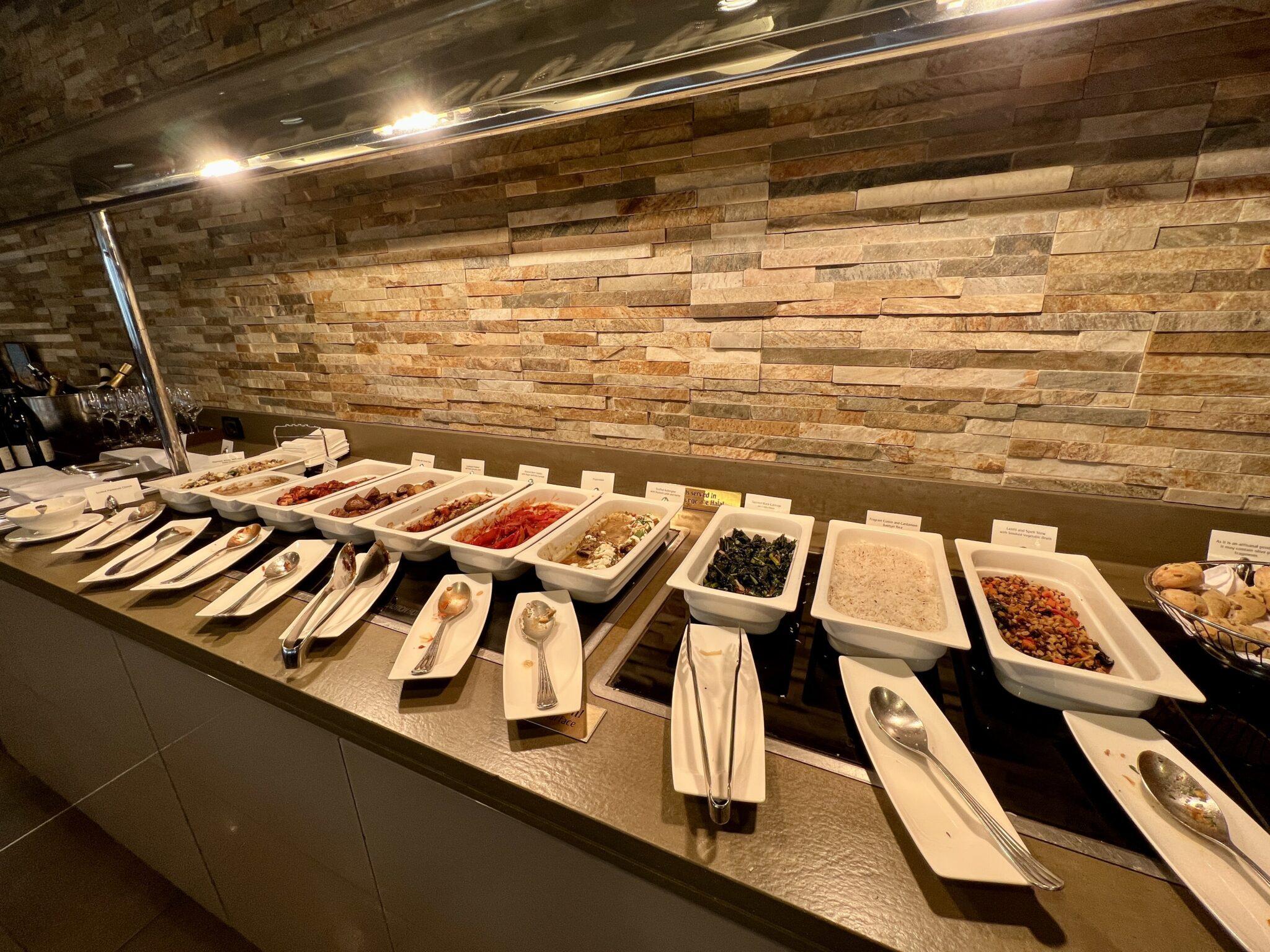 The best part of Emirates' lounge in Milan, though, is when it's time to leave … because all Emirates flights can board directly from the lounge! Boarding from a lounge is a novelty you won't find at many airports, so it's always a treat. There are actually two gates on either end of the lounge, as Emirates operates flights both back to New York as well as down to their Dubai (DXB) hub.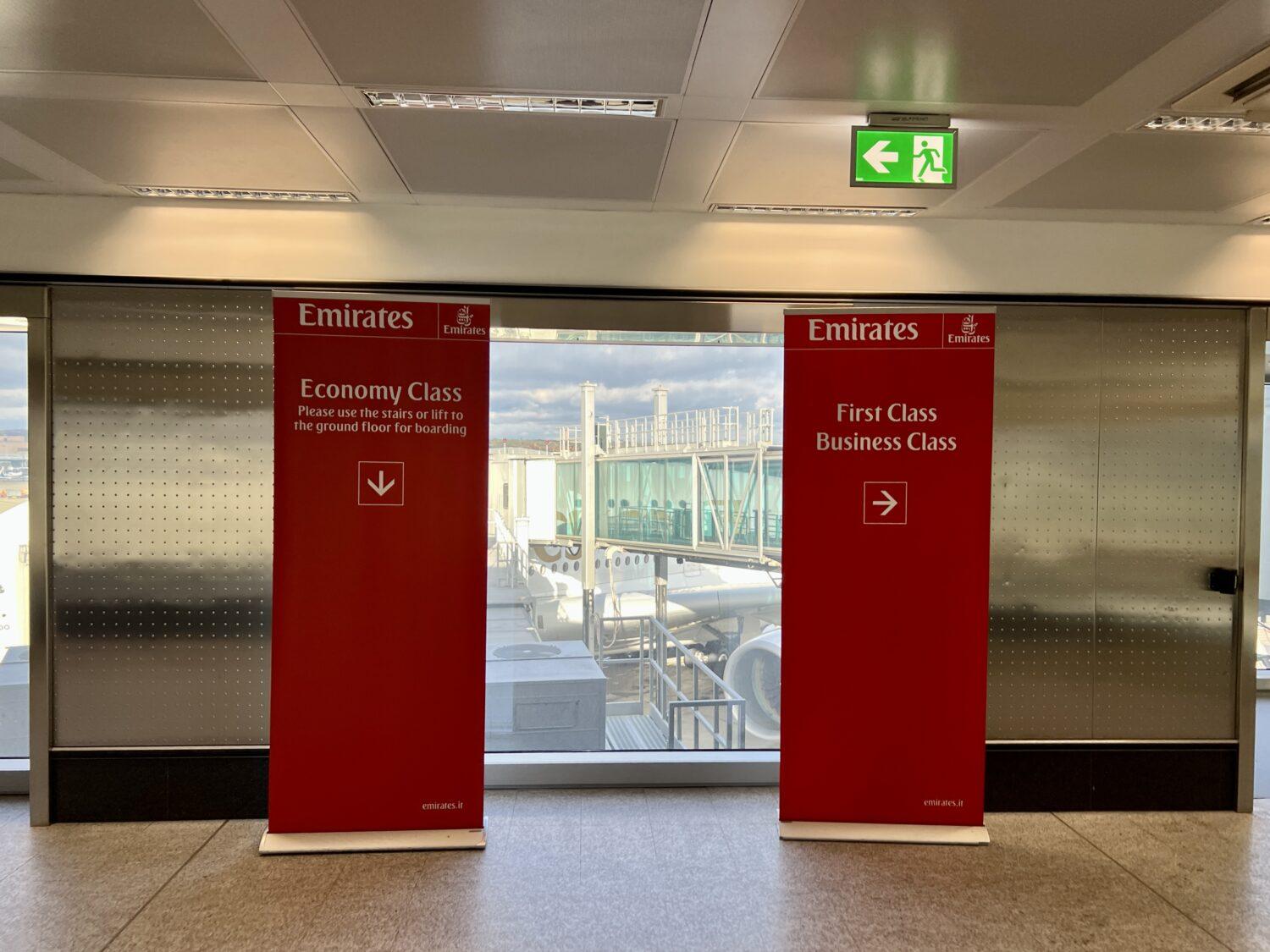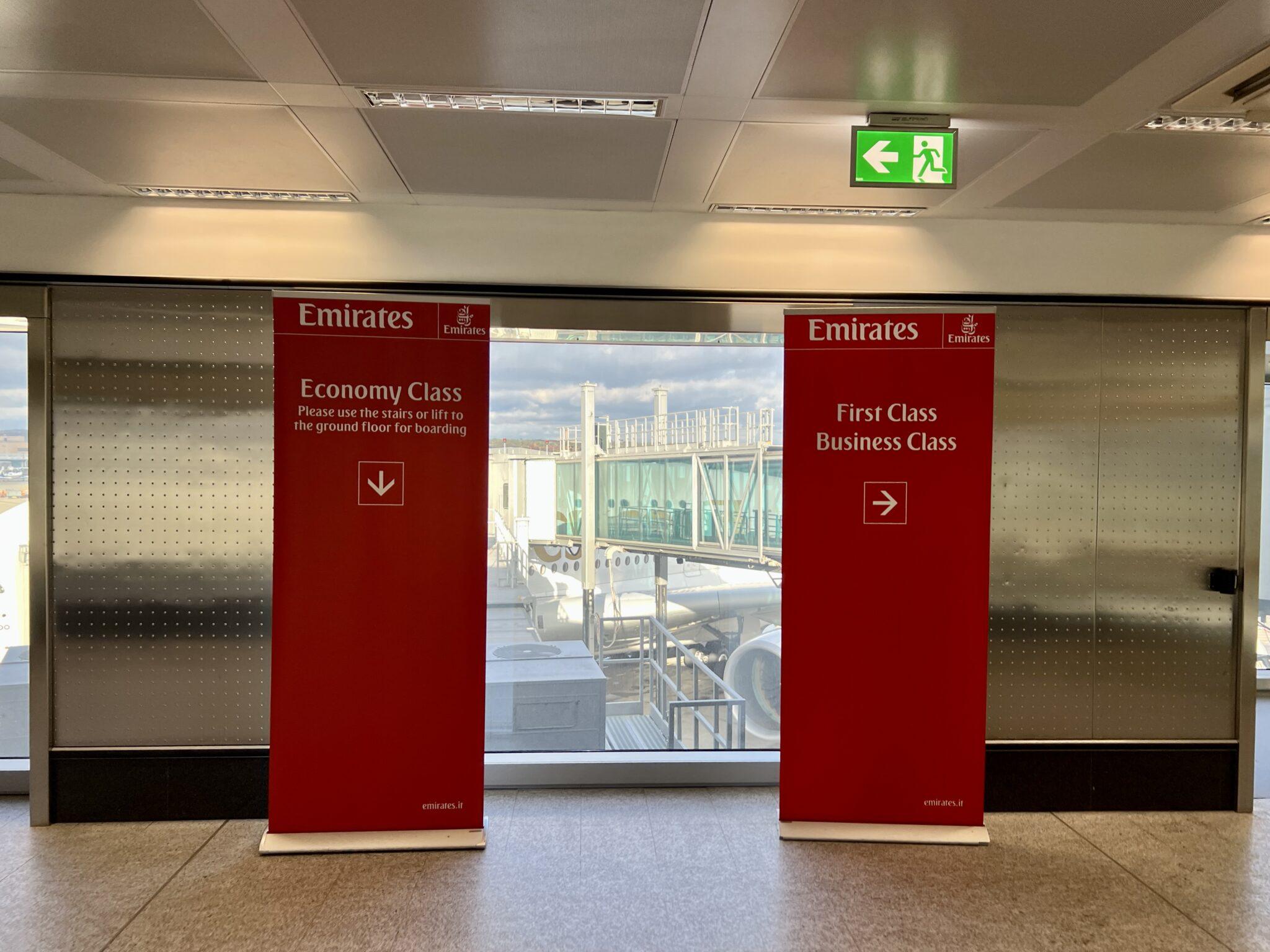 There were dedicated queues for first and business class passengers as well as travelers flying economy. There's something undeniably cool about boarding straight from the lounge, then walking up the separate jetbridge to the upper deck of an A380.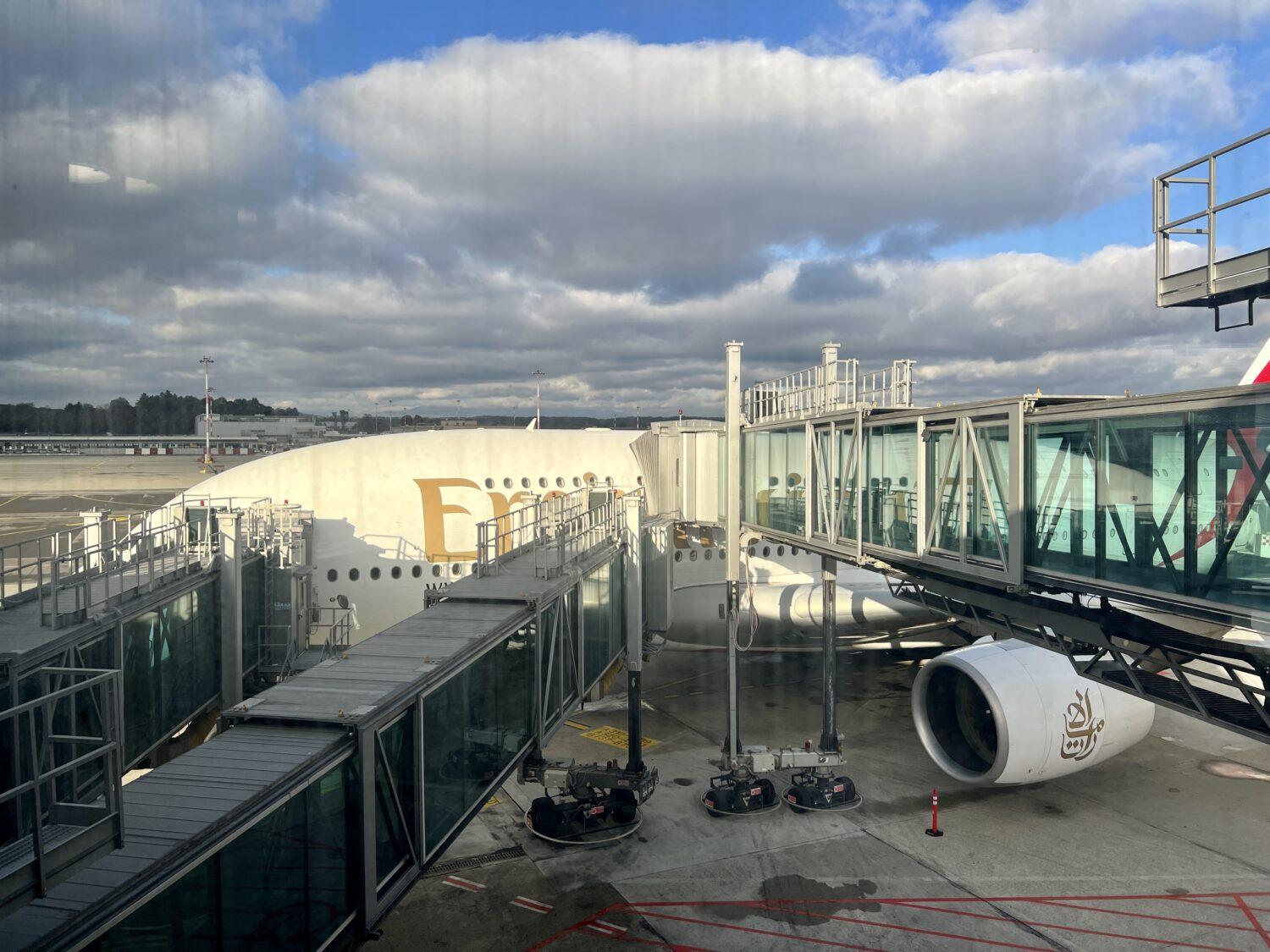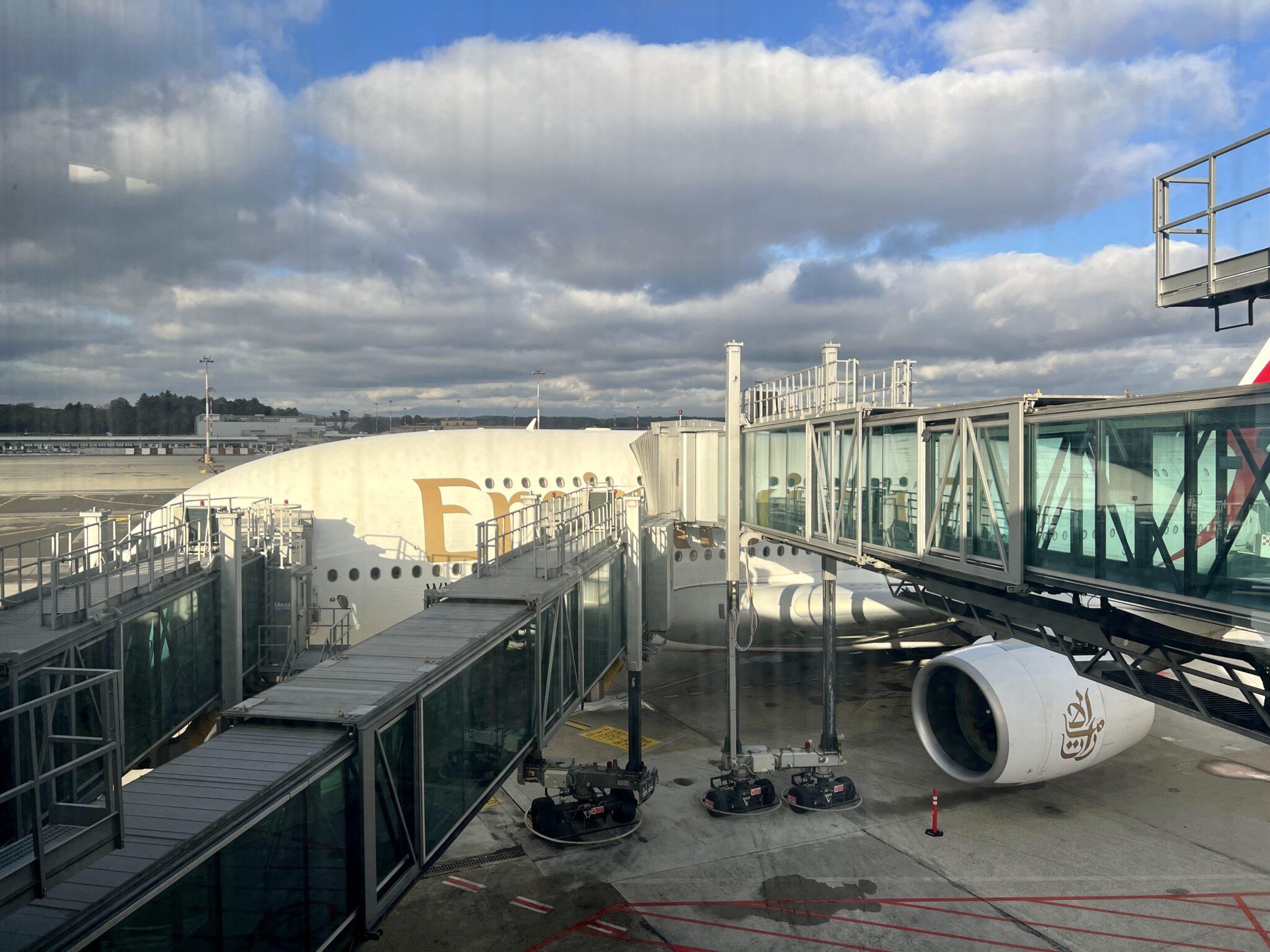 Emirates First Class Cabin
There's nothing quite like boarding the Emirates First Class cabin on the A380 … and I mean that in both good and bad ways.
It's gaudy, it's gold, and it's over the top. And honestly, I absolutely love it.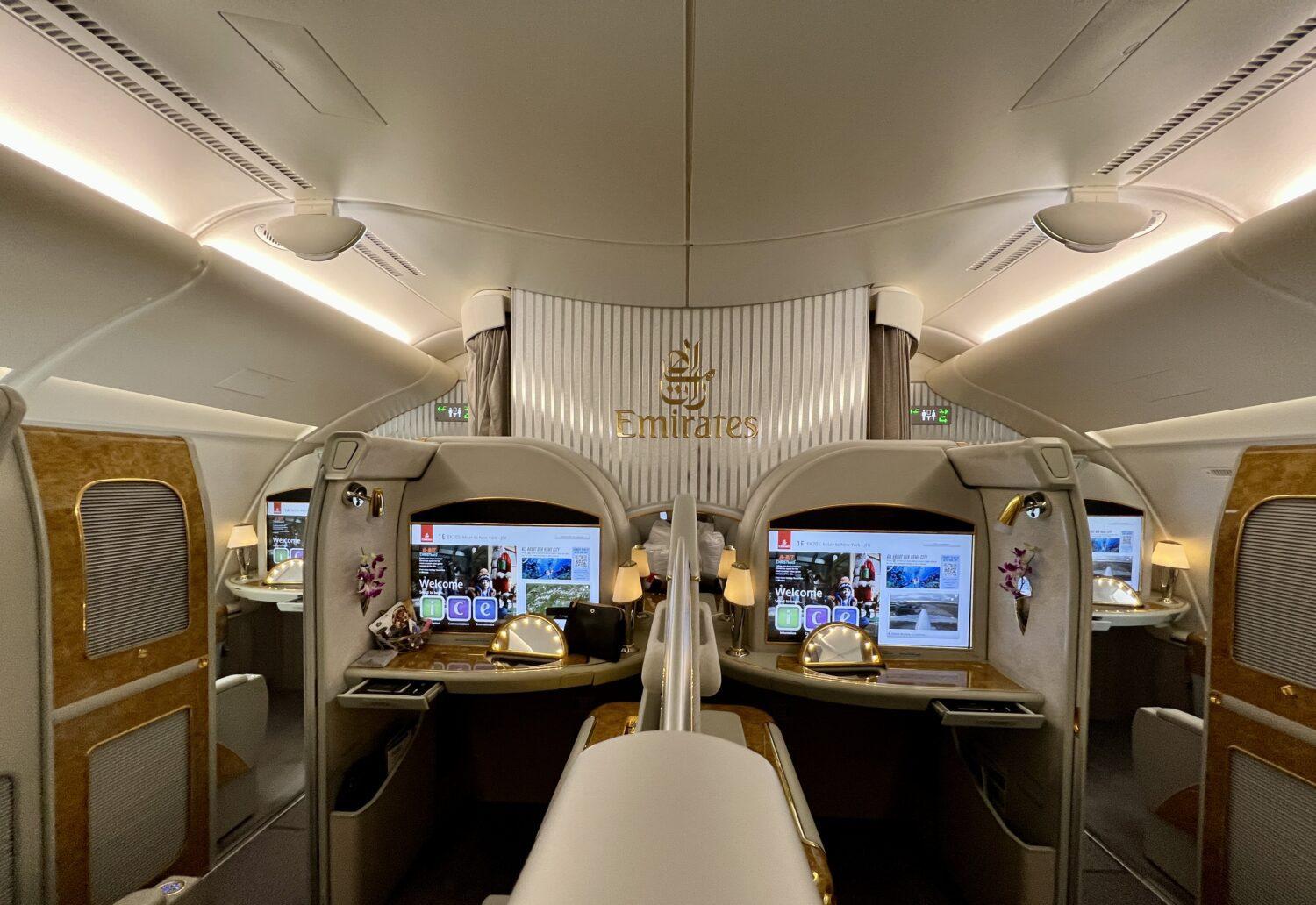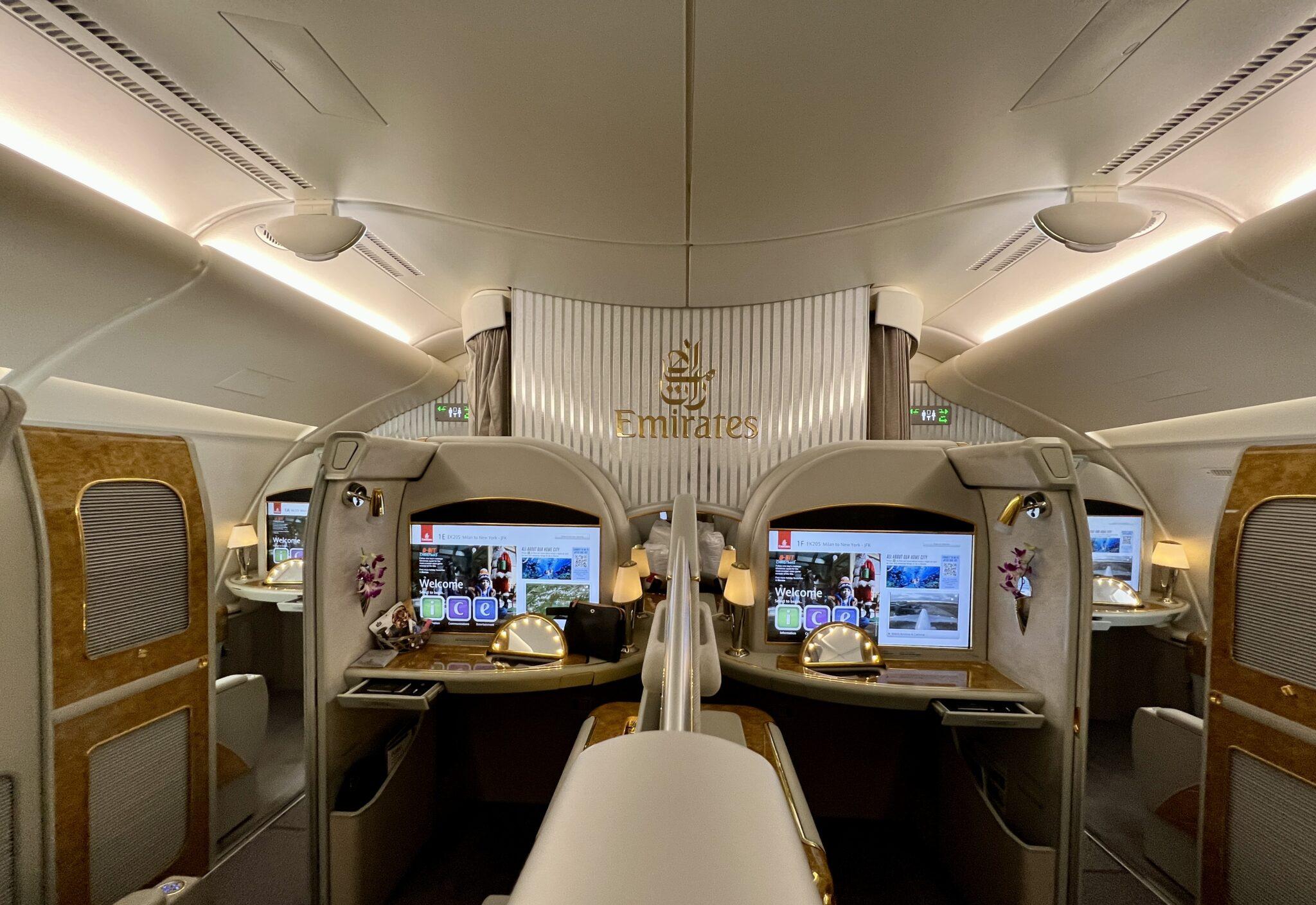 The airline recently began a fleet-wide refresh of the A380, eventually subbing out this blinged-out (and outdated) look with more understated finishes: soft white leathers, tamed-down woodgrain, and only the occasional pop of gold. But that new look wasn't in place on my flight. Still, this will do just fine.
The Emirates First Class cabin has a total of 14 seats – a fairly crowded cabin by first class standards, especially compared to Emirates' new 777s with just six game-changing first class suites. These suites are arranged in a 1-2-1 fashion, giving every passenger direct access to the aisle. And every suite is equipped with a door, a must for some privacy in an otherwise crowded cabin.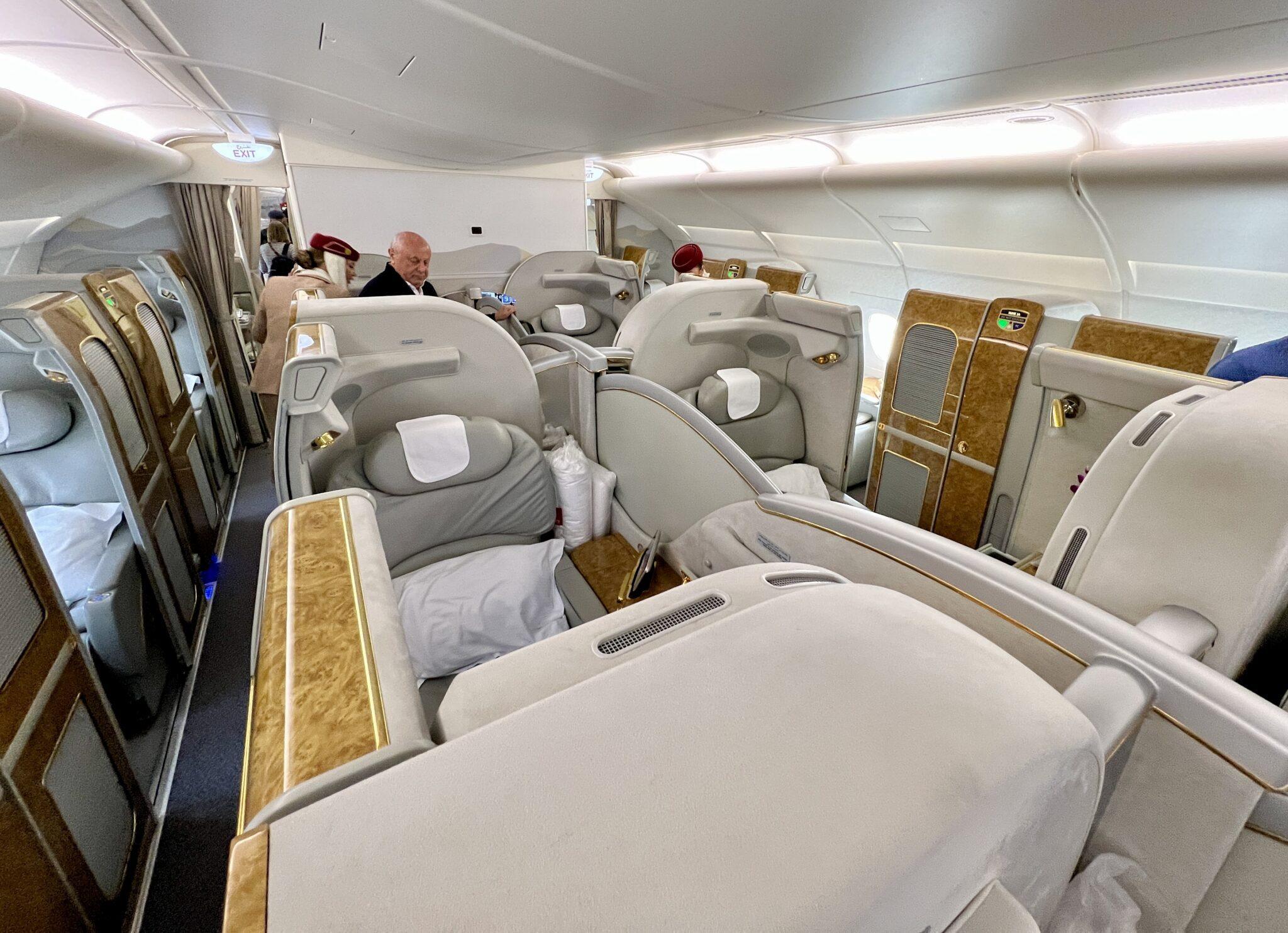 Suites in the A and K sections are great for solo flyers, as they're positioned along the windows. In the center, there are three sets of suites close together, which are perfect for traveling companions. There's a substantial divider that can be raised and lowered if you don't know your neighbor.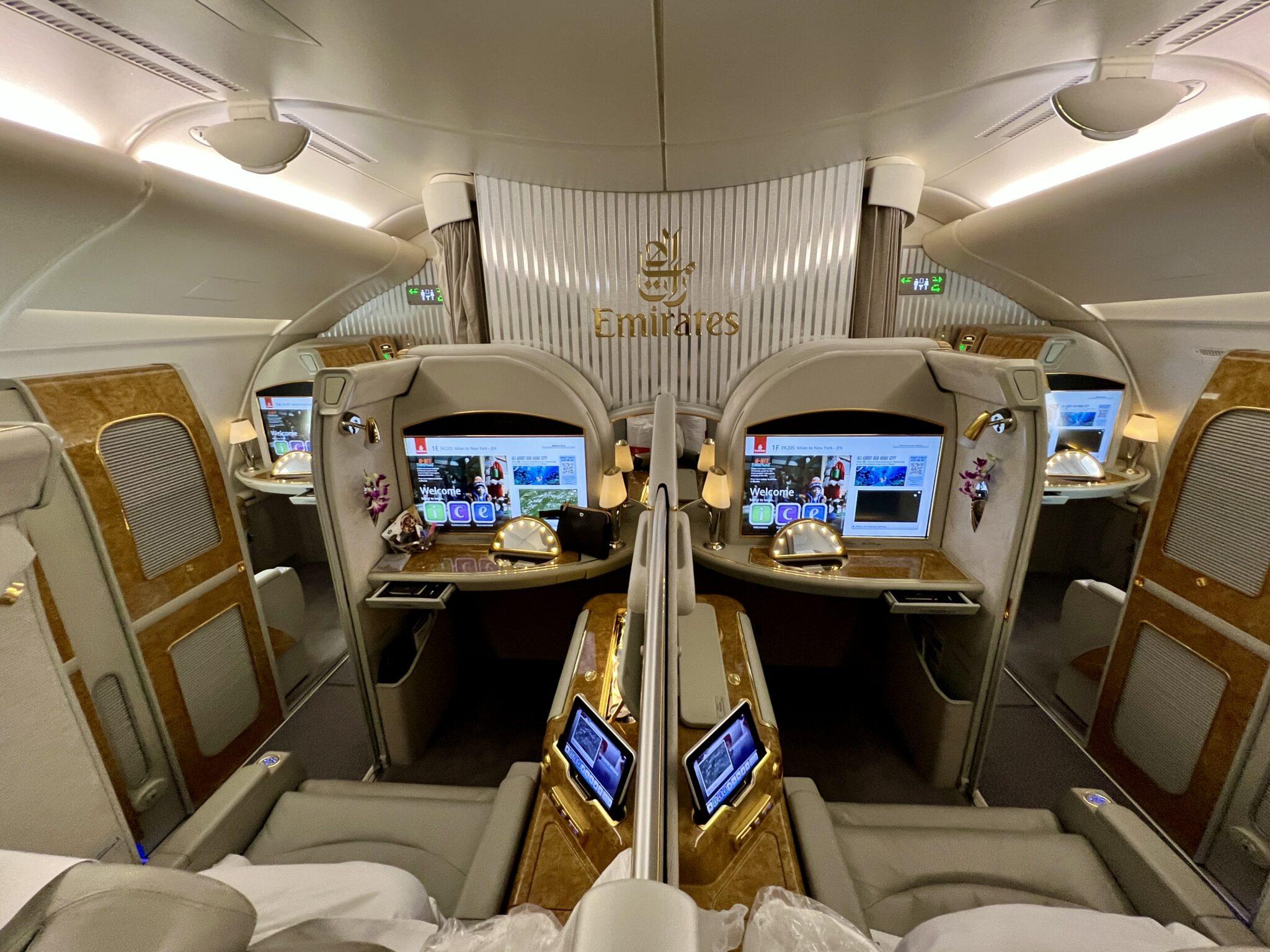 Midway through the flight, the crew brought the lights down, giving the cabin a classier, more muted feel.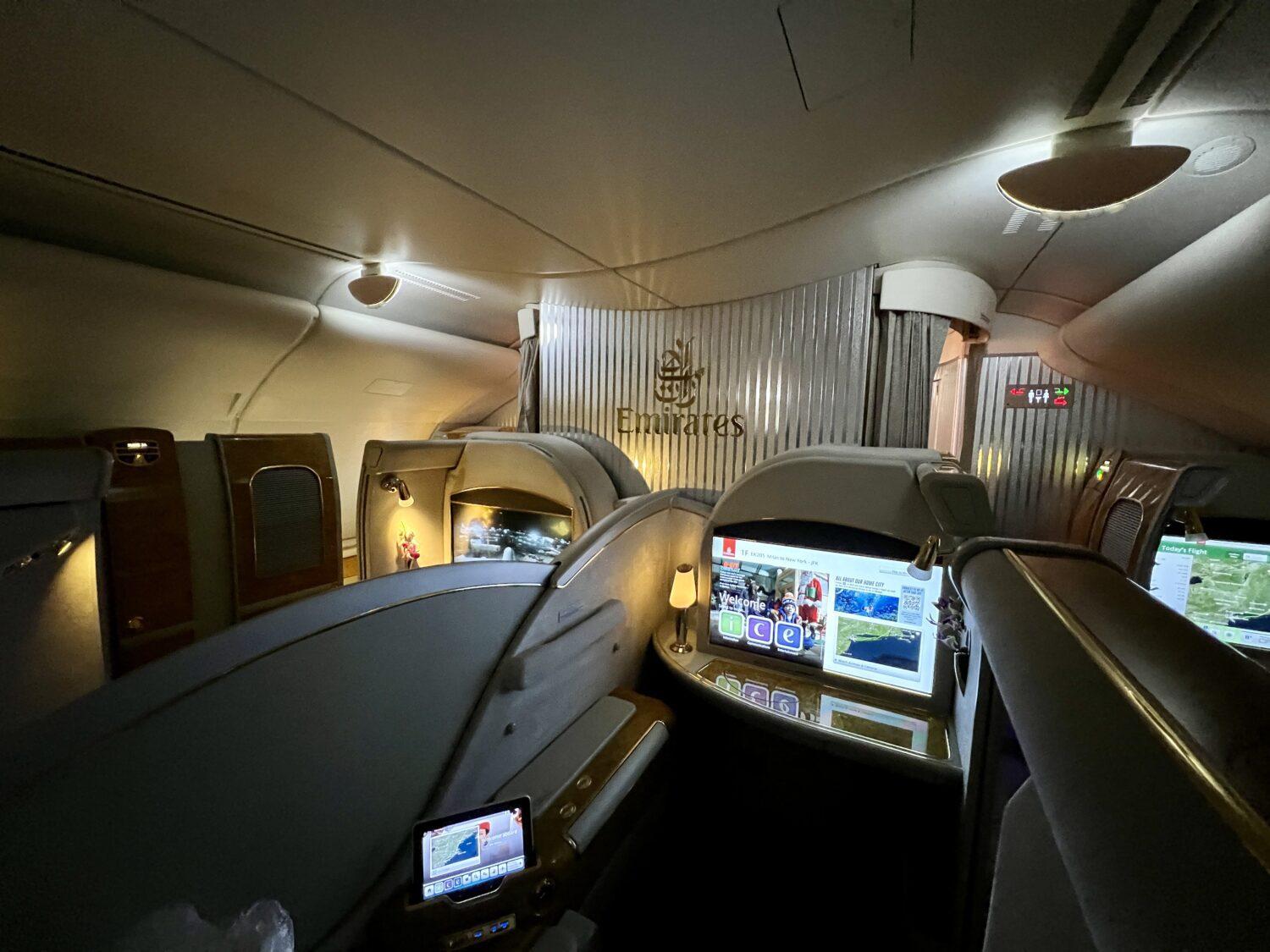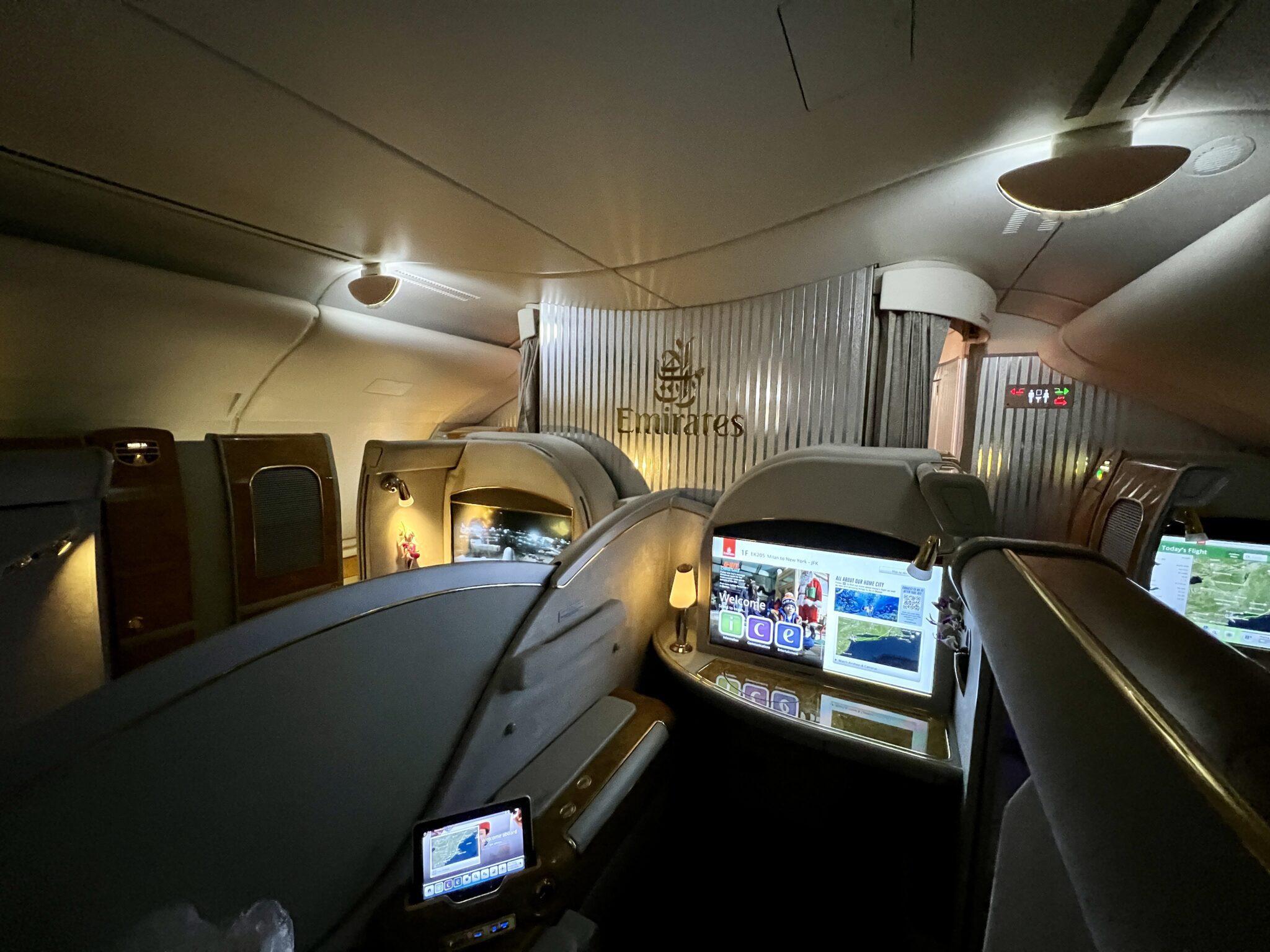 At the front of the cabin, there's a galley with a beautiful display of drinks along with the quintessential stairwell down to the lower deck, which remained roped off at the bottom.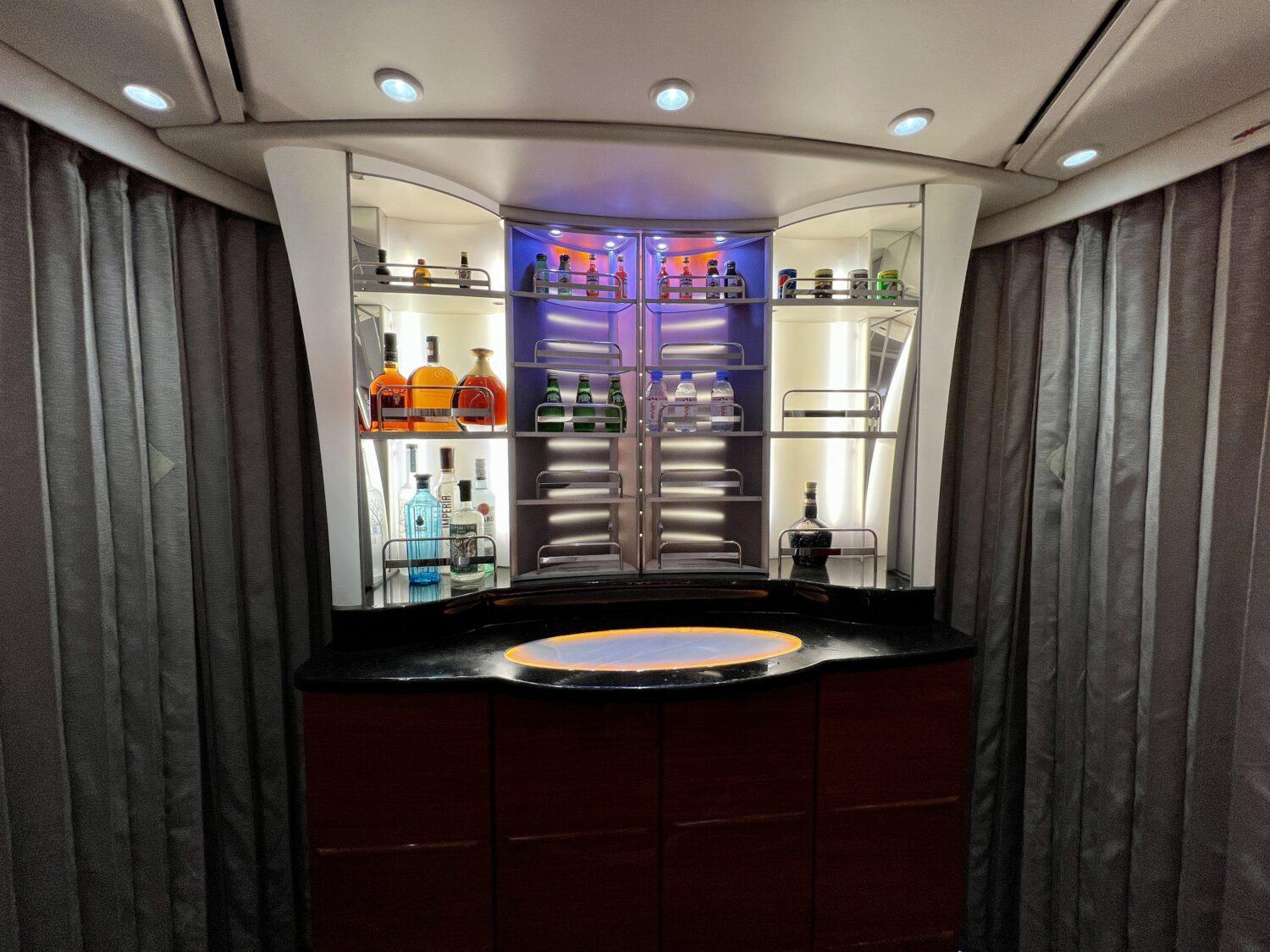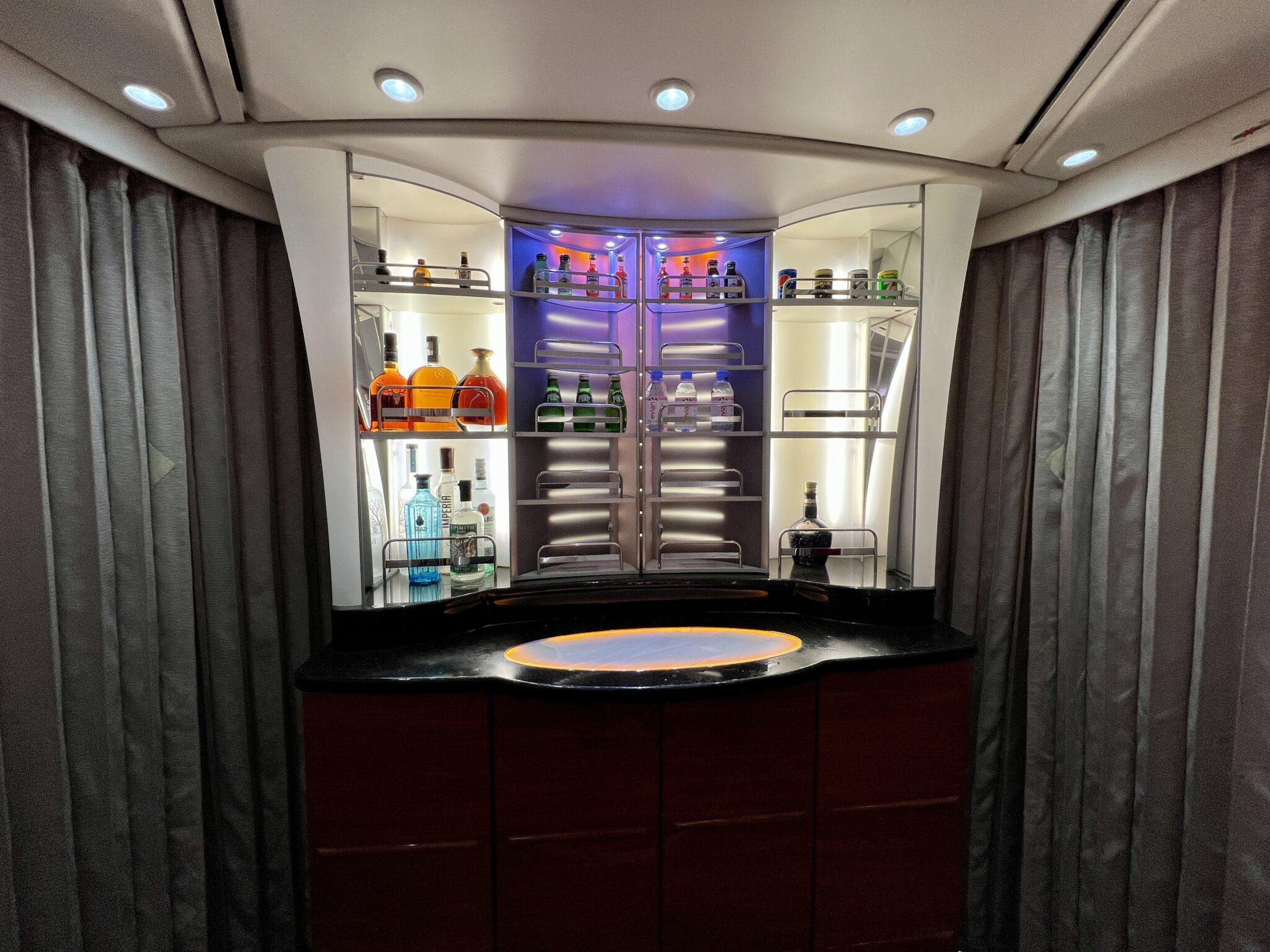 This is also where you'll find not one but two lavatories – but really, "spas" is more accurate. More on these later…
Emirates First Class Seats
Within seconds of stepping onboard the plane, an Emirates flight attendant warmly greeted me, took a peek at my boarding pass, and guided me to my seat: Suite 3K, one of the solo seats along the window on the right side of the cabin.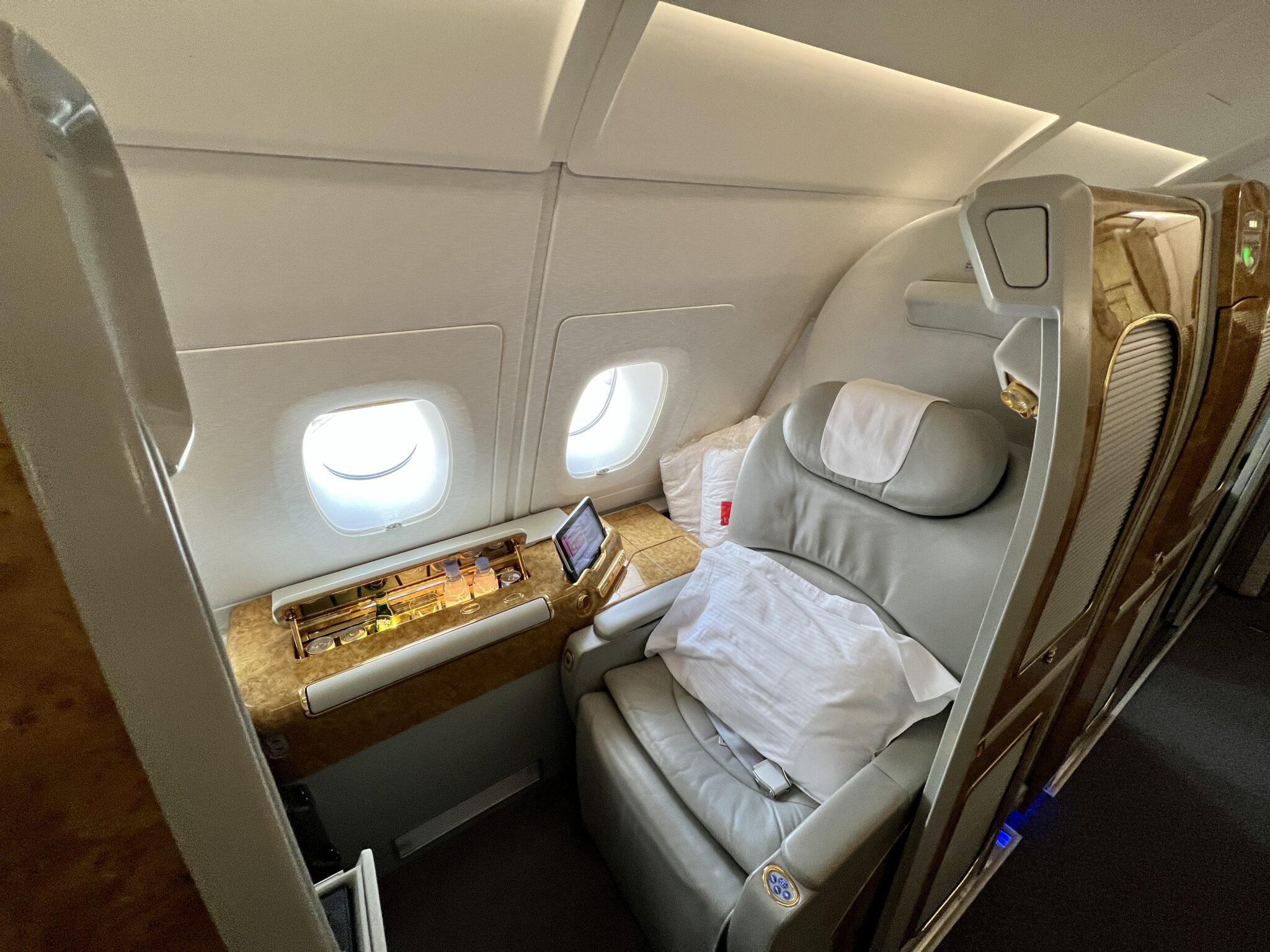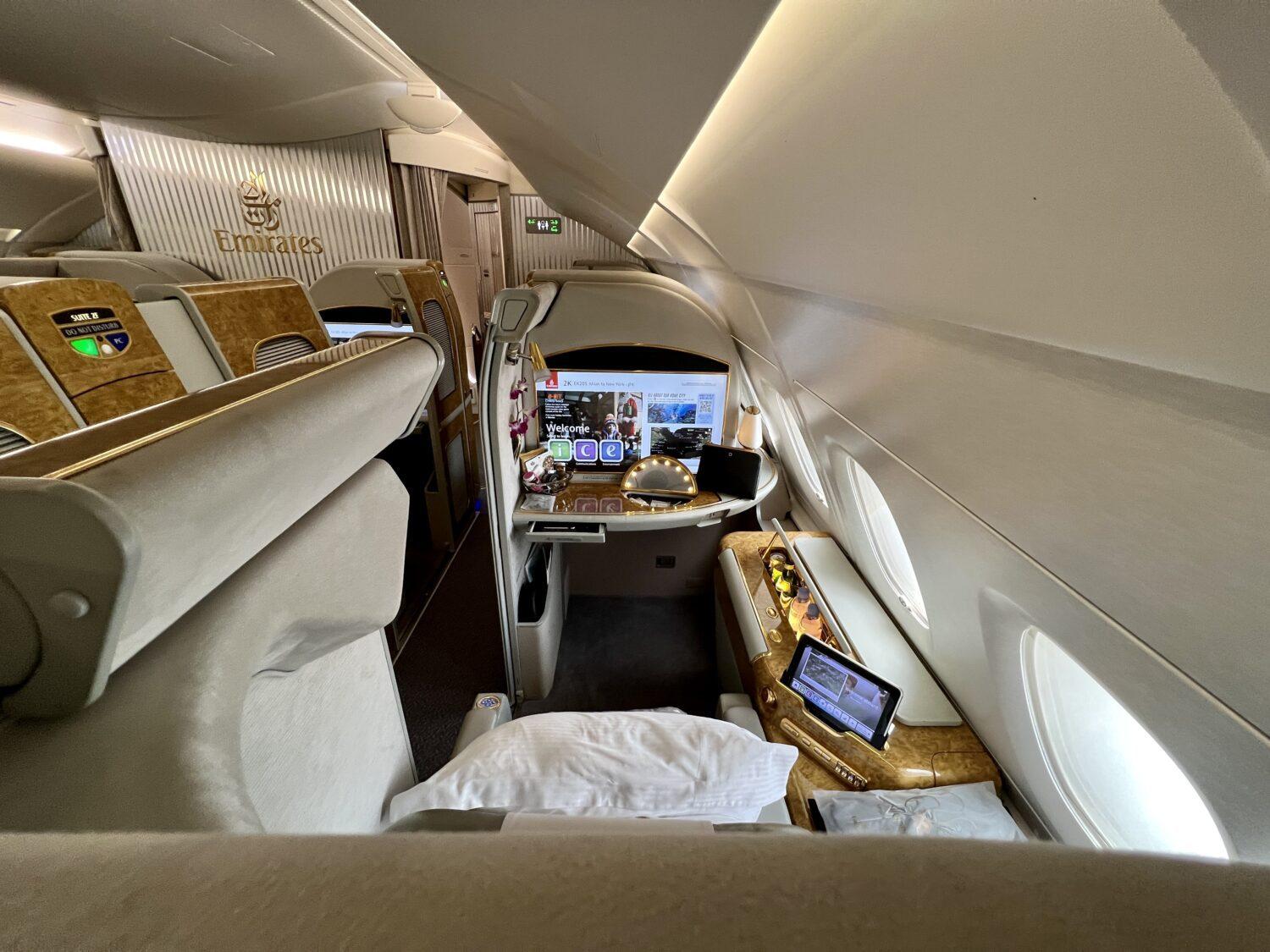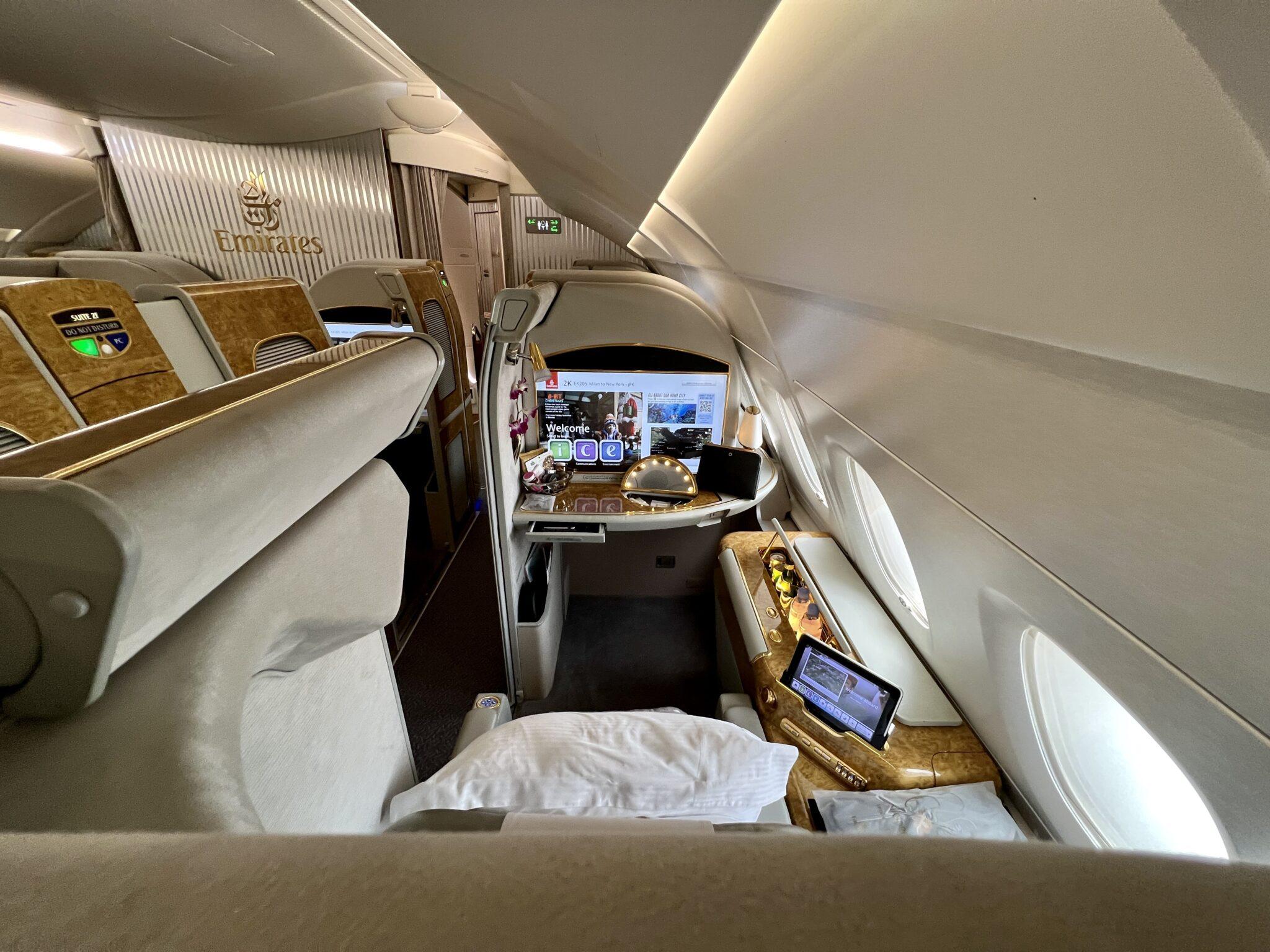 Let's get this out of the way: Emirates' A380 does not have the latest and greatest first class seats you can find. It's not the most spacious. It's not the most private. It's not even the most well-designed seat, if you ask me – not even close.
All that said: This is still a phenomenal seat. And with all the gold, woodgrain, leather, and bling, it could be nothing else but Emirates First Class.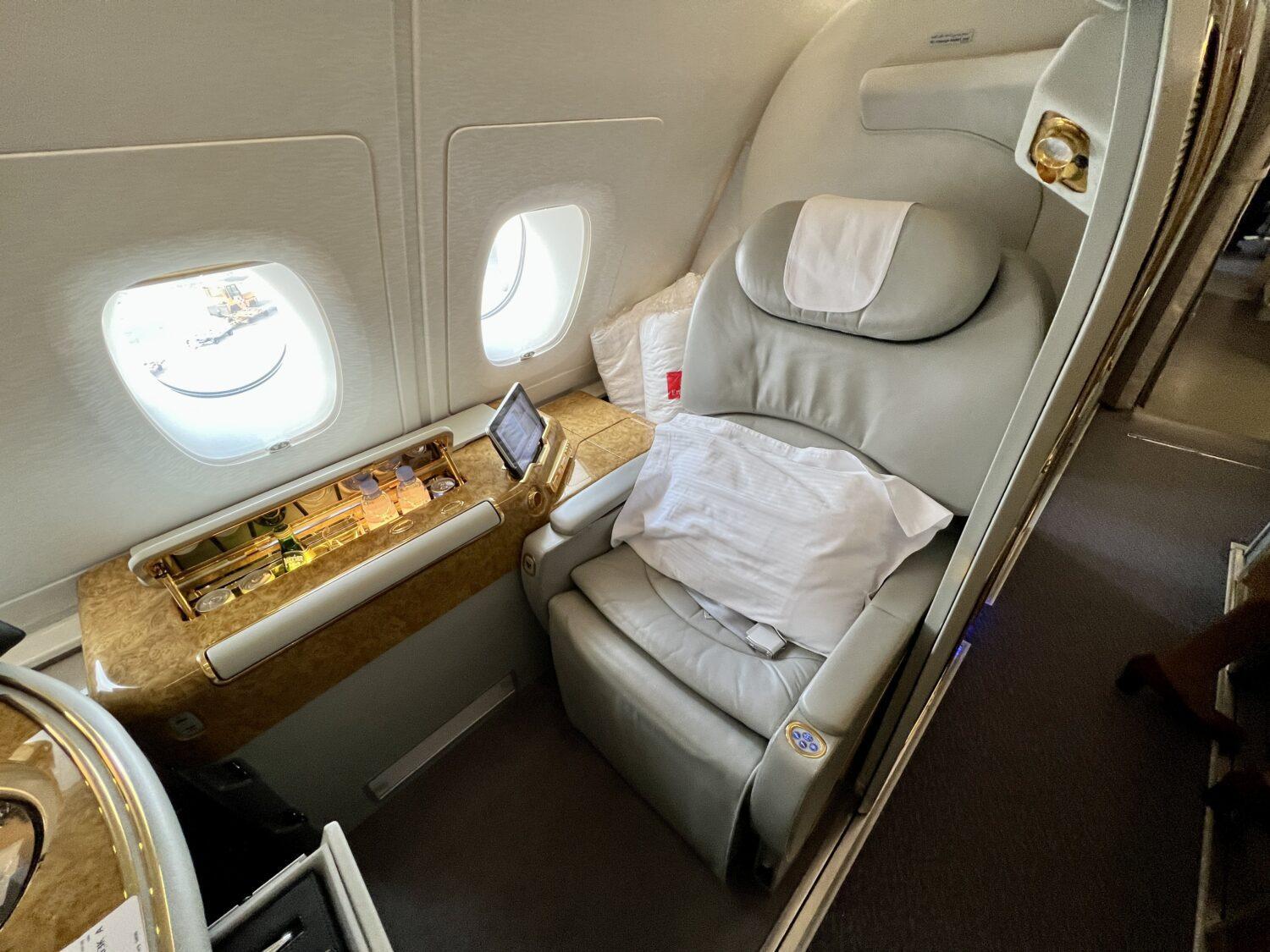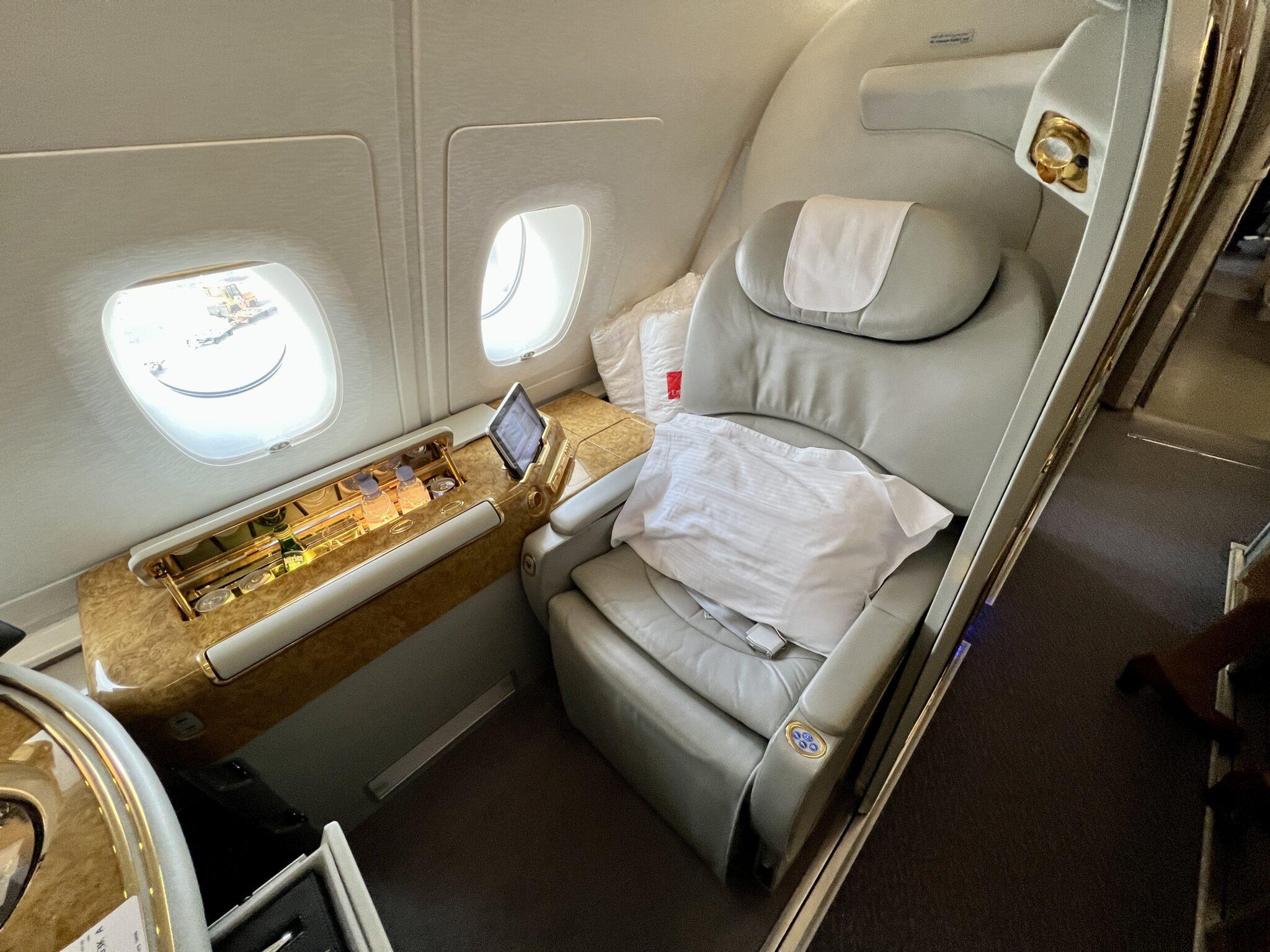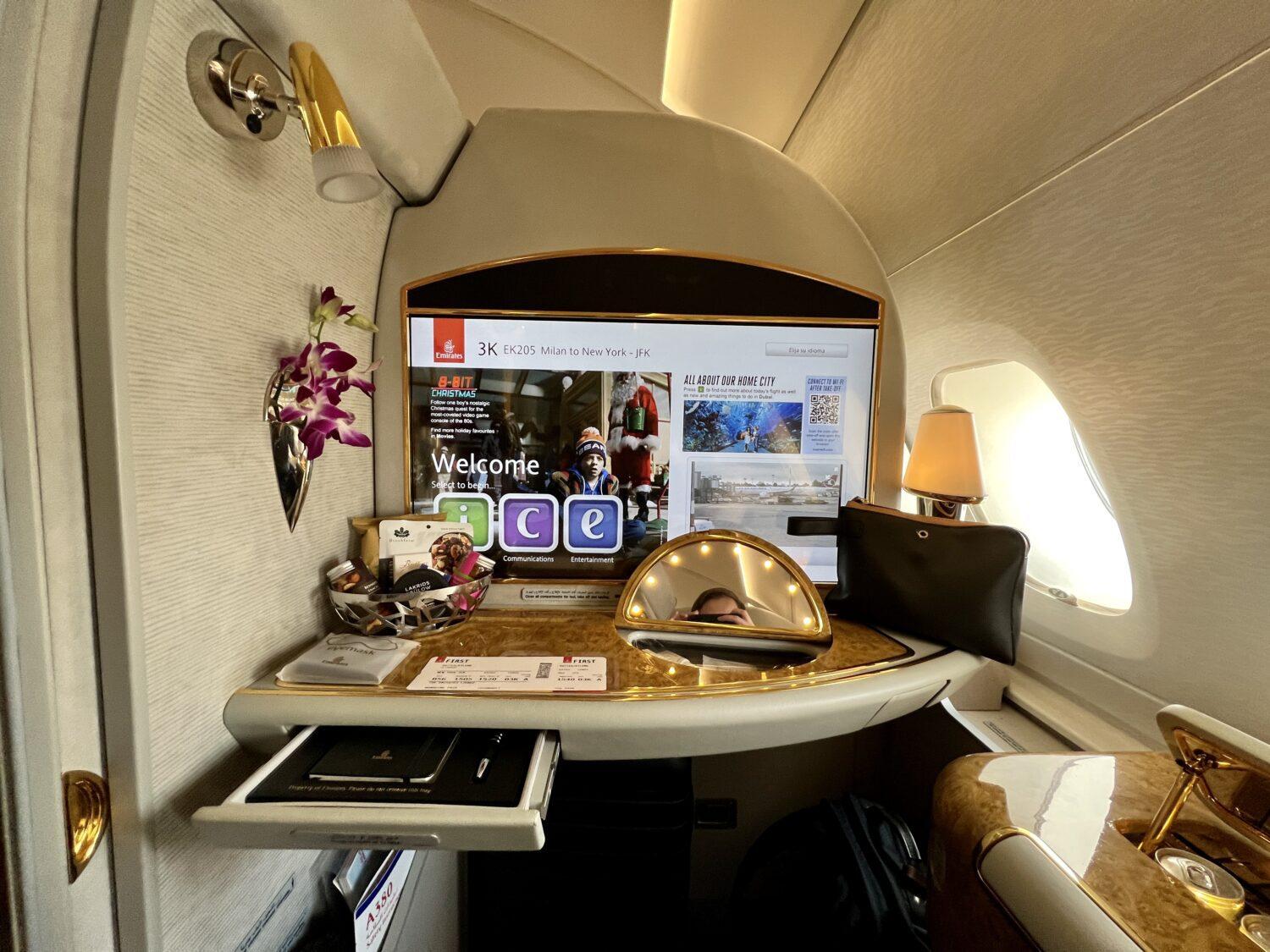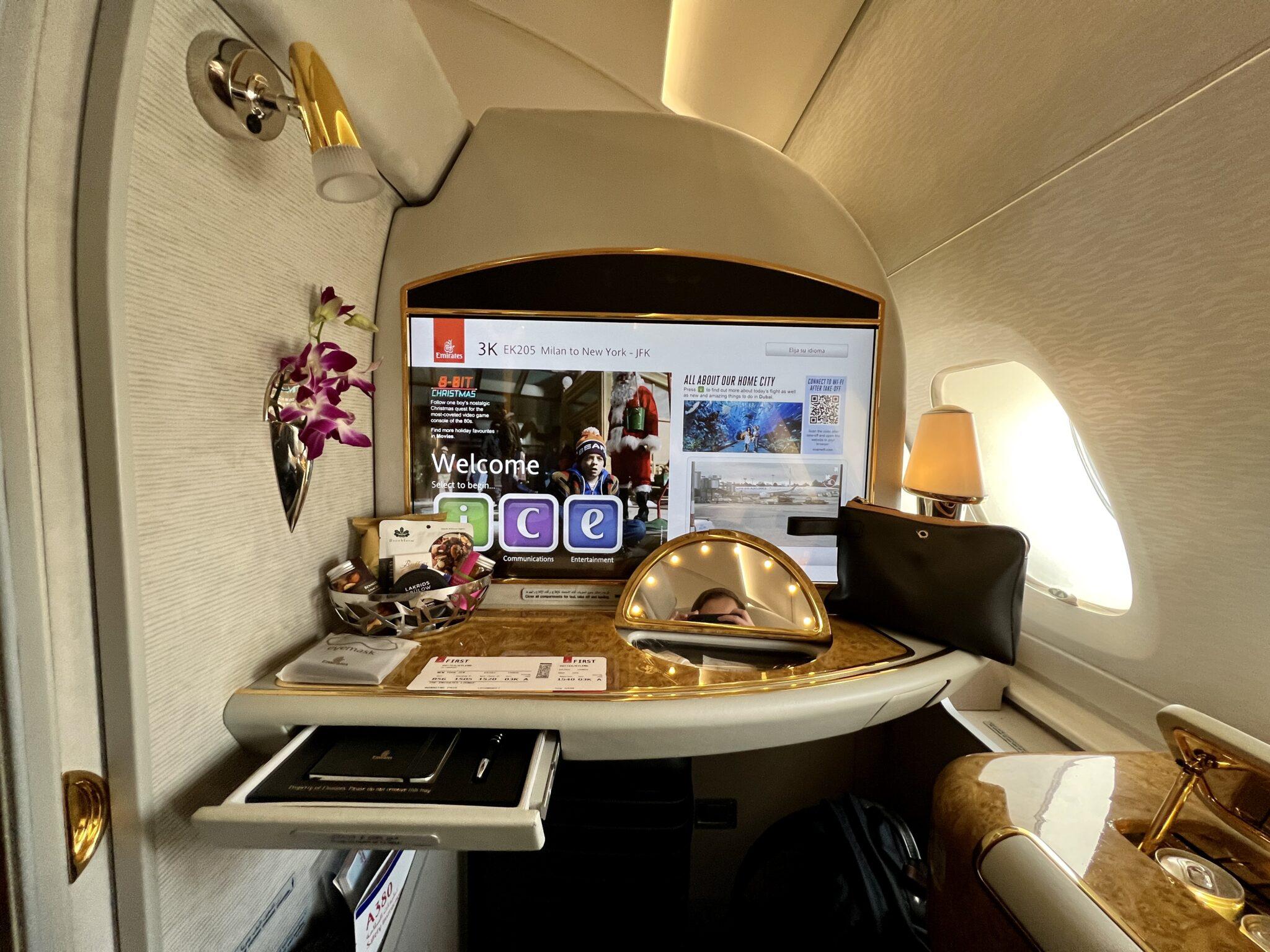 Let's start with some basics. Each seat clocks in at roughly 23 inches wide with an astounding 86 inches of legroom. Honestly, there might be too much legroom: Until you recline the seat, there's really nowhere to rest your legs in front of you. But that's not really a complaint.
But it's not just the space. It's also darn comfortable, with exceptional padding from the headrest and throughout the rest of the seat. Whether sitting upright or reclined all the way into lie-flat bed mode, it's easily among the most comfortable seats in the sky.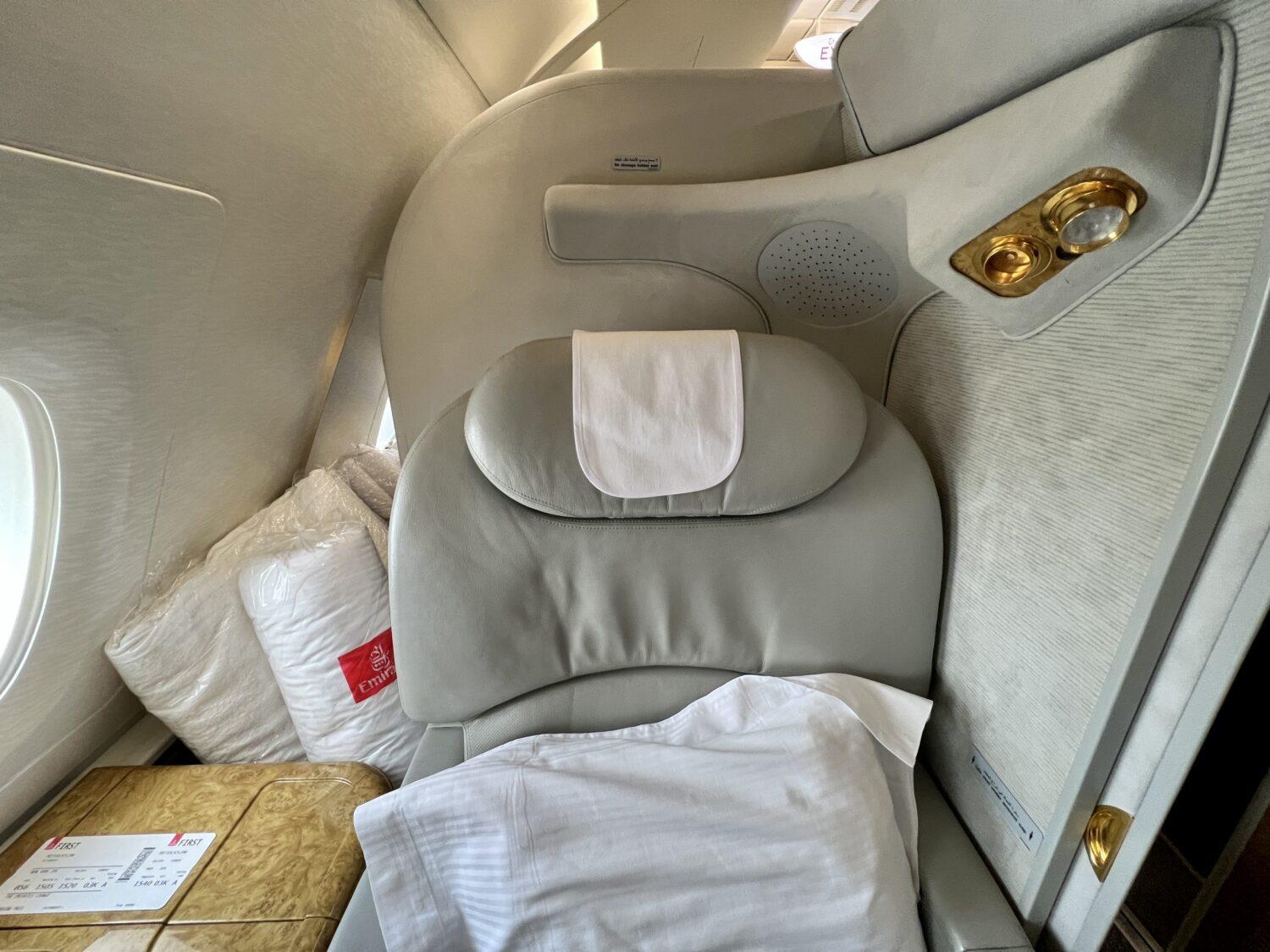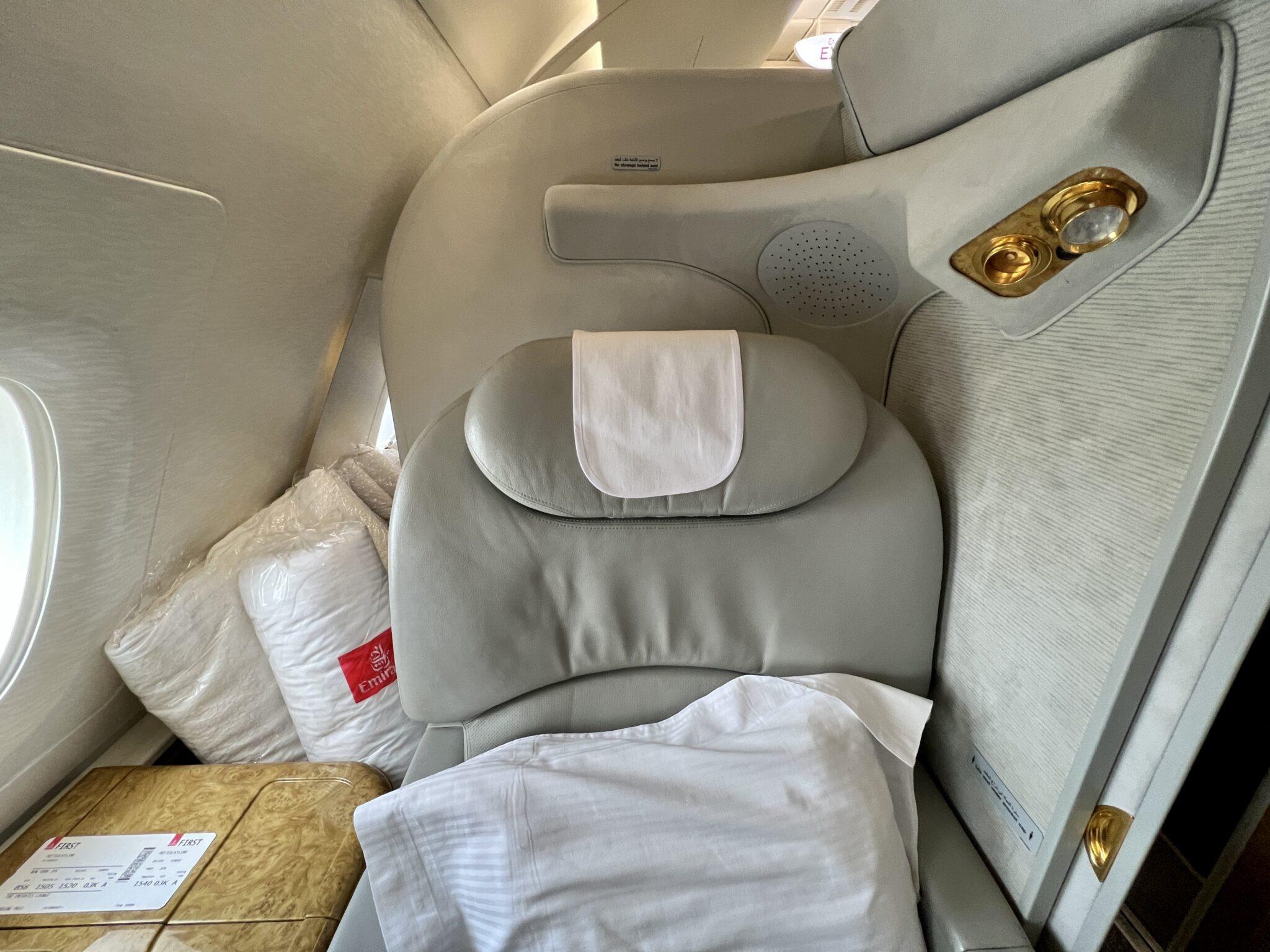 They may not be the most private first class suites in the world, but that doesn't mean they're not private. Even with a nearly full cabin, the high walls of each suite kept things fairly private even before you close the doors.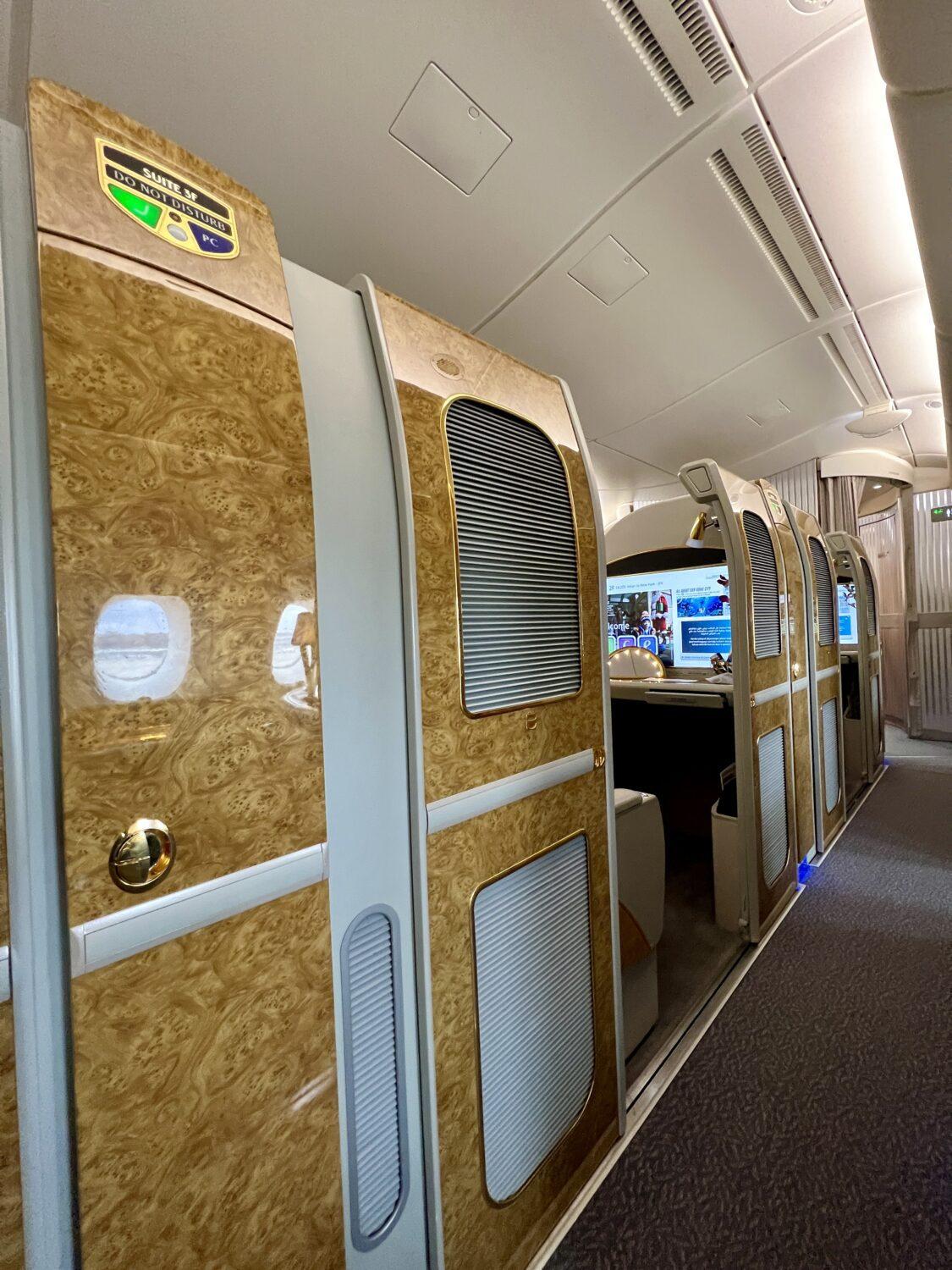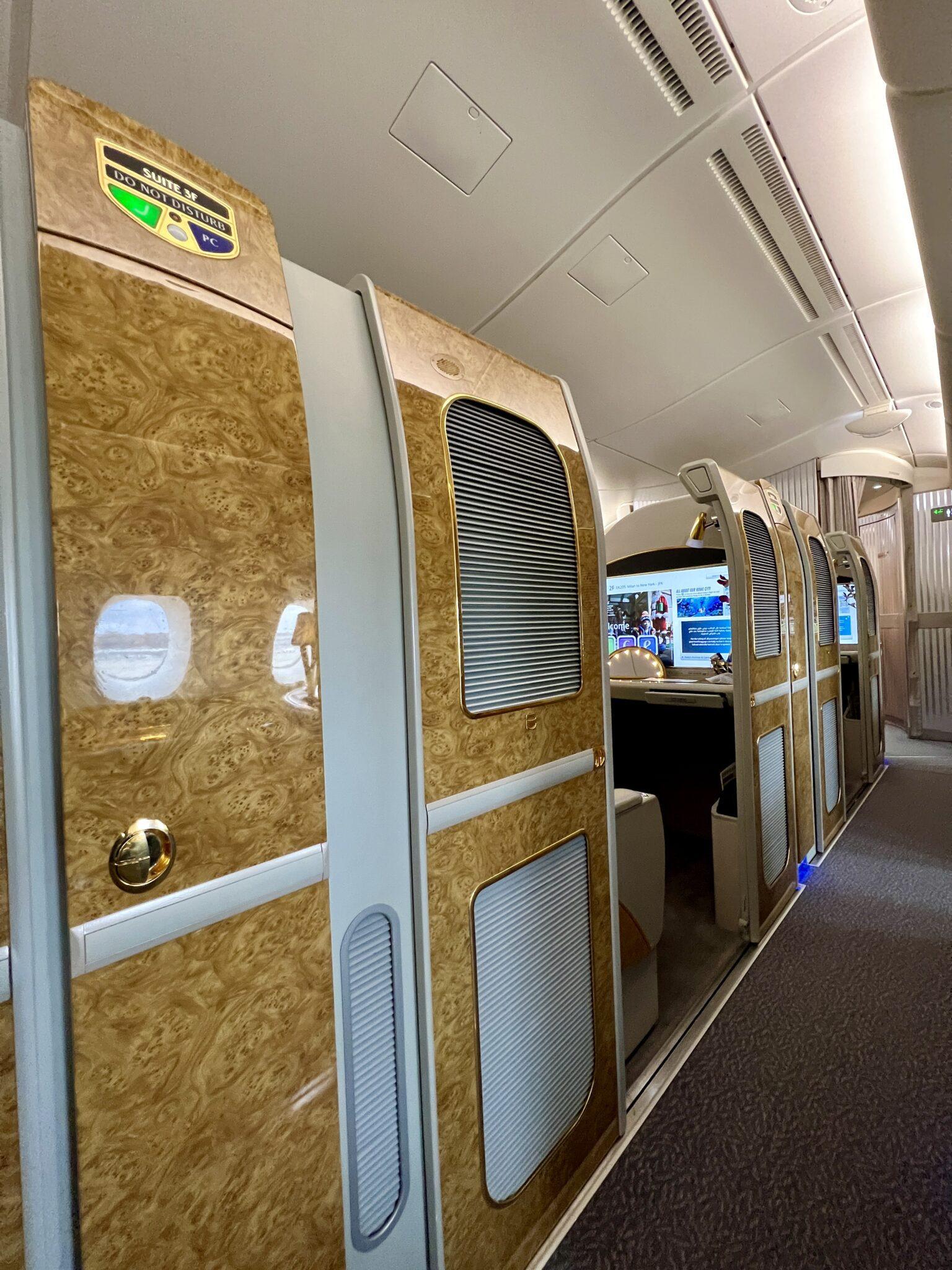 Close those doors, though, and it's like shutting out the world. Even walking through the aisle, you can hardly see into each suite.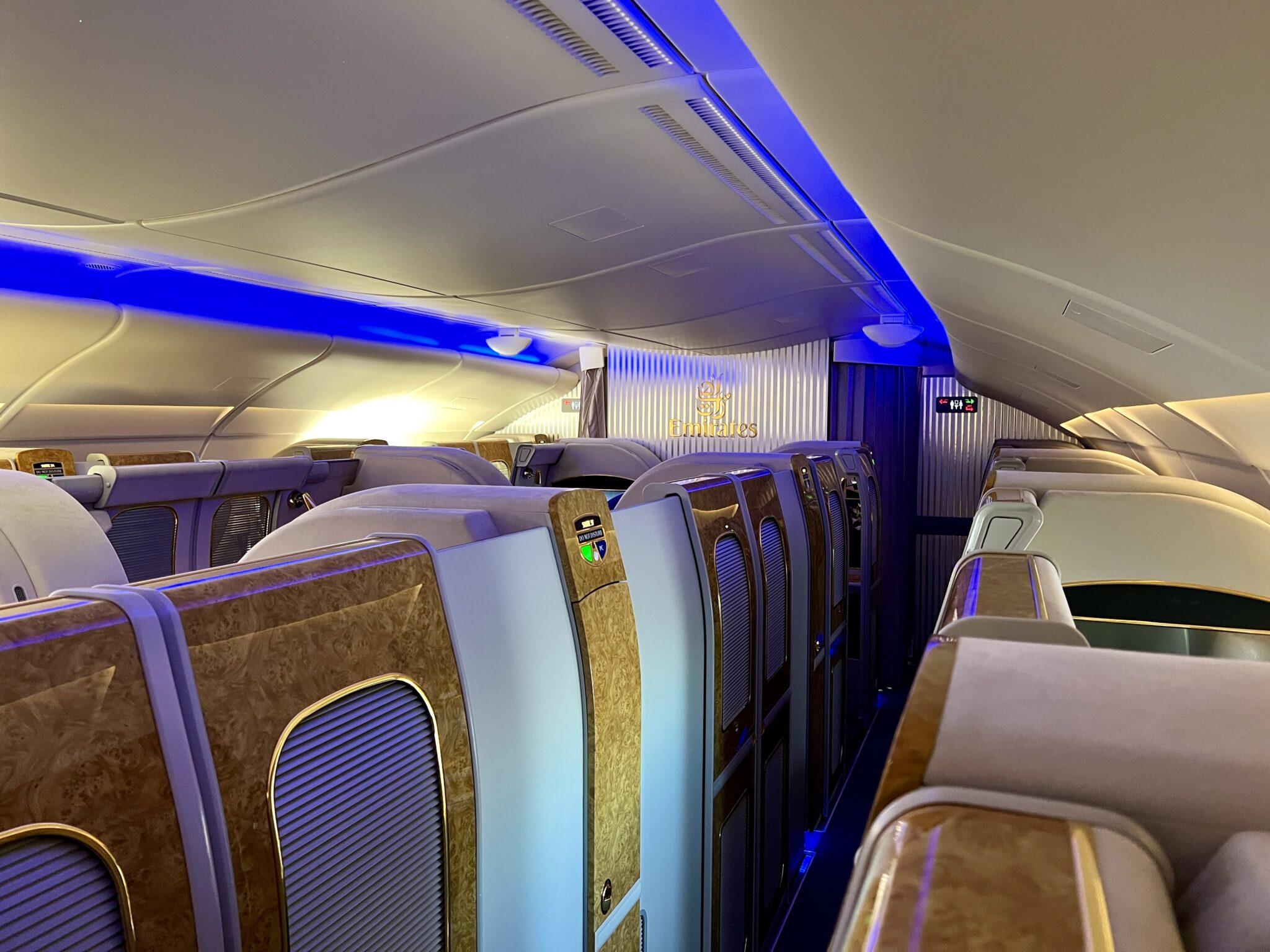 The suite itself is full of surprises and smart touches that make it a great ride. Top of the list: A ton of storage, with all the room you could need to store your bags plus some hidden cubbies. There aren't overhead storage bins in Emirates First Class, but you don't need them: You can store your bags at the front of the suite. Most airlines require you to stow bags elsewhere during takeoff and landing, but not Emirates.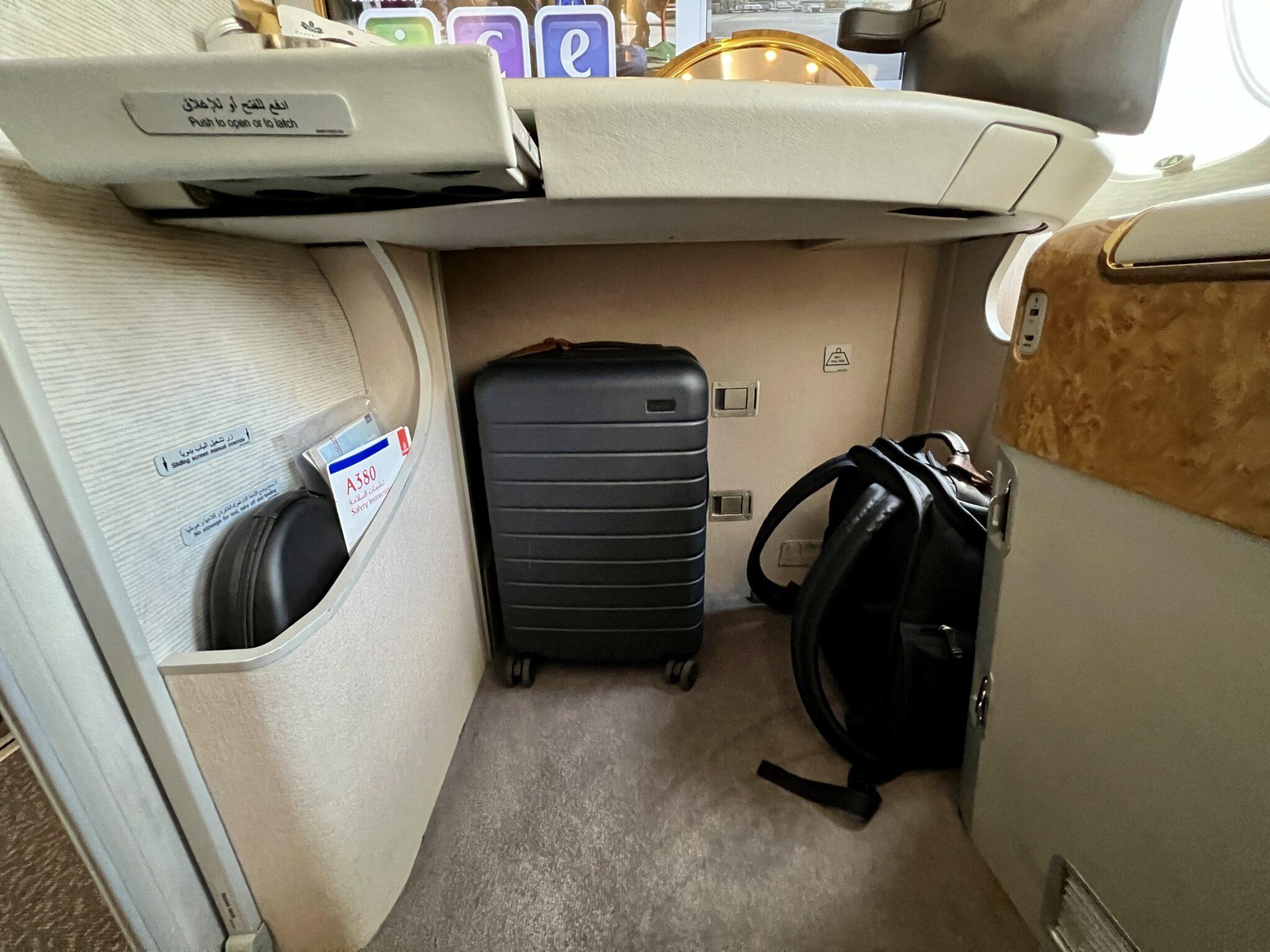 There's also a small compartment up here at the front of the suite here with literature as well as your set of noise-canceling headphones. And check out that detailing on the fabric!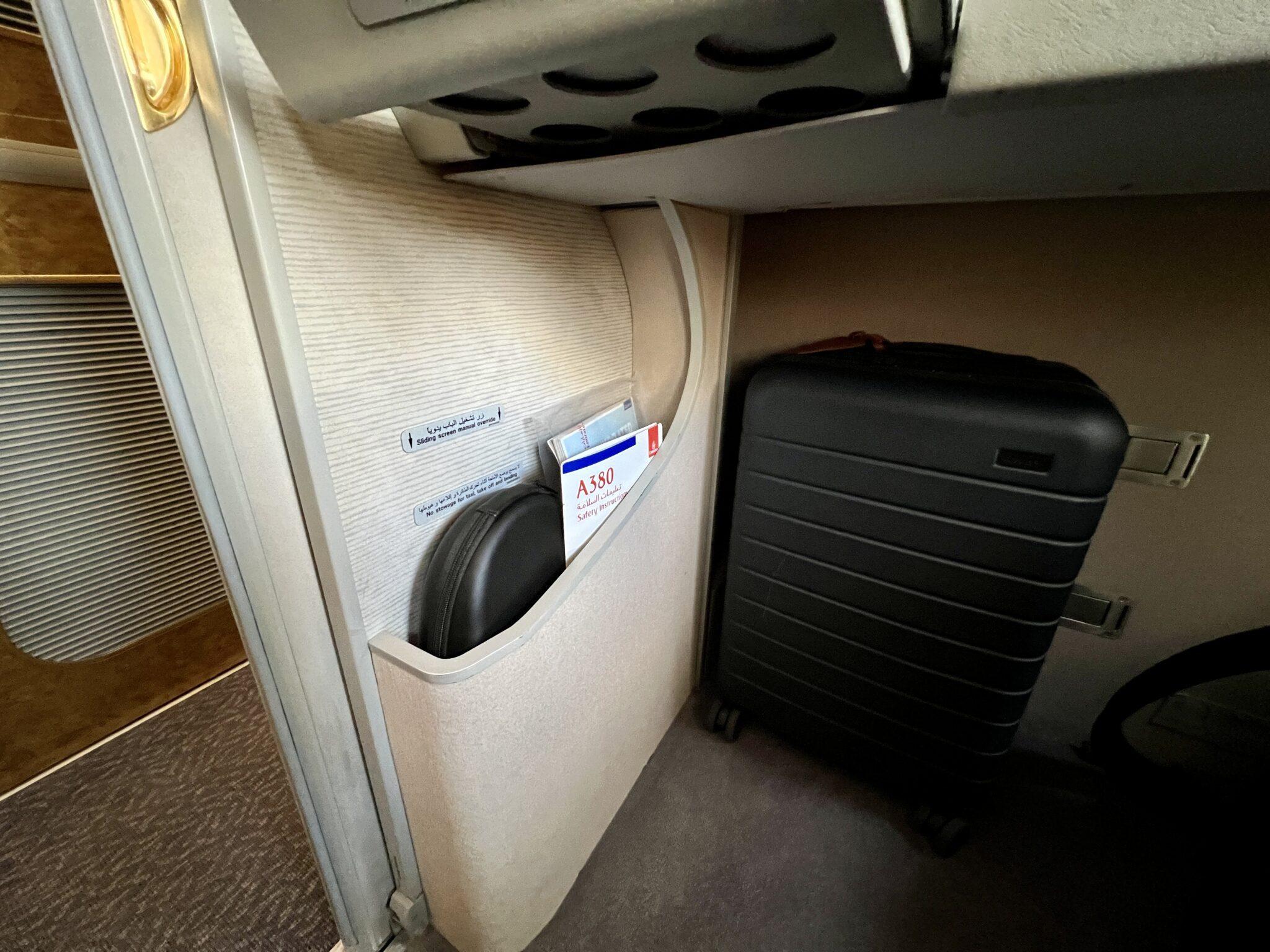 You'll also private, dedicated closet at the front of each suite with two hangers, perfect for hanging up a coat during your flight.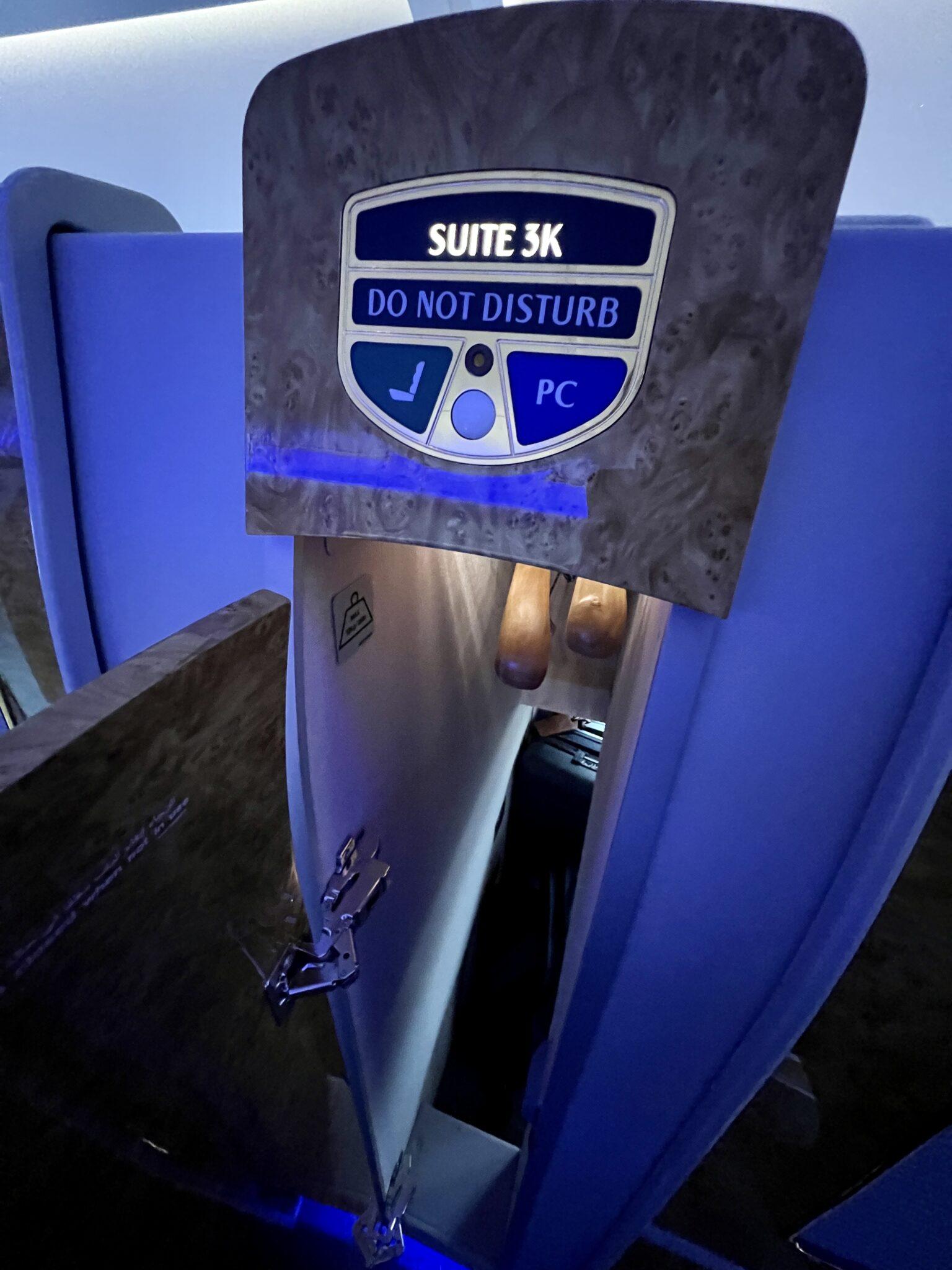 Want to store something as small as a pen? No problem: There's a tiny compartment hiding underneath the flap of the armrest, which is also where you'll find some simple seat control buttons – including one to automatically close and open your suite doors!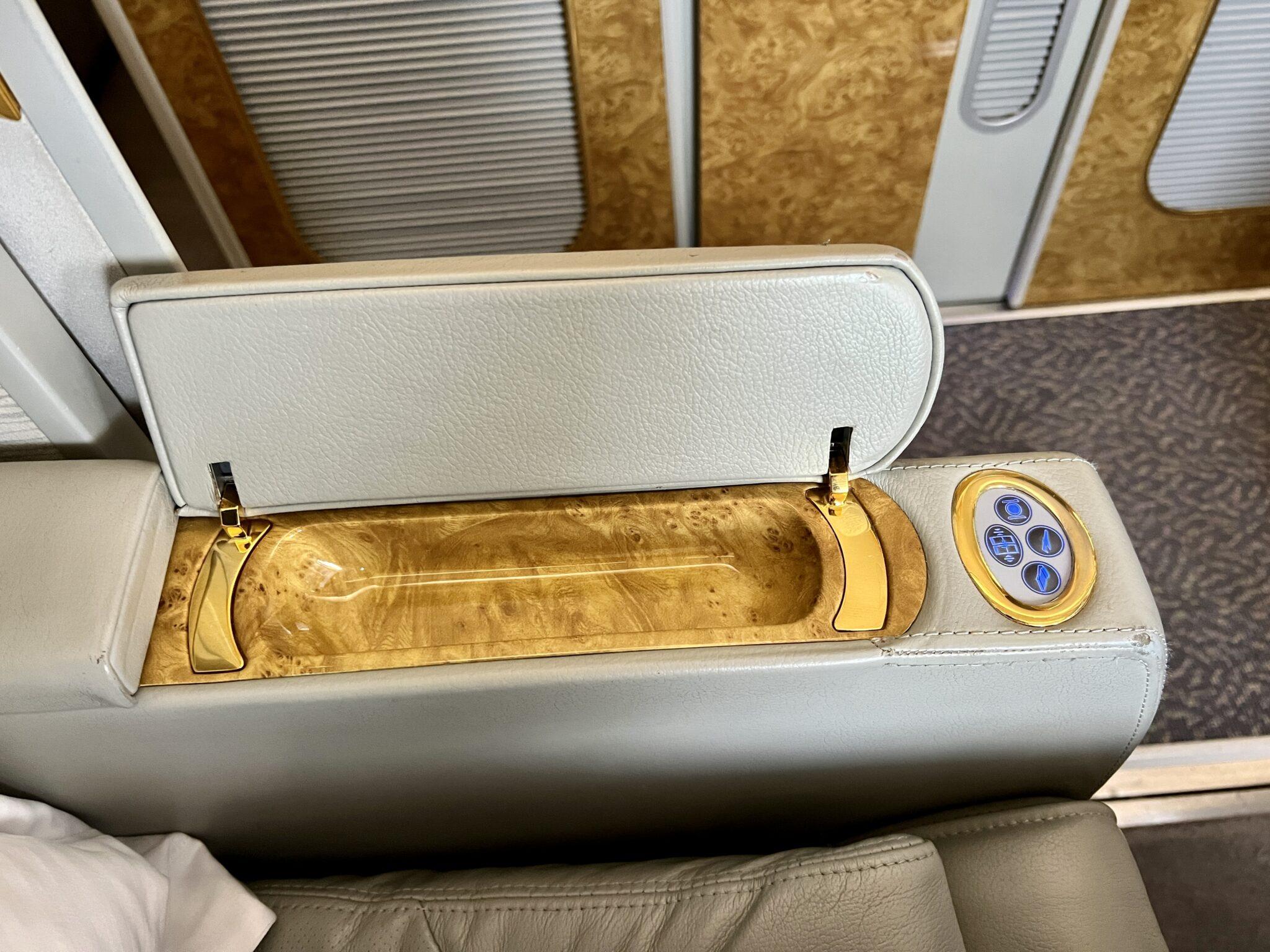 There's also a long console along the window full of more storage and other cool features. The storage continues with a long and deep compartment and store … pretty much anything you want by lifting up the flap. Some of the copious amounts of bedding could easily fit in here.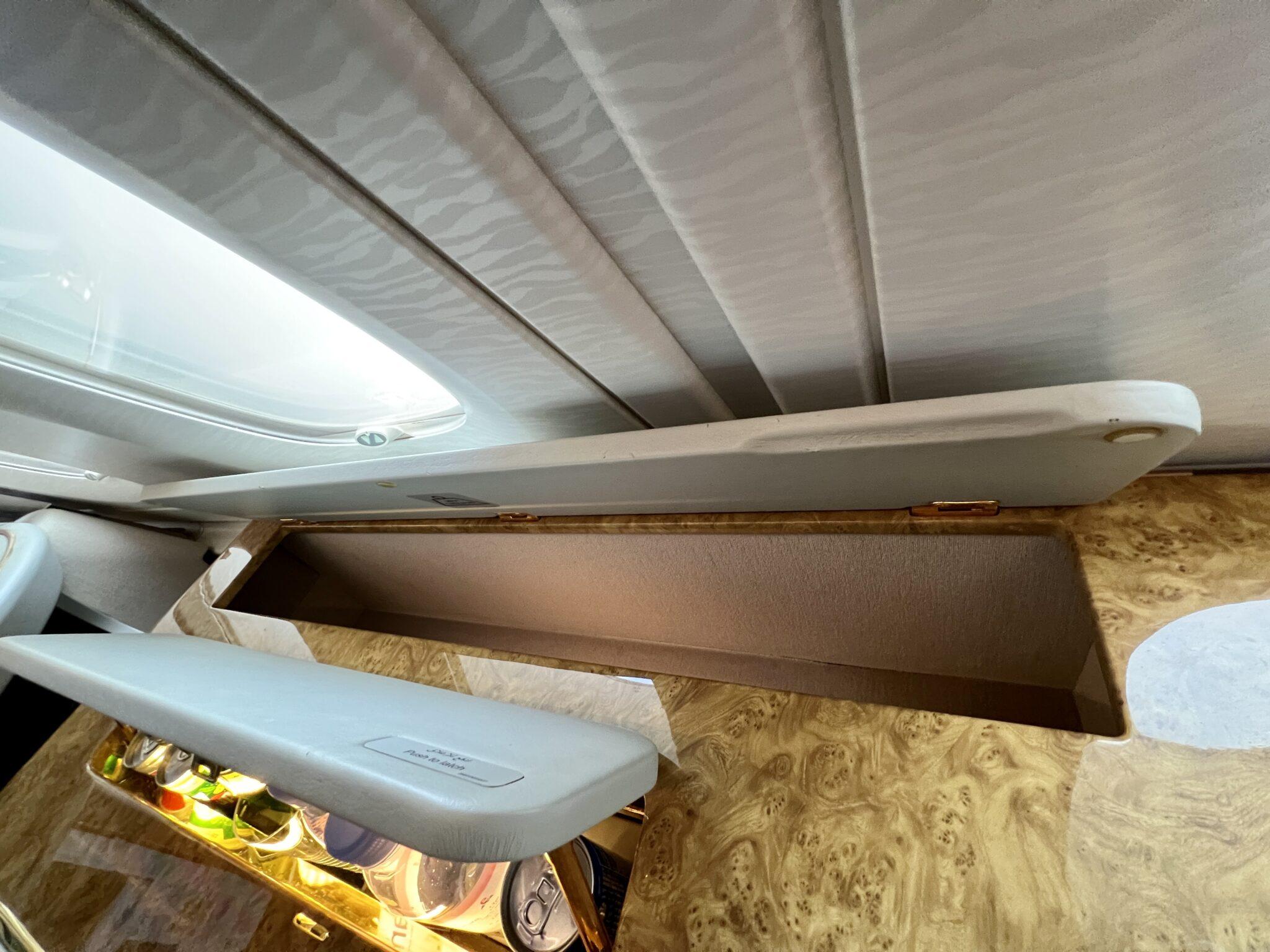 There's yet another sizable storage compartment here you can lift up to expose.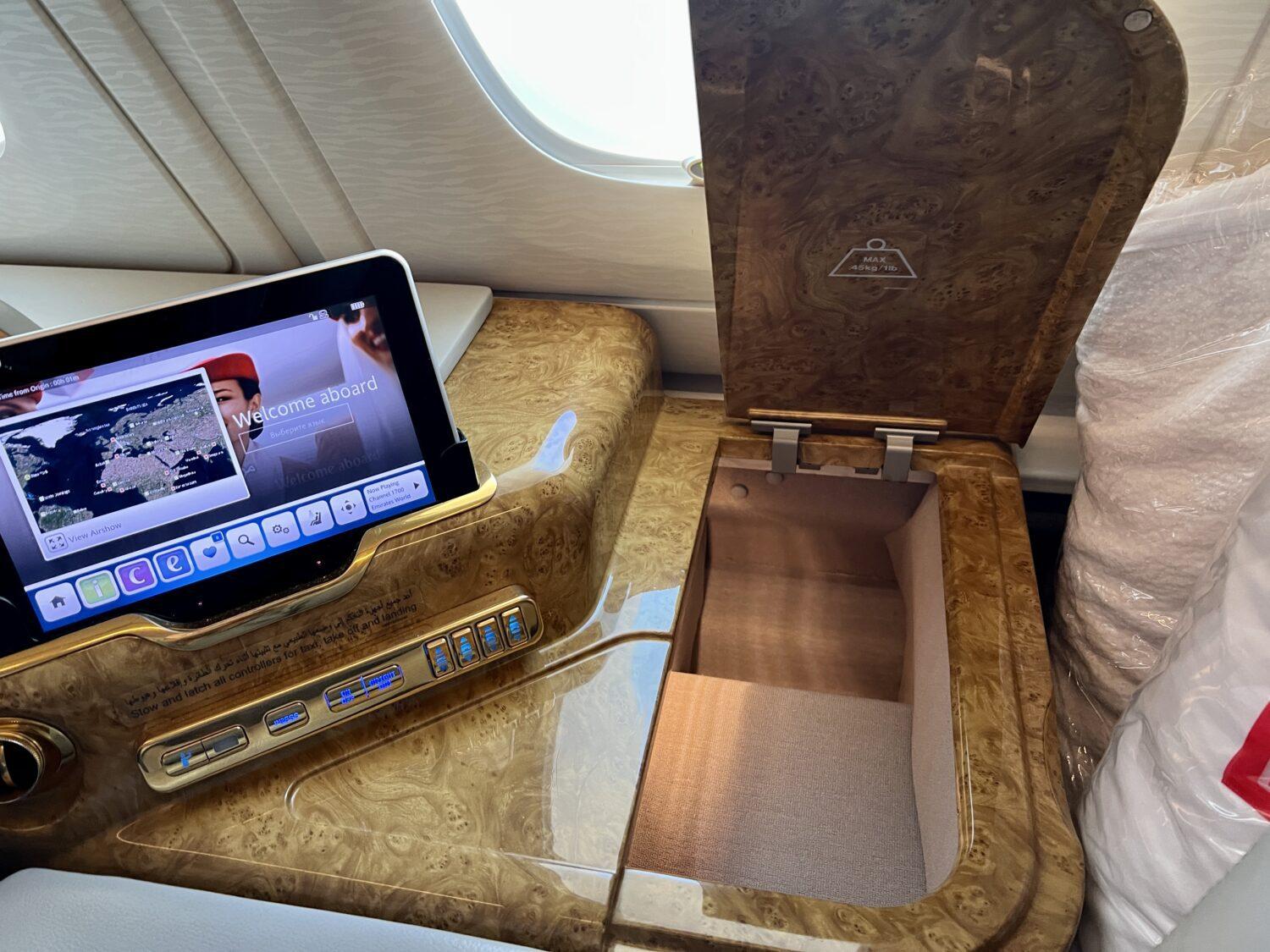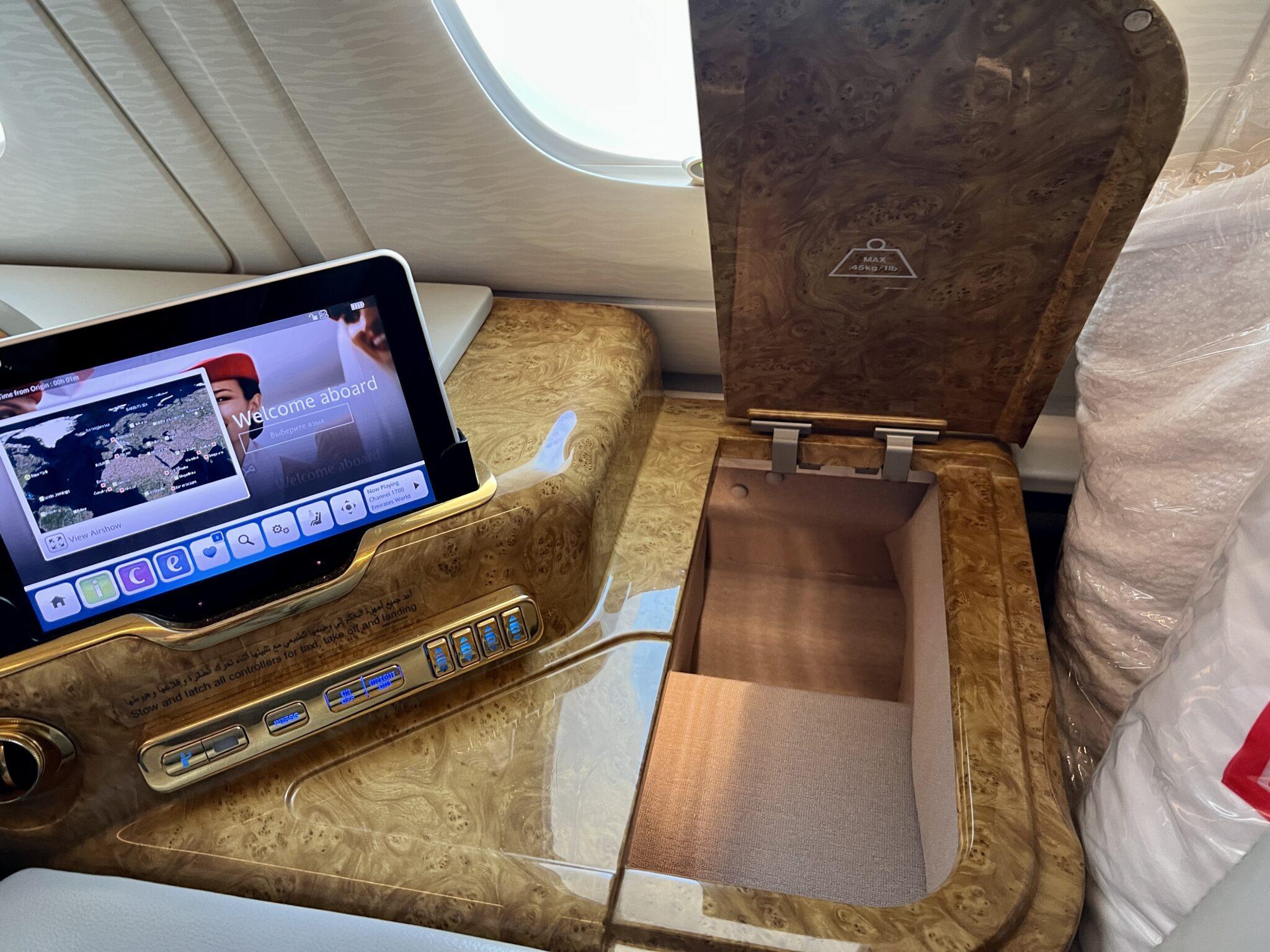 What's that to the left of the cubby? Your control center, including a touchscreen tablet to customize almost anything inside the suite from the position of your seat, calling the flight attendant, lighting, the volume for your noise-canceling headphones, and practically everything on screen.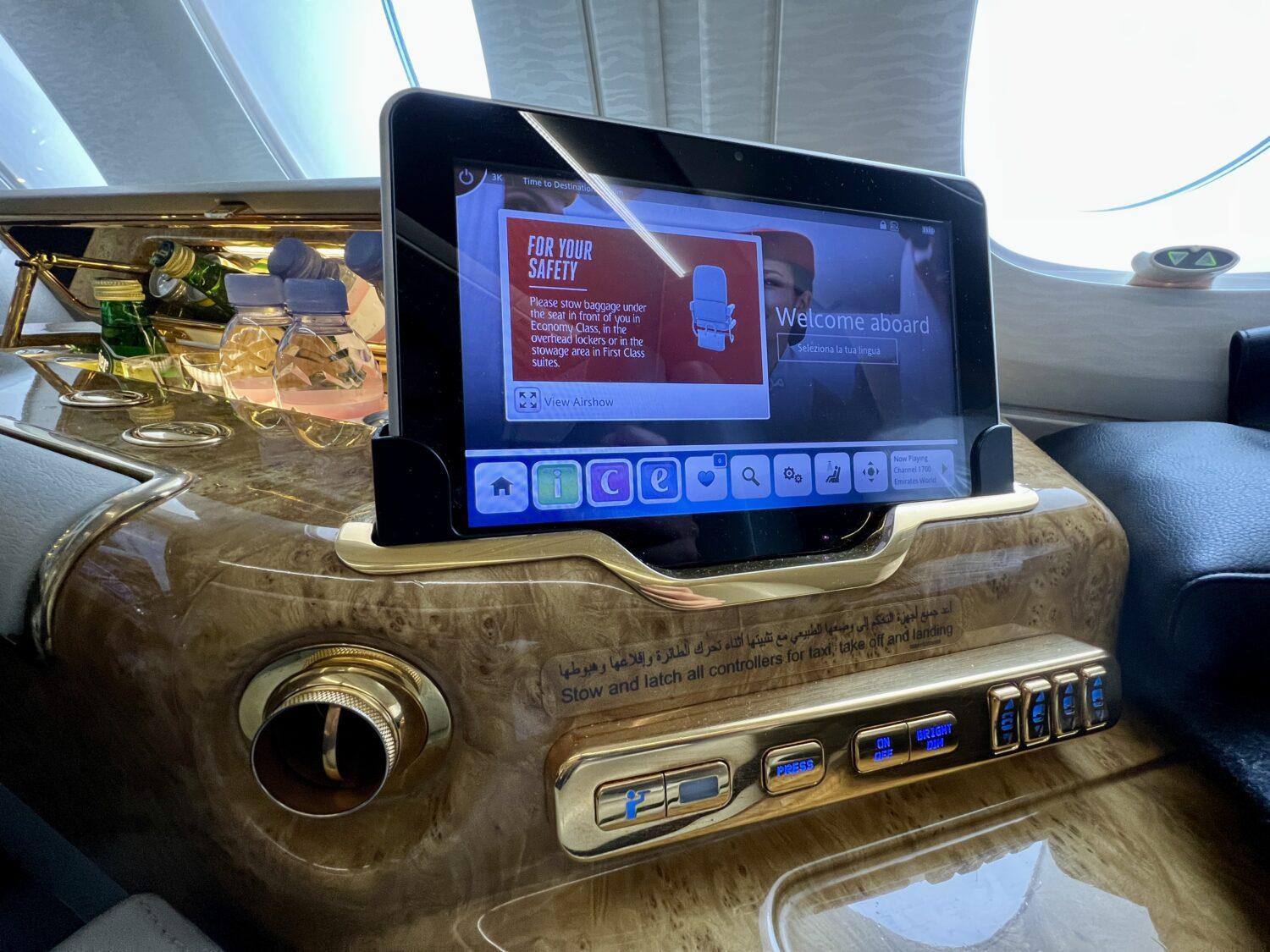 You can really fine-tune your seat settings using this tablet.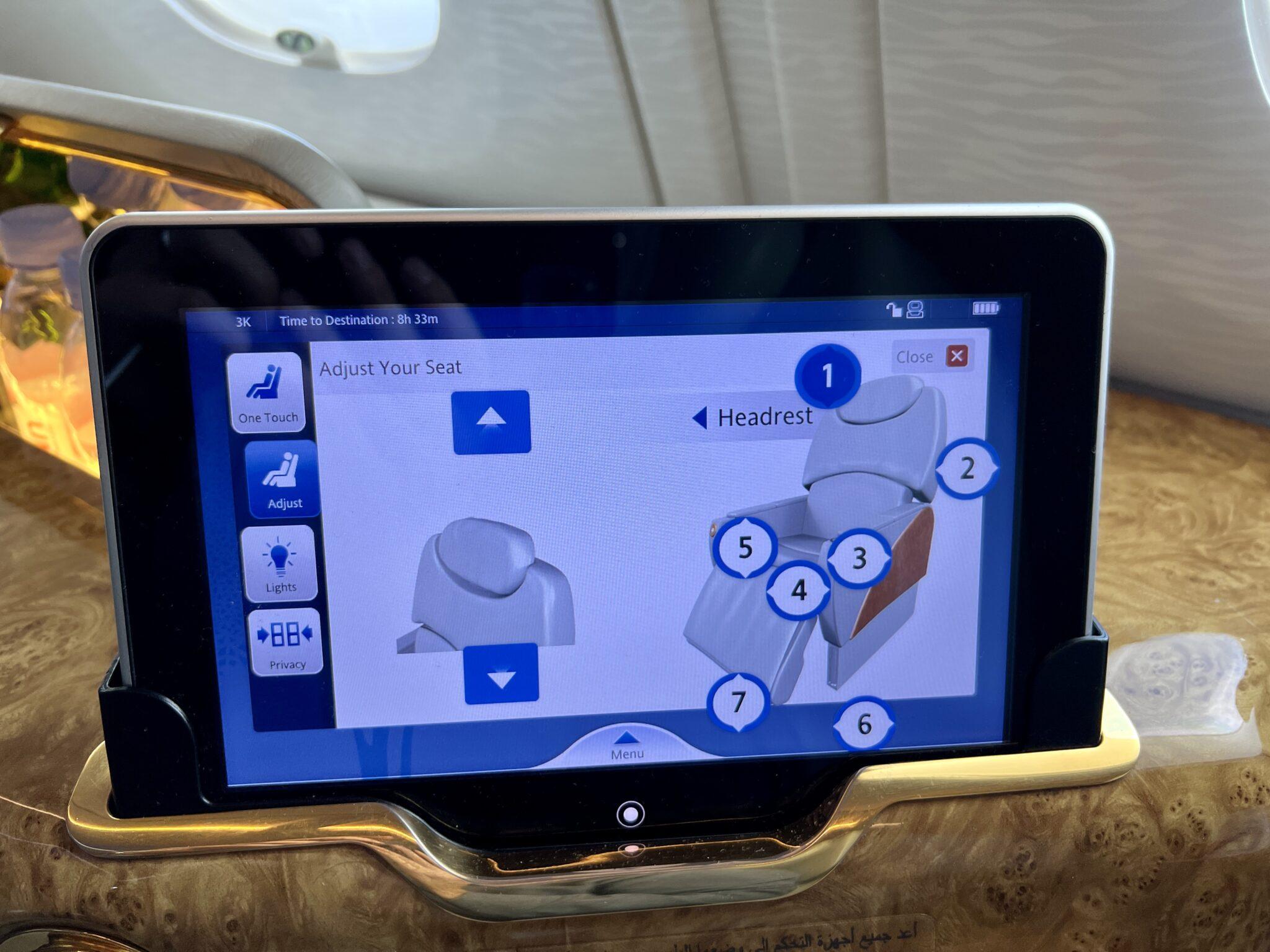 And what's that behind it? That's right: Your own minibar, complete with underlighting and a few cans of soda and bottles of water – including sparkling Perrier. While this isn't refrigerated, it's nice to have easy access to a few extra bottles of water. You can raise and lower this minibar with a touch of a button. Emirates First Class is nothing if not extra.
You won't find air vents overhead … but you don't need those either. Each suite is equipped with not one but two of its own air vents, which you can easily open and direct to keep things airflow moving. There's one built into the storage console and another at the top of each door.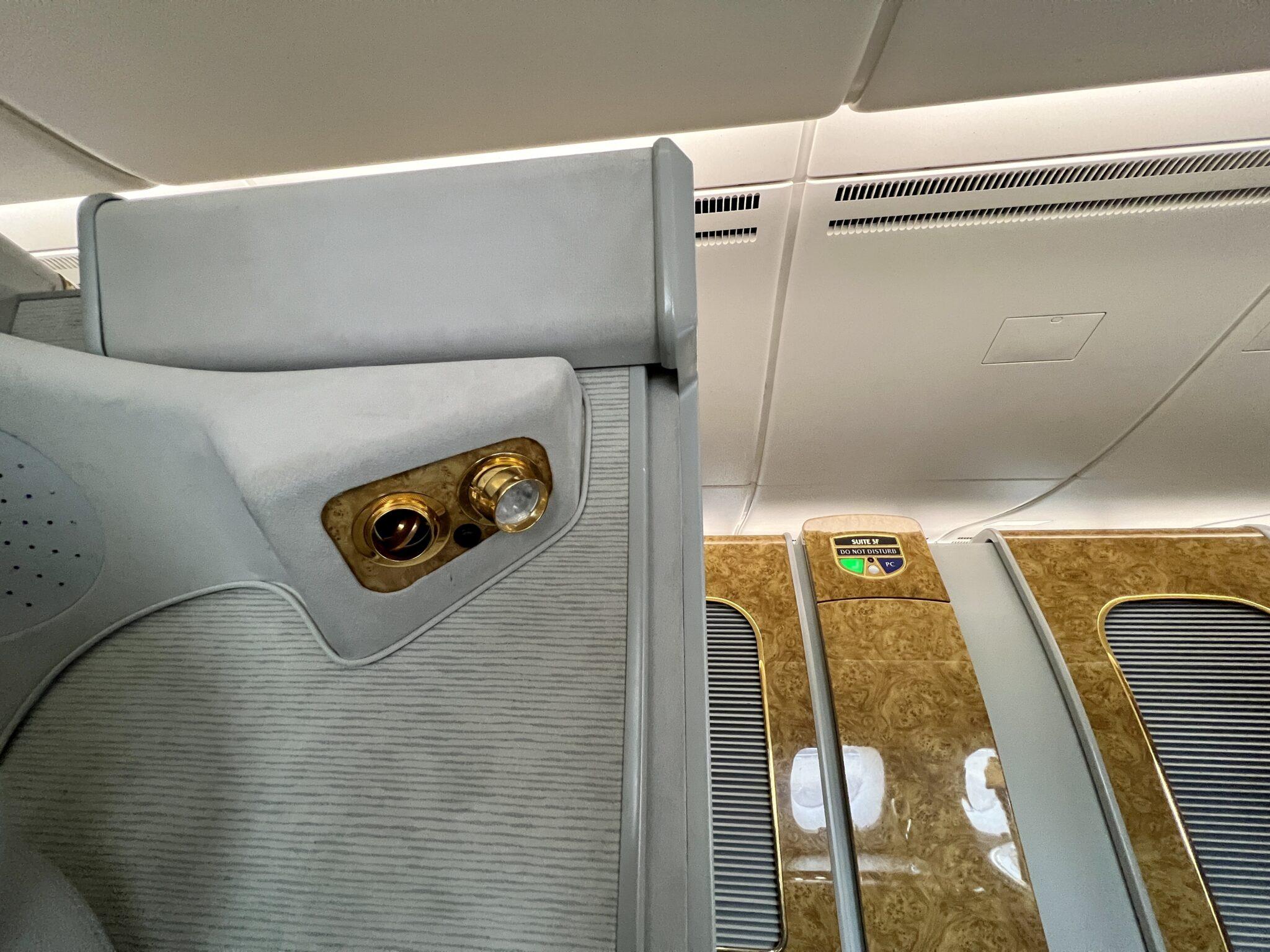 If you thought the rest of the Emirates First Class suite was extra, turn forward and check out the front wall.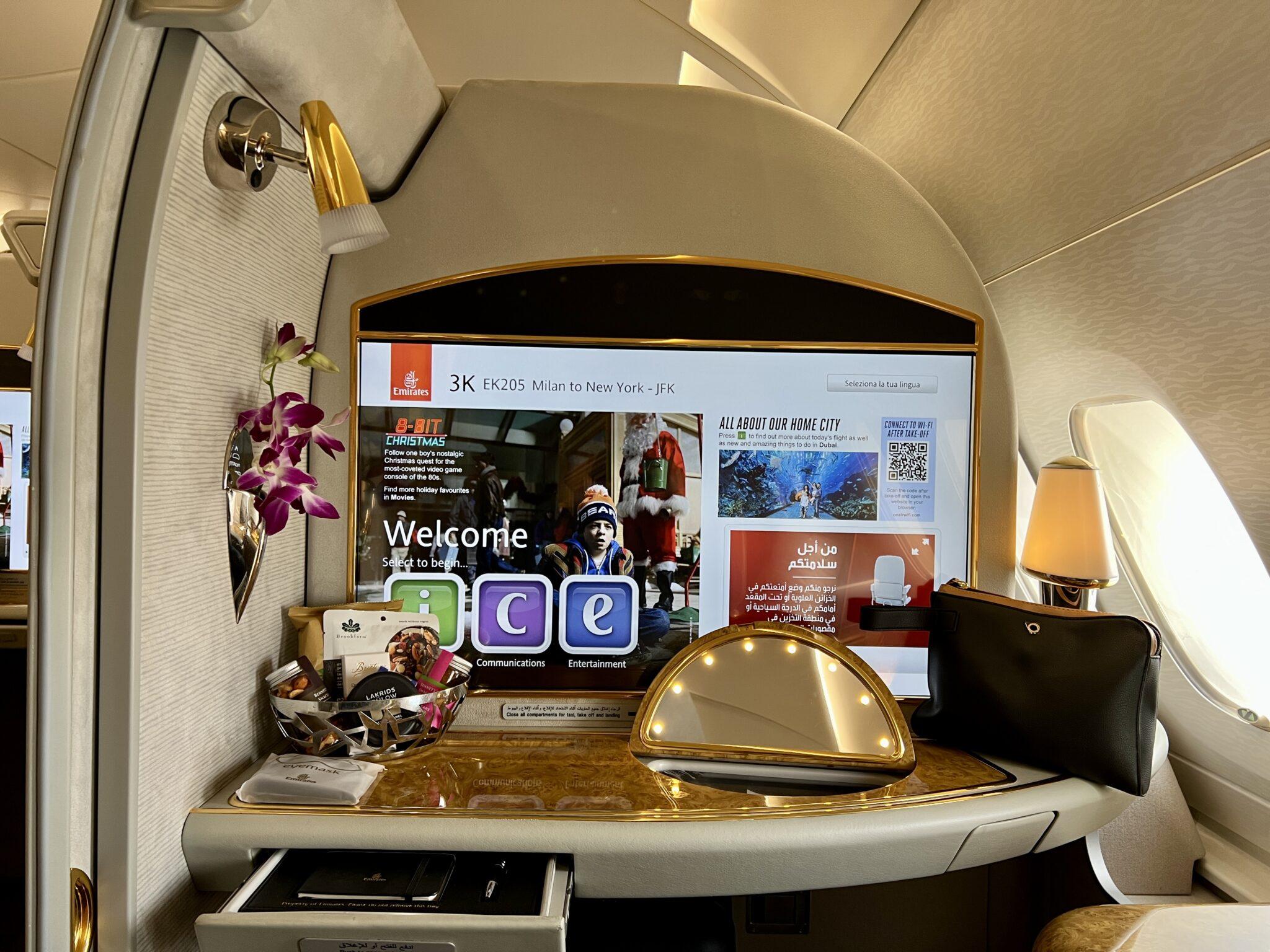 Need a 27-inch TV screen? Check. A fold-up makeup mirror with lighting and special Byredo toiletries underneath? No problem. Two lamps? Duh. A decorative flower? Naturally. A pullout drawer with a take-home stationary kit and your very own snack basket? It's all here. And it's all too much … and yet just screams "Emirates First Class."
On the right of this over-the-top setup is where you'll find a universal power socket with a USB port, which you can expose by sliding the flap up.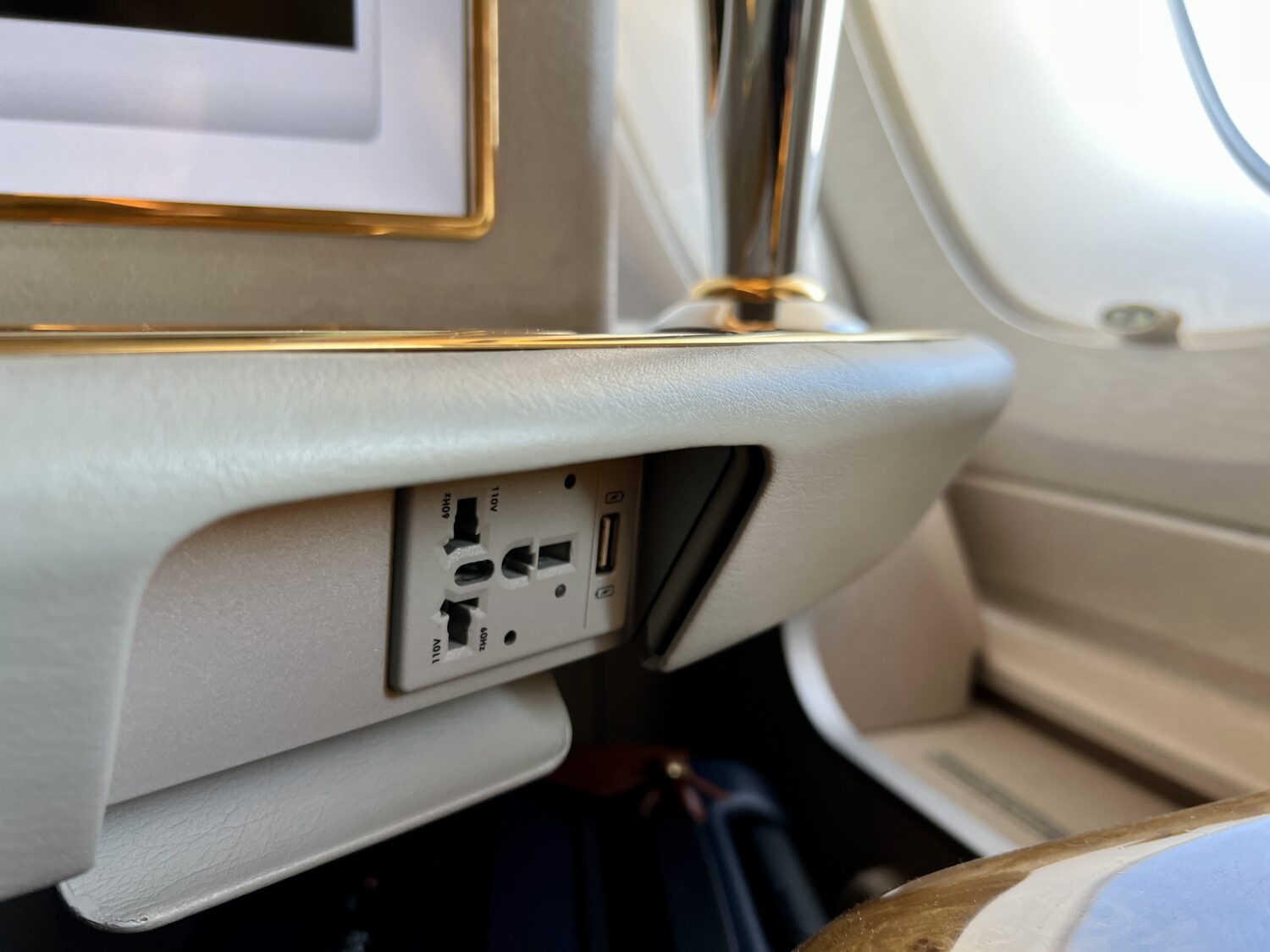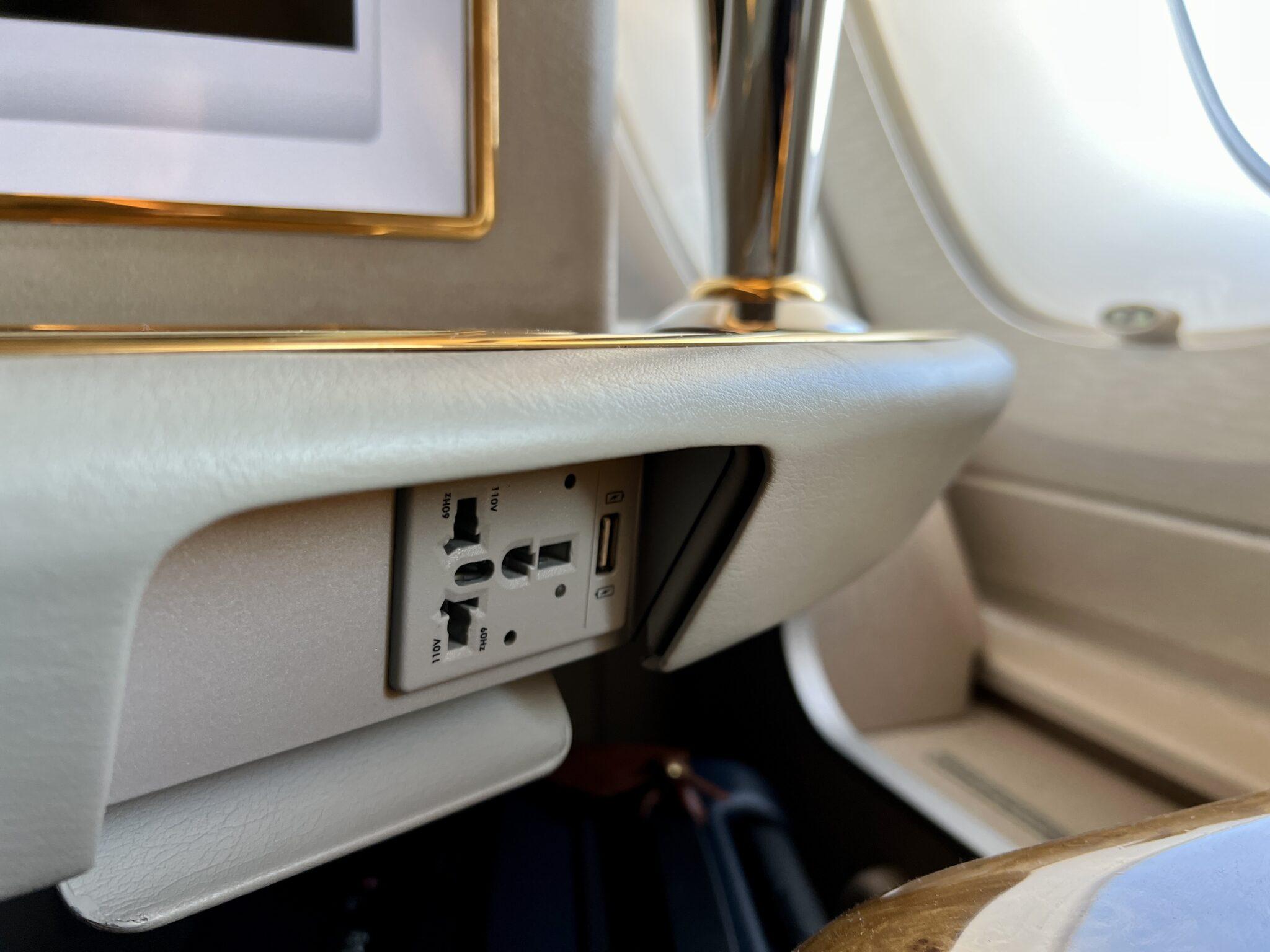 These suites also sport one of the largest tray tables I've ever seen, which slides in and out from the side of the storage console. Don't worry: A flight attendant will haul this beast out for you come meal times.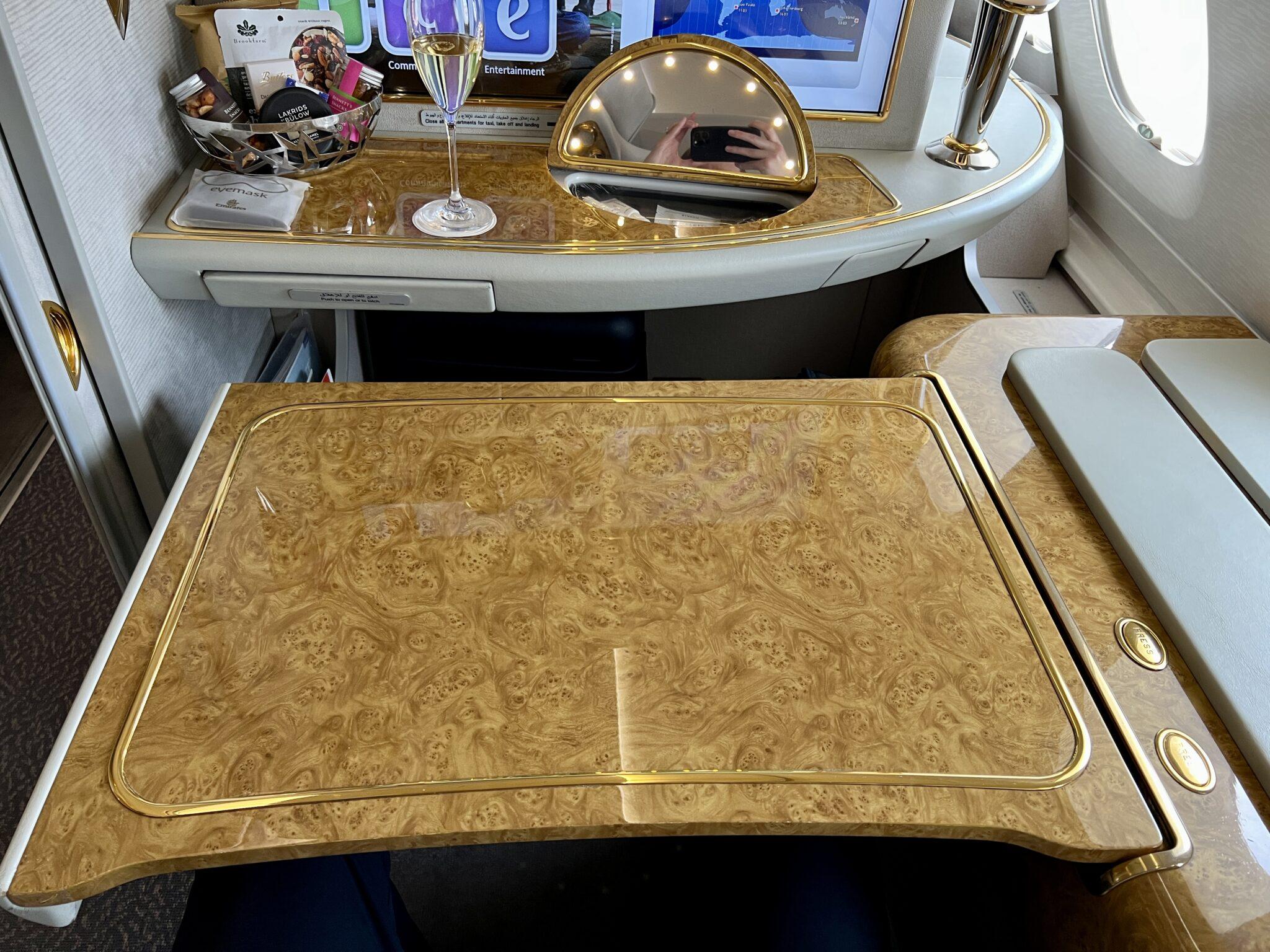 Most suites along the windows are treated to an incredible view, with three windows – each equipped with fancy shades you can raise and lower with the touch of a button.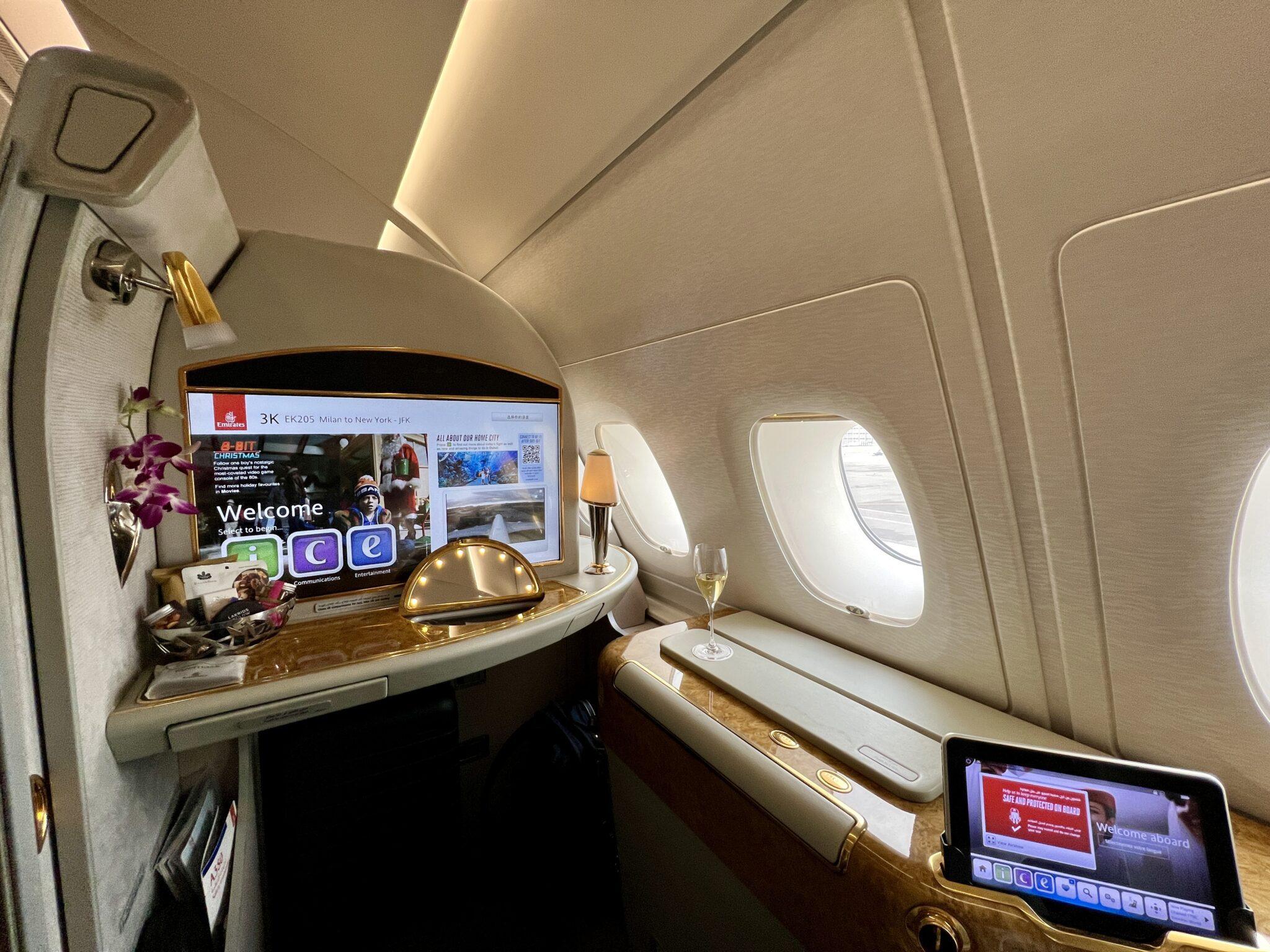 But where these suites truly shine brightest is at bed (or nap) time. From a great mattress pad to the light-but-cozy duvet to the pillows, beds in the sky don't get more comfortable than this. A flight attendant gladly provided turndown service to get it ready for a quick nap while I changed.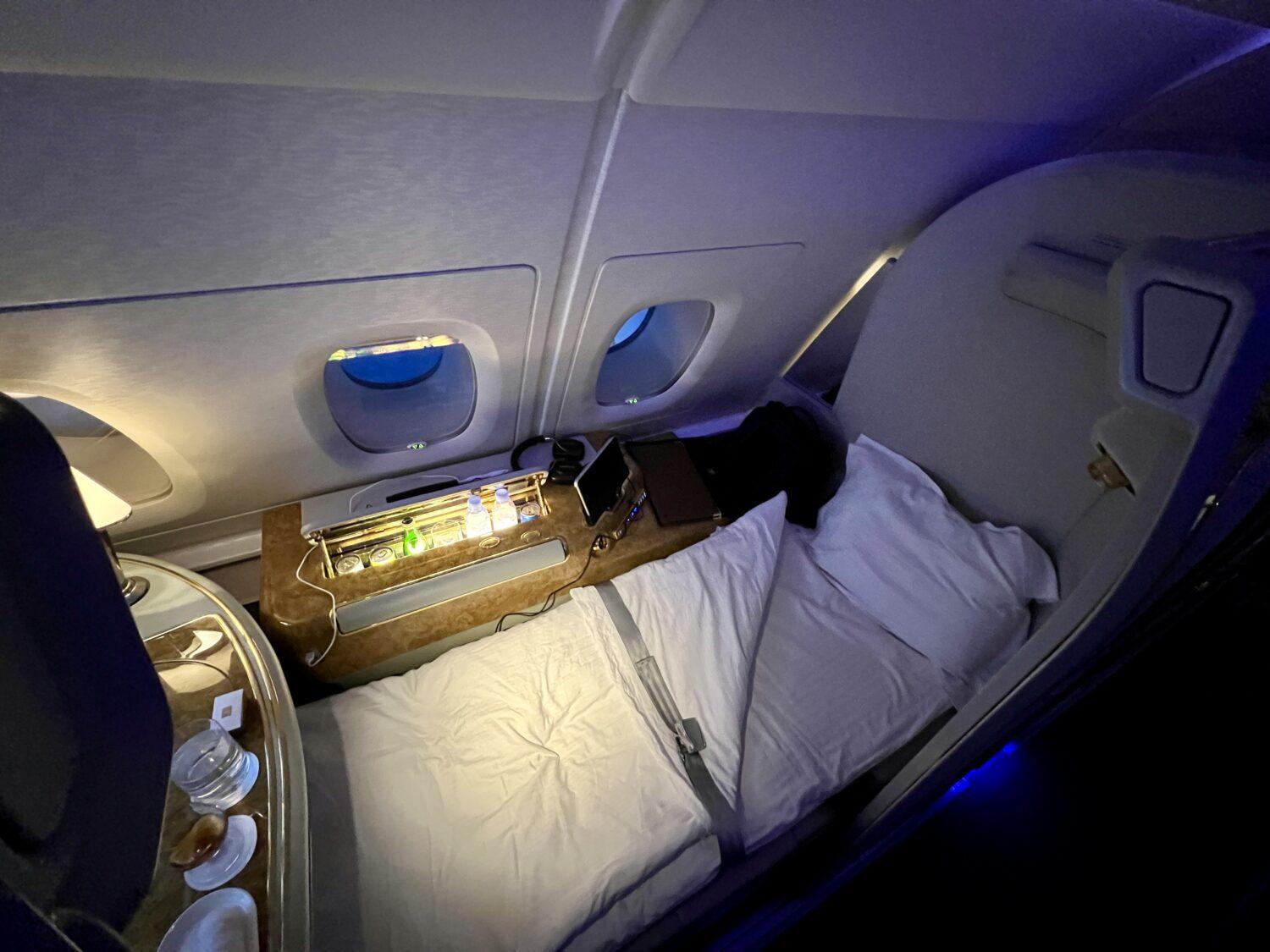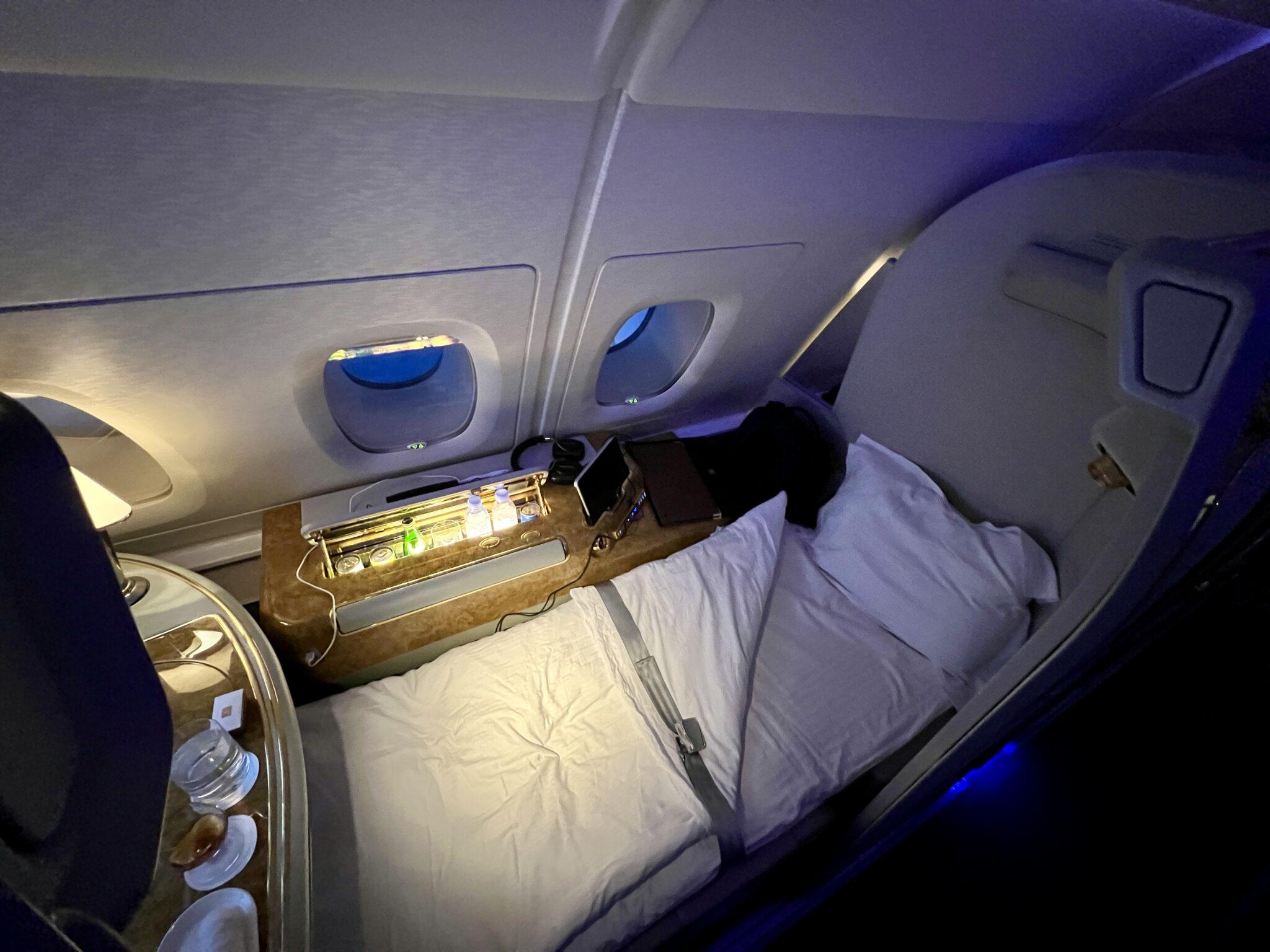 It's a daytime flight from Italy back to the States, so you don't really need to sleep. But with the doors closed in this cozy suite, how could you not?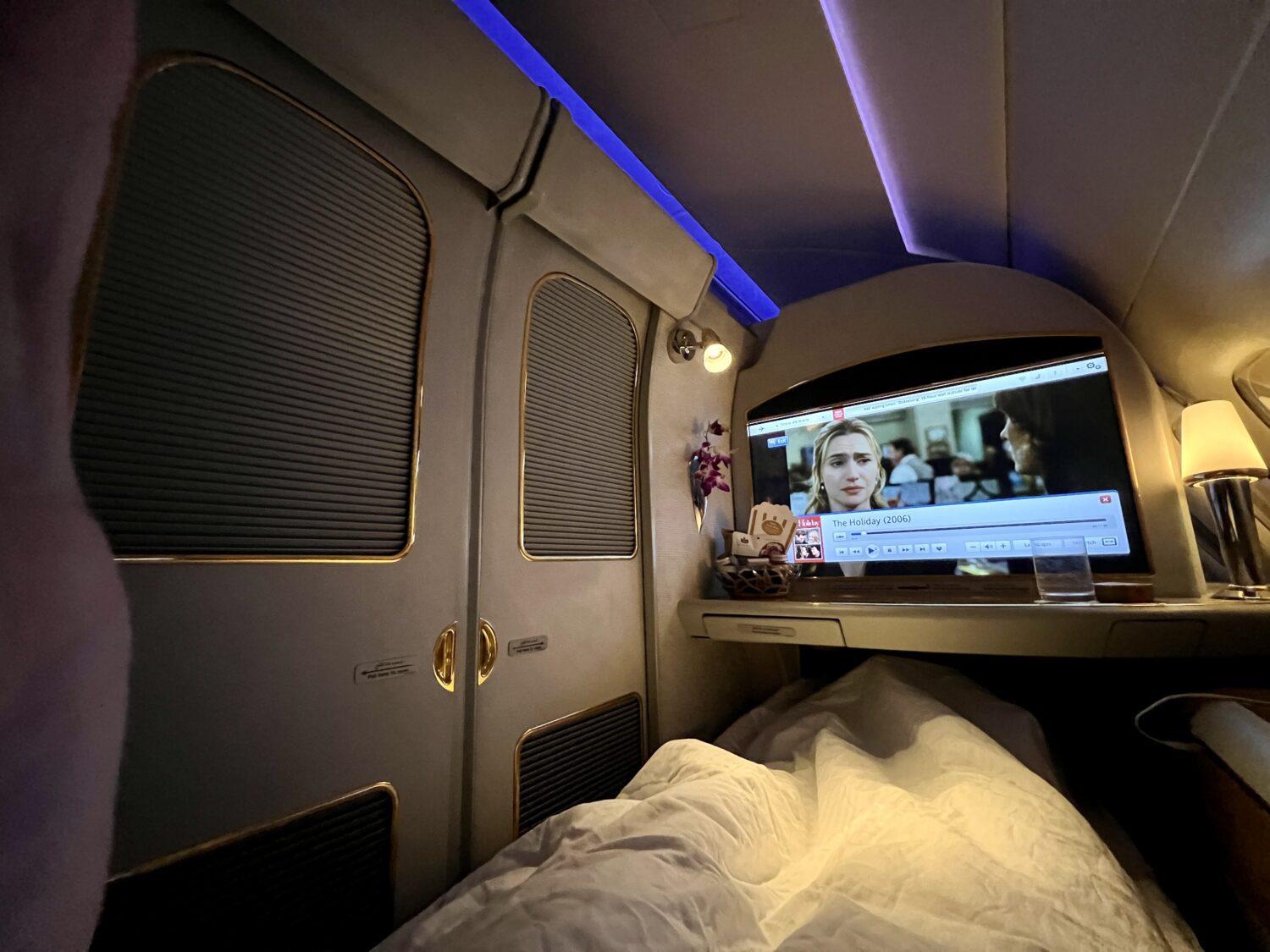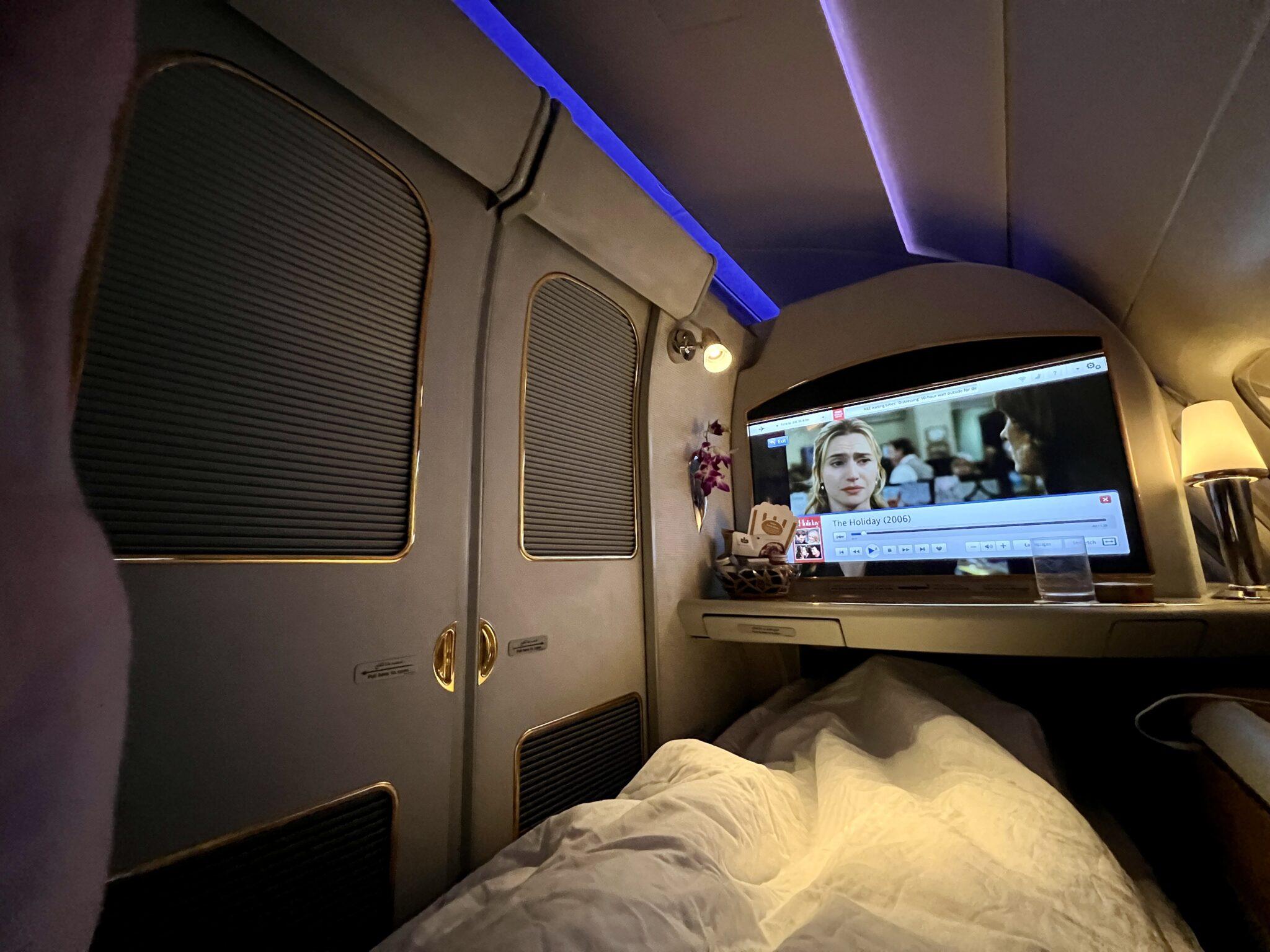 The comfortable seat, excellent bedding, ample space, and privacy of the suite combined to make it easily the most comfortable bed I've had at 38,000 feet.
Emirates First Class Shower
There are airplane bathrooms, and then there's this.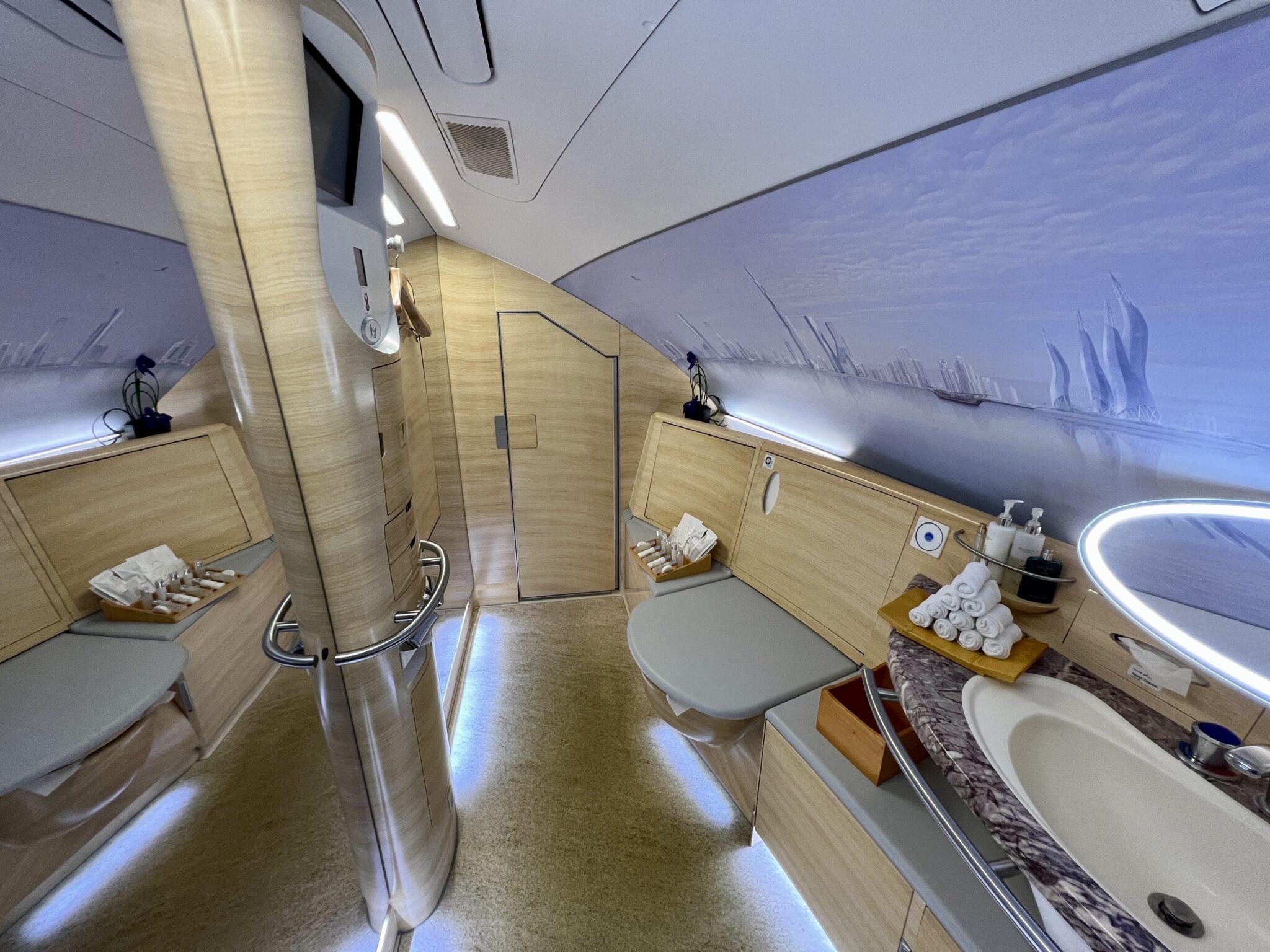 Emirates has two positively massive lavatories at the front of the cabin – but really, they're more like mini spas in the sky. A massive vanity? Check. Cloth hand towels? Check. Heated floors? Check. Floor-to-ceiling mirrors? Check.
Oh, and this.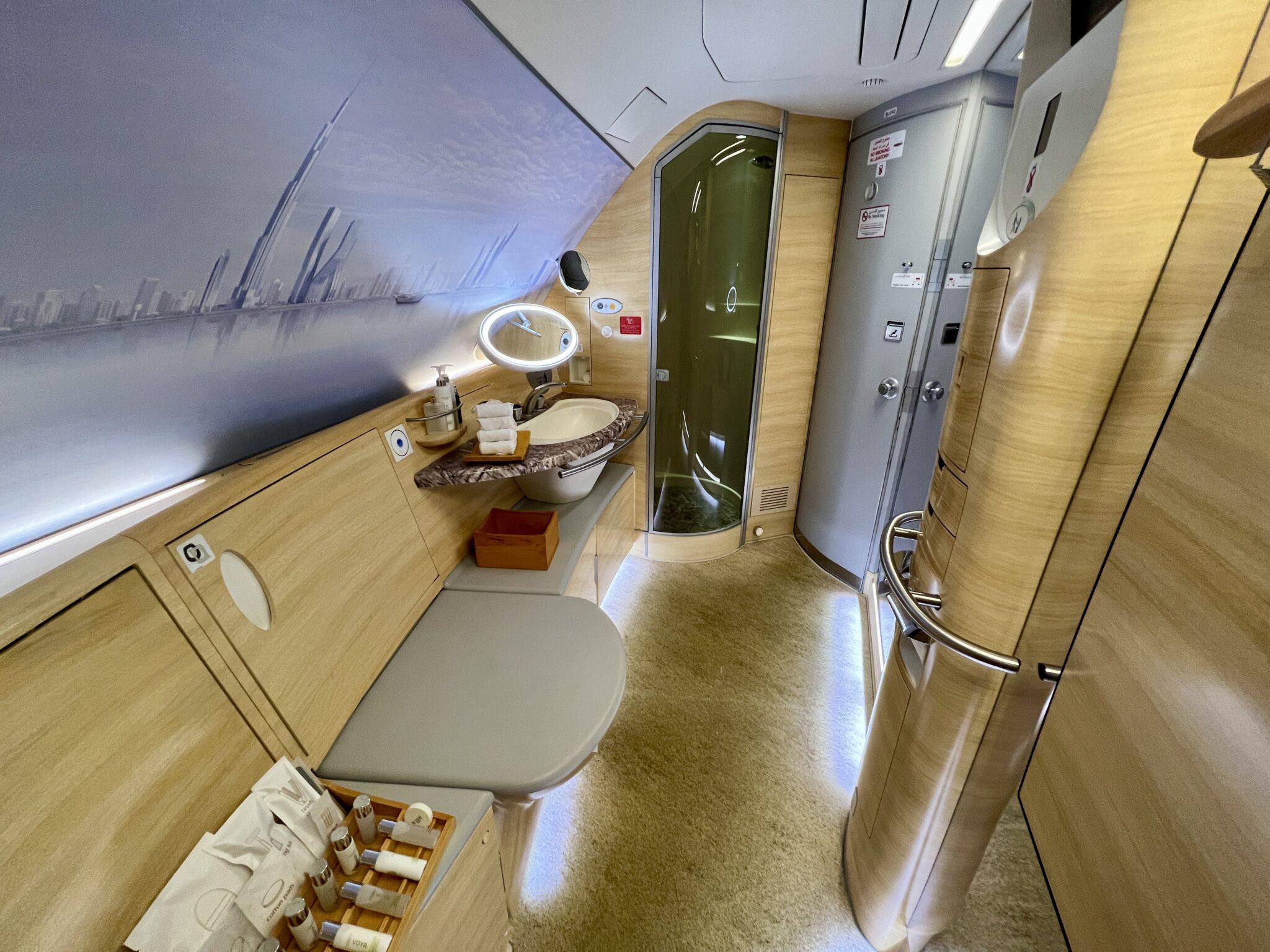 Emirates is one of just two commercial airlines with showers onboard, the other being Etihad First Class on their own A380s. But really, this is the pinnacle. You cannot top this.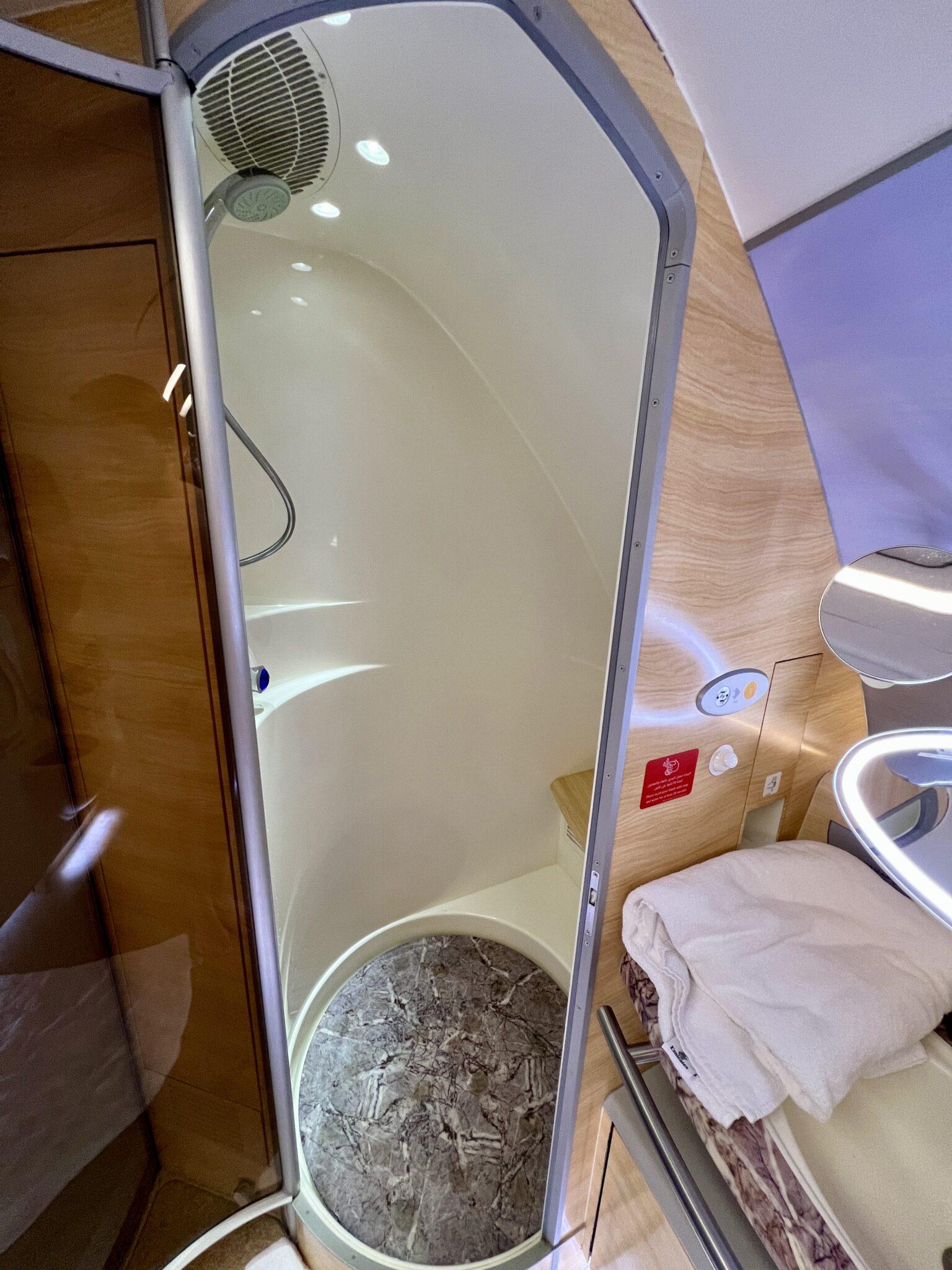 Soon after boarding, a flight attendant stopped by and asked if I'd like to schedule an appointment for a shower. Yes, please! Right at the time I chose, about two-and-a-half hours before landing, the flight attendant came to whisk me up front to the shower. There were plenty of toiletries, towels, and other goodies at the ready. There's also a hair dryer available, should you need it.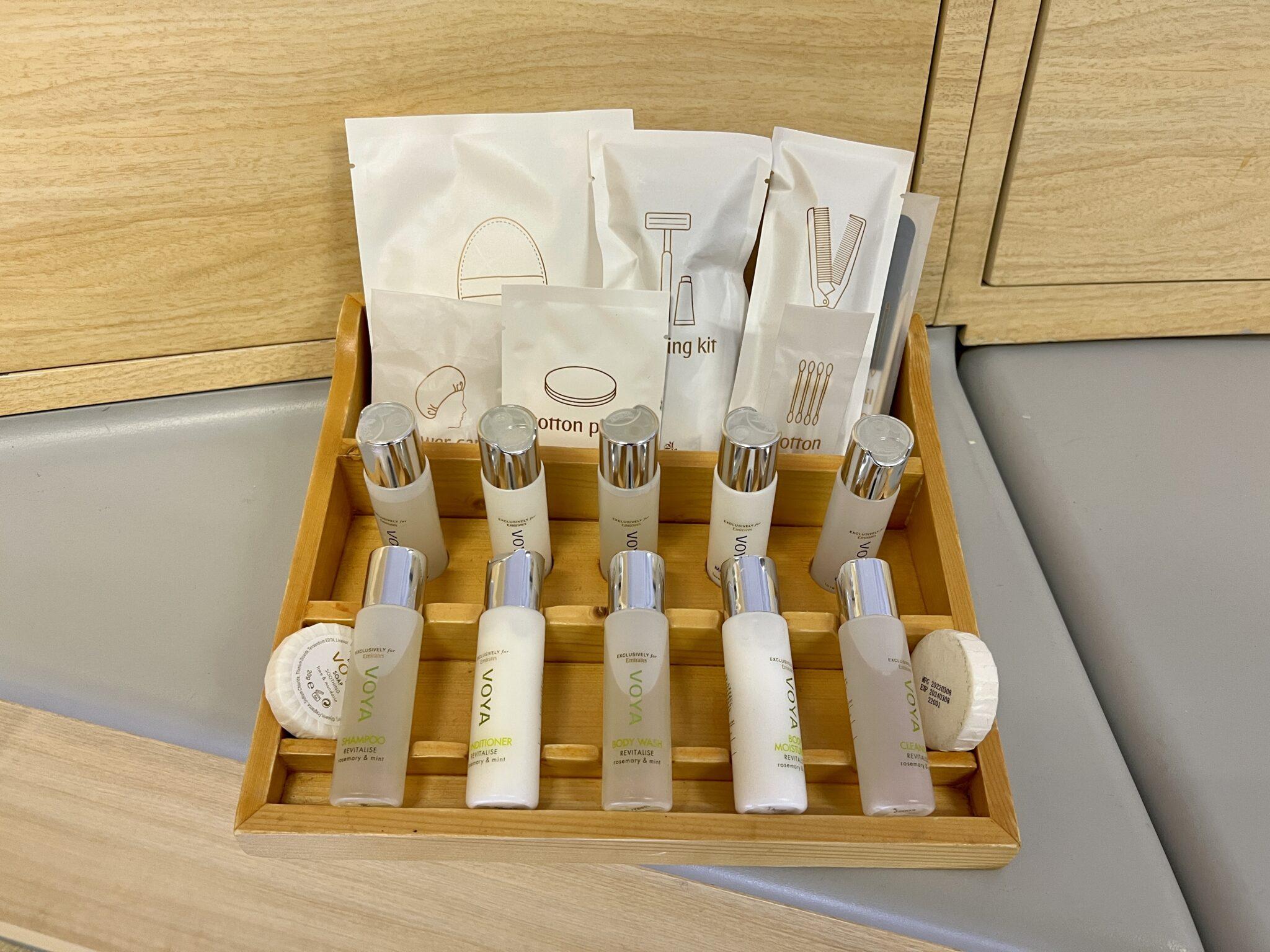 Each passenger is allotted up to five minutes of water, but that's plenty – especially since you can stop and start the water as needed. And yes, the shower pressure is quite good, in my experience. And while it's by no means massive, the Emirates First Class shower isn't tiny, either.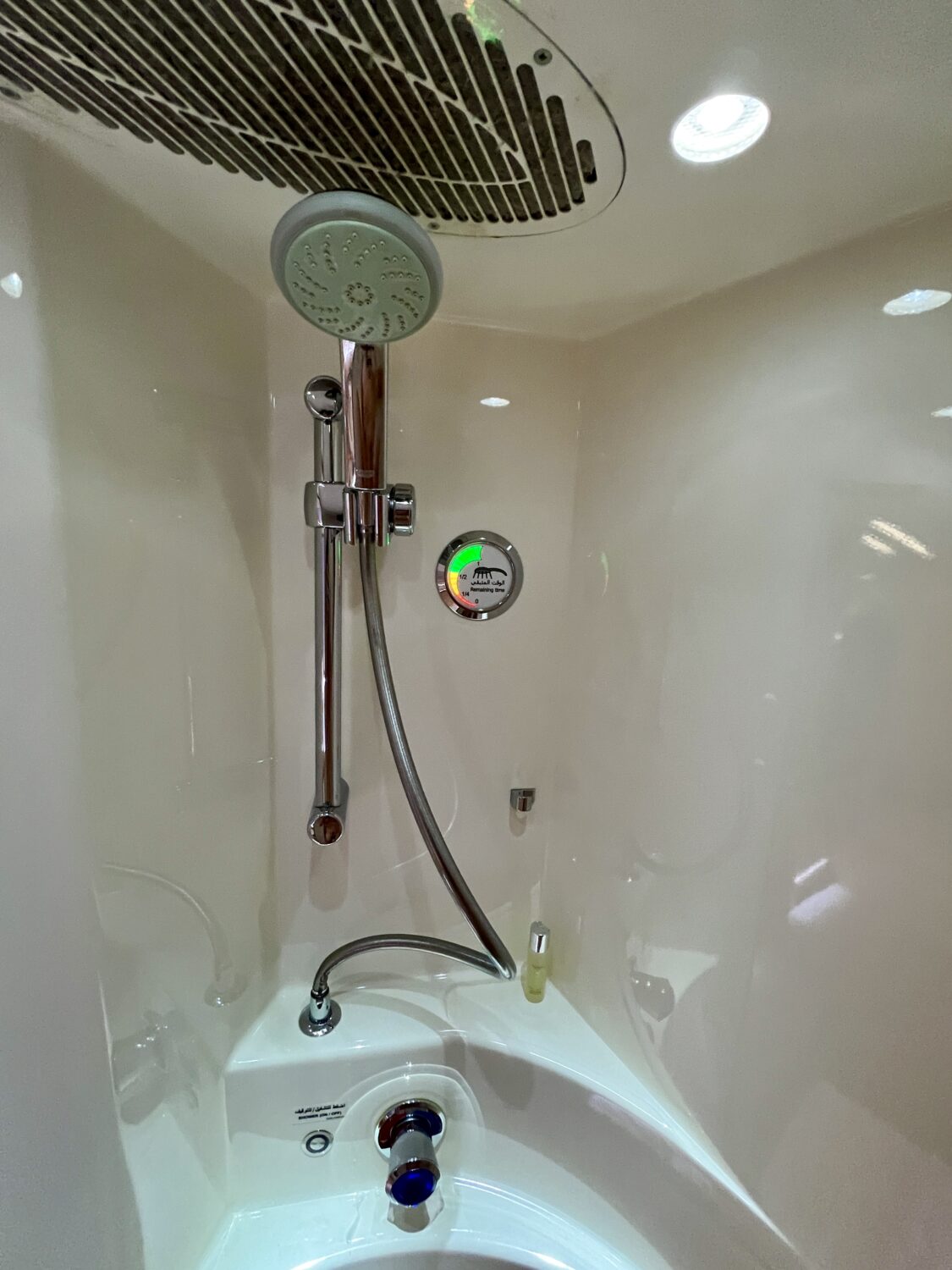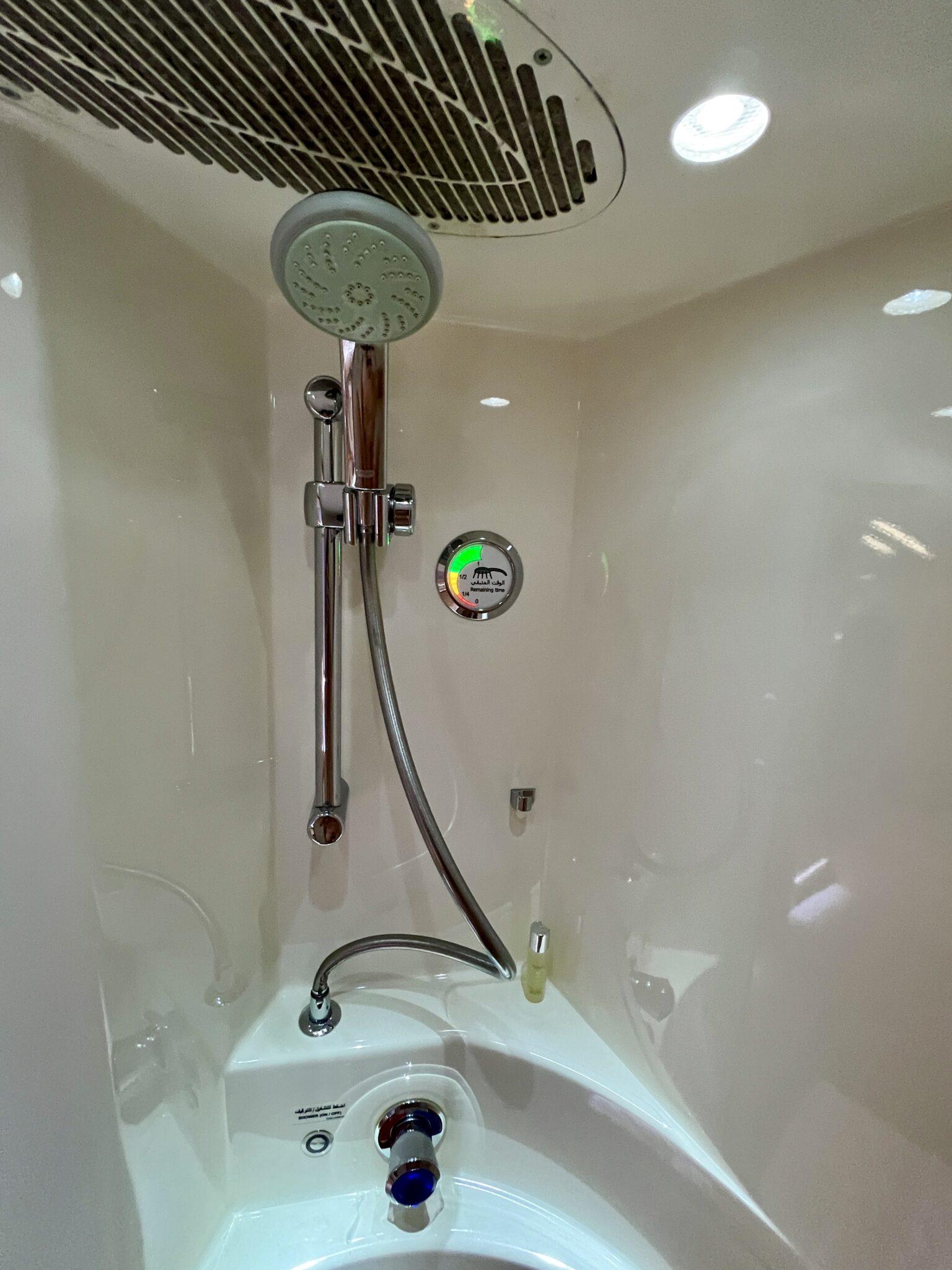 Let me tell you: Showering while crossing the Atlantic Ocean is one of the most surreal, laugh-out-loud, pinch-me-I-can't-believe-this-is-real moments I've had in years of travel. Is a shower necessary on an eight-hour flight? Probably not. Is it a bit of a gimmick? Sure, maybe.
But is it also cool as hell? Absolutely. To finish off an unreal experience, I returned to my suite after showering to find a plate of fruit and a box of chocolates.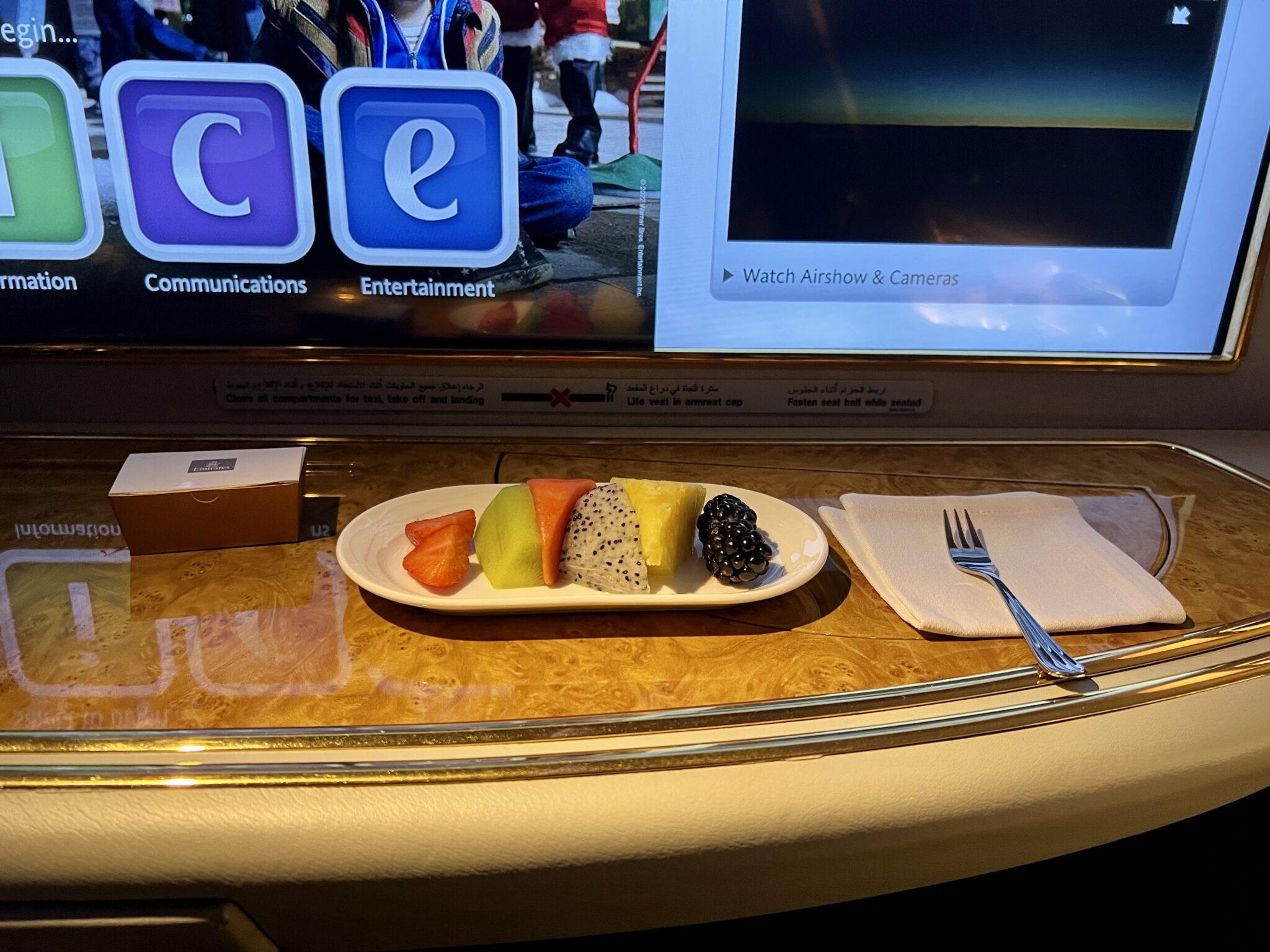 An Onboard Bar, Too
Yes, that's right. A bar at 40,000 feet.
Emirates is one of just a handful of airlines in the world that offer a dedicated lounge onboard where passengers can mull around, sip, and snack while cruising at altitude. You'll only find it on Emirates' A380s.
It's located all the way at the back of the upper deck, behind the final row of Emirates business class. Emirates business class and first class passengers alike can visit here to grab a drink or a small snack.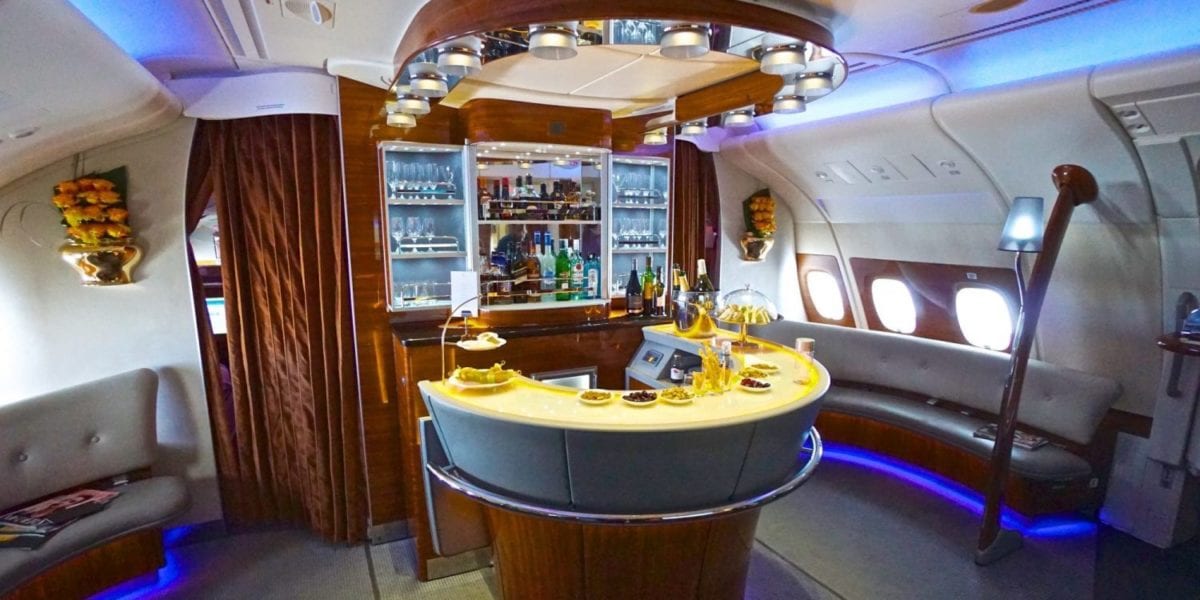 Tip: Be sure to ask for your photo behind the bar, if you want one! The Emirates crew will even snap a Polaroid of you.
Soon after takeoff and leveling off, a flight attendant swung by my seat and asked if I'd like something to eat or drink right away. When I told her I'd like to pop back to the bar first, she offered to escort me back there … and also said she'd send back a bottle of the good champagne if I'd like a glass. Twist my arm.
Within 30 minutes or so of takeoff, the dedicated (and delightful) bartender was getting the space set up with drinks, snacks, and treats.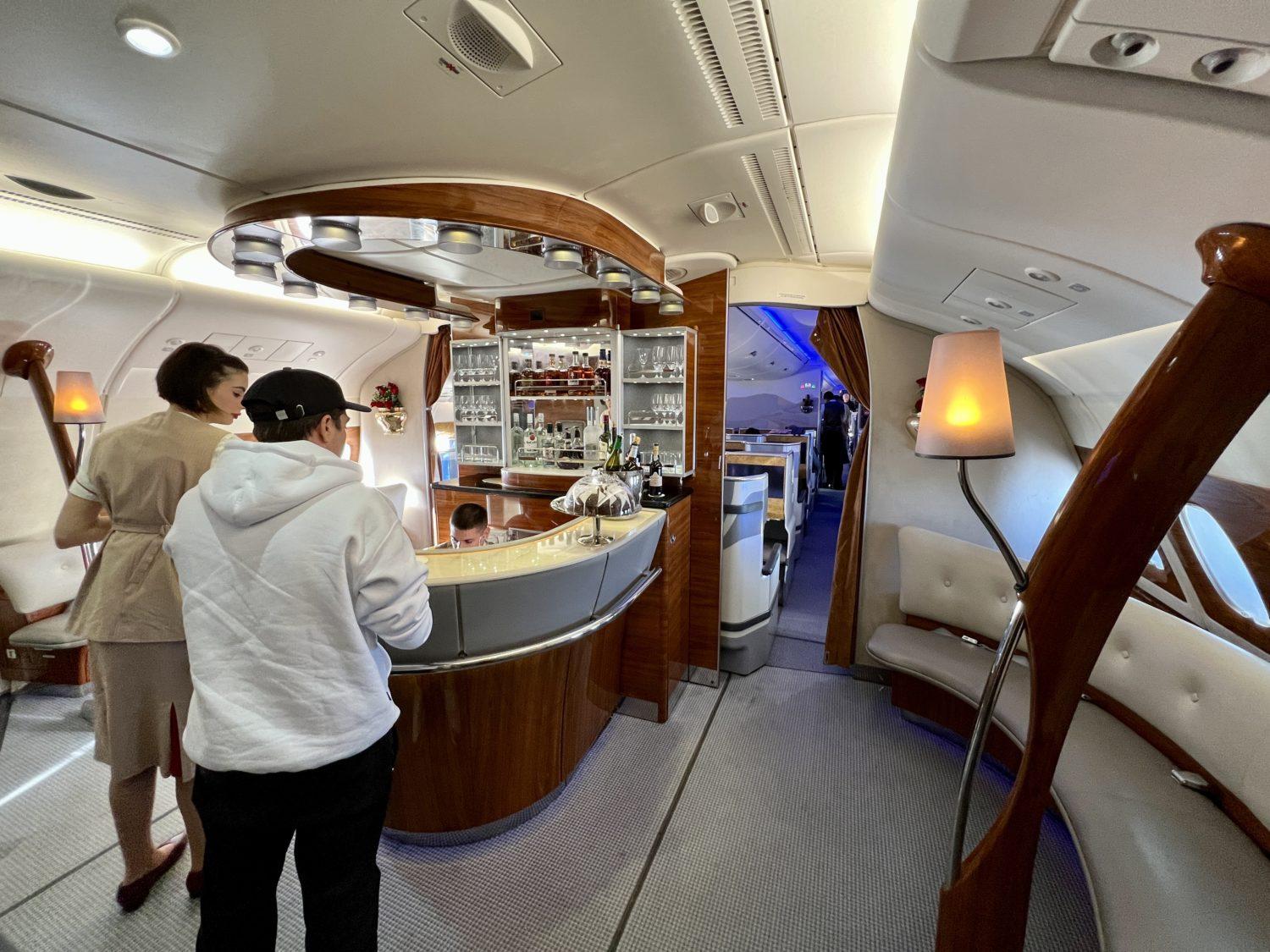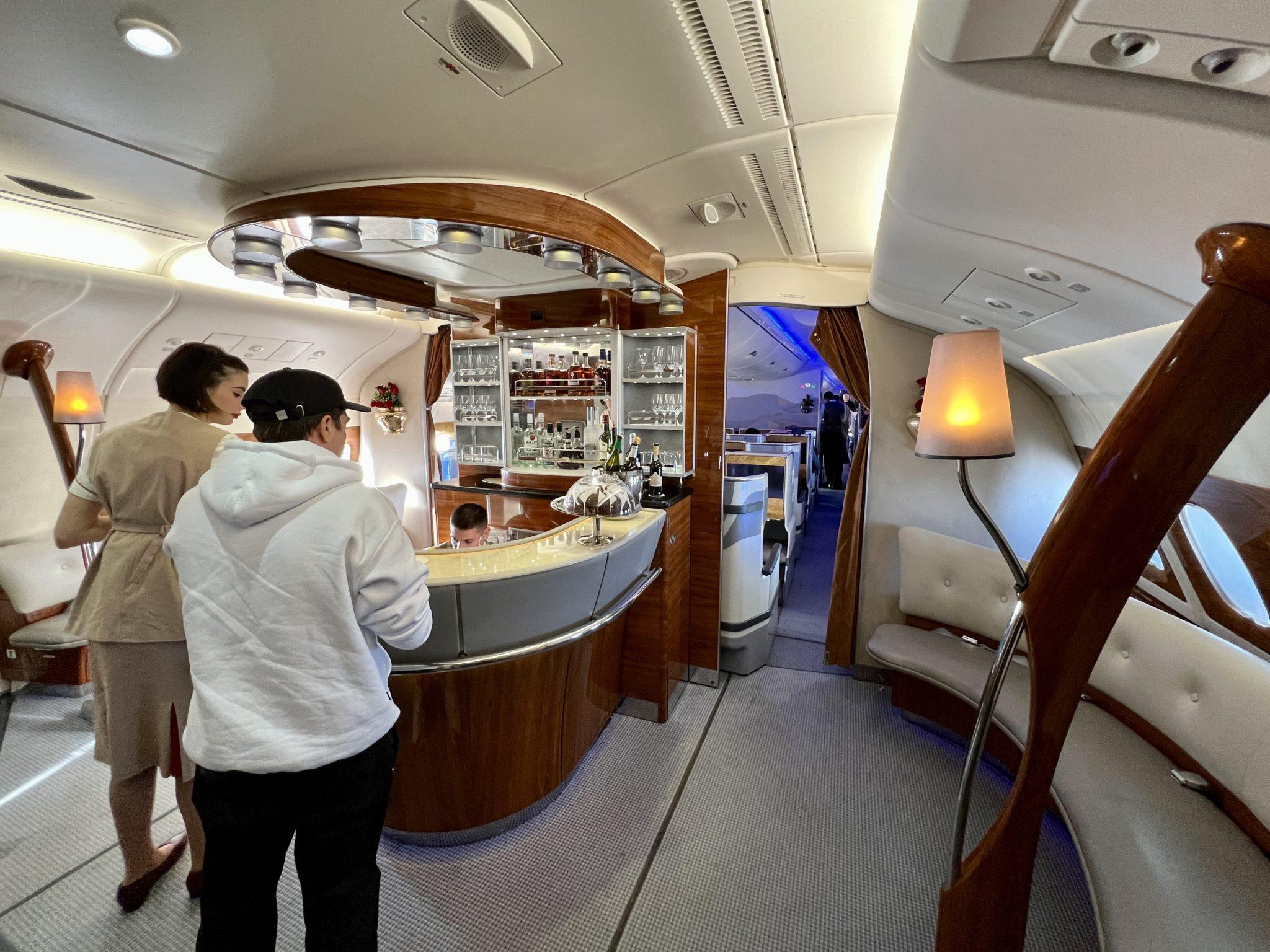 In addition to the circular bar at the center of the lounge, there are two sofas on either side along the windows with room for three – maybe four, if you really squeeze in.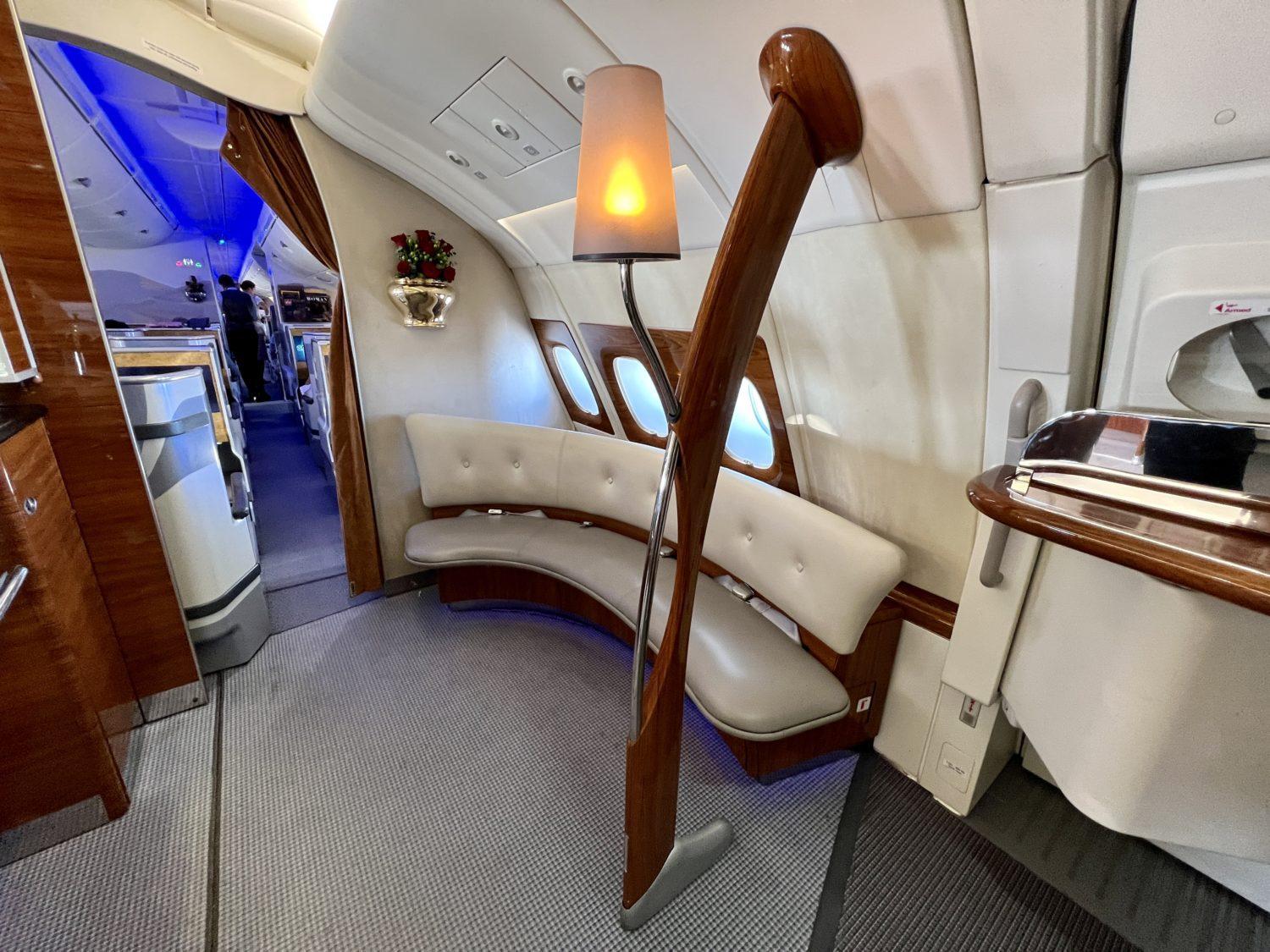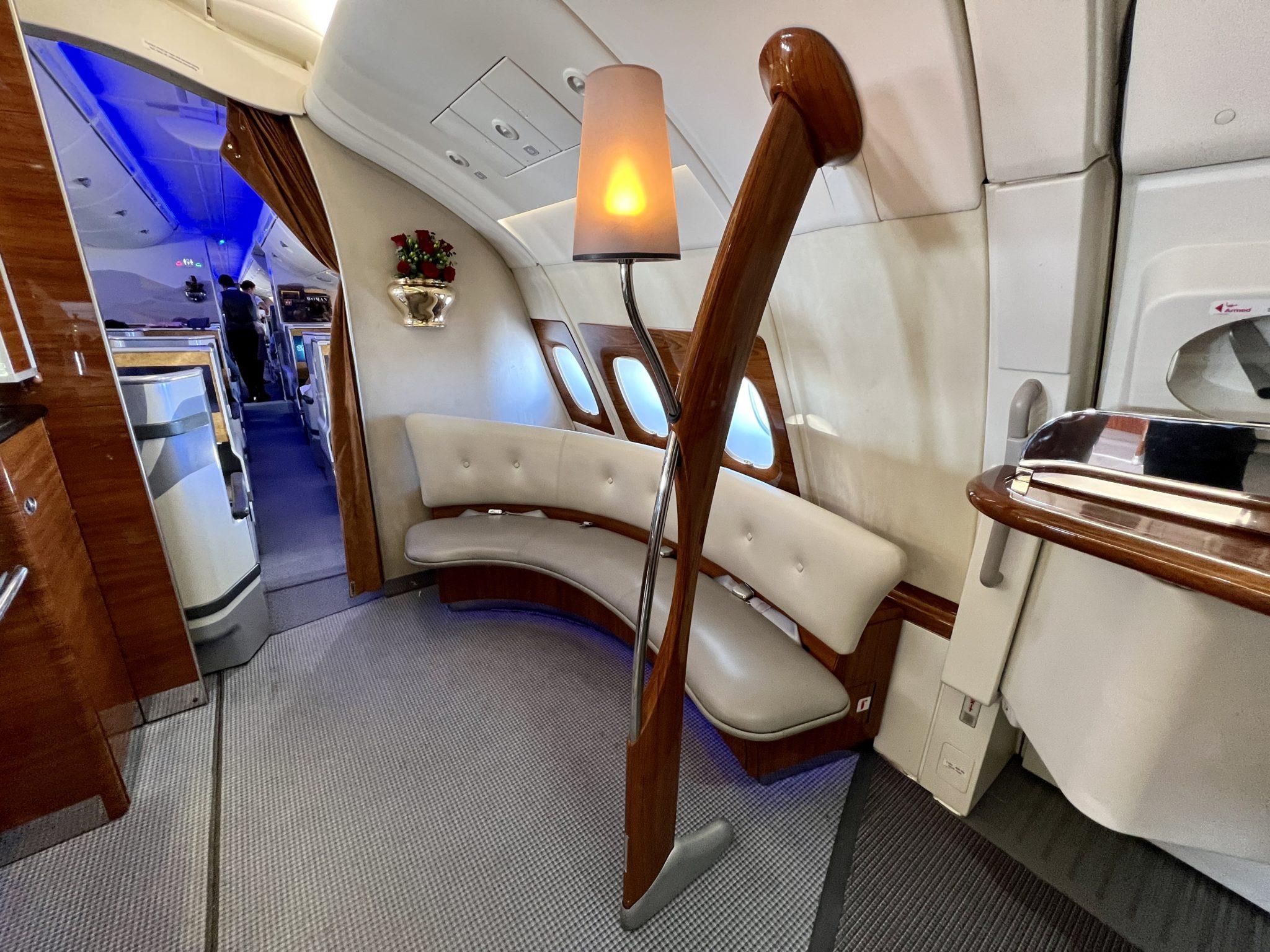 The crew also sets out some snacks like wrapped sandwiches, fruit, crackers, and chips on a small ledge at the back of the lounge area.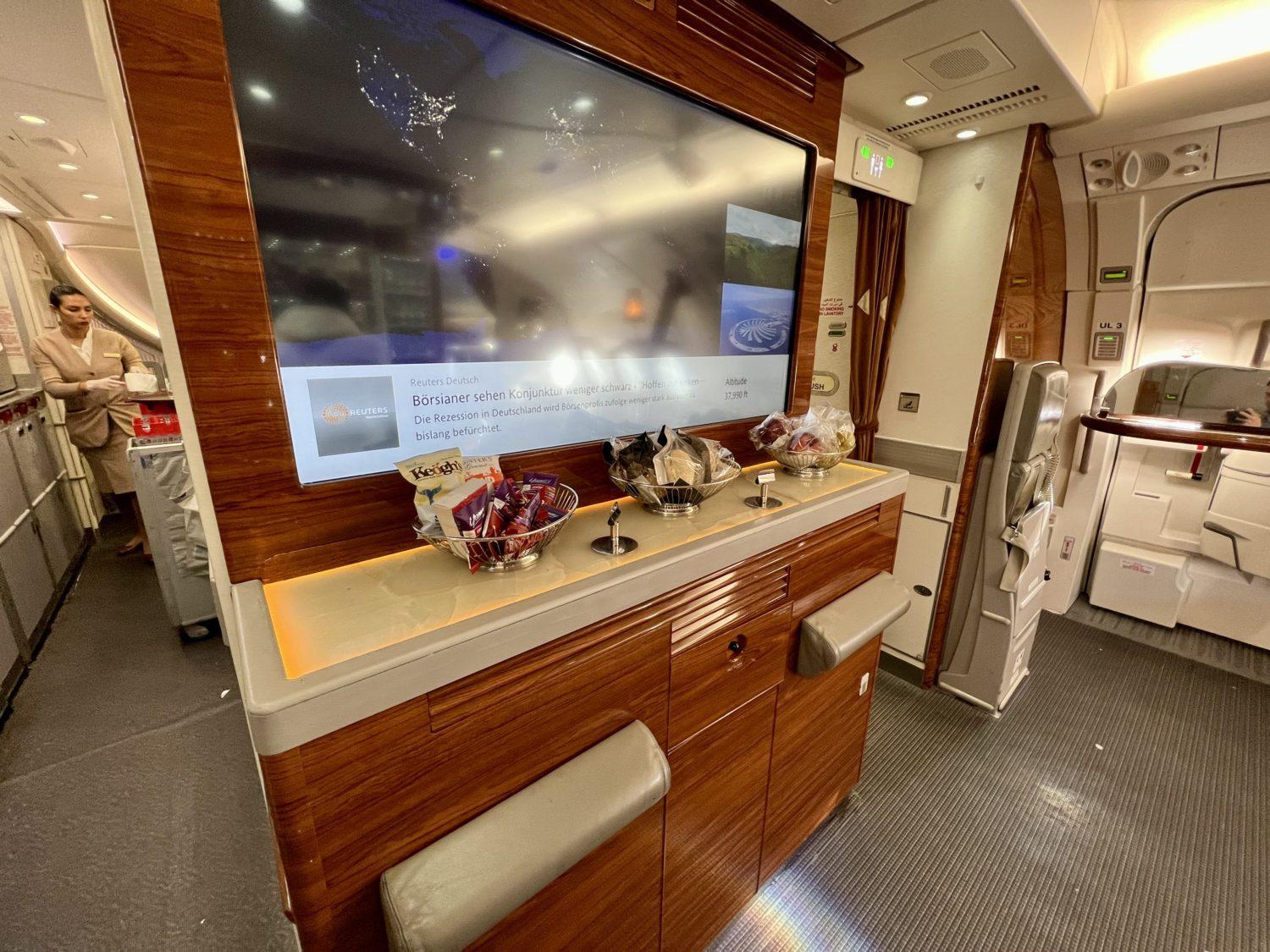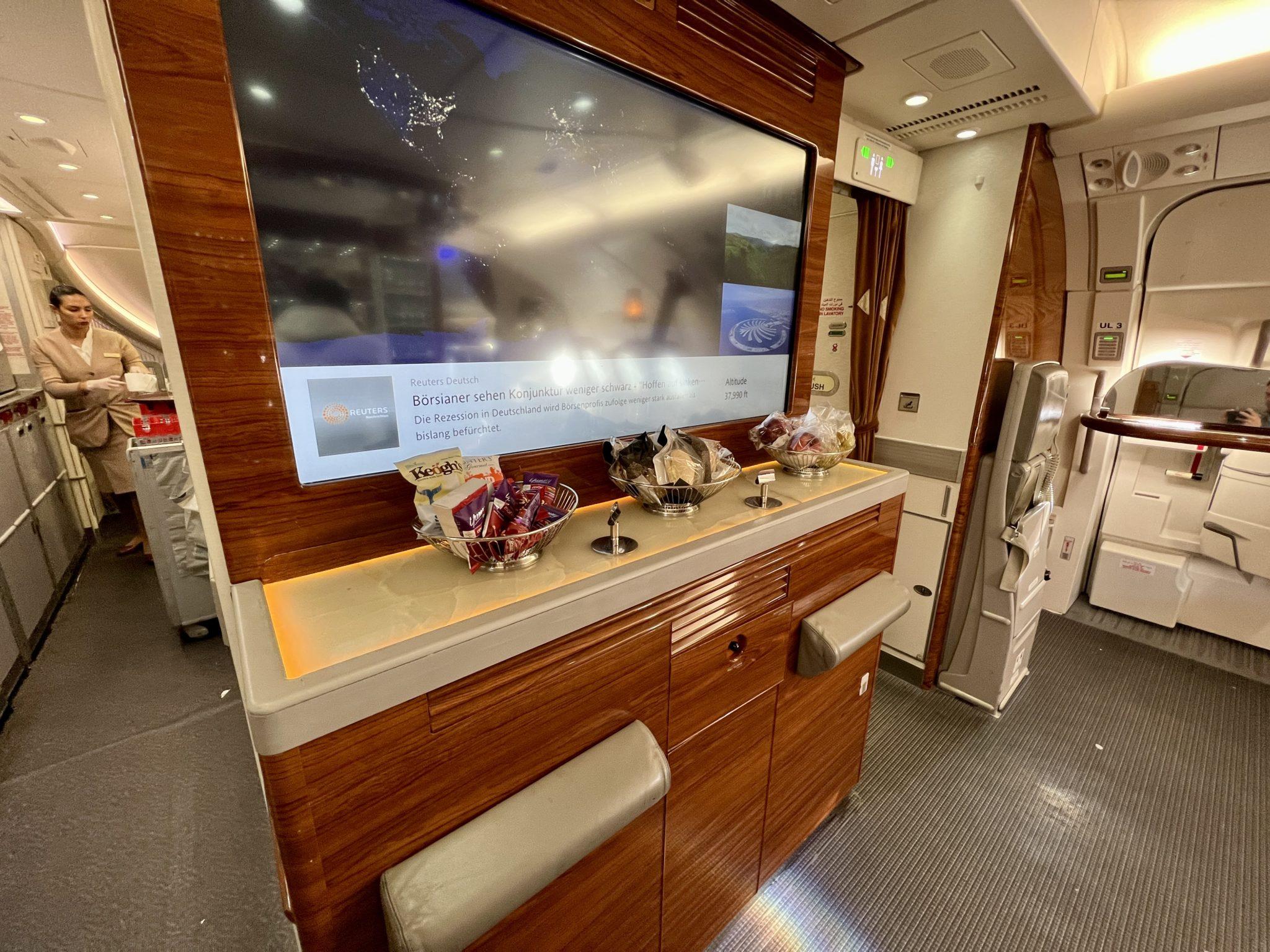 But the bar is the main attraction. Step up and order almost anything you want: A cocktail, wine, beer, or champagne.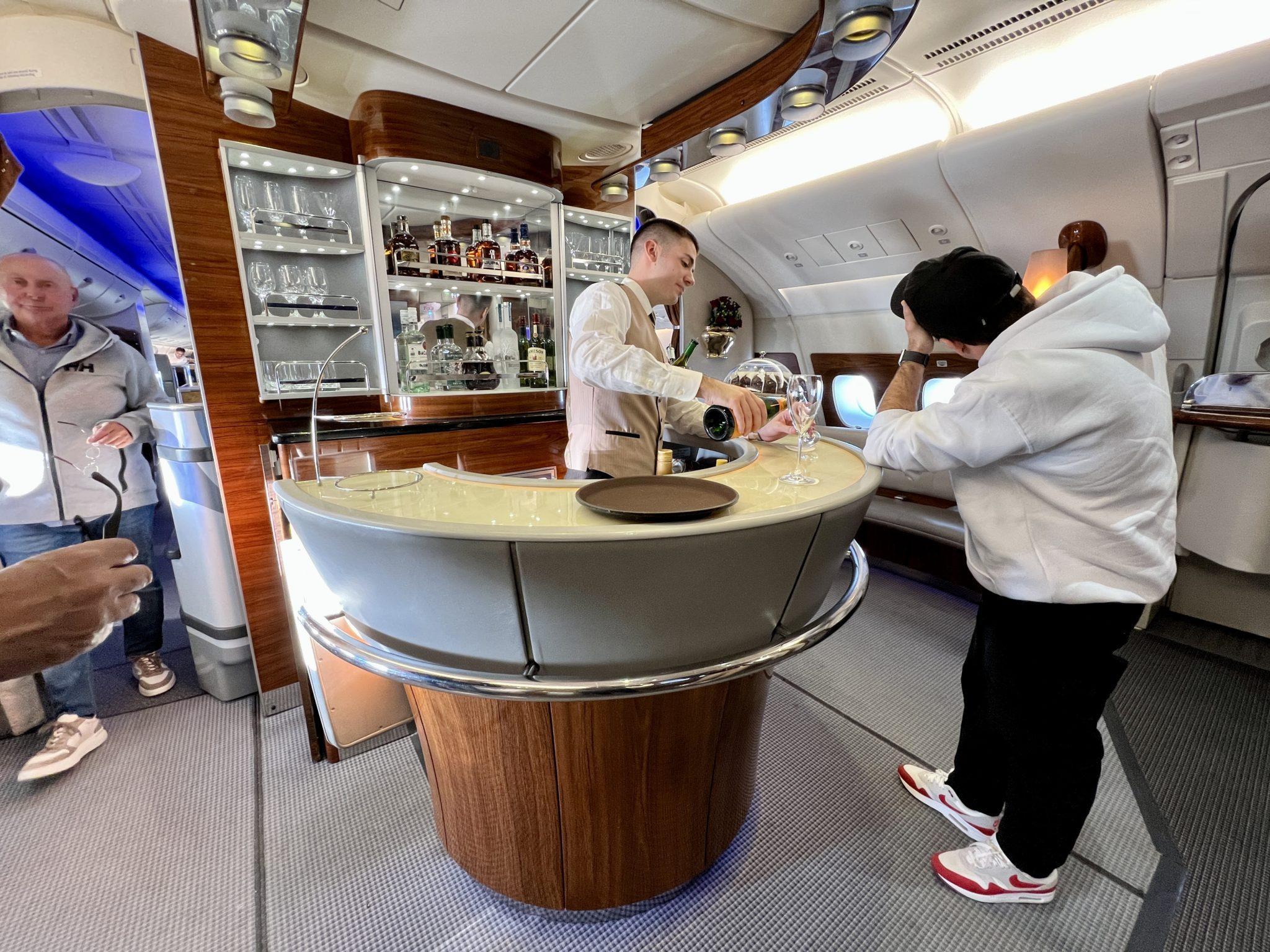 In addition to the small shelf of packaged snacks, you can grab something a bit more substantial to eat while relaxing in the lounge, which has its own menu.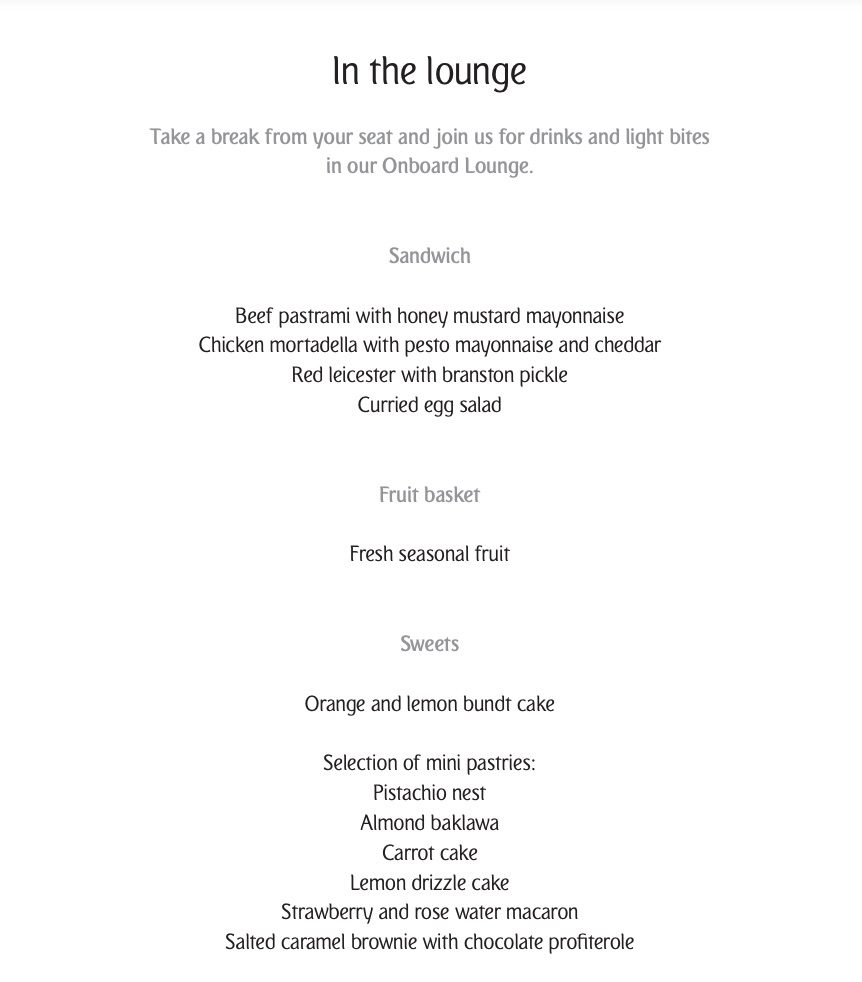 I enjoyed a glass of Dom Perignon champagne while milling about with a few other passengers before heading back to my suite.
Dining & Service in Emirates First Class
Service can make or break a flight, even on the world's best airlines with the coolest seats and amenities. And I have never felt more taken care of for eight straight hours than during this Emirates First Class flight.
Service was warm and friendly from boarding to deplaning, and I was unfailingly addressed by name each and every time. The primary flight attendant looking after me, Biljana, was impeccable: the perfect balance between being proactive and vigilant without being overbearing. She was constantly offering more: another glass of champagne, a second appetizer, a glass of sweet wine or fruit to accompany dessert. It never ended – and I never wanted it to.
The experience started within moments of sitting down, as a parade of flight attendants offered slippers, pajamas, and a glass of champagne if I wanted it. My answer was obviously of course – especially when Emirates pours the good stuff on the ground: Dom Perignon. And not just any bottle of Dom, but a 2003 Dom Perignon "P2," an extra-special bottle that typically retails for north of $400.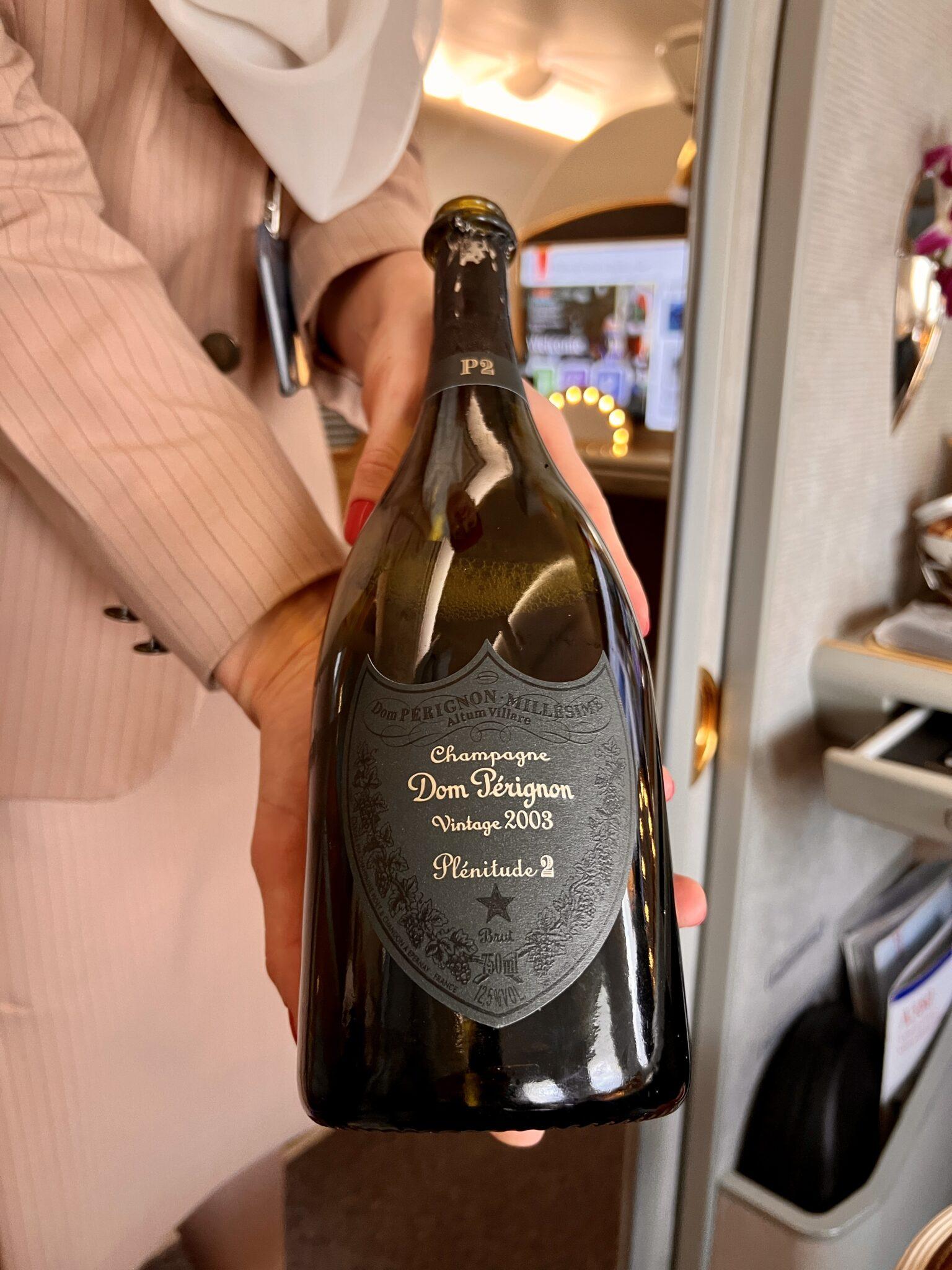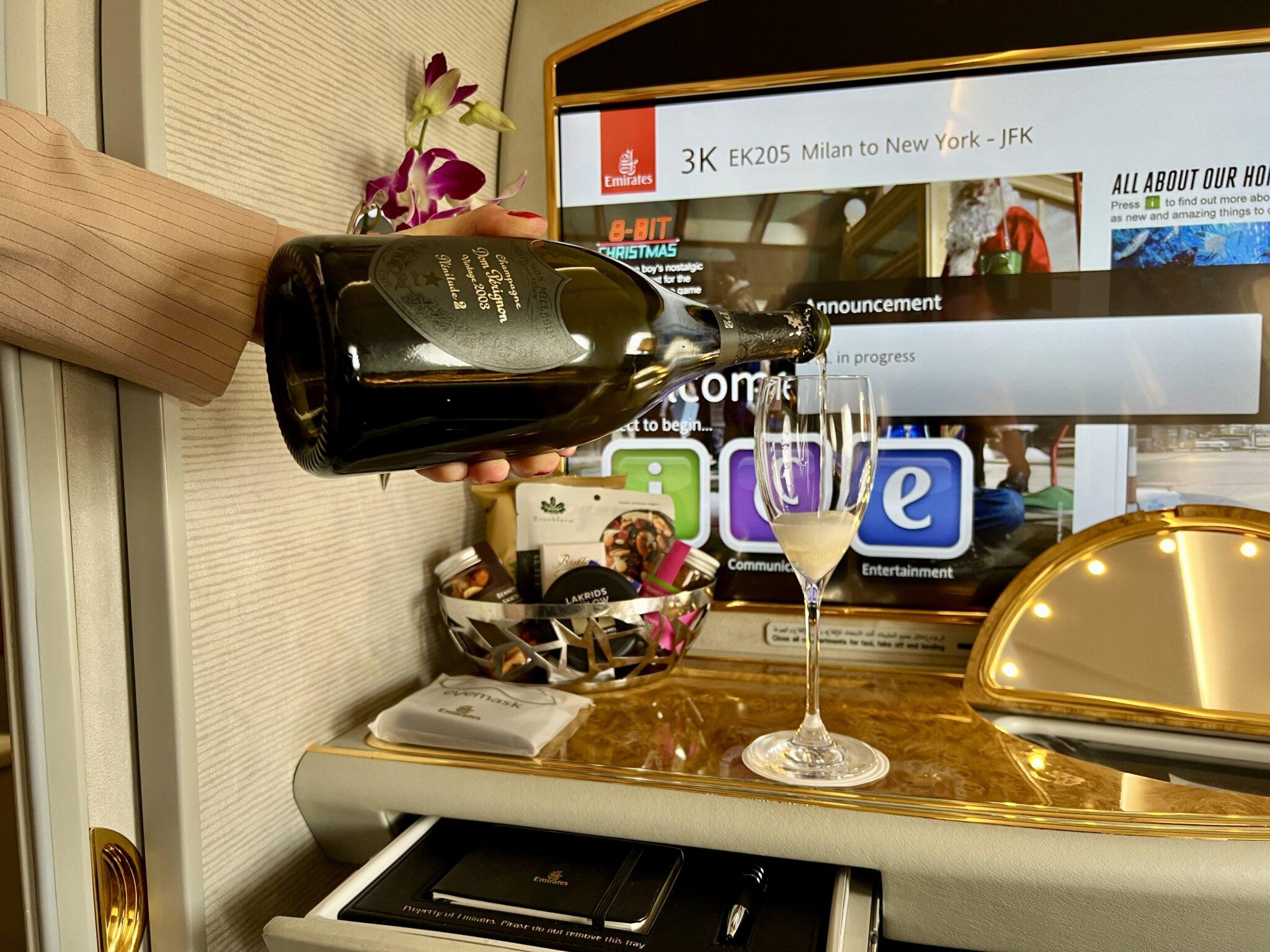 Next up, a cup of Arabic coffee and a date – a tradition on Emirates and other Middle Eastern airlines.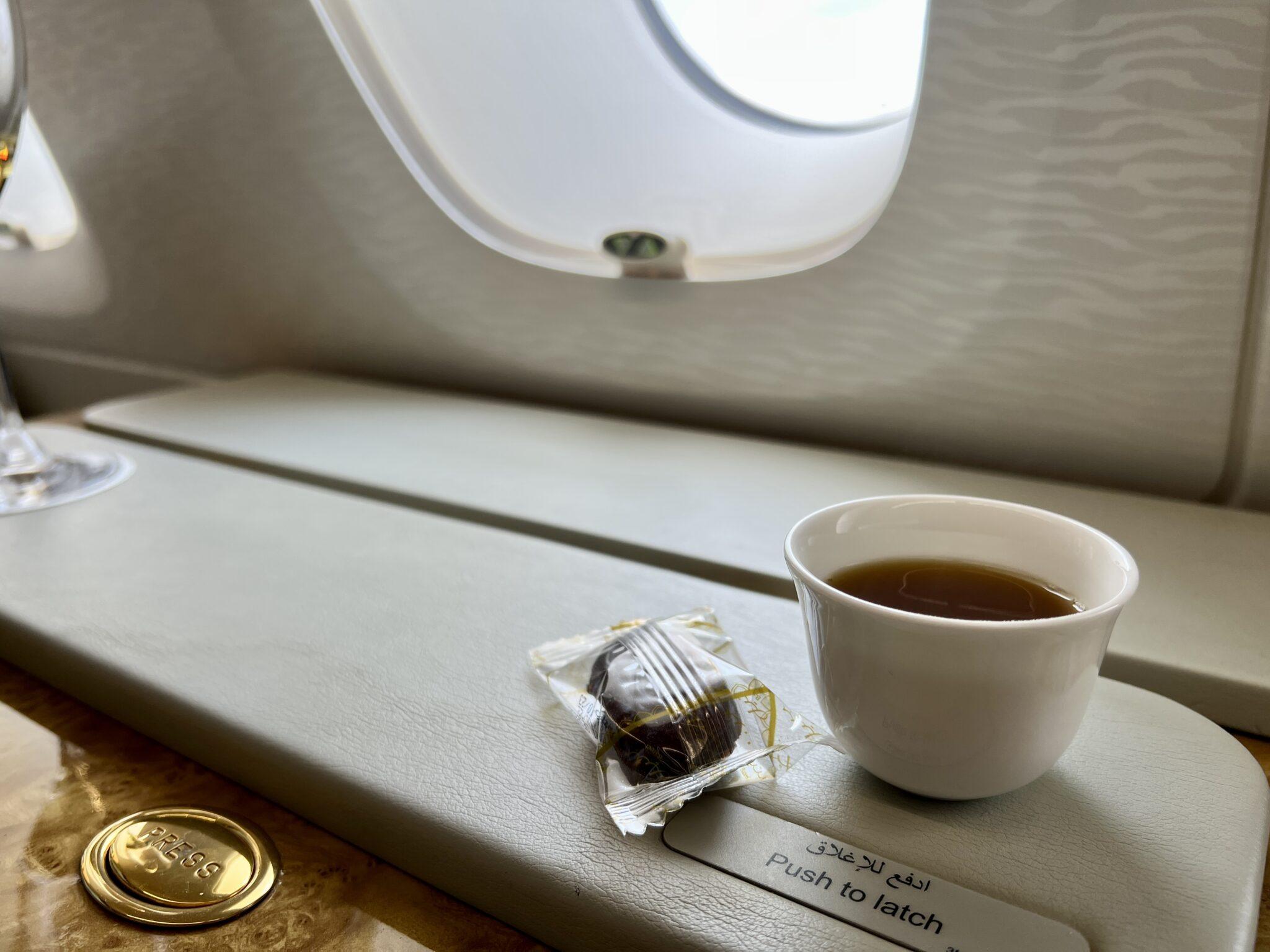 There aren't pre-set meal times in Emirates First Class: you can dine anytime you want. And there's an extensive menu to pick from inside this impressive leather folio.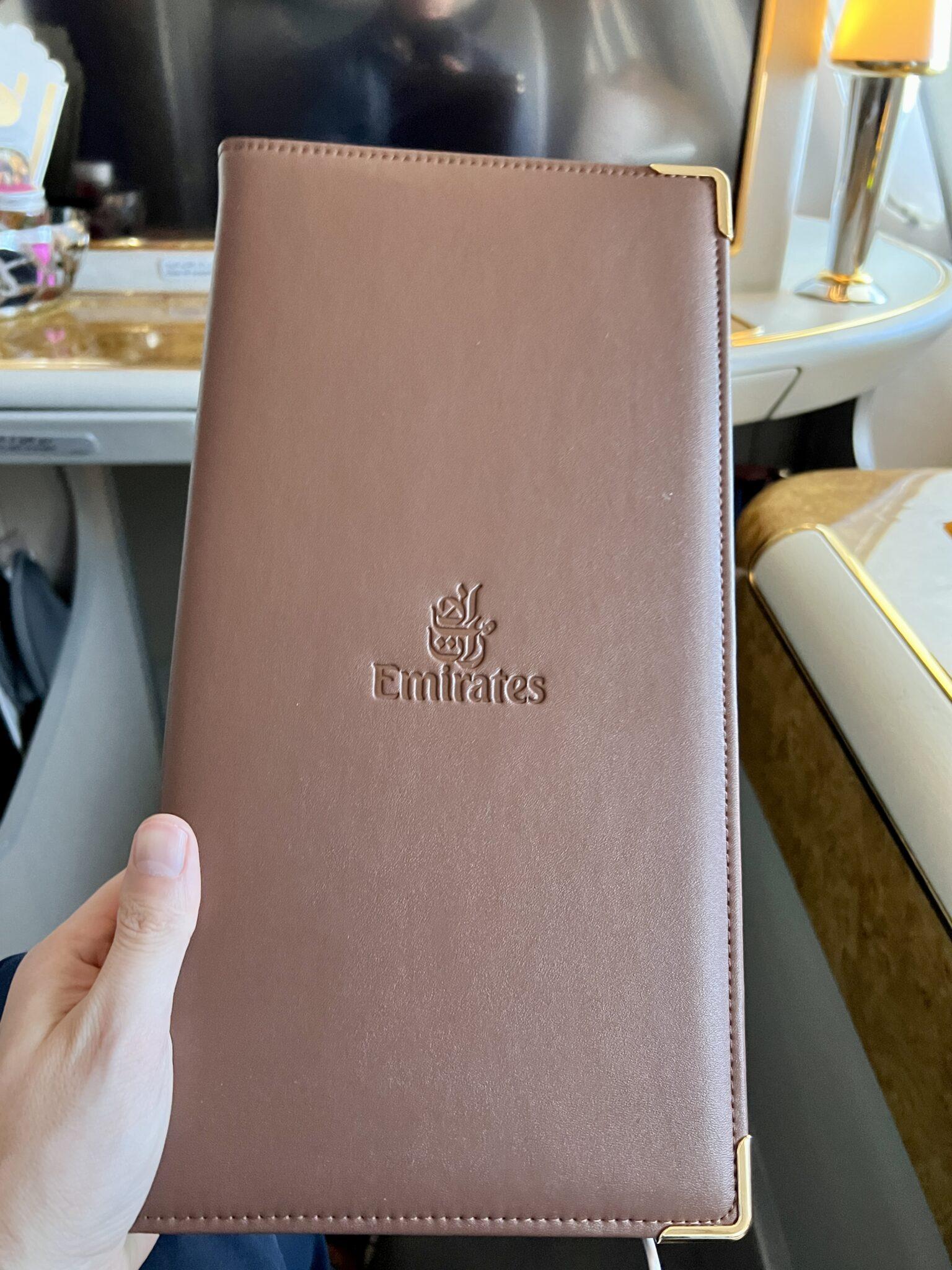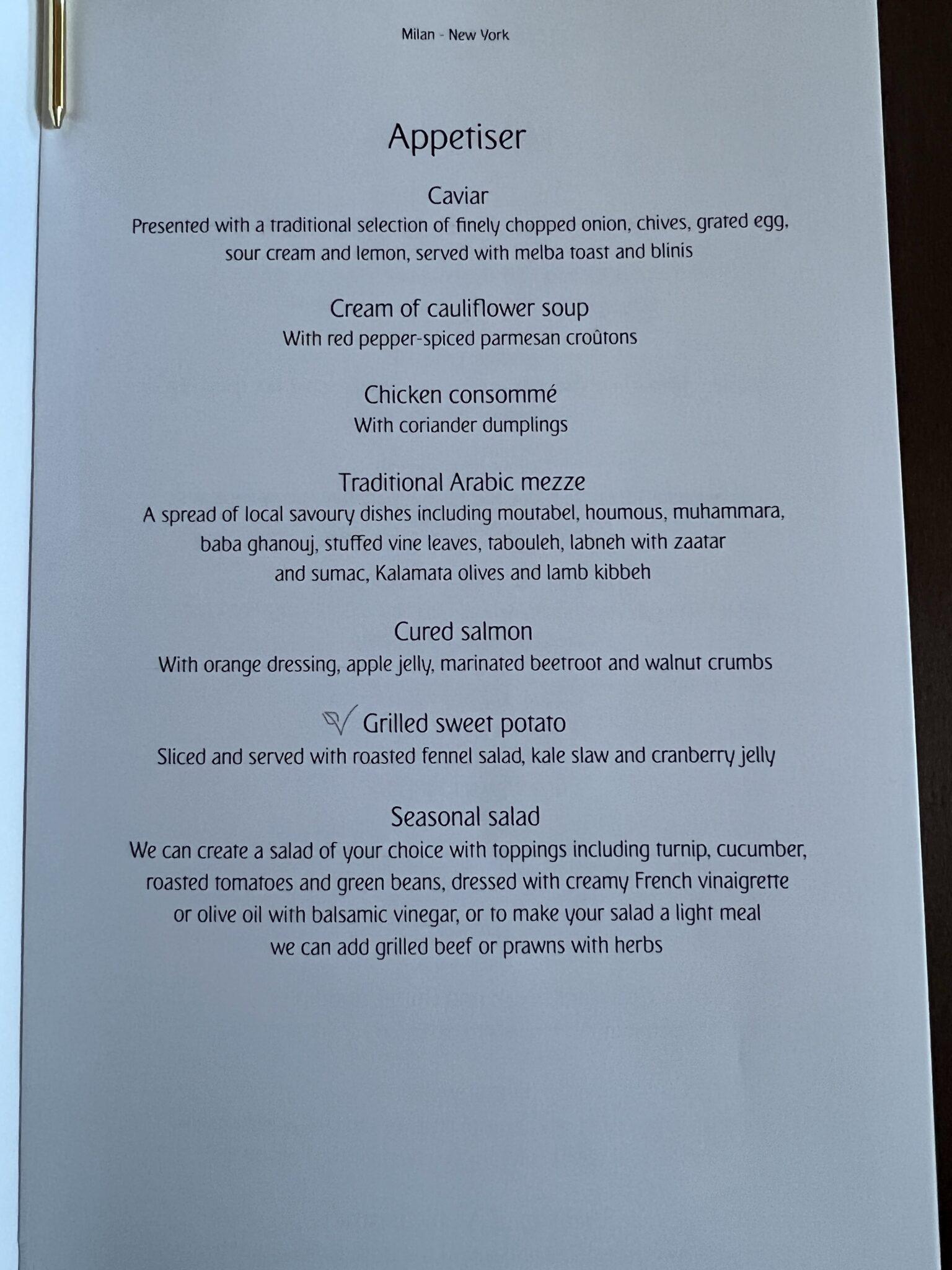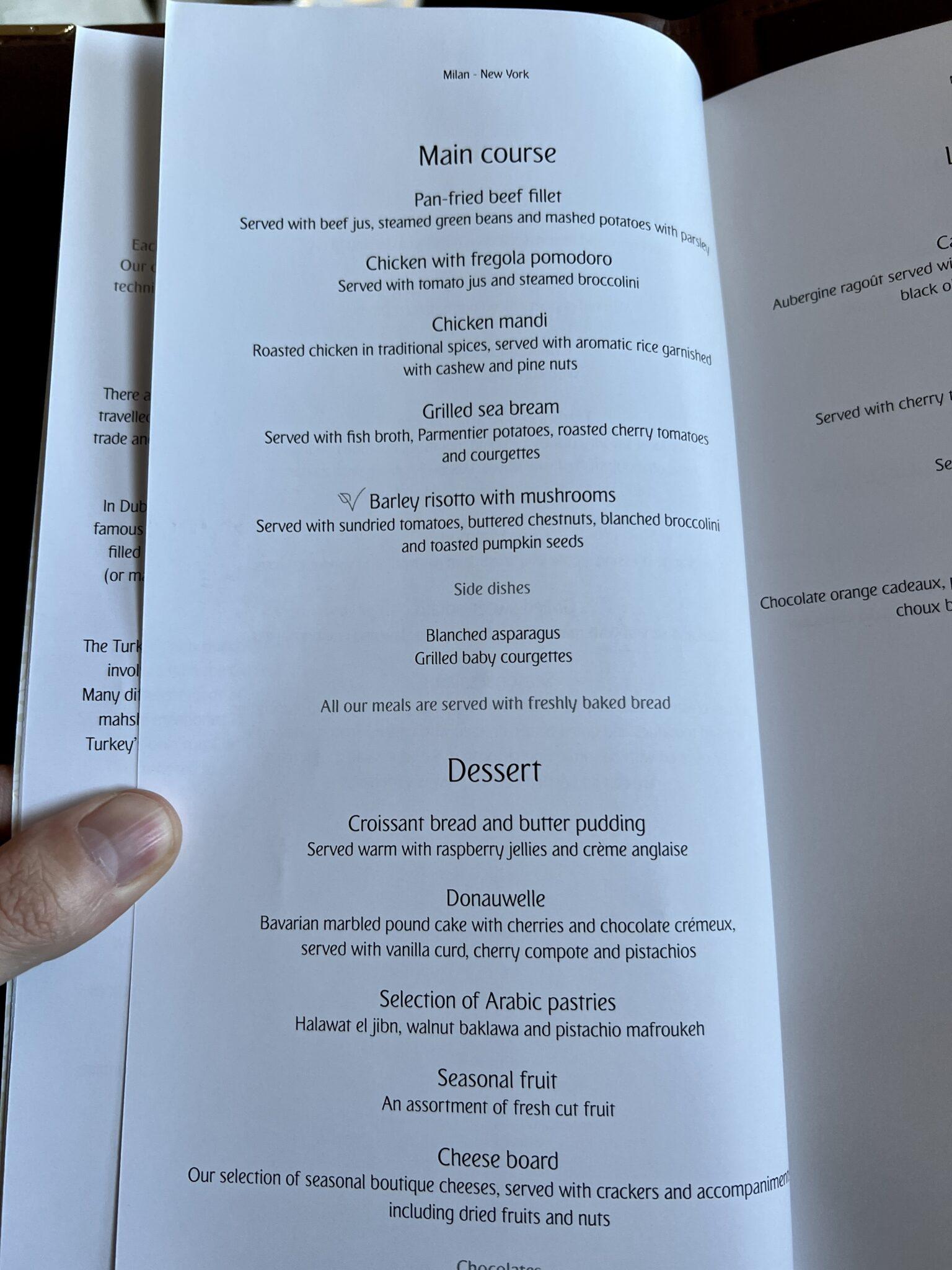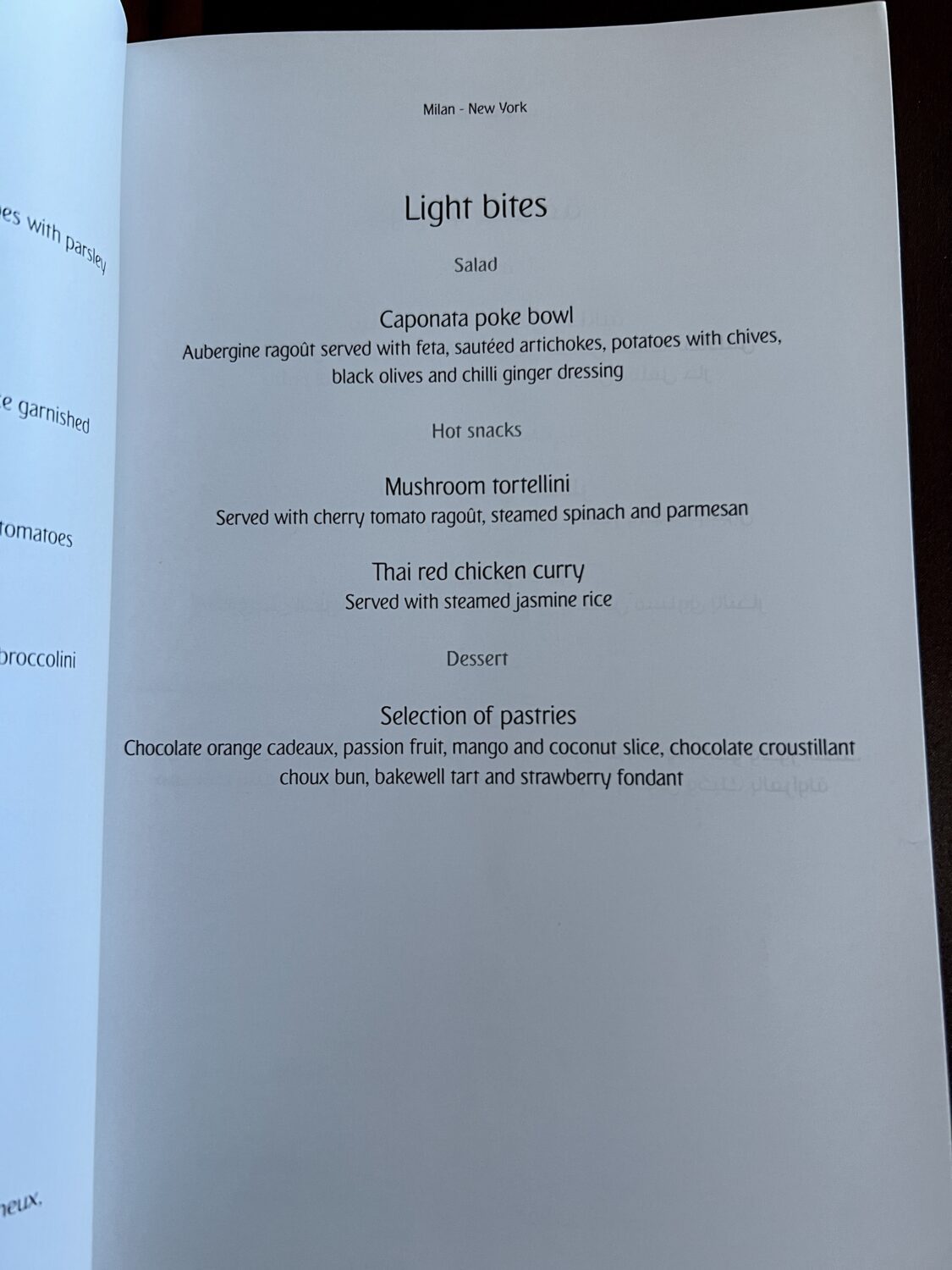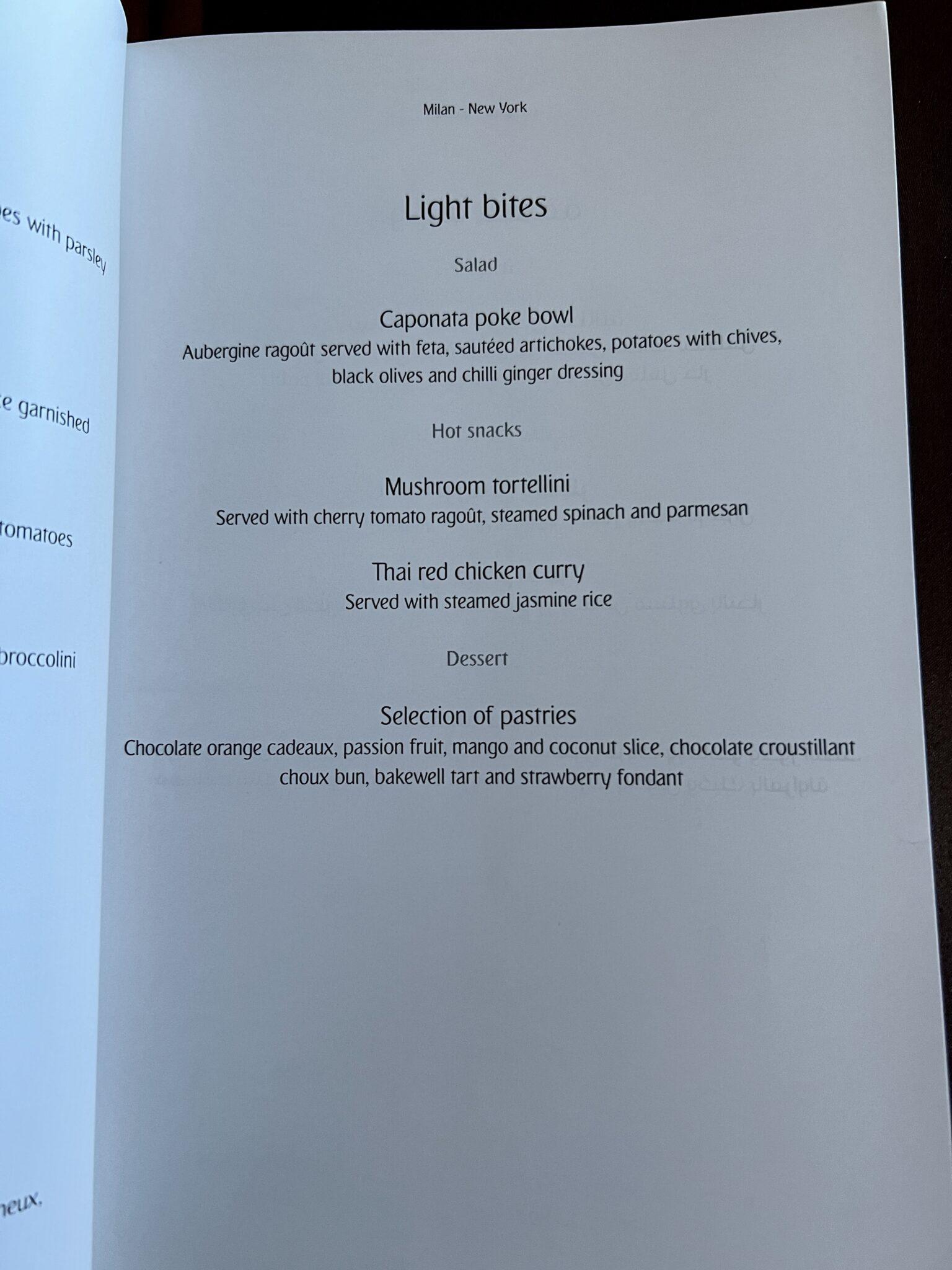 Biljana swung by soon after takeoff with another glass of champagne and some warm nuts.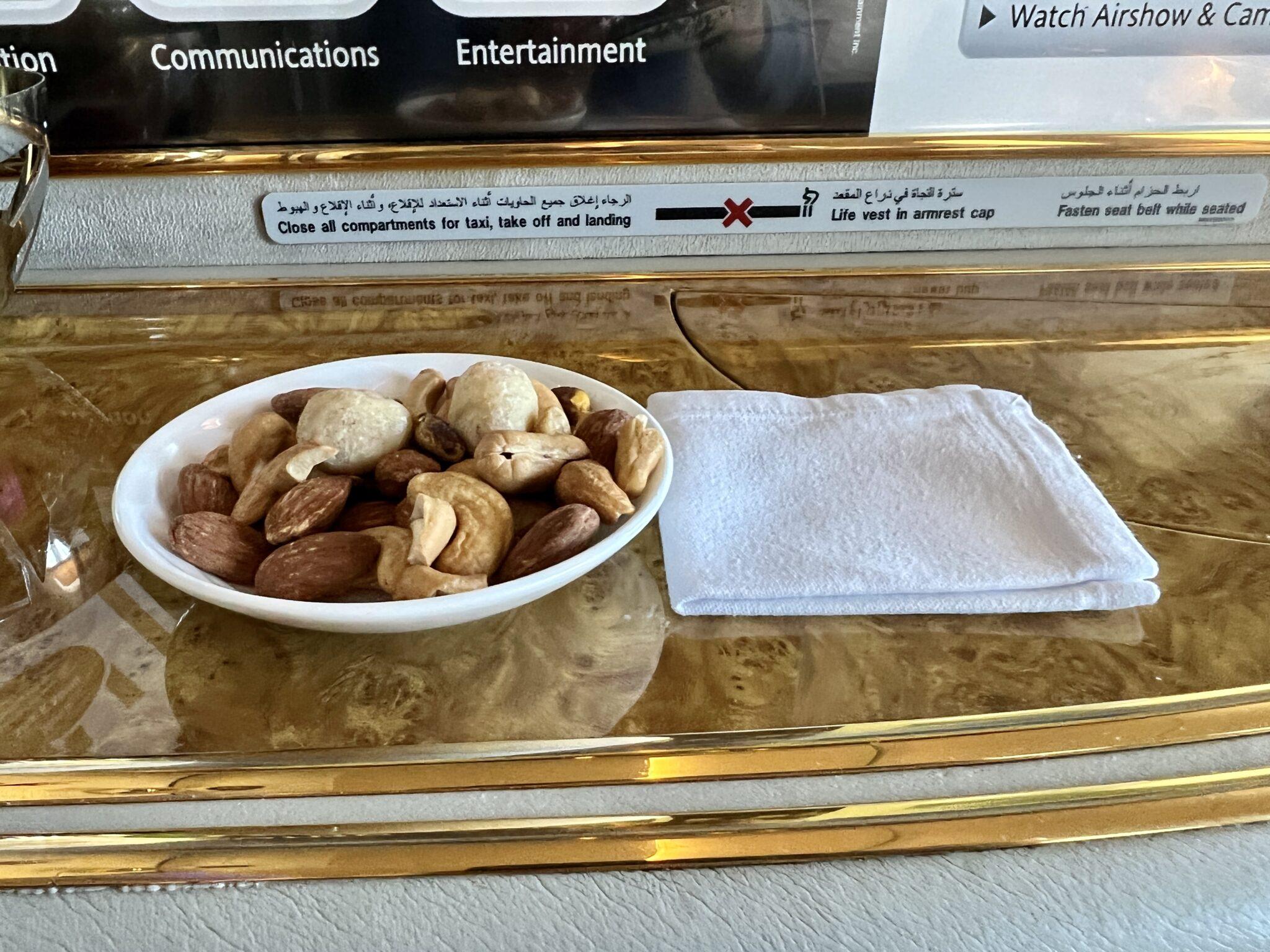 After a quick trip back to the bar, I settled in for a meal. Lunch service started as the flight attendant intricately laid out the table before returning with a bread basket and an amuse-bouche: a crab salad, which was just OK, and an absolutely incredible cheddar panna cotta.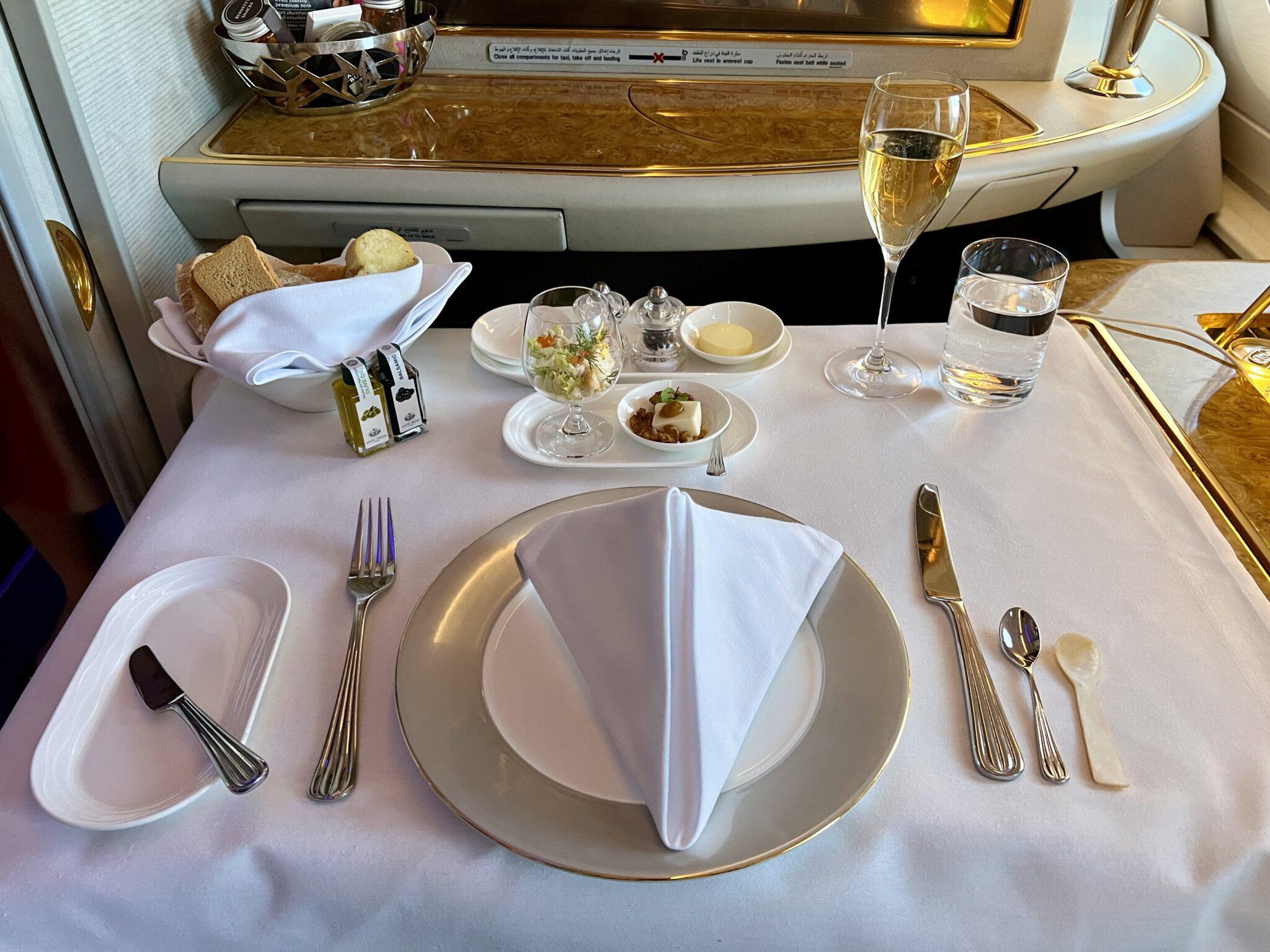 Next up, there could be nothing else: Caviar. Emirates First Class caviar is second to none – and first class passengers can now have as many portions as they want. But one could be plenty when you get this absolute mountain of caviar along with all the fixings.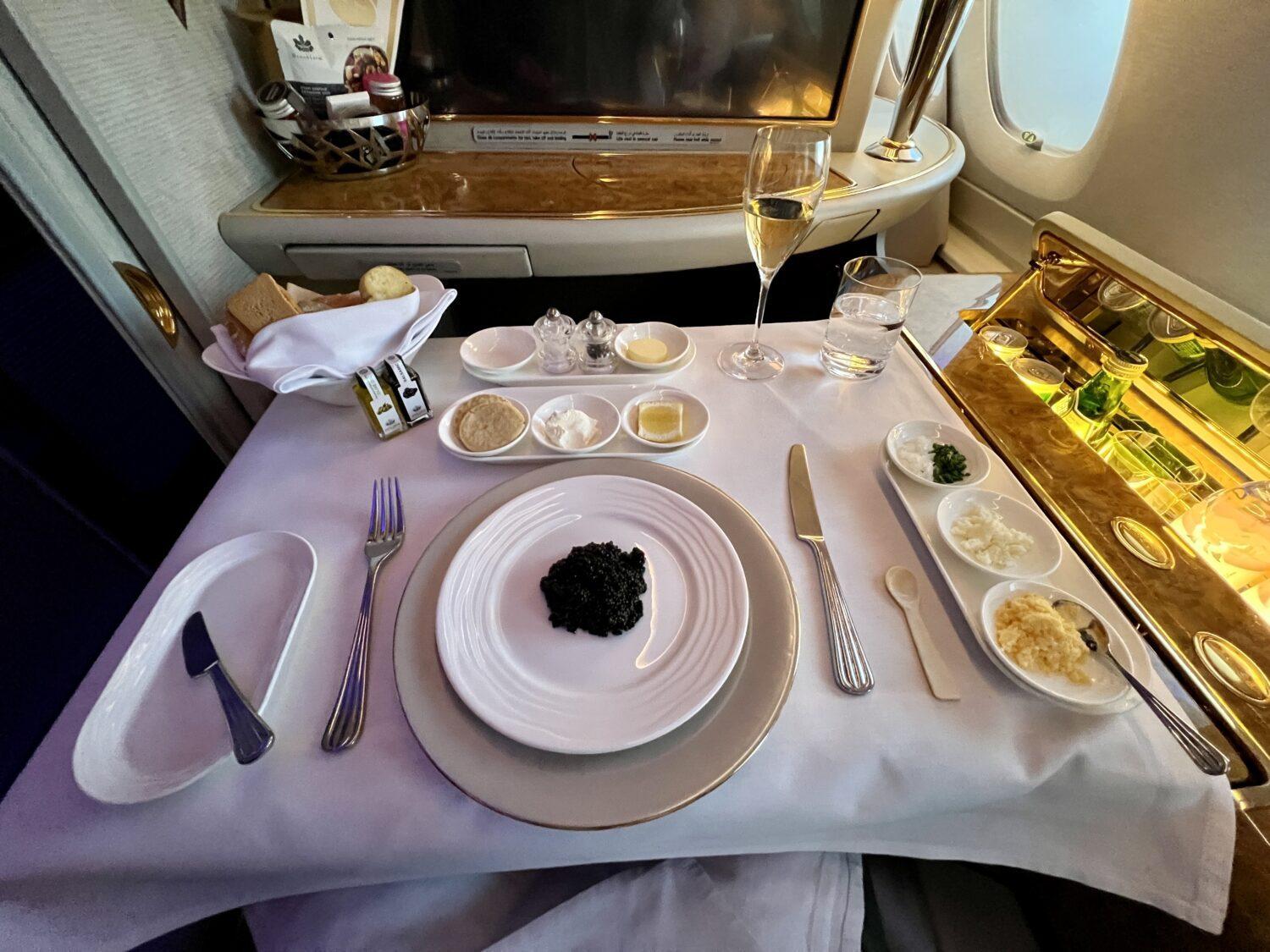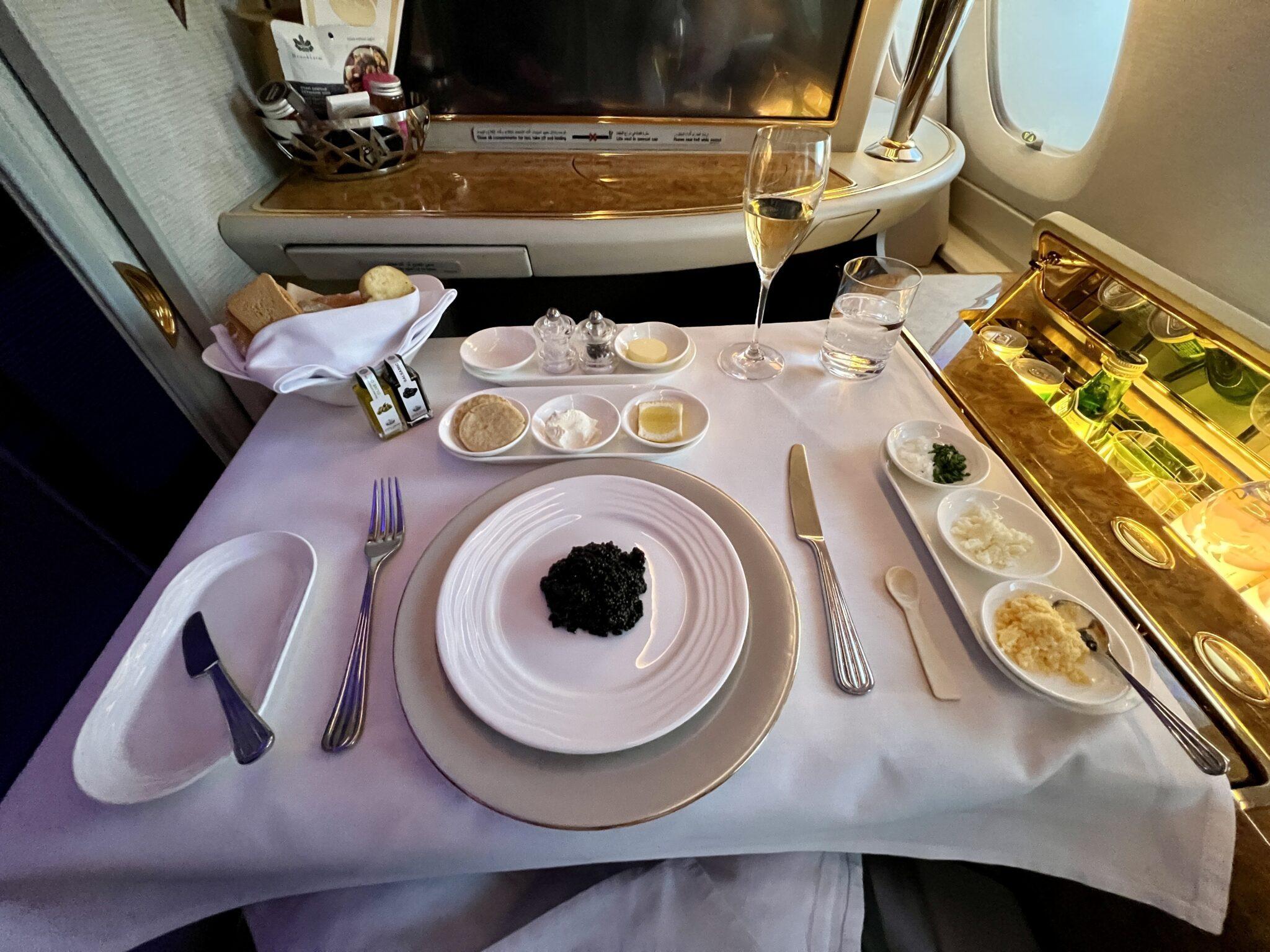 Seriously, what a setup.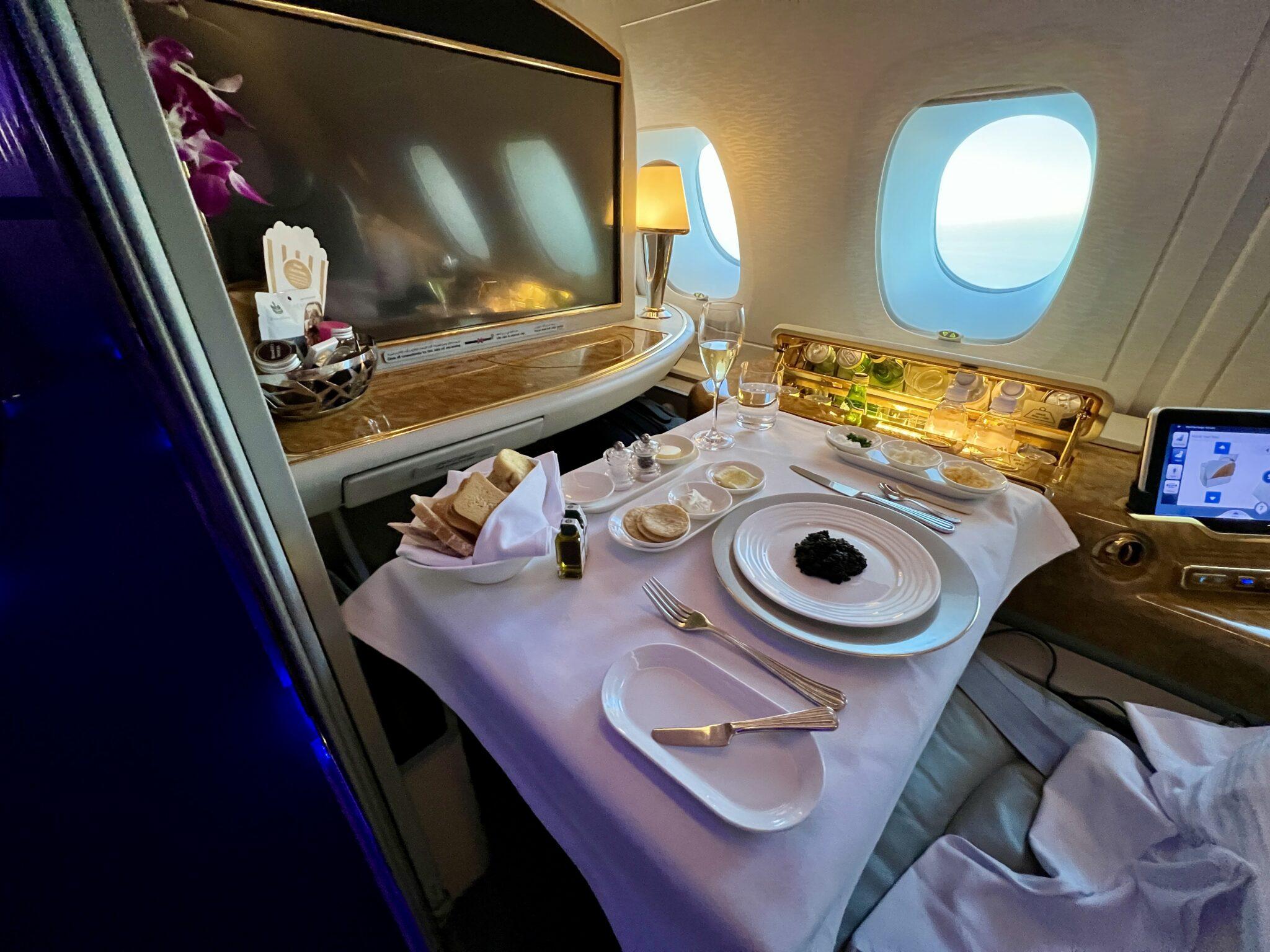 In my experience, the entrees didn't live up to the appetizers. I ordered the grilled sea bream with parmentier potatoes, roasted cherry tomatoes, and grilled zucchini. While flavorful and fairly well cooked, it was a tad rubbery. The sides were also cold and a bit too salty.
The magic of some first and business class meals is that they can make you forget that they're simply reheated. It was still a good meal, but that magic didn't happen here.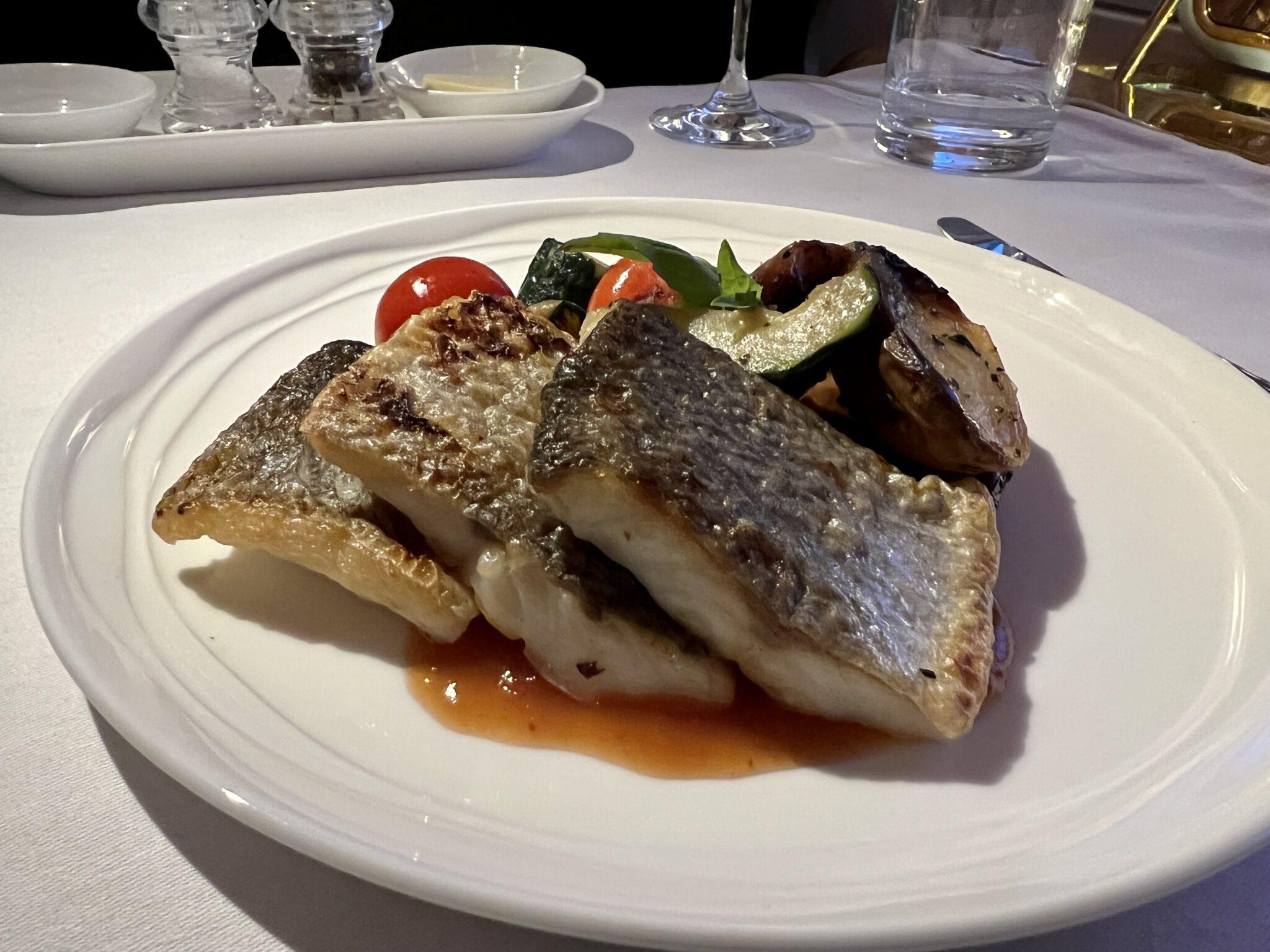 But Emirates rebounded with a delicious dessert: a platter of Arabic pastries including halawet el jibn, walnut baklawa, and pistachio mafroukeh. Forget the names: they're all delicious.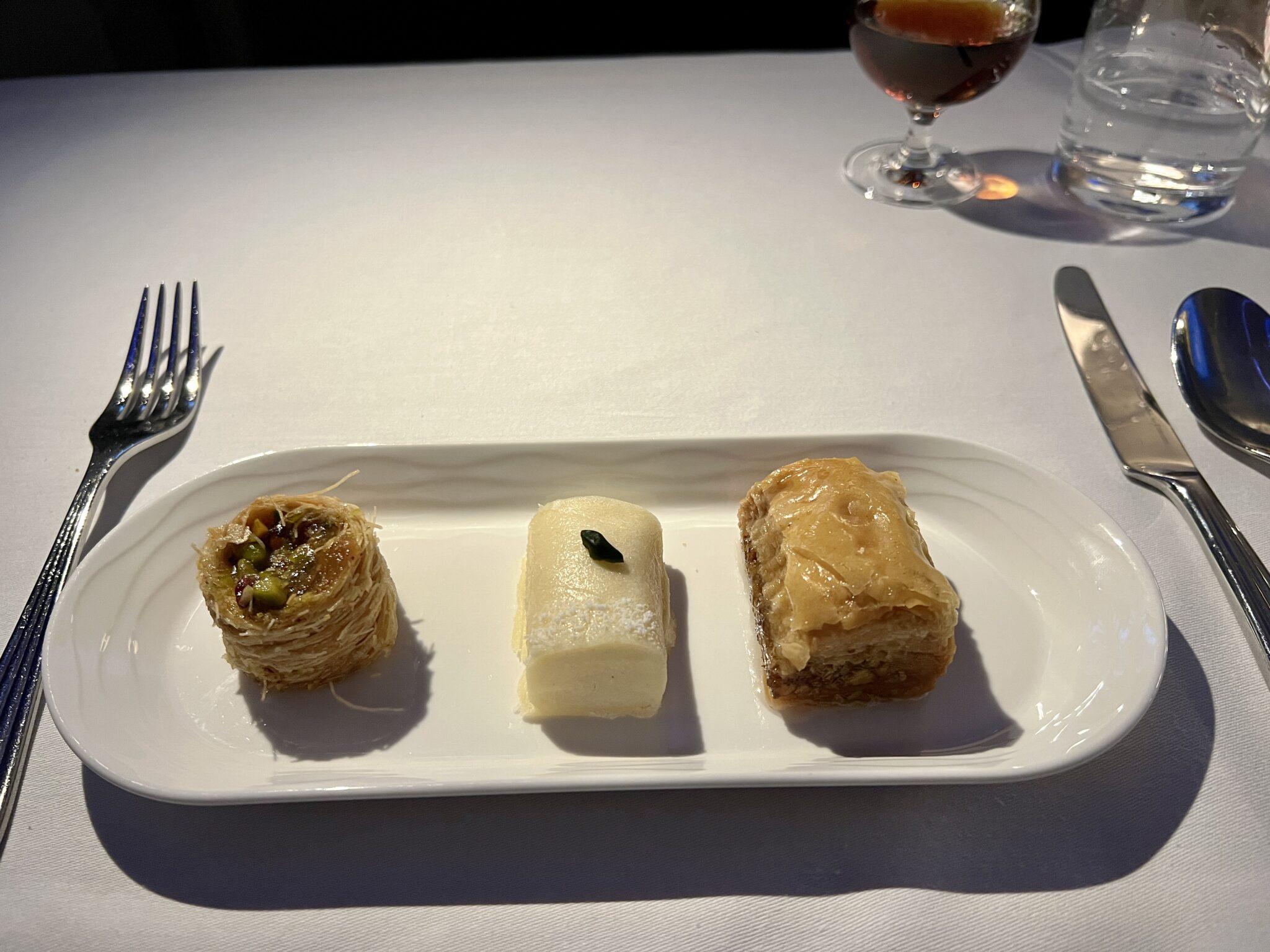 But you're not really flying Emirates first class unless you try the best of the best, right? So naturally, I had to try a glass of Hennessy Paradis: At $900 a bottle, this cognac is the most expensive bottle of … well, anything, that you'll find on an airplane. When in Rome, right? It was delicious.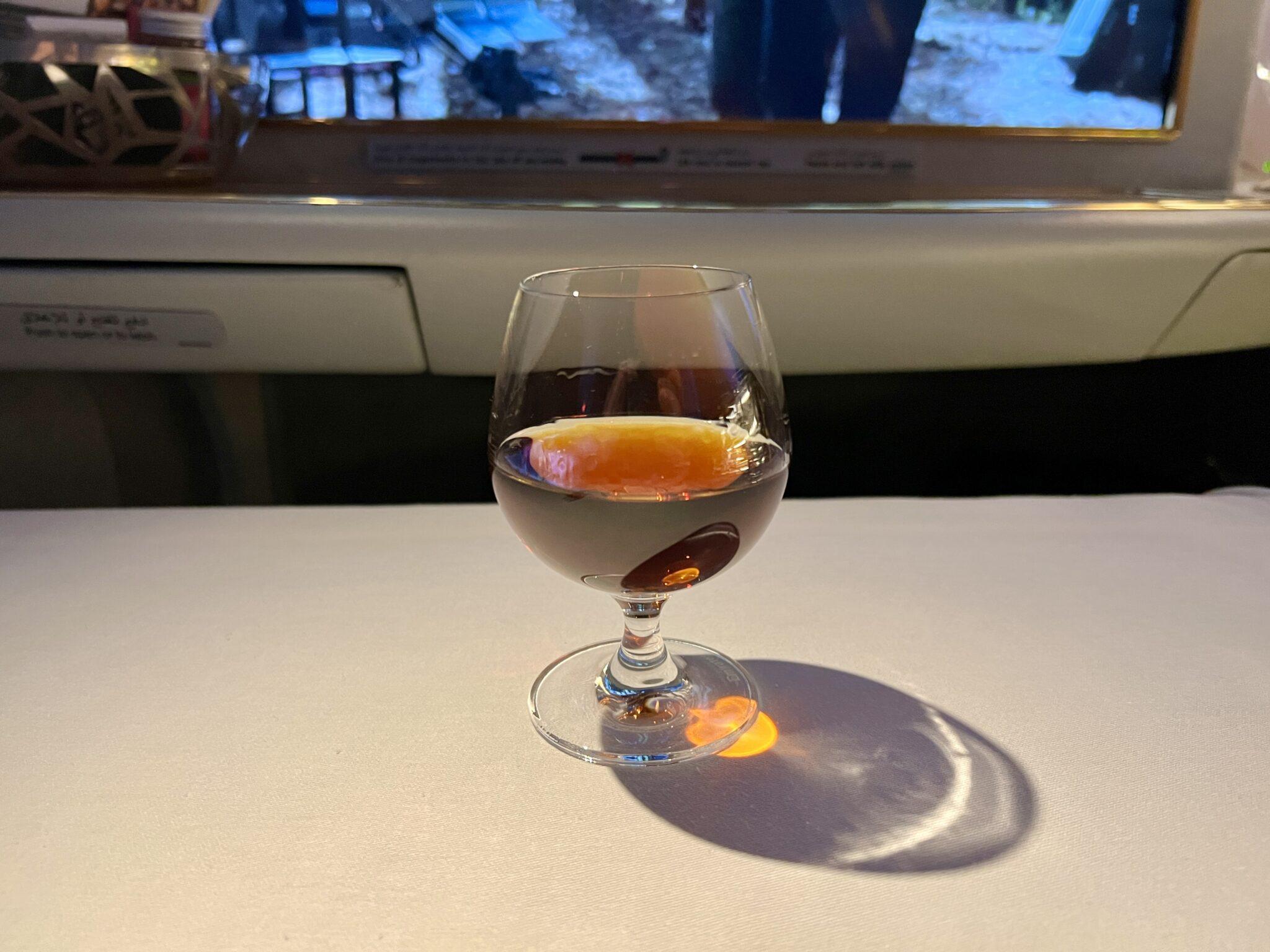 After a great nap and an even better shower, Biljana came by to ask if I'd like anything to eat. How could I say no? The traditional Arabic mezze was truly excellent and impossibly fresh, with little dishes of hummus, muhammara, baba ghanouj, stuffed grape leaves, tabouleh, and much more laid out at my seat. It was one of the highlights of the flight.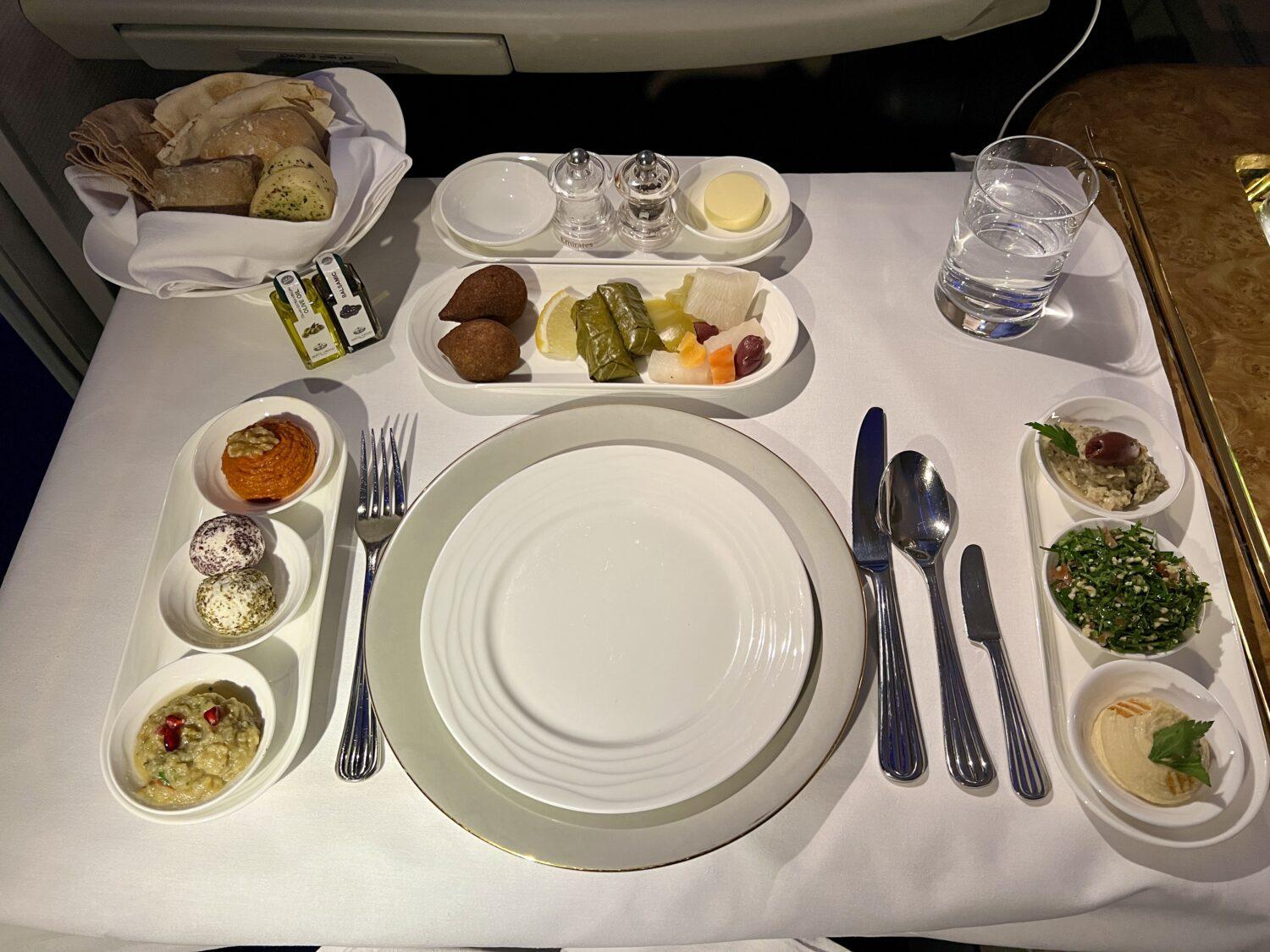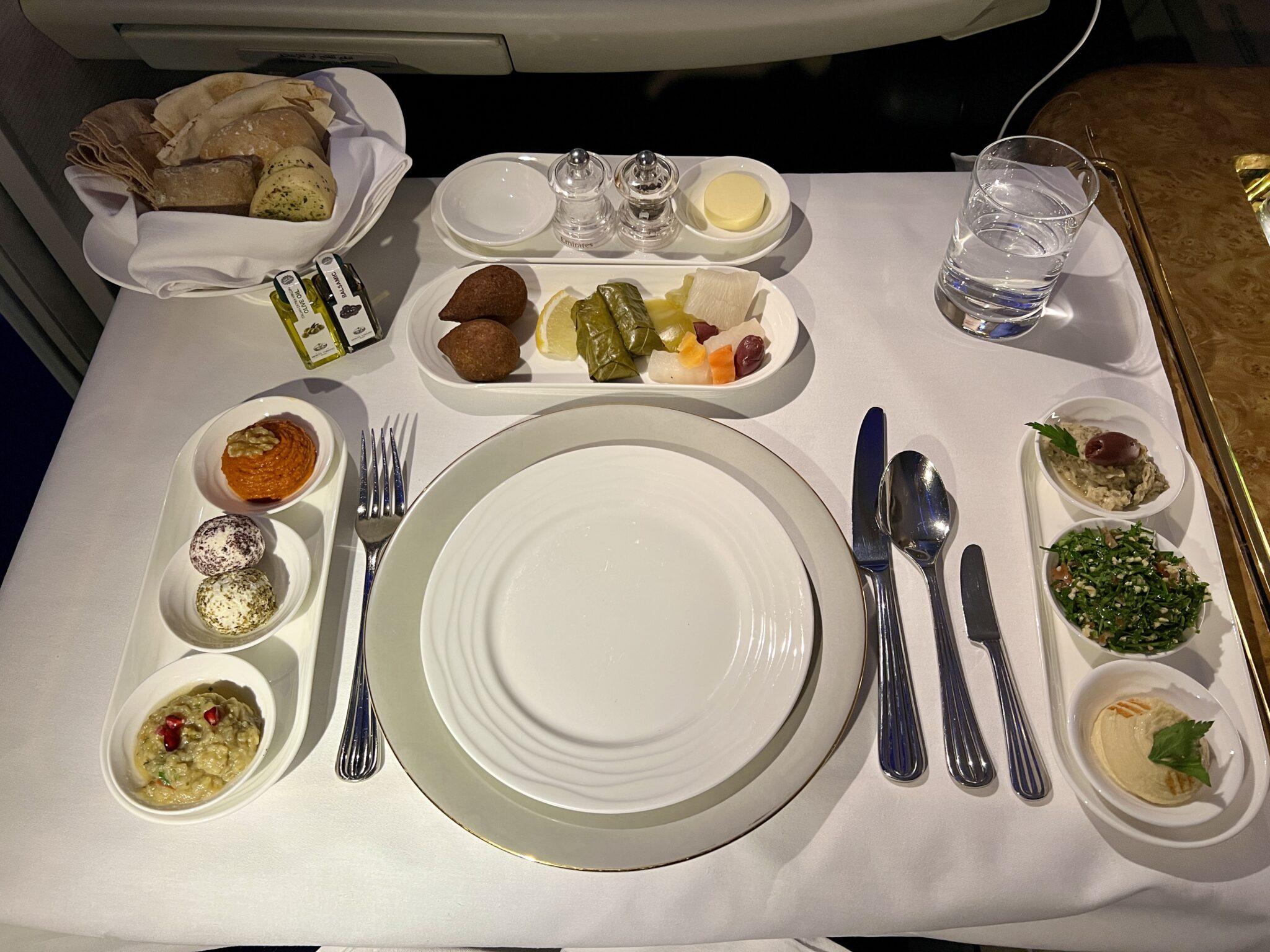 I also ordered the chicken mandi, a classic Middle Eastern dish. It wasn't spicy but incredibly flavorful, and the chicken thigh was well done.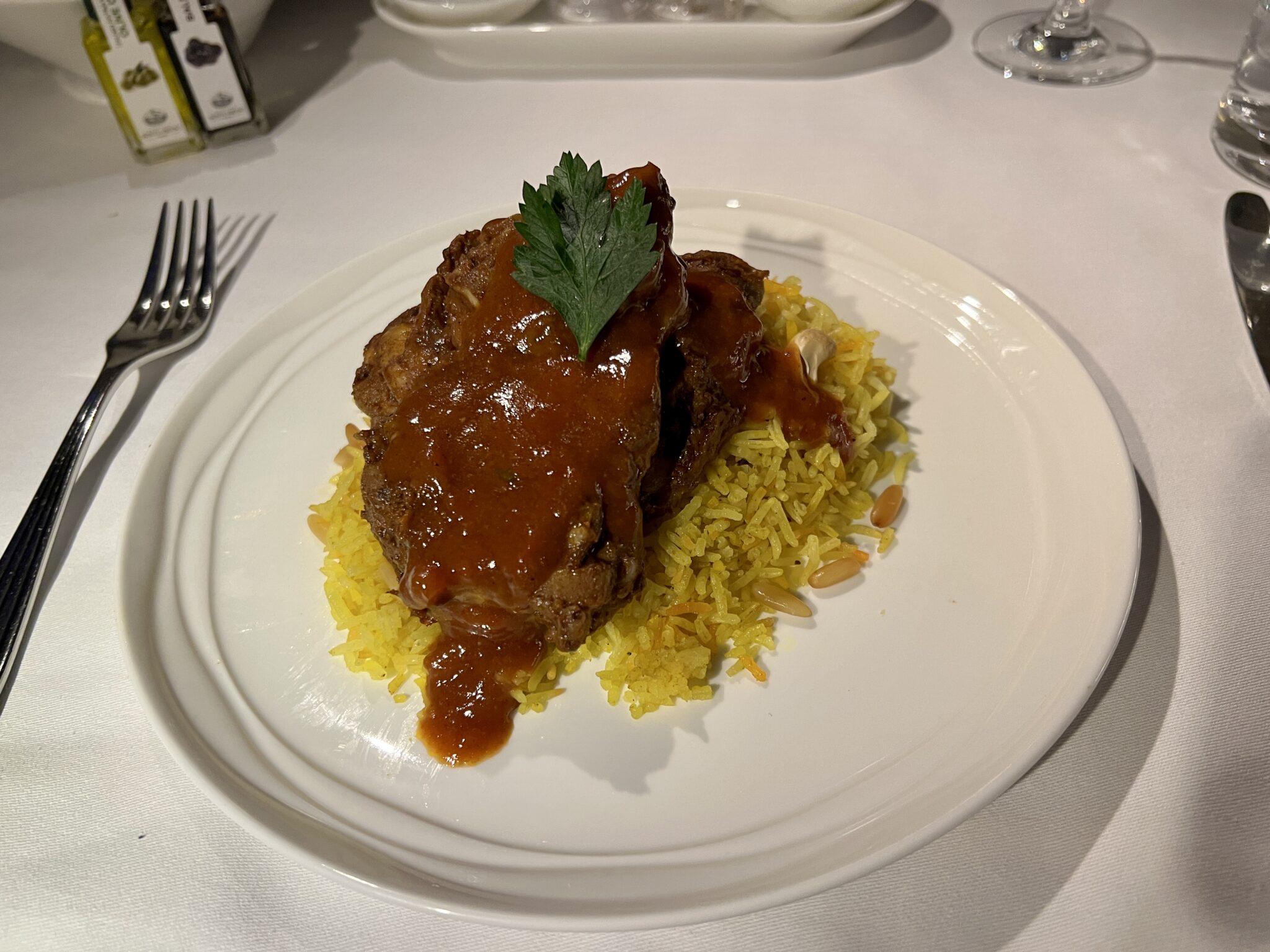 Everything was great, no question. But for my money, the drinks and appetizers in Emirates first class were the real stars of the show.
Amenities in Emirates First Class
Let me put it this way: There are so many goodies waiting for you in Emirates First Class that they give you a tote bag to bring it all home. Honestly, the amenities from this flight were better than any other airline I've flown, bar none.
Many of those amenities were waiting at each suite at boarding. For starters, all that amazing bedding was tucked in a back corner.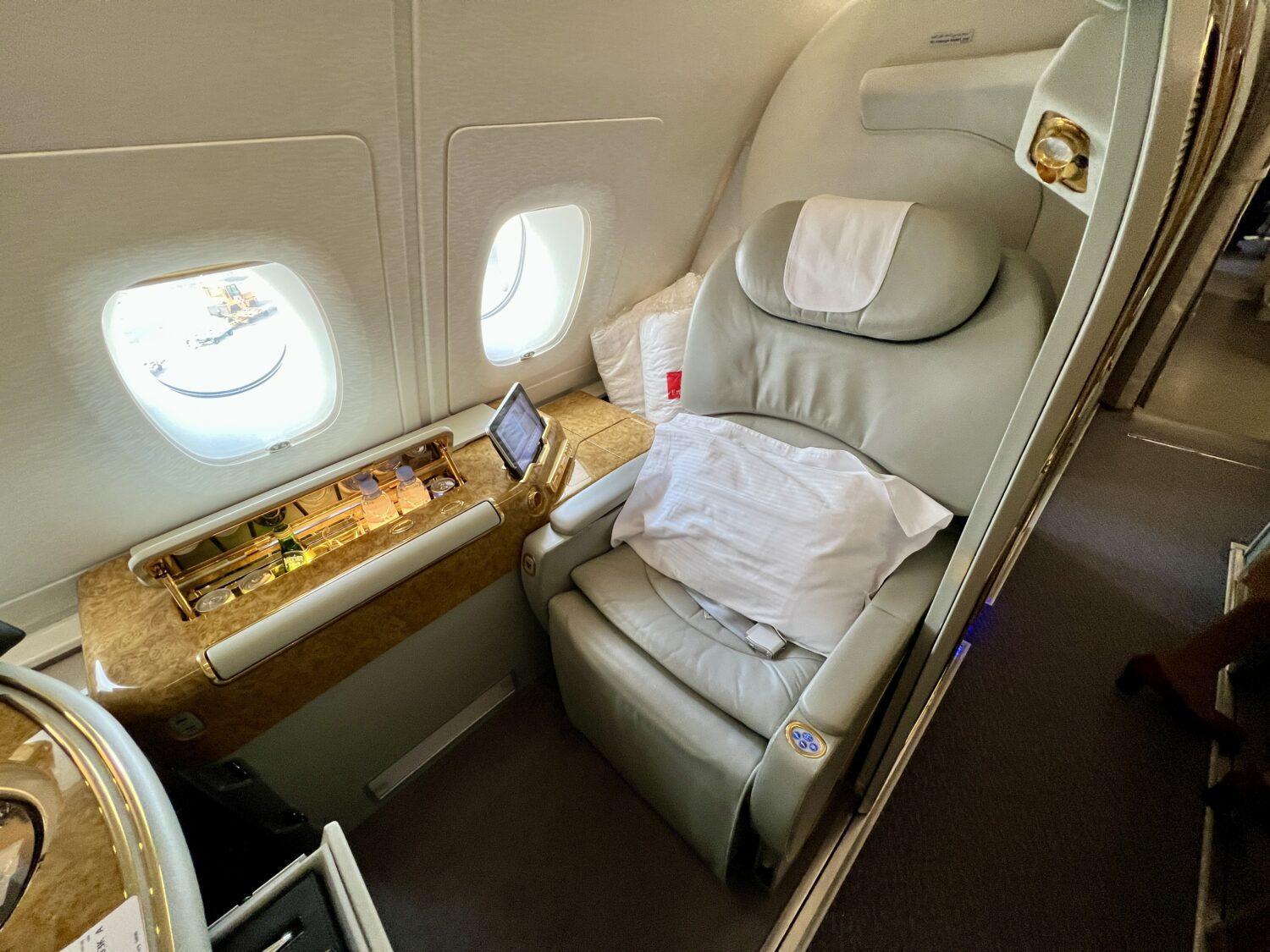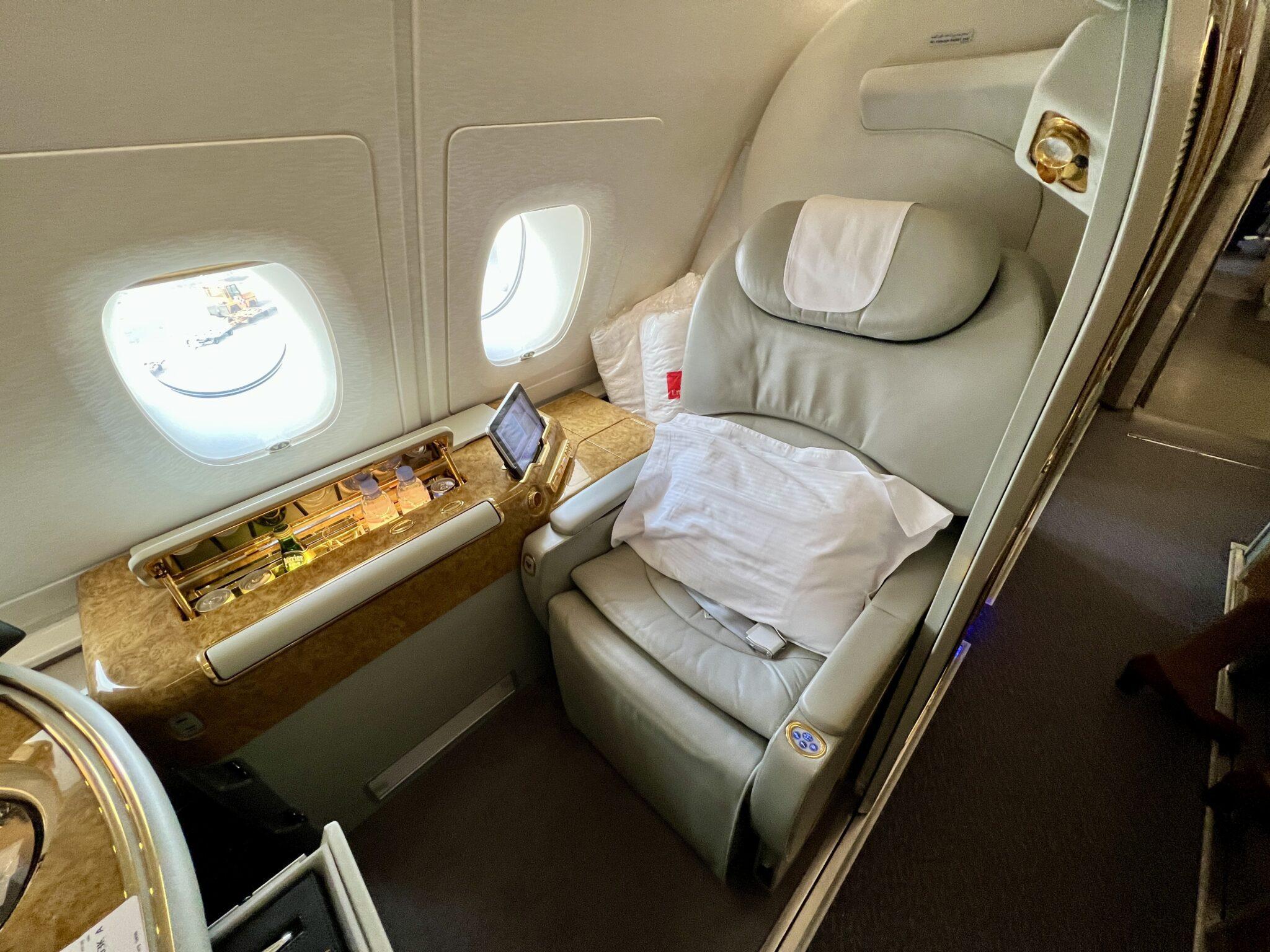 Plenty of goodies were situated at the front of the seat, none better than a chic leather BVLGARI amenity kit.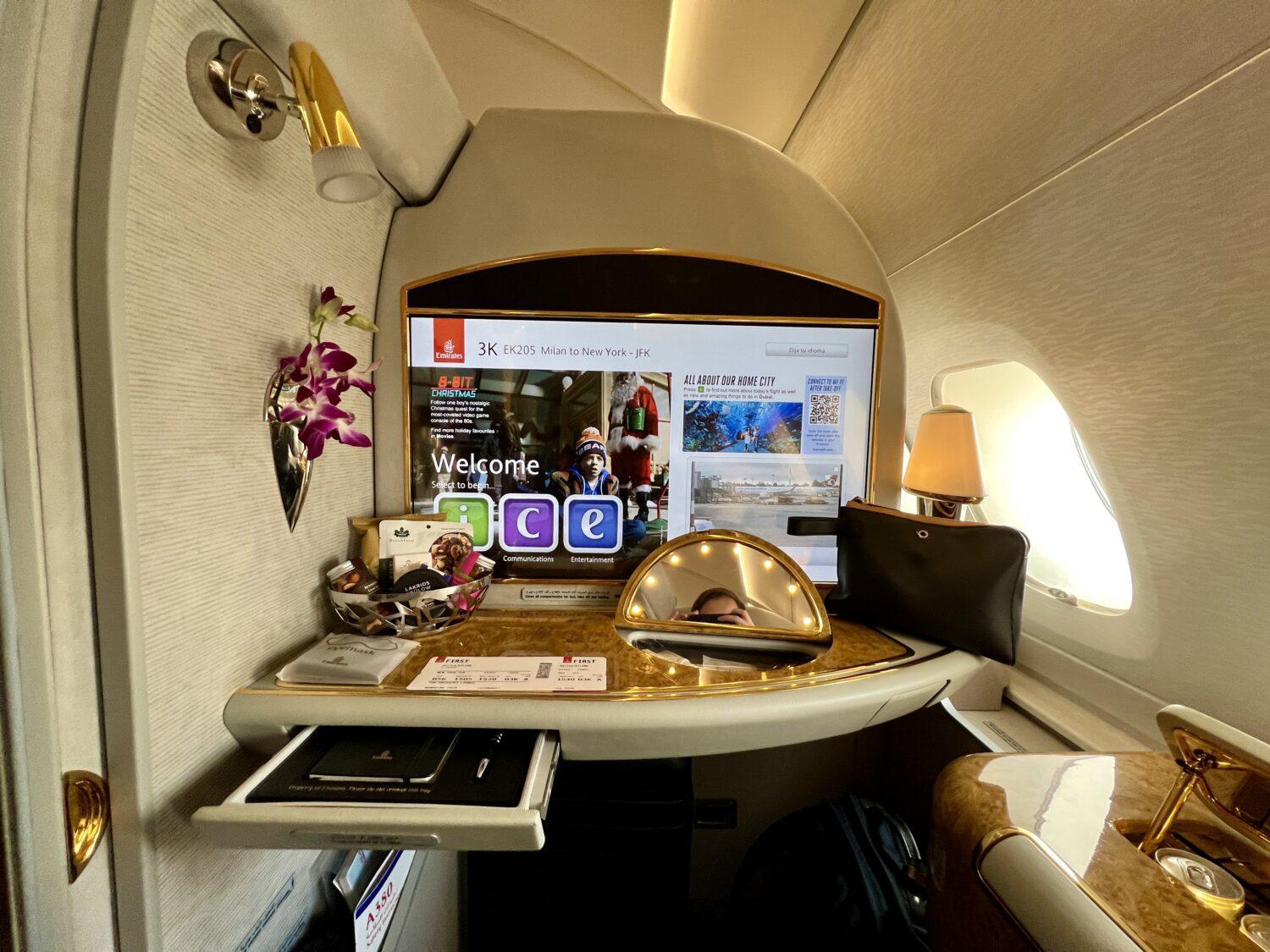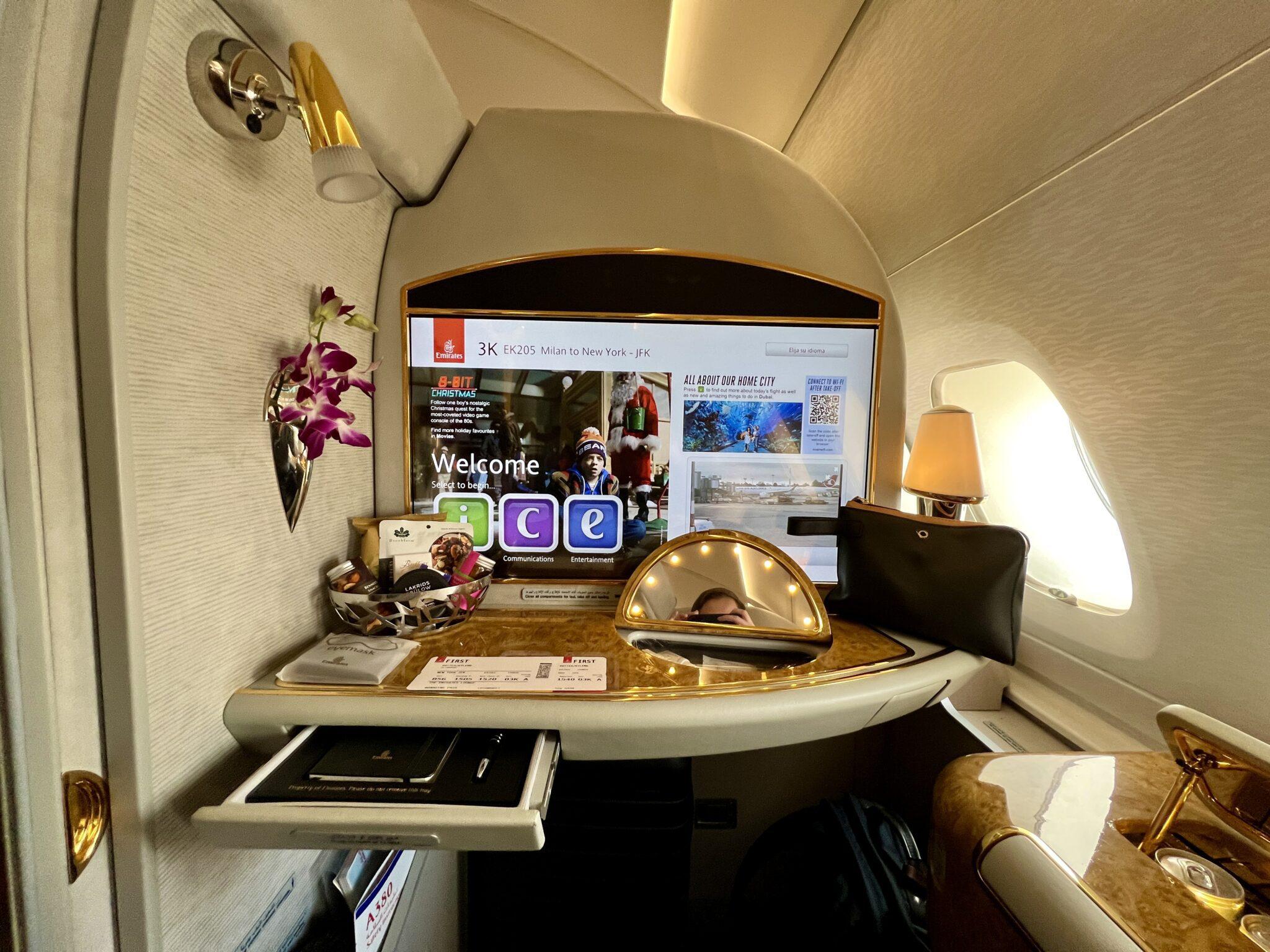 The contents were incredible, easily the best amenity kit I've ever received on a flight. There were some staples like a pack of tissues, a cleansing towel, a comb, and a dental kit. But there was also a stick of men's deodorant and shaving cream. And best of all: A bevy of extremely high-quality BVLGARI products including lip balm, aftershave, body lotion, and cologne.
Consider this: A full-size bottle of that BVLGARI TYGAR men's cologne retails for $370! It is not cheap stuff.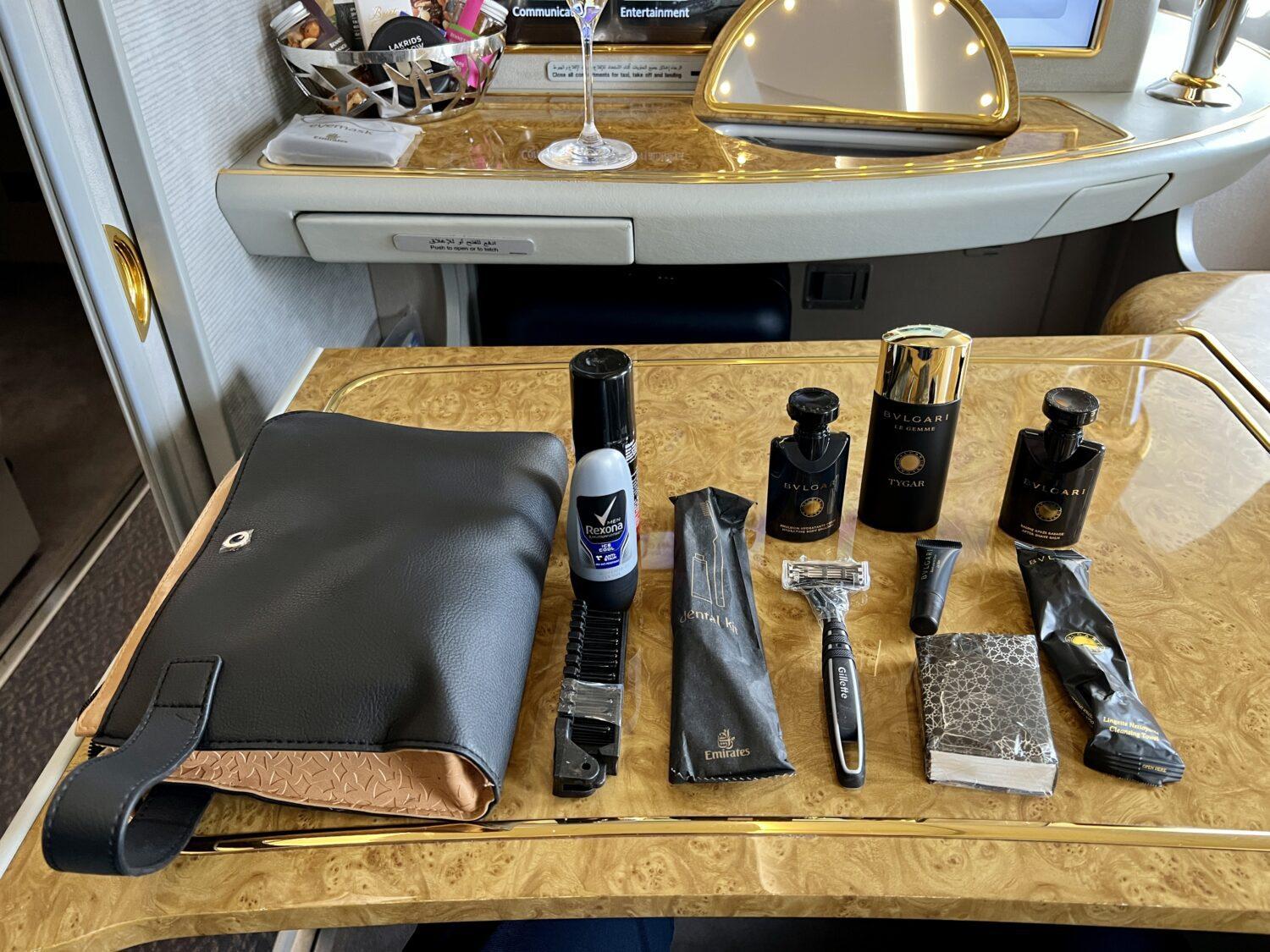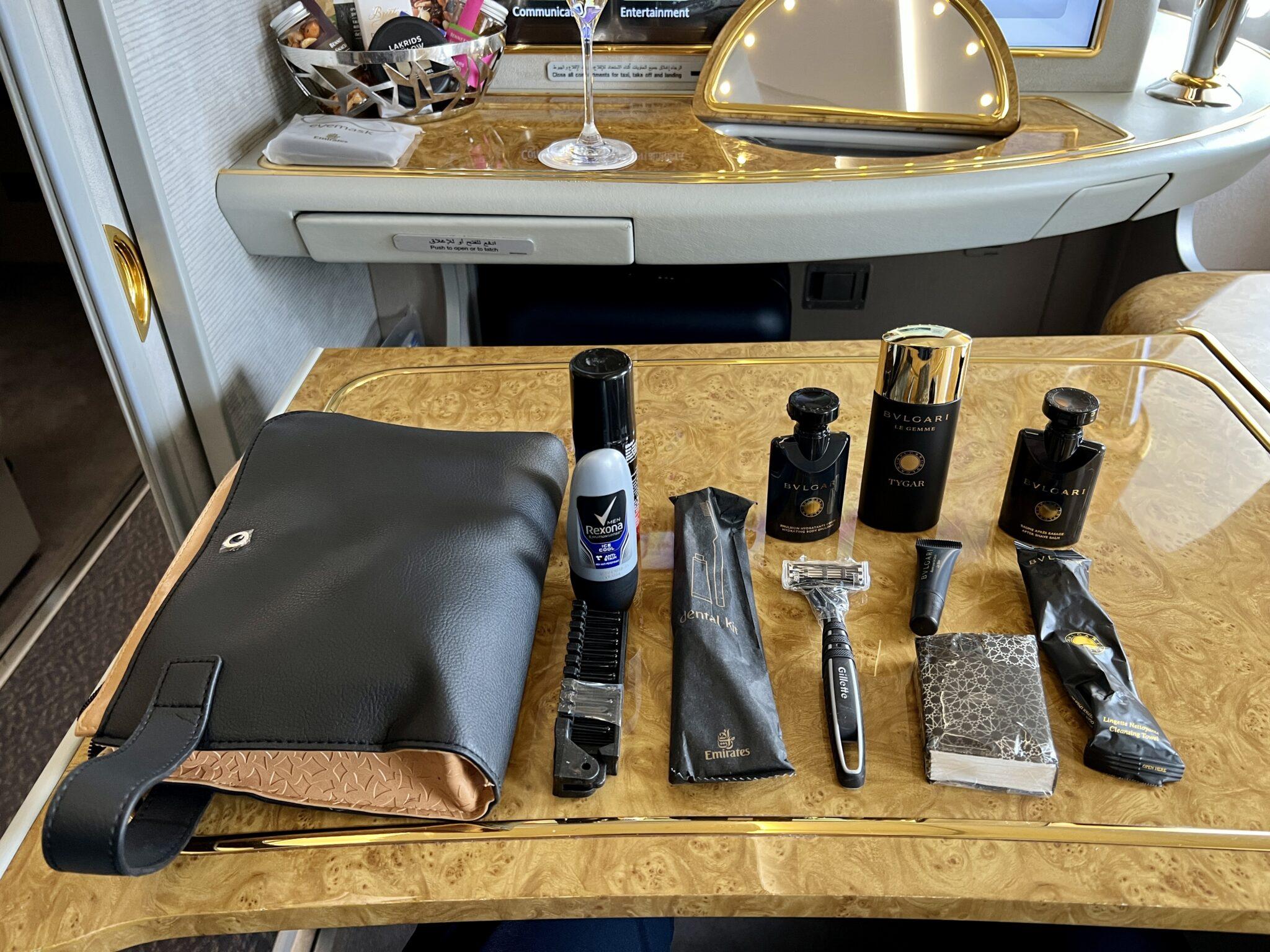 During boarding, a flight attendant dropped off an equally impressive set of pajamas – in some very neat packaging – as well as a sturdy set of slippers. Both were very comfortable.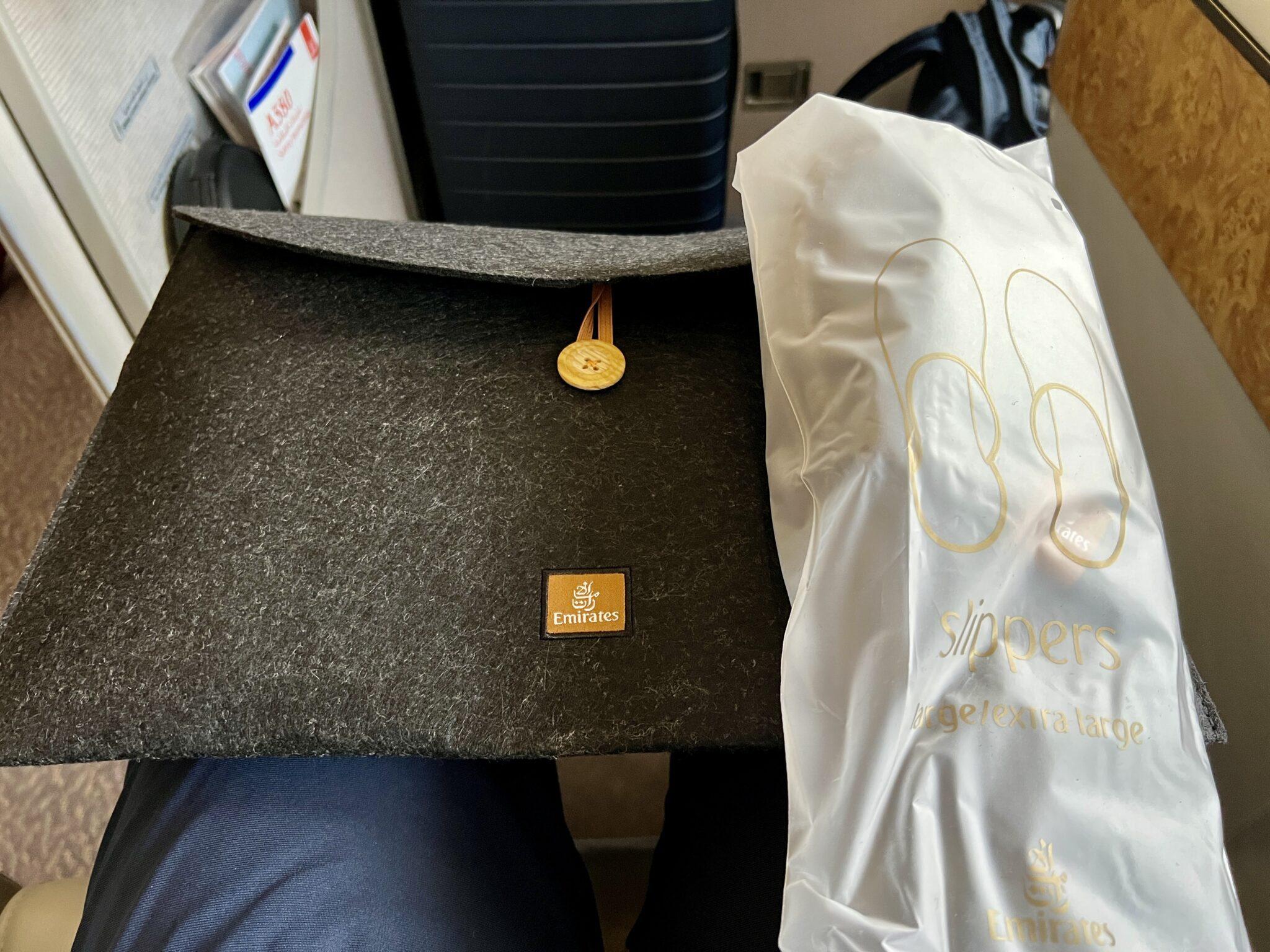 There were also a set of noise-canceling headphones waiting in the suite. These Bowers & Wilkins headphones may look old school, but they were incredibly comfortable with effective noise cancellation, to boot.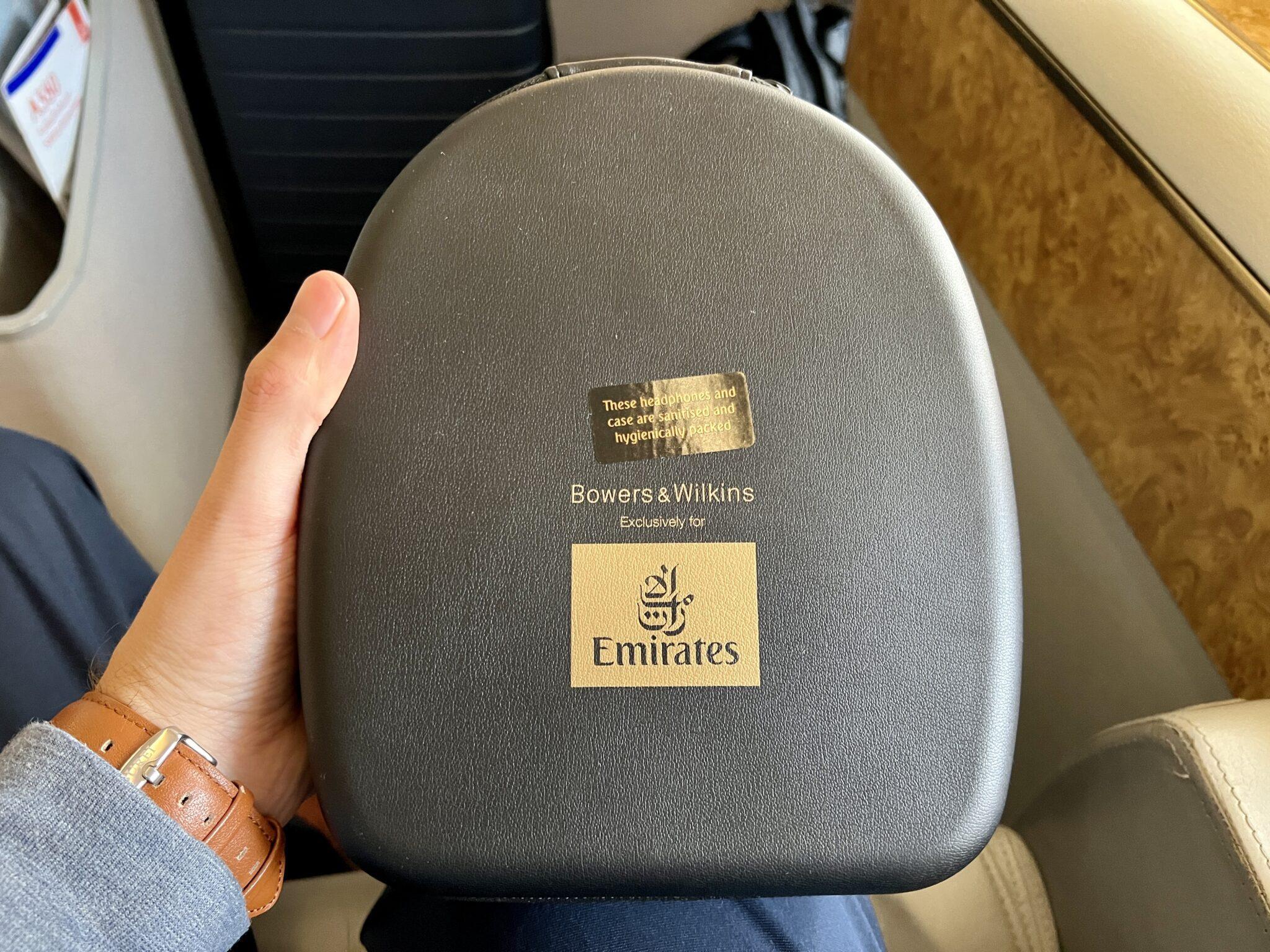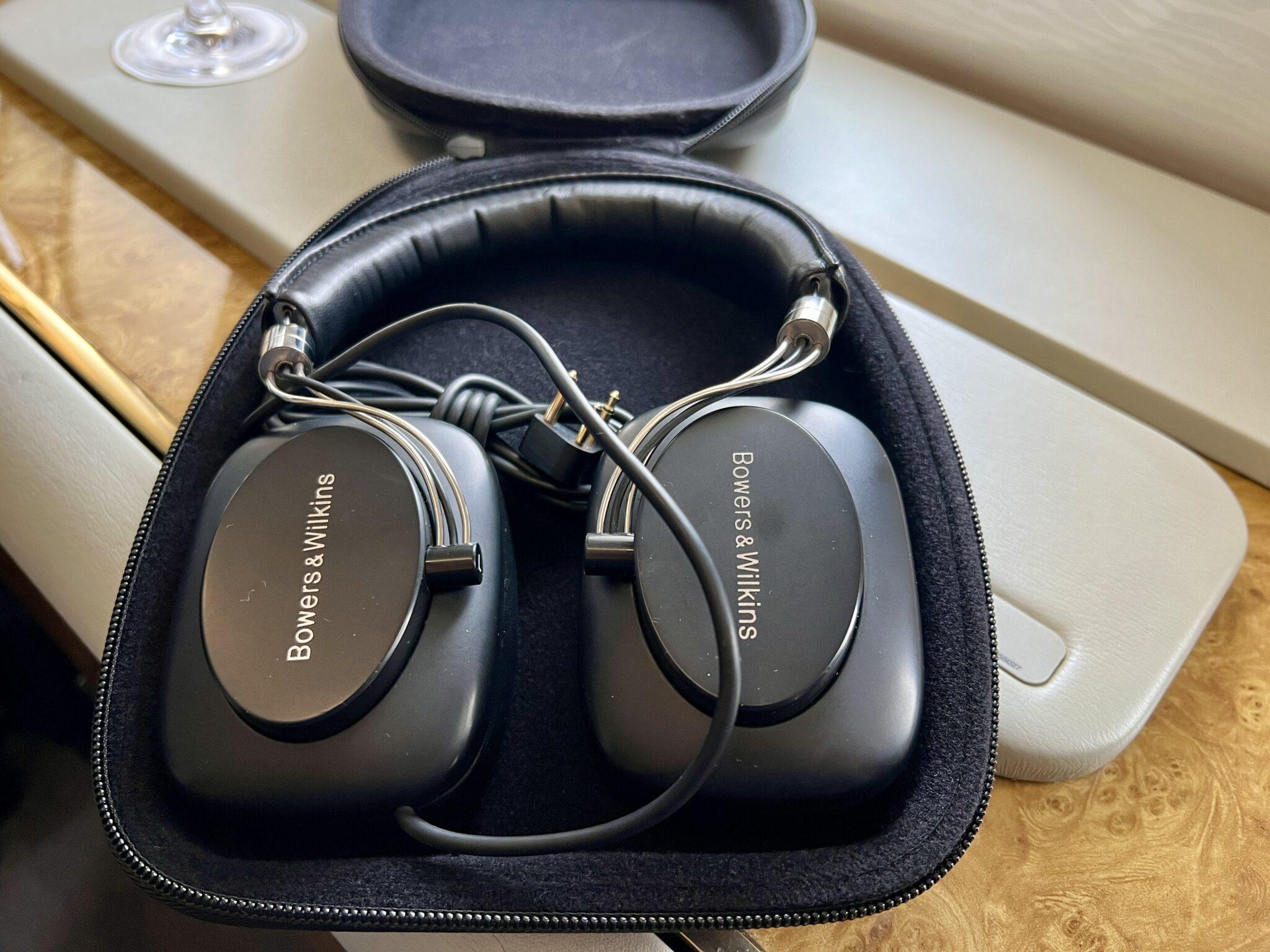 In all, no airline does amenities quite as well as Emirates First Class. Everything was truly the best of the best.
Entertainment in Emirates First Class
Let's start with the weak point: Wi-Fi.
In theory, Emirates offers free Wi-Fi to all first class passengers as well as those back in business class – at least so long as you've got a Skywards account. But in practice, the onboard signal is so slow that it's practically unusable. I was unable to do much more than refresh my email inbox on either my laptop or phone.
From there, the entertainment situation in Emirates First Class is all uphill thanks to a large and fairly high-definition 27-inch screen at the front of the suite.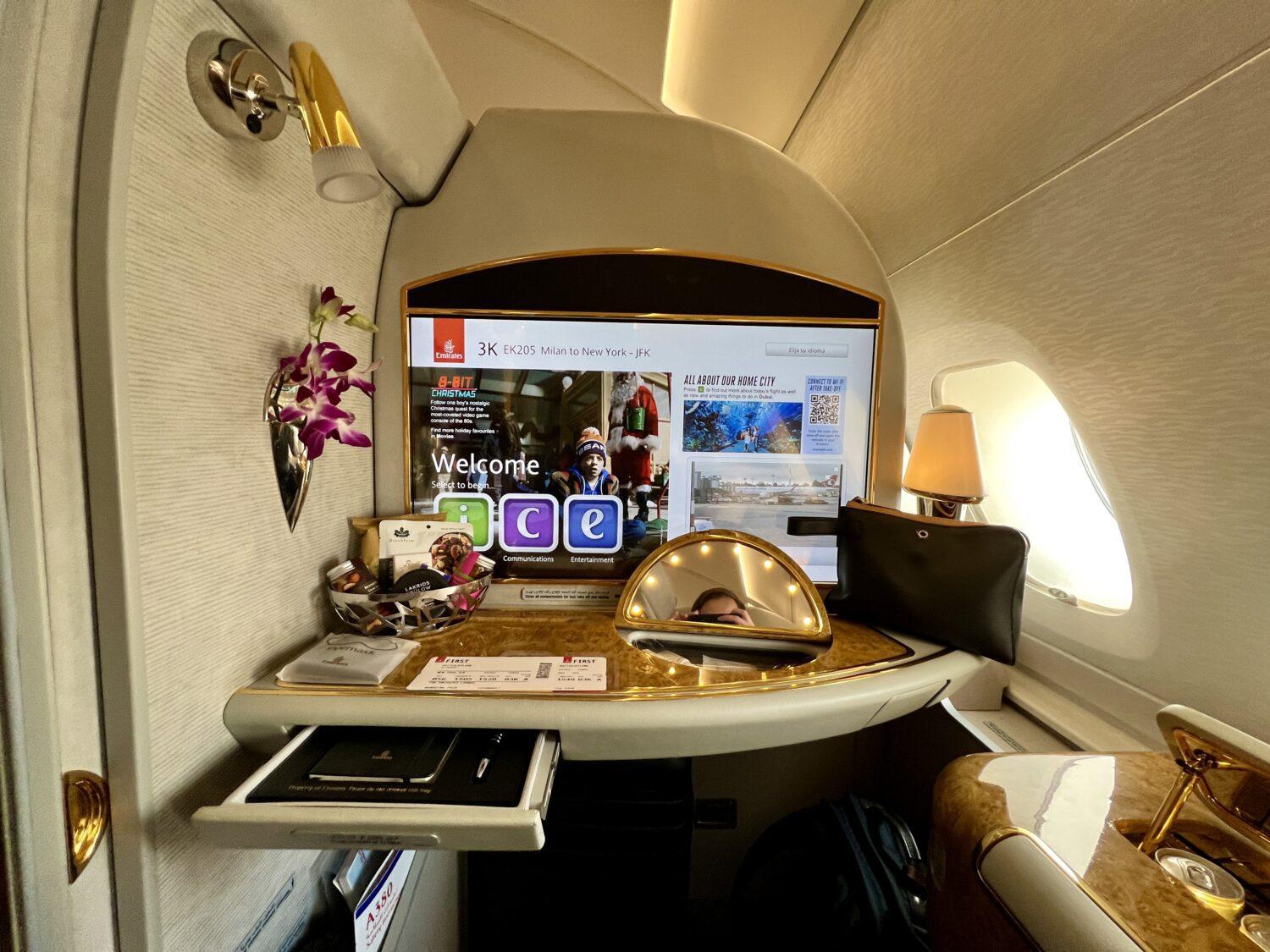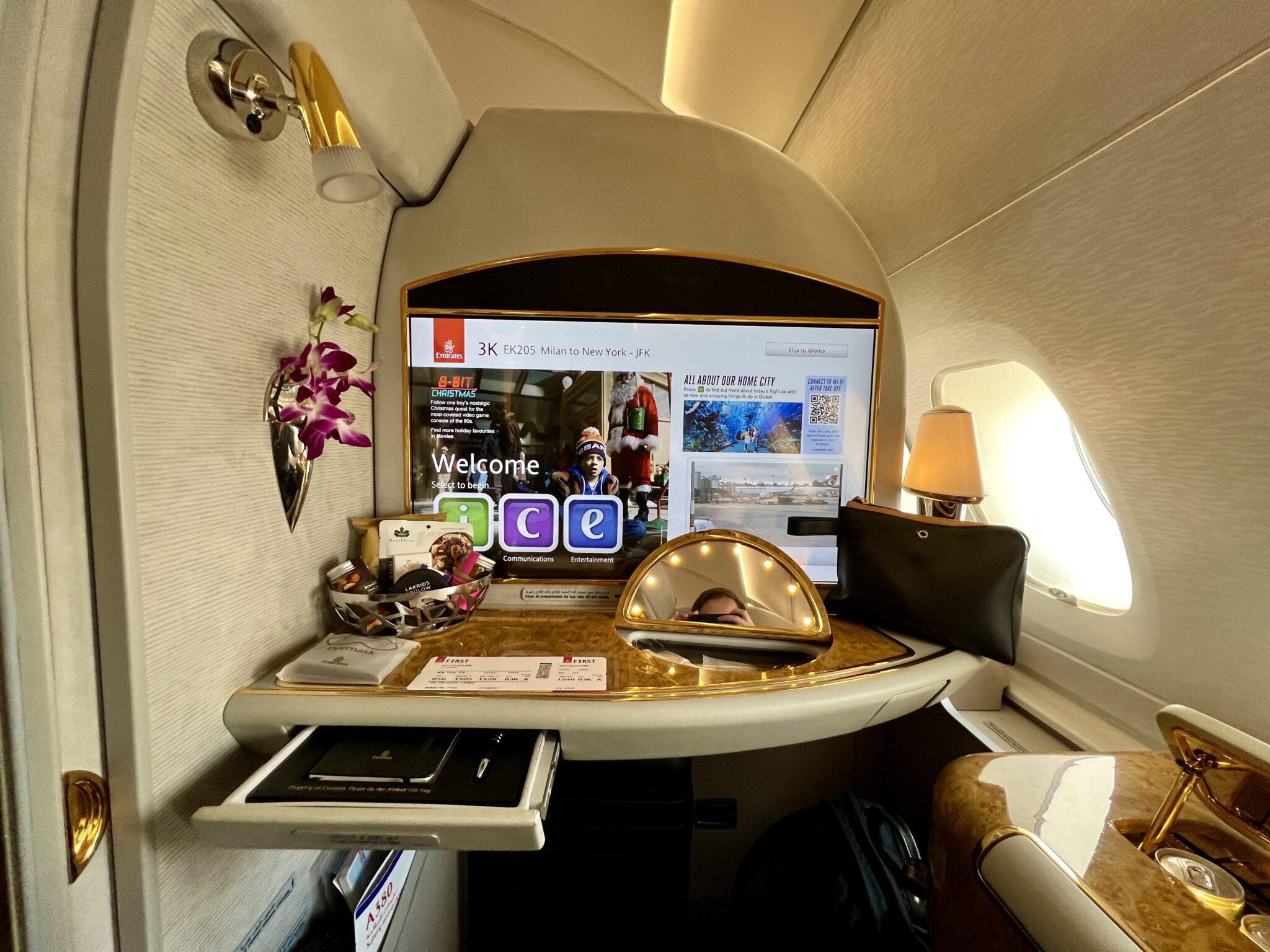 But a good display means little if you don't have enough to watch. No worries: Emirates' ICE system (Information, Communication, and Entertainment) is arguably the best in the world. There are more movies, shows, and other entertainment to keep you busy than you'll find on any other airline. You can pick and choose using the tablet on the console or a smaller, wired remote found in one of the armrests.
You can also keep tabs on your flight with handy in-flight maps as well as watch your A380 soar through the sky from one of several cameras equipped on each plane. And I love that you can do it from the tablet at the side of the seat.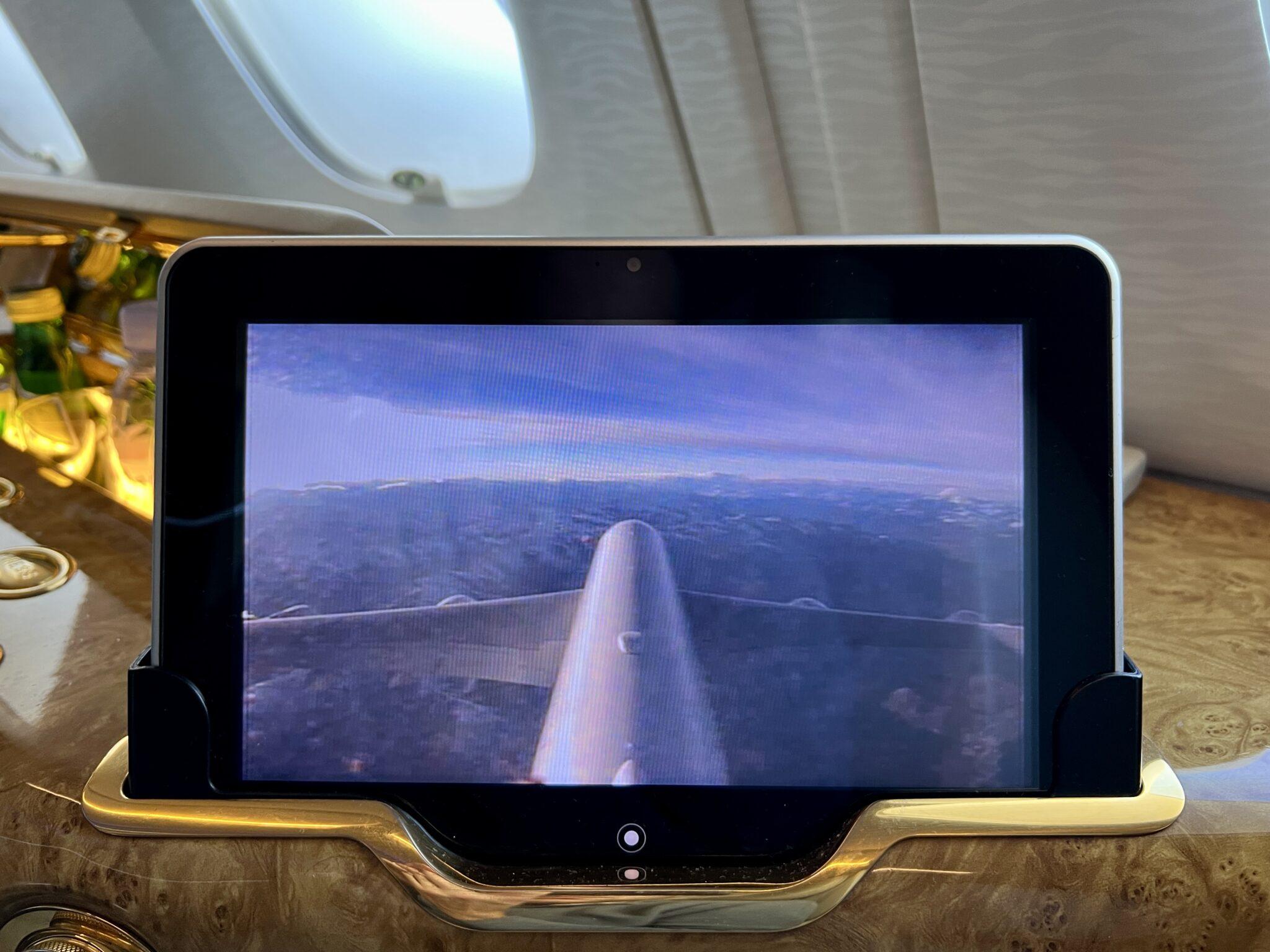 Bottom Line
What. A. Flight.
From start to finish, Emirates First Class lived up to the hype. The excellent service, comfortable and private suite, and top-notch food and beverage were all worthy of one of the world's best airlines. Taking a shower and having a drink at the bar at 38,000 feet cemented it as one of the best and coolest ways to cross the Atlantic.
Just do yourself a favor and load up on caviar and other appetizers instead of saving room for a main course. And if you're going to splurge just once, do it on the flight home from Italy so you can squeeze this incredible experience for everything it's worth.