This past December, I took a trip to Europe with my family for the holiday season. It was my 1-year-old daughters first international trip and one of my favorite award bookings to date. We landed on taking KLM Business Class on their 787-9 Dreamliner.
I had never flown with KLM and I was excited to try out their newest business class product on board their Dreamliner, widely considered their best business class seats. So what were the seats like? How was the food? And what about the service?
Read on for my thoughts.
How I Booked KLM Business Class
We used just 75,000 Delta SkyMiles each to fly from Minneapolis-St. Paul (MSP) to Vienna, Austria (VIE) with a stop in Amsterdam Schiphol airport (AMS). This was a great deal as many dates were well over 100,000 SkyMiles each for flights on Delta's outdated Airbus A330 aircraft.
But fair warning: Finding the award space wasn't easy. And while using just 75,000 SkyMiles for this flight was a steal, that's typical. Whether you want to fly business class on KLM or Air France, getting these seats on these SkyTeam partner airlines using your SkyMiles can be close to impossible. That being said, you should be able to find economy seats for only 30,000 SkyMiles roundtrip.
As mentioned, the flight from Minneapolis (MSP) to Amsterdam (AMS) was on KLM's high-tech Boeing 787-9 Dreamliner. What was bizarre is that the award space didn't show up when searching for flights from MSP to AMS. We could only find seats when searching from Minneapolis to Vienna – which of course had a stop in Amsterdam, KLM's hub.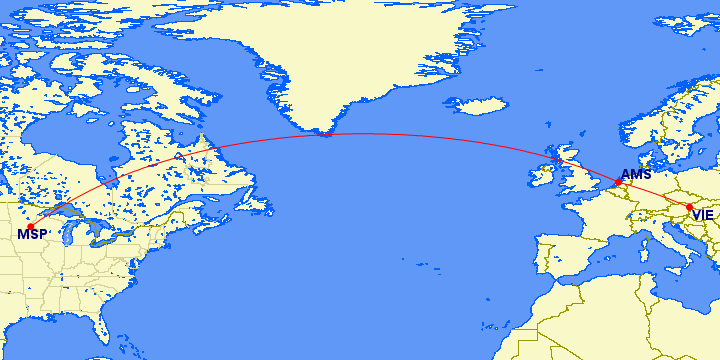 KLM flies the Boeing 787-9 Dreamliner to MSP on a seasonal basis, with service running from the fall through the end of March. And while service is only into Amsterdam, it's easy to connect onward to great cities like Vienna, London, Rome, and beyond.
The Ins and Outs of KLM Business Class
KLM's business class cabin onboard the 787-9 Dreamliner is laid out in a 1-2-1 fashion, which means every passenger gets direct aisle access. The image below is a picture of one of the rows along the window and as you can see, the cabin is finished in KLM's blue and white color scheme. It is by no means the fanciest product out there but it is still very nice. And certainly a step above Delta's older business class offerings, which doesn't include its new Delta One suites.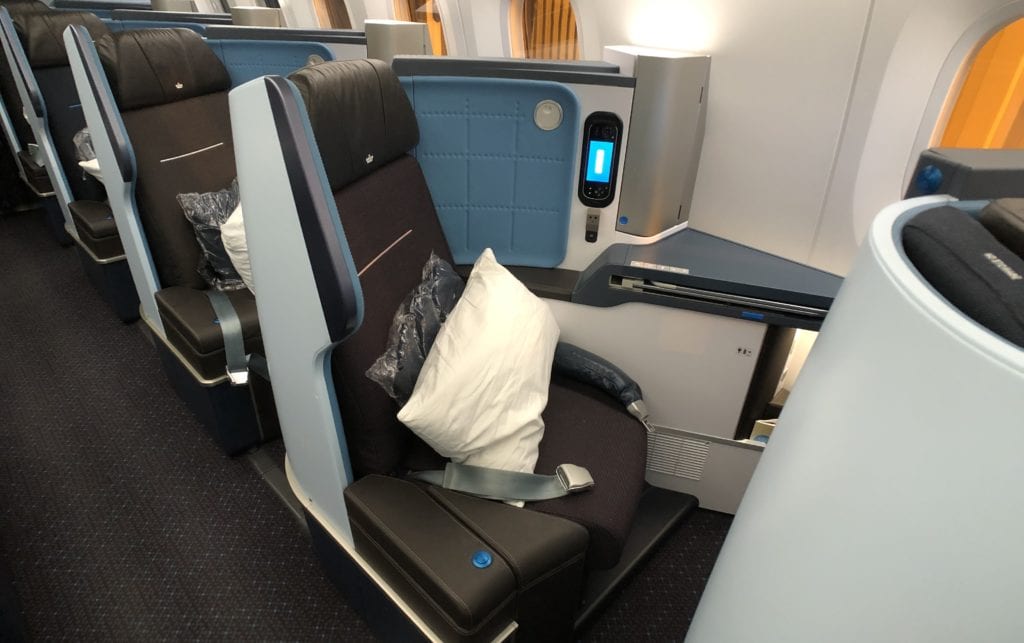 My wife and I were seated in the center section. And since we were traveling with our infant daughter, our seats were automatically assigned to the bulkhead row. The reason? The bulkhead row has a built-in bassinet, a perfect spot for our daughter to sleep for a good portion of the flight. The KLM flight crew was incredibly accommodating and helped us get everything we needed for our daughter.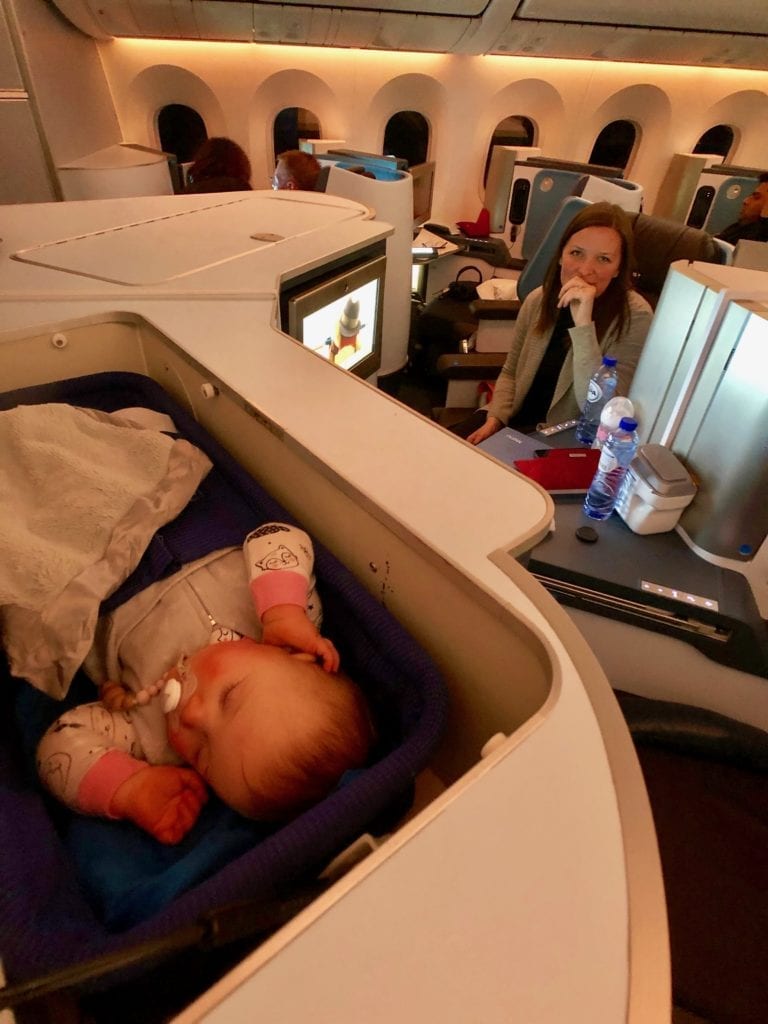 As far as the seats themselves, there's a plastic divider that can be pulled up if you don't know your neighbor in the center section. When it was in the down position we found it easy to converse and we had plenty of room for our belongings.
There was a compartment that contained a pair of noise-canceling headphones along with plenty of space for my passport, amenity kit, and chargers. I put most of my smaller items in this bin for the duration of the flight.
Come bedtime, you're one button away from reclining into a pretty spacious bed with a footwell that is on the larger side. It isn't the widest bed in the sky, but comfortable nonetheless.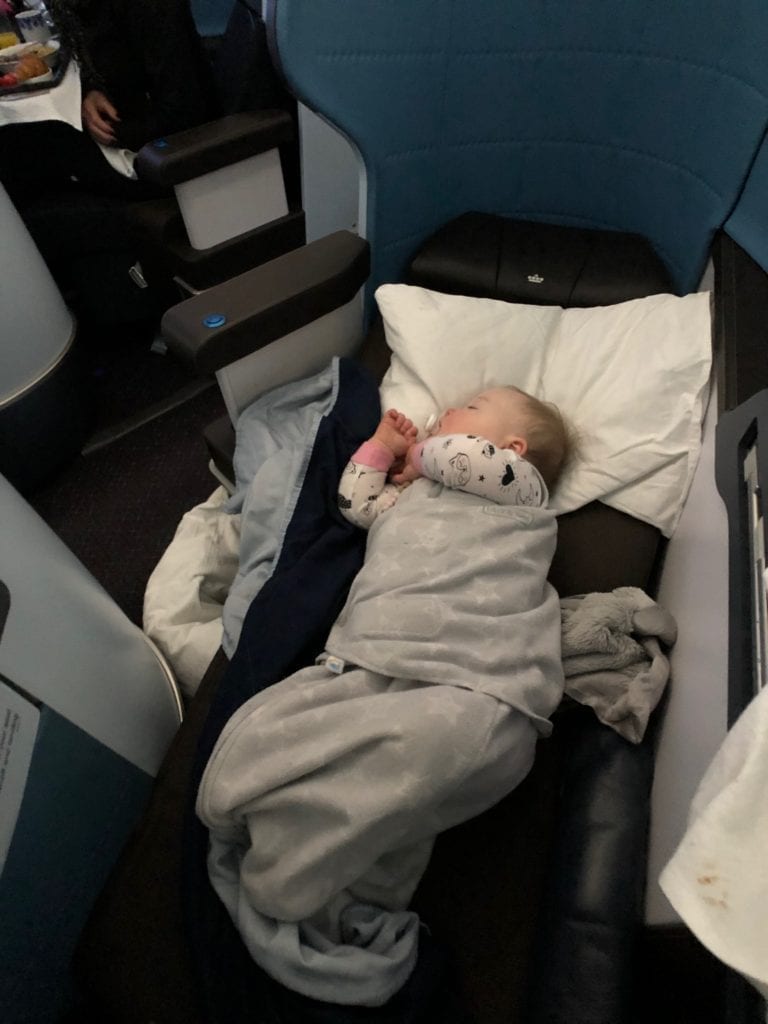 Dining
As is the case with most transatlantic flights, you'll get two meals: A dinner (or lunch when heading west), and then a "light meal" roughly 90-120 minutes before landing.
Due to our 9 p.m. departure time, dinner was served with the appetizer, main course, and dessert all at once. This way, the flight crew could get passengers fed quickly so they could get as much sleep as possible before our arrival in Amsterdam.
The appetizer was a salad with sliced turkey and a cranberry vinaigrette sauce topped with pomegranate seeds and walnuts. It was mostly forgettable but certainly edible.
The main course I chose was the tortellini with a béchamel sauce, roasted butternut squash, spinach, and goat cheese. While it wasn't a large portion by any means, I did find it to be quite delicious.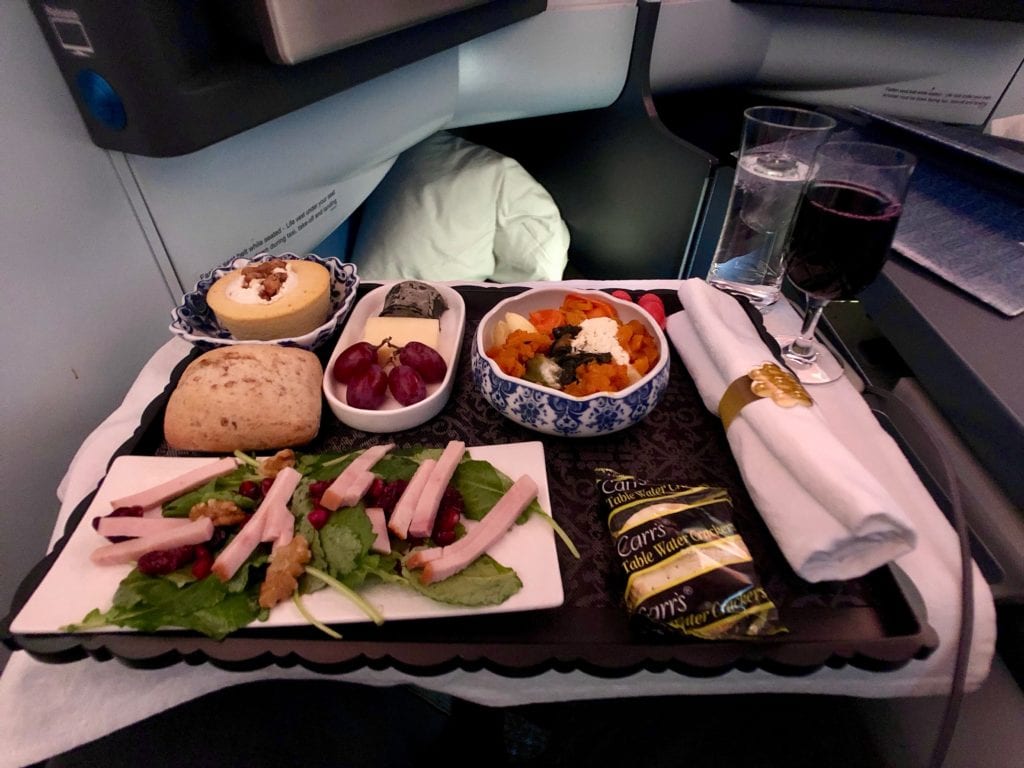 The other main course option was a spiced seafood jambalaya with fried prawns. The passenger across the aisle from me ordered it and it also looked very tasty.
Finally, dessert was a pumpkin cinnamon cheesecake with walnuts which I also found to be very good.
About 90 minutes before landing, breakfast was served. I was very surprised at the amount of food offered as this is usually a lighter meal – especially for European carriers.
All of the breakfast options were served with fresh fruit, cheese,  turkey, ham, and a hot croissant. I opted for the swiss cheese egg strata served with sausage, spinach, and tomatoes for my breakfast. I was just ok, though definitely nothing to write home about.
The dishware used by KLM is quintessential Dutch and a very nice touch. I also really enjoyed the little clog salt and pepper shaker which can be seen above the plate in the photo below.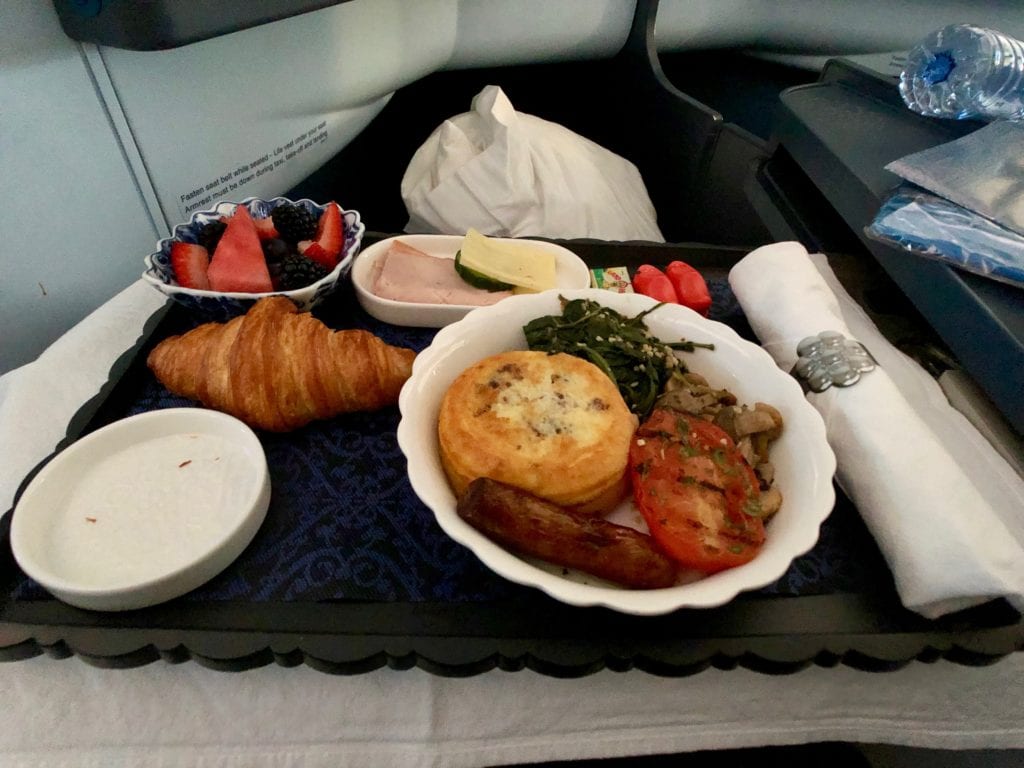 My favorite part of the meal service, however, was the signature ceramic KLM Dutch gin houses offered about 45 minutes before landing. KLM has given these out as parting gifts to business class passengers for years, and they've become quite the collector's item.
Of course, if you want to, you can break the seal on the house chimney and drink the gin (genever). I chose to keep mine as they are a fun collectible. They sit on my desk and remind me of the great trip we had.
You can read more about these houses and their history here.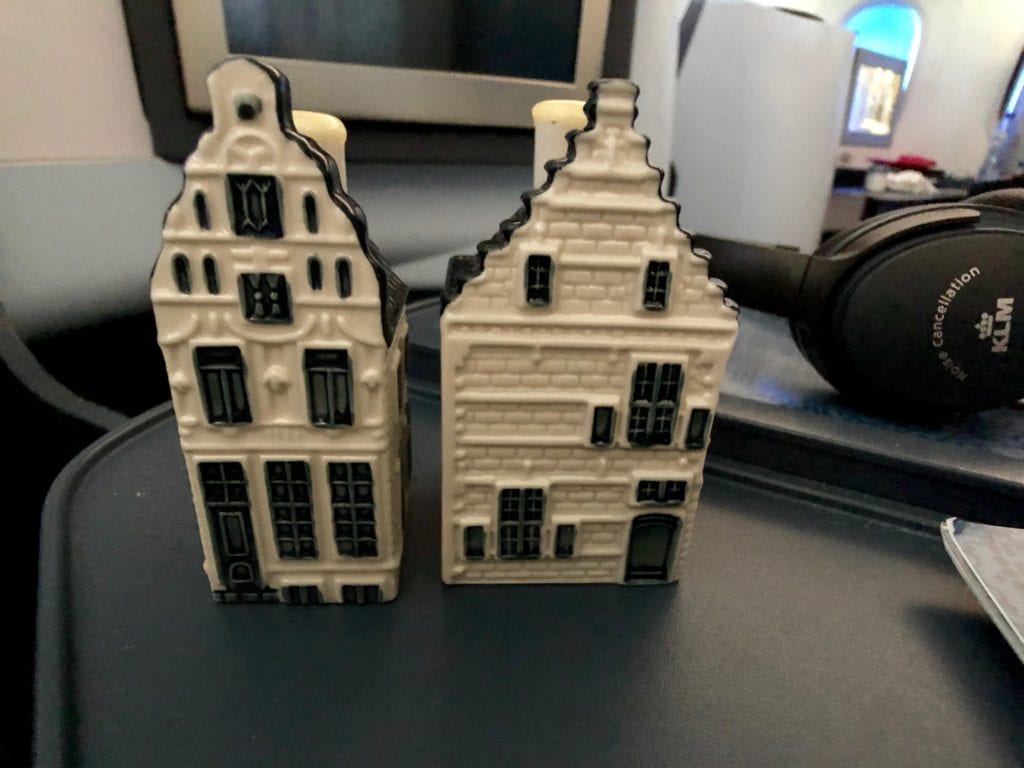 A Note About Service
Service throughout our eight-hour flight was great, from start to finish. The flight attendants were so accommodating and made sure my wife and I had everything we needed for our 1-year-old daughter. They were extremely polite and quick to respond to any of our requests, whether it was for milk, water or splitting out the meal service so that one of us could eat while the other could keep our daughter occupied.
They even stopped by after take off to give us a child amenity kit which included this fun patch, a bib and many other items that would have come in handy had our daughter been a bit older.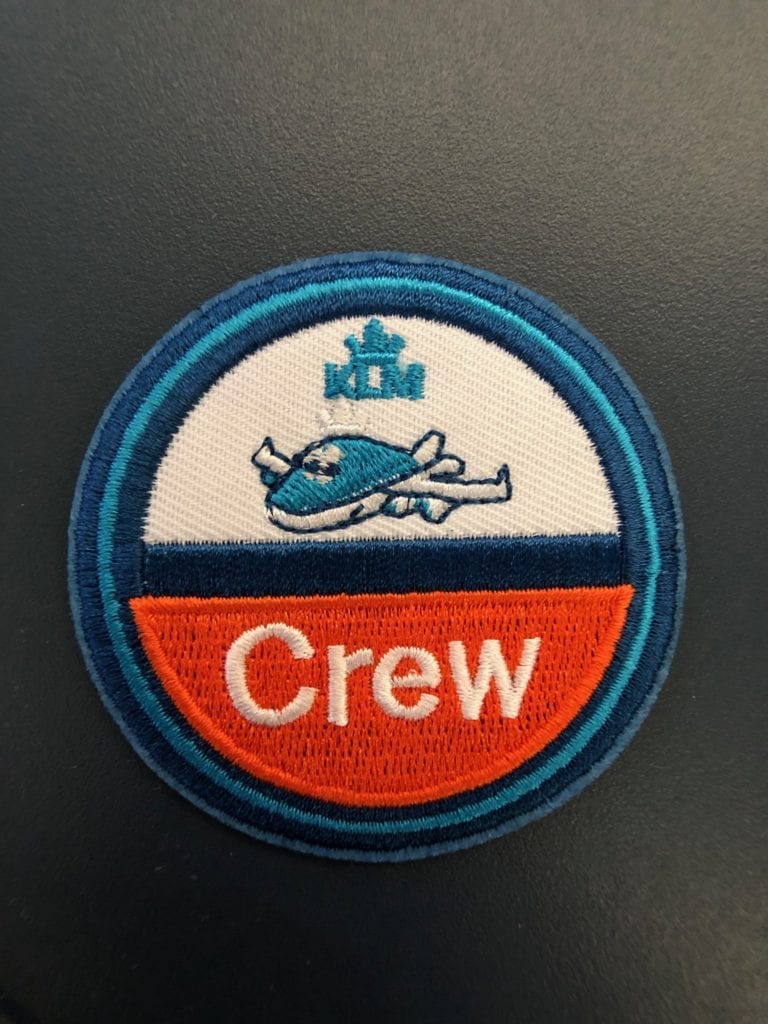 Amenity Kits
The amenity kits on board were from Jan Taminiau, a brand I was not familiar with before the flight. There were different offerings for both men and women which included different products. Jan Taminiau has been the provider of KLM amenity kits since 2016, and per KLM's website, the brand is one the most exclusive and successful of the Netherlands' fashion designers.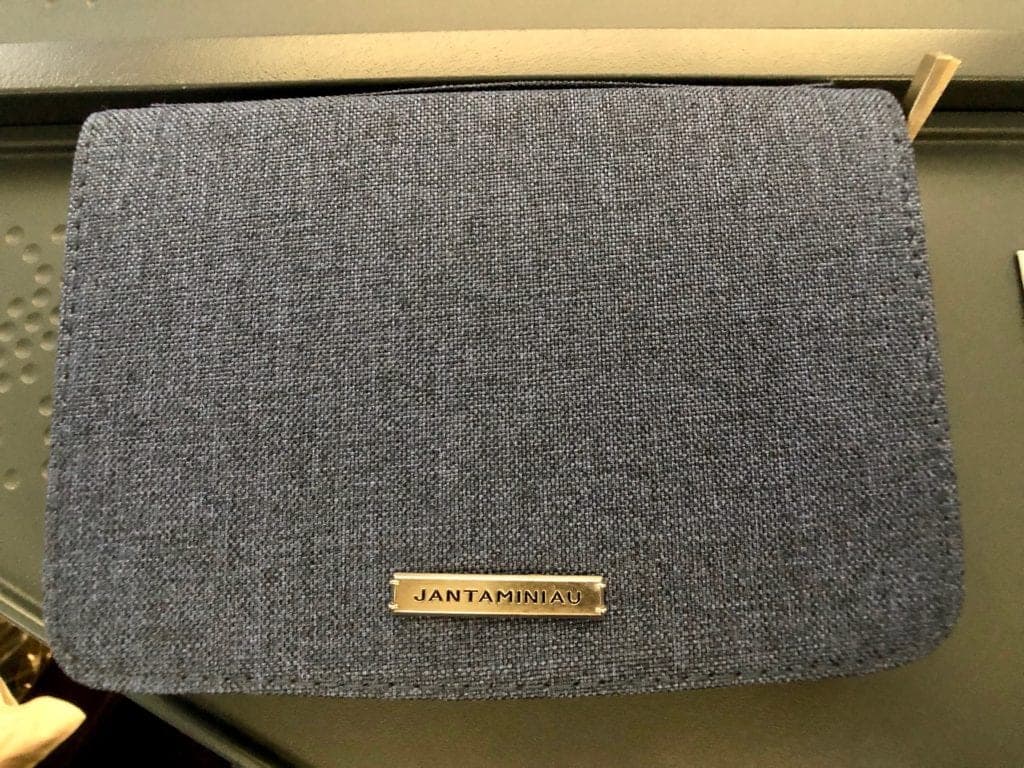 Access to the Delta Sky Club
If you are flying business class on KLM out of Minneapolis-St. Paul (MSP) or any other U.S. gateway, you will receive complimentary access to the Delta Sky Club due to their Sky Team Alliance partnership. This made for a great way to start our trip as I used just 4,000 Delta SkyMiles to buy a bottle of Laurent Perrier La Cuvee Rose – an $80-plus bottle – for our group to split and cheers the start of our upcoming vacation.
We also would have had access to the KLM Crown flagship lounge in Amsterdam, but our connection wasn't long enough and we just headed directly to our gate for the connecting flight to Vienna.
Read our full guide on how to access the Delta Sky Club.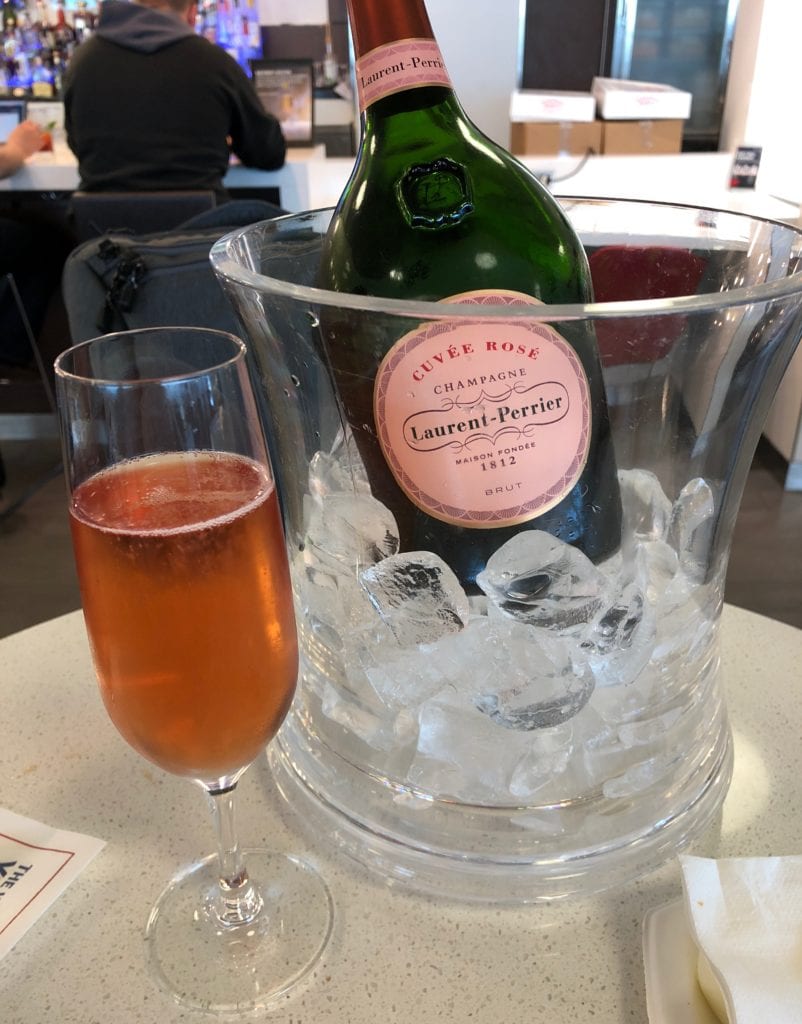 Bottom Line
Is KLM business class the world's best? No, absolutely not. For me, that award still goes to Qatar Airways' fantastic Qsuites.
But from the seat itself to the meal and service, it's a more than solid offering – especially compared to the other options flying between the U.S. and Europe. Case in point: Many of the planes Delta flies on this same route are much older and outdated.
To score a new KLM business class seat across the Atlantic Ocean for 75,000 SkyMiles is a great value.