Whether you're booking an insanely cheap mistake fare or using points and miles, everyone wants to beat airlines at their own game. Here's your chance.
There's a mind-blowing but little-used hack within United's MileagePlus program that you can use to your advantage. It's called the United Excursionist perk, and it works like this: When you book a round-trip flight using United miles, you can add another one-way flight for no additional miles. There are some important restrictions around this – we'll get into them shortly – but that's the gist of it.
While it's not exactly a secret within the frequent flyer community, this perk can be tough to grasp and even harder to use for maximum value. We're going to walk you through it.
And we'll show you a great way to make the most out of it: Stack this perk with a great international flight deal like the ones you find here or through Thrifty Traveler Premium, book the cheap connecting domestic flights you need using United miles, and add on another flight for (nearly) free!
How the United Excursionist Perk Works
Other travel sites like View from the Wing and Travel is Free have done a great job explaining just how this perk works – and why United's decision to get rid of its award chart has actually made the Excursionist Perk better than ever.
But let's take a step back. Boiled down, it works like this:
If you book a roundtrip flight using United miles, you can add in another, one-way flight for no additional miles. You just have to pay the taxes and fees on the flight, and that's it.
That said, there are some rules about that free flight.
It must take place between the two segments of your round-trip flight, not before your departing flight or after you return.
It must be in a different region than where your trip first began. Ex: If you book a round-trip from the U.S. to Europe using miles, your free Excursionist flight can't be in the U.S. – but it can be in Europe.
Your Excursionist flight must be within one region. Ex: You could fly from one European city to another, but not from Europe to Africa or Asia.
Here's a look at how United splits up the globe into separate regions, which limits just how far you can go.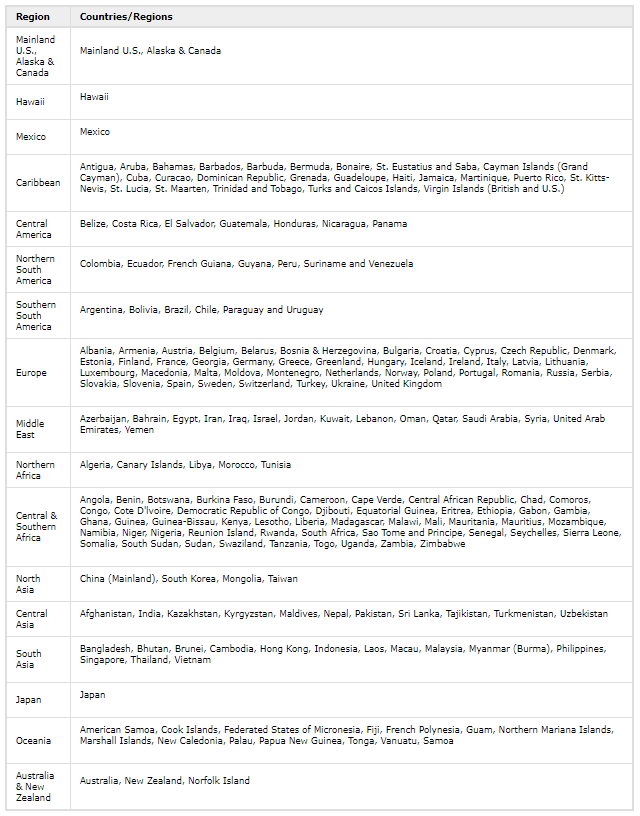 Remember that if you don't have a stash of United miles, you can transfer them from your Chase account instantaneously. So cards like the Chase Sapphire Preferred or Chase Sapphire Reserve can help bolster your balance of United miles.
Now, let's take a look at how this perk works in action.
Excursionist Perk in Action
There's a very straightforward way to put this into action. Let's say you book a round-trip fare using United miles from Denver (DEN) to Munich (MUC). That ticket will normally run you 60,000 United miles. Using the Excursionist perk, you could add in a one-way flight to the amazing Portuguese city of Lisbon (LIS) and still pay just 60,000 miles. You'll just need to pay the award taxes and fees for the flight.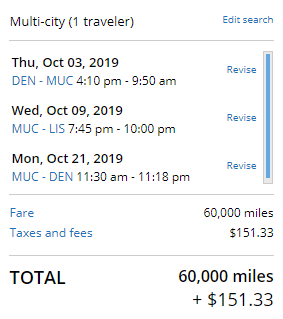 And that's no small feat. That flight from Munich (MUC) to Lisbon (LIS) typically costs at least 15,000 United miles, plus fees. Due to the inter-regional rules of the Excursionist perk, that's close to as good as it gets.

You can also combine it with an open-jaw routing. An open jaw flight is when you fly from Airport A to Airport B, but return from Airport C back home to Airport A. So using your European example, you can use the Excursionist flight to stitch that open jaw together for free by flying from DEN to MUC, MUC to LIS, and LIS back to DEN. You'll simply book two one way flights (DEN-MUC, LIS-DEN) and add the Excursionist flight in between.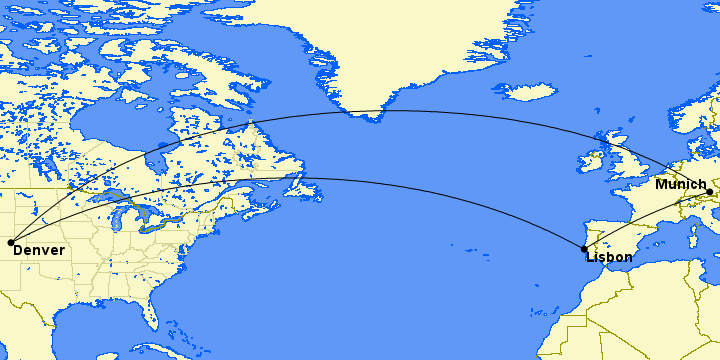 Even this way, you're still using just 60,000 miles for 75,000 miles worth of flights. Once again, that Excursionist flight costs you 0 miles.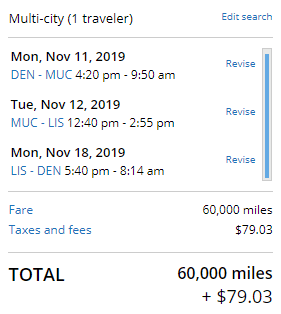 In both examples, you're using 60,000 United miles to unlock a free flight that normally costs 15,000 miles. And that's great.
But you can do much better. And it's all thanks to the fact that United has started selling domestic flights as low as 5,000 miles each way.
The Best Bang for Your Buck
Remember those rules on your Excursionist flight above? Go look again and you'll notice something is missing: There's no requirement that you spend a certain amount of miles to get it.
There's also no requirement that your Excursionist flight connects with the round-trip. You could book a domestic flight within the U.S., and then tack on a flight within Europe for free. Or within Africa. Or Southeast Asia.
And that opens up an enormous sweet spot. You can book a round-trip flight in the U.S. for as little as 10,000 miles, and get a flight that normally costs 15,000 to 17,500 miles for nothing. That makes this perfect for when you need to book positioning flights, those domestic flights to help connect with a longer international journey.
There's an easy way to put this into action. Let's go back to that trip from Denver (DEN) to Munich (MUC).
One of the fundamental rules of using points and miles is that you should use cash when flight prices are cheap. And as luck would have it, we recently sent Thrifty Traveler Premium subscribers an amazing deal to fly from Colorado to Germany for just $297.
Let's say you live in Los Angeles (LAX) and need to get to Denver (DEN) to hop on the flight to Germany. Use United miles to book that positioning flight for as low as 10,000 miles round-trip. And you can still add on that Excursionist flight to or from Lisbon (LIS) for 0 miles!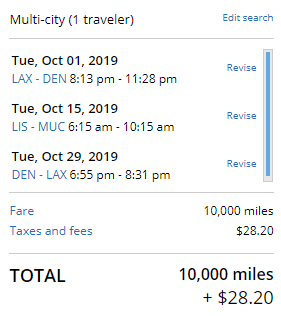 Thrifty Tip: Your cash fees will be higher when you depart major European airports like London-Heathrow (LHR), Paris-Charles de Gaulle (CDG), and even Munich (MUC), so fly back to those airports instead to save some money.
You'll need to book the other one-way flight, or else find your way back by train or car. And it may take some hunting to get the cheapest rates on a domestic fare that line up with your journey across the Atlantic Ocean.
But whether you pay 10,000 miles or 20,000 for your positioning flights within the U.S., you're getting a lot more bang for your buck by unlocking the Excursionist perk this way. And it allows you to see another place for 0 miles.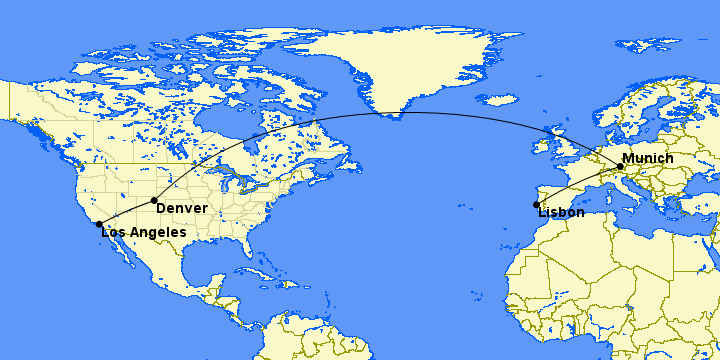 How to Book a Fare with an Excursionist Flight
Though United's Excursionist perk can be difficult to grasp, it's easy to use once you understand how it works.
The beauty of this perk is that it works automatically on United's search engine – no phone calls, special buttons, or Twitter DM's are required for it to kick in. The trick is to use United's multi-city search function.
Ensure you're searching for an award ticket, and click the multi-city search option.
From here, it's as simple as typing in your flights in the right order. Going back to our example: Flight #1 is the first half of your round-trip, LAX-DEN; Flight #2 is your Excursionist flight, LIS-MUC; and Flight #3 is the return leg of your round-trip, DEN-LAX. You'll need to click "Add another destination" to type in the third and final flight.
Click through to search, and pick the first half of your domestic trip. Then get ready to pick your Excursionist flight. Yes, this is real life. You're booking a flight for 0 miles.

And it's really that simple. Round out the second half of your domestic flights and you're done. With any luck, you just spent 10,000 United miles and got a free flight that normally costs 15,000 miles or more.
Quick Tips to Maximize the United Excursionist Perk
Now that you know how it works and how to do it, there are a few things to keep in mind to make the most out of this great benefit.
Due to the regional restrictions on Excursionist flights, just a few areas stand out as a great place to use this perk. At the top of the list are Europe, Central and South Africa, and South Asia. Due to their size, these regions will give you the most bang for your buck.
You can fly for a few hours in business class using the Excursionist perk, too! You'll just need to book that round-trip fare in domestic first class – but finding those fares for a low amount of miles can be challenging.
Paying a bunch of award fees and airport taxes can make it tough to come out ahead, even when you're paying 0 miles. Structure your itinerary to avoid flying out of massive European airports, and you'll pay fewer fees.
Bottom Line
The United Excursionist perk deserves its day in the sun. While it can be tough to understand, it's worth the work. Once you put it into practice, you'll feel like you beat United Airlines at its own game.
But there's no telling how long this loophole will work – United could get rid of it at a moment's notice. So use it soon!
Lead photo courtesy of Colin Brown via Flickr