Of all the ways to use your hard-earned points and miles, booking a lie-flat business or first class seat somewhere overseas gets you the most bang for your buck. And there's nothing quite like sitting down in a plush seat with a glass of champagne in hand, wondering how many of your neighbors paid full price for the same seat.
And full price can be a lot: An international business class ticket typically starts at $4,000 to $5,000 roundtrip … and sometimes double that or more. If you think that's an absurd amount of money to spend on a flight, you're right! That's where points and miles shine.
For many travelers (myself included), it's the only way to make flying in this kind of style a reality. But even with all the points in the world, actually booking business class seats can be easier said than done. Airlines don't make it so easy to book these top-dollar flights using miles.
That's where our Thrifty Traveler Premium+ service comes in: Rather than searching for flights and coming up empty-handed, we let you know exactly when (and how) to book your United Polaris business class seat to London, when you can snag a Turkish Airlines business class fare to Rome, or when there's great award space to fly Qatar Qsuites to the Middle East and beyond.
That's just the start: Since introducing Thrifty Traveler Premium+ last month, we've doubled down on finding these excellent business class award space alerts. Here are some additional examples of Thrifty Traveler Premium+ deals we've sent in the last few weeks, helping our members fly like they're millionaires … for just a few thousand points.

Biz Class for 60K (Or Less!) to London Next Summer
Let's start with that United Polaris business class trip to London. Any time of year, a business class seat to London isn't cheap. But during summer? Forget about it.

If you can afford $2,681 for a single, one-way flight to London, more power to you! But I prefer this way: Just last week, we sent Thrifty Traveler Premium+ subscribers an alert with stellar availability to book United Polaris seats for four (or more) people in 2023 … including the peak summer! If you've been saving United MileagePlus miles (or Chase Ultimate Rewards points, which instantly transfer to United), this is how it's done.

A one-way to London-Heathrow (LHR) for just 60,000 United miles and under $6 in fees? Or book the exact same flights there and back using ANA Mileage Club for just 88,000 miles … roundtrip? You can't beat that, especially for a summer trip to England in business class.

These seats are long gone now – get the next deal to your inbox with Thrifty Traveler Premium+!
That's just one of many United Polaris points and miles deals to Europe we've unearthed in the last several months, including:
Christmas and New Year's trips to London from Boston (BOS), Chicago-O'Hare (ORD), and Newark (EWR)
Start a ski trip to Switzerland in Chicago-O'Hare (ORD) to Zurich (ZRH)
Polaris business class for the whole family from Newark (EWR) to Rome (FCO) next spring
Australia in Qantas Business Class from 55K
Flying 15-plus hours to Australia, a lie-flat business class seat is paramount. But booking business class on these nonstop routes to the land down under is one of the hardest redemptions to pull off, especially on Australia's flag carrier Qantas. You can look for month after month and not see a single business class seat bookable with miles.
But that's just what we found earlier this year, giving Thrifty Traveler Premium+ members the exclusive heads up on a chance to book this incredibly difficult award deal.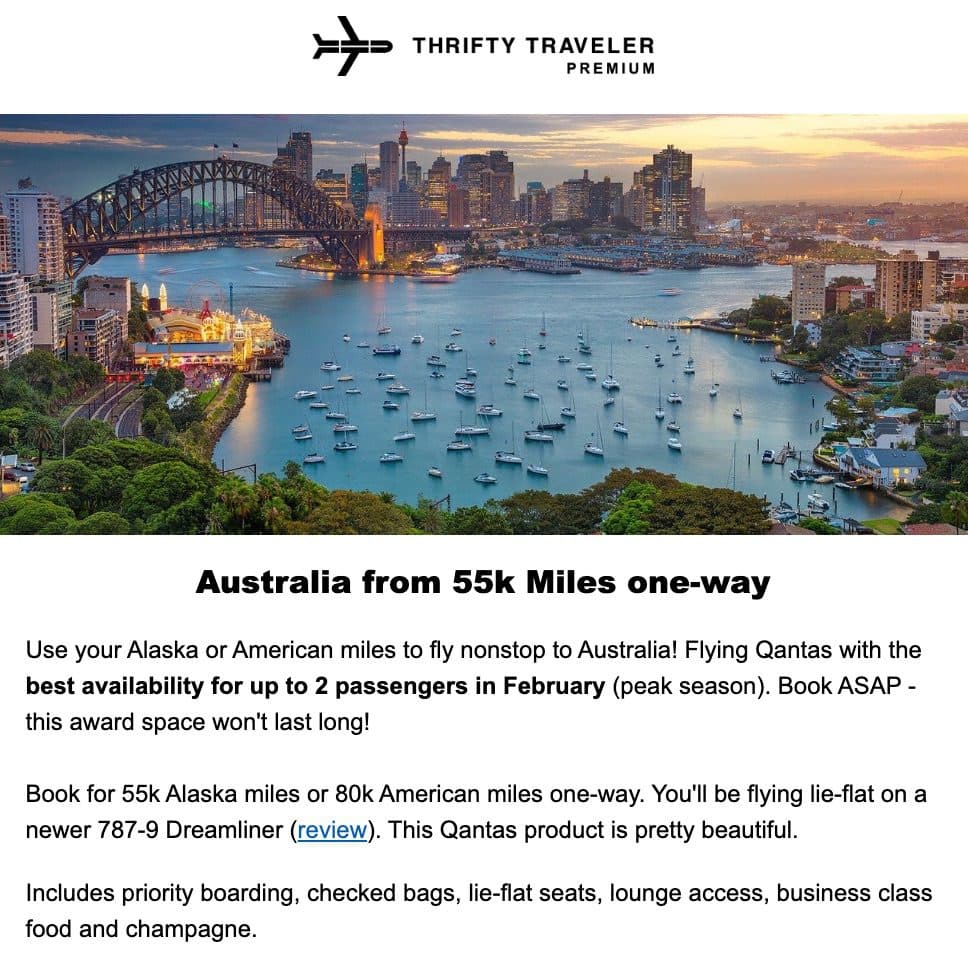 This deal is so rare, go figure it disappeared in just a few hours. But booking a nonstop flight from Dallas-Fort Worth (DFW) to Sydney (SYD) or Los Angeles (LAX) to Melbourne (MEL) for a trip to Australia during their summer is a steal … especially when you can book for as few as 55,000 Alaska Mileage Plan miles!


Stacked against the nearly $8,000 cost in cash to book that same flight? Points and miles deals like this don't come around often, but I'd say this is one worth waiting for…

Flying Qsuites, the World's Best Biz Class!
It's the deal so nice, we've found and sent it twice. Actually, more like eight times.
Qatar Airways Qsuites are the best business class seats in the world – and it's not particularly close. So go figure that finding the award availability to book these unbeatable suites can be a challenge – especially lately. We can help.
In 2022 alone, we've sent Thrifty Traveler Premium+ eight email alerts in 2022 for a chance to book Qatar Qsuites to the Middle East and beyond. Just a few weeks ago, we found a massive amount of seats, with space for two passengers to fly from the U.S. to Doha or even continue onward to almost anywhere in Africa.

Read our full review of flying Qatar Airways Qsuites from Dallas-Fort Worth (DFW) to Doha (DOH)!
This is just one of the latest business class award space alerts for Qsuites we've sent to Thrifty Traveler Premium+ subscribers. In this case, nonstop flights for two (or more!) were available from many U.S. hubs like Los Angeles (LAX), Chicago-O'Hare (ORD), Dallas-Fort Worth (DFW), New York City (JFK), and many more.
You could book these seats for just 70,000 American AAdvantage miles each way – or 75,000 to fly all the way down to South Africa. We're always looking for ways to help travelers stretch their points even further by combining credit card transfer bonuses with our award alerts. It doesn't get much better than booking Qsuites for just 50,000 points thanks to a 40% transfer bonus from Amex to British Airways available earlier this year.

Want to fly business and first class? We allow Thrifty Traveler Premium+ members to get alerts for premium cabin award alerts from all U.S. cities!
Emirates Business Class to Europe & Back for 90K
Greece is one of the most sought-after destinations in all of Europe, but getting there isn't always cheap … doubly so when flying business class.
But lucky for all of us, Dubai's famed airline Emirates runs some fun fifth-freedom routes connecting the U.S. and Europe, including this unique route from Newark (EWR) to Athens (ATH) and back.
Yes, you can book Emirates business class to Greece and back for just 90,000 miles roundtrip.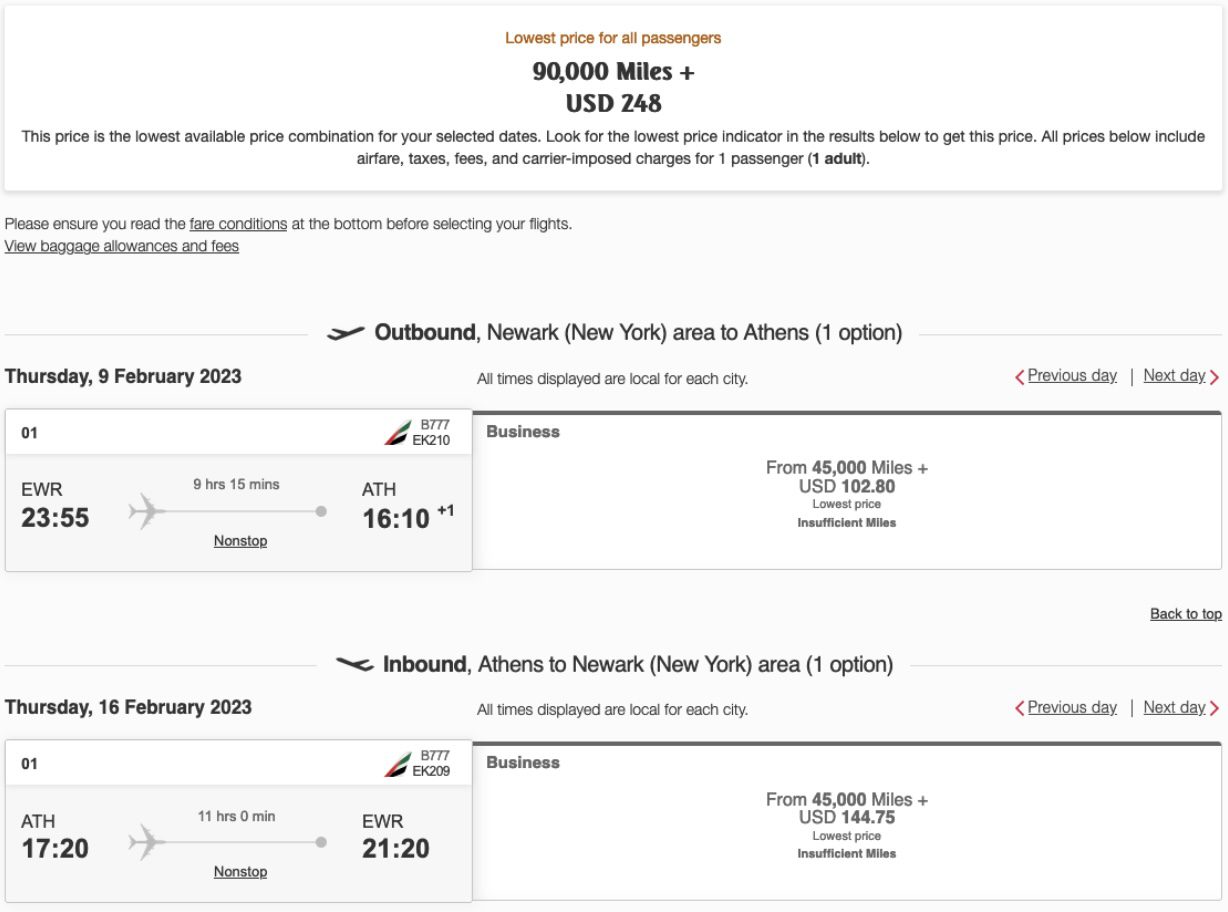 It's easy to get the points you need to book these business class seats to Athens: You can transfer them from Chase, Amex, Capital One, Citi, and even Bilt Rewards. That means a stash of 90,000 points on cards like the Capital One Venture X Rewards Credit Card, American Express® Gold Card, Chase Sapphire Preferred® Card, or the Citi Premier® Card is all you need, as all those points transfer to Emirates on a 1:1 basis instantly.
Add in about $250 for taxes and fees, and you're on your way to Europe in business class. That sure beats what you'd pay using cash … brace yourself.


Over the last few months, we've sent Thrifty Traveler Premium+ members several deals to book this flight to Athens as well as Emirates other route between New York City (JFK) and Milan (MXP) – you know, if hopping back to the onboard bar on your way over to Italy is your thing.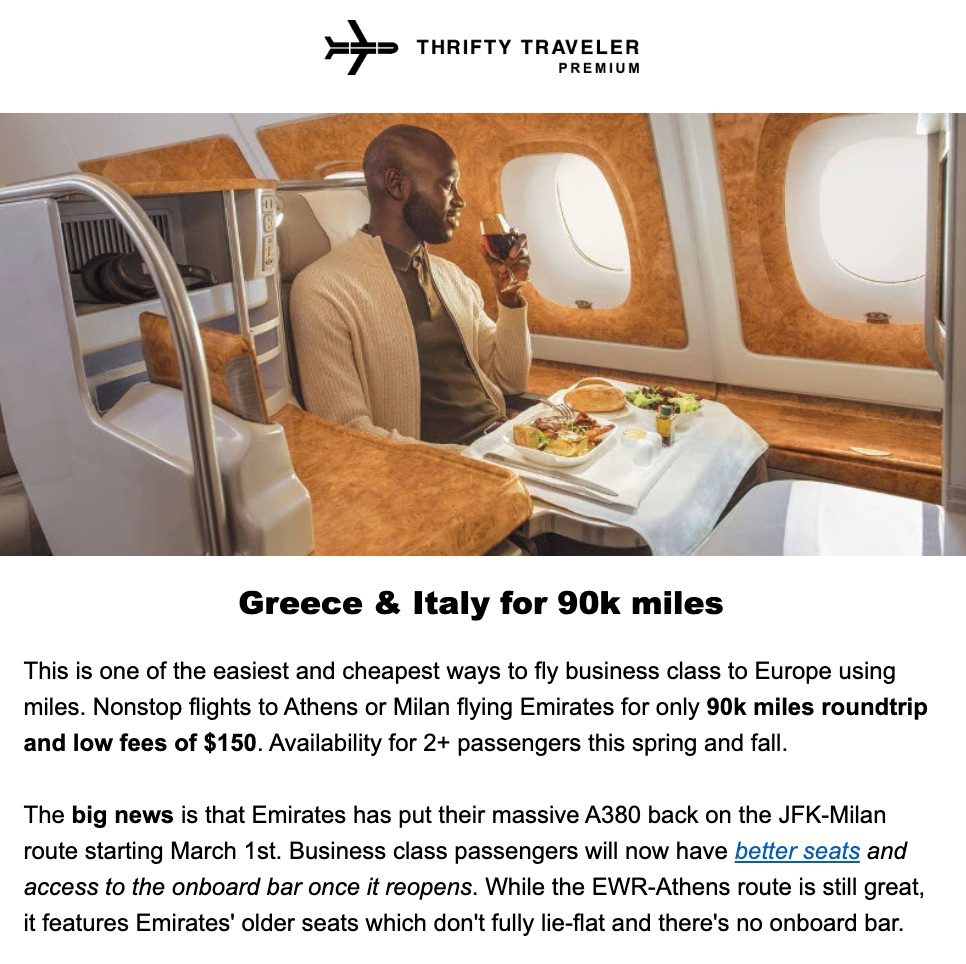 Spain & Portugal for 35K or Less
Let's dig into a few more examples of what our business class award alerts can do, and we'll go to the Iberian peninsula with two lie-flat trips: one to Portugal and one to Spain.
Booking TAP Air Portugal business class or Iberia business class across the pond using your points are two of the best ways to book business class, period. You won't find a more cost-effective way.
Let's start with this redemption from New York City (JFK) to Lisbon (LIS) with TAP, because it's an oddball. Normally, you can book business class flights from the U.S. to Europe using Avianca LifeMiles: 63,000 miles, in fact. Not bad. But there's one massive sweet spot: You can fly from JFK to Lisbon in TAP Air Portugal's business class for just 35,000 miles one way. It's a bit of a unicorn in LifeMiles' options, as it only works on this one, single route. Even the return flight will cost you the full 63,000 miles.


After we sent this deal out to our Thrifty Traveler Premium+ members last year, I booked it myself for my first-ever business class flight. It's a comfortable ride, and you cannot beat that price considering TAP typically charges $2,300-plus for the same seat.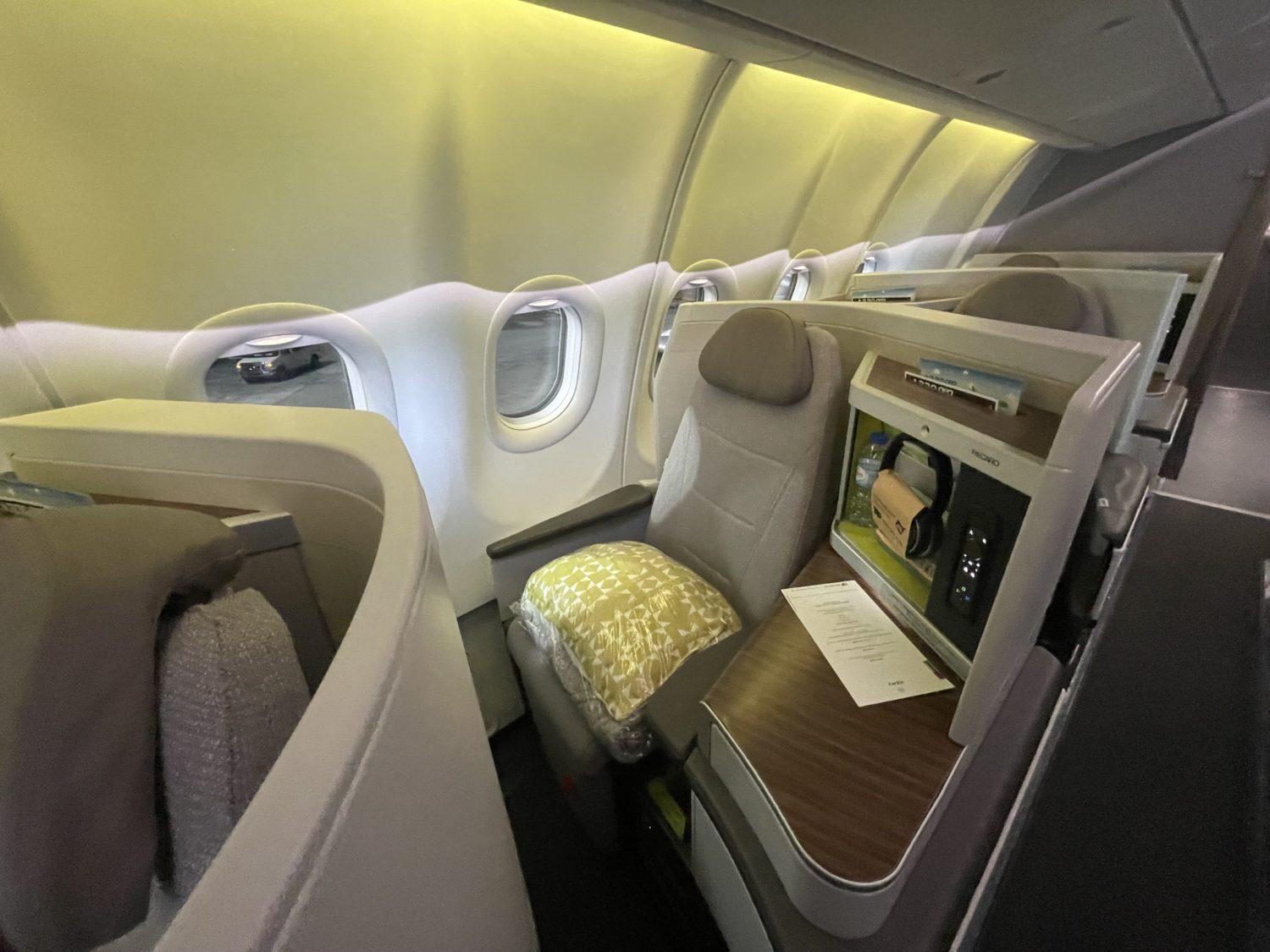 Wait, it really gets cheaper than that? Yes: Over in Spain, flag carrier Iberia can get you to Madrid in lie-flat seats for as low as just 34,000 miles each way. This deal we sent to subscribers last month worked from Chicago-O'Hare (ORD), New York City (JFK), Boston (BOS), and Washington, D.C.-Dulles (IAD) for a trip in 2023, with higher rates from other U.S. cities.

These are some of the easiest points to earn through credit card transfer partners … and transfer bonuses can make it even cheaper. For example, a 20% transfer bonus from Capital One to British Airways in November meant you needed just 29,000 points from the Capital One Venture X Rewards Credit Card to book these flights.

That's the beauty of award alerts like these: We let you know exactly what you can book and the best ways to do it. A deal like this is about maximizing the points you've been earning, so you don't have to spend like this to fly lie-flat to Europe.

A Unicorn: ANA First Class to Japan
It's not business class: It's even better. And if you ask us, it's probably the single best deal in the world of points and miles.
Why? Because no one in their right mind should pay to fly ANA First Class to Tokyo…


Finding even one first class seat on this top-rated Japanese airline has been nearly impossible for more than a year. Traveling with a companion? Forget about it.
Yet just as Japan threw open its borders for the first time in nearly three years, we found the unicorn of all award alerts: ANA First Class to Tokyo in 2023 … for two! Yes, we knew we stumbled upon a literal goldmine with this award alert earlier this year – especially considering you could book using just 43,000 points each way!

This award space is long, long gone. Get the next alert with Thrifty Traveler Premium+!
Availability was limited, and only Los Angeles (LAX) was an option. But we can't blame our members for gobbling up all this award space within just a few hours.
Turkish Airlines to Europe for 45K or Less
Let's go back to Europe for one more example, shall we?
Italy is at the top of the list in Europe for Americans … and that tends to drive flight prices up, leaving slim pickings for those looking to pick up a cheap business class seat, even using miles. But just last week, we spotted some business class award availability in the excellent Turkish Airlines business class flying from the West Coast to Rome (FCO) for just 31,500 miles and $282 in taxes and fees … wait, what?

That's right. These flights should normally cost 45,000 Turkish miles (which you can transfer from Capital One or Citi), but a mistaken promo from Turkish put these flights on sale, big time.
Making a pitstop in Istanbul (IST) might not be the straightest route to Rome, but it's worth it when you're flying in a seat like this, eating meals cooked up by a dedicated onboard chef, and taking a break in Turkish's stellar business class lounge before completing the journey to Italy.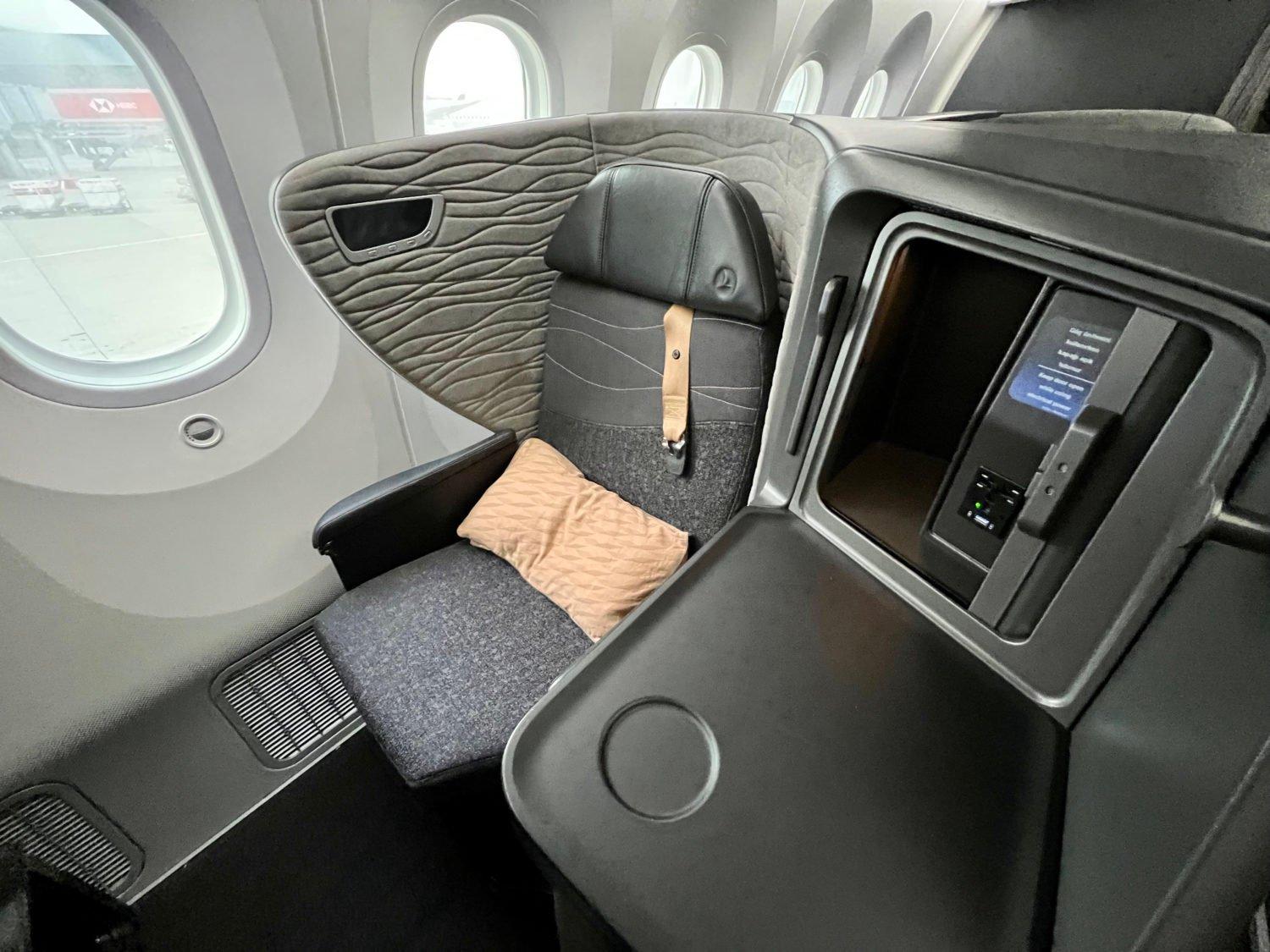 Check out our full review of Turkish business class … then get the next deal to fly it with miles with Thrifty Traveler Premium+!
Top-Rated Airlines to Southeast Asia & Japan
From Singapore to Vietnam to Thailand and Japan, most countries throughout Asia have reopened for travel. And right on cue, we've been finding a bunch of business class deals to get there in 2023.
Let's start by getting you a lie-flat seat to Thailand (BKK) flying EVA Air business class, one of the best airlines in the world, for less than 90,000 miles each way using Air Canada Aeroplan.

We know trips to Southeast Asia are high on travelers' wish list, and you'll never treasure a lie-flat seat more than on these grueling flights. That's why we sent this deal to Thrifty Traveler Premium+ members a few weeks back, with seats for two bookable to either Bangkok (BKK) or Bali (DPS) next fall.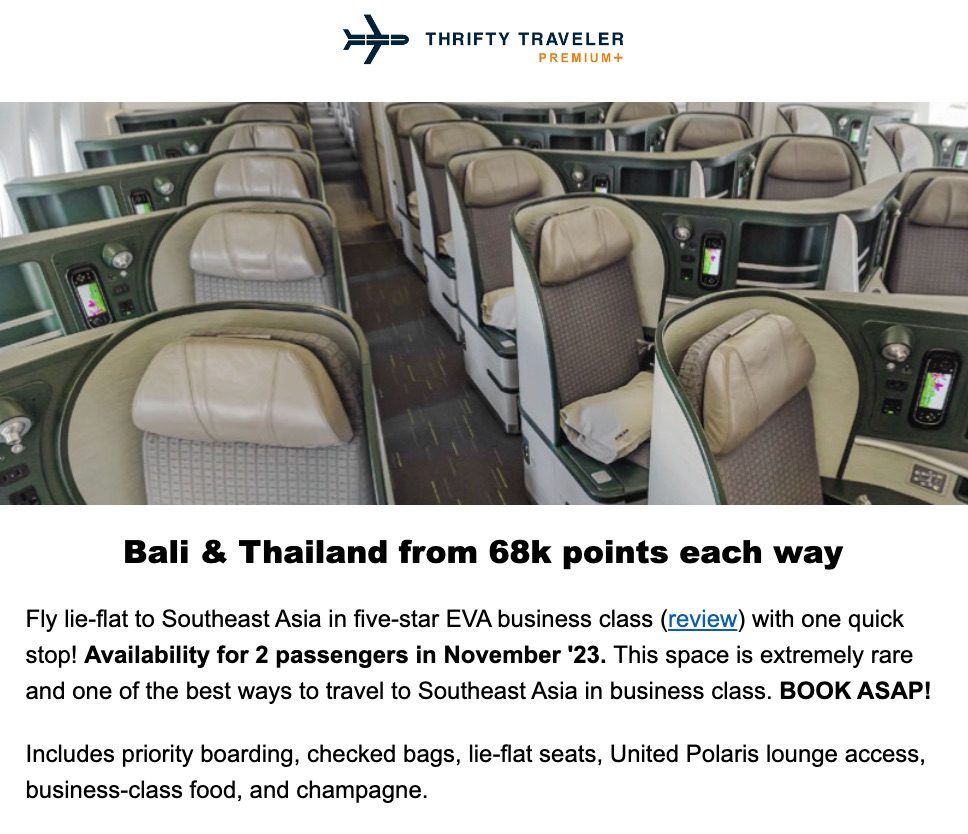 Singapore still high on your list after watching Crazy Rich Asians? Want to take that 16-plus hour flight in a seat like this?

That's a rhetorical question: We know you want to fly Singapore Airlines business class. Just last week, we found gobs of award space to fly to Singapore (SIN) and onward throughout Southeast Asia in these amazing seats. And thanks to a recent tie-up with Air Canada Aeroplan, you could book them for just 87,500 points apiece to start an amazing trip next fall.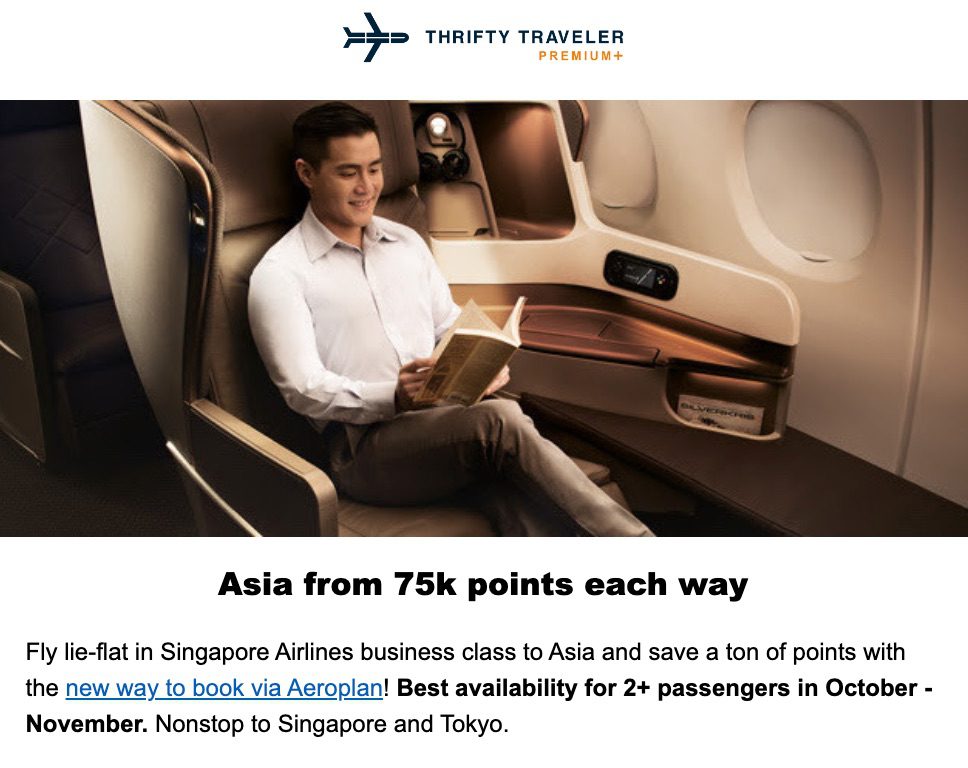 Singapore also runs a flight from Los Angeles (LAX) straight into Tokyo-Narita (NRT), and this was one of the best deals we've seen in years to get there for just 75,000 points from Air Canada each way.

And you probably guessed it: These flights cost thousands for the people who pay cash. If you made it this far in this story, you're probably not one of those people.
But with your stash of points and miles, you can snag one of these seats on your next long-haul flight and live the good life to kick off your vacation.
Bottom Line
Flying business class is within reach even if you don't have thousands of dollars to throw at tickets. Points and miles can be the great equalizer when it comes to flying in style.
But given the difficulty of tracking down available seats and finding the right miles to use, even points and miles millionaires can struggle. That's what our Thrifty Traveler Premium+ service is all about: Doing the legwork for you so you can score business class seats around the world without breaking a sweat.