Delta has a brand new look in Los Angeles (LAX): A new, consolidated headhouse connecting Terminals 2 and 3 dubbed the Delta Sky Way at LAX with flashy check-in desks, baggage drops, and plans to eventually connect with the Tom Bradley International Terminal. But the star of the overhaul is a massive new Los Angeles Sky Club.
Clocking in at 30,000 square feet, it's the largest Sky Club in Delta's network, dwarfing even its flagship locations. It's got size but also style, with sharp furnishings, two bars, incredible shower suites, and even an expansive outdoor deck – a dream for aviation geeks and plane spotters.
Like the Sky Way itself, this new Sky Club opened its doors for the first time on Wednesday. Immediately, this new lounge became not just a substantial upgrade from Delta's previous LAX Sky Clubs … but easily my favorite Sky Club in the country.
Read on for our full review of the new Delta Sky Club in Los Angeles and everything you need to know before your next visit.

Getting into the New Delta Sky Club in Los Angeles (LAX)
The new Delta Los Angeles Sky Club lounge on the top level of the new Sky Way, on the departures level between Terminals 2 and 3.
My inbound flight from Minneapolis-St. Paul (MSP) arrived in Terminal 2, and it was a short five-minute walk to the new Sky Club. If you're flying Delta, you'll want to come to this lounge rather than the older locations. No matter where you're at, it shouldn't be too long of a walk.
On opening day, there was a slight delay in throwing the doors open to Delta flyers. But Delta says the lounge should be open daily from 4:30 a.m. to 12:30 a.m.
The wood-paneled entry is impossible to miss.

To get into the new Delta Sky Club at LAX, you'll need to have access. And like all Delta Sky Clubs, there are a few ways to get into this beautiful new lounge. But no matter which route you take, you need to be flying Delta that day to get in. 
The easiest way – and the method I used on Wednesday – is by simply holding the Platinum Card® from American Express – and not the co-branded Delta version.
This card opens more lounge doors than any other travel credit card on the market. So long as you're flying Delta that day, you can just show your Platinum card and your boarding pass, and gain access. You can bring up to two additional guests, but it will cost you: After a hike in February 2023, each guest now costs $50.

Click Here to learn more about the Platinum Card® from American Express.

You can also get into the Sky Club for free if you've got Delta's top co-branded credit card, the Delta SkyMiles® Reserve American Express Card. Much like the Platinum card, you can enter any Sky Club for free so long as you're flying Delta that day. Reserve cardholders also get two, one-time guest passes each year. After that, you'll have to pay $50 per guest, too.

Click Here to learn more about the Delta SkyMiles® Reserve American Express Card. 

And even cardholders with one of Delta's lesser co-branded cards can get in – for a fee. If you've got the Delta SkyMiles® Platinum American Express Card, you can enter any Delta Sky Club when you're flying Delta that day by paying $50.
Unfortunately, flyers with the Delta SkyMiles® Gold American Express Card will not have access to the Delta Sky Club.
Read more: How to Access the Delta Sky Club
Checking In
Once inside the main entrance, you'll notice the beautiful and modern design. You'll also find five self-service kiosks which will grant you access to the lounge, as well as a handful of Delta agents to assist with the check-in process.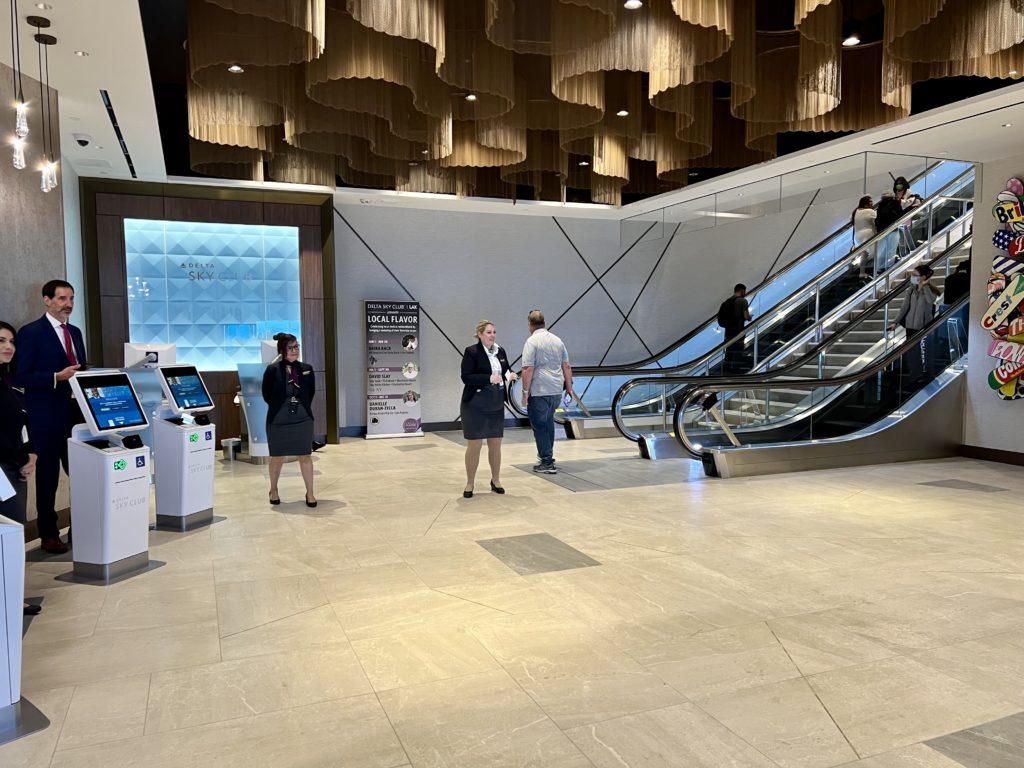 According to one of the lounge attendants, the Los Angeles Sky Club is one of the first clubs to get these state-of-the-art kiosks. They were also added to the clubs in Salt Lake City (SLC), Detroit (DTW), and Fort Lauderdale (FLL) after recent renovations.
I simply scanned my boarding pass, and since I have my Amex Platinum card saved to my Delta account wallet, it recognized my Sky Club access immediately – I was on my way.
Once checked in, you can head up to the lounge via a flight of stairs, or an escalator on either side.
The New Los Angeles Sky Club
When I got to the top of the escalator, the wow factor set in immediately.
This lounge is absolutely beautiful. The Sky Club staff at the top of the stairs welcomed me as the first official guest and invited me to explore the space. I was also offered a glass of sparkling wine to celebrate the grand opening.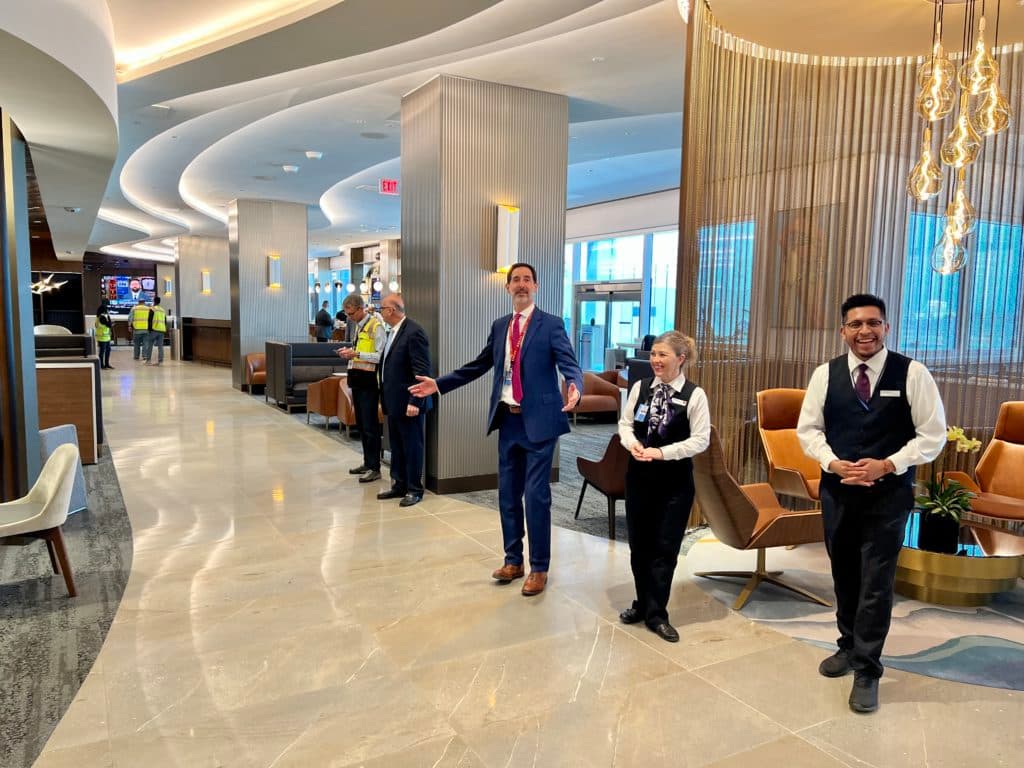 Immediately when you enter the space, you'll find two desks staffed with Delta agents. This is where you can reserve one of the shower suites or get help sorting out problems with connections and existing reservations.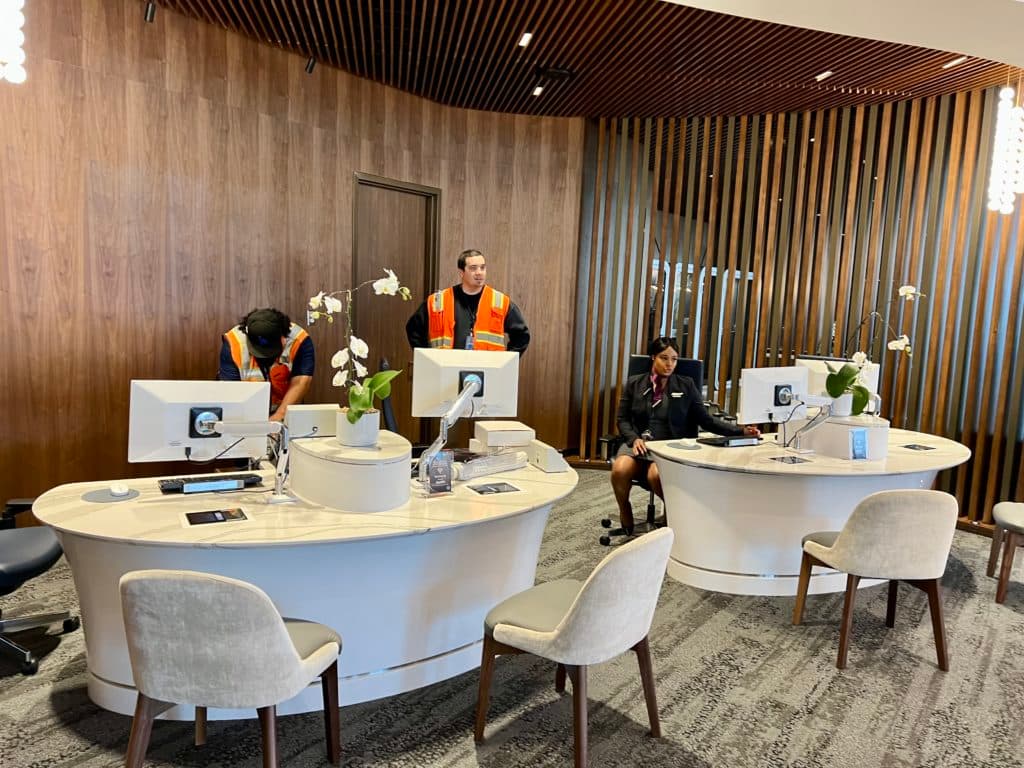 As you head further into the Sky Club, you'll find one of the main lounge areas with plenty of great spaces, with power plugs at each seat to boot. Delta says the lounge has space to seat more than 500 travelers comfortably.
By the time I had left the lounge, it was busy … but at no point did it feel overcrowded.

One of the coolest features in the main seating area are the six soundproof phone booths that are available for guests to use – a fan-favorite amenity at the new Salt Lake City (SLC) Sky Club. Once inside, you'll have access to power ports to chart up your devices, and a truly soundproof experience.
I took a phone call from one of these booths and I couldn't hear a peep from the lounge.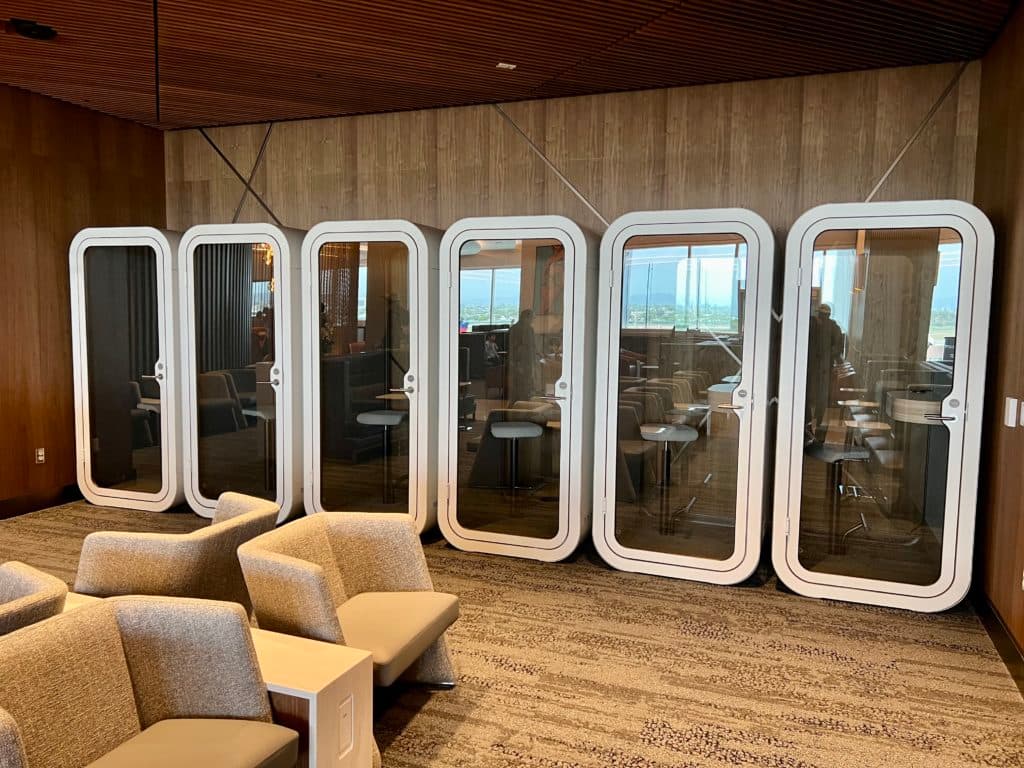 There are plenty of unique seating options scattered throughout the lounge, like this bay of sharp wood-and-leather pods, a long work table, and chic armchairs.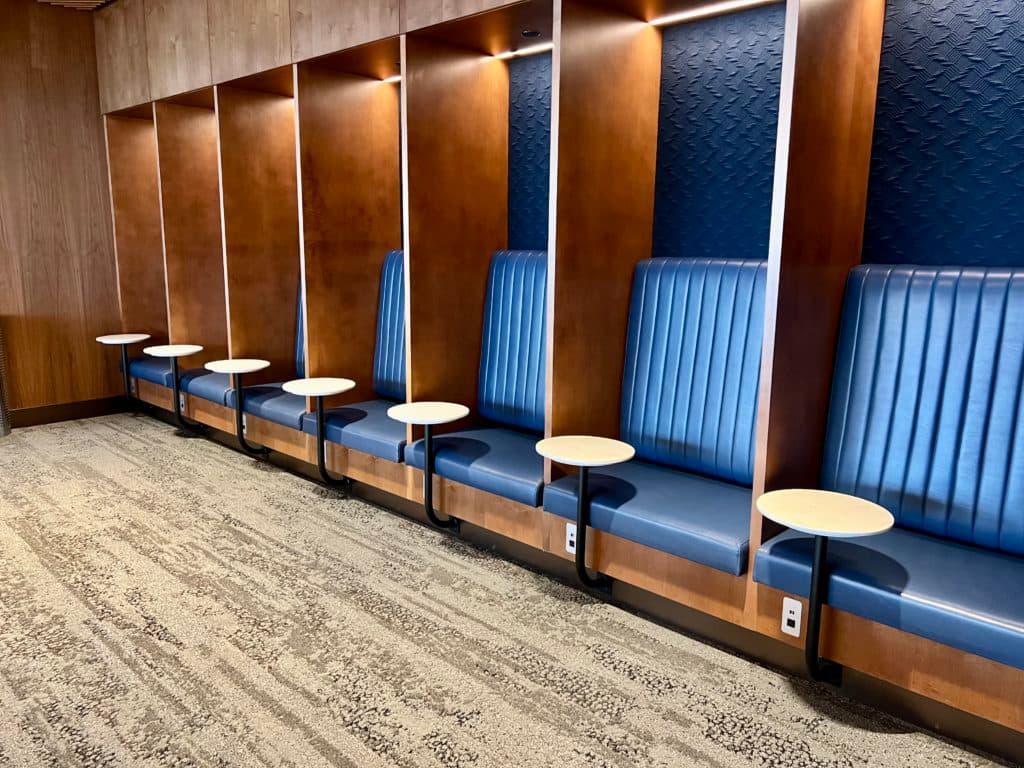 If views of the tarmac are your thing, there is no shortage of spots to soak them in.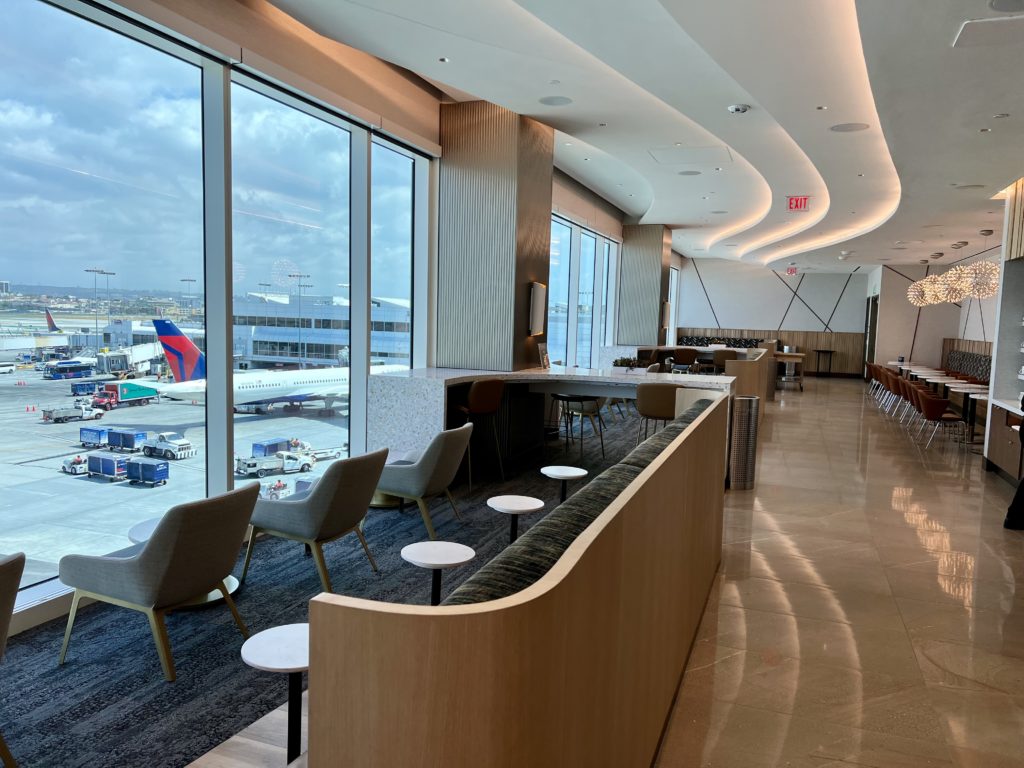 The Coffee Grotto
One of my favorite spaces in the entire lounge is a small nook located just past the main bar before you get to the food station in the back of the lounge. A Delta employee who was showing me and a few other guests the space referred to it as the Coffee Grotto.
Delta contracted with an Italian designer to create the space, and the tiles for the project were imported from Italy and took many weeks to come together. The detail in the mural is impressive.
I enjoyed a double espresso here. It's a great – and entirely unique – spot to relax. These are the kinds of space that make it clear that Delta is trying to do more with its Sky Clubs than ever before.

Just around the corner from the Coffee Grotto, you'll find another drink station with four more espresso machines, regular coffee, a sparkling water, and a soft drink machine.

Bathrooms & Shower Suites
Just off of the main lounge area, there's a long hallway containing the bathrooms and also eight shower suites that can be reserved for use.

One great feature of Delta Sky Club lounges is that you can visit them upon arrival from a Delta flight – unlike other lounges, there's no requirement that you have an upcoming flight to get in. It's a great option for international travelers who want to freshen up before their next flight, or even before leaving the airport.
And the shower suites themselves are incredibly impressive. Each suite contains a small changing area, a sink, a toilet, and a walk-in shower.

The Outdoor Terrace
The crown jewel of the new Delta Sky Club at LAX is the outdoor terrace you'll find directly behind the main bar.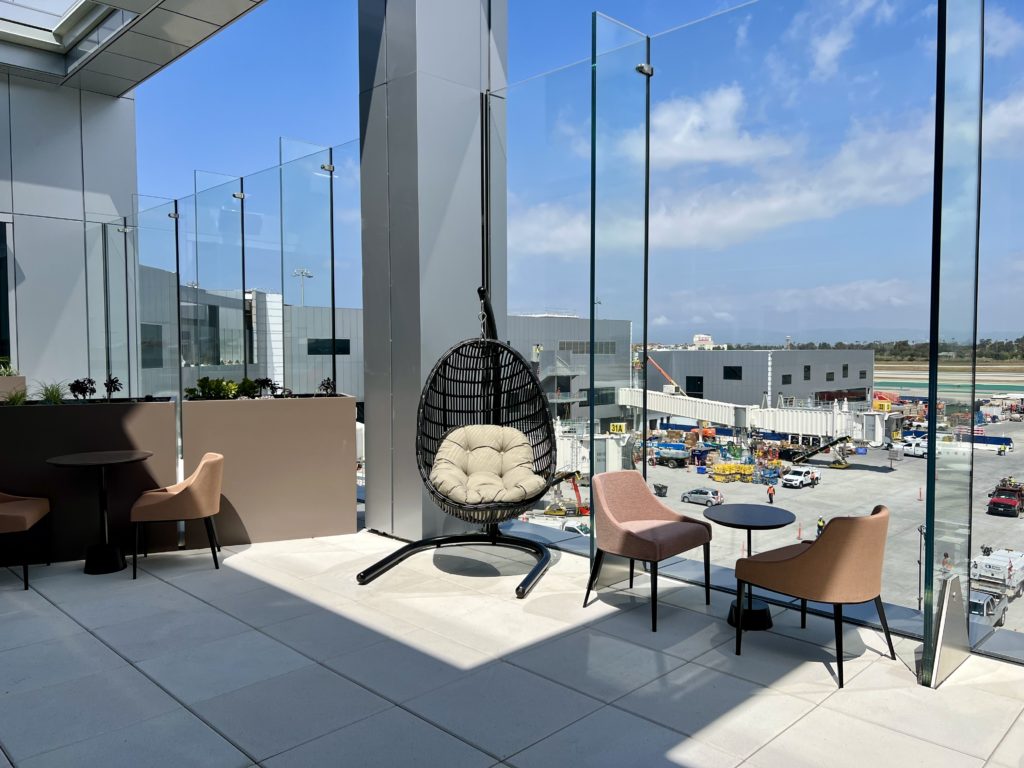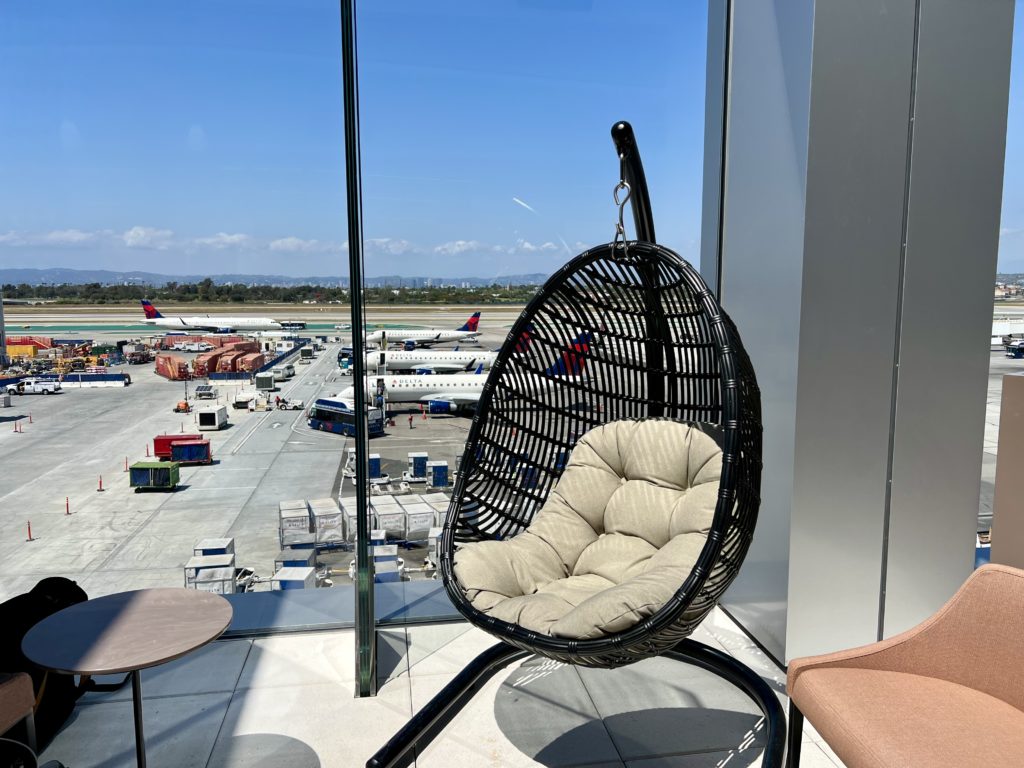 It's equipped with a full bar, and a handful of great spaces to relax outdoors before your flight. It was a beautiful day in Los Angeles and it felt great to be outside at the airport.

To celebrate the grand opening, Aaron Paul of Breaking Bad fame was in attendance to promote his Mezcal brand named Dos Hombres. Dos Hombres has a partnership with Delta and can be found in Sky Clubs across the United States. Aaron even hinted that they are working on a partnership to bring the spirit onboard Delta flights soon.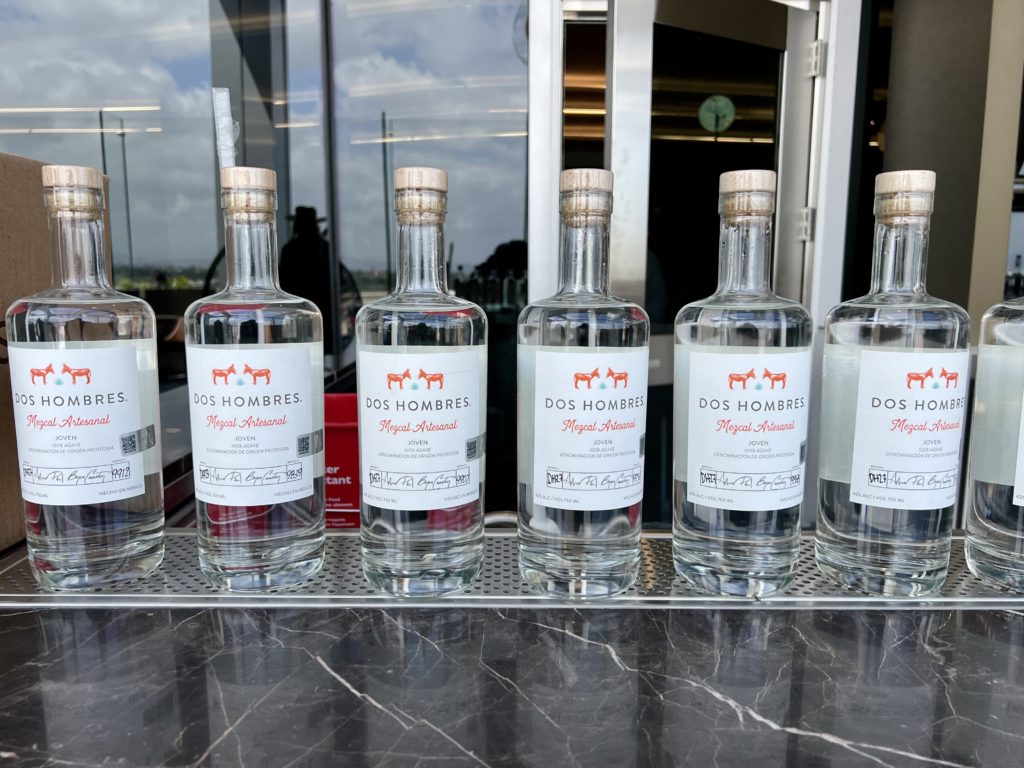 Aaron was bartending at the outdoor terrace bar for about an hour, and all of the drinks were complimentary. As a huge Breaking Bad fan, it was a fun surprise.

Delta Sky Club Los Angeles Food & Drink
Immediately when stepping foot into the new Los Angeles Sky Club you'll find one of the main dining areas to your right which is chock full of the normal Sky Club food offerings – think soups, a few hot food options, sandwiches, pasta salads, meats, cheeses and more. All of it is complimentary.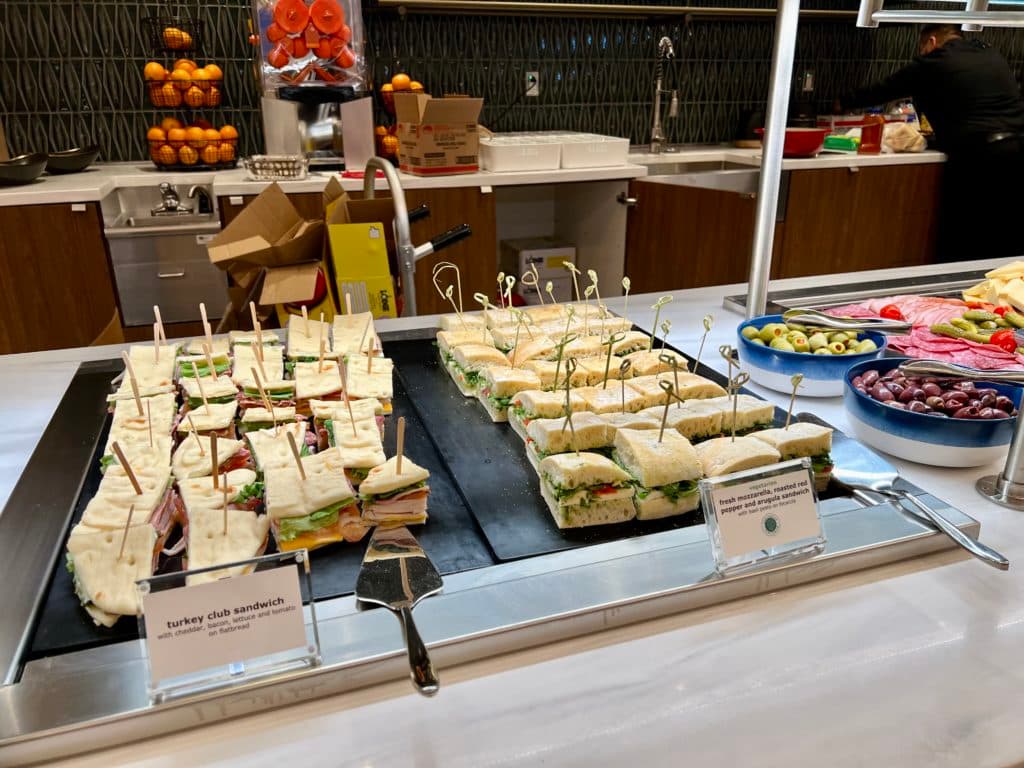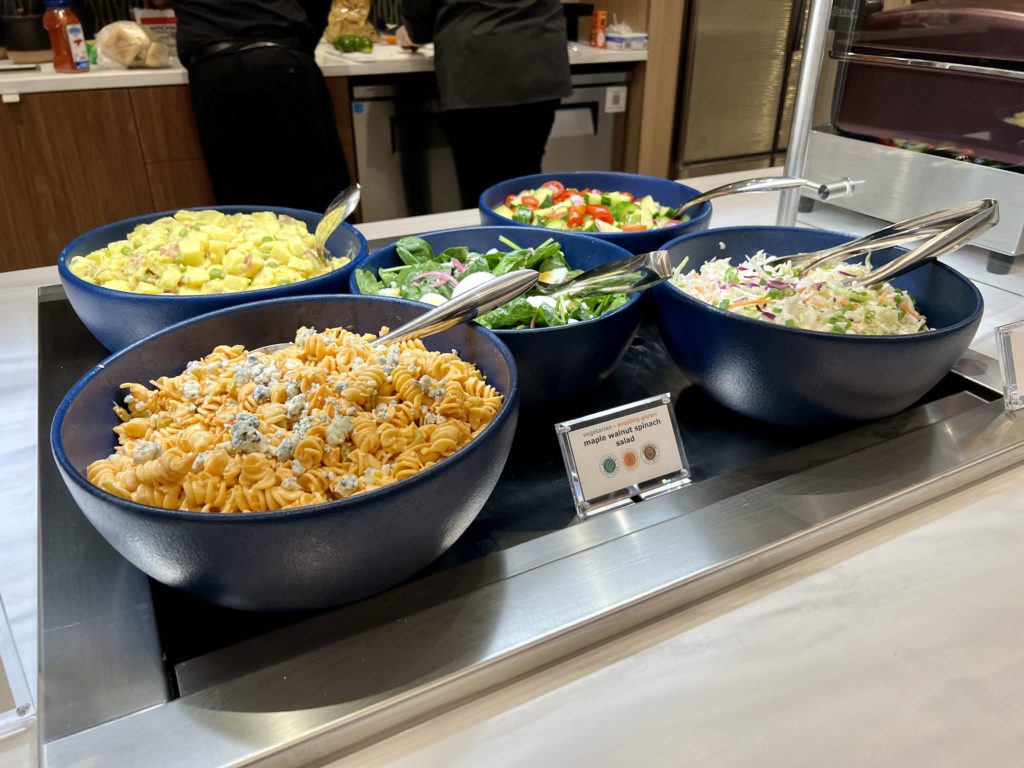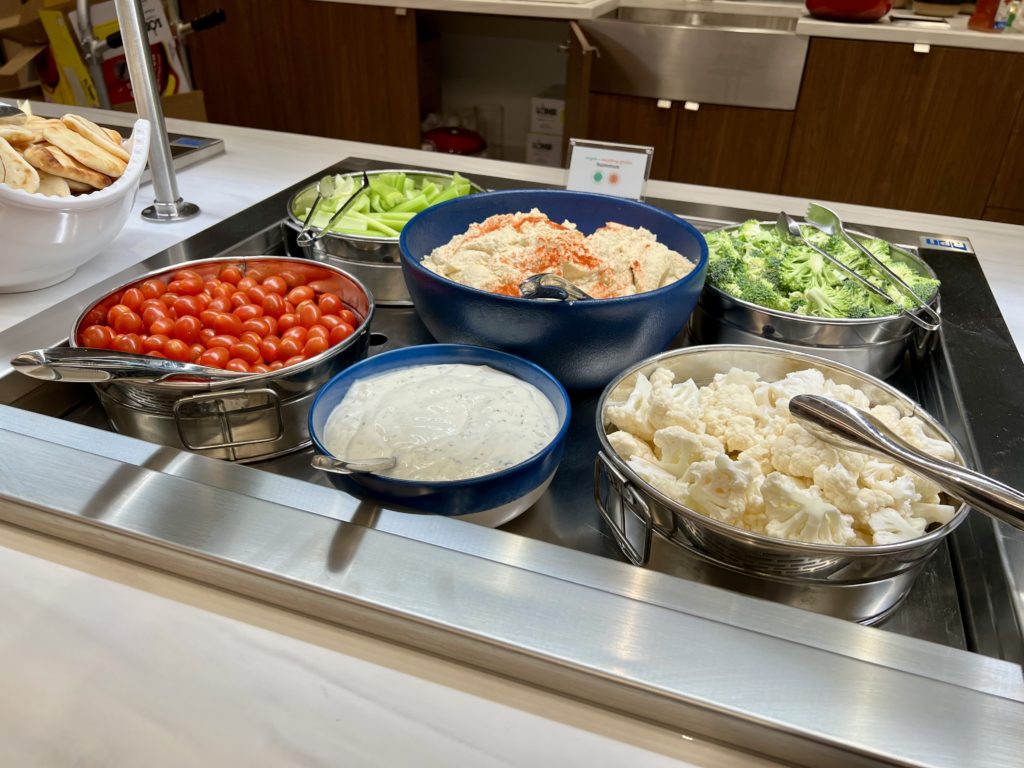 Head further down the buffet and you'll find a spread of desserts.

Directly around the corner from the dessert offerings, you'll find one of the main drink stations with four espresso machines, fresh brewed coffee, water and a fountain soda machine.

Beyond the drink bar, you'll find an expansive dining area with tons of space.

Really, there is no shortage of dining space throughout the lounge. Even during the lounge's busiest times during my visit, there was still plenty of space to grab a bite to eat. Delta really maximized the square footage here.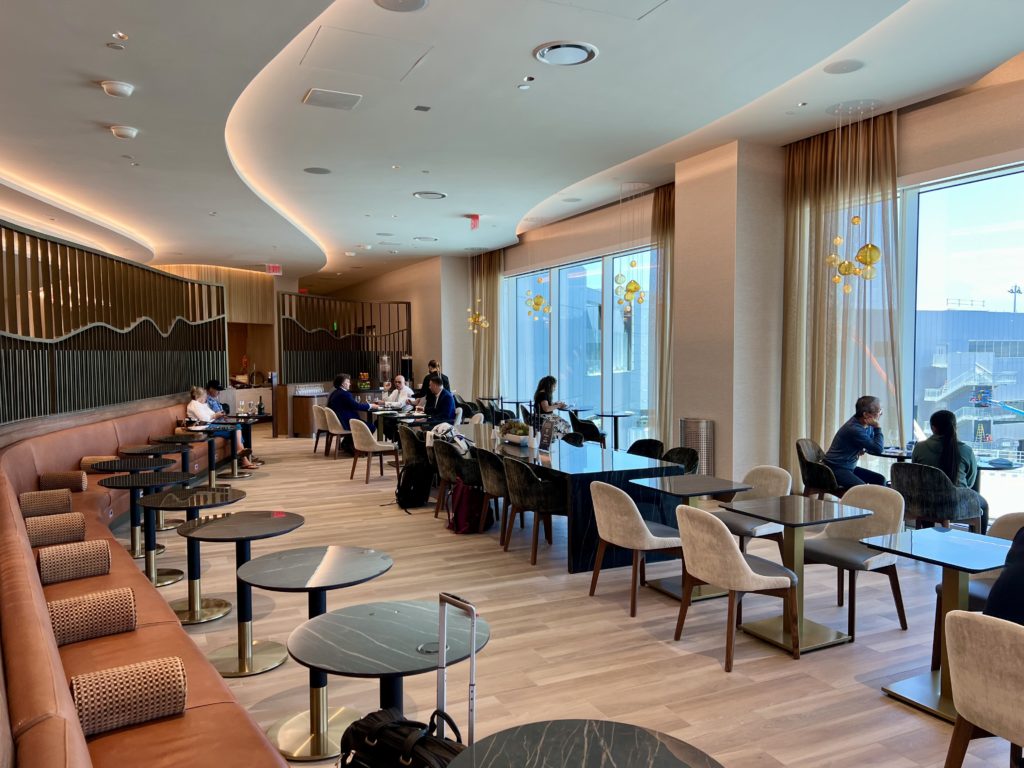 On the very far end of the lounge, you'll find another food station with many of the same offerings that you'll find at the food station in the front of the lounge, with one major exception: There was a shrimp and pork carnitas taco bar.
I assume the food offerings here will rotate on a day-to-day basis, but the tacos were quite tasty. While many of the food offerings at this Sky Club were typical of what you'll find at other Delta lounges, this was another bit of evidence that Delta is trying to raise the bar in this new space.

Directly in the center of the lounge, you'll find the main bar.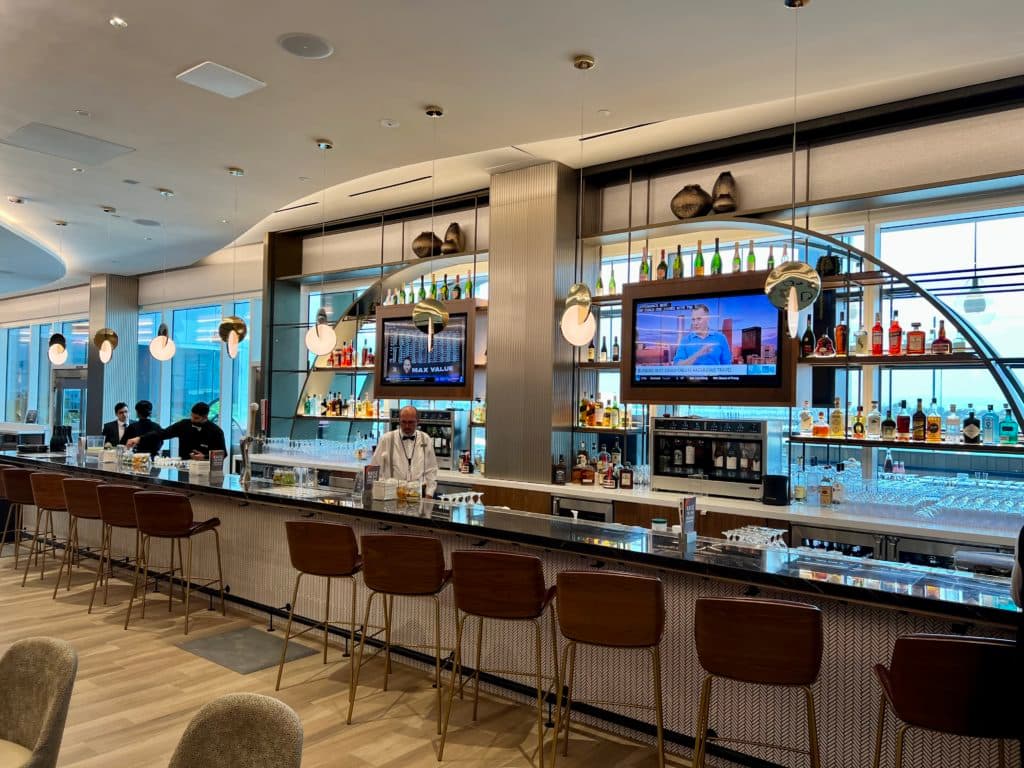 The bar itself is massive. Like other Sky Clubs, there is a list of complimentary beer, wine, and spirits. There is also a list of premium options that start at about $9 and go up to $13.50. You can also pay for these drinks with SkyMiles, starting at 600 SkyMiles per drink.
I ordered a mezcal old-fashioned which was a part of the premium alcohol list and used 600 SkyMiles to pay for it. The orange rinds they were using in the drinks had a "LAX" branding on them which was a cool detail.

Final Thoughts on the New Delta Sky Club at LAX
The new Delta Sky Club between Terminal 2 and Terminal 3 at LAX is beautiful and a much-needed improvement from the existing options for Delta passengers – at LAX or nationwide. At 30,000 square feet it is now the largest Sky Club in Delta's network. And it's easily the most impressive.
Once the Tom Bradley International Terminal is connected airside to Terminal 3 in 2023 (you currently have to bus between the terminals) it will also be a great option for international Delta passengers who have Sky Club access, and hopefully, reduce crowding at the American Express Centurion lounge – whenever that reopens.
But for now, it'll be my go-to Delta lounge anytime I'm in Los Angeles. And it should be yours, too.