Change is in the air for Delta and its Sky Clubs. In this case, change is a good thing – especially for Delta flyers at Chicago-O'Hare (ORD).
Earlier this fall, Delta officially left O'Hare's Terminal 2 (and its undersized and outdated Sky Club) and moved over to the internationally focused Terminal 5. That comes with good news … and great news. For starters, it makes it much easier for flyers making connections between Delta and other SkyTeam airlines like Air France or Korean Air flying in and out of Chicago.
But the best news of all? Delta's brand new Sky Club at O'Hare is both massive and truly top-notch, on par with other recent Sky Clubs openings like in Los Angeles (LAX) – maybe even better. From the space to the furnishings to the food, Delta has cranked everything up a notch at its latest lounge in the Windy City. There's even one special feature you won't find at any other Delta Sky Club. And since this isn't a hectic Delta hub airport, it doesn't suffer from overcrowding like other Sky Clubs in Atlanta (ATL) or Minneapolis-St. Paul (MSP).
Take a look and see for yourself.

Getting into the Delta Sky Club in Chicago-O'Hare
First things first: Make sure you're in the right place.
If you're flying Delta, you're flying in and out of Terminal 5 these days. All terminals at O'Hare are connected by the Airport Transit System (ATS), which is free and finally up-and-running after years of repairs. Just keep in mind that you'll need to clear security at Terminal 5 after stepping off the train.
Look for the entrance near gate M11 – you can't miss it. As of publication, it's scheduled to be open from 4:30 a.m. to 8 p.m. daily except for Saturdays, when it closes at 6:15 p.m.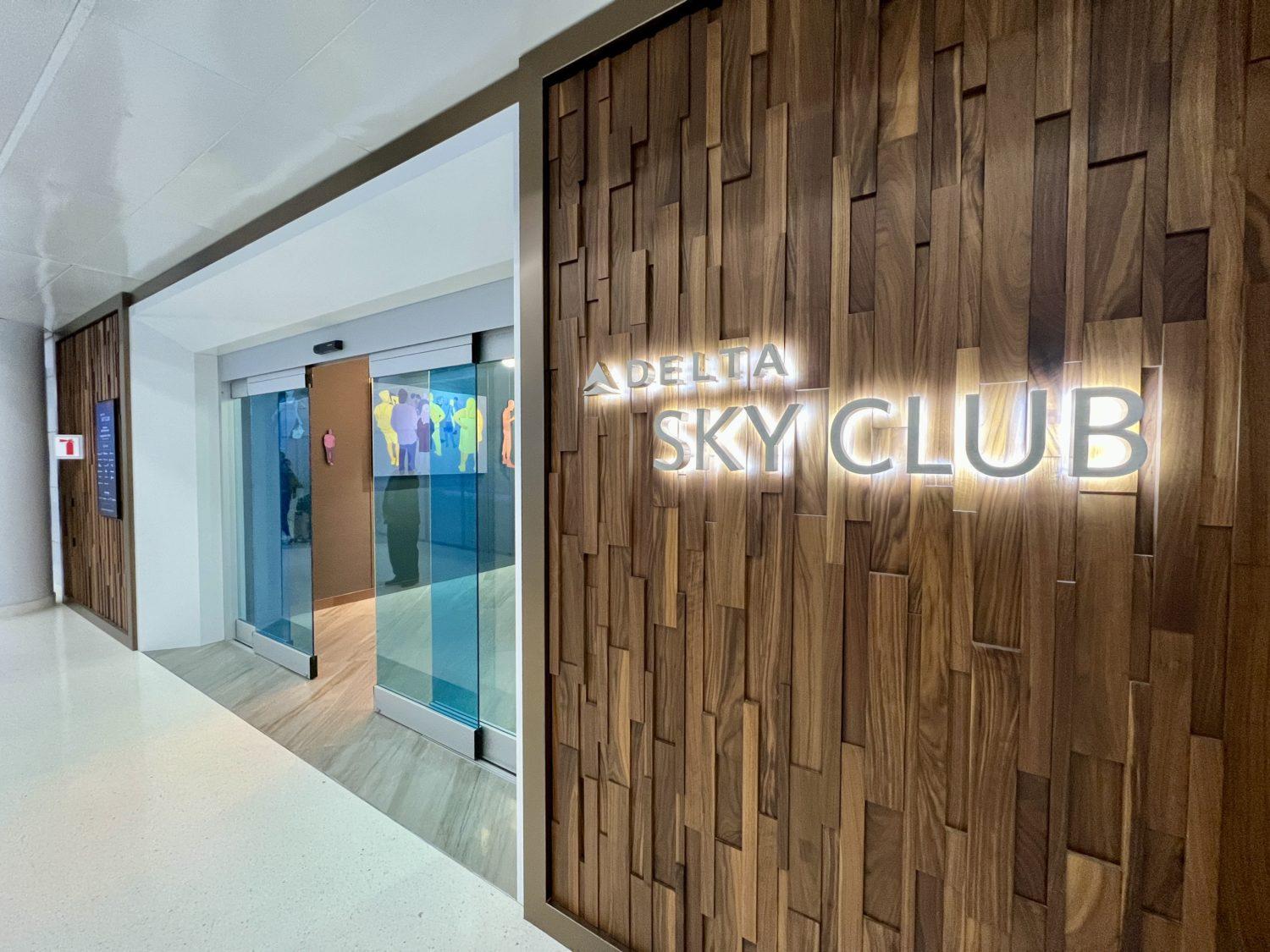 To get into the new Delta Sky Club at ORD, you'll need to have access. And like all Delta Sky Clubs, there are a few ways to get into this beautiful new lounge. No matter which route you take, you need to be flying Delta that day to get in. 
The easiest way is by simply holding the Platinum Card® from American Express – and not the co-branded Delta version.
This card opens more lounge doors than any other travel credit card on the market. So long as you're flying Delta that day, you can just show your Platinum card and your boarding pass, and gain access. You can bring up to two additional guests, but it will cost you: After a hike in February 2023, each guest costs $50.

Click Here to learn more about the Platinum Card® from American Express.

You can also get into the Sky Club for free if you've got Delta's top co-branded credit card, the Delta SkyMiles® Reserve American Express Card. Much like the Platinum card, you can enter any Sky Club for free so long as you're flying Delta that day. Reserve cardholders also get two, one-time guest passes each year. After that, you'll have to pay $50 per guest, too.
Click Here to learn more about the Delta SkyMiles® Reserve American Express Card. 

And even cardholders with one of Delta's lesser co-branded cards can get in – for a fee. If you've got the Delta SkyMiles® Platinum American Express Card, you can enter any Delta Sky Club when you're flying Delta that day by paying $50.
Unfortunately, flyers with the Delta SkyMiles® Gold American Express Card will not have access to the Delta Sky Club, even for an extra fee.
Flying up front with a fellow SkyTeam airline? An Air France business class ticket – along with KLM or Korean Air business class – will get you into this Sky Club, too.
Got Delta Medallion Status? So long as you're departing O'Hare on an international flight, you (and a guest) can get into this Sky Club – but only if you're flying Delta Premium Select or Delta One.
Finally, you may need to watch the clock. In a bid to battle lounge overcrowding, Delta now limits lounge access to three hours before departure. After planning to eliminate the ability to get into lounges after arriving from a flight, the airline backtracked – that's still an option.
Read more: How to Access the Delta Sky Club
Pop inside to scan your boarding pass with an agent or scan your own at a self-serve kiosk and you're in.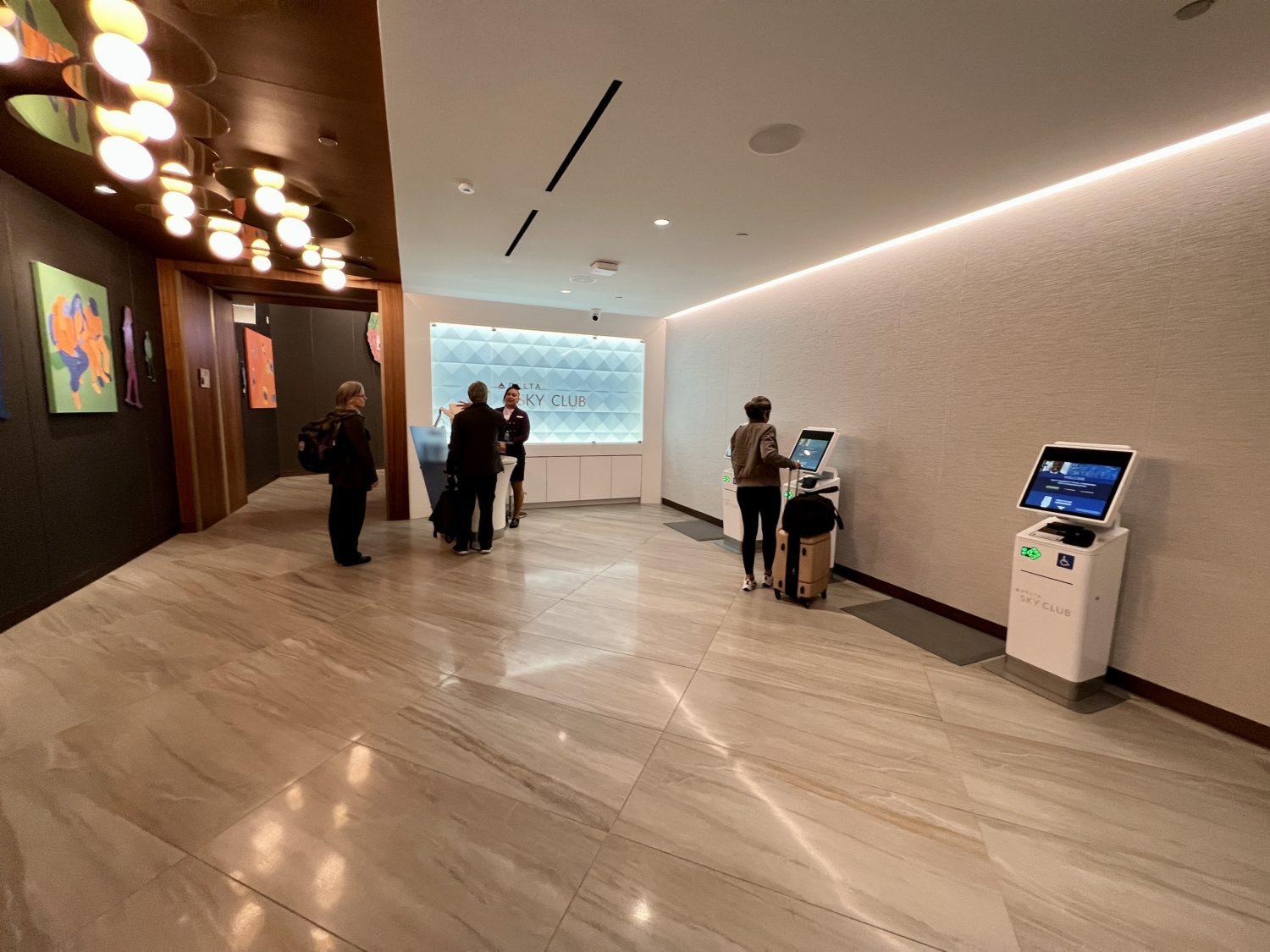 A Stellar, Spacious Lounge
The old Delta Sky Club a few terminals away at O'Hare was no more than a few thousand square feet, more broom closet than airport lounge.
There are upgrades, and then there's this: The new Delta Sky Club Chicago is absolutely, positively massive. A bartender joked that I might break a sweat walking end to end, then head and take a shower if necessary. That's only partial exaggeration … there are showers, after all.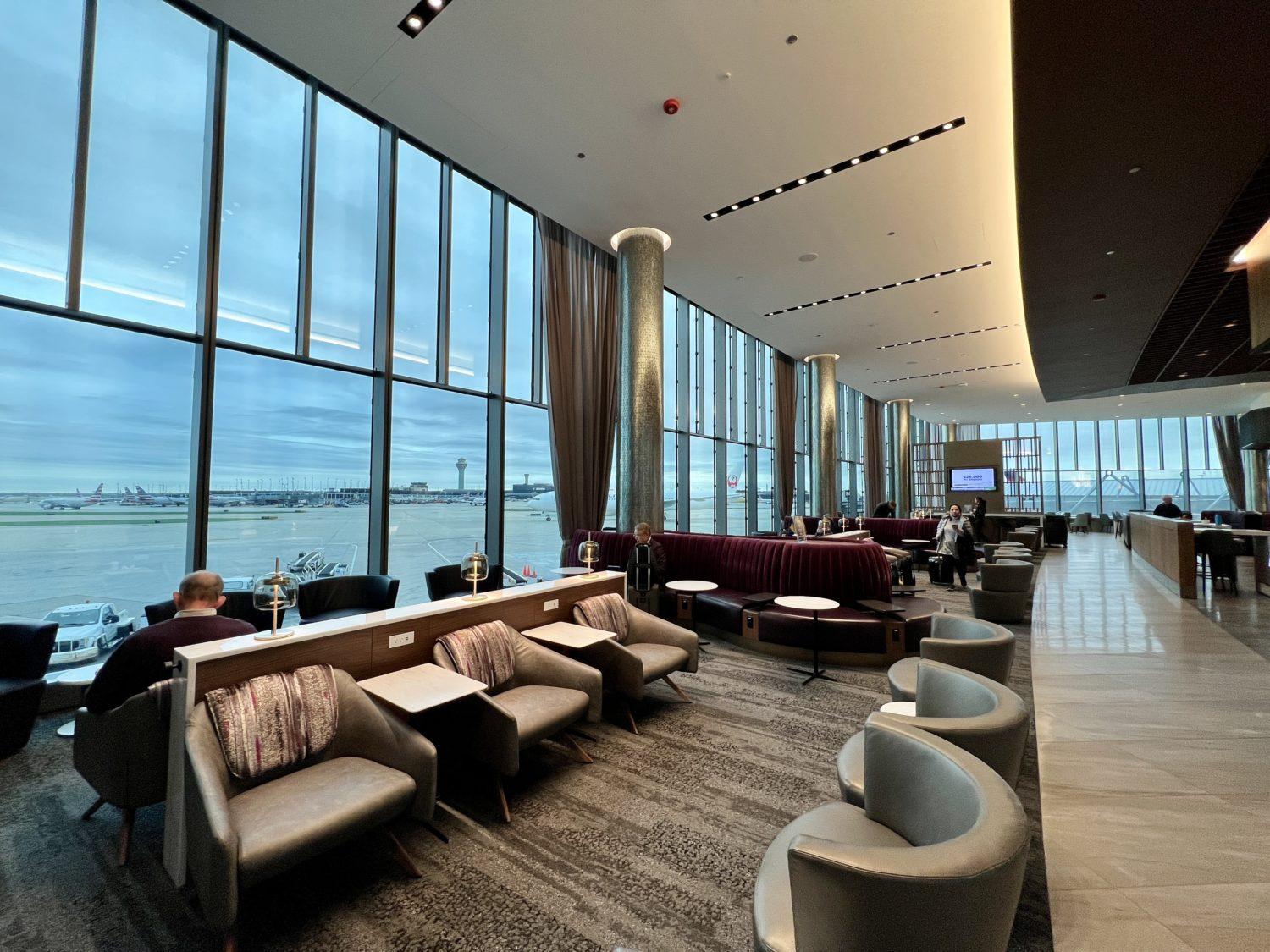 At nearly 23,000 square feet, it is large – and thanks to the long, L-shaped layout, the soaring ceilings and wall upon wall of windows on all sides, it feels even bigger. I walked from one end to the other, marveling at the fact that the space kept going and going.
That footprint is by no means Delta's largest – the new Los Angeles (LAX) Sky Club clocks in at more than 30,000 square feet. But that space goes a long, long way in Chicago.
Delta serves a fraction of the flyers in and out of O'Hare as it does in the likes of New York City (JFK), New York City-LaGuardia (LGA), or even Minneapolis-St. Paul (MSP). Sure, traffic certainly picked up throughout my mid-morning visit, but I'd be surprised if it ever got truly packed.
It's not just the scale that's impressive here, though. It's what Delta has done with it. From the lighting to the furniture to the artwork and everything in between, almost everything is a higher caliber than what you'll find in almost any Sky Club – or most U.S. airport lounges, period.
It starts when you round the corner from the entrance with a chic light fixture, a swanky looking couch, and a fun "All We Need is Love" piece on the wall. Clearly, this isn't your typical Sky Club.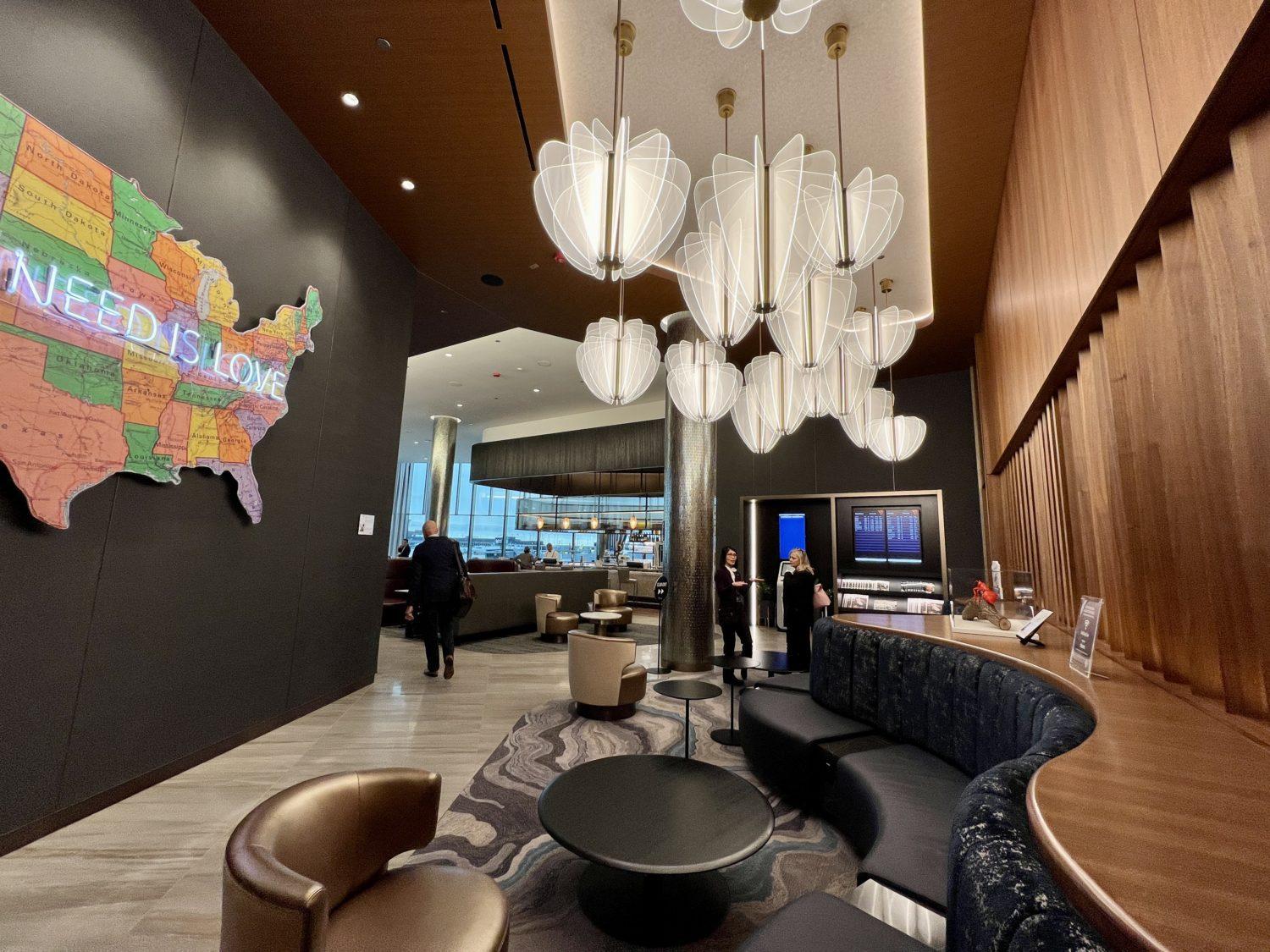 The real focal point of the lounge is the bar – well, one of two of them, anyway. It's a stunner with metallic tile, soft overhead lighting and the dark finishes above. With a full wrap-around setup, there's plenty of room to belly up for a drink.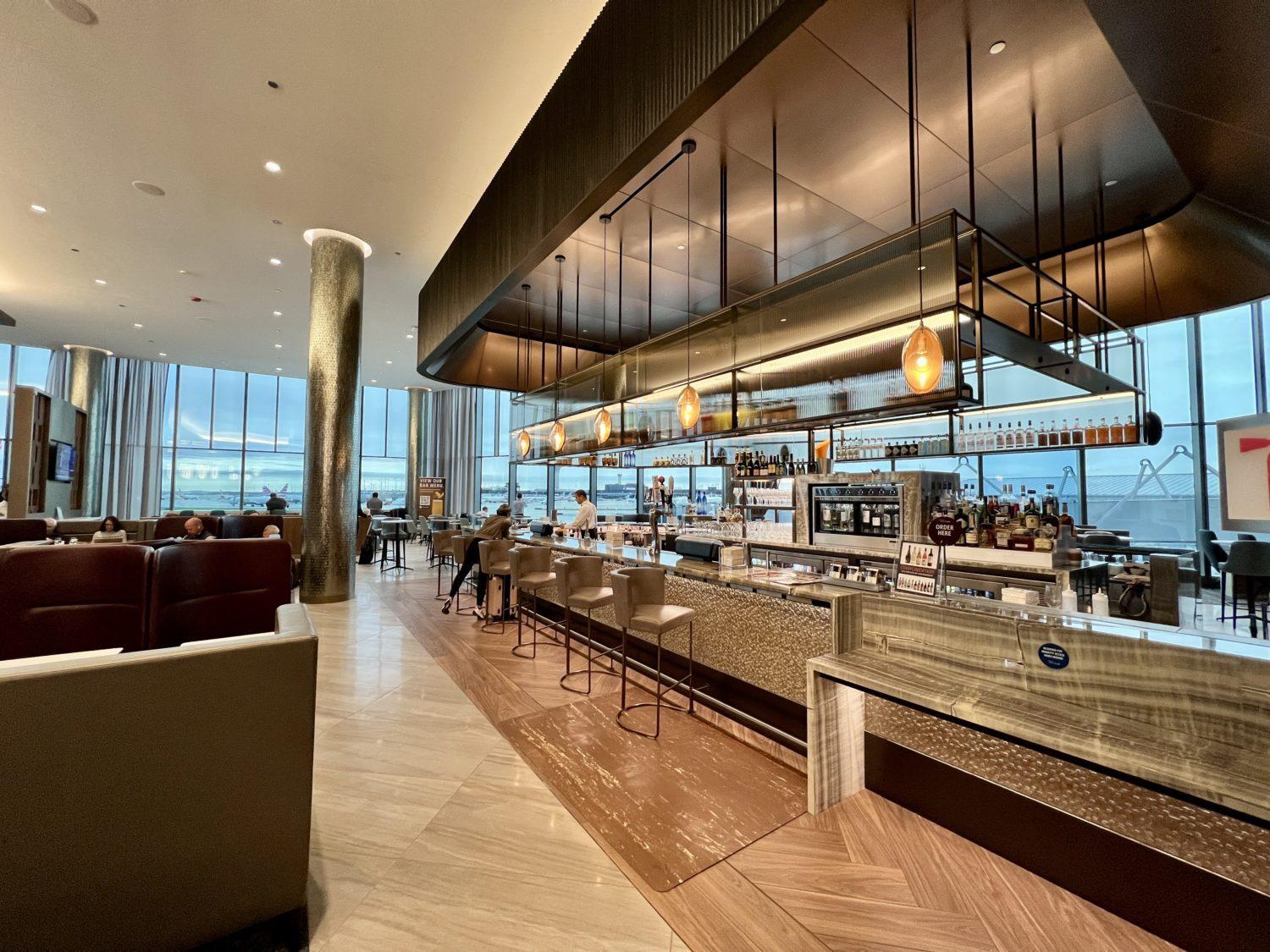 You'll also find the first few of many seating areas here, with a good mixture of high-backed armchairs, cafe style seats with tables to eat, high-top bar stools, and more. The seating options wrap all the way around the bar, too.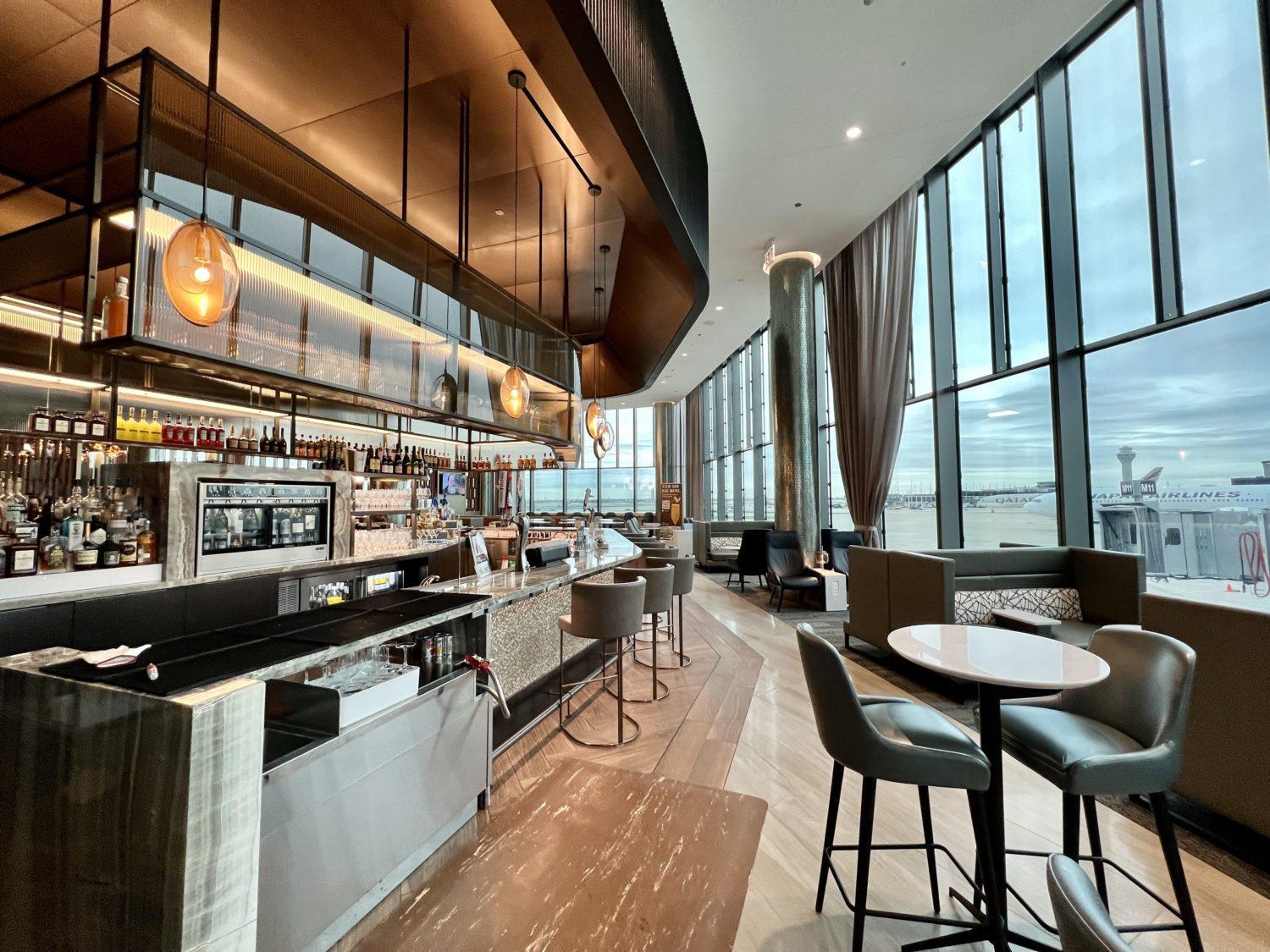 My favorite spot was right along the windows near the bar, watching Delta jets come and go from the jet bridge just feet away.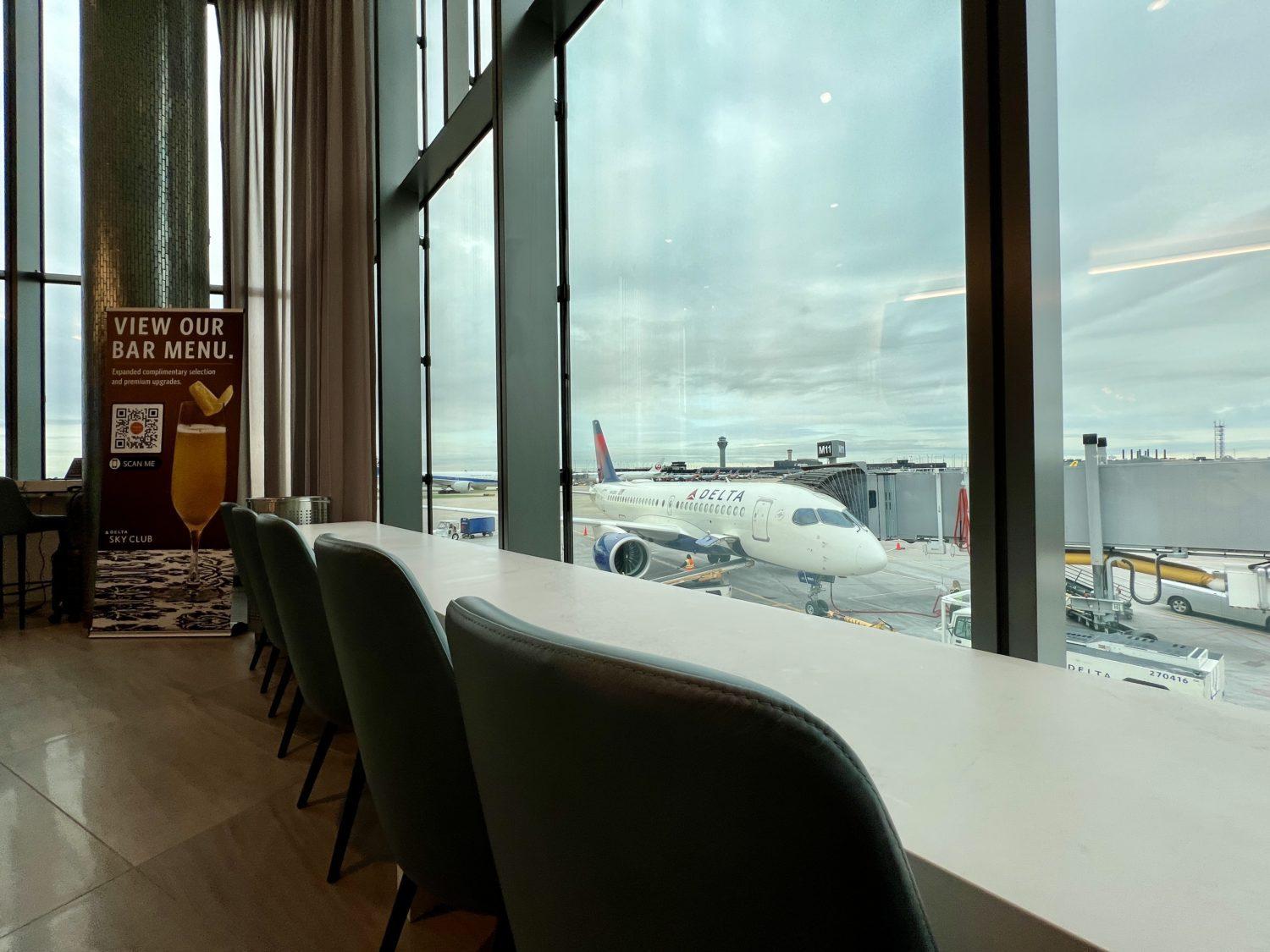 No matter where you sit, there's charging space aplenty – including a handful of armchairs with built-in USB-C charging in addition to the standard USB and international power sockets.

Just a stone's throw from the bar you'll find the main buffet area, with a few counter's worth of food that rotates throughout the day.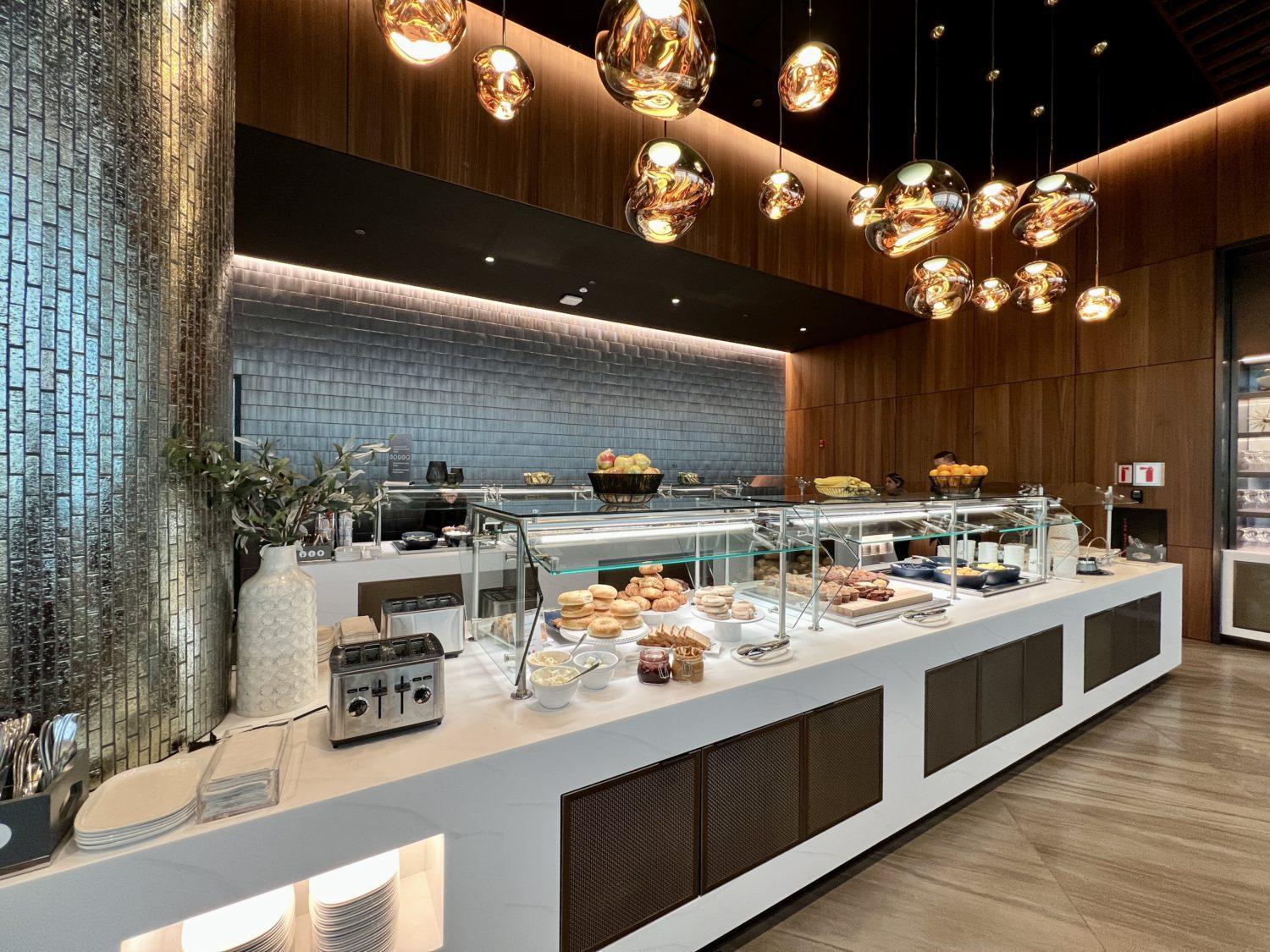 From there, the lounge really opens up into a long stretch, full of even more seating – all positioned along massive floor-to-ceiling windows.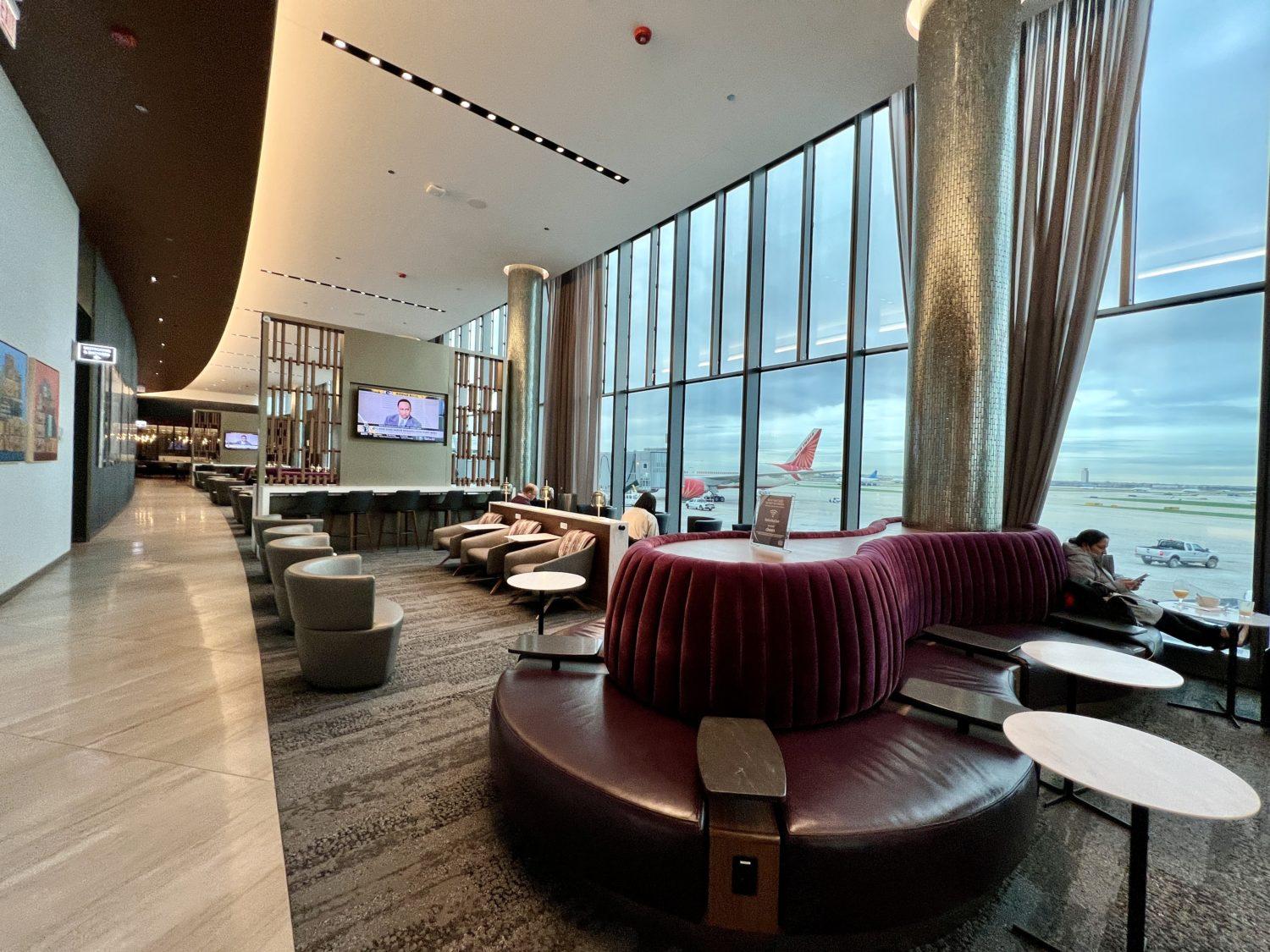 This long space is cleverly split into several sections by dividers, each doubling as additional workspace with stools (and more outlets). Delta did a phenomenal job maximizing the amount of available seating in this lounge without disrupting the flow of the place.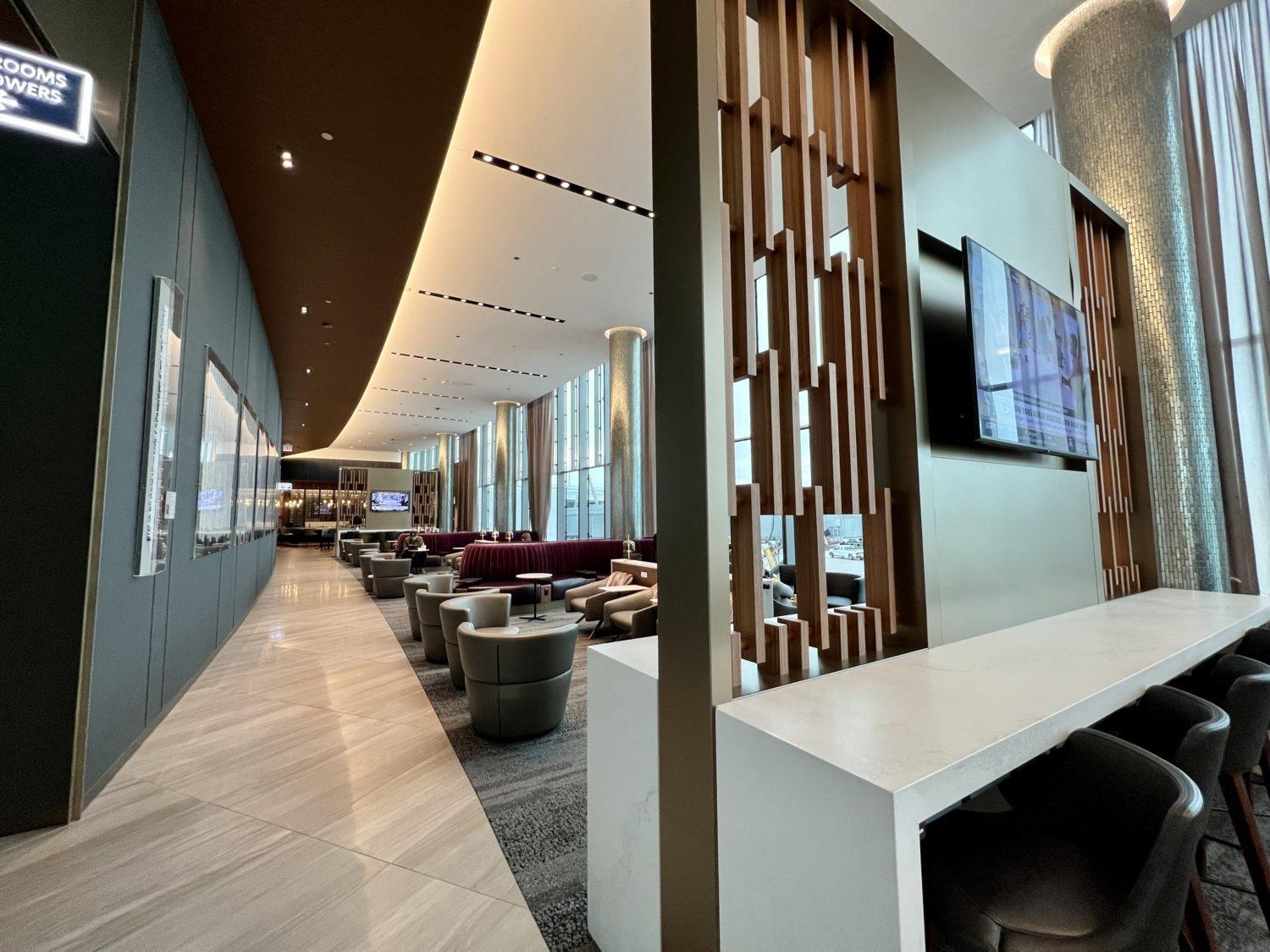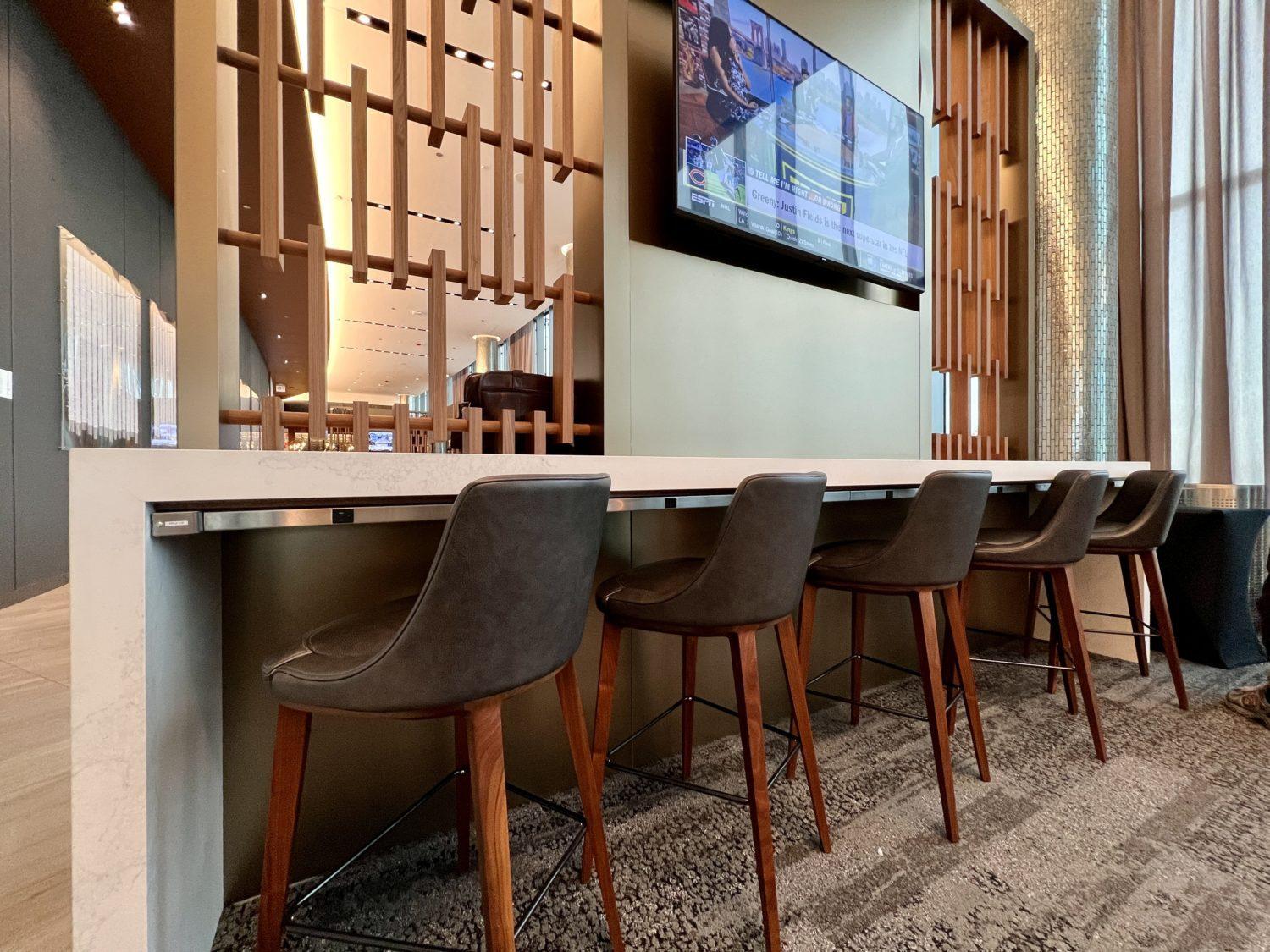 Each of these seating sections along the windows has the same basic setup: A bunch of armchairs scattered around one of those curvy and undeniably cool red velvet couches. The metallic lamps add another classy flourish.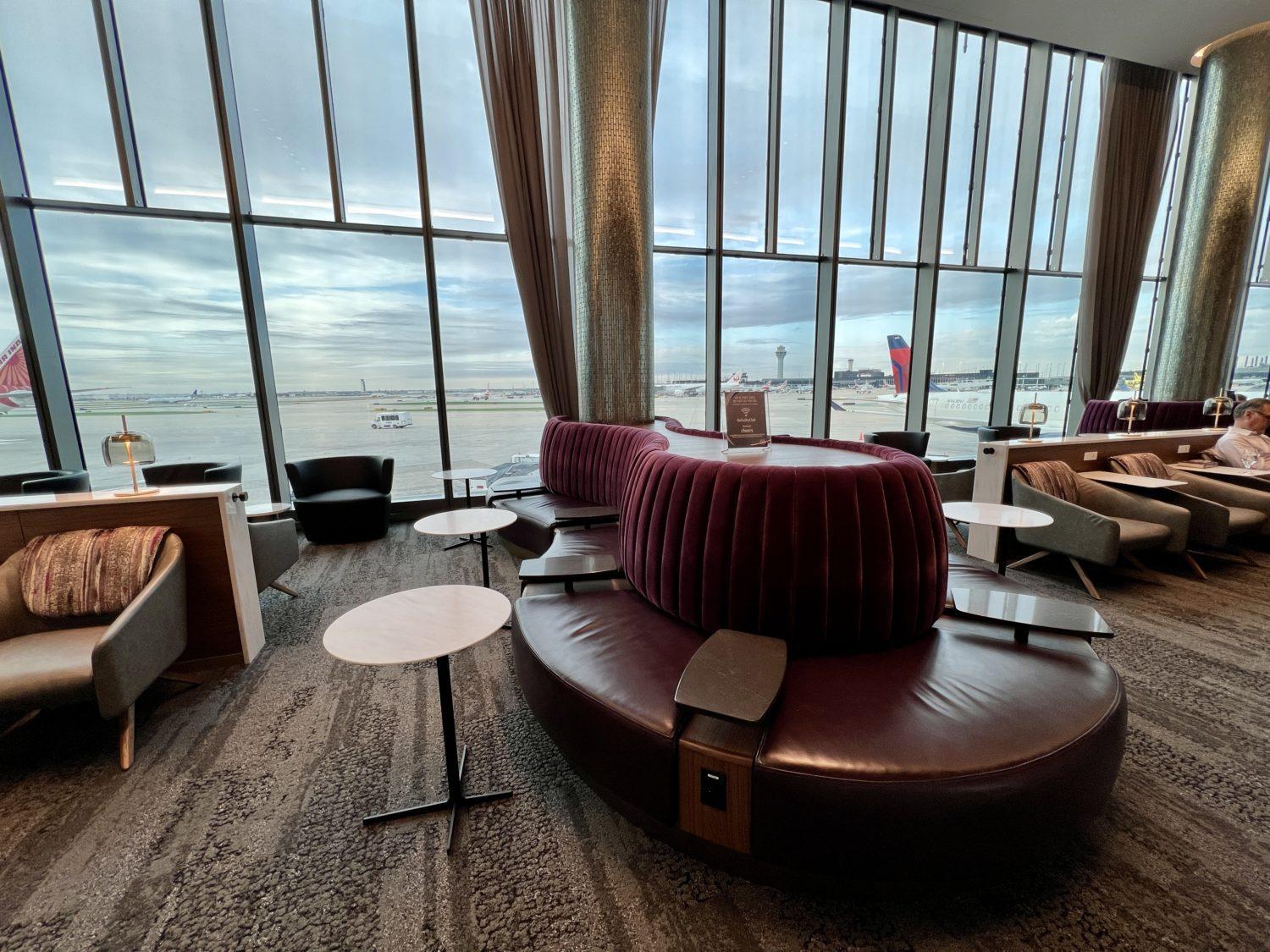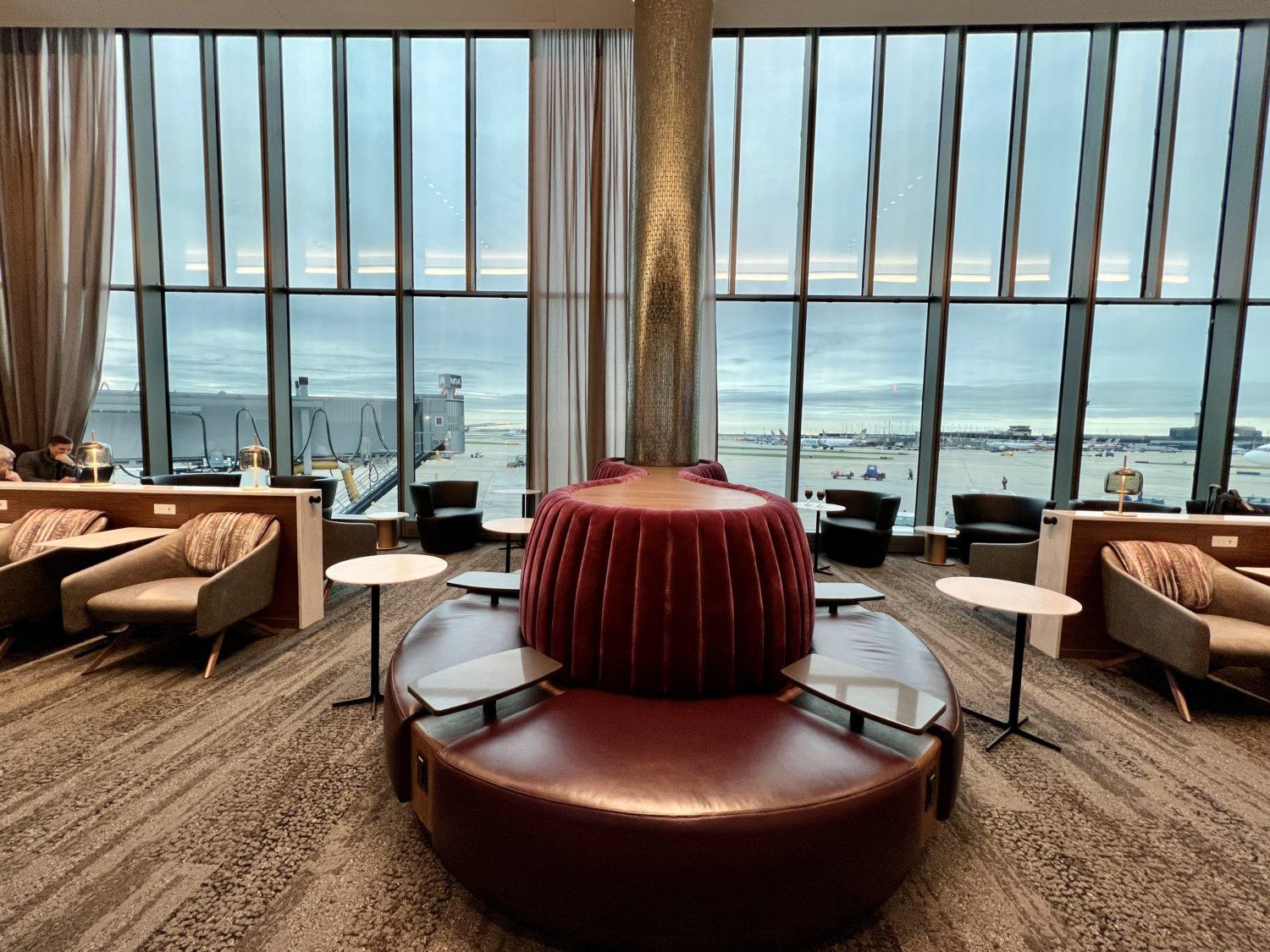 Keep heading toward the back wall and you'll find yet another bar. This one seemed to be undergoing some final construction or improvements during my visit, but it's supposed to be a dedicated wine bar. Yes, a wine bar.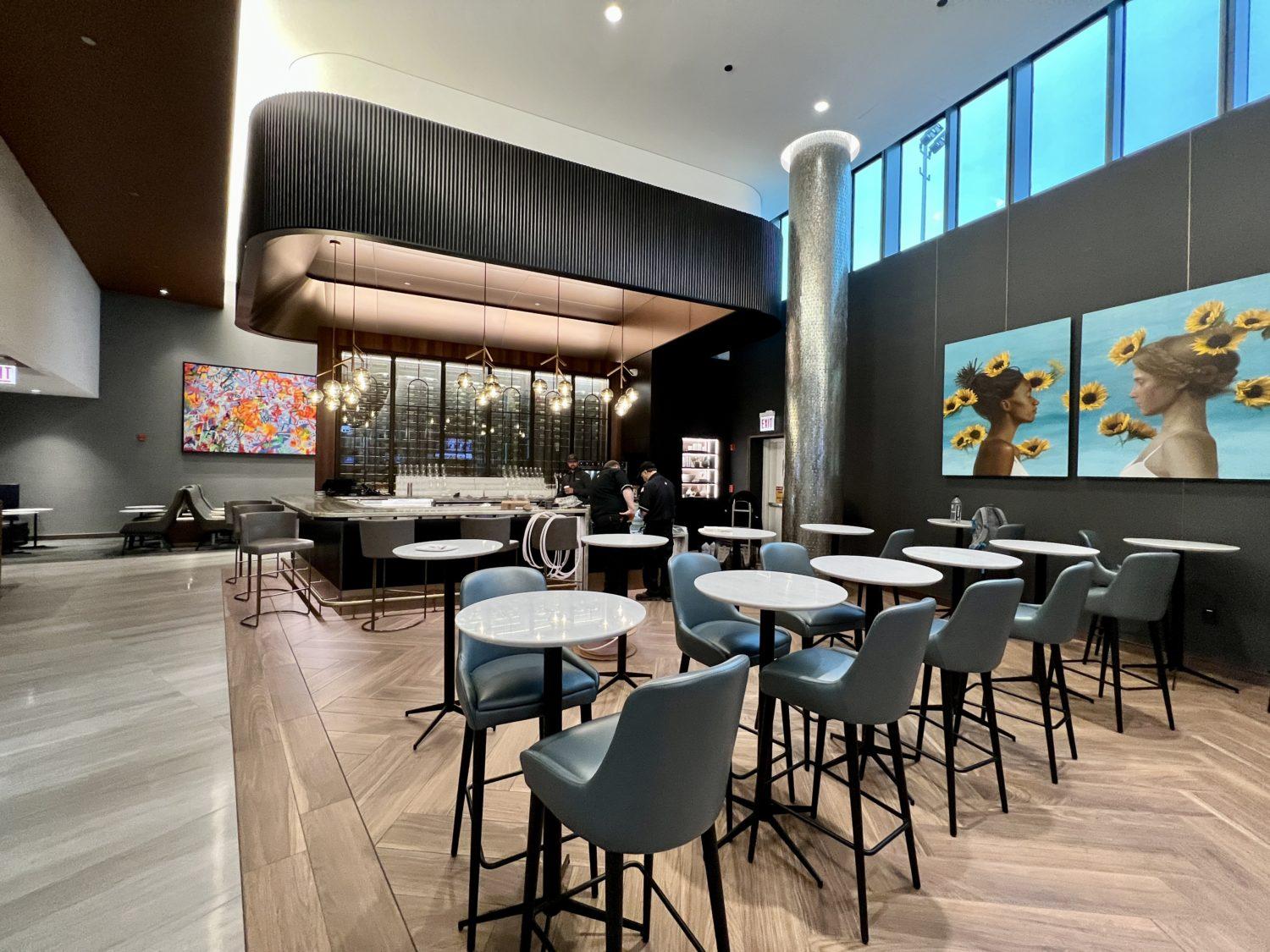 Beyond that, the space opens up yet again to the left into arguably the best space in the lounge. While there's less natural light, there's a tradeoff: It's often dead quiet. It seems few, if any, travelers make it all the way back here. There's plenty of seating as well as a full projector setup to watch the news or some sports.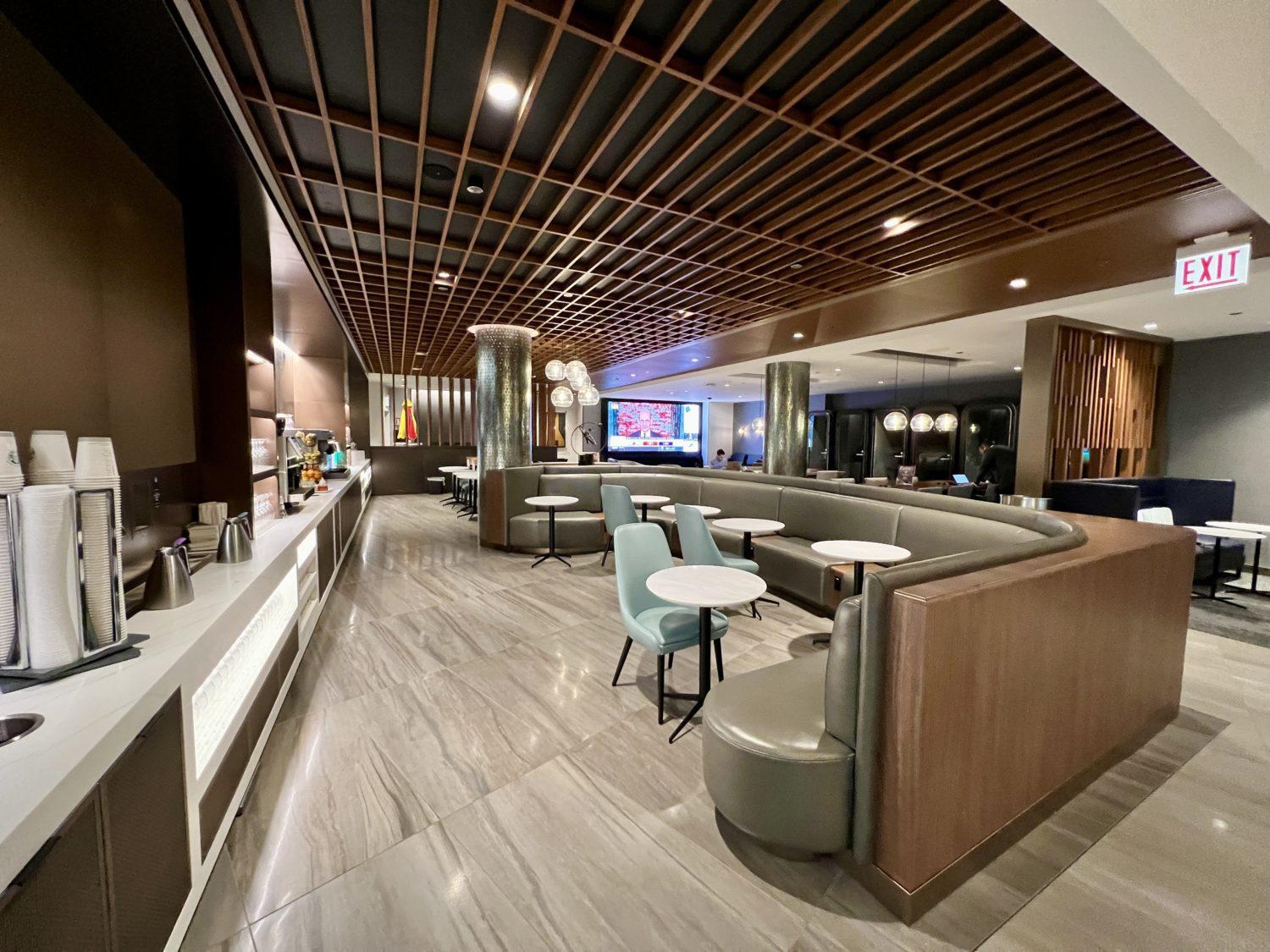 In addition to the usual seating options, Delta has six private phone booths available – something of a signature feature at its newest Sky Clubs across the country.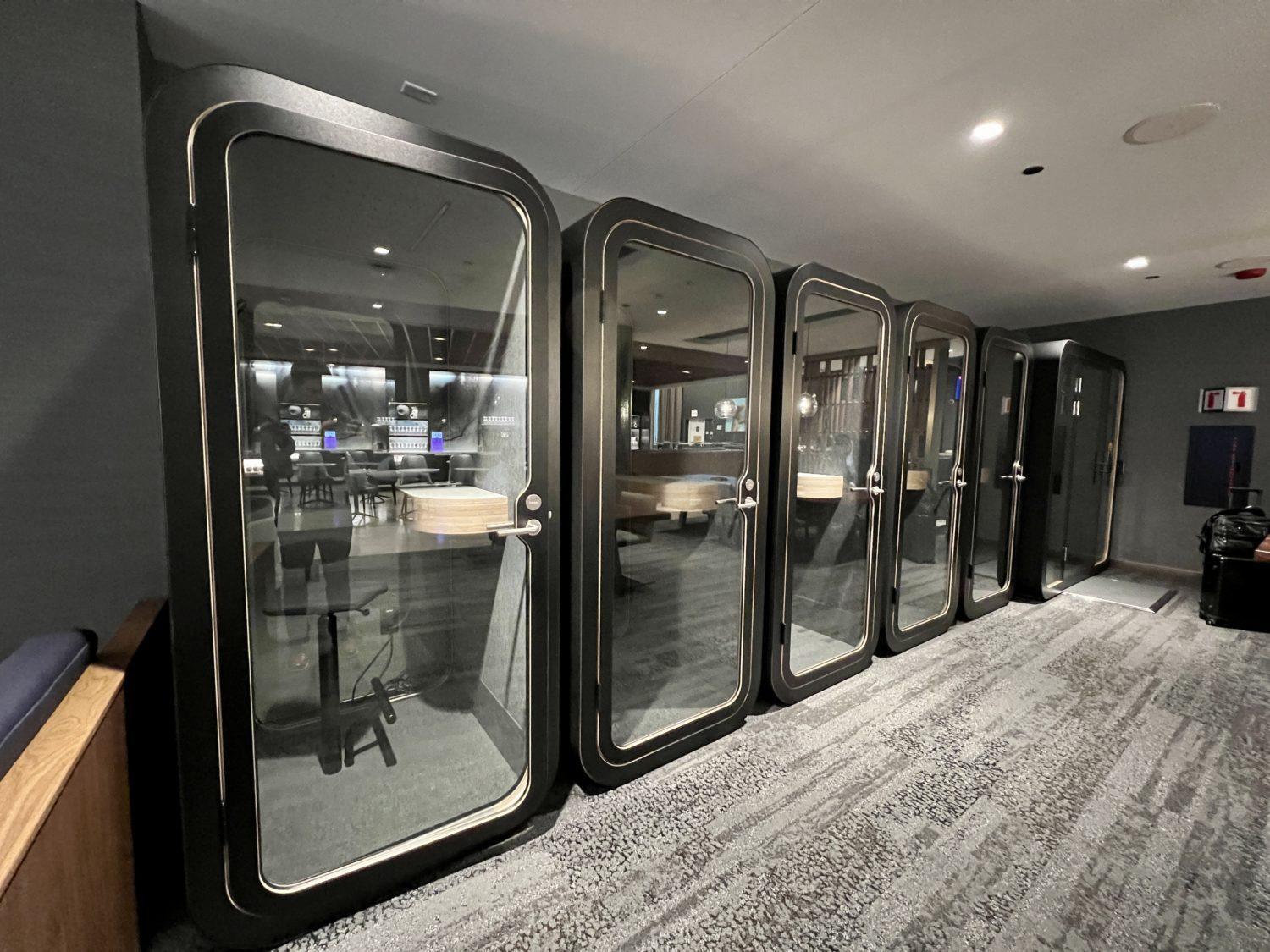 These booths are a great spot to take a phone call or hop on Zoom without disturbing anyone else. Then again, back in this corner of the lounge, there may be no one else to disturb…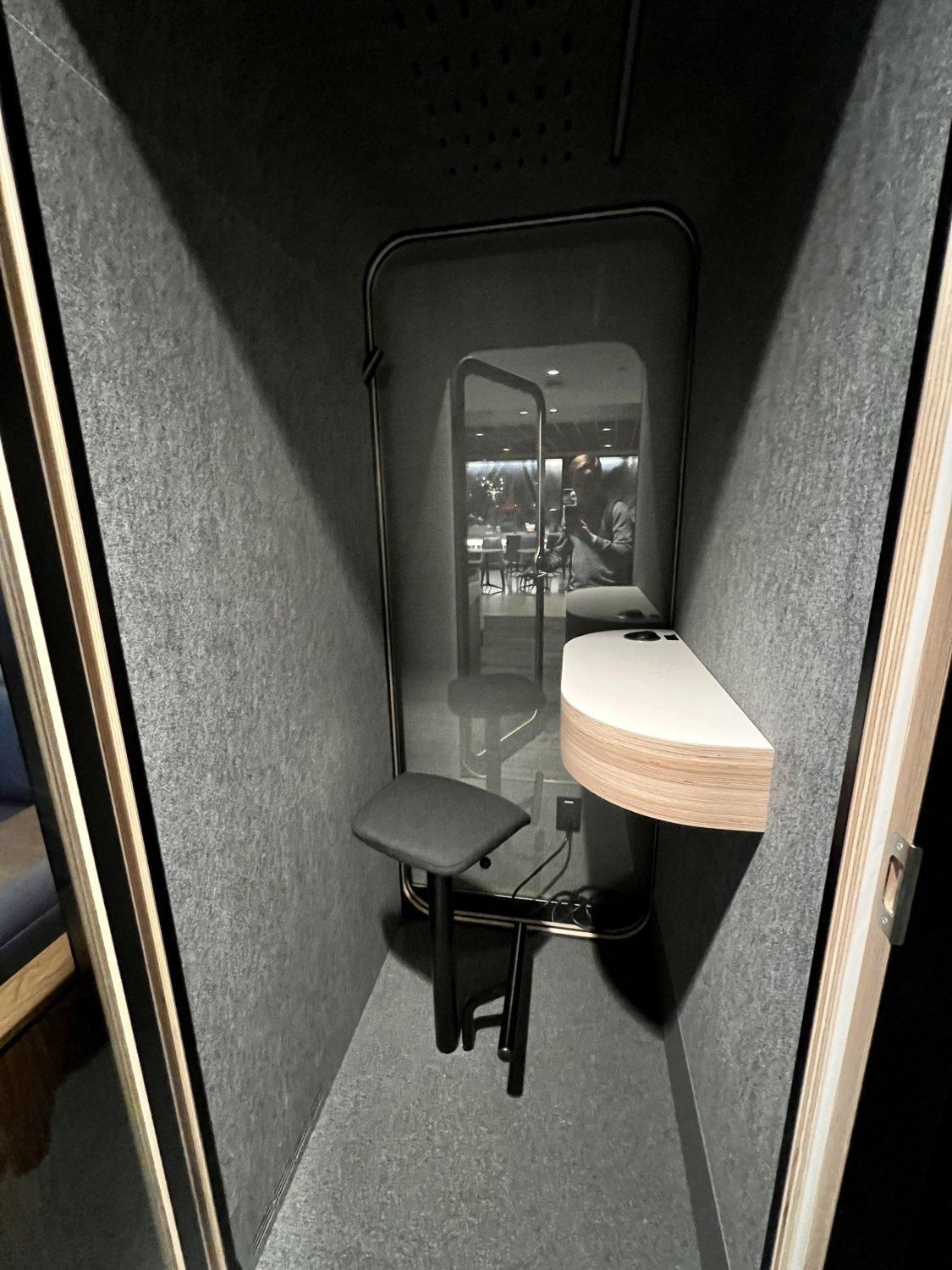 This quiet area even has its own drink station with coffee, espresso, juice, water, and more.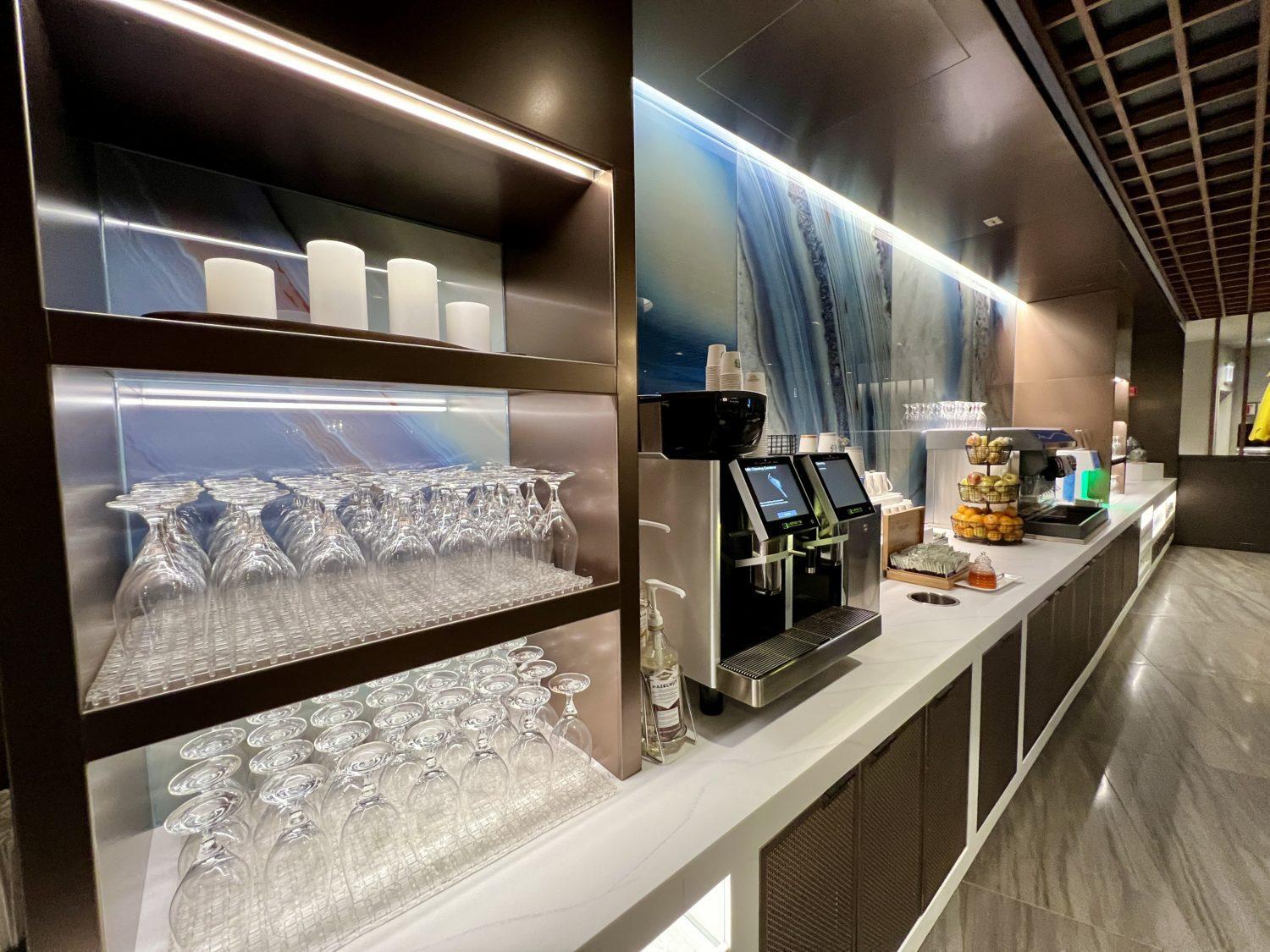 Bathrooms & Shower Suites at the Chicago Sky Club
In the dead center of the lounge you'll find a dedicated wing for bathrooms as well as some other amenities you won't find in every Delta lounge: Four dedicated shower suites.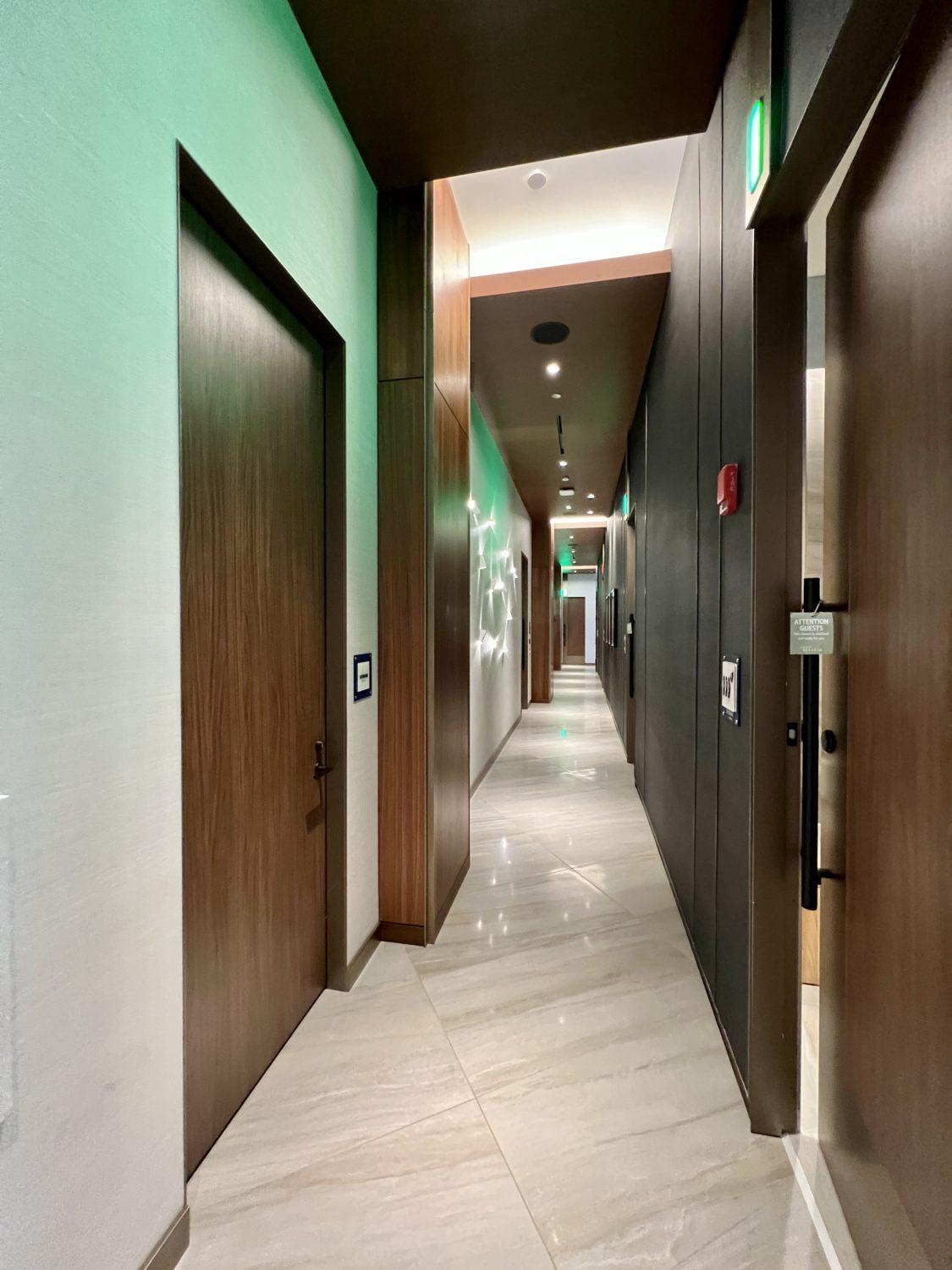 There are some private, gender-neutral restrooms available here as well as larger men's and women's bathrooms – both of which open by sensor with the wave of a hand.
The bathrooms themselves are just as sharp-looking as the rest of the lounge with metallic accents and soft lighting. There are even fully-enclosed individual toilet stalls, with green and red lights overhead to indicate whether it's occupied.

Delta stocks its Sky Club bathrooms with soap and lotion from Grown Alchemist, the same toiletries you'll get in an amenity kit when flying Delta One business class.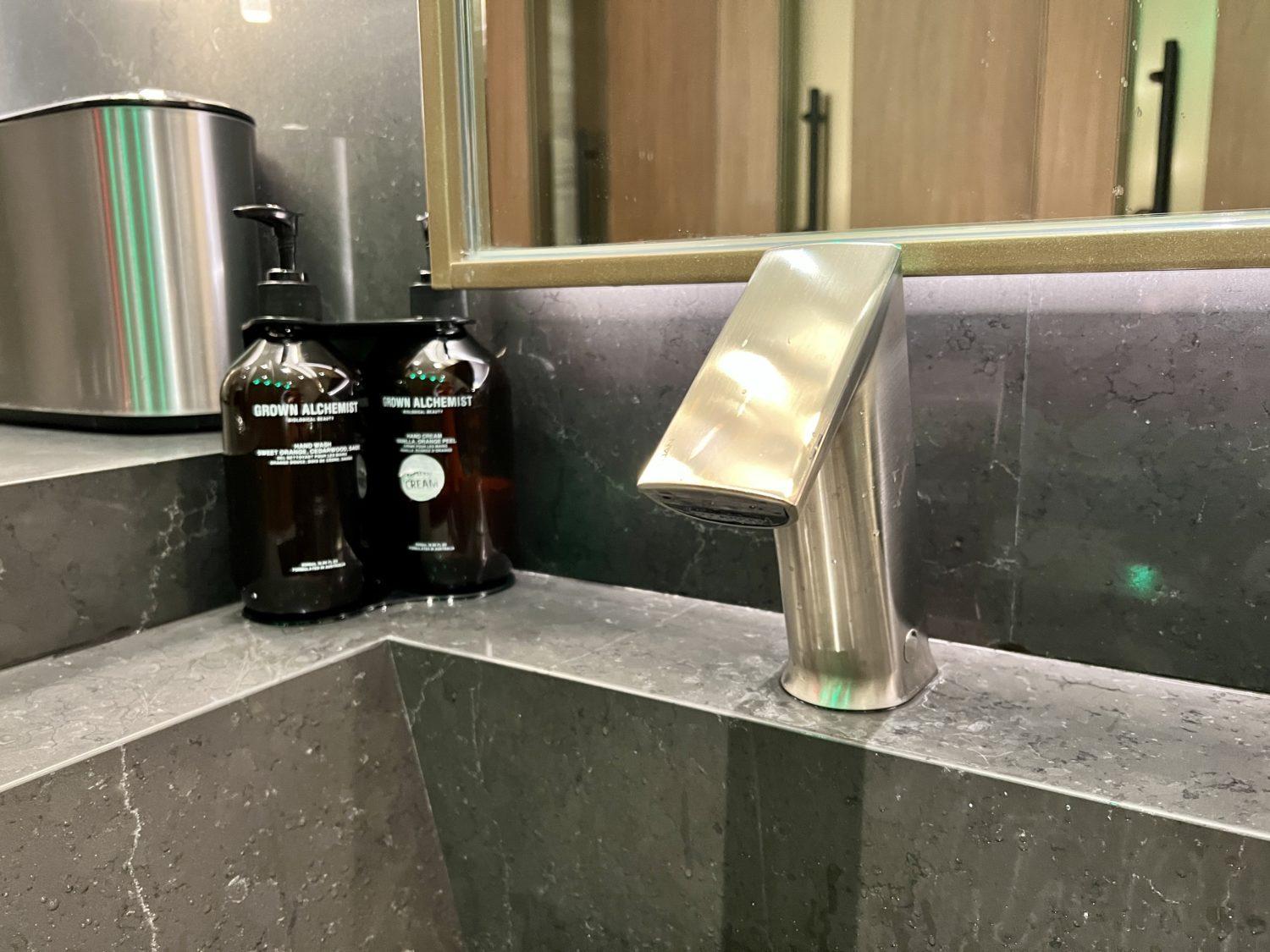 But this wing of the lounge also has four private shower suites. You can easily reserve these using a small kiosk at the start of the hallway (or another one near the lounge entrance).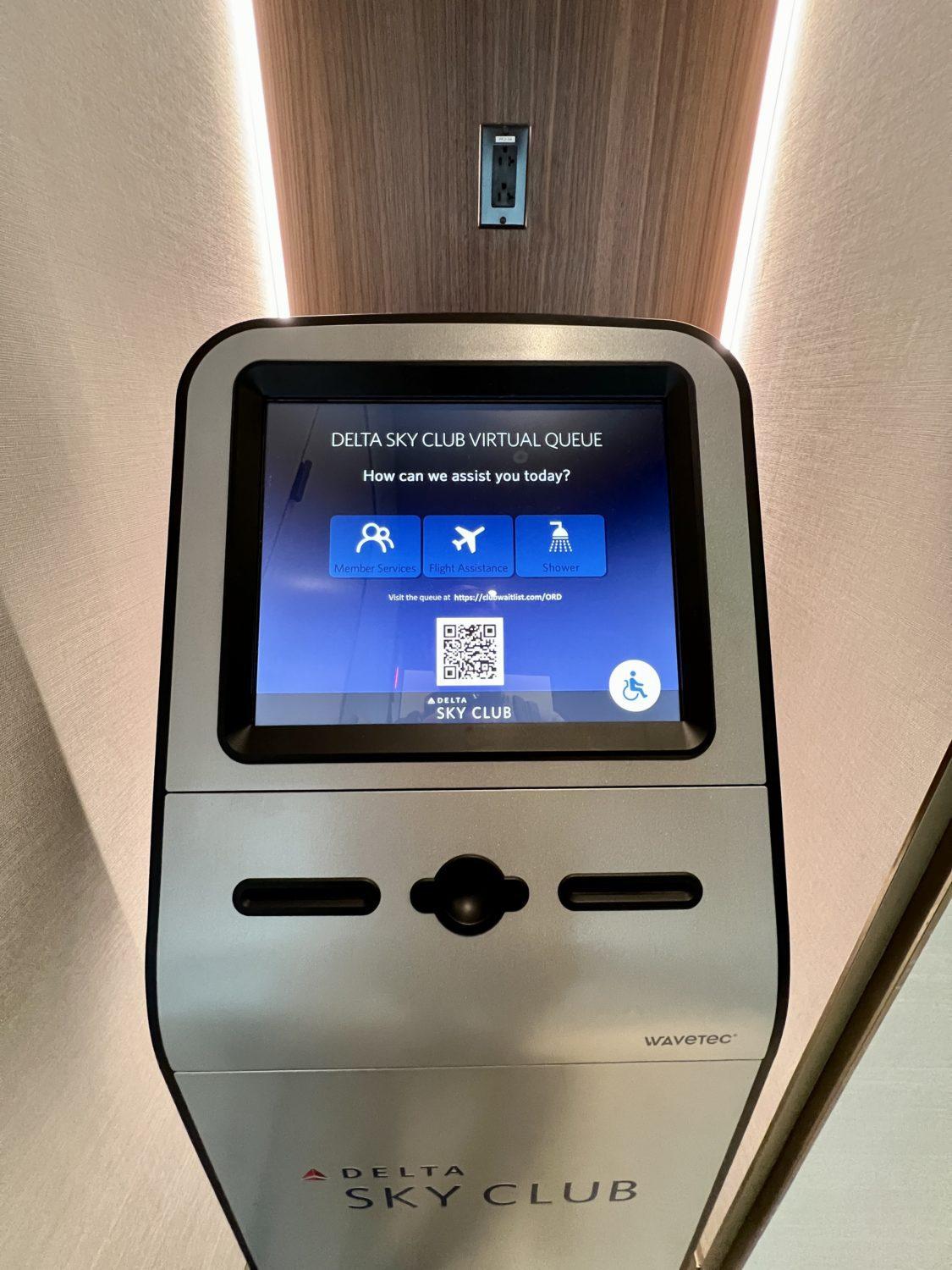 Each of these suites is pretty large, with a shower as well as a toilet and vanity available. There are towels, a blow dryer, and Grown Alchemist amenities at the ready along with some other extras like a small bottle of mouthwash, toothpaste, and more. I do wish these suites had a bit more storage like a larger vanity and bigger bench to store a bag.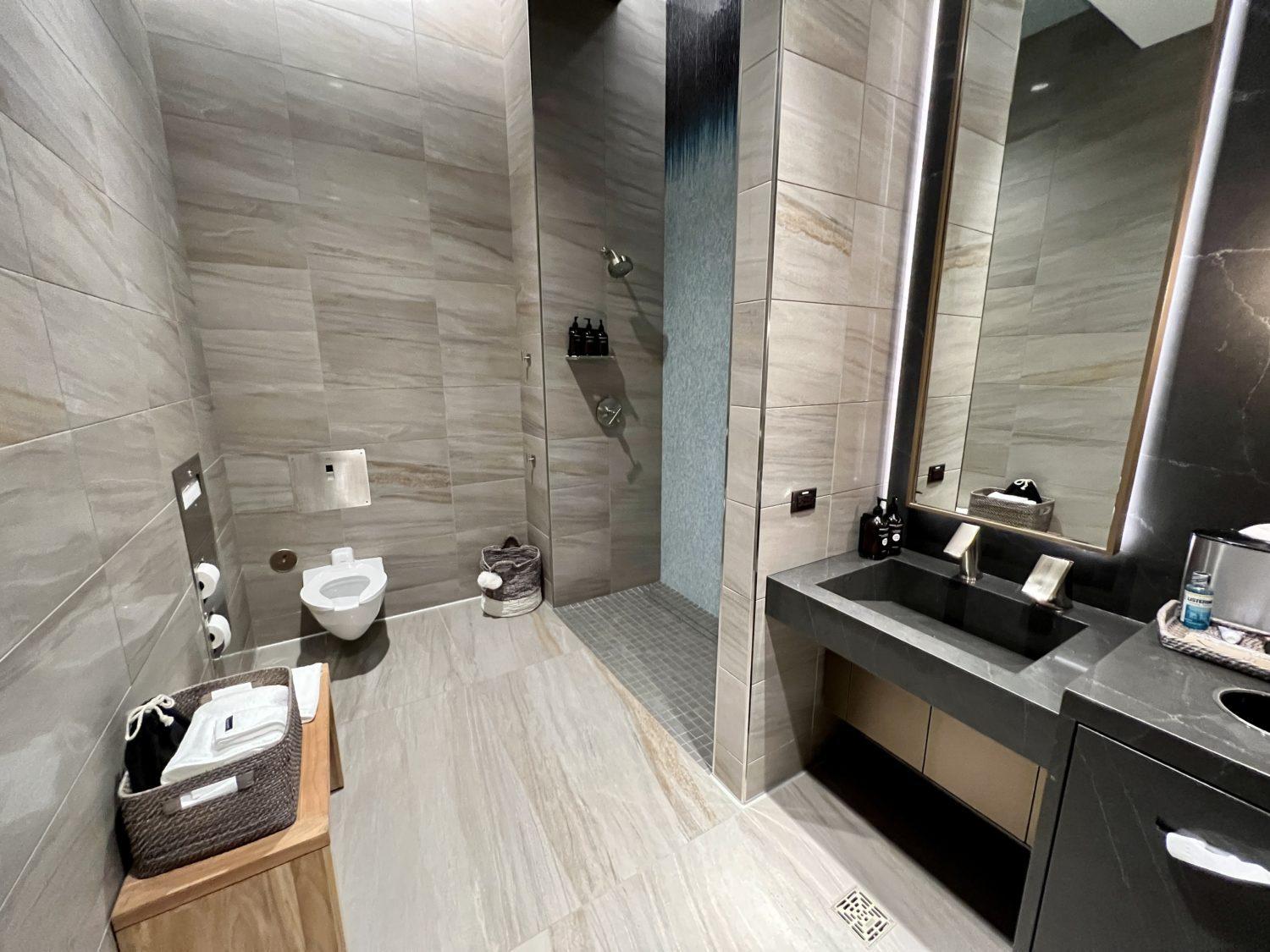 The walk-in shower itself is incredibly well-done, with a beautiful tile backsplash. I do wish these showers had glass doors or even a shower curtain, though – it's a pet peeve.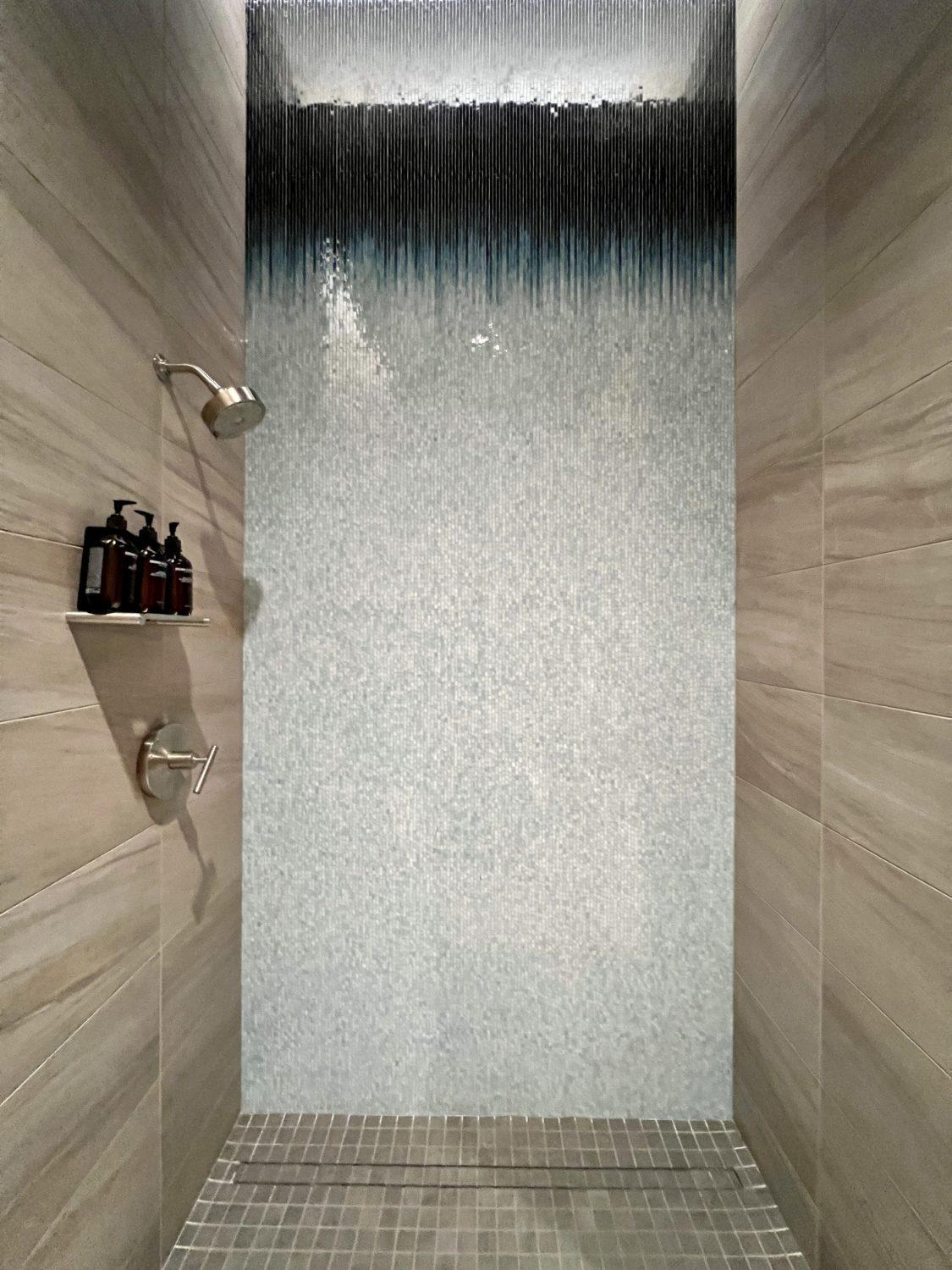 But these showers are a great option for anyone looking to freshen up before or after a long-haul international flight. Delta also has some wellness rooms in this wing of the lounge.
Food & Drinks
The new Delta Sky Club Chicago isn't your standard Delta club. And it doesn't have your average airport lounge fare, either.
Yes, Delta even kicked things into another gear in the food and beverage department for this space. Not only is everything presented well in the buffet setup, but much of it was clearly much better quality than what I'm accustomed to seeing at most Sky Clubs.
Around breakfast, one long counter was set up with a wide array of pastries, bagels, muffins, and other baked goods.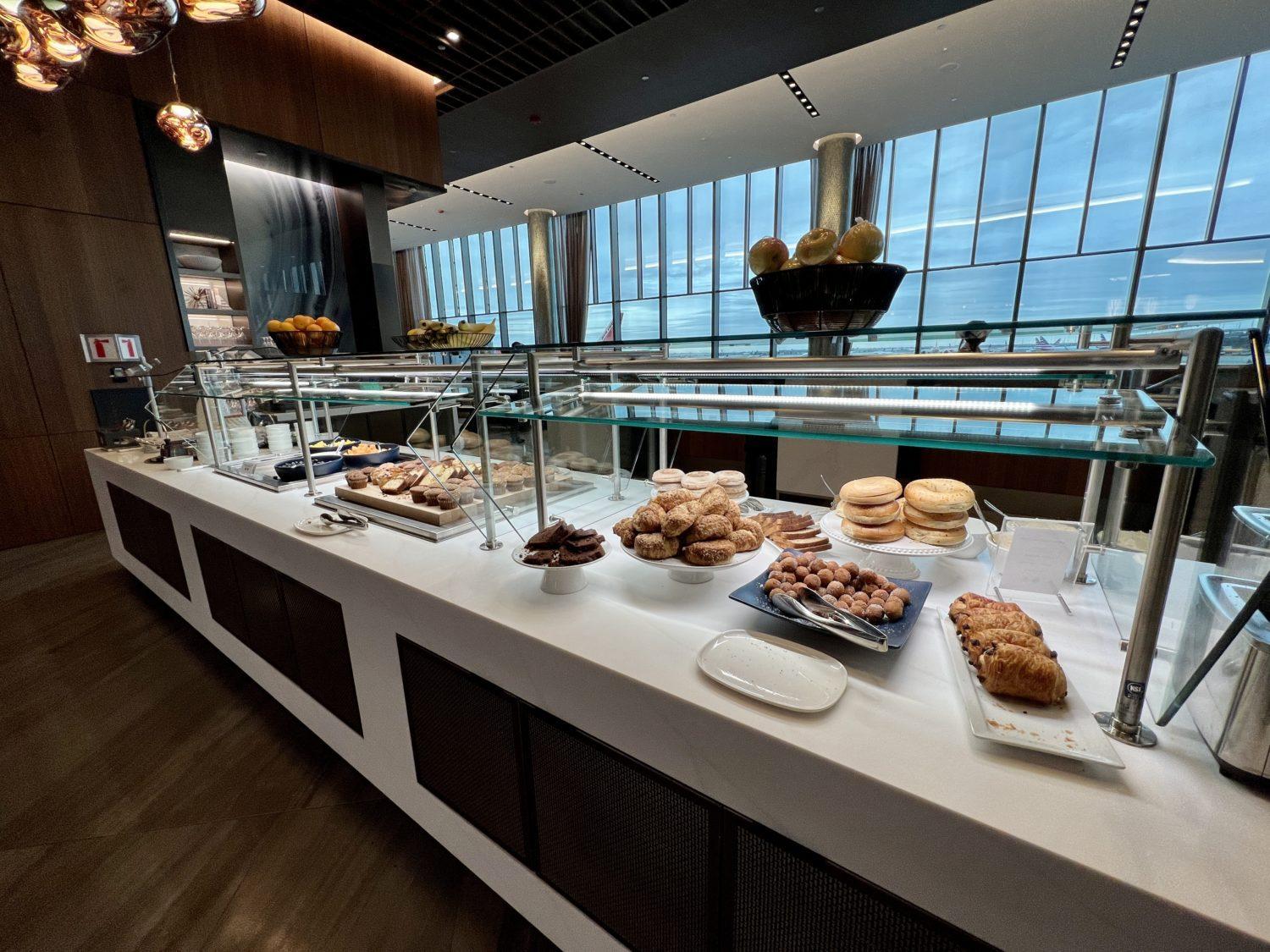 Behind that, there's the usual assortment of small dishes of yogurt, overnight oats, smoothies, and hardboiled eggs – along with an excellent charcuterie display.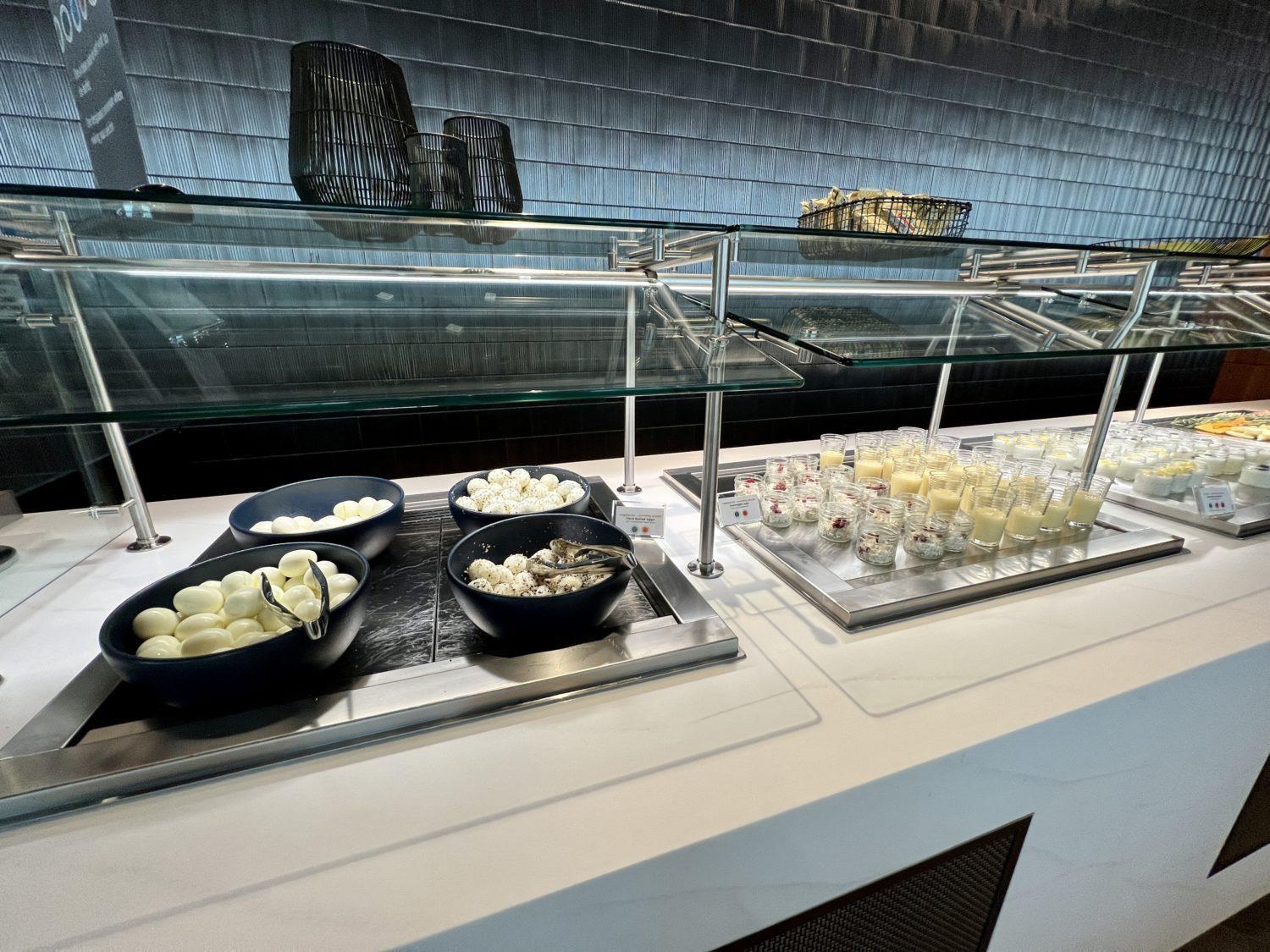 But for something more substantial, Delta has stepped it up. Gone are the bland omelets and tasteless breakfast potatoes – crustless quiche and sage-tossed fingerling potatoes are in, instead.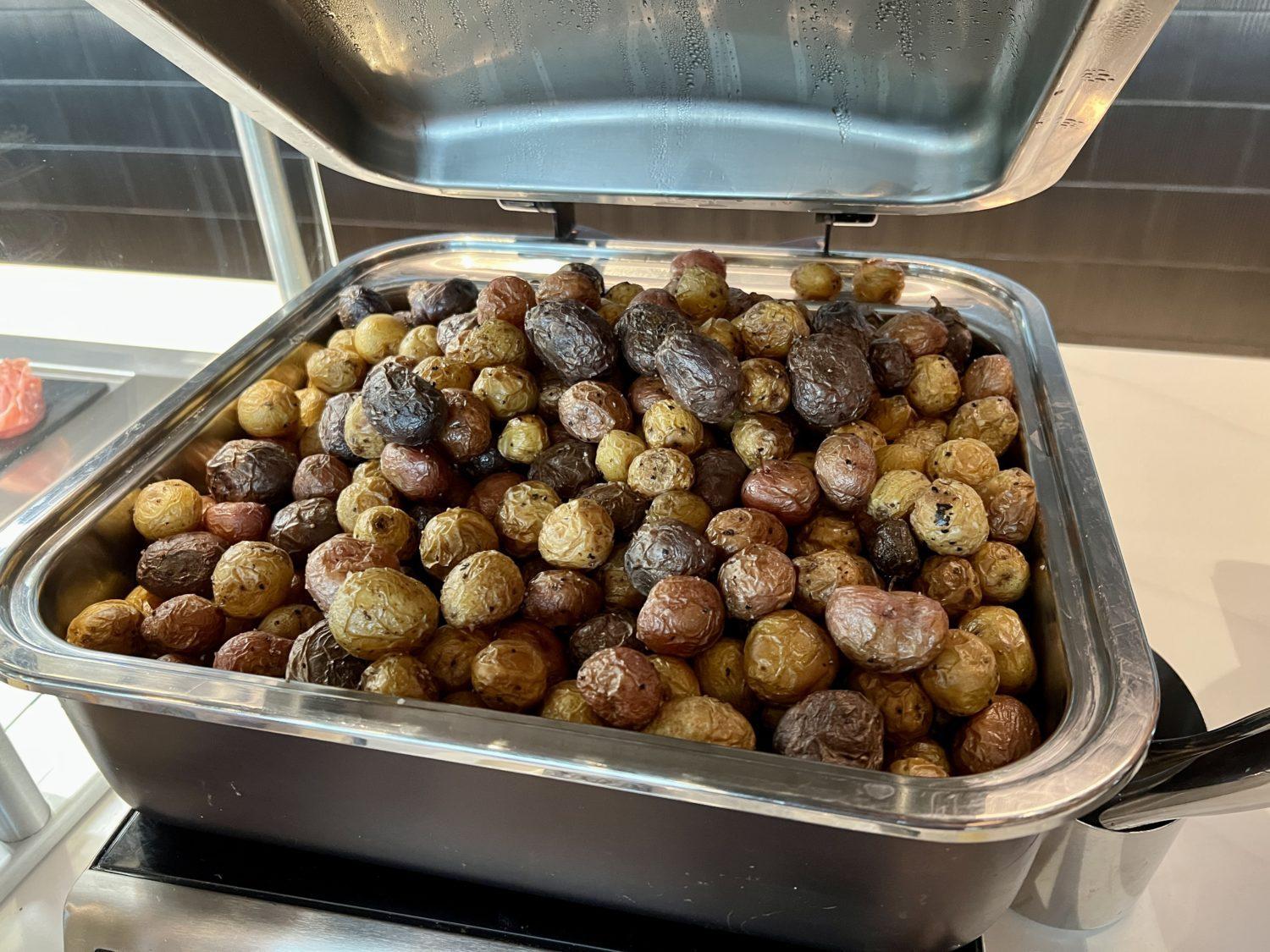 And what's that? Real cutlery? Not just paper plates and plastic silverware? More of this please, Delta: It's less wasteful and just nicer, too.

Around 10:30, the food offerings switched over to lunch – and again, everything was a higher caliber. There was fresh greek salad and pasta salad, turkey sandwiches with cranberry mayo, soups, Greek chicken souvlaki with rice and quinoa pilaf, and more.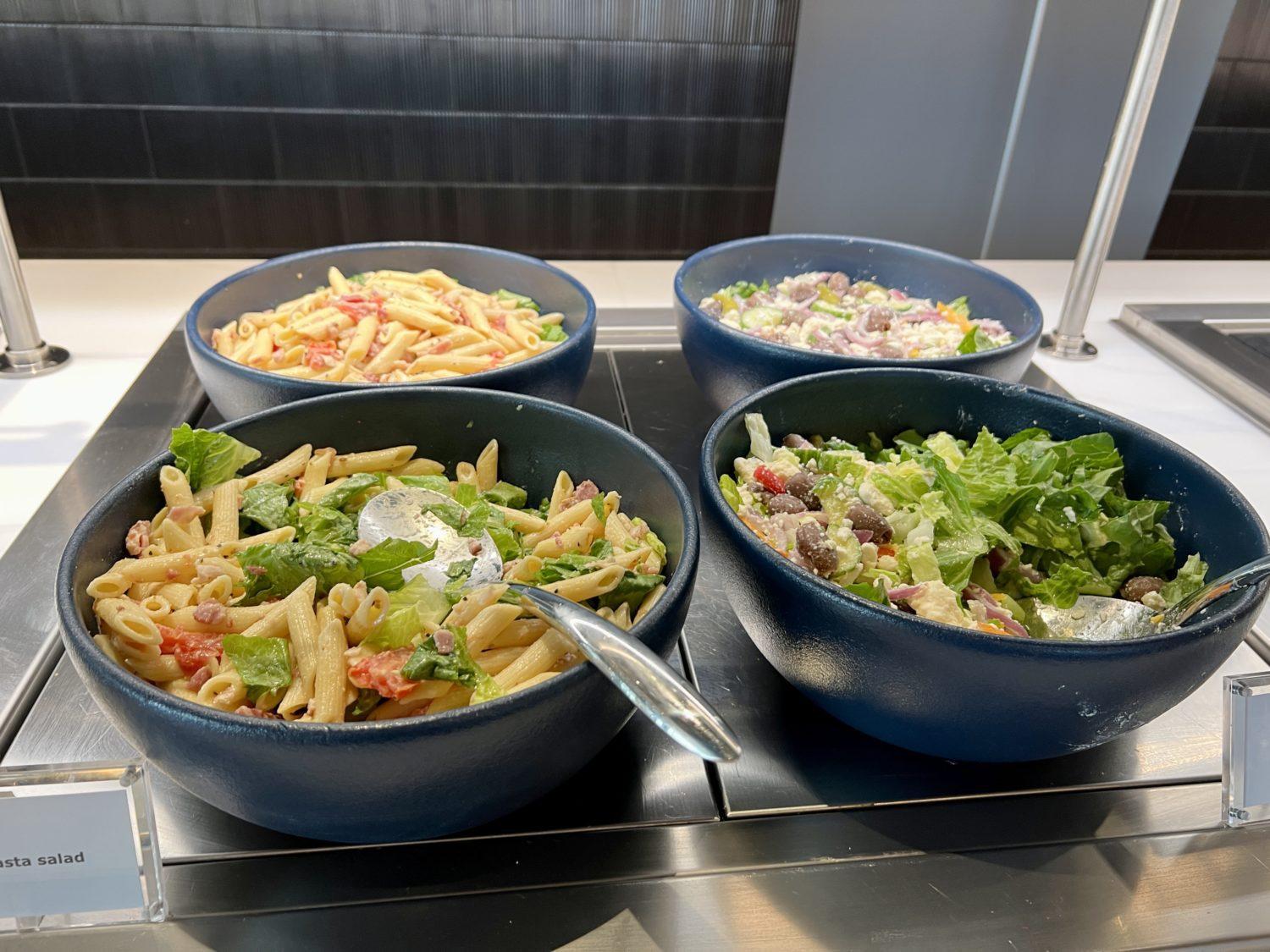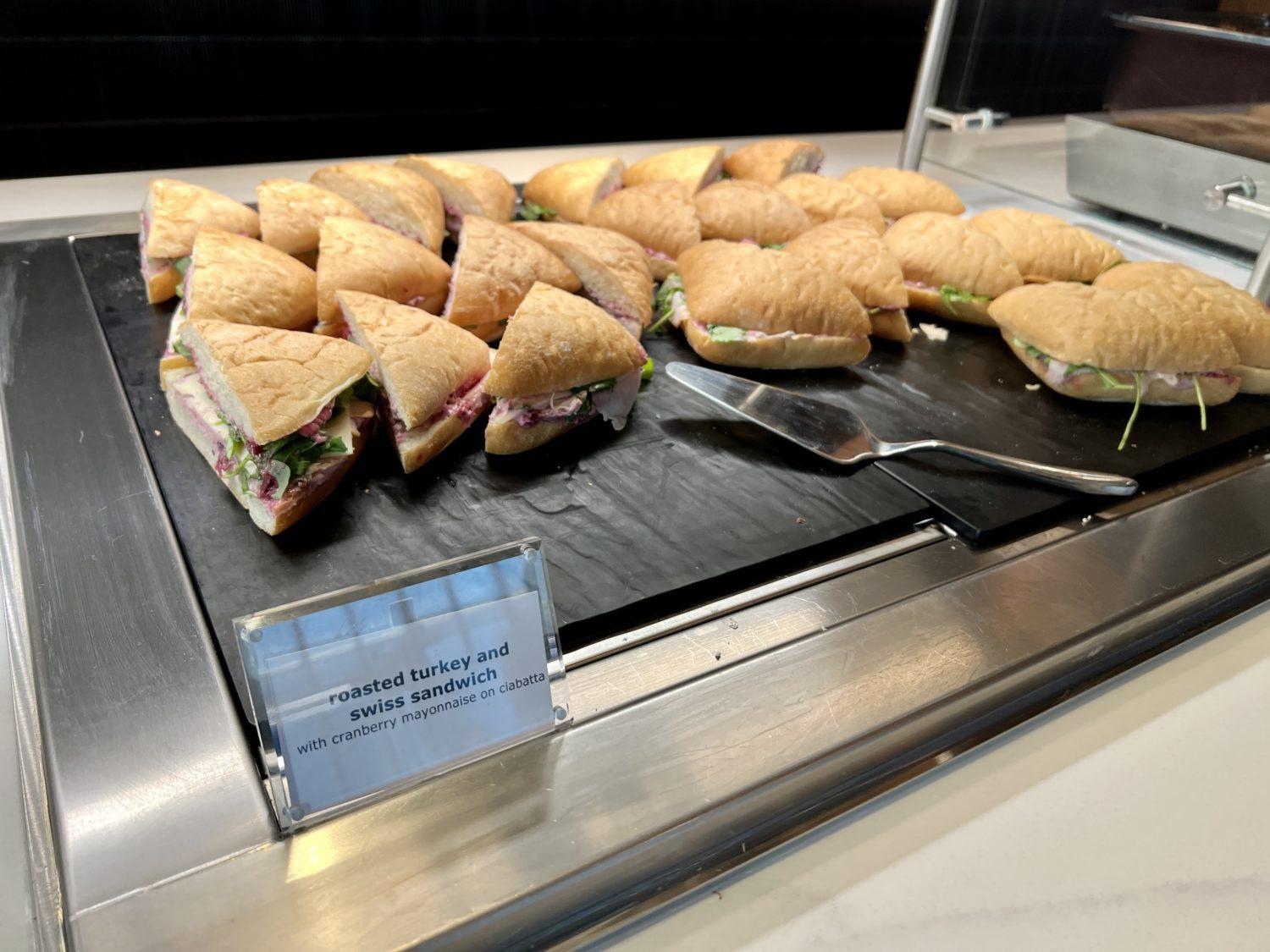 There's one more food option you might see around the lounge, and it's uniquely Chicago: A roving hot dog cart! Unfortunately, it wasn't making the rounds by the time I had to leave the lounge.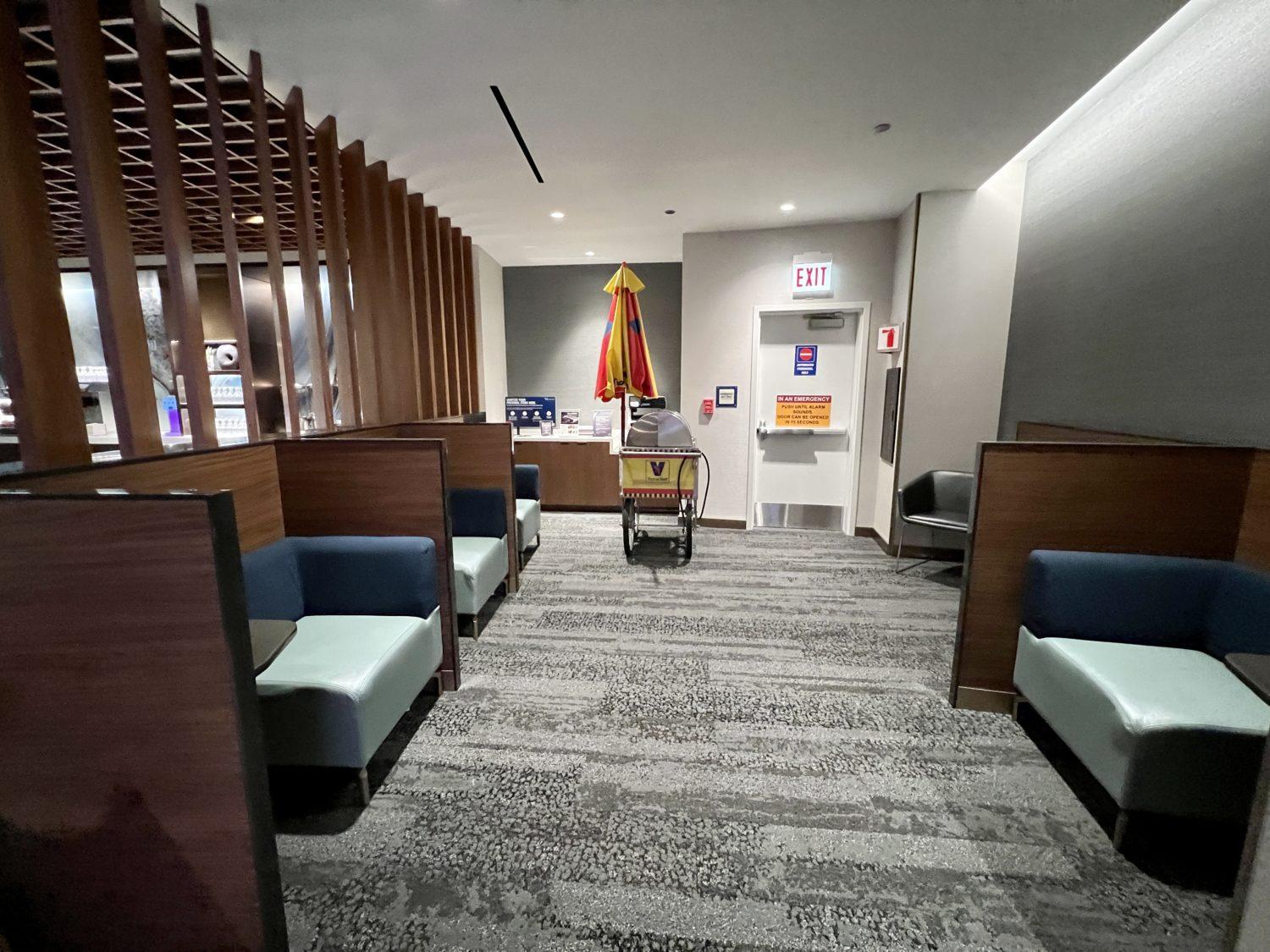 There are several beverage stations in the lounge, with everything from drip coffee to espresso machines to customizable water spigots and even Coke Freestyle machines.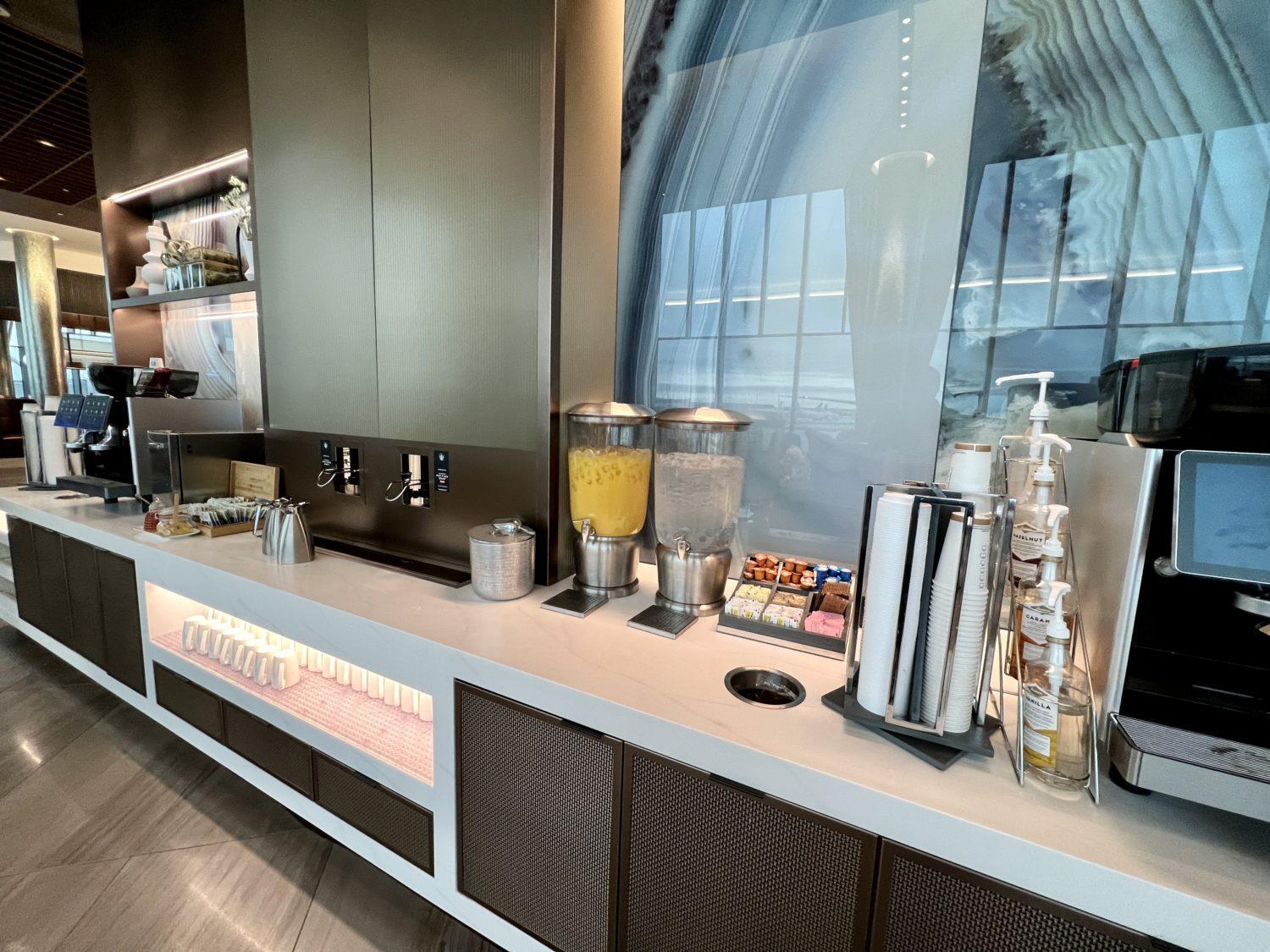 And then there's the bar – or bars, I should say. The second bar at the back of the lounge is supposed to function as a dedicated wine bar, through it wasn't up-and-running during my brief stay.
But the primary bar near the entrance has all the complimentary drinks you'd expect at any Delta Sky Club – plus premium cocktails and even champagne that you can purchase with SkyMiles (or cash). For beer drinkers, Michelob Ultra, Goose Island IPA, and Peroni was available for free.

The service at this bar was stellar, thanks largely to the gregarious bartender named John who was chatting up every guest in the place, welcoming them to "your new Delta Sky Club." He offered to make me his spin on a poinsettia cocktail – just a glass of champagne with a splash of cranberry juice.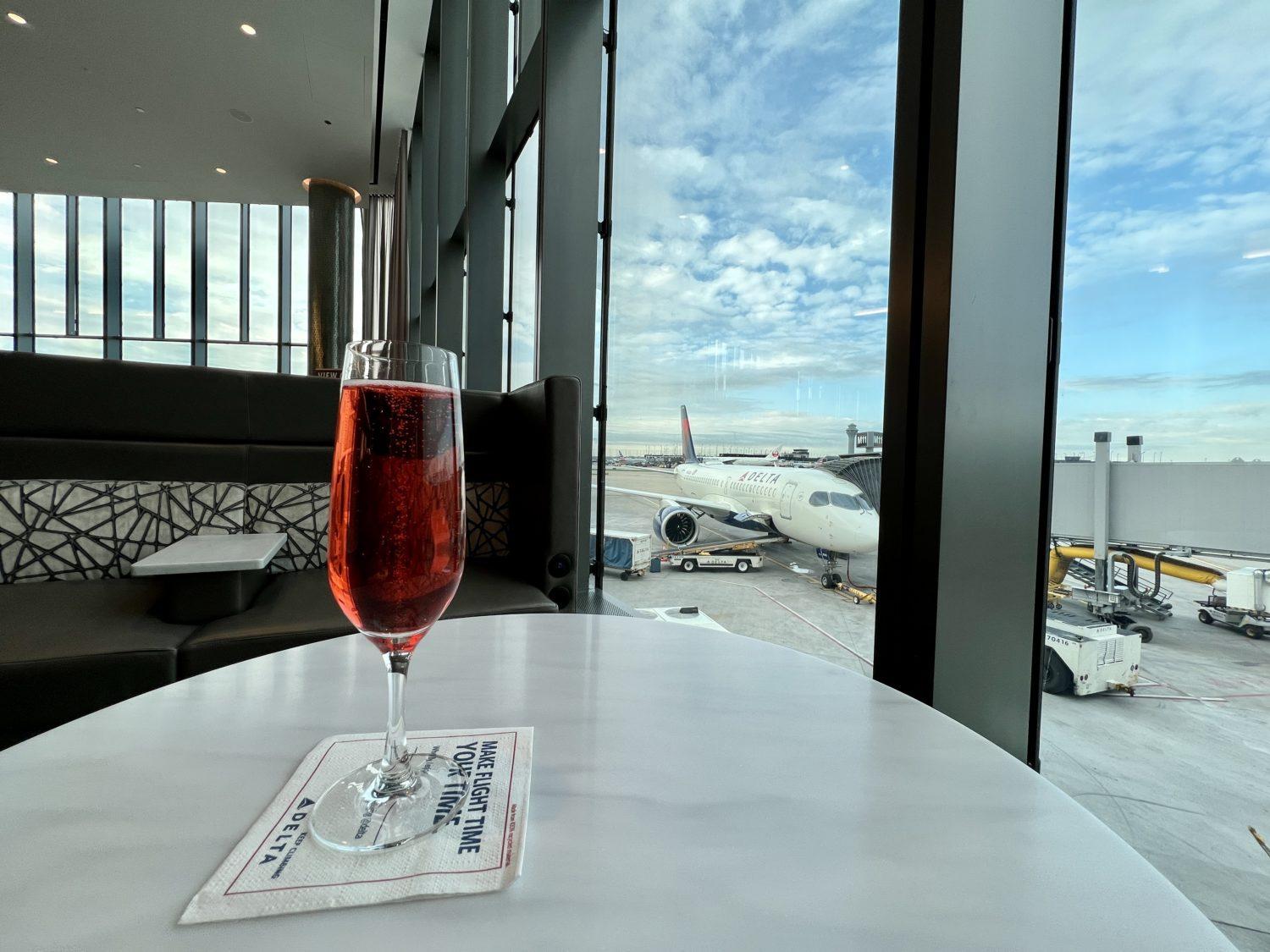 I'll take that view any day. But I can do you one better…

Boarding from the Lounge
You won't find this feature in any other Delta Sky Club to date. In fact, you won't find it at many airport lounges around the world, period.
If you're on the right route, you can actually board your flight straight from the Delta Sky Club Chicago. The lounge has a back corridor that connects directly with the entrance to Gate M11's jet bridge. That means you don't even have to leave the lounge to go catch your flight. How cool is that?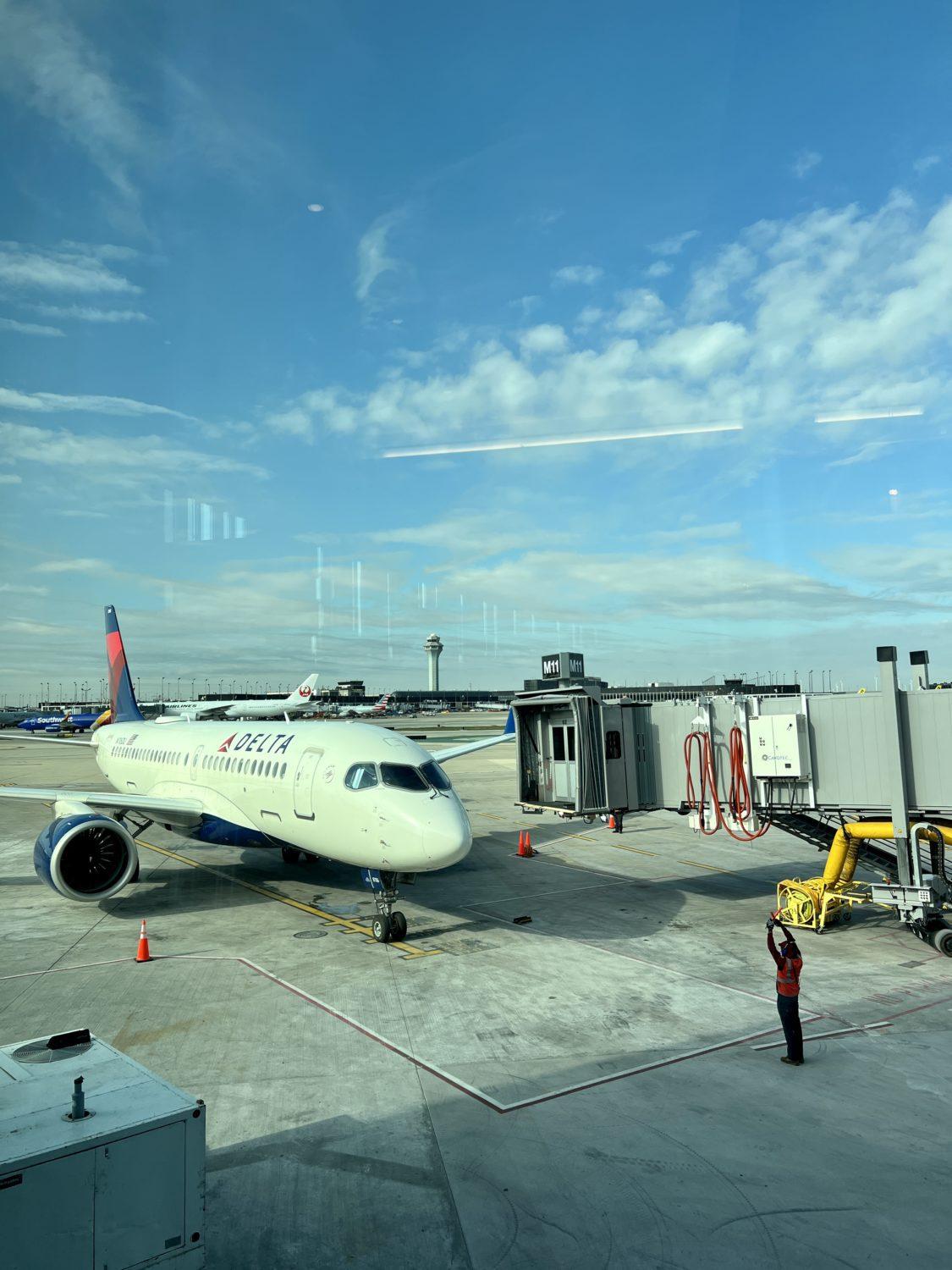 Here's the thing: Currently, the ability to board from the lounge is only available for the nonstop flights to New York City-LaGuardia (LGA). Just make your flight is assigned to depart from M11 and listen for the occasional overhead announcement in the lounge that it's time to board for LaGuardia.
When it's time to go, head toward the entrance but instead of hanging a right to exit, take the left into the small boarding corridor, just past the gate display. This is also where you'll find a few dedicated Delta concierges, if you need help with your flight.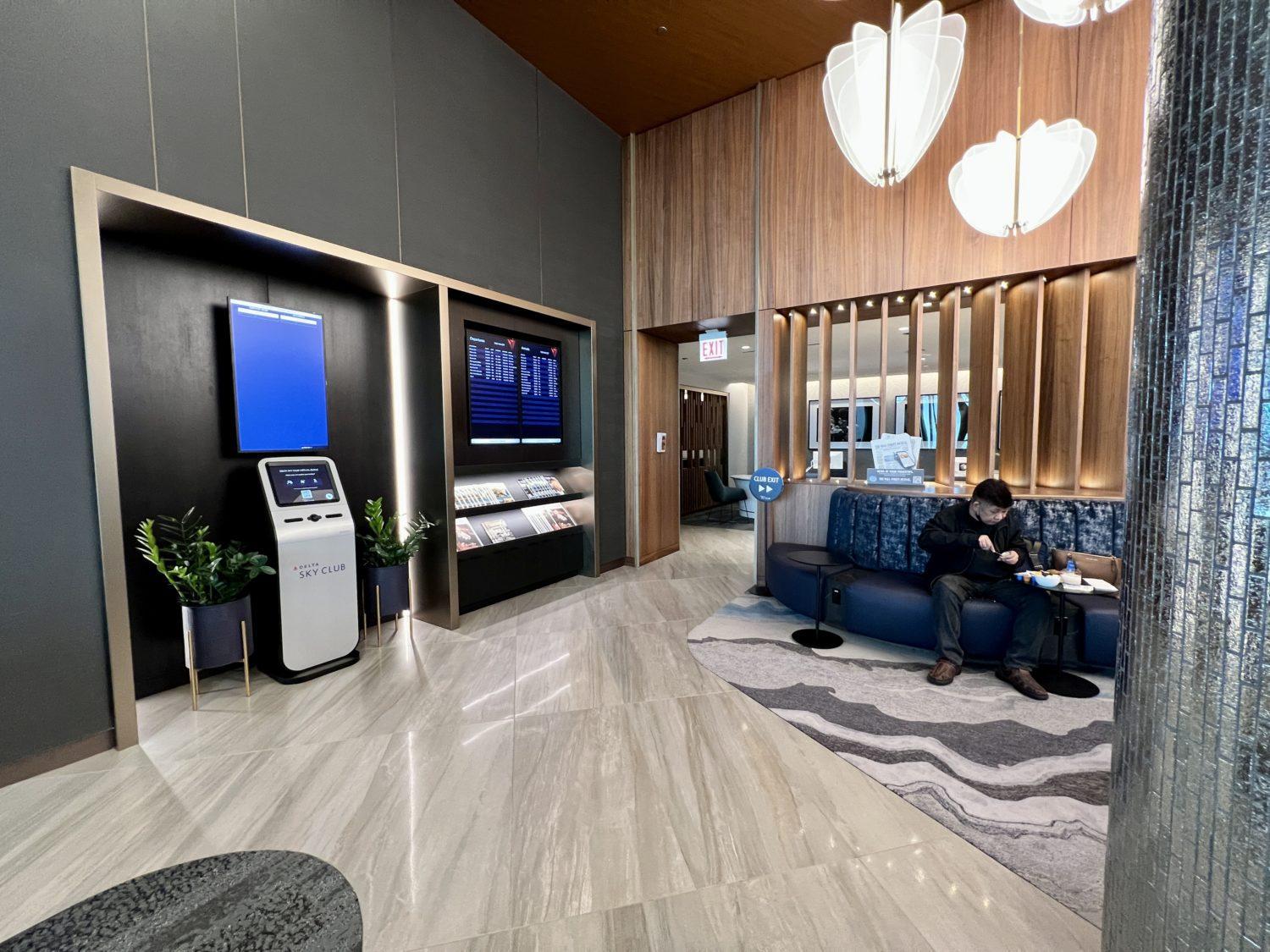 Hang a left again and you'll find even more seating – this lounge is full of secrets. This would be a great spot to wait the last few minutes before you decide it's time to walk on the plane.

At the back of the room is where you'll find your very own gate inside the lounge, with its own screen and Delta agent ready to scan your boarding pass. It doesn't seem like boarding from the gate requires you to follow Delta's usual boarding order: You can board as soon (or as late!) as you want from the Sky Club.

Straight from the lounge, it spits you out into the jet bridge. While that's only available on select New York City-bound flights, it's still a fun touch.
Delta also has another gate at the other side of the lounge, though it's expected to use that to board flights on partner airlines like Air France, KLM, and Korean Air at some point.

Bottom Line
It's not a hub – not even close – but Delta hit an absolute home run with this new Sky Club in Chicago-O'Hare.
With 23,000 square feet of space and fewer flyers than it handles at other airports, this newest Sky Club feels bigger than any Delta lounge I've ever visited. And Delta elevated it all with a great design, sharp touches, and cool features like shower suites and direct lounge-to-gate boarding.
It's close, but this could just be the best Delta Sky Club in the country.