The Seattle (SEA) Centurion Lounge is all grown up: The airport's brand new flagship Amex lounge is officially opening its doors on Wednesday, clocking in at more than triple its previous size.
Seattle had been home to a tiny, 4,500-square-foot Centurion Lounge for years. But the company announced a relocation and massive expansion back in 2020, closing down its prior location late last month in preparation for the move.
The changeover takes place today, as Amex throws open the doors to its new 14,000-square-foot space in Seattle's Central Terminal. The new-and-improved lounge features much of the same furniture and decor that have made Amex Centurion Lounges go-tos for travelers for years with some distinctly local touches, like a local chef-curated menu and a dedicated coffee bar.
"The new Centurion Lounge at Seattle-Tacoma International Airport delivers exactly what Card Members want while traveling – more space to relax and recharge and fantastic food and drink," Pablo Rivero, Amex's vice president and general manager of global lounge experiences, said in a statement. "Inspired by the vibrant Seattle dining and coffee scene, this space showcases the best of what Seattle has to offer, including a custom menu from Chef Kristi Brown and our first full-service coffee bar with locally-roasted beans Seattle is known for."
Read on for everything you need to know about Seattle's new Centurion Lounge, which officially opens today at 8 a.m. local time.
Related reading: The Ultimate Guide to Amex Centurion Lounges: Locations, Access & More
New Seattle Centurion Lounge Location
The new Amex Centurion Lounge in Seattle is located on the newly created mezzanine level of the Central Terminal. Its normal opening hours are from 5 a.m. to 10 p.m. daily.
Amex says it offers spectacular views of the tarmac and the Olympic Mountains – and the photos seem to back that up.

It's not far from the old Centurion Lounge, which was located opposite gate B3 in the Central Terminal.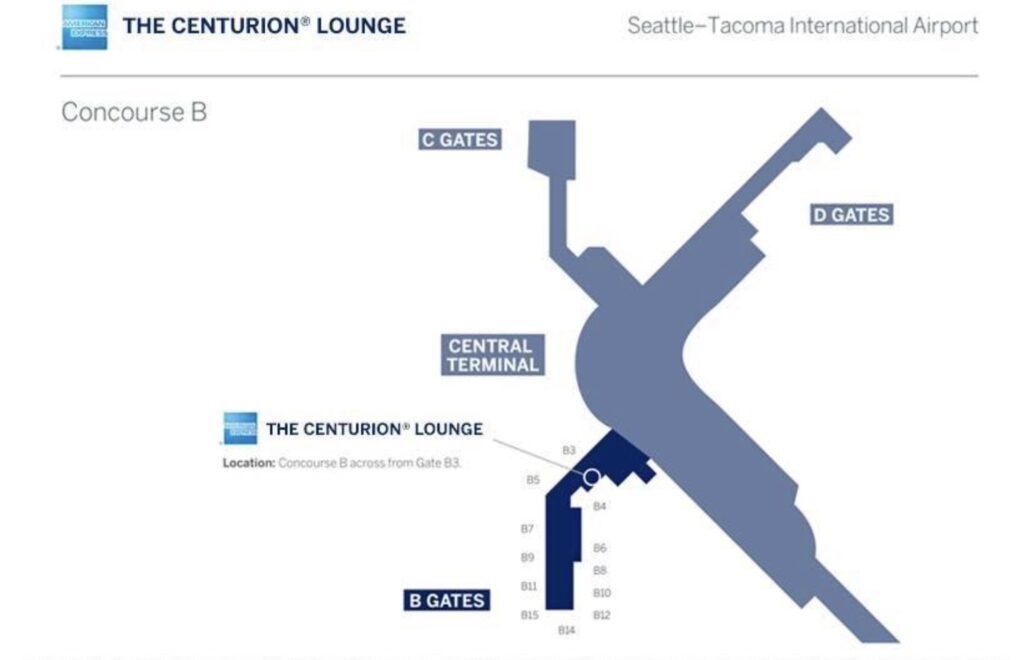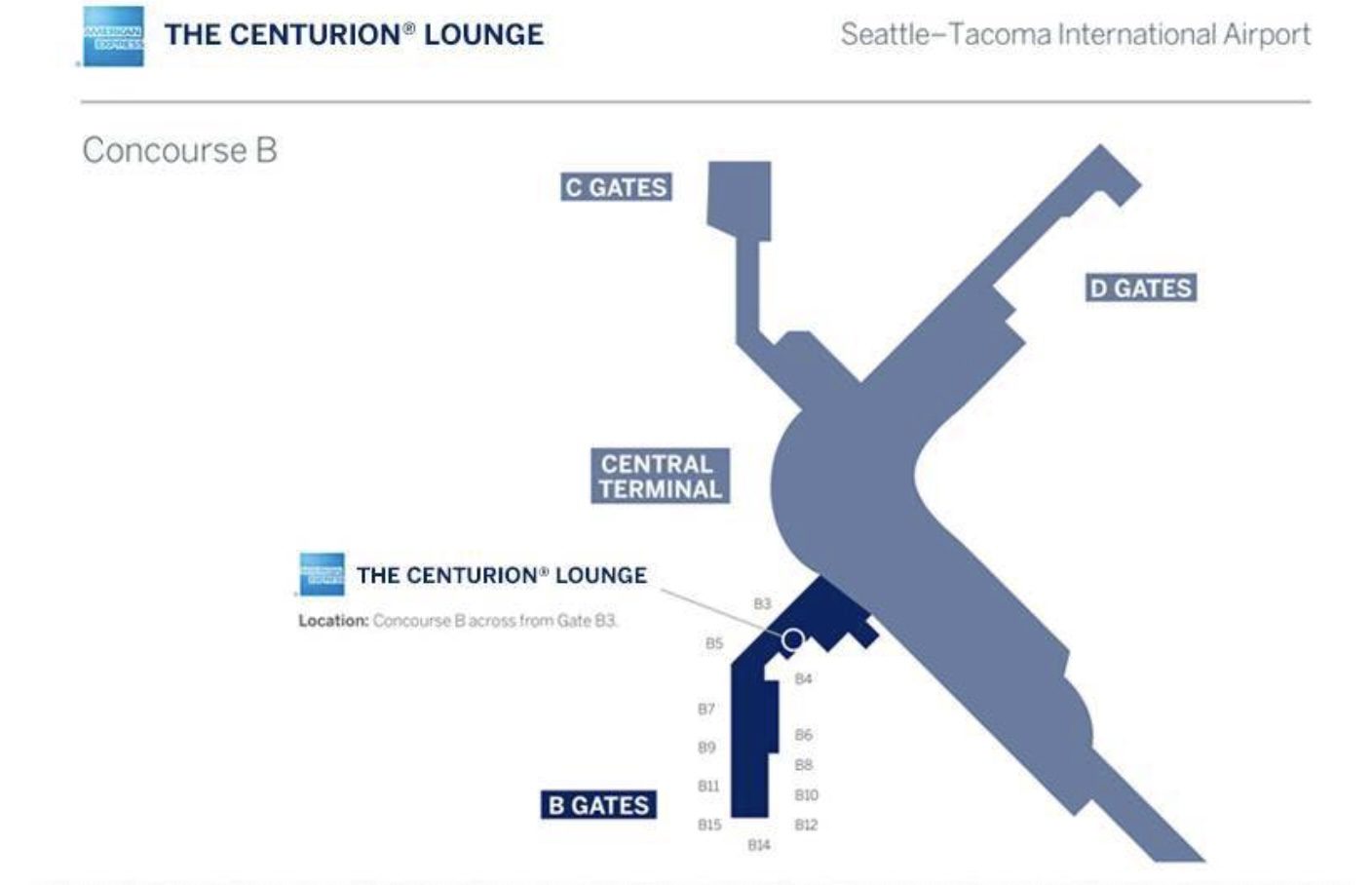 New Spacious Seating
With nearly 14,000 square feet, there's far more room to stretch out than in the previous, undersized Seattle Centurion Lounge.
That means more space for additional seating areas, more restrooms, private phone rooms, and even noise-buffering workspaces. But this is Seattle, so there's some local flair – like a 40-square-foot mural of the Seattle skyline from artist Harold Caudio … which Amex says is "made entirely from coffee beans."

Not much else is known about the new space. But at roughly three times the size of the previous Centurion Lounge, it should be a welcome change to those with Centurion Lounge access in Seattle.

A Full-Service Coffee Bar
From the speakeasy at the New York City (JFK) Centurion Lounge to the craft beer bar in Denver (DEN), Amex has been giving its latest Centurion Lounges a signature feature. The new Seattle lounge is no exception.
The Seattle Centurion Lounge features a first-of-its kind full-service coffee bar, dubbed "Blue Roast by American Express." It's a huge step up from the typical drip coffee and automated espresso machines you'll find in most Centurion Lounges. This bar offers counter service from dedicated baristas whipping up espresso-based beverages, cold brew, and other seasonally rotating specialty drinks from local Seattle roaster Caffè Umbria, which is partnering with Amex in the space.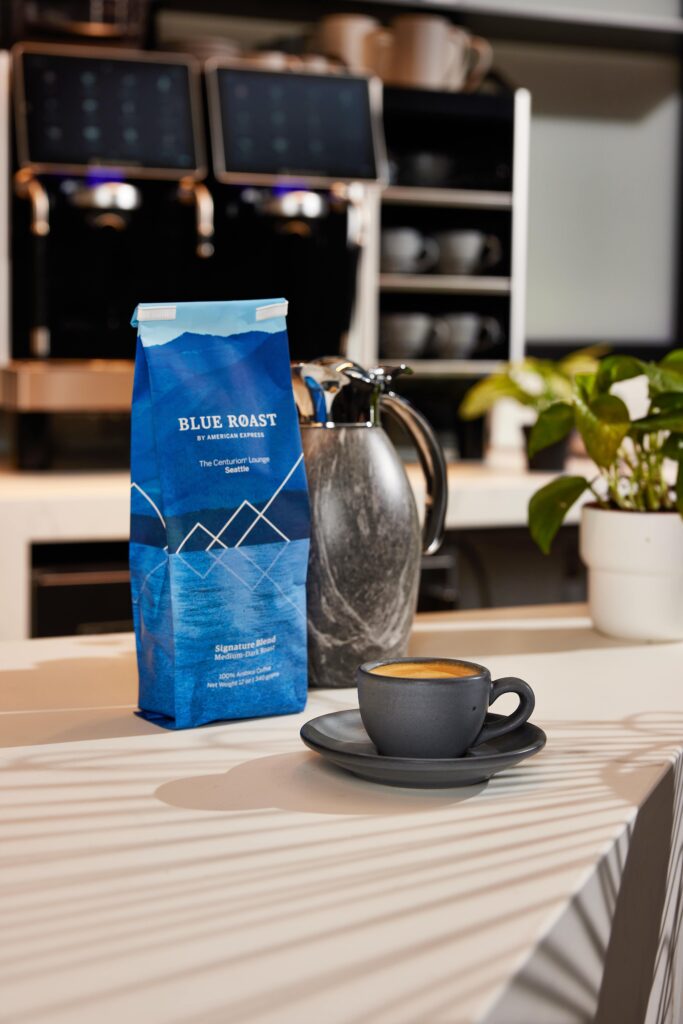 Amex says Blue Roast by American Express will also feature a wellness-themed café menu with healthy bites, made-to-order smoothies, and kombucha on tap.
A New Food Menu from a Local Seattle Chef
The new Centurion Lounge in Seattle also comes with a brand new food menu curated by Seattle's own James Beard Award semifinalist Kristi Brown, executive chef of Communion Restaurant and Bar.
Amex is calling the new lounge menu "Seattle Soul" based on her cuisine, which includes Trinidadian spiced pork belly, blackened chicken cobb salad, "Peach Cobbla" french toast, and other dishes.

As always, food and beverages will be complimentary for those with Centurion Lounge access.
Getting Into Centurion Lounges
If you want to get into the new Seattle Centurion Lounge, you'll want one card in particular.
It's The Platinum Card® from American Express. You can get into any Centurion Lounge with your boarding pass and Platinum card. After a major change meant to limit crowding, guests will cost $50 each (or $30 for minors) unless you spend $75,000 on your card each calendar year. You can only get into Centurion lounges within three hours of your flight departing (unless you're on a layover). The Business Platinum Card® from American Express will also get you in.
These cards are king when it comes to airport lounge access, as you can get into all of the Centurion Lounges, Escape Lounges, 1,400-plus Priority Pass locations, and even Delta Sky Clubs if you're flying Delta that day. The card comes with a $695 annual fee (see rates & fees), but perks like lounge access and annual credits for airline fees, streaming services, and Uber rides can easily offset that.
Another option for SEA flyers is the Delta SkyMiles® Reserve American Express Card. Delta recently added Centurion Lounge access to this card, although you have to be flying Delta that day to get in. You can't bring guests to the Centurion club with the Reserve card.
Bottom Line
The new American Express Centurion Lounge in Seattle (SEA) officially opens today, Wednesday, Feb. 15 – nearly three years after plans for the new space were first announced.
The new space is roughly triple the size of the bank's old, undersized lounge at Seattle. That alone makes this new space a massive improvement.
All photos courtesy of American Express