Delta has a Sky Club problem: They're just too busy. With travel booming and too many easy ways to get Delta Sky Club access, lines are forming outside lounges at the airline's busiest airports. With two recent moves to combat growing lines heading into the holidays, it's clear the airline is getting desperate.
After testing in Atlanta all summer, Delta confirmed to The Points Guy on Tuesday that it's rolling out priority lines outside select Sky Clubs that grant quicker access to VIPs. Travelers with top Delta Diamond Medallion Status (or invite-only Delta 360 membership) can skip the line, as can anyone with a Delta One business class ticket or a first class fare who already has lounge access. Delta plans to phase in these priority lanes outside busy lounges at select airports – likely its busiest hubs like Atlanta (ATL), Minneapolis-St. Paul (MSP), Detroit (DTW), and New York City (JFK).
And then there's this: The airline is also asking its top employees to steer clear of Delta lounges until the New Year. In an email to Delta officer- and director-level employees last week that was obtained by Thrifty Traveler, a top Delta executive asked those workers "to refrain from using the Clubs this holiday season."
"If you've visited a Club recently, you may have seen lines at the door and guests waiting for seats inside. This is not the experience our customers want to have, nor the one our team members wish to deliver," Dwight James, Delta's senior vice president of customer engagement and the CEO of Delta Vacations, wrote in the email to employees. "That's why, on behalf of the (Delta Leadership Committee), I'm asking all Officers and Directors to refrain from using the Clubs this holiday season – starting now through the New Year's Day holiday."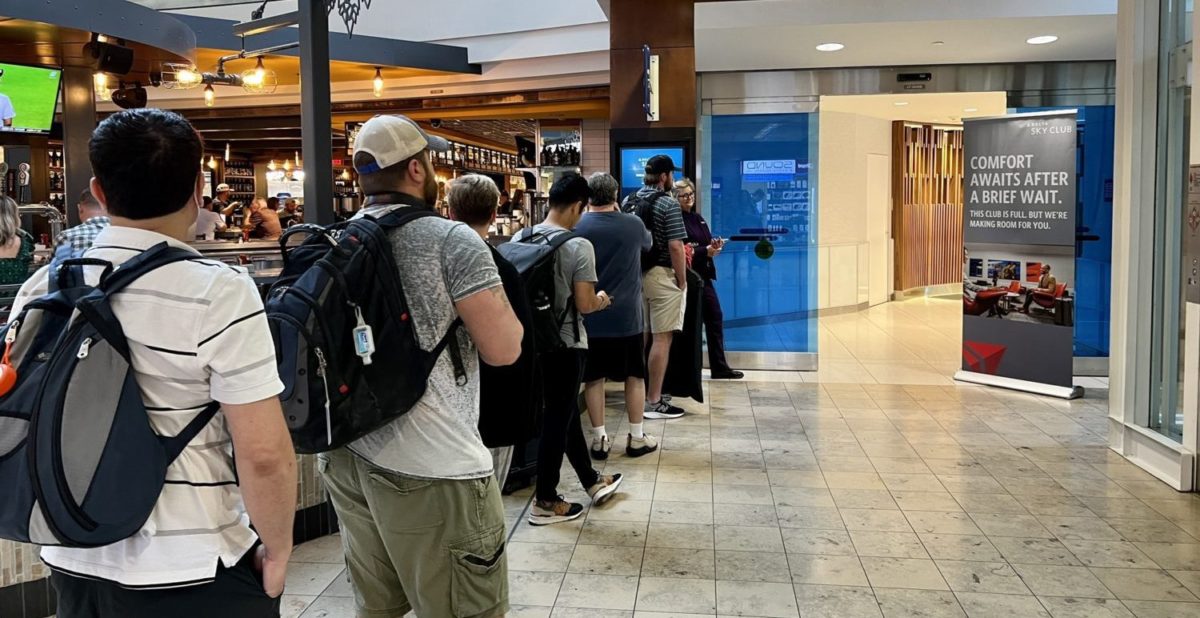 "We want our most valued customers to have the very best experience and continue to prefer Delta's premium products and services," James continued. "For this, I'm personally willing to give up visiting the Club – and I'm asking you to join me."
It's just a request and not a command, but it comes from all of Delta's top brass – including CEO Ed Bastian. And that's telling. Though the headcount and its impact on crowded lounges is unclear, Delta officers and directors all receive a Delta Sky Club membership as a perk of employment. Asking them to stay away during the hectic holiday travel season is no small matter.
It's also unclear whether Delta has asked any other employee groups to skip the Sky Club before (or after) their next flight.
Delta is far from alone in grappling with busy lounges lately. Amex Centurion Lounges are too popular for their own good, American Airlines' Admirals Clubs at its big hubs can be packed, and even the exclusive United Polaris Lounges for business class regularly fill up each afternoon.
But with placards warning that the Sky Club is at capacity now regularly stationed outside popular lounges, Delta has been the poster child for overcrowded airport lounges in 2022. With access policy changes and new, bigger lounges springing up, they've tried to fix it … but fallen short.
In May, Delta made its biggest moves yet by limiting lounge entry to just three hours before a flight and cutting Sky Club access upon arrival, too. But that was a drop in the bucket – especially after an uproar forced Delta to backtrack and continue allowing lounge access after a flight. Meanwhile, they've opened bigger and better new lounges like the Delta Sky Club in Chicago-O'Hare (ORD). But even at nearly 35,000 square feet, even the massive new Sky Club at New York City-LaGuardia is often at capacity during busy times.

A priority entry line for top Delta elites and business class flyers will help ensure the airline doesn't upset its most important (and highest-paying) customers by turning them away at the Sky Club door.
"Following a successful operational test in Atlanta, Delta Sky Club will roll out dedicated entry lanes in a phased approach at select airports. These entry lanes are just one of a continual range of enhancements designed to ensure our most frequent fliers and Delta Sky Club guests have a great experience on the ground and in the air," the airline shared with The Points Guy in a statement.
But the root of the problem comes down to two words: American Express. No other airline has opened up more avenues for complimentary lounge access than Delta, which grants cardholders with Delta SkyMiles® Reserve American Express Card as well as the The Platinum Card® from American Express free entry when flying Delta that day.
Neither American nor United offer complimentary lounge access via credit cards aside from their own co-branded offerings. Throw in paid annual lounge memberships, free access for Delta Diamond Medallions, and day passes available for $39 each for travelers with the Delta SkyMiles® Platinum American Express Card, and it's a recipe for crowded lounges.
Will asking employees to skip the lounge help? Only time will tell. But more changes may be on the way.
"We'll continue to find ways to deliver a Club experience our customers expect and deserve," James wrote in his email.
Bottom Line
Delta is throwing out the kitchen sink to improve its Sky Club experience, creating priority lines for VIPs and asking its top employees to avoid the lounge altogether until 2023. Is that enough? We'll have to see.