You can use Virgin Atlantic miles to book Delta One flights for a fraction of the SkyMiles Delta itself would charge: 50,000 miles for a one-way flight to Europe, and 60,000 miles to fly to Asia. That's nothing new – and we probably sound like a broken record for how much we love this redemption.
But we recently discovered a way to take it next level. After Virgin Atlantic teamed up with Air France/KLM this spring, you can now book a mixed-partner award to Europe flying Delta across the Atlantic Ocean and a shorthaul segment on Air France or KLM. And you can use that to fly business class to almost anywhere in western Europe for just 58,000 miles total.

Want award alerts like this one, plus cheap domestic and international fares? Try Thrifty Traveler Premium for just $5.99 a month!
Combined with some excellent award availability through June 2021, this is a good chance to book a European trip next spring. Of course, Europe is still shutting out Americans. And with coronavirus cases skyrocketing across the globe and much of the continent locking down again, there's no telling if that will change in time for a trip to Europe next year.
But Virgin charges a reasonable $50 fee to change or cancel your booking to get your miles back – and we've heard from readers they're waiving that fee due to coronavirus. And this sweet spot opens up a world of opportunities to book business class for less.
How it Works
You can use miles from one airline to fly with that airline, naturally. You can also use miles from one airline to fly with many different partner airlines. And in some cases, you can use miles from one airline to book several different partner airlines on the same ticket. And that's what we're looking at here.
In the case of Virgin Atlantic, it has many award charts for each of its different partner airlines. And it charges per segment for award tickets. So while a nonstop flight in Delta One will from the U.S. to Europe will run you 50,000 Virgin Atlantic miles, adding a connection within the U.S. brings the cost much higher.
But Air France and KLM teamed up with Virgin Atlantic this spring, meaning you can book a flight on Air France or KLM with Virgin Atlamntic miles. But more importantly, Virgin recently added the ability to book mixed-partner awards. That allows you to fly longhaul with Delta to Europe, and Air France/KLM within Europe.
And that's a much different story.
Virgin Atlantic's award chart for Air France/KLM redemptions spells out some very cheap award rates for shorth-haul flights. The sweet spot is flights under 600 miles, which will cost 8,000 miles each way during off-peak seasons – and just 9,000 during peak seasons like summer and the holidays.

With a cap of 600 miles, you can reach almost anywhere in Western Europe (and even some of Eastern Europe) from Amsterdam (AMS) or Paris-Charles de Gaulle (CDG). Parts of Scandinavia and much of Italy are in reach, too, depending on whether you connect through Amsterdam or Paris.
Thrifty Tip: Use GCmap.com to measure flight distances between two cities to make sure the itinerary you're thinking of will make the cut.
So in the end, the process looks like this:
Fly nonstop business class to Amsterdam or Paris from one of Delta's U.S. hubs like New York City (JFK), Boston (BOS), Atlanta (ATL), Detroit (DTW), Minneapolis-St. Paul (MSP), Seattle (SEA), or Los Angeles (LAX).
Connect onward to your final European destination no more than 600 miles away with Air France or KLM.
That adds up to just 58,000 Virgin Atlantic miles – or 59,000 if you fly during the peak season. Best of all, these mixed-partner itineraries are easy to search and book online: Just search the entire itinerary – for example, Boston (BOS) to Oslo (OSL) – and Virgin Atlantic will pull together the mixed-partner booking automatically in the results if they're available.

That said, you might want to start by searching individually for the longhaul Delta segment (Boston to Amsterdam or Paris, in this example) to zero in on dates that work. Award availability on those intra-European routes shouldn't be an issue.
Unfortunately, finding a seat in Delta One Suites on these flights will be tough. The pandemic has forced Delta to send nearly all its planes equipped with suites to Asia, so you'll mostly find older A330s on these routes to Europe for now. And intra-European business class with KLM or Air France won't be anything fancy.
Keep your eyes peeled for one of Delta's newer 767-400s with updated business class, though.
Why This Sweet Spot is So Valuable
Getting to almost anywhere in western Europe for 58,000 miles each way is a deal no matter how you slice it. Paying just $23 or so in fees on those fares is the cherry on top. But there are a few instances where this sweet spot shines even brighter.
Of course, you could use Virgin Atlantic miles fly Air France or KLM all the way, as both airlines fly to and from many U.S. gateways. But from nearly all U.S. airports, those bookings will get hit with nearly $300 in additional fees.
Flying Delta instead on the longhaul segment allows you to escape those fees. And to me, that's more than worth the slightly better award rates flying Air France or KLM, as you can see below.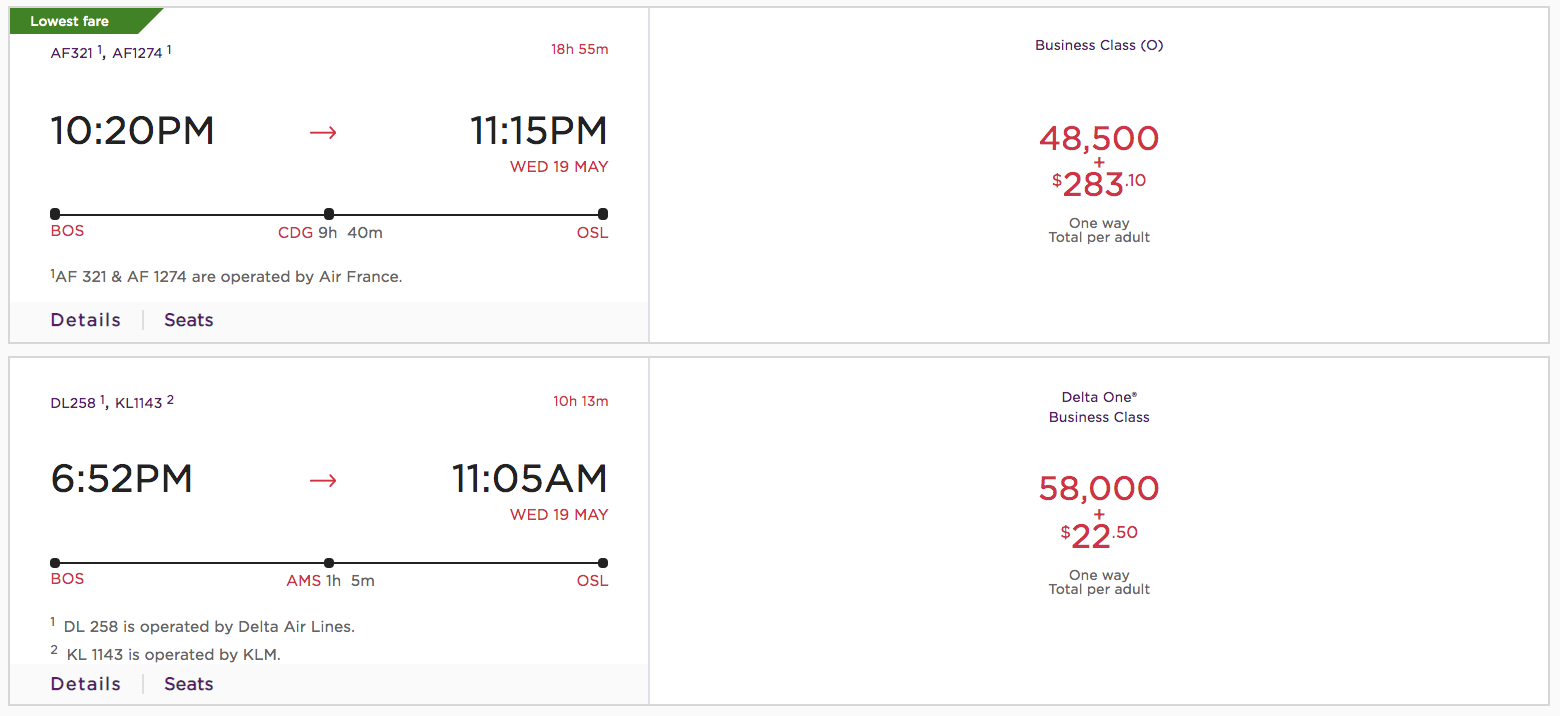 Thrifty Tip: Virgin Atlantic's award search may initially display some of those low-mileage, high-tax awards from Air France or KLM. You'll need to click through date-by-date to find one of these mixed-partner awards.
But it gets even better if you're departing from the Midwest or West Coast, where you'd pay at least 77,500 for a one-way business class ticket with KLM or Air France – or 87,500 for a peak-season flight. Book the same trip flying Delta on the longhaul instead, and you can save big on both miles and fees.

In case you need a reminder of what an outstanding workaround this is, look at how many SkyMiles Delta wants for the exact same itinerary above.

And considering Delta just massively hiked partner award rates, this redemption shines even more.
How to Earn Virgin Atlantic Miles
This redemption just adds to the list of reasons you may want some Virgin Atlantic Flying Club miles.
Unfortunately, you can't transfer Delta SkyMiles over to Virgin Atlantic, or vice versa. But you can still easily earn the miles you need to fly business class to Europe.
That's because the airline is a transfer partner with three major bank points currencies: Chase Ultimate Rewards, American Express Membership Rewards, and Citi ThankYou points. Those credit card points transfer to Virgin Atlantic on a 1:1 basis,  and they're typically instant. Of course, now may not be the best time to transfer points to any airline, period. But this is a strong option for getting to Europe next year, if you're determined to book.
Thrifty Tip: Never transfer points to an airline partner until you've confirmed the flights you want are available.
The Platinum Card® from American Express is a strong option for frequent flyers to get the Amex points they need to book a Delta One suite. The $695 annual fee may be steep, but that comes with at least an 80,000-point welcome bonus after spending $6,000 within six months and an unbeatable set of travel perks. But be sure to check to see if you qualify for a 150,000-point bonus via CardMatch.
But it's also hard to deny the value of the Chase Sapphire Preferred® Card in this situation. This card is out with a 60,000 point bonus after spending 4,000 within three months – and the card carries just a $95 annual fee. . With this much availability, you should have enough time to pick up this card, earn the bonus, transfer those points over to Virgin Atlantic, and book. You can't beat it.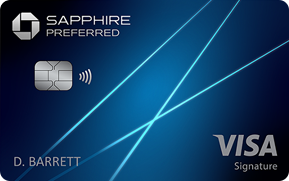 Click Here to get more information about the Chase Sapphire Preferred Card. 
Bottom Line
Using Virgin Atlantic miles to book Delta One business class was already one of the best deals in points and miles. This ability to book a multi-partner award to almost anywhere in Europe for 58,000 miles each way is just icing on the cake.