It's classy and refined, in a perfect location not far from some of the best beaches in the world. But it's what the Park Hyatt Zanzibar does with that eclectic, refined space that made it one of my hotels in the world.
Oh, and there's this: As part of World of Hyatt, it's one of the most affordable Park Hyatt properties in the world when booking with points. That makes it a perfect spot for your bucket-list trip to Africa.
That's what my wife and I did this fall, staying at the Park Hyatt Zanzibar for four nights to kick off our honeymoon excursion through Tanzania and Kenya. I worried that my expectations were too high: A five-star hotel for as many points as your average Hyatt Place? But everything from the enormous patio to the amenities to the meals (including free breakfast for all guests) and especially the service was spectacular.
The Park Hyatt Zanzibar was exceptional, a perfect place for couples and honeymooners to explore the island off the coast of mainland Tanzania.

Booking the Park Hyatt Zanzibar
Most high-end Park Hyatt hotels don't come this cheap. And though it will cost you more points after an award chart shuffle earlier this year, it's still a bargain.
The Park Hyatt Zanzibar is now a category 5 hotel for World of Hyatt. That means a standard award stay will run you 20,000 points per night. Thanks to Hyatt's relatively new peak and off-peak award pricing, you can find nights for as low as 17,000 points during off-peak times or 23,000 points a night when it's busier.

We booked this property just before it increased to a category 5, meaning we locked in our four-night stay for just 15,000 points per night. Unfortunately, that increase from last year puts this property out of reach when trying to use a Hyatt free night certificate from the World of Hyatt Credit Card.
But for what you're getting, it's still an incredible value when using Hyatt points – or transferring Chase points to Hyatt. Booking Hyatt properties like this one of our favorite ways to use Chase points.
In my case, I opened the Chase Sapphire Preferred® Card way back in June 2021, earned a 100,000-point bonus (which has since dropped down to 60,000 points) after spending $4,000 in the first three months of card membership, then used used some of those points to make our booking.
Even at 20,000 points per night, this property is well worth it. For a while, you could even splurge for incredible suites at this property after Hyatt rolled out that option. But these days, we're not seeing this property release any suites to be booked with points.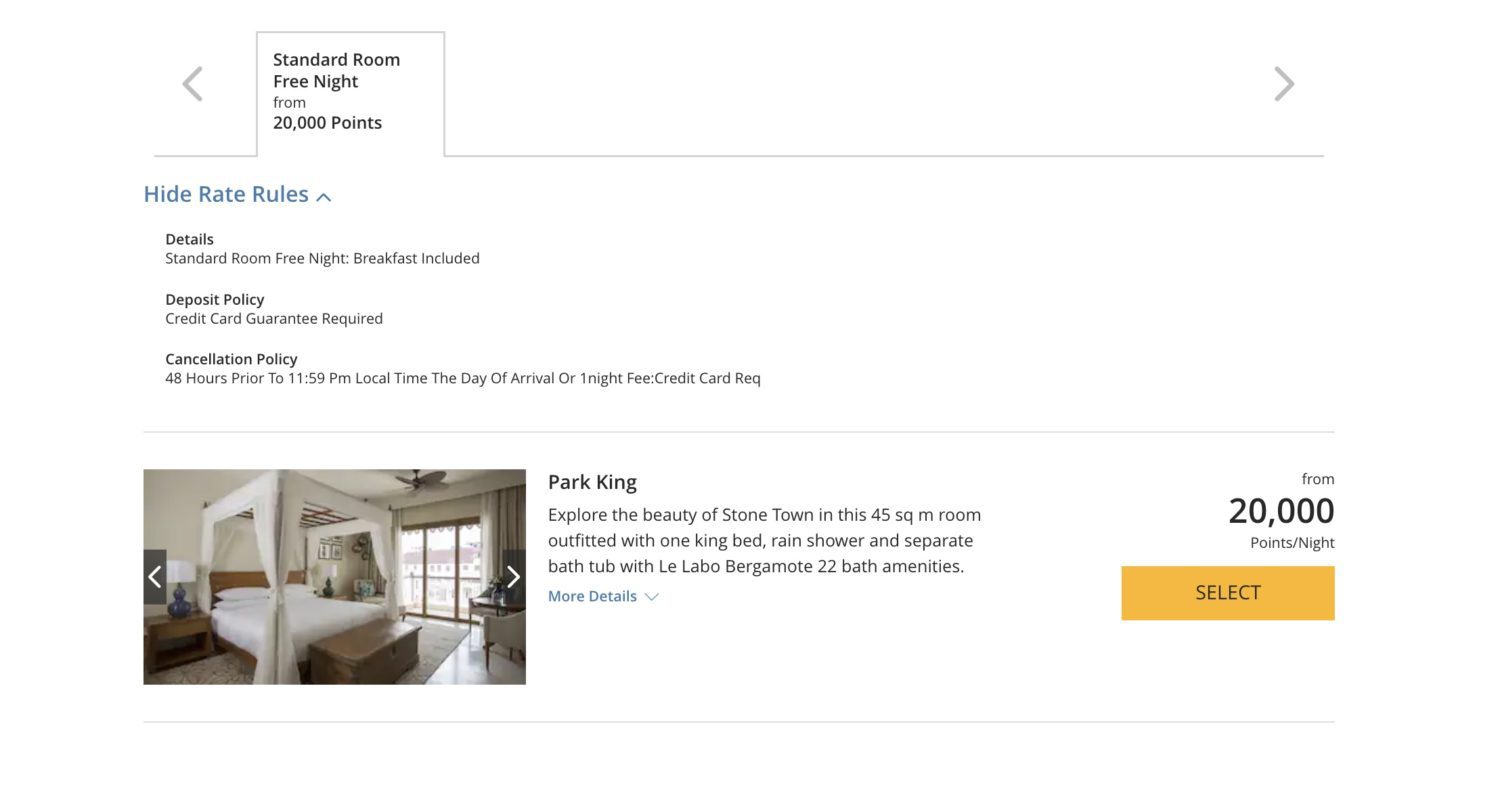 Looking out into early 2023, the Park Hyatt Zanzibar is bookable for 20,000 or 23,000 points per night in peak summer in Zanzibar.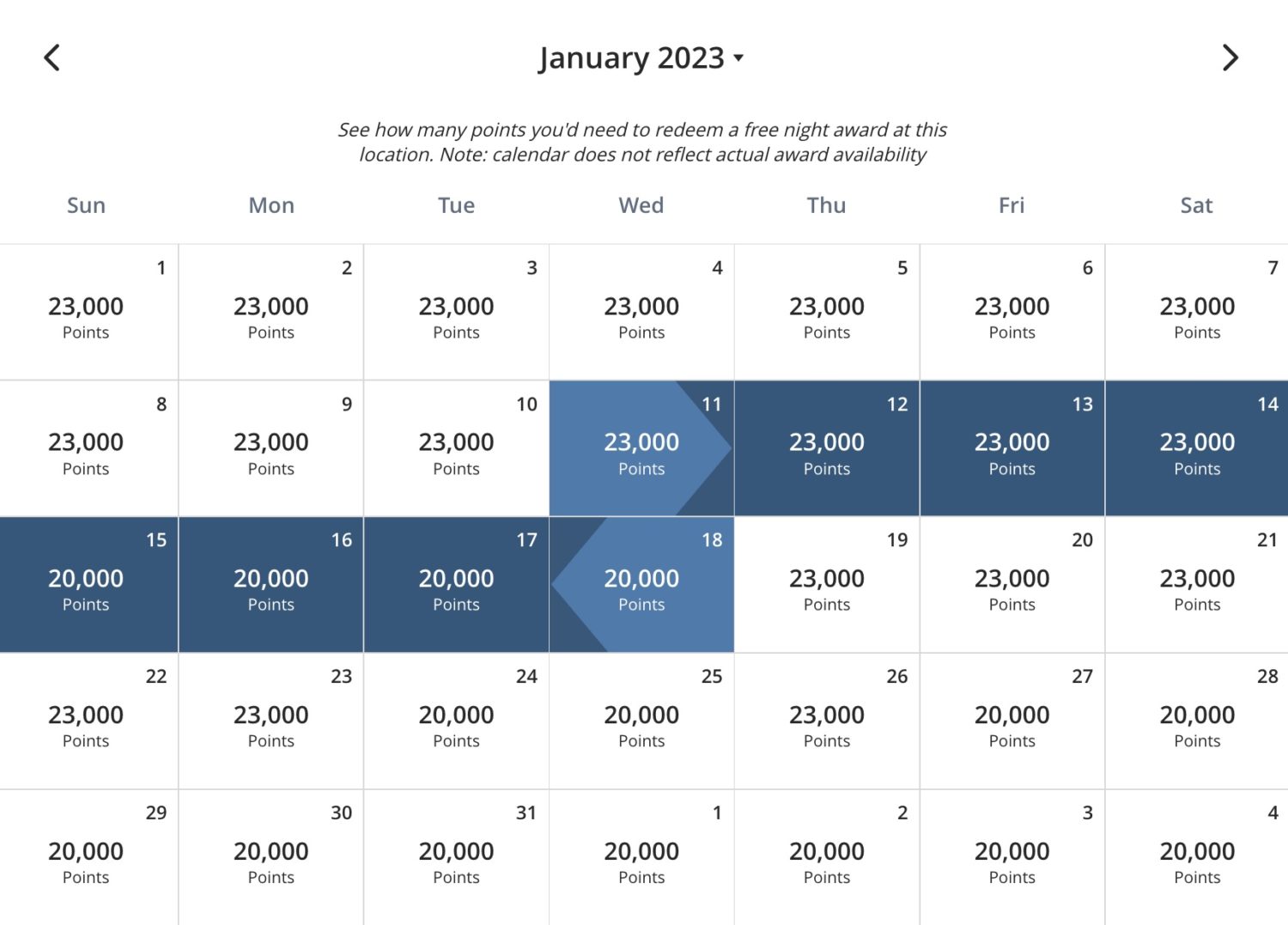 But if you look into spring 2023, finding an off-peak redemption at 17,000 points per night is fairly easy. April and May are the rainiest months of the year in Zanzibar, but those 17,000-point nights extend into June, where the average high is 78 degrees and the rainy season comes to a halt.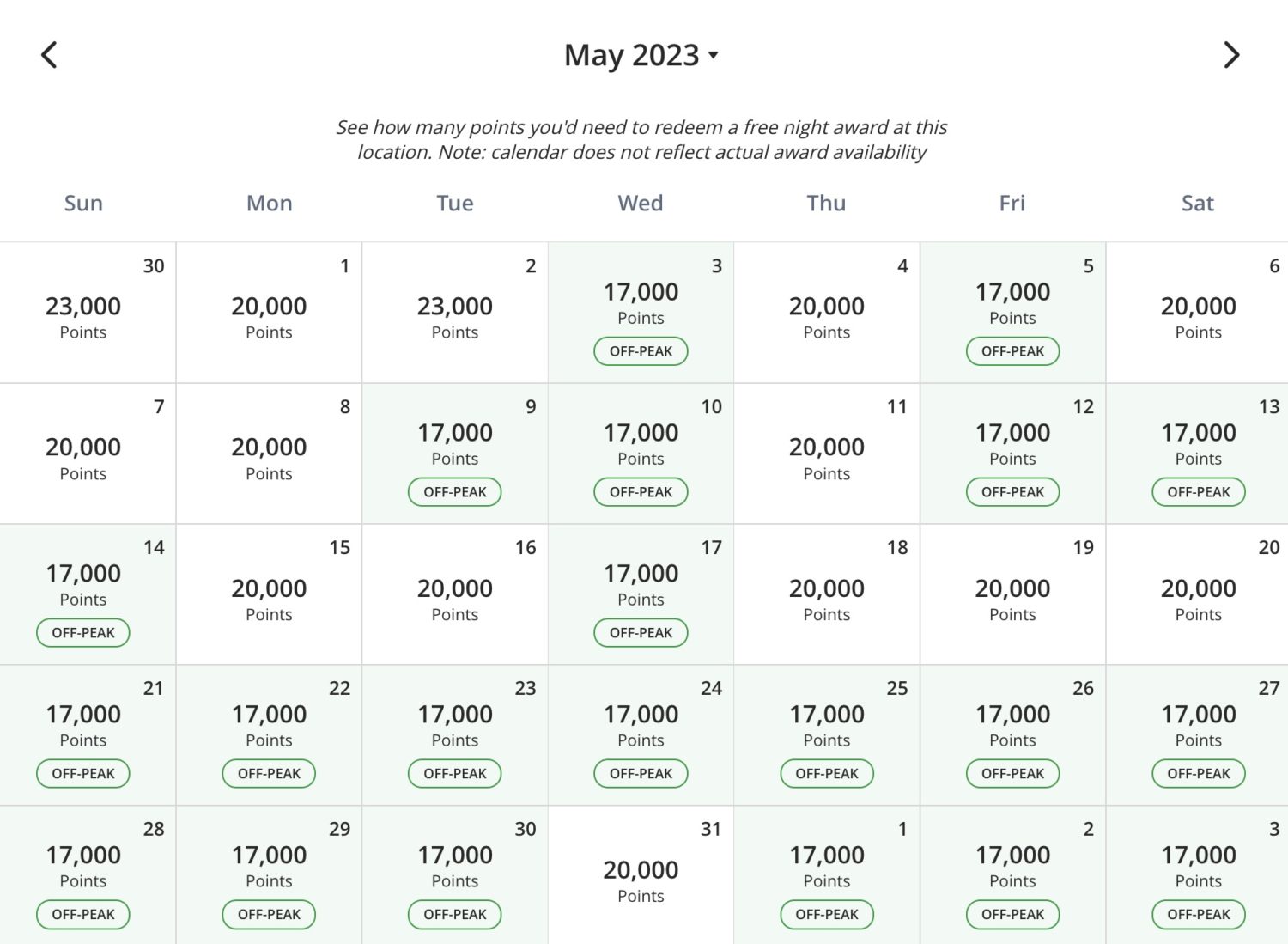 Overall, using World of Hyatt points to book the Park Hyatt Zanzibar is a great way to book a night or four at this incredible property.

Park Hyatt Zanzibar Location & Property
The Park Hyatt Zanzibar opened in 2015 in a UNESCO Heritage building with roots dating back to the 17th century. It's located on the very western tip of the East African island of Zanzibar. The elegant hotel is in the heart of Stone Town, an intimate walking city steeped in history.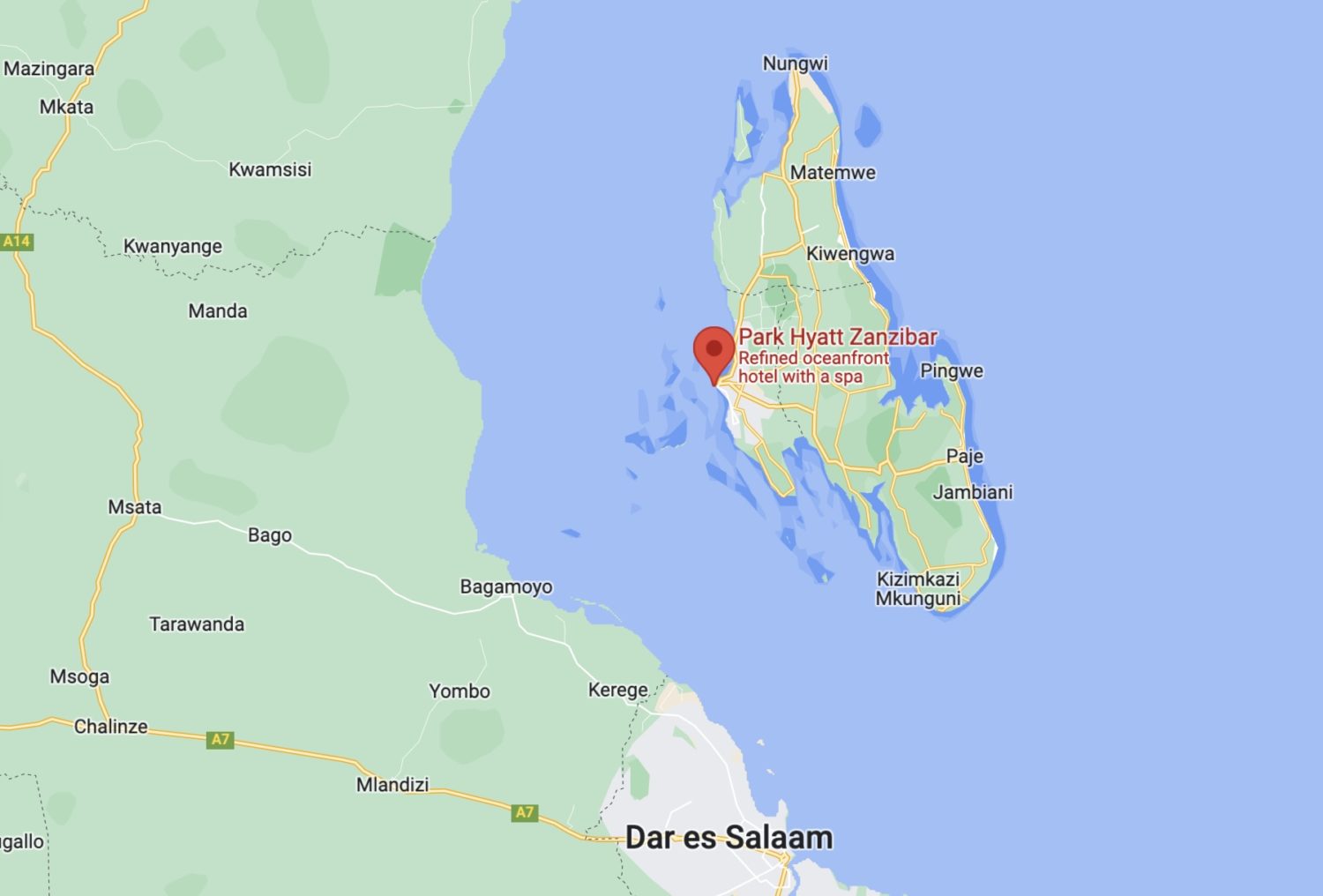 The hotel itself is in a more urban setting than the white sand beach resorts of the rest of the island. But that's not necessarily a bad thing – for someone looking for a travel experience with equal parts culture and sun, it's a dream come true.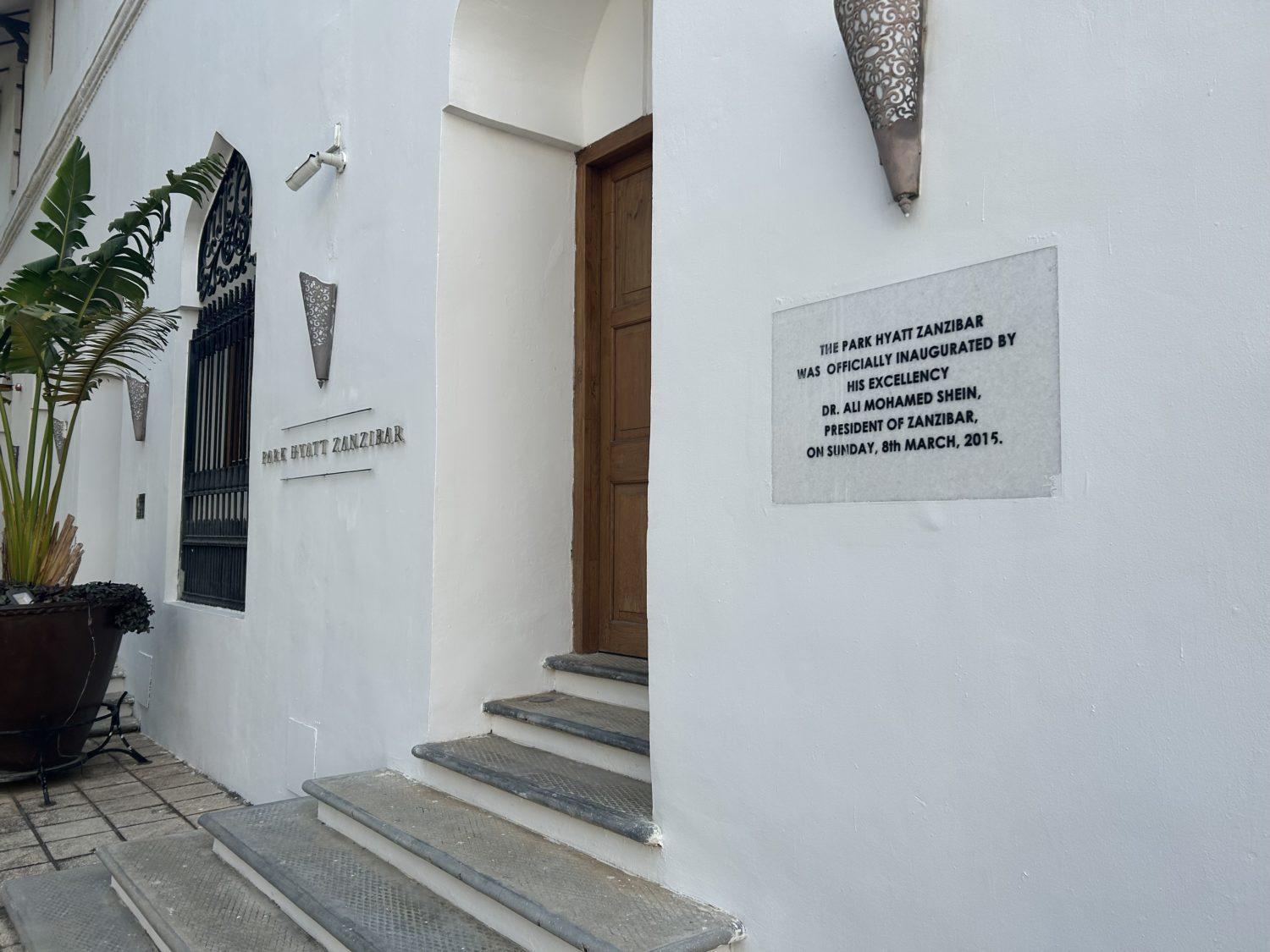 The hotel was about a 20-minute drive from the Zanzibar Airport (ZNZ). To enter the property, taxis have to be let through a small gate. The front doors were wide open throughout our stay with the weather hovering between 75 and 80 degrees Fahrenheit the entire time.
Inside, the lobby is a site to behold. Going up three stories, wood beams slash through the atrium. Underneath are the check-in counters on the far side of the lobby along with an extremely helpful guest experiences desk just out of frame.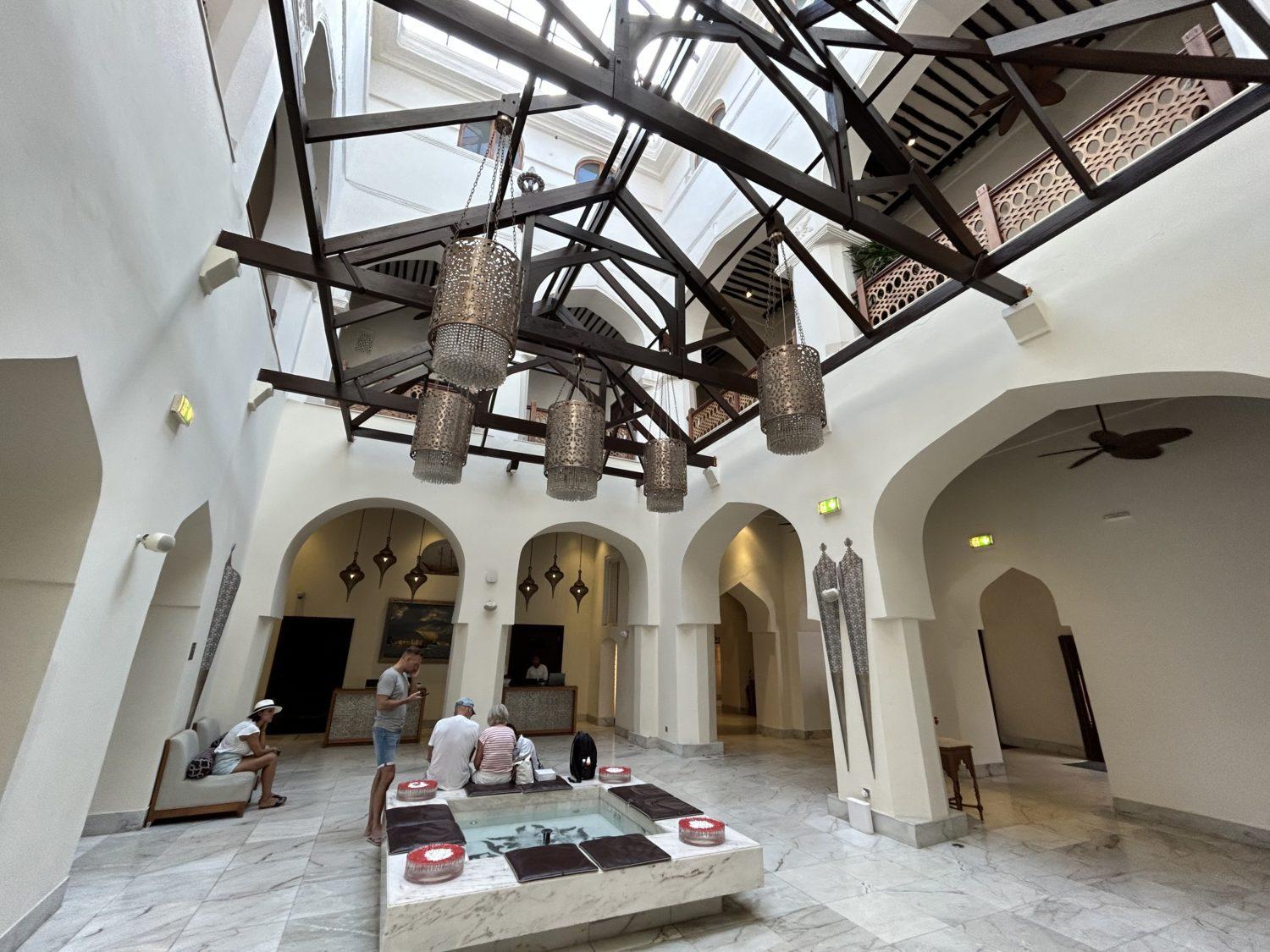 The second floor above the lobby is where the spa is located. My wife and I did a two-hour massage experience on our first day to recover from a long day of travel: A perfect jet lag antidote.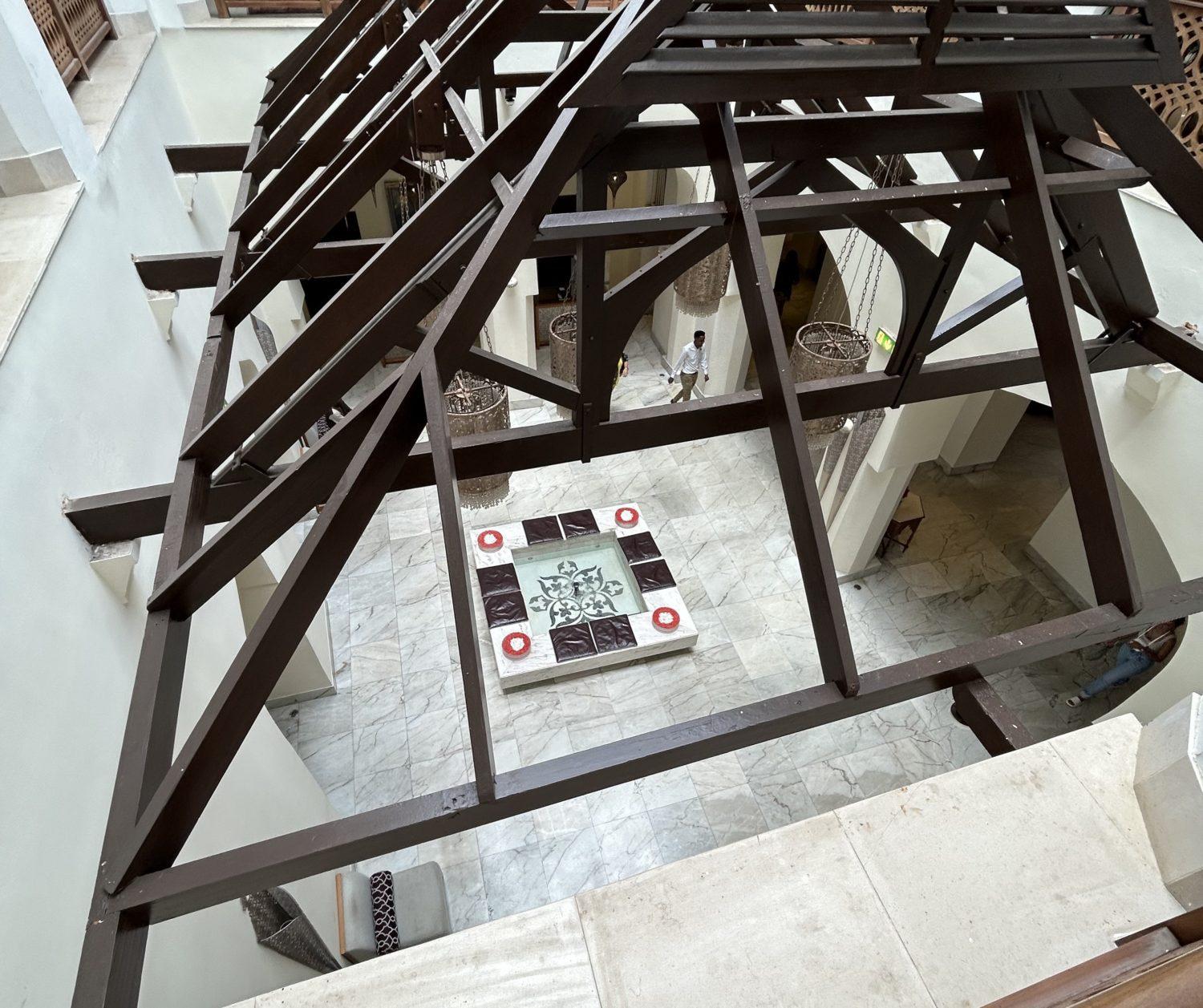 The property is huge, too, featuring multiple courtyards and atriums that let the African sun peak in. This one was just outside the lobby and had space for local Zanzibar artists to work on their craft every day we were there.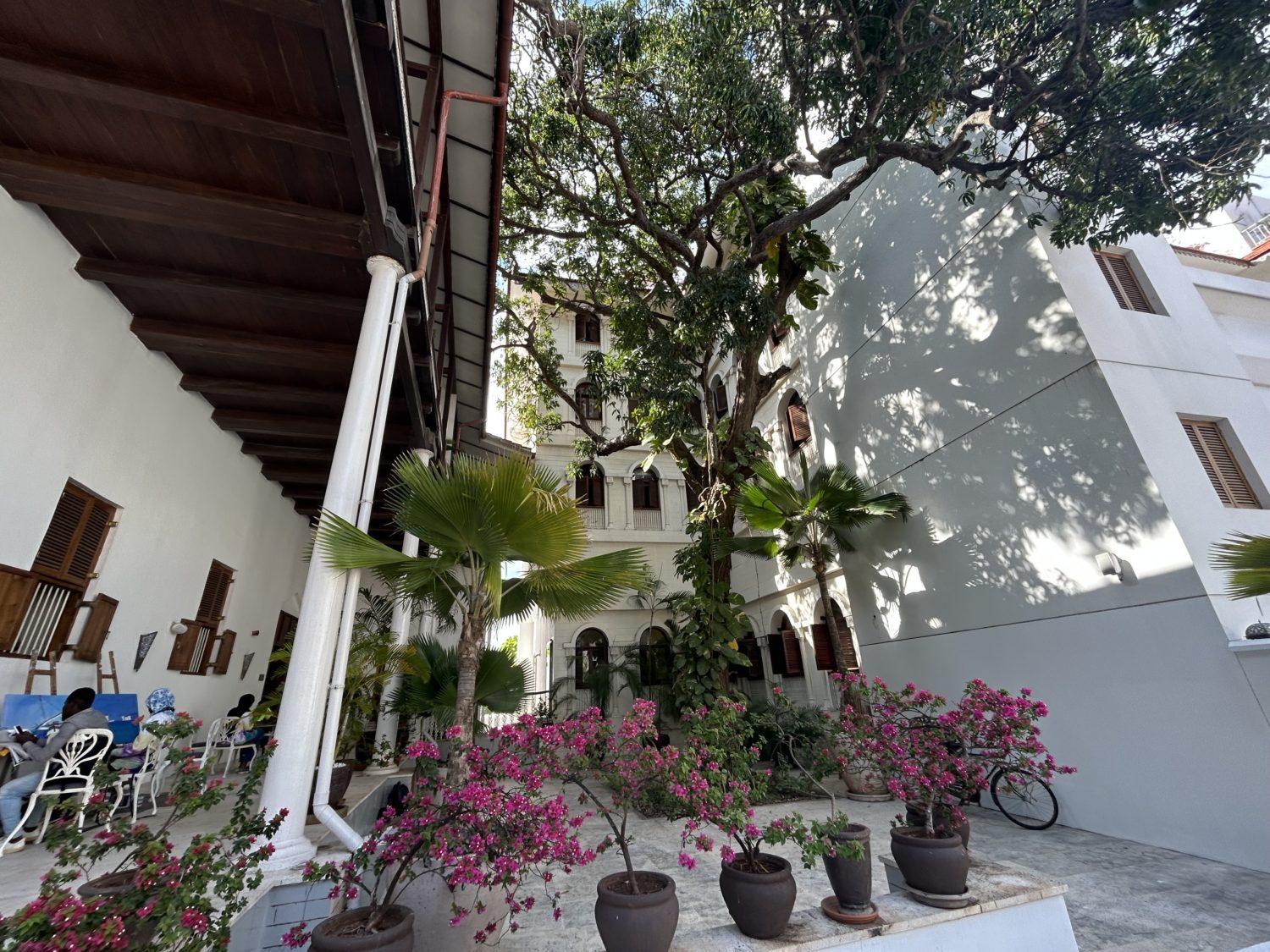 On the ocean side of the building was another courtyard area. The landscaping throughout the Park Hyatt was beautiful and made the space feel private despite being next to the busiest port on the island.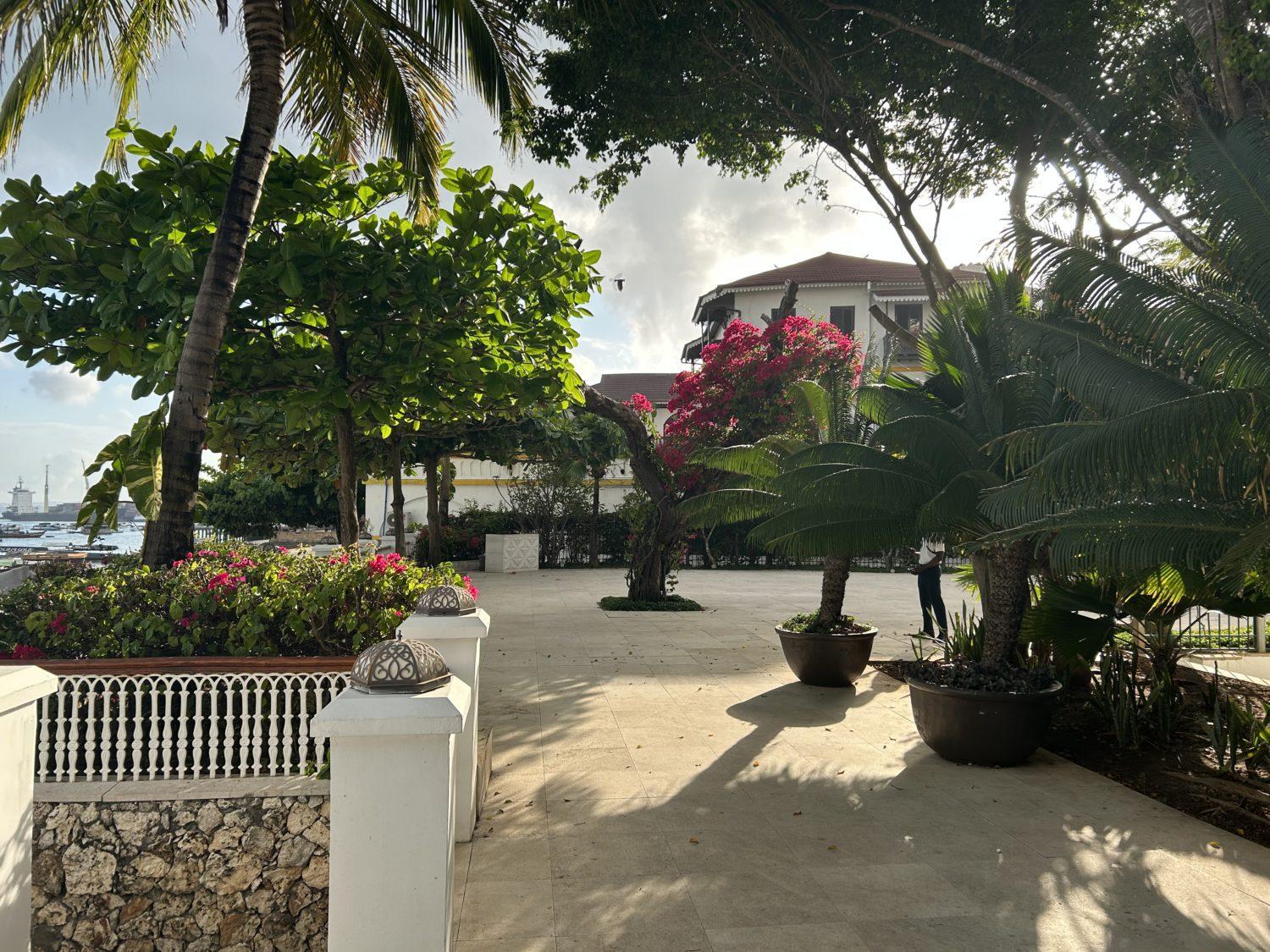 Inside the two buildings that make up the Park Hyatt Zanzibar, the common areas really shine. With names like "The Library" or the "Reading Room," these spaces all face the ocean and provide tons of quiet, private spaces to unwind if (and when) you need a break from the African sun.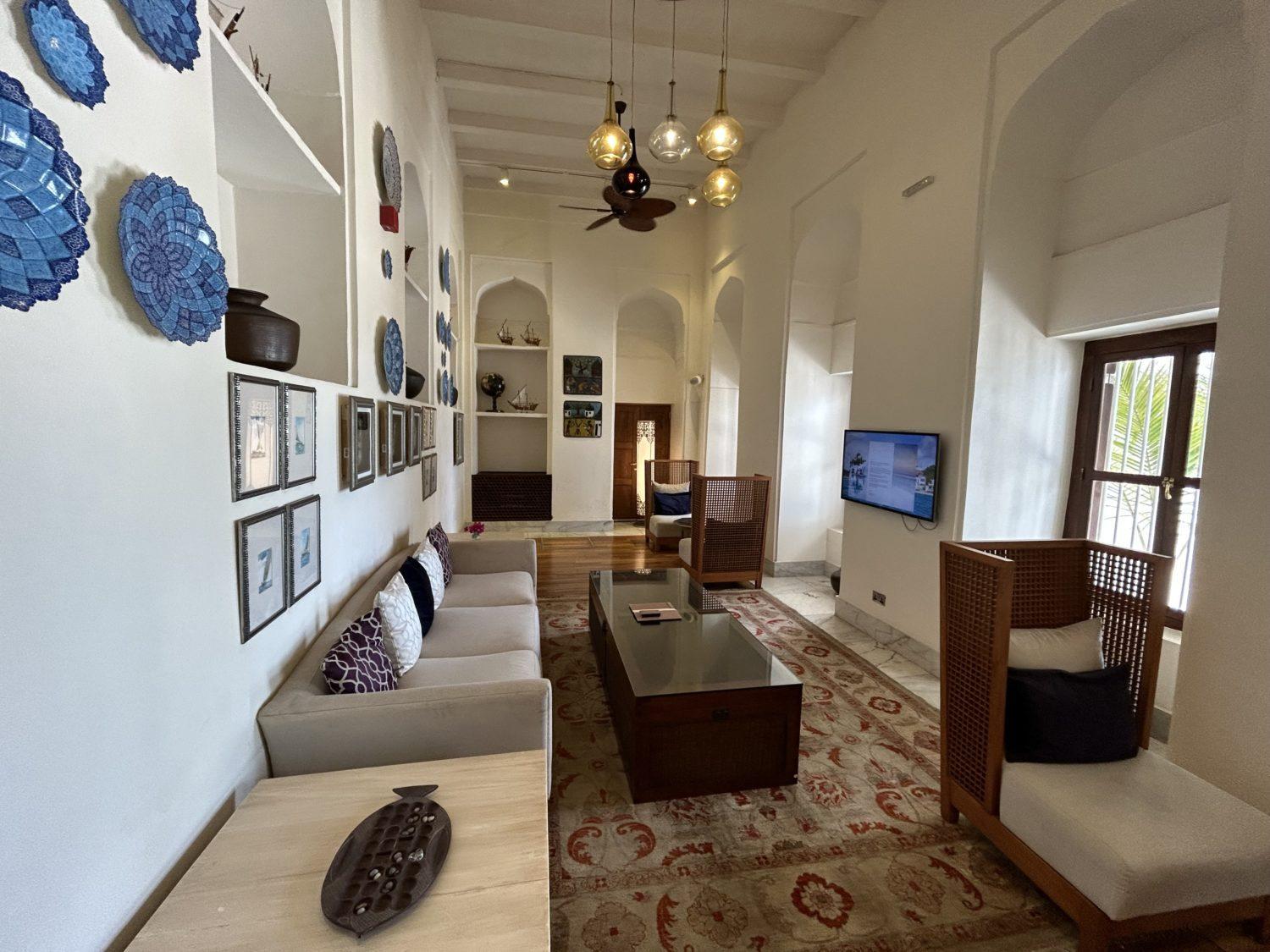 Every inch of the hotel is gorgeously decorated with local art, and sunlight seems to creep into every room.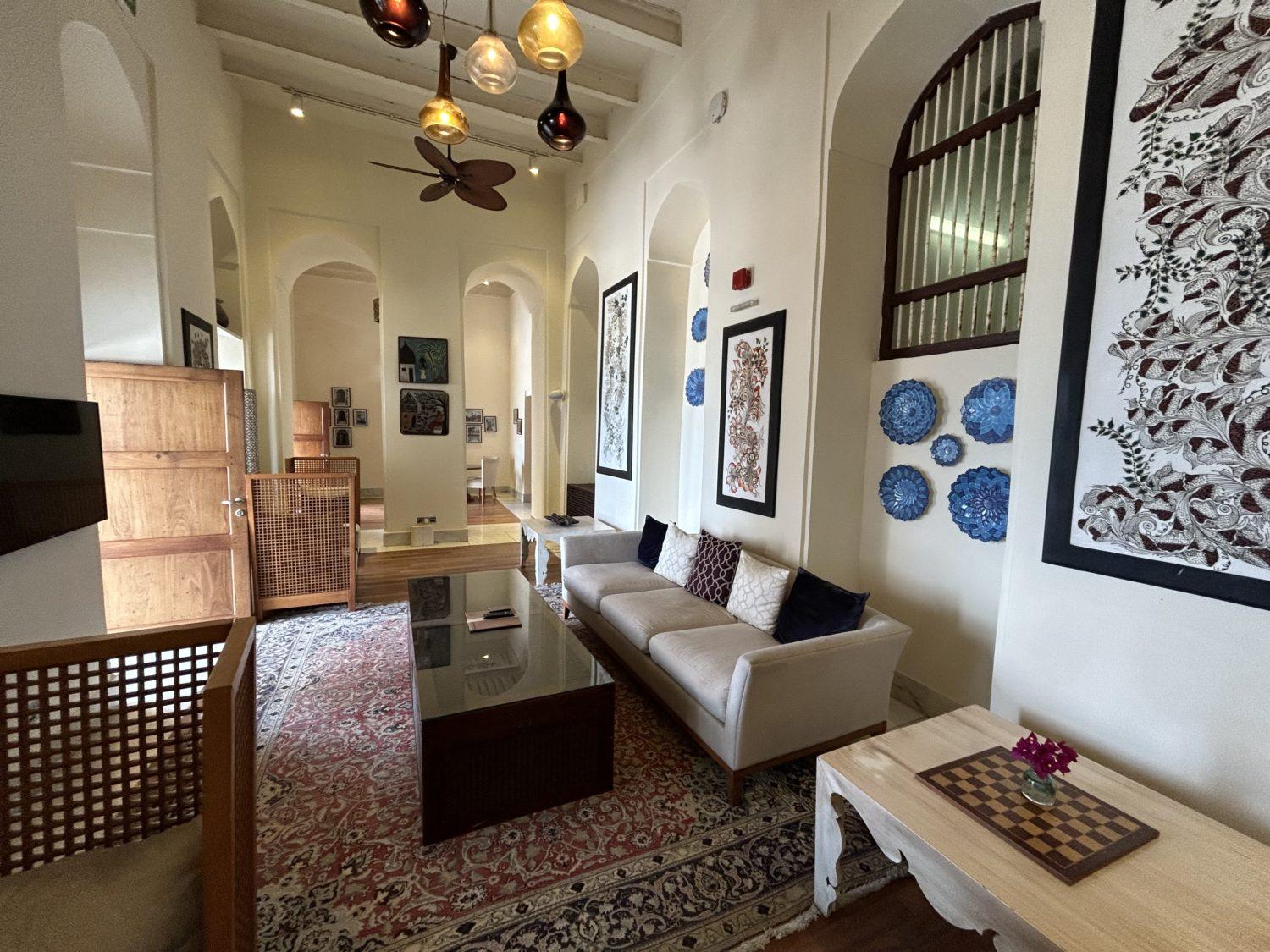 If there is one part of this property that will stick with me forever, it's this patio, though. I'm a sucker for a good patio, and this is my favorite patio in the world, hands down.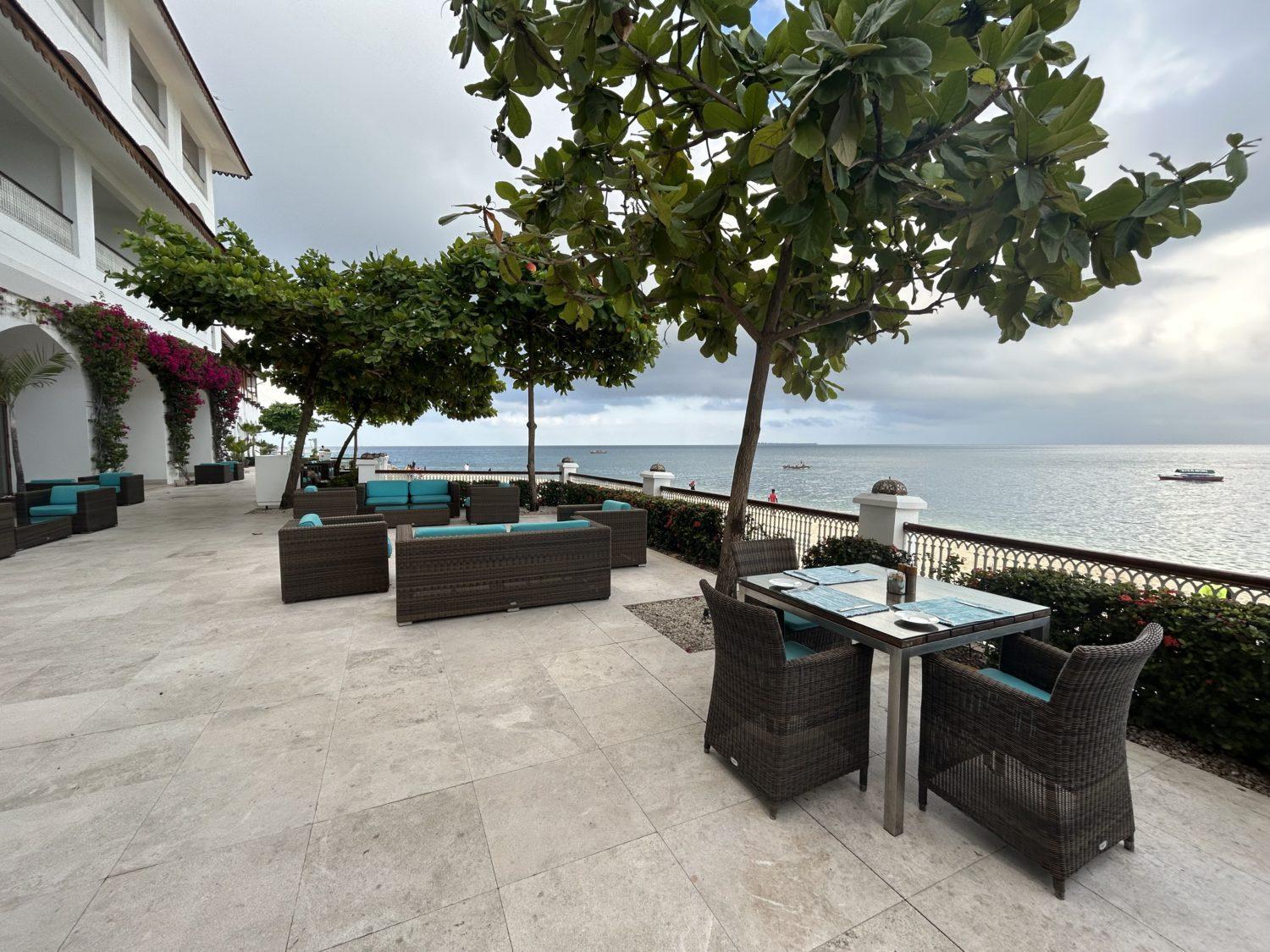 You can eat breakfast, lunch, and dinner at any of these seating areas or tables, plus order drinks at any time of day, too. We spent mornings, afternoons, evenings, and nights on this patio – we just couldn't get enough of it.
The view of the ocean is picture-perfect. We loved watching the Dhow sailboats cruise by at dawn as the fishermen came back to port or simply listening to the Indian Ocean lap against the shore after a quintessential African sunset.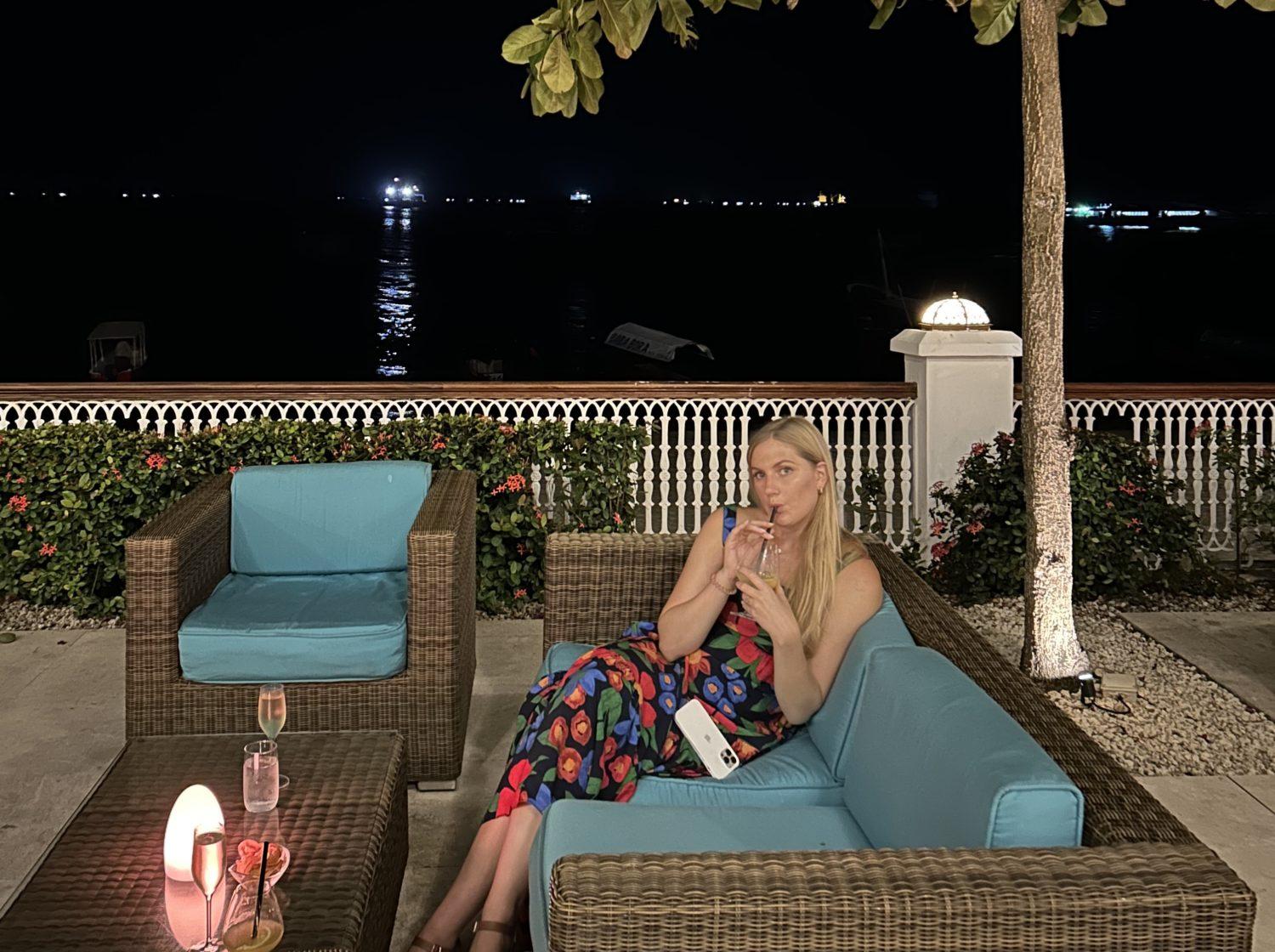 Plus, the pool deck at the Park Hyatt was also a perfect place to spend a few hours in the sun. For about 15 poolside lounge chairs, there were two pool attendants serving food and drinks and bringing guests whatever they needed.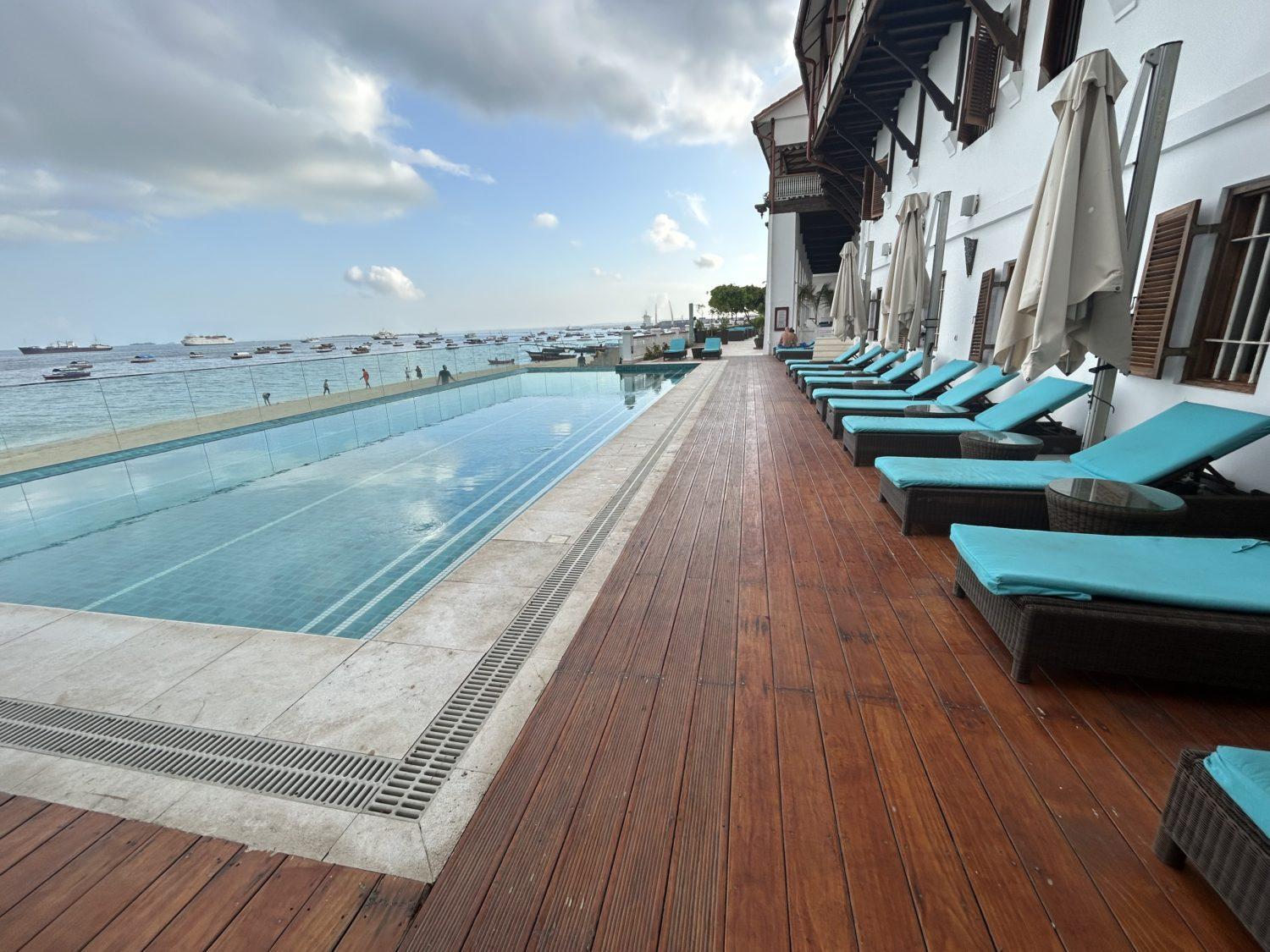 If I had to pick a downside of the property, it's the beach itself. While perfectly fine, it's not the most pristine stretch of beach on the island. It's a highly trafficked beach area, both by foot and boat. It's certainly not private if that's what you're heading to Zanzibar for. The expansive patio and exceptional service more than make up for it, in my opinion.
The Park Hyatt Zanzibar is a truly epic property. We could have spent our entire time in Zanzibar without leaving the Park Hyatt and had a wonderful trip.
Park Hyatt Zanzibar Room
The base rooms when booking with points at the Park Hyatt Zanzibar are Park King rooms, which is just what we checked into on a Tuesday morning. And we found it more than enough.
It was spacious and clean, making the perfect base camp from which we could explore Zanzibar.

The entryway opens up into the main room, featuring a king bed and two different seating areas.

The wood window shades opened out into Stone Town, but there were traditional-style windows to keep the A/C in, too. As I understand it, the Park King rooms mostly have views of the city. It seems that Park King rooms with ocean views are not bookable when using World of Hyatt points. And since I don't hold any level of Hyatt elite status, I was not eligible for a complimentary upgrade.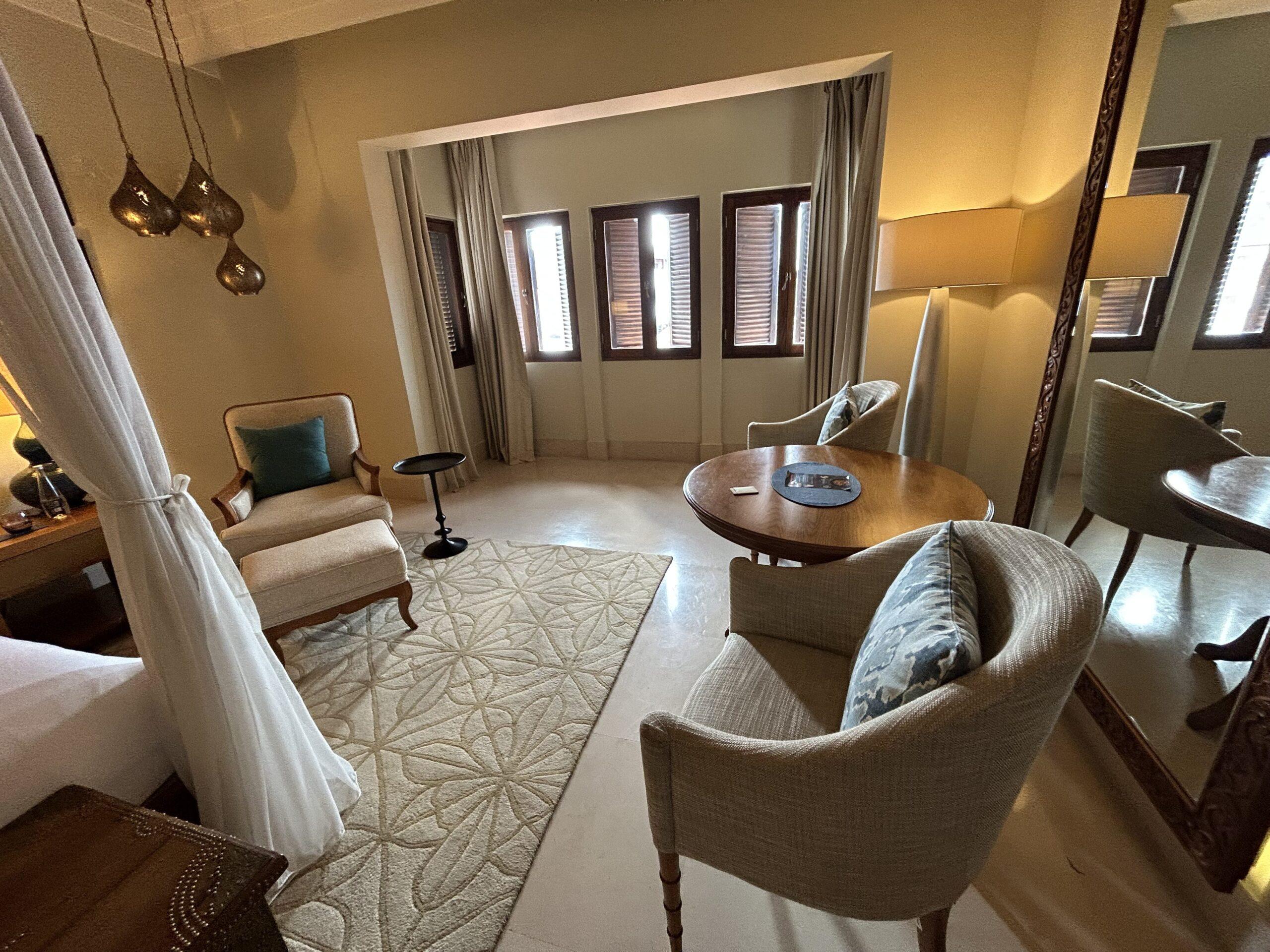 The lights in the room and the temperature controls could be found on one of these easy-to-use panels.

There was a coffee and tea spread with some extra water in the room, too. The housekeeping staff left us plenty of bottled water throughout our stay, which was much appreciated.

The closets were enormous and featured cubby holes like these along with a safe. In the drawers, you'll find laundry bags and information about the laundry service. We had laundry done on the last day of our stay and it was fast, easy, and detailed service.

The other side of the closet provided us with two bathrobes, and tons of space to hang our clothes, too.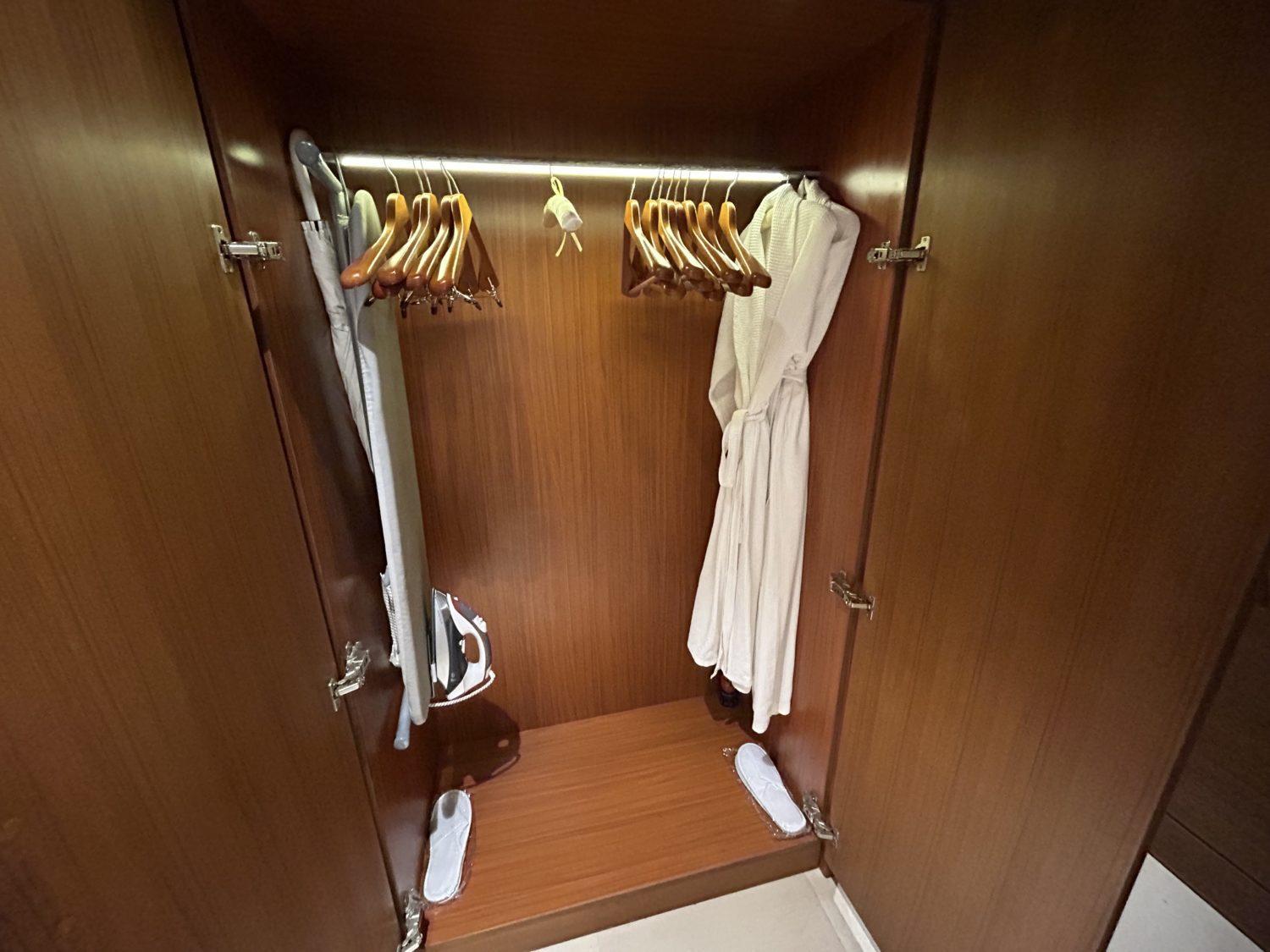 The bathroom was exceptional, too. Inside was a free-standing bathtub in the main bathroom, with both a toilet stall and the shower behind two separate doors.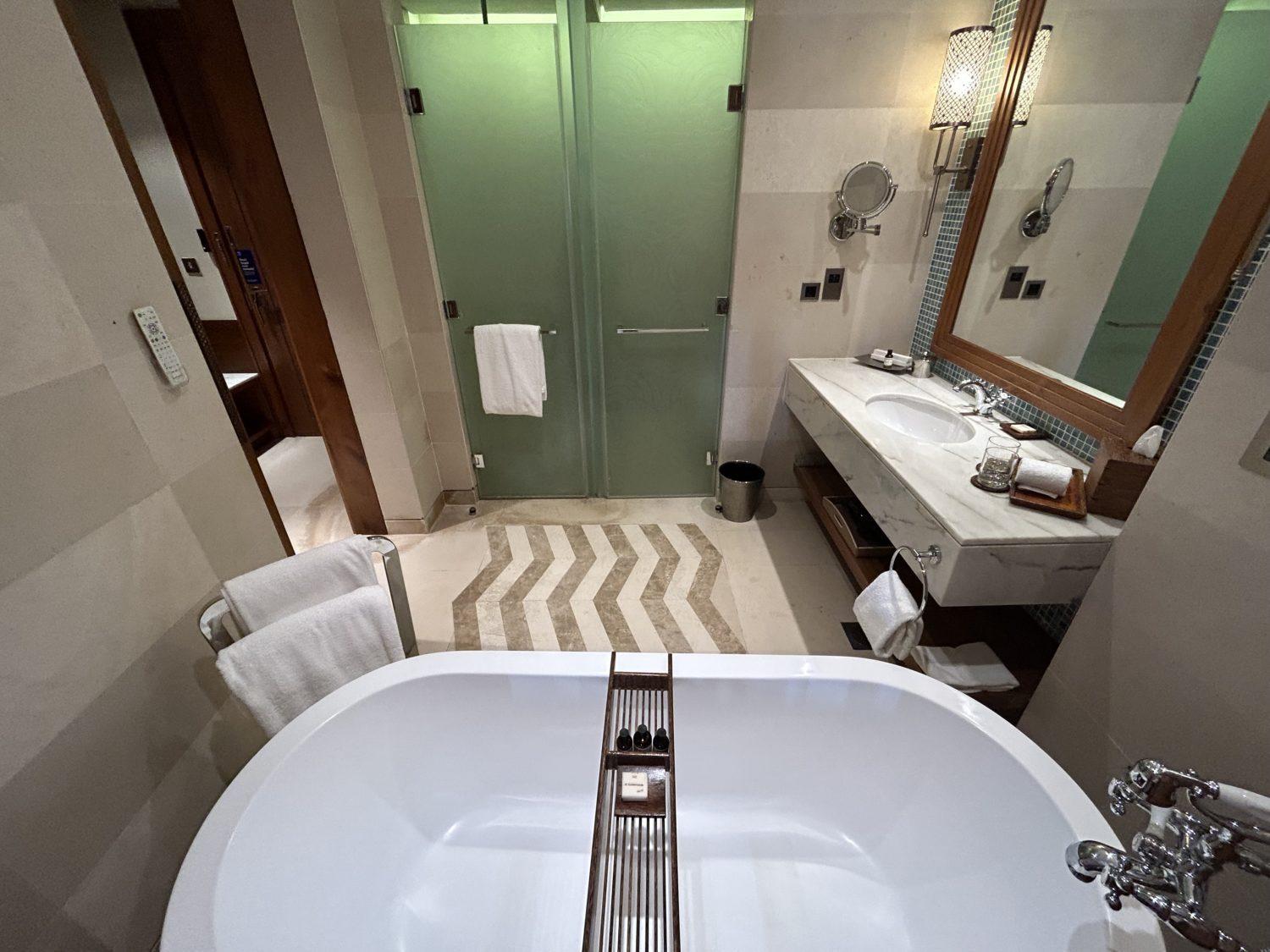 The bathroom also opened out into the main bedroom through the double wooden doors. There was also a TV over the bathtub.

The toilet stall was spacious and clean, as was the neighboring shower.

The rain shower was nice as well. The typical shampoo, conditioner, and body wash were included.

I pulled out my laptop one time on the last day to check into our flights and ran a quick Wi-Fi test for those interested in working or getting online while at the Park Hyatt Zanzibar. The connection was just fine, but please don't go to the Park Hyatt Zanzibar and work!

The Park King room at the Park Hyatt Zanzibar was a perfect place to spend our honeymoon. The well-styled, clean, and classy room exceeded my expectations.
Dining at the Park Hyatt Zanzibar
You can eat every meal of the day at the Park Hyatt Zanzibar, or at its Hyatt-owned neighboring restaurant, and never be let down.
The onsite restaurant is called The Dining Room, which serves breakfast, lunch, and dinner.

Every guest – regardless of World of Hyatt status, what room you book, or how you booked – gets free breakfast at the Park Hyatt Zanzibar. Normally, complimentary breakfast is a benefit reserved for top-tier Globalist members. But not here.
And this was unlike any free hotel breakfast I have ever had.

I could have included 10 of these photos of the spread laid out by Park Hyatt Zanzibar staff every morning. It featured every fruit I'd ever seen and about 10 others I couldn't even identify. It had a full array of pastries, vegetables, cheeses, yogurts, and so much more, too.

The hot food items were equally eclectic, ranging from baked beans to lamb and more traditional breakfast items like hard-boiled eggs, too.

Everything was cooked to perfection. We couldn't wait for breakfast every morning: It was a perfect setup.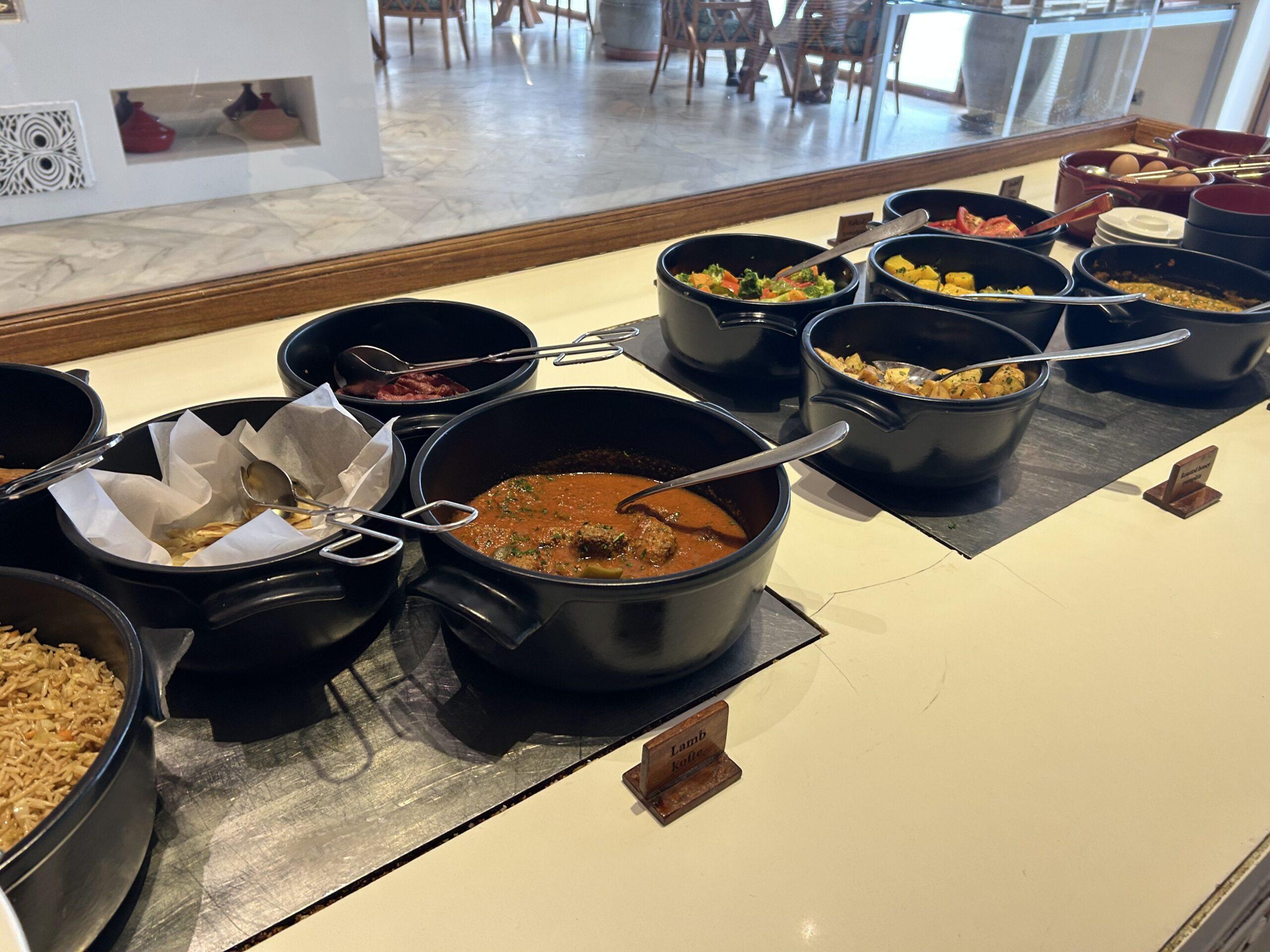 The breakfast itself was buffet-style, but you could order additional food or drink to your table from a server, too.
One fun wrinkle was the fresh coconut water served every morning. I snapped this photo while the coconut carver was away serving a different table, but he or she would carve fresh coconuts and serve them straight to any table that requested it. All for free!

While most of the guests are exploring the island, lunch is a pretty laid-back affair at the Dining Room. On our first day, we had lunch overlooking the ocean underneath the shade of the big, beautiful trees that line the patio. This meal is modeled by yours truly.

The lunch and dinner menus at The Dining Room are the same, but the menu was plenty big for us to eat there four different times and never get bored.
If the Dining Room menu does get monotonous, head over to the Beach House restaurant – located just two doors down from the Park Hyatt Zanzibar but owned by Hyatt, too. You can charge meals at this more laid-back, beach club-style restaurant to your Park Hyatt room.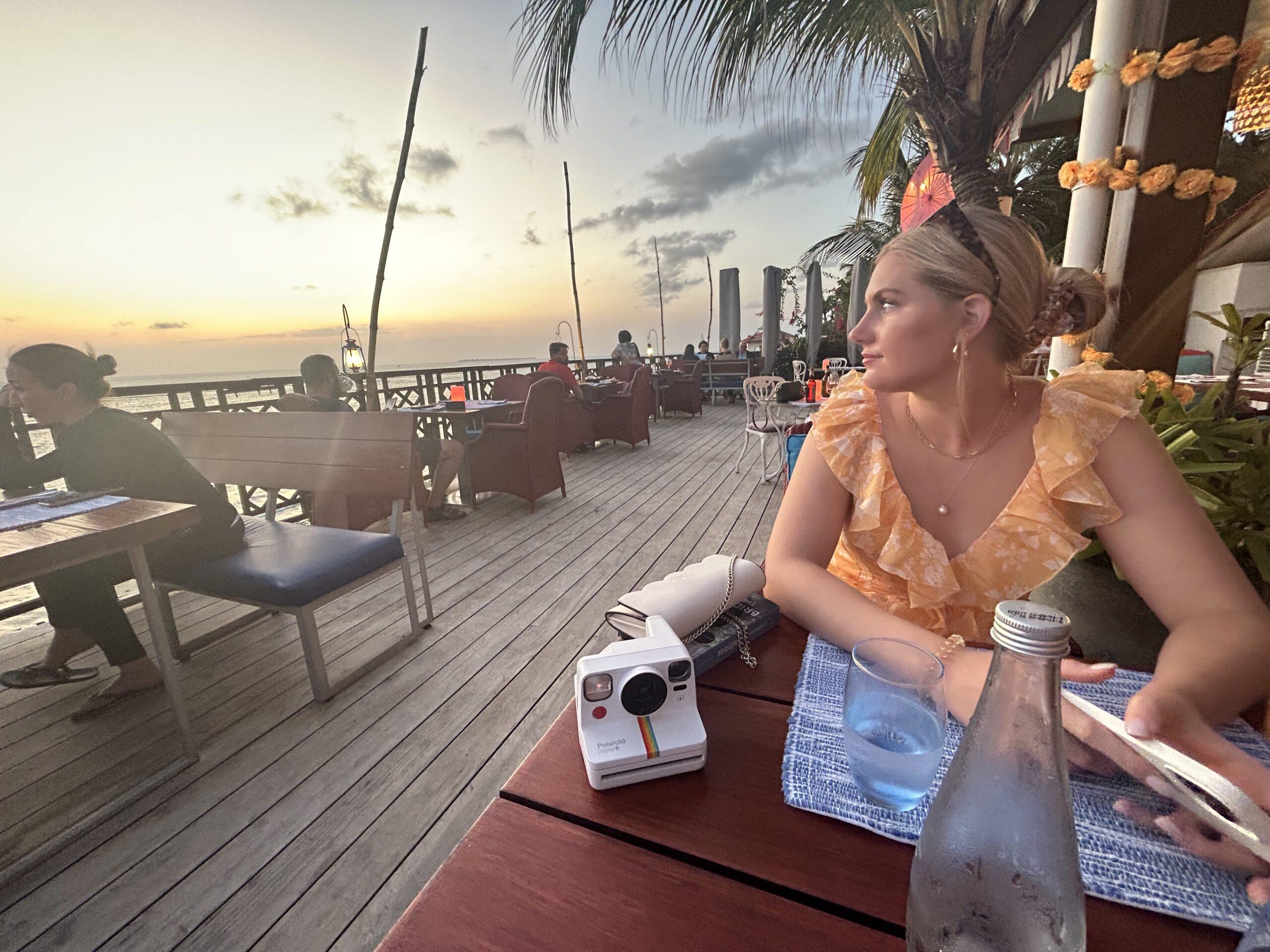 We had some really fun cocktails and another exceptional African meal at the Beach House on our final night. It's a great vantage point for the sunset, too. The sun just hits differently in Africa, and the sunsets are sublime.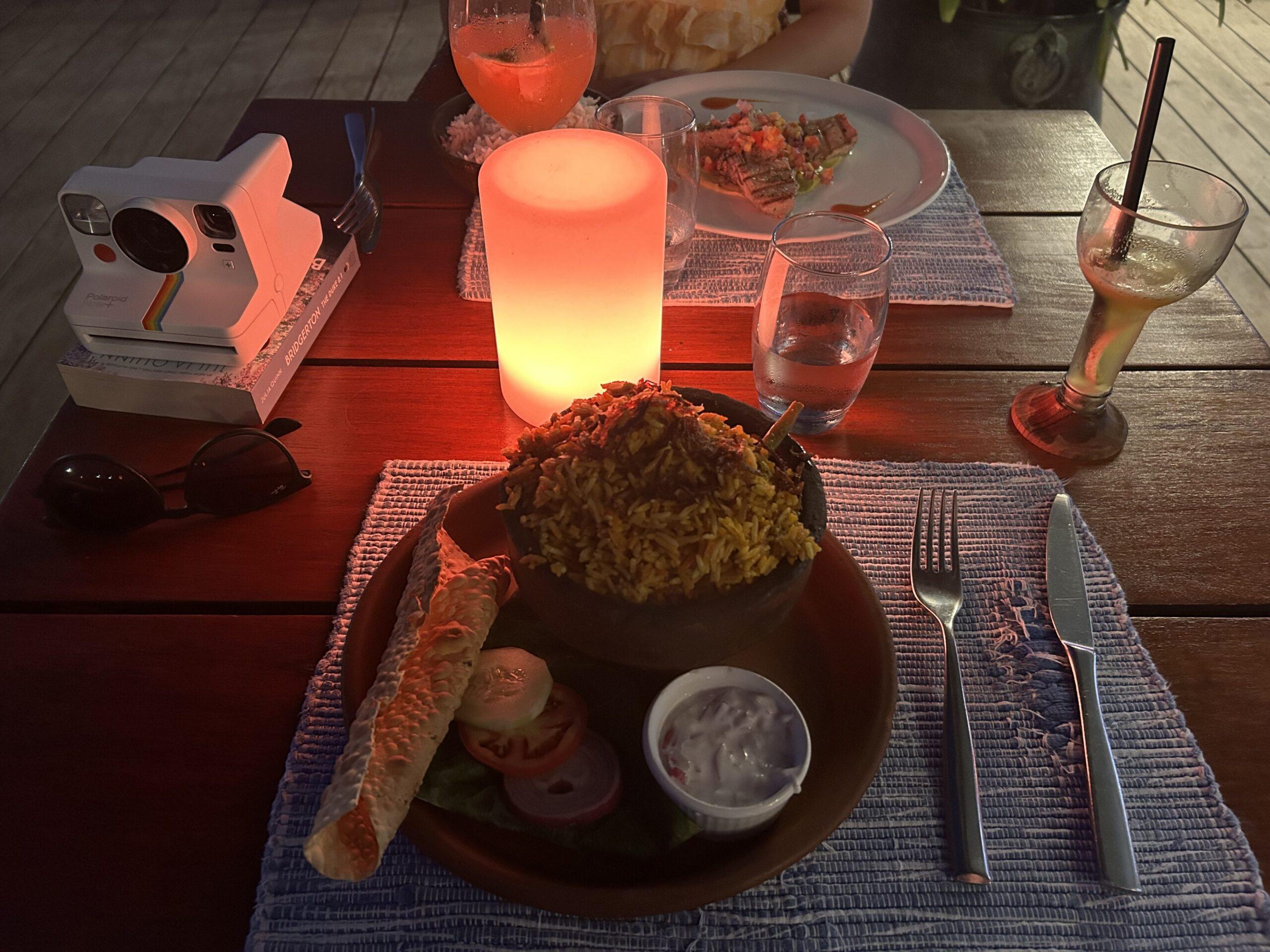 The food and drink at the Park Hyatt Zanzibar were exceptional, with tons of different options and snappy service at both the hotel and at the restaurant. That said, you can definitely find cheaper options in town. We spent about $150 on dinners for two at the dining room (including drinks and wine) and about $70 on lunch at the Beach House.
Park Hyatt Zanzibar Service
A quick note about the service at the Park Hyatt Zanzibar: It was phenomenal.
We were blown away by how quickly every person on staff was to greet us as we checked in and continued to check in on us throughout our stay. Within 20 minutes of arriving, we were greeted by the bellhop and the person at reception. Plus, we were called by the head of dining and the guest experiences coordinator just minutes after getting to our room.
Throughout the week, those same people would greet us as we walked through the lobby to help us make more plans, make dinner reservations, or just to chat. Everyone was lovely and attentive without being pushy.
When I booked our stay at the Park Hyatt Zanzibar, I wrote that it was our honeymoon in the "comments" section of the reservation. That was all they needed to lay out the red carpet for us.

When we got back to our room on the first night, there was a celebratory cake as well as some fresh fruit, plus a free bottle of wine from the hotel. It was a lovely touch.
Oh, and the room was covered in rose petals, including a pre-drawn bath adorned with flowers, too!

I'll also give a huge shoutout to the guest experiences desk at the Park Hyatt Zanzibar. Before we arrived, we booked a Dhow Sunset Sailing cruise through the Hyatt E-Concierge program for our first night. It featured a private Dhow sailing cruise with a ship captain, a personal attendant, and two live music performers for just my wife and me. They fed us beer and wine as well as calamari and other snacks on the cruise.
It was amazing, and I'd highly recommend it if you plan a stay. We sprung for the private cruise (you can do it with a group for about half the price) to kick off our honeymoon and it was one of our favorite activities on the island. It also provided us with some glorious views of the hotel when we returned.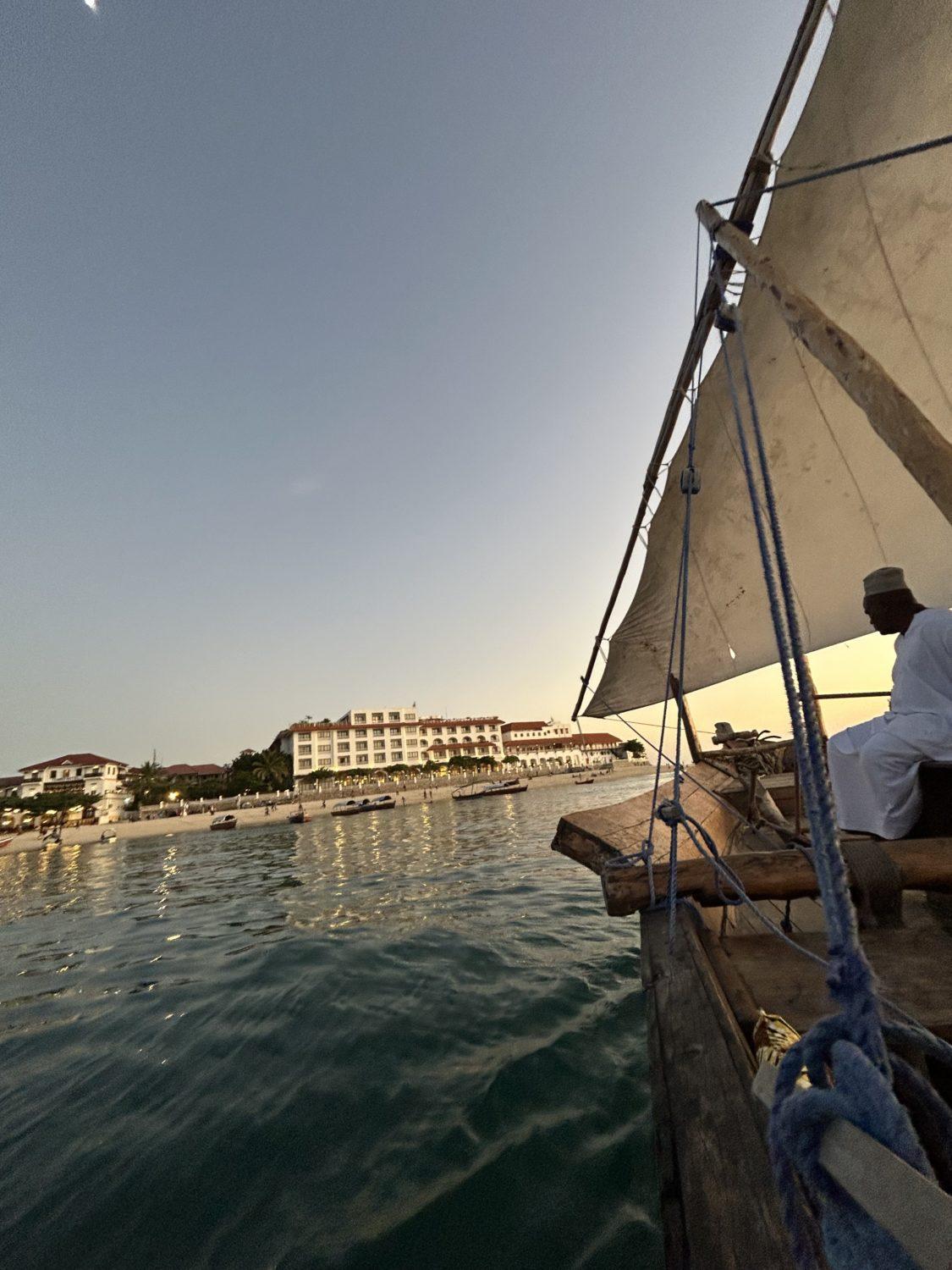 The guest experiences coordinator lined it all up for us and even walked us out to the boat to get us started.
Other Things to Do During Your Stay
The Park Hyatt Zanzibar can help you book any tour you need, but we had two incredible experiences with the tour operator Zanzibar Terminus. We swam with the dolphins on their half-day Mnemba Island tour and visited the ancient turtles of Prison Island and the disappearing Nakupenda Sandbank with this full-day tour.
On our first night, the guest experiences desk went through our entire itinerary for us, and helped us plan a walking tour of Stone Town, and even helped us coordinate a walking escort back from one of our off-site dinner reservations one night, too. Guest experiences gets the absolute highest marks from us for curating a perfect trip through Zanzibar.
Even if you show up to Zanzibar not having planned a thing, that desk has you covered!
If you eat one meal in Zanzibar, it has to be at the Tea House Restaurant at Emerson on Hurumuzi. It was incredible. The music-accompanied by a traditional Swahili-style meal can be taken either seated on the ground on pillows or western-style at tables (eat on the floor Swahilit-style, it's really fun. Trust me!).
Plus, it's on the top floor of the Emerson hotel, which offers impressive 360 views of Stone Town. There's good wine, great food, dinner, and dancing. It was a perfect dining experience. But you need to be proactive about your reservation and you have to make a $25 deposit. The full 3-course meal is $40 total, excluding your drinks. Extremely worth it.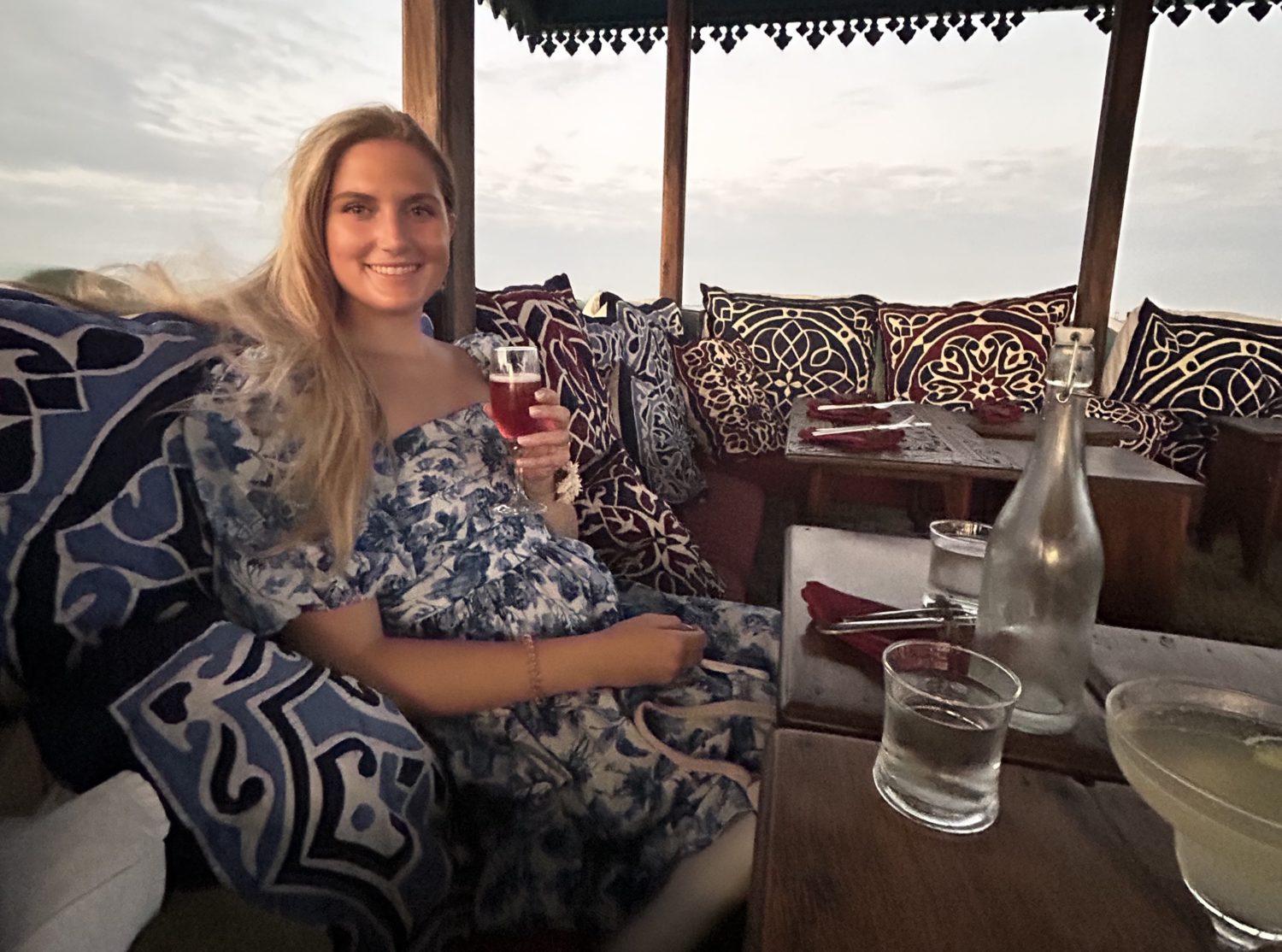 Through the Hyatt e-Conceirge service, we were also able to book our airport transfers to and from the Park Hyatt Zanzibar for $35. It was worth paying a little extra after 24 hours of flying to have someone waiting with our name on a sign when we arrived at the Zanzibar airport.
Bottom Line
The Park Hyatt Zanzibar is an incredible value for an extremely fancy hotel with first-class dining, a devoted staff, and maybe the best patio on the planet.
It's an ideal hotel for a romantic vacation and was a perfect stop on my honeymoon in October. And booking it with Hyatt points? That makes it even better.