While they aren't the easiest to earn, Alaska Airlines Mileage Plan miles are some of the most valuable airline miles on the planet thanks to traditionally low rates – especially to fly business class with the likes of Japan Airlines, Cathay Pacific, and Qantas. But with big changes coming early next year, will that change?
The airline unveiled on Wednesday some big changes coming to its mileage program in March 2024, the second major shakeup in less than a year for travelers with a stash of Alaska miles. A brand-new award chart will gut many of the sweet spots that make Mileage Plan miles so valuable … but it's not all doom and gloom.
Some award rates will go down under the new, distance-based award charts coming for all carriers. Plus, Alaska will add the option of booking Premium Economy seats on more airlines, add more global routes, introduce more flexibility to book award tickets with multiple carriers, and teased the possibility of quarterly sales to book partner award tickets at a discount.
Let's take a closer look at the new Alaska Airlines Mileage Plan award charts and other changes that were just announced.
Alaska Airlines New Award Charts
While other airlines like Delta, American, and United long ago ditched award charts – the cheat sheets that determine how many miles you need to book a flight – Alaska stuck with that approach. That's what has made Alaska miles so valuable.
For years, Alaska Airlines relied on separate award charts for each of its partner carriers. Those charts spelled out that it would cost just 50,000 miles to fly Cathay Pacific business class to Hong Kong (HKG), Qantas business class to Australia for 55,000 miles, or even Japan Airlines First Class to Tokyo for just 70,000 miles each way – all significantly less than what other airlines charge for the same flights.
But that approach disappeared late last year as Alaska rolled out a new "streamlined" award chart … which spelled trouble for many of those fantastic redemptions. With that new pricing system, award rates show a "starting from" price, meaning that a flight to Asia could cost you 50,000 miles each way in business class … or much more. Within months, Alaska used that new, opaque pricing system to raise award rates when redeeming miles on Japan Airlines.
Come March, Alaska is moving to a new setup with three award charts: One for flights in the Americas, one for Asia-Pacific Redemptions, and another for Europe, the Middle East, and Africa. And exactly how many miles each flight will cost you hinges on the distance of that flight.
Americas Award Chart
Alaska previously had an award chart for flights within North America (typically on either Alaska Airlines itself or American Airlines), but now it's being rebranded as the "Americas" – including both Central America and South America.
The longer the flight, the more miles it may cost you. That's not a major change from how Alaska previously priced these awards.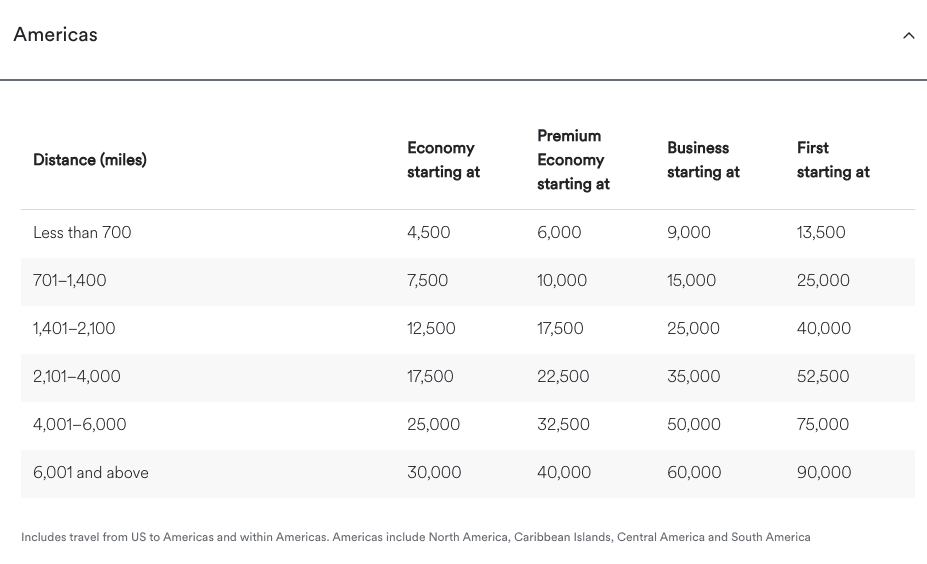 Not sure how long your flight is? Plug the route into GCmap.com!
Aside from the inclusion of Central and South America in this new region based chart, the other big change is that flights now start as low as 4,500 miles in economy and 13,500 in first class. While this likely won't amount to crazy savings, it will make shorter flights like Seattle (SEA) to San Francisco (SFO) more affordable.

Under the current award chart, that route is pricing out at 5,000 miles in economy and 17,500 in first class.
Asia Pacific Award Chart
This new chart includes flights from the U.S. to Asia Pacific – as well as flights within the region and to other parts of the world like Europe, the Middle East, and Africa.
Under the new Asia Pacific award chart, you'll see the starting price for what a given flight will cost, based on how far you're traveling.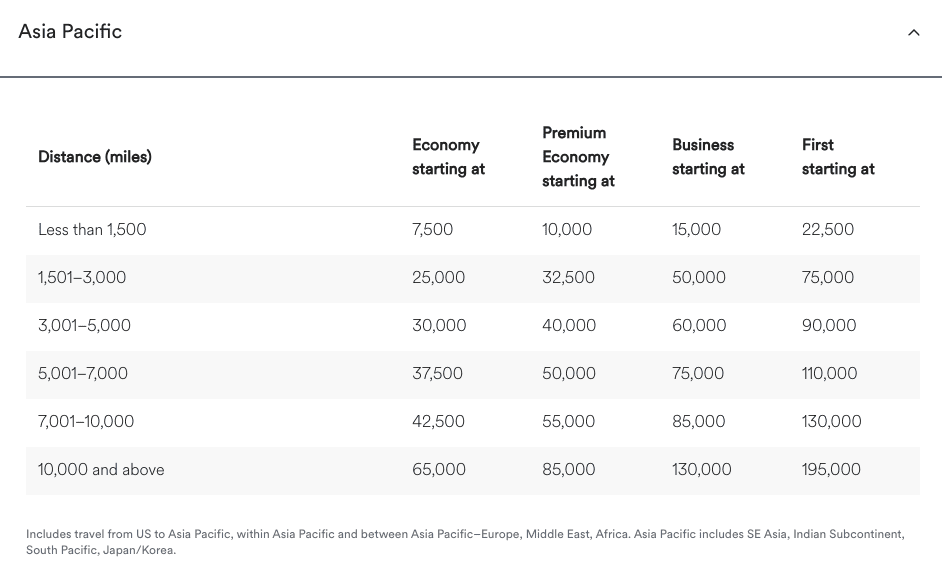 Remember how I said that this change could largely kill our favorite Mileage Plan sweet spots? This is what I meant.
Right now, you can theoretically book a business class flight from Boston (BOS) all the way to Bangkok (BKK) on Cathay Pacific for as low 50,000 miles. Availability to actually book those Cathay flights with miles has been sparse for years, but here's a screenshot from a few years ago. It was possible!

With the new award chart, that same flight will go up to 85,000 miles. That's a 70% price increase from the previous price – ouch. On the flip side, if the price increase means it'll actually be bookable, it could actually be considered a win for travelers.
Another sweet spot that won't be quite as sweet: flights to Japan. Under the current chart, business class flights to Japan, flying Japan Airlines business class, clock in at just 60,000 miles – another amazing value.

Under the new, distance-based chart starting in March, you'll need 75,000 for that same flight. That's not as huge of a spike as booking premium cabin flights on Cathay Pacific, but it's a devaluation none the less.
Europe, Middle East, & Africa Award Chart
Beginning in March, Europe, the Middle East, and Africa will all be lumped in the same region. Flights to, from, or within this region will vary in price depending on how far you're traveling.
This chart specifically creates a good news, bad news scenario for travelers. Depending on the route, you might pay a little less for your travel, the same price, or slightly more when the changes go into effect. Here are a few examples.
Under the current system, an American Airlines business class flight from New York City (JFK) to London-Heathrow (LHR) costs 57,500 miles one way.

But when the new award chart goes into effect in March, that route will actually drop in price to 45,000 miles for the one-way flight – you benefit from a lower rate since the distance between New York and London is less than 3,500 miles. Economy awards on this route won't get a price cut, but rather they're staying at the same 22,500 price point that they've been.
Routes like Boston (BOS) to Frankfurt (FRA) flying Condor's awesome new business class will stay the same at 55,000 miles for a one-way ticket.
For travelers in the middle of the country and on the West Coast, the new chart isn't quite as generous. Currently, you can fly from Phoenix (PHX) all the way to Frankfurt (FRA) – again on Alaska partner, Condor – for just 55,000 miles in business class. That's the same price you'd pay if you're departing from the northeast on a much shorter flight.

Under the new award chart, that 55,000-mile price tag will jump all the way up to 70,000 miles for the one-way business class ticket. That's not terrible for over 10 hours of business class travel, but not quite as sweet as before.
What Else is Changing? Or Not?
There's more good news on the horizon for Alaska Mileage Plan.
Free Stopovers Aren't Going Anywhere
One of the biggest headlines is what's not changing: Free stopovers for award tickets are here to stay.
Alaska has committed to continue offering one of the most generous stopover policies on award tickets in the airline industry: You can add a free stopover to any award ticket, squeezing in two destinations for the price of one. Here's a prime example: Stopping off in Fiji for a few days (or a week … or more!) en route to Australia while flying Fiji Airways business class.
Most other award programs simply don't allow stopovers – or only allow it as part of a roundtrip itinerary. Seeing Alaska double down and specifically highlight its stopover program is a welcome sign for travelers with Alaska miles.
Book Multiple-Carrier Awards & Flights Across the Globe
Alaska will, at long last, give travelers the ability to combine multiple carriers into a single itinerary.
Currently, you can only book an award trip with multiple carriers if one of them is Alaska Airlines. Sometime late next year, the airline will introduce the ability to book multiple partner carriers on the same itinerary. That means a Japan Airlines flight to Tokyo with an American connection could be possible – or a mixed-partner booking featuring Japan Airlines and Cathay Pacific within Asia.
Plus, Alaska is addressing one of the few weaknesses of its Mileage Plan program by opening up redemptions around the world. Limits on which flights between select regions can be booked will officially disappear.
More Premium Economy Awards Are Coming, Too
Booking Premium Economy seats with extra legroom, recline, and better meals can be tough with miles. Alaska Airlines will introduce more options.
Alaska will add the ability to book Premium Economy awards with both American Airlines and Japan Airlines. Plus, the airline points out that award rates for these premium seats start at just 30% more miles above standard economy.
Award Sales on Partner Airlines?!
The new award charts mean some sweet spots will disappear while other rates will get better. But travelers redeeming Alaska miles may occasionally see even better deals on partner airlines.
Alaska plans offer quarterly partner award sales, with discounts of up to 50% off on specific partners, routes, and destinations. While other airline mileage programs regularly discount their own flights – think Flying Blue with their monthly Promo Rewards, Singapore Airlines with "Spontaneous Escapes," and of course Delta SkyMiles flash sales – we rarely see these kinds of discount specials extend to partner award bookings.
Alaska isn't shedding much light on what's in store for these promos. But if it means a big discount when booking carriers like Cathay Pacific, Japan Airlines, Condor, or Qatar Airways, it could be a big win.
Bottom Line
Alaska Airlines just announced some big changes to its Mileage Plan award program that will take effect in March 2024. And they're a bit of a mixed bag.
Some of our favorite sweet spots will be going up significantly as a new award chart takes effect early next year. Others – especially shorter flights – could get cheaper. At the same time, Alaska is promising a handful of new options and features coming for travelers redeeming miles.
Stay tuned for more details on when these changes will actually take effect.