Maybe you haven't heard of Oman, let alone considered visiting its capital city of Muscat. We don't blame you – it's not exactly a tourist hotspot.
But there's something baked into the DNA of this Middle Eastern city that hooks you right away. Maybe it's the delicious food at wallet-friendly prices. It could be the beautiful architecture. Maybe it's the locals, all too eager to help while sharing their culture and learning about yours, too.
But above all, it's the fact that this city is clean, modern, and ready welcome tourists – yet few seem to have made it here. While other tourists flock to the United Arab Emirates or Jordan, Oman remains largely untouched.
In short, Muscat might just be the perfect introduction to the Middle East. Read on to see why you need to check out this unpretentious city that packs a big punch.
Oh, Oman
Oman itself is situated at the southeastern tip of the Arabian Peninsula, with a population the size of Louisiana – most of which live in Muscat. Yet despite its precarious position, Oman has avoided conflict for much of the last five decades.
It may not be perfect – its government is a total monarchy, where every dollar and freedom flows through the country's sultan. And there's no question that women still have fewer freedoms. But compared to many of its neighbors in the Middle East, Oman is safe, stable, and welcoming of all tourists – man or woman, no matter where you're from.
It lacks the glitz and glam of the Middle Eastern hotspots in the United Arab Emirates, like Abu Dhabi or Dubai. Chalk it up to what our friend Ajay, who was raised in Oman, told me of his home country: Oman and its people are humble.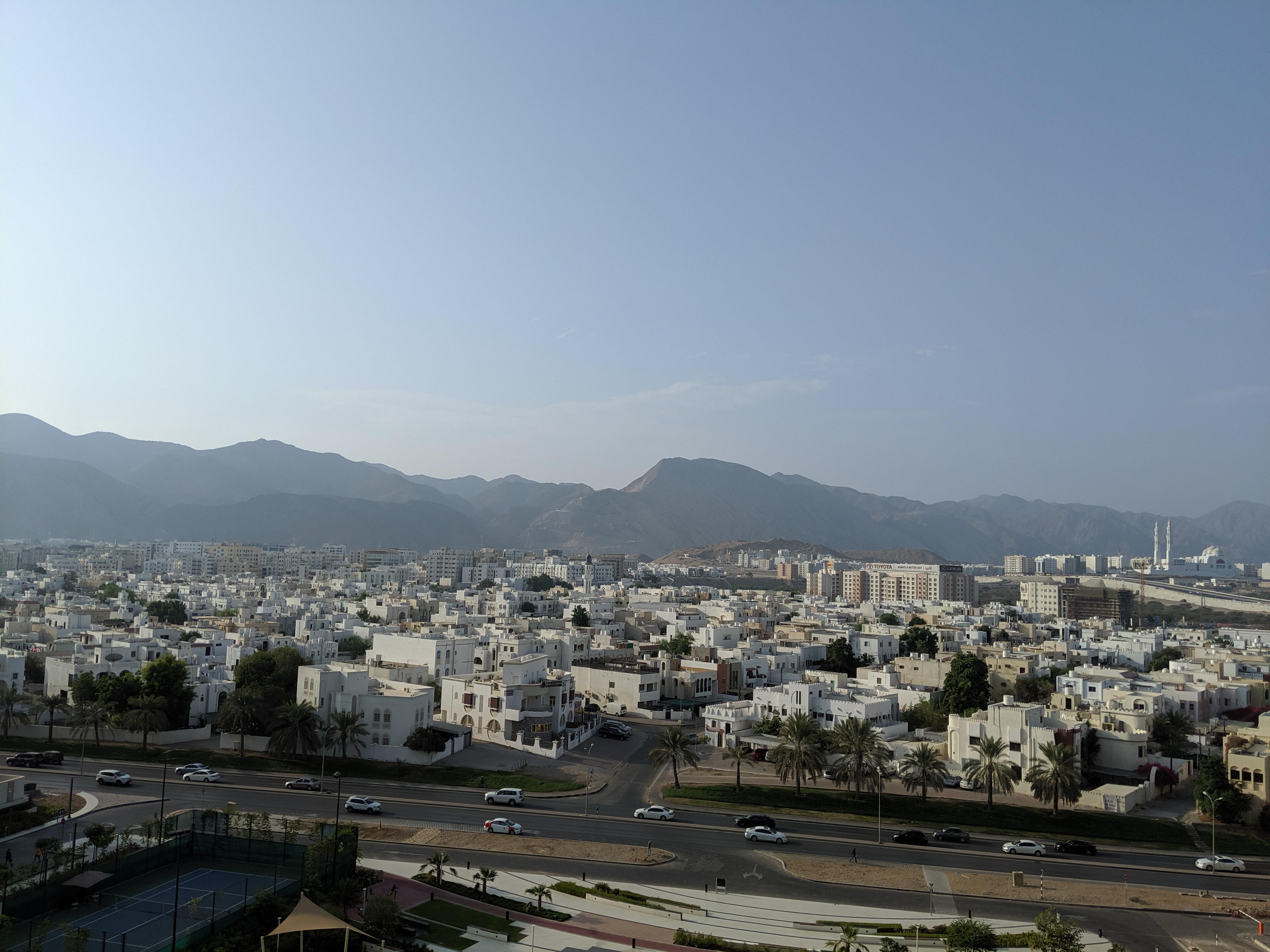 Muscat, in particular, exists at a crossroads of a country looking to boost its tourism industry. It has all the infrastructure and help a tourist might need to get by: English on street signs and every menu, easy communication with virtually any restaurant host or cab driver. Yet those tourists seem not to have really shown up yet.
The result is that feeling we're all chasing: Discovery. Walking through the streets of Muscat, you feel like you could be the first tourist to see everything Muscat: A rugged coastline hugged by gorgeous mountain ranges, clean and safe streets, unbelievably beautiful mosques and other architecture, and much more.
Thrifty Tip #1: U.S. citizens need a visa to enter Oman, starting with a 10-day visa at just 5 Omani rial ($13 USD). You can apply online for an Omani Evisa.
Thrifty Tip #2: Have a Priority Pass membership? Muscat (MCT) airport has one of the world's best Priority Pass lounges.
The Mosques of Muscat
I thought I knew true beauty. And then I visited some of Muscat's mosques.
The Sultan Qaboos Grand Mosque – known locally just as the Grand Mosque – is the city's crown jewel, and one of its few major tourist attractions. From the lush green grounds to its four minarets to the gilded dome, every inch of this massive mosque is jaw-dropping.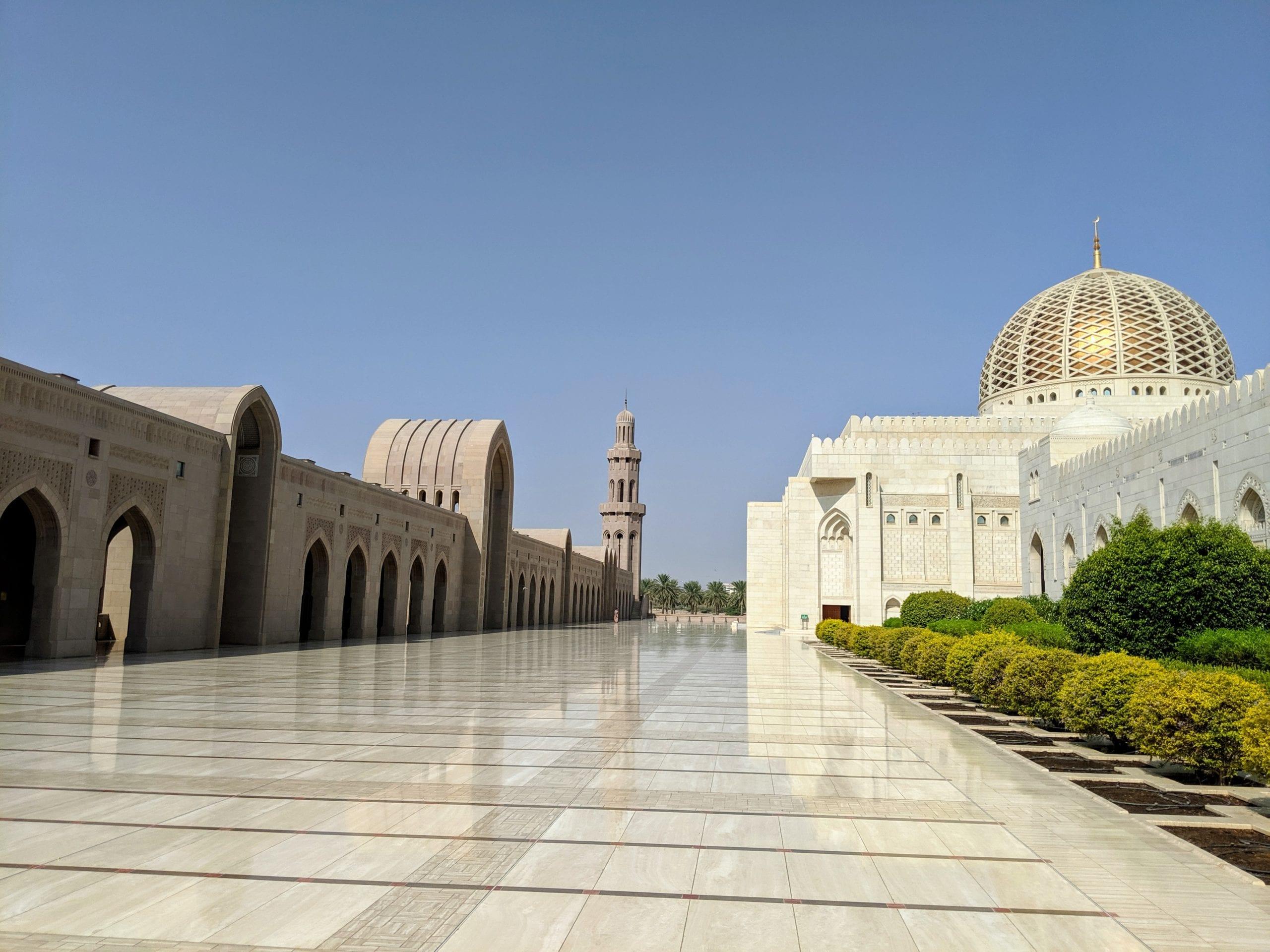 Tens of thousands of Omani worshippers flock here every Friday around noon, but visitors (including non-Muslims) are allowed to visit every other day from roughly 8 a.m. through 11 a.m. Men should dress conservatively, with pants and ankles covered. Women should do their best to cover up completely, with longer sleeves and a headscarf.
The pristine marble floors, white sandstone arches and building walls … it's all absolutely stunning. Prepare to spend a few hours walking around, gawking at every surface. Getting into the mosque is free, but you can grab a headset from the visitor's center for a self-guided audio tour for 1 Omani rial (about $2.50 USD).
There's plenty to soak in and appreciate, but the main event is the mosque's prayer hall, home of the world's biggest chandelier. This is an 8 1/2 metric ton behemoth, complete with more than 600,000 Swarovski crystals that cast shimmering light over the other chandeliers and intricate and colorful tilework throughout the prayer hall.

As we headed for the exit after soaking in the majesty of the Grand Mosque, a mosque elder waved us into a small room near the exit. With a glass of Arabic coffee and dates, he talked about his love and appreciation for Islam, as well as the western misconceptions about it. Even after the beauty of the mosque itself, it was a highlight of our tour.
Thrifty Tip #3: You won't find Uber or Lyft in Oman, but Download ride-hailing apps like Careem or Marhaba before you leave to get around the city with ease.
Don't sleep on a smaller, but no less beautiful, mosque: Mohammed Al Ameen Mosque. Unlike the Grand Mosque, this mosque just outside of Al Khuwair neighborhood isn't a tourist attraction, so you'll likely have it to yourself. But it's still open to tourists to stand and wonder at its flawless, minimalist design.

Eat, Eat, and Eat More
I'll never forget the moment our waiter brought out a massive tray with our late breakfast order and thought to myself: "There's no way we'll be able to split all that food."
And then he brought my platter.

Welcome to Ubhar, one of our favorite discoveries in Muscat. This eatery is located in the trendy Qurum neighborhood, not far from some of the top hotels in Muscat or the city's beautiful Royal Opera House. They serve meals all day long, but the breakfast-lunch special is killer, with a hot plate of shakshuka, sambusas, rice, lentils or beans, and delicious breads for just 5 Omani rial ($12 USD) each, plus free coffee and juice.
For even cheaper eats, follow a local's recommendation and head for Al Istanboly. Here you'll find all the shawarma, hummus, and grilled meat you could want – for seriously cheap. A massive spread with all of the above (and more) clocked in at under $10 USD total.

When you're craving a classic Omani dinner, you want Bait al Luban, a nice sitdown restaurant. Bonus: It's in Muscat's charming Mutrah Corniche, the curving marina with paths along the water and views of one (or more) of the sultan's superyachts. Get the shuwa, which just means "grilled meat" in arabic. But there's nothing simple about this dish: beef (or goat) is rubbed in special Omani spices, then wrapped and buried underground, where it cooks with screaming hot coals for more than a day.

When you're done with dinner, head for the market. Or, as they call it in Oman…
The Souk
Any city with its own bustling souk is a must-visit, and Muscat's is no exception.
Muscat's souk snakes its way inside the buildings lining the waterfront, twisting and turning until you can't remember which way you walked in. This is the spot to buy frankincense, which Oman is famous for. You'll see it in nearly every shop, along with Myrrh, spices, fresh dates, clothing, scarves, and more.

While vendors will ask you inside to get a look at what they're selling, they're not pushy. Unlike the souks of, say, Marrakech, it's easy to stroll through the souk of Muscat and just do some window-shopping.
Head for the Mountains
If you're staying more than a few days in Muscat, you simply have to make your way into the mountains that hug Muscat.
About a 90-minute drive into those mountains will take you to Wadi Shab, high up on any checklist for checking out Muscat. It's an otherworldly place, where bright green rivers mix with the red rocks of the desert and palm trees.

When you need an escape from the city, a rental car can get you here if you're up for the drive – and traffic is more than manageable throughout Oman. But the tour operators who will take you out to Wadi Shab for day trips are a dime a dozen.
Get a Drink Overlooking the Gulf of Oman
Oman may be a largely dry country, but that doesn't mean you can't get a drink.
Look to the major hotels throughout the city – W Muscat, Intercontinental, and Crowne Plaza, just to name a few – and you'll find several bars. Just keep in mind that it won't be cheap, as alcohol is still a rarity here.
But the Crowne Plaza Muscat could be the best spot in the city to grab a drink for its endless view over the Bay of Oman.
If you're feeling up for an adventure, make the walk from the Royal Opera House all the way across the Qurum Beach bridge before climbing up the hill to the Crowne Plaza. Your reward is waiting at The Edge Bar near the pool: an ice-cold beer or cocktail (for $12 USD or more…) and the best view of the city and its coastline along the Gulf of Oman.

Bottom Line
If Oman isn't already on your radar, it absolutely should be. Our short stay wasn't nearly enough to soak in all that Muscat has to offer. We will return – but I have the feeling that we won't feel so alone the next time we do.