Nature and city life intertwine beautifully in Cape Town, South Africa. Between its rich history, mountain and ocean views, dining scene and day trips for wine connoisseurs and outdoors fanatics alike, there's no wonder why "The Mother City" is a hot destination.
Do I dare say it? Cape Town is one of the best cities in the world. Whether you're a solo traveler, honeymooner, or family vacationer, there's something here for everyone. And while the flight is long and can be expensive, but there have been great deals through Thrifty Traveler Premium for under $550 round-trip!
I've been to Cape Town three times, discovering something new to love about the city on each visit. Here's what you can't miss on your first trip to Cape Town.
Take a Hike on Table Mountain
The most iconic view of the city is without a doubt from up high on Cape Town's iconic Table Mountain.
Sure, there's a cable car running up and down Table Mountain. But if you want to break a sweat and burn off the soon-to-be countless calories from seafood, hike it.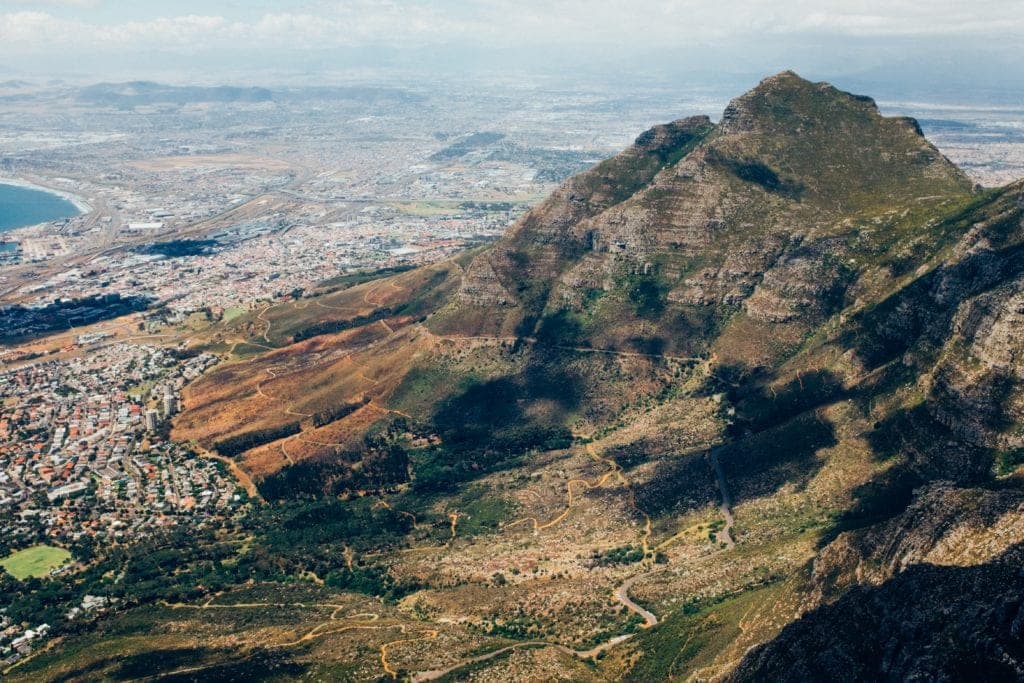 Table Mountain reaches 1,086 meters above sea level and has numerous trails up to the peak ranging in difficulty. There's the popular Platteklip Gorge trail from the front side of Table Mountain that will take you two or three hours. You could take the shaded trail starting at Kirstenbosch Botanical Garden called Skeleton Gorge that takes up to five hours. Or if you're looking for a great hike for beginners, check out Twelve Apostles "Pipe Track," with views over Camps Bay. Or take the shorter and less intimidating hike up Lion's Head. It's known as the essential sunrise or sunset hike, giving you full views of Table Mountain, the ocean, and the city.
Embrace the History of South Africa
Cape Town and all of South Africa are wonderful, but it has a dark history.
Until its dismantling in the early 1990s, South Africa was systemically segregated by race and ruled by the white-minority population – known as apartheid. That ended with the country's first democratically voted black president, Nelson Mandela.
To miss these stories of tragedy, hope, and progress is to miss the country entirely. So head to the museums and historic places, allowing you to better understand some of the history and the ongoing social and political issues facing South Africans today.
Book online to take a ferry to and visit Robben Island – the prison where Nelson Mandela and other political activists were incarcerated for years during apartheid. A former prisoner conducts the tour, discussing life on the island and the years of discrimination, sanctioned segregation, and displacement of South Africans.
Head to the District Six Museum. District Six was a vibrant and diverse community of slaves, immigrants, merchants, and artisans in the late 1800s. Under apartheid laws, black
South Africans were displaced from the area beginning in 1901. Fifty years later, 60,000 non-white people were forcibly removed from their homes as the entire neighborhood was bulldozed to the ground. The museum was opened in memory of the neighborhood.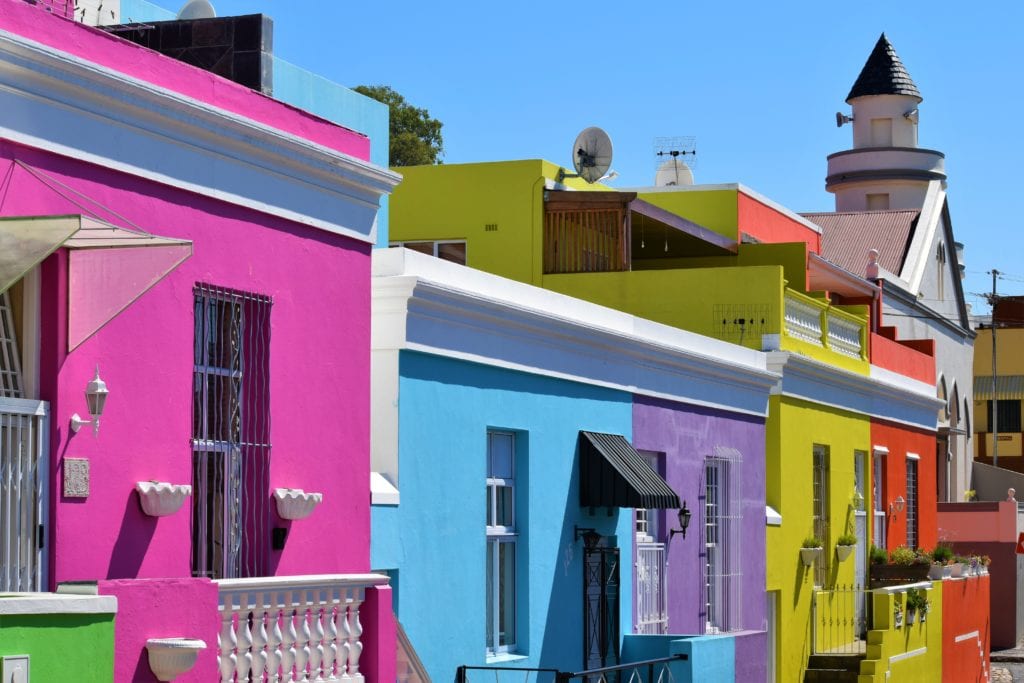 More than just colorful homes and cobblestone streets, the Bo-Kaap neighborhood (formerly known as the Malay Quarter) has a rich history involving slaves and political exiles from East Africa and Southeast Asia. When bans were lifted allowing slaves to own property, they painted the homes bright colors to express their freedom.
Other Top Spots to Visit
A place as popular as Cape Town comes with some tourist hot spots. That doesn't mean they aren't worth a visit.
V&A Waterfront has a beautiful view of Table Mountain, outdoor restaurants overlooking the harbor, shopping, and midday performances. Explore the Zeitz Museum of Contemporary Art Africa – the largest museum of contemporary African art in the world located at the V&A. It opened in 2017 and displays international acclaimed art from Africa and its diaspora.
On Saturday and Sundays, check out the Oranjezicht Market with all your locally produced vegetable and fruit needs. Want to test out your bartering skills? Check out the overwhelming yet lively Greenmarket Square for trinkets and souvenirs.
Hop in an Uber and head to the Woodstock neighborhood to view the amazing street art (or sign up for a Street Art Tour) and don't miss the Neighbourgoods Market at The Old Biscuit Mill
every Saturday from 9 a.m. to 3 p.m. It's one of my favorite spot in all of Cape Town: a farmers market, food hall, live music venue, and spot to buy local products, jewelry, and other goods.
Oh, and did I mention the beaches? You can't possibly travel to Cape Town without spending some time at the beach.
Camps Bay is a swanky area with palm tree-lined streets and bars overlooking Clifton Beach 4 (Clifton Beach is a series of four beaches in a row). This is a great beach for relaxing and sunbathing—just bring a chair or a towel. If you want to do some surfing and get outside of the city, Muizenberg Beach is a quaint town accessible by train or car.
After spending the day at the beach, grab a bottle of wine and head to Signal Hill for sunset. A place for locals and tourists alike, watch as the lights of the city turn on and see
the day turns to night over the Atlantic Ocean.
What to Eat & Drink in Cape Town
The food scene in Cape Town is notorious and diverse, and it will never ever leave you hungry. With influences from all over the world, there's arguably no better place to eat.
Start on Bree Street – a hip and relaxed strip of restaurants with innovative and memorable eats. You can't go wrong. For coffee and breakfast grub, stop in at Truth Coffee and Bootlegger Coffee Company. Grab a drink at Up Yours at Yours Truly and Tjing Tjing rooftops.
In the mood for some fine dining? The Test Kitchen and The Pot Luck Club at the Old Biscuit Mill will do the trick. If you need to set the mood, check out KlofStreet House to dine in a candle-lit garden in a Victorian house and Bombay Bicycle Club, a lively bar and restaurant with eccentric, bohemian décor.
Day Trips from Cape Town
When you're as far south as Cape Town, penguins are just a bonus.
Yes, you can visit these adorable little critters around Cape Town. Just head to Boulder's Beach in Simon's Town, situated on the Cape Peninsula and not far from Cape Town itself.
Keep heading south down the peninsula and make your way to the Cape of Good Hope, the southernmost tip of Africa and only 70 kilometers (about 43 miles) from Cape Town. This is an incredible day trip on windy roads with steep cliff drop-offs in the Cape Peninsula. Once at the Cape of Good Hope, climb up to the lighthouse for the best view or down to the private beach that is rarely occupied. You can hire a driver for the day or rent a car.
The Cape Town region is producing some of the world's best wine. Some great wine is coming from South Africa and not far from Cape Town. The popular wine regions of Constantia, Stellenbosch, and Franschhoek are an Uber or private car ride or tour van away.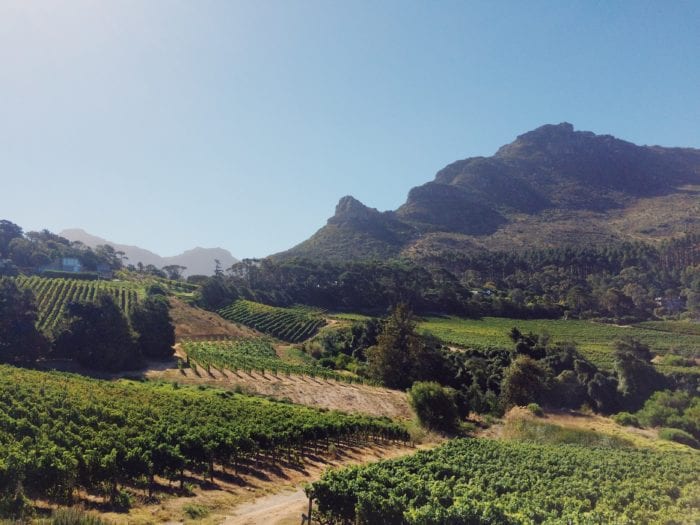 I personally didn't venture too far outside the city and opted for Constantia by Uber. And while I had planned to stop at several wineries, I stayed at Constantia Glen for hours because it was simply perfect. Even if you're not a wino, these estates with rolling hills and endless vines are simply stunning. So, whether you want to vineyard hop with a group or relax at one with your love, a day trip outside the city to a vineyard (or five) is a must. Stop at Kirstenbosch National Botanical Garden on your way out.
The Big Five
Look, I get it. You're in Africa and probably have visions of elephants, rhinos, and lions running through your head.
Seeing these animals up close and personal is a big, beautiful check off the bucket list, but it can be VERY expensive. For those of you that see this as a must while in Cape Town, you have options.
Kruger National Park near Johannesburg is by far the most famous in South Africa, but that's a plane ride away. Game reserves such as Aquila Private Game Reserve, Gondwana Game Reserve, and Sanbona Wildlife Reserve are a few hours drive from Cape Town and offer one-day safaris as well as multi-day ones with meals and lodging included. Lodging ranges from eco tents to luxury villas.
Bottom Line
Now you see why I called Cape Town one of the best cities in the world.
There is so much to do in and around Cape Town, no matter your budget. This city will leave a lasting impression for its natural beauty, deep history, and mix of cultures. You'll wish you could stay a week, a month, or a year longer.