Using points and miles doesn't mean you're flying for free: Taxes and fees add anywhere from $5.60 on a one-way domestic flight to $1,000 or more on some business class redemptions. Airline fuel surcharges are a huge culprit, tacking on hundreds of dollars even when you're using hard-earned miles. And ANA Mileage Club has been the poster child for those frustrating fees.
As fuel prices skyrocketed earlier this year, so did the cash cost when booking almost any flight with the Japanese airline, from economy to ANA First Class. After several increases, redemptions that once cost $200 or so in extra cash earlier this year now tally up to nearly $1,000 roundtrip. Ouch.

While using some airline programs will shield you from these high cash costs, that's what you'll pay using either ANA miles or Virgin Atlantic Flying Club points – far and away the two best ways to book these flights with miles.
Well, we've finally got good news. Not only are these fees set to decrease soon, but we can finally make sense of why these nasty surcharges have continued rising even as prices at the pump fell … and figure out what that means for the future of booking ANA award flights to Japan and back.
Let's dive into the weeds together.
The Growing Scourge of Surcharges
Think seat selection and checked bag fees are bad? Fuel surcharges might be even worse.
Whether you know it or not, you've probably paid some fuel surcharges on a plane ticket. Many airlines levy these surcharges in addition to the actual airfare and a bevy of government taxes, building them into the final price you see at checkout. As gas prices rise, so do these charges. When gas prices fall … well, they typically stay put.
Unless you plug your route into a tool like ITA Matrix, you may never even see these "carrier-imposed surcharges" – typically labeled as YQ or YR charges. Here's a look at a roundtrip economy ticket from New York City (JFK) to London-Heathrow (LHR) on Virgin Atlantic, for example.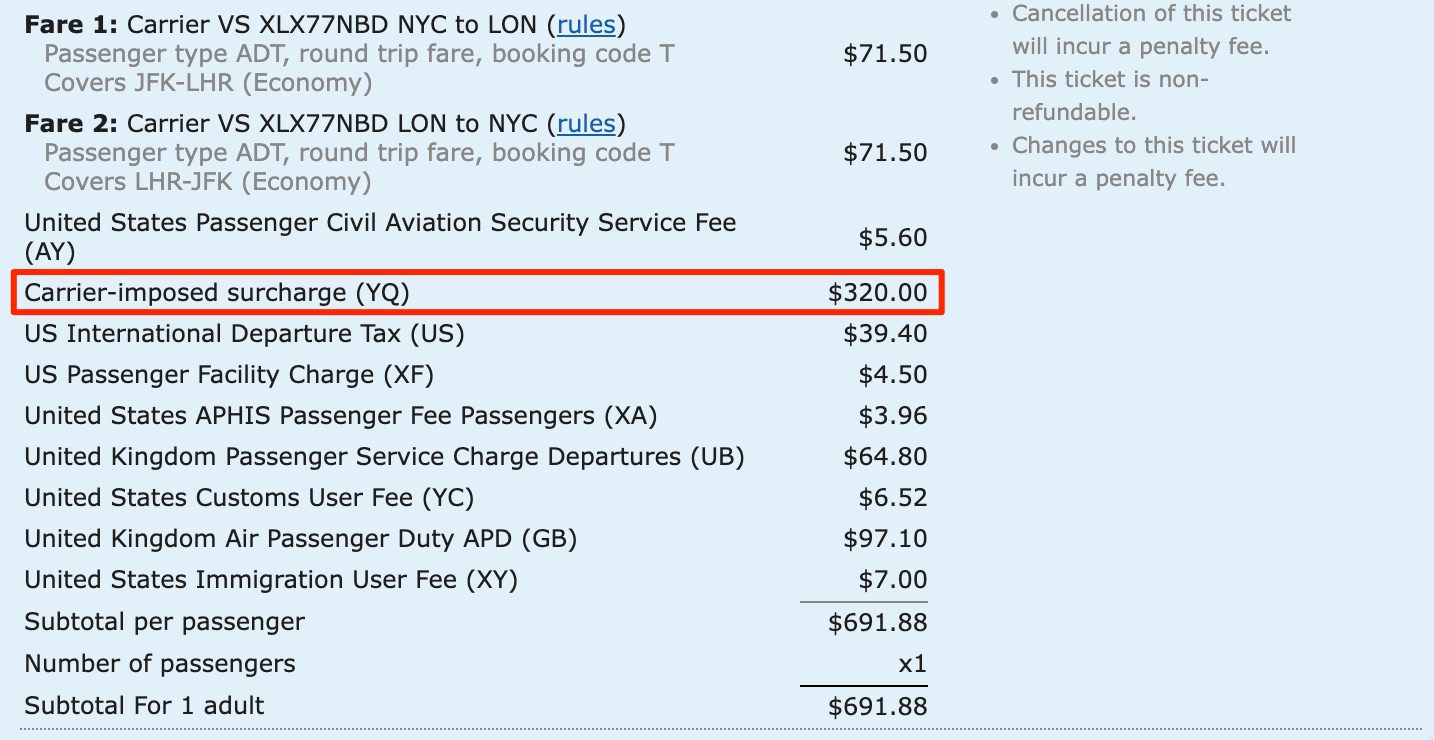 Whether you wind up paying these big charges on award redemptions depends on whose miles you're using – and which airline you're flying. Some airline programs shield you from these particular fees altogether, including all the major U.S. airlines like Delta SkyMiles, American AAdvantage (except when flying British Airways), and United MileagePlus.
And then there's All Nippon Airways. Surcharges that were virtually nonexistent a year ago now clock in at more than $430 in cash costs each way when booking most ANA award tickets – and that's what you pay whether you're flying economy, business, or first class. Add in some government taxes and fees brings your total cash cost to just under $1,000.

ANA isn't alone here. Emirates has repeatedly raised those surcharges, too: You'll now pay roughly $800 to fly Emirates First Class to Dubai (DXB), plus 136,500 miles or more. But with ANA and Japan, it's the timing that hurts the most.
With travel to Japan finally back on the menu after reopening earlier this month, those hefty fees take some serious shine off one of the best ways to get to Japan with points and miles. Sure, using just 75,000 miles roundtrip to fly business class to Tokyo is a steal – and booking ANA First Class for 110,000 points roundtrip via Virgin might be the best deal in the world.
In either case, you're currently on the hook for some nasty fees unless you book through other airline programs that don't pass these fees through to consumers like Air Canada Aeroplan or United MileagePlus … though you'd be burning a lot more miles to do so.
But it's been doubly frustrating because even as fuel prices dropped through the summer, ANA increased these surcharges again at the start of October … by another $71 each way, or $142 roundtrip. Ben from One Mile at a Time wondered aloud: "What am I missing?"
"Oil prices have dropped considerably since their peak, yet ANA just keeps raising and raising fuel surcharges," he wrote. "Can anyone make sense of that, other than thinking that the airline is trying to compensate for the devalued (Japanese yen), and perhaps trying to take advantage of the tourism boom that's about to happen?"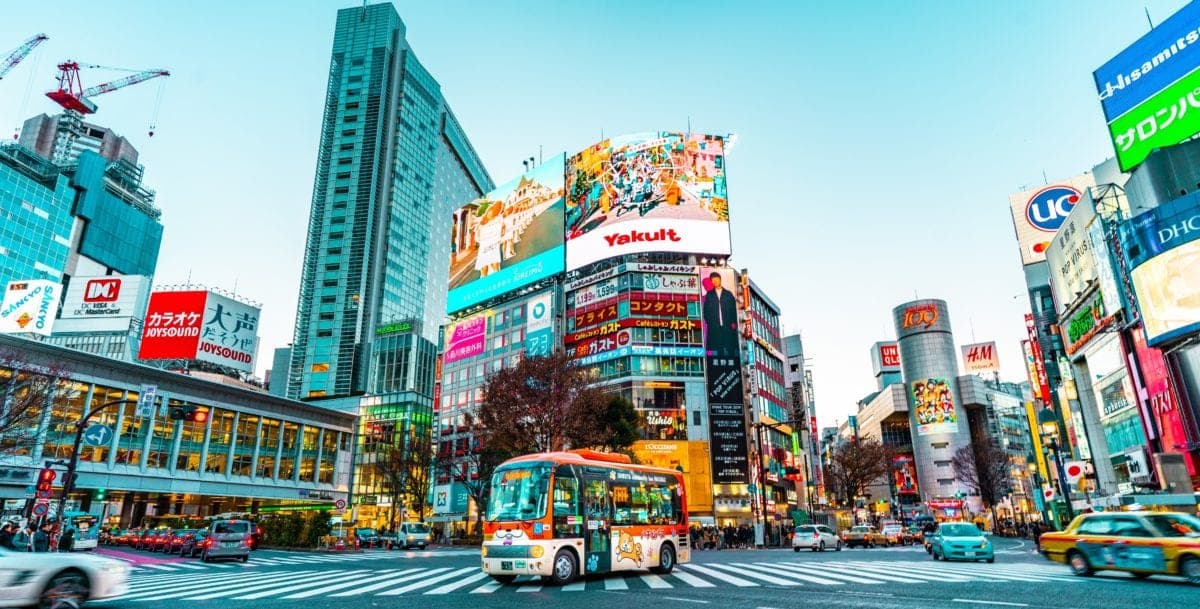 It all comes down to some quirks with how ANA actually calculates these fees… and that means relief is finally coming.
ANA Fuel Surcharges Will Finally Decrease
While it might hurt to pay $1,000 in fees when using miles, you've got to give ANA credit for one thing: Transparency.
ANA lays it out pretty succinctly: "The fuel surcharge may be increased, decreased, or abolished depending on the market price of fuel." Not only does ANA actually publish its fuel surcharges online, it currently updates them every two months. You can check current and past fees on the dedicated ANA fuel surcharge page … but also the future fuel surcharges, too.
And there you'll find some good news: ANA fuel surcharges are set to drop in December – and drop significantly. For tickets booked in December and January, the new fuel surcharge will be $329 each way. That's a drop of $105 from the current charge, or $210 for a roundtrip. It's based on when you actually book tickets – not when you actually travel.

So while you'd be on the hook for more than $965 total in surcharges and additional fees booking roundtrip ANA business class flights from Chicago-O'Hare to Tokyo-Haneda (HND) today, you'll pay $752 total or so (give or take a few pennies) by waiting to book until December.
Does that make this the deal of the century? Certainly not. It stinks to pay any cash when you're already burning a big stash of miles, let alone $700-plus. That is, however, the lowest these cash costs have been in many months.
But if oil prices prices steadily fell from their peak in June, why did it take so long for this drop in the first place? We've got answers.
How ANA Sets Fuel Surcharges & What It Means
Look at the cost of oil over the last year and you'd think these hefty fuel surcharges would be a thing of the past, right? From early June to late September, crude oil prices dropped almost 40%.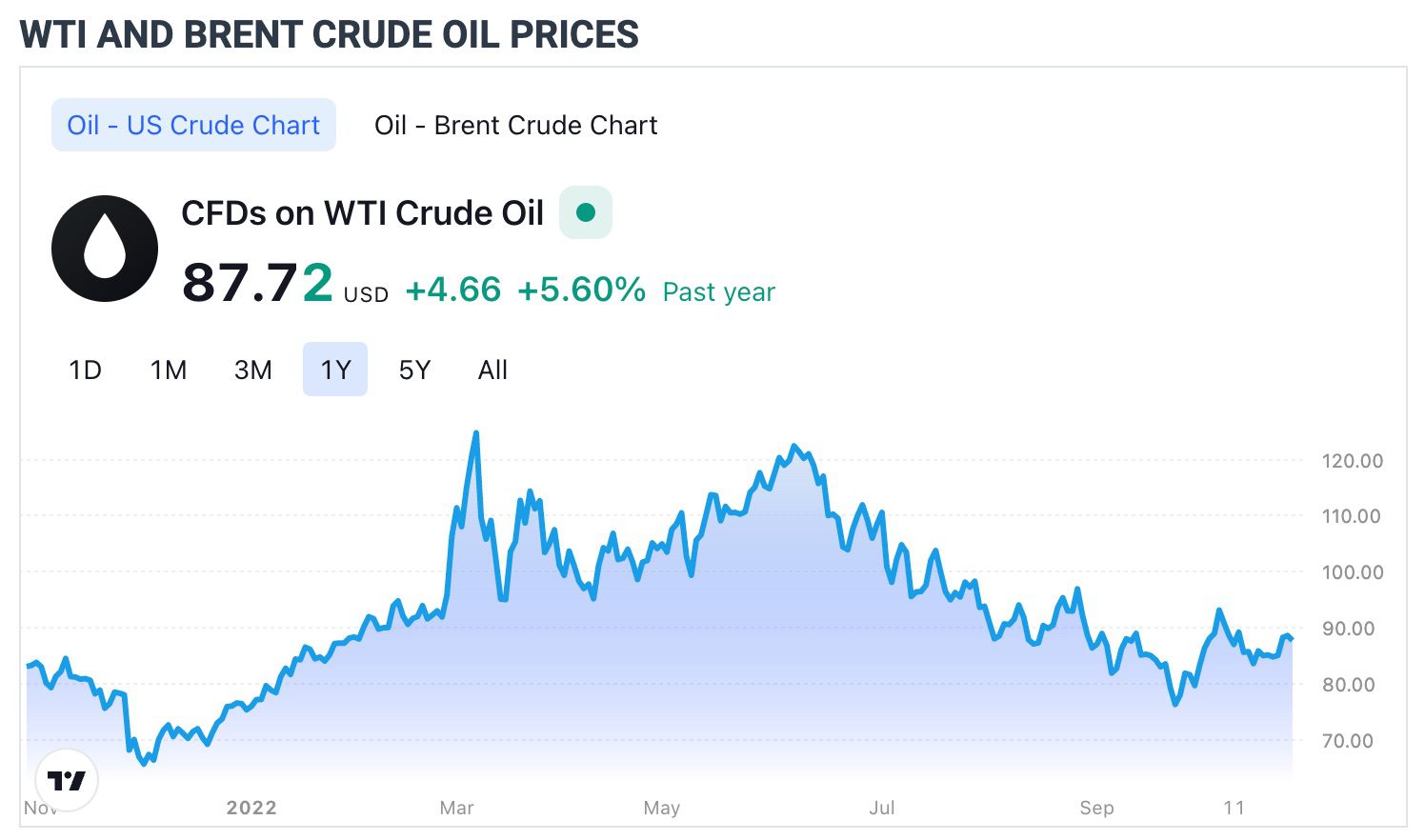 But it turns out that ANA isn't crunching the numbers with the oil prices of today … they're working with older data every time they recalculate fuel surcharges. Beyond publishing the current and future fuel surcharges, ANA also actually publishes its methodology. We're not sure whether this is a recent change or we just missed it before, but it's telling.

That spike we saw for new ANA tickets booked in the fall? While gas prices may have been falling at the time, it was based on average oil prices during June and July when rates were much higher, leading to another increase in cash costs.
The looming decrease in ANA fuel surcharges is based on oil prices in August and September, when oil prices continued falling. What does that mean for the next time ANA resets these charges?
Of course, airlines don't buy crude oil or rely on prices at the gas station – they're buying jet fuel. That's what ANA uses as its benchmark, though crude oil prices and jet fuel rates typically rise and fall together.
It's a bit too early to say, as we're just halfway through the October-through-November timeframe the airline will use. Data from IATA shows that after a spike earlier this month, jet fuel prices have been falling again.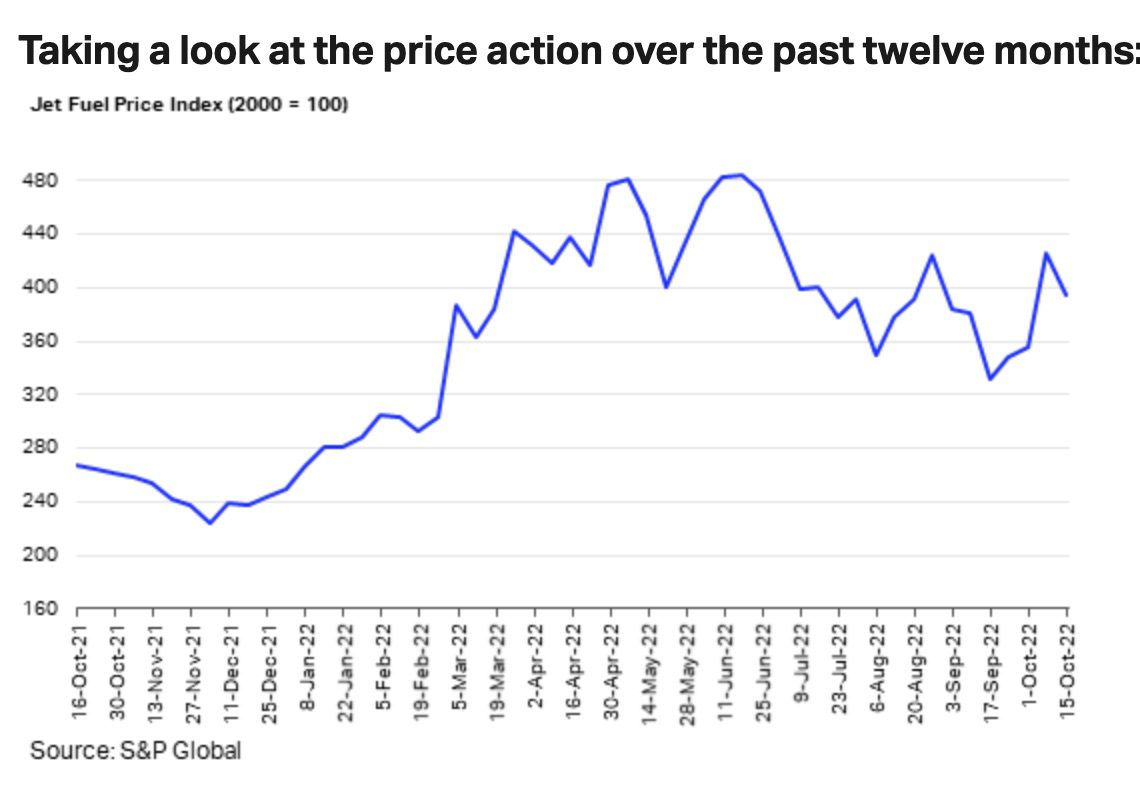 We'll have to wait and see how November plays out in order to see whether ANA fuel surcharges will continue dropping or reverse that trend – and whether travelers with their hearts set on a return to Tokyo may be better off waiting to book until February in order to save some cash.
But at least now we know how it works.
Bottom Line
Finally, some answers.
The cash costs you'll pay when redeeming miles to fly ANA to Japan have gotten out of hand in 2022 thanks to growing fuel surcharges. Some relief is in sight come December when those cash charges will drop.
Will they keep dropping as more and more travelers make their way back to Japan in 2023? We'll have to wait and see.