Editor's Note: Welcome to our Points Principles series, an ongoing series dedicated to explaining the basics behind the confusing world of frequent flyer miles and travel rewards points. Follow along as we lay out some of the building blocks to travel for nearly free. And check back to the Points Principles page to see what ground we've already covered.
Every frequent flyer remembers the first free plane ticket they booked with points and miles. But do you know what sticks out more? All the mistakes we made in the process.
Miles and points are purposefully confusing, and the road to booking a flight is littered with potential problems that can take a serious ding out of the value you're getting. Here are some of the biggest mistakes you'll want to avoid when booking a flight with miles or points.
Don't Pay Too Much
The worst feeling in the world is booking an award flight only to find you spent far too many of your miles or points. The key to getting a good deal is figuring out the baseline price for any award flight you're considering. Some airlines make it easier than others to ensure you're getting a good deal by publishing an "award chart." These charts lay out the base prices in miles for a given route, and most airlines divvy them up into two or three tiers of award pricing.
Booking flights at a base or saver level is critical for getting the most out of your points and miles. If you can't find your fare at the base or saver level, you're probably not getting the best deal you could.
Delta doesn't make it so easy to figure that out. The airline removed its award chart years ago and put in its place an ever-changing system with eight-plus tiers of award pricing that fluctuate with demand, the day of the week, the cash price for flights and more. Read our guide on understanding Delta SkyMiles to make sure you don't pay too much the next time you want to use those miles.
United is moving toward this dynamic pricing system, too. And other airlines are sure to follow. 
Not Exploring Transfer Partners 
We've all searched for an award flight only to find the airline was charging an arm and a leg for it. It's disappointing. But often, that exact same flight can be booked for far less – just with a different airline currency.
This is why we constantly encourage our readers to diversify and collect points through cards like the Chase Sapphire Preferred Card, Chase Sapphire Reserve, and Platinum Card from American Express. By diversifying your miles balances and ensuring you have a stash of points that can be transferred to many airlines, you get an upper hand over the airlines when they want to charge a fortune for an award flight.
Thrifty Traveler Premium member Nara Wichern nailed this point a while back while searching for flights to Mexico City. She found Delta wanted 71,000 SkyMiles for the flights plus more than $300 in fees – not a great deal. However, United was charging just 35,000 and less than half the fees. She transferred a stash of Chase Ultimate Rewards points from her Chase Sapphire Preferred Card to book the ticket.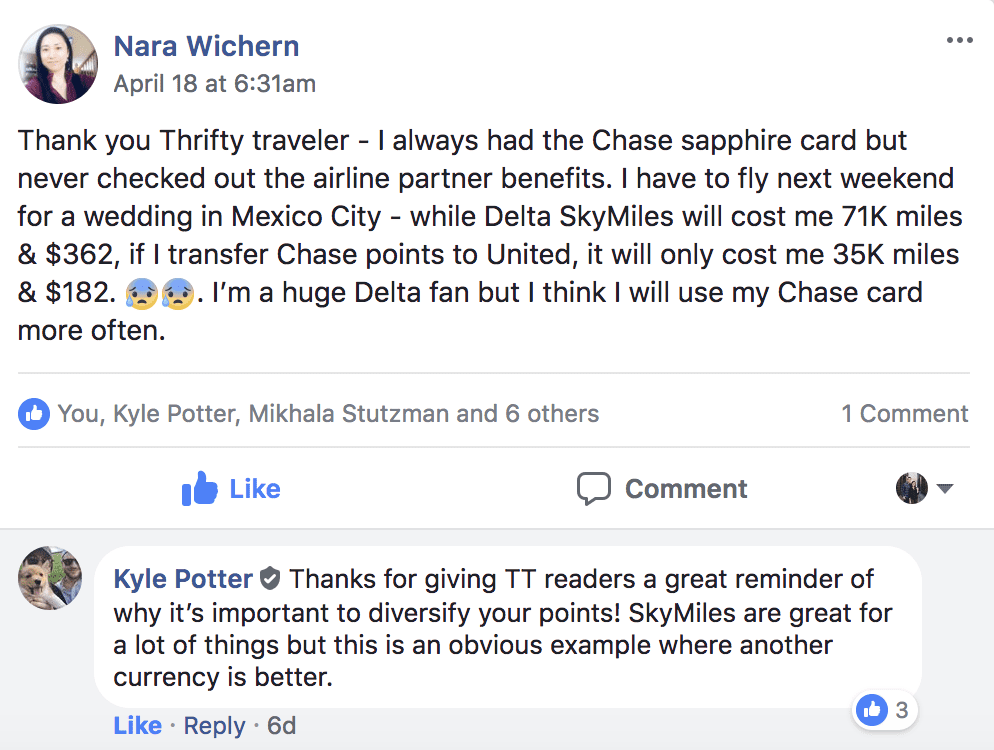 Transferrable points like Chase Ultimate Rewards and American Express Membership Rewards points give you flexibility. However, you have to consider and explore those transfer partners to make sure you book the cheapest option out there. Use websites like Awardhacker.com to work out which frequent flyer program works best to get you from point A to point B.
And keep in mind that sometimes it may make more sense to book directly through travel portals with your bank points – especially when cash fares are cheap. It's one of our favorite ways to use points. You can often book free flights that way for a fraction of what the airline would charge with its own miles.
Don't Transfer Your Points Too Early
Hang on before you transfer those points. You have to do some homework first. A cache of Chase or American Express points and a solid transfer partner won't get you anywhere if you can't find the award availability. One of the biggest mistakes beginners can make is transferring their points before ensuring the flight they want to book is available.
Points transfers can't be returned or rescinded. Once that transfer is underway, you cannot get those points back. So you'll need to confirm the seat you want is available first. And unfortunately, award availability can be even more opaque and confusing than the world of airline fares. Locating award seats it's more art than science.
Unless if you're booking directly through the Chase Ultimate Rewards portal, it's not as simple as applying your points toward a cash fare. Most airlines handle award redemptions completely separate from their cash fares. It's up to that airline to open up their seats to be redeemed with miles.
That's usually much easier if you're booking an economy seat, as airlines tend to be more generous with main cabin award seats. Business and first class fares can be more tricky and require more patience.
Most airlines start releasing award space about 11 months before departure, so it can pay to plan ahead if you want to lock in your ticket. But it pays to be vigilant – airlines can release award space with little rhyme or reason. 
Read our full guide on finding award availability.
Don't Waste Your Miles on Domestic First Class
Everyone wants to sit at the front of the plane with a pre-departure drink in hand. While it may make sense from a cost-savings perspective, domestic first class isn't worth it in our minds. It's a bigger seat and, sometimes, a free meal on a short flight at most. And you'll hardly have time to enjoy the miles you saved up.
You can do much better by saving your points or miles to splurge on international business class or first class cabins. This is where you truly get the most bang for your buck.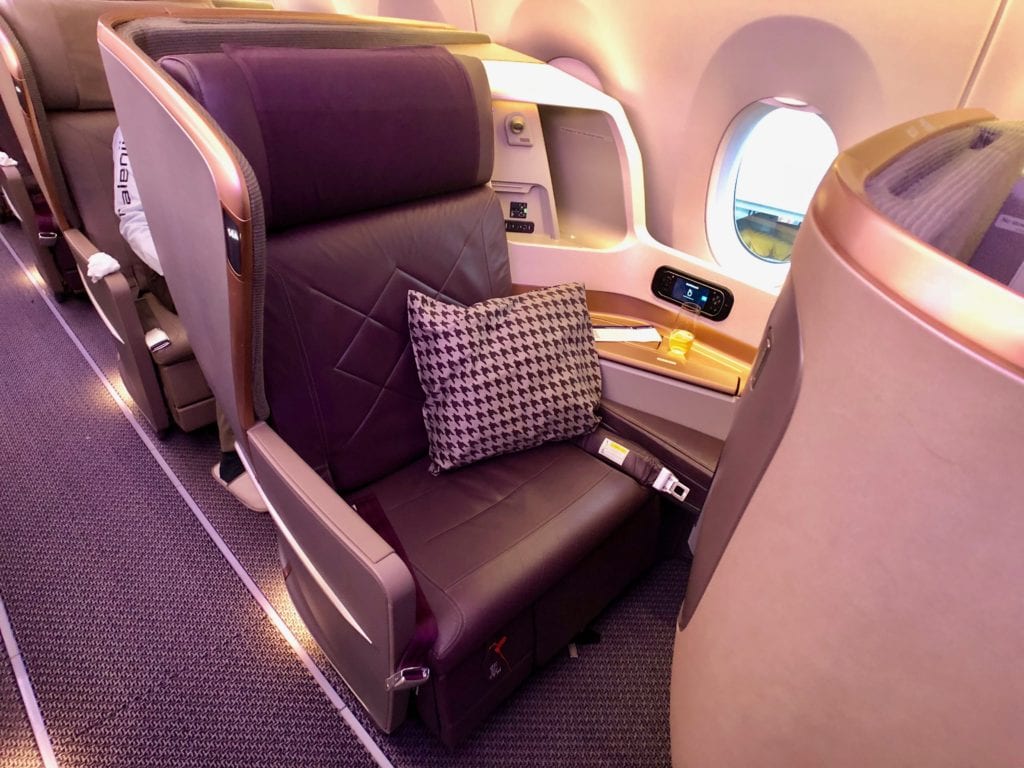 As an example, I saved up my Chase Ultimate Rewards points to book flights home from Indonesia for our honeymoon in Bali, Indonesia. Our choice? Business class on Singapore Airlines, one of the world's top business class cabins on one of the world's best airlines.
At 88,000 Singapore KrisFlyer miles each (transferred from my Chase Ultimate Rewards balance), it was certainly a splurge. However, those tickets would cost more than $5,800 each in cash. That works out to more than 6.6 cents per mile – a sterling value.
That's far more than you'll ever squeeze out of domestic first class. And after you dig into your preselected, chef-designed meal and turn your seat into a lie-flat bed, you'll never think about booking one of those stuffy old first class recliners with points again.
Don't Pay Too Much in Fees
You're understandably ecstatic when you lock in your dream trip to Europe for just 60,000 miles until your heart sinks. You're also on the hook for $500 in fees.
Airline and airport fees are part and parcel of the travel world, and can quickly offset the value you're getting on your supposedly free flight. For international travel, paying $100 or more can easily be worth it, especially if you're flying first or business class.
The final fees you'll pay on an award flight are a complex mix of the airline you're flying, the miles you're paying with and the airport you're flying out of. Some airports like London-Heathrow (LHR) are notorious for huge fees. So are some airlines, like Air France/KLM flights in and out of Europe as well British Airways.
We won't dive too deep into untangling that web here; that's another post for another day. But there are some general points to keep in mind to limit your tab on fees.
For international travel departing the U.S., the major domestic airlines are always a safe bet. United's MileagePlus program is generally pretty good at limiting big fees and surcharges on award flights, no matter which airline you fly on. But again, flights out of Europe can change that. 
It can be worth avoiding an airport altogether just to limit your fee costs. Thrifty Traveler Premium member Jennifer employed this strategy brilliantly. Rather than flying direct from LHR back home to the U.S., she booked a connecting flight to Dublin (DUB) before catching a flight home. The result? Almost $300 less in fees.
Don't let fees scare you off. They can sometimes be unavoidable and a pittance compared to the value you're getting out of your miles. However, you should always do what you can to reduce those additional costs.
Bottom Line
The world of miles and points is confusing, and it's always getting harder to get the most value out of them. By avoiding some of these major mistakes, you're on your way to becoming a seasoned frequent flyer.