Got some Capital One Venture Miles and plans to hop across the pond? This is your last chance to get even more out of them.
Travelers with cards like the Capital One Venture X Rewards Credit Card and the Capital One Venture Rewards Credit Card can get a 30% bonus when transferring Venture Miles to Virgin Points.
This bonus lasts through Friday, March 31, so you've got just one more day to come up with a plan to put some points to use. While Capital One requires you to transfer at least 1,000 Venture Miles, you can then send points in additional increments of 100 – allowing travelers to fine-tune their transfers for exactly how many points or miles they need.

Not sure how to transfer miles … or why you should? Read our full guide on how to transfer Capital One miles!
Using transfer partners like Virgin Atlantic is one of the best ways to use Capital One Venture Miles for even more value. And this transfer bonus makes it even better – think of it as a way to get some free airline miles.
If you don't already use Virgin Atlantic or know much about their Flying Club program, you should. Thanks to some excellent partnerships, you can use points with Virgin Atlantic to book deeply discounted Delta flights to Europe in economy, snag a Delta One business class for as low as 38,500 points, or even a lie-flat seat to Japan at an enormous discount, among other opportunities.
Read our full guide on using Virgin Atlantic Flying Club!
But calling this a Virgin Atlantic transfer bonus is actually a bit of a misnomer. In reality, Capital One added Virgin Red – the overarching loyalty program not just for the airline but other Virgin brands like Virgin Hotels, Virgin Voyages, and more –  as its latest transfer partner a year ago. That means you can earn and use a 30% bonus across the board. Just beware that it'll require a few extra steps to sign up and link accounts so you can put these points to use.
Take a look to see how it's done and how you can make the best use of this bonus before it ends.

Getting Set Up For Your Transfer
Already got a Virgin Atlantic Flying Club account? That's not enough.
In order to transfer your Capital One Venture Miles, you'll need a Virgin Red account. To get started, just head to the Virgin Red homepage and choose the option "Join Virgin Red." After a quick email verification and some personal details, finalize your enrollment. Immediately, you should be prompted to link your Virgin Red account with your airline account, Virgin Atlantic Flying Club.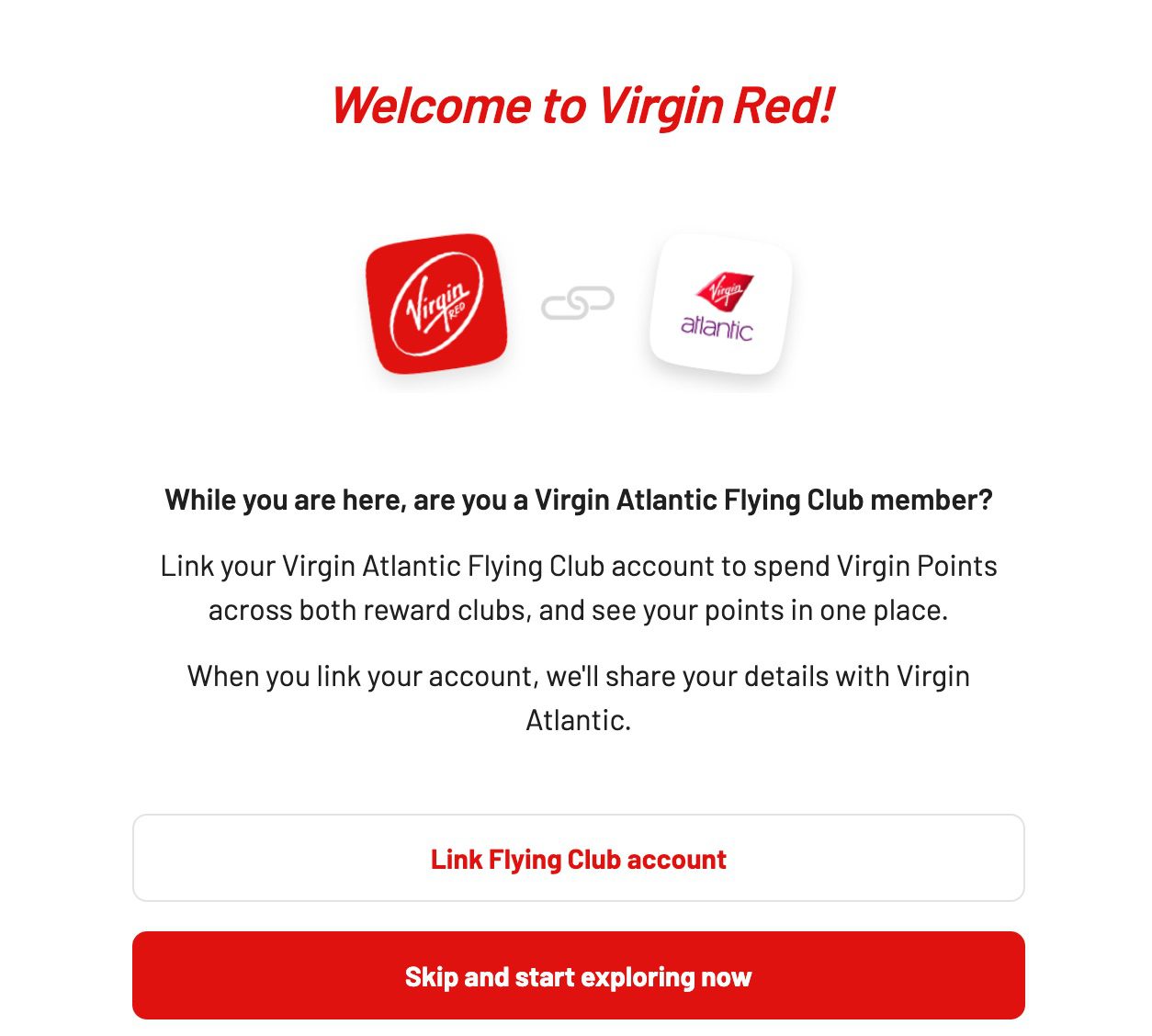 If you plan to use this bonus to book flights, pick "Link Flying Club account" and you should see the option to log in to your Virgin Atlantic airline account. Tap in those details and once that's done, your Virgin Red and Virgin Atlantic accounts should be linked! You'll want to set up a Virgin Atlantic account first if you don't already have one. 

From there, you're ready to transfer Capital One Venture miles to Virgin … kind of. Rather than transferring miles straight into your Virgin Atlantic account, you'll be transferring to Virgin Red – and that means you need your Virgin Red ID.
Unlike frequent flyer accounts that are typically a series of nine-plus numbers, Virgin Red IDs are a series of four short words strung together. Odd, we know. To find yours, head to your Virgin Red account and click the "Personal Details" tab. You'll find your Virgin Red ID all the way at the bottom.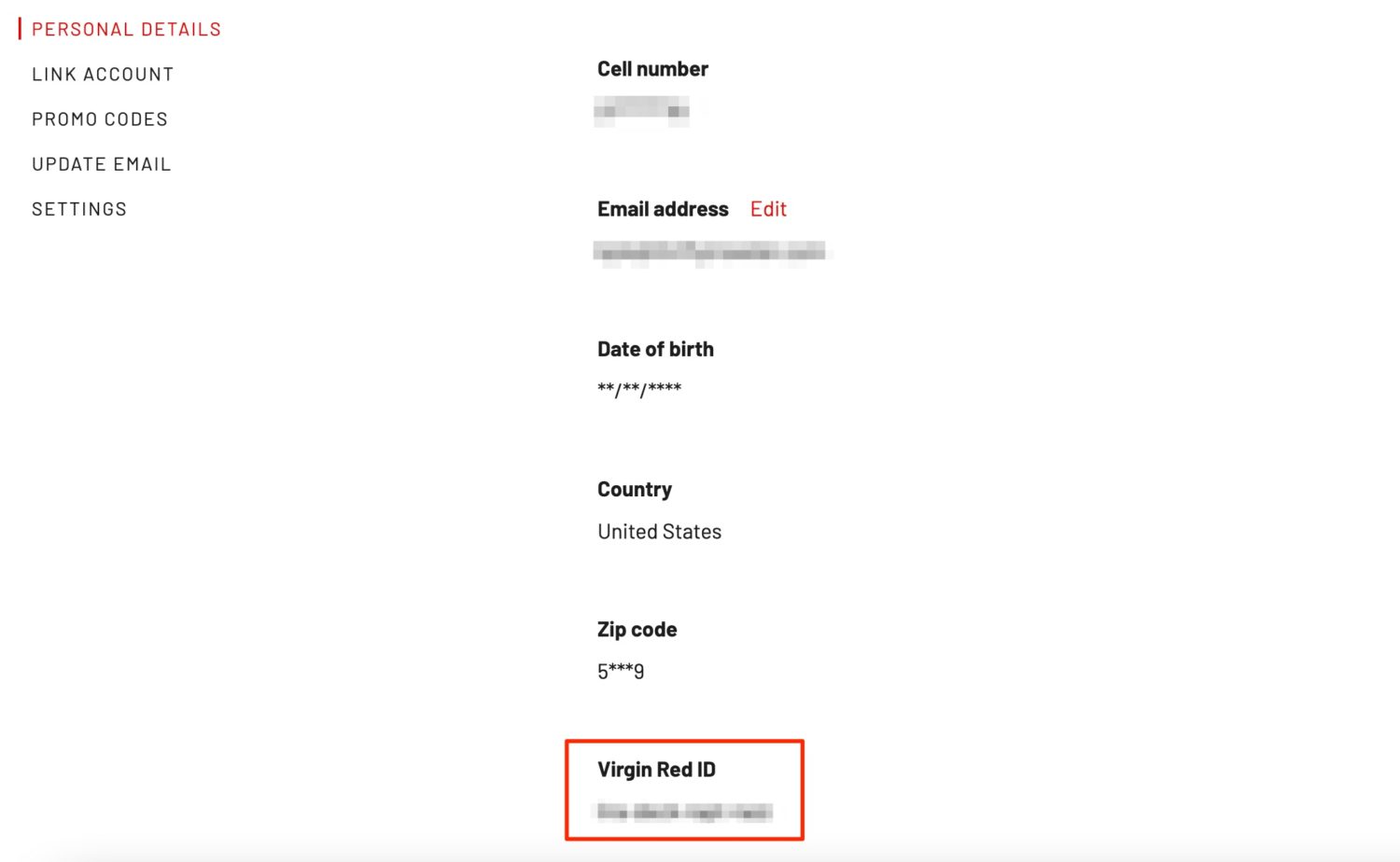 Copy that ID and head back to your Capital One account. That's what you'll need to enter (twice) under "Membership #" to transfer Venture Miles correctly. Again, there's a bit of a misnomer here.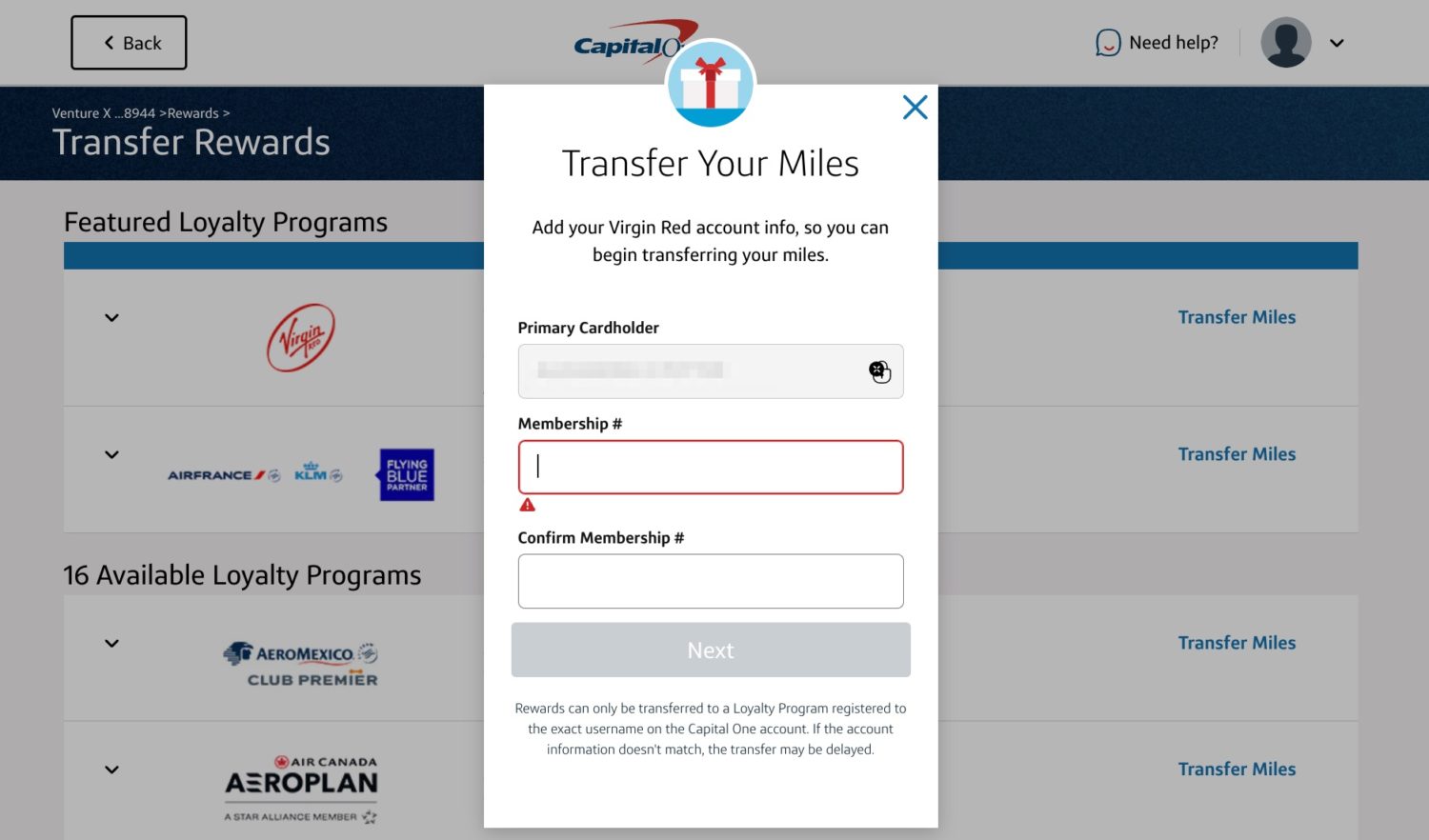 On the bright side, these transfers are instant. And once you've transferred points to Virgin Red, you should see that new balance automatically reflected in your Virgin Atlantic airline account, too.
Best Ways to Use This 30% Bonus
Transferring miles to Virgin Red could go far beyond booking flights via Virgin Atlantic, but that's where we're going to focus … because there's so much potential value there whether you're looking to fly Delta to Hawaii or Europe, book a flight on Air France or KLM, or even fly ANA to a recently reopened Japan.
One warning: Virgin Atlantic's website can be a tad difficult to navigate. Getting award flights to show up on a given route can take a few tries. One good trick is to search for airports by country or region and pick them, rather than manually typing in the city name or airport code.
Unfortunately, Virgin Atlantic recently made it even harder by removing a handy award calendar you could use to scroll through a month's worth of flights at a time. Fortunately, there's a workaround you can use to still pull this feature up.
Trust us: It's worth a little extra patience. With this 30% bonus, a transfer of 50,000 Capital One Venture Miles would get you 65,000 Virgin Atlantic points. These transfers generally clear immediately – meaning the points will be available in your Virgin Atlantic account as soon as you make the transfer.
So what can you book? We're glad you asked.
Related Reading: Virgin Atlantic Launches Great 'Reward Seat Checker' for Using Points
Big Delta Deals
We don't need to tell you that trying to understand the value of Delta SkyMiles can be frustrating. There's no award chart, so the airline's pricing when booking a flight with miles can be all over the map. Often, a Delta award flight can be obscenely expensive – especially if you want to fly business class.
Enter Virgin Atlantic. You can easily use Virgin Atlantic to book the exact same Delta flight and save a boatload of SkyMiles. The London-based airline offers a far more stable – and frequently cheaper – alternative to book Delta flights than using SkyMiles outright.
Case in point, it's next to impossible to find decent rates flying Delta One business class using miles. The airline regularly charges 300,000 SkyMiles or more for a business class seat to Europe, including the new Delta One suites.

But with Virgin Atlantic, it's just 50,000 miles to fly Delta One to Europe. Unfortunately, Virgin Atlantic destroyed a similar sweet spot to get to Asia for just 60,000 miles a few years back.
Still, there's plenty of value here with redemptions to Europe – though you'll have to be flexible, as finding these business class awards at such cheap rates through Virgin Atlantic has gotten much harder recently. But when you can, it's a steal. Here's an example.
Delta was charging almost 350,000 SkyMiles to fly Delta One from Minneapolis-St. Paul (MSP) to Amsterdam (AMS) earlier this month. That's just a one-way flight. Ouch.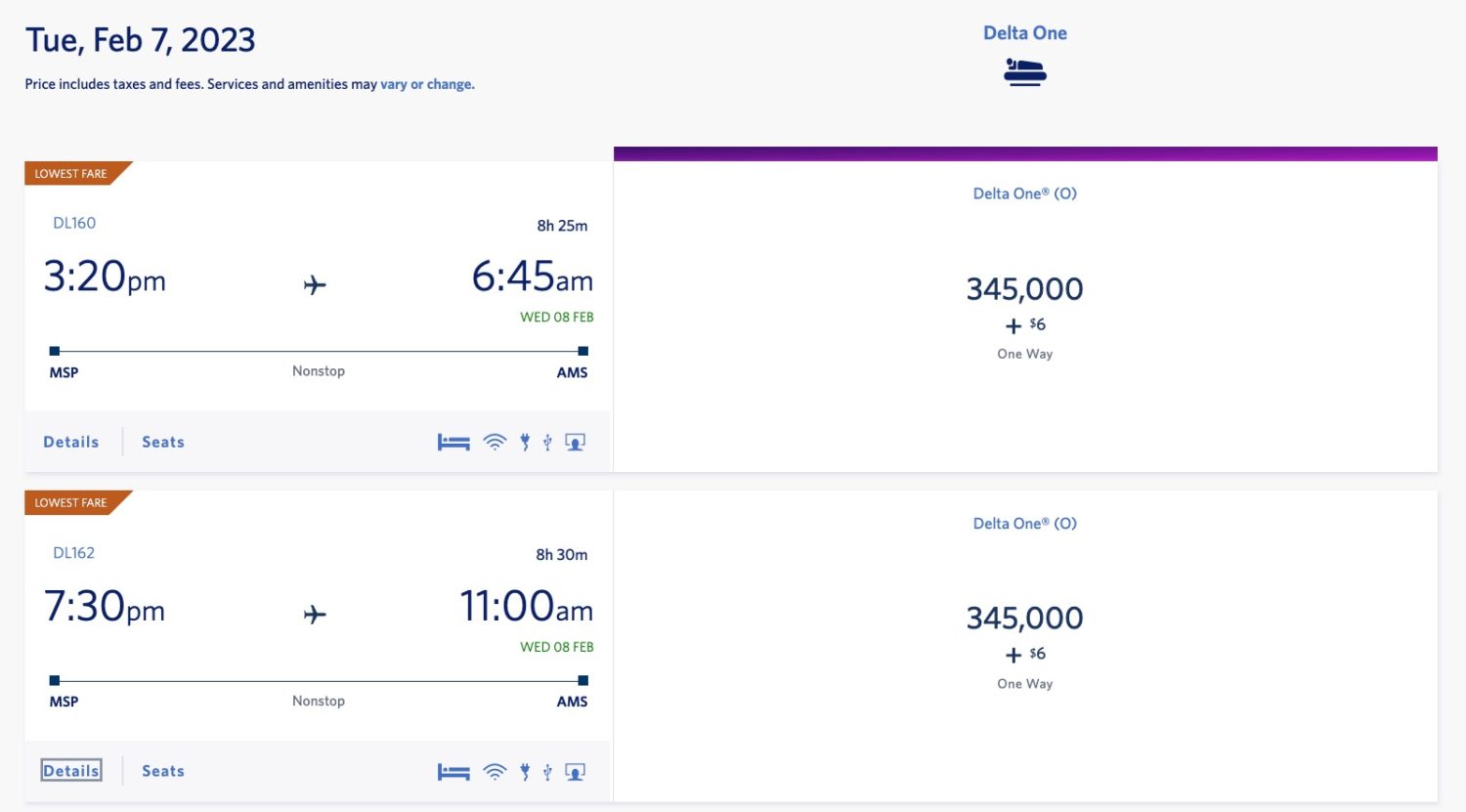 But you could have booked the exact same flight – same plane, same seat, same day – through Virgin Atlantic for just 50,000 miles. Factor in this 30% bonus, and you'd only need to transfer 38,500 Capital One Venture miles to make it happen.

Booking that for less than 39,000 points is one of the best deals you'll find in the world of points and miles. It can require some flexibility to lock in flights at these low rates. It all hinges on finding award availability, and you won't see that every day – in fact, it's dried up altogether recently. But that's not always the case: We've sent Thrifty Traveler Premium+ members several alerts in the last few months to book this deal.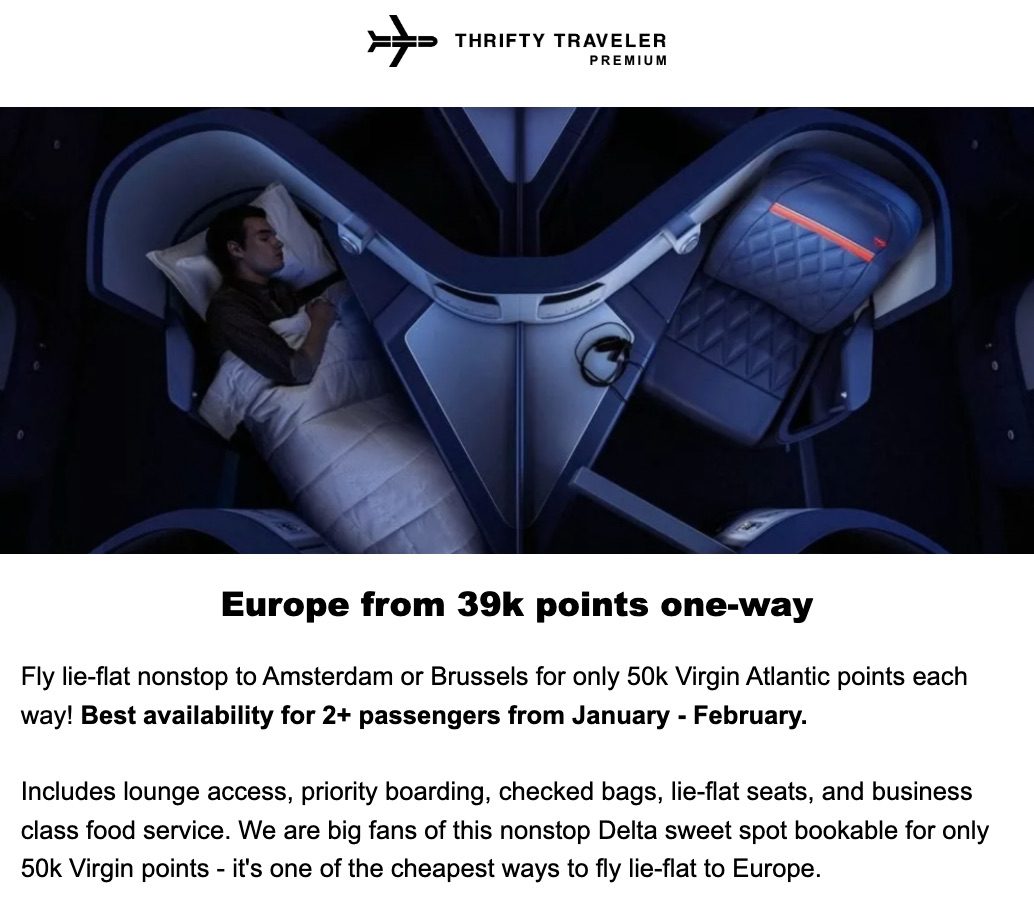 Get alerts for the best ways to use your points and miles with Thrifty Traveler Premium+!
Just remember: Never transfer points to Virgin Atlantic (or any airline) until you know the flights you want to book are available. These transfers are a one-way street – you can't get them back to your Capital One account.
Read our guide on booking Delta flights with Virgin Atlantic miles, and you'll be ready to start hunting for the deal of a lifetime.
Flying Delta economy to Europe using 30,000 Flying Club points each way is typically much, much easier. And you're in luck: There's wide-open availability from many U.S. cities on Delta nonstop flights this summer. With this bonus, 46,200 Capital One Venture miles is all you'd need to transfer and book flights that would otherwise cost $1,800 or more!

One other great way to save some SkyMiles on Delta flights? Nonstop flights from the mainland U.S. to Hawaii, which cost 30,000 to 45,000 miles round-trip in economy, depending on where you're starting from. There can be huge savings over what Delta typically charges for the same flights.
Flights from West Coast cities like Seattle (SEA) or Los Angeles (LAX) will run you just 30,000 miles roundtrip, while a midwestern city like Minneapolis-St. Paul (MSP) jumps to 45,000 miles roundtrip. At 45,000 miles through Virgin Atlantic, you could book by transferring just 34,700 Capital One miles!

Delta typically charges almost 80,000 SkyMiles for these exact same flights!
The same is true for nonstop flights from Seattle (SEA) to Tokyo-Haneda (HND) in economy. But you can book them for just 55,000 Virgin Atlantic points, meaning you'd need to transfer just 42,400 Capital One Venture miles with this bonus.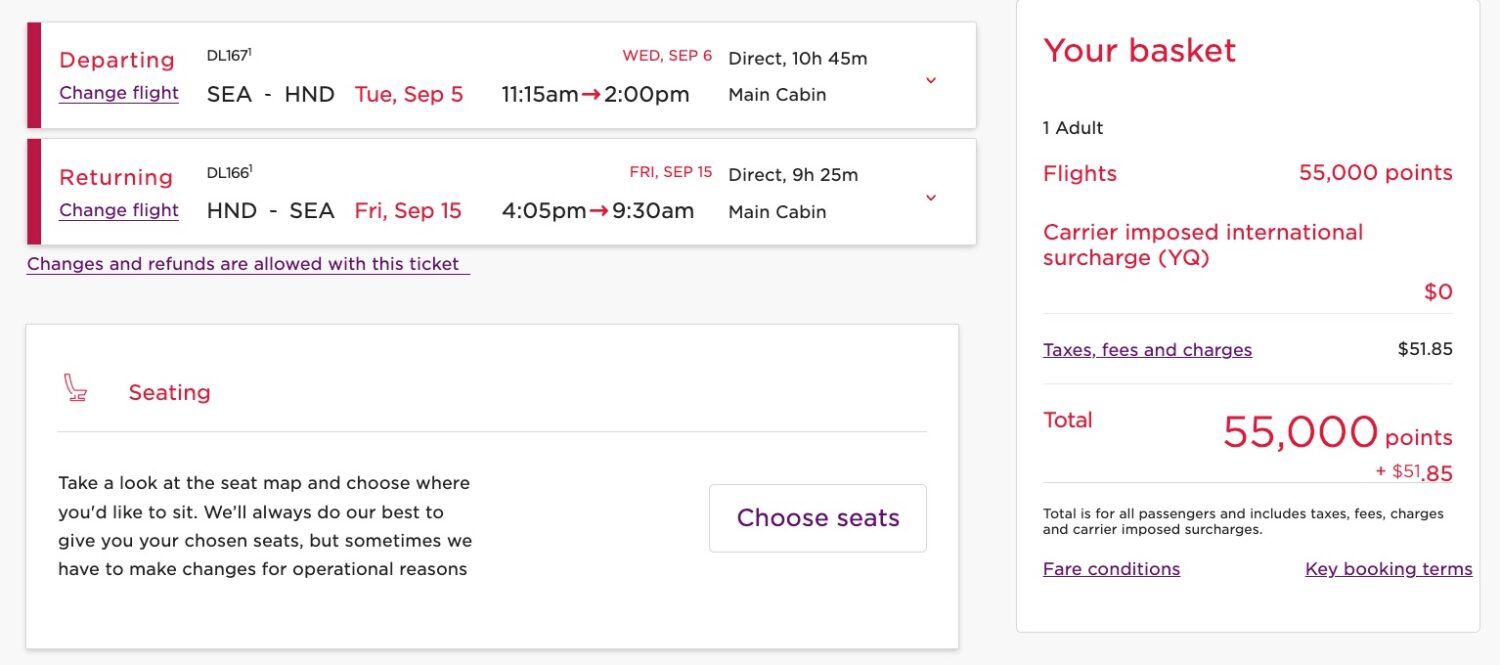 Fly in Style with ANA
Japan is open. You can also use this transfer bonus to score an amazing deal on a trip to Japan on one of the world's best airlines. 
ANA is one of Japan's flag carriers, and it lives up to its five-star reputation. Its first class cabin is spacious, private, and offers some of the best catering in the aviation world. And even ANA business class is outstanding, rivals Qatar Qsuites for #1 in the world, too.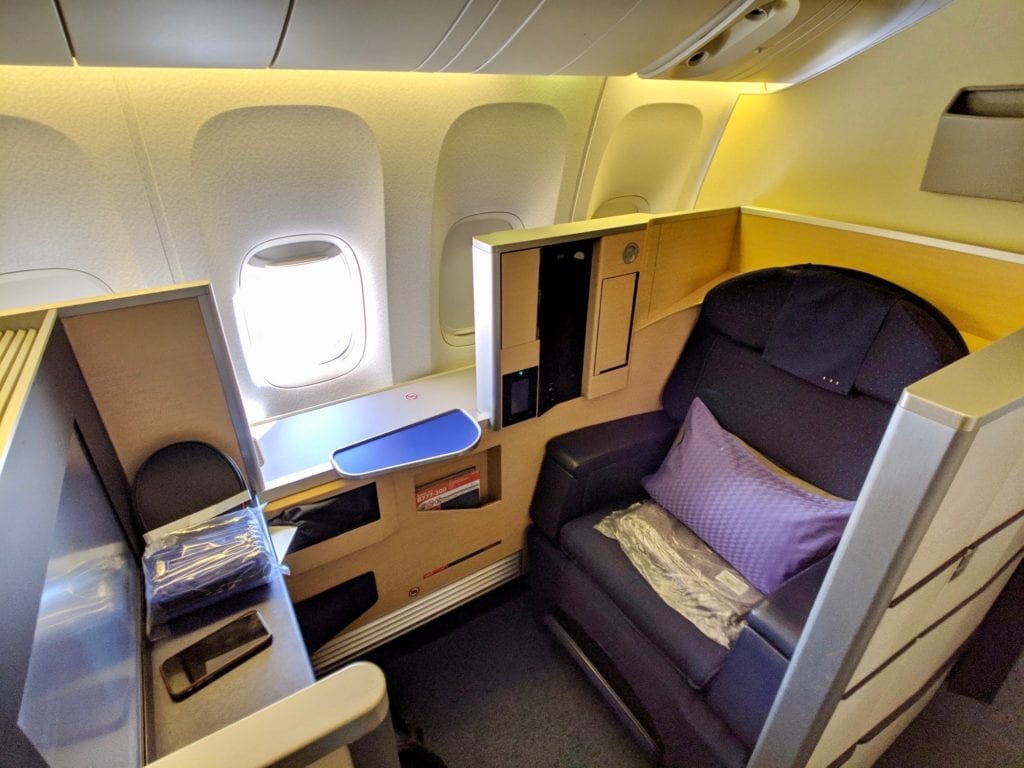 Go figure Virgin Atlantic also has a sweet spot for booking ANA flights, and this transfer bonus makes it even sweeter. While Virgin Atlantic recently raised award rates to fly ANA first class, it's still easily the best way to book these flights.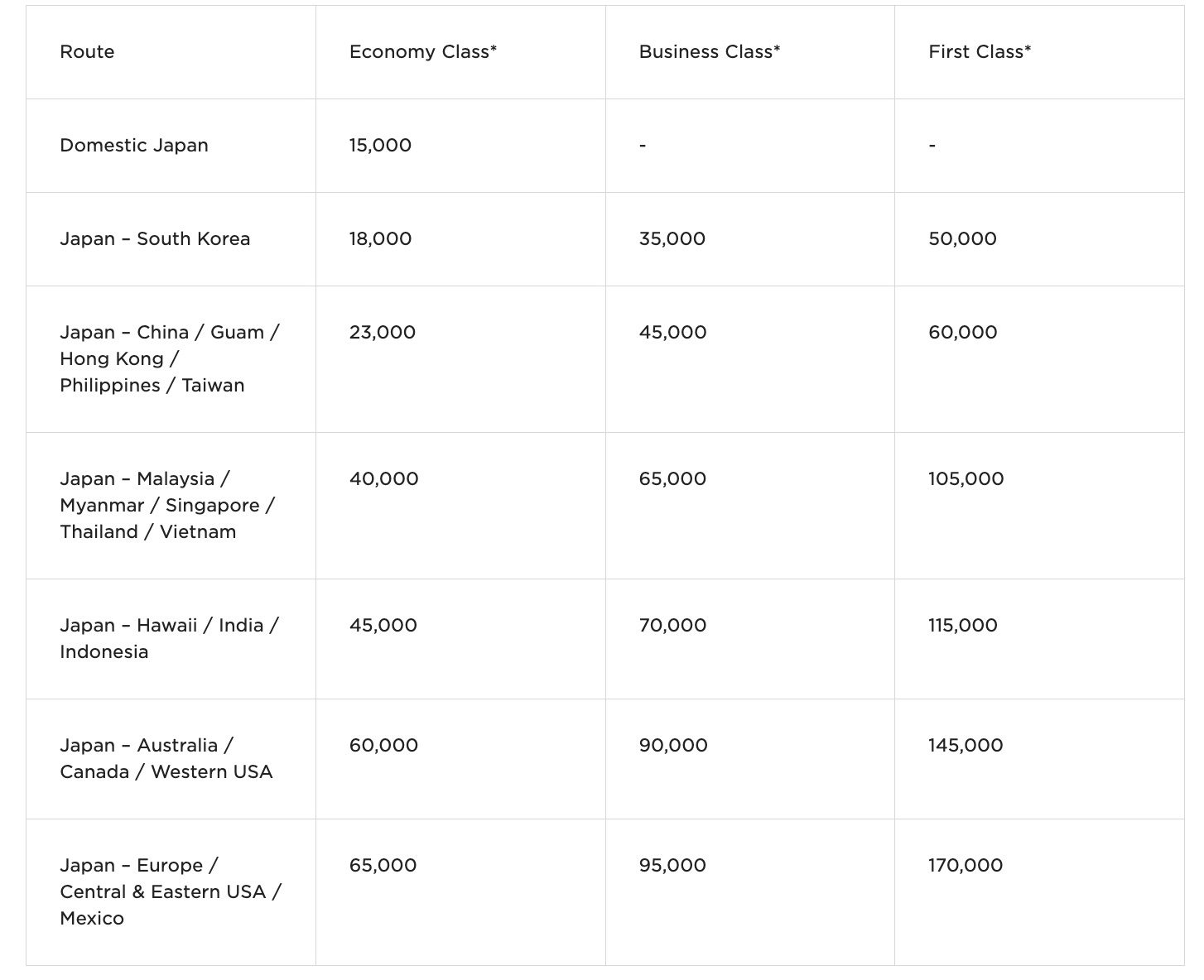 A one-way flight in ANA first class flight from Los Angeles (LAX) or San Francisco (SFO) to Tokyo now costs 72,500 Virgin points – just 55,800 Capital One miles with this bonus. Or you could get from Chicago-O'Hare (ORD) or New York City (JFK) to Tokyo for just 65,400 Venture Miles. That's still substantially less than what United charges for a one-way fare in business class. 
Much like booking Delta One via Virgin Atlantic, finding award availability on ANA can be a chore. First Class availability is practically nonexistent these days, so focus on a business class booking. These days, booking within three weeks of departure seems to be your best bet.
You can't book these flights online through Virgin Atlantic, which means it requires a bit of extra legwork. You'll want to search for award availability through a site like United.com and then ring up Virgin Atlantic at 1-800-365-9500 when you're ready to book. On the plus side, you can now book these awards as one-ways.
Read our guide to booking ANA flights with Virgin Atlantic miles
Of course, ANA's business class is nothing to scoff at either – especially if you can snag the brand new business class seats it calls "The Room" which are currently flying from New York City (JFK), Los Angeles (LAX), San Francisco (SFO), and Chicago-O'Hare (ORD) too.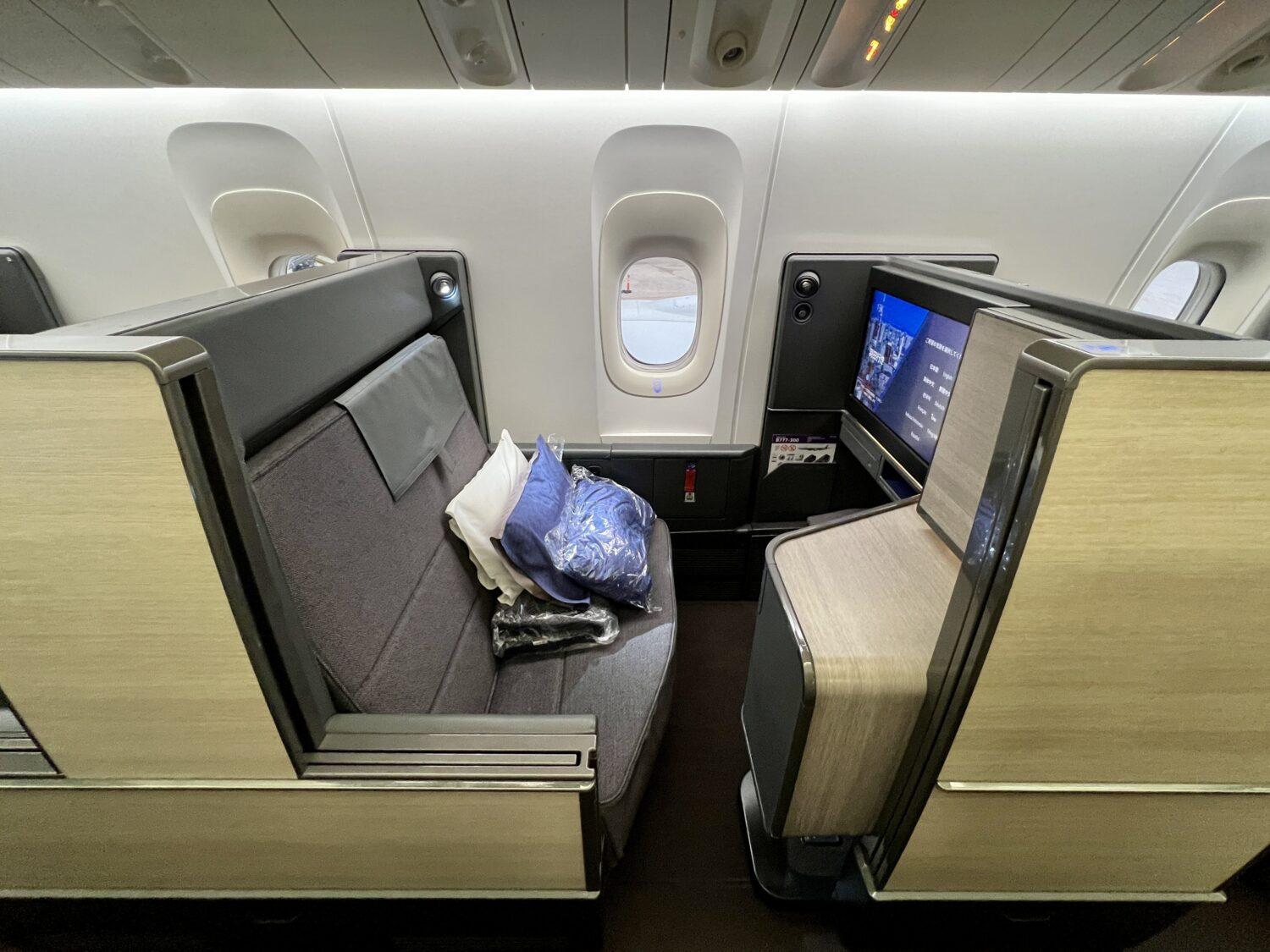 Read our full review of flying ANA's The Room business class from Chicago to Tokyo!
Lucky for you, business class award rates weren't affected by Virgin's recent devaluation. That means you can book roundtrip flights to Tokyo in business class for as low as just 69,300 Capital One miles with this bonus – or transfer just 34,700 miles to Virgin for a one-way flight.
Thanks to some steep fuel surcharges that ANA tacks on, you'll also be on the hook for about $750 in taxes and fees on any roundtrip booking. That number is set to decrease to roughly $615 for tickets booked April 1 and onward.
Fortunately, Virgin Atlantic has a reasonable $50 fee to cancel award tickets and get your miles back if plans change.
Bottom Line
Capital One is sweetening the deal with one of its best transfer partners with a 30% transfer bonus to Virgin Red.
While it'll take an extra step or two to put that to use for booking flights via Virgin Atlantic, there are some incredible ways to put this bonus to use. Just remember to act fast as this bonus ends tomorrow, Friday, March 31.

Lead photo courtesy of Delta