There are plenty of great ways to book flights to Hawaii using points and miles. But scoring a lie-flat seat over to the Hawaiian islands using your points and miles is a tall, tall task – until now.
Earlier this week, we alerted our Thrifty Traveler Premium+ members to wide-open award availability for two flying American Airlines business class to both Honolulu (HNL) and Maui (OGG) later this winter and into the spring, including spring break! While many of these seats have already been gobbled up, there's still plenty available to book today.
Best of all, you can book these lie-flat seats for 55,000 American AAdvantage miles each way … or just 38,000 Etihad Guest miles on the nonstops from Dallas-Fort Worth (DFW) or Phoenix (PHX)!
Get instant award alerts to use your miles like this one with Thrifty Traveler Premium+!
Back when we first sent this alert to Thrifty Traveler Premium+ members, you could book these business class seats to Hawaii with one quick connection from nearly 100 U.S. airports (keep reading for the full list!) for 55,000 AAdvantage miles total. But our members already snagged much of it – another reminder that the hottest deals and unicorn fares disappear fast!
It's incredibly rare to find this much business class availability to Hawaii, as airlines are typically stingy and would rather sell these seats to high-paying travelers who want to start their trip to the islands in some luxury. That makes it a fantastic use of whatever points you've got, as these same fares would sell for at least $1,500 each way.
Most importantly, the flights to Hawaii from Dallas and Phoenix are on American's Boeing 777s or 787s. So unlike the shorter hops from cities like Los Angeles (LAX), you'll get some of American's best lie-flat business class seats.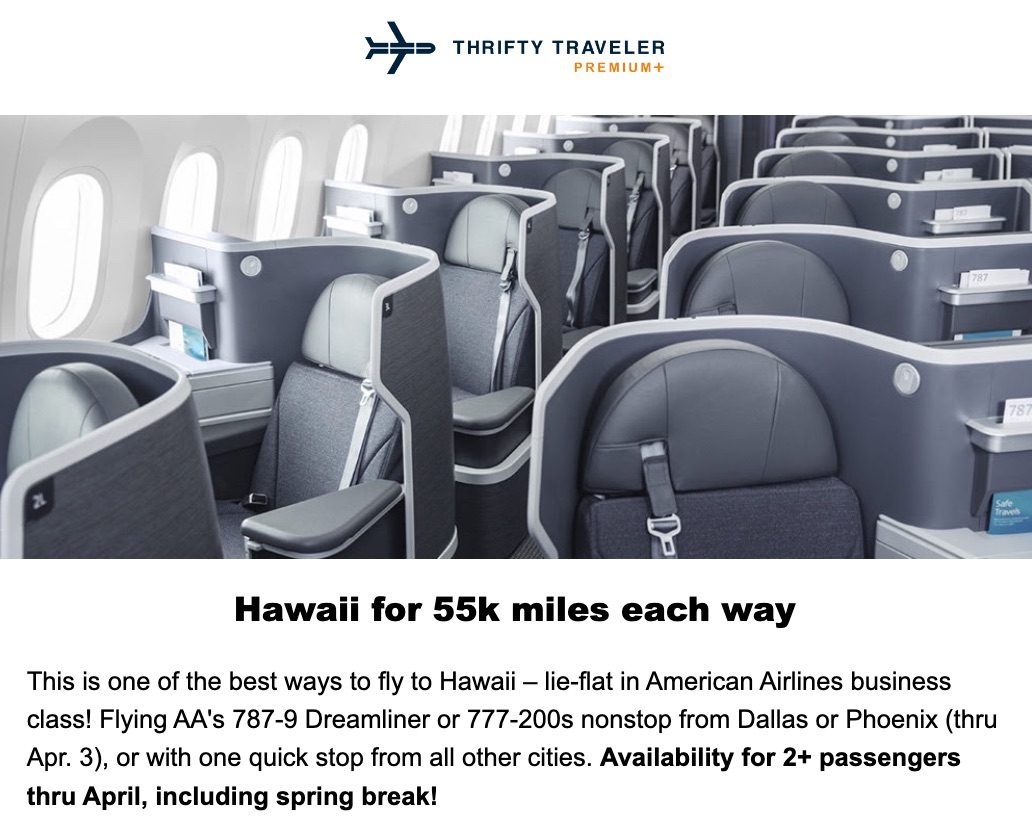 You'll find the best availability by searching American Airlines' site – especially flying in and out of Maui in March, as dates are incredibly limited on routes to and from Honolulu. With a lot of flexibility and a little luck, you can even start your search from your home airport and get all the way to Hawaii in business class for 55,000 AAdvantage miles each way.
Thrifty Tip: American's calendar view makes it much easier to zero in on flights that work – it's what makes it one of the best sites to find award availability!
Otherwise, it could easily be worth booking a nonstop flight to Hawaii and a separate positioning flight to get you to either Dallas or Phoenix. And there's an upside: If you've got points from cards like the American Express® Gold Card or the Capital One Venture X Rewards Credit Card, you can transfer them to Etihad Guest and call the airline to book these same nonstop routes to Hawaii for just 38,000 points each way! 
It takes a little more legwork, but the savings could be worth it. Find a nonstop business class flight on AA.com bookable for 55,000 miles – flights from Phoenix listed as first class for 55,000 should work, too. Then, call up Etihad at 877-690-0767 and feed an agent the flight information. Just beware that it may require some trial and error: Etihad agents may not always see the same dates and flights on their end.
You can instantly transfer points to Etihad from Capital One, American Express, and Citi ThankYou points, so it's easy to get the points you need. You can also book these same flights for 40,000 Alaska MileagePlan miles or from under 39,000 British Airways Avios each way, though that lower rate is only available from Phoenix.

While it may not be an ultra-long-haul flight to Europe or Asia, American Airlines still treats its business class passengers right on these flights to Hawaii, in our experience. On top of the great lie-flat seat, the airline does a full drink and multi-course meal service – both with some Hawaiian flair, like pouring Mai Tais or serving entrees with kalua pork. Here's just one of the four courses from our Senior Editor Allie's recent flight from Dallas to Maui: pumpkin tortellini with kalua pork ragu and mushy peas.
Plus, flying from Dallas-Fort Worth (DFW) gets you into American's excellent Dallas Flagship Lounge. If you've got the Capital One Venture X Rewards Credit Card, it's worth popping into the Dallas Capital One Lounge, too – it's right next door.
Business Class Availability to Hawaii
Bookable from late February through April, with best availability in March to Maui
To book these fares, visit AA.com and search using "Redeem Miles"
Search nonstop from Dallas or Phoenix or look for connections through those airports to get lie-flat seats
Departure Cities
You might not still see availability to book lie-flat seats to Hawaii from all these cities when searching through American. Get Thrifty Traveler Premium+ to get an instant alert so you don't miss the next deal!
Abilene (ABI)
Albuquerque (ABQ)
Asheville (AVL)
Atlanta (ATL)
Augusta (AGS)
Austin (AUS)
Baltimore (BWI)
Birmingham (BHM)
Buffalo (BUF)
Cedar Rapids (CID)
Charleston (CHS)
Charlotte (CLT)
Chattanooga (CHA)
Chicago (ORD)
Cincinnati (CVG)
Cleveland (CLE)
Colorado Springs (COS)
Columbia (CAE)
Columbia (COU)
Columbus (CMH)
Corpus Christi (CRP)
Dallas (DFW)
Dayton (DAY)
Denver (DEN)
Des Moines (DSM)
Destin (VPS)
Detroit (DTW)
El Paso (ELP)
Evansville (EVV)
Fargo (FAR)
Fayetteville (XNA)
Ft. Lauderdale (FLL)
Fort Wayne (FWA)
Grand Rapids (GRR)
Greensboro (GSO)
Greenville (GSP)
Gulfport (GPT)
Hartford (BDL)
Houston (HOU)
Houston (IAH)
Huntsville (HSV)
Indianapolis (IND)
Jackson (JAN)
Jackson Hole (JAC)
Jacksonville (JAX)
Kansas City (MCI)
Knoxville (TYS)
Lexington (LEX)
Little Rock (LIT)
Louisville (SDF)
Lubbock (LBB)
Madison (MSN)
Memphis (MEM)
Midland (MAF)
Milwaukee (MKE)
Minneapolis (MSP)
Mobile (MOB)
Moline (MLI)
Monterey (MRY)
Montgomery (MGM)
Nashville (BNA)
New Orleans (MSY)
New York (JFK)
New York (LGA)
Newark (EWR)
Norfolk (ORF)
Oklahoma City (OKC)
Omaha (OMA)
Orlando (MCO)
Panama City (ECP)
Pensacola (PNS)
Peoria (PIA)
Philadelphia (PHL)
Phoenix (PHX)
Pittsburgh (PIT)
Raleigh (RDU)
Rapid City (RAP)
Richmond (RIC)
Salt Lake City (SLC)
San Antonio (SAT)
Santa Fe (SAF)
Savannah (SAV)
Sioux Falls (FSD)
South Bend (SBN)
Springfield (SGF)
St. Louis (STL)
Tampa (TPA)
Tucson (TUS)
Tulsa (TUL)
Waco (ACT)
Washington, D.C. (DCA)
Washington, D.C. (IAD)
Wichita (ICT)
Bottom Line
It's not every day we see weeks worth of lie-fat business class award availability flying to Hawaii and back. In fact, it almost never happens.
But booking it for as low as 38,000 points each way? Get ready to say aloha!
Lead photo courtesy of American Airlines